Athens vs Crete: Which is Better to Visit?
Athens vs Crete, a popular Greece destination debate among travelers. But it shouldn't be in theory because of how different Athens and Crete are from one another.
Being the capital of Greece, Athens is a large city with a rich history known for its many ancient ruins, museums, shopping, and nightlife.
Athens's unique attribute is that it's a modern metropolitan city but also one of the oldest cities in the world, with many of its ruins still intact.
Crete is the largest island in Greece, situated in the southern part of the Aegean Sea, known for its diverse landscape, including mountains, beaches, and greenery.
While it is also known for its historical attractions, Crete is most famous for its serene island atmosphere.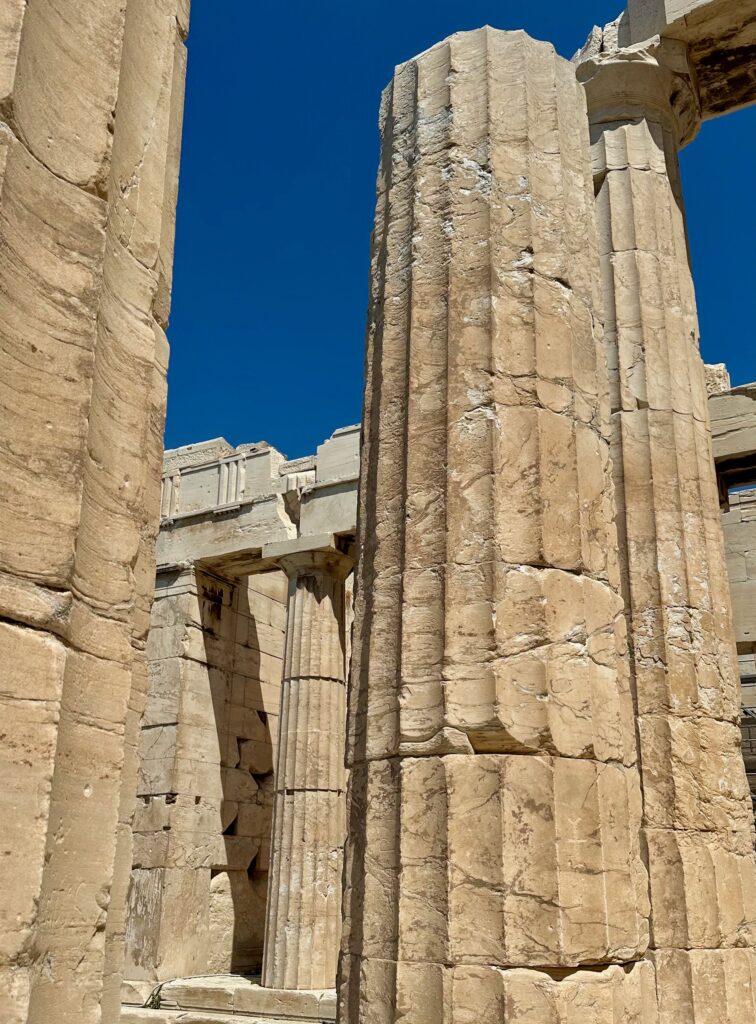 Athens vs Crete: Main Differences
Let's look into the main differences between the two popular Greece vacation destinations and the main pros of each place!
Between Athens and Crete, you can take a ferry for 7 Hour+ ferry ride or 1 Hour flight.
If you want to visit a unique, historic big city with lots to do, visit Athens. Or, if you're looking for island vibes with more laidback things to do and picturesque landscapes to discover, Crete is for you!
Athens Pros
The city atmosphere is lively, with many things to do in different areas
It is one of the most unique cities in the world, with plenty of history/museums
Best for shopping with many local markets, as well as known shopping streets
Diverse cuisine options for foodies
Easy to get around with Uber, taxis, and public transportation
Ferry access to many nearby islands
Crete Pros
Laidback Island that's ideal for those looking to relax with calm evenings
Diverse landscape including large mountains, beaches, small cities
Breathtaking beaches: Crete has several beaches scattered throughout the island
An exceptional destination for hikers/trekkers
Large island with many charming villages to visit around
Rich history, many ruins, museums, and birthplace of the Minoan civilization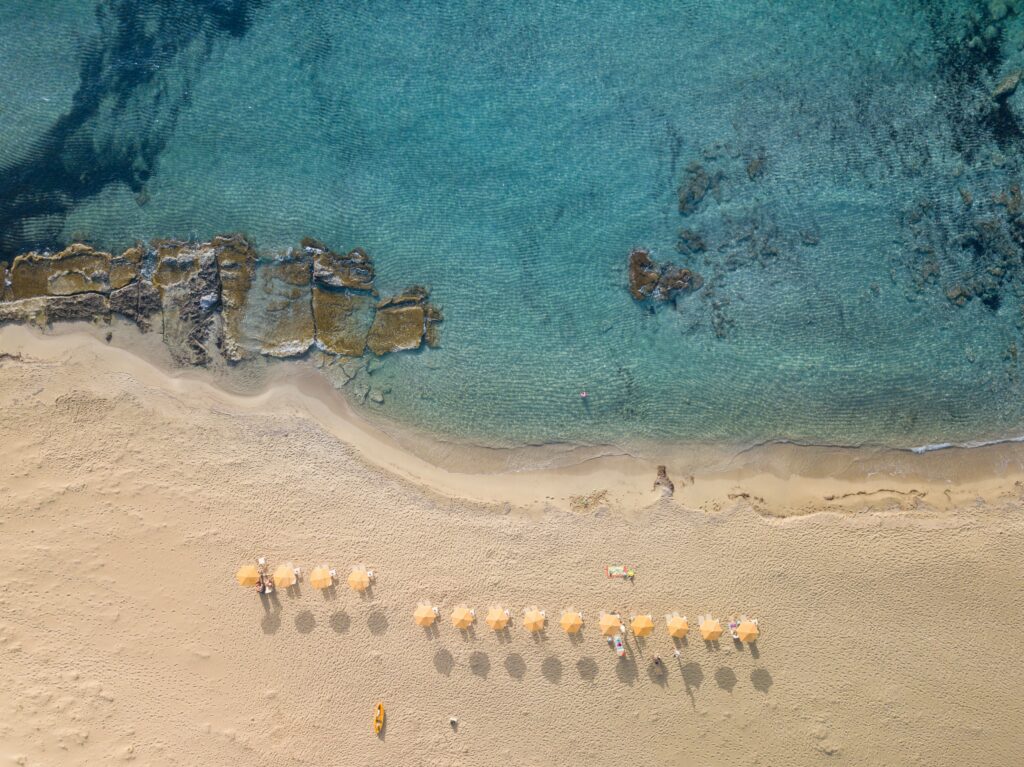 Athens vs Crete: Things To Do
Here's an idea of the many things to do in each destination when considering Crete or Athens as your destination:
Trips to Crete are to relax at the beach and explore its mountains, vineyards, and coastline. Besides that, you can spend afternoons sailing the sea, shopping, and visiting the museums; evenings are calmer/more laid back.
Vacations to Athens are more of a bucket list cross-off, with its rich history, famous ruins, world-known museums regarding the Greek civilization, excellent shopping, and lively nightlife. Athens is one of the most picturesque big cities in the world, and visiting Athens is a must-do at least once!
There's no winner here; it depends on the type of visit you're looking to have!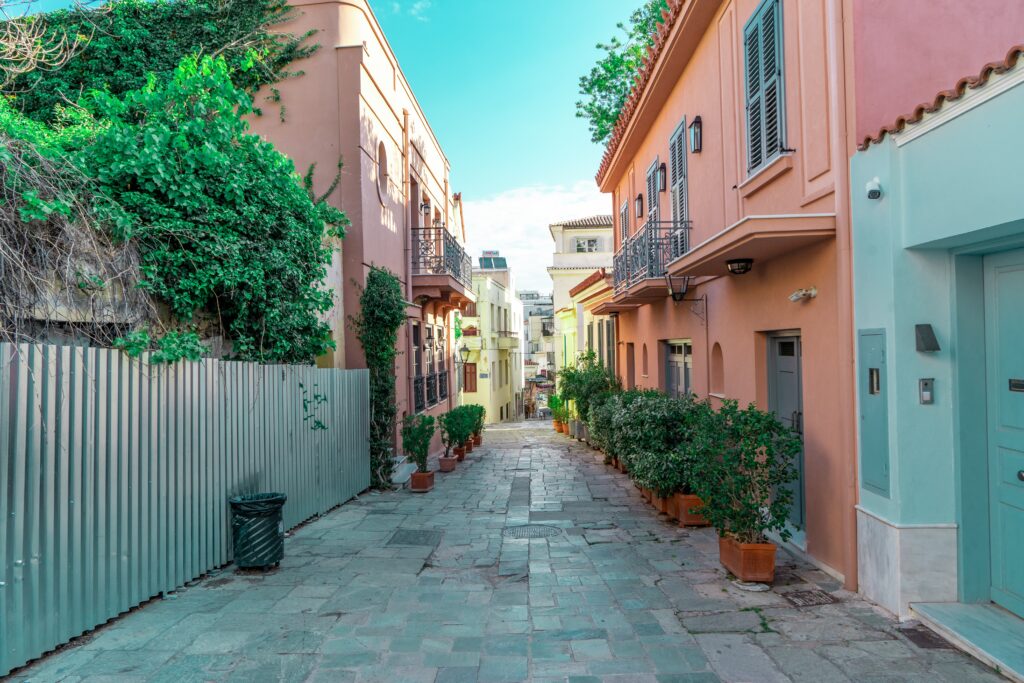 Things to Do in Athens
Athens Half-Day Sightseeing Tour: Sightseeing tours are a must when in Athens; during this one, you will see most of the majority must-visit archaeological ruins in Athens
All Day Cruise – 3 Islands: This fun all-day island hopping includes snorkeling, visiting several islands, lunch, drinks, and more
Catamaran Cruise: Relax on a sailboat for the day as you sail the bright blue waters of Athens, swim, snorkel, enjoy drinks, and lunch with beautiful views. Includes hotel pickup/dropoff
Meteora Day Trip: All-day trip to the famous Meteora UNESCO-listed monasteries is perfect for those who love adventure. You'll be going by train and accompanied by an English-speaking guide
Greek Food Tour: Foodies, this one is for you! On this tour, you will walk the streets and visit many restaurants/cafes as you try 9 different classic Greek foods/drinks, all included in the tour price
Things to Do in Crete
Beach Day — What better way to spend the day than at the beach? Crete has both large beaches near boardwalks where you can rent a chair/umbrella to secluded beaches; you must drive to
Jeep Safari Tour — On this all-day jeep safari tour, you'll spend the day adventuring throughout Crete. You'll get to visit a local shepherd farm and learn about cheese making, visit the Sunken Village, Cave of Zeus, and many other tourist stops!
Wine/Olive Oil Tour — Crete is famous for both its wine and olive oil, so it's fitting you do a tour. On this all-day tour, you'll sample award-winning wines at a family-run vineyard as you stroll the ground and more
Stroll the Chania Center — Chania is the largest city on the island; walk around its charming narrow streets or the harbourfront area and admire the city. There are many museums, bars, and shopping stores here too.
Day Tour to Santorini — You've seen the charming white architecture with hints of baby blue along the hills with views of the sea; well, that's Santorini! Located north of Crete, it's a 2-hour ferry ride.
Athens vs Crete: Getting Around
Getting to Athens or Crete is easy; Athens, the capital, has its international airport. Both destinations equally have excellent transportation for getting around!
Crete has two airports on the island, one in Chania and another just east of Heraklion. And, of course, you can always reach Crete by ferry from any nearby place!
When in Athens, getting around is very easy with the Athens Metro, which has many convenient stops throughout the city. Alternatively, you can always use Uber or a Taxi in Athens.
When in Crete, getting around is convenient as well. The two main villages of Chania and Heraklion are both very much walkable, otherwise, you can take a taxi.
If you're looking to get around the island, the best way is by using the modern coach buses, equipped with AC/Wifi, which reach all over the island.
Or you could always rent a car in Crete and explore the coastline on your own! But make sure to download your maps on your phone; some areas have a bad signal!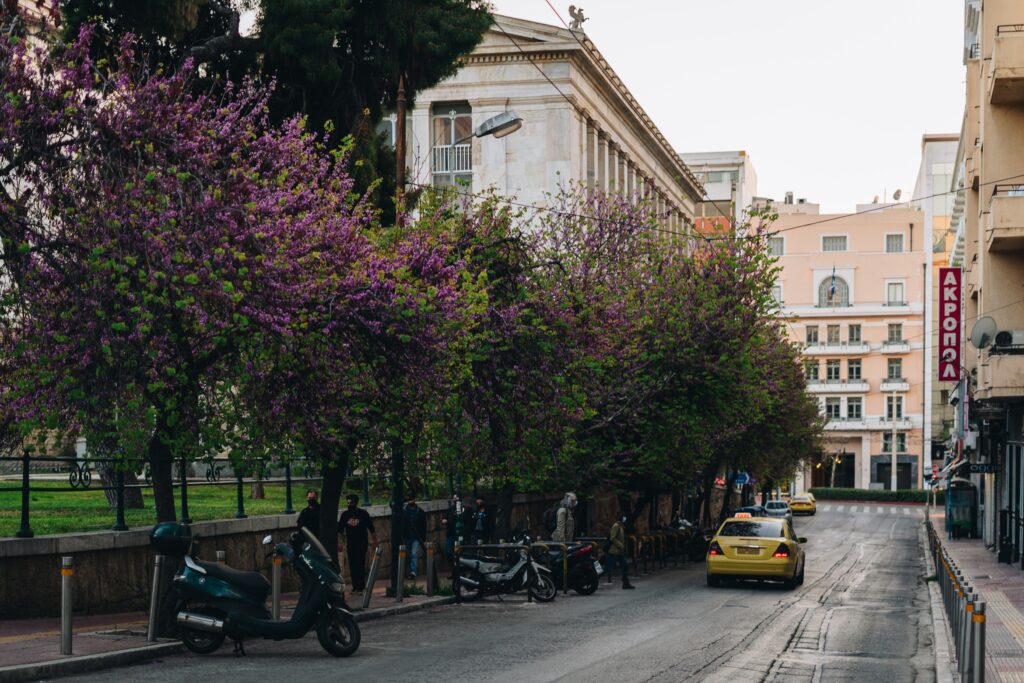 Athens vs Crete: Hotels
There's an excellent wide variety of hotels in Athens and Crete, including many apartments for rent also.
Athens offers picturesque big city views among ancient ruins, while Crete offers exceptional island sea views!
Below, I've included the best hotels in each place, starting with a budget-friendly, mid-tier, and luxury option!
Where to Stay in Athens
Athens Hawks: This hostel is located in the city center & offers both private and shared rooms. They've got a stunning rooftop bar area to relax and mingle
The Lekka Hotel & Spa: Decorated in beautiful chic bohemian decor, the Lekka Hotel is a lovely hotel with many amenities, including a spa, and its rooftop is stunning!
Grand Hyatt Athens: A very modern decor hotel with large rooms, a top-ranked restaurant, a large rooftop pool to enjoy, a stunning courtyard, and more
Where to Stay in Crete
Cocoon City Hostel: This vibrant, budget-friendly hostel, with cozy accommodations, is not only lively but conveniently located in town and full of local charm
Alcanea Boutique Hotel: This charming boutique hotel is located along the Venetian Harbor. With its excellent views, convenient location, and spacious rooms, it's a place to consider staying!
Creta Maris Resort: A luxurious beachfront resort offering stunning views, elegant accommodations, gourmet dining, and extensive amenities for a memorable vacation experience. Conveniently a short drive from Heraklion.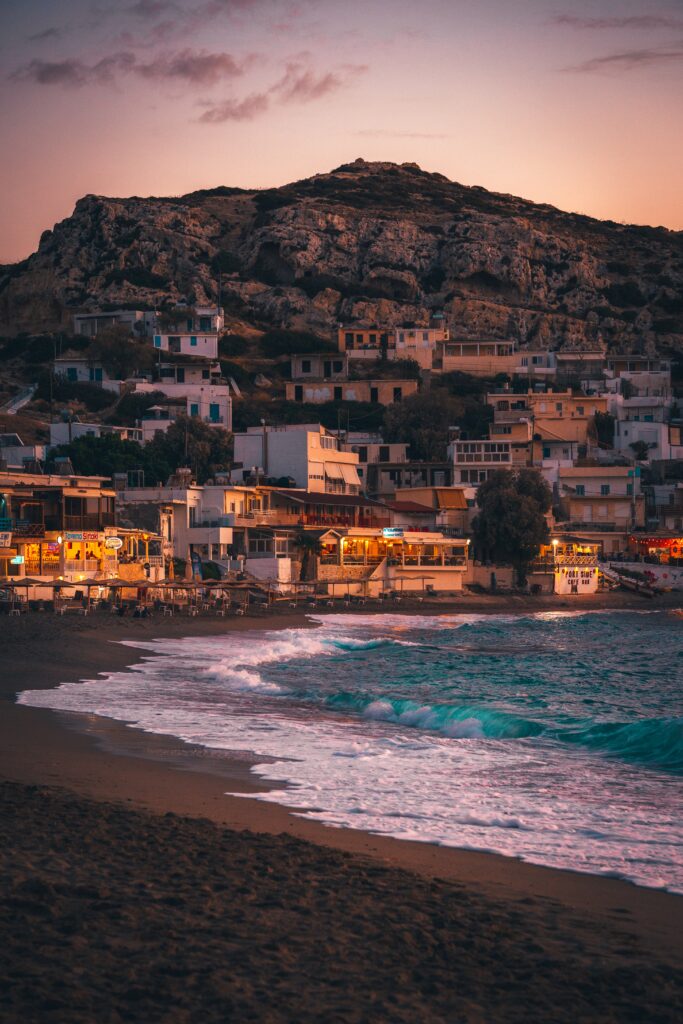 Athens vs Crete: Restaurants
Regarding restaurants, both places offer exceptional dining experiences and authentic Greek flavors. But each place does have one advantage food/restaurant wise that the other doesn't.
Athens: When it comes to fine dining and a wider variety of restaurants, Athens beats Crete; it's the larger, more well-known place of the two
Crete: The flavors in Crete are unmatched; the island is home to many farms, wineries, etc. So sourcing the absolute best/fresh ingredients in Crete is easy for restaurants
Where to Eat in Athens
Aleria Restaurant: A fine dining restaurant serving contemporary Mediterranean and a wide variety of artisanal wines
Geros Tou Moria: An old-school tavern serving classic Greek dishes paired with live performances every night
Kostas: The most famous gyro shop in Athens; be prepared to wait a few minutes, this place is popular
Tavern Klimataria: Home-style restaurant serving various Greek classics; it doesn't get more authentic than this
Thissio View: Known for its cocktails and amazing views of several ancient ruins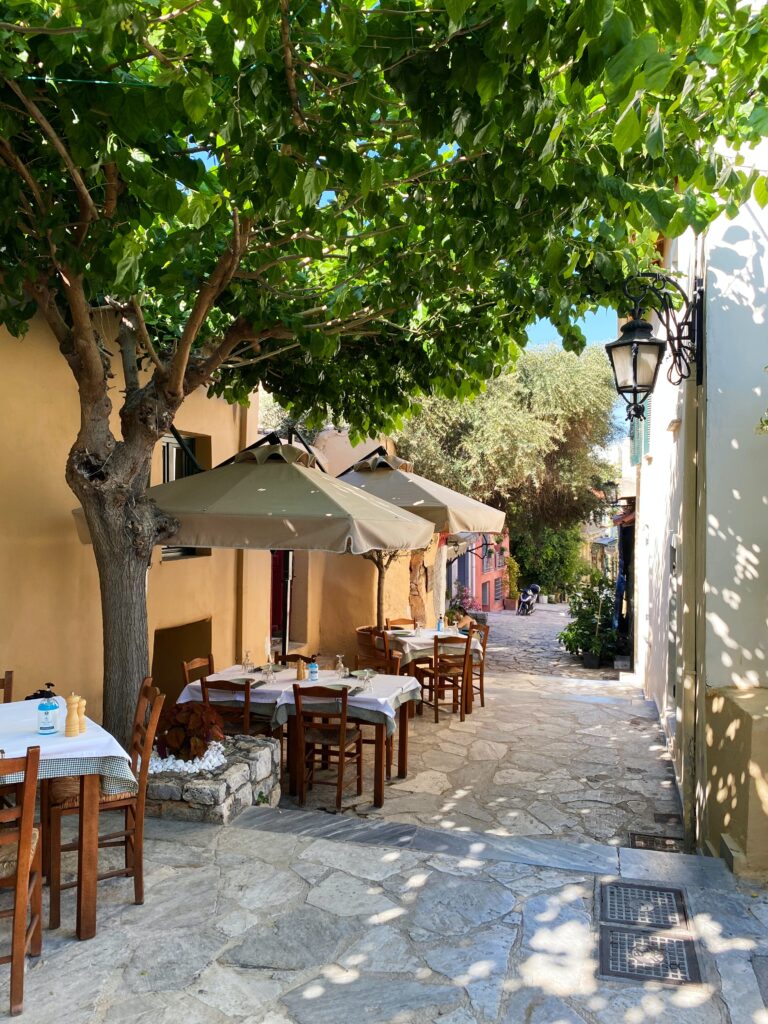 Where to Eat in Crete
Peskesi: Known as the best restaurant on the island, Peskesi serves classic Greek food with the freshest ingredients sourced around the island, and the interior here is very on-theme
KOUZEINERI: Fine dining restaurant located in Heraklion, known for its various cuts of dry-aged steak and wide selection of local/imported wines
Karnagio: Nonprestigious restaurant most well known for its gyros, fries, souvlaki, and salads
Gioma Meze: Rooftop-located restaurant serving a wide variety of flavors, most known for their ceviche and octopus
Paralia: Casual restaurant serving a wide menu of Greek flavors with stunning seafront views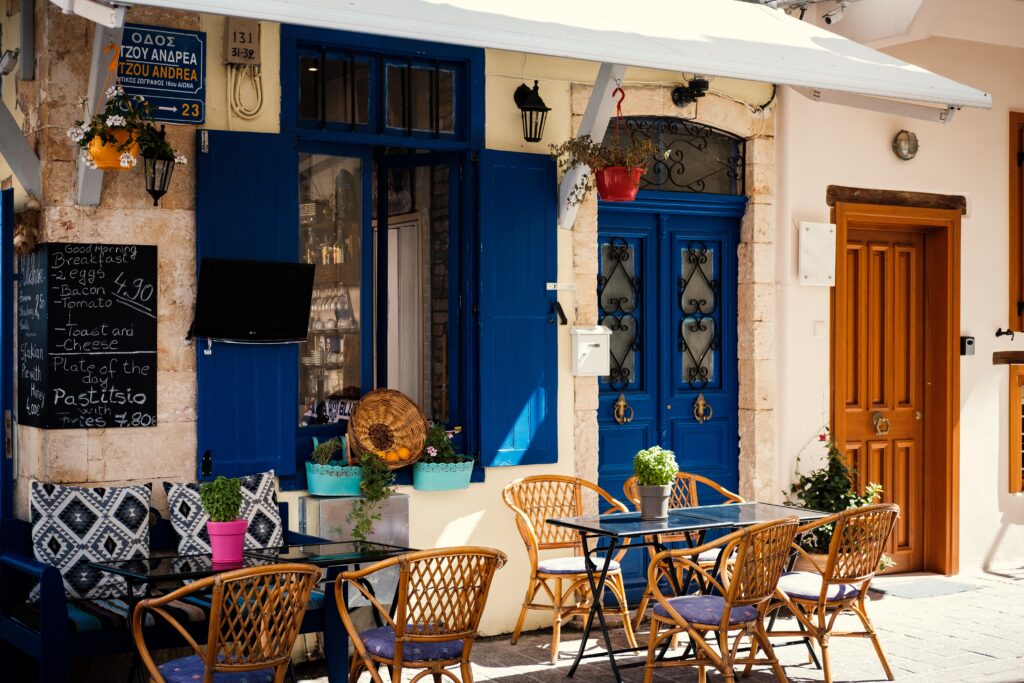 Athens vs Crete: Nightlife
Let's discuss the nightlife in each destination; no one likes a place with a lackluster night out.
Both Athens and Crete offer a wide variety of things to do at night, and both have several excellent restaurants, bars, and nightclubs to consider!
Athens' nightlife is excellent, here you will find countless bars/nightclubs, during the Summer season parties happen with well-known international DJs as well.
Some places to consider are Lohan Athens, FEVER, VINILIO, or instead, go to a rooftop bar; Thea Terrace, MS, and Xfloor Rooftop are all great!
When visiting Greece, watch out for a few common scams here!
Crete's nightlife is great, too; there are nightclubs/bars here, too, but Crete's more known for its late evening dinner walks along the harbor and lively rooftop bars with stunning sea views.
Nightclubs to consider are the New York Beach Club and Cameo Club, and rooftop bars to consider are Alexandros Roof Rocktail Bar, The Garden, and The Bitters Bar.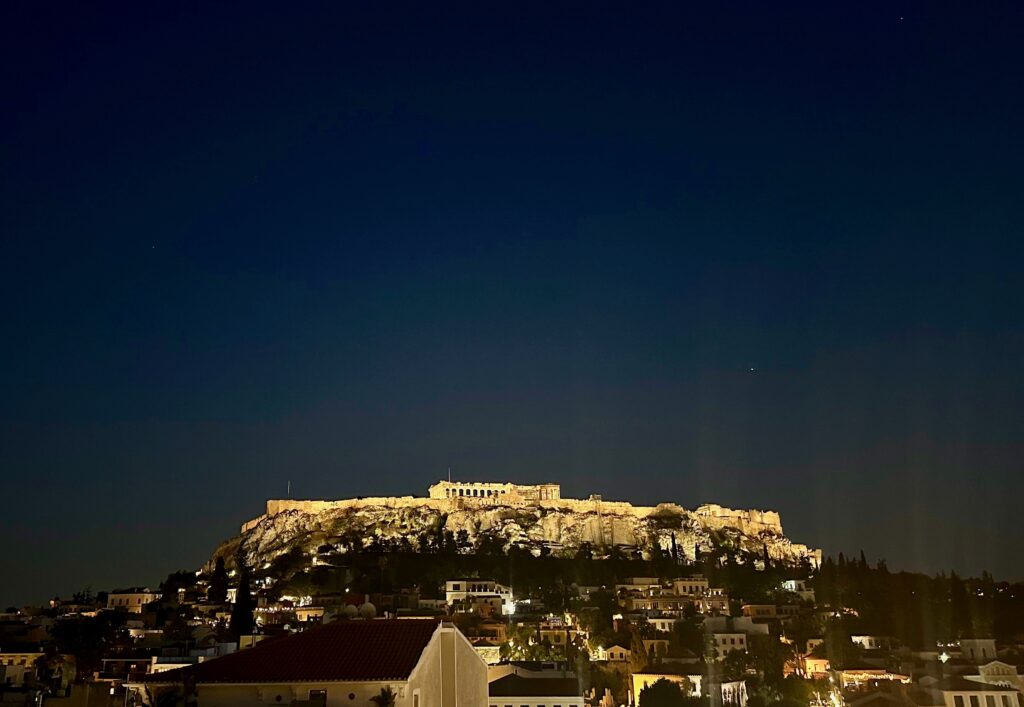 Is Athens or Crete cheaper?
Right away, I'm sure you can imagine which place costs more to visit, and that's Athens, and you'll pay more for everything there compared to Crete.
Being the capital of Greece and one of the most visited cities each year in Europe, it makes sense.
Everyone travels differently, and budgets vary. But let's look at the average daily cost of each destination, including hotel, transportation, food, and activities, with the help of BudgetYourTrip.
The average daily visiting cost for Athens is 127 euros/day.
The average daily visiting cost for Crete is 107 euros/day
There is not a big difference regarding daily costs, but overall, Crete is cheaper to visit than Athens. And these figures are only average.
If you tried to budget/spend less, it's easier to do so in Crete than in Athens because everything is cheaper in Crete than in Athens.
Visiting earlier this summer, I noticed this the most when dining out; not only did I find eating out in Crete cheaper than in Athens, but the portion sizes were much larger!
Another European beach destination I highly recommend you visit that's cheaper than Crete but similar in many ways is Ksamil in Albania!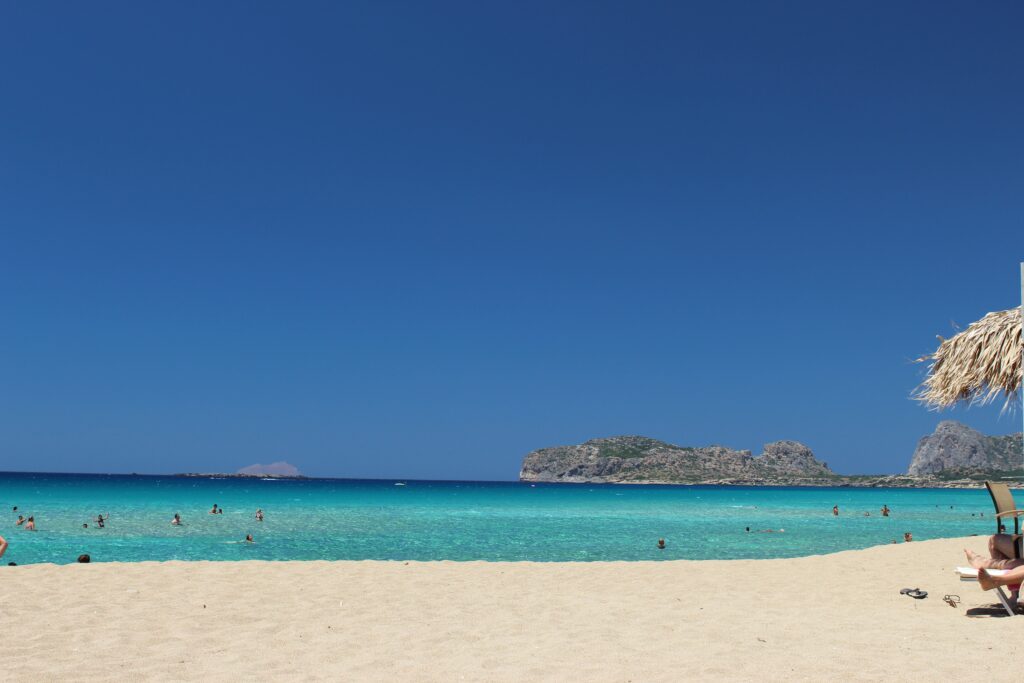 Athens vs Crete — Final Thoughts
So, is Crete or Athens better to visit? It should be easy to decide which of these two places to visit. Which destination speaks more to the vacation you're looking to have?
Athens and Crete are distinctly different destinations. Their only significant similarity is that both provide an authentic Greek cultural experience.
You must go to Athens, while it may be a bucket list city for most, the large city is great to walk around and as you wander to different areas, seeing the recognized ruins and knowing they've been there for so many years is neat.
Crete, on the other hand, is the ultimate laidback island but has so many things to do, and that's what I loved about it the most. It's not some remote island with limited infrastructure and businesses. It's the largest island in Greece, full of several villages to visit, beaches and is excellent for hiking!
I love both the big city and quaint beach city atmosphere as well. While I enjoyed my time in both Crete and Athens, I'd go with Crete if I had to choose. The safari tour was fun to do, the beaches are stunning, and the flavors of the fresh foods sourced from around the island did it for me!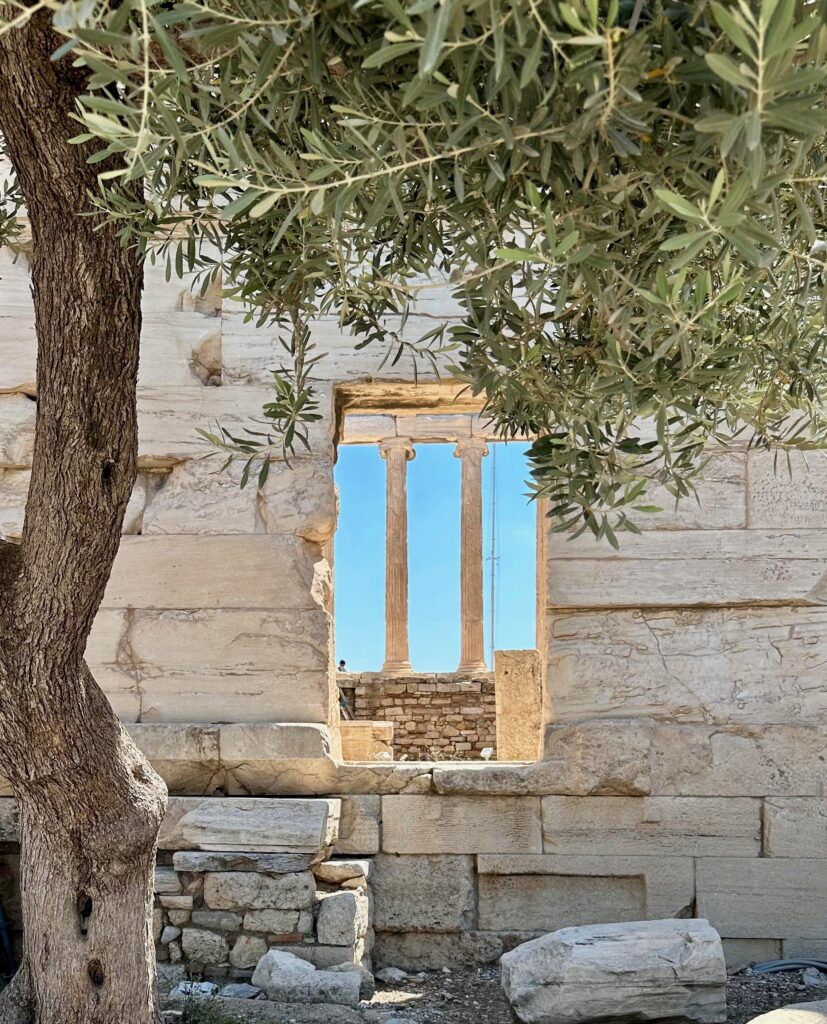 How long is the ferry ride from Athens to Crete?
It's 7 Hours+ by ferry from Athens to Crete, or you can take a short 1 Hour flight.
What is Crete famous for?
Crete is famous for its unique landscape of villages, beaches, and mountains. It's a top producer of wine and olive oil in Greece. Also, it's the largest island in Greece.
Is it better to fly or ferry from Athens to Crete?
The authentic Greek experience would be to take the ferry; despite taking 7 hours, it's nice to experience the journey the Greek way. But if you're in a rush, it makes to take a 1 Hour flight!
Which is nicer Crete or Santorini?
Both islands are beautiful and are known for separate things. Santorini is known for its hills of white homes with blue tints of color. Crete is known for its unique landscape of beaches, mountains, and many villages across the island.
Subscribe to Travel Hiatus!
Receive updates on my latest posts, insider travel tips & the best destination guides to your inbox!
Happy & Safe Travels
---
Planning Checklist
---
Disclaimer: Please note that some of the links shared in this article might be affiliate links; this means that at absolutely no extra cost to you, we will earn a small commission for any sales generated through this article and/or this website. We recommend products/services we've either used or researched thoroughly – Thank you for supporting us so we can continue to share helpful travel content!