Is Ksamil Worth Visiting? Ultimate Guide
Is Ksamil worth visiting? The short answer is yes; with its crystal clear waters, fresh seafood, many activities, and relaxing beach town atmosphere, Ksamil is definitely worth visiting!
When you first lay your eyes on the many photos/video online of Ksamil, you'll think you're somewhere in Greece or Italy.
The scenery in Ksamil is absolutely breathtaking; best of all, the cost to visit Ksamil is significantly cheaper than most European beach destinations!
Ksamil is located in the Southern part of Albania along the Albanian Riviera; while it isn't an island, the town is surrounded by water on both sides.
We visited Ksamil for four days and found it the perfect time to experience everything Ksamil offers. The small Albanian beach town is an ideal lazy town, perfect for relaxing by the sea.
Whether you're looking to visit for a few days or weeks, in this Ksamil travel guide, you'll find the best things to do, delicious restaurant recommendations, top hotels to stay at, the best time to visit, and how to get to Ksamil, Albania.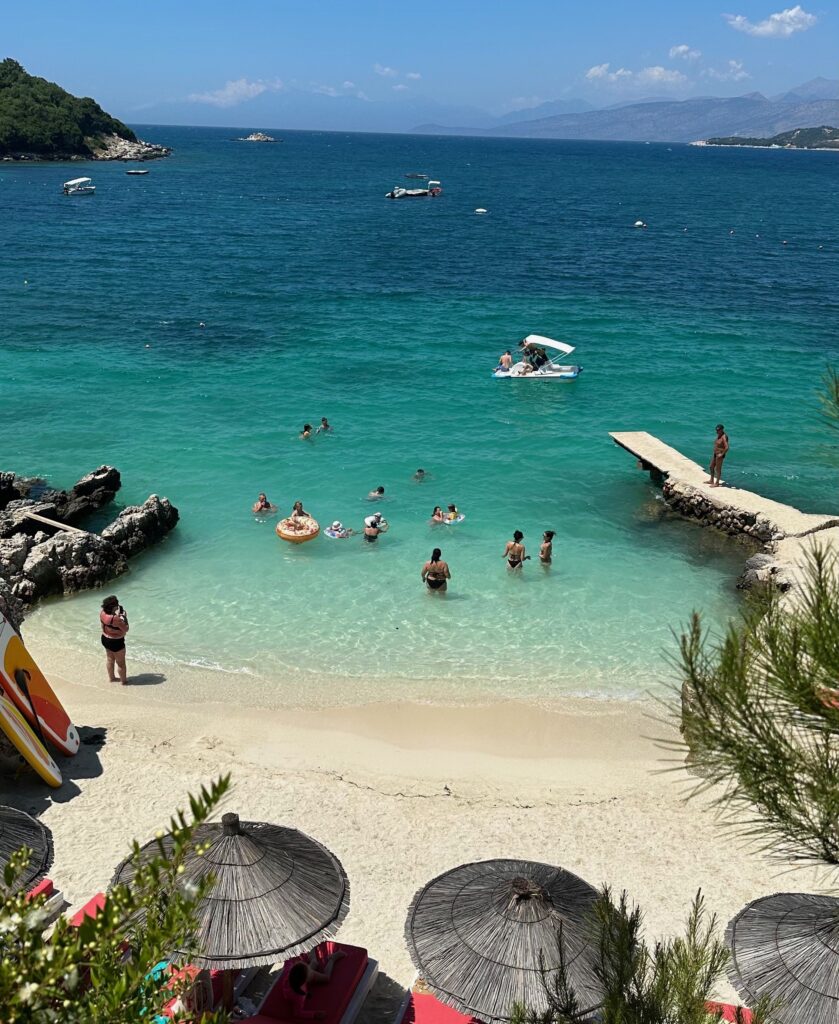 Beaches In Ksamil
Everyone visits Ksamil mainly because of its stunning coastline full of mesmerizing beaches.
The water at the beaches in Ksamil is some of the clearest in the world; the water here is as clear as the water you'd see at the beaches in Thailand or the Maldives.
With its crystal clear waters and hidden coves, Ksamil is a popular beach destination, and as the word gets out, the town should see growth over the years, considering its affordable prices!
The only slightly negative point for some of the beaches in Ksamil is some beaches here have pebbles instead of soft sand. No problem, if that's something you'd like to avoid, make sure you visit one of the beaches with sand.
NOTE: All the beaches in Ksamil have smaller shorelines, and all have sunbeds for rent. Coming with your towel to the beach isn't practical because there isn't any room, and I'm sure it's not allowed.
Here is a list of the best beaches in Ksamil for you to visit. I've included a mix of lively beaches as well as quieter secluded beaches as well!
Beach Tip: It's best to book a sunbed on the beach in advance during the summer holidays. Sunbed spots at the beaches in Ksamil fill up quickly. A sunbed usually costs 1000 – 2000 LEK / $11 – 21 US for the day – The price may be for 1 or 2 sunbeds; it's different at every beach.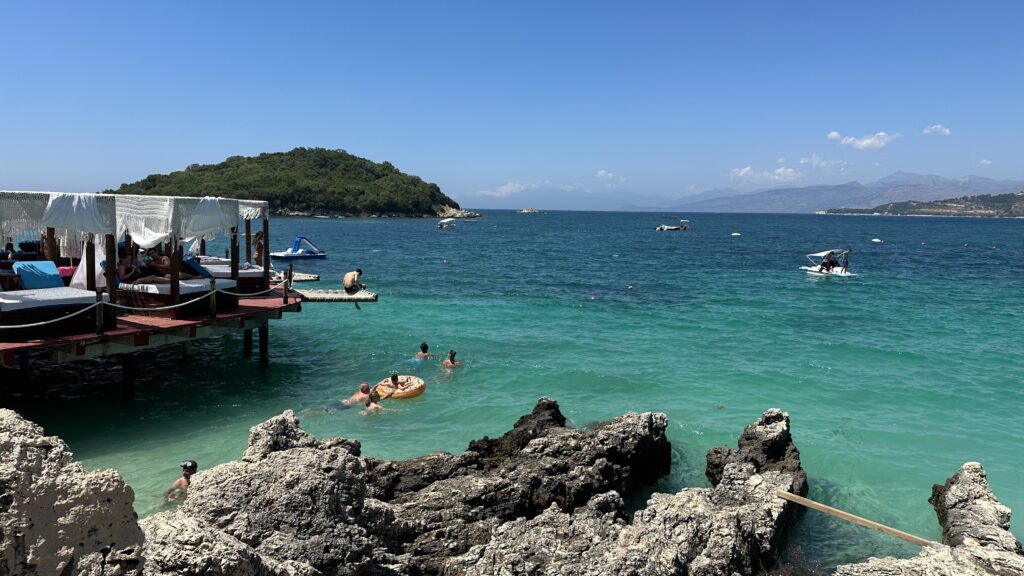 This is the main beach in Ksamil and the most popular beach in town because of its convenient central location. Because of its great location, Ksamil Beach gets very busy. Nonetheless, it's also one of the best beaches in Ksamil.
Expect perfect turquoise water here; this beach has some of the most transparent water in town. Also, the bay here is calm, ideal for kids and those who aren't great swimmers.
Sunbeds at Ksamil Beach will cost you around 1000 – 2000 LEK / $11 – 21 USD for the day.
Directly behind the beach shoreline are plenty of bars and restaurants, which I found pretty convenient!
Paddle Boarding: Those looking to do some paddle boarding, join this paddle boarding tour
Lori Beach is located just seven minutes from the main beach in Ksamil and is one of the most beautiful beaches. The sand is much softer than Ksamil Beach, but the shoreline is smaller.
The water here is shallow and calm, the entire beach is tucked in a little cove, and walking around it's like a half-circle.
Sunbeds at Lori Beach will cost you 1,500 LEK (15 US) for two beds and an umbrella for the day.
Restaurant Lori is conveniently located behind the beach; they serve various food, including calamari, fried fish, pizza, salads, and drinks!
Monastery Beach is a secluded shoreline only 10 minutes north of Ksamil. Monastery Beach is gorgeous and surrounded by luscious green hills with various shades of turquoise waters.
It's an excellent beach for those looking to escape the many crowded beaches in Ksamil. The shoreline is full of pebbles, not sand; if that's something you don't prefer at a beach, you may want to avoid it then!
There is a cozy restaurant where you can buy drinks, salads, and many seafood dishes.
NOTE: At this moment, there is currently construction there, and the beach is closed till further notice
The easiest way to get to Monastery Beach is by taking the local bus that travels between Burint and Saranda.
When you get on the bus, tell the driver to make a stop at Monastery Beach, and once there, you'll need to walk down to the beach. The bus cost 100 LEK/$1 US. Otherwise, you can always rent a car and drive there yourself!
Another excellent beach to escape the crowds of the main beaches is Pulebardha Beach and it's only 12 minutes by car from the main beach in Ksamil.
As you get there and walk the trail downward to the beach, your eyes are met with unbelievable shades of blue water and mountains in the distance. This beach reminded me of one of my favorite beaches in Thailand, Freedom Beach.
Despite being a secluded beach, it can get busy here as well. This is common for all the beaches in Ksamil. The Shorelines in Ksamil have limited space.
To get to Pulebardha Beach, use the local bus between Butrint and Sarande. Once on the bus, tell the driver you'd like to stop at Pulebardha Beach, and they'll drop you on the main road; after, you'll need to hike for 20 minutes to get to the beach.
If you want to drive here, understand that the road isn't paved and quite challenging.
Beach Clubs in Ksamil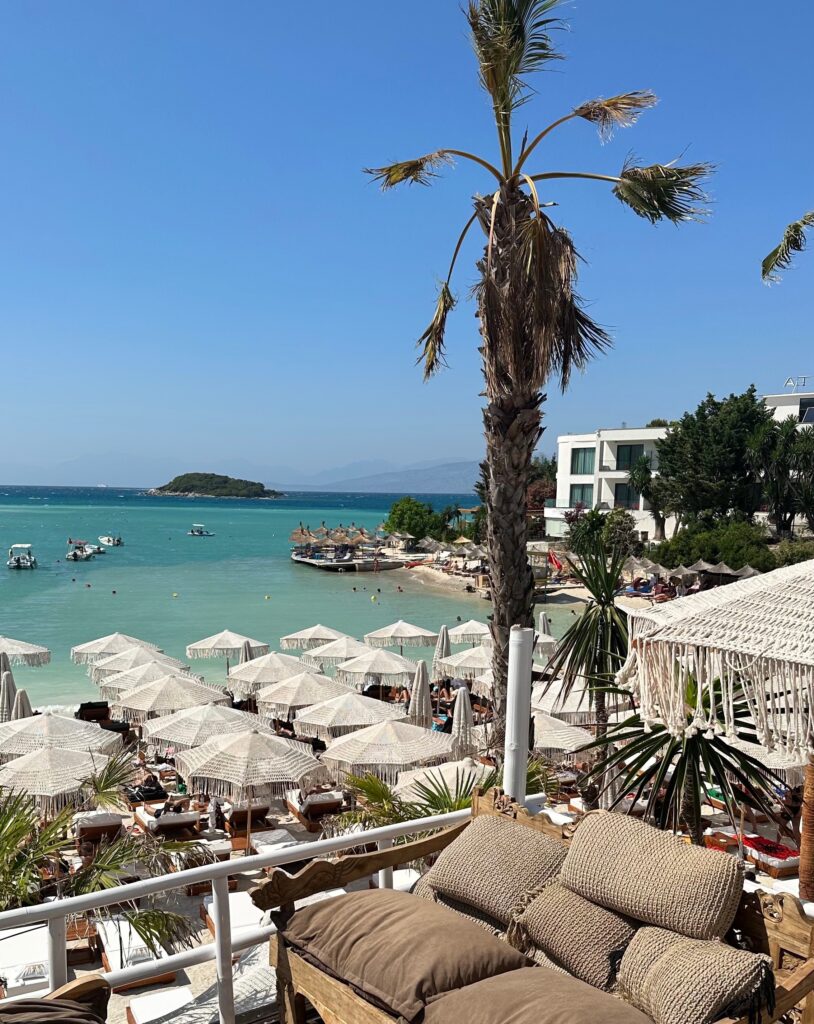 Costa del Sol Beach Bar
Serving delicious woodfire pizzas and drinks from morning till night, Costa Beach Bar is an excellent beach bar to catch some sun, swim in the sea or visit in the evening for a great sunset view!
Pisko Beach Bar
For those looking for unique and delicious cocktails, this is the place for you.
Located right along the beach, Pisko Beach Bar is the perfect place to lounge around all day and enjoy drinks/food into the late evening.
Africana Beach Club Ksamil
With both a beach area as well as a large deck platform with sea access, Africana Beach Club is one of the best spots to lounge around for the day.
The best part about this beach club is the comfortable large cushion loungers they have. Overall the venue is well-decorated; the only downside is the music is slightly too loud.
Things To Do In Ksamil
Besides the beautiful beaches in Ksamil, there are many incredible things to do here!
Here's a list of the best things to do in Ksamil when visiting; Ksamil isn't a big place, so doing all these activities when visiting is very much possible!
Butrint Archaeological Park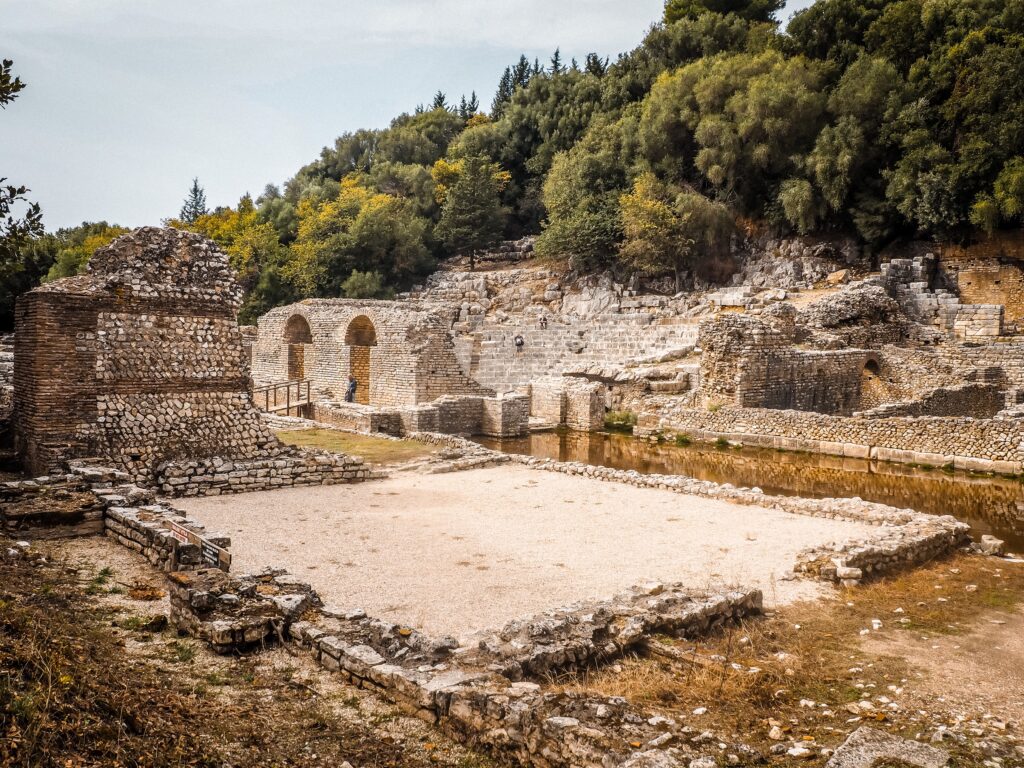 Combining both nature and history, Butrint National Park is a UNESCO World Heritage site dating back to the 8th century B.C.
They've done an incredible job preserving the historic area. The park is only 10 minutes south of Ksamil.
Visit the historic area, and spend a few hours exploring the ancient city, from castles, theatres, fountains, and old walls. This area played a significant role in the Ottoman and Roman empires.
Upon entering the site, you'll receive a map highlighting all the main points at the park.
Opening Hours and Entrance Fee
The National Park is open year-round from 8 AM till around Sunset. The museum here is open from 9 AM till 4 PM. The cost to enter is 1000 LEK/ $11 US.
You can drive to the park, take the local bus or attend a tour!
If you'd prefer to attend a tour with roundtrip transportation, book this Butrint Tour.
Visit Blue Eye Park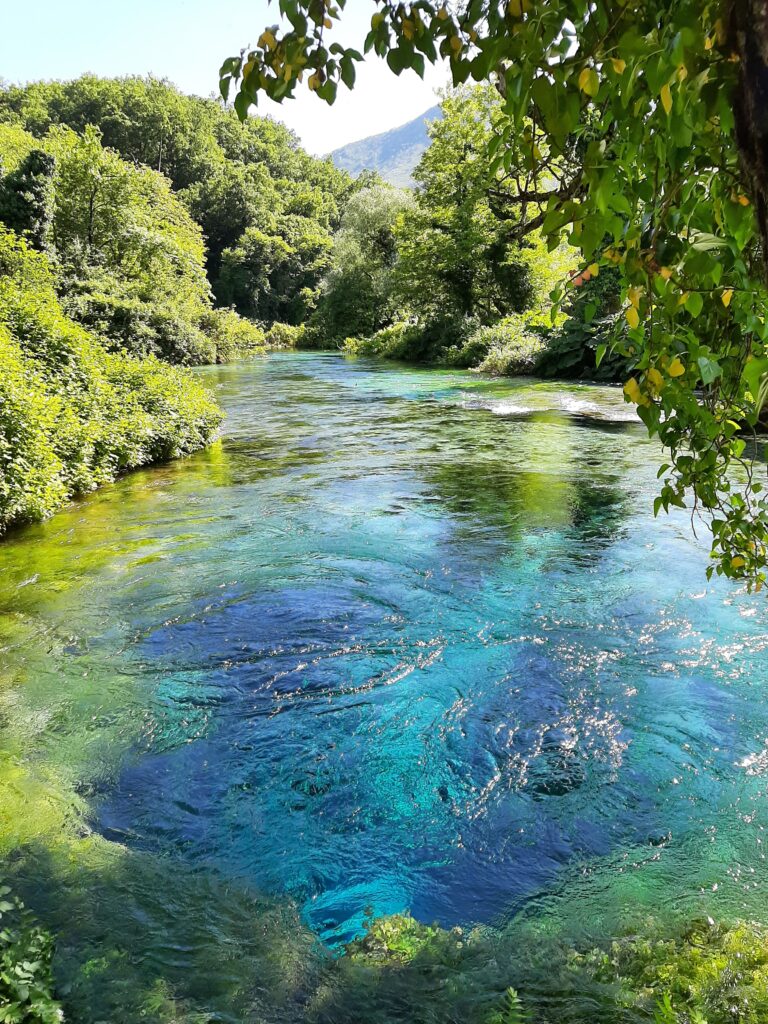 Another park you must consider visiting in Ksamil is Blue Eye Park (Syri I kaltër), located a short 30-minute drive from Ksamil.
Blue Eye Park is a natural spring that naturally bubbles from an underground cave, and the emerald pool is full of fresh spring water.
Unfortunately, you can no longer swim here; the Albanian government disallowed swimming here to preserve the area. Nonetheless, it's a fun hike and a beautiful place to experience!
Its surroundings are breathtaking, with a luscious green forest, distant mountains, and meadows.
The entry fee into the park is 50 LEK/.50 US per person.
To get to Blue Eye Park, you can either drive here and pay 200 LEK for parking.
Otherwise, it's best to attend a tour of Blue Eye Park that includes roundtrip transportation.
Mussel Sailing Tour
Catching fresh mussels from the sea and then cooking them that's precisely what this unique experience is all about!
On the mussel tour, you will join a local guide and a group as you fish for fresh blue mussels. Afterward, you'll take your catch and head to a restaurant where you'll be taught two delicious ways to prepare the mussels!
After enjoying fresh mussels, accompanied by Albanian bread and white wine, you'll set sail to watch the sunset.
Corfu, Greece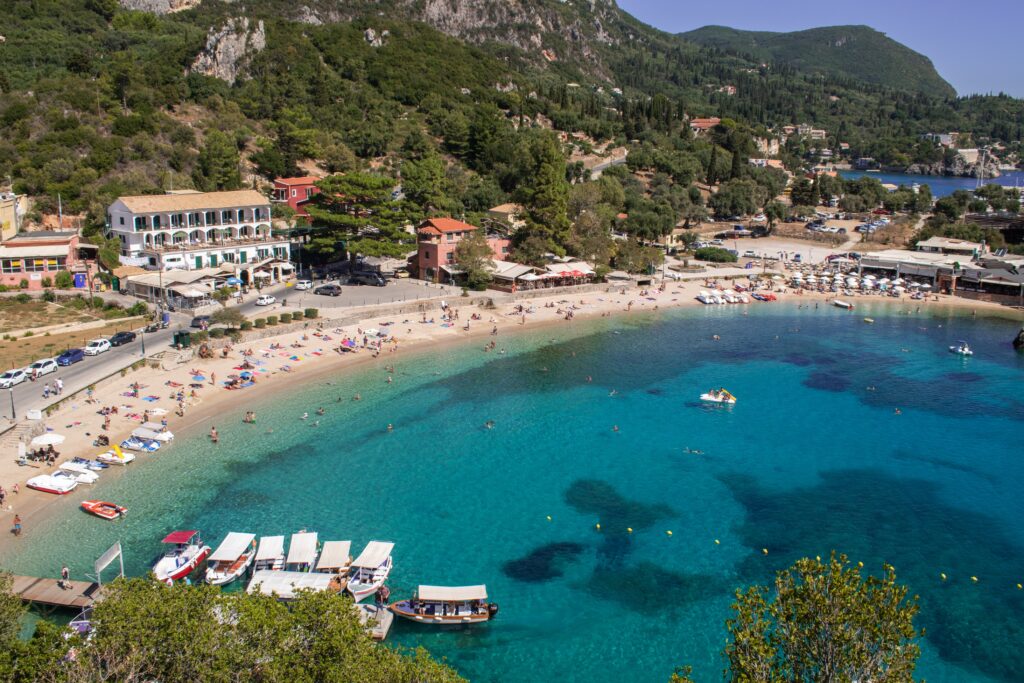 Corfu is an island in Greece famous for its stunning white beaches, Venetian influence, mountainous range, and fancy resorts.
Besides the beautiful beaches in Corfu, there are many incredible sights to see here!
Visit the Boschetto Garden
Walk around the Old Town
Hike the New Venetian Fortress
You can spot Corfu from some of the beaches in southern Albania. A day trip to Corfu is possible because of how close it is, and there's so much to do there. I recommend spending at least one night at a hotel in Corfu.
Here's how to get to Corfu, you first must go 20 minutes north of Ksamil to Sarande. Once in Sarande, you can catch the ferry to Corfu, Greece.
The ferry takes 30 minutes to get there. Arrive at the port 1 hour before departure to get through customs, and make sure you bring your passport!
Day Trip to Sarande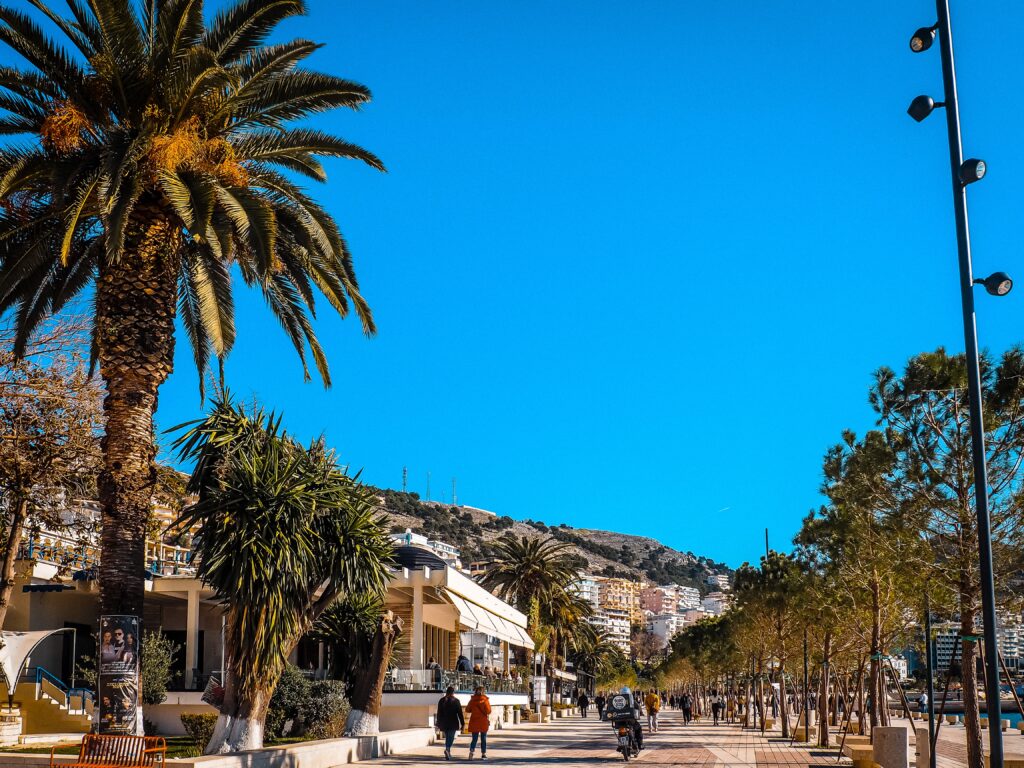 Just 20 minutes North of Ksamil is its neighboring town, Sarande, a beach town known for its excellent restaurants and nightlife.
Come to Sarande and enjoy an afternoon at the main beach, and later visit one of the many delicious restaurants in town for dinner.
The town marina is an excellent place to buy dessert and walk around the marina in the evening. Or head to one of the many rooftop bars for drinks under the sky; I recommend Tipsy Drink and More!
To get to Sarande from Ksamil, you can take the local bus for $2.50 US or a taxi for $20 US; if you're returning to Ksamil, you'll have to take a taxi because the bus stops operating at 6:30 PM.
Nightlife In Ksamil
The nightlife in Ksamil is nonexistent, and that's because Ksamil is more of a lazy beach town, meaning most places are closed by midnight. Speaking to a local about it, he told me that loud music isn't permitted in town after 10 PM.
If you're looking to enjoy yourself at night or party, you'll need to go to Sarende.
In Sarande, it's a different story; there are several bars, rooftops, nightclubs, and more. Sarande is known for its lively nightlife, so if you want to go out later at night, it's best to visit Sarande!
Jericho Cocktail Bar
Asi Rooftop & Lounge
Hojza Lounge Terrace
4 Elements Night Club
Just head north to Sarande, only 20 minutes away by car. You must take a taxi at night because the local bus between Ksamil and Sarande stops operating at 6:30 PM.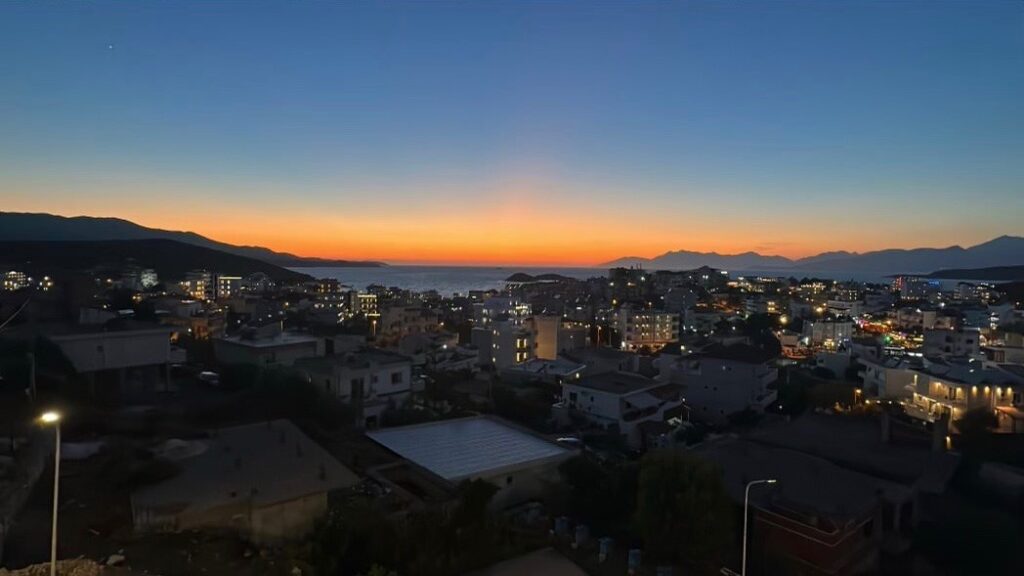 Restaurants In Ksamil
You'd be surprised by what the most well-known food is in Ksamil because it's not traditional Albanian food; one would think that's the case when visiting Albania, but it's not the case.
The most popular cuisine type in Ksamil is Italian and Greek, and you'll find it everywhere!
Besides those cuisine types, Ksamil is best known for its seafood. Here is a list of the best restaurants where you should eat in Ksamil when visiting!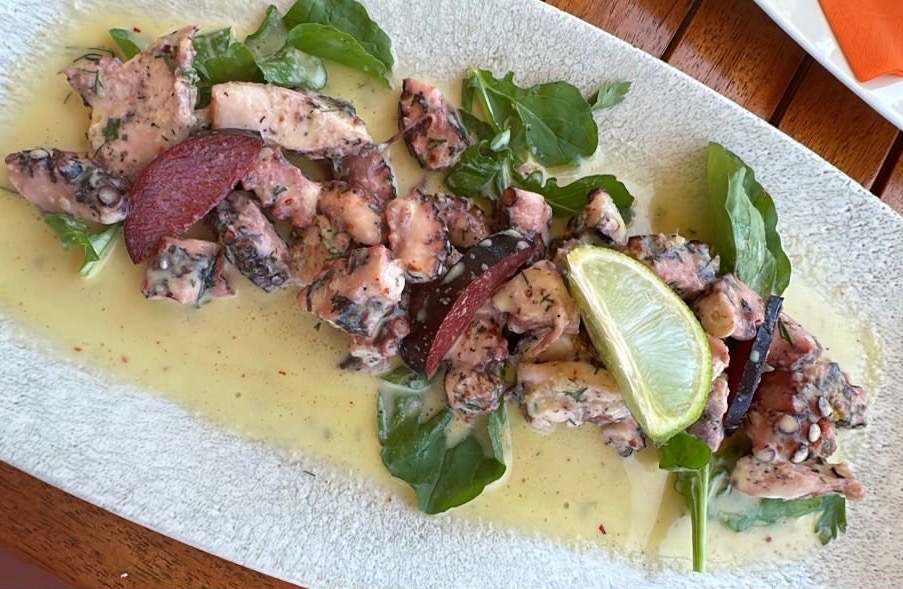 Guvat Restaurant & Bar: Amazing sea view located on a rooftop serving exceptional pasta and seafood dishes
Kristal Seafood Restaurant: Seafood restaurant serving a wide variety of dishes from whole fish, seasoned clams, calamari, and more
Pizza Rei & Rai: Best known pizzeria in town serving out wood-fired oven pizzas
Beshiku: Very popular local gyro shop that serves several delicious types of meat of, warm spits of meat, and fries – also very cheap
The Mussel House: Seafood restaurant, mostly known for its fresh mussels
TIP visiting Mussel House: Mussel House is located slightly north; I recommend you visit Pulebardha Beach for the day and then after visiting Mussel House for dinner
Best Hotels in Ksamil
Being a beach town, Ksmail has several types of hotels: villas for rent, hotels, and hostels.
Depending on your preferences, here is a list of hotels in Ksamil to consider for each budget.
Understand that hotel prices rise in Ksamil during the high-season Summer months. So if you plan to visit, it's best to book your hotel in advance if you're looking to visit then!
If you're wondering where to stay in Ksamil, location-wise it doesn't matter because the town is quite small so no matter where you stay, everything is close by!
Budget-Friendly Hotels
Vila En Ad – Minutes away from the main beach, Vila En Ad is a great budget hotel
Hotel Sunway – Modern apartment-style hotel located only 7 minutes from the main beach
Mid-range Hotels
Hotel Mira Mare – Apartment-style hotel with exceptional sea and town views
Blue Eye Hotel – Rooms have a balcony, located near Ksamil Beach
Luxury Hotels
Blue Water Hotel – Stunning hotel with a beautiful outdoor pool
Hotel Ajden by Mira Mare – Modern rooms with a beautiful rooftop and only minutes away from Lori Beach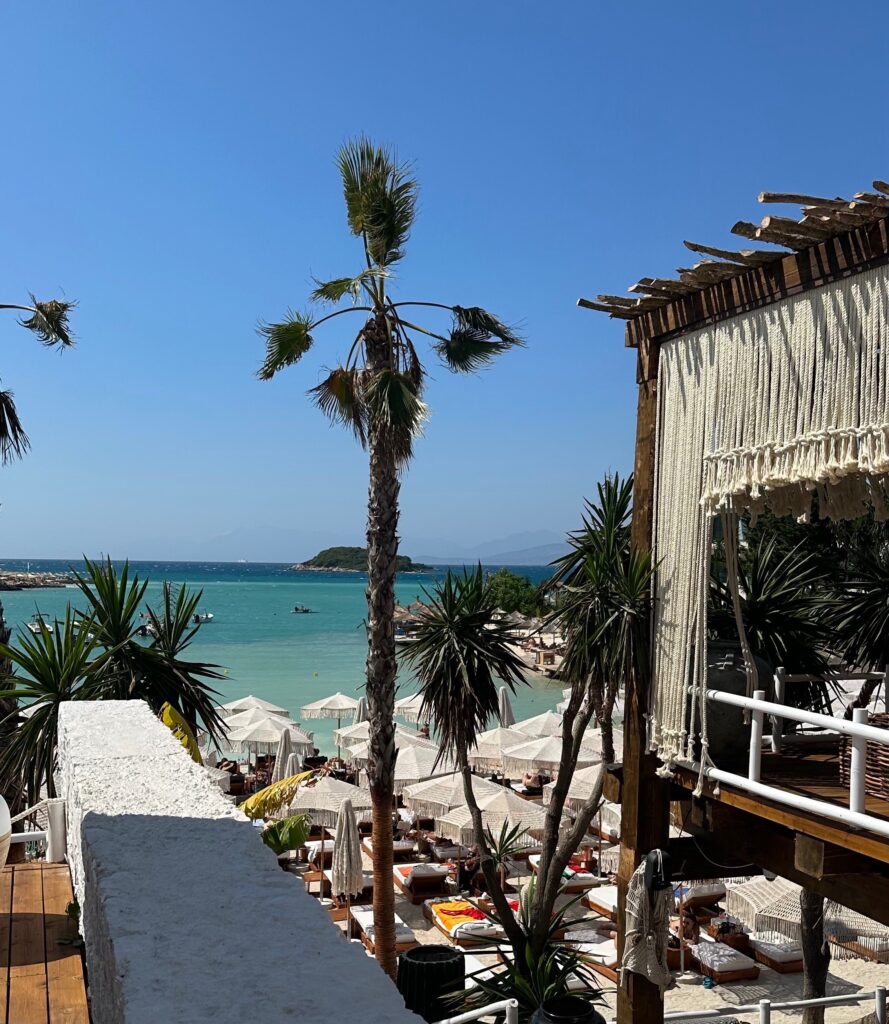 How to Get to Ksamil, Albania
Getting to Ksamil is relatively easy, and you can get here by bus, taxi, or rental car. If you're coming from Sarande, you can take the local bus or a taxi, and it's only a 20-minute ride.
Otherwise, you'll most likely be coming from Tirana, the capital. Once you've arrived at Tirana International Airport, take a bus, rent a car, or book a private airport transfer.
Bus to Ksamil
Several buses leave from the Tirana bus terminal to Sarande every day. Buses depart between 6:15 AM to 10:00 PM.
Once you've arrived in Sarande, you can take a bus directly to Ksamil from Sarande. There's no direct bus from Tirana to Ksamil.
From Tirana to Sarande, the bus takes around 5-6 hours. Check the bus schedule here. A one-way bus ticket is 15 euros, and only cash is accepted!
Drive to Ksamil
An adventurous way to get to Ksamil is by car; you can rent a car at the Tirana airport and drive along the Albanian Riviera.
I recommend Discover Cars, I've used them in several countries. From Tirana to Ksamil by car, it's a 4-hour drive. Directions are relatively easy, and the roads are well-paved.
Costs will depend. on the vehicle, you choose to rent.
Private Airport Transfer
The easiest and most convenient way to get to Ksamil is by booking a private airport transfer.
This way you'll have a private driver waiting for your arrival at the airport and they'll take you directly to your hotel in Ksamil.
While this method is the most expensive way to get to Ksamil, it's also the most convenient. And if you're traveling with a few people, it's practical.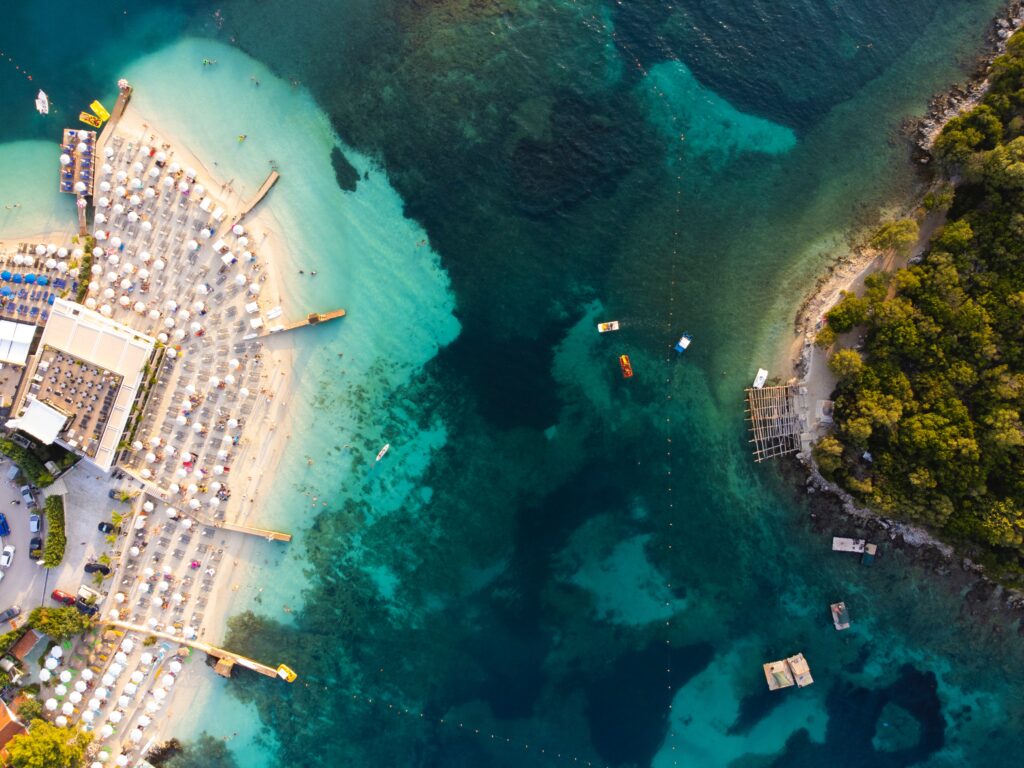 Best Time to Visit Ksamil, Albania
Albania shares the same climate as most of Europe, with hot summers and mild winters.
The best time to visit Ksamil is June through September when it's warm enough to go to the beach. July and August are the busiest months of the year in Ksamil.
Average Temperatures by Month
May — 22 °C
June — 27 °C
July — 30 °C
August — 31 °C
September — 25 °C
If you want to visit when it's less crowded, visit in June or September. These are shoulder season months far less crowded than July and August.
In the off-season months, most businesses are closed in Ksamil; it is a beach town, and everything revolves around the beach here!
Is Ksamil Expensive to Visit?
It depends on where you're visiting from and your budget. Compared to other European summer destinations, Ksamil is considered one of the cheapest places to vacation.
Compared to the rest of Albania, Ksamil is costly to visit because of how popular it is relative to other places in Albania.
In 30 minutes, you can be in Greece from Ksamil, Albania, and anywhere you choose to visit in Greece; expect the prices to nearly double for everything!
The average cost for a trip to Ksamil is between $520 – $1300 US per week per person, not including your flight.
It depends on how you spend your time here, accommodation costs, food budget, drinks, and how many activities you do.
Remember to purchase travel insurance before visiting Albania.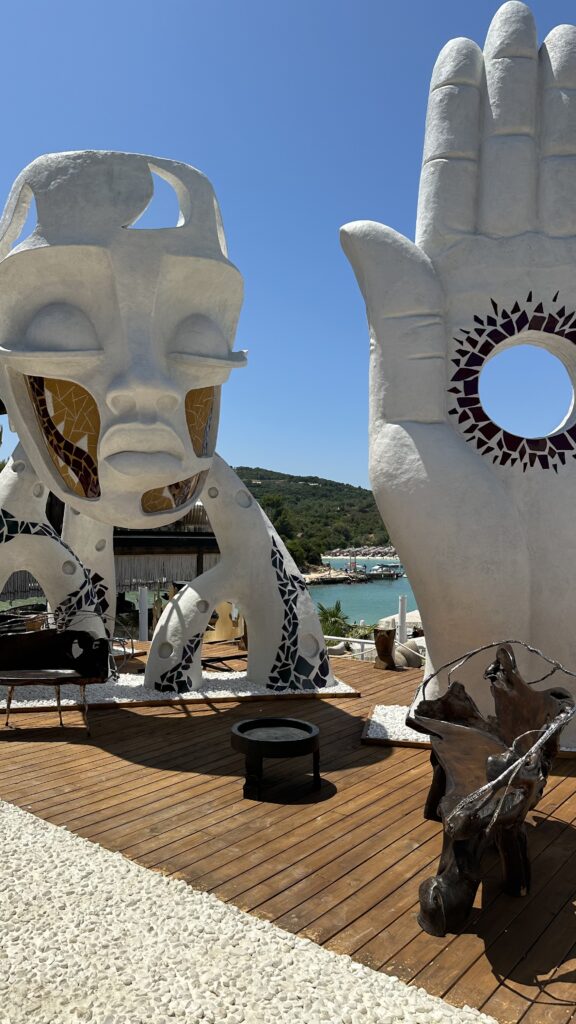 Is Ksamil Worth Visiting? – Final Thoughts
Are you still asking yourself, is Ksamil worth visiting? Crystal clear waters, beautiful beaches, many things to do, and inexpensive to visit, Ksamil is most certainly worth visiting!
The beaches in Ksamil surprised me; I thought I was on a remote island in the Philippines or Thailand; the clarity and turquoise shades of the water in Ksamil are unbelievable!
Overall, Ksamil is a relaxing lazy beach town ideal for long days at the beach and relatively calm laidback evenings. I highly recommend you put visiting Ksamil, Albania, on your list! ,
Is Ksamil safe to Visit?
Yes, Ksamil is perfectly safe to visit; even when walking around at night in Ksamil, there isn't anything to worry about—another reason why it's a popular beach destination amongst families.
Is it better to stay in Sarande or Ksamil?
It depends on the type of atmosphere you prefer. Ksamil is a quieter beach town with nicer beaches, while Sarande is a lively beach town but is less known for its beaches. Keep in mind both towns are only 30 minutes away from one another.
Can you swim to Ksamil Islands?
Yes, you can swim to the islands in Ksamil, the water is very calm in Ksamil. If you prefer, you can also take a quick boat ride to any of the islands.
Subscribe to Travel Hiatus!
Receive updates on my latest posts, insider travel tips & the best destination guides to your inbox!
Happy & Safe Travels
---
Planning Checklist
---
Disclaimer: Please note that some of the links shared in this article might be affiliate links; this means that at absolutely no extra cost to you, we will earn a small commission for any sales generated through this article and/or this website. We recommend products/services we've either used or researched thoroughly – Thank you for supporting us so we can continue to share helpful travel content!