Is Athens Expensive To Visit? Cost Guide
Are you thinking of planning a trip to Athens? But you are curious, is Athens expensive to visit? You've come to the right place!
In this complete guide, we'll cover hotel costs in Athens for all budgets, how much it costs to eat out in Athens, day trips, and more.
Athens isn't expensive to visit when compared to many of Europe's most popular destinations, such as Barcelona, Positano, London, Paris, Venice, etc.
But compared to the many destinations in Greece, Athens is a mid-range cost place to visit. It's not the most expensive place to visit in Greece, that's Mykonos and Santorini, but it's also not the cheapest place to visit in Greece either!
Athens is one of the oldest cities in the world; with its many archaeological sites, mountainous hills, and delicious food, Athens is on nearly everyone's must-travel list!
This guide will cover budget-friendly, mid-tier, and luxury spending budgets, read further and determine if you'd say Athens is expensive for you to visit.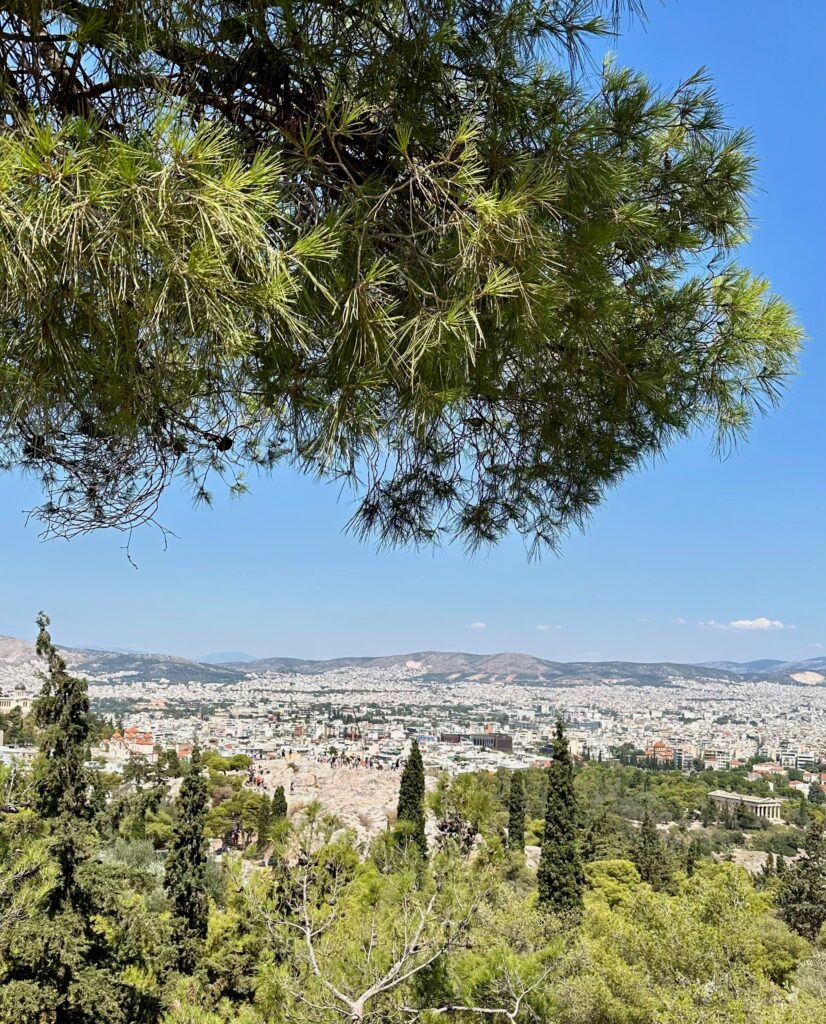 How to Get to Athens
Once you've arrived at Athens International Airport, there are a few different ways to get to the city center of Athens.
Metro/Train: Metro line 3 connects from Athens airport to the city center and runs every 30 minutes to Syntagma Station, and takes 40 minutes. This Metro line operates every day from 6:30 AM – 11:30 PM. It cost 10 Euros for a ticket.
Taxi: Like any airport, several taxis are waiting for visitors. The price of a taxi from Athens Airport to the city center is 40 Euros and up to 60 Euros at night.
Private Airport Transfer: Pre-book a private transfer for convenience; your driver will wait with a sign to take you into town. The cost depends on your vehicle of choice.
Curious about how to get around Athens? Walk, take the metro, taxi, or rent a scooter!
Where to Stay in Athens
Athens has many accommodations, old-style boutique hotels, big-name hotels, and budget-friendly hostels.
Athens is a popular destination to visit from May to October, and accommodations get fully booked. So if you plan on visiting then, book your hotel earlier for the best prices!
Hostel Average Prices: $40 – $70 US
Mid-Range Average Prices: $140 – $220 US
Luxury Hotel Average Prices: $340 – $600+ US
These are some average price figures for the different accommodation types in Athens!
Budget Hotels in Athens
Here are my picks for the best budget-friendly hotels in Athens, Greece, to consider:
Athens Hawks: This hostel is located in the city center & offers both private and shared rooms. They've got a stunning rooftop bar area to relax and mingle
Safestay Athens: High-rated hostel in the city center with rooftop views of the Parthenon
Mid-Range Hotels in Athens
Those looking for hotels in Athens mid-range priced, here are my picks for you to consider:
The Lekka Hotel & Spa: Decorated in beautiful chic bohemian decor, the Lekka Hotel is a lovely hotel with many amenities, including a spa, and its rooftop is stunning!
Polis Grand Hotel: A modern highrise hotel with large rooms known for its delicious breakfast buffet
Luxury Hotels in Athens
For those looking for luxurious, comfortable stays, here are your top hotel picks in Athens:
Grand Hyatt Athens: A very-modern decor with large rooms, a top-ranked restaurant, a large rooftop pool to enjoy, a stunning courtyard, and more
Electra Palace Athens: A beautiful boutique hotel in a renovated old building with a stunning rooftop pool, excellent restaurant, and many amenities
Is Athens Expensive to Eat?
Eating out in Athens is only expensive if you want it to be. That's because the ancient city has restaurants everywhere.
From fine dining to multi-course restaurants to old-school taverns and your budget-friendly classic gyro sandwich shops!
Below I've shared with you restaurants for all budgets. Athens is a big city with a broad mix of many restaurant types!
How much does it cost to eat in Athens for a day?
Expect to spend an average of $33 – $44 US daily on food. This depends on your budget and where you choose to dine each day.
Tipping in Athens: The general rule of tipping in Athens is usually just a few euros €2-6, and at fine-dining restaurants tipping is 5-15%.
Looking to explore many food spots in Athens? Attend this Athens Food Tour!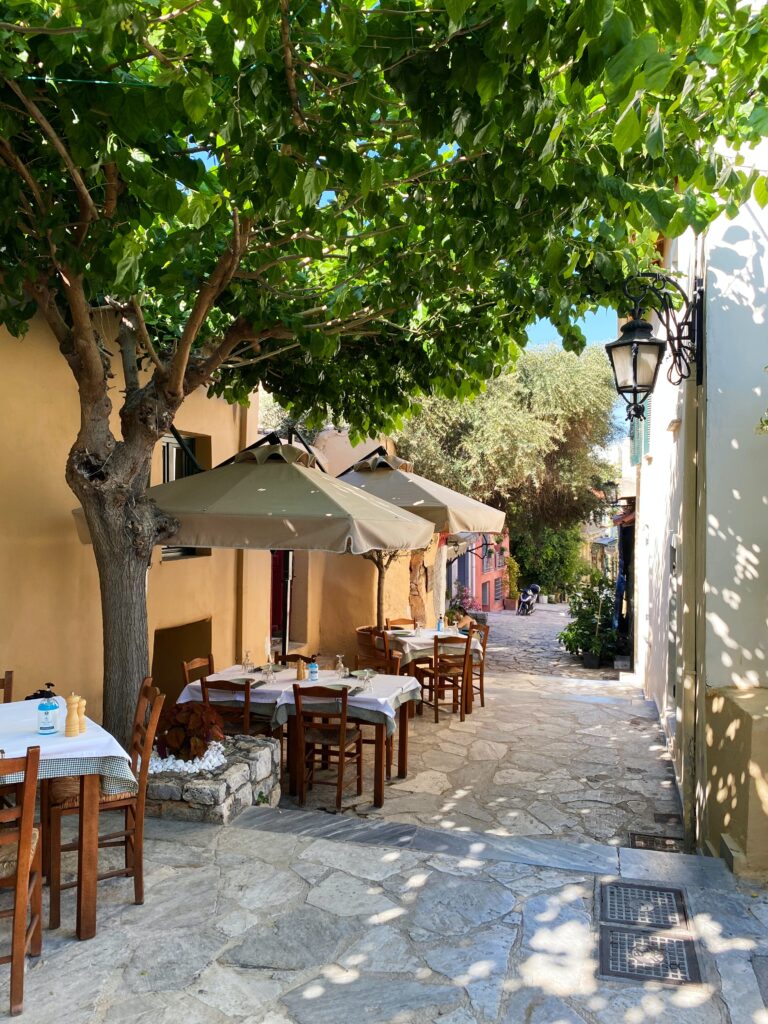 Best Restaurants in Athens
Here is a short list of the best restaurants in Athens, fine dining, the best tavern, and two cocktail bars with exceptional views:
Aleria Restaurant: A fine dining restaurant serving contemporary Mediterranean and a wide variety of artisanal wines
Geros Tou Moria: An old-school tavern serving classic Greek dishes paired with live performances every night
Thissio View: Known for its cocktails and amazing views of several ancient ruins
360 Cocktail Bar: Perfect rooftop bar to watch the sunset in Athens
Cheap Restaurants in Athens
My three favorite affordable restaurants in Athens I highly recommend you try when visiting:
Kostas: The most famous gyro shop in Athens, be prepared to wait a few minutes; this place is popular
All That Jatz: Sitdown restaurant serving all the Greek classics but mainly known for its bbq meats and veggies
Tavern Klimataria: Home-style restaurant serving various Greek classics; it doesn't get more authentic than this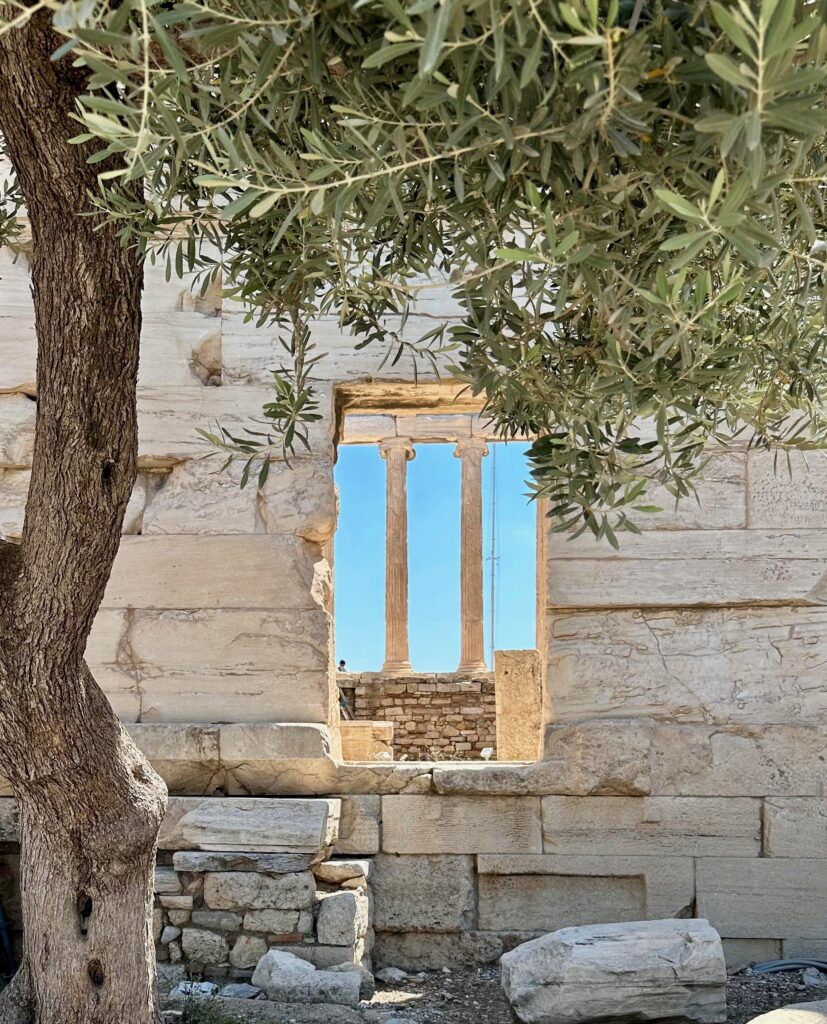 Athens Day Trips Costs
You must factor part of your budget into day trips in Athens. Visiting one of the most famous cities in the world, there are many things you'll want to do here and several great day trips to consider!
The average cost of day trips in Athens is $120+ US; it all depends on the types of tours or day trips you'd like to do!
Getting around Athens sightseeing will be relatively inexpensive if you're on a tight budget.
Athens Half-Day Sightseeing Tour: On this excellent sightseeing tour, you will see most of the majority must-visit archaeological ruins in Athens
All Day Cruise – 3 Islands: This fun all-day island hopping includes snorkeling, visiting many islands, lunch, drinks, and more
Catamaran Cruise: Enjoy the day as you sail the bright blue waters of Athens, swim, snorkel, enjoy drinks, and lunch with beautiful views. Includes hotel pickup/dropoff
Meteora Day Trip: This all-day trip to the famous Meteora UNESCO-listed monasteries is perfect for those who love adventure. You'll be going by train and accompanied by an English-speaking guide
Greek Food Tour: Foodies, this one is for you! On this tour, you will walk the streets and visit many restaurants/cafes as you try 9 different classic Greek foods/drinks, all included in the tour price
Is Athens Expensive to Shop?
There are many different areas to go shopping in Athens, all suiting the purpose of what you may be looking for.
The average cost of souvenirs in Athens is around 14-30 Euros. Depending on what you buy and the item's size, there are uniquely crafted souvenirs that can cost you 2000+ Euros as well.
Ermou Street: A popular walking street full of big commercial stores like Zara, Mac, Footlocker, and more
Monastiraki Market: At this market, you'll find leather goods and many tourist souvenirs to buy
Kolonaki: An upscale neighborhood full of all the designer shops, Chanel, Gucci, Dior, and others
Exarcheia: This area is best known for its vintage shopping. You can find pieces here for as low as 3 Euros!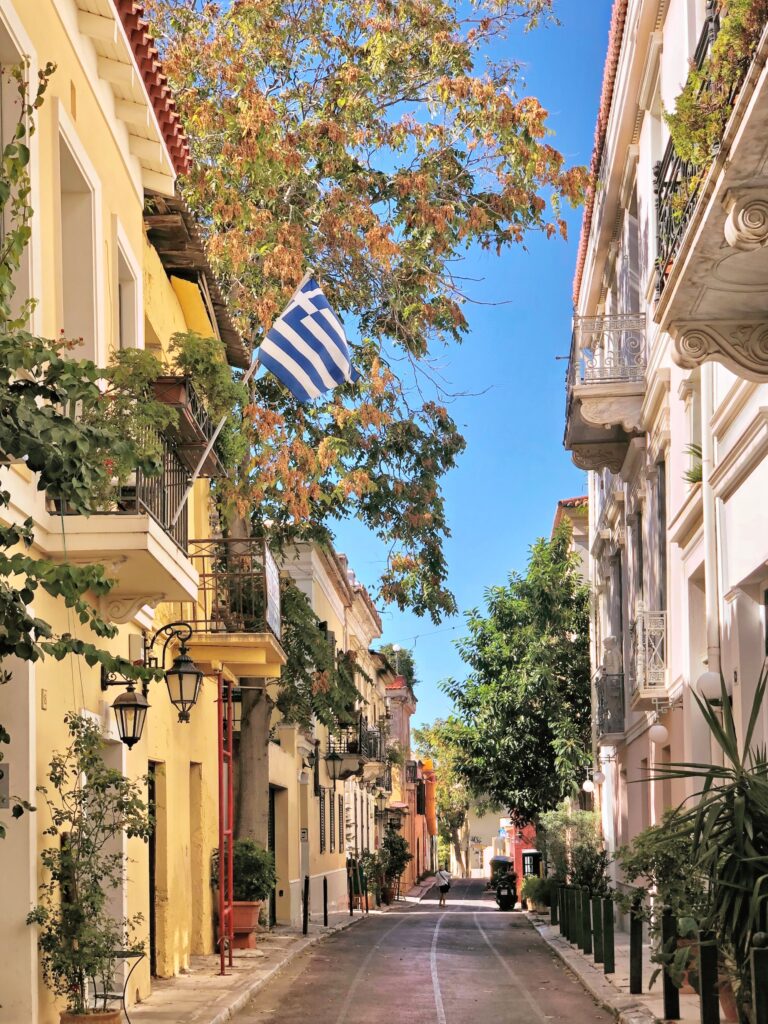 Best Time to Visit Athens, Greece
The best time to visit Athens is during the Summer when the weather is warm enough to experience everything this beautiful city has to offer, as well as island-hopping neighboring islands!
Alternatively, the months of May, September, and October are also great times to visit Athens as well. These months align with the shoulder season in Athens because it's a time when seasons are changing.
It costs less to visit during shoulder season, and hotel and airfare deals are easier to find than in Summer. Best of all, Athens is much less crowded during these months compared to the Summer.
Winter: November – Feburary / Avg Temperature: 12 Celcius
Spring: March – May / Avg Temperature: 17 Celcius
Summer: June – August / Avg Temperature: 26 Celcius
Fall: September – October / Avg Temperature: 22 Celcius
Visiting Athens in the off-season is possible, it's not cold, but you will need a jacket. This is when the city is least crowded.
Just know there will be many things you won't be able to do if you choose to visit during the off-season winter months.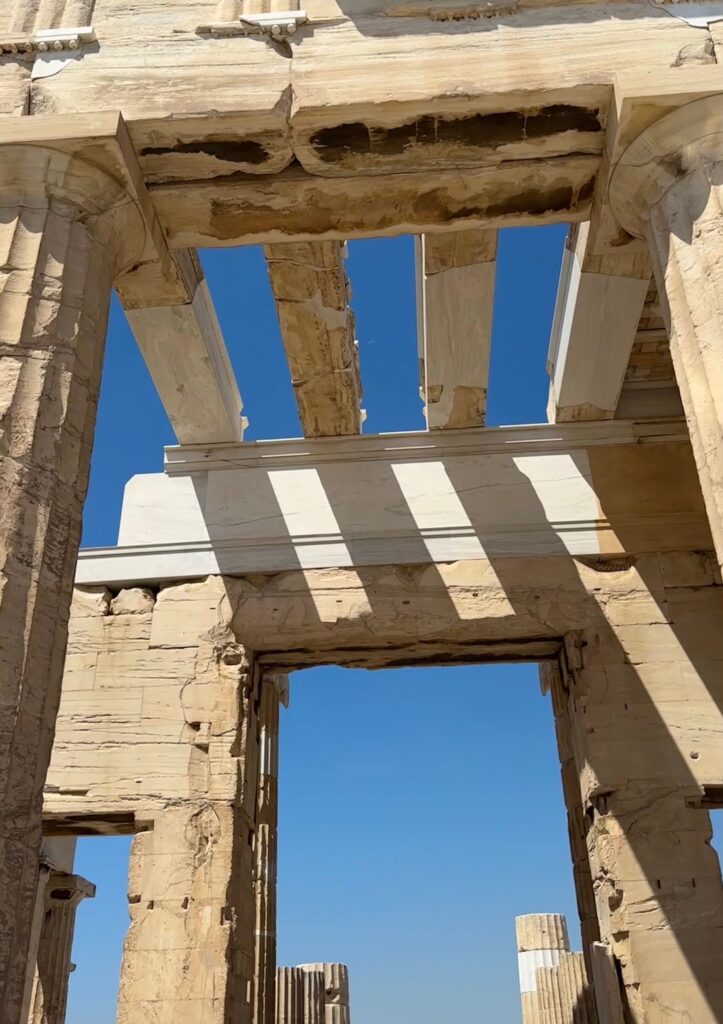 Athens Travel Tips
As you prepare to visit Athens, here is a list of travel tips in Athens to keep in mind as well as a few scams in Athens!
Carry Cash: Many restaurants take cards, but not all do, so always have cash with you. Most of the small shops prefer cash.
Use the Metro: Athens has an excellent metro, you can get anywhere using it, and it's very cheap. A 24-hour ticket only costs 4.50 euros, and you can go all over the city.
Tourist Trap Restaurants: As you walk the busy streets, you will spot several local workers enticing you to visit their restaurants. The food will likely be mediocre; you're nothing but a way to make money for them.
Here's a tip, any high-rated good restaurant won't do this; you'll naturally want to go to the restaurant yourself. Use the restaurant suggestions I've mentioned in this article!
Bad Taxi Drivers: No matter where you go in the world, this happens. Ensure the driver has a meter on; otherwise, download/use the Beat Passenger app.
Friendly Bar Friends Scam: Watch out for this scam when venturing to the bar, especially if you're alone.
A few friendly people approach you at the bar, drink with you, and then suggest going to another bar. The bar they're taking to you is in on the scam.
Once they bring you to the new bar, they'll order drinks with you; after the bill comes, it's 2/3 times higher than the regular amount for drinks, and the group of people suggests you pay. If you don't, security escorts you to an ATM to pay up.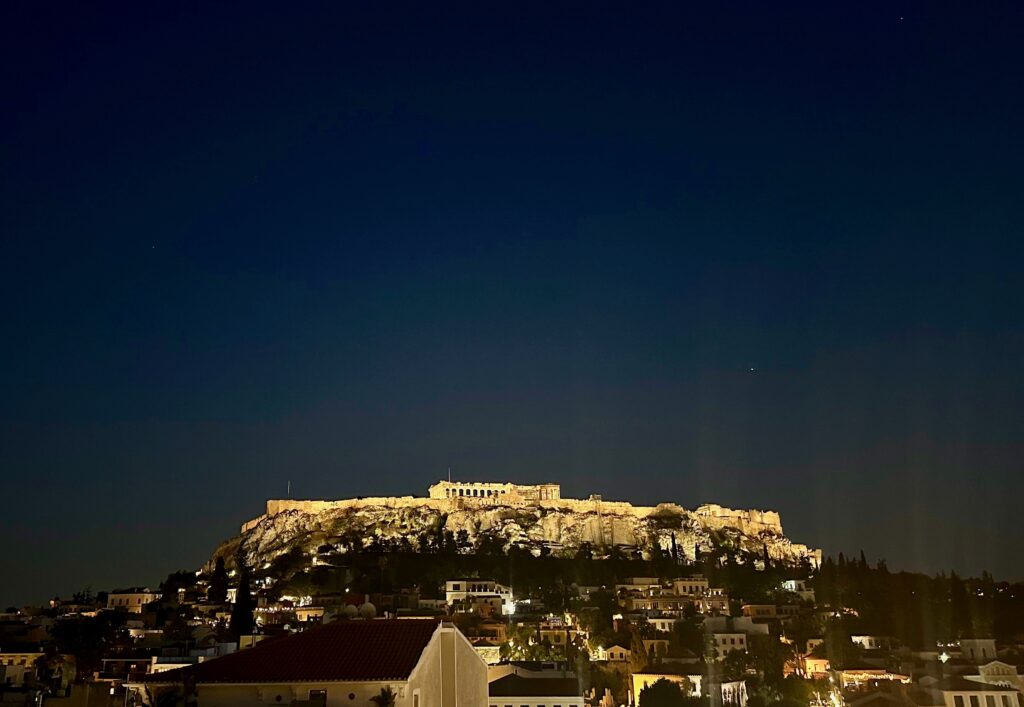 Is Athens Expensive to Visit? – Final Thoughts
So, is Athens expensive to visit for tourists? Well compared to most places in Greece and on a broad world scale, Athens is a mid-range cost destination.
It's not cheap but not very expensive either; Athens can be visited on a budget. The prices in Athens are similar to most European destinations.
When I visited Athens, I spent around $250 US a day, and I could have spent less, but I'm a big eater and love my food!
According to BudgetTravel, the average daily spend for tourists in Athens is $140 US per day.
Below you'll find three different visitor budgets for Athens, with figures of how much you should expect to spend each day, depending on how you travel!
| | | | | | |
| --- | --- | --- | --- | --- | --- |
| Visitor Type | Hotel | Food/Drink | Transportation | Activities | Average Day Cost |
| Budget | $55 | $45 | $5 | $20 | $125 US |
| Mid-Range | $140 | $70 | $30 | $60 | $300 US |
| Luxury | $400 | $200+ | $60 | $140 | $800 US |
Remember that these are only average figures; depending on how you travel and what you'd like to do, it may be different for you.
As I said, I am a mid-range traveler and spent less than the $300 US average!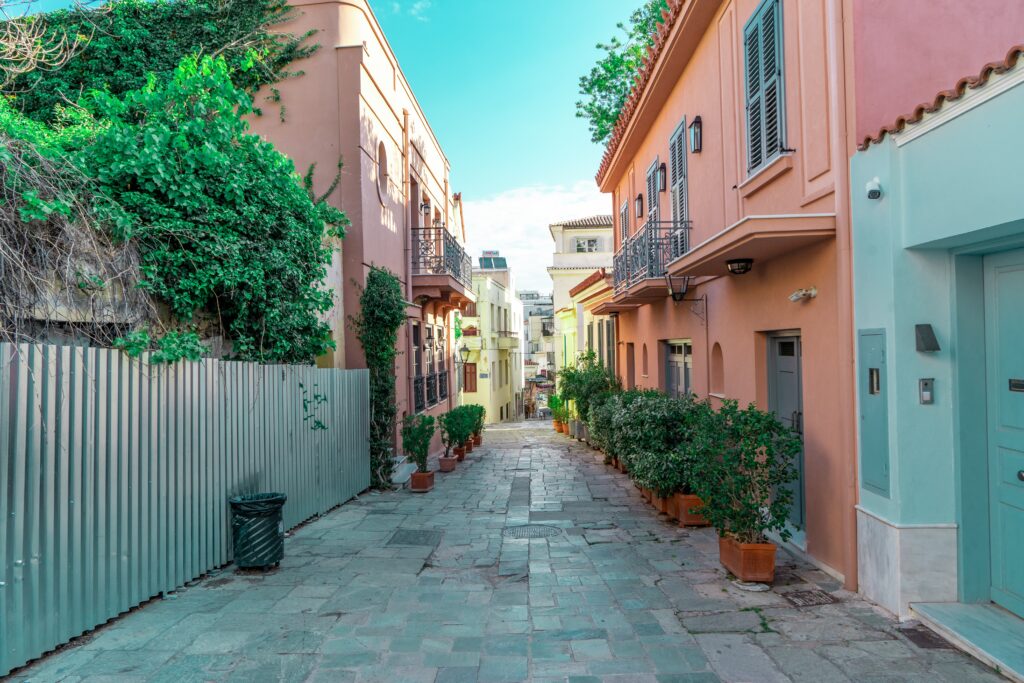 How many days in Athens is enough?
Plan to spend at least three days in Athens. In three days you'll have enough time to see the main attractions in Athens, make one day trip, try many foods and get a feel for the beautiful ancient city!
Is Athens, Greece walkable city?
Athens is very walkable; the ancient city also has an excellent metro system, so you can quickly get around the city.
Is Italy or Greece cheaper?
Greece is much cheaper than Italy for everything, accommodations, eating out, and transportation.
Featured Image Credit: Josh Stewart
Subscribe to Travel Hiatus!
Receive updates on my latest posts, insider travel tips & the best destination guides to your inbox!
Happy & Safe Travels
---
Planning Checklist
---
Disclaimer: Please note that some of the links shared in this article might be affiliate links; this means that at absolutely no extra cost to you, we will earn a small commission for any sales generated through this article and/or this website. We recommend products/services we've either used or researched thoroughly – Thank you for supporting us so we can continue to share helpful travel content!