7 Scams in Chiang Mai to Watch Out For
Chiang Mai is one of the most popular cities in Thailand to visit, and because the city is also one of the largest in the country, scams in Chiang Mai do happen!
Scammers are well aware of the tourist traffic visiting the northern big city on a yearly basis and take advantage of it.
Let's get into it the most common scams in Chiang Mai you might run into. Anywhere you visit in the world with high tourism, you're always more likely to run into at least a scam or two while on your trip.
That being said, the locals, wherever you visit in Thailand, are always very friendly and welcoming!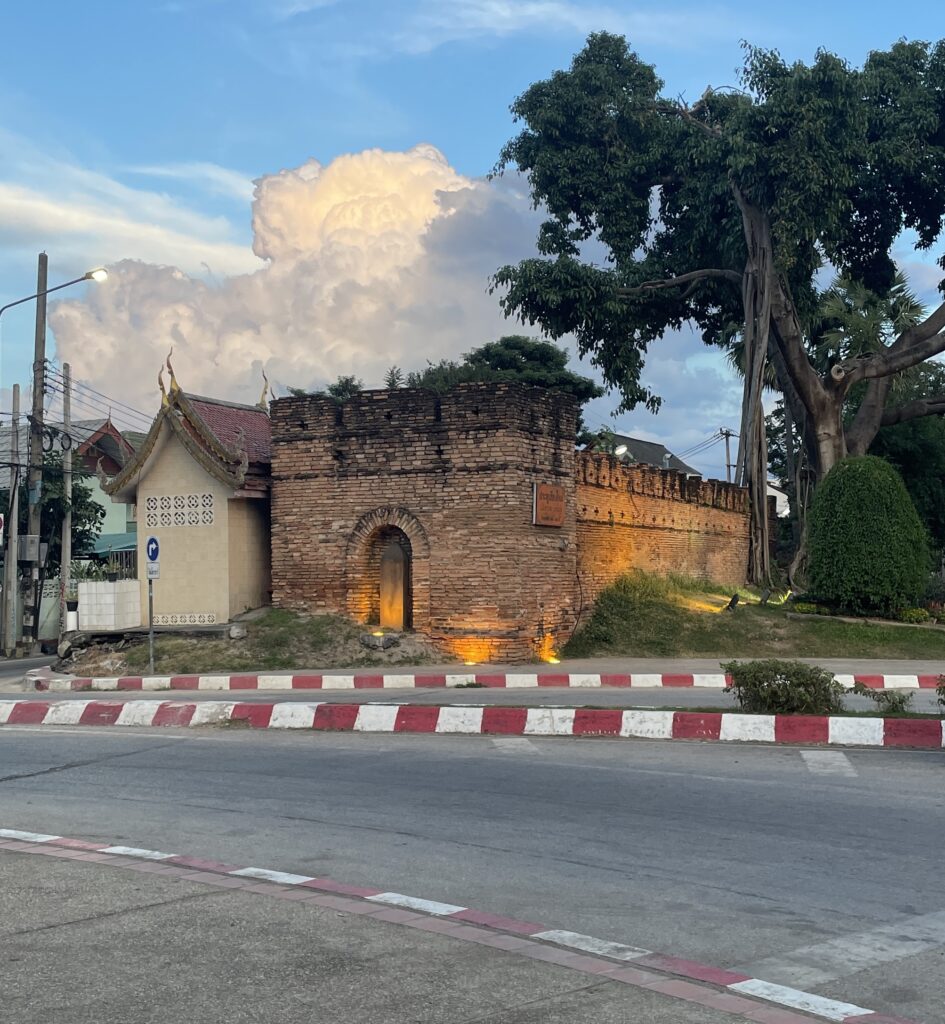 Tuk Tuk Scam
Chiang Mai isn't a small city, and you'll need to use some sort of transportation some days.
And one of the best/fastest ways to do so is by taking a tuk-tuk! But unfortunately, some drivers aren't honest.
There are two different TukTuk scams in Chiang Mai you should be aware of before taking one.
By the way, don't let the Tuk Tuk scam take away from you getting to experience TukTuks rides because they're the most fun way to get around Chiang Mai!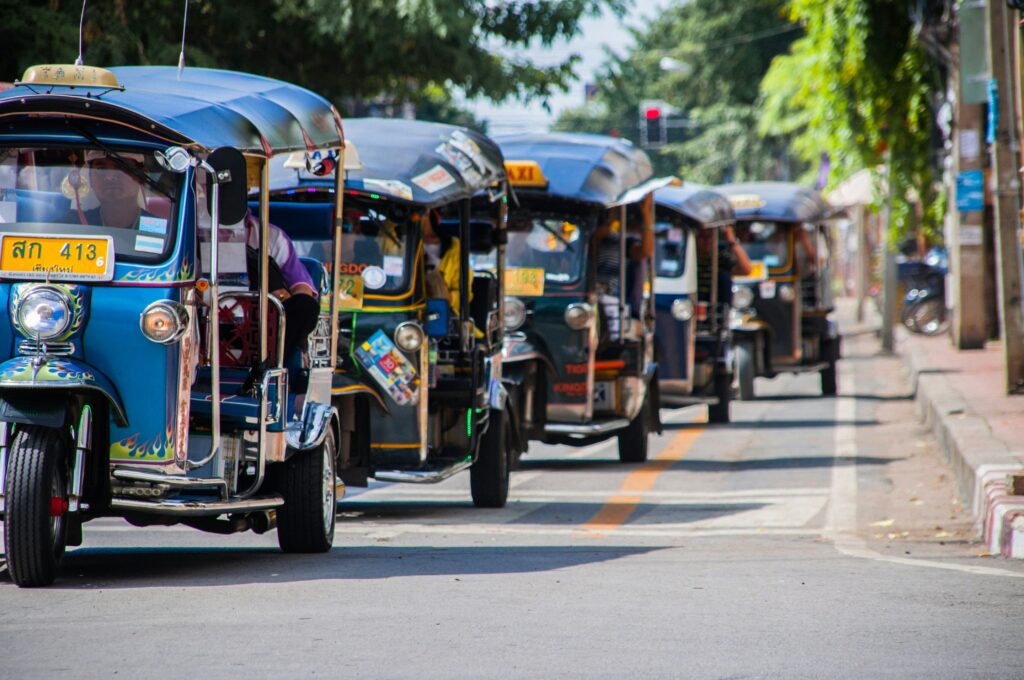 TukTuk Scam 1
Upon getting into a TukTuk, your driver begins suggesting souvenirs, tailor, and gem shops for you to visit; sometimes, they'll even suggest it's on the way to your destination.
While you may think the driver is being friendly, they're simply looking to make a commission off of you. If you purchase anything at any of the shops, they receive a commission.
Before you know it, you're doing a large detour shopping and taking away from your time to explore.
If you do go to the shops and you don't purchase anything, the driver may begin asking you for more money for your trip because they drove you to the shop. When initially you didn't even want to go to these shops.
TukTuk Scam 2
The second TukTuk scam involves overcharging you for the trip, and it goes like this: you agree with your driver on a price for your destination.
Once you arrive at your destination, your TukTuk driver is asking for more money than the price agreed on.
TukTuk drivers tend to do this more at night, especially if they notice you've had one too many drinks.
TIP: If you're someone who isn't comfortable negotiating, you'll find this tip very helpful for taking TukTuks in Thailand.
Download Grab (it's like Uber), and check how much your trip will cost you. Then negotiate with the TukTuk driver according to this price! If you pay 10 or 20 Baht more, that's not a big deal, but anything more, there's no reason to!
How to Avoid TukTuk Scam: First, avoid accepting any invitations to any shops from a TukTuk driver, period. Secondly, always make sure you've agreed upon the price for your trip with the driver twice.
Taxi Scam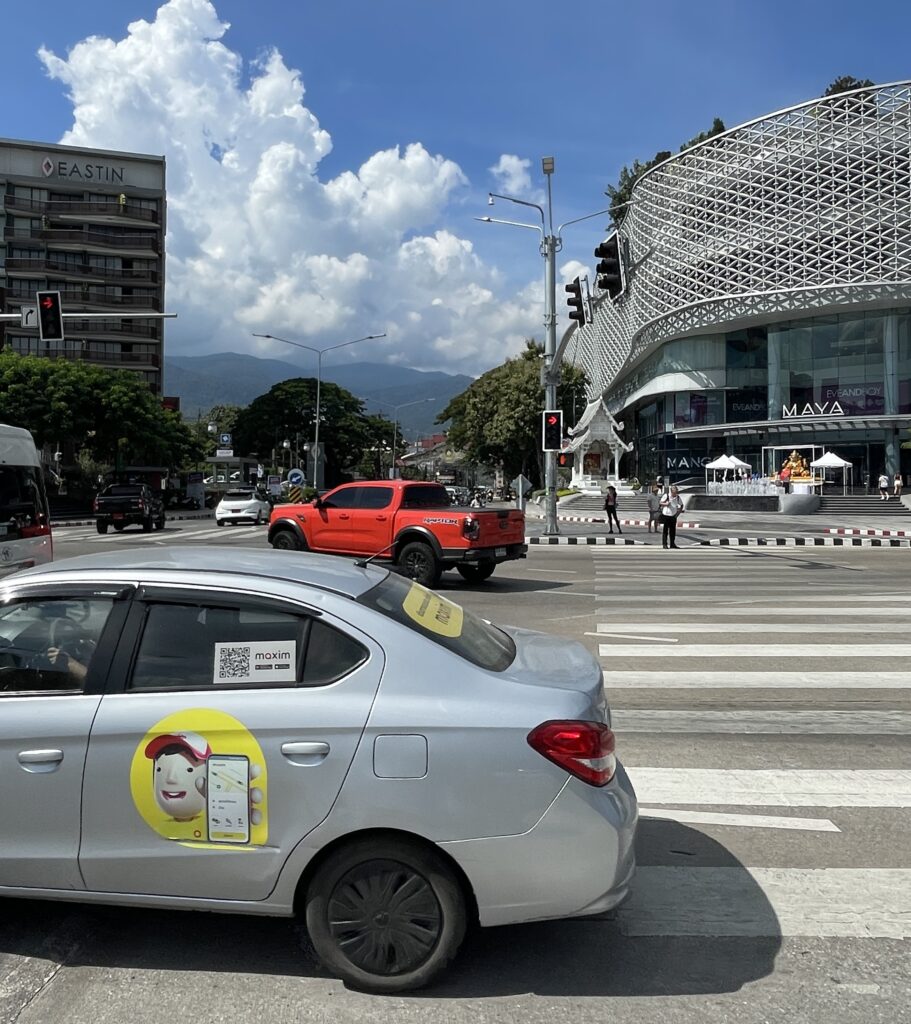 Sometimes, you're in a rush and just want to jump in a taxi and be on your way somewhere. Walking around Chiang Mai, you'll quickly see there are taxis everywhere in the city.
The taxi scam in Chiang Mai is similar to all over the world. When you get in a taxi, the driver doesn't have a meter, and they suggest a price to overcharge you.
If the taxi driver doesn't have the meter on, tell them where it is and ask for it. Otherwise, get out. Also, it's always a good idea to have your destination on Google Maps to see if the driver isn't purposely driving you around.
How to Avoid Taxi Scam: Make sure they have the meter on, or perhaps look at how much your trip costs on Grab and negotiate accordingly.
Scooter/Motorbike Scam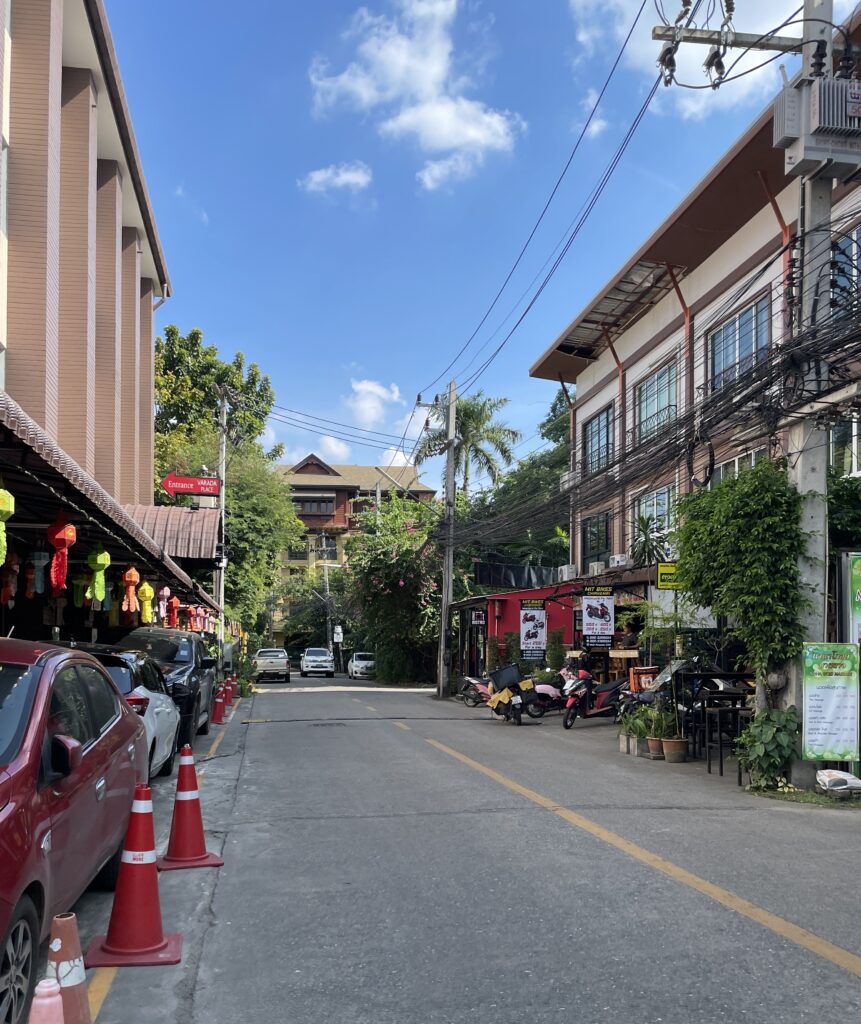 The scooter/motorbike scam in Chiang Mai happens often and can be costly, so you should be aware of it.
You'd like to rent a scooter/motorbike to get around the city from one of the many shops around Chiang Mai.
By the way, make sure to never put up your passport as collateral to rent a scooter or anything for that matter.
After filling out the paperwork and renting the scooter for a few days, you visit the shop again to return the scooter. All of a sudden, there's a shop employee or the owner claiming they see damages done to the scooter from your use.
They may point at a random scratch or dent, anything really, and then tell you they'll need you to pay for the repair. They're attempting to exploit you for extra money.
How to Avoid Scooter/Motorbike Scam: Once given the vehicle, take a few detailed photos of it before leaving the shop. In case you come back and they try to pull this scam, you can show them photos with the time/date and exact condition you were given the scooter.
If they proceed to argue with you, suggest that you're looking to get the Chiang Mai tourist police involved. The location of the office is here.
"Friendly" Bar Friends Scam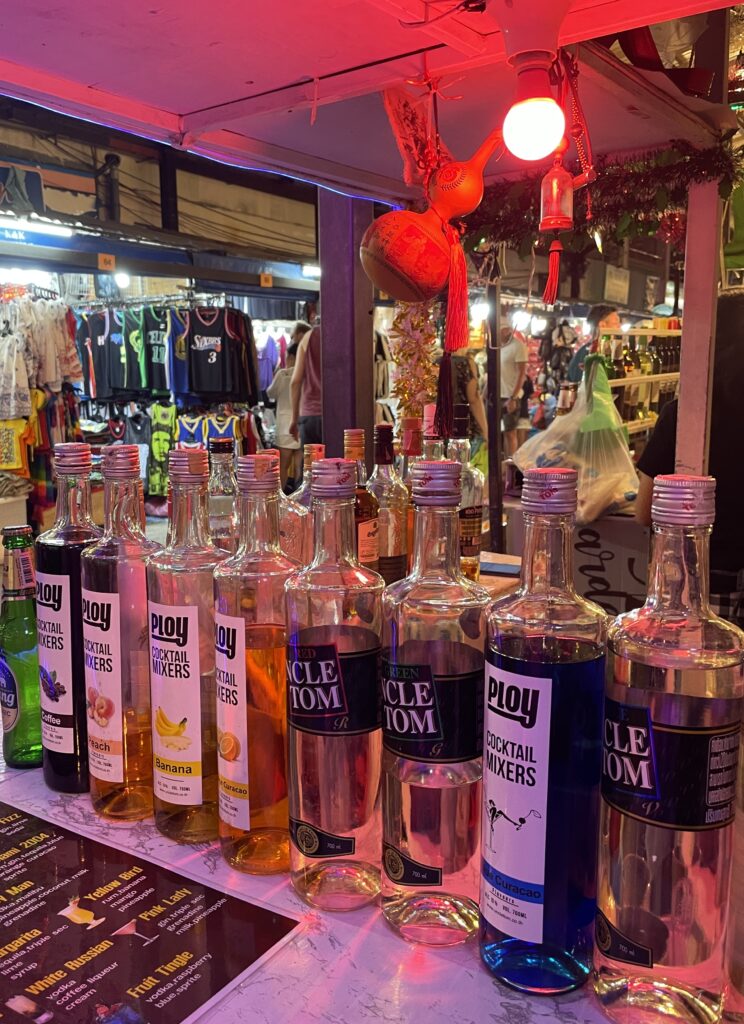 You're at the bar having a drink alone, or perhaps you're with some friends. All of a sudden, someone, more likely a local, approaches you at the bar and strikes up some conversation with you.
At first, you think it's harmless and engage in the conversation; after all, who doesn't love meeting others while traveling?
As time passes and they've spoken to you for a while, they suggest another "better bar" to visit that's close by, and you think, why not?
Well, this other "better bar" is where their scam takes place. They're taking you to a bar they work for to lure customers to come to and then overcharge them.
Drinking at this "better bar" with the scammer will lead to a large bill, inflated drink prices, and sometimes even money extortion before leaving (this happens least often, but is possible).
Another version of this scam is they do the same thing at the bar you're already at; keep an eye out for both scams!
How to Avoid Friendly Friend Bar Scam: Keep things simple; if you meet someone, enjoy a drink with them there and don't go elsewhere with them.
ATM Helper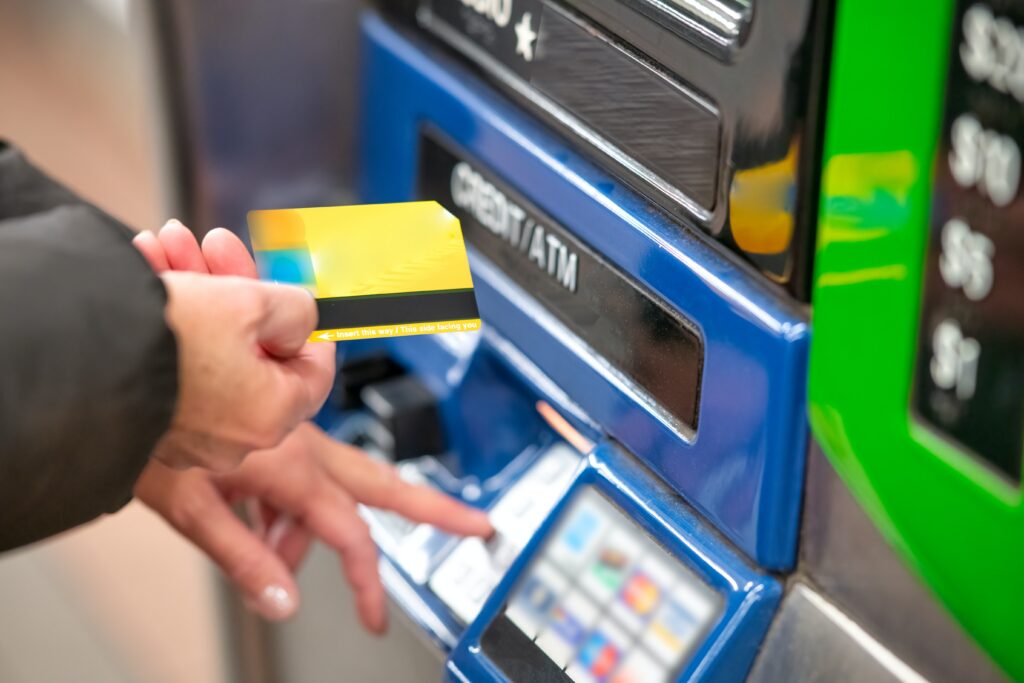 Be very skeptical when anyone approaches you using an ATM in Thailand; they aren't trying to help but instead scam you.
Quite often, they'll suggest that they can help you "avoid ATM fees", which isn't true. Some tourists are tempted because Thailand's ATM fees are high, anywhere between 200-300 Baht/ $5-9 US.
The scammer will suggest to you they have a device to place over the ATM to avoid the ATM fees; this device is a card skimmer and will steal your card details.
The best place to get money when traveling is usually at the national bank; going there, you know their ATM machines are safe to use, and you can also ask for help there.
How to Avoid ATM Scam: Avoid anyone offering help for you at an ATM always, unless you're at a bank and it's an employee.
Also, when traveling, hold limited cash on you and use an international debit card to pay in a local currency anywhere that accepts cards! This saves me from having to withdraw any cash in some countries!
Drunk Bill Scam
This is one of the most common scams in Chiang Mai that tourists fall for. It's self-explanatory: you're at a bar/nightclub drinking the night away; after quite a few drinks, you feel a bit drunk.
Now, you'd like to leave and ask for your bill; once you're handed your bill, you notice an inaccurate, inflated bill, much higher than what you had anticipated.
When you ask about the inflated bill, you're told things like: "Oh, this beer cost more than this one" or "Sorry, sir, this is the price".
Some bars/nightclubs unfortunately take advantage of drunk tourists and know they can get away sometimes overcharging them.
While many establishments are honest and hospitable, this does happen sometimes in Chiang Mai.
How To Avoid: When you buy a drink or two, ask for the bill right away and avoid running up a tab of drinks. Pay per drink.
Pickpocketing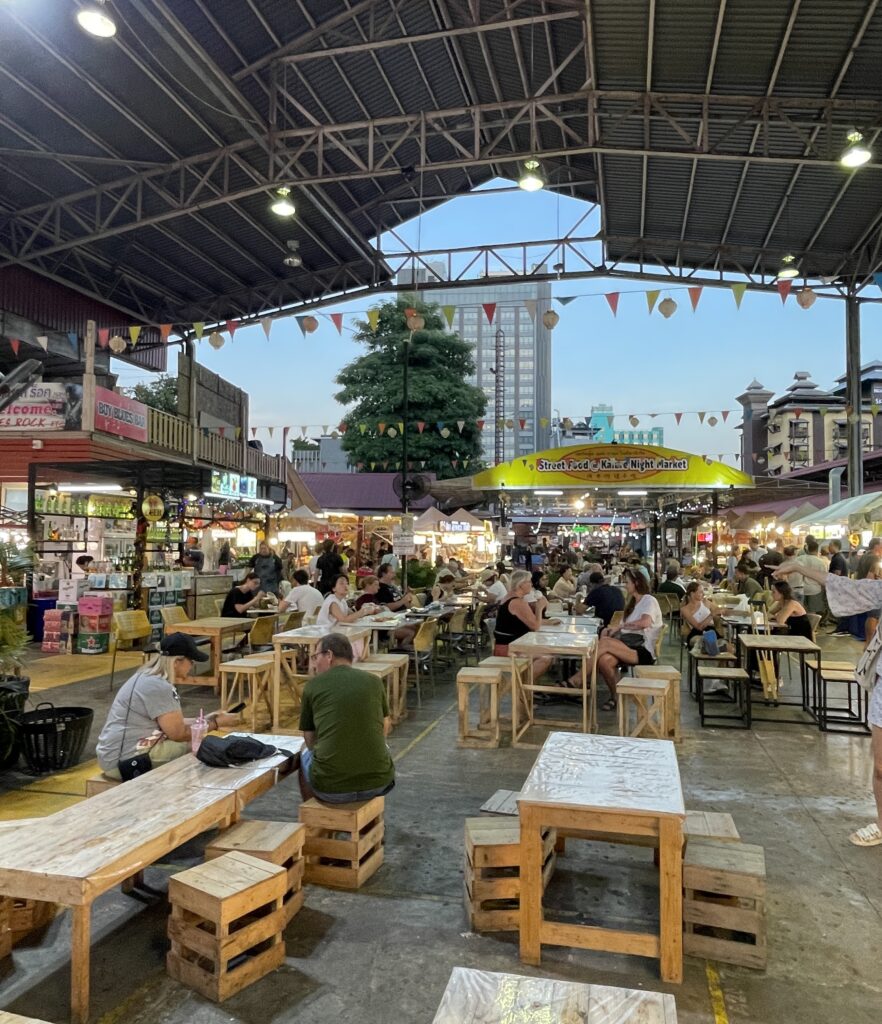 While this is more theft than an actual scam, sometimes it can occur in the instance of a scam.
A popular way is someone dropping an item in front of you, and when you go to pick it up and give it to them, there's another accomplice in the background who quickly pickpockets you!
Moments later, as you continue walking, you notice something missing in your pocket and start to think how you lost it. Before you put the two and two together, it's too late.
Also, keep an eye out for pickpocketers in obvious places like busy streets, public transportation, night markets, and popular tourist attractions when they're busy.
These are all prime places for pickpocketers to steal from you. Remember, pickpocketing happens when you're most distracted.
Chiang Mai isn't home to much pickpocketing, not nearly as much as Pattaya, Bangkok, and Phuket, but it does happen from time to time!
How To Avoid: Never put items in your back pocket. Keep an eye out when visiting crowded places.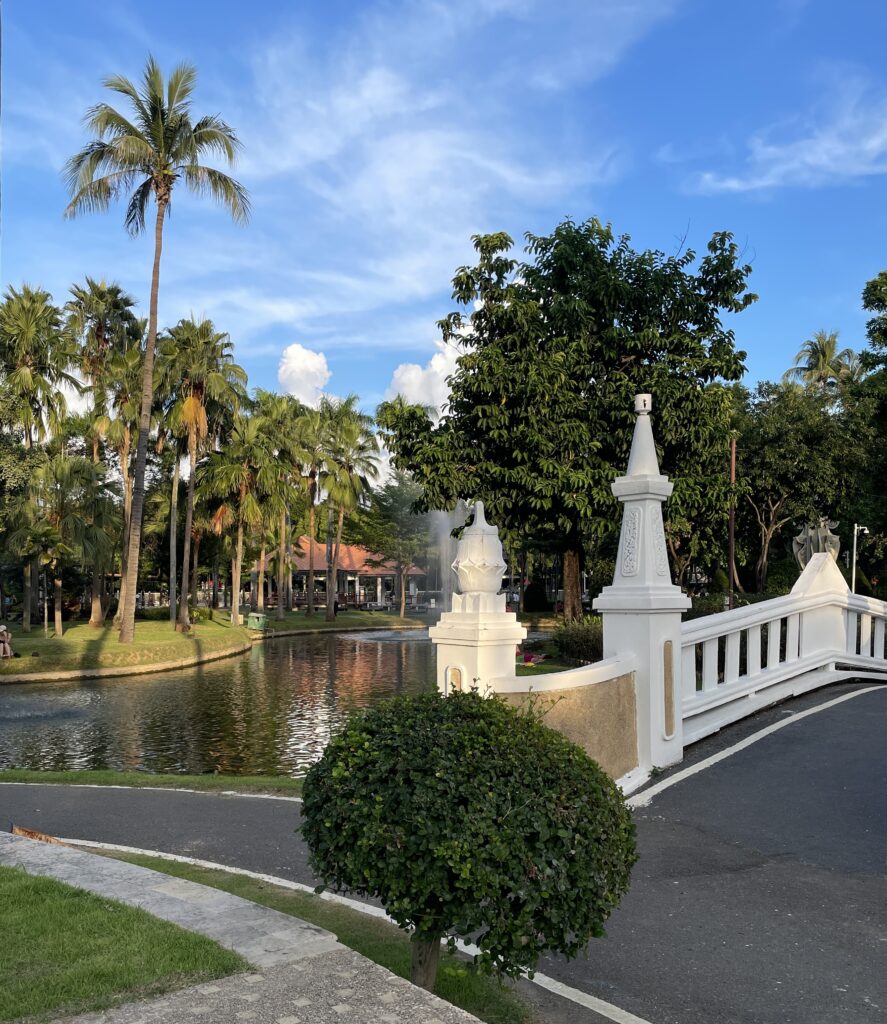 Scams in Chiang Mai — Final Thoughts
Chiang Mai is one of the largest cities in Thailand, so scams in Chiang Mai are bound to happen here and there.
But it's nothing to stress about; Chiang Mai is one of the safest cities to visit in Asia. It's also the cheapest place in Thailand to visit!
If you fall victim to any of these scams, make sure to contact and file a report with the Chiang Mai Tourist Police.
Sometimes, you'll notice the tourist police trucks driving around the city. If you've fallen victim, you can also speak to them directly if you spot a vehicle. Otherwise, go online, fill out the form, or visit the office in person.
Is Chiang Mai safe to walk at night?
Yes, it is; Chiang Mai is perfectly safe to walk at night, no matter the area you choose. The only thing you have to watch out for is some sidewalks that aren't as lit up at night.
Is Chaing Mai or Bangkok safer?
Chiang Mai is much safer than Bangkok to visit. Bangkok is a larger city and has far more tourist foot traffic; besides that, there are dangerous areas in Bangkok one must avoid.
Is Chiang Mai a tourist trap?
No, it's not. The historical city of Chiang Mai offers a glimpse into the true history, culture, and food of northern Thailand.
Also, there are many things to do and see in Chiang Mai, as well as day trips to do from here.
How many days in Chiang Mai is enough?
Plan to spend at least 5 days in Chiang Mai. That gives you enough time to explore the big city and do a few tourist activities you'd like to do!
Subscribe to Travel Hiatus!
Receive updates on my latest posts, insider travel tips & the best destination guides to your inbox!
Happy & Safe Travels
---
Planning Checklist
---
Disclaimer: Please note that some of the links shared in this article might be affiliate links; this means that at absolutely no extra cost to you, we will earn a small commission for any sales generated through this article and/or this website. We recommend products/services we've either used or researched thoroughly – Thank you for supporting us so we can continue to share helpful travel content!