Is Pattaya Worth Visiting? – Honest Guide
The famous seaside town of Pattaya City isn't famous for its many attractions for families or its extensive sandy beach shoreline.
Pattaya is most famous for its sex tourism trade, attracting tourists from all over the world.
Besides the sex tourism in Pattaya, the city is also most famous for being the closest beach destination to Bangkok.
Many living in Bangkok or visiting Bangkok briefly often visit Pattaya City mainly to go to the beach. Now, is Pattaya worth visiting?
If you're like me, you probably noticed Pattaya City on google maps as a destination close to Bangkok. Visiting Bangkok for the first time, I too wanted to explore somewhere else, and with how famous Pattaya City is, I unthinkingly said, why not?
The distance between Bangkok to Pattaya City is 150km, with a drive time of just 1 hour and 50 minutes.
Every day, numerous large travel buses, small white vans, and taxis travel between Bangkok and Pattaya. The best way to travel to Pattaya City from Bangkok is by bus.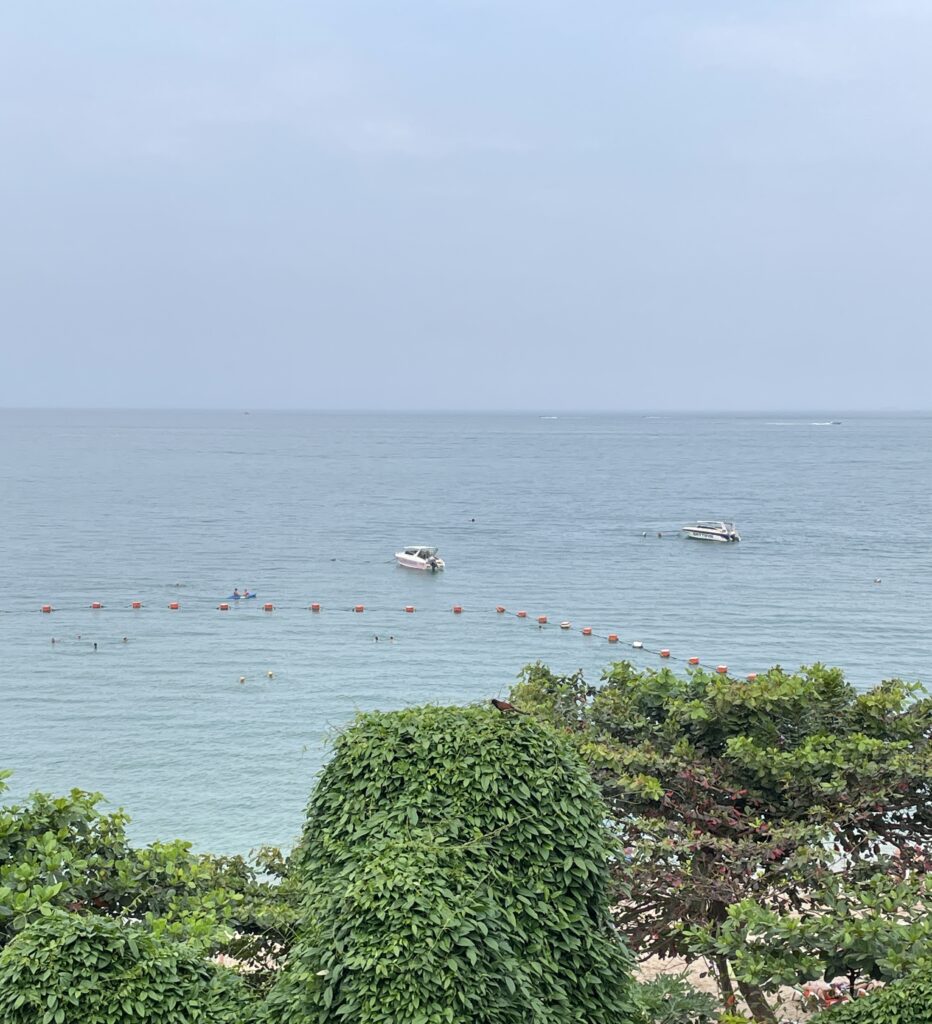 In the first part of this article, I will suggest 3 reasons why you should visit Pattaya!
Later, I will suggest 6 reasons why you should not visit Pattaya!
By the number difference of reasons, I'm sure you can assume the answer to the question "Is Pattaya worth visiting?" it's a No. But let's get into why Pattaya City is not worth visiting!
Is Pattaya Worth Visiting? 3 Reasons to Go
Here are three reasons why I'd argue that Pattaya is worth visiting, despite having a different opinion.
Pattaya Beach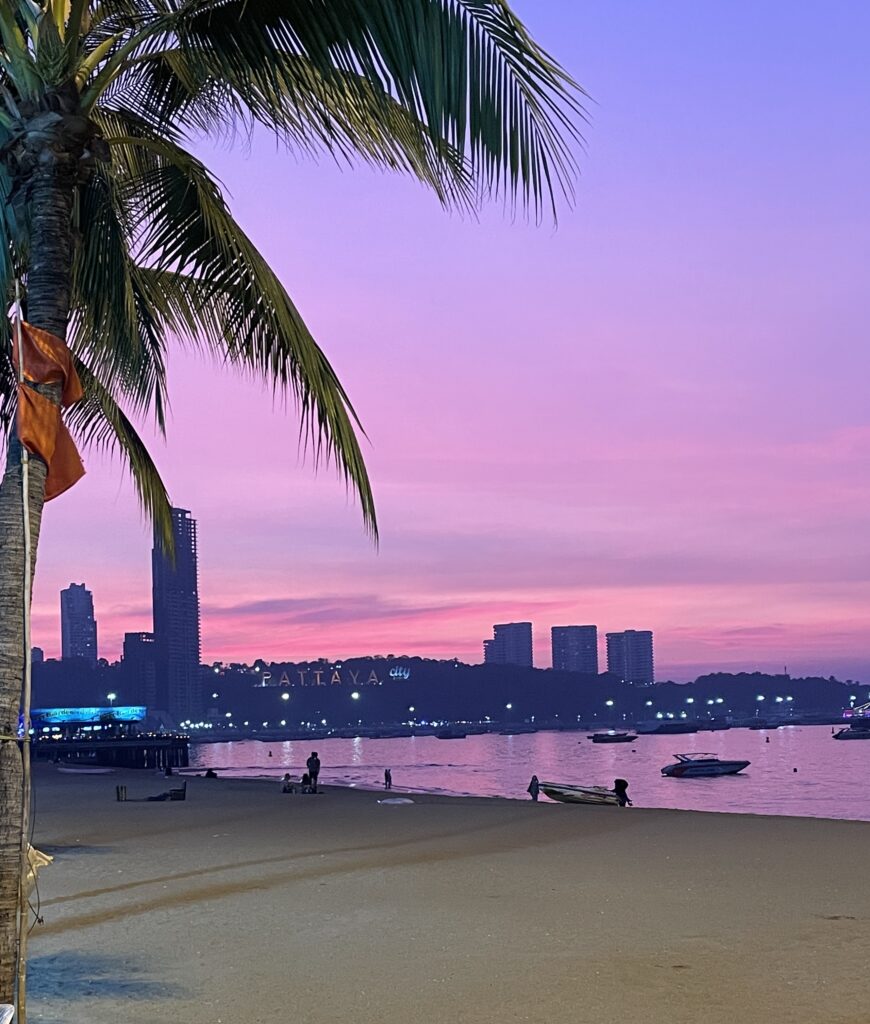 You're visiting Bangkok and have no plans on going anywhere else in Thailand but would love to go to the beach while you're visiting Thailand. Go to Pattaya City for the beach.
Pattaya is the closest place with a beach to Bangkok, and several tourists visit Pattaya City for this very reason.
I'd recommend Jomtien Beach over the main Pattaya Beach; it's far cleaner and nicer than the main beach. But I will say one thing about Pattaya's beach: the sunsets are amazing!
From Bangkok, Pattaya is really the only weekend getaway you can do. So, if you're looking to visit the beach or would like to see somewhere new other than Bangkok in your limited time, come to visit Pattaya City.
Pattaya Nightlife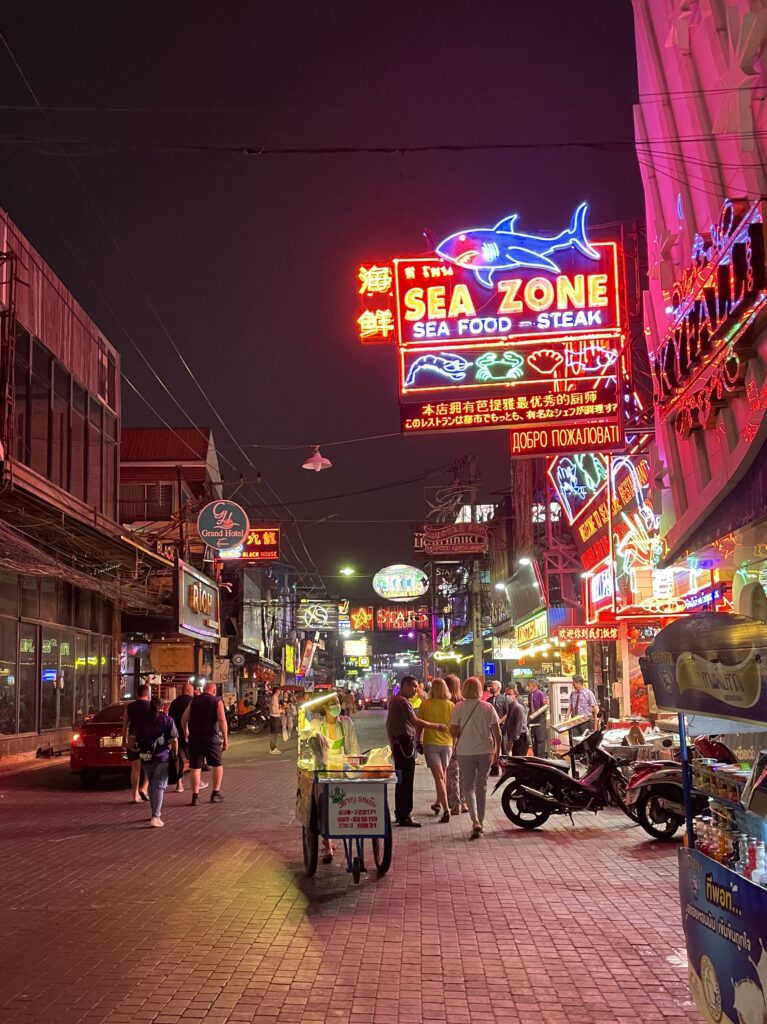 Looking for a crazy night out? That's precisely what Pattaya City is most well-known for; the famous Walking Street here is packed with go-go bars, strip clubs, sports bars, restaurants, and more.
Besides all that, Pattaya has plenty of things to do at night, such as cabaret shows, Muay Thai fights, live music, night markets, and much more.
Pattaya City is busier at night than it is in the day; the city is a "Las Vegas" of Thailand, after all. Phuket has a similar street in Patong Beach named Bangla Road!
Guys Night Out
Assuming you're with a group of guys in Bangkok, and you guys would like to have a crazy guy's night out, look no further than Pattaya City.
Pattaya is where you can enjoy yourself with a group of friends and come back with stories you may want to only keep private amongst yourselves!
RELATED: Is Pattaya Expensive to Visit?
Is Pattaya Worth Visiting? 6 Reasons Not To Go
Here are six reasons why I'd argue that Pattaya is not worth visiting.
Having been once earlier this year, I can honestly say I won't be returning to Pattaya City. There are much better places to visit in Thailand!
Sex Tourism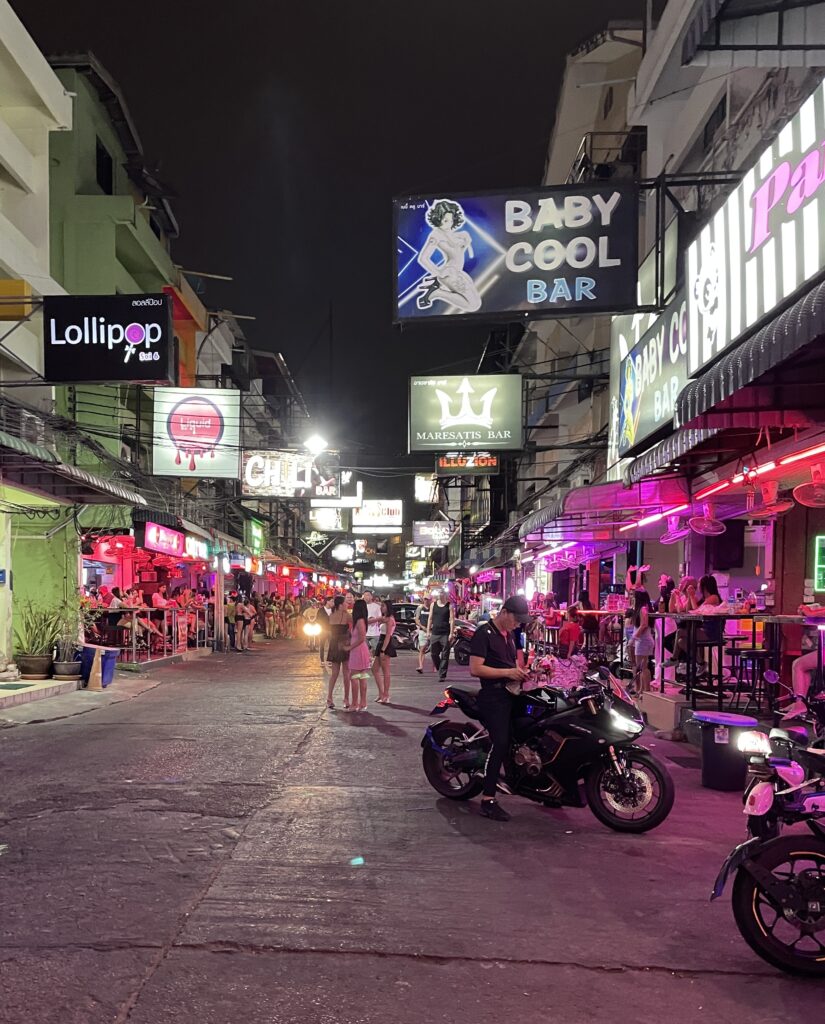 Sex tourism is absolutely rampant in Pattaya City, and I'm not referring to it in a negative or positive way.
But as you walk around the city, you're constantly reminded of this, and it can get a tad annoying if you're visiting and not looking for that. There's also a sad reality here of underage women in the industry.
Women constantly approach men, day or night; you're sometimes grabbed by the hand.
Men, on the other hand, quickly approach any women they see on the street alone. I was with my partner, and she left my side for seconds; two gentlemen approached her in the span of 2 minutes.
Unsafe
Let's get something straight: overall, Pattaya is safe to travel to. Is Pattaya one of the safest places to visit in Thailand? No, it's not.
With the sex tourism trade being quite prevalent here, pickpocketing risks, drugs, and other aspects. Pattaya is far from being the safest place to visit in Thailand. And Pattaya also ranks #1 in the murder rate for Thailand.
When walking down any busy street, especially the famous Walking Street, watch your pockets at all times; pickpocketing is well practiced in crowded streets here.
But in Pattaya's defense, this is common in all cities in the world where nightlife runs the city.
Be careful visiting bars and nightclubs, always watch your drinks, don't order too much, as you might be overcharged because of your large bill, and avoid confrontation with bar/nightclub staff.
Pattaya City Beach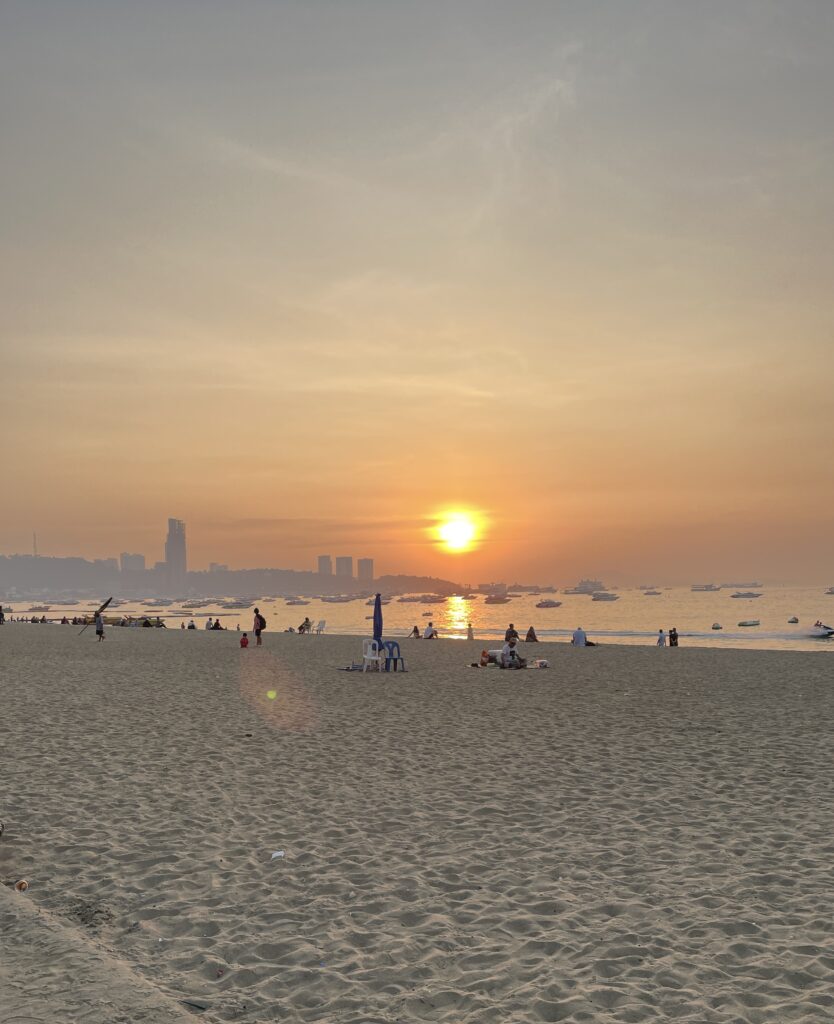 Compared to the beaches Thailand is known for, Pattaya City Beach is disappointing.
The sand is rough, and sometimes you will spot a bulldozer on the beach moving sand, not something you'd like to see on a beach.
The water is far from clean; even visiting, I noticed the majority of tourists stayed out of the water, and as I approached, it was easy to see why.
You will find several vendors and beach loungers on the beach, so if you're looking to sunbathe simply, you can do that!
There is one amazing thing about the beach in Pattaya, and that's the sunsets at Pattaya Beach. This is well-documented online; I made it a priority to see a few nice sunsets in my few days visiting Pattaya.
Lack of Good Food
While there may be several restaurants in Pattaya, I didn't find the food to be the greatest.
Don't get me wrong; there are some good restaurants. I had a good meal at the famous Pupen Seafood Restaurant, which I enjoyed. The night markets in Pattaya are excellent, like most night markets throughout Thailand!
But overall, the restaurants/food here could have been better, and you'd think there would be exceptional food in a city so big, especially with the number of tourists visiting Pattaya every year. Sadly, this wasn't the case.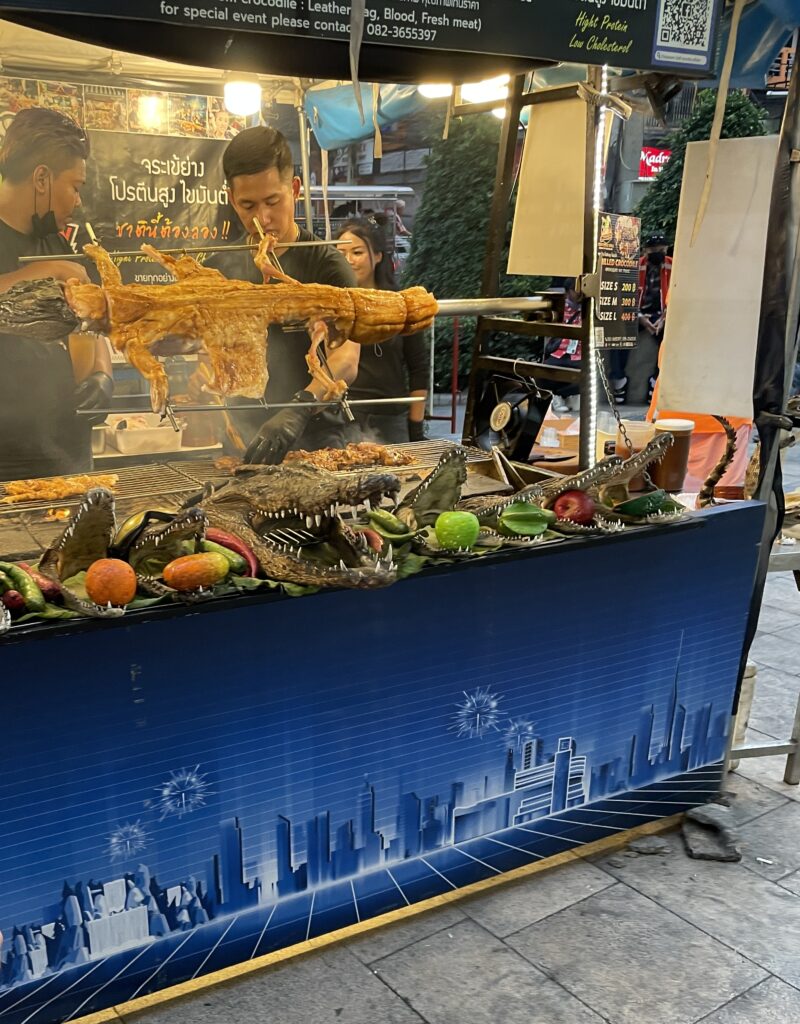 Scams
Pattaya is known for its scams, and if you spend more than 2/3 days here, you'll likely run into at least one of these scams.
Here is a list of Pattaya scams you should watch out for, and if you run into any, make sure to contact the tourist police.
Extra Bill Pay – This scam involves waiters adding an extra charge to your bill for no good reason, especially if they notice you've had a few to drink!
Jet Ski Scam – Several gentlemen offer jet ski rentals on the beach; they will have you sign a paper suggesting that you be liable for any damages if something happens. When returning, they will point out scratches that were on the jetski already and ask for money. – Take a video of the jetski before riding
Tuk Tuk Scam – This scam is common in all of Thailand, especially in Pattaya and Bangkok. As you get into a TukTuk, the driver suggests you visit a tailor, gold or gemstone shop. If you purchase anything there, the driver gets a cut, and prices are inflated at all shops.
Date Scam – Single men, watch out for this one. Many pretty ladies in Pattaya will approach you to go for dinner; while you may think it's harmless, they're going out to eat and leave you. Most dates leave close to the end of their meal, saying they need to go to the washroom.
Overall City Atmosphere
Last but not least, the atmosphere in Pattaya sucks. There's no other way to put it.
Walking around, you constantly notice old men walking with young women.
And there's nothing wrong with that, but as you walk around and consistently notice this as the majority audience in the city, it takes away from the atmosphere of a place.
You may spot some couples and families, but it's quite minimal compared to the younger girl/older man demographic. Visiting and consistently noticing this made my answer to the question, Is Pattaya worth visiting, easy.
If you're you're a younger adult, there really isn't a mix of a crowd here, and it's unfortunate.
Is Pattaya Worth Visiting or Not?
Don't go to Pattaya City; I wouldn't recommend Pattaya at all for the average person.
Disappointing beach, several scams, and not a great crowd mix, so is Pattaya worth visiting? No, it's not.
Having been to many places all over Thailand, I can honestly say Pattaya City was the only place I didn't enjoy and have no plans on visiting again.
After my few days in Pattaya, I couldn't wait to fly to Phuket! If you're curious to see the mayhem in Pattaya City once, I'd recommend you go see it yourself!
How many days in Pattaya is enough?
Two days is enough in Pattaya City. That's more than enough time to experience most of the things to do in Pattaya City.
Which is better to visit Phuket or Pattaya?
Phuket is much better to visit than Pattaya. Phuket offers a larger variety of things to do, has beautiful beaches, several islands surrounding it, better restaurants, and more.
Pattaya doesn't have much to offer compared to Phuket, except for a more famous nightlife. But then again, Phuket has Bangla Road in Patong, which is similar to Pattaya's Walking Street!
Subscribe to Travel Hiatus!
Receive updates on my latest posts, insider travel tips & the best destination guides to your inbox!
Happy & Safe Travels
---
Planning Checklist
---
Disclaimer: Please note that some of the links shared in this article might be affiliate links; this means that at absolutely no extra cost to you, we will earn a small commission for any sales generated through this article and/or this website. We recommend products/services we've either used or researched thoroughly – Thank you for supporting us so we can continue to share helpful travel content!