9 Free Things To Do in NYC (Any Season)
Are you visiting NYC soon and looking for free things to do in NYC? This activity guide covers the best free things to do in NYC, no matter the season you visit!
Visiting NYC is on every traveler's bucket list, not just because it's featured in so many movies/TV shows but because of how unique and worldly the city is.
Having been fortunate to visit many cities worldwide, I can reassure you there's something special about NYC. No matter where I've gone, nowhere compares to New York City.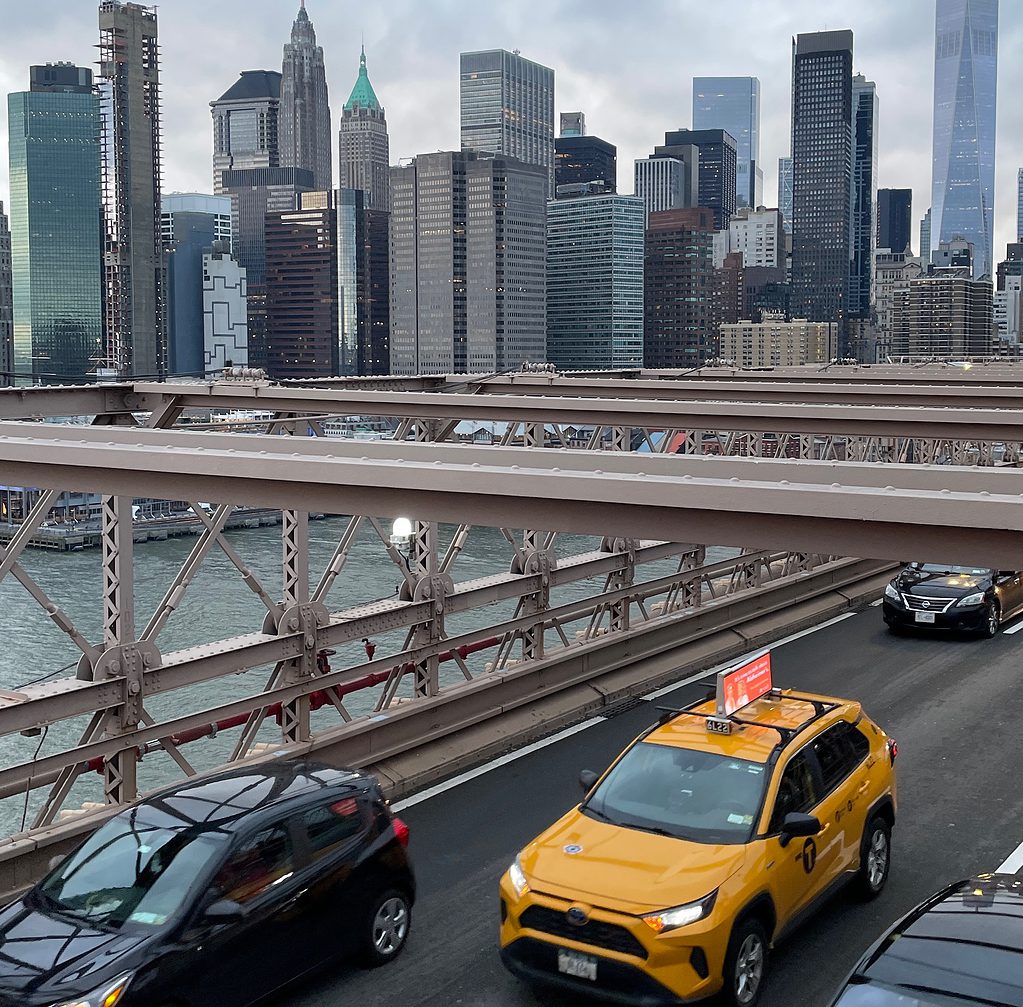 Many living there will argue otherwise because of the high living costs, etc., but that's a discussion for another day.
We're discussing NYC as a travel destination today. Visiting New York City is costly, so if you plan on visiting, use these budget tips, and I recommend you plan things before visiting.
The positive thing about NYC is there are several free things to do in NYC during all times of the year. And for the most part, that's precisely why people visit New York City!
Explore Central Park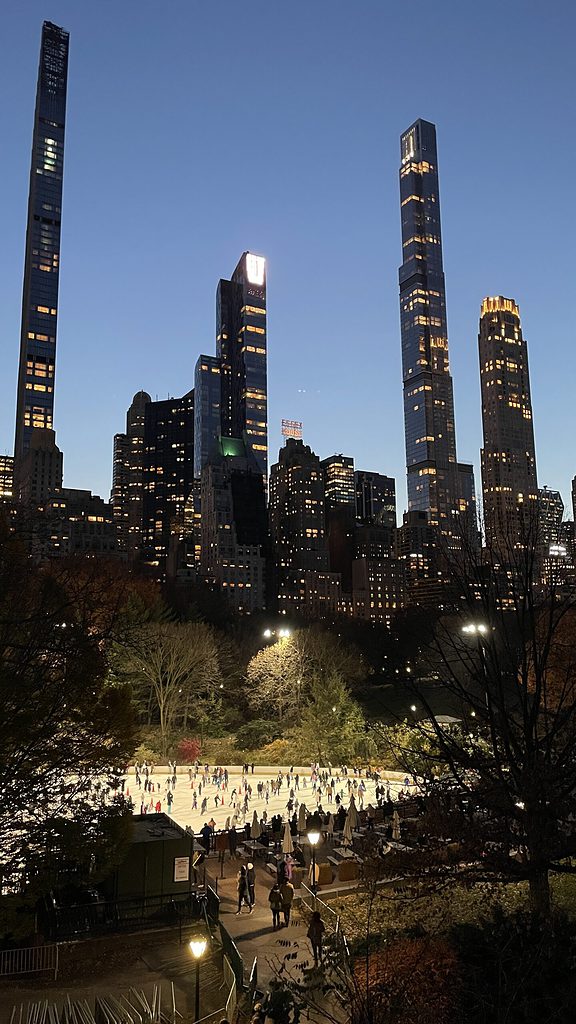 The best free thing to do in NYC is to explore Central Park. Central Park is one of New York's most famous attractions and is so big it can be spotted from an airplane; the park measures in at 834 acres of greenery!
The park is stunning to walk around and explore at any time of year, especially in the Fall. In the wintertime, you can skate at Wollman Rink, take a horse cartridge ride through the park, or visit The Metropolitan Museum of Art.
In the summertime, you can walk around for hours exploring the park because of the warm weather. Or have a picnic at Sheep Meadow Park (a popular greenery area for picnics with city views).
Rent a small boat at The Lake in the park and paddle around. Lastly, you can rent a bike and ride around the park, my favorite thing to do here in the Summer in Central Park.
My favorite part about Central Park is you genuinely feel like you're not in the city anymore. You're surrounded by greenery all around.
Walk the Brooklyn Bridge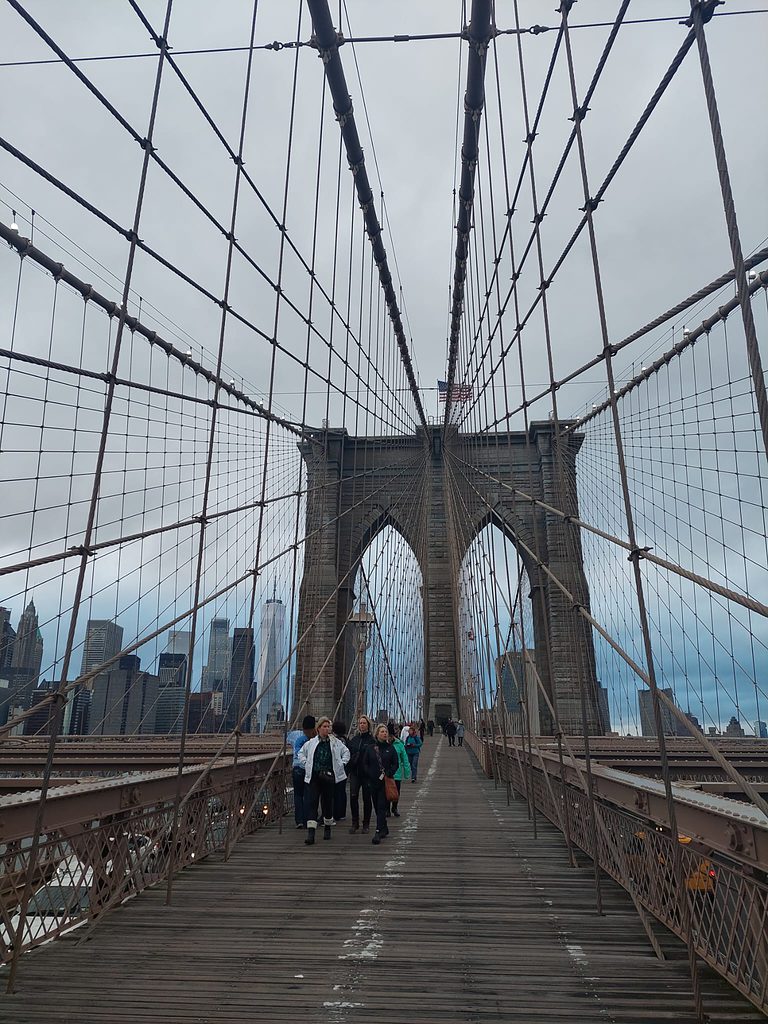 You've seen the famous Brooklyn Bridge in the movies; who hasn't? The Brooklyn Bridge is one of the most iconic places in NYC and is arguably the most famous bridge in the USA.
Walking the Brooklyn Bridge is one of the best free things to do in NYC. It's a must-do when visiting NYC!
Depending on whether you stop to snap some photos, walking the entire bridge will take around 40-60 minutes. It's a beautiful walk with stunning views of both NYC and Brooklyn.
At the end of your walk from NYC into Brooklyn over the bridge, you'll end up in an area named Dumbo, Brooklyn. Dumbo is a vibrant area with many things to do.
In Dumbo, I recommend visiting Brooklyn Bridge Park Pier 1, Pebble Beach, and the Dumbo-Manhattan Bridge View.
Pizza lovers, you've got Juliana's Pizza and Grimaldi's Pizzeria close by when you get off the bridge in Brooklyn.
Walk around SoHo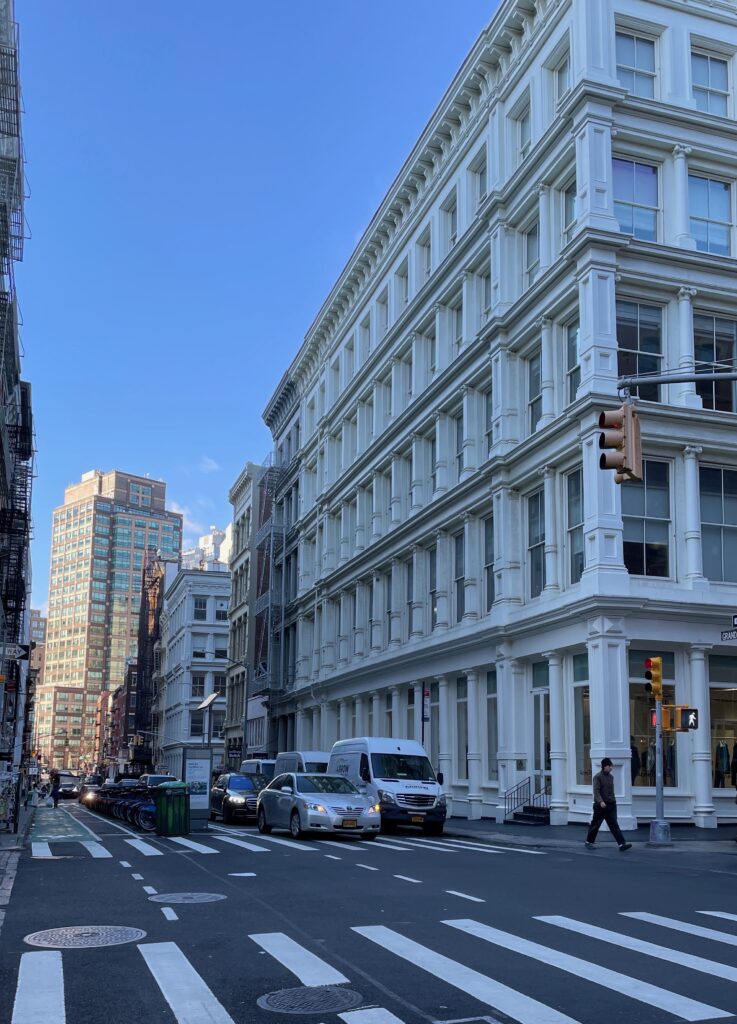 It is famous for its cobblestone streets, cast-iron architecture, boutique shopping, and cafes.
SoHo is one of the most scenic neighborhood areas in NYC. Simply walking around Soho, shopping, seeing the old buildings, and visiting the many great cafes is one of my favorite free things to do in NYC.
SoHo was once a part of the city where many famous artists used to reside, and the area still holds its artistic flare to this day. For those who'd prefer to take a private walking tour, I recommend this tour!
The area has great restaurants, cafes, and unique pastry shops, including my favorite, Dominque Ansel Bakery.
To this day, SoHo holds its old-school character in the area because of the city's regulations regarding the no-demolition rule of the buildings here; SoHo wouldn't be SoHo without its cobblestone streets and castiron buildings.
Walk the High Line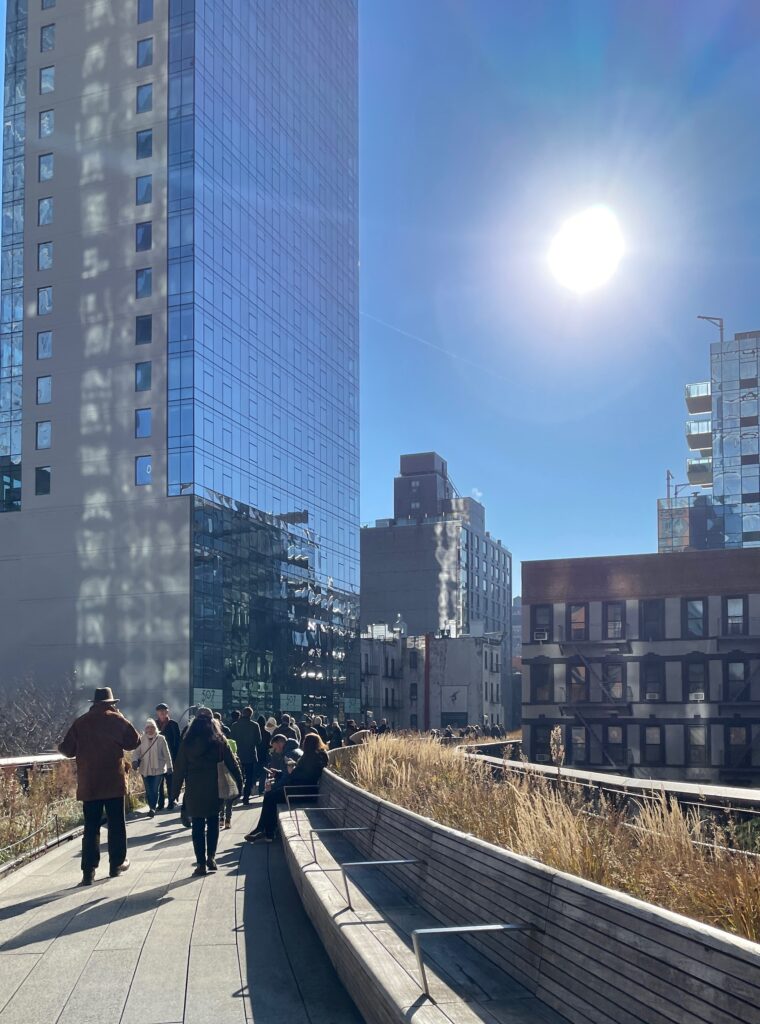 Initially constructed in the early 1930s, the High Line was a subway/train line built in the city. Fast forwarding to 2006, the city decided to renovate this train line, which wasn't being used, into an elevated park in the middle of the city.
The High Line is an elevated park space that's 1.45 miles long and is used as a convenient way to go for a walk without having to cross any streets full of cars. The best part about The High Line is the great views of the city you get to see as you walk!
Unlike average parks, it's more of a walking space, with many benches and small pockets of areas to sit/relax.
Just looking at the High Line online, you'd think it costs money to walk on it, but it's free to visit! It is a must-visit in New York and one of the best free things to do in NYC.
Visit DUMBO in Brooklyn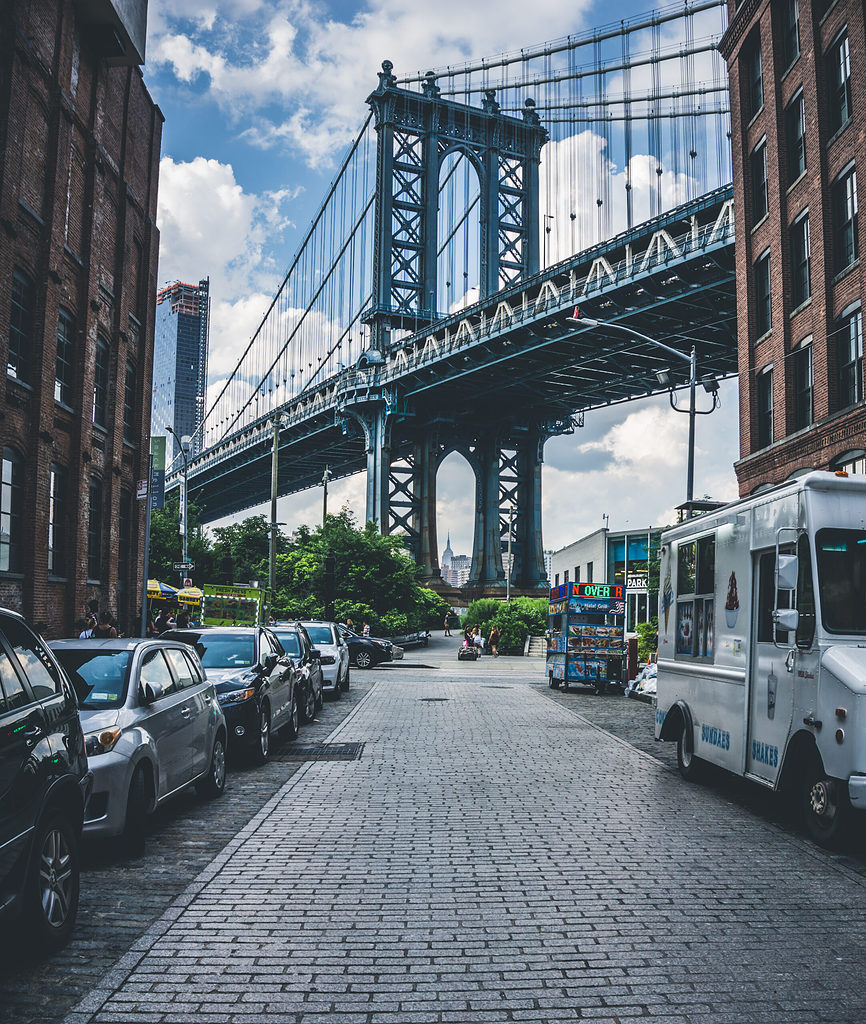 Dumbo is one of the nicest areas in NYC, and it isn't even in the city, but very close; it's actually in Brooklyn.
As stated earlier, if you're walking the entire Brooklyn Bridge across the East River, you'll end up in Dumbo. You can get there either by walking over, taxi or subway!
Visiting Dumbo is beautiful during any time of the year; the area is full of excellent bars, restaurants, parks, and rooftop bars with panoramic views of the New York City skyline.
If you've been to NYC, you know the city's best views are from outside of Manhattan!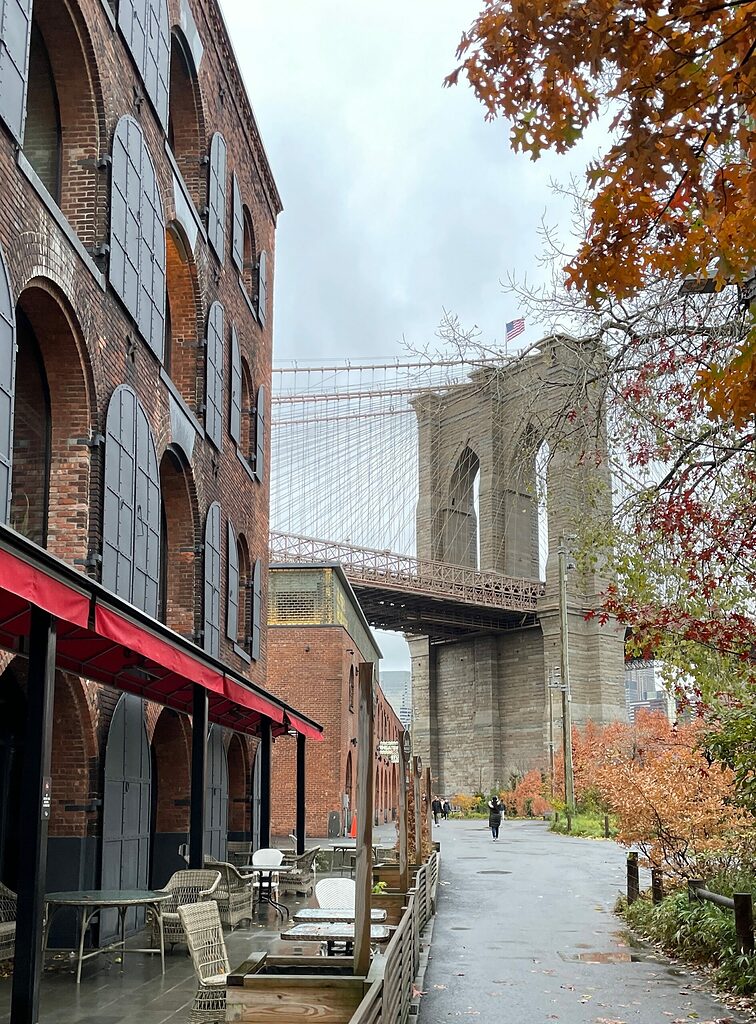 Make sure you visit John Street Park, Park View/Pebble Beach, and the famous Dumbo-Manhattan Bridge viewpoint!
Here are a few Restaurant recommendations in Dumbo, Brooklyn:
The River Cafe (an NYC iconic restaurant)
Cecconi's (Italian restaurant with NYC views)
Time Out Market New York (food court full of cuisine from all over the world)
Juliana's Pizza
Em Vietnamese Bistro
Grimaldi's Pizzeria
See Times Square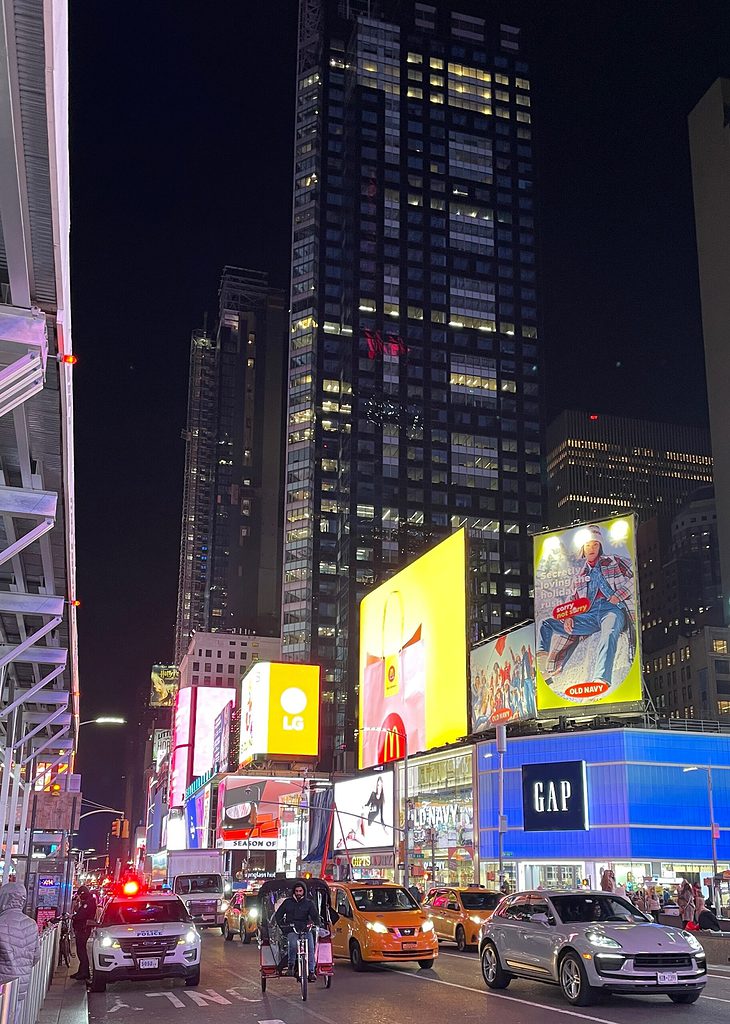 If you have yet to go to New York City, visiting Times Square and Central Park are the two MUST-DO free things to do in NYC. You've seen it countless times in the movies and online; it's just as mesmerizing in person.
Full of billboards, lights, and an influx of tourists from all over the world, Times Square is considered the center of New York City.
That being said, Times Square is one of those places you need to go to cross it off your bucket list. Once you see it once/twice, for the most part, there are no convincing reasons to return.
Overall, there's little going on in Times Square; the restaurants there are all big chains, the shopping there are just overpriced souvenirs, and countless people are trying to scam you there, so be on the lookout for that as well!
After you've seen Times Square once, as great as it is, NYC has much better things to do.
Souvenirs Tip: If you're going to buy souvenirs, DON'T buy them in Times Square. Go to China Town and Canal Street; they're selling the same souvenirs at a fraction of the price there!
Go to Domino Park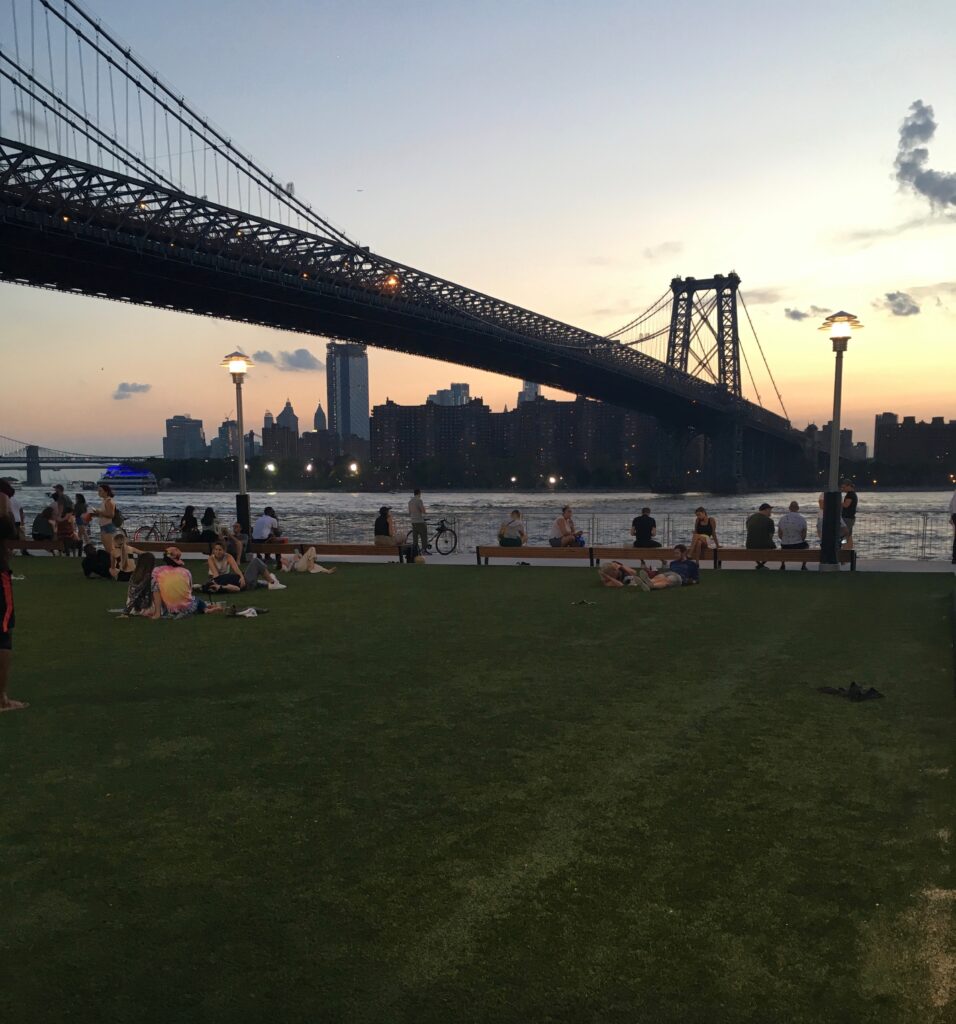 Domino Park in Williamsburg, Brooklyn, is just over the Williamsburg Bridge from the Lower East Side, NYC. You can walk over the bridge from Manhattan's Lower East Side area to get there or take a taxi/subway.
First opened in 2018, Domino Park is a stunning waterfront park with spectacular New York City skyline views.
The five-acre park features a walkway with views of the city skyline along the water, a beach volleyball court, a picnic grass area, a dog park, and a free observation deck (Domino Sugar Park) on the map.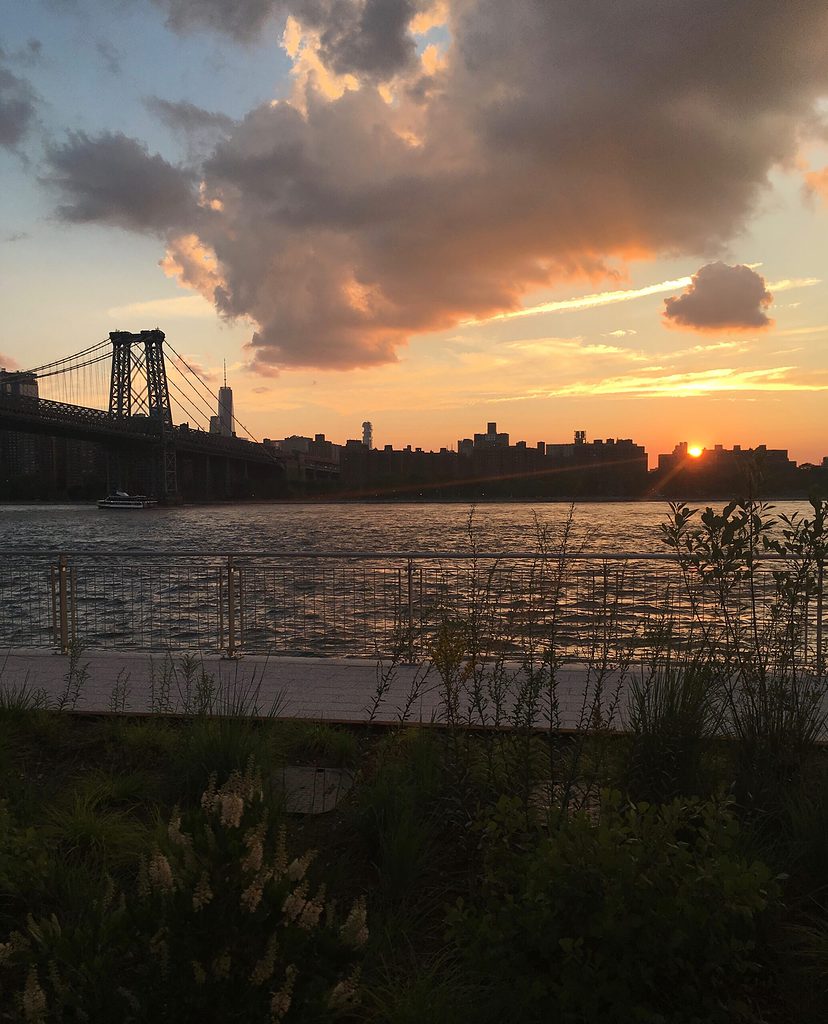 If you're visiting the city in the winter, get some dinner in Williamsburg and follow it up with a walk in the evening at Domino Park.
If you're visiting closer to the summertime, I highly recommend you come before sunset; the views of the NYC skyline at sunset are incredible from here!
Beer lovers, there's a brewery on one side of the park named Other Half Brewing Domino Park; I suggest you visit. And for those who love pizza, I recommend you walk to Best Pizza in Williamsburg, one of the top pizza spots in Brooklyn.
Bryant Park & New York City Public Library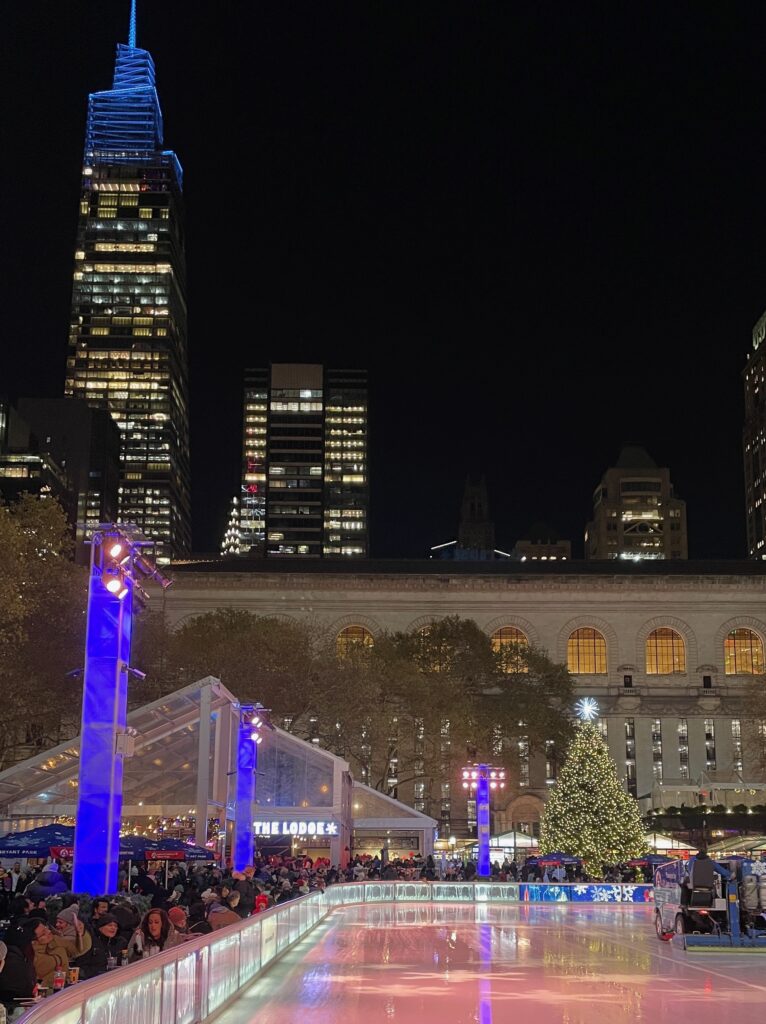 Time and time again, when I visit NYC, I find myself returning to Bryant Park. Possibly known as NYC's second most famous park, Bryant Park is located in Midtown.
There, you'll spot a fountain and several places to sit in the shade in the summertime. It's the perfect place to take a break while exploring Midtown, New York.
In the winter, Bryant Park is transformed into the famous Bryant Park winter village, full of many small shops to buy things and street food spots to try. And, of course, a skating rink to skate on.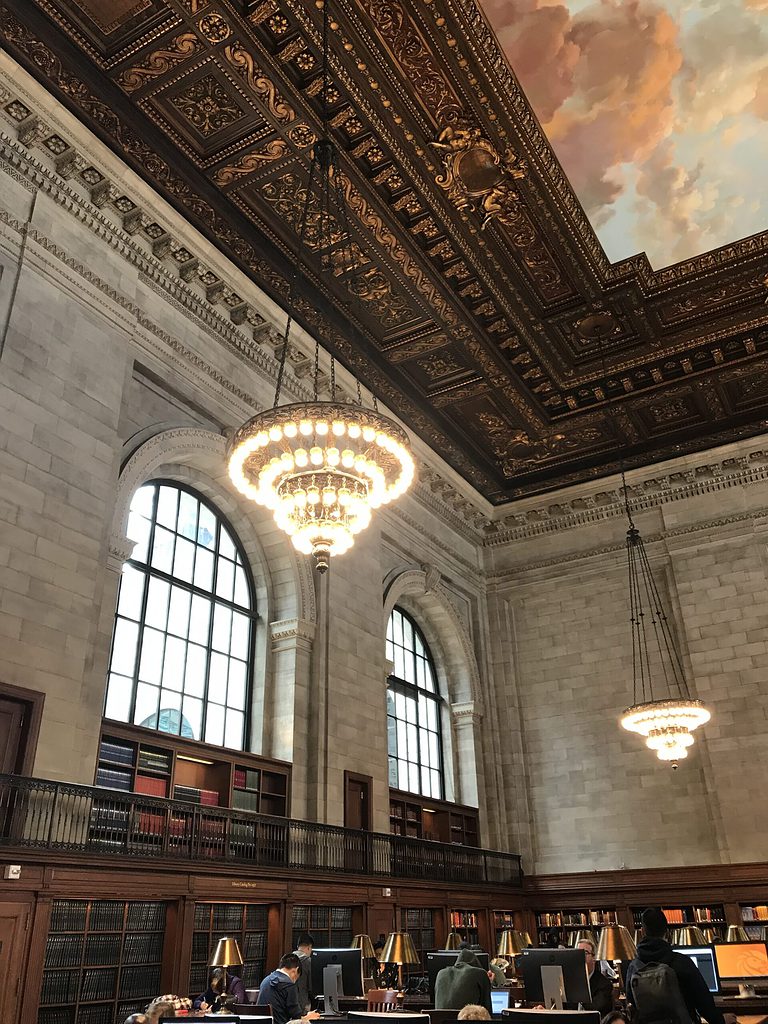 Located exactly beside Bryant Park is the New York City Public Library, the flagship library of NYC. For those who appreciate history and architecture, I recommend you visit this library; the interior of this place is stunning.
If you're visiting during the middle of the summer when temperatures are humid in the city, visiting the New York Public Library is a great place to cool off for a bit as you explore inside!
Check out Little Island Park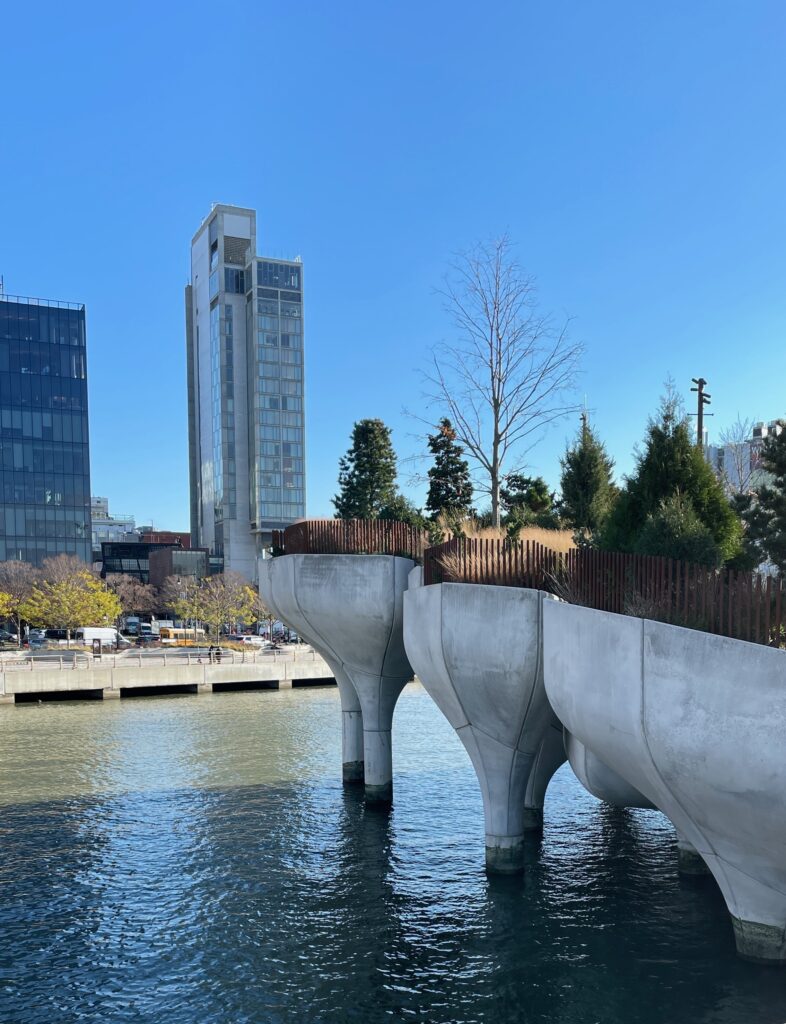 Having opened on May 21, 2021, Little Island Park has grown in popularity regarding the best free things to do in NYC.
Just a quick Google search of many photos, and you'll understand why. It's a park completed on the Hudson River!
The island park features a small amphitheater that hosts small concerts, an observation deck, a cool soundboard you can play around with, and great views of NYC. The park is 2.4 acres in square form; you can walk a lot of the park in under 30 minutes or so.
Despite being a newer NYC attraction, Little Island Park has been a hit with locals/tourists. The unique structure of concrete tulips that hold the park over the water makes for an impressive sight.
The park is open every day between 6:00 AM to 1:00 AM.
After visiting the park, if you're looking to explore some more, walk along the long boardwalk along the Hudson River, showing the skyline of Jersey City.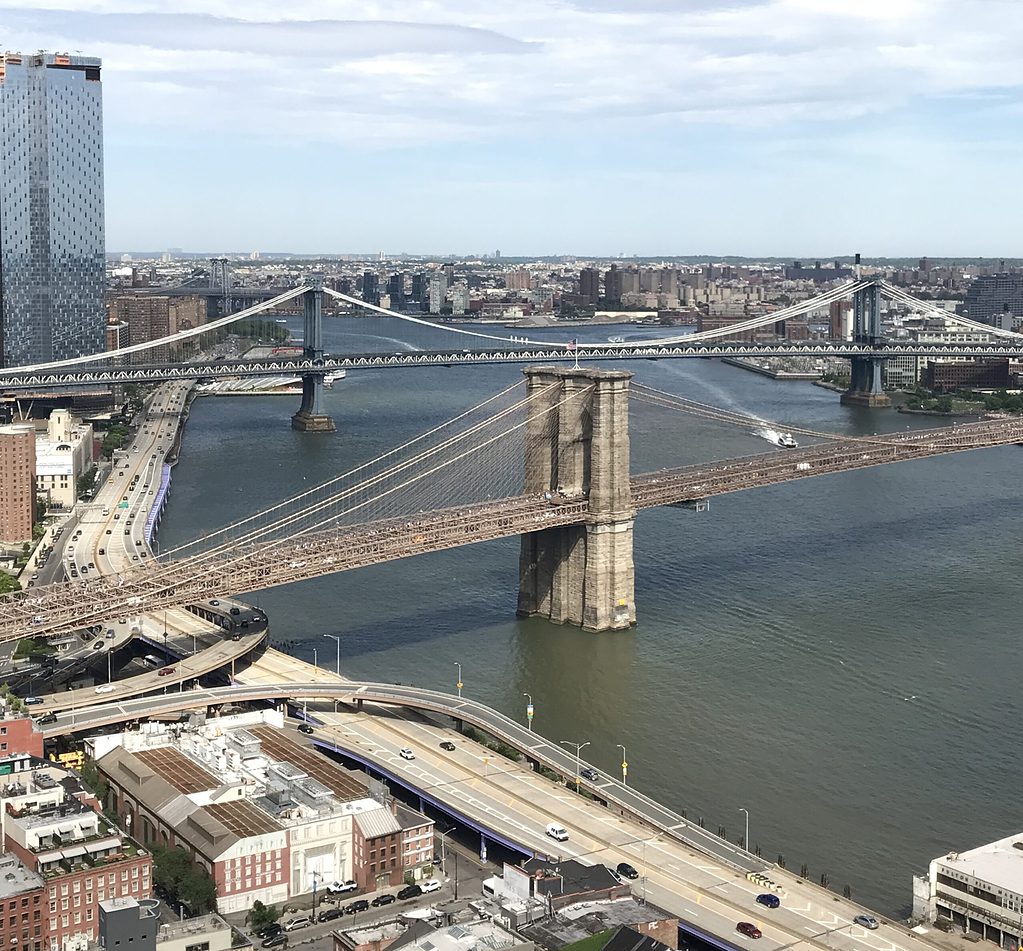 New York City Hotel Tips
Before I share with you the best free things to do in NYC, I will share hotel and accommodation tips to help you save when visiting the city!
Something you should know about accommodation costs in NYC: different areas cost different prices to stay in, and hotel prices are dictated by area.
I recommend staying in Lower Manhattan, Chinatown, Lower East Side, or Financial District areas in New York City. You can find the best deals in these areas if you prefer to stay on the island of Manhattan.
If you're looking for even cheaper accommodations, look outside of NYC in either Long Island City, Hoboken, Brooklyn, or Jersey City, and make sure your hotel is close to a Subway line that will take you right into the city!
Hotels in these areas are a fraction of the price you'd pay in Manhattan, and a subway ride will only cost you 3.50 USD and take 20-30 minutes to get you right into the city!
Here's our NYC Neighborhood guide if you want further in-depth info on where to stay in NYC.
If you're curious about what I do when visiting, I've always stayed on the island in either Lower Manhattan or the Lower East Side.
I prefer the convenience of walking outside my hotel and starting my day exploring the city immediately!
Free Things To Do in NYC – Final Thoughts
With so many amazing free things to do in NYC, it's hard to choose just a few things to do.
Consider how long you're visiting and what attractions are most important for you to see. My only piece of advice is don't forget not to play tourist sometimes and just explore the unique, charming neighborhoods of NYC.
As you can see, there are many free things to do in NYC for tourists; I mean, this list could be much longer, but it was made for first-time visitors.
Travel Hack: If you plan accordingly by doing things close to one another, you'll see more quickly. For example, If you walk the Brooklyn Bridge till the end, you'll end up in DUMBO, Brooklyn, and get to see two main attractions in one afternoon.
As stated earlier in this article, if you've never been to NYC, the top two free things to do in New York that you should cross off your list are Times Square and Central Park. I will leave these iconic places out of my shortlist of favorite free things to do in New York below.
My top three free things to do in New York City are:
1: Walk around SOHO
2: Visit DUMBO in Brooklyn
3: Walk the Brooklyn Bridge or The High Line
NYC Travel Tip: Make sure you purchase Travel Insurance when visiting; if something happens, hospital visits in New York City are costly!
How many days in NYC is enough?
At least spend three days in NYC as a first-time visitor; in three days, you can experience quite a bit of attraction if you plan your days strategically.
If you can, try to avoid visiting on weekends; attractions are far less busy on weekdays than on weekends!
Are there free museums in NYC?
Most of the well-known museums in NYC aren't free. Visit the galleries instead; they're less busy and just as fascinating!
How can I enjoy NYC on a budget?
Visit the many free attractions NYC has to offer, explore the neighborhoods that make up Manhattan, and stick to affordable areas when eating out, like Lower Manhattan, Chinatown, etc.
Is it expensive to eat out in NYC?
Eating out in NYC can be as cheap as you'd like and as expensive as you'd like. Prices for bars/restaurants are dictated by the area you choose to visit.
Here's an example: Lower Manhattan is known for its more affordable bars/restaurants, but if you choose to visit a restaurant on 5th Avenue or the Upper East Side, it will cost more, strictly because the real estate in these areas is costlier.
Subscribe to Travel Hiatus!
Receive updates on my latest posts, insider travel tips & the best destination guides to your inbox!
Happy & Safe Travels
---
Planning Checklist
---
Disclaimer: Please note that some of the links shared in this article might be affiliate links; this means that at absolutely no extra cost to you, we will earn a small commission for any sales generated through this article and/or this website. We recommend products/services we've either used or researched thoroughly – Thank you for supporting us so we can continue to share helpful travel content!