9 Best Things To Do in Phuket, Thailand
Are you looking for the best things to do in Phuket? This list covers the best nine activities any first-time visitor must consider when visiting Phuket!
Phuket is the largest island in Thailand, and because of that, there are so many things to do in Phuket; it's not possible to fit everything in one trip, but these 9 things to do in Phuket, you must do!
Phuket has the best infrastructure of any island in Thailand; many ex-pats and foreign families have made Phuket home because of it.
The entire island measures approximately 576 km and is home to more than a quarter million people. After Phuket, Koh Samui is the second largest island in Thailand.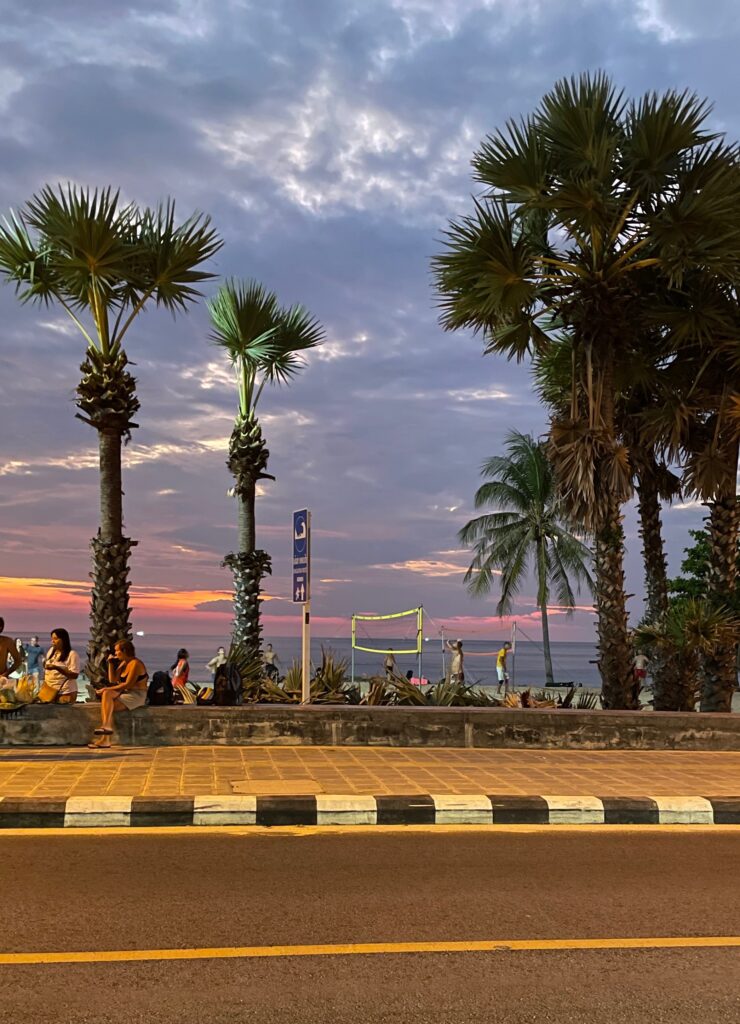 How to Get to Phuket
The best way to get to Phuket is by flying into Phuket International Airport (HKT). For the cheapest domestic flights in Thailand, use SkyScanner.
Or if you're a few hours away, close by, visiting Krabi, Phi Phi Islands, Ko Lanta, or any other nearby islands, you can get to Phuket by car/van, or ferry.
If you decide to fly into Phuket, the flight takes around 90 mins from most places in the country. And if you choose to go by vehicle or ferry, depending on where you're coming from, it should take around 2-5 hours.
For those who decide to fly into Phuket International Airport, here's how to leave the airport and get to the area in Phuket you're staying in:
Private Airport Transfer: The most convenient way is by private airport transfer; you will have a car waiting for you once you arrive and don't have to worry about figuring anything out once you're there! – PRICE: $27 – 42 US
GRAB: This is UBER in Asia/Thailand; you can download the app and find a ride easily – But when you exit the airport, you must take a left and walk to the MAIN road because GRAB drivers are NOT allowed to enter the airport – PRICE varies by time of day but usually is 500 – 800 Baht / $15 – $23 US
Phuket Smart Bus: This is the cheapest way to get to Karon or Kata from Phuket Airport. This local bus travels from Phuket Airport along the coast of Phuket and stops at all the main beach areas in Phuket. It leaves around every hour. Check the Schedule – PRICE: 100 Baht / 2.88 US.
Taxi @ Airport: Once you arrive at Phuket Airport, many taxis are trying to gain your business; you can take one, but I'd be careful with this option only because they tend to overcharge tourists. – PRICE: 1000 Baht / $40+ US
AIRPORT TIPS: Phuket Airport has a Taxi mafia. They operate a firm hold taxis at the airport and are notorious for overcharging tourists for TAXI rides into Phuket. – You must LEAVE the main airport area and go to the MAIN road for ride pickups.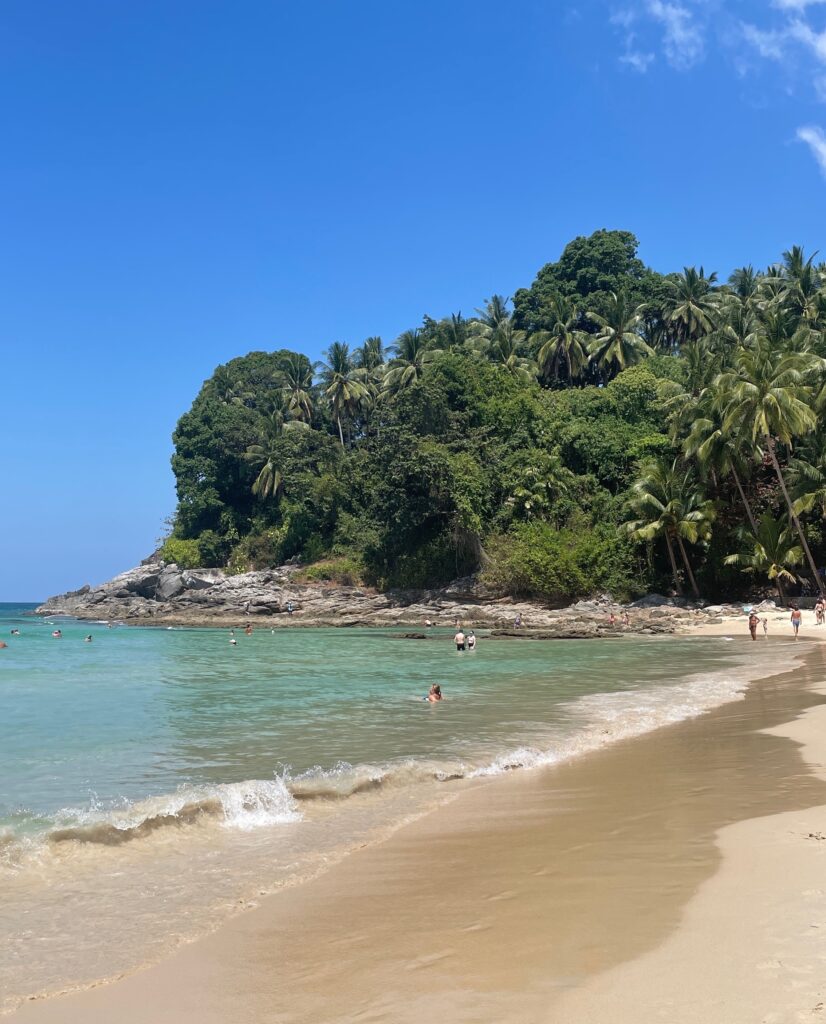 Being the largest island in Thailand, it makes sense that Phuket is home to many beautiful beaches.
Most of the beaches in Phuket are located on the island's west side. You can get to most of them using the Phuket Smart Bus.
The list of beaches in Phuket is quite extensive. I will only mention the island's best/most popular beaches!
For in-depth information on the beaches here, refer to my Best Beaches in Phuket guide.
Nai Thon Beach (a secluded beach famous for its stairway toward the beach)
Banana Beach (small beach with beautiful rock formations surrounding it)
Layan Beach (another small beach but surrounded by trees with lots of shade)
---
Bang Tao Beach (long beach shoreline with many luxury resorts facing the beach)
Surin Beach (soft sand, surrounded by palm trees but with a high tide, many food vendors here)
Kamala Beach (known for having many beach chair rentals and beach-facing restaurants, family-friendly, there is a night market that starts at 6:00 PM at the end of the beach also)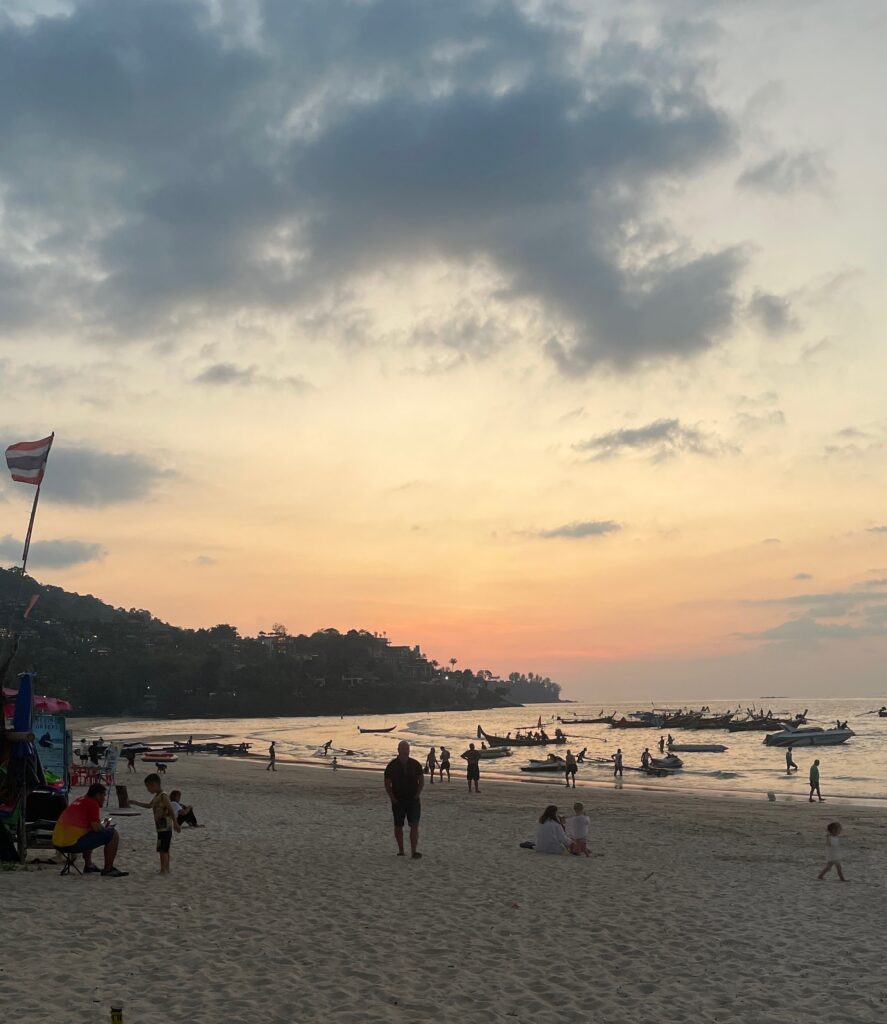 Hua Beach (a relatively small secluded beach with a stunning landscape)
Patong Beach (small but loud beach and the most famous beach in Phuket because of Bangla road, a nightlife paradise for those looking to party, for those looking to relax, I wouldn't recommend a beach day here)
Freedom Beach (stunning secluded beach only accessible by hiking downhill or longtail boat water taxi, keep in mind it costs 50 baht to enter this beach)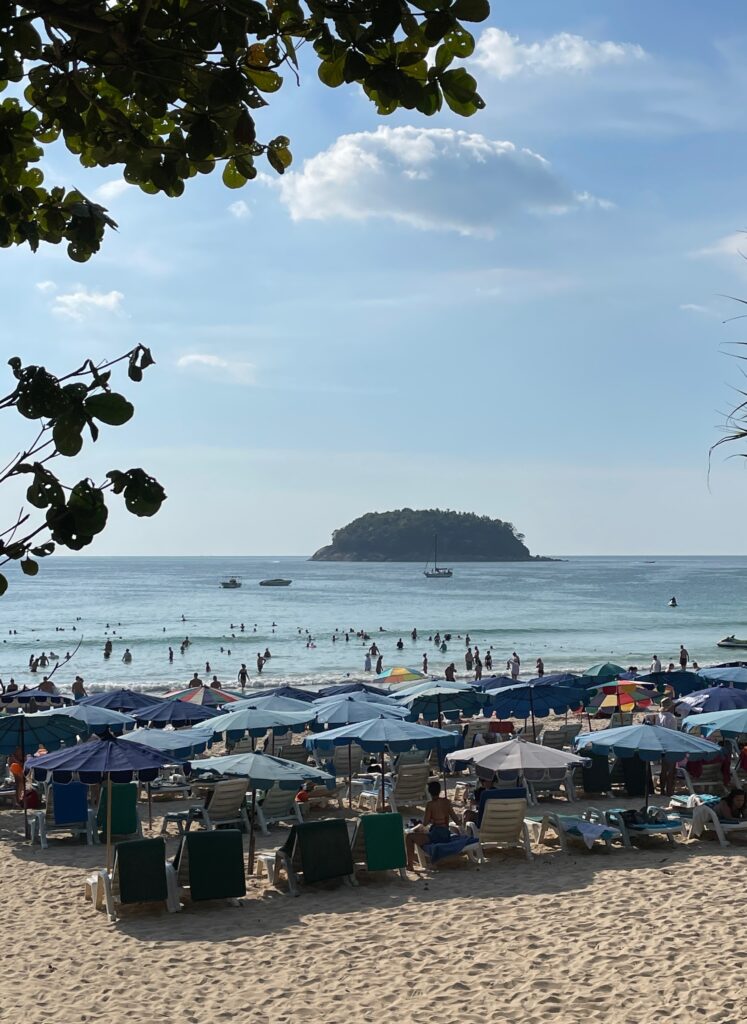 Karon Beach (long beach shoreline with clear waters, ideal for family, many restaurants close by)
Kata Beach / Kata Noi Beach (famous beach for surfers and families, with many restaurants/resorts close by)
Nai Han Beach (small, relatively quiet beach ideal for families and those looking to relax)
All these beaches are unique; depending on the type of beach day and conveniences, you may prefer one.
To help you decide, I will share my favorite beaches in Phuket (not in order).
Banana Beach: It's stunning, and the rocks surrounding it make it a remarkable sight.
Surin Beach has some of the most transparent waters in Phuket. One of the reasons I love Suring Beach is because there are many street food vendors here on the beach, more than any other beach in Phuket.
Freedom Beach is a must-visit in Phuket: There's very much a remote island vibe there, there are no beach chair rentals here, and you have to hike a bit to get there, but it's worth it! (cost 50 baht to enter)
Karon Beach is my favorite beach for swimming; the tide is not too high here, there are many beach chair rentals, and the surrounding area is gorgeous—an excellent beach for couples and families.
Kata Beach and the area is great to visit; Kata is popular with surfers due to its small waves, the beach is close to shops, there are food vendors here as well, and in the evening, the area gets quite lively, there's also a night market here in the evening.
Go to Phang Nga Bay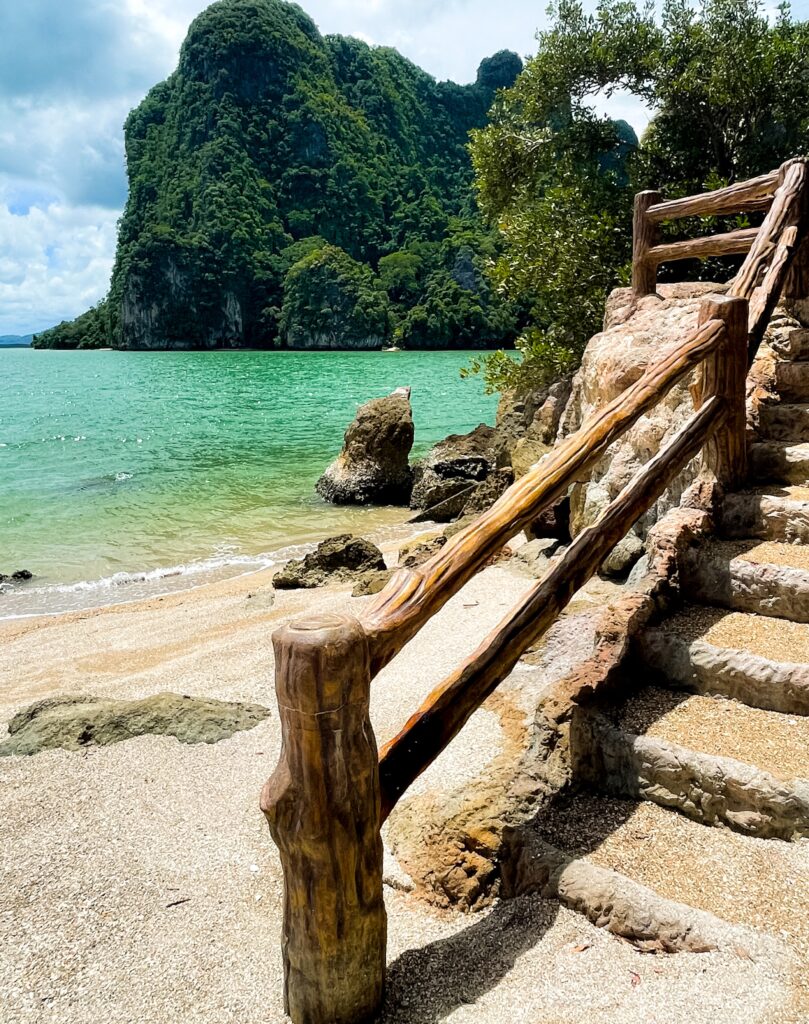 One must-do thing in Phuket is a day trip to Phang Nga Ba/James Bond Island. Featuring stunning limestone cliffs everywhere, Phang Nga Bay comprises 40 tiny islands filled with mangroves, caves, and lagoons.
Because of its size, don't expect to see it all in one day, and that's why I suggest taking this tour so that you can experience the essential spots in Phang Nga Bay!
Tours here make seeing the area more accessible; you'll be able to enjoy snorkeling and kayaking. For those who enjoy kayaking, Phang Nga Bay is one of the most scenic places to kayak in Thailand.
James Bond Island is known for being featured in the movie "The Man With the Golden Gun," but it's also known for being a secluded cliff structure in the middle of the water.
Visit Big Buddha Of Phuket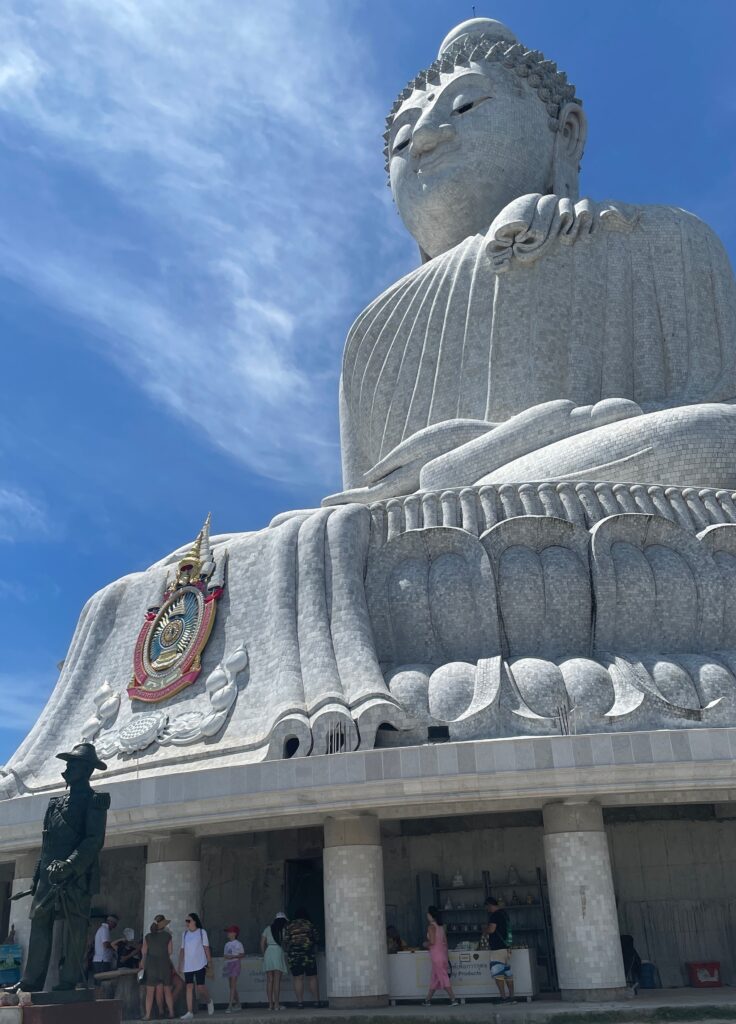 One of Phuket's most iconic landmarks is the 45-meter-tall white jade Buddha. Located at the top of the Nakkerd hills, visiting the Big Buddha offers spectacular aerial views of Phuket.
Whether walking around Karon Beach, Kata Beach, or perhaps in a taxi around Phuket, you can usually spot the Big White Buddha.
Hours to see the Big Buddha are 6:00 AM to 7:00 PM Daily. It's FREE to visit the Big Buddha.
Also, please ensure you cover your knees and shoulder here, or you can't come in; security won't let you in.
The best option is to use a sarong to cover up for women (it's a tube-length fabric used by Thais). You can purchase one there but do so beforehand, and you will pay less for it!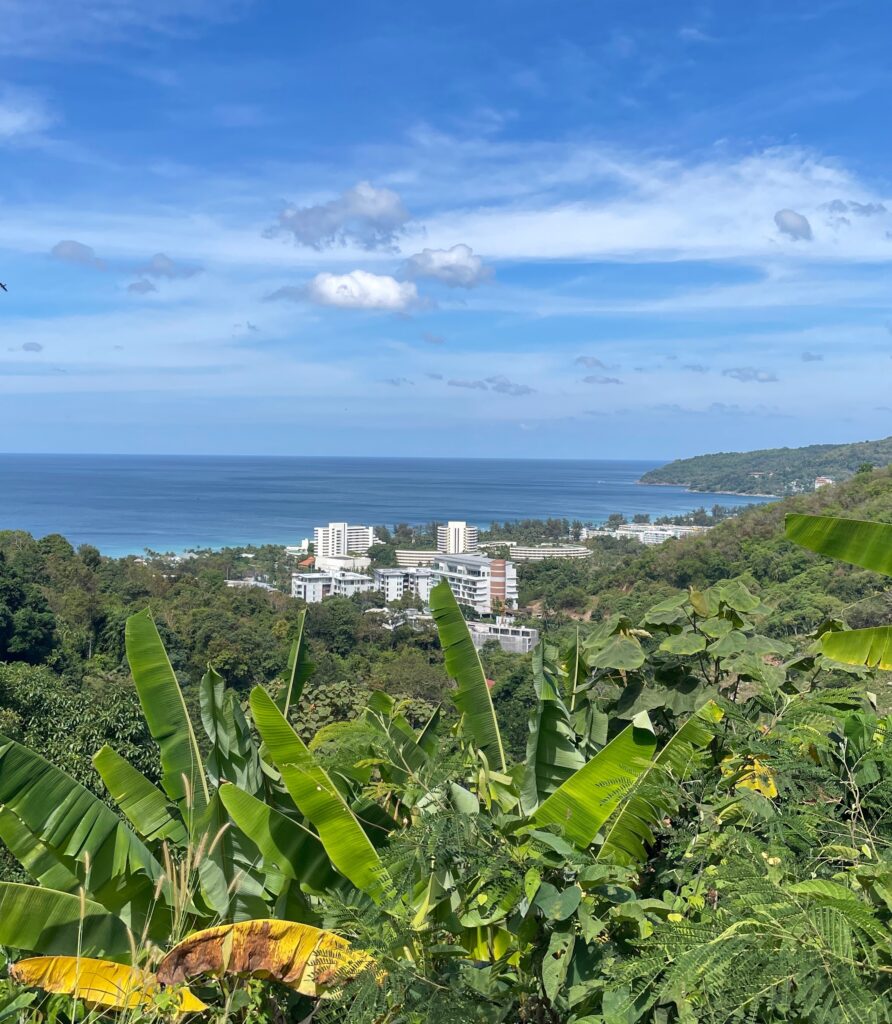 Getting to Big Buddha Phuket: You can rent a scooter, take a taxi/grab, or hike there. For those looking to go to the Big Buddha by vehicle, I recommend attending this organized tour, which includes roundtrip transportation!
To hike there, you must go to the Main Big Buddha Trail, which takes around 90 minutes or more, depending on your speed. I'd avoid the hike for those not up for an adventure and workout.
We decided to hike because of the fantastic views you can see along the way to the Big Buddha. If it's a hot day, I'd recommend you go earlier to avoid the hot weather and crowds of tourists!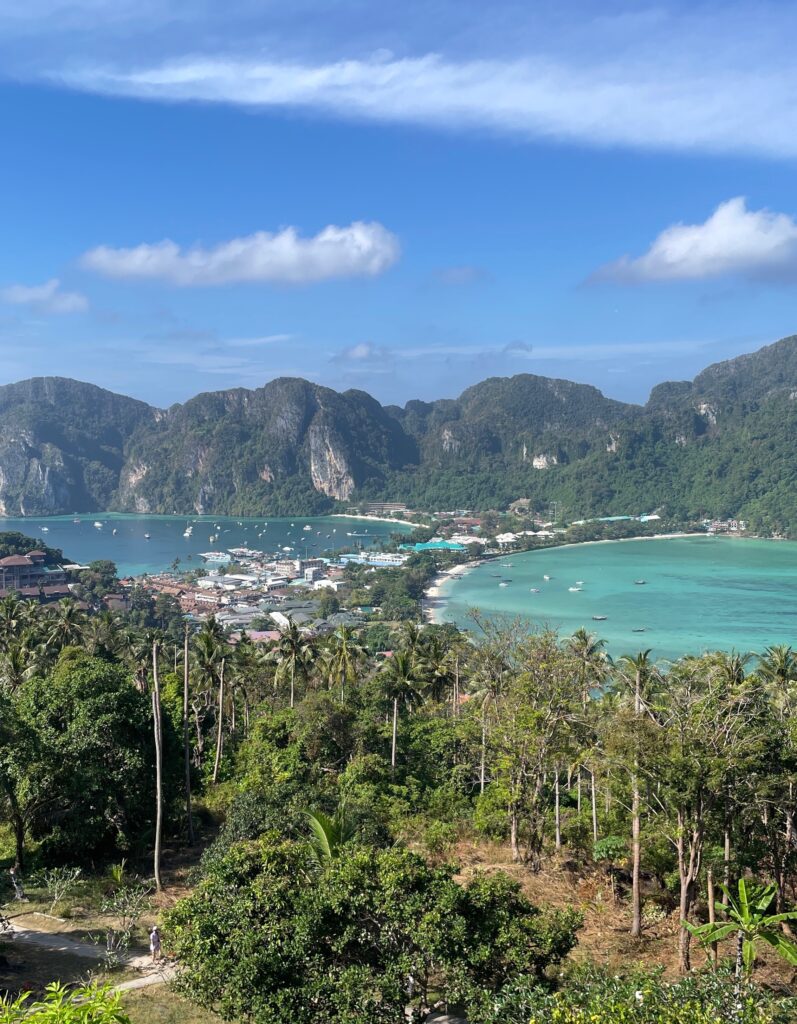 The Phi Phi islands are one of the most famous places in all of Thailand. And Maya Bay Beach is one of the most famous beaches in the world, especially after Leonardo Di Caprio's movie debuted, "The Beach."
The Phi Phi Islands are quite spectacular, located in the middle of the Andaman Sea. The coral reefs and turquoise blue waters are impressive here.
The great way to experience the Phi Phi islands from Phuket is to take a full-day Phi Phi islands tour on a speed boat. On this tour, you will get to see all the famous attractions in Phi Phi during the day and return to Phuket in the evening.
RELATED: 9 Best Phuket Day Trips
If you have the time, what you should do is go to Phi Phi Don and spend a night there, and then organize a tour from there!
Many visit the Phi Phi Islands but don't actually visit the main island because most tours don't include visiting the main island. Which I highly recommend you do. The main island is its own tiny town with 5,000 residents; visiting/staying for a night is a fun and unique experience!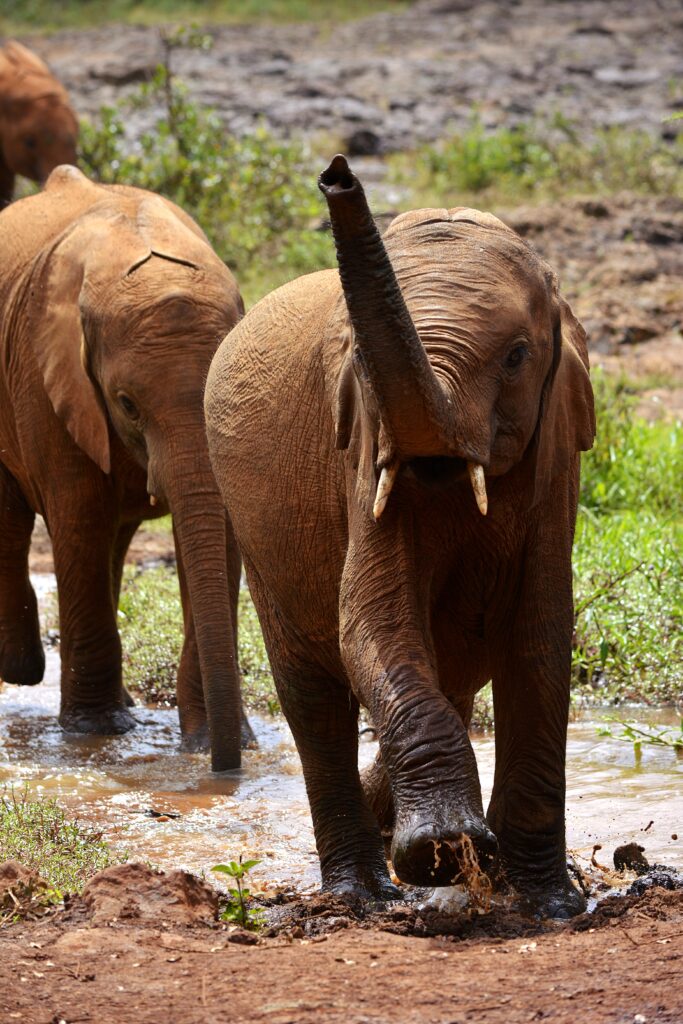 When many think of Thailand, one of the first things they think of is the elephants here. Elephants are not only popular in Thailand, but they're sacred in the Buddhist religion.
Despite that, unfortunately, many elephant tourism attractions in Thailand aren't ethical and respect to elephants. Chaining them to the ground, allowing tourists to ride them, which you shouldn't do.
Make sure the elephant sanctuary or nursery you choose to go to is ethical to these beautiful giant creatures; animal abuse is not okay.
Consider visiting the official Phuket Elephant Sanctuary; it's located at 100 Moo 2, Paklok, Thalang, 83110, Thailand. – Most importantly, it's an ethical sanctuary.
At this sanctuary, they take care of the elephants ethically; you can touch them, feed them, and bathe with them, and a guide will share important facts about elephants with you.
You may notice the price to go to this sanctuary or other ethical sanctuaries is costly, and that's because it's expensive to take care of elephants. They eat a lot and need lots of room to roam.
Don't support the cheaper, unethical elephant tourism attractions that support animal abuse. Do your research before going. Visiting cheap elephant attractions is one of the things not to do in Phuket.
Old Phuket Town Sunday Night Market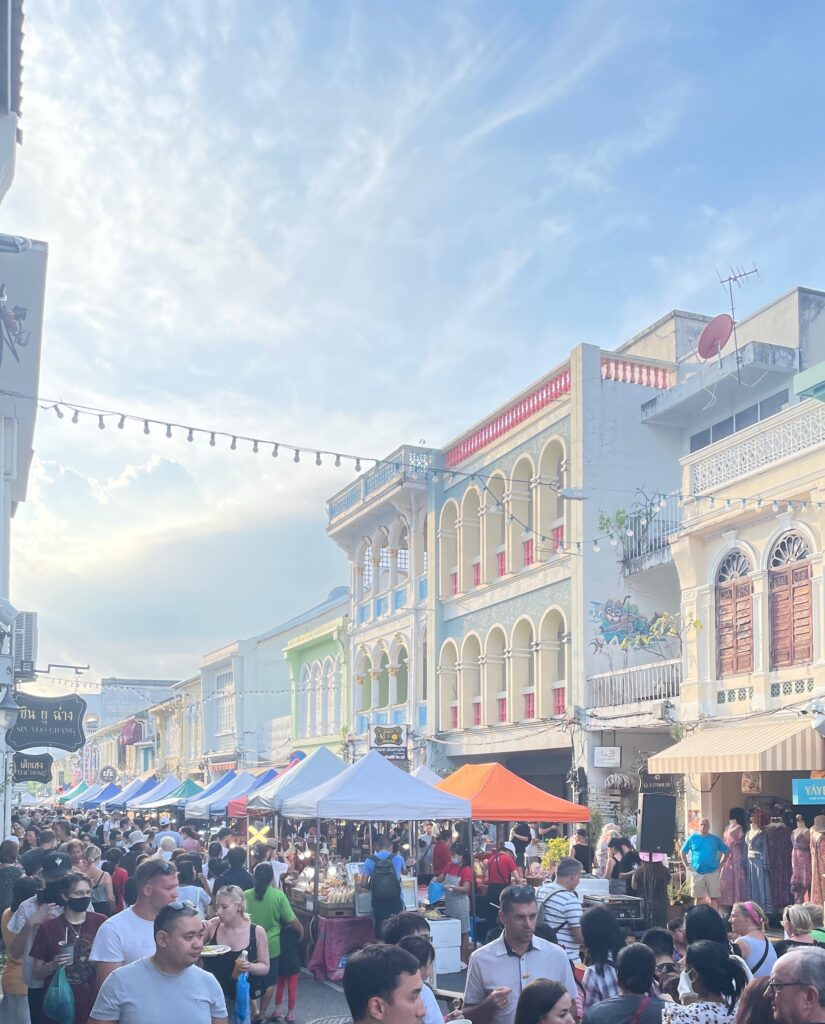 My favorite thing in Thailand is the night markets. They're all over the country and visiting a night market is the best way to spend an evening. Several stalls sell delicious foods, desserts, clothing, accessories, souvenirs, and more.
The Phuket Old Town Night Market is the most famous one in Phuket. Located in the Phuket Old Town area, this market only happens on Sundays after 4:00 PM; because of this, you can imagine how busy it gets here. Regardless, I strongly recommend visiting this night market when in Phuket!
There are other night markets in Phuket to consider, but the Phuket Sunday Market in Old Town is the largest and most impressive one in Phuket.
Other notable Night Markets in Phuket are:
Kata Night Market (operating daily)
Karon Temple Market (operating only on Tuesday/Friday)
Night Market Patong (operating daily)
Naka Weekend Market (operating only on Saturday/Sunday)
Sunset at Cape Phrom Thep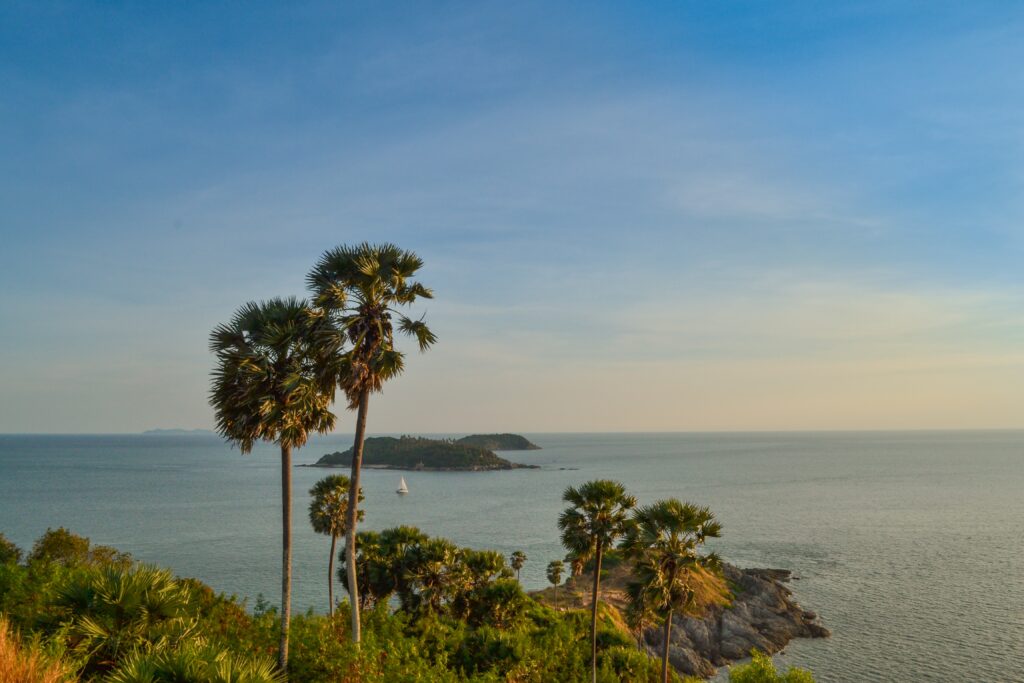 Located South of the island is Cape Phrom Thep, a stunning picturesque viewpoint famous for its spectacular sea views and unforgettable sunsets.
Coming here in the evening, you will notice several tourists prepared to capture stunning sunset photos.
The long stretch of palm trees, along with the clear water views from the hill, is a site to see in the evening.
For those visiting Phuket with their partner, this is a great romantic activity you can do with your partner after dinner. One of the best things to do in Phuket for couples. It's Free to come here, by the way.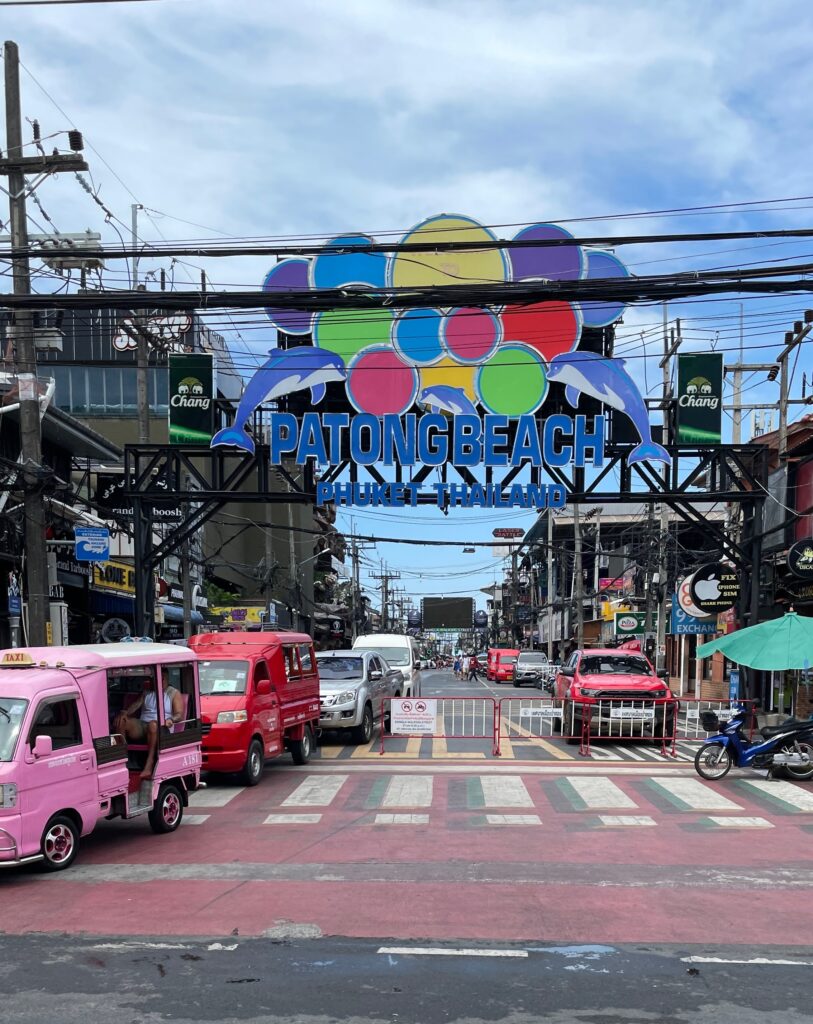 Famous for being the most popular street in all of Phuket is Bangla Road in Patong Beach.
During the day, the street is popular for its many restaurants, bars, and shopping markets. At night, the street turns into a Vegas-like nightlife street full of bars, go-go dancers, and everything else you expect to attract young single individuals!
If you're going to bother shopping here, I would like to let you know that the vendors here are known for ripping off tourists. So, if bargaining isn't your thing, I'd steer clear from buying things here!
Most scams in Phuket occur in Patong Beach, so keep an eye out when visiting!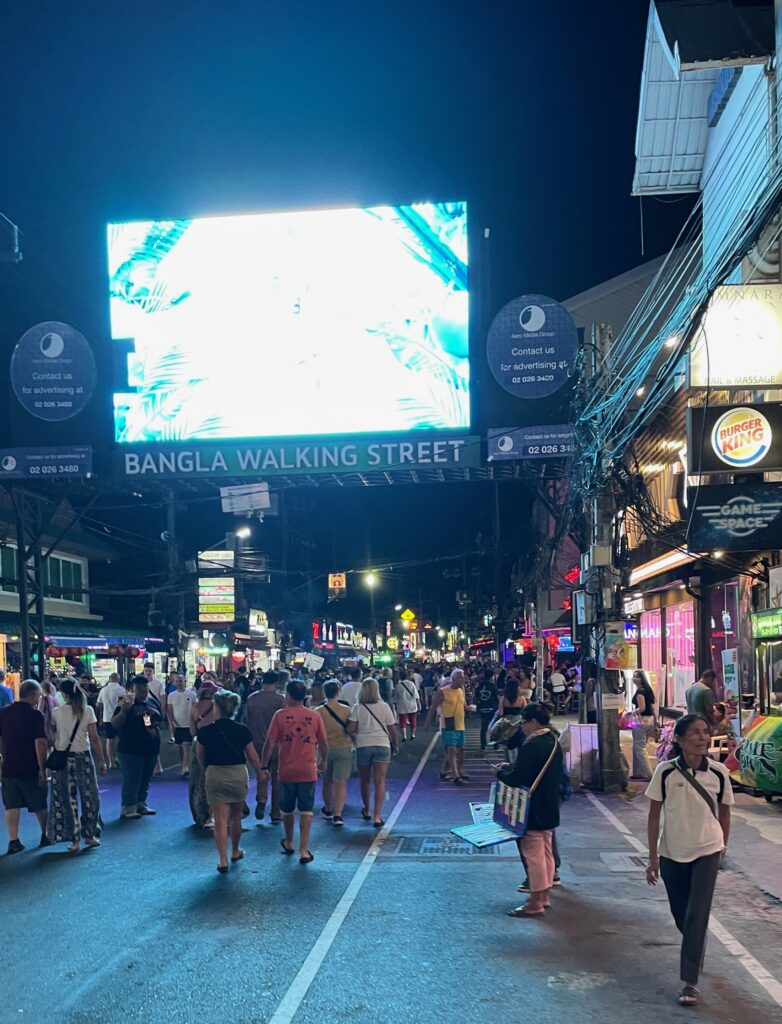 Also, when walking this street at night, I'd advise you to watch your pockets; pickpocketing is prevalent here.
Nonetheless, Bangla Road is ideal for those with a large group of single friends looking to have fun or if you're just curious about seeing this crazy, well-known party street in Phuket.
After going a few times, I can't say it's one of my favorite parts of Phuket, but I'd recommend visiting and at least seeing it once because of how famous it is!
Explore Old Phuket Town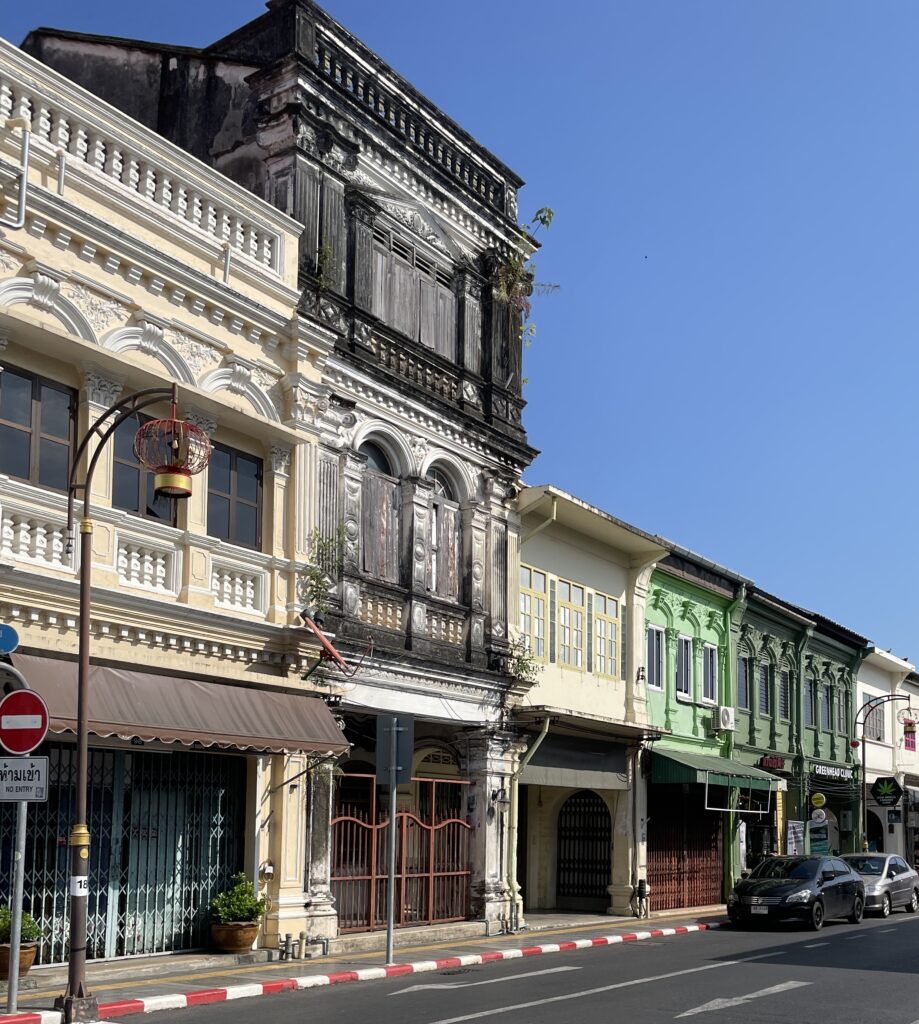 Known for its brightly painted century-old Portuguese-influenced buildings, Phuket Old Town is beautiful to visit and walk around.
It's considered the city center of Phuket, and there are several excellent restaurants, cafes, and small, unique shops to discover here.
If you're looking to explore the Old Town, I suggest avoiding Sundays because of the Night Market here, which takes up the entire prominent street on Sundays. Unless, of course, you're coming for the market!
Instead, come any other day, and you can explore the Old Town peacefully without nearly as many tourists as on Sundays. When visiting, we went on this excellent food tour in the Old Town and enjoyed it very much!
Cheap Things To Do in Phuket
Phuket is relatively expensive to visit compared to the rest of Thailand. But if compared to most destinations in the world, Phuket is relatively cheap.
Thailand, as a whole, is one of the cheapest countries to visit in the world.
That being said, there are cheap and free things to do in Phuket. I've already listed many on this above, but for those looking for a quick resource. Here is a list of free things to do in Phuket.
Hiking Viewpoints in Phuket, Patong Viewpoints, Kata Viewpoint, and Karon Viewpoints – FREE
Visit the Big Buddha – FREE
Beach Day at any Phuket beach – FREE (except for Freedom Beach, which is 200 Baht/person)
Seeing the Sunset at Cape Phrom Thep – FREE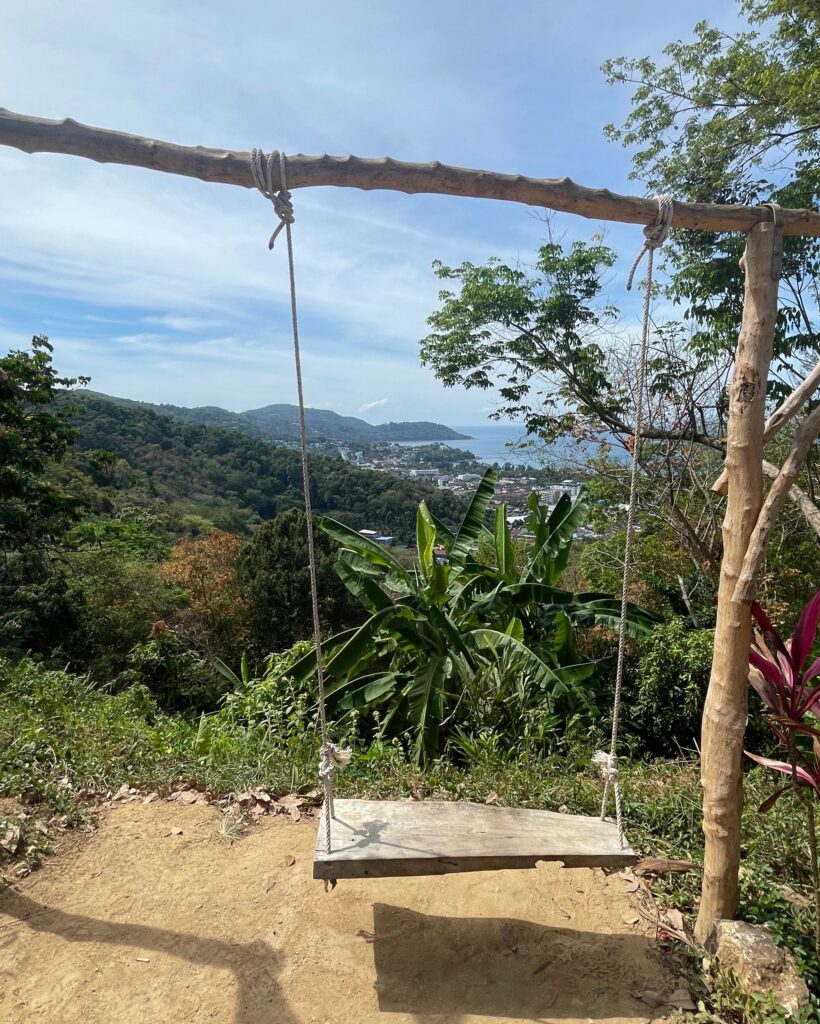 How to Get Around Phuket
Besides renting a scooter, taking a taxi or Grab. These are the cheapest and most efficient ways to get around Phuket.
Depending on where you're going, you may have one/two options for public transportation. There are two types of local buses in Phuket to help you get around. And there is a distinct difference between these two buses in how they operate.
The Phuket Smart Bus and the Phuket Blue Bus (also known as Song Taew).
The Phuket Smart Bus has designated stops throughout Phuket's West side of the island where it can pick you up from or drop you off during the route, costing 100 Baht (only cash is accepted).
The bus runs between 9:00 AM and 9:00 PM, but the last bus depends on where you're picked up; please look at the timetable below for more information.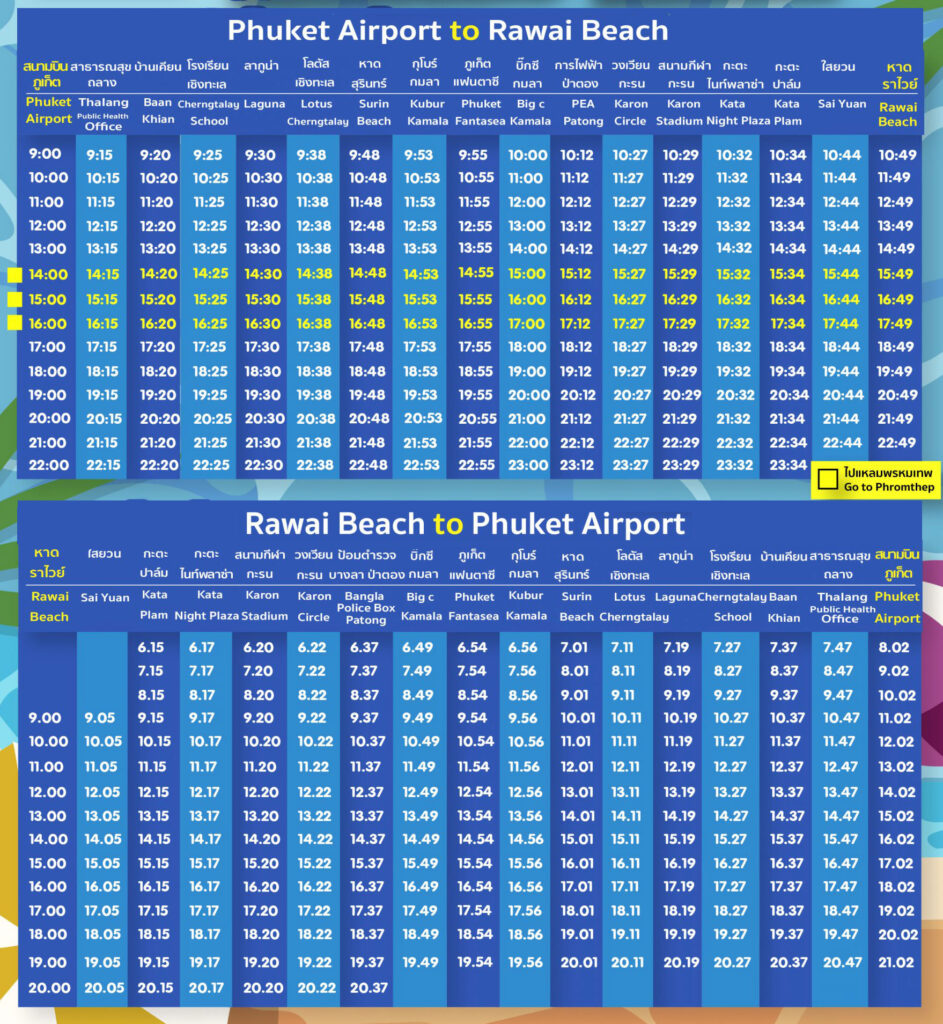 Phuket Blue Bus picks you up and drops you off anywhere you'd like on its route. You must wave to the driver to stop and pick you up. When getting off, you must press the button on the bus, and it costs 40 Baht (only cash is accepted).
Because there aren't designated spots for this bus, it's essential to know what it looks like to stop it when you see it! – (refer to the picture below)
The blue bus operates between 6:00 AM and 6:00 PM and frequents approx every 30 mins (sometimes it takes longer, not to worry, just be patient, and you should see it come unless it's after 5:00 PM, then you may have missed the last one).
Below is the route map; each way operates both ways for each route.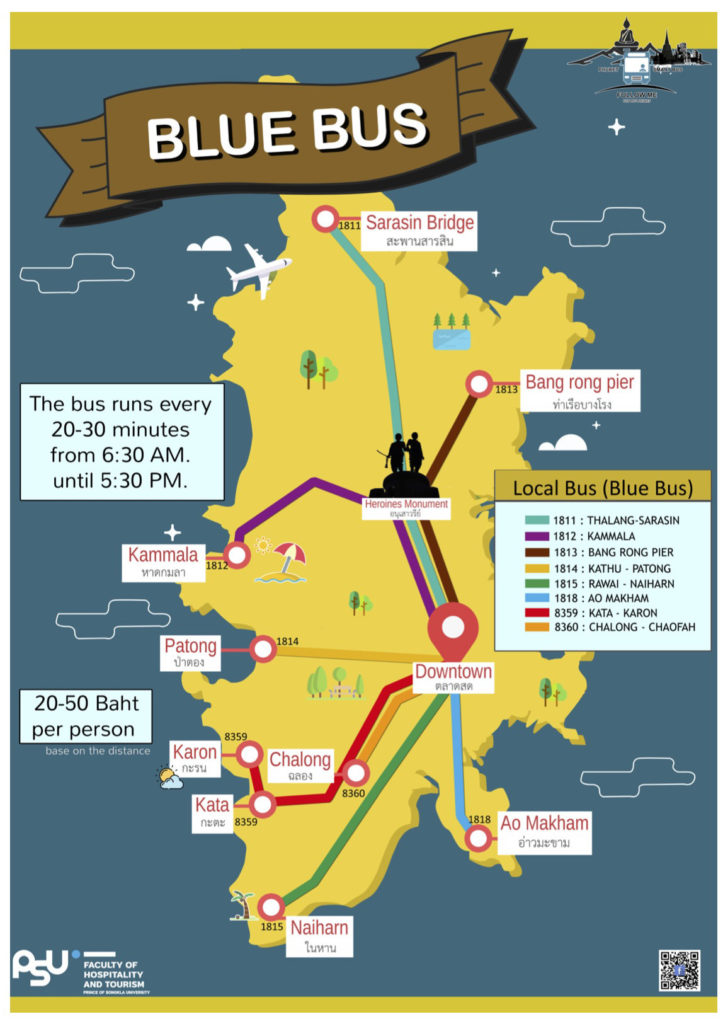 If you're curious about visiting Thailand and want to learn more, follow our Thailand archive for more in-depth guides like this one.
Once you've visited Phuket, I highly recommend visiting Koh Samui, the second largest island in Thailand after Phuket!
When visiting Thailand, you will quickly discover that the country is a cash society; yes, credit cards are accepted in some places. But for the most part, most businesses only take cash, so it's a good idea to always have money on you.
To save on foreign exchange fees and be able to take out Thai Baht directly from ATMs, sign up and use WISE. I use it in every country I travel to.
RELATED: Cheapest Places in Thailand
Things To Do In Phuket – Final Thoughts
There are many things to do in Phuket, but the nine I've listed above are ones you should try your best to experience if it's your first time visiting Phuket, Thailand.
Phuket is a large island, with many places to visit/see and things to do, and it is not possible to do them all visiting once!
Do what you can, and don't forget to have a relaxing day or two at one of the many beaches in Phuket; after all, that's what Phuket is most famous for!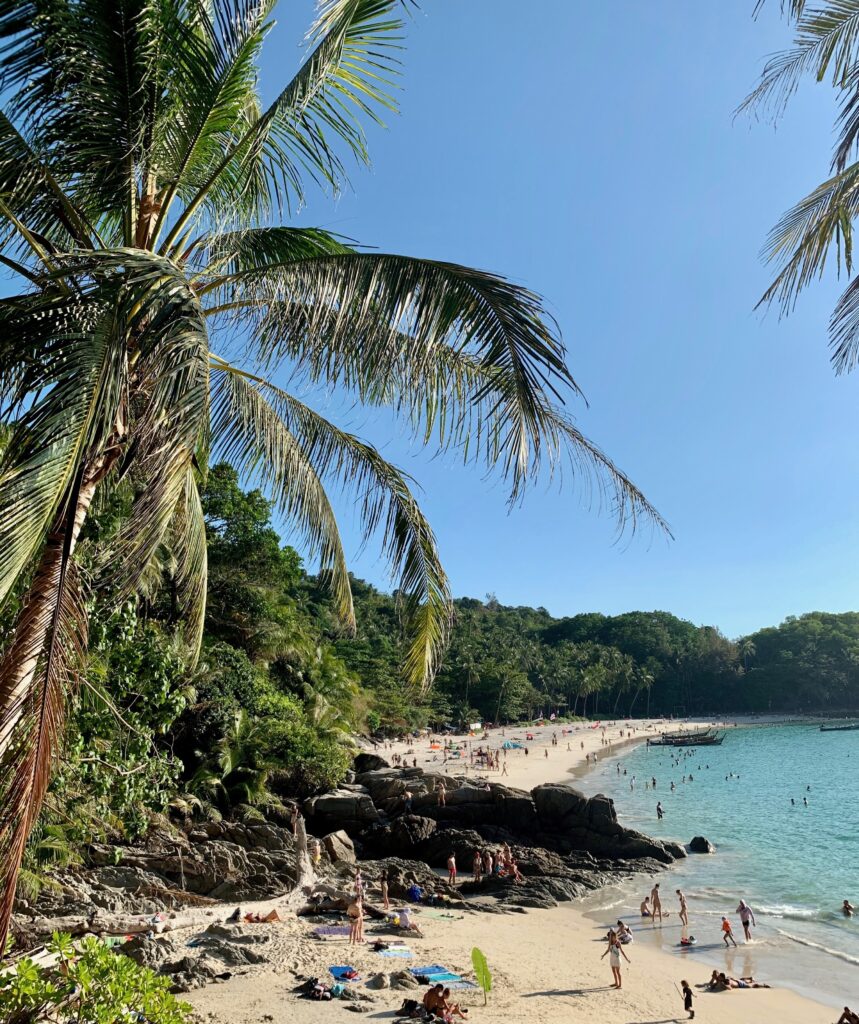 How many days should I visit Phuket?
Spend at least five days in Phuket. It's the largest island in Thailand, and there are plenty of things to do in Phuket and places to visit.
Why is Phuket so expensive?
Phuket is the most developed island in Thailand and has some of the best beaches in Thailand. Phuket is beautiful and convenient, making it a popular place for locals and tourists to vacation in! But despite Phuket being expensive, you can visit on a budget!
Is Phuket too touristy?
Depending on what area you choose to visit in Phuket, it may be too touristy. Places Patong and Kata Beach are quite touristy, but there are areas like Rawai in Phuket that aren't too touristy at all!
Is it safe to walk around at night?
Yes, it is to walk around Phuket at night. Some areas are safer than others, but for the most part, Phuket is safe to walk around at night!
Subscribe to Travel Hiatus!
Receive updates on my latest posts, insider travel tips & the best destination guides to your inbox!
Happy & Safe Travels
---
Planning Checklist
---
Disclaimer: Please note that some of the links shared in this article might be affiliate links; this means that at absolutely no extra cost to you, we will earn a small commission for any sales generated through this article and/or this website. We recommend products/services we've either used or researched thoroughly – Thank you for supporting us so we can continue to share helpful travel content!