8 Best Beaches in Phuket, Thailand
Are you looking for the best beaches in Phuket? Well, you're in the right spot! I've compiled a list of the best beaches in Phuket you must consider visiting when in Phuket!
The beaches in Phuket are some of the nicest in the world. There is a reason why this island is so famous among tourists.
Phuket's West side of the island is full of beaches, some beaches you won't even find on Google Maps.
After spending a few months in Phuket and having visited all the beaches multiple times, I got a real feel for each beach in Phuket.
I will be ranking the beaches in Phuket by the following considerations: including how beautiful the beach is, conveniences such as beach chair rentals and restaurants close by, and useability for not only a group of people but also families.
At the end of this article, I'll cover the best beaches in Phuket for families and couples!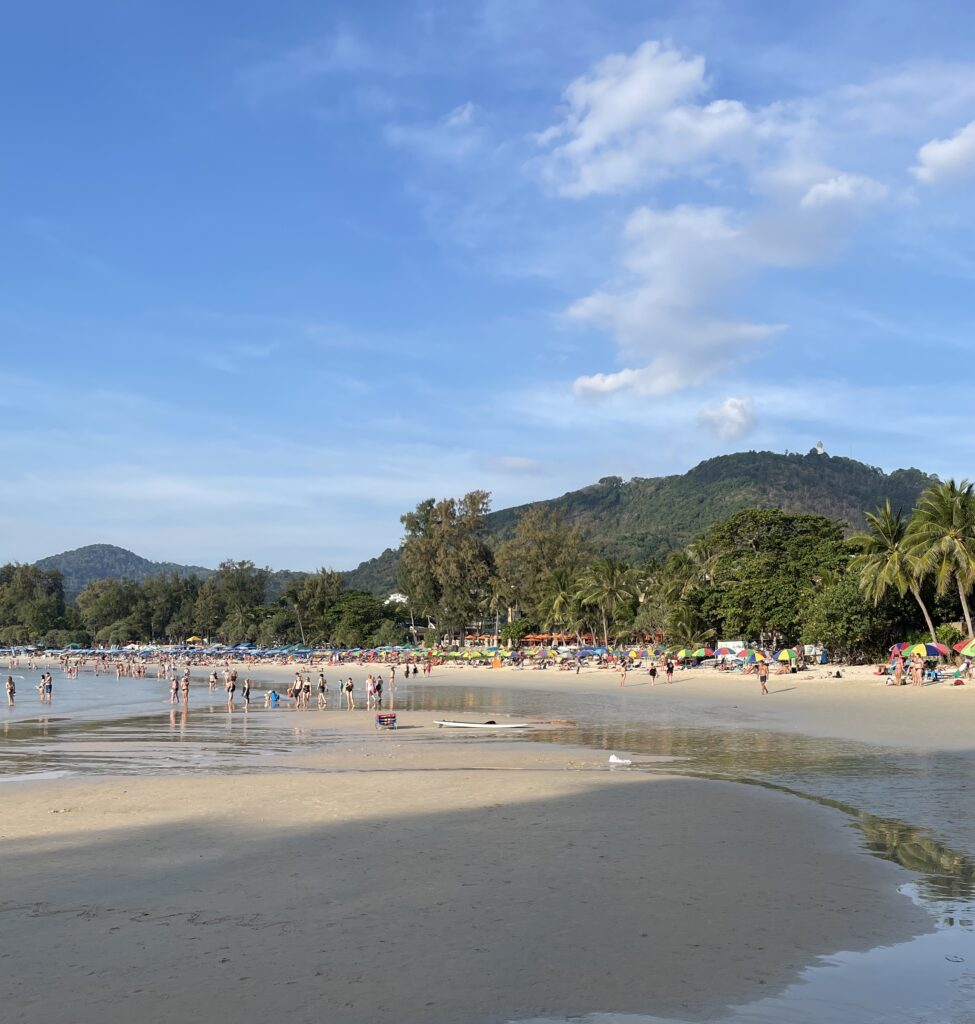 If you're researching Phuket and debating which area you should stay in when visiting Phuket, make sure you stay on the West side of the island if you're looking to be close to Phuket's many beaches.
Businesses, Malls, and Phuket's Old Town mostly populate the island's East side. There are no beaches there for you to spend the day.
If you're curious, what the most famous beach in all of Thailand is? That's Maya Bay Beach in Phi Phi Islands.
How to Get Around Phuket
Phuket is a large island, and not all these beaches are accessible within walking distance.
So you will need to make your way to them, and it depends on where you end up staying in Phuket and how long it will take to get to the beach you want to go to.
As mentioned earlier, don't stay in Old Town Phuket if you'd like to be close to the beaches.
The best and most convenient way to get around Phuket is by renting a scooter. Otherwise, use the other transportation methods listed below.
Other than driving yourself there, you have three different options for transportation to each beach.
You can take a taxi, use GRAB/Bolt (it's Uber for Asia), or use the Phuket Smart Bus, which I highly recommend!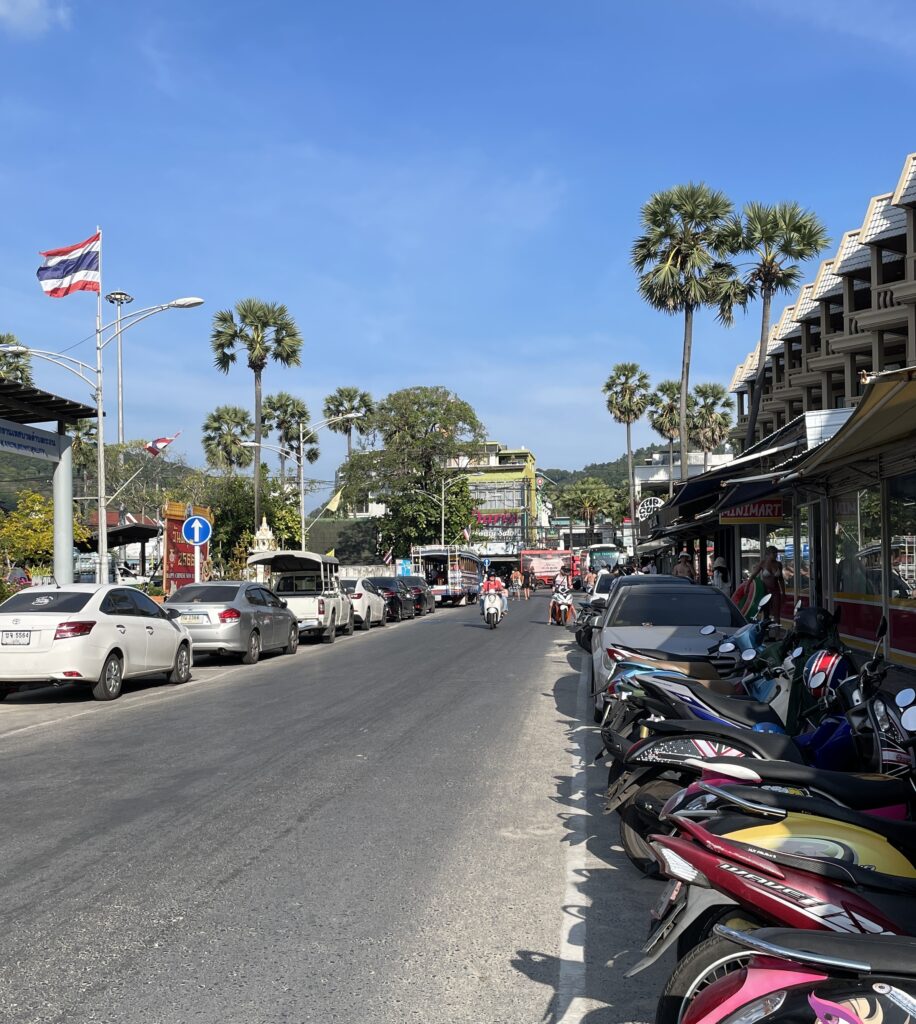 The Phuket Smart bus leaves approximately every hour from the airport and makes its way down South on the island with stops along the way (mostly at famous beaches)—Surin Beach, Kamala, Patong Beach, and so on. And vice versa, another bus leaves Rawai Beach and makes its way North of the island.
The bus costs 100 Thai Baht per person, which converts to $2.88 USD (price at the time of this article).
This bus does not stop at all the beaches on this list. But it does stop at Karon, Kata, Kamala, Surin, and close to Bang Tao (all beaches included in this list)
Check the Phuket Smart bus schedule here, and if the bus doesn't stop close to where you're staying, take it to the closest stop.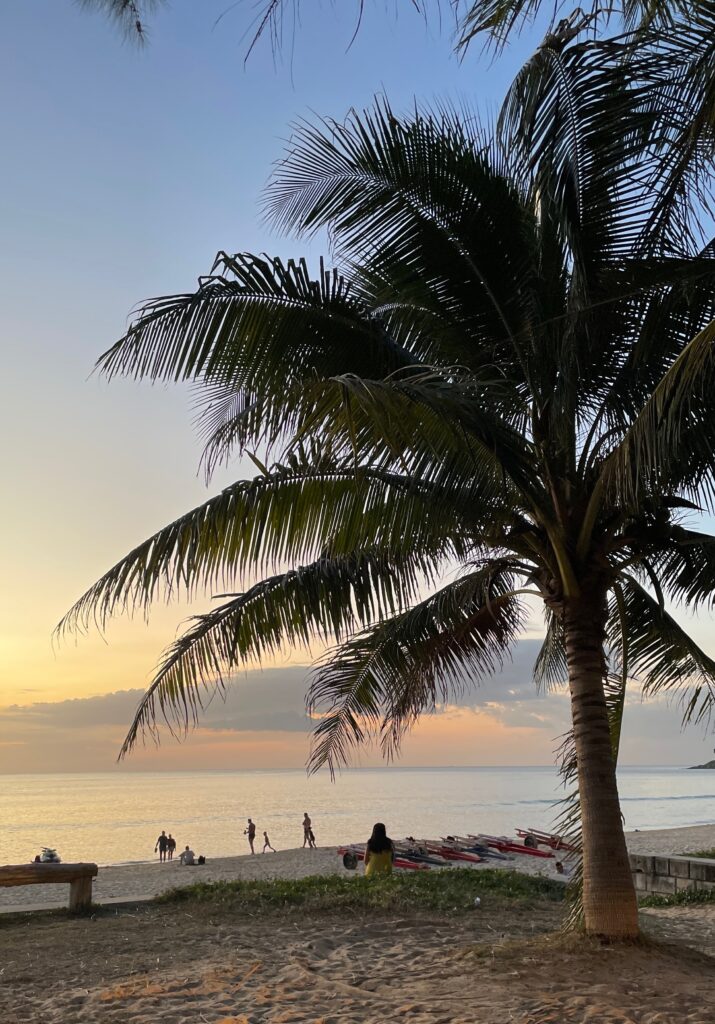 Famous for being one of the largest beaches in Phuket, Karon Beach is absolutely stunning.
The waters here are various shades of turquoise, soft sand, and mountains surrounding the shoreline at the end.
The entire beach measures 4 km, and the water here is relatively calm, so it's ideal for those who aren't great swimmers and those who visit with kids.
There are several beach chair rentals here, more than enough. I say that because several beaches in Phuket run out of beach chair rentals quickly. You won't have to worry about that when visiting Karon Beach!
No matter what end of the beach you decide to spend the day, there are convenience stores, restaurants, and shops right across the street.
Hotel Recommendation: Hilton Phuket Arcadia
Restaurant Recommendation: Napoli in Vespa Pizza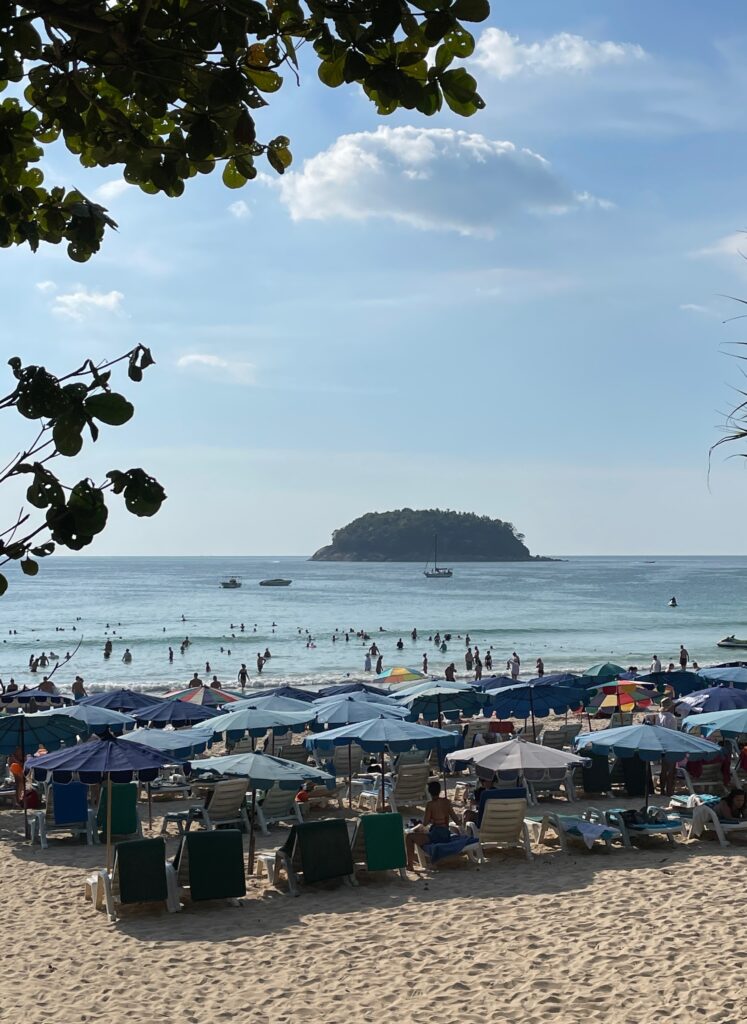 Kata Beach is known as Karon Beach's cousin because it's next door to Karon Beach. Kata Beach is beautiful as well but is slightly more popular amongst families, but both beaches have many similarities.
The landscape at Kata Beach curves in, and your surroundings' views are closer compared to Karon Beach, where the landscape stretches straight.
Kata's waters are less calm than Karon's; there are more waves here as it is a popular place to surf. At the end of the beach, you will find several large rocks. There are beach chair rentals here, but not as many as in Karon Beach.
One of the best parts about Kata Beach is the food vendors on the beach street next to the beach, where you will find just about everything you desire street food-wise throughout the whole day.
Kata Beach is another great choice for those visiting Phuket with families. If you stay in the area, remember that Kata is just a 10/15minute walk from Karon Beach.
Hotel Recommendation: Katathani Phuket Beach Resort
Restaurant Recommendation: The Pad Thai Shop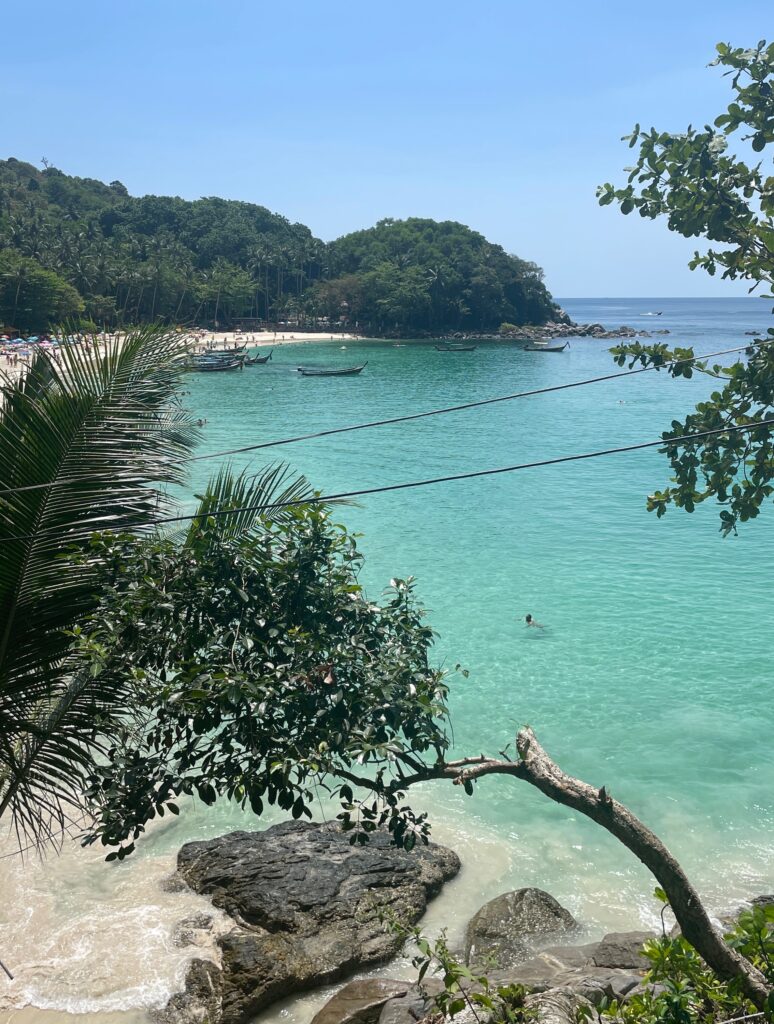 Arguably the nicest beach in Phuket, Freedom Beach is something out of a movie. It's a small, secluded beach surrounded by dense green forest and large rocks on both ends.
It does cost 50Baht to enter this beach, so make sure you bring cash with you.
The beach is in a tranquil setting. Besides the beach, there isn't anything there, but that's precisely what you want when visiting a stunning secluded beach. You will only find a few food and drink vendors there.
Walking up to this beach, you will be amazed at the water's clarity, views, and surroundings. Freedom Beach is a MUST-GO, and it would be ranked first on this list if it was family-friendly (which it's not).
Freedom attracts a younger crowd for the most part, and to get there, you have to hike downwards for 10 minutes or take a long-tail boat taxi from Patong Beach.
Hotel Recommendation in the Area: Crest Resort
Restaurant Recommendation: Eat at the Beach
Surin Beach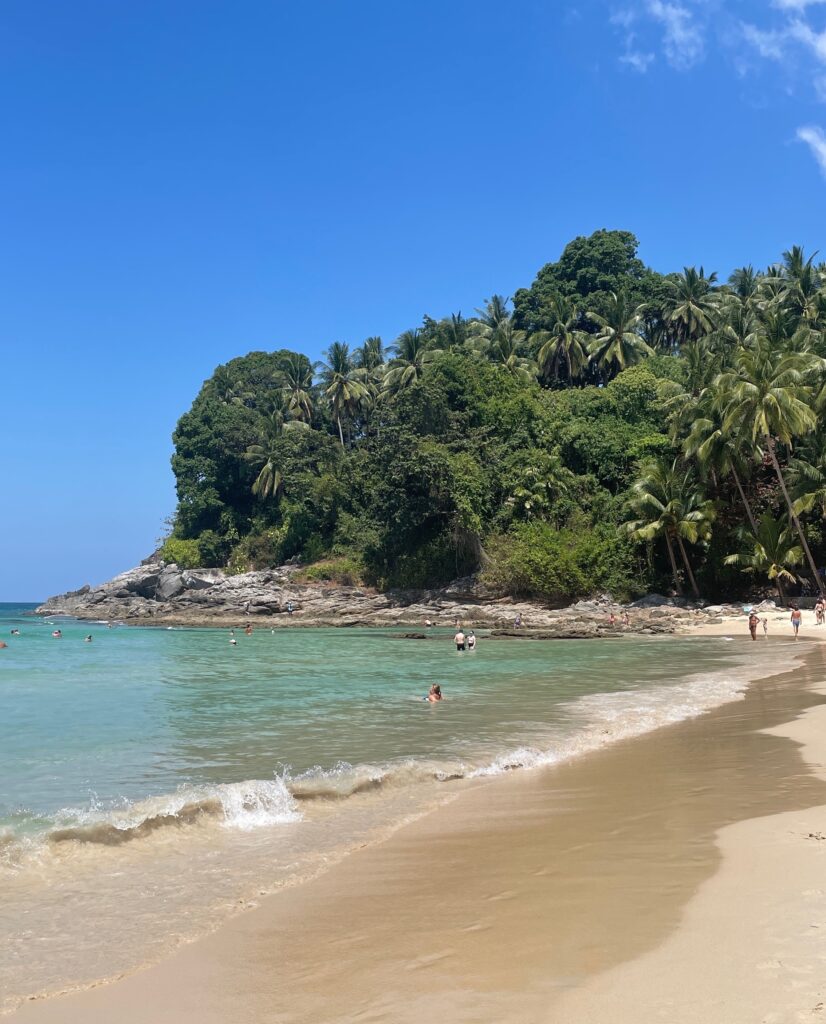 Located on the Northern half of the island is Surin Beach, a white sandy beach with beautiful turquoise blue waters—the shoreline curves in, so when on the beach, you can easily see the entire shoreline.
The waves here can be aggressive, and the water gets deep relatively quickly, so those who can't swim should be careful.
Also, while the beach is family-friendly for those with kids, the water isn't. So I wouldn't recommend it for those visiting with a family.
Regarding food options at beaches in Phuket, Surin Beach is by far #1. The beach has many food stalls serving street food throughout the day.
Seriously, the options for food here go on and on. Cocktails, fried chicken, pad Thai, pad kra pao, ice cream, Thai pancakes, and charcoal BBQ seafood are just a few food options available here.
At the end of the beach by the rocks is a perfect place to snorkel! There are limited beach chairs for rent at Surin Beach for those looking to rent beach chairs, so if you want one, arrive early!
Surin is up there with Freedom Beach and Banana Beach as one of the clearest beaches in Phuket!
Hotel Recommendation: Outrigger Surin Beach Resort
Restaurant Recommendation: Beach Street Food Vendors
Banana Beach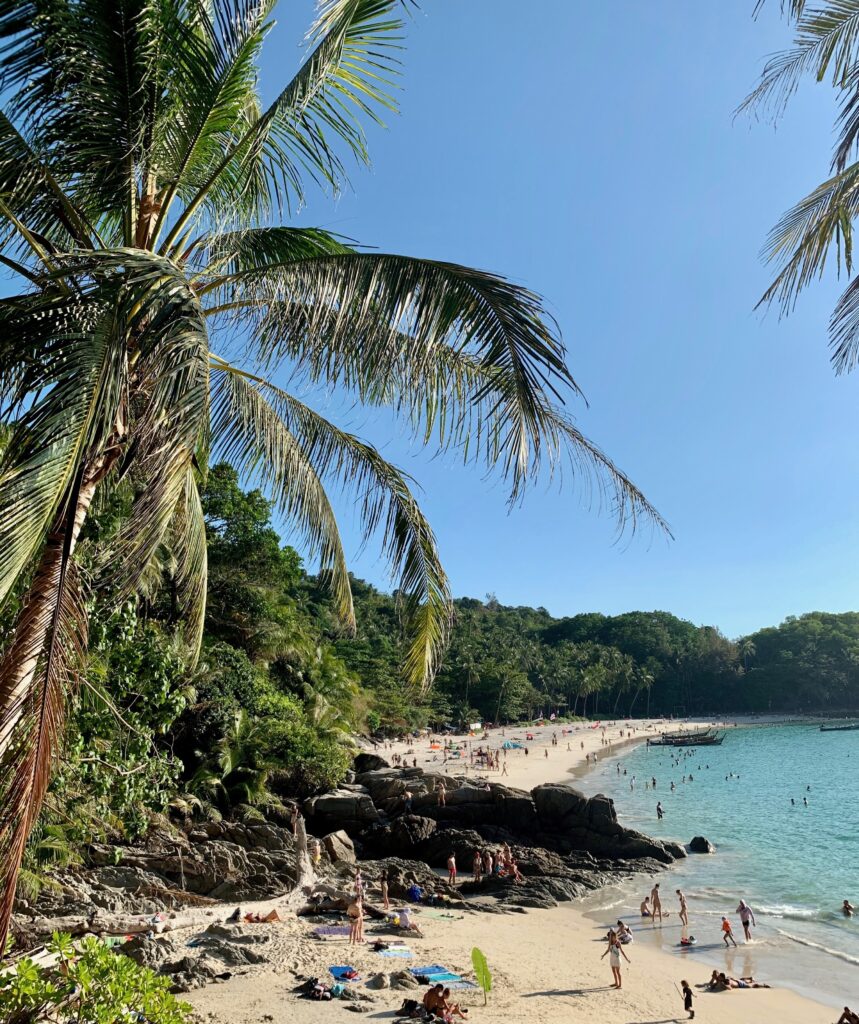 Banana Beach is on the Northern half of Phuket. Similar to Freedom Beach, it's also a small, secluded beach, far from any stores and restaurants.
The beach is surrounded by dense forest, and a large stream goes into the ocean; it's beautiful. If you're looking for shade, be careful staying under a palm tree here; they're full of coconuts!
Banana Beach is perfect for relaxing on a secluded, quiet beach far away from anything else. It's the most peaceful beach on this list.
If you like quiet beaches without much around, the only similar beach to Banana Beach is Freedom Beach. But nowadays, Freedom Beach sees many more tourists than it used to. Banana Beach is much less crowded than Freedom Beach.
Hotel Recommendation: Andaman White Beach Resort
Restaurant Recommendation: PRU
Bang Tao Beach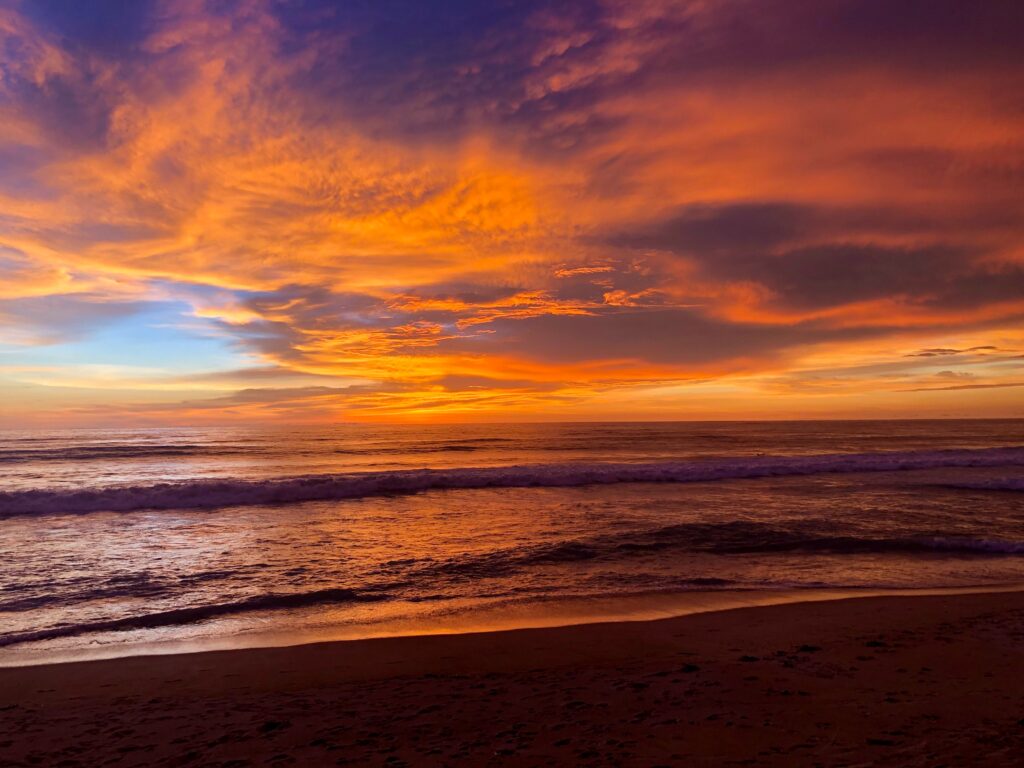 Known for having one of Phuket's most prominent beach shorelines, Bang Tao Beach is surrounded by several 5-star resorts and residences.
The water is a beautiful turquoise blue hue with various shades, and the shoreline is perfect for those with family because of all the space. Bang Tao is famous for its mesmerizing sunsets!
While this is one of the best beaches in Phuket, for those who like conveniences such as beach chairs, restaurants nearby, etc., there are better beaches than this one for you.
There are some shops and restaurants, but everything is far from each other.
If you're with your family, this beach is a must-visit because it's family-friendly, quiet, and has an extensive shoreline. I recommend visiting Bang Tao, but the beaches higher on this list are preferable!
Hotel Recommendation: Saii Laguna Phuket
Restaurant Recommendation: Bocconcino Phuket
Nai Harn Beach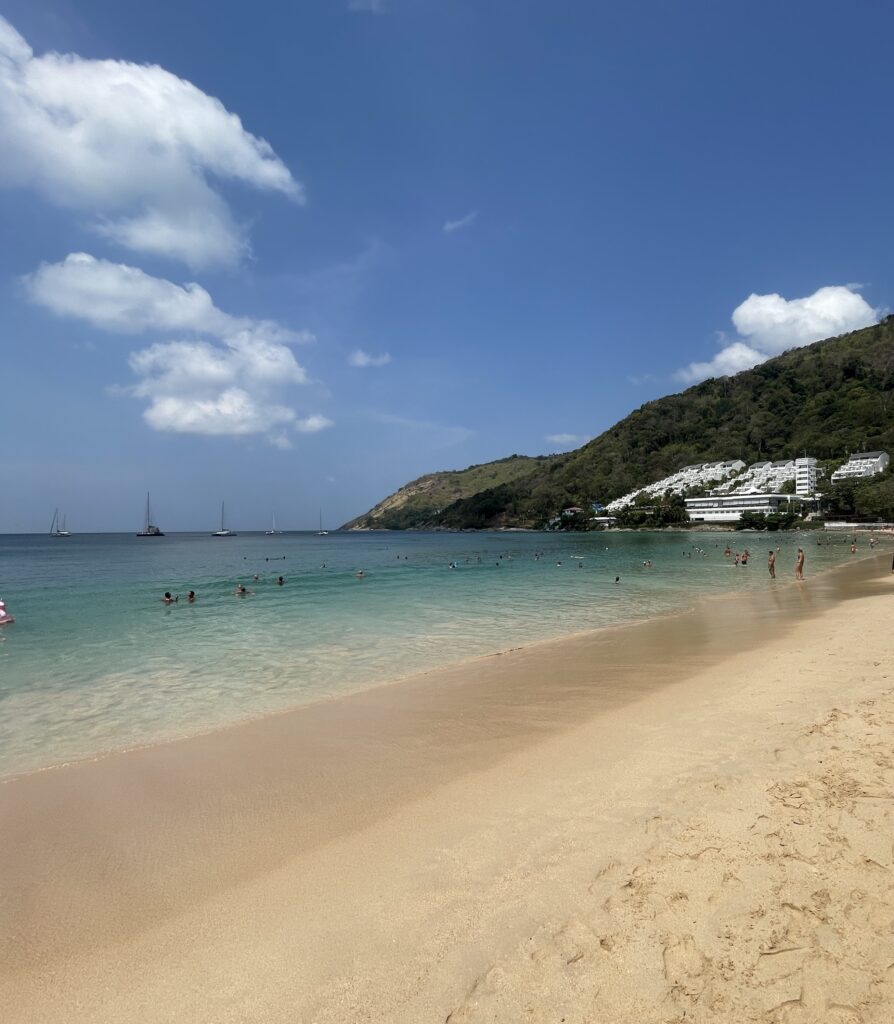 This beach is the most South of Phuket on this list. Nai Harn is a relatively small beach full of families and locals. The water here is very clear, and you should expect some waves at Nai Harn.
Nai Harn Beach gets quite busy in the afternoon, so if you're looking to rent a beach chair here, you better come early, or you will be out of luck.
A few restaurants are nearby with beach views, so you can take a break and eat lunch with a great view. There are shops there as well, everything you'll need for the day is there, including washrooms.
Once you're finished from the beach, I recommend heading south of the island to Cape Phrom Thep, the most famous viewpoint in Phuket for sunsets!
Hotel Recommendation: Sunsuri Phuket
Restaurant Recommendation: Unni's Restaurant Nai Harn Beach
Kamala Beach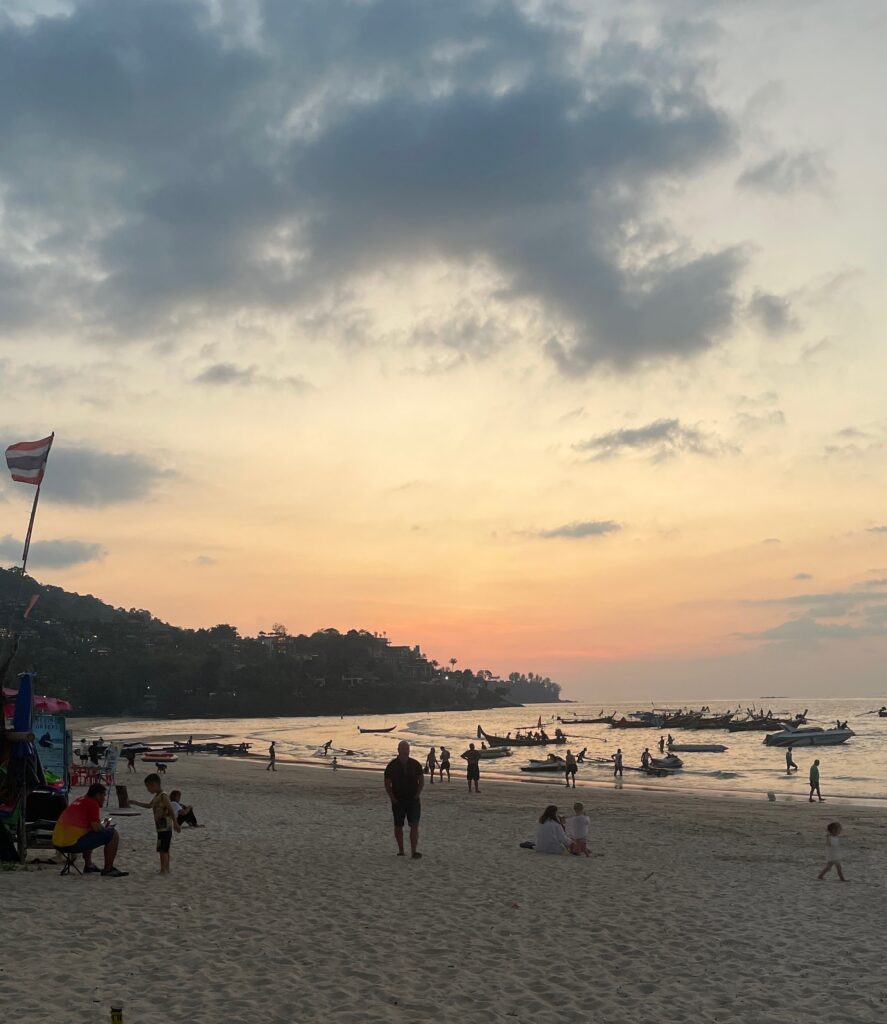 Kamala Beach is located in the center of Phuket on the West side. It's known for its long walking path with several restaurants, small stall shops, and more.
The overall area in Kamala is home to several resorts, and that means the beach can get quite busy during the day.
During the nighttime, there is a night market at the end of the beach after 6:00 PM, so if you're hungry and want to snack after a long day at the beach, head there!
There are several beach chairs here for rental in Kamala, and the beach is large; it's also suitable for families.
While the beach is lovely here, there are better ones on this list. The sand here is a bit rough. It doesn't have the same tropical vibe you get at other beaches in Phuket. Nonetheless, it's a great option if you're staying close to Kamala Beach.
Hotel Recommendation: Hyatt Regency Phuket Resort
Restaurant Recommendation: SILK Restaurant & Bar
Best Beaches in Phuket for Couples
Now that you know what the best beaches are in Phuket, I'm going to share with you the best beaches in Phuket for couples.
These beaches offer a quieter setting, where you're less likely to run into families.
Freedom Beach – The crowd here is younger and usually not with kids, so it tends to be quiet compared to other beaches.
Banana Beach – Because it's secluded and not commonly known by many tourists, Banana Beach is tranquil.
Surin Beach – This is the busiest of the three beaches on this short list, and there are some families with kids here, but nowhere near as many as other beaches, such as Karon, Kata, and Kamala Beach.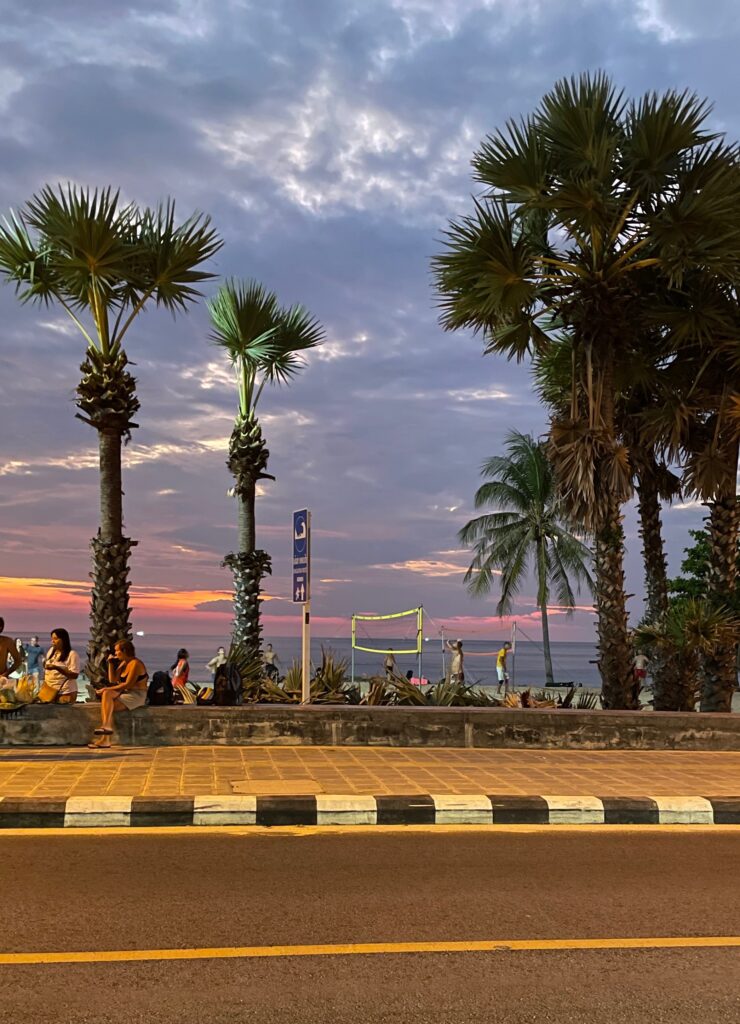 Best Beaches in Phuket for Families
Some Phuket beaches are more family-friendly for those visiting with a family because they offer more amenities and conveniences.
These beaches have washrooms, convenience stores, restaurants, and even shops to buy toys for the kids!
Karon Beach – Because of its large shoreline, there is more than enough room in Karon Beach for the family to enjoy the beach and several accommodations.
Kata Beach – Everything is close to each other in Kata, which is very convenient for families.
Kamala Beach – Kamala has many small stores for toys, the boardwalk is full of restaurants, and several washrooms are here.
Nai Harn Beach – Like Kata, Nai Harn is a small enough beach where everything is close to each other and has washrooms.
RELATED: 9 Best Things To Do in Phuket, Thailand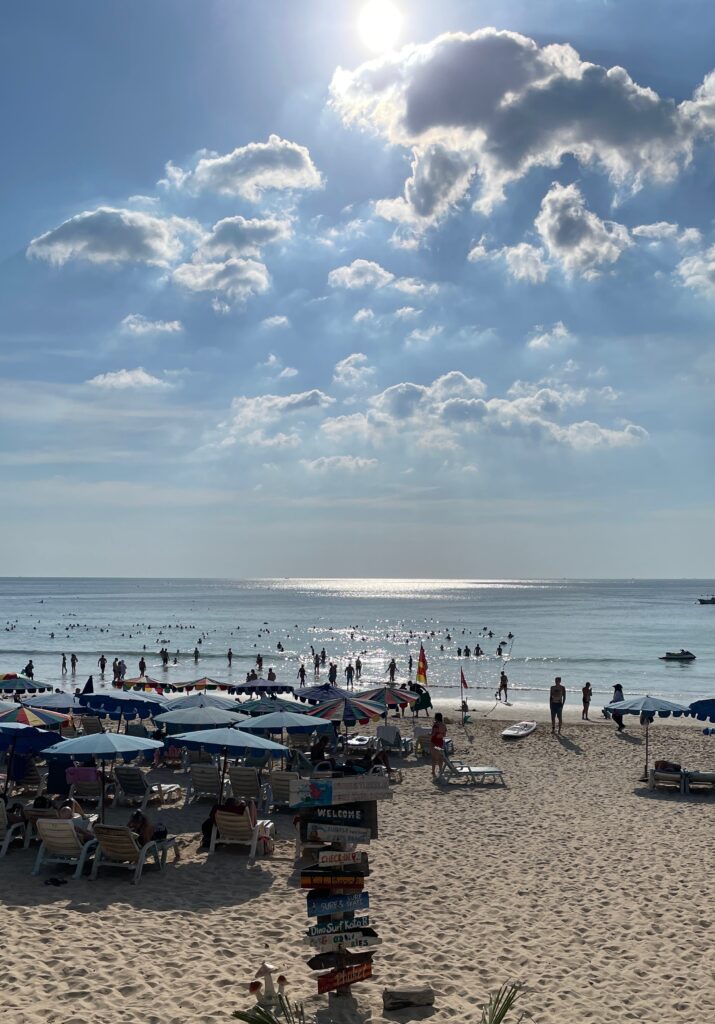 Best Beaches in Phuket for Food
Last but not least, foodies, I remembered you. If you read this blog, you know how much of an obsessive foodie I am.
I will share the best beaches in Phuket for food, but stall-like street food, perfect for the beach. I'm not referring to restaurants!
All the beaches have restaurants by them, but not all have Street Food Stalls selling just about everything, including cheap cocktails!
Surin Beach – The amount of food stalls at this beach is crazy; so much food is being sold at this beach: fried whole fish, pad Thai, burgers, and all sorts of meat skewers; I can't list them all. You MUST come here if you like street food!
Kata Beach – Here, you can find several food stalls selling meat skewers, fried chicken, burgers, pad Thai and more.
Kamala Beach – There are only a select few stalls here selling pad Thai, pad kra pao, and other classic Thai dishes, but after 6:00 PM, there is an entire night market at the end of the beach serving lots of food!
RELATED: 9 Phuket Scams to Avoid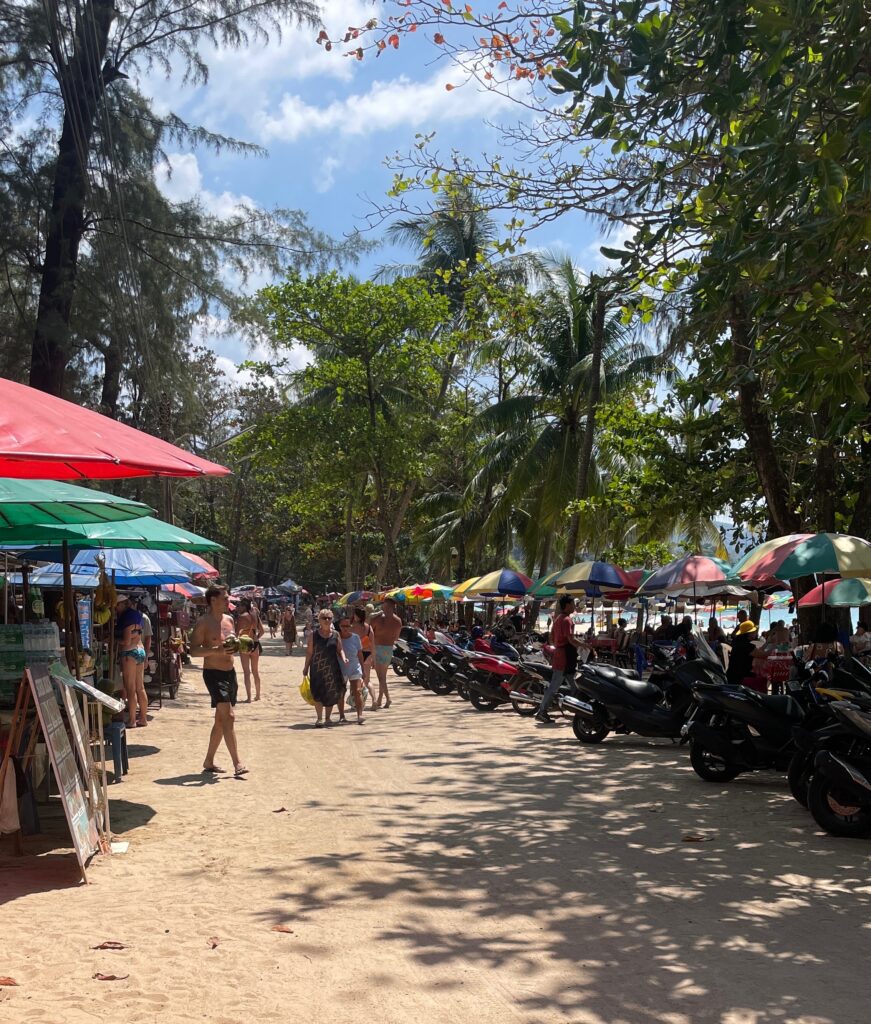 What is the clearest beach in Phuket?
Between Surin Beach, Freedom Beach, and Banana Beach, all three are beaches with the clearest waters in Phuket
What beach in Phuket has turquoise water?
Most of the beaches in Phuket have turquoise water, but Surin Beach is the most well-known for its turquoise water of all beaches in Phuket!
Which side of Phuket is better?
It depends on what you'd prefer to be closer to. The West side of Phuket is where all the beaches are, and the East side is more of the city-like parts of the island, where you'll find malls and the Old Phuket Town area.
What is the most crowded beach in Phuket?
Patong Beach is usually the busiest beach in Phuket because it's the most touristy area of all beach areas along the west side of Phuket.
Subscribe to Travel Hiatus!
Receive updates on my latest posts, insider travel tips & the best destination guides to your inbox!
Happy & Safe Travels
---
Planning Checklist
---
Disclaimer: Please note that some of the links shared in this article might be affiliate links; this means that at absolutely no extra cost to you, we will earn a small commission for any sales generated through this article and/or this website. We recommend products/services we've either used or researched thoroughly – Thank you for supporting us so we can continue to share helpful travel content!