Carry On Luggage Brand Comparisons for 2024
Are you looking for a new carry on luggage but you cannot decide which bag to buy? This carry on luggage guide covers the best carry luggage brands for 2024 in detail!
You just booked a ticket to travel somewhere, and you take a hard look at your carry on luggage and think, "My carry on bag is outdated." There are no extra features you'd prefer, or perhaps it's simply not aesthetically pleasing to you.
This guide is an in-depth breakdown of all the popular luggage brands and will help you make your purchase decision!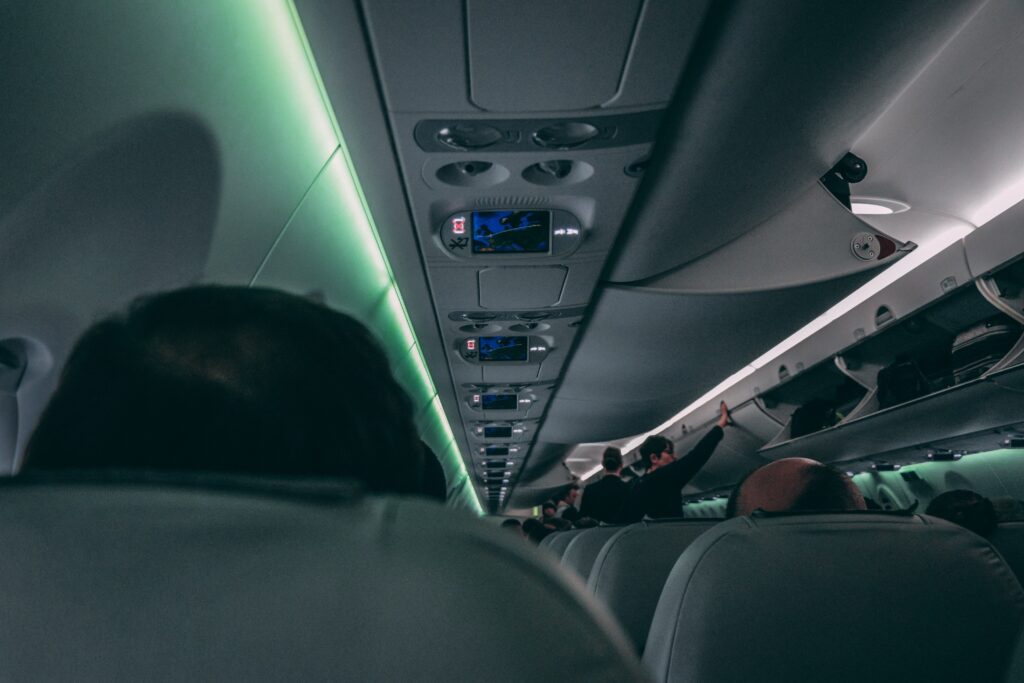 Price Point for a Carry On Luggage
Without a doubt, this is the first thing you need to consider when deciding which carry on luggage you should be purchasing.
You first need to determine how much you're looking to spend on this purchase. Then, with this guide, you'll be able to determine what the best carry on luggage option is for you.
Keep this in mind; luggage isn't supposed to be purchased every few years. Yes, I know, obviously, right? Yet many people seem to purchase new luggage every 3 to 7 years.
Possibly because they haven't strategically thought about what they need and want in a carry on bag, and brands are always innovating, enticing you to buy a new bag.
This is wrong. Luggage is supposed to last you 8 to 12 years.
What's Important in a Carry On Luggage
Once you've decided on a price point you'd like to spend on your new carry on bag, you then need to determine what's important to you in a carry on luggage bag.
Here are a few questions you need to ask yourself prior to deciding which carry on luggage bag is most suitable for you.
Maybe you can't have all the features you'd like at your price point, but honestly .. you should. Again, this isn't a purchase you make often. Buy what you need and want.
Do you care about the Aesthetic look of your bag?
Is a lifetime warranty for your bag a must?
Do you prefer a front pocket on your bag for easy access to some items?
How about an expandable feature in your carry on, and are you the type who likes to compress pack?
Would you like extra features like a USB charger built in? Or an included shoe bag and laundry bag?
Are you perhaps looking for a larger bag instead and should possibly purchase a tad bigger check-in bag instead of carry on luggage?
When Should You Upgrade Your Carry On Luggage?
Here are a few reasons why you absolutely should upgrade your carry on luggage:
Your carry on luggage only has two wheels (old school and inconvenient to travel with)
It's been 8+ years since you've purchased new luggage; I mean, yes, if it's not broken, you don't need to buy a new carry on, but it's not a bad idea if it's been that long
You've outgrown your old carry on bag, your needs have changed, and you need a more suitable bag
READ ALSO: 12 Cheapest Places to Travel
Away Carry On Luggage – Popular Option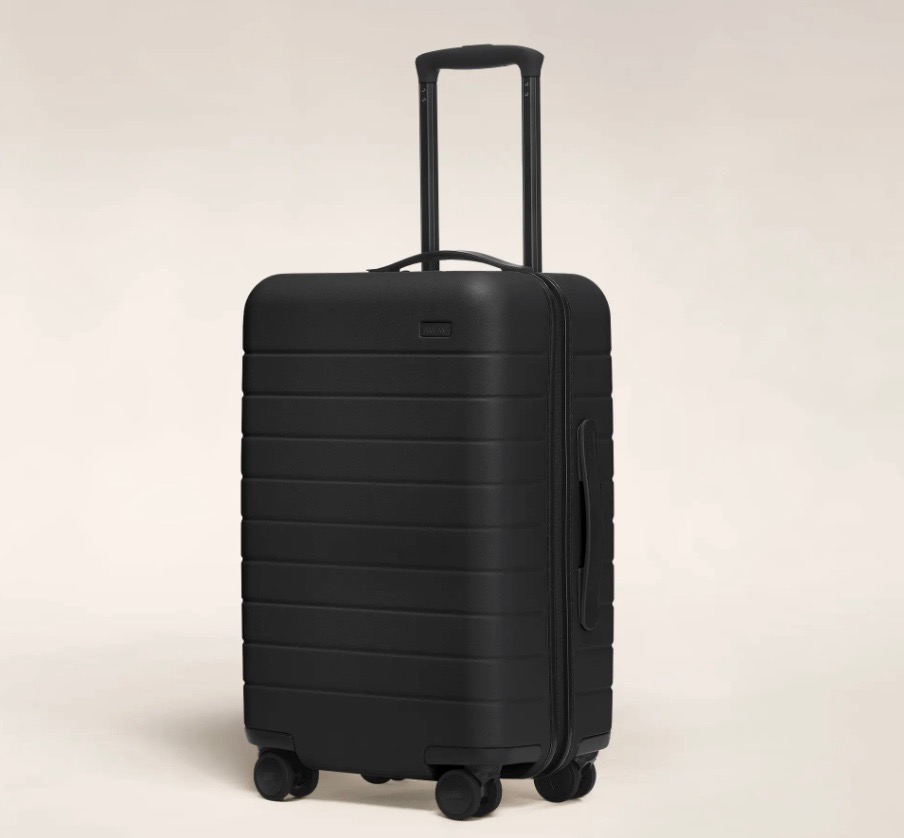 Away is a brand of travel gear that sells a range of accessories, including backpacks, checked suitcases, packing cubes, and duffels. The brand went viral due to its carry-on that has a removable battery.
TSA guidelines say that the power bank battery can be easily removed from the suitcase so that you can keep it on board a plane. By the way, make sure you have a power bank when traveling!
Polycarbonate is what's used to make Away's luggage outer shell. It is more durable than aluminum but lighter than other metals. Polycarbonate is the best luggage material. It's superior to other hard-side materials such as plastics.
The biggest selling feature when it comes to Away carry on luggage is its massive interiors, clocking in at 39.8L for the Carry-On. That's a lot of room for a carry on bag.
Most Known For:
Hard Polycarbonate Shell
Internal Power bank (it's an extra charge for this feature to be added to your luggage)
Light Weight
Average Price Point: $250 – $500 USD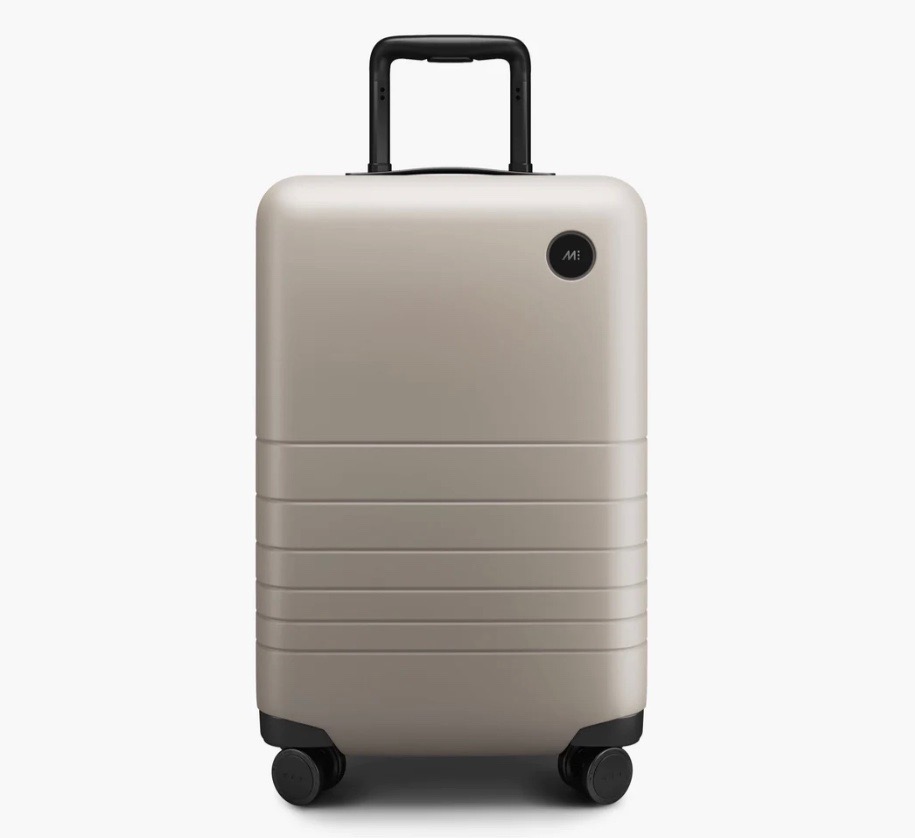 Monos is a newer brand in the luggage market but has made quite a noise over the last few years. The Canadian travel gear company sells various accessories, including luggage, travel-suitable backpacks, and various bag accessories, and recently got into clothing.
Their bags are made with German Makrolon polycarbonate, making them both light and nearly impossible to break. They claim the polycarbonate they use for their bags is superior to Away's. Monos also uses YKK zippers, the best zippers on the market.
Monos bags have a thoughtful design in the interior, allowing you to organize and see what you've packed. The best part is their compression pads, which squish everything down.
Capacity is great, and the carry on fits 39.9L. The handle on the Monos carry on luggage is the most sturdy on the market.
Most Known For:
Sleek Designs & Decent price
Most Sturdy Handle
Luggage Accessories (Such as the laundry bag and two shoe bags included inside every bag)
Average Price Point: $200 – $300 USD
Carl Friedrick – Luxury Option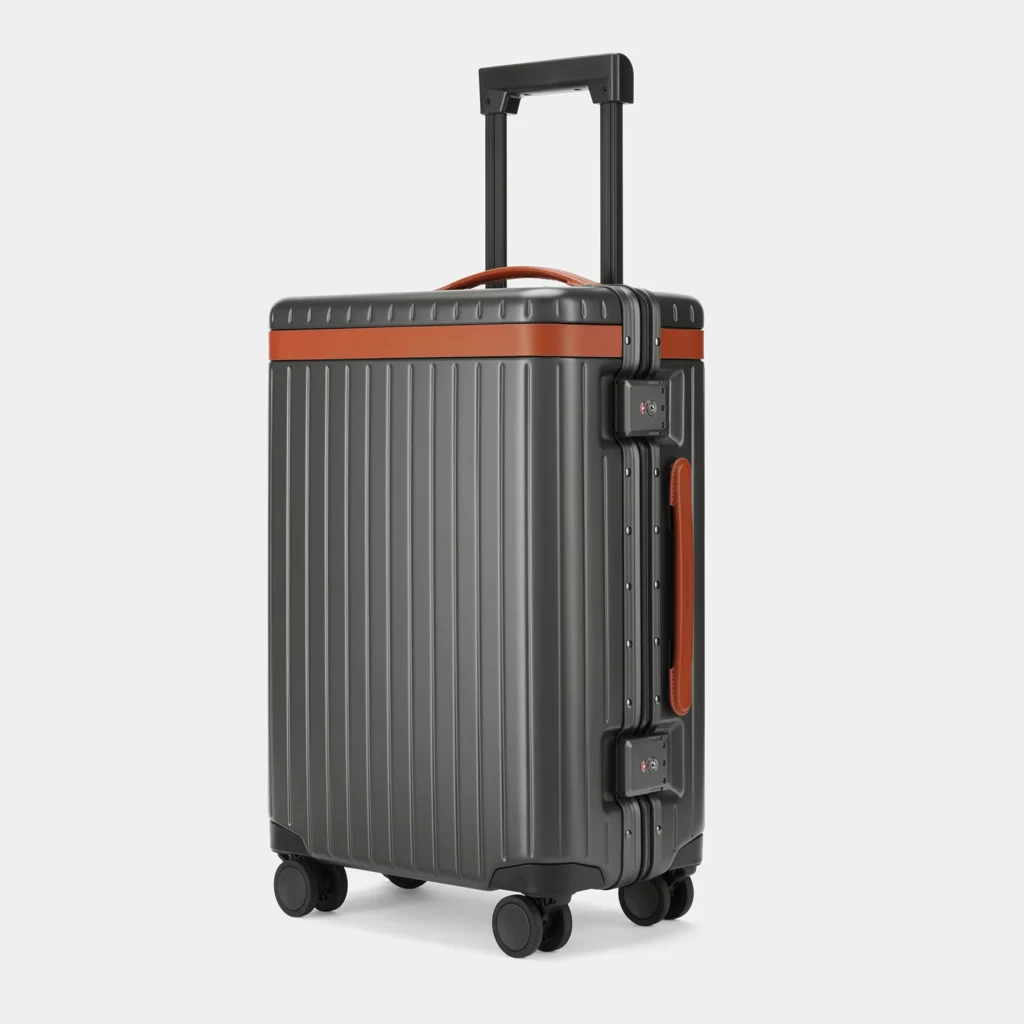 Based out of London, Carl Friedrick was founded by two brothers with one simple goal. Making functional, sleek, aesthetically pleasing luggage for men, by men.
All aspects of their luggage have been well thought out: the leather is Italian-made, and the 360-degree wheels are Japanese-made by Hinomoto. Functionality is also great with these bags; there's a compression pad on one side for clothes.
The aluminum exterior is durable yet still lightweight because it's made with lightweight polycarbonate.
Capacity is excellent also, with a total of 40L, and the Carl Friedrick carry-on bag weighs 3.9kg (8.6lbs).
Most Known For:
Luxury Mens sleek design
Large capacity at 40L
Functionality
Average Price Point: $465 – $600 USD
Tumi Carry On Luggage – Luxury Option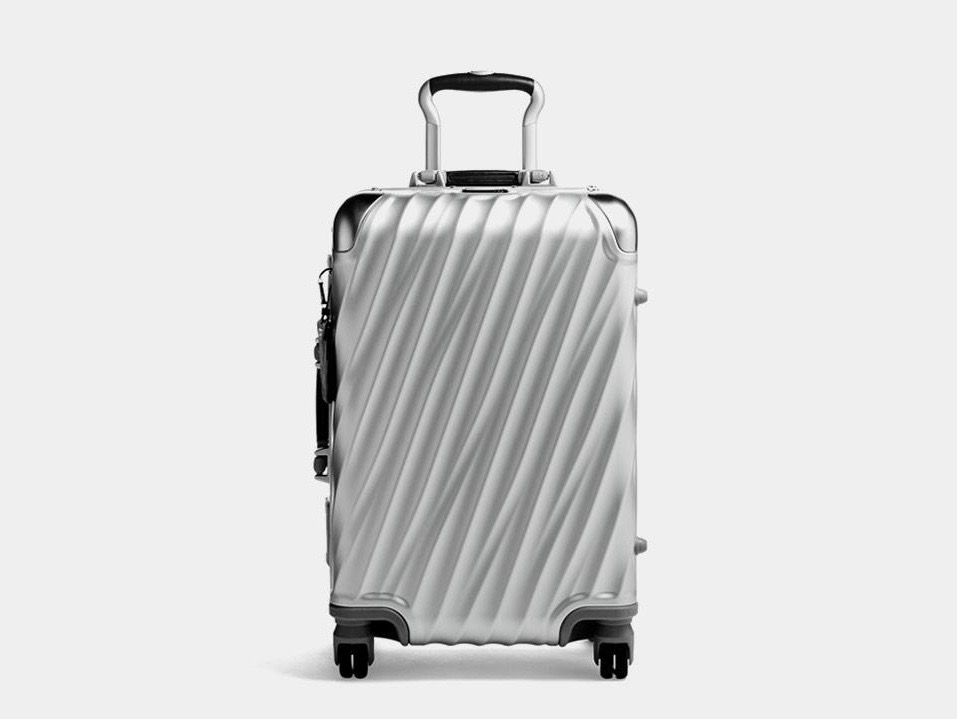 Tumi makes amazing travel products, but to get straight to the point, they're overpriced. They have a large lineup of various carry on bags with different looks and features.
But it's not a practical buy for the average consumer; if the price point isn't an issue for you, then Tumi has some good carry on options for you.
The functionality and durability are great, and the capacity is great, but similar to both options above.
Overall, those who've purchased Tumi luggage don't have anything bad to say about their products because of how well they're built. But again, they aren't cheap .. Tumi does promote itself as a high-end travel luggage brand afterall.
Most Known For:
Sleek Designs
Using Recycled Materials
Useful Features (like the Tumi Tracer, which helps find lost luggage)
Average Price Point: $800 – $1500 USD
Rimowa Carry On Luggage – Luxury Option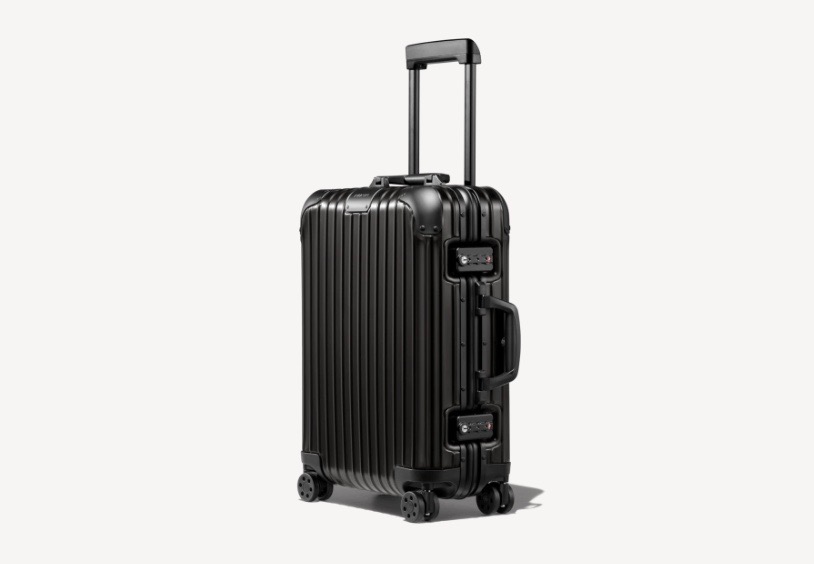 For those familiar with luxury brands, Rimowa is at the top of the list for high-end luggage brands. Rimowa is a high-end brand that has specialized in luggage since 1898.
Many are familiar with their classic silver cabin aluminum carry on, it's very sleek, and you stand out when you have one.
Possibly coming in at number one when it comes to having a sleek design. Rimowa suitcases are made with high-end Anodized Aluminum and polycarbonate to ensure their durability.
Their 360 wheels have great maneuvering versus other brands. Their bags are much heavier than the average brand, so that's the only downfall.
Most Known For:
Sleek Classic Designs – High Fashion collaborations (Dior and more)
High-End Luggage brand (owned by LVMH)
German Made
Average Price Point: $675 – 1500 USD
Beis Carry On Luggage – New Popular Option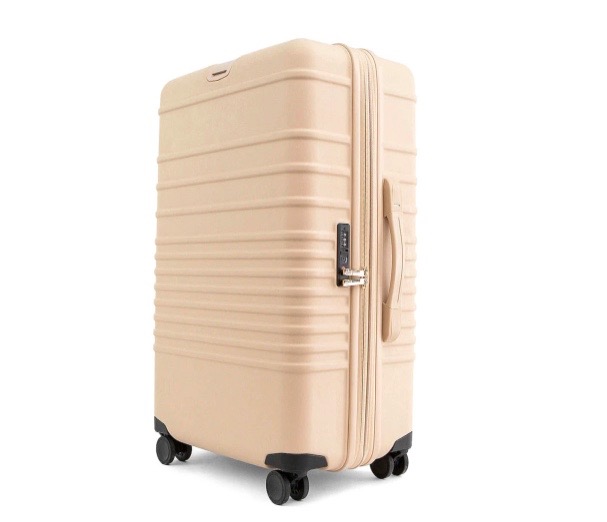 Beis is a newer brand on the market, similar to Monos for its sleek designs. Their luggage has been popping up on people's Instagram feeds despite being new.
Makes sense because the founder is Canadian actress Shay Mitchell. She has a big Instagram following and knew what she was doing when promoting her travel luggage brand.
The idea behind BEIS Travel is a stylish carry on bag that won't break the bank. The outer material is a hard shell; the inside has great compartments, and the zippers are decent quality despite not being YKK.
Beis carry on roller comes with a 45L capacity, which blew me away. That's the most amount of room for a carry on bag known!
If you're looking for a sleek bag and want the best option for your money, Beis is a great choice. Not the obvious choice, but a great choice nonetheless.
Most Known For:
Beige Colour (original Beis Carry On) / Sleek Design
45L Capacity in Carry On
Well Priced for its Features
Average Price Point: $198 USD
Samsonite Carry On Luggage – Cheaper Option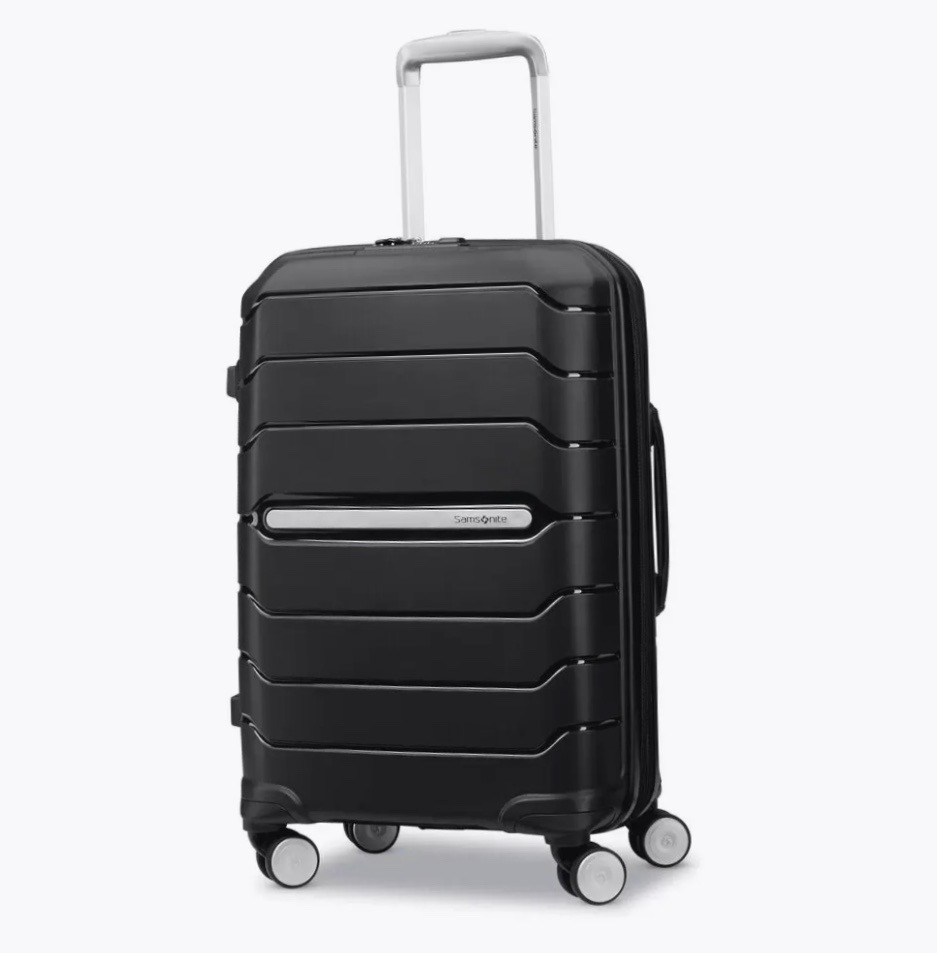 Samsonite is a hard brand to review only because they have a million different types of carry on bags to choose from.
Being one of the largest luggage brands in the world, I guess it makes sense. But the negative part is it makes things a tad overwhelming when deciding what carry on bag to buy.
I can't speak on Samsonite carry on luggage too much because they've got a carry on for just about everyone. From hard shells to smaller compact undersetters and any bag you can imagine.
But don't expect anything thought out and fancy. Samsonite is just your average large luggage brand. However, their more expensive range of bags does check off most of the features you may want in a carry on.
If you're getting your first carry on bag, Samsonite is a solid choice because of all the options they offer. They have great sales seasonally, so buying a bag at a good price isn't hard.
Most Known For:
Large Luggage Brand
Many Designs/Types of Carry On Bags to choose from
Season Sales – Well Priced
Average Price Point: $80 – $350 USD
SwissGear Carry On Luggage – Cheaper Option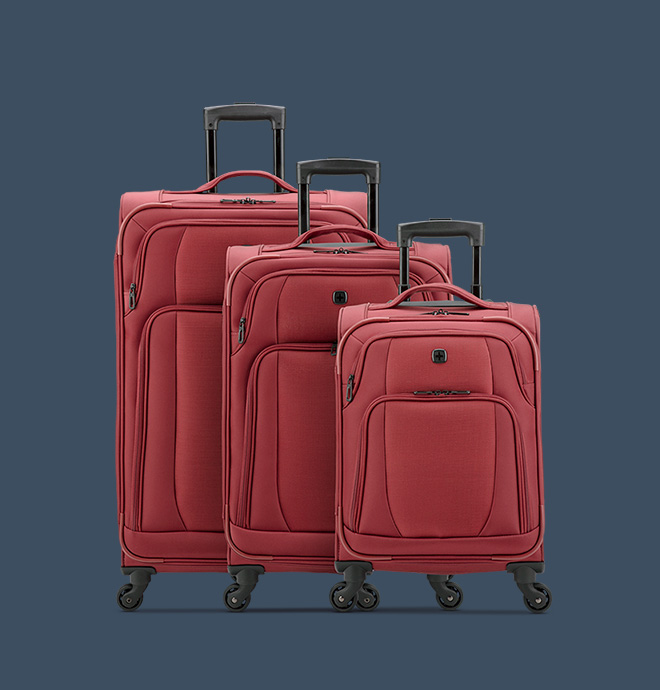 Possibly the biggest competitor to Samsonite, SwissGear is another brand that is big in the luggage world. I feel like everyone's owned a SwissGear wallet, luggage, or bag at some point in their life.
SwissGear's hard-side luggage is made from ABS (or Acrylonitrile Butadiene Styrene), which is light and durable, tough but will withstand rough pressure or handling.
SwissGear offers a 5-year warranty with all of their travel bags with every purchase. They've got countless designs to choose from, so you're sure to find something you like! Like its competitor Samsonite, SwissGear's products are quite easy to find all over the world.
If you're on a budget for your carry on bag purchase, but still want good quality and a large selection to choose from. SwissGear is the answer for you.
Most Known For:
Large Luggage Brand
Many Designs
Great for Price Point
Average Price Point: $100 – $180
Away vs Monos Carry On Luggage – A Popular Debate
This is more than likely the most popular luggage debate online today. Away versus Monos; are two popular, very similar brands with many of the same features in their carry on bags. So let us discuss it.
Away Travel is a travel bag brand out of New York, USA. Monos is its competitor up North in Vancouver, Canada. I say that only because Away launched its brand on November 9, 2015, just a few years before Monos.
For an In-depth Review of Monos Carry On Luggage
Shortly after, Monos saw the demand Away bags had with its practical travel-friendly luggage. Monos then launched in 2018, claiming their luggage is more travel-friendly than Away Travel bags.
Both brands make exceptional luggage for travel. They both may not have the cheapest prices, but the idea of Away and Monos is they're producing the most travel-friendly luggage on the market. Perfect for those looking to take on travel hacks when traveling.
With the quality they both provide, they can't offer lower-range luggage pricing. Price-wise, I would say they're mid-range, even though some may refer to them as a luxury brand.
But if you've looked at the few companies I've highlighted above, they're definitely both mid-ranged price-wise.
Now for the differences in each brand! First off, both companies make stylish luggage with a 100-day trial period, but each has its small benefits that may accommodate you more.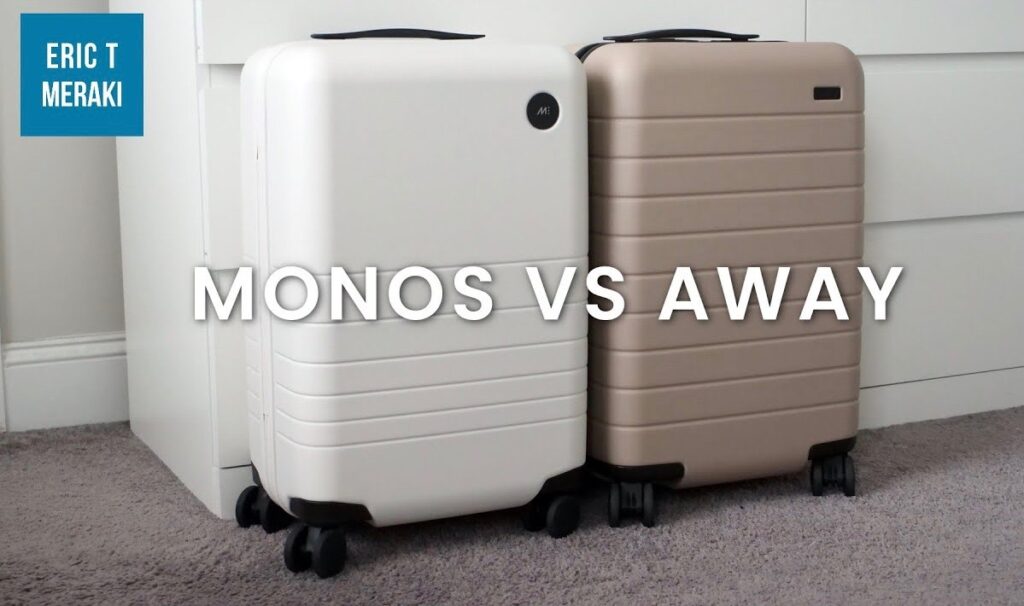 Away Noticeable Benefits:
The durable outer shell doesn't scuff up much
Packing cubes included
Removable external battery (that is TSA approved)
All luggage comes with a nice black leather luggage tag
Monos Noticeable Benefits:
Lifetime Warranty on Parts
More sturdy handle
German Makrolon polycarbonate outer shell (aerospace-grade and water-resistant)
All luggage comes with accessories, such as bacteria-resistant laundry bags, shoe bags, luggage tags, and scratch-eraser sponge
The photo above is from a great Away vs Monos comparisons Youtube video, and I recommend checking it out if you're having this debate.
Final Thoughts — Best Carry On Luggage
There isn't an answer for what the absolute best carry on luggage is. I do believe there's a preferable bag for each price point, whether you're looking to purchase from a luxury style brand or a mid-range priced luggage brand.
As I stated above at the beginning of this article, first determine what your price point is for what you're looking to spend on your new purchase of a carry on bag.
Here's my preference of brands for each price point stated above. You might prefer otherwise, and that's fine. This is my opinion.
Cheaper Brand Option: Samsonite
Mid-range Brand Option: Monos
Luxury Brand Option: Rimowa
You might be wondering what carry on luggage I own, considering I'm sharing this article with you all. I've gone through a few different carry on luggage brands over the years. I've owned a SwissGear, Samsonite, and Tumi carry on luggage.
I'm currently using Monos as my preferred luggage brand; that may change, but for the time being, the Carry-oOn Plus has been serving me well!
Is hard or soft luggage better for carry on?
Hard shell luggage is ideal for those who travel often and would prefer to protect items in their bag. Soft luggage's only advantage over hard is that with soft luggage, you can access items easily on the go.
What is the largest carry on suitcase for international travelers?
Slightly larger carry-on suitcases measuring at 39/40L in interior capacity are the largest.
Many brands have them, such as Away and Monos, amongst others. Though these carry-on suitcases don't make it onto all flights, sometimes you'll have to check them in!
Is international carry on smaller?
On international planes, the overheard bins tend to be slightly larger than on domestic overhead planes.
Can I take 2 bags as hand luggage?
You cannot take two pieces of luggage. You're allowed one carry-on luggage back and one personal item, which can be a backpack or laptop case, large purse, etc.
Subscribe to Travel Hiatus!
Receive updates on my latest posts, insider travel tips & the best destination guides to your inbox!
Happy & Safe Travels
Featured Image Credit: Marissa Grootes
---
Planning Checklist
---
Disclaimer: Please note that some of the links shared in this article might be affiliate links; this means that at absolutely no extra cost to you, we will earn a small commission for any sales generated through this article and/or this website. We recommend products/services we've either used or researched thoroughly – Thank you for supporting us so we can continue to share helpful travel content!