Is Positano Expensive to Visit? Cost Breakdown
Positano is one of the most popular places to visit in Europe, especially during European Summers. With its popularity, many wonder: Is Positano expensive to visit?
The short answer is yes, Positano is expensive to visit; the average daily cost to visit Positano is $240 US for a solo traveler, and this figure accounts for hotel, food, and local transportation.
When comparing it to destinations worldwide and even in Europe, $240 US a day is on the expensive end of places to visit.
Another aspect to consider is that hotels in Positano get booked up fast/advanced during its high season (June – August), so if you don't book early, expect to pay more for a hotel in a town with high demand.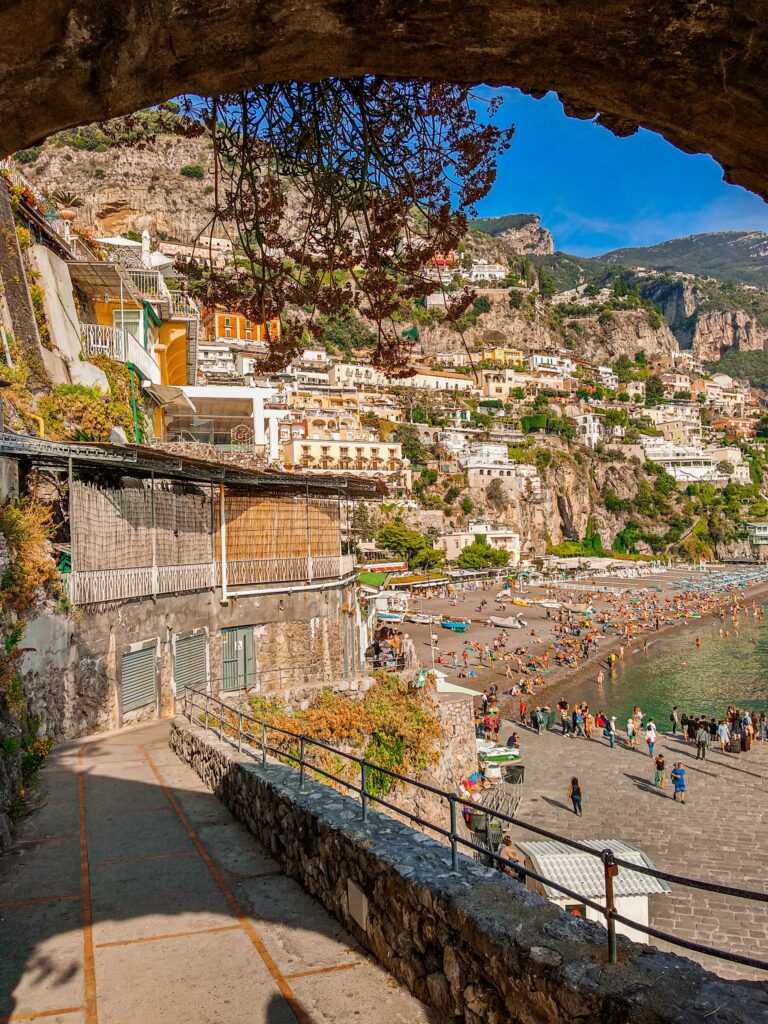 Positano Trip Cost Breakdown
Let's look into the numbers; in this guide, I'll cover a full cost breakdown for all essential aspects of your trip to Positano: hotels, food/drinks, transportation, and the cost of day trips/excursions.
Like anywhere in the world, there are different ways to travel and enjoy a destination, though the budget way of visiting Positano isn't the easiest due to it being a hotspot European vacation destination.
Below are three traveler-type ways to visit Positano. I've expanded on each section later in the article. Note that figures can be lower/higher depending on the time you choose to visit!
The best/cheapest time to visit Positano is May or Sept, Oct when hotel prices are lower than in the Summer high season.
| | | | | | |
| --- | --- | --- | --- | --- | --- |
| Visitor Type | Hotel | Food | Transportation | Activities | Average Day Cost |
| Budget | $130 | $38 | $8 | $17 | $193 US |
| Mid-Range | $230 | $57 | $17 | $36 | $340 US |
| Luxury | $500 | $360 | $32 | $70 | $962+ US |
Scroll Right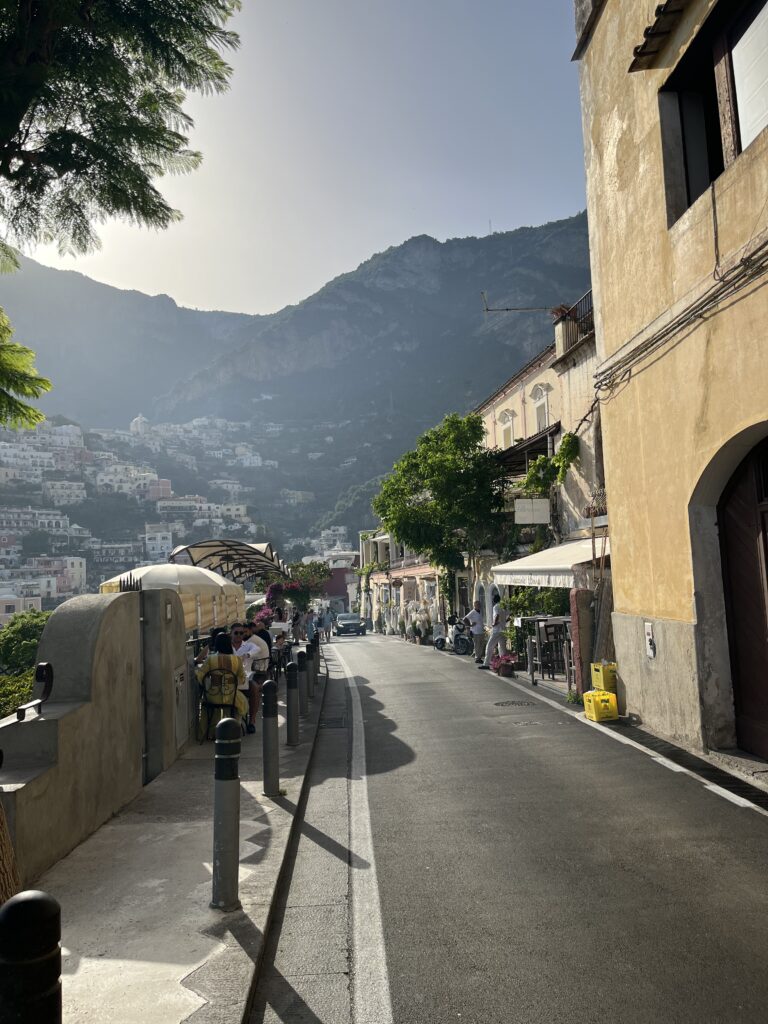 Getting to Positano
Depending on where you're flying from, the cost of your flight will vary. If you are in Europe already, you most likely will be able to find a good flight price to fly into Naples!
Naples International Airport (NAP) is the closest airport to Positano.
Once you've landed at Naples International Airport, you must get to Positano, and from the airport, it's around 1 Hour and 15 minutes to Positano, depending on the transportation method you choose!
Ferry: During the day, you can take the ferry from either Naples, Sorrento, Salerno, or Amalfi. You most likely will be charged extra to bring your luggage aboard – Ferry is only available from June through September.
Bus: Those looking for the cheapest transportation option, this is it. First, you must take the Curreri bus to Sorrento from Naples Airport. Then you must take one of the Sita buses from Sorrento to Positano.
Private Car Transfer: The most expensive/comfortable form of transportation to Positano and the most convenient way is by transfer. You can book your private airport transfer with a personal driver at the airport waiting to take you to your hotel in Positano.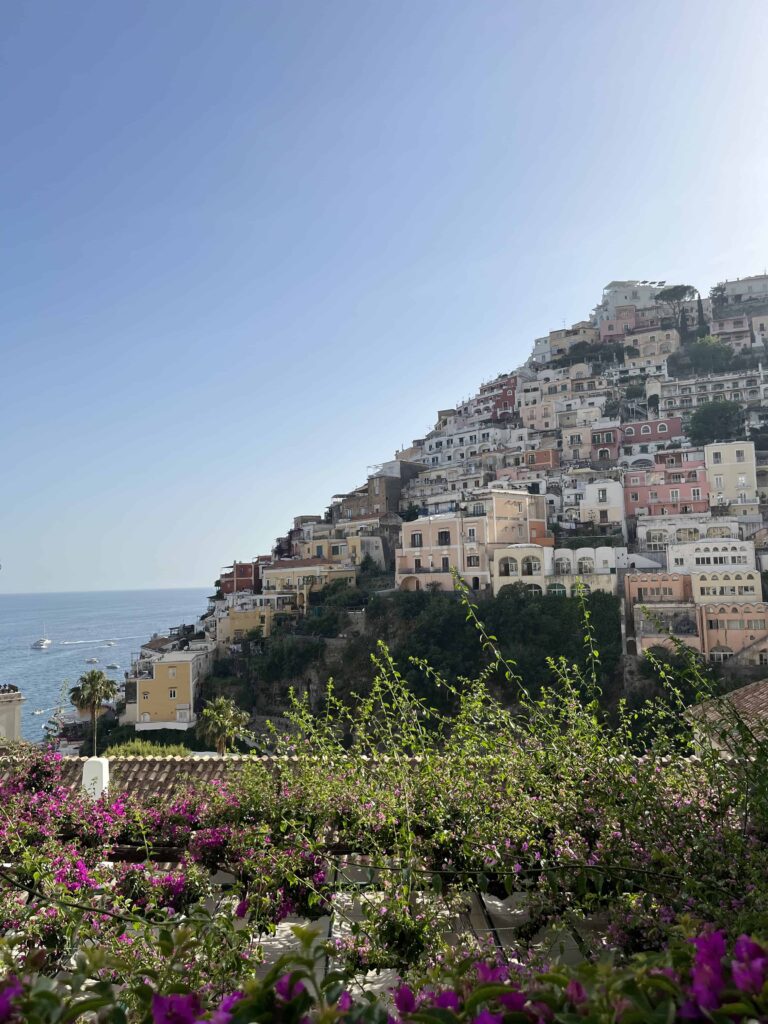 Where to Stay in Positano
Is Positano expensive to stay in? The short answer is yes, Positano is expensive regarding hotels and all accommodations, especially during the high season months of June – August.
Think of it this way: Positano is one of the most popular places to visit in the world during the Summer months, so with high demand and a short supply of hotels, you get the point.
Something important to know about the pricing for hotels in Positano is that Positano is one of those places that have a wide difference in hotel pricing depending on the time of year.
Budget TIP: If you'd like to visit Positano and experience all that it offers with ideal weather and cheaper hotel prices, visit either in September or May.
Make sure to book your hotel in Positano in advance! I cannot stress this enough: as mentioned earlier, supply is limited, and hotels get booked up fast in Positano!
Cheap Hotel Prices: $90 – $220 US
Mid-Range Hotel Average Prices: $280 – $400 US
Luxury Hotel Average Prices: $450 – $600+ US
All hotels and accommodations in Positano cost the most during the high season, June to August.
Cheap Hotels in Positano
Casa Fortunata: An affordable B&B operated by a local family with beautiful sea views from the terrace
Hotel La Bougainville Positano: Located in the Nothern part of town, Hotel Bougainvilla is a beautifully decorated 3 Star Hotel offering spacious rooms with sea views.
Mid Range Hotels in Positano
Hotel Pupetto: This charming beachfront hotel is a special find in Positano; not only is it right on the beach, but it's a few minutes walk from the town center
Casa Cinque: A stunning hotel with exceptional sea views and minutes away from the town center
Luxury Hotels in Positano
Le Sirenuse: Luxurious 5 Star boutique hotel famous for its fine-dining restaurant, classic decor, and fantastic sea views.
Hotel Poseidon: This iconic boutique hotel is located in the town center with an exceptional terrace restaurant/bar.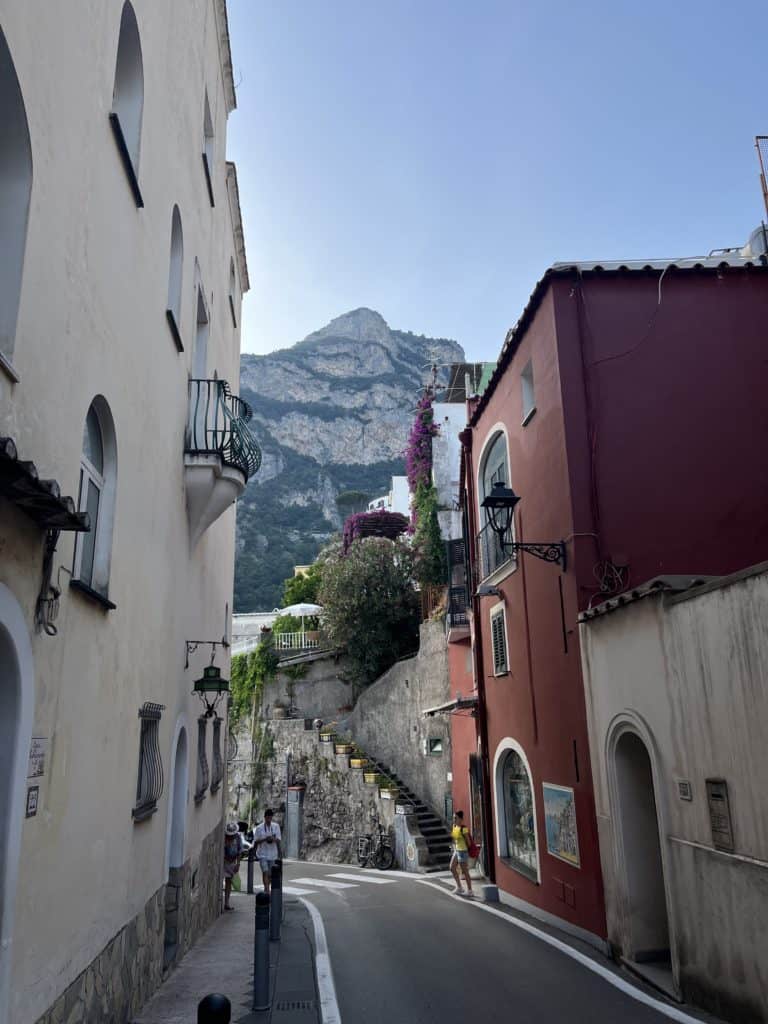 Eating Out in Positano
Is Positano expensive to eat out? Similar to the cost of accommodations, eating out in Positano is also pricey.
Positano is a hotspot tourist town and is slightly tourist-oriented. Words that don't mix with affordable dining prices!
Another factor that affects pricing is all the businesses in Positano, and the Amalfi Coast are only operating a few months in the year, from May through October.
Most businesses aren't open during the off-season (November through April) and must cover costs!
Breakfast is $7-15 US
Lunch is $15-20 US
Dinner is $17+ US
Tipping in Positano
When it comes to tipping culture in Italy, locals will tell you it's not a thing, unlike Western countries.
Dining at a high-end restaurant, you can choose to leave up to a 10% tip (assuming you had exceptional service and enjoyed your food).
For cafes, taxis, and tour guides, the best thing to do is round up the amount; if your total is 17 Euros, give 20 Euros, or if it's 7, give them 10 Euros, you get the point!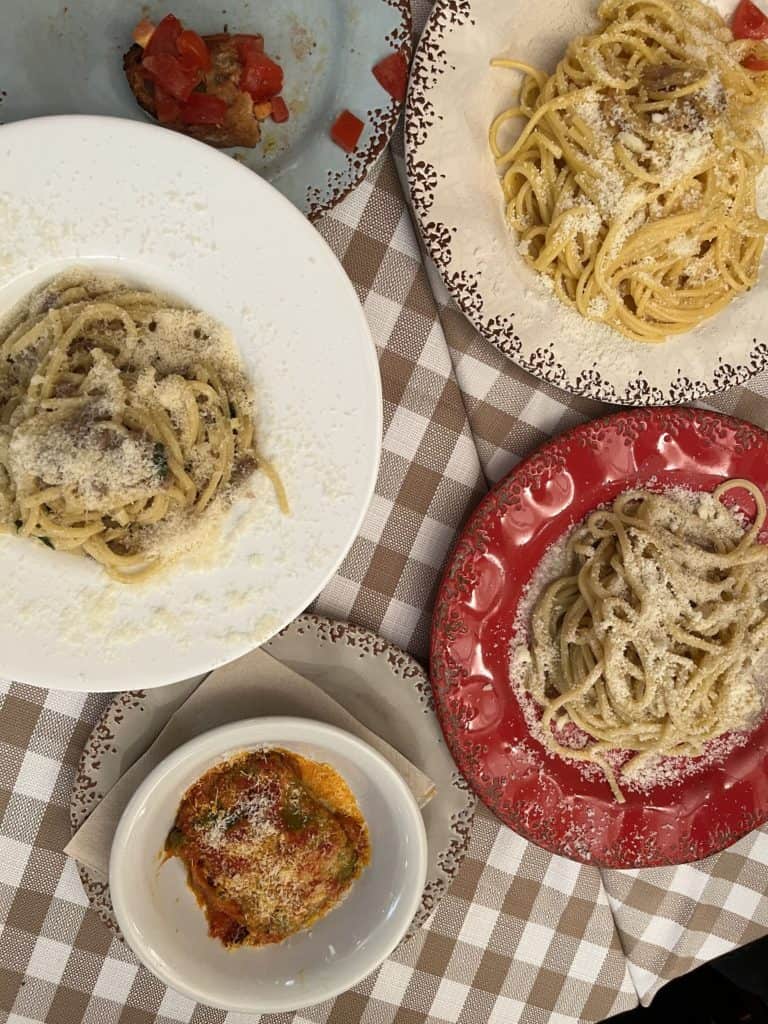 Cheap Restaurants in Positano
Simone's Sandwiches: A small food truck selling delicious sandwiches, from local Italian flavors to hamburgers; when it comes to affordable places to eat in Positano, Simone's is top!
Collina Positano Bakery: This popular bakery not only offers a wide variety of delicious baked goods but also sells ready-made sandwiches and fresh pizzas at a reasonable price
Mid Range Restaurants in Positano
Casa e Bottega: Small cafe known for its many breakfast/lunch dishes and cocktails
Mediterraneo: Italian restaurant showcasing many Mediterranean flavors
Fine Dining Restaurants in Positano
II Ritrovo: Local restaurant with a diverse menu and beautiful hillside/sea views
La Sponda: Fine dining restaurant famous for its exceptional views and unique menu
Things to Do in Positano
With its stunning beaches, famous boat tours, and picturesque landscape, Positano is full of many things you must do when visiting! Including part of your budget for activities in Positano is a must.
This part of your trip cost will depend on how active you are; if you're more laid back, you will only spend little on activities. Those who plan to do a tour or two, consider an average of $40 US daily into your trip budget.
Similar to its overall costs, tours in Positano aren't cheap. You can find tours at the lowest price of $100 US, but most tours average at $250+ US in Positano.
Those looking to budget their days in Positano, take a walking tour, visit the beaches, do the Hike of the Gods, or just wander!
At night, there are many beautiful cliffside restaurants to visit and cocktail/bar rooftops to check out.
Boat Excursion
If you've done even five minutes of research on visiting Positano, you'll quickly see photos of tourists sailing the waters with views of the famous Faraglioni rocks.
Different tours vary, but most boat excursions from Positano include a tour on the water for several hours as you sail the Mediterranean with picturesque cliffside views, visit different grottos, and, of course, visit the Faraglioni rocks!
An alternative for those looking for a more budget activity compared to a boat excursion is visiting Capri by yourself. It takes 30 minutes, and a ferry ticket there costs around $25 US.
Have a Beach Day
There are two beaches in Positano to visit – technically three, but the third is a private beach only accessible by visiting Arienzo Beach Club.
Positano Spiaggia is the main beach here, a tiny shoreline full of busy tourists walking around exploring and relaxing.
Fornillo Beach is a more laidback beach compared to the main beach in Positano; here is where you'll find most locals sunbathing
Those looking to spend the day at a beach club accompanied by some drinks and delicious Italian food by the beach, here are the top beach clubs in Positano to consider!
Treville Beach Club – Only accessible by free shuttle boat every hour
Arienzo Beach Club – Shuttle boat from the main pier every 30 minutes, 10AM – 1PM
La Fontelina – Iconic beach club located on the island of Capri
One Fire Beach is located in Praiano, a town next door. There are free shuttle boats from the main pier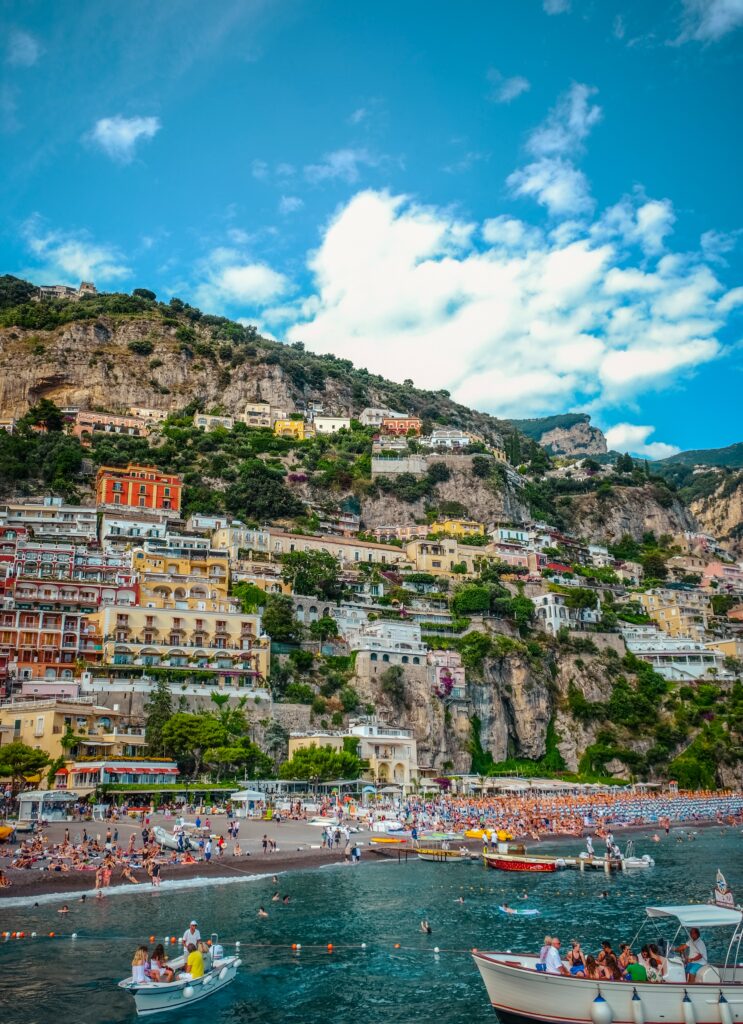 Visit Fornillo
A short walk west of Positano, you'll find yourself in the Fornillo area, known for its main beach, many cliffside restaurants, and picturesque pathways.
Many refer to Fornillo as the local Positano; while you will run into tourists here, it's far less crowded, with considerably less foot traffic compared to Positano's main areas.
With fewer tourists visiting this area throughout the day, you'll find it easier to enjoy the charm that Fornillo adds to the overall atmosphere of Positano's streets.
Vespa Tour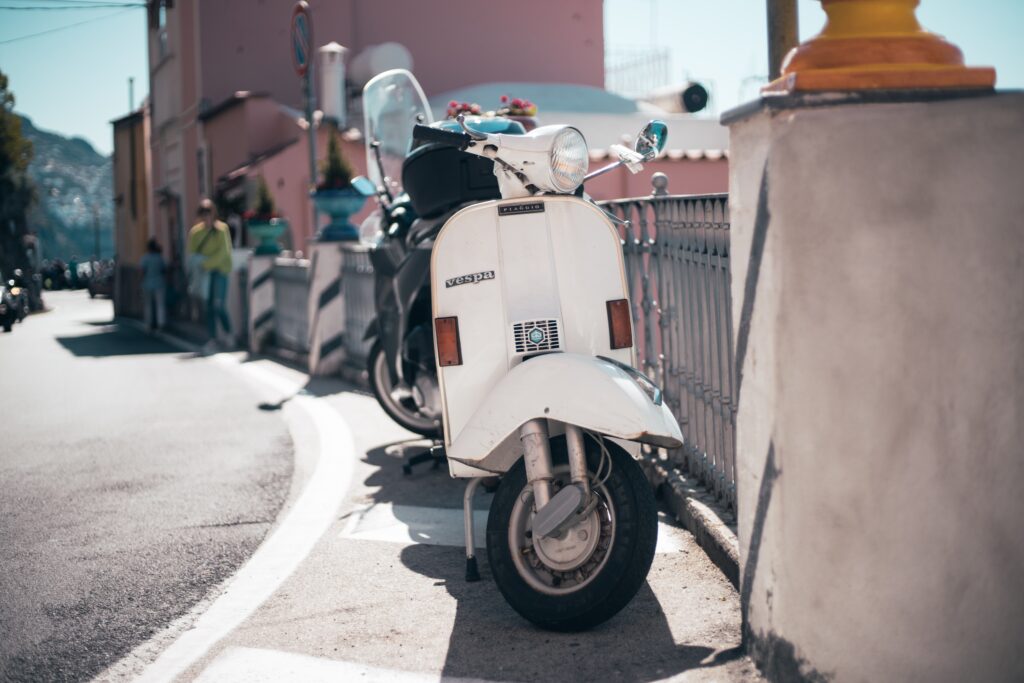 Have you seen the videos online of a vintage Vespa riding amongst the hills on the Amalfi Coast? This is an iconic and must-do activity when visiting.
On this Vespa Tour, you'll get to explore a few different towns on the Amalfi Coast, led by a local guide. Other stops will include viewpoints and a spot to enjoy lunch!
Attending a Vespa tour is the best way to see the coastline and experience many cities within one day. If you're limited on time, I would highly recommend attending this tour!
Hike the Path of the Gods
Another exceptional way to see the Amalfi Coastline is by hiking it, and the most famous trail here is the Path of the Gods. It's one of the most breathtaking hikes to do in all of Italy.
As you reach closer to the top, you're basically in the clouds and continuously meet with exceptional views of the Amalfi Coastline.
While the hike isn't steep, there are a few rocky areas that you must be careful when navigating.
The entire hike takes 2-3 hours to complete, and like any hike, it's best to do it early in the morning. When the path isn't as busy, and the sun isn't scorching down on you. By the way, it's free to do the hike!
Make sure to bring some water, pack a sandwich, and bring a hat, especially if you're doing the hike after 9:00 AM.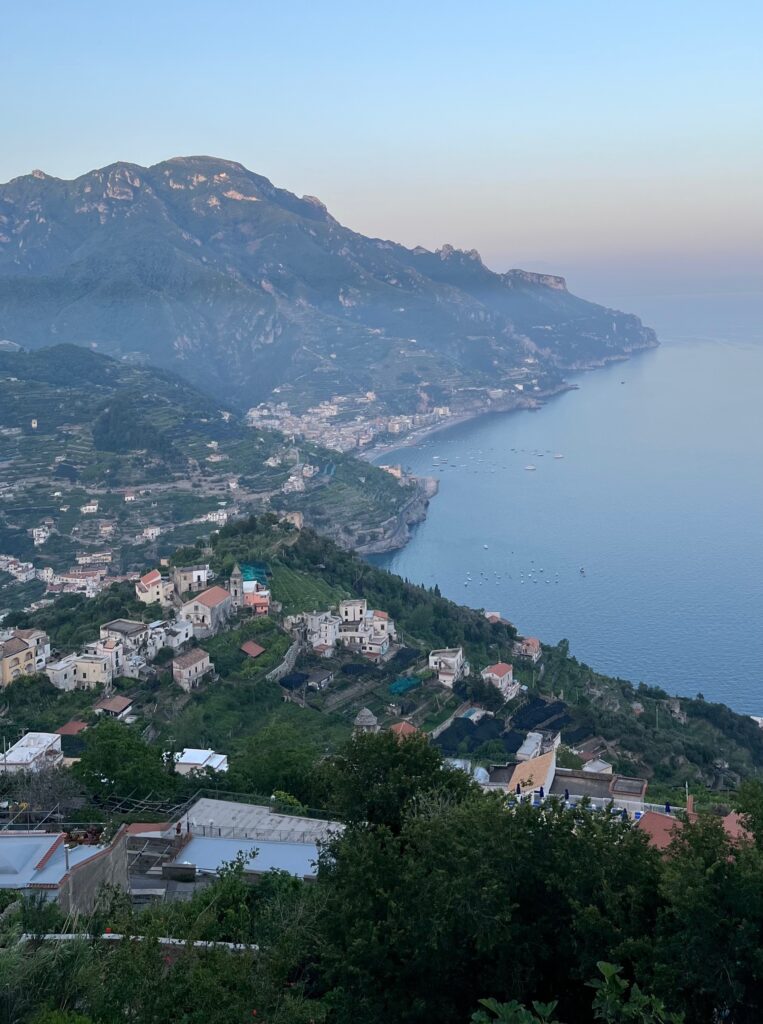 Getting Around Positano
The best way to get around Positano is by walking around; the town is very walkable and isn't large. You're not visiting Milano here; Positano is a typical small beach town.
Taking the Sita Buses (local bus) is the best way to get around, besides walking, the local bus only costs 2 Euros. You can take it to neighbouring towns such as Sorrento, Amalfi and others!
You can take a taxi too, but they aren't cheap, costing around $25+ US, depending on the distance.
Best Time to Visit Positano
June through August is the best time to visit the Positano. The Summer months are when the weather is ideal for the beach, with mild to warm evenings. Temperatures stay around 24 to 34 Celsius daily during Summer.
April through May and September through October are shoulder season periods in Positano. Both months still offer warm weather, and accommodation prices are significantly lower than in the Summer high-season months.
November through April are the offseason months in Positano, and most businesses have different hours or are closed entirely. Most ferries don't operate during this time of year as well. Lastly, temperatures make having a beach day impossible in the off-season.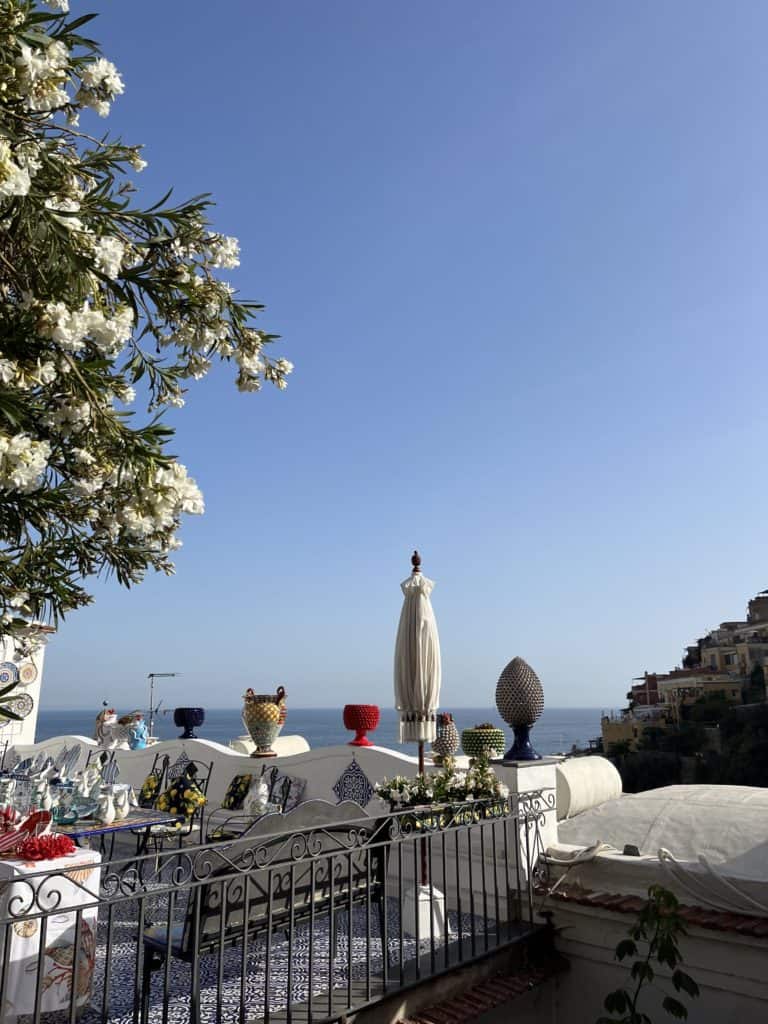 Tips for Positano
Positano is one of those places in the world where knowing a few tips will make your visit easier!
Book your Hotel well in Advance
Bring Walking shoes; Positano is hilly
Always carry cash with you
Book your sunlounger at a Beach Club in advance
Many restaurants close during Lunch (Italian Siesta), so plan your meals
Use the Sita Buses to see other towns for cheap transportation
September & October are great times to visit, with ideal weather on a budget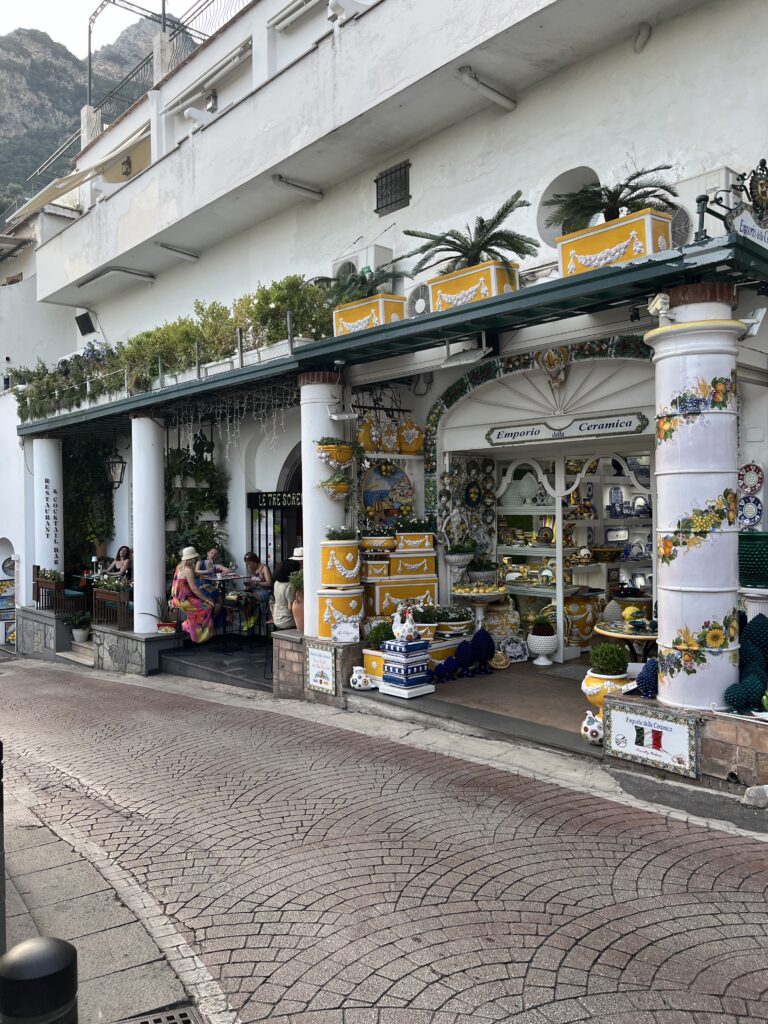 Is Positano Expensive to Visit? — Final Thoughts
So, is Poistano expensive to travel to? Well, yes, Positano is one of the most expensive places to visit. Due to its beauty, history, and popularity, Positano is a must-visit destination for most!
The average daily cost for one person in Positano is $240 US. Keep in mind this is an average, and that's done with budgeting/watching what you spend.
During my visit, I noticed myself spending around $320 US a day, including hotel, food, and activities.
If you really budget yourself, you can visit Positano for around $200 US/day. But at that point, it would make more sense for you to stay in a neighboring town and do a day trip to Positano instead!
The other towns on the Amalfi Coast are all cheaper to stay in than Positano, including Ravello, Sorrento, Amalfi, and Salerno. Accommodations/food are cheaper in all of these towns compared to Positano.
Another option is staying Capri; while still expensive, it's still slightly cheaper than Positano!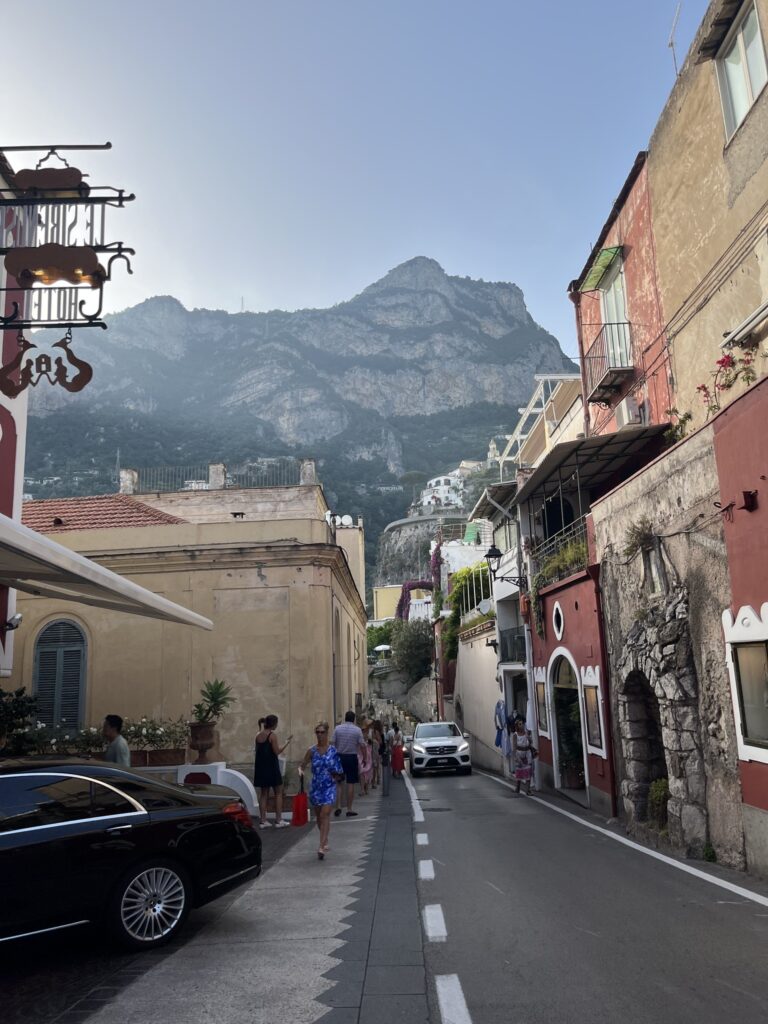 How expensive is it to stay in Positano?
The average price is $357 US a night for a hotel in Positano, and this is considering both the high and off-season.
Can you stay in Positano cheaply?
There are 2 Star hotels in Positano that are as low as around $100 US/night. If you're on a budget, avoid visiting Positano during the high season months, June through August.
How much does a meal cost in Positano?
The average meal cost in Positano is $20-$30 per person at a restaurant.
Is Positano or Amalfi more expensive?
Positano is more expensive than Amalfi; Positano is the most popular town on the coastline, meaning hotel prices are pricier here compared to Amalfi.
Subscribe to Travel Hiatus!
Receive updates on my latest posts, insider travel tips & the best destination guides to your inbox!
Happy & Safe Travels
---
Planning Checklist
---
Disclaimer: Please note that some of the links shared in this article might be affiliate links; this means that at absolutely no extra cost to you, we will earn a small commission for any sales generated through this article and/or this website. We recommend products/services we've either used or researched thoroughly – Thank you for supporting us so we can continue to share helpful travel content!