8 Best Things To Do in Patong Beach
Are you looking for the best things to do in Patong Beach? You've come to the right spot!
It is widely known as the most popular area in Phuket. Patong is known for its abundant shopping, many restaurants, and, most notably, its bars, dance clubs, and overall nightlife.
A brief history of Patong: a long time ago, it was once a tiny fishing village. Still, soon after, backpackers slowly but indeed started to come, making the government turn the small town into a tourist destination. Fast-forward to today, Patong is the most congested area in all of Phuket.
This complete guide will cover the best things to do in Patong and everything you need to know about Patong, including restaurant and hotel recommendations and other beach areas in Phuket that you should visit close to Patong.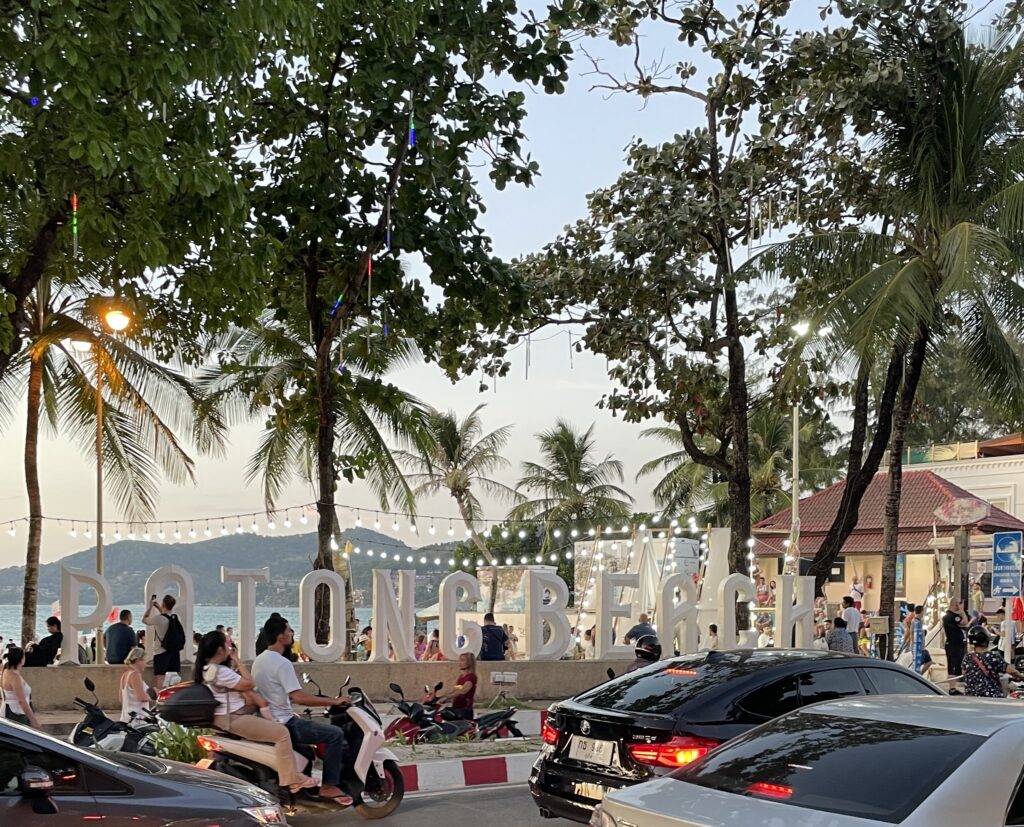 How to Get to Patong Beach
You're flying into Phuket Airport or just landed and would like to know how to get from Phuket Airport to Patong Beach.
Travel time from Phuket Airport to Patong is 1 Hour – depending on traffic.
Here are all your options from Phuket Airport to Patong and some essential tips you should know!
Private Airport Transfer: The most convenient way is by private airport transfer; you will have a car waiting for you once you arrive and don't have to worry about figuring anything out once you're there! – PRICE: $30 – 37 US
GRAB: This is UBER in Asia/Thailand; you can download the app and find a ride easily – But when you exit the airport, you must take a left and walk to the MAIN road because GRAB drivers are NOT allowed to come into the airport – PRICE varies by time of day 600 – 800 Baht / $25 – $30 US
Phuket Smart Bus: This is the cheapest way to get to Patong from Phuket Airport. This local bus travels from Phuket Airport along the coast of Phuket and stops at all the main beach areas in Phuket, including Patong. It leaves around every hour. Check the Schedule – PRICE: 100 Baht / 2.88 US.
Taxi @ Airport: Once you arrive at Phuket Airport, many taxis are trying to gain your business; you can take one, but I'd be careful with this option only because they tend to overcharge tourists – PRICE: 1000 Baht / $30 US
Rent a Car: Another option is renting a car from Phuket Airport, an excellent idea for those exploring Phuket! – PRICE: Varies on vehicle and day amount
AIRPORT TIPS: Phuket Airport has a Taxi mafia, but don't worry. They operate a firm hold taxis at the airport and are notorious for overcharging tourists for TAXI rides into Phuket. – You must LEAVE the main airport area and go to the MAIN road for any ride pickup other than an airport taxi.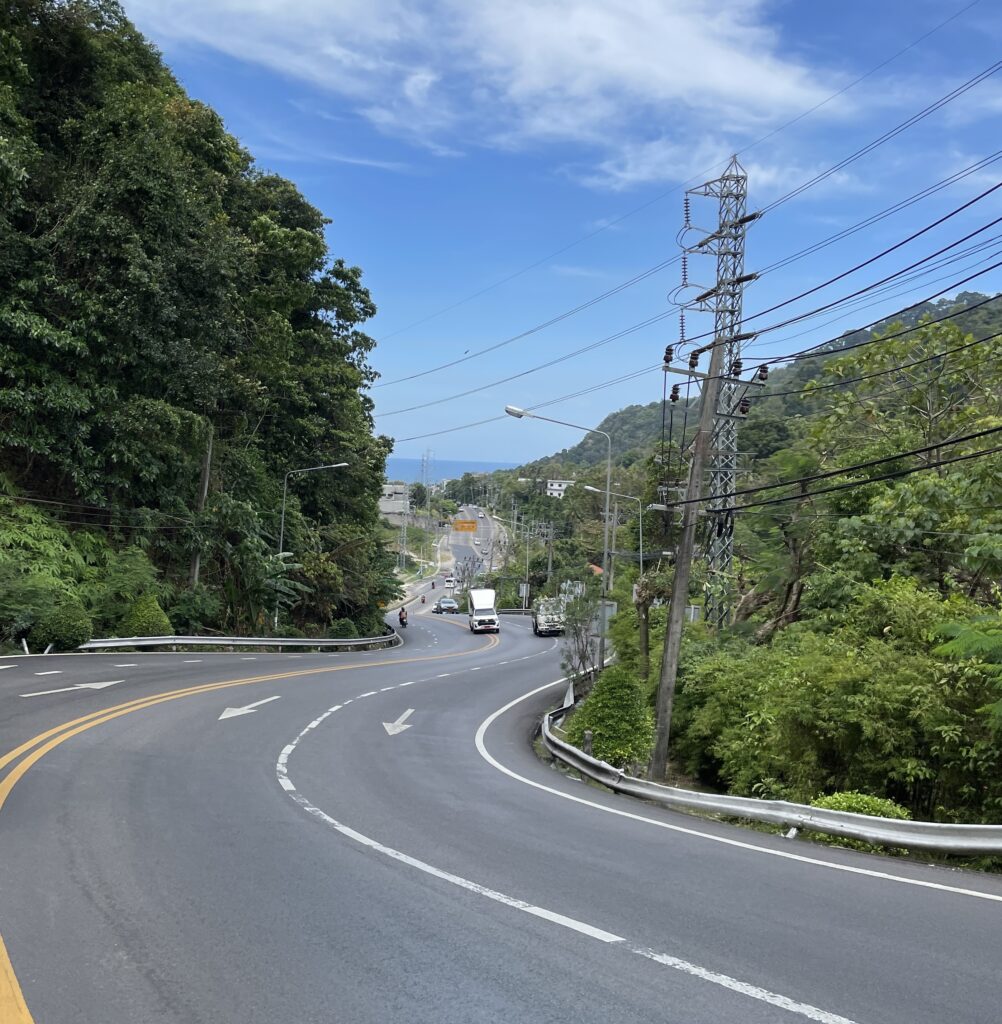 How to Get to Patong from Another Area in Phuket
For those staying in a different beach area in Phuket who would like to visit Patong, here are your options for visiting Patong from any location in Phuket you may be staying in!
The best way to get around Phuket is by renting a Scooter, Phuket Smart Bus, or GRAB.
GRAB: As mentioned before, you can take a Grab car anywhere around the Island – PRICE: Depends on your location in Phuket
Phuket Smart Bus: You can go to Patong from any beach area along the coast with the Smart Bus stopping at each spot every Hour; check the schedule here. – PRICE: 100 Baht / 2.88 US (no matter where you're coming from)
Song Taew (local Blue Bus): This is the local Bus; it can take you to Patong from Central Phuket and other areas. But it does NOT operate along the coast, passing through beach areas of Phuket, as the Smart Bus does.
Operates from 6:00 AM and 6:00 PM and frequents approx every 30 mins – PRICE: 40 Baht / $1.20 US (no matter where you're coming from, you may have to take more than one bus)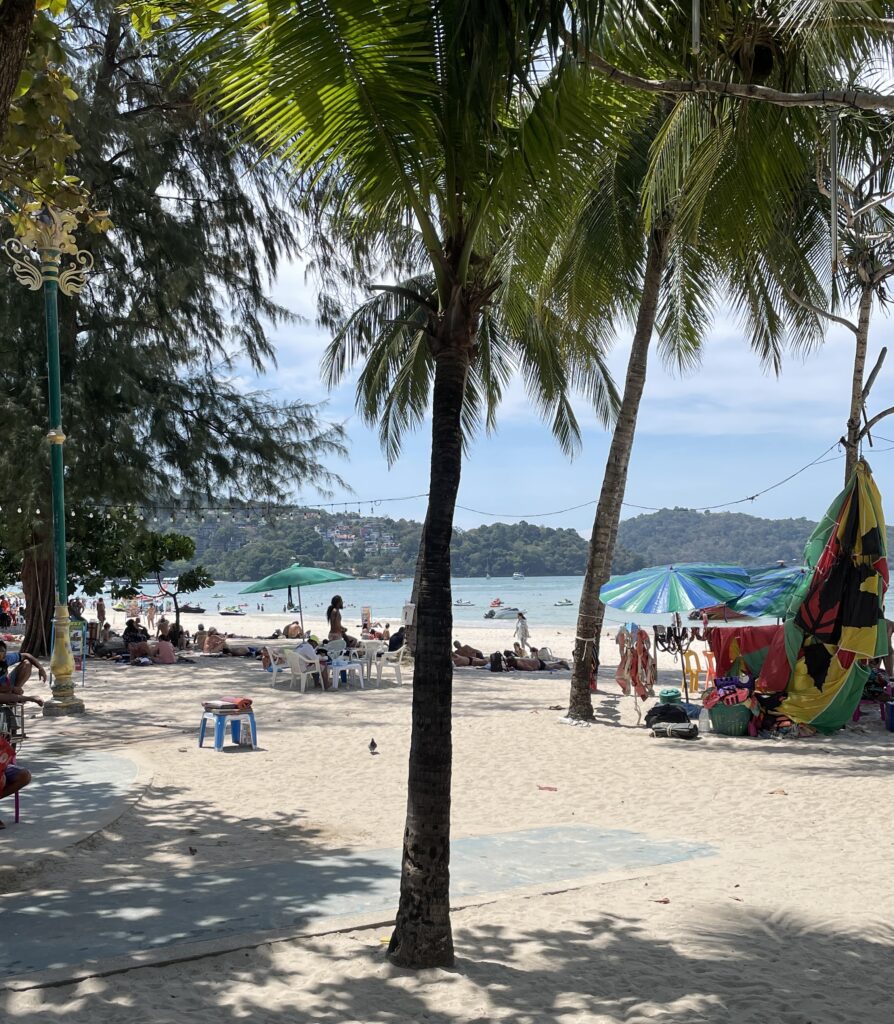 Malin Plaza Night Market
Malin Plaza is located slightly in the Southern part of the city center area of Patong, a fun night market full of various street foods, souvenirs, goods, and just about everything you can think of!
Whether you're craving some BBQ meat skewers, Pad Thai, fresh seafood, or some fruit, it's all here. Also, those looking to shop for souvenirs or a pair of typical tourist Elephant pants those are here, too.
If you're visiting Thailand for the first time, I can't stress how important it is to visit at least one or a few night markets on your trip.
Night Markets in Thailand are one of the things that make cities in Thailand unique to the rest of the world.
In every city in Thailand, I've always made it a top priority to visit the city's night market; it's fun, there's cheap food, and it's something to do in the evening!
HOURS: 10:30 AM – 12:00 AM
Experience Patong Nightlife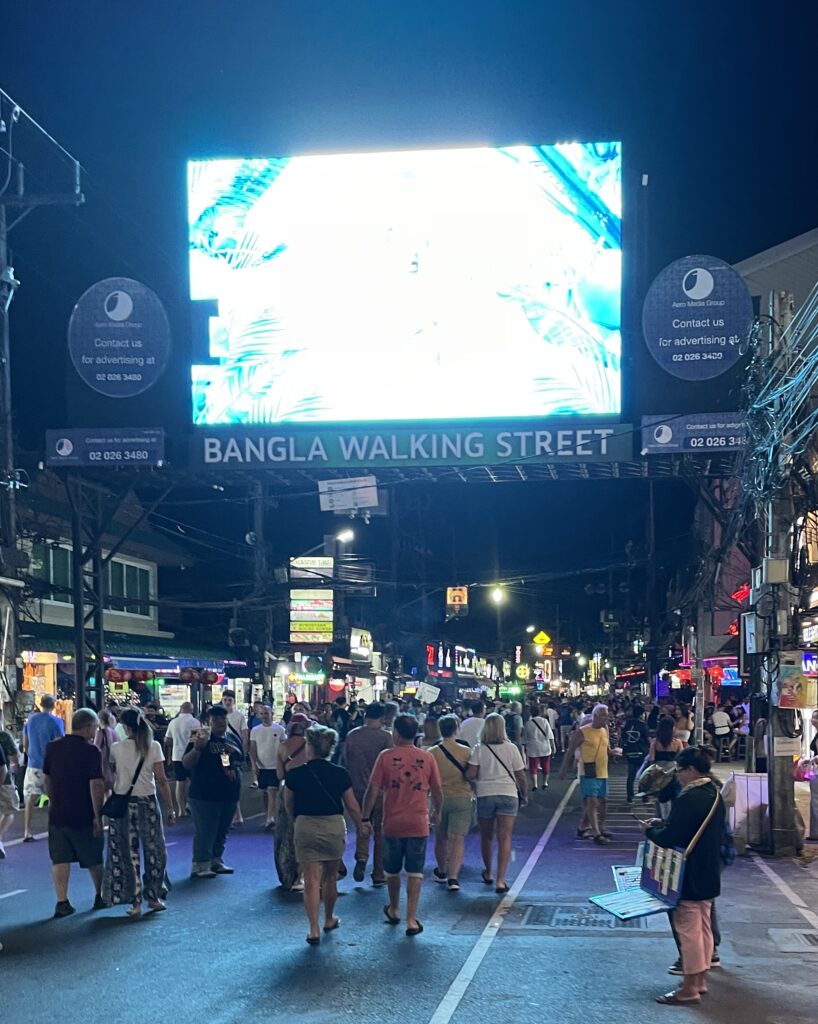 If there is one thing Patong Beach is undoubtedly famous for its nightlife here! – Nightlife in Patong offers plenty of things to do at night.
Nightclubs are everywhere: bars, shisha bars for smoking, strip clubs, and go-go bars where women perform acts I don't care to speak specifically on, haha. – You can find all this on the famous Bangla Road in the nighttime.
Bangla Road is a 400-meter street closed off for all this entertainment Patong has to offer.
From the moment you get to Bangla Road in the evening, you will hear the music blasting and neon lights everywhere (the street has a Las Vegas vibe but more).
SCAM WARNING: This street is famous for scams; here's a list of scams to watch out for.
Watch your pockets for pick-pocketing walking down this street
If you enter any venues, watch your drinks and confirm prices when purchasing drinks
DON'T play any games with a bartender who is a bet-wager; they're out to get your money
Strip Clubs & Go-Go Bars are known for overcharging drunk tourists
Walking down this street at night, expect to be approached every few seconds for a different proposition at another venue.
It's a fun street you must see/experience when visiting Patong. – If you run into any trouble, make sure to speak with the Tourist Police.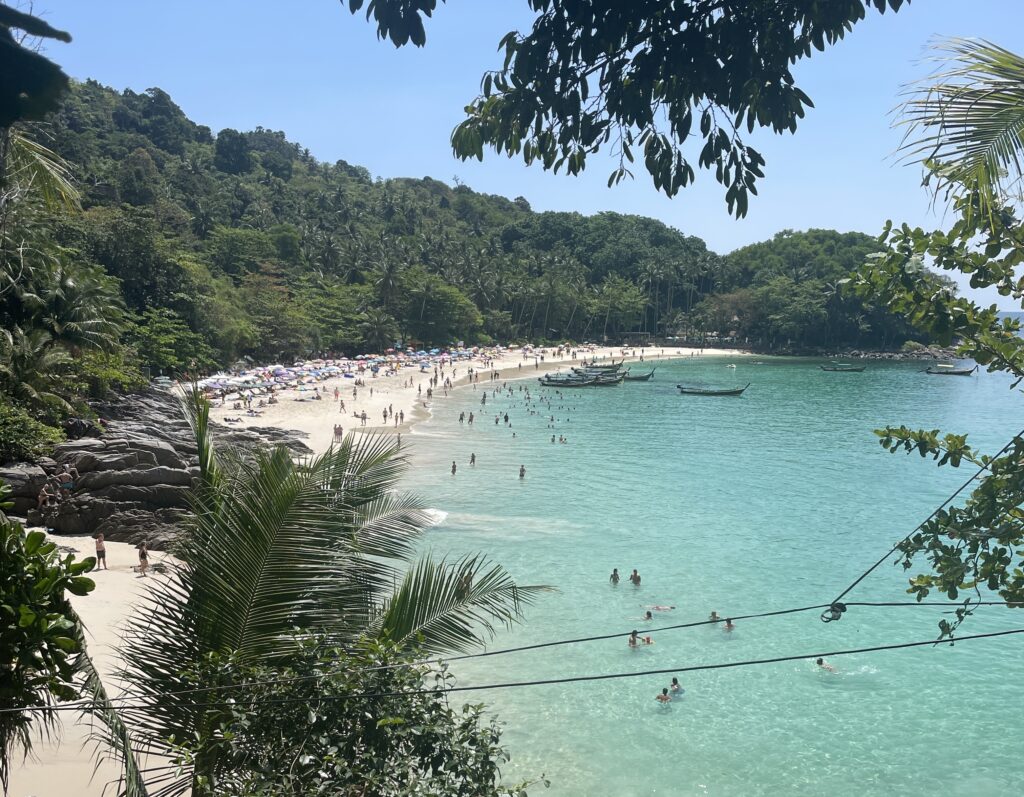 While Patong Beach is lovely, especially in the evening when there's a sunset and many people gather for a picnic as the sun sets into the night.
But Patong Main Beach isn't the most excellent beach in Patong; Freedom Beach is!
Freedom Beach is located in the Southern-Western area of Patong, a secluded small beach shoreline that is breathtaking and well-known for being one of Phuket's top three best beaches.
The water at Freedom Beach is a crystal blue color, there are large rock formations around, and the overall beach is surrounded by forest. It's stunning!
One of the most beautiful beaches I've had the pleasure to visit in the world.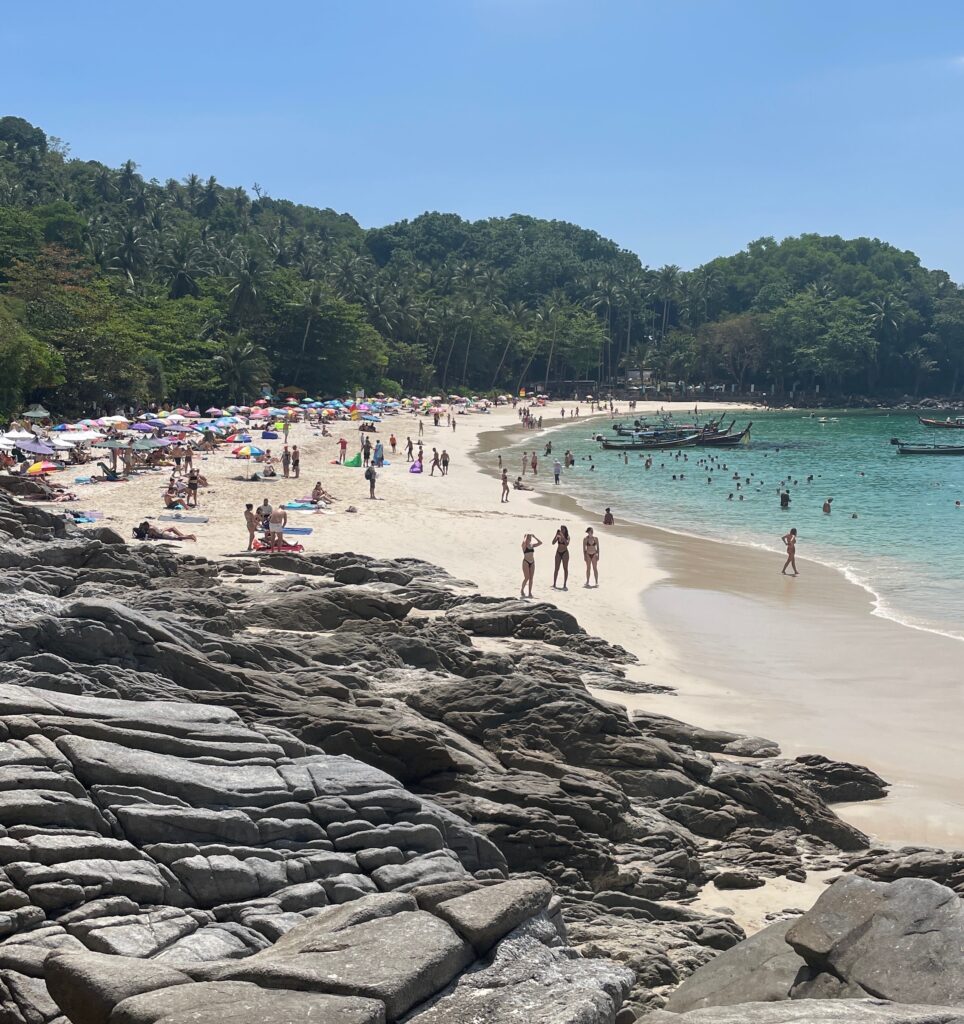 You must either hike or take a long-tail boat taxi to get there.
Visiting Freedom Beach when you're in Patong should be at the top of your to-do list; for information about Freedom Beach and how to get there, refer to my in-depth Freedom Beach Guide.
Other Beaches in Patong to Consider:
Tri Trang Beach
Kalim Beach
Paradise Beach
Go Shopping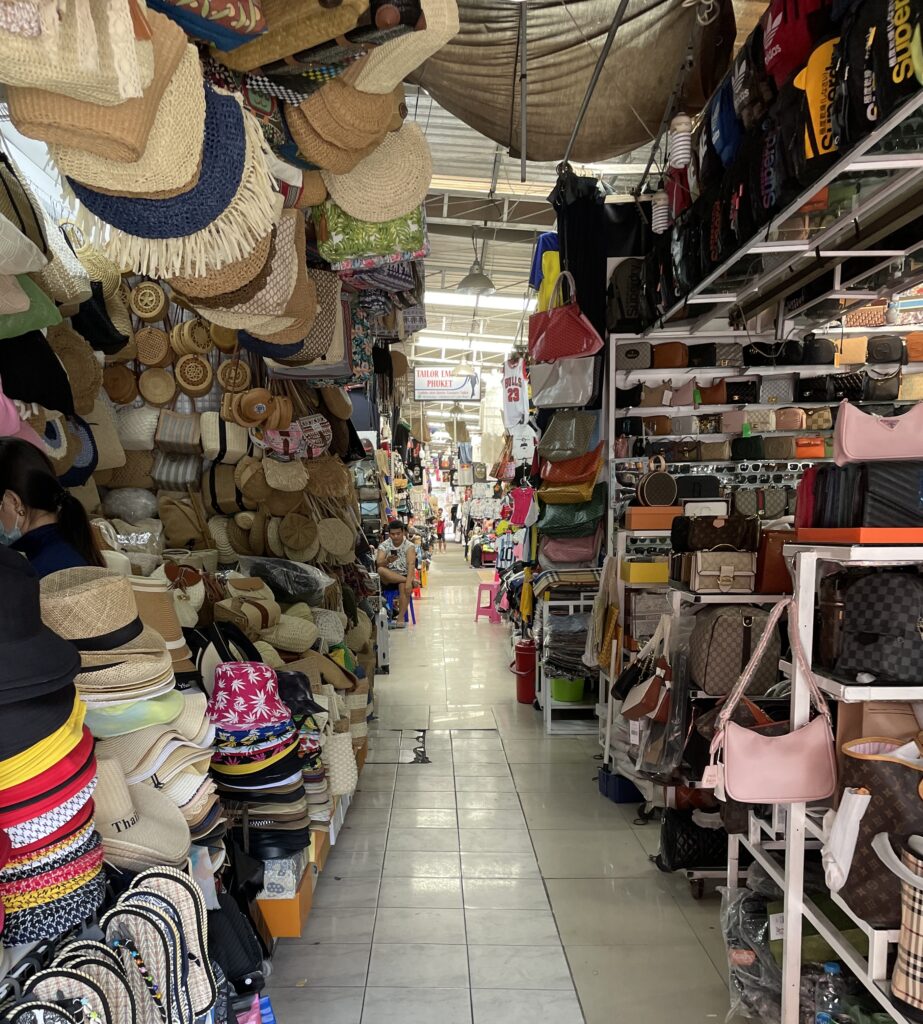 Patong is the best place to do some shopping in Phuket. There are stores everywhere you walk here selling anything you need.
Whether it's a unique souvenir, a pair of designer sunglasses (fake or real), or a new outfit for a night out, Patong has it all.
Jungceylon Mall is a great place to go shopping for the day; it's the largest mall in Patong, with many things to purchase. It has clothes, baked goods, a large food court, and more. This is the place to come if you want to buy many different things.
During the daytime, Bangla Road is the epicenter of fake designer goods in Patong and other non-branded clothes and bag items.
If you want authentic branded goods, head to Central Patong shopping mall, where you can find many original, authentic designer clothing.
Eat at Tops Food Hall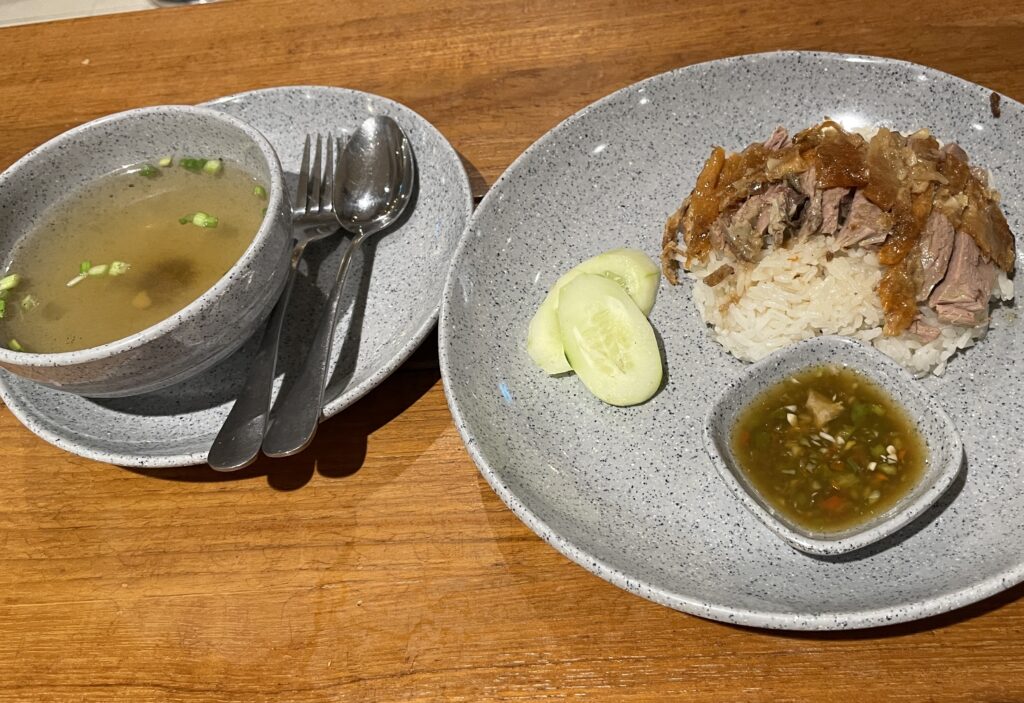 One of the best places to eat in Patong is Tops Food Hall, a large food court full of various types of international cuisine – It's also a supermarket
You can find several classic Thai dishes being served here, Japanese, Chinese, American, and just about anything you can think of. Each small Stall/Restaurant operates in its own small area, serving its own food.
For those who need a break from the heat, this place is quite ideal. It has something for everyone food-wise, and it's perfectly cool here!
Also, it's the perfect place to come when you're with someone indecisive about what to eat!
The best part? Food is well-priced here for Patong. I recommend purchasing a small dish from various vendors. That's precisely what I did; you're in a small compact area with fantastic food; try a little of everything!
I highly recommend trying Metro Roasted Duck; it had a Michelin star in 2022.
To purchase food here, you must load a card with money, and then you can use that card to buy your food.
Patong Restaurant Recommendations:
Ta Khai (high-end Thai restaurant located along the water)
La Gritta (fancy Italian restaurant along the water)
Cappadocia Turkish (tasty Turkish Cuisine restaurant)
ZomPaul Eatery (Thai restaurant serving small plates, perfect place to try many Thai dishes)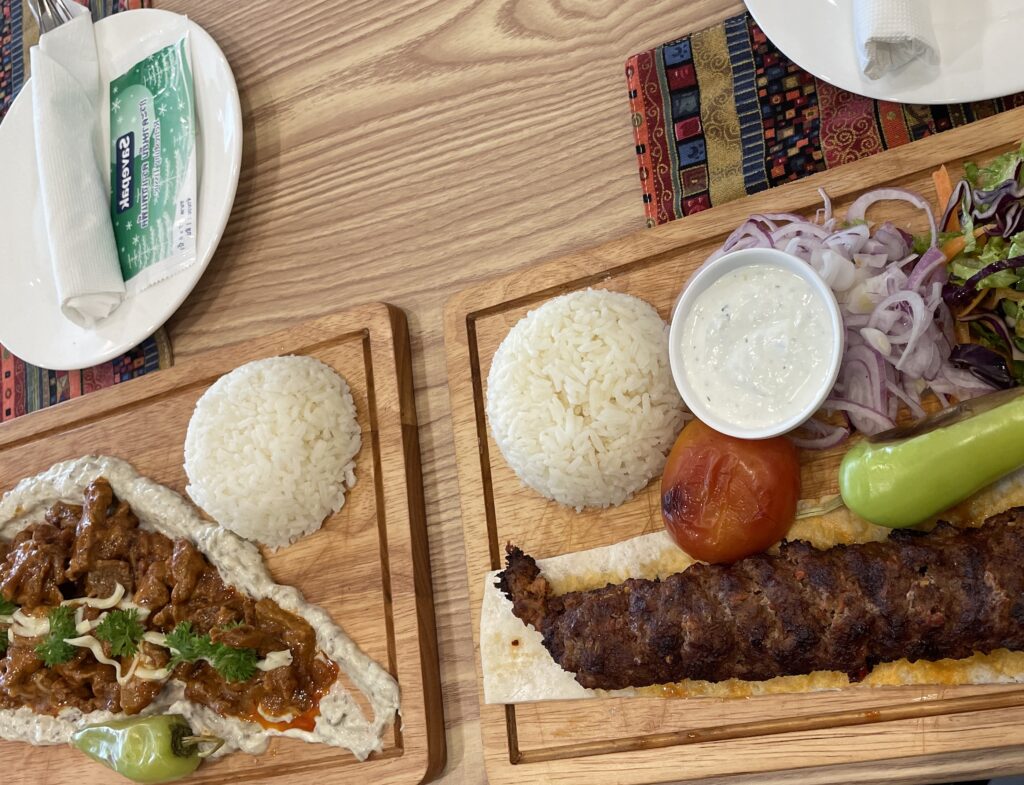 Attend Muay Thai Fights
One of the things you must do in Patong, or anywhere in Thailand for that matter, is to see Muay Thai fights. Being the national sport of Thailand, experiencing a night of Muay Thai fights is a must!
As you walk through the streets of Patong during the day, you will quickly notice trucks driving around promoting fights with posters for upcoming fights, and you will also hear the microphone announcing details about the fights.
They have Muay Thai fights here every Monday, Thursday, and Saturday from 9:00 PM – 11:00 PM.
They have Muay Thai fights here every Wednesday, Friday, and Sunday from 9:00 PM – 12:00 AM.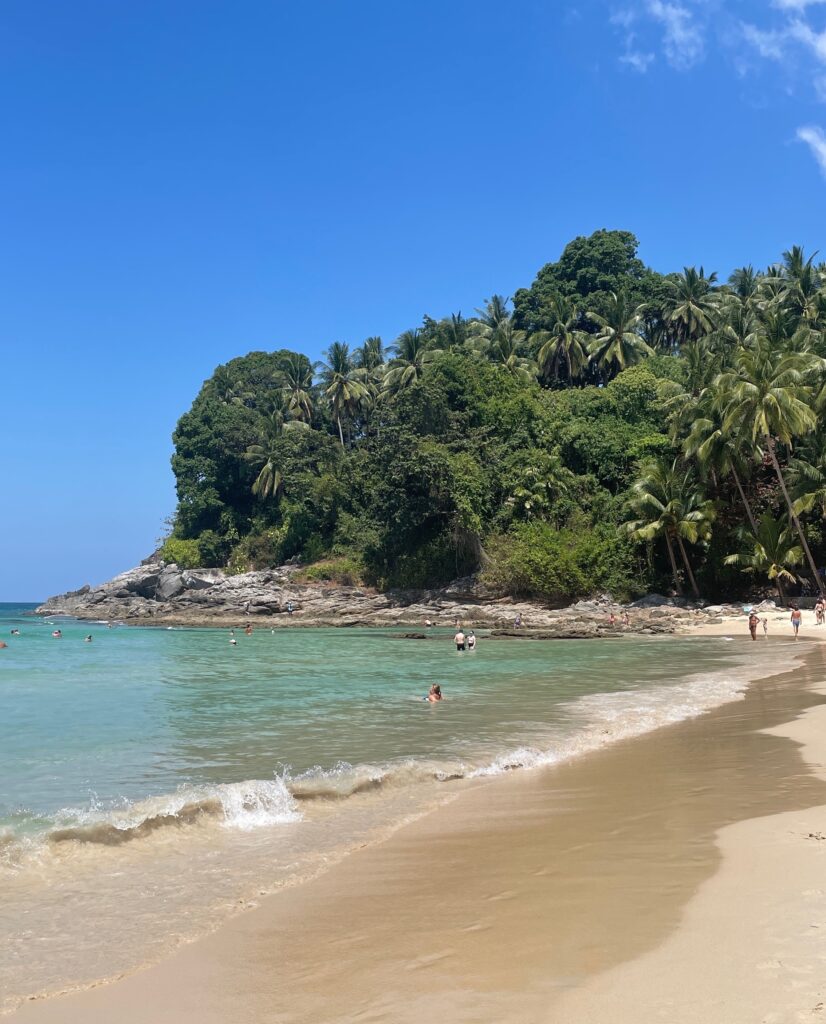 When you're staying in Patong, make sure not to spend your entire trip in Patong because there are many other great places to visit all over the island of Phuket, including other beaches.
Here are some close beaches to Patong; I'd suggest you visit!
Kamala Beach: A beautiful beach full of beach loungers for rent for relaxing for the day. At night, I highly recommend visiting Cafe Del Mar; on weekends, they host some great parties, and it's also a beach club in the daytime.
Surin Beach: Another fantastic beach, just past Kamala Beach, is more beautiful than Kamala; Surin Beach has a tropical atmosphere. For those who like to eat, Surin Beach has the most food stalls of any beach in Phuket.
Karon Beach: One of the longest beach shorelines in Phuket, with beautiful water and a lot of accommodations, this is a perfect beach for those visiting Patong with families!
Looking for even more beaches to visit and how to get to them? View this Guide: 8 Best Beaches in Phuket.
Sunday Night Market in Old Town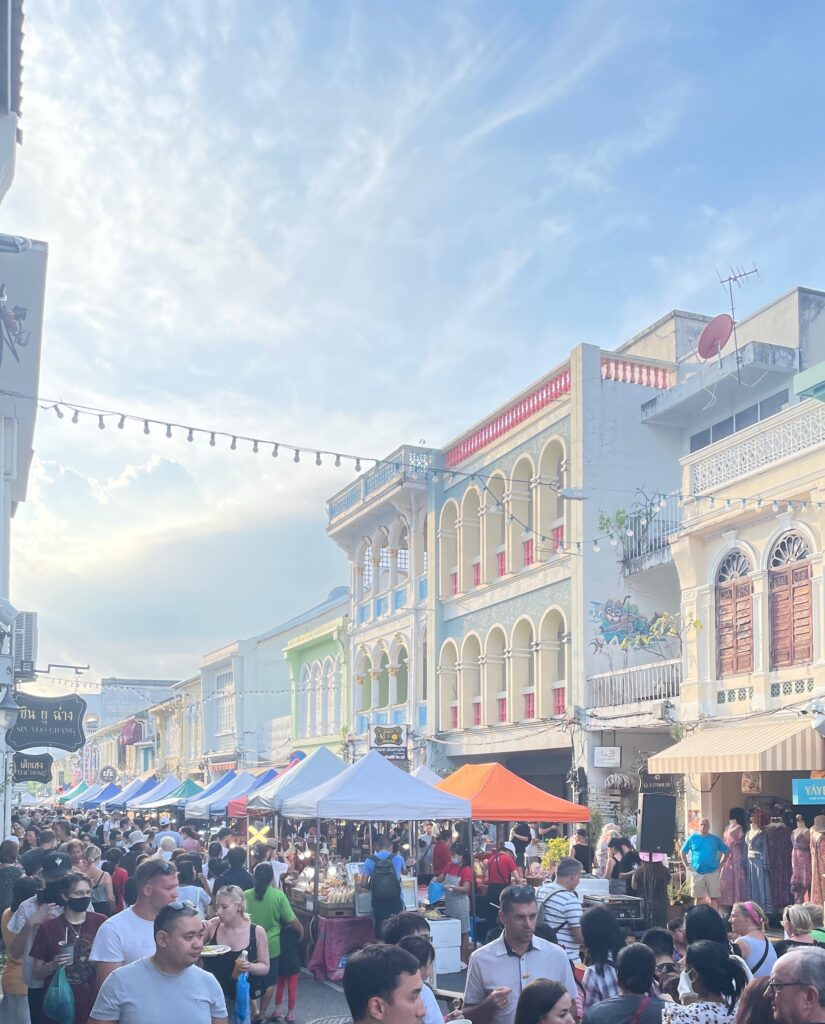 This is another night market in Phuket, but this isn't just any night market; this is the famous Sunday Old Town market in Old Town Phuket.
Known as the largest night market in Phuket, this night market happens once a week on Sunday at 4:00 PM.
The market goes on for a long, extensive street, and the road is closed off on Sundays just for this.
What makes this night market the most special among the rest is the vast number of vendors here and the location being Old Town Phuket with the famous brightly painted century-old Portuguese-influenced buildings.
Several stalls sell delicious foods, desserts, clothing, and accessories. It's also a fantastic place to go souvenir shopping, and there are many fabric and spice shops here.
Other notable Night Markets in Phuket are:
Marlin Plaza (mentioned above already)
Naka Weekend Market (operating only on Saturday/Sunday)
Karon Temple Market (operating only on Tuesday/Friday)
Kata Night Market (operating daily)
Are you looking at different Islands in Thailand to vacation in? Here's a List of Islands in Thailand to consider.
Patong Beach Hotels
Now that you know the best things to do in Patong, let's discuss hotels and where it would be best for you to stay.
In this list of Patong Hotels, I've included the best hotel option, no matter your budget!
Rosewood Phuket – (5 Stars)
Regarding 5 Star accommodations in Phuket emphasizing a luxurious stay, it takes a lot of work to compete with Rosewood Phuket.
Located just outside the central Patong area in the forest hills of Patong, Rosewood Phuket offers stunning ocean views with a modern decor setting.
Rooms here are Private villas available for rent, some offering private pools, outdoor bathtubs, full-on kitchens, living rooms, and more.
Best For: Privacy, Families, Villas for rent
Avista Hideaway Patong – (5 Stars)
Another excellent 5 Stars hotel in Phuket is the Avista Phuket, located among Patong's forest hills; Avista Phuket is more of a hotel than a private villa rental, though they also have rooms with private pools.
Several pool areas are scattered around the property; amenities include a gym, library, spa, pool tables, and more.
Avista Hideaway is one of the top-ranked hotels in Patong, and for a good reason!
Best For: Privacy, Many amenities
Amari Phuket – (4 Stars)
At the end of Patong Beach, just over the bridge, is Amari Phuket, a beautiful hotel offering exceptional views of all of Patong Beach, stunning at night when you can see the many lights of Patong.
Rooms at the Amari Phuket offer exceptional ocean views, and the hotel even has beach access on the ground floor.
On-site at the hotel is La Gritta, one of the best Italian restaurants in Phuket.
Best For: Views of Patong, Great location
Best Western Patong Beach – (3 Stars)
This hotel is located in Patong's central area and is ideal for those who'd prefer to be close to all the action.
It's steps away from all the shopping malls, the famous Bangla Road, and many restaurants.
Best Western Patong has a tad modern design with a rooftop pool, breakfast buffet, and just about everything one may need.
Best For: Those looking to stay in the central area
Lub d Phuket Patong – (hostel)
Also centrally located is the Lub d Phuket Patong, a beautiful hostel that's very welcoming to solo travelers.
The communal area at Lub D Patong has a full-sized Muay Thai ring, a reading area, a pool table, a restaurant & bar, and a beautiful large pool for guests to enjoy.
It's the high-rated hostel in Patong, so for those traveling solo, look no further. You must stay here!
Best For: Solo Travelers – Affordable accommodation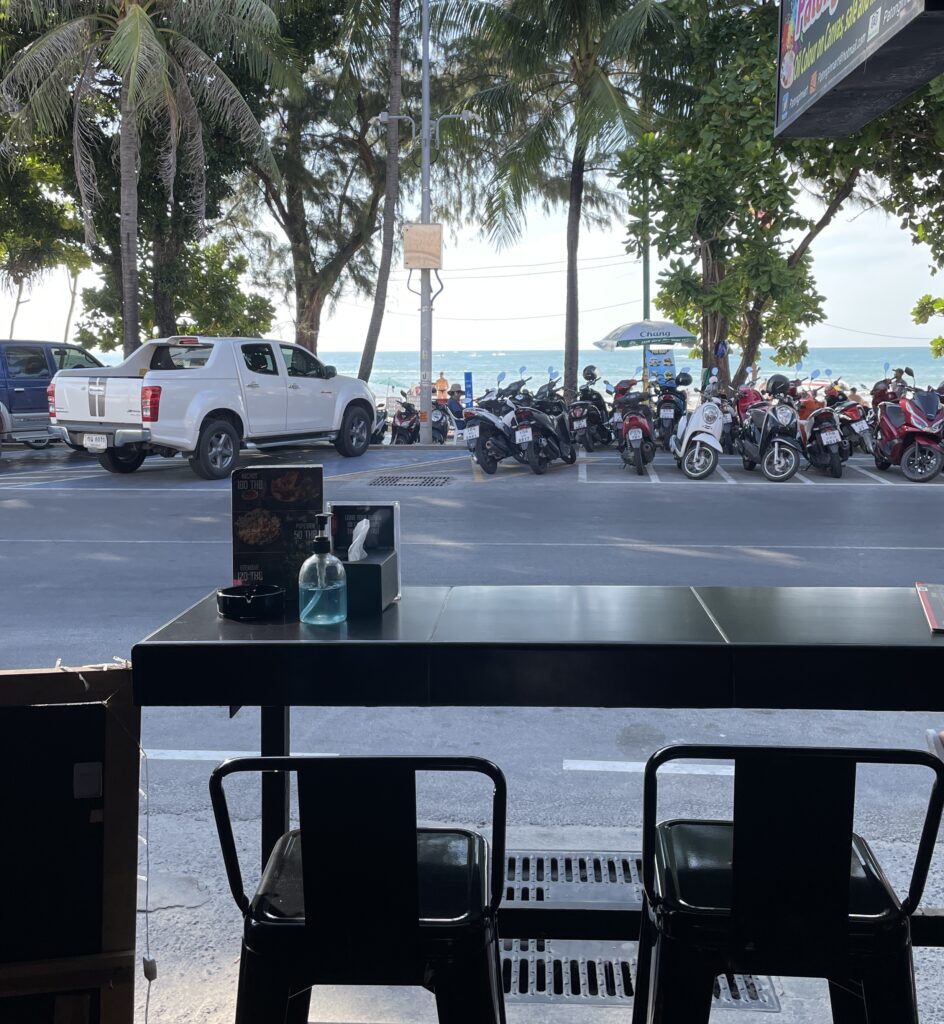 Is Patong a Good Area to Stay in Phuket?
Patong has many conveniences regarding areas in Phuket. Not only does it have the most hotels/accommodations, but it's the best for shopping; it offers the best nightlife on the island and has the widest variety of food restaurant-wise.
Consider what I've said below and decide if Patong is right for you. Here is why Patong is an excellent area for some to visit and a bad one for others.
Who It's Good For:
Patong is an easy place to meet other solo travelers if you're a solo traveler.
Those coming in a group of guys or ladies, you'll love Patong because of its bars, nightlife, shopping, and more.
If you're coming with your family and looking for a wide variety of children's activities and malls to shop at, Patong is also a great choice.
Who It's Bad For:
If you're coming with a loved one and looking to have a quiet vacation by the beach, Patong is NOT for you; it's far from calm and laid back.
If you're coming with your family and also looking for a quieter, safe place for your family to relax and enjoy, Patong is also NOT for you. You'd much rather stay in Kata Beach or Karon Beach.
Another Island great for families in Thailand is Koh Samui; it's the second-largest island in Thailand after Phuket!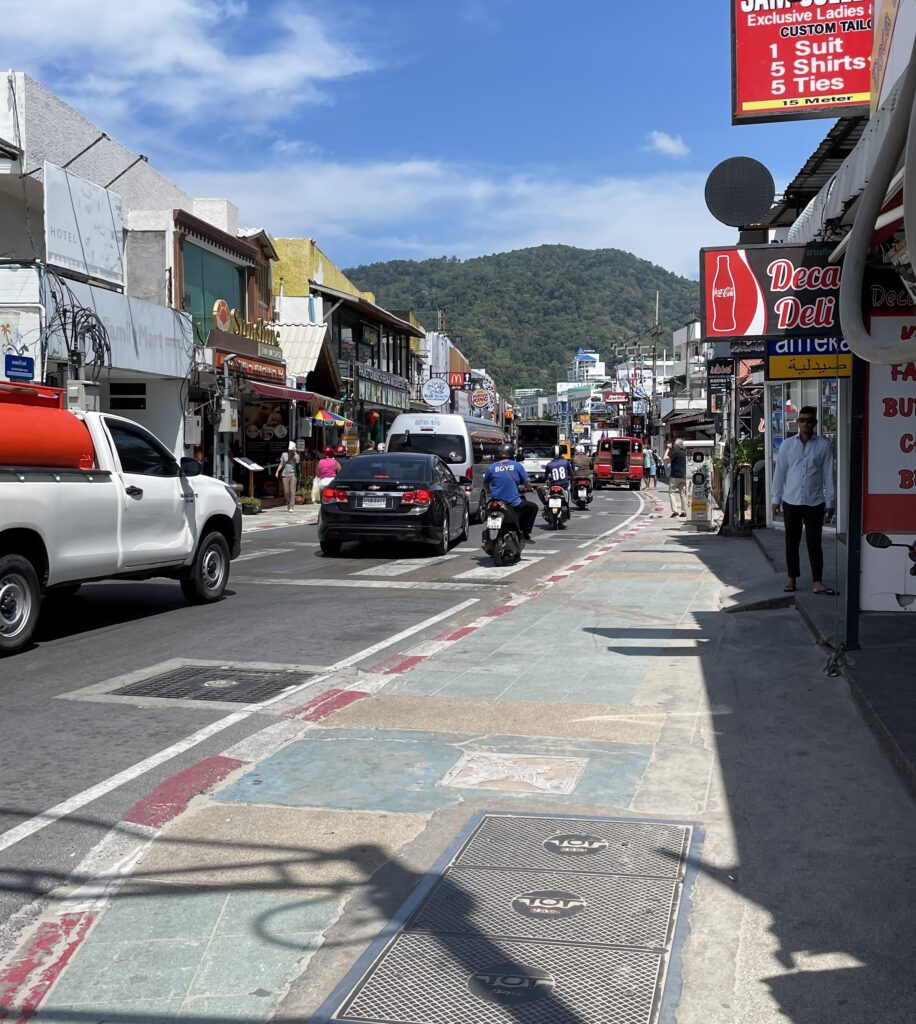 Why is Patong Beach Famous?
Patong Beach is most famous for being Phuket's busiest and most crowded area. As mentioned earlier, the nightlife on Bangla Road in Patong is world-famous.
Besides that, Patong is also most known for its wide variety of restaurants, cafes, bars, shopping, and everything else it offers.
It's also the most developed area of the island. Condos are popping up everywhere in the Patong.
If you visit/stay in Patong, go out and see the other areas; there are many things to do in Phuket!
Things to Do in Patong Beach – Final Thoughts
Yes, visiting Patong Beach is worth it, and that's because it's the most famous place in Phuket.
Bangla Road at night is a rather interesting site to see. Because of how famous it is, I wanted to see it for this reason when I first visited Phuket.
That said, I can't say that you absolutely must visit Patong when you're in Phuket because, as I stated earlier, Patong has its positives and negatives.
It depends on what you're coming for and the type of vacation you want when visiting Phuket. Patong is GREAT for some, and it ISN'T good for others.
Are you traveling to Thailand for the first time? Besides Phuket, I recommend visiting my two favorite places in Thailand: Railay Beach and Phi Phi Islands. – Here's a list of Islands in Thailand to consider!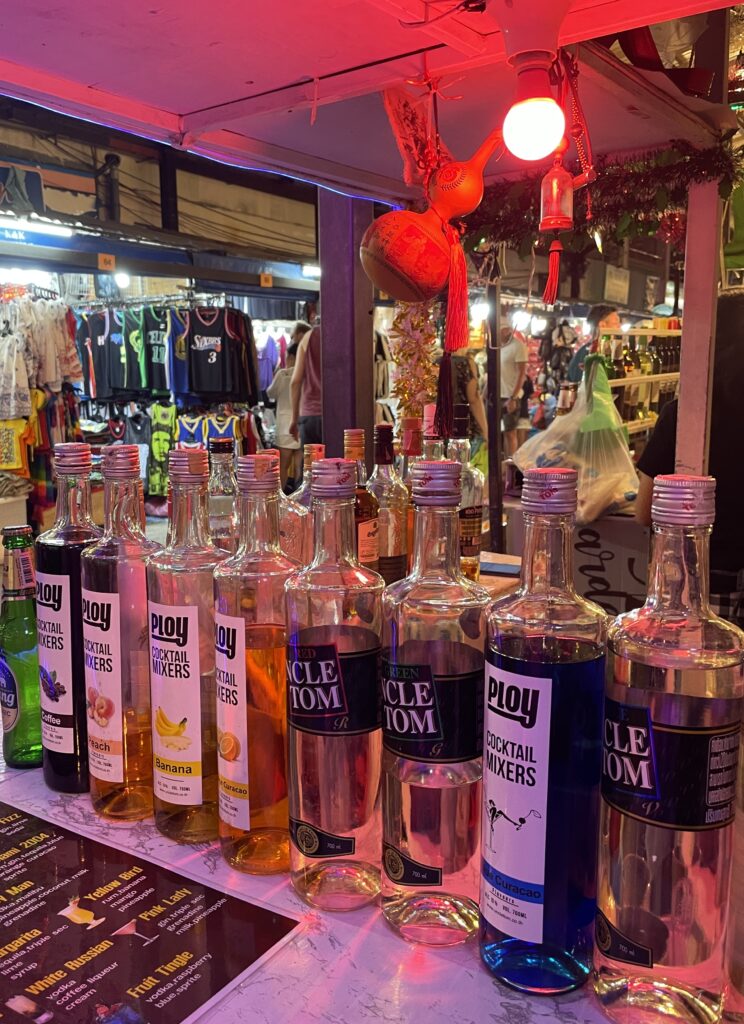 What is the popular street in Patong?
Bangla Road is the main street that connects to Patong Beach and is full of nightclubs, shops, restaurants, and just about everything!
Is Patong Beach worth a visit?
The beach is nice and has its conveniences due to all the shops/restaurants close by. But it's definitely not the nicest beach in Phuket; there are far nicer beaches in Phuket to visit!
Is it safe to walk around Patong?
Yes, it is, but you should watch your pockets when walking on Bangla Road for pickpocketing.
Why do people go to Patong?
Patong is known for its wild red light district on Bangla Road at night; people come to Patong to relax at its beach during the day, go shopping, and enjoy many nightlife activities!
Subscribe to Travel Hiatus!
Receive updates on my latest posts, insider travel tips & the best destination guides to your inbox!
---
Planning Checklist
---
Disclaimer: Please note that some of the links shared in this article might be affiliate links; this means that at absolutely no extra cost to you, we will earn a small commission for any sales generated through this article and/or this website. We recommend products/services we've either used or researched thoroughly – Thank you for supporting us so we can continue to share helpful travel content!