Is Ao Nang Worth Visiting? An Honest Guide
Ao Nang is one of the most popular towns in the Krabi province of Thailand. Ao Nang is known for its extensive beach shoreline, many hotels, and shopping.
But is Ao Nang worth visiting? Should you bother adding Ao Nang to your Thailand itinerary?
The most significant advantage of staying in Ao Nang is that it's an excellent base for island tours. Ao Nang has two piers, used daily to take tourists to the many islands in Krabi, including the 4 Island Tour, Hong Island, Phi Phi Islands, and more!
Ao Nang's disadvantage is that the beach here is always overly crowded, and the water could be cleaner than other beaches in Krabi.
In the first part of this article, I will cover 5 reasons why you should visit Ao Nang. And later, I'll cover 5 reasons you shouldn't visit Ao Nang.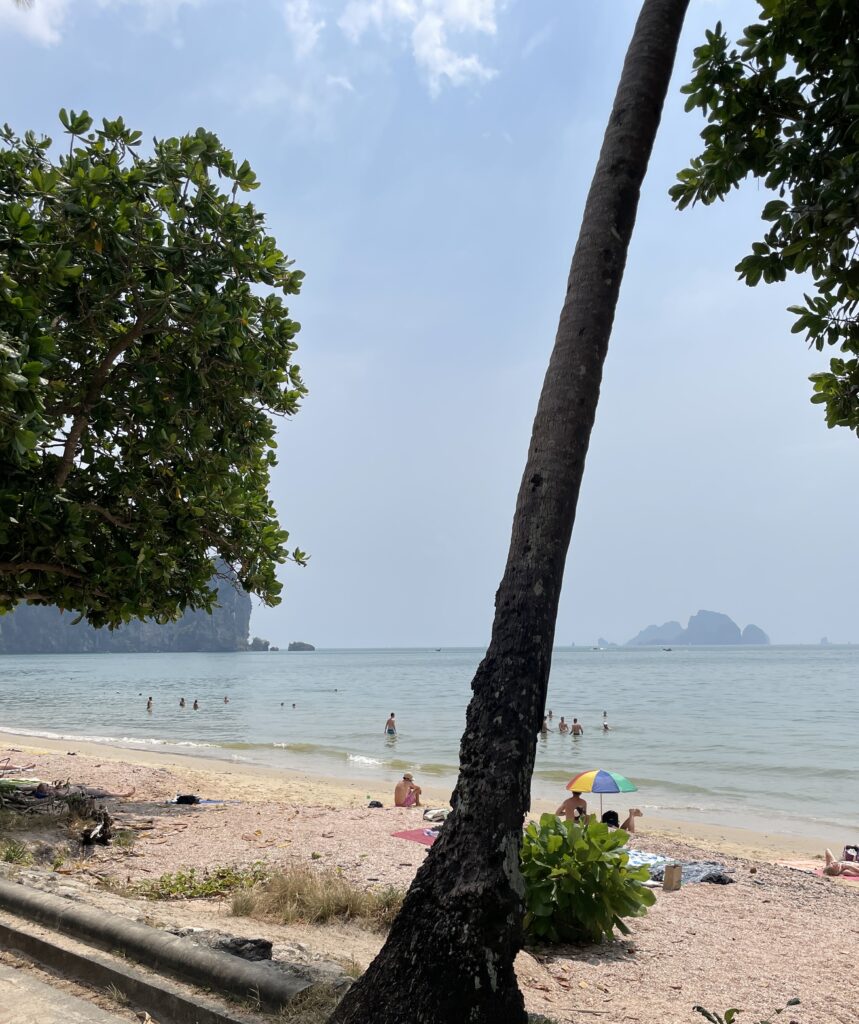 Is Ao Nang Worth Visiting? 5 Reasons to Go
Good Base for Tours
The Krabi province in Thailand is most famous for its many islands, and Ao Nang's location is the best to reach these islands and destinations.
There are a few piers in Ao Nang to research many different places; the main pier Noopparat Thara Pier, Klong Heng Pier, and Koh Phi Phi Pier. If you book a tour, always check your ticket to ensure you're going to the right pier!
Tours you can do from Ao Nang are Phi Phi Islands, Krabi 4 Island Tour, James Bond Phang Nga, and many more!
On each end of Ao Nang Beach, several longtail boats are waiting to take locals and tourists to Railay Beach, only 10 minutes away by longtail boat taxi.
If visiting many islands is at the top of your list of things to do in Thailand, you must stay in Ao Nang for a few days at least.
Many Hotels
Ao Nang has many hotels, from large resorts to boutique hotels and many hostels. Ao Nang is full of hotels because it's the most visited town in Krabi province. Having many hotels to choose from is always a positive.
Whether looking for a beachfront resort, a highrise hotel with an excellent rooftop pool, or a hostel with a fantastic communal space, Ao Nang has it all!
Here are my recommendations for accommodations in Ao Nang for you to consider!
Holiday Ao Nang: This a beautiful 5 star resort located directly on Ao Nang Beach. The large resort also has a pool and is a short walk away from shops, restaurants, markets, and more.
Panan Krabi Resort: A modern hotel located just steps away from the main beach with a stunning rooftop pool.
COSI Ao Nang: Located along the main road in Ao Nang, close to many restaurants and only a few minutes walk away from Ao Nang Beach.
K Bunk Ao Nang: Ranked #1 hostel in Ao Nang, the hostel has beautiful mountain views and a delicious breakfast restaurant in the lobby.
Wide Variety of Food
Ao Nang has a wide variety of cuisine for a small town, which is surprising because most small towns in Thailand offer a limited variety of cuisine types.
Along with exceptional Thai cuisine, in Ao Nang, you can find Mexican food, Arabic food, and Indian cuisine. There are also big American fast-food chains, such as Mcdonald's, Burger King, and Subway.
This is nice for those visiting with their family or picky eaters! That said, here are my restaurant recommendations.
Kodam Kitchen – Thai Restaurant
Manana Mexican Restaurant – Authentic Mexican Food
The Hilltop Ao Nang – Viewpoint Restaurant
My favorite spot to buy food in Ao Nang is the Street food stalls that open around 2:00 PM. Here, you will find several stalls selling cheap food, similar to a night market, but it's open during the day!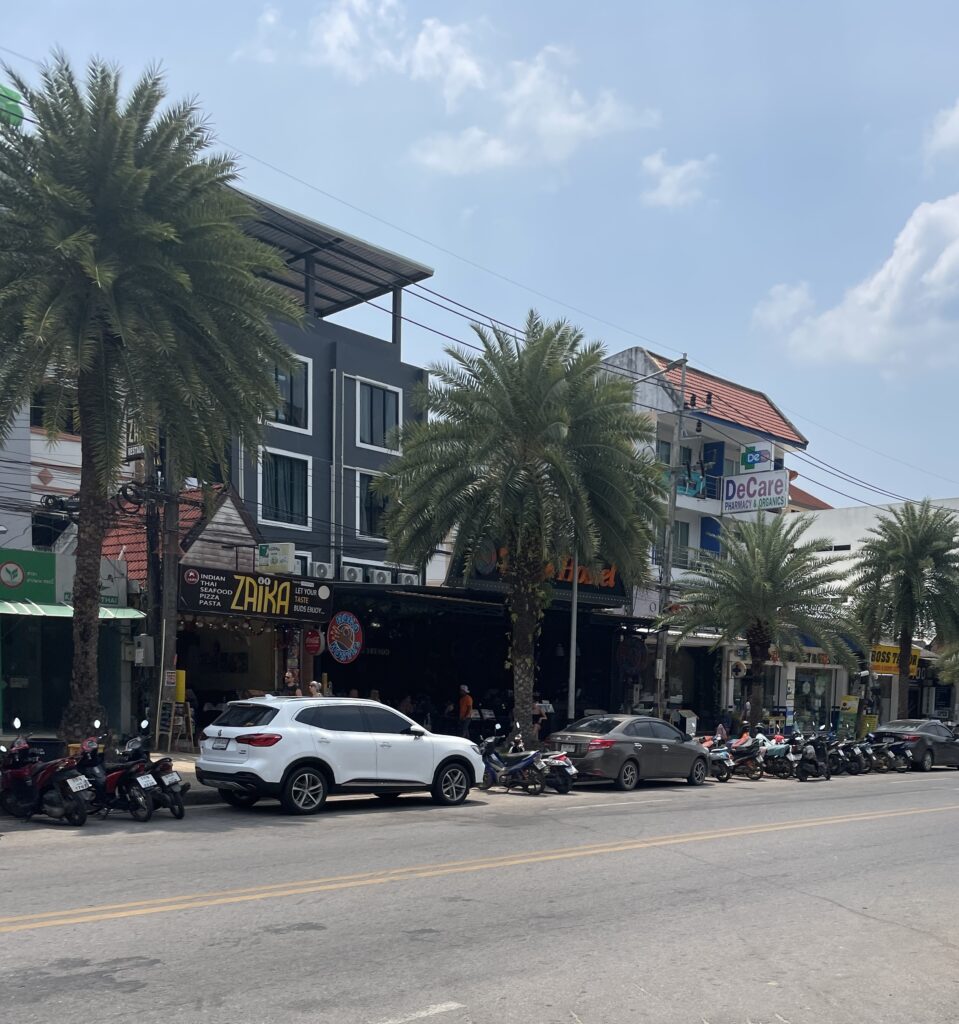 Great for Families
Ao Nang is an ideal destination for families for multiple reasons; It's a walkable city; you can walk to most places without needing transportation.
It's a safe town because it's a lazy beach town; not much goes on here.
With the town's many different hotel options, no matter your preferences or family size, you can find a preferable hotel for your family.
As just mentioned, there are food options for the whole family here, so no matter where you're visiting from or if you've got picky eaters, everyone will find cuisine to enjoy in Ao Nang!
Walkable Town
Ao Nang is a relatively small beach town, and most of the town revolves around two streets.
One street runs along the main beach and coastal shoreline of Ao Nang. The other is a long street with many hotels, restaurants, and other businesses.
Visiting with your family is perfect; it's hard to get lost in Ao Nang; it's that small!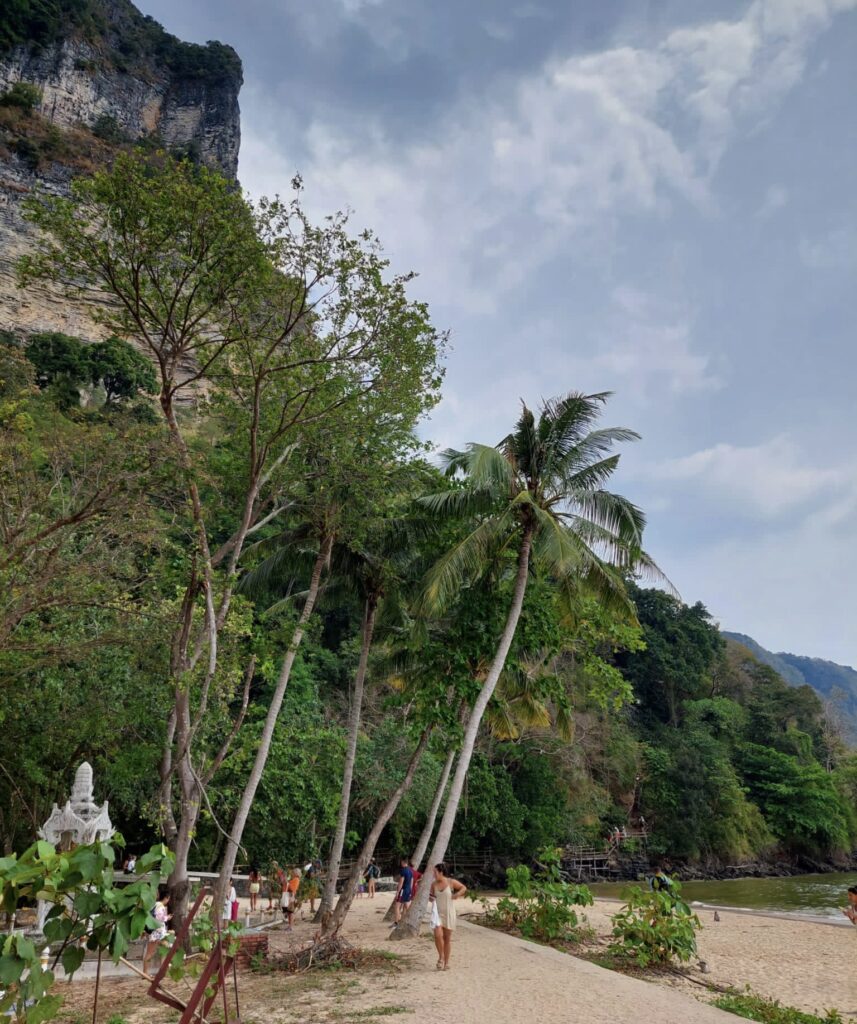 Is Ao Nang Worth Visiting? 5 Reasons Not to Go
Beach Is Bad
The most disappointing aspect of Ao Nang is the beach. Don't get me wrong; it's not the worst beach, but compared to the beaches in Thailand, it's definitely a disappointment.
Ao Nang Beach has rough sand, which could be better; sometimes, you will run into a fair amount of garbage, and the water is far from clear.
There are many lovely beaches in Krabi province. If you take a longtail boat taxi from Ao Nang Beach to Railay Beach for 10 minutes, you'll visit a more excellent beach!
Only Two Beaches
You'd think there were more beaches in Ao Nang because of how many tourists choose to visit, but that's not the case. Only having two beaches here is a negative factor.
Ao Nang Beach tends to be very busy at most times of the day, and as just started earlier, it's a disappointing beach by Thailand's standards. There are always longtail boat taxis going back and forth to Railay, and the boat traffic is a negative factor for the beach.
Noppharat Thara Beach is the second beach in town; it's relatively small but is far nicer than Ao Nang Beach. It's quieter here, and the water is much more transparent.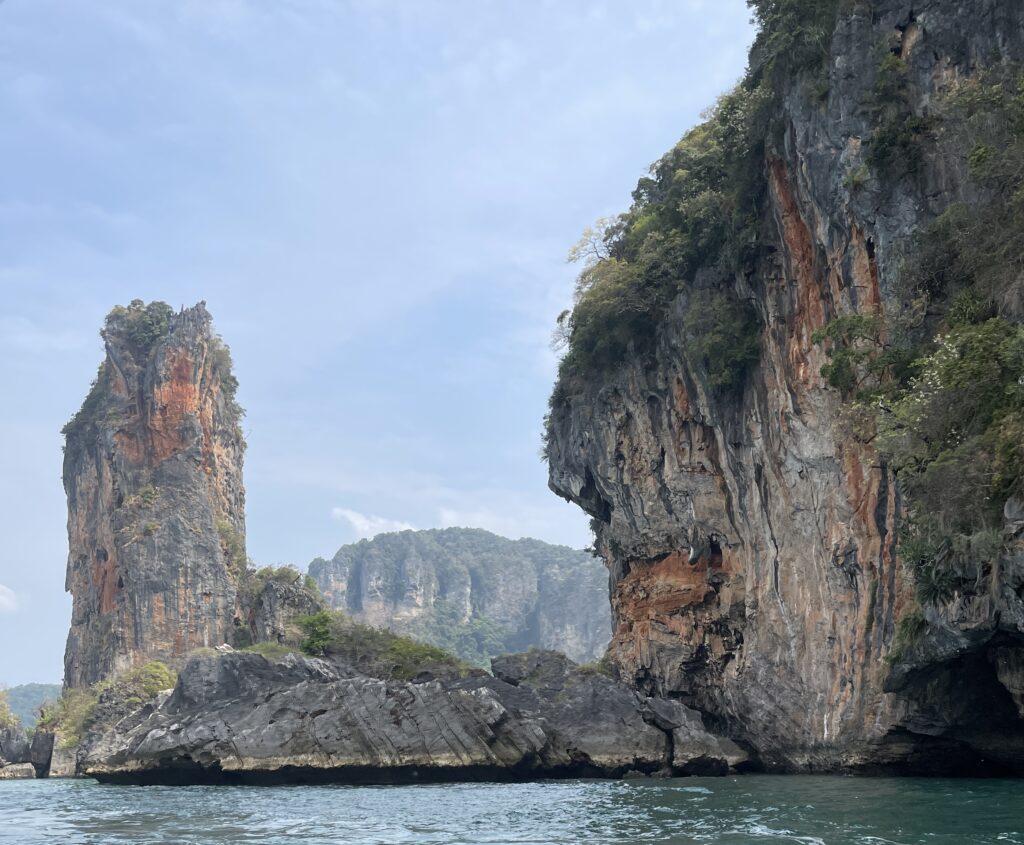 Very Touristy
Ao Nang is a very touristy place with its positives, like many hotel/restaurant options to choose from.
It also has its negatives, being surrounded by an influx of tourists and unable to experience a more authentic beach town in Thailand.
You may be thinking, "Isn't most places in Thailand tourist?" Let me clarify further.
Here's a rule of thumb for Thailand when identifying areas for being "too touristy." If you're walking down the street and there's a Burger King, McDonald's, etc, you're in a very tourist area. Take Phuket as an example; even though many visit all parts of the island, Patong is the only very touristy spot in Phuket.
Lack of Nightlife
The town's nightlife could be better for those looking to party in Ao Nang.
There is a fair share of bars in town, but they're just that, sit-down bars with some musical performances at times. There are no actual nightclubs in town.
If you want to visit somewhere you can really party, I'd suggest Phi Phi Island or Patong in Phuket.
Not Unique
There really is nothing unique about Ao Nang that stands out. Besides being a small lazy beach town with not the best beach, the town doesn't have aspects that make it uniquely stand out.
Ao Nang's only two slightly unique features are the Monkey Trail at the end of the main beach; you don't see that everywhere in the South of Thailand, and it's an excellent base to do island tours from.
Railay, which is next door is unique in many ways; it has one of the best beaches in the world, Phra Nang Cave Beach.
Another example is Phi Phi Islands; it's an island in the middle of the Andaman Sea and is home to Maya Bay Beach, amongst many things.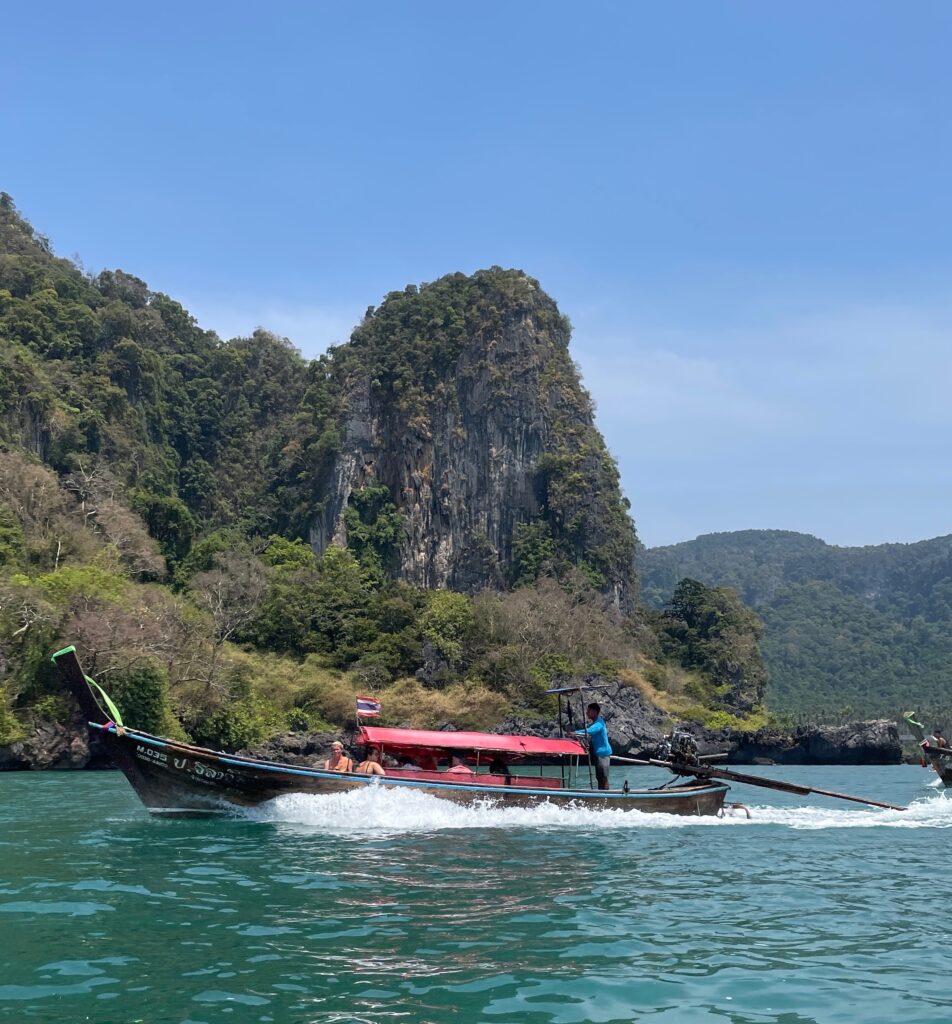 Best Things To Do In Ao Nang
For those considering visiting Ao Nang because of its many conveniences, here is a list of the top things to do in Ao Nang.
Krabi 4 Island Tour: A fun full-day trip visiting 4 different islands in the Krabi province; you'll be visiting Koh Thap & Ko Mor, known as the twin islands, Ko Poda and Chicken Island!
Elephant Sanctuary: Visiting an elephant sanctuary when in Thailand is a must; on this half-day elephant sanctuary tour, you will feed, bathe, and learn about the sanctuary in Ao Nang.
Visit Railay Beach: Home to one of the best beaches in the world, Phra Nang Cave Beach, large limestones, and more. You must visit Railay when in Ao Nang; it's only 10 minutes away.
Hong Islands Tour: On this tour, you will visit three different islands in the Andaman Sea; these islands are part of the Hong Islands. With lagoons, viewpoints, snorkeling, and views of massive limestone in the middle of the sea, the Hong Islands Tour is highly recommended!
Phi Phi Day Tour: One of the most popular places to visit in all of Thailand is the Phi Phi Islands. On this tour, you will visit the famous Leh Lagoon, and Maya Bay Beach, go snorkeling, and more!
Ao Nang Night Market: At the Ao Nang night market you'll find fresh BBQ meat, sliced fruit, a wide variety of fresh seafood, and many goods/souvenirs to buy.
What is Ao Nang Known For?
Ao Nang is mainly known for its unique and excellent location, offering the ideal place to stay in Krabi to access the many islands in the Krabi province.
Besides that, Ao Nang is known as a lively beach town full of many excellent resorts, hotels, restaurants, and many shopping options.
RELATED: Ao Nang vs Railay
Is Ao Nang Worth Visiting? — Final Thoughts
So is Ao Nang worth it? Well, if you're looking for a base with the best access to many popular island tours in Krabi.
Also, if you're staying with a family, Ao Nang is ideal for families because of its many accommodation choices and cuisine options.
Otherwise, no, Ao Nang isn't worth visiting. There are many other places in Southern Thailand I'd recommend visiting instead. Railay is only 10 minutes away and a more unique/beautiful destination. Phi Phi Islands is another great option as well!
If you're looking for somewhere family-friendly like Ao Nang but with a much better beach and more things to do, I'd recommend Kata Beach or Karon Beach in Phuket!
I've been to Ao Nang twice now, and the only reason I would bother going back is to visit Railay because one of the only ways to get to Railay is by going to Ao Nang Beach and taking a longtail boat taxi from Ao Nang Beach to Railay Beach.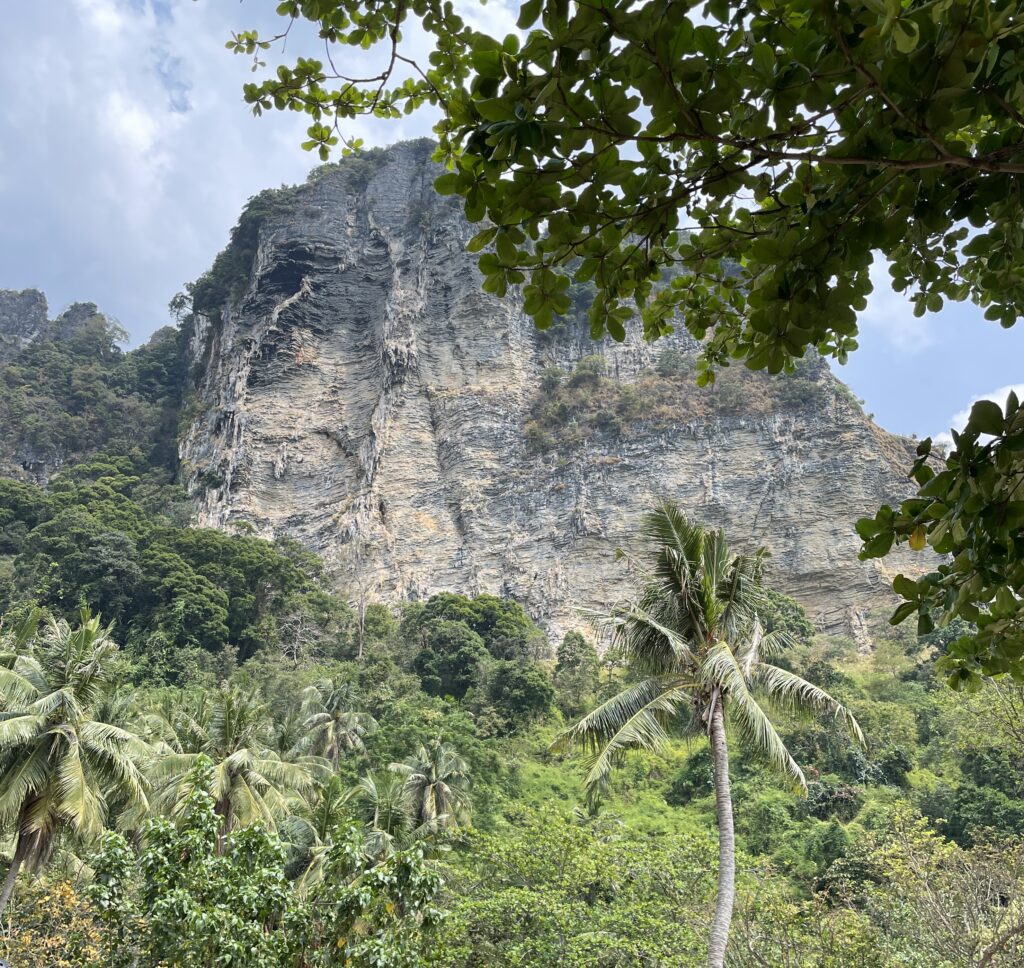 Is Ao Nang Beach good?
No, it's not; it could be a better beach compared to most beaches in Southern Thailand. While the beach is full of restaurants and shops, it also has an extensive shoreline, and the water isn't the clearest at Ao Nang Beach. Railay, which is next door to Ao Nang, has much better beaches!
Is Ao Nang a good place to stay?
Ao Nang is a great place to stay if you're looking to do many island day tours, and its main pier offers access to several beautiful islands in Krabi province.
Is Ao Nang too touristy?
Yes, Ao Nang is very touristy, especially compared to most beach towns in Thailand. The beach town is far from what an authentic Thai beach town consists of.
Subscribe to Travel Hiatus!
Receive updates on my latest posts, insider travel tips & the best destination guides to your inbox!
Happy & Safe Travels
---
Planning Checklist
---
Disclaimer: Please note that some of the links shared in this article might be affiliate links; this means that at absolutely no extra cost to you, we will earn a small commission for any sales generated through this article and/or this website. We recommend products/services we've either used or researched thoroughly – Thank you for supporting us so we can continue to share helpful travel content!