Positano or Ravello: Which Town To Stay In?
Need help deciding which beautiful Italian Amalfi Coastal town to stay in between the famous Positano or Ravello? You've come to the right place!
This guide will give you a detailed breakdown of both coastal towns on the Amalfi Coast!
There are several excellent towns to visit or stay in along the Amalfi Coast, and deciding where to stay can get overwhelming. You'll find yourself researching Sorrento or Positano, Ravello or Positano, Praniano or Ravello, and the comparisons can continue.
But if you've landed on this article. I assume you've narrowed your interest to Positano or Ravello, and you're looking to decide between the two Amalfi Coastal towns!
Despite only a 1 hour drive between these two Italian coastal towns with a distance of 23km, Positano and Ravello are pretty different towns.
I've had the pleasure of staying in Positano for a few nights, and while visiting, I spent a night in Ravello to explore the lesser famous village and get a feel for the place compared to Positano.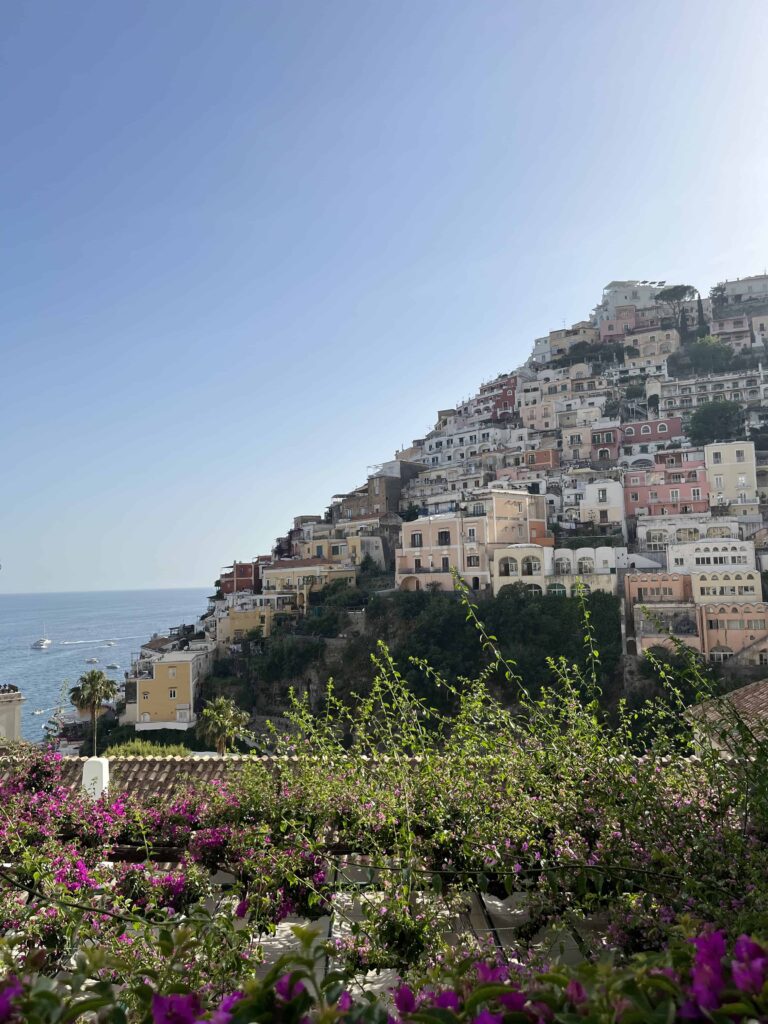 How to Get to Positano
Getting to Positano is very straightforward. Here are a few different ways to get to Positano.
Naples International Airport (NAP) is the closest airport to Positano, a 1 hour and 30 minutes drive or ferry ride from the airport to Positano.
Once you've arrived at Naples International Airport, you can use any of these transportation methods to get you to Positano.
Ferry: The ferry from the Naples Molo Port to Positano is the most convenient way. First, you must get to the port from the airport via Private Airport Transfer. Then take the Positano ferry from there, it takes 1 hour and 45 mins. Seasonally available from April to the end of October. You can also use a ferry to get to Positano if you're in nearby towns.
Private Car Transfer: Another convenient way to get to Positano is to book your private airport transfer. You will have a personal driver at the airport waiting to take you to your hotel in Positano!
Rent a Car: For those looking to adventure the Amalfi coastline, you can rent a car from Naples Airport and drive to Positano yourself.
How to Get to Ravello
The closest Ravello is Naples International Airport (NAP). From the airport to Ravello, it's a 1 hour and 20 minutes drive or ferry ride.
Ferry: The best way to get to Ravello is by ferry from Naples Port. Once you've arrived at Naples Airport, you must go to Naples Port to take the Ravello ferry. The ferry takes you to Amalfi, and it takes 1 hour and 30 minutes to get there. Once there, it's a 20-minute taxi to Ravello.
Private Car Transfer: The most stress-free way to get to Ravello is by taking a private airport transfer from Naples Airport to Ravello. You will have a personal driver waiting at the airport to take you to your hotel in Ravello.
Rent a Car: For those looking to adventure the Amalfi coastline, you can rent a car from Naples Airport and drive to Ravello yourself.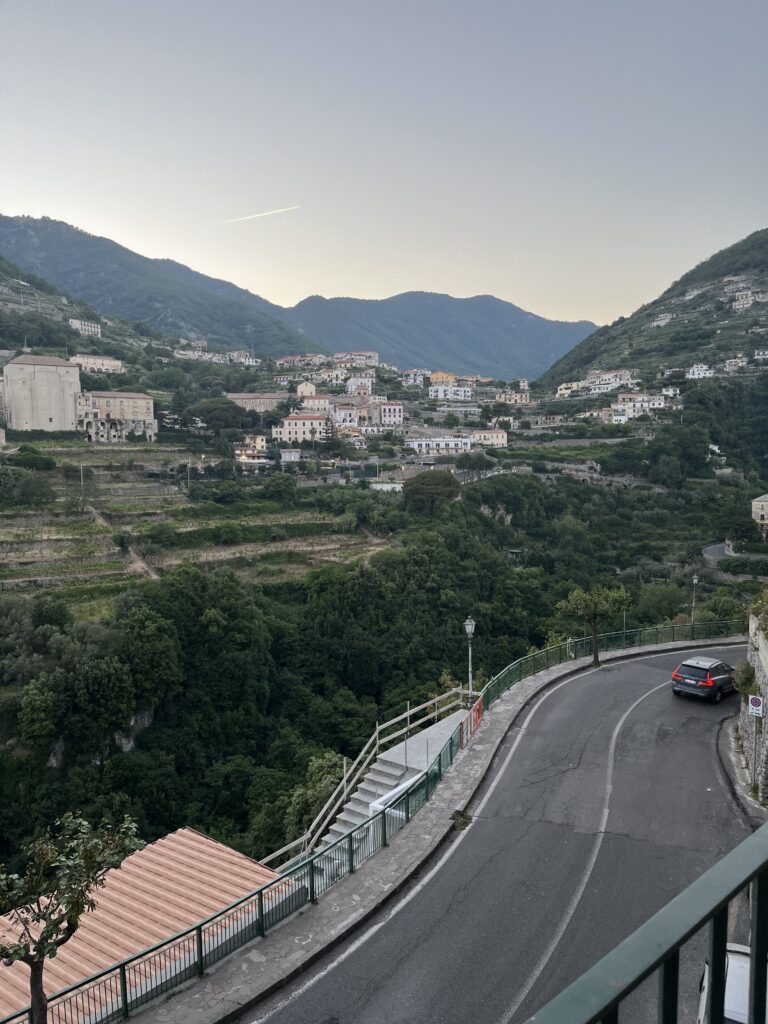 Positano or Ravello – Main Differences
If you're in a hurry, here's a quick comparison of Positano and Ravello, highlighting the main differences between the two coastal villages.
While this table comparison is helpful, I'd recommend you read further to help you decide which town you should stay in!
No matter which you decide coastal town you choose to stay in, I recommend renting a Vespa and driving along the coastline!
| | | |
| --- | --- | --- |
| Things To Consider | Positano | Ravello |
| Main attractions | Great | Good |
| Beaches | Better | Okay |
| Walkability | Great | Okay |
| Views | Good | Great |
| Restaurants | Great | Good |
| Hotels | Great | Great |
| Nightlife | Good | No Nightlife |
| Ferry Access | Great | Okay |
Positano or Ravello: Things To Do
Let's first discuss the main attractions and things to do in each town.
Positano and Ravello are full of things to do, day trips, walks with mesmerizing sea views, charming cafes, historical churches, museums, and more!
Things To Do In Positano
There are plenty of things to do in Positano; here is a list of things you must do when visiting Positano.
When comparing Positano and Ravello, there are more things to do in Positano vs Ravello.
Spend the Day at a Beach Club
These are the top beach clubs to spend the afternoon relaxing under an umbrella with an Aperol spritz and some pasta!
Treville Beach Club – Only accessible by free shuttle boat every hour
Arienzo Beach Club – Shuttle boat from the main pier every 30 minutes, 10AM – 1PM
La Fontelina – Iconic beach club located on the island of Capri
One Fire Beach is located in Praiano, a town next door. There are free shuttle boats from the main pier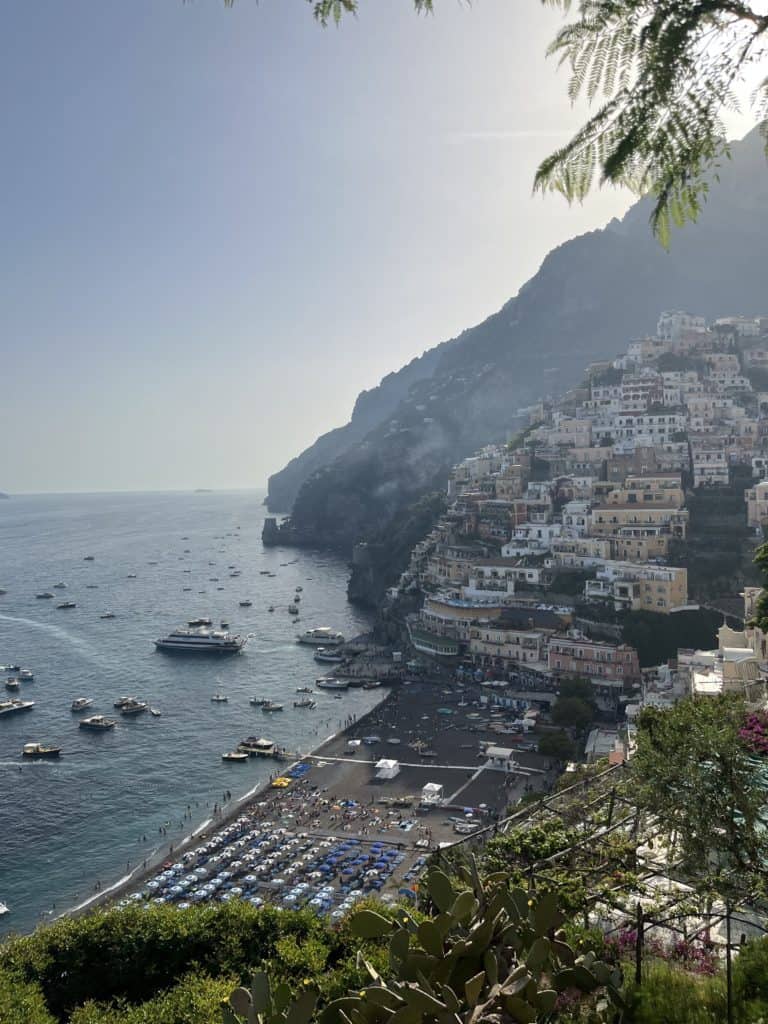 Stay At (or Visit) Hotel Poseidon
Hotel Poseidon is a famous historical hotel property in Positano with exceptional views of the town and coastline.
The boutique hotel is a unique piece of Positano's history and a must-visit during the evening; the terrace at Hotel Poseidon has some of the best views in town!
Boat Excursion to Capri
Capri is an island located West of Positano, visiting Capri and passing by the iconic Faraglioni rocks in the sea is a must-do in Positano.
You can take the ferry there or attend this top-rated private boat excursion!
Sunset at a Lounge Bar/Restaurant
Views of the sunset on the Amalfi Coast, the perfect European Summer evening activity!
Here are a few sunset restaurants/bars with exceptional coastline views in Positano!
Franco's Bar
Li Galli Bistrot
Terrazza Cele
Ristorante Burno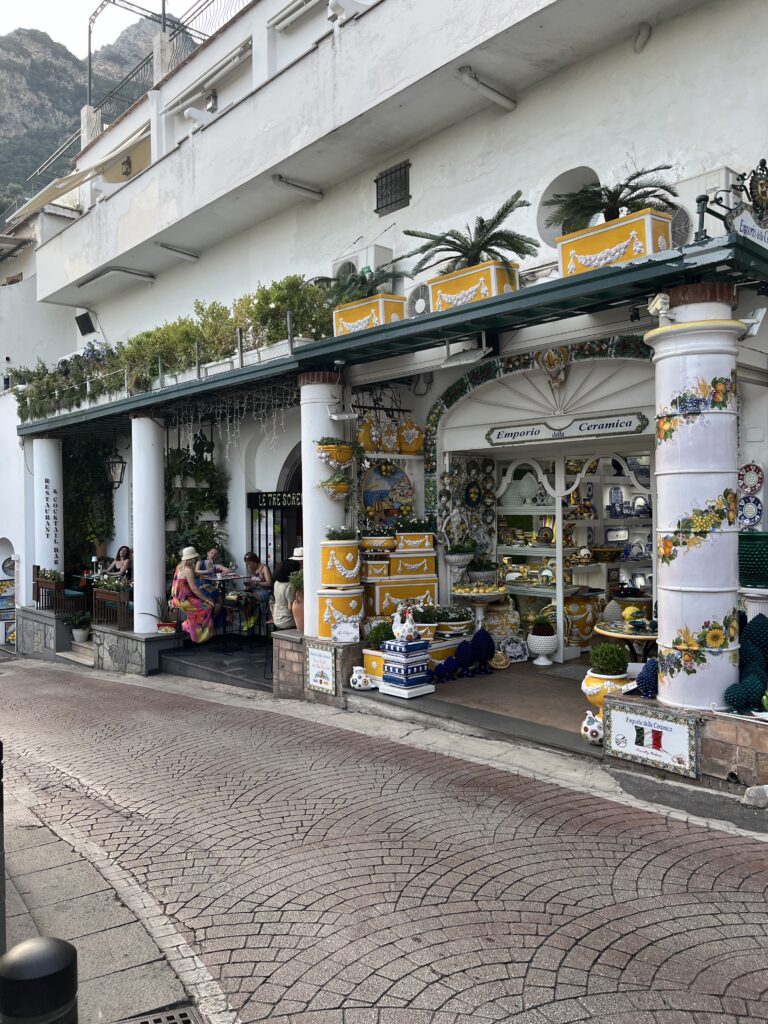 Visit Fornillo
The center of town in Positano is always full of tourists during the busy high season Summer months, one of the main reasons you should visit the more local side of Positano, Fornillo.
Not only is the beach less busy here, but Fornillo has some of the best restaurants in town. I highly recommend Saraceno d'Oro, this local Italian family makes the best pizza in town!
The streets in Fornillo are charming, and because fewer tourists are here throughout the day, it is easier to appreciate the authentic charm of the streets in Positano here.
Things To Do In Ravello
There are many things to do in Ravello as well. Still, the activities in Ravello consist of calmer things, like visiting a museum, looking out from a scenic viewpoint, or experiencing a performance at the local Auditorium.
Ravello has fewer things to do than Positano but offers a less touristy and more private atmosphere.
Villa Rufolo
If you can only do one thing in Ravello, this has got to be it! This villa was built in the 13th century and is one of the most luxurious and largest villas in all of the Amalfi Coast.
Having been occupied by several wealthy owners for many years, today, it's a historical landmark with some of the best coastal views on the Amalfi Coast. The gardens here are colorful and vibrant, and the villa's architecture is remarkable.
You can visit on your own or take join this top-rated walking tour which includes Villa Rufolo and many more places! Villa Rufolo is open daily from 9 AM – 8 PM. The historical villa is most busy during weekends, try to visit during the week!
Walk around Piazza Centrale
The Piazza Centrale is the main square in Ravello. Here you will find plenty of cafes, museums/art galleries, and shops selling clothing, souvenirs, wine, and more!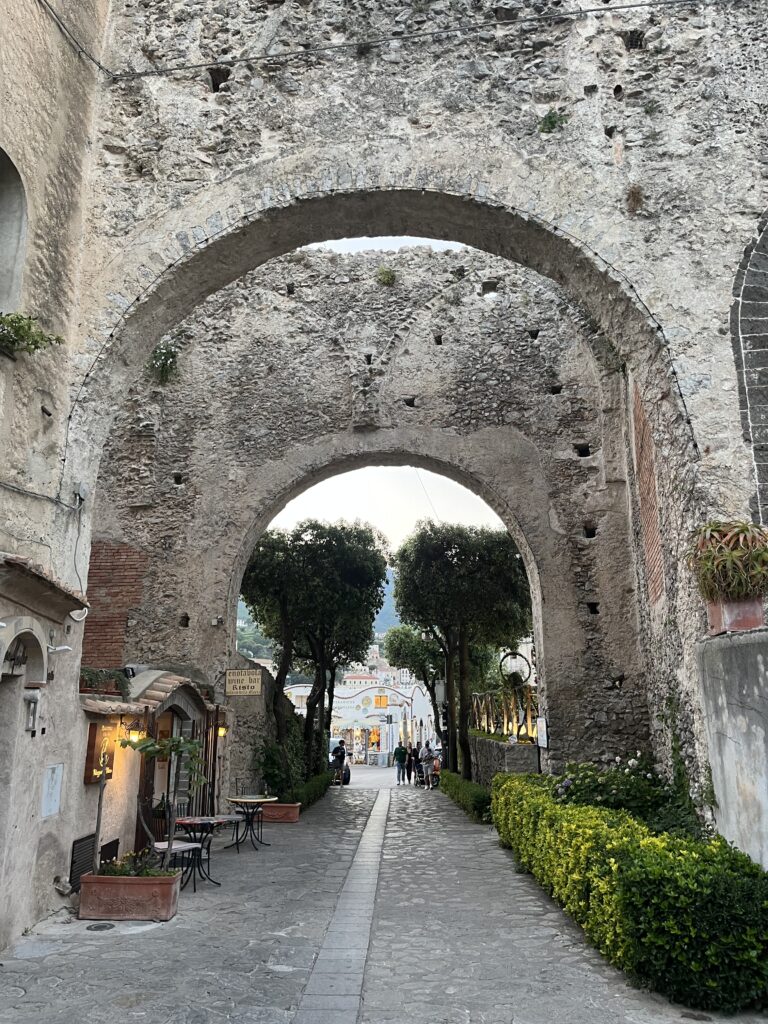 Villa Cimbrone Gardens
Like Villa Rufolo, Villa Cimbonre is another similar villa in town with an exceptional garden and building dating back to the 11th century. Villa Cimbrone is also a luxury 5 Star Hotel you can stay at, and many weddings occur here.
On the top of the villa is Infinity Terrace, a stunning terrace with beautiful marble sculptures and amazing panoramic views of the Tyrrhenian Sea.
You can visit Villa Cimbrone Gardens on your own or attend this top-rated walking tour, which includes Villa Cimbrone and many other places!
Museo della Carta
This is the oldest active paper-making mill in Europe. As you tour the space, you will see the old machinery and tools used to make paper.
An English/Italian-speaking guide will guide you through the museum, telling historical stories about the space and demonstrating the old process. There's a gift shop selling a variety of goods to purchase. The Museo della Carta is worth a visit!
By the way, this is a perfect activity in town if it's raining!
Visit the Old Churches in Ravello
No matter which town or city you visit in Italy, the old catholic churches with beautiful architecture, stunning marble sculptures, and decorated glass windows are somewhere you must see.
In Ravello, there are three churches you should visit:
Church of Saint John
Church of Saint Mary
Chiesa S.Francesco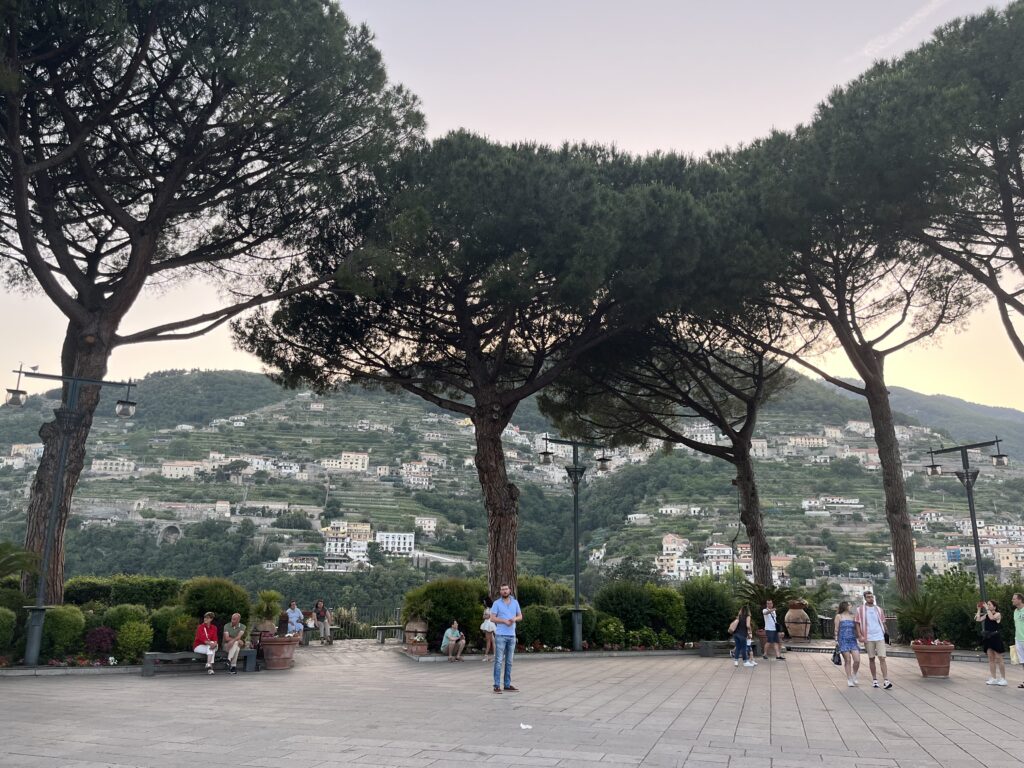 Positano or Ravello: Beaches
Visiting a coastal town in Italy, the beaches may be a deciding factor for those who love to spend the day seaside.
Positano has better beaches than Ravello. There are two main beaches in Positano, the main town's beach Positano Spiaggia, and the neighboring Fornillo Beach. Arienzo Beach is another, but it is a private beach for the beach club there.
Ravello doesn't have any beaches belonging to the town. The closest beaches to Ravello are part of other small towns located next to Ravello.
But they are close, and the following beaches are around 20 minutes away from Ravello. Il Duoglio Spiaggia, Lido di Ravello Beach Club, and Minori Beach. To get to these beaches, use the local bus or, if you've rented a Vespa/scooter, it's most convenient!
Positano or Ravello: Hotels and Rentals
Positano and Ravello have many accommodations, from hotels to villa rentals to boutique hotels. But the few distinct differences between the hotels in each town are this:
Positano has way more hotels than Ravello and even has villas but fewer than Ravello. Positano can cater to all crowds because of its wide variety of hotels, unlike Ravello. Because of this, Positano is more touristy than Ravello.
Ravello offers more villa accommodations than any other type of accommodation. Ravello does have a few limited cheap hotels, but for the most part, the town primarily caters to those looking for villas with exceptional sea views.
Because Ravello is smaller than Positano and offers more villa stays, staying in Ravello vs Positano, your visit will be more private, quiet, and intimate.
It's important to note that hotels get booked up fast in Positano and Ravello during the high-season Summer months, from June to the end of August. You must book hotel reservations as early as possible if you plan to visit either place during the high season!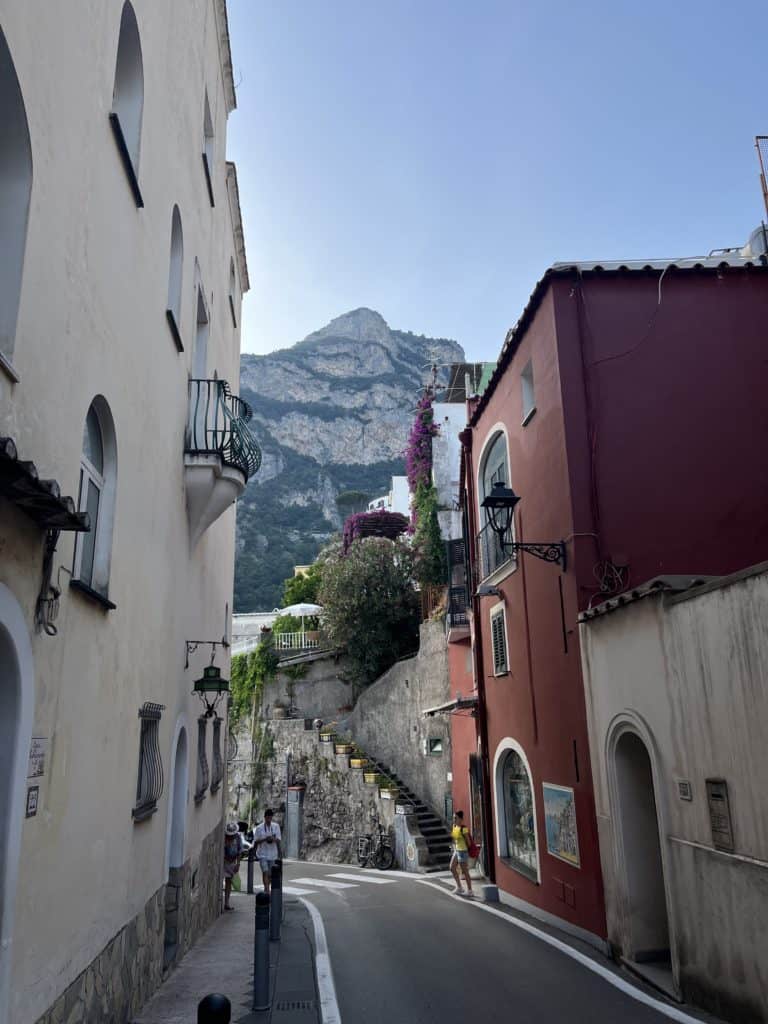 Where to Stay in Positano
As mentioned earlier, Positano has all types of accommodations, and I will share with you the best hotels in Positano, from luxurious to lesser than.
Le Sirenuse: Luxurious 5 Star boutique famous for its fine-dining restaurant, classic decor, and fantastic sea views.
Hotel Poseidon: Iconic 4 Star boutique hotel located in the town center with an exceptional terrace restaurant/bar.
La Casa Di Peppe: Luxurious, spacious, and private all-white villas with exceptional sea views. Only 14 villas are perfect for those looking for more privacy at a hotel.
Hotel La Bougainville Positano: Located in the Nothern part of town, Hotel Bougainvilla is a beautifully decorated 3 Star Hotel offering spacious rooms with sea views.
Where to Stay in Ravello
With Ravello being a smaller town, there are fewer hotel options here. In this list of hotels, I've included the two most luxurious hotels in Ravello, one mid-tier and a budget-friendly option.
Caruso A Belmond Hotel: A 5 Star oasis located on the high hills of Ravello, this boutique high-end hotel has everything one thinks of when considering a luxurious Amalfi coast trip.
Hotel Villa Cimbrone: This 5 Star hotel is known for its exceptional views and colorful garden attraction, as mentioned earlier in this article.
Giardino deli Limoni: Mid-tier hotel with everything you need and 5 minute drive from the town center.
Le Perle D'Italia: Located in the Nothern part of town, this affordable hotel is only minutes away from the town center and has beautiful landscape views.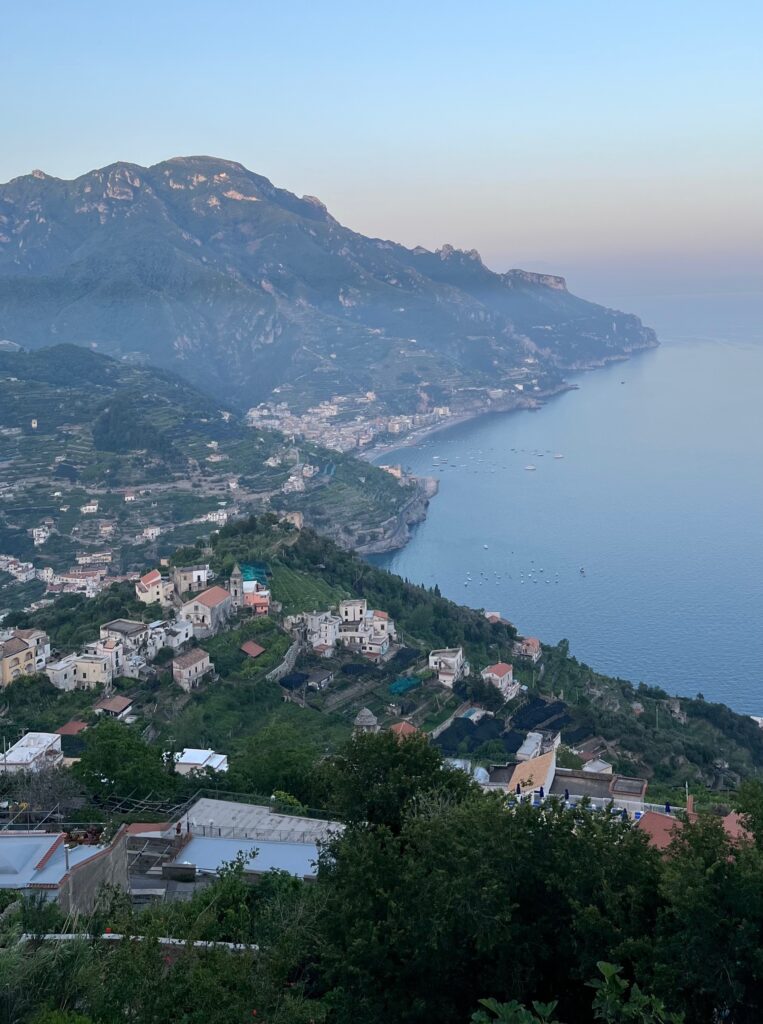 Positano or Ravello: Restaurants
Both Positano and Ravello have exceptional restaurants to try. Positano is a clear winner regarding restaurants because of the town's larger size compared to Ravello.
I've been to a few of these restaurants, and the rest were recommended by friends who visit the Amalfi coast every Summer.
Here is a short list of the best restaurants for you to try in each coastal town!
Best Positano Restaurants
A mix of local cuisine and Mediterranean flare, I've added one cafe you must visit for breakfast or lunch!
II Ritrovo: Local restaurant with a diverse menu and beautiful hillside/sea views
La Sponda: Fine dining restaurant famous for its exceptional views and unique menu
Saraceno d'Oro: Family-owned restaurant famous for its pizzas and pasta dishes
Mediterraneo: Italian restaurant showcasing many Mediterranean flavors
Casa e Bottega: Small cafe known for its many breakfast/lunch dishes and cocktails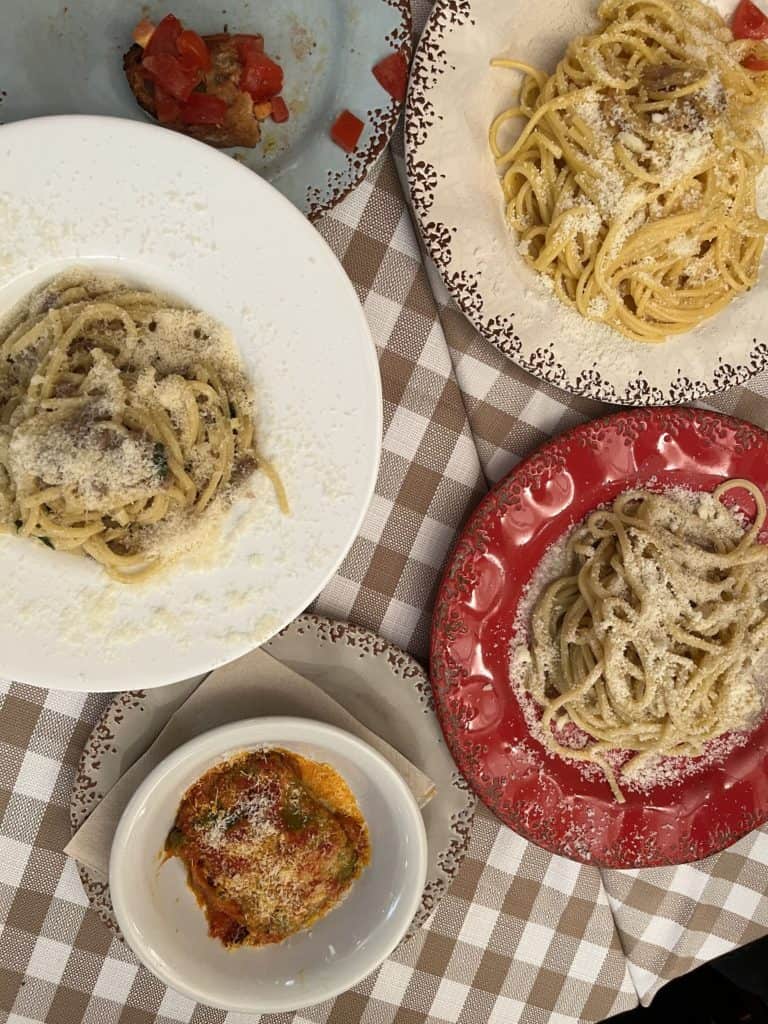 Best Ravello Restaurants
Exceptional views, a bakery, the best pizza takeaway, and more are all found in this list of the best restaurants in Ravello.
Al Ristoro del Moro: Famous for its exceptional views, Al Ristoro is most known for its risotto and grilled prawns
Salvatore Ravello: Restaurant and bakery known for the best bread in town and a wide variety of desserts
Osteria Ravello: Italian restaurant with beautiful hill views, most known for its lobster pasta and prosciutto
Pizzeria Take Away Gradillo: Small takeaway restaurant known for its pizza, salads, and other prepared dishes
Babel Wine Bistro: Charming wine bar serving a variety of wine, pasta, and small Italian classics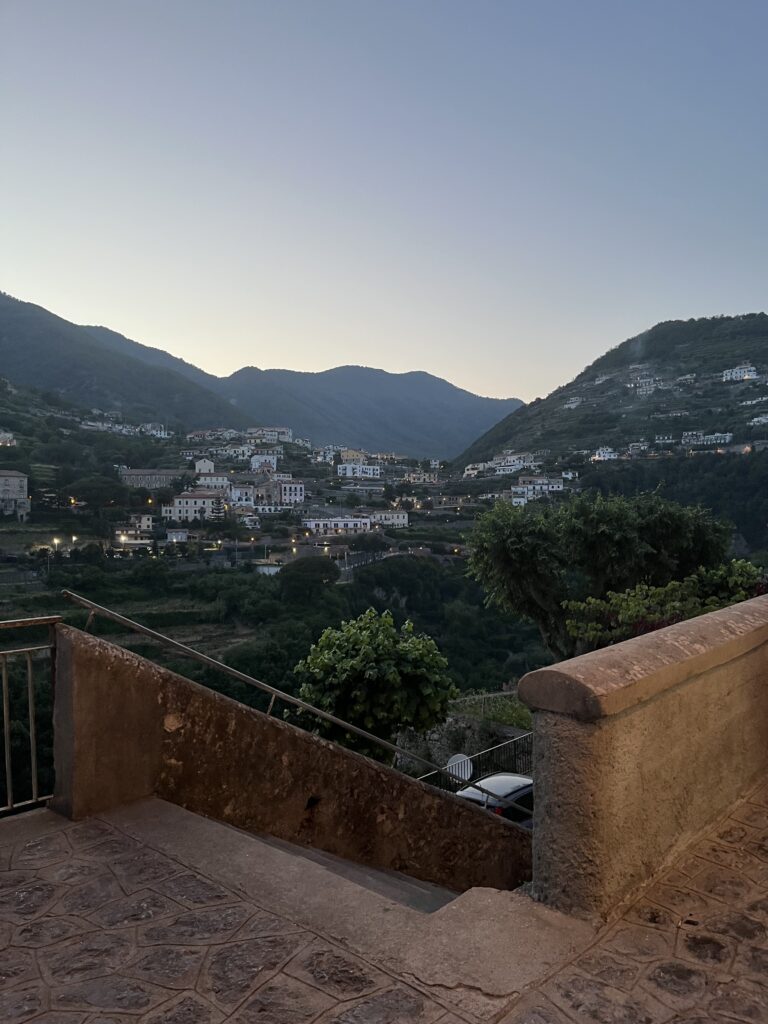 Positano or Ravello: Nightlife
Both Positano and Ravello aren't towns that cater to nightlife much. Towns on the Amalfi Coast are most known for being laidback and relaxing seaside towns with mesmerizing views of the Tyrrhenian Sea.
Positano has a bit of nightlife; the only nightclub in town is Music On The Rocks, a beautiful nightclub along the end of the beach. Besides that, there are several lounges serving drinks like Ocean Bar and Positano Paradise.
Ravello doesn't have a nightlife; besides going for a late evening dinner here or walking around the town square to get some shopping done, or attending a show at the auditorium. There's no nightclub here, and bars are limited.
Best Time to Visit the Amalfi Coast
June through August is the best time to visit the Ravello or Positano and the rest of the Amalfi Coast. The Summer months are when the weather is ideal for the beach, with mild to warm evenings. Temperatures are around 24 to 34 Celsius daily during Summer.
The months of May and September are the shoulder season months on the Amalfi Coast. Both months still offer warm weather, and accommodation prices are significantly lower because it's not peak season; peak season is June through August.
November through April are the offseason months on the Amalfi Coast, and some businesses have different hours, and a few ferries don't operate during this time of year. Lastly, temperatures aren't favorable for the beach when it's off-season.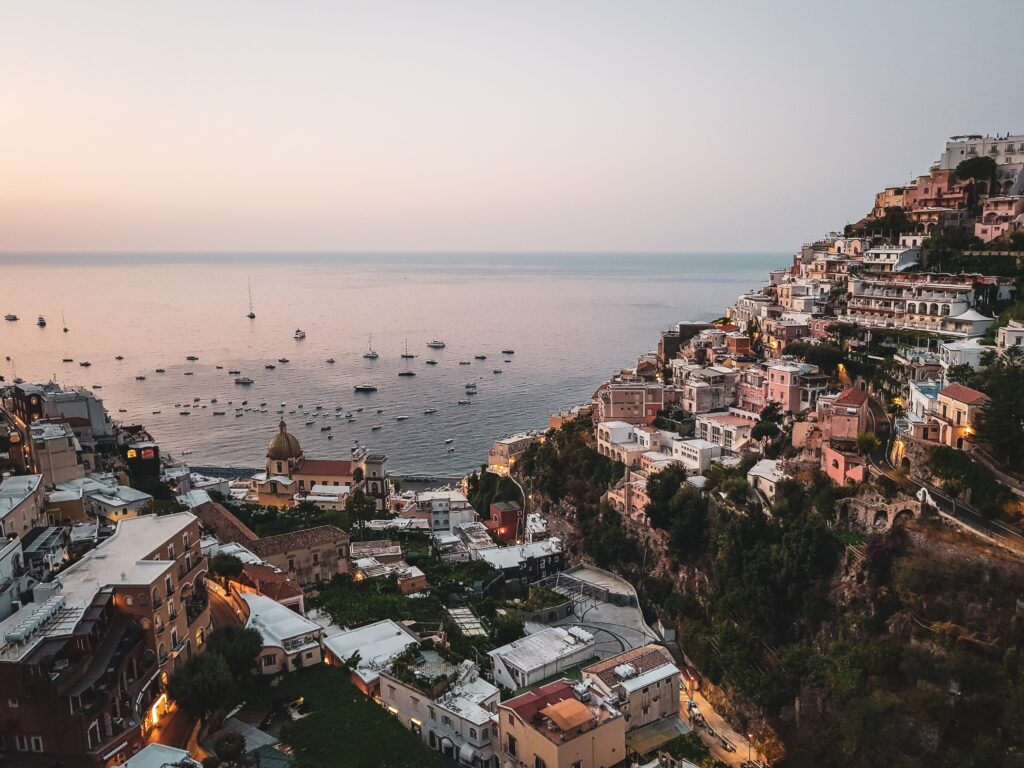 Is Positano Safe for Tourists?
Yes, Positano is generally a safe place to visit. Even at night, walking around is no problem.
It is recommended, no matter where you travel, to keep cautious of your surroundings.
But the only real crime that happens around Positano is pickpocketing from time to time, so watch your bags and pockets when in large crowds.
Is Ravello Safe for Tourists?
Ravello is a small tiny village with fewer tourists visiting it than Positano. Ravello is a very safe place, far from the bustle of Positano.
Walking around the town square at night is just fine, and pickpocketing here isn't as much of a problem.
I'd only advise you to watch your pockets if you're taking the public transportation bus, as it can get crowded.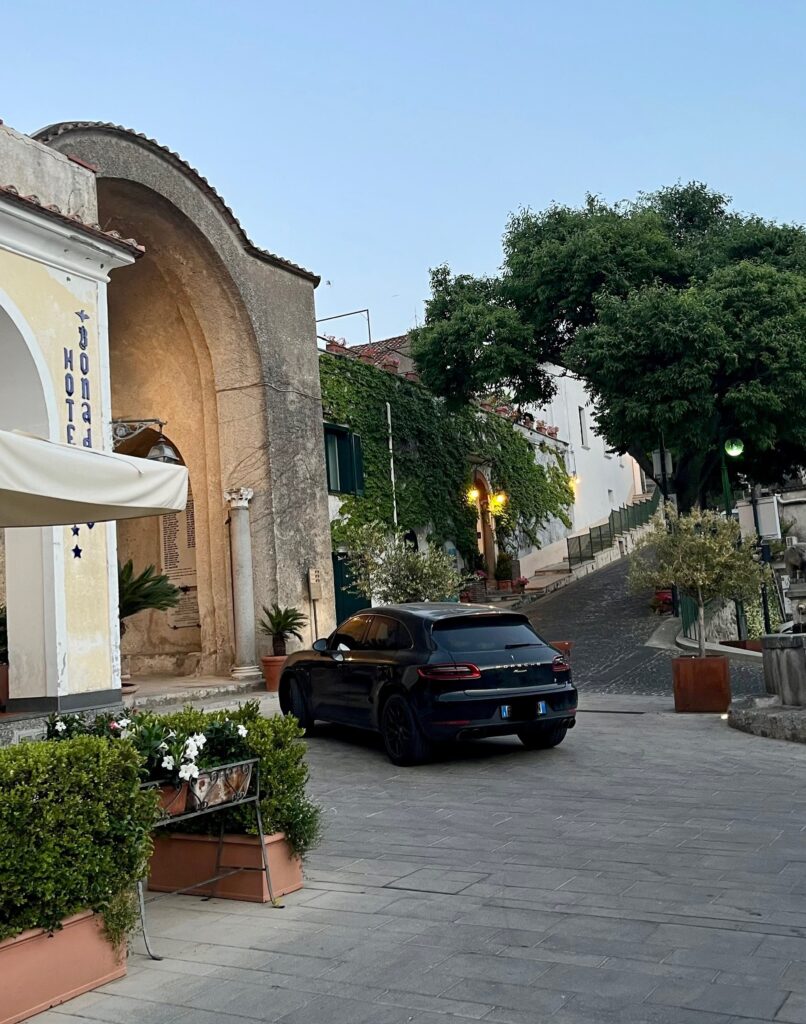 Can you do Positano and Ravello in One Day?
There are many opinions on whether you can do Positano or Ravello in one day, see the place, visit a restaurant or two, one or two attractions and leave. After visiting, here's what I think.
For Positano, if you can, I'd recommend visiting for at least 2 days. If you visit for 2 days, you have enough time to see the attractions, admire the city, check out Fornilla, and even do an excursion to Capri.
Ravello, on the other hand, is far smaller than Positano. You can visit Ravello in one day. There are far fewer attractions here, and the town caters more for those looking to really relax.
Which is Better Positano or Ravello?
It depends on what type of vacation you're looking to have when visiting either of the Italian coastal towns.
Most will lean toward Positano because it's the most famous town on the Amalfi Coast.
But as I said, consider the vacation you're looking to have. By the way, you could always visit either town; they're just over 1 hour away from one another.
Positano is better for you if you're looking for a more lively town with beach clubs, a bit of nightlife, and a wider variety of things to do and many restaurants to try.
Ravello is better for you if you're visiting for your honeymoon or with your loved one and you both are looking for a calmer, more peaceful, and laid-back town with far fewer tourists.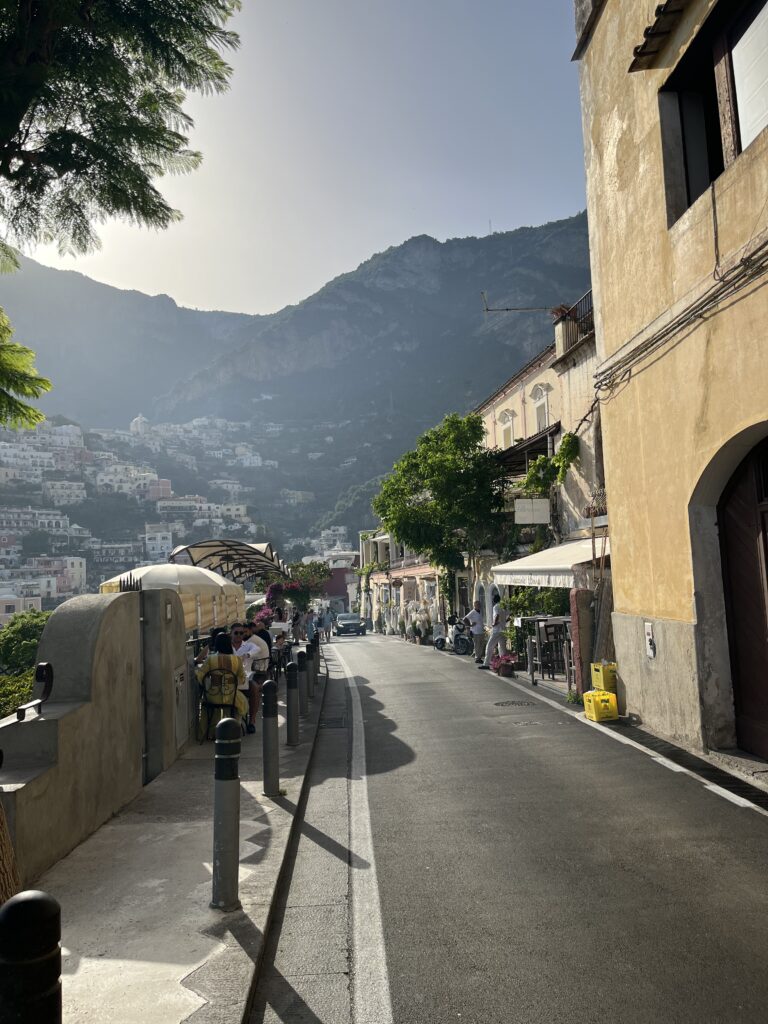 Is Ravello closer to Positano or Amalfi?
Ravello is much closer to Amalfi than Positano. From Ravello to Amalfi, it's only around a 20-minute drive. But from Ravello to Positano, it's a 1 hour and 15-minute drive.
Is it worth going to Ravello?
Ravello is most definitely worth visiting. The tiny coastal town offers some of the best views of the Tyrrhenian Sea due to its high-up location in the hills. It's a relaxing and private town to visit, full of beautiful gardens to explore and small cafes.
What is Ravello Italy famous for?
Since 1996 Ravello has been considered a World Heritage Site by UNESCO. The small town has beautiful gardens with mesmerizing views, stunning churches, and museums and is ideal for relaxing on vacation.
What is Positano Italy famous for?
Positano is famous for its pastel-colored villas sitting on its cliffs with beautiful views of the Tyrrhenian Sea and its many beach clubs and restaurants.
It's also the most famous town in the Amalfi Coast region. Because of this, the town sees the most tourists visiting it every year compared to all the towns on the Amalfi Coast.
Subscribe to Travel Hiatus!
Receive updates on my latest posts, insider travel tips & the best destination guides to your inbox!
Happy & Safe Travels
---
Planning Checklist
---
Disclaimer: Please note that some of the links shared in this article might be affiliate links; this means that at absolutely no extra cost to you, we will earn a small commission for any sales generated through this article and/or this website. We recommend products/services we've either used or researched thoroughly – Thank you for supporting us so we can continue to share helpful travel content!