Is Bangkok Safe at Night? 9 Tips to Know
Bangkok is one of those few large metropolitan cities that never sleeps. No matter the time of day, and as night comes in, Bangkok becomes even more lively with many things to do! But is Bangkok safe at night?
The short answer is yes; overall, Bangkok is safe at night and during the day. But being one of the most densely populated cities at 11 million in the world, you must consider some safety tips at night in Bangkok when visiting!
While Bangkok is safe for the most part at night, understand that you're visiting a large city, and like in any large city in the world, especially at night, you must be more alert to your surroundings.
RELATED: 11 Cheapest Places in Thailand
Watch Your Step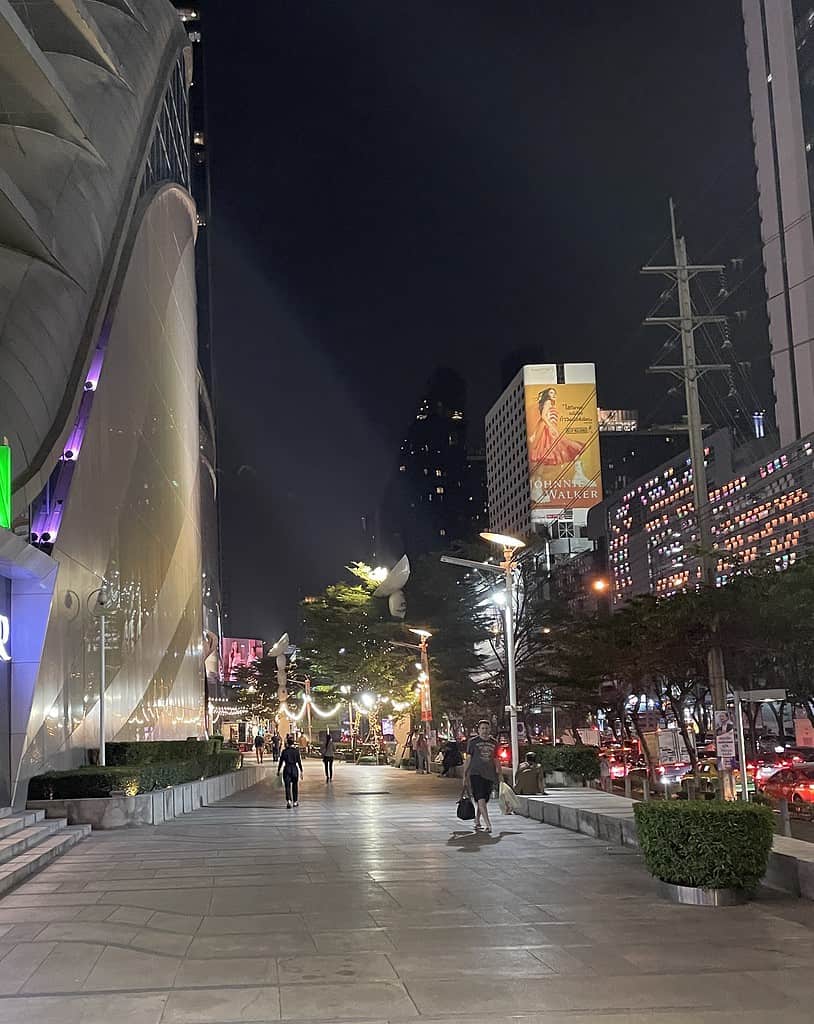 Regarding whether Bangkok is safe at night, this has to be the most dangerous aspect when visiting Bangkok at night: some sidewalks. (I know the picture above isn't the best example, but trust me.)
There are many cracks, holes, and damage in some streets throughout the city, sometimes unnoticeable, so you must watch your step as much as possible when walking around at night in Bangkok. One could easily roll their ankles, break their foot, or trip.
In the daytime, it's much easier to see different holes and cracks in the street, so it's not as dangerous then, but you must still keep an eye out for it and not let your phone distract you.
The best way to avoid this is to stick to the main, more popular areas in Bangkok at night, where it's rare to run into any street damage, and the streets are well-lit at night, like in the photo above.
So, watch your step when walking around Bangkok in the night, as well as in the day. It's essential to.
Pickpocketing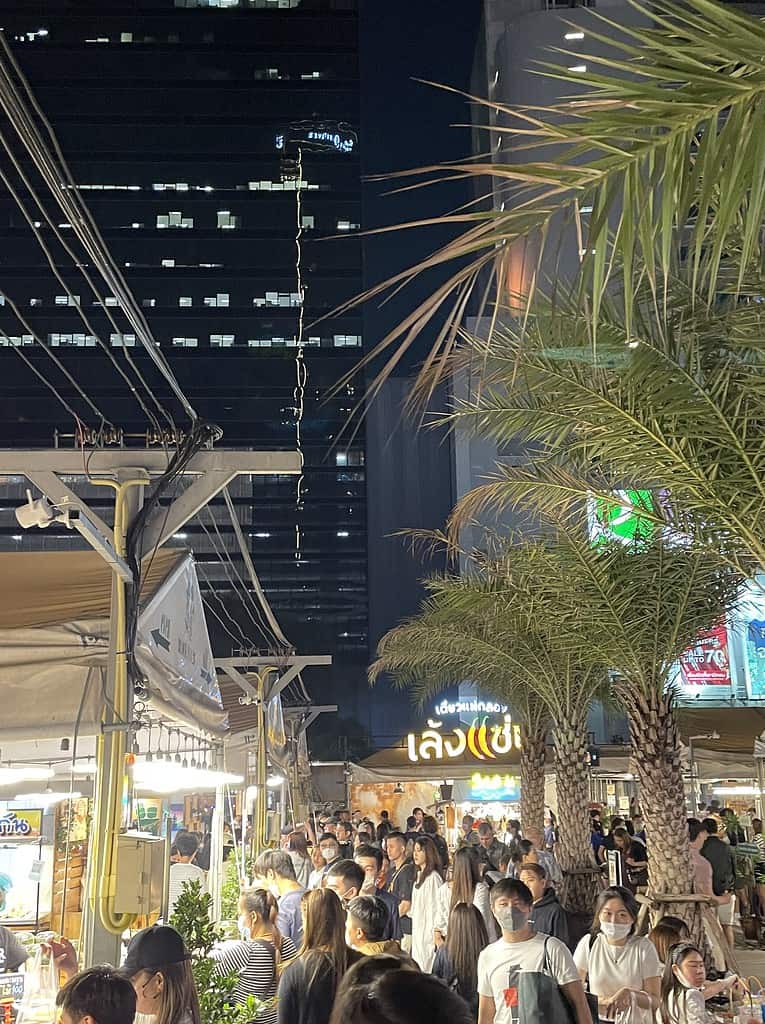 Watch for pickpocketing in Bangkok at all times, especially at night. But there is no need to continuously be on high alert, only in specific spots in the city when pickpocketing is prevalent.
Whenever you're walking in busy tourist areas or night markets, pickpocketers are out and ready to make off with your wallet, phone, and whatever you may have on you.
Pickpocketing is more prevalent in touristy areas because of the dense crowds. It makes it easier for pickpocketers to get close to you without looking suspicious. Sometimes, they operate in teams of 2 or 3 with coordinated plans.
Khao San Road, Chinatown, Nana Plaza, and night markets are the most popular places in the city for pickpocketers.
The Jodd Fairs night market we visited even had signs warning visitors of pickpocketers.
Don't leave items in your back pocket, and if you hold a bag, don't leave things in an area in the bag easily accessible.
Front pockets: if you wear shorts/pants with looser pockets, you could be pickpocketed without feeling it. Consider this, or bring a bag and put your things deep inside.
Another thing to watch out for but less common is scooter bag snatchers. They spot tourists holding a purse near the side of the road, riding in on a scooter, and the back passenger quickly snatches your bag.
Bangkok Areas
Bangkok is a big city with so many different large areas, each with its look and atmosphere. Depending on the area you visit at night, be more alert to your surroundings.
With many areas, Bangkok is one of those places in the world where, within minutes, you can be surrounded by large luxury highrise buildings and then find yourself in a more questionable area.
All the areas mentioned below can be visited. Again, just be on higher alert, especially if you're a solo female traveler walking around alone.
Nana Plaza
Soi Cowboy
Khao San Road
Patpong
Trust your gut; if things don't seem right, make your way out of the area.
10:00 PM City Rule
The 10:00 PM rule is used in all large metropolitan cities worldwide. After 10:00 PM, anyone, especially tourists less familiar with their surroundings, should be more considering where they're going and walking.
If you're a solo female traveler or not as street smart, go out but stick to the main touristy areas by the malls and night markets.
This rule doesn't mean you shouldn't go out past 10 p.m. It means to be more alert of your surroundings and more considerate of where you're going. Bangkok is safer than most Western/European cities during the night.
At night, take a Grab when looking to get back to your hotel rather than walking longer distances. Grab is a ride-sharing operation just like Uber in Asia and is one of the best and most convenient ways to get around Bangkok.
Avoid Soi Dogs (street Dogs)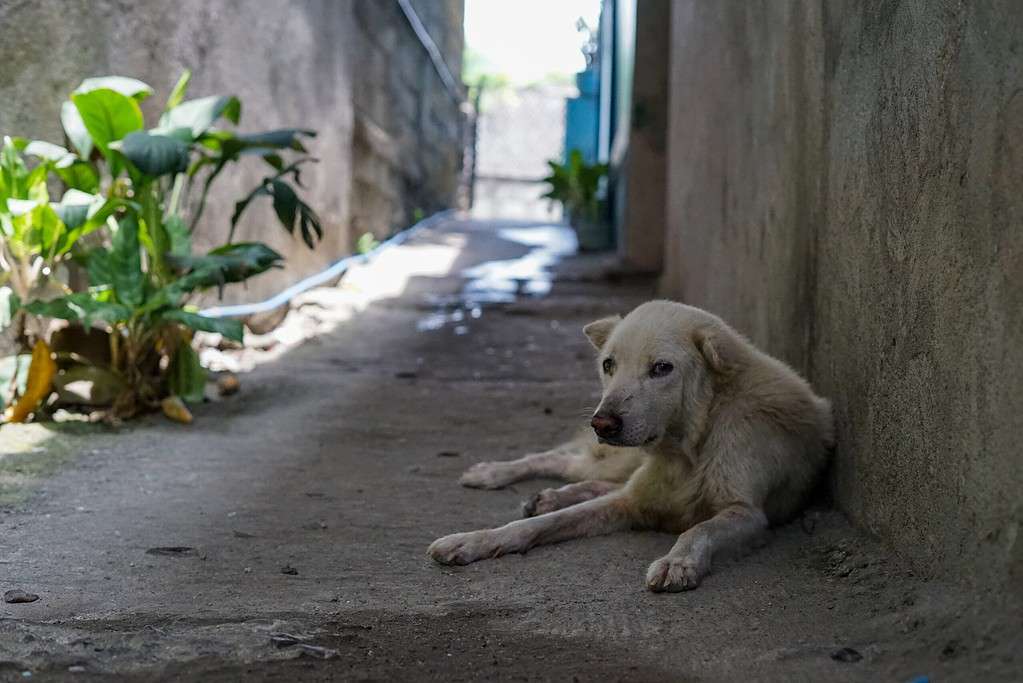 Known in Thai as "Soi dogs," which translates into street dogs or stray dogs in English.
Many visiting from the West side of the world or Europe will be tempted to pet these dogs, but it's strongly advised not to. Some have rabies and can get quite vicious. They're street dogs, after all.
At night time, they usually look for food, more than in the day. While attacks are rare in Bangkok with street dogs, they have happened, and when they have, it's usually at night in lesser-known areas.
Depending on which area in Bangkok you stay and where you visit, you may not even run into any soi dogs.
But if you find yourself venturing to various areas in the city, which I suggest, be alert for the soi dogs at night. A bite from any dog means you'll have to go to the hospital for a few rabies shots.
Don't Flaunt Wealth
This tip can be applied to most cities you choose to visit in the world, unless it may be Monte Carlo.
Please don't walk around wearing too much jewelry, don't take folds of money out of your pocket, and make it obvious to many that you're holding a large amount of cash with you.
There's no reason to flaunt wealth, especially not at night in Bangkok. In street terms, at this point, "you're asking for it," meaning you're asking others to rob you because you're making it well known that you're worth stealing from.
Despite the large population, violence and robberies aren't common in Bangkok, and the city is very safe. But again, if you're flaunting your wealth, it may tempt others to make an exception this time and steal from you.
Avoid the Alleyways at Night
This should be common sense, especially to anyone familiar with visiting large metropolitan cities worldwide.
If you're visiting and walking around with a local or expat who knows Bangkok well and its areas, there are many alleyways you can walk through at night.
But visiting as a tourist, you aren't familiar with the areas in Bangkok, and you don't know which alleyways in which neighborhoods are okay, so avoid alleyways at night in Bangkok as a tourist.
While it's not common in Bangkok, there is a chance you could be cornered or robbed when walking through alleyways at night.
In the daytime, alleyways in many of Bangkok's areas are just fine. In fact, many of them have excellent, affordable street food, and it's neat to walk around to see how locals are living.
By locals, I'm not referring to those living in the modern-built skyscrapers among Bangkok's skyline.
Careful Random Locals Befriending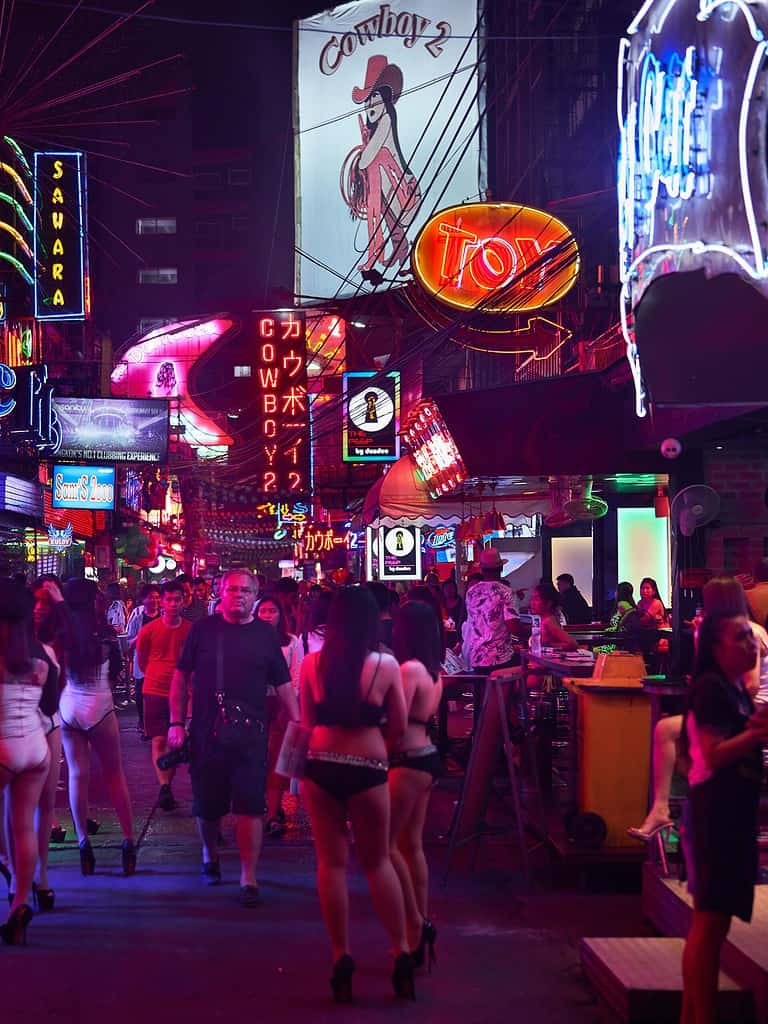 So you're visiting one of the popular areas frequented by many tourists/locals at night in Bangkok, such as Nana Plaza, Khao San Road, or Soicowboy.
Visiting a bar alone or with a friend, you're approached by a local who starts chatting with you, asking where you're from, getting to know you, and begins befriending you.
At times, it can be a genuine interaction, but that's usually different in these popular nightlife areas. This person is befriending you to bill scam or take advantage of you.
Sometimes, they work for the bar you're at and will persuade you to order more drinks, run up your tab, and have the worker there charge you far more than what you had. Or they could persuade you to visit a bar where they do this. There are several tactics they use.
Needless to say, Thai people are very friendly and hospitable in general. But when it comes to nightlife areas like these, they naturally tend to attract less friendly locals!
Don't Get Too Drunk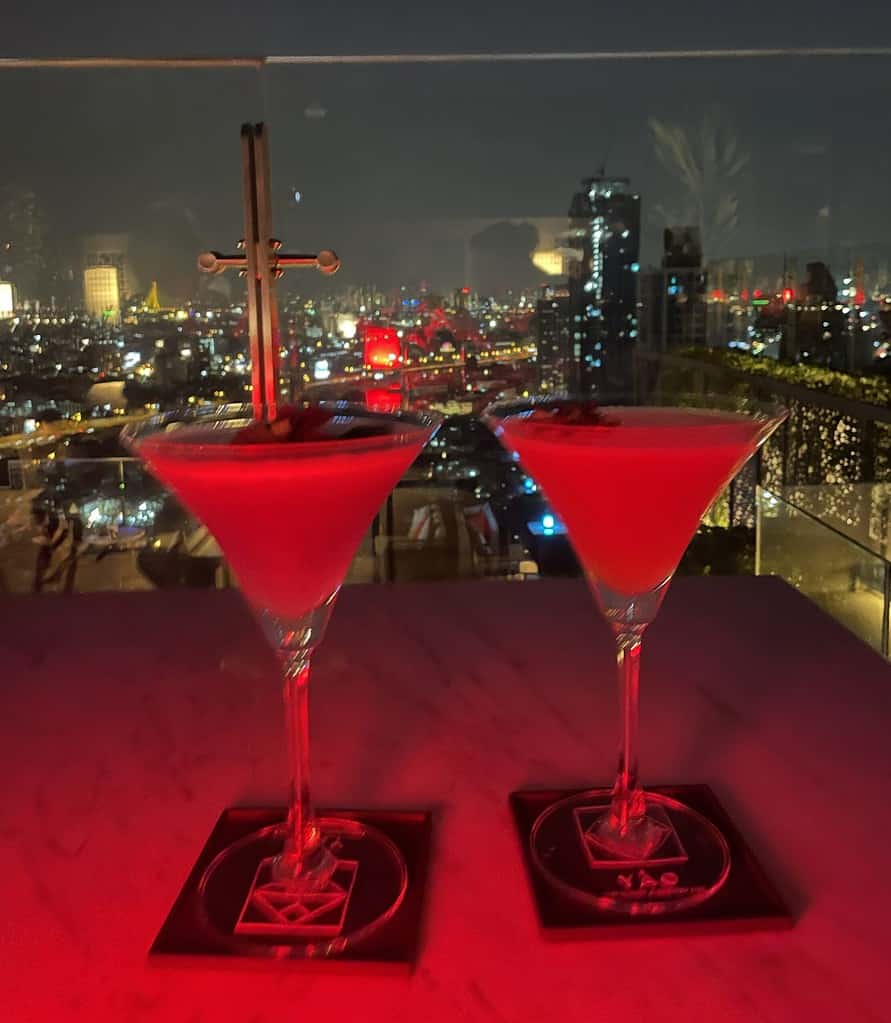 Bangkok is a fun place to go out at night and party, and parts throughout the city are well-known to cater to tourists visiting to have a good time into the early hours of the morning.
Going out for a few parties or rooftop bars is a must in Bangkok; your trip here wouldn't be complete otherwise.
But don't get too drunk; by doing so, you're making yourself a target to be robbed, misled, or drink spiked—countless stories of overly drunk tourists in Bangkok landing themselves into unfortunate scenarios are familiar.
Be mindful of your alcohol consumption, don't drink too much, and make sure those you're with do the same.
TIP: Watch your drink; drug spikes happen in Bangkok. Don't accept drinks from strangers, and keep a watchful eye on your own drink.
Getting Around Bangkok at Night
There are several ways to get around Bangkok at night. But remember that the popular MRT and BTS trains stop operating at midnight.
Both are the best ways to get around Bangkok during the day, but you can't use either if you plan to be out past midnight!
Grab/Bolt: Both are popular ride-sharing apps in Asia. Download both, similar to UBER, request a ride, find your driver, and be on your way – Grab tends to have more drivers, but Bolt is cheaper
Taxi: There are taxis everywhere in Bangkok; speak to a driver and figure out a fair price for where you're going
Tuk-Tuk: The fastest way to get around Bangkok is by tuk-tuk; again, speak to the driver to figure out a fair place for your destination
Must Know TIP: The best way to be sure you're paying a FAIR Price for a taxi/tuk-tuk is by using the Grab App, look up your ride cost, and negotiate with a taxi/tuk-tuk driver based on the Grab trip cost!
It's okay if you pay slightly more than the Grab app; the convenience of time at night is usually worth paying a small amount.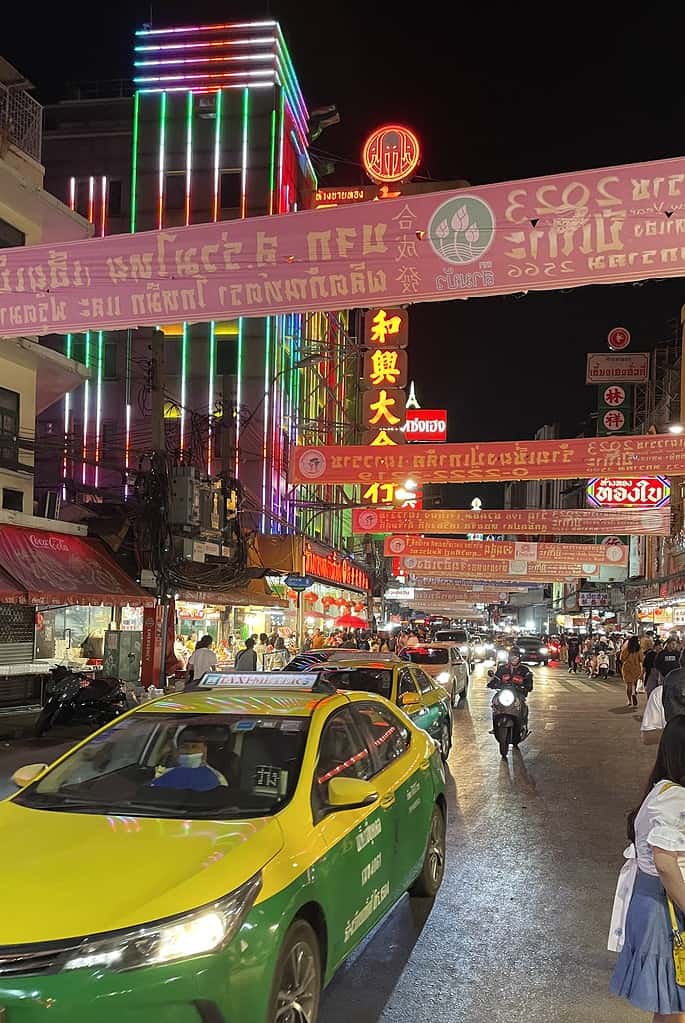 Is Bangkok Safe at Night? — Final Thoughts
So, is Bangkok safe at night? Bangkok is a very safe city compared to most large metropolitan cities with a large population.
NYC, Milan, London, and Toronto are popular cities, less safe than Bangkok. Bangkok is statistically safer than these famous cities and many other European/Western cities.
Consider the following tips I've shared with you: be more alert; as you would in any large city, you're not visiting a quiet, laid-back beach town.
I've been to Bangkok a few times and never ran into trouble or felt unsafe walking around at night.
Make sure you watch for these popular scams in Thailand, as they happen all over the country!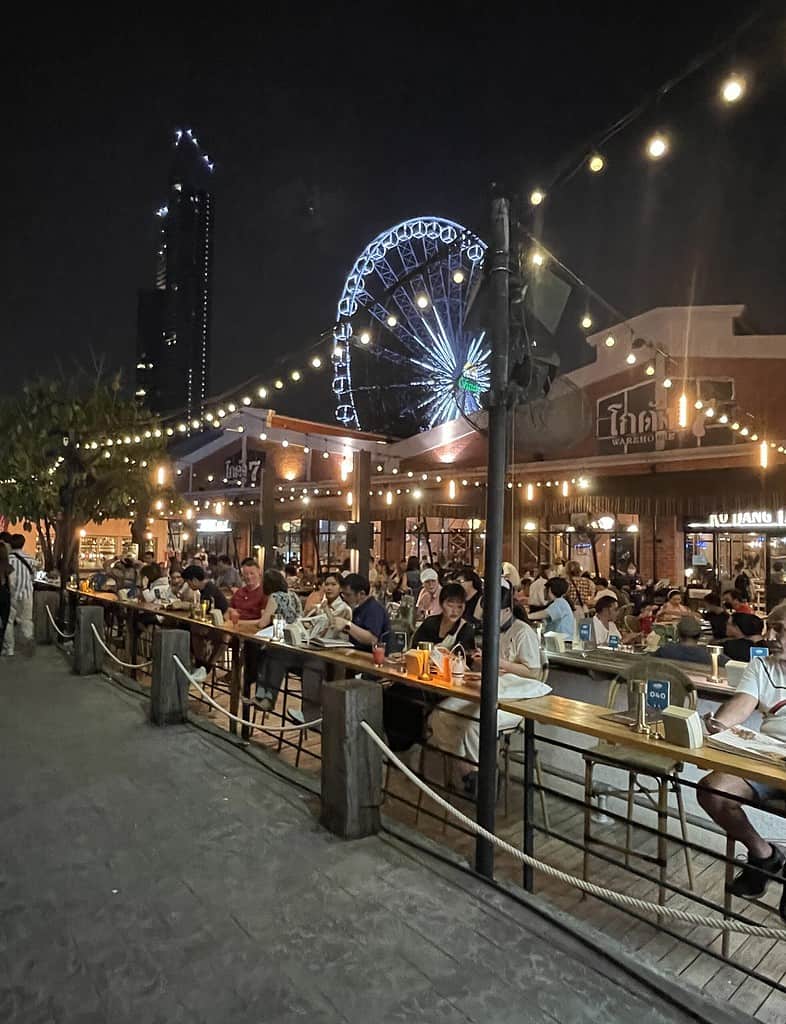 Is Bangkok safe for female tourists?
Yes, it is; Bangkok is safe for anyone to visit. As a solo female traveler, you may want to take a few extra precautions, one being sticking to touristy areas after 10:00 PM. Otherwise, Bangkok is a very safe city!
Is it safe to take a taxi at night in Bangkok?
There are taxis everywhere in Bangkok at night, and they're perfectly safe to take. Make sure you know the price you're paying first.
Is Bangkok safe to walk around alone?
Bangkok is safe to walk around alone at any hour of the day. Of course, some areas are much safer than others, and some precautions should be taken when visiting red-light district areas.
Is it safe to walk around Bangkok at Night?
Walking in Bangkok at night is safe, but in some areas, you should exercise extra precaution in your surroundings, such as the red-light district nightlife areas.
Subscribe to Travel Hiatus!
Receive updates on my latest posts, insider travel tips & the best destination guides to your inbox!
Happy & Safe Travels
---
Planning Checklist
---
Disclaimer: Please note that some of the links shared in this article might be affiliate links; this means that at absolutely no extra cost to you, we will earn a small commission for any sales generated through this article and/or this website. We recommend products/services we've either used or researched thoroughly – Thank you for supporting us so we can continue to share helpful travel content!