11 Best Things To Do in Koh Samui at Night
Are you wondering what the best things to do in Koh Samui at night are? You've come to the right place!
This guide will cover all the different things to do in Koh Samui at night and the nightlife there. Nightclubs, quiet evenings by the beach, night markets, and more!
Koh Samui is the second largest island in Thailand and is well-developed; because of this, the island offers many different fun things to do at night that most other islands in Thailand don't.
Sometimes, you'd think you were in a city on the mainland in Koh Samui, not an island.
Most of the activities at night in Koh Samui consist of laidback evenings at a beach bar, drinks at a bar, and more. There are many bars and a few nightclubs, but this type of nightlife differs from what Koh Samui is most known for.
Stroll the Fisherman's Village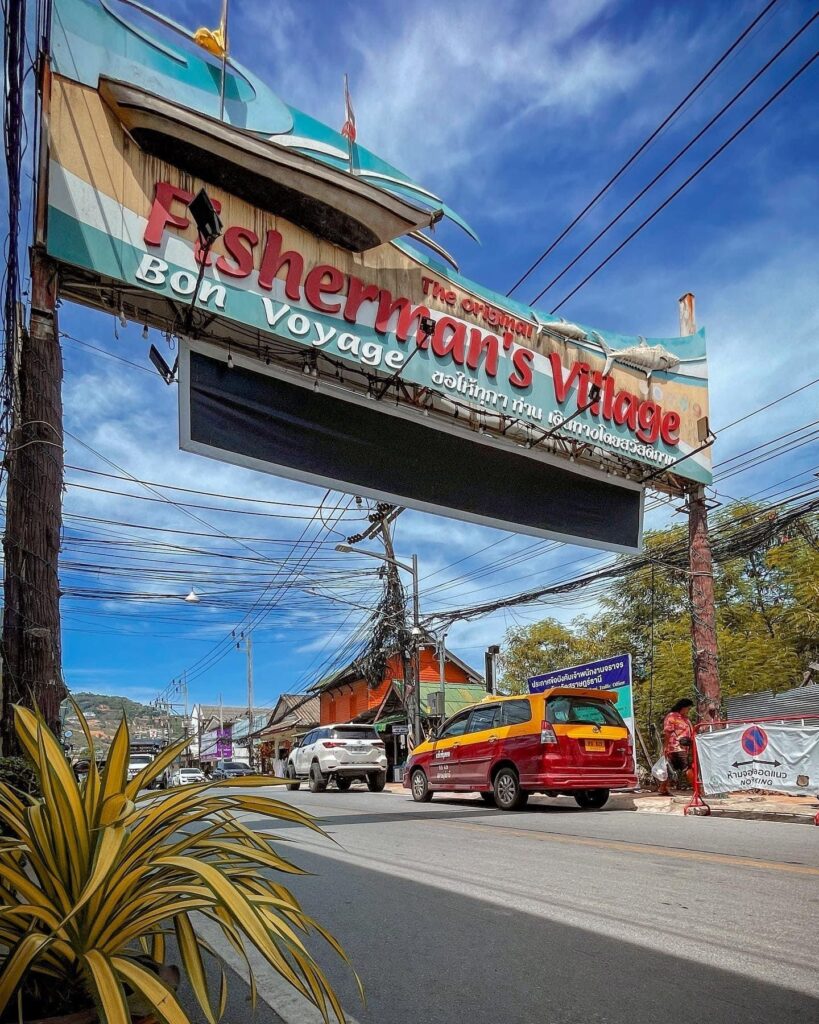 The Fisherman's Village is a popular area in Koh Samui full of boutique shops, fine-dining restaurants, beach clubs, and resorts along Bo Phut Beach, the area's shoreline.
Overall, the area is well-designed and decorated, and it's a neat place to go for a walk when you don't know what to do, and you'll most certainly find something here.
On some nights, you'll find the lively Fisherman's Village night market to visit!
The Deck Beach Club and Coco Tam's are among the most popular spots along the beach to have a drink/food and relax.
The area has a much calmer atmosphere compared to the popular Chaweng Beach area, so come here if you're looking for a calmer night out!
Bar Hopping in Chaweng Area
When it comes to bar hopping on the island, there is no better place to do that than in the Chaweng Beach area. There are countless boutique bars, beach clubs, and sports bars here.
Most bars in the Chaweng area have an open-area concept; you can walk by and see which place is lively and which isn't.
With many bars within talking distance in the area, visiting three or more bars in an hour or so is possible!
In the late evening, many beach bars also have bean bags and other seating on the beach, serving drinks. If bar-hopping is your thing, you must stay in the Chaweng Beach area.
If you have time during your trip to Koh Samui, I recommend you visit the neighboring island, Koh Phangan, an excellent island for bar-hopping/partying!
Coco Tam's for a Fire Show
A stunning bohemian-chic decorated restaurant along Bo Phut Beach with great on-beach seating and a lovely rooftop.
In the evening, they host an elaborate fire show with several performers. With the comfortable bean-bag seating on the beach, a table for some food, and a fire show on the beach shoreline, Coco Tam's is an atmosphere!
This is one of the most popular spots on the island. You may have to wait a bit on weekend nights to get seated. It's worth it; the restaurant is beautifully decorated, and the food is excellent!
CoCo Tam's is also located right before the Fisherman's Night Market. You can always come by for a bit at Coco Tam's and then follow your evening at the famous Fishgerman's night market if it's open!
Another alternative is Choeng Mon Beach; if CoCo Tam's is too busy, it's a great place to watch the sunset, but they don't have a fire show performance.
ARK Bar Beach Party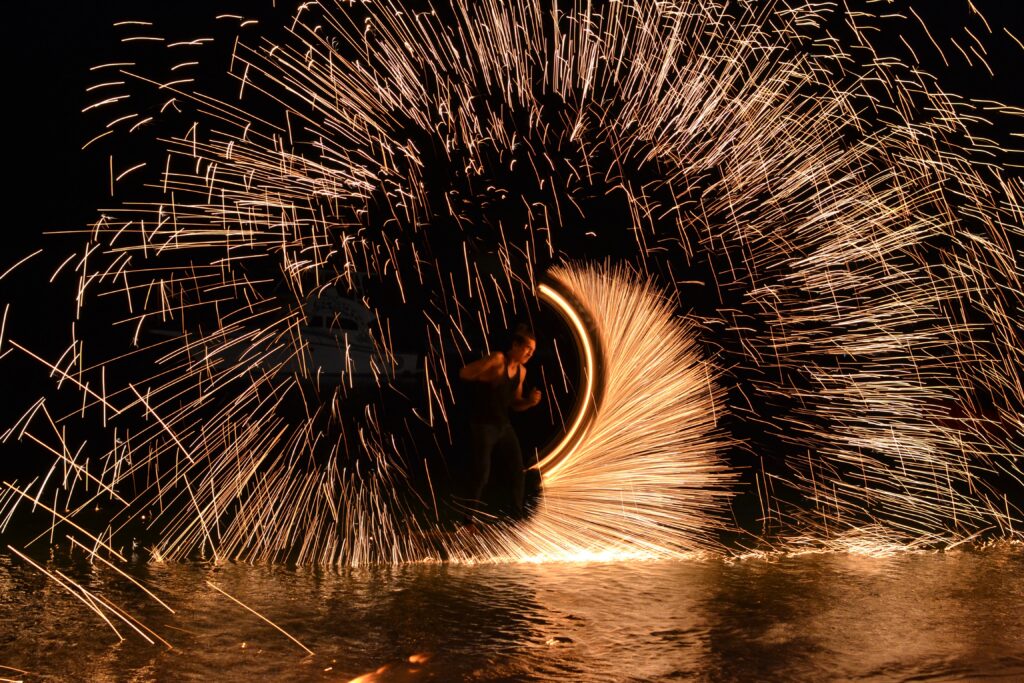 Ark Beach Bar is the spot to do it for those looking to really party on the beach!
The hotel/beach club throws epic parties on the beach some nights, with a DJ playing live music, a light show, and hundreds of guests in attendance some nights. Ark Beach Bar competes well with the other nightclubs in Koh Samui!
Some nights, they have fire performers performing for guests and plenty of seating on the beach to sit and enjoy the show!
During the day, it's a fun beach club to relax at, have a few drinks, and eat appetizers while relaxing on Chewang Beach.
Regarding beach parties in Thailand, the most popular one is the Full Moon Party on the neighboring island of Koh Phangan. It happens once a month, and you can attend it from Koh Samui via tour!
Sunset at the Beach
The sunsets in Koh Samui are vibrant and colorful, and there are countless sunset spots on various beaches on the island to sit back, relax, and watch the sunset.
You could go to a beach club or restaurant with beach views. Or if you're visiting on a budget, forget both those ideas; you can go to the 7/11 convenience store or night market, pick up some food/drinks, and go enjoy the sunset!
Fisherman's Night Market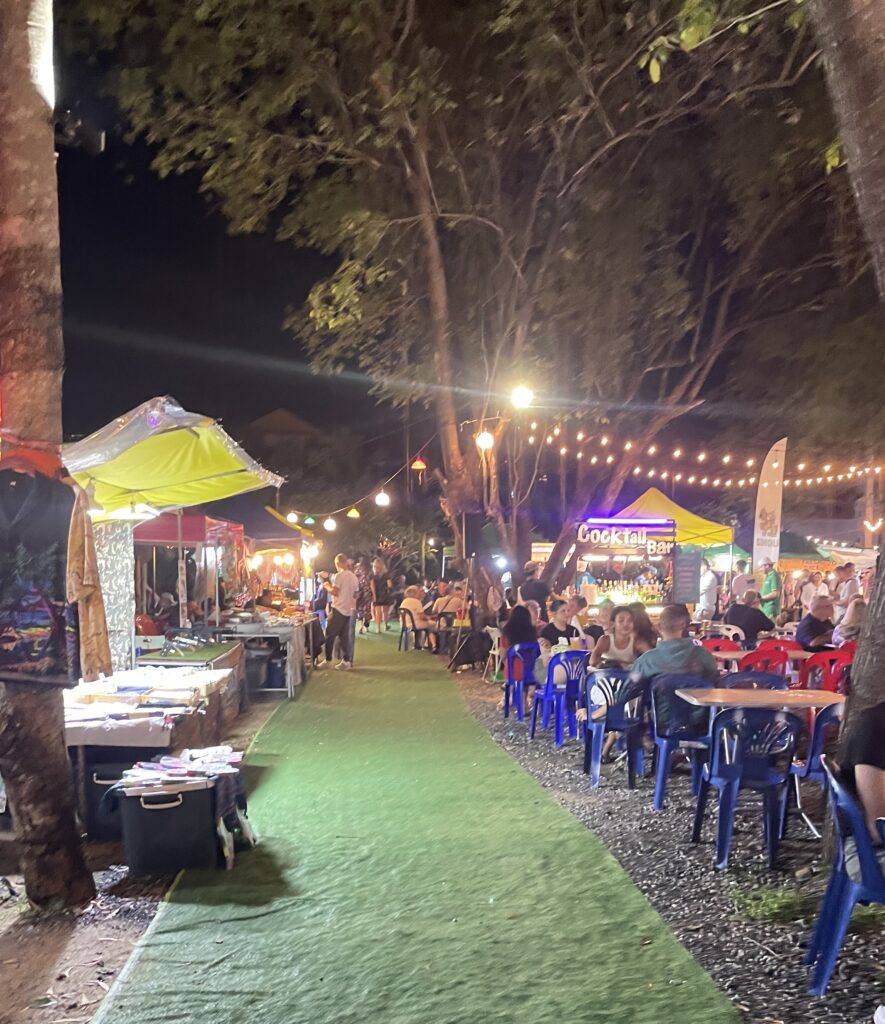 There are several night markets in Koh Samui to check out. If you're unfamiliar with the night markets in Thailand, they are an essential part of the culture and the best thing to do any evening.
The Fisherman's Night Market by Bo Phut Beach is the largest and most famous night market in Koh Samui.
You will find a large selection of souvenirs at this night market. As you pass the many things to buy, you will get to the street-food section of the market, where you'll find several street eats, from Thai to some Western food, and many desserts to try!
There are several tables and chairs to sit down and enjoy your food. This was one of my favorite aspects of this night market. Most night markets in Thailand have limited seating, but not this one!
Open Hours: Monday, Wednesday, Friday, & Sunday / 5:00 PM – 10:00 PM
Other night markets to consider are the Lamai Night Market and the night market at Central Samui Mall.
Go Karting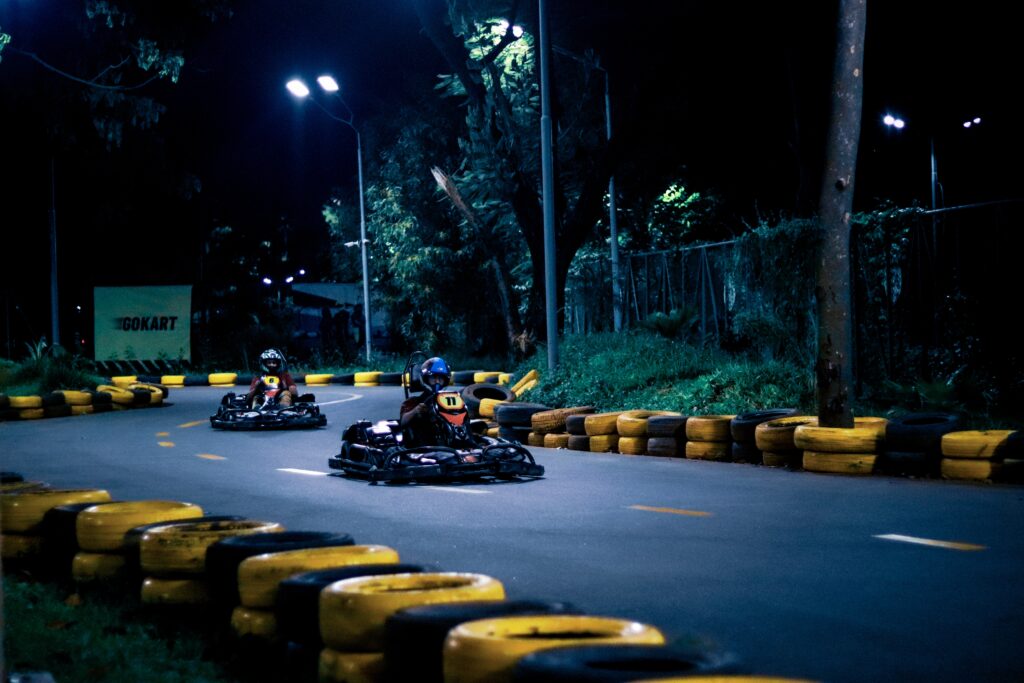 One of the best things to do in Koh Samui at night is go-karting along the Chaweng Lake on the island.
Sometimes, you may want to take a night off from the Koh Samui nightlife and do something different, and go-karting is a great idea!
Located near the main mall, Central Samui, is EasyKart, a large go-karting track circling a large area along the water.
This is a fun activity in the evening/night, and the go-karting way here makes for a picturesque go-karting drive!
This is one of the best parts about visiting a developed island like Koh Samui: there's a wide variety of activities to do on the island that you wouldn't have access to on other islands in Thailand!
Muay Thai/Boxing Fights
There are two things I'd recommend you culturally experience in Thailand at night: visiting a night market and attending a Muay Thai or Boxing fight at a stadium.
Muay Thai is the national sport in Thailand, and it's a big deal here. Many local fighters have been fighting since a young age, and many foreign fighters fly not only to fight but live in Thailand to train and learn the sport.
The two most famous stadiums in Koh Samui to experience a few fights are Phetchbuncha Stadium and Lamai Boxing Stadium. Fights happen on Friday and Saturday nights from 9:00 PM; each venue has different hours.
The best way to get more info on fights happening is by spotting the many trucks/cars driving around Koh Samui with posters on them promoting the fights, and they also announce details for upcoming fights through a loud microphone.
Movie Night at Cinema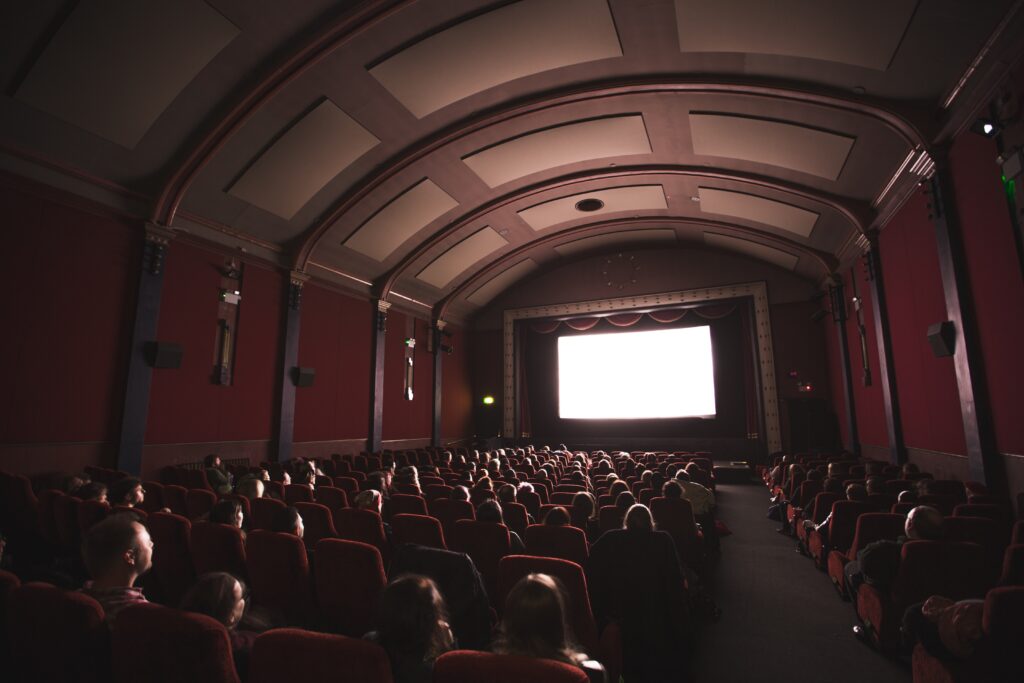 What better than going to see a movie on a rainy night? Or perhaps you'd like to switch things up and do something indoors for a change.
With two different cinemas to choose from in Koh Samui, you can do just that. Tesco Lotus Complex and Major Cineplex Central Samui both offer a selection of mostly Western movies but some Thai movies as well.
The best part about the cinemas in not only Koh Samui but all of Thailand is that they're reasonably priced and similar to Western theaters; they sell popcorn, soda, candy, and more!
When visiting most cinemas in Thailand, they play the national anthem before the film, and everyone stands up, please stand up. Also, a heads up: the AC is set to low temperatures inside most theatres, so bring a hoodie!
Lamai Beer Bars
In the beach town center of Lamai Beach is an area of over 2000 square meters occupied by several outdoor Lamai Beer bars serving locals/tourists into the early morning hours every night!
Unlike your average indoor bar, these are outdoor bars where you can have a seat, buy a drink, mingle, people watch, and then, within seconds, sit at another bar and repeat!
With a collection of over 10 bars serving various domestic and imported beers/liquors.
On Saturday nights, Thai boxing contests are held in a small ring for viewing. Visiting these bars is free, and they're outdoors, after all. So come by, have a few drinks, and enjoy!
Sunset View Point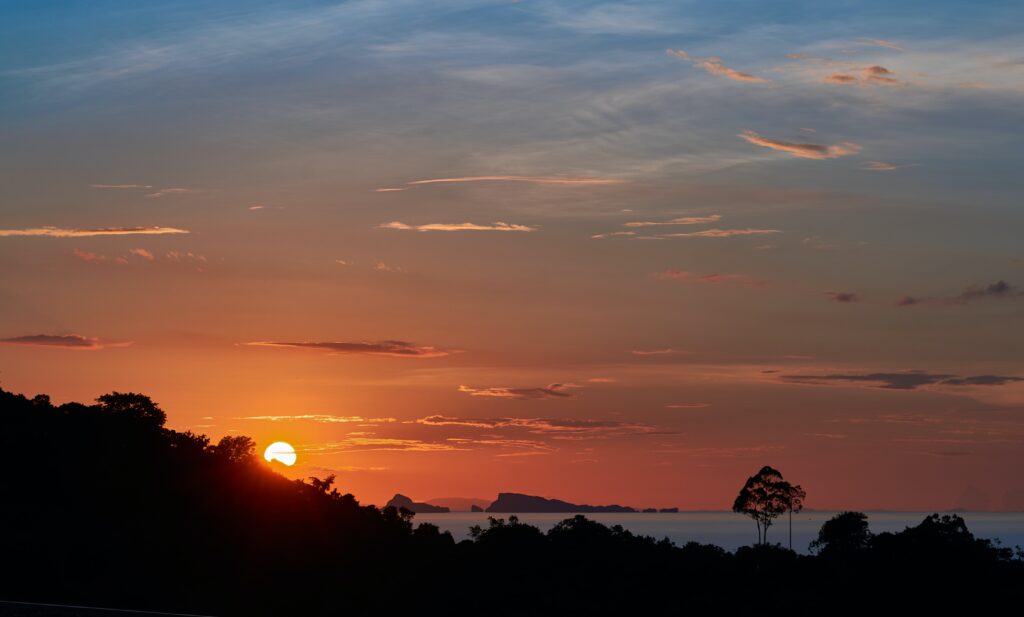 Sunset chasers, you will love visiting Koh Samui, the island, as vibrant sunsets almost every night, especially during the optimal dry season months!
As mentioned before, there are countless places to enjoy a sunset in Koh Samui: beach clubs, restaurants, and rooftops.
But there are some popular viewpoints in Koh Samui where many locals/tourists gather together to enjoy the sunset, and it's a fun activity to experience. The most popular is the Sunset View Point by the Big Buddha.
It can get busy here, so make sure you plan your evening out to grab a seat before sunset. There are plenty of rocks perfect for sitting with some food.
Grabbing some food from one of the night markets and coming to this viewpoint at sunset is one of my favorite things to do in Koh Samui at night!
RELATED: How to Get Around Koh Samui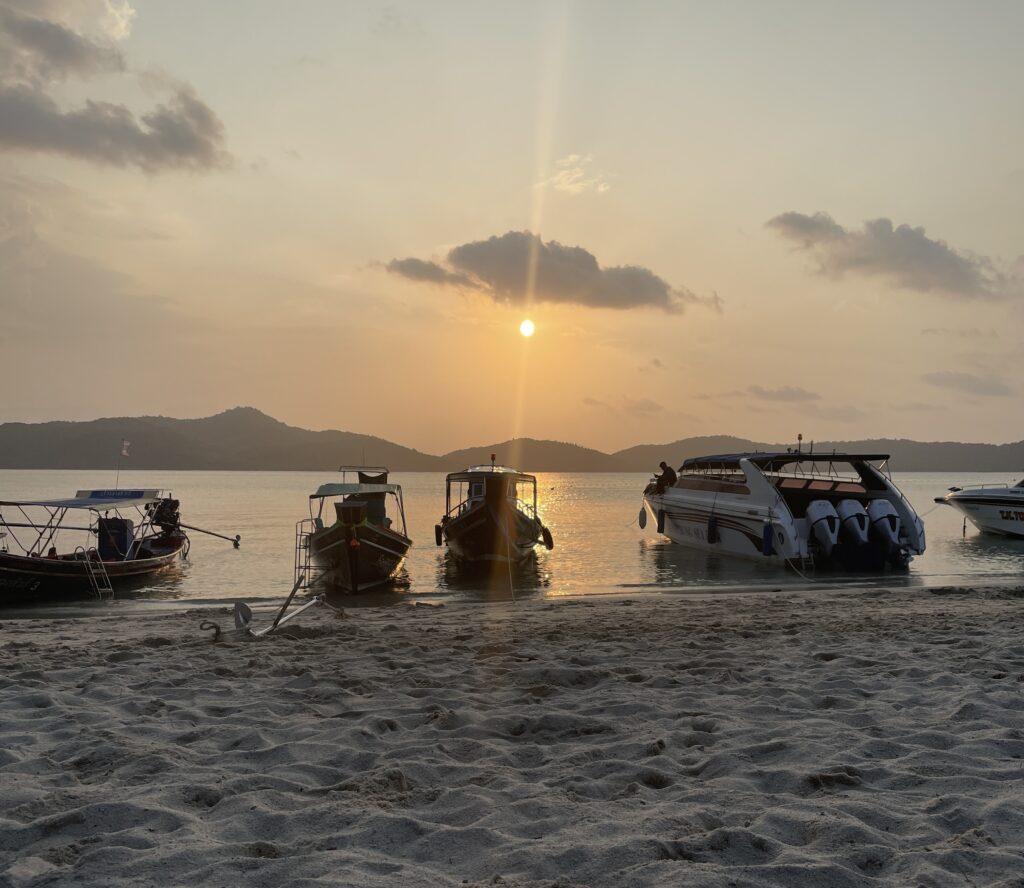 Where to Stay in Koh Samui — 4 Best Beach Areas
Is it your first time visiting Koh Samui? The best tip to know before visiting Koh Samui is to decide which beach area to stay in.
They're different from one another, and depending on the atmosphere you'd prefer to surround yourself with, you most likely will choose one beach area over the others!
The hotel comes second; choosing your beach area should go first. These are the four most popular beach areas in Koh Samui.
Chaweng Beach: This is the most popular area to stay on Koh Samui. Countless bars, restaurants, shopping, hotels, and hostels are nearby. On the extensive long beach shoreline of Cheweng, you will find several restaurants and beach bars.
Hotels in Cheweng Beach: Samui Resotel Resort & Lub d Koh Samui
Bo Phut Beach: Also, the area of the Fisherman's Village, Bo Phut Beach is a calmer area full of couples and families visiting. It's only 15 minutes from Cheweng Beach and Central Samui, the island's main shopping mall.
Hotels in Bo Phut Beach: Holiday Inn Samui & Ibis Samui
Lamai Beach: A Calmer beach area with several restaurants, shops, and hotels nearby. The area is full of expats and, on average, has a more mature crowd.
Hotels in Lamai Beach: Outrigger Beach Resort & Thai House Beach Resort
Choeng Mon: A northern area on the island full of large resorts and 5 Star hotels, Choeng Mon Beach is an ideal area. You will be 5 minutes away from all the shopping and Cheweng Beach.
Hotels in Choeng Mon: Kimpton Samui & Samui Honey Cottages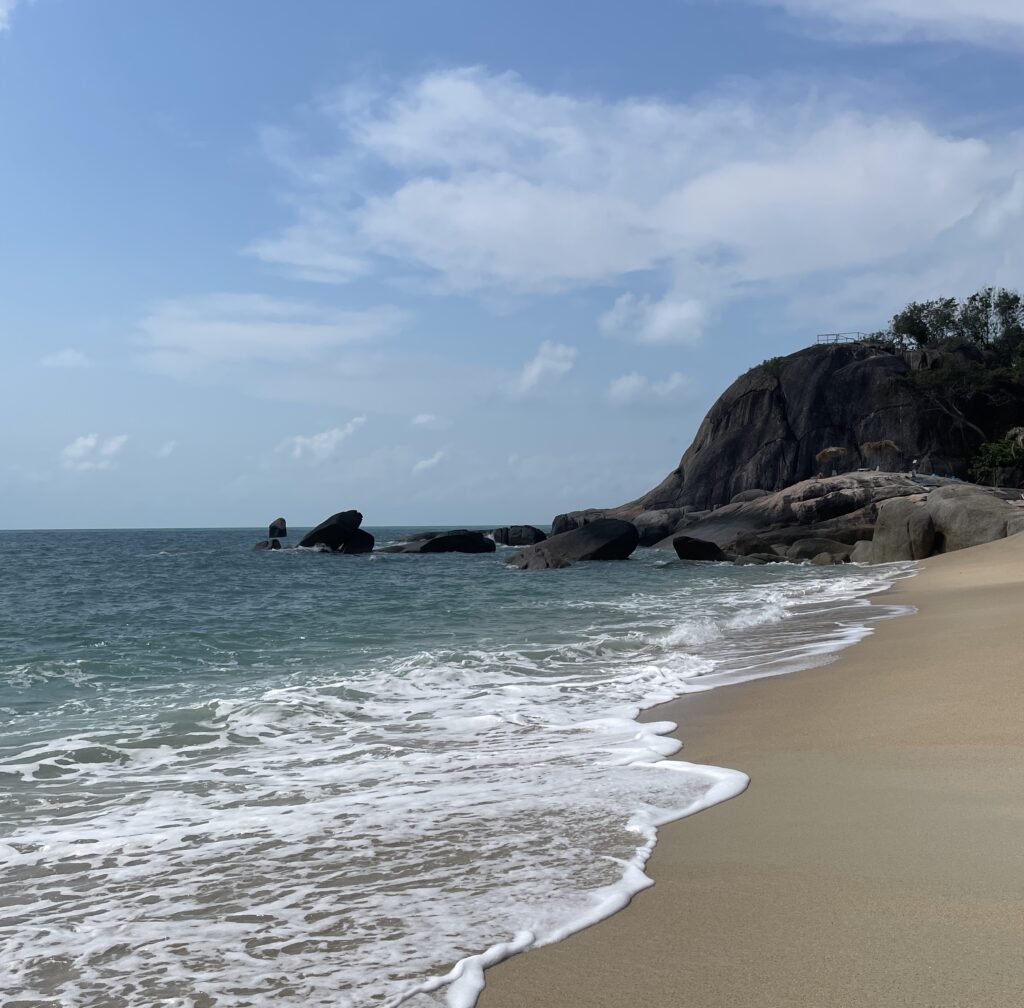 Things To Do in Koh Samui at Night — Final Thoughts
There you have it; those are the best things to do in Koh Samui after dinner. As you can see, there are many things to consider doing in the evening in Koh Samui, which is one of the many reasons Koh Samui is one of the most popular islands in Thailand to visit!
Many come to Thailand to party, and while Koh Samui has its parties, the island is practically the most well-known for partying.
Koh Samui is best for solo travelers, couples, and families looking for a more laid-back island vibe but on a developed island.
Again, If you're wondering where to stay in Koh Samui for nightlife, it's the Cheweng Beach area; there are many bars/nightclubs and lively beach clubs in the daytime!
When visiting, I did go out in Koh Samui a few nights and had lots of fun, but less than when I was in Phuket. By the way, watch out for these scams in Koh Samui when visiting!
If you live or frequent Koh Samui yearly, please feel free to comment below with your suggestions!
RELATED: 9 Best Koh Samui Day Trips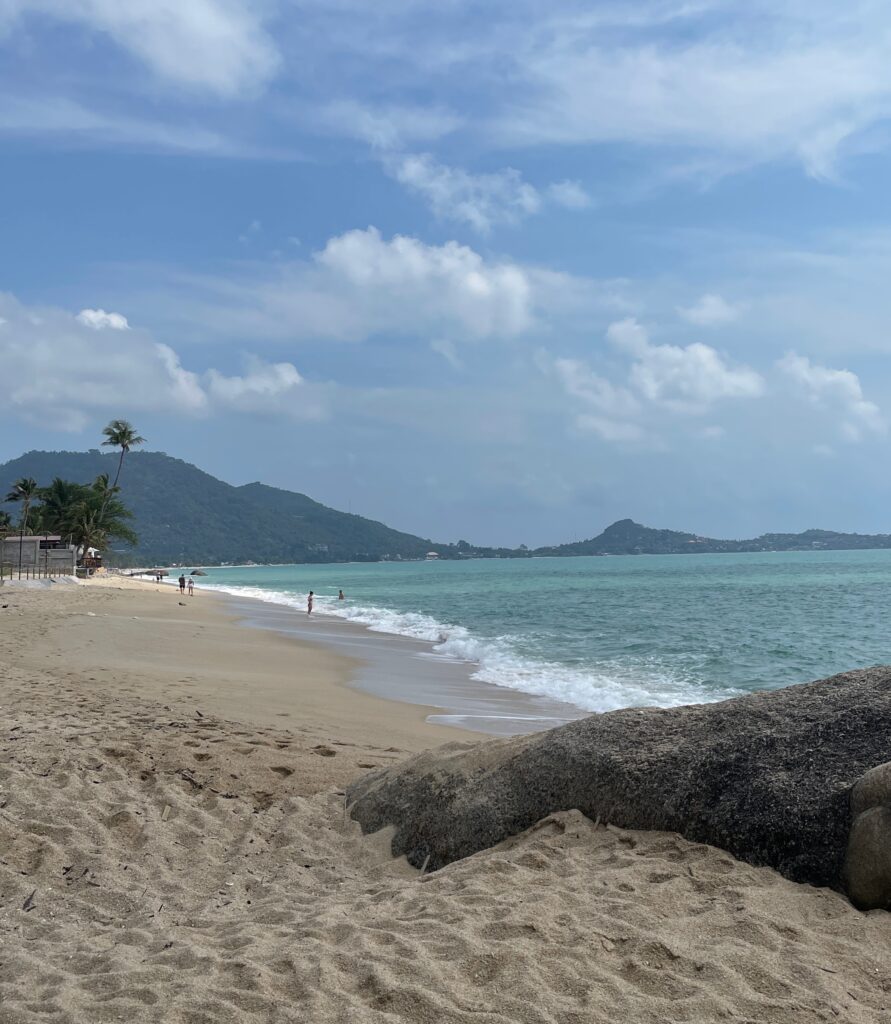 Is Koh Samui a party island?
Koh Samui isn't a party island; while it does have many bars and some nightclubs, the island isn't known for its partying. Places like Phi Phi Don and Patong Beach in Phuket are places most known for partying nearby!
Where can I go in Chaweng at night?
Visit the many bars and go bar-hopping, relax/party on the beach at Ark Beach or Elephant Beach Club, or head to the Chaweng Night Market for some late-night street food!
Is nightlife better in Phuket or Koh Samui?
Yes, Phuket, specifically Patong Beach in Phuket, is better for nightlife than Koh Samui. That doesn't mean Koh Samui isn't great for partying, but Phuket is better.
Where is the party part of Koh Samui?
Chaweng Beach is the best area for parties in Koh Samui. There are several bars, sports bars, nightclubs, and beach clubs in Chaweng Beach!
Subscribe to Travel Hiatus!
Receive updates on my latest posts, insider travel tips & the best destination guides to your inbox!
Happy & Safe Travels
---
Planning Checklist
---
Disclaimer: Please note that some of the links shared in this article might be affiliate links; this means that at absolutely no extra cost to you, we will earn a small commission for any sales generated through this article and/or this website. We recommend products/services we've either used or researched thoroughly – Thank you for supporting us so we can continue to share helpful travel content!