Is Lagos Portugal Worth Visiting? Complete Travel Guide
Is Lagos Portugal worth visiting? Lagos is famous for being the most popular town in the Algarve region of Portugal and one of Europe's most beautiful beach towns!
Lagos is most famous for its many stunning beaches, full of turquoise waters and unique rock formations. Besides its excellent beaches, Lagos is an old historic town home to delicious cuisine and wine.
There are many things to do in Lagos, from long beach days to shopping/dining in the Old Town, visiting historical castles, and experiencing the exciting nightlife. The town is also a great base in the region to make excursions and day trips from!
While Lagos is worth visiting, you must consider what time of the year you're visiting. With seasonal weather, many popular things to do in Lagos can only be experienced during the Summer months. Below I'll make sure to highlight the different seasons in Lagos.
First time visiting Lagos? Refer to this article for all information on how to get to Lagos.
Lagos Portugal Beaches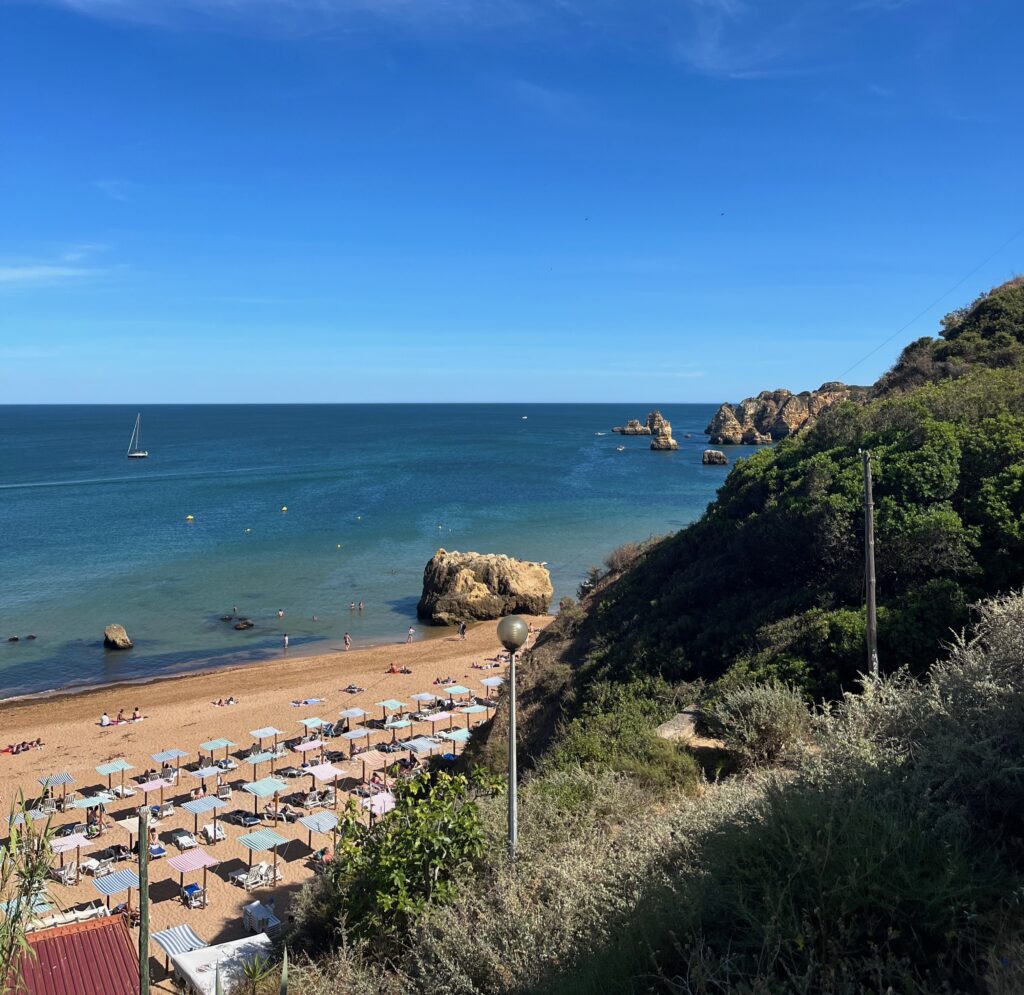 The beaches in Lagos are extraordinary; it's the main reason Lagos is one best places in Europe to vacation in the Summer. In comparison, there are many beach destinations in Europe; but the beaches in Lagos stand out rightfully.
Pristine soft sand, mesmerizing turquoise waters, majestic rock formations, and cliff-stacked coastlines, to say the beaches in Lago are picturesque is an understatement!
There are way too many beaches to mention in Lagos; for now, I'll share with you the most popular beaches in Lagos; if you are looking for the closest beach to get to, that's Duna Beach.
Don't worry; I'll also share a few beautiful secluded beaches to visit, though you will have to hike for a few minutes to get to most of them!
Praia do Camilo: Famous for being the most popular beach, here you will find a long walkway of steps toward a perfect turquoise-watered beach
Praia Dos Estudantes: A small beach full of many unique rock formations
Porto Mos Beach: Located slightly further from the city center of town, this is a stunning extensive beach shoreline; offering beach umbrella and chair rentals
Meia Praia: Connected to Duna Beach, Meia Praia is the town's main beach shoreline, and you can't miss it. An extensive, spacious beach shoreline with many hotels, restaurants, and cafes nearby
Secluded Beaches
Praia do Barranco do Martinho: Get ready to climb and hike to access this amazing secluded beach, but I promise, it'll be worth it
Praia do Pinhao: Not visible as you approach it because Praia do Pinhao lies at the bottom of several steep cliffs. There's a steep staircase that leads you there
Best Things To Do in Lagos, Portugal
Besides visiting the beaches in Lagos, Lagos is full of several other things you should experience when visiting Lagos.
Here are the best activities to do in Lagos you should strongly consider!
Benagil Cave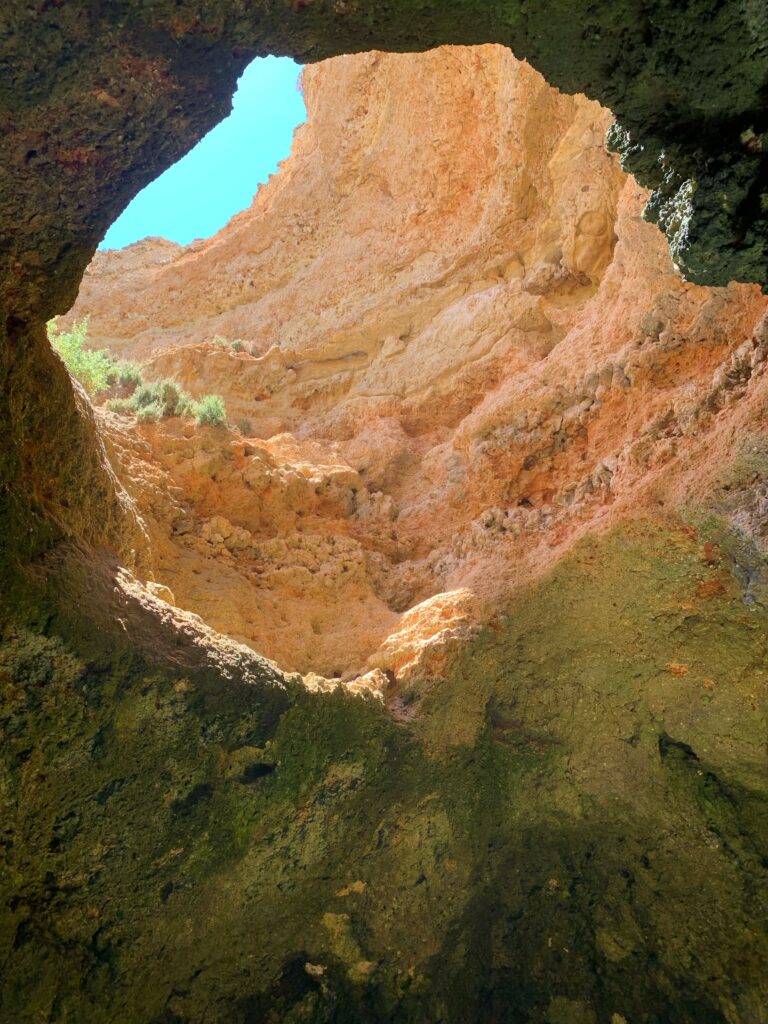 The Algar de Benagil, said in Portuguese, is Lagos's most popular tourist attraction. This remarkable seaside cave is an absolute spectacle; you've more than likely seen a photo of it online.
To get to the Benegil Cave, you must take a boat there; several boats consistently go back and forth throughout the day. Book your spot on this speedboat to the scenic cave!
It's not accessible on foot. Despite not being too far, swimming to the cave is not recommended because tides here can change rapidly.
Catamaran Day Cruise
No matter where you're traveling to in the world, the best way to sail and experience the water is by attending a Catamaran Cruise.
Enjoy the afternoon of attending this Catamaran tour as you sail the waters, snorkel, paddleboard, and catch some sun while enjoying a few drinks.
Kayaking
One of the most popular activities in Lagos is kayaking; with the many rock formations in the water and sea-cave tunnels, kayaking in Lagos makes for a unique kayaking trip.
On this kayaking tour, you'll spend the afternoon kayaking around the unique coastal rock formations and grottos at Ponta da Piedade. In a small group, you'll be led by a professional guide.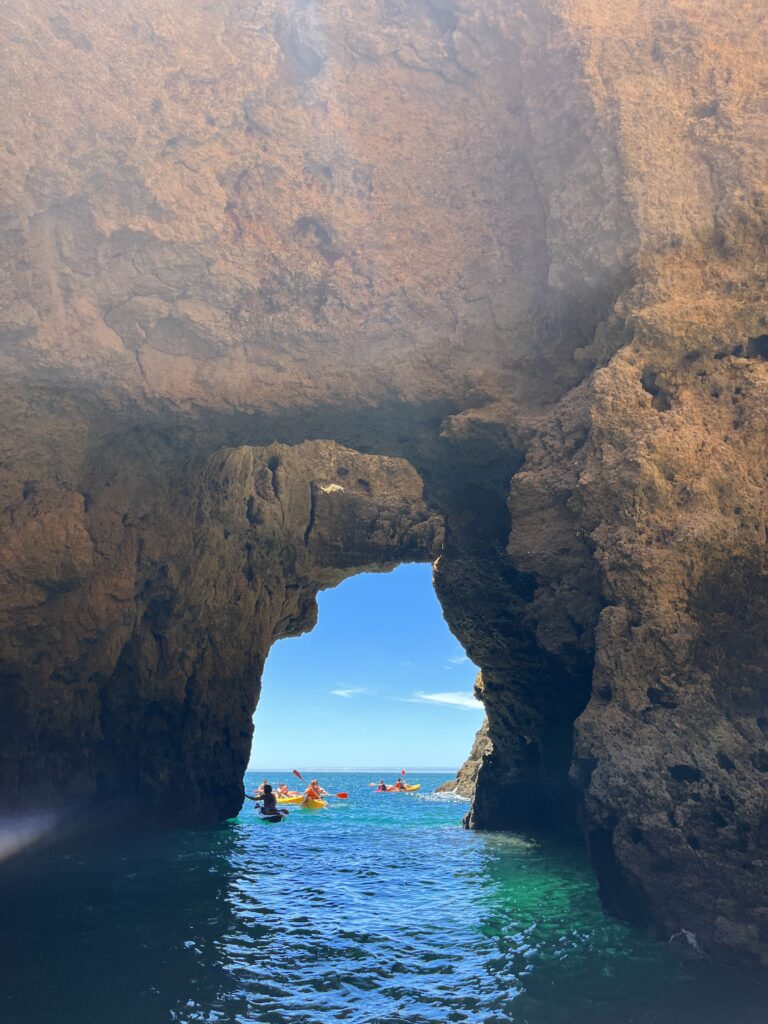 Explore Castles
With its long ancient history of over 2000 years, Lagos is home to castles that still stand today.
These same very castles one day played an essential part in the defense of the maritime town.
The most famous castles in Lagos are the following:
Castle of Lagos
Castelo de Sao Joao
Castelo de Silves
Dolphin Watching
Get ready to soak up the sun and spot the wild dolphins as they jump above the water!
On this dolphin tour, you will board a large boat with many others for the afternoon and enjoy dolphin spotting, snorkeling, and a waterpark.
This is the perfect activity to relax and see the marine life of Lago's waters.
Lagos Food Tour
Trying local cuisine is a must-do no matter where you go in the world, and what better way to experience local cuisine than on a food tour?
On this food tour in Lagos, you will join a local guide as they take you to four popular small local businesses. The tour includes ten different foods and a drink at each restaurant!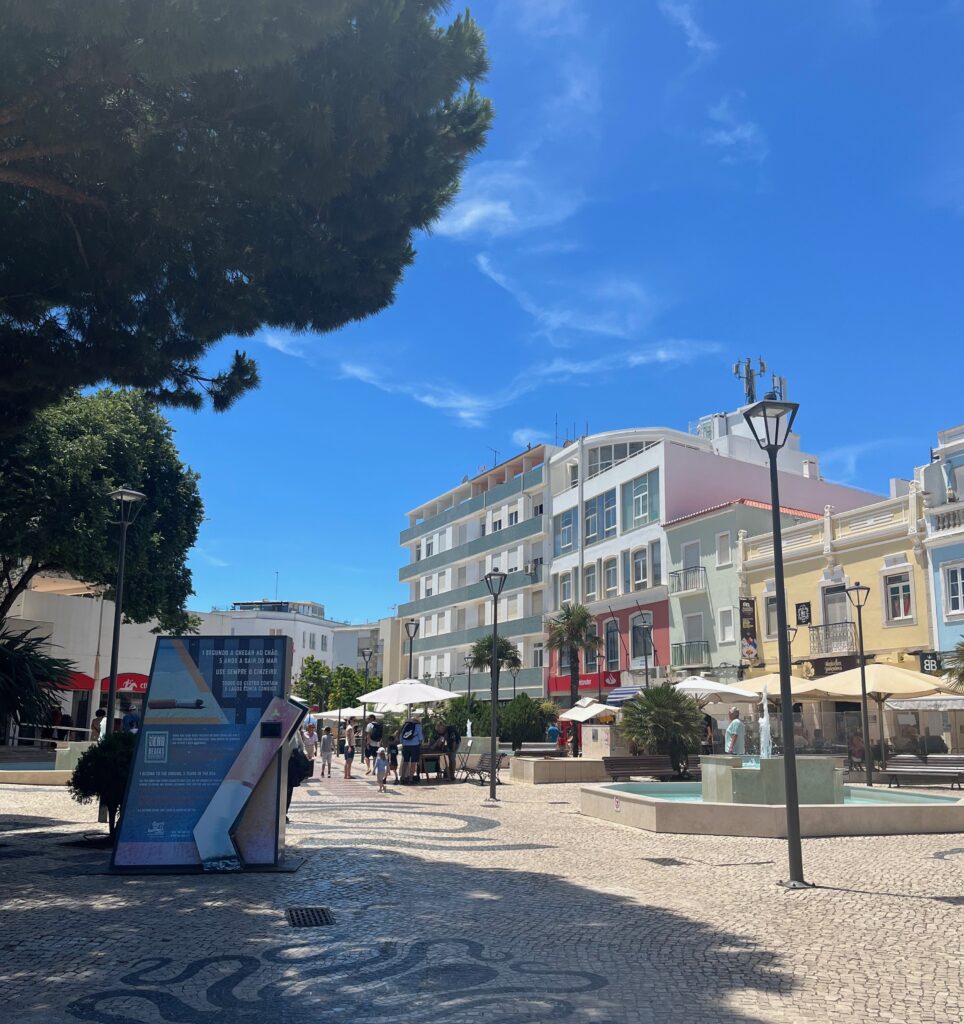 Lagos, Portugal Nightlife
One of the main reasons Lagos sees many tourists during the Summer is the town's nightlife.
Whether you're looking to enjoy a few drinks by the beach, a night stroll in the Old Town, or go out clubbing, Lagos has it all!
If you're looking to enjoy some fancy cocktails, head over to Peppers Bar. For a more casual bar, check out Bon Vivant, where you can enjoy drinks in an outdoor/indoor setting.
Those looking to party with a live DJ playing, consider InsideOut, Sinners Bar, or Grand Cafe; these are the most popular nightclubs in town. Most nightclubs in Lagos are open till 4 AM.
Regarding returning to your hotel at night, Lagos is safe. If your hotel is in the Old Town, walking back should be fine, but if your hotel is further out, you should take a taxi.
Those looking for a more laidback relaxing evening, consider walking around the Old Town and visiting cafes, restaurants for small tapas, or get some ice cream and walk along the beautiful marina.
But if you're looking to do something slightly more eventful than walking around the marina, consider a sunset hike with a local guide or a sunset tour on a boat!
Best Restaurants in Lagos, Portugal
One of my favorite things about Lagos is how walkable the Old Town area is; there are several excellent restaurants, cafes, and cozy local restaurants all over the area.
Here are a few local dishes to the region I recommend you try and the best restaurants in Lagos. If you're not big on seafood, I'll share other restaurant recommendations below!
Being a seaside town, Lagos is most famous for its seafood dishes, such as Arroz de Marisco, a thick rice stew full of various seafood and veggies. Caledeirada is another popular stew with octopus, squid, and different shellfish.
My favorites are Filetes de polvo, fried octopus with a sauce very similar to calamari, and Ameijoas a Bulhao Pao, clams in a flavourful sauce. Besides the seafood, you must try Portuguese Chicken glazed in peri-peri sauce.
These are the best restaurants in Lagos, all perfect places to experience the local cuisine!
Casinha do Petisco: Best known restaurant in town for authentic local Portuguese cuisine
Tasca Jota Lagos: Upscale restaurant is known for a wide variety of cuisine, including local seafood dishes, risotto, ceviche, and many tapas dishes
Alma Lusa: Homey restaurant with a Mediterranean flare, most known for its octopus and their other seafood dishes, with an excellent wine selection
Tasca do Kiko: Tapas restaurant serving a mix of cuisine types and is most known for its seared tuna, seasoned clams, and risotto, with an extensive wine list
Mar d'Estorias: Cozy restaurant with a small store, an ideal place for lunch with a nice terrace with sea views
For those looking for different cuisine, Lagos has many diverse food options. Here are a few recommendations of the top spots in town!
Beats & Burritos: Mexican restaurant serving up all the classics, tacos, quesadillas, and burritos
Nah Nah Bah: Burger spot serving juicy crafted burgers, cocktails, and many appetizers
Walia Kebab House: Classic Turkish restaurant serving various types of meat off a meat-spit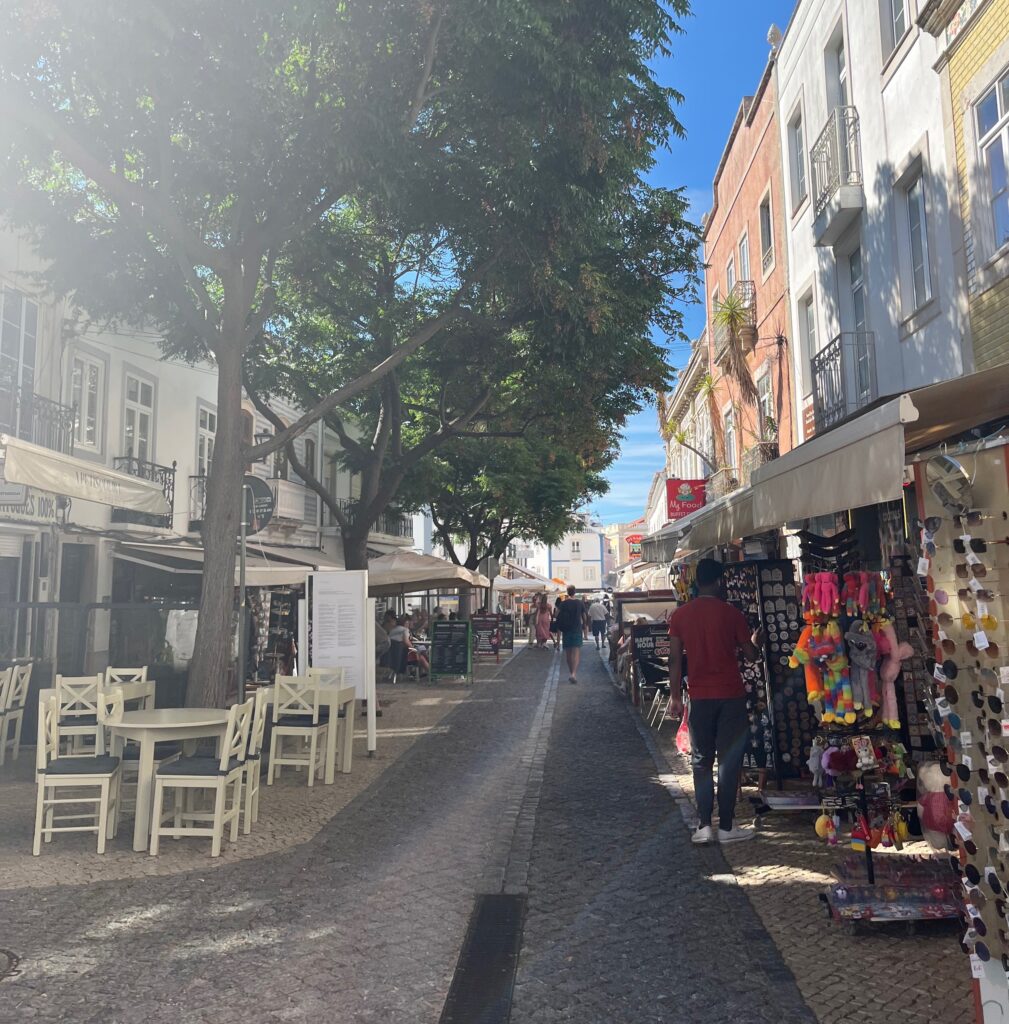 Places Near Lagos, Portugal
Lagos is located in the Algarve region of Portugal, known for being the best and most famous town in the Algarve.
But there are a few neighboring towns to discover, also with beautiful beaches, many things to do, and unique town traits!
If you're looking to make a day trip from Lagos or visit either of these towns and spend a night or two, here's a list of the nearby towns you should consider.
To get to any of these places from Lagos, check listings for bus trips from BusBud or RedeExpresso.
Caroveiro: Famous for its many white buildings, giving off a bit of a Santorini vibe. Carvoeiro is known for its beaches, restaurants, and many villas for rent offering exceptional sea views. The town neighbors Lagos and is only 40 minutes away.
Armacao de Pera: A very small town along the Algarve coast, most famous for its long-extensive beach shoreline that stretches into another neighboring town.
Albufeira: A quaint town is most well known for its grand beach and many unique rock formations in and around the beaches here. Like Lagos, Albufeira is a walkable city; visiting, you won't have to worry about getting around.
Faro: While Faro isn't a typical beach town like all those listed earlier, it is the capital of the Algarve region and is home to some of the most beautiful architecture in Portugal. The town still has a few beaches, but it is less known for its beaches than other towns in the Algarve region.
The main international airport for the Algarve is located here, and you will need to fly to Faro International Airport (FAO) to get to Lagos or anywhere in the Algarve. If you want more information on how to get to Lagos, please refer to my other article on Lagos!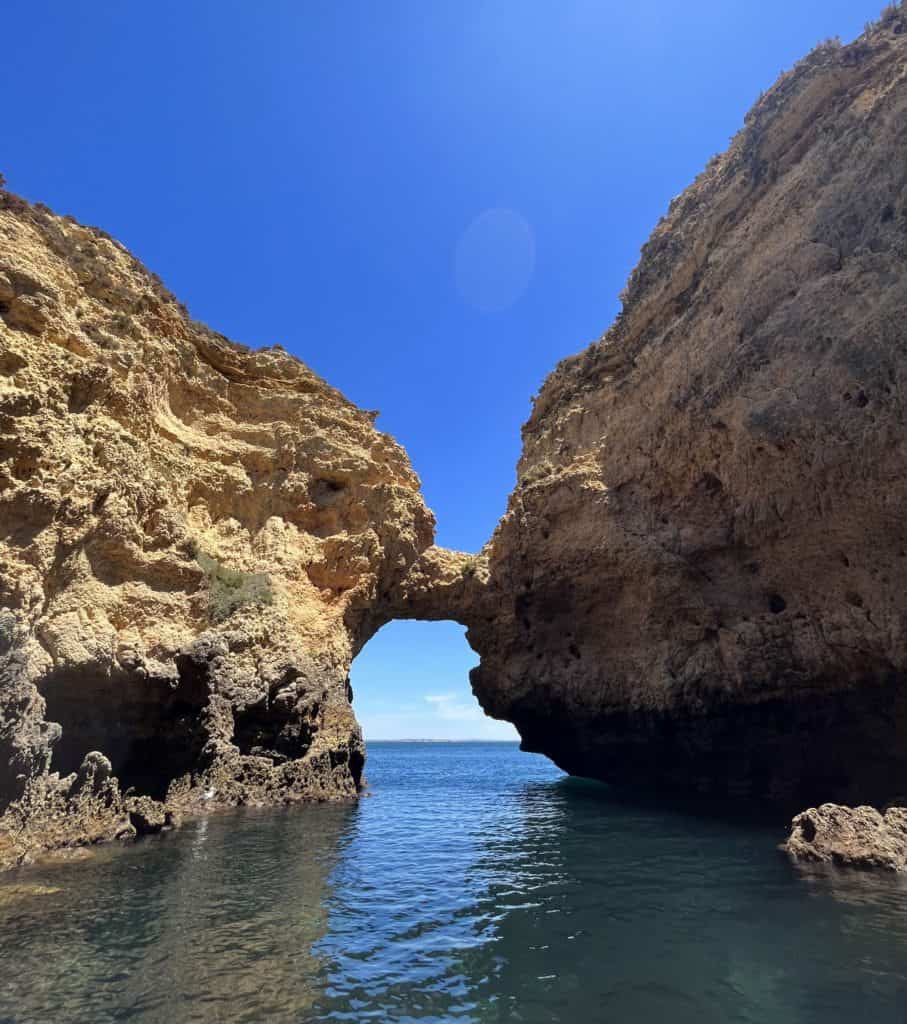 Best Time to Visit Lagos, Portugal
Lagos and the entire Algarve region share a similar climate to most of Europe.
Meaning mild weather throughout the winter months, slightly warmer in Spring and hot Summer months.
The best time to visit Lagos is during the Summer months from June through September, when you can experience the town for its many activities, long warm days at the beach, kayaking, and evening walks in the Old Town or marina.
The high season is July and August, when most tourists visit Lagos.
Visiting in June or September are excellent times to come if you want to go to the beach and experience a less busy town.
What are the seasons in Lagos, Portugal?
June through September: Summertime in Lagos; during these months, you can expect an average temperature of 25-30°C in the daytime and 15-20°C at night.
October through February: Winter in Lagos doesn't get too cold, but you can't go to the beach. Visiting during the winter, you can expect average temperatures of 14-19°C in the daytime and 7-13°C at night.
March through May: Spring is pretty decent in Lagos; in late Spring, you may be able to visit the beach, but it's only sometimes likely. In Spring, you can expect averages temperature of 17-23 °C in the daytime and 10-13 °C at night.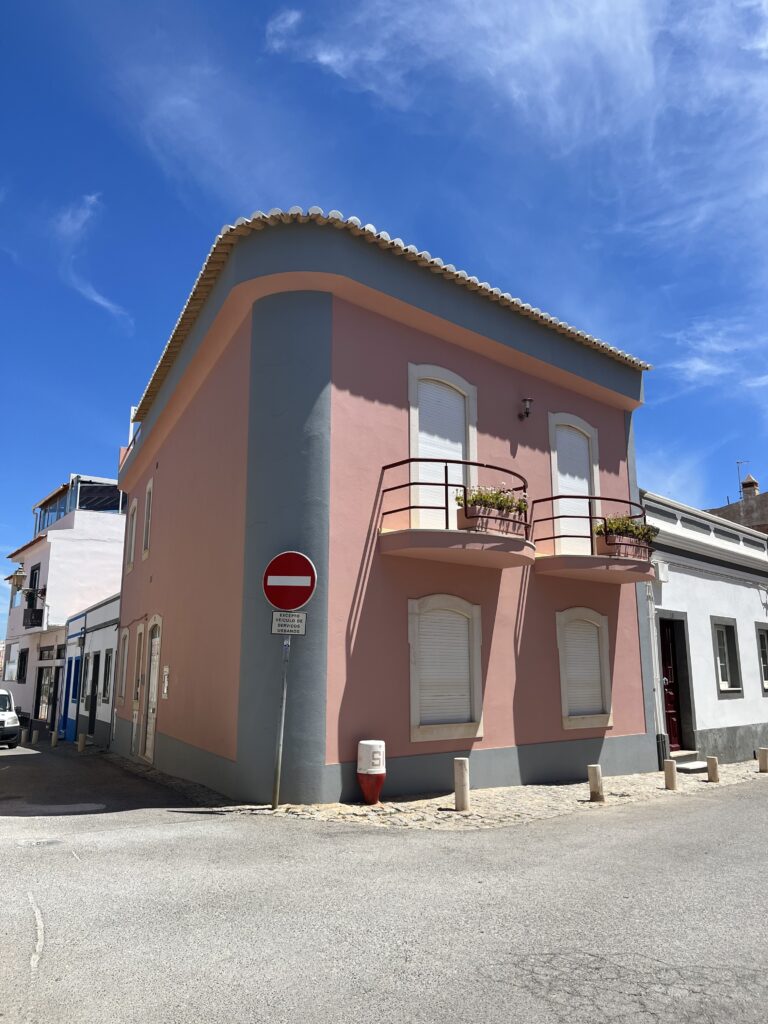 Is Lagos Portugal Worth Visiting? – Final Thoughts
I'd like to believe that I've answered your question; Is Lagos Portugal worth visiting?
If not, let me leave you with a few parting words to convince you to visit Lagos!
There's a reason Lagos, along with the Algarve region, is one of the most popular beach destinations in Europe, with a mix of excellent beaches featuring unique rock formations, delicious cuisine, lively nightlife, small beach town atmospheres, and a long history of the region to appreciate. Lagos really does have it all!
Lastly, you should also know Lagos is more affordable than other popular European beach towns like Santorini, Positano, Marbella, or Nice.
Once you've been to Lagos, continue your adventures north to Portugal's capital, Lisbon. Head to Faro Airport and take a flight to Lisbon!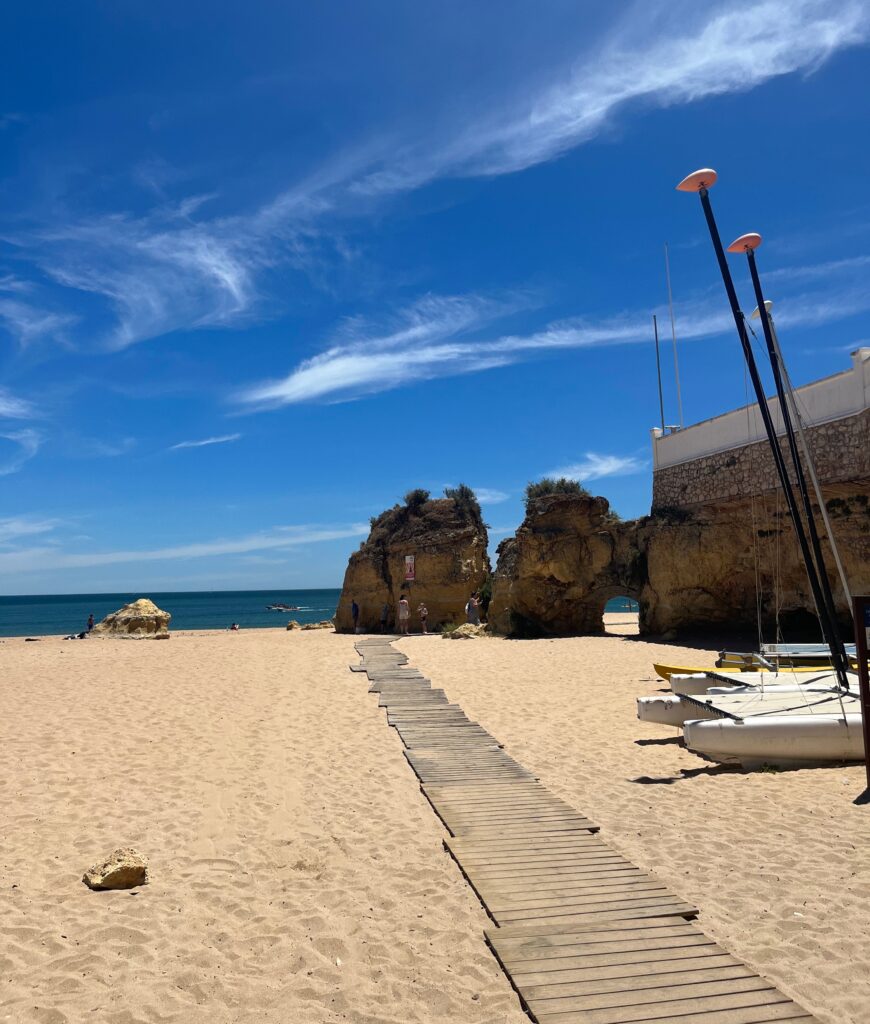 Why is Lagos Portugal, so popular?
Lagos is most famous for its beaches, restaurants, and lively nightlife. The beaches in Lagos aren't like your typical beaches; with the many mesmerizing rock formations around the beaches in Lagos, it's easy to see why the beaches in Lagos stand out!
Is it better to stay in Faro or Lagos, Portugal?
Lagos is a better beach town with more daytime activities and lively nightlife. On the other hand, Faro has its beaches, but they are less impressive than those in Lagos.
How many days is enough in Lagos, Portugal?
Plan to spend at least three or four days in Lagos. You should be able to do/see the main attractions in three days and enjoy at least one long night out. Though many visit Lagos for weeks because of its relaxing, laid-back, small beach town atmosphere!
Subscribe to Travel Hiatus!
Receive updates on my latest posts, insider travel tips & the best destination guides to your inbox!
Happy & Safe Travels
---
Planning Checklist
---
Disclaimer: Please note that some of the links shared in this article might be affiliate links; this means that at absolutely no extra cost to you, we will earn a small commission for any sales generated through this article and/or this website. We recommend products/services we've either used or researched thoroughly – Thank you for supporting us so we can continue to share helpful travel content!