6 Best Things To Do in Lagos Portugal
Lagos, Portugal, isn't on many people's travel lists unless you know your European Summer destinations well. Now let me tell you why it should be.
There are plenty of amazing things to do in Lagos Portugal, excursions, wine tastings, walking around the Old Town, and so much more!
When most first think of Portugal, they think of Lisboa, the capital, Porto, the famous seaside city, or the many islands such as Madeira.
They forget to mention the Southern area of Portugal, the Algarve region. The Algarve region is full of many beautiful beaches. Similar to the coastline of the Amalfi Coast in Italy, Algarve is home to several beachside cities, and Lagos is the most famous one there.
Lagos is a city that has managed to retain its unique character and charm. The city has not yet succumbed to mass tourism. Especially during the off-season, the city is relatively quiet.
"Lagos is often times referred to as "Lagos Algarve"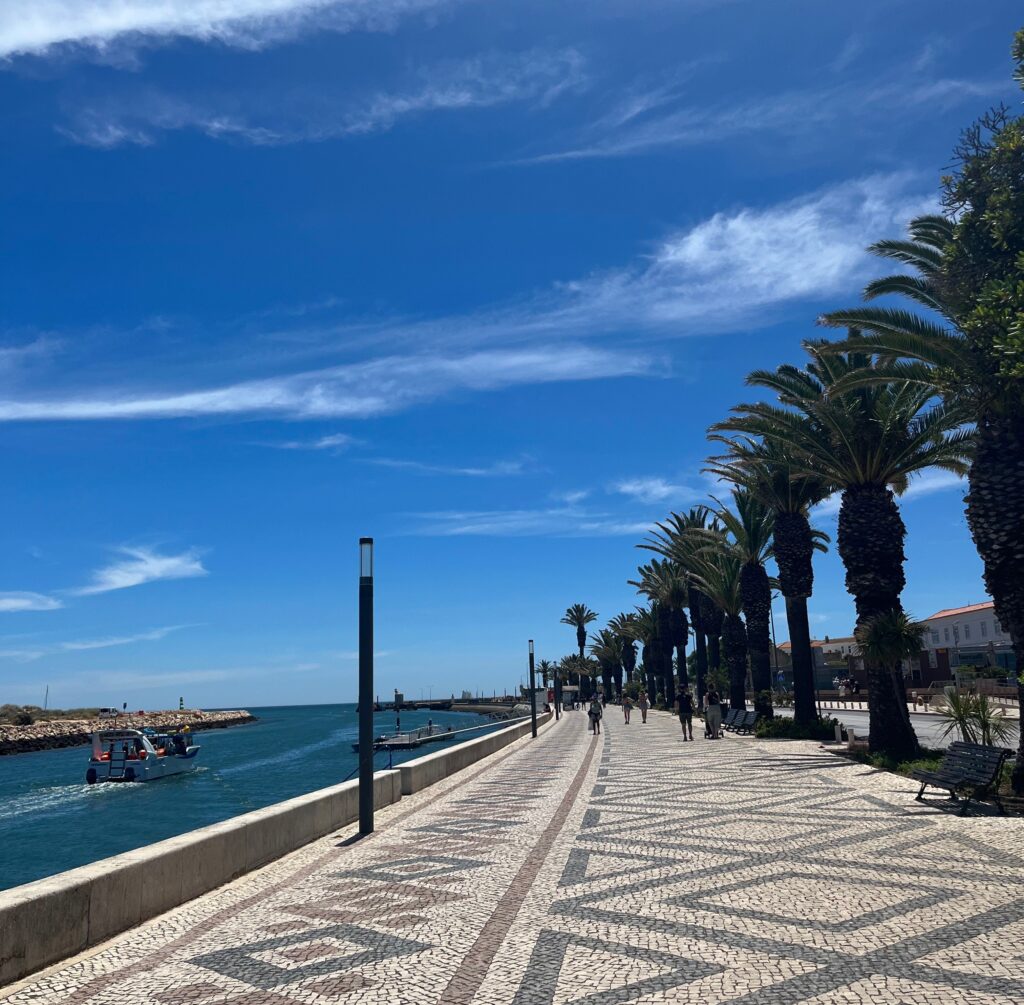 During the Summer months, Lagos is busier but not nearly as busy as the other hotspot Euro Summer tourist destinations, like Positano, Mykonos, Marbella, etc.
The historic center is home to a proud Portuguese city with cobbled streets and authentic restaurants. It also has a relaxed, welcoming beach town atmosphere. The large rock formations along the coastline in Lagos are what the city's most famous for.
In this Lagos, Portugal travel guide, I will cover everything you need to know, including many ways how to get to Lagos, the best things to do in Lago, hotel recommendations for all budgets, excellent restaurants, and many travel tips for Lagos.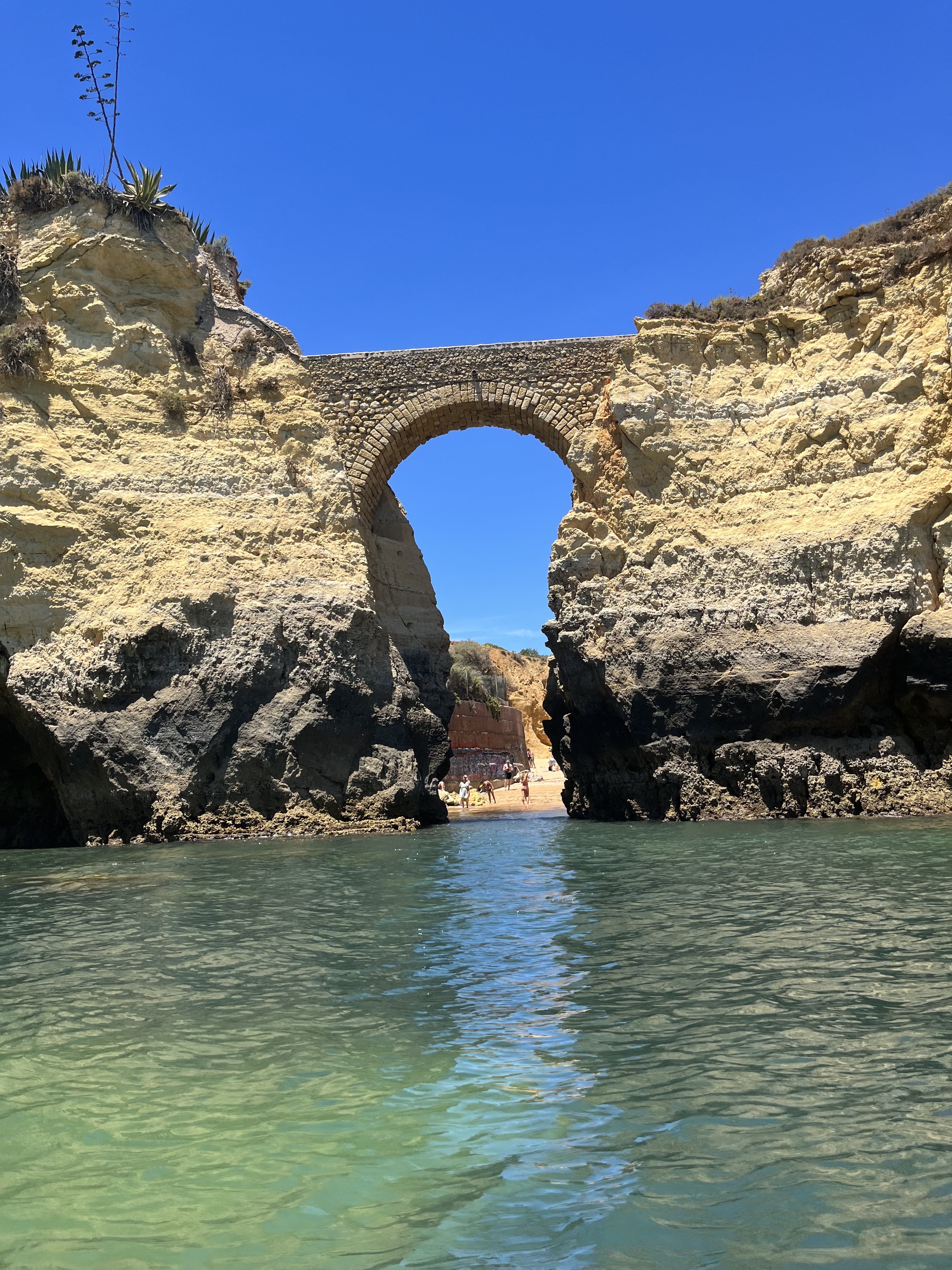 Lagos, Portugal, is the perfect place to unwind. I can't say that about many places. If you've been to Mexico, for example, and visited many places in the Yucatan/Riviera Maya regions. You will quickly discover that some beach cities are better for winding down than others. You won't be able to relax in Cancun like you will be able to in Isla Holbox. Both are beach towns but very different.
Some beach towns not only have a beach, but the atmosphere there is meant for unwinding, and that's how I would describe Lagos.
I had a layover at Faro International Airport (FAO) for just over 72 hours and visited Lagos during my layover. When it was time to leave, I was sad to have to leave, and I plan on returning to Lagos in the near future.
I purposely planned a layover at Faro Airport on my trip to Amsterdam because I wanted to see Lagos.
Multi-city layover is one of my favorite travel hacks, And I got a great price on the layover too! If you're curious how I got a great price on a multi-city flight, I book all my flights through SkyScanner.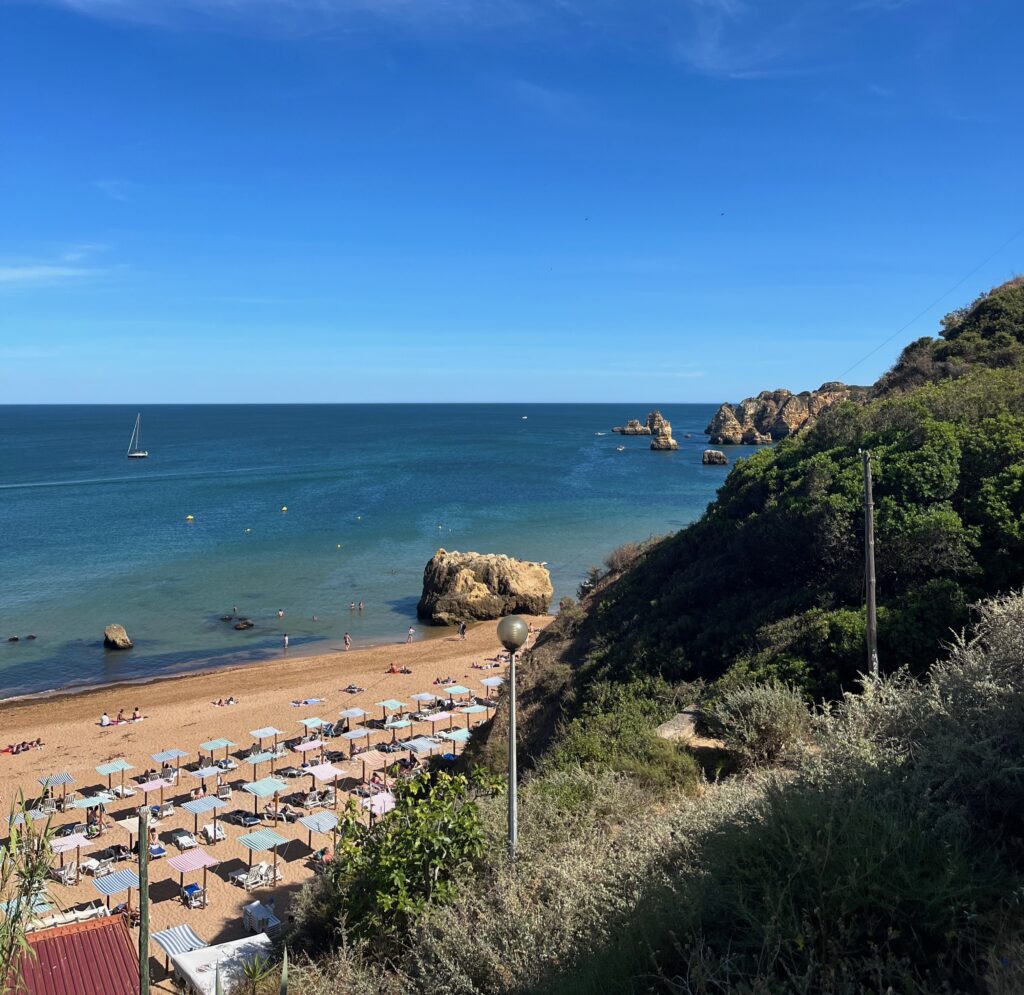 How to Get to Lagos Portugal
Getting to Lagos is relatively easy, and you can use several different transportation methods.
The closest airport to Lagos is Faro International Airport (FAO), and it's 1 Hour drive away. Here are the various ways you can get to Lagos.
Train: Next to Faro International Airport is the Train station; from there, you can take the train to Lagos from Faro Train Station – $11 US
The train makes a stop halfway, so the travel time is two hours instead of being 1 hour if you take a private ride. But it only costs me $15 per person during the high season.
Private Airport Transfer: A private driver will be waiting for you at Faro Airport and will take you directly to your hotel – $65 US
Rent a Car from Faro Airport: You could always rent a car and drive yourself to Lagos from Faro. – Price varies on vehicle type/Insurance
From Lisbon: For those who're already in Portugal visiting the capital, the best way to get to Lagos from Lisbon is by either bus or train. Travel time is the same for both methods, the bus is cheaper, but the train is more comfortable.
READ ALSO: Positano Italy Guide
Things to do in Lagos Portugal
In the short 72 hours I was in Lagos, Algarve, I saw a lot and did a lot, and still left one whole day to relax at two different beaches but conveniently, the two beaches were next to each other. I've listed them below for you.
There are many things to do in Lagos, including day excursions, several shops to visit in the Old Town area, great restaurants, wine tasting, and more. Here is my list of things I'd recommend you do when visiting.
I didn't include this in my list of things to do but don't forget to wander the city center's cobblestone streets of Old Town Lagos.
Whether you're going for a week-long vacation or a 72-hour layover like myself, make sure you make the most of your visit!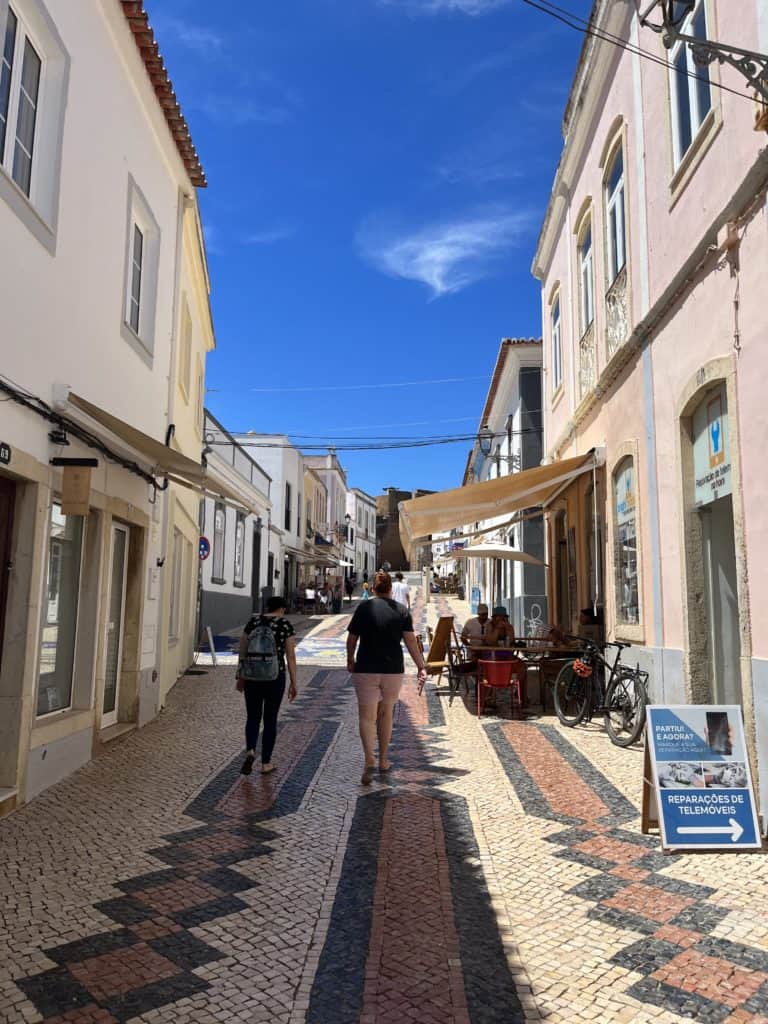 The Ponte da Piedade is located just west of Lagos and showcases the rugged coastline. The golden cliff-like rocks can reach up to 20m high. There is a footpath that allows you to view them from different angles.
These caves, sea arches, and other natural features of rock formations have been created from limestone over several thousands of years.
You can take a boat tour with a local guide, or another option is to kayak there yourself! Bad swimmers, beware; the waves in Lagos aren't too friendly.
The contrast between turquoise waters and golden cliffs makes Portugal's Algarve region special. This contrast of hues is more evident at Ponta da Piedade.
I strongly recommend the Sagres Sunset Tour for a romantic evening, especially if you love to see a beautiful sunset!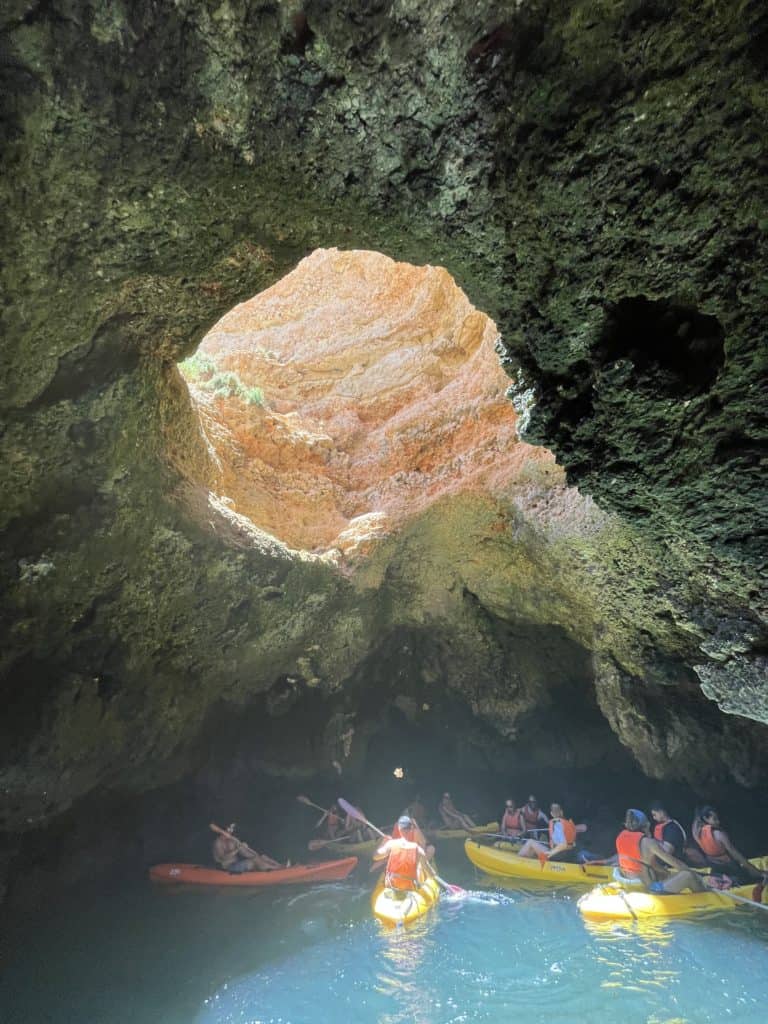 There are three different options for exploring Ponta De Piedade. You can take a boat tour, kayak, or the Algarve Golden Gate Cruise. All three options are great; it all depends on what you prefer!
I like to relax when abroad, so there's no way I'm taking the kayak there. I took the cruise.
The Benagil Caves are one of the most famous attractions in Lagos. It is known for its fantastic sea cave.
It's literally a small beach area with a perfect shadowed area because of the rock formations above, and it was very neat to visit.
The Benagil Caves are located on the southern coast of the central Algarve, close to the popular tourist destination Praia do Carvoeiro.
The Benagil Caves have been a favorite with residents who want to enjoy the warm summer temperatures and explore the caves. Not to mention, it makes for the perfect shade spot!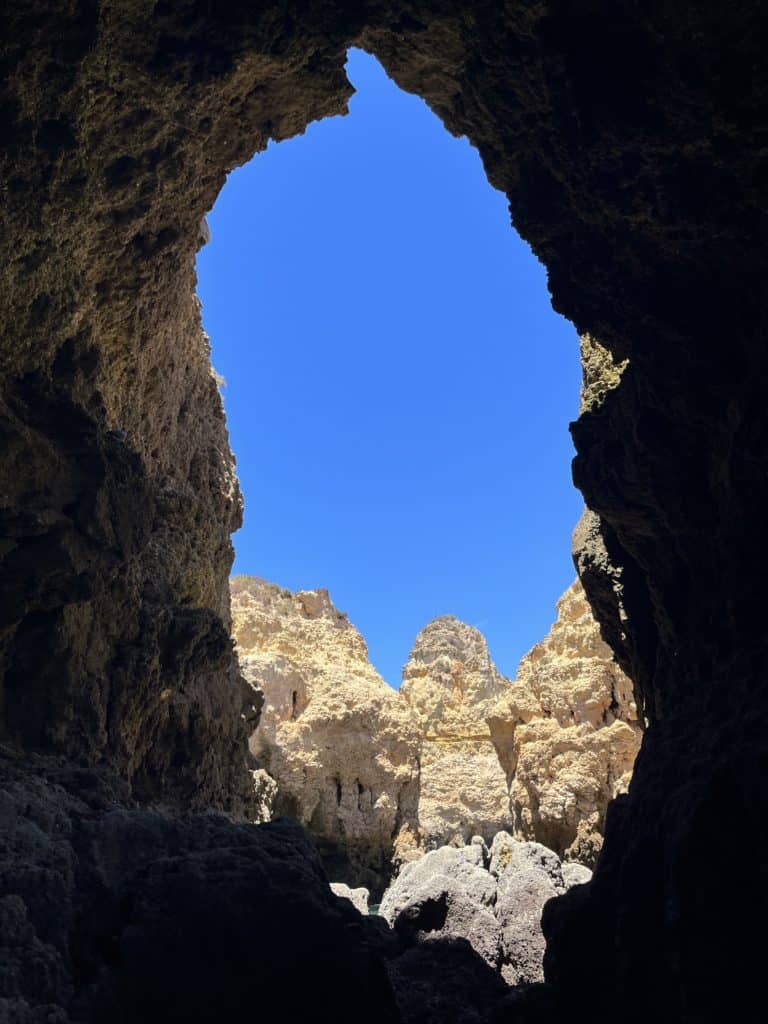 The Benagil Caves aren't too far from the mainland, but it is not recommended to swim to the caves. Because the water on the way to the caves has strong currents going from side to side, and the tides can change rapidly. Getting on one of the boats is much safer to ensure a safe way to visit.
You can board a boat to take you to the caves of Benagil Beach. However, the trips are trendy in the summer, so you may have to wait for your turn if you choose to go to Benagil.
The cave has been featured all over the internet as one of the top destinations to visit. The Benagil Caves is a very Instagram-able tourist attraction—especially the beach formation under the rocks.
When people think of wine, they tend to think of Italy or France. And for some odd reason, most tend to forget to mention Portugal.
But then again, you wouldn't know Portugal is a top wine country unless you're really into wine. Portugal produces some of the best wines in the world.
So why on earth would you visit Portugal without attending a wine tasting?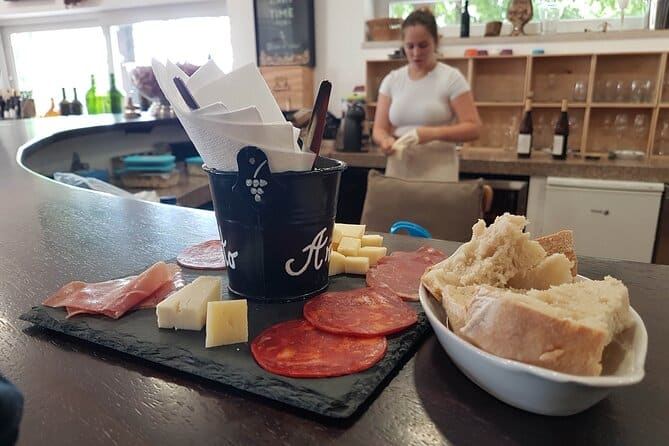 The Algarve region has a long history of producing excellent wines for years, so take advantage of your stay in Lagos.
The half-day Wine Tasting Tour is for small groups to enjoy various foods along with their wine-tasting experience.
You will learn about wine production and the surrounding countryside. You might also consider this Private Algarve Wines Route tour, which includes multiple tastings.
Visit Praia do Camilo
The stunning Praia do Camilo is one of the most beautiful beaches in Lagos. Praia do Camilo, a collection of two small coves which make up Praia do Camilo, has seen quite an increase in popularity over recent years.
The installation of steps to get down to the beach has only increased its popularity.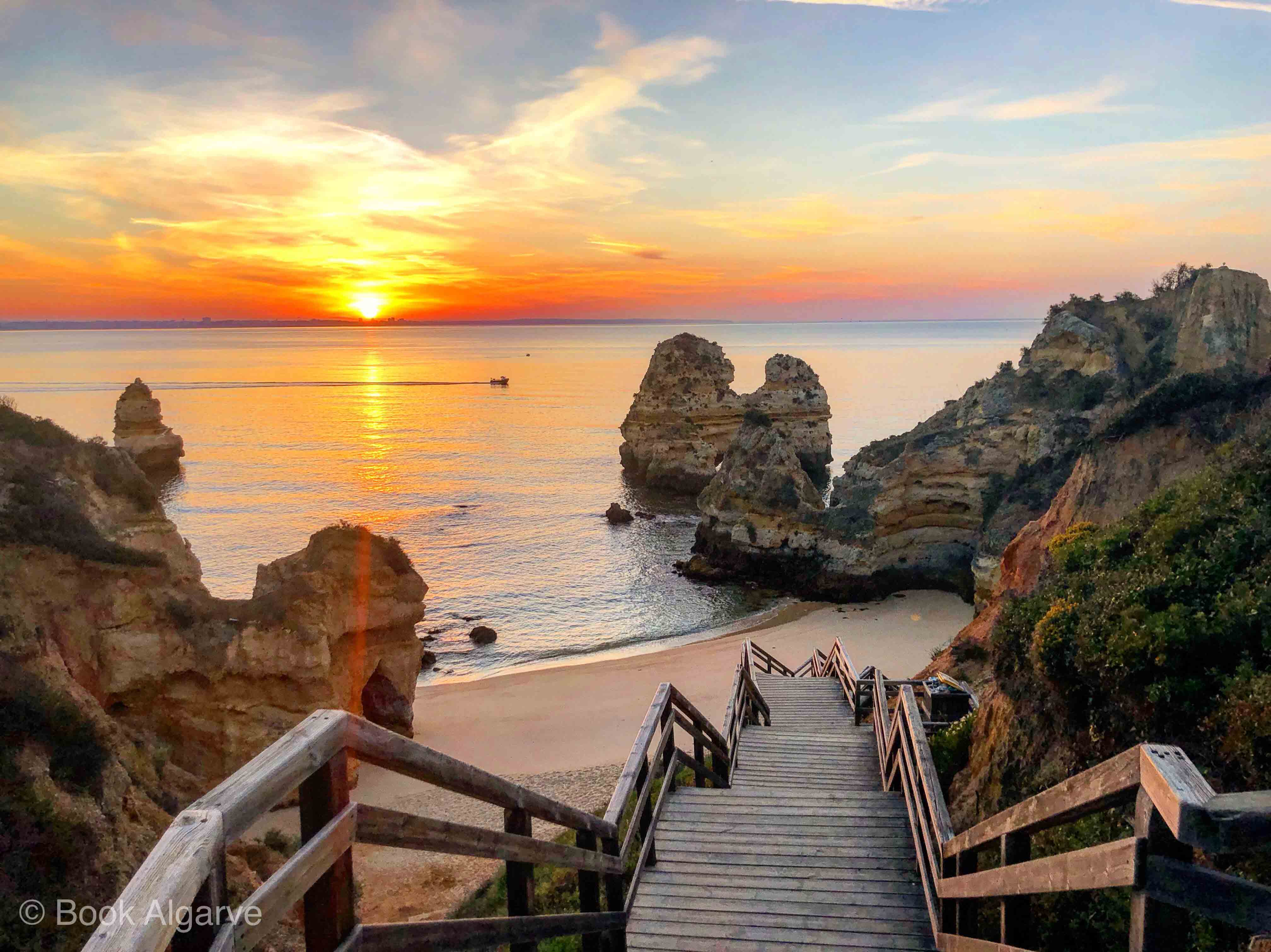 It is best to avoid the morning and late afternoon peak hours here. This small-sized crowd can make it feel crowded when only a few dozen people are there. This beach is located right next to another popular viewpoint named Farol da Ponta da Piedade.
It is ideal for cooling off after a hike around the cliff tops. This little beach is located far from the center of Lagos and is a must-visit.
You can relax on Praia de Camilo through the tunnel at the bottom of the cliff. A second hidden beach is also available, which is equally stunning as Praia do Camilo. You should know this simple fact – you can find a cave opening anywhere in Lagos, Portugal.
Try Local Food
The local food is exquisite in Lagos, Portugal, despite not being as big of a city as Lisboa or Porto. And despite Porto being the seafood capital of Portugal, Lagos is a close second in seafood cuisine in Portugal.
Lagos has a wide selection of restaurants and bars, covering every taste and cuisine style. No matter your taste preference, we recommend you try the local cuisine.
According to Taste Atlas – These Local Foods in Lagos You Must Try
1: Honey
2: Citrus Fruit (Citrinos do Algarve)
3: Sweet Potato (Batata Doce e Aljezur)
4: Fruit Brandy (Medronho)
5: Stew (Cataplana)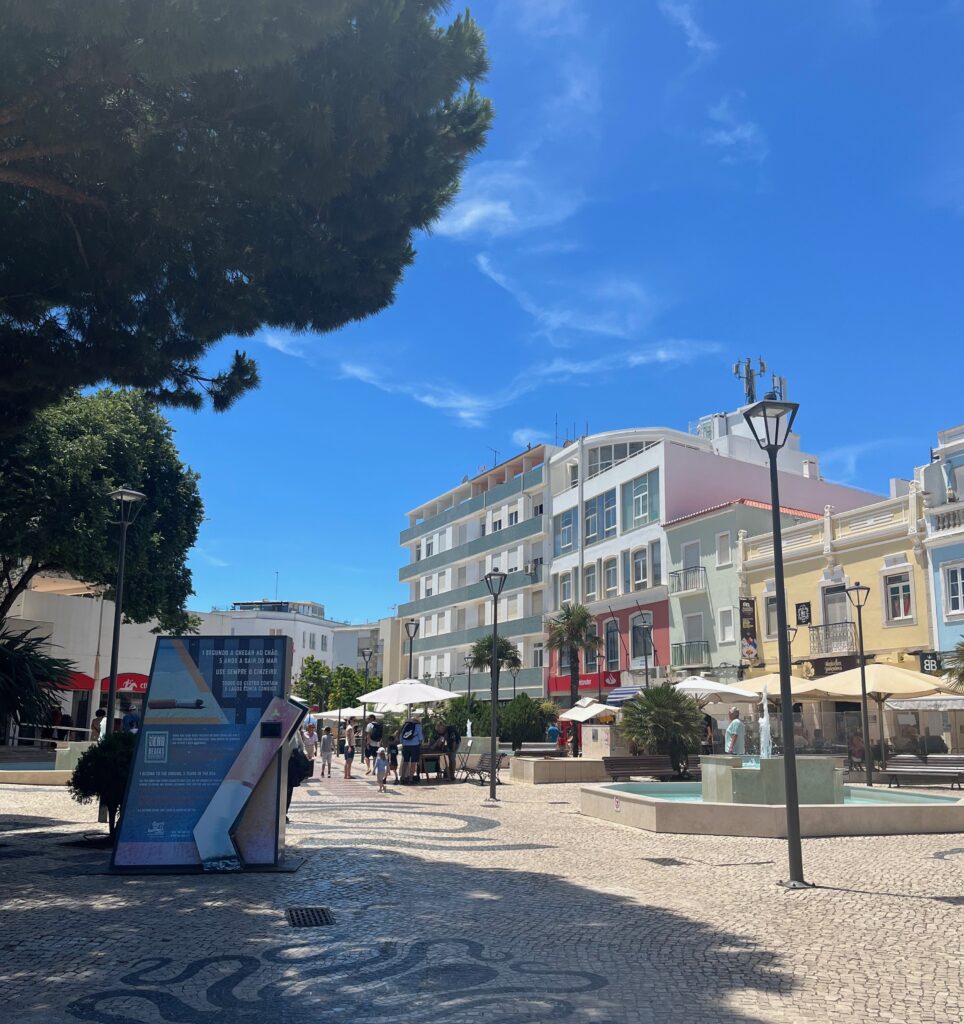 Lagos Restaurants
The cuisine in Lagos is relatively diverse but still on topic, with excellent Portuguese food. Being by the sea, you can expect a large selection of food cuisines here, and the seafood is excellent here.
If you're like me, you research high and low for the best restaurants in any city you will be visiting. I'm a foodie at heart, and if I'm not eating good food abroad, I am not happy on vacation.
This is why I've created a short list of the best restaurants in Lagos (in no particular order) for you to consider when visiting.
All restaurant recommendations I'm sharing with you are Portuguese. I didn't bother with anything else. You're in Portugal, eat the local food!
Hotels in Lagos Portugal
Here are a few options for you to consider where to stay in Lagos. Consider your budget and how much you want to spend on accommodations. Is it a honeymoon? A trip where you're looking to budget; if that's the case, make sure you use our Budget Travel Guide.
Below is a shortlist of the best hotels in Lago, Portugal, categorized by budget. So no matter your budget, you should find a great hotel selection below.
Belmar Spa & Beach Resort – High End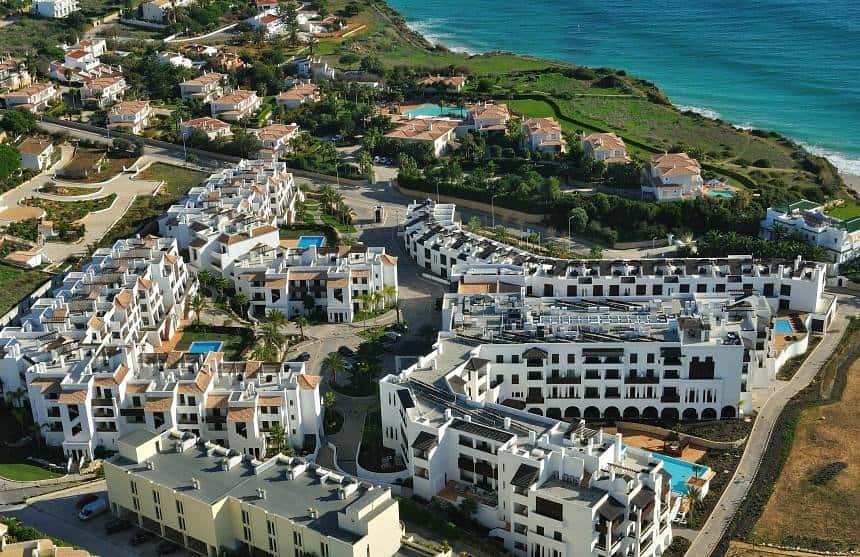 This stunning beach resort is located in Porto de Mos, a neighborhood in Lagos. It's right in the middle of the entertainment district of Lagos.
They offer a variety of apartment sizes fully equipped with a kitchen and washroom. The rooms make you feel like you are renting an Airbnb because you have everything you need.
Agua Hotels Vila Branca – Mid Range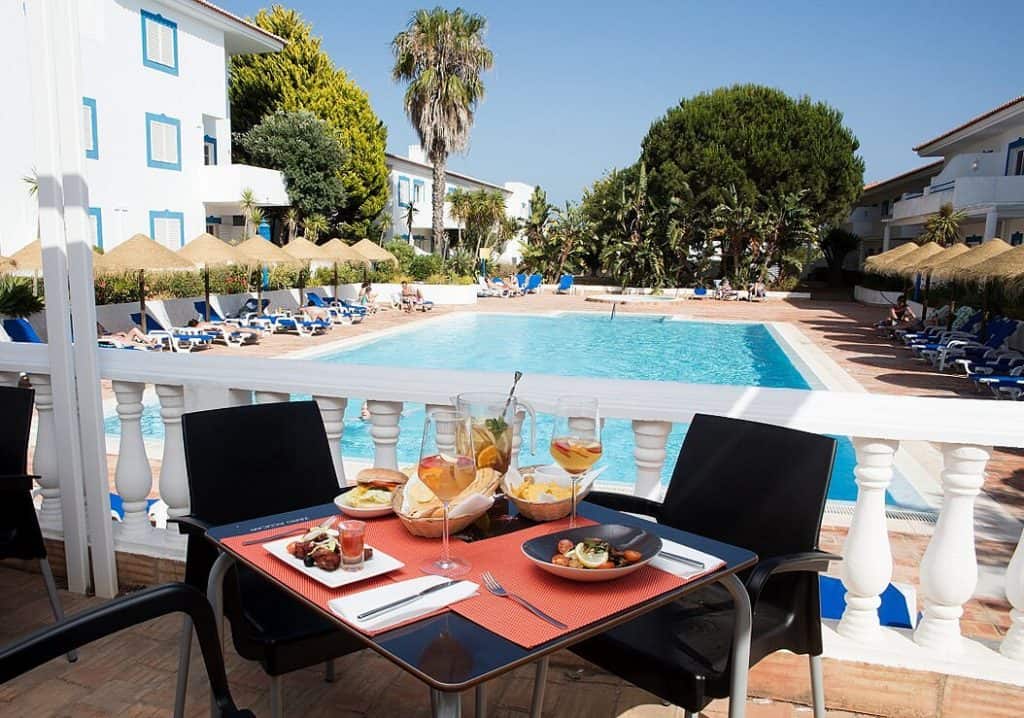 This hotel has a stunning Mediterranean vibe because of its decor. Not too far from the beaches, you're between two famous beaches, Praia Dos Estudantes, and Praia Do Camilo.
Agua Hotels is also located quite close to many shopping spots in Lagos.
Olive Hostel Lagos – Budget Friendly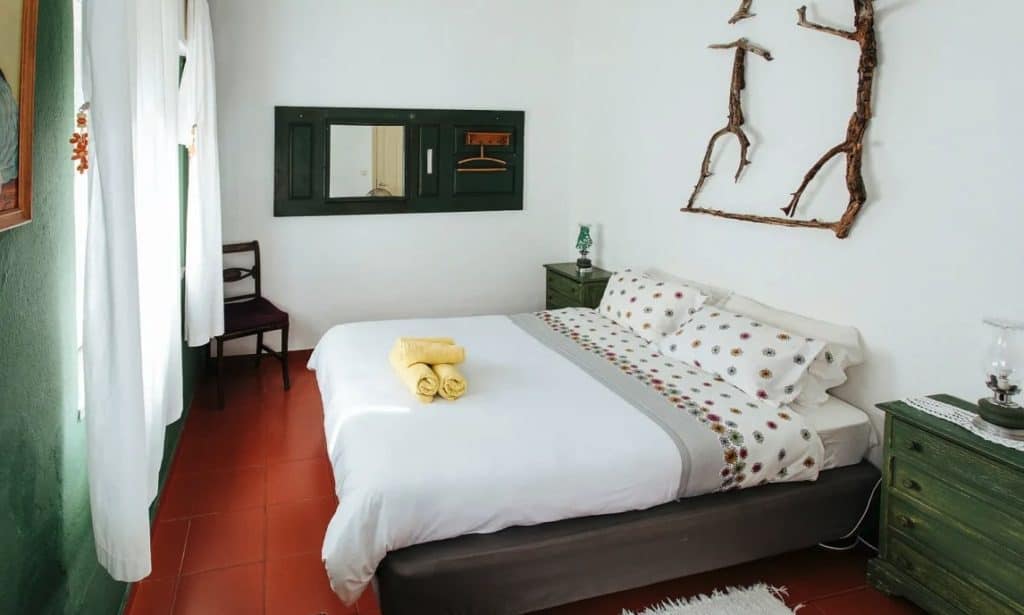 This hostel is perfect for those looking to budget for their Lagos trip. The property is roughly 12 minutes walk from the beaches.
It's located in the center of Lagos, so you're conveniently close to everything you need. They offer a variety of hostel accommodations here. It's also very well-rated by solo travelers and backpackers.
Best Beaches in Lagos Portugal
The beaches in Lagos are exceptional. It's the reason many visit Lagos. While there are many beautiful beaches all over Europe, the Algarve Coast is home to some of the most excellent European beaches.
Lagos is not your average beach town. You'll see what we mean the first time you look at the majestic cliffs and clear turquoise-blue waters.
Remember, there are quite a few secret beaches you can go to through low tide. These secluded calm private beaches are some of the most excellent beaches in Lagos.
But for now, we'll focus on the 3 best beaches in Lagos, that are very accessible.
PRAIA DA BATATA
Praia da Batata, one of the most popular beaches in Lagos, the beach can become quite crowded during the hot season (Summer Months).
Although this is often called the "town beach," don't let it stop you from making your trip to Lagos.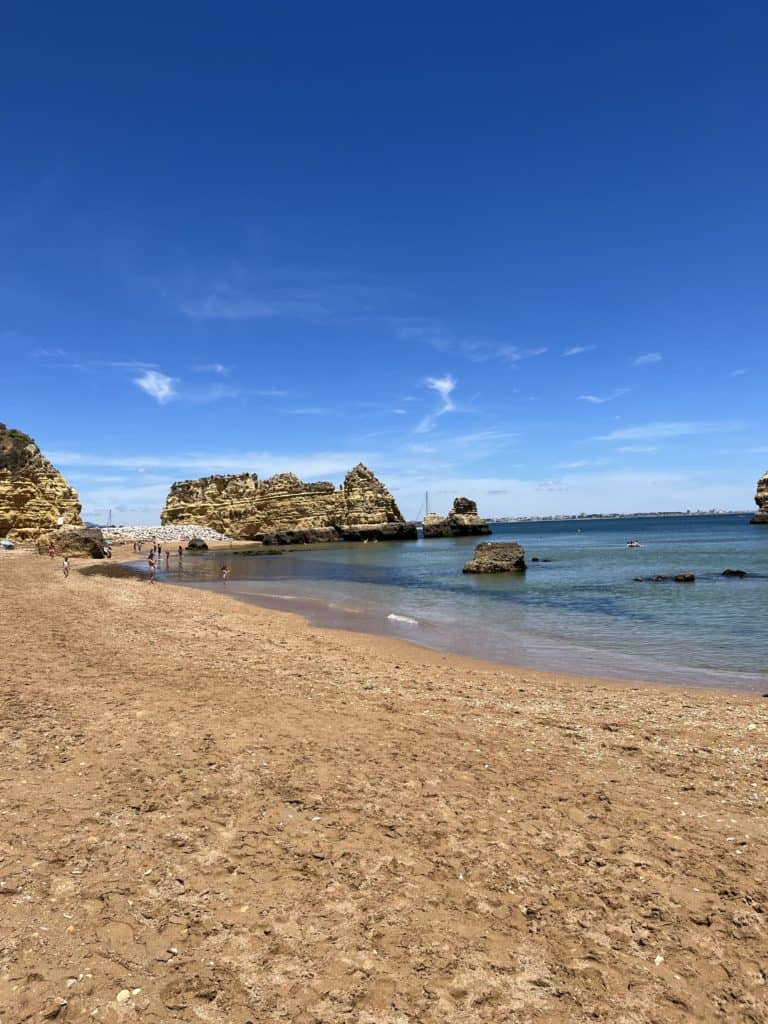 Praia da Batata is one of Lago's most beautiful and incredible beaches. You can relax in the clear waters within minutes of walking from the castle wall.
You can walk down the stretch of beach, past the large rocks, to reach the second cove. That's where the crowd begins to settle down. I suggest you go there if you're looking for a quiet afternoon.
PRAIA DOS ESTUDANTES
Praia Dos Estudantes translates into Student Beach in Portuguese; this beach can get quite busy, and everyone, including young people, families, and some students, likes to visit this beach.
Praia Dos Estudantes, a beautiful beach in Algarve, is just a short walk from Lago's Old Town. This little beach is perfect for taking photos and is right next to Praia da Batata.
This is a quiet, sandy beach surrounded by cliffs. It is also known for the Roman-style bridge that crosses the beach.
PRAIA DO PINHAO
Praia da Pinhao lies at the bottom of the steep ochre cliffs running along the coast towards Ponta da Piedade. It is not easily visible; it's hidden. The steep stone staircase that descends the cliff via a series of terraces leads to it.
The little beach shares the same fantastic rock formations and crystal clear waters as nearby beaches Praia Dona Ana and Camilo.
It's the quietest beach of the three on our list. So if you're looking for complete peace, this is the beach for you.
Lagos Portugal Weather
Lagos is a great destination year-round, as it offers something for everyone. Your travel style and preference for weather will determine the best time to visit Lagos.
The Mediterranean air dominates the majority of the region. But if you're coming here for the holidays. Here's a breakdown of the weather for you in Lagos.
The peak/hot season in Lagos is between June and September. The weather is perfect for spending time on the beach during this time. You can't go to the beach in Lagos from May until around mid-October.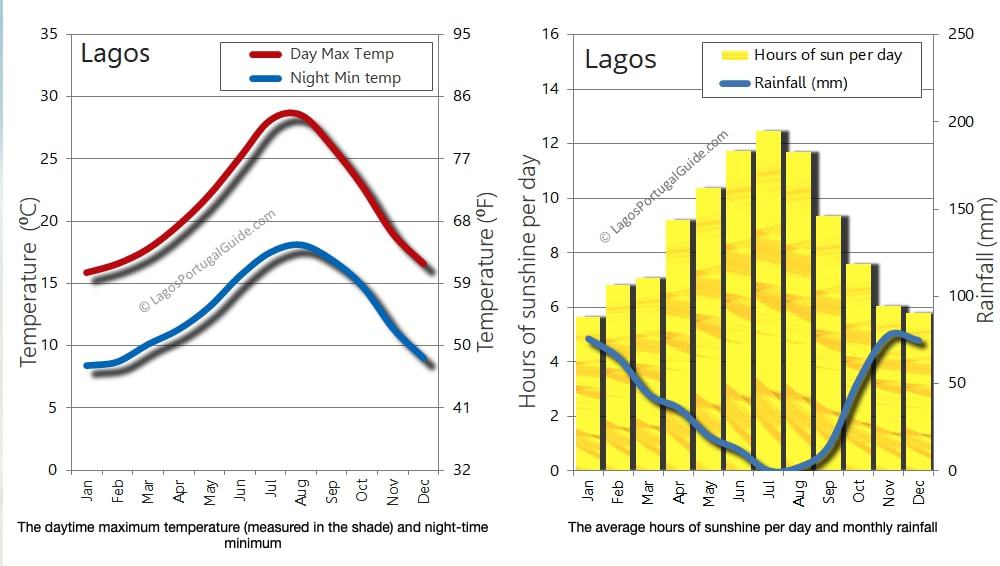 Best Time to Visit Lagos Portugal
July and August are the peak months for family holidays, so expect to see some kids running around at the beach. This is also the best time to come; the weather is perfect for the beach during this time.
June and September are popular times for large groups of friends and couples to visit.
If you're considering visiting during the peak season, you better book accommodations well in advance. Lagos gets booked up quickly during this time of year, and to get the best price, the earlier you book, the better.
The low season is between November and around the beginning of April when you can't go to the beach.
Are you looking for a place to escape the chills during the winter months of November – April? Go to one of these Playa Del Carmen in Mexico!
How Long should you stay in Lagos Portugal?
It all depends on what you're looking to experience, but I'd highly recommend at least four days.
I spent three days and did a lot, but I felt I could have spent another day or two exploring the city.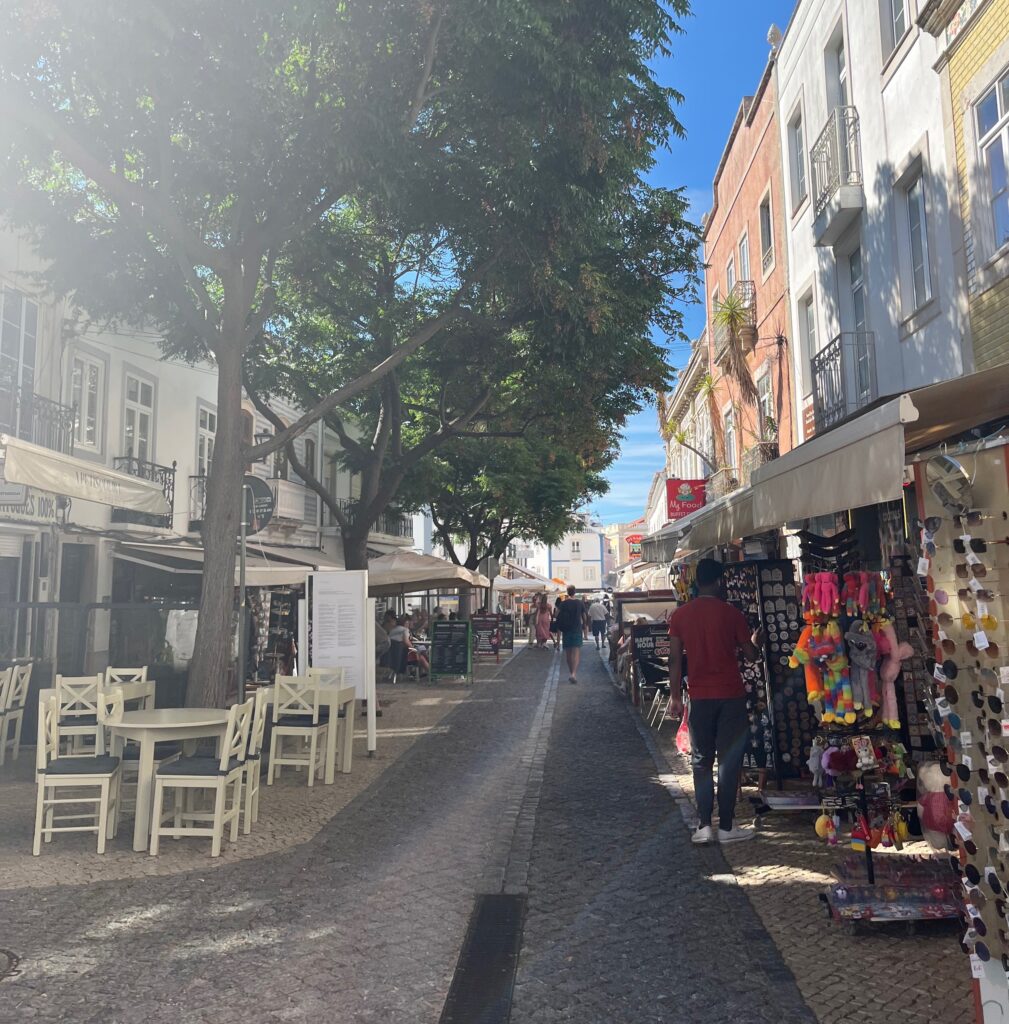 Is Lagos in Portugal Worth Visiting?
Yes, it is worth visiting. As stated before, it's home to some of the most excellent beaches in the world, and the unique rock formations that habit the waters here are a sight to see.
And after visiting Lagos, there are many different places you can continue your travels within the Algarve Region.
Might I add, it's much cheaper to visit the beaches here than to visit the beaches in Portugal's neighboring Spain, other than maybe Benidorm.
I'm sharing this with you because oftentimes Spain is Portugal's neighbor and is more famous for its beach town destinations, Marbella, Ibiza, Palma, etc. Your trip to a beach town destination in Spain will cost you much more than visiting Lagos.
Is Lagos Portugal Safe?
Lagos is a very safe place to visit, evening walking in the late evenings you won't have a problem. It's relatively quiet and has its nightlife, but no need to worry about anything safety-wise here.
The city/town of Lagos is not too large, making it the perfect beach town size. Adding to the relaxing atmosphere, one may be after.
Is Lagos Portugal Expensive?
No, Lagos is not expensive, but it depends on your definition of expensive. If you compare Lagos to vacation destinations in Asia, it's expensive.
But if you're comparing Lagos to other European vacation hotspots such as Mykonos, Barcelona, Positano, etc, well, Lagos is much cheaper.
As you prepare to head over to Lagos or anywhere in Portugal. Make sure you get travel insurance before going! I highly recommend SafetyWing for full coverage when traveling.
As stated at the beginning of this article, if you're looking for somewhere similar to the Algarve region. Another place in Europe with several beach towns on its coastlines, make sure to visit the Amalfi Coast in Italy.
Positano is the most famous town on the Amalfi Coast, one of the most beautiful places I've visited in Europe. But if you're considering your pocket, Positano is way more costly than Lagos.
Looking for cheap countries to visit? Use my guide if you're looking for the cheapest places to visit worldwide.
Subscribe to Travel Hiatus!
Receive updates on my latest posts, insider travel tips & the best destination guides to your inbox!
Happy & Safe Travels
---
Planning Checklist
---
Disclaimer: Please note that some of the links shared in this article might be affiliate links; this means that at absolutely no extra cost to you, we will earn a small commission for any sales generated through this article and/or this website. We recommend products/services we've either used or researched thoroughly – Thank you for supporting us so we can continue to share helpful travel content!