7 Must Experience Food Tours in Cancun
Are you visiting Cancun and looking for the best food tours in Cancun, Mexico? Look no further; this food tour guide covers everything you need to know about the best Cancun food tours!
Local cuisine in Cancun is influenced by the region it's in, the Quintana Roo region. This region of Mexico is most famous for its variety of taco flavors, gringas, tortas, and fresh seafood dishes such as ceviche, fried fish, and more.
There are many fun things to do in Cancun, but if it's your first time visiting Cancun, an absolute must-do is attending a food tour in Cancun.
On a food tour, you don't need to worry about finding the best places to eat in Cancun; local guides will take you to them and share their knowledge of the local cuisine!
Also, if your time is limited in Cancun, a food tour is an excellent way to experience Mexican cuisine fully in a day!
When visiting Cancun, I invite and recommend you to leave the Hotel Zone to experience Cancun food to the fullest authentically.
ALL Tours in this article offer up to 24 hours in advance cancelation for a full refund — In case your plans change
3 in 1 Street Food Tour
Famous for being the best Cancun food tour, with over 430 reviews, it is the 3 in 1 street food tour.
On this food tour, you will spend 3 hours and a half exploring Cancun's culinary hotspots.
On this food adventure, you will visit local markets and various street food stalls and taste several Mexican foods popular in Cancun.
What You'll Be Eating
Classic carnitas / Pork Tacos
Mexico City style "Tamales" / During this time, you will explore the local market
Barbacoa Tacos / Slowly braised lamb tacos
Yucatan "Salbute" / Crunch "salbute" topped with turkey or pork
Handmade Popsicles for Dessert
Round-trip hotel pickup and drop-off are included in the tour purchase. So you don't need to worry about getting anywhere!
What's Included:
3.5 Hours guided Street food tour in Cancun
Food and Soft drinks
Bottled Water
5-Stop Taco Tour with Local Beer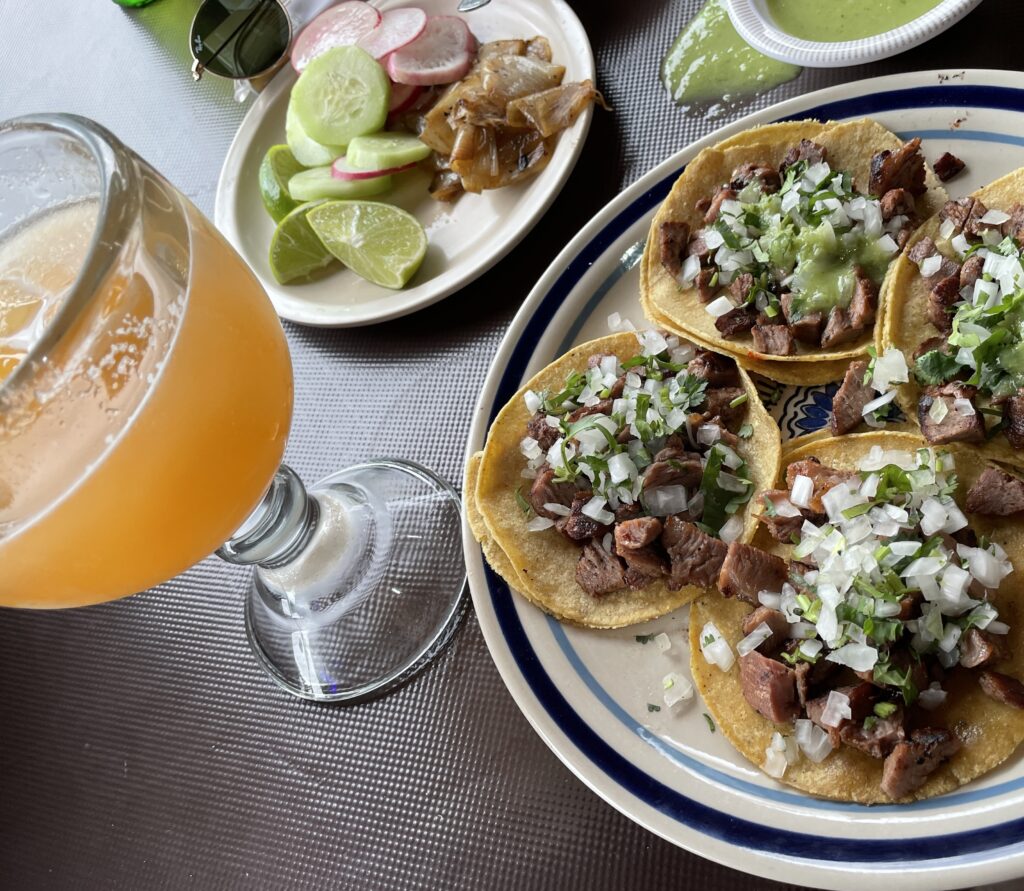 The best Cancun Taco Tour is the 5 Stop Taco tour, perfect for taco lovers looking to try all sorts of taco types, including the famous classic Al Pastor/iconic pork tacos, Arrachero tacos/flank steak, and many more!
What goes best with tacos? Local Mexican beer or tequila, lucky for you, on this taco tour, a beer and tequila tasting is included with your tacos.
Don't just stay in the Hotel Zone; that's not where the best tacos in Cancun are; they're in town!
On this tour, you'll get to skip the line at four different popular spots in Cancun; you don't have to worry about getting in line.
What You'll Be Eating
Mexico City style Taco
Cochinita Pibil / pulled pork marinated taco
Taco de Surtido / a beef mix taco in Mexican spices
Arrachera Taco / juicy beef flank taco
Churros for Dessert / a classic Mexican dessert
From any hotel in Cancun, roundtrip pick up and drop off in an air-conditioned vehicle are included in the tour purchase.
What's Included:
Skip the line at 4 Popular Taco Spots in Cancun
Four complimentary beers for adults 18+
English Speaking Guide
Vegetarian Menu per request
Round Trip hotel pickup/drop off
Lucha Libre with Tacos, Magaritas, Tequila & more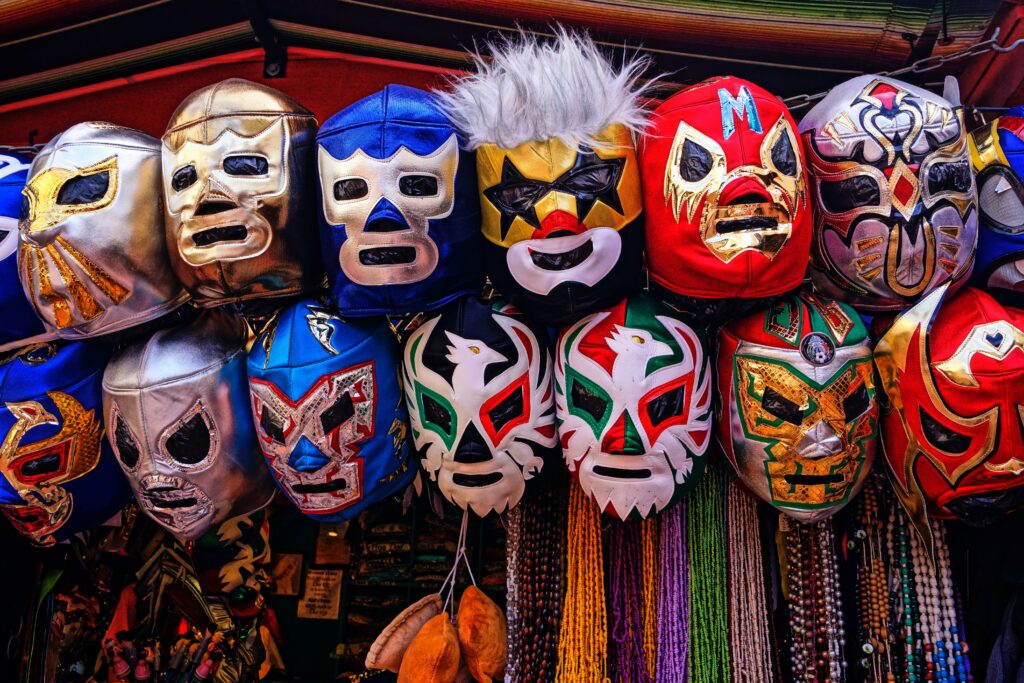 Not only is this a food tour, but this is a Lucha Libre Cancun Food Tour. You'll get to enjoy a show after trying several classic tacos!
Experience a Lucha Libre show of traditional Mexican-style wrestling, where you'll witness acrobatic, high-flying men performing. Best of all, you'll get front-row seats to experience this after the food tour!
After you've had several classic tacos, sit back and witness this traditional form of wrestling as you sip on a few margaritas and beer!
Traditional Mexican snacks included on the tour are chicharrones/fried pork bits, esquires/street corn salad, and homemade popcorn.
What You'll Be Eating
Taco Al Pastor / Thinly sliced classic pork tacos
Taco de Chorizo / Cured smoked pork sausage tacos
Taco de Chuleta / Grilled pork chop tacos
Taco de Arrachera / Juice grilled beef tacos, including flank and skirt steak
Taco de Pollo / Grilled chicken breast tacos
Guacamole
Churros for Dessert
Round-trip hotel picks and drop-offs in an air-conditioned vehicle are included in the tour price.
Note: This food tour is only available on Thursday evenings
What's Included:
5 Hour tour
Lucha Libre Show / 1st-row seats
Mexican Snacks
Souvenir Luchador Mask
Hotel pickup and drop off roundtrip transportation
Taco Cancun City Tour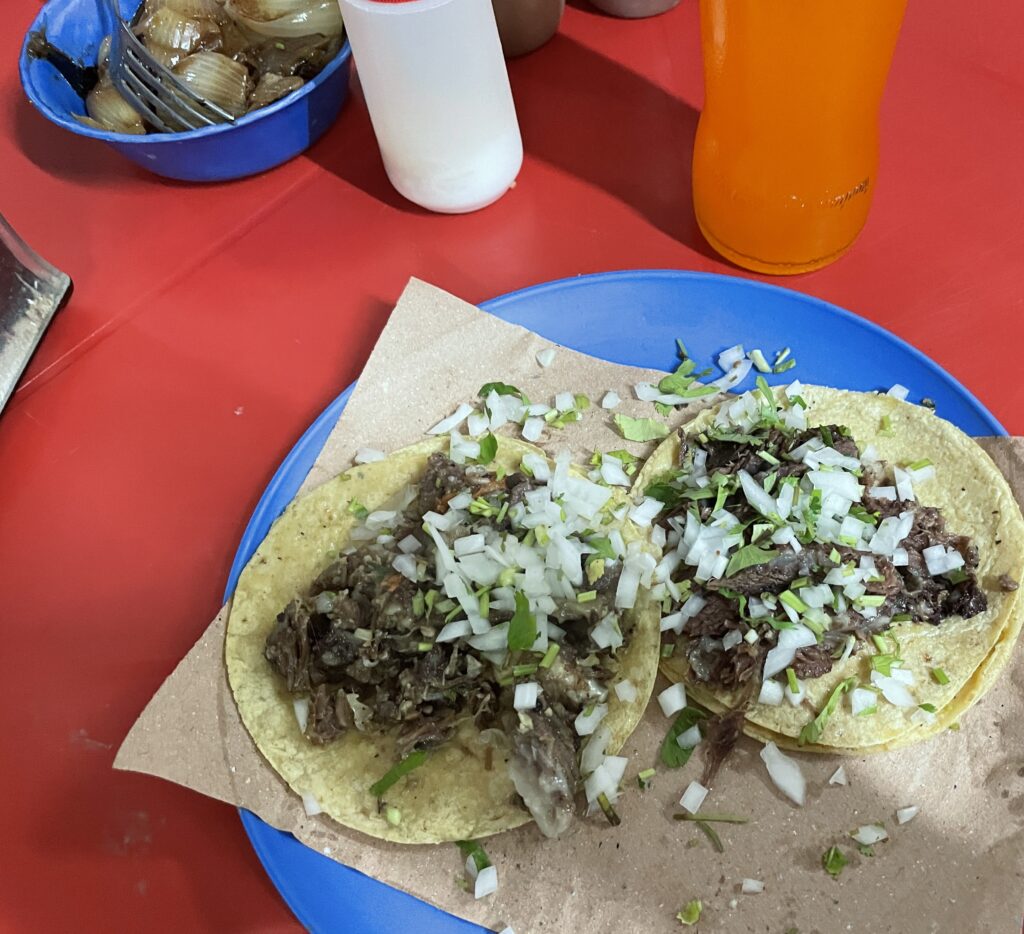 This is one of the best food tours in Cancun because you will be visiting some of the top restaurants in the city in a small group, serious foodies; this is your tour!
On Taco Tour Cancun, you will be taken to 5 different stops to visit the best taquerias in Cancun, city parks, and local markets.
Once you've enjoyed many tacos/quesadillas and had a few drinks, you'll get some free time to walk it off and explore some of Cancun's best shopping destinations for souvenirs to take home with you!
What You'll Be Eating
Tacos at Anona 35
Tequila and Mezcal sampling at Local Market / Mercado 28
Al Pastor/Flank Tacos and Margaritas at La Parrilla Cancun
Fish and shrimp quesadillas at Pescaditos
La Marquesita for Dessert at a Local Park
NOTE: This tour doesn't offer round-trip hotel transportation; you must go there.
What's Included:
Guided Cancun City Tour
Bottled Water / Soda
Beer and Tequila tasting
Time for Shopping/Exploring
Cancun Street Food & Urban Art Tour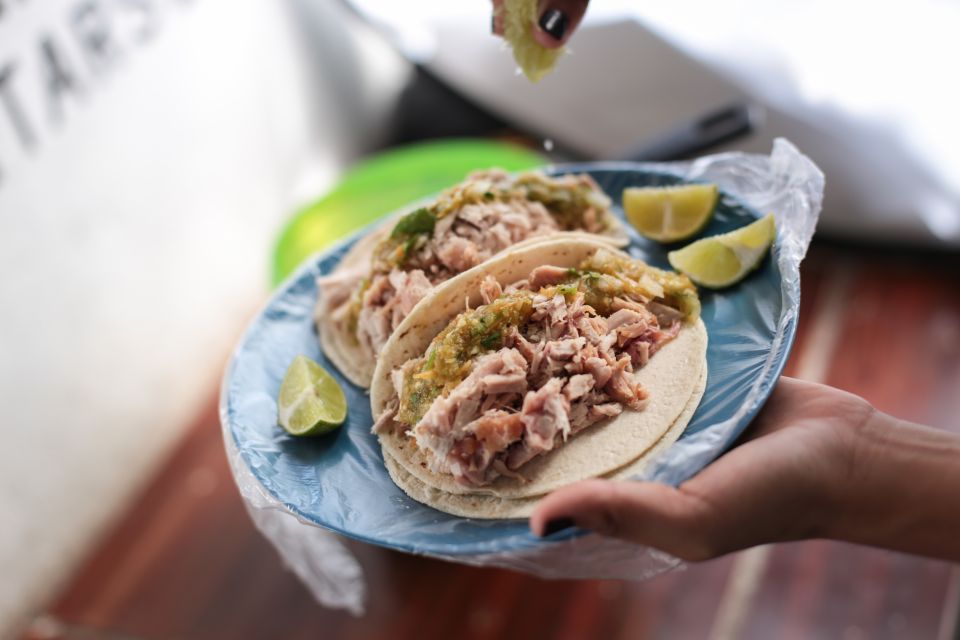 On this Cancun Street food tour, you will sample 4 traditional Mexican dishes, including barbacoa tacos (slow-cooked lamb tacos), tamales, carnitas tacos, and chochinita pibil, a famous Yucatan-style roasted pork dish.
Once you're full after indulging in these delicious Mexican dishes, you'll be taken to enjoy street art scenery with features of both local and international artists.
Afterward, you will be pleased to visit two popular local markets in Cancun and explore/try many of the local food vendor stalls.
What You'll Be Eating
Barbacoa Tacos / slow braised Lamb tacos
Tamales / Corn based with various mixtures
Carnita Tacos / simmered pork tacos
Chochinita Pibil / traditional roasted pork dish
Freshly squeezed juice
Mexican Desserts
The tour includes pick-up and drop-off roundtrip transportation from your hotel in Cancun. A transportation fee will be applicable for those anywhere in the Riviera Maya.
What's Included:
Bottled Water
English Speaking Guide
Vegetarian Substitutions per request
Soft Drinks
Street food and art booklet
Round-trip hotel pickup and drop-off transportation
Mexican Cooking Class with Local Market Ingredients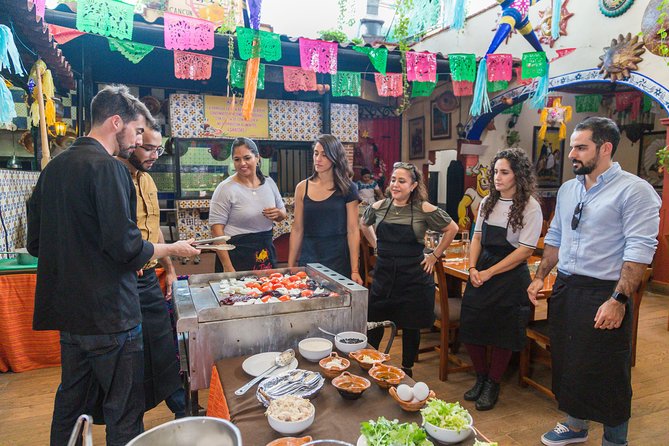 Are you not looking to do one of the traditional food tours in Cancun? Want to try something new and learn how to make some Mexican food? This is the Cancun food tour for you!
During this Mexican Cooking Class Tour, you will be accompanied by the guidance of a professional chef who will teach you how to make handmade tortillas, sopes, guacamole, enchiladas, and more.
When it's time to enjoy what you've cooked, you'll get to drink some margaritas, and dessert will include arroz con leche, a rice pudding with milk.
The class is taught in a group of only 10 people participants, allowing for a personalized local cooking experience.
If you're visiting Cancun with your partner, a cooking class is an excellent couples activity; you'll learn a few Mexican dishes to cook for one another when you're back home!
What You'll Be Eating
Fresh local fruit
Guacamole
Refried Beans
Handmade Tortillas
Sopes / Thick corn base with various toppings
Enchiladas / classic rolled-up chicken tacos in a green/red sauce
Margaritas
Arroz Con Lecha for Dessert / a rice pudding with milk
The tour includes roundtrip pickup/drop-off from your hotel.
What's Included:
4 Course Mexican Dishes
Cooking Lessons from a Professional Chef
4 Hour Cooking Class & Market tour
Soft Drink / Bottled water
Margaritas
Hotel Roundtrip pickup and drop-off transportation in an air-conditioned vehicle
Romantic Dinner on a Boat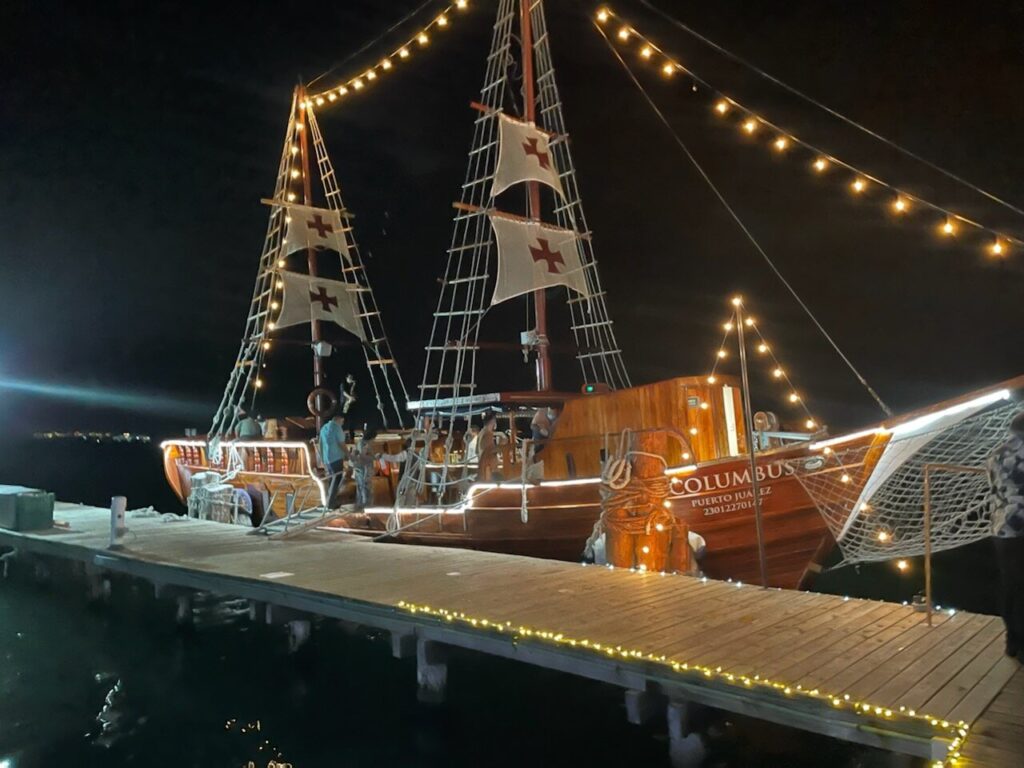 For those visiting Cancun with their partner and looking to do something romantic, don't look further; this is the perfect evening to experience!
The Romantic Boat Dinner Tour begins at 7:00 PM, and you will sail in a stunning Columbus wooden sailboat as you enjoy the sounds of live music being performed and dinner as the sunset takes place in Cancun.
Whether planning a fancy date night or celebrating a honeymoon, this romantic dinner tour is an excellent idea.
As you can see from the photo above, the vessel is beautifully lit-up in the evening, along with the live music and the sun setting; it can't get more romantic!
What You'll Be Eating / Choose One
Lobster Meal
Rib Eye Meal
Surf and Turf
NOTE: Hotel pickup and dropoff aren't included but can be added to your tour package
What's Included:
3 hours of Sailing
Live Music by a Saxophone musician
Sunset Views
Soda/Bottled Water
Restroom on board
Must Try Foods in Cancun Mexico
Now that I've covered the best food tours in Cancun, let's discuss popular foods in Cancun to try!
The cuisine in Cancun is influenced by two different regions, the Quintana Roo region, where Cancun is located. And the Yucatan region, which is North-East of Cancun.
Different foods to try in Cancun; what's most important to try are the various types of tacos and the many seafood dishes.
These two categories best represent the cuisine of the Quintana Roo region. Seafood dishes to try are Mexican ceviche, grilled octopus, and Camarones al Coco
Once you've tried both main categories, venture off your tastebuds and try this region's more traditional Mexican food.
Sopa de Lima
Tlayuda
Cabrito Tacos
Cochinita Pibil
Papadzules
Relleno Negro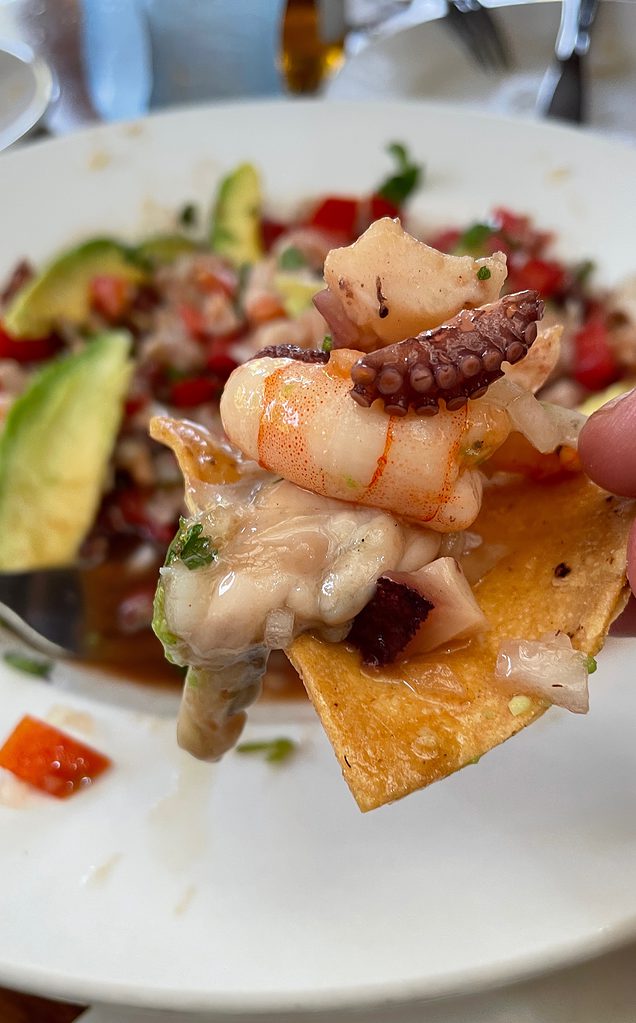 Cancun Food Tours FAQS
What food is Cancun famous for?
Cancun is famous for its various classic Mexican meat-based dishes such as tacos, gringas, quesadillas, and tortas. Also, seafood is very well represented in Cancun.
The local food influence in Cancun is from the Quintana Roo and Yucatan regions.
What is the best Cancun Taco Tour?
The Taco Cancun City Tour is the best taco tour in Cancun because they take you to the best taco restaurants Cancun has to offer that have been around for decades.
What is a Cancun Foodie Tour?
Cancun Foodie Tours offers you to taste the local cuisine with a local guide in the city center of Cancun instead of the touristy Hotel Zone.
How much is street food in Cancun?
Street food in Cancun is cheap, and most street food stalls charge anywhere from $1-$6 US, which is 17-100 MXN Pesos.
Is food expensive in Cancun?
This depends on where you decide to eat; the touristy Hotel Zone is more expensive than Centro Cancun, the city center. On average, a meal at an affordable restaurant in Cancun will cost you $11 US/ 180 MXN.
Final Thoughts: Cancun Food Tours
Whether you're after street food, a Mexican cooking class, or a romantic dinner on the water, experiencing one of the many Cancun Food Tours is an excellent way to experience local cuisine and learn about Cancun's culinary scene.
Cancun is famous for its big resorts along the Hotel Zone, and most resorts tend to offer several cuisine flavors. This persuades many tourists visiting Cancun to only dine at the resort they're staying. At the same time, some of you may prefer this.
But I strongly recommend you venture out of the Hotel Zone and into the city to discover authentic Mexican cuisine firsthand. And that's why I recommend you attend one of the many food tours in Cancun!
Subscribe to Travel Hiatus!
Receive updates on my latest posts, insider travel tips & the best destination guides to your inbox!
Happy & Safe Travels
---
Planning Checklist
---
Disclaimer: Please note that some of the links shared in this article might be affiliate links; this means that at absolutely no extra cost to you, we will earn a small commission for any sales generated through this article and/or this website. We recommend products/services we've either used or researched thoroughly – Thank you for supporting us so we can continue to share helpful travel content!