11 Cheapest Places In Thailand To Visit
Are you planning a trip to Thailand but looking for the cheapest places in Thailand to visit?
While there has been a surge in travel to Thailand in recent years, there are still many affordable places in Thailand to visit!
The most expensive aspects of traveling are always hotels and food. Luckily, overall, hotels and food are cheap in Thailand, which is why it's one of the cheapest countries in the world to visit.
Even when visiting more expensive places in Thailand, like Phuket, you can still find affordable hotels and food!
I've had the pleasure of traveling all over Thailand, including nontourist cities in Thailand, and I can confirm with you there are many cheap places in Thailand to explore!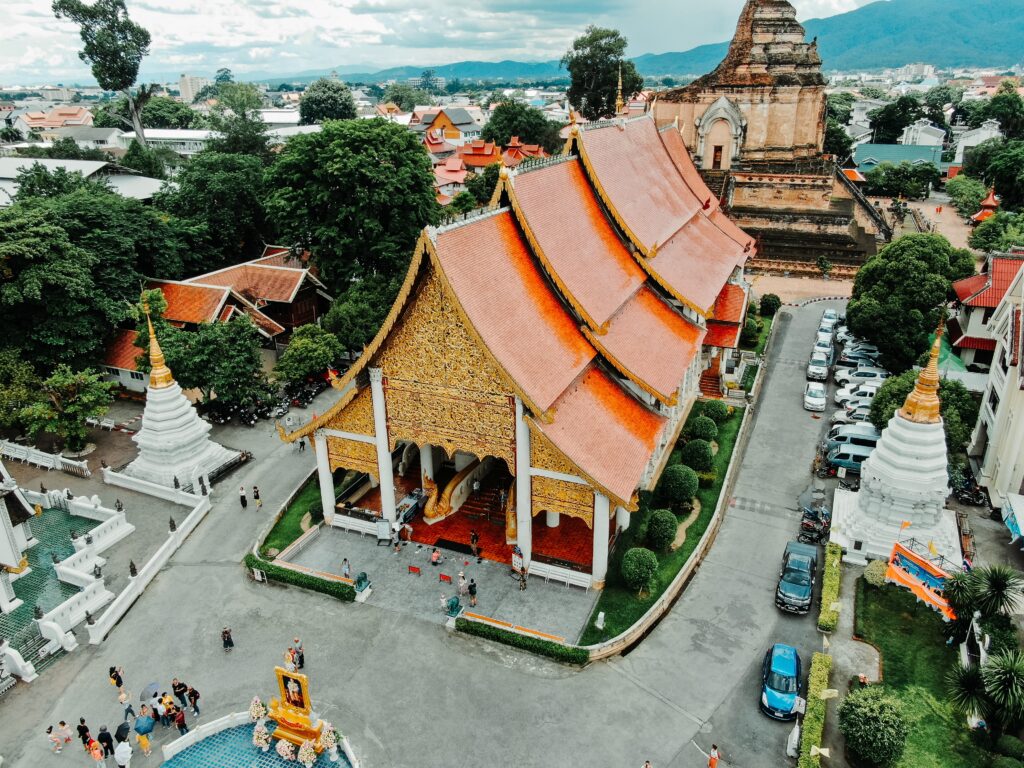 This guide covers the seven cheapest places in Thailand to visit and the four cheapest islands in Thailand to visit. If it's your first time visiting Thailand, you must visit an island or two!
I've made sure to add a few nontourist places in Thailand to explore, such as Chiang Rai, Pai, Hua Hin, and Kanchanaburi. For those looking to experience the most authentic Thai culture, I recommend you visit one of these places!
Fun Fact: Thailand's nickname is The Land of Smiles
Included under each place are the average daily visiting cost and average monthly living costs.
The monthly cost is cheaper because of the lower daily accommodation costs. All average figures are estimates; you can visit/live in any of these places with far less or more, depending on your preference.
Cheapest Places in Thailand to Visit
These are the top seven cheapest places to visit in Thailand. From modern cities to mountainous towns to coastal towns, there is a mix of all in this list.
Each place has its unique characteristics; some are touristy, and others are less touristy!
Chiang Mai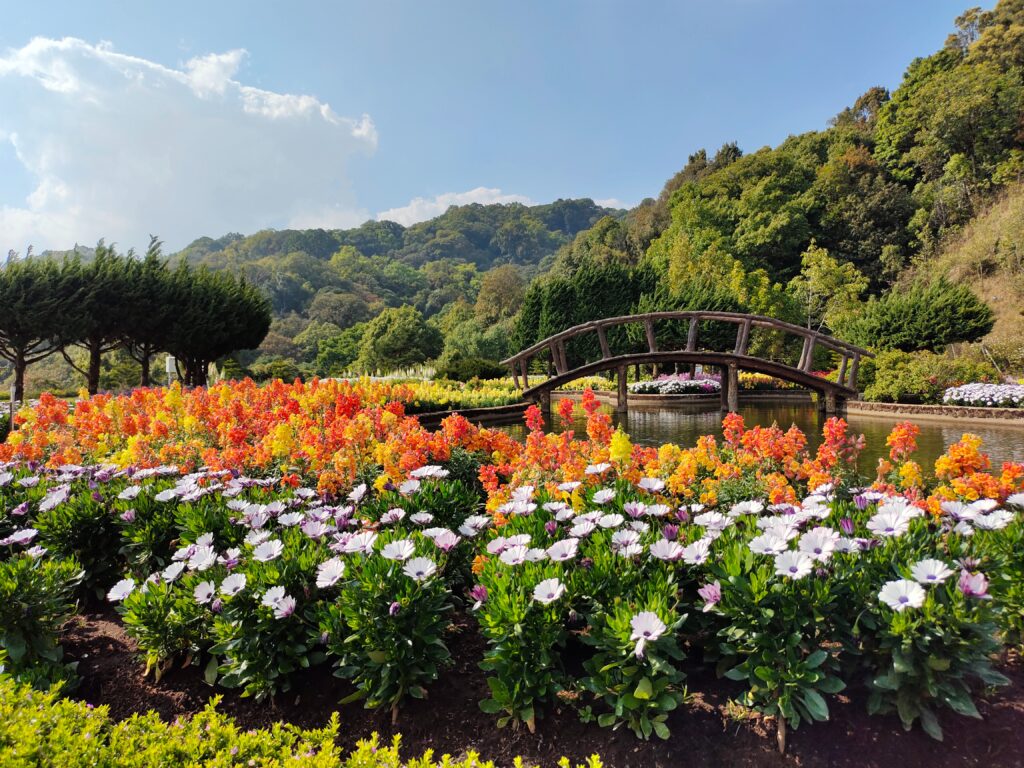 The largest Northern city in Thailand is Chiang Mai, and it's also the cheapest place in Thailand to visit.
From Bangkok, Chiang Mai is a short one-hour flight, or you can fly directly into Chiang Mai International Airport.
Chiang Mai is famous for its mix of mountainous ranges and city life, offering the best of both worlds. The city is full of night markets to explore at night, and several beautiful temples and national parks surround Chiang Mai.
Over the last few years, Chiang Mai has become a hotspot for digital nomads and expats because of its low cost of living, stunning scenery, and still offering big city conveniences. Chiang Mai has some of the fastest internet speeds in Thailand.
Once the capital in the 14th century, today Chiang Mai is a slower-paced version of Bangkok, but not nearly as population-dense. If you need an escape, you can be amongst the mountains from Chiang Mai in minutes!
Average Daily Visitor Cost: $47 US
Average Monthly Living Cost: $850 US
Hua Hin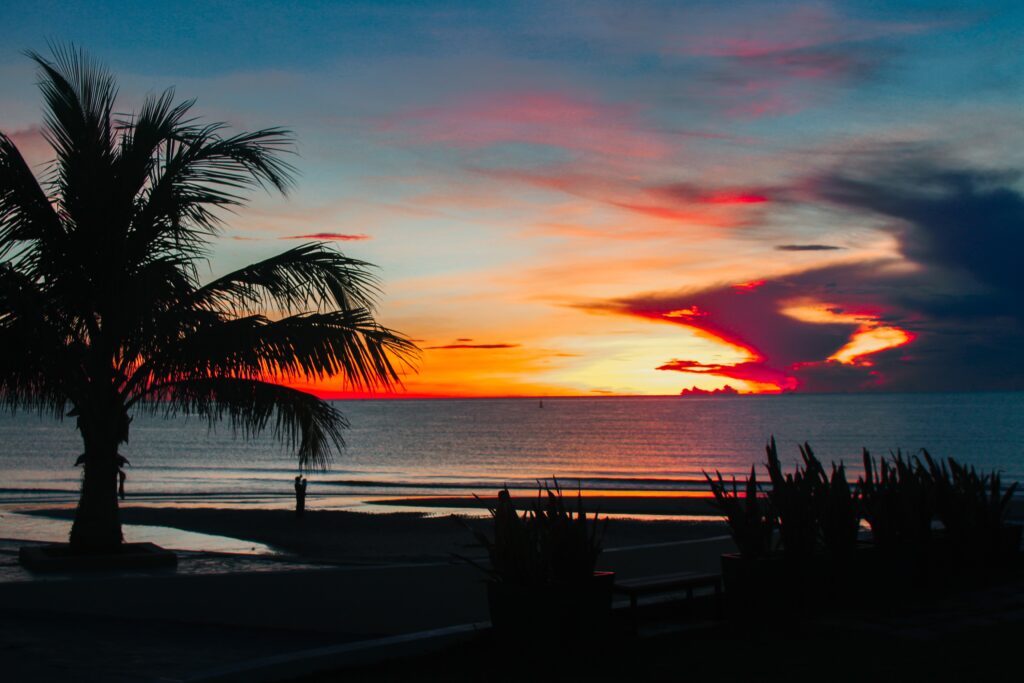 Located along the coast and South of Bangkok is Hua Hin, a small seaside town known for its laidback seaside living, many seafood restaurants, temples, lively night markets, and low-cost living.
On one side is an extensive beach shoreline, and on the other side of the city are beautiful luscious green mountains.
From Bangkok to Hua Hin, a two-hour and 50 minutes drive at a total distance of 193 km. You can get here from Bangkok by either train or bus.
In recent years, condos and hotels have begun to pop up along the beach shorelines as the city is increasingly becoming more popular amongst retirees and nomads. While this is the case, it's not as noticeable as other places in Thailand that are popular amongst expats. The city isn't spoiled by foreigners!
The city is known for having top-level health care, a bonus for those looking to reside here permanently.
Not only is Hua Hin one of the cheapest places in Thailand, but it's also the cheapest coastal seaside town.
Average Daily Visitor Cost: $50 US
Average Monthly Living Cost: $900 US
Bangkok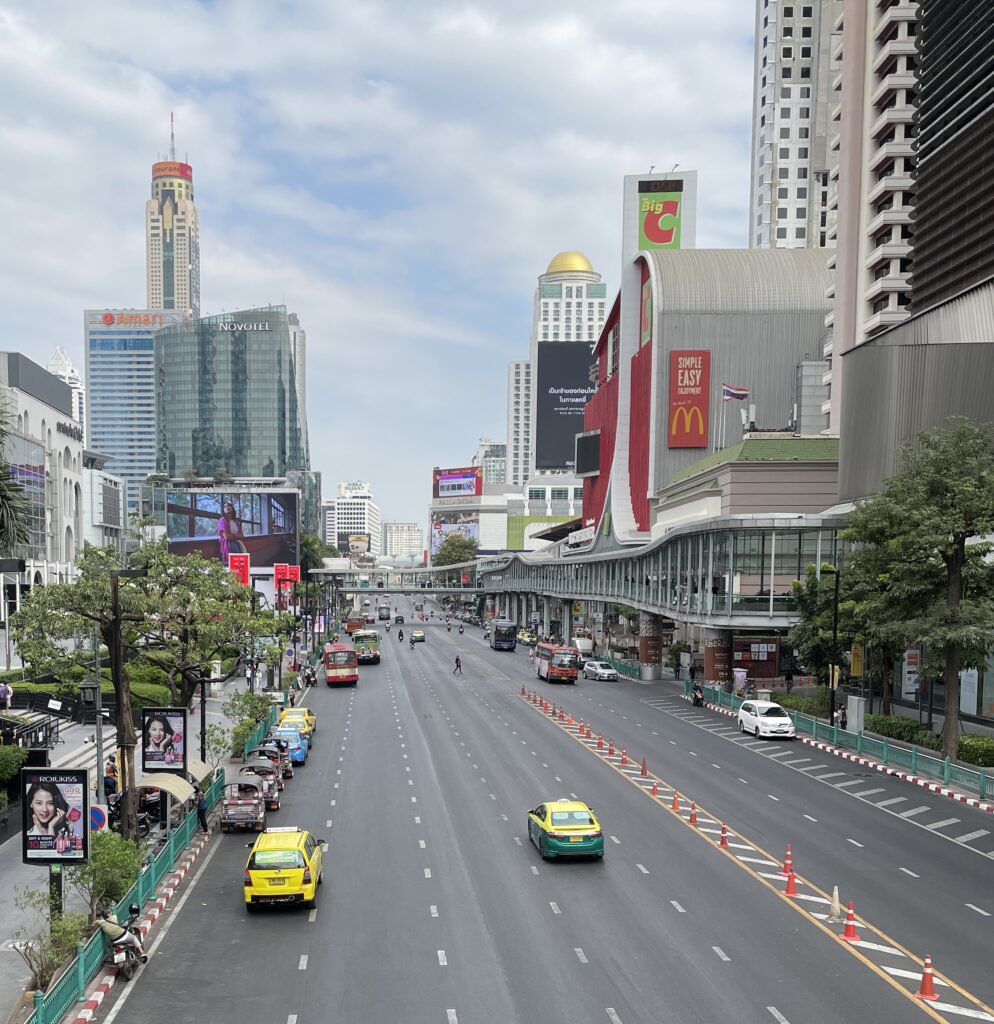 Famous for being one of the world's most visited cities yearly, Thailand's capital is known for its modern metropolitan city living, trade, temples, nightlife, night markets, shopping malls, and more.
Bangkok is one of the cheapest places in Thailand to live. It's also one of the cheapest developed metropolitan cities to live in the world. In recent years, digital nomads and expats have relocated to Bangkok, some temporarily and others permanently.
The best part about Bangkok is the access to a large variety of different foods at low prices. Besides the many night markets that dominate the city, you can find any worldwide cuisine type in Bangkok at an affordable price. The average apartment rental is just $400 US per month.
Transportation around the city is easy with the BTS (Skytrain) and MRT (Subway) lines running all throughout the megacity. Bangkok has two different airports, Suvarnabhumi (BKK), its international hub airport, and Don Mueang (DMK), a domestic airport offering cheap domestic flights within Thailand.
Negative aspects of Bangkok besides the heavy traffic is the air pollution, which can get quite bad at times during the year.
Average Daily Visitor Cost: $55 US
Average Monthly Living Cost: $1,100 US
Krabi Town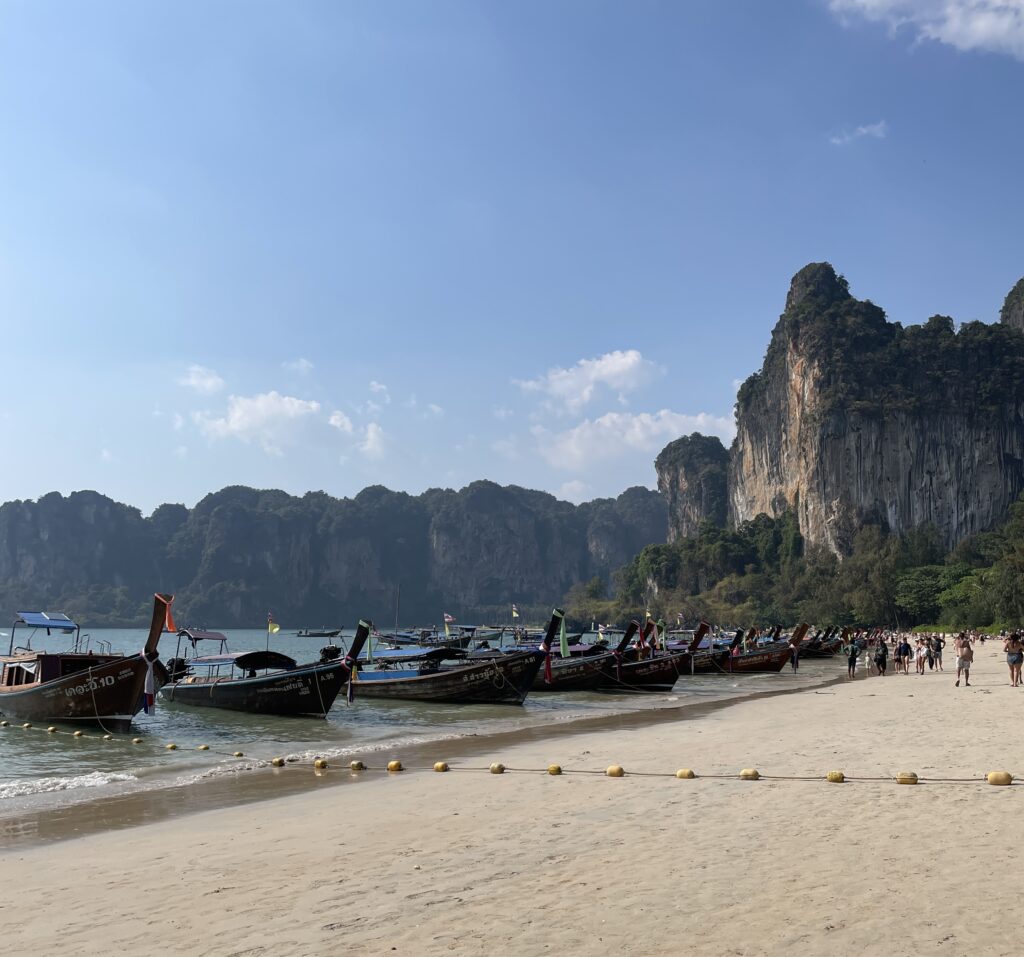 Krabi Town is perfect for those looking for a small town with close access to some of the most beautiful nature in the world.
If you're looking to visit a charming Thai village, Krabi Town ranks number one of the cheapest places in Thailand.
It is famous for its Krabi Night Market and the river flowing by the town. Krabi Town is popular amongst backpackers because of its cheap hostels and laid-back atmosphere.
There are many must-visit islands and destinations accessible from Krabi Town, such as Phi Phi Islands, Koh Lanta, and Railay. By speedboat, you can reach any of these in a few hours or less, and it's around $20 US per person.
Another excellent activity in Krabi Town is island hopping on the Krabi 4 Island Tour. You can experience several stunning islands in the Krabi region at a low cost! Island hopping in most places in the world costs a fortune.
Average Daily Visitor Cost: $57 US
Average Monthly Living Cost: $1,190 US
Chiang Rai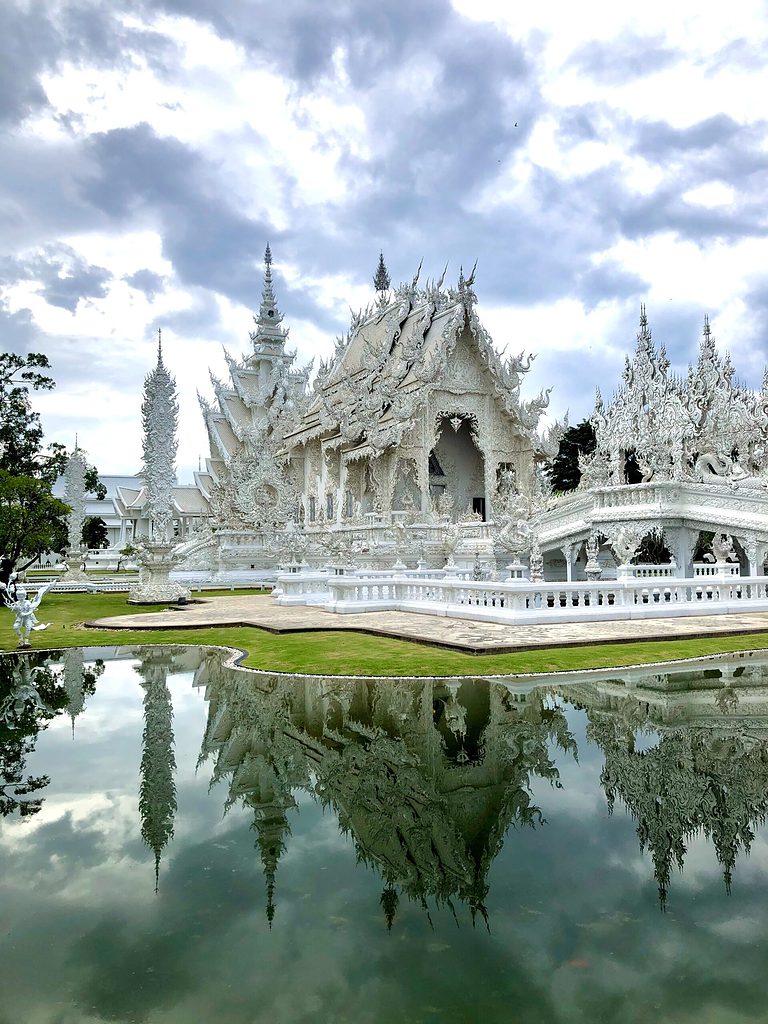 Not far from the famous Golden Triangle, neighboring both Burma and Laos. Chiang Rai is a small town famous for its significant white temple, several historical sites, rice fields, mountains, and overall quiet living style.
Located only 2 hours and a half drive from Chiang Mai. The town of Chiang Rai attracts far less tourists than Chiang Mai.
Compared to Chiang Mai, you will be able to enjoy a quieter atmosphere here. While some aspects of Chiang Rai are cheaper than Chiang Mai, food is costlier because the town is smaller.
In the last few years, the town has changed, and development is slowly giving this Nothern Thai town a more modern feel to it. A shopping mall, several housing including apartments/condos, and many restaurants, have changed the town's older feel.
While there may be fewer things to do in Chiang Rai versus Chiang Mai, it's more suitable for those looking for a laidback town amongst mountains but would prefer to avoid the busy side of Chiang Mai.
Average Daily Visitor Cost: $57 US
Average Monthly Living Cost: $1,200 US
Pai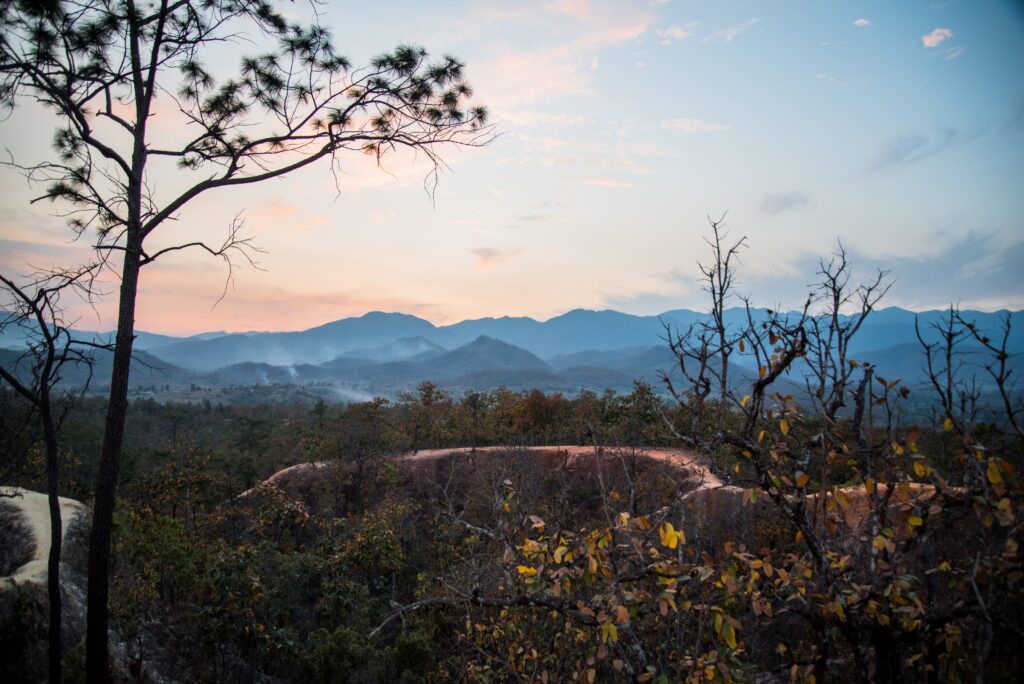 Pai is a charming village in the lush hills north of Chiang Mai. Those who've backpacked Northern Thailand will be familiar with Pai, the small village just under three hours from Chiang Mai.
Pai Canyon, Yun Lai, and Phra That Mae Yen are the most famous viewpoints in the village.
The small village is surrounded by beautiful mountains that create a stunning backdrop amongst the town. Because of this, the town provides an ideal laid-back bohemian vibe, perfect for those looking to be around nature and relax.
The nightlife in Pai is lively, with its large night market surrounded by many bars and restaurants. Pai is known for its sunrise and sunset; here, you'll be able to experience some of the most beautiful sunsets in Thailand.
Are you looking to chill out to the fullest at a low cost amongst nature? Pai is the place for you to visit!
Average Daily Visitor Cost: $66 US
Average Monthly Living Cost: $1,230 US
Kanchanaburi
Kanchanaburi is a small city with a population of only around 65,000 people. It's located only 123 km away from Thailand's capital, Bangkok, and is less than a two-hour drive from Bangkok.
The town is most famous for its natural sites, including Erawan National Park and Sinakharin Damn National Park. Both parks are known for their wide mountainous range, waterfalls, hiking trails, and other hidden nature gems—a haven for explorers and trekkers.
A small group of retirees and ex-pats reside in Kanchanaburi and have called it home for many years. After all, the town offers a more traditional Thai experience, and it is only a two-hour drive from Bangkok.
From March through June, when Thailand is experiencing its highest humidity of the year, Kanchanaburi is known for having a lower average humidity level.
Average Daily Visitor Cost: $67 US
Average Monthly Living Cost: $1237 US
Cheapest Islands in Thailand to Visit
Now that we've gone over the cheapest places in Thailand to visit, time to cover the most affordable islands in Thailand to visit.
After all, when many think of Thailand, they first think of island vibes, drinking a coconut on the beach, and riding a moped with picturesque sea views!
Koh Chang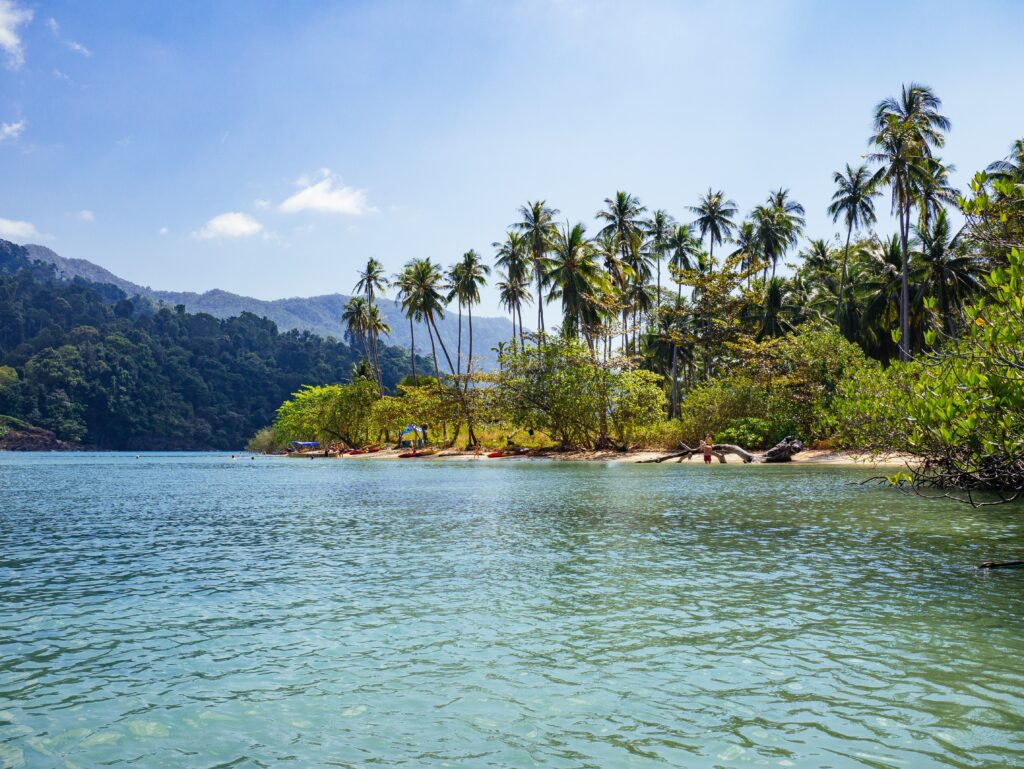 Located along the eastern Gulf coast of Thailand is Koh Chang, a small island home to approximately 5000 residents.
Koh Chang is famous for its unique blend of lush rainforests, pristine beaches, and laid-back island vibes.
The island is home to a wide variety of wildlife, several beaches with healthy, colorful coral reefs, waterfalls, hiking trails, mangroves, and Mu Koh Chang National Park.
As you explore the coastlines of Koh Chang, you will continuously notice small beachside areas that are unique in their own way. Lonely Beach is a popular beach in Koh Chang and is famous amongst backpackers because of its many beach bars along this picturesque calm beach shoreline.
Despite being a tropical island, Koh Chang is conveniently only five hours away from Bangkok by bus and boat. The island is perfect for those who'd like to be off the grid living in a tropical paradise.
The best part about Koh Chang is tourists don't frequent the island compared to other islands in Thailand. You can enjoy a more authentic way of Thai living in Koh Chang.
Average Daily Visitor Cost: $50 US
Average Monthly Living Cost: $1,300 US
Koh Lanta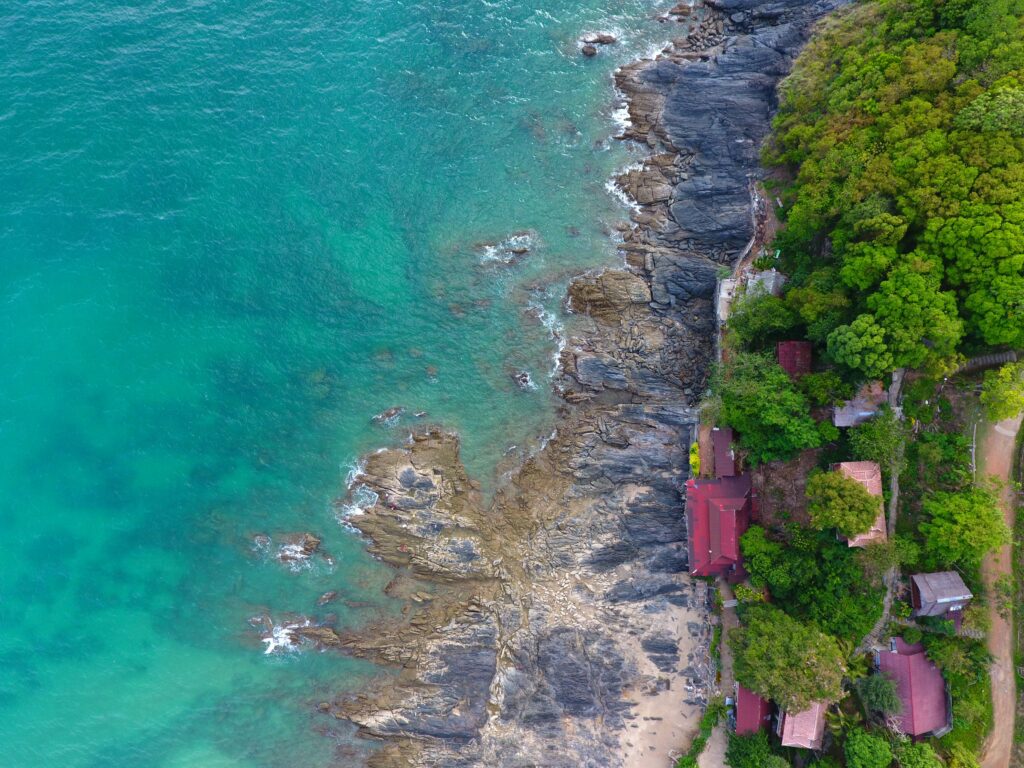 Located in the Andaman Sea and reachable from both Krabi and Phuket. Koh Lanta is an absolute paradise for those looking for a tropical experience.
Koh Lanta is famous for its bohemian island atmosphere, pristine beaches full of healthy reefs, rainforest mangroves, and many beautiful viewpoints.
The island splits into two but is connected by the Siri Lanta Bridge in the island's Northern part.
The island has plenty of budget-friendly accommodations, from hostels to bungalows. Koh Lanta is known for its rustic, relaxing lodge-style affordable accommodation options. You can find hostels here for as low as $10 US a night!
A mix of the island's alluring nature and reasonable accommodations makes Koh Lanta an ideal island for all to visit!
Digital nomads are slowly increasing in numbers to Koh Lanta. But despite the recent year of increased nomads and tourism, Koh Lanta remains a best-kept island secret amongst seasonal travelers visiting Thailand.
Average Daily Visitor Cost: $50 US
Average Monthly Living Cost: $1,320 US
Koh Tao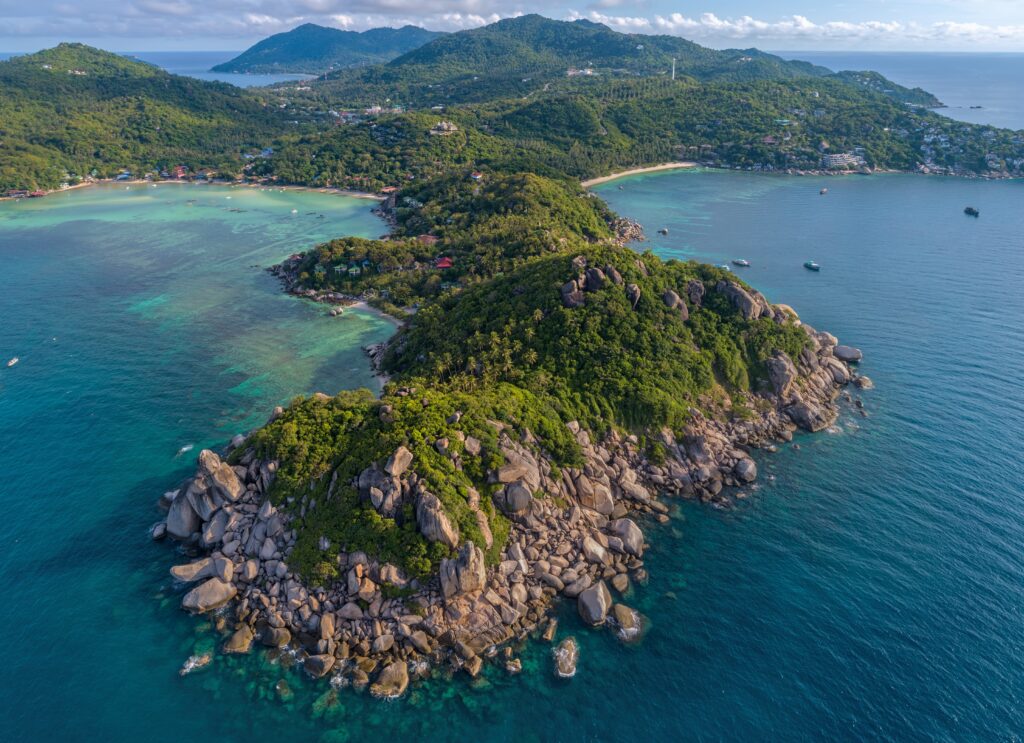 Koh Tao is by far the smallest island on this list of the cheapest islands in Thailand.
The small island is most well-known for its diving and snorkeling excursions; it's one of the cheapest places to get your diving certification in the world. As you walk around, you will spot diving schools everywhere.
Famous amongst budget backpackers, Koh Tao is full of viewpoints such as John-Suwan Viewpoint and Tanote Bay, stunning beaches, and excellent jungle parties.
Koh Nang Yuan is a unique viewpoint where narrow parts of sand lead you into other areas, and it is a must-see.
Despite the island being so remote, there is a decent expat community on the island, and it only seems to be growing. Koh Tao is far less touristy than its island neighbors, Koh Phangan and Koh Samui.
Koh Tao neighbors Koh Phangan, another island most famous for its full moon parties. On the other side is Koh Samui, a developed island with an airport and the closest airport to Koh Tao.
Average Daily Visitor Cost: $52
Average Monthly Living Cost: $1340 US
Koh Phangan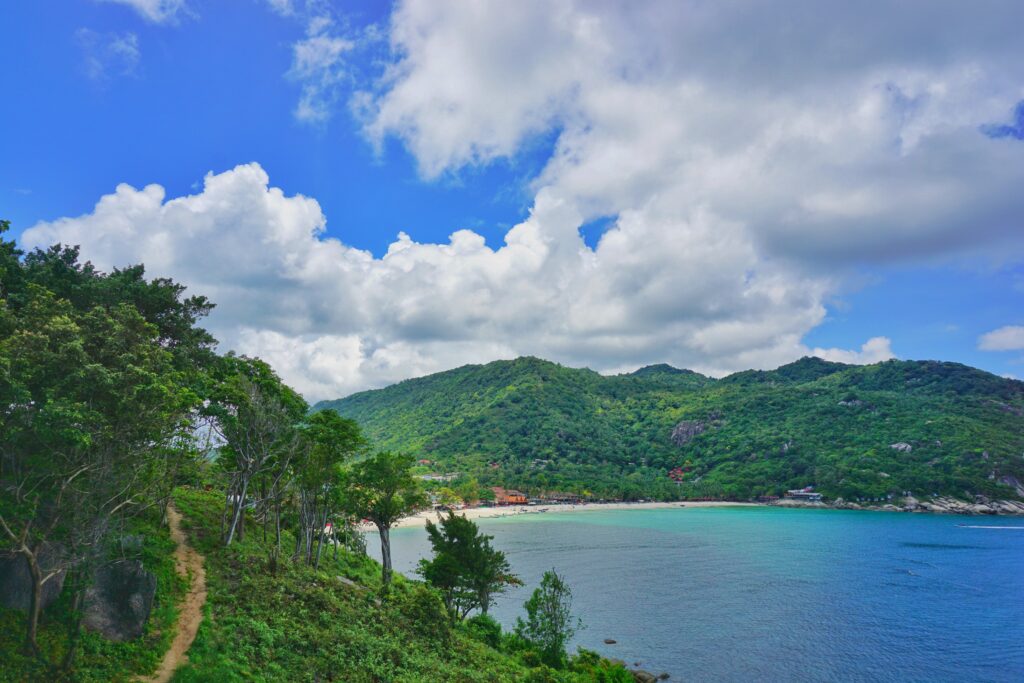 Koh Phangan is an island located in the Gulf of Thailand and is most famous for its renowned Full Moon parties that occur once a month—tourists flock from all over the world to experience the Full Moon Party in Koh Phangan.
But besides its full moon parties, Koh Phangan is famous for its beautiful tropical scenery, many beaches, and overall laid-back island atmosphere.
Despite being an island, it is decently developed, and there are many activities to enjoy on the island, including night markets.
The island makes for an ideal place to visit or live because of its many activities and restaurants while maintaining its tropical traits.
However, when choosing to live in Koh Phangan, one may slowly become bothered by the influx of tourists for 2-3 days for the full moon parties. Despite this, in this list of the cheapest places in Thailand to visit or live, Koh Phangan is the best island regarding living conveniences on an island.
Koh Phangan sits between two neighboring islands, Koh Tao and Koh Samui.
Average Daily Visitor Cost: $55 US
Average Monthly Living Cost: $1,420
Cheapest Places in Thailand to Live
You now know where the cheapest places in Thailand to visit are. Time to discuss the most affordable places in Thailand to live!
These places must be liveable. By liveable, I mean decently developed, access to healthcare if needed, and somewhat close access to an airport!
Chiang Mai is the most liveable place for cheap living in Thailand. The city has many private hospitals, and there's an international airport. Chiang Mai is a fully developed city.
Hua Hin is an excellent choice; it's under 3 hours away from Bangkok, and it is beautiful, and the coastal town is developed enough to be considered a city soon.
Bangkok has the largest ex-pat community in Thailand; the megacity has everything you need and is a perfect place to reside: excellent transportation, low food, and housing costs.
Koh Phangan is an ideal choice if you're looking to live on an island in Thailand. Despite its full moon party, the island is decently developed. And if you ever need something you can't find or need to fly out somewhere, you can go over to Koh Samui, which is only 30 minutes by ferry.
Where is the cheapest place to live in Thailand as an expat?
The cheapest place to stay in Thailand as an expat is Chiang Mai. It's the largest Northern city in Thailand.
It boasts a large ex-pat community, has fast internet, and all the conveniences of a big city, along with beautiful mountain ranges surrounding it.
Is Thailand a Cheap Place to Visit?
Thailand is one of the cheapest places to travel to in the world. Here are a few quick references; you can find the popular dish Pad Thai all over Thailand for $3-$5 US.
You can find nice hotels in Thailand for around $30-$40 US anywhere in Thailand. Beer can cost you as low as $2 US.
Another important factor is transportation, which is also cheap in Thailand.
For reference, you can leave the Bangkok BKK airport and go into the city for around $20 US, Tuk Tuk in Bangkok can cost you as little as $4 US, and using Grab (an app like Uber), rides are easy to find at affordable prices.
Which part of Thailand is the cheapest?
The northern part of Thailand is the cheapest; cities like Chiang Mai, Pai, and Kanchanaburi are the most affordable in the northern part of Thailand.
Is Thailand a cheap place to live?
Yes, Thailand is a cheap place to live; there are several places in Thailand you can live for under $1,500 US monthly, including everything.
Is Bangkok cheaper than Phuket?
Bangkok is cheaper than Phuket, which applies to everything: hotels, housing rentals, food, and transportation. Phuket is the most expensive place to live in Thailand.
Where do most expats live in Thailand?
Subscribe to Travel Hiatus!
Receive updates on my latest posts, insider travel tips & the best destination guides to your inbox!
Happy & Safe Travels
---
Planning Checklist
---
Disclaimer: Please note that some of the links shared in this article might be affiliate links; this means that at absolutely no extra cost to you, we will earn a small commission for any sales generated through this article and/or this website. We recommend products/services we've either used or researched thoroughly – Thank you for supporting us so we can continue to share helpful travel content!