Old Phuket Town Sunday Night Market: Ultimate Guide
There are several night markets in Phuket, but the one that stands out the most is the Old Phuket Town Sunday Night Market.
Every Sunday in Old Town Phuket on Thalang Road, the street is lit up with lights, and many vendors set up their stalls selling their foods, desserts, souvenirs, and many goods to buy!
Along with the backdrop of the beautiful Sino-Portuguese buildings in Old Phuket Town, the Phuket Sunday Night Market is one of the best things to do in Phuket!
How to Get to Old Phuket Town Sunday Night Market
The Phuket Sunday Night Market is on Thalang Road in Old Phuket Town.
Depending on where you're staying in Phuket, there are a few ways to get to Old Phuket Town.
The best way to get to Old Town or anywhere around Phuket is by renting a scooter. If you haven't rented a scooter, you can take a taxi, Grab, tuk-tuk, or the local blue bus, also known as Song Taew.
TIP: If you choose to take a taxi or tuk-tuk and want to know a fair ride price, use the Grab app and see what it's charging from where you are to Old Town Phuket. Agree on this price with the taxi/tuk-tuk driver.
Refer to the bus route map below to take the Local Blue Bus. The bus doesn't operate on a set schedule; the bus runs every 20-30 minutes on these routes back and forth from 6:30 AM until 5:30 PM. It only cost 40/50 Baht, perfect for those looking to budget!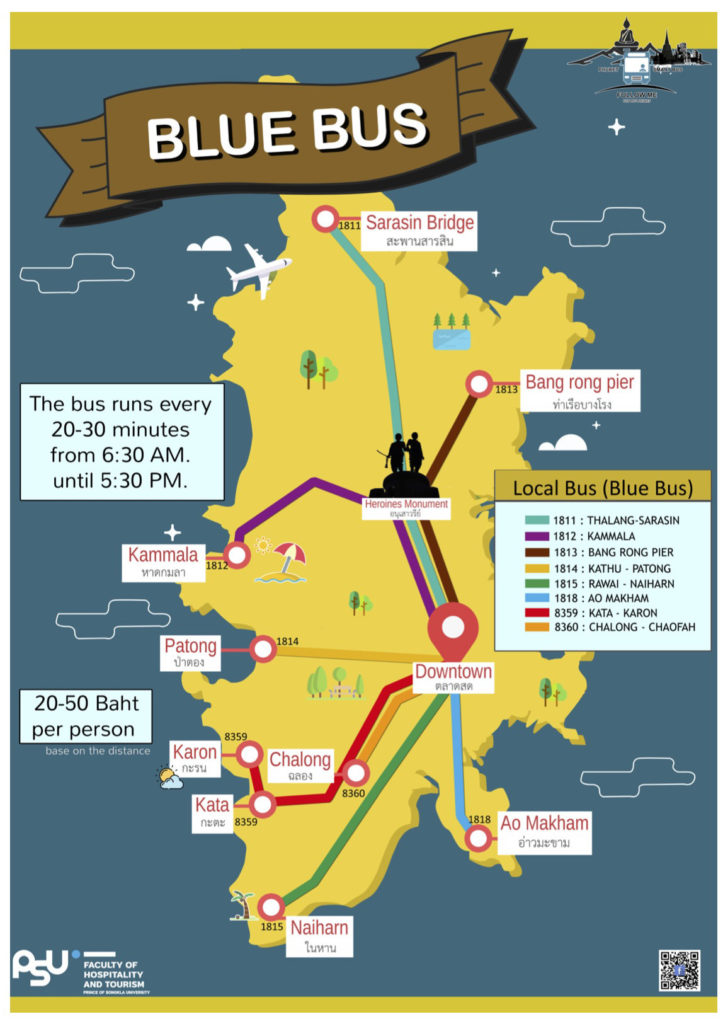 From most areas in Phuket to the Phuket Sunday Night Market, it's around a 20-30 minutes drive.
Patong to Old Phuket Town is about 20 to 25 minutes. Kata Beach to Old Phuket Town is around 25 to 30 minutes.
If you're staying more north of the island in Kamala Beach, Bang Tao, or Surin Beach, it's around 35 to 40 minutes. Traffic on the island is a factor.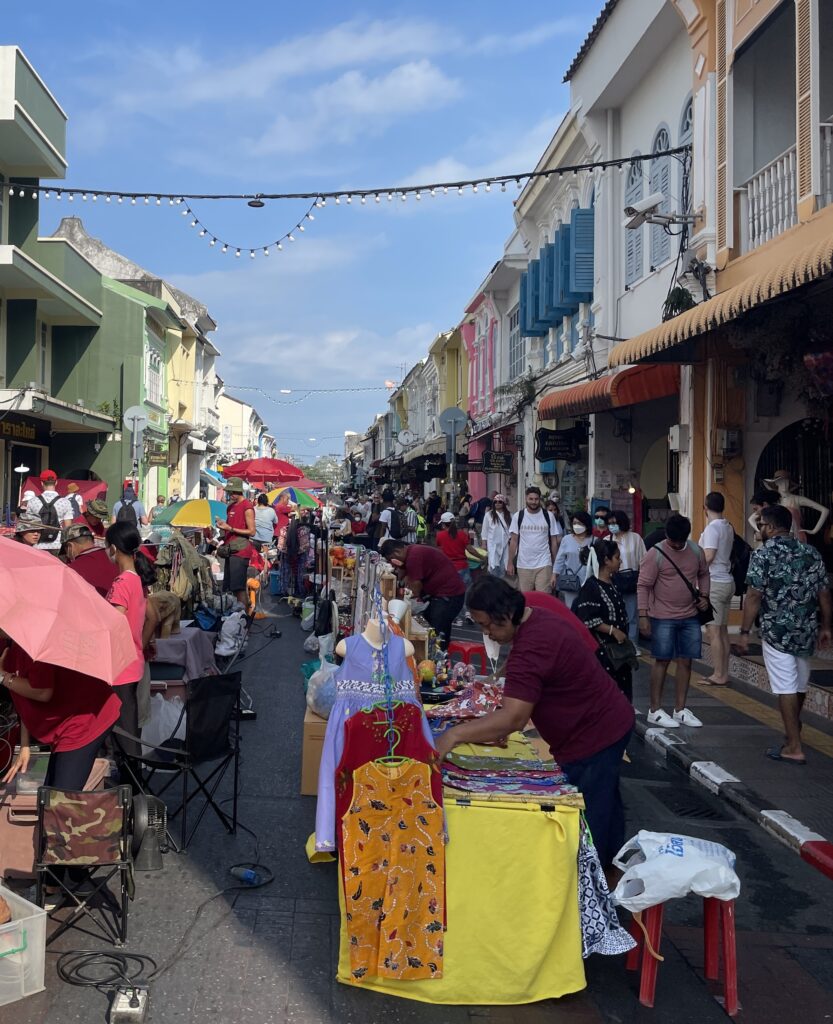 About Phuket Walking Street/Thalang Road
The Phuket Sunday Night Market is referred to as "Lard Yai Market" by locals; this translates to "Big Market" in English.
It makes sense why locals have given the market this name; as you walk through the night market on Thalang Road, countless vendors sell food, clothes, and more!
Every Sunday from 5:00 PM to 10:00 PM, Thalang Road transforms from a normal street into a walking street full of food vendors, clothes vendors, and more.
Locals and tourists fill up the street to come experience this picturesque night market in Old Phuket Town.
What's at the Old Phuket Town Sunday Market?
There is an absolutely endless number of different foods to try, freshly squeezed drinks/coffee, and many clothing items being sold, including dresses, tees, and so much more.
On both sides of Thalang Road are several stores that also sell clothing, bags, souvenirs, spices, and more. So keep an eye out for the stores on the side of the road as you explore the many vendors in the middle of Thanlang Road!
FOOD: A lot of street food, Papaya salad, Pad Thai, Pad Kra Pow, several noodle/rice Thai dishes, fresh fruit, fried fish/crab/shrimp, and so much more.
For dessert, you can find all the Thai classics like mango sticky rice, Thai pancakes, and more. The street food and dessert options are endless.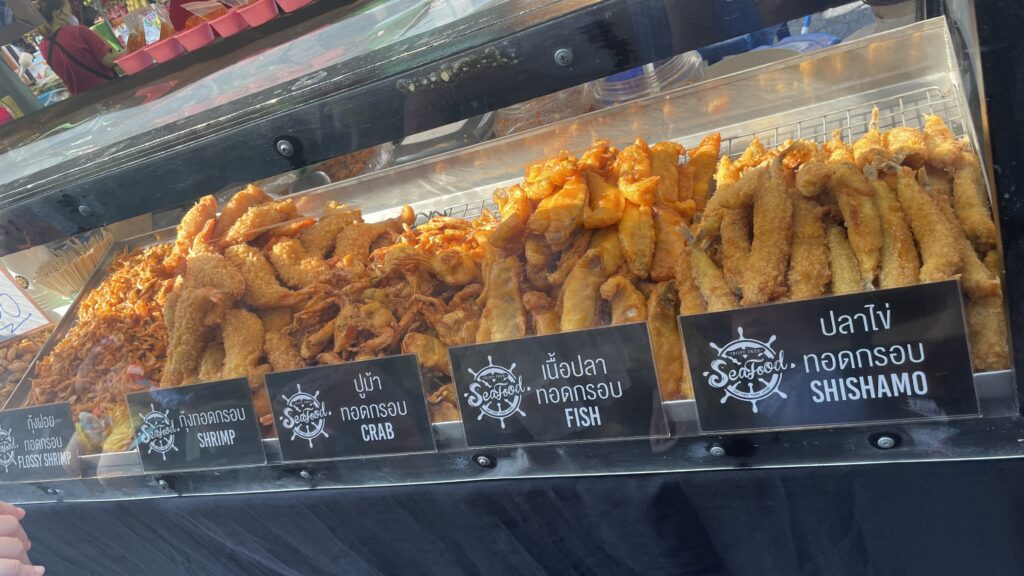 DRINKS: There are plenty of drinks to try, including freshly squeezed juices, sugar cane, and smoothies, as well as bartenders serving takeaway cocktails/beers.
ART: Local artists are everywhere at the Phuket Sunday Night Market. Some will draw your photo, others have already made paintings to sell, and several half coconuts made into art or handmade wooden elephants.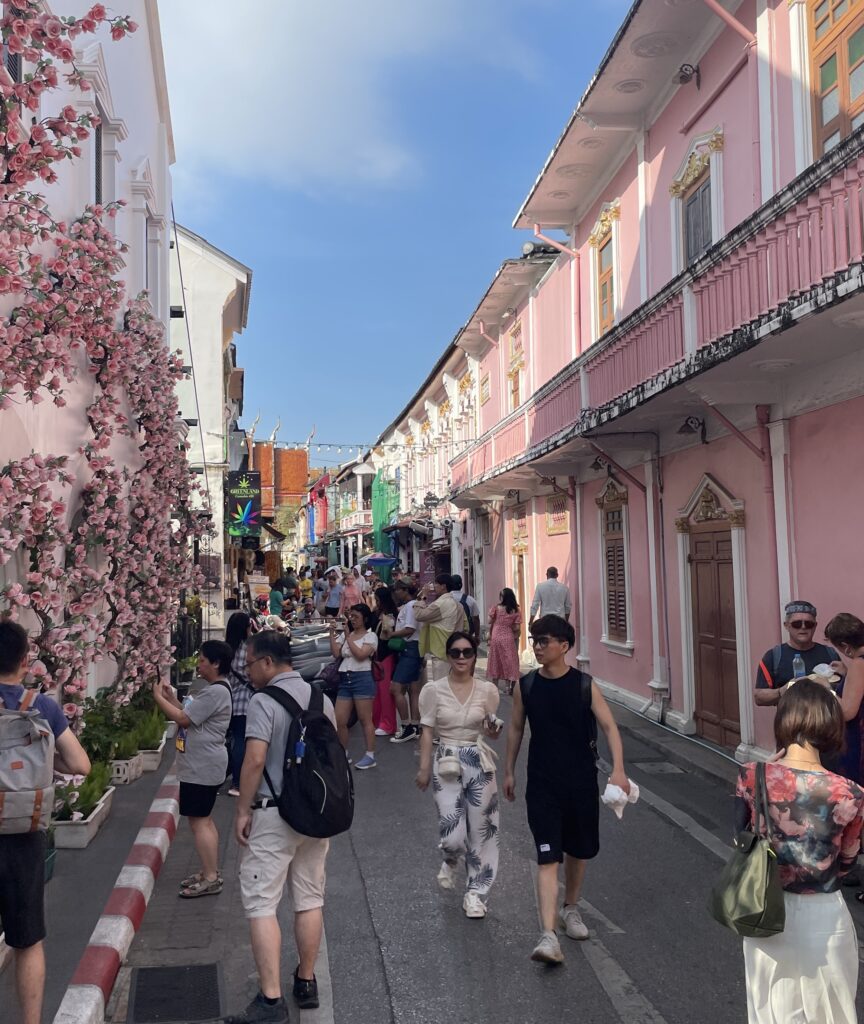 CLOTHING: Like any night market in Thailand, a lot of different clothing is often sold there, and at the Phuket Sunday Night Market, it was no different from traditional Thai clothing, raw fabrics, logo t-shirts, and much more.
If you like thrift shopping, a few vintage tee vendors sell great finds in the northern part of the walking street.
LIVE MUSIC: As you walk along the market, you will continuously spot several musical acts, from musical instrumental performers to kids dancing to a skit, karaoke, and more.
If you spot the young girl singing Brittney Spear's best tracks, give her another tip for me; there was a crowd around her, and she seemed to be popular!
SOUVENIRS: Whether it's your first or seventh time visiting Thailand, one must go home with souvenirs!
The Phuket Sunday market is one of the best places on the island to go souvenir shopping; you can find jewelry, handmade art, creams, and more.
Also, the side shops on both sides of the road sell many souvenirs worth checking out!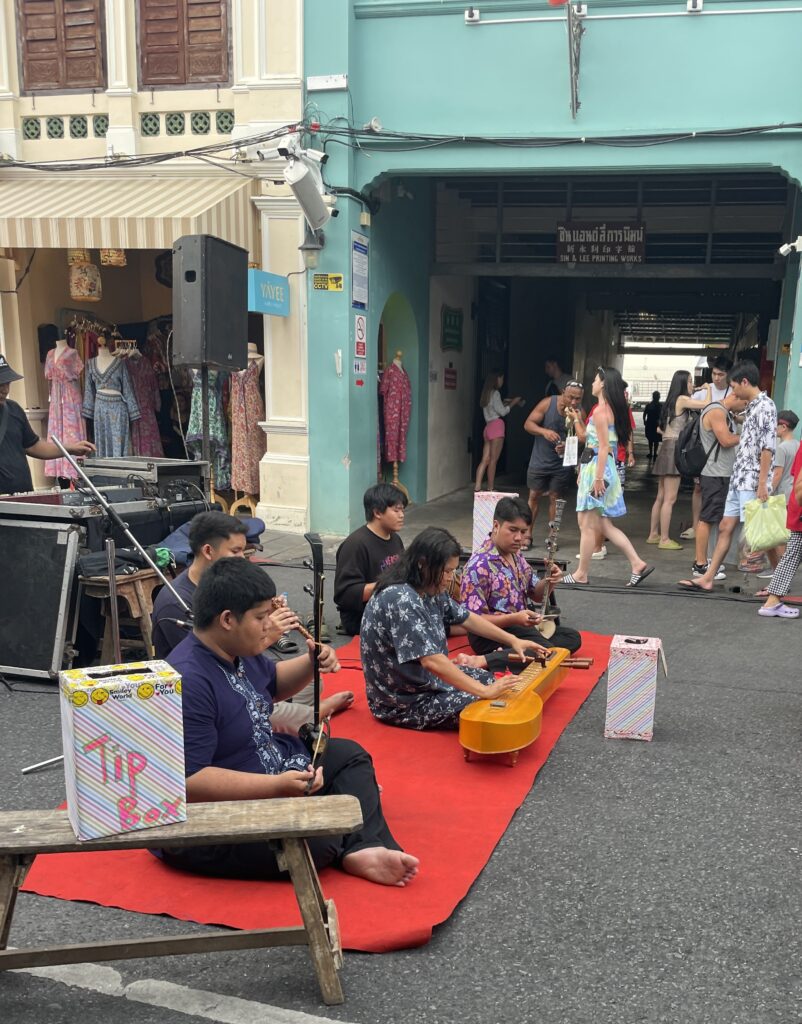 What to Buy at Phuket Night Market
Here is a list of things you may want to purchase at the night market to take you back home with you!
For reference, all these items can be found in most night markets within Thailand!
Thai Snacks
Tiger Balm
Thai Spices
Thai Silk
Elephant Pants
Handmade Beach Bags
Wooden Elephant sculptures
Soap Carvings
What to Eat at Phuket Old Town Market
The main reason the Phuket Sunday night market is the best night market in Phuket is because of the large food selection here. There are way too many foods to try here!
I'll give you some suggestions but honestly, eat with your eyes, walk around and whatever looks good, buy a bit of it but make sure you try many new foods!
Pad Kra Pow / Spicy basil stir fry with beef/pork on rice.
Fried Crab Meat
Papaya Salad
Crispy Butter Rolls
Oyster Omelette
Foodies looking for a guided tour, I recommend this Phuket Old Town Food Tour!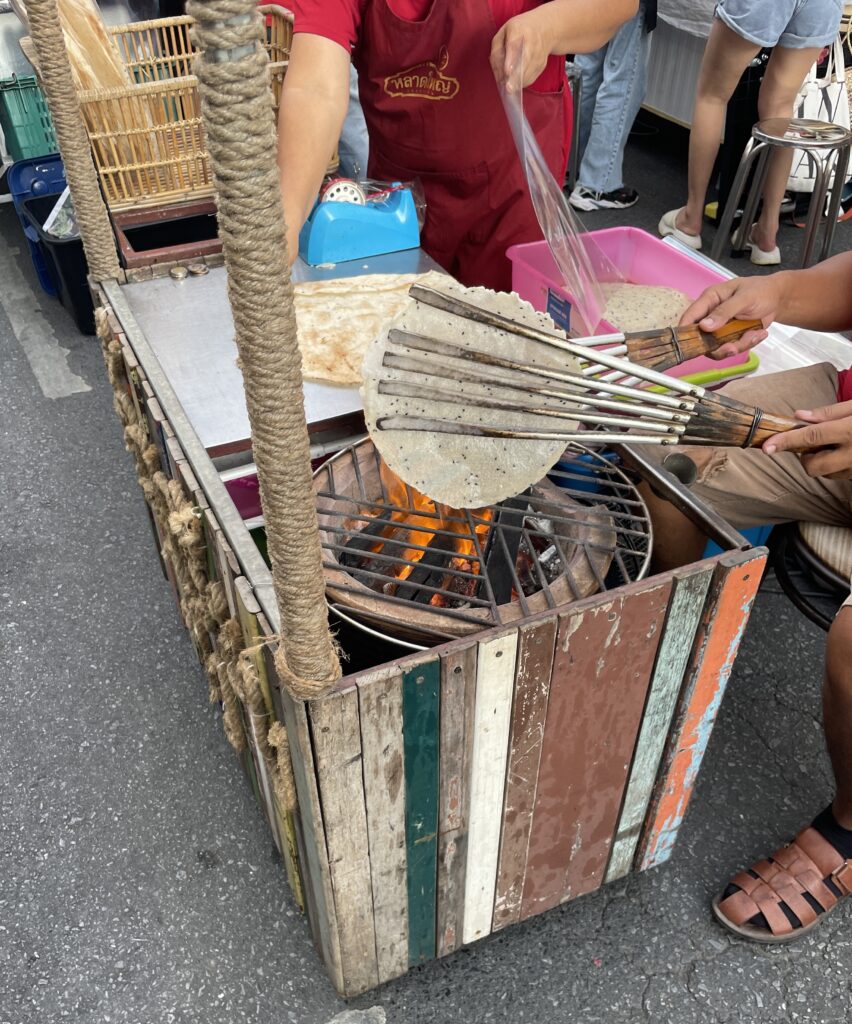 Phuket Sunday Night Market Hours:
The market only happens every Sunday; any other day you visit Old Phuket Town, the market won't be there.
Hours are from 5:00 PM to 10:00 PM every Sunday.
LOCATION – Thalang Rd
But here's a tip, you can come around 4:00 to 4:30 PM and see if any of the vendors are up and ready for business.
The night market gets very busy, so any opportunity to try food before the rush is a good idea!
Phuket Sunday Market Tips
A few tips you should know before visiting the Phuket Sunday Market are the following:
Vendors accept Cash Only and try to come with different-sized bills, making for easy payment.
Come at 4:00 – 4:30 PM, and see if any vendors are ready; if not, walk around Old Town Phuket for a bit.
While Pick-Pocketing is more common in Bangkok, I'd advise you to keep an eye out for your pockets at any market in Phuket because it's densely crowded.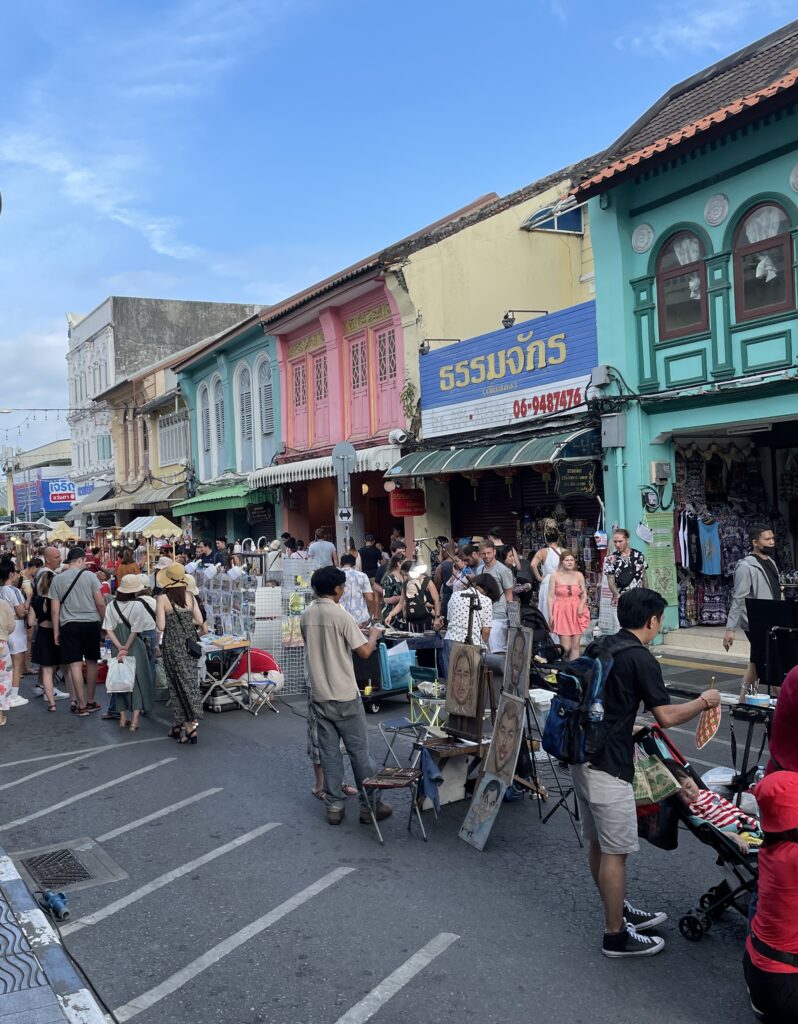 Other Phuket Night Markets to Visit
While the Sunday Night Market in Phuket is the best night market on the island, it's inconvenient because it's only open on Sundays.
If you can't make it, here is a list of other night markets in different areas of Phuket you should visit!
If it's your first time visiting Thailand, you must visit a night market or two. Night markets are a large part of Thai culture. When in Phuket, make sure to visit the many beaches here!
Weekend Market (Naka Market)
Famous for being the original night market in Phuket. Naka Market is just a short distance from Old Town Phuket Sunday Market. To be clear, it's a different night market entirely.
Naka Market is close to the beautiful Wat Nakaram Buddhist temple, and I suggest you pay a visit before going to Naka Night Market!
As the name suggests, Naka Market is only open on Saturday and Sunday starting at 5:00 PM — LOCATION
Malin Plaza Night Market
The Malin Night Market is located in the Patong Beach area of Phuket and is the largest night market in that area.
Conveniently, this Phuket Night Market is open every day, so no matter the day of the week, you can come by to try lots of street food and shop.
There's plenty of seating here for you to use once you've bought a few foods. BBQ, fresh seafood, fresh fruit, it's all here! — LOCATION
Kata Night Market
Located in the popular Kata Beach area, the Kata Beach market is a smaller Phuket night market.
At this night market, there's plenty of seating in the middle, and several restaurants offer menus to order food from them. As you walk, there are also traditional vendor stalls selling food!
Kata Night Market is the perfect place to go after a long day at Kata Beach! — LOCATION
If you're staying in Kata Beach and don't want to wait till 5:00 PM to go to the night market, you can find the same foods at the Kata Street Food Road on the beach or the Kata Street Food Market, which are both open at 12:00 PM noon till 10 PM.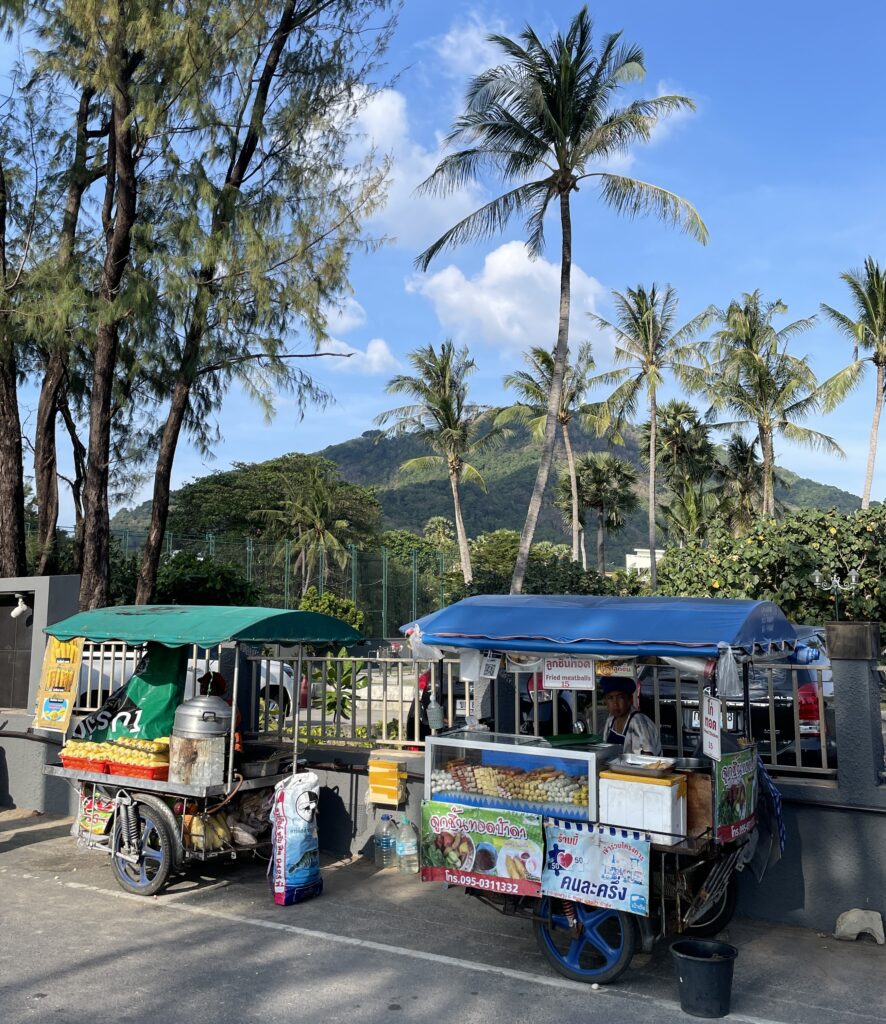 Where to Stay in Phuket Old Town
Old Town Phuket is an excellent area to stay in Phuket; it's very walkable.
There are plenty of excellent restaurants with not only Thai cuisine but lots of international cuisines, trendy shops, and, of course, the Sunday Night Market!
Blu Monkey Hub Hotel – 4 Star
A fully modern hotel with a beautiful black/white interior located in Old Phuket Town.
Rooms are quite spacious here; the lobby has a swanky bar and even a pool for guests.
The Memory at On On Hotel – 3 Stars
Located in the heart of Old Phuket Town, this boutique-style hotel mixes old-school with new-school.
The older interior has been kept intact, but modern touches within the hotel are noticeable.
The Blanket Hotel – 3 Stars
A beautiful modern hotel that's located slightly south of Old Phuket Town, only two streets from Thalang Rd.
Large, spacious, clean rooms and excellent location are also perfect for those looking to budget their stay.
The Dorm Hostel – Hostel
Rated the best hostel in Old Phuket Town, The Dorm Hostel is a lovely, clean, modern hostel offering private dorm-style sleeping cabins.
They have a lovely communal space and serve breakfast/lunch at the hostel.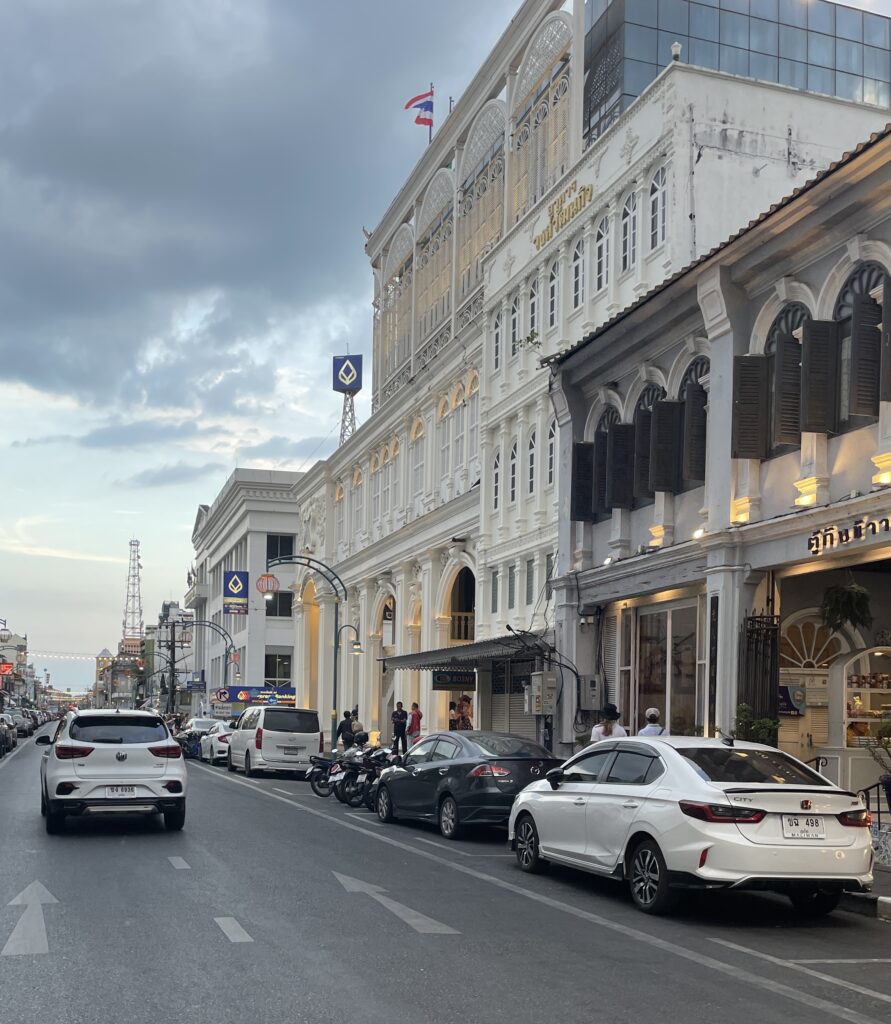 What time is the Phuket Old Town market on Sunday?
The Sunday Market in Phuket opens at 5:00 PM. Some stalls begin service slightly earlier, but the official opening time is 5:00 PM every Sunday.
Is it worth visiting Phuket Town?
You definitely shouldn't miss out on the experience of Old Town Phuket.
Besides the famous Sunday Night Market that happens here every Sunday, there are plenty of excellent restaurants in the area, venues with great live music, and the Sino-Portuguese buildings are beautiful!
What is Sunday Walking Street?
Thalang Road in Old Phuket Town is the Sunday walking street where the Phuket Sunday Night Market takes place every Sunday.
Subscribe to Travel Hiatus!
Receive updates on my latest posts, insider travel tips & the best destination guides to your inbox!
Happy & Safe Travels
---
Planning Checklist
---
Disclaimer: Please note that some of the links shared in this article might be affiliate links; this means that at absolutely no extra cost to you, we will earn a small commission for any sales generated through this article and/or this website. We recommend products/services we've either used or researched thoroughly – Thank you for supporting us so we can continue to share helpful travel content!