16 Delicious Foods in Mexico You Must Try
I will include some favorite Mexican dishes, but my top recommendations will be delicious foods in Mexico most haven't tried.
Some of these dishes aren't as popular and aren't served at your local Mexican restaurant unless you live in Mexico.
This article will show you some lesser-known Mexican foods like pozole or tlayudas. You will also discover some interesting facts about Mexican food, like tacos al Pastor (which originated in the Middle East).
Mexican food is loved all over the globe, especially in North America. Visiting Mexico, I could try all the classic foods of Mexico and dishes I didn't even know existed.
What Foods in Mexico are Popular?
Mexico is a large country, and each region has its style of cuisine. The food in Mexico City is different than the food in the Yucatan region or the North part of Mexico.
So depending on the area you visit in Mexico, foods in Mexico vary throughout different regions.
Of course, you can expect the classics in most cities in the country, but there are several delicious foods of Mexico that most wouldn't know, and they should!
Mexican food is diverse, complex, with many different flavors, and simply superb.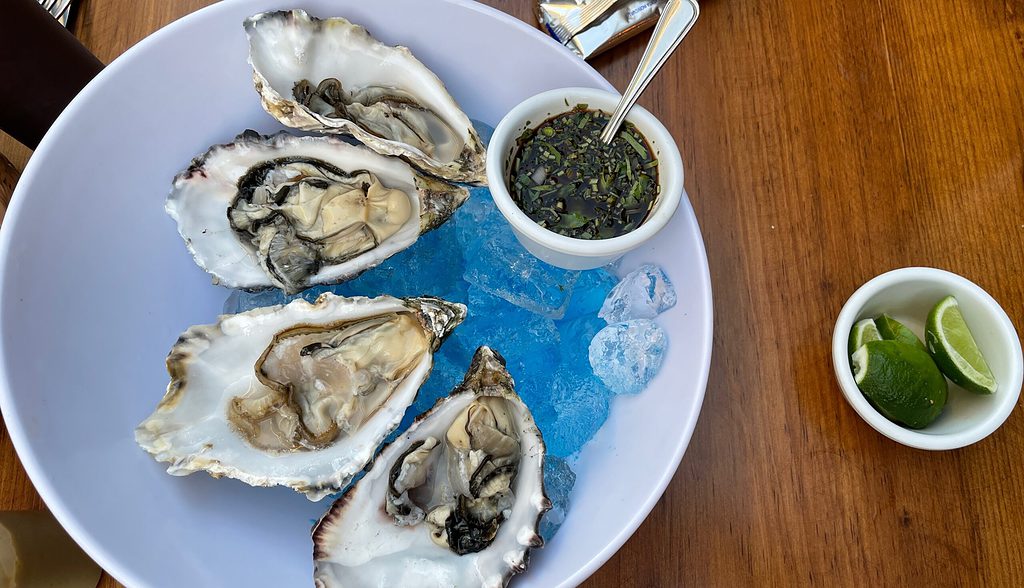 A lot of the exposure to foods in Mexico came from US influence, the restaurants, and the process of Americanized Mexican food. But honestly, having eaten Mexican cuisine in North America all my life and then tried it in Mexico. I cannot even comprehend how different it is.
Foods from Mexico taste much better, and the authentic version of these cuisines tastes different. In an enhancing way.
RANT: By the way, tacos should be eaten with onions, cilantro, pico de gallo salsa if you'd like, and/or hot sauce, and that's it.
READ ALSO: 12 Best Tulum Restaurants
Foods in Mexico to Try #1-4
Barbacoa Consome with Tacos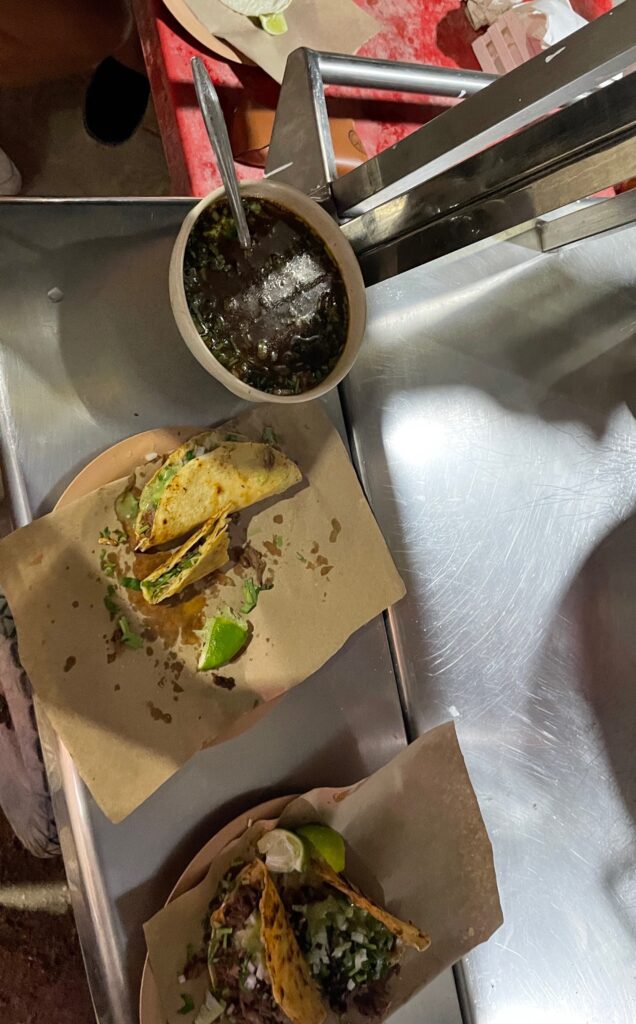 Barbacoa is one of the most decadent, delicious, and flavourful foods you will ever try anywhere in the world. And is one of my absolute favorite foods in Mexico. Rich consome (broth) full of chunks of lamb meat, Mexican spices, a squeeze of lime, and tacos on the side.
Mexican barbacoa is usually made with Borrego (sheep/lamb), although there are wide other varieties throughout the country. Some regions in Mexico make beef, goat, or mutton Barbacoa. But the original Barbacoa is made with lamb. If you're keen on trying Barbacoa, do yourself a favor and try it the authentic way first.
Barbacoa is a popular brunch dish; some have it for dinner, and eating barbacoa is a great hangover cure for those who have a hangover. I tried this unique dish on the street at night in Isla Holbox.
How to eat it: When eating Barbacoa, you should take your lamb-filled meat taco and dip it in the consome! That's the right way to eat Barbacoa!
One of the most underrated foods in Mexico.
Birria Consome with Tacos
Coming in a close second to Barbacoa is Birria; they're very similar in that both dishes consist of two things rich consome and tacos. In Mexican slang, birria stands for "something of low value." Tacos de birria are not!
You can find Birria in most cities in Mexico, but the best Birria you will find is in Jalisco State. Popular cities like Guadalajara and Puerto Vallarta are known for Birria. If you're expecting to try this dish where you live, you may be able to find it, but most likely not.
Birria is a stew made traditionally with goat meat. However, you can also find beef/goat mixed birria. It's slow-cooked and seasoned using all the essential Mexican spices like onion, garlic, and adobo.
The birria consome is served in a bowl with warm tortillas. You then can take it upon yourself to make a taco from the meat inside the consome and the side items provided to you, such as salsa, white onion diced, cilantro, and much more (similar to the photograph above).
After making a taco from the birria, dip it into the consome before you take a bite, similar to eating Barbacoa.
Depending on where you're eating birria, some restaurants also cook with the consome. They will pour some of the birria stew onto the flat hot iron top and then add a tortilla so it can soak up the stew juices. After, they will serve you an already made birria taco, but you still dip into the consome again!
Tortas – Popular Mexican Sandwich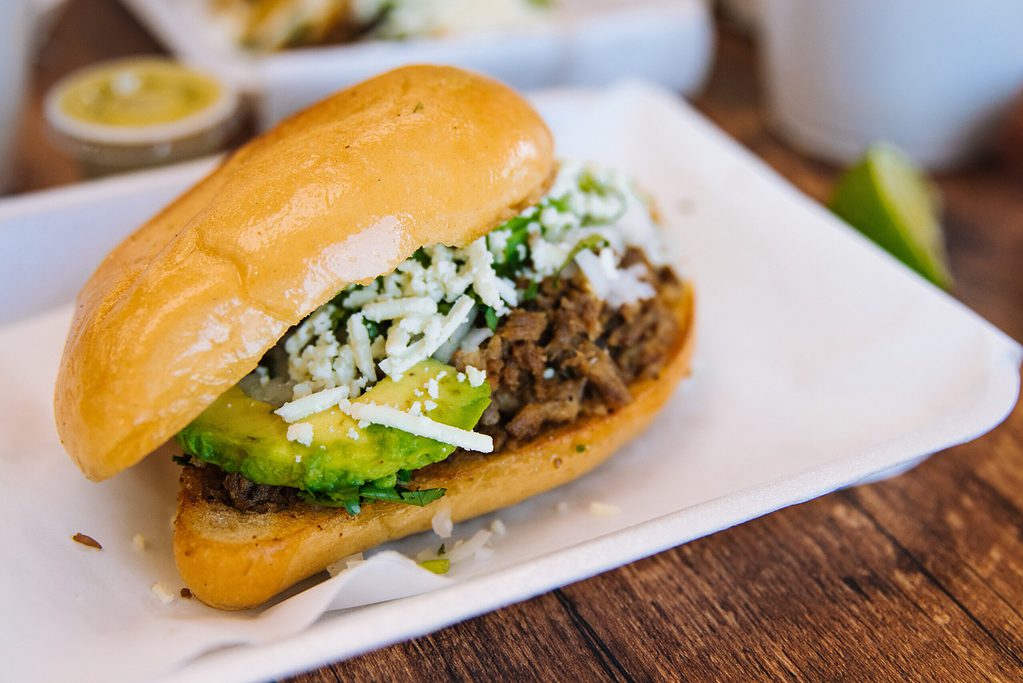 Tortas differ from region to region in Mexico, so your tortas sandwich may vary depending on where you visit.
Tortas are commonly eaten in the morning, and some have them for lunch; this delicious sandwich is ideal for any time of day, just like a taco.
The sandwich is served with bolillo bread, a soft hoagie roll, and one of Mexico's most popular types of bread. You can expect a load of meat, with tomato, onions, guacamole, and cheese. You can have a tortas sandwich with just about any meat.
I always went for steak with Oaxaca cheese anytime I ordered a tortas sandwich. This is the style of tortas served in the Yucatan Penisula, so cities like Tulum, Playa del Carmen, Cancun, etc.
In Mexico City, they serve tortas with simply a tamal inside.
I have no idea why Tortas have not received the same fame in North America as tacos have. When visiting Mexico, I ate tortas just as often as tacos. One of my favorite foods in Mexico.
Chilaquiles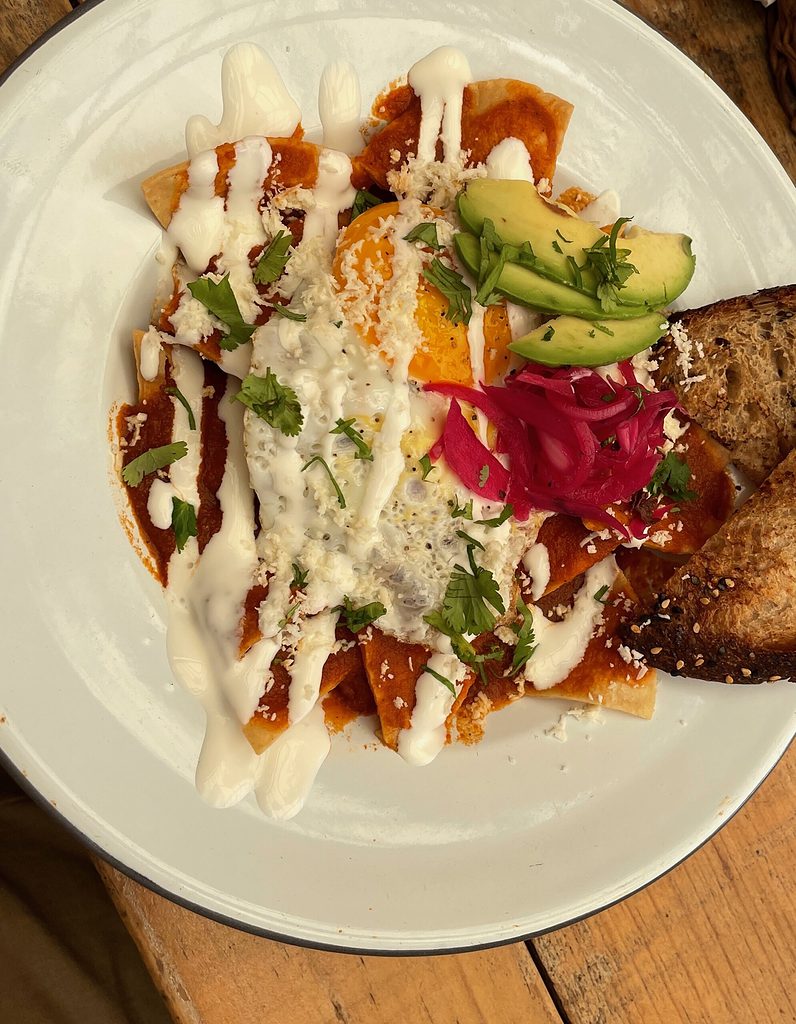 Chilaquiles, pronounced chill-ah kil-les, is one of the most famous traditional Mexican dishes.
Chilaquiles are a popular and traditional Mexican breakfast dish. It was first created in Central Mexico many centuries ago. This dish is so versatile that you can make it in many different ways.
You can choose to order chilaquiles with salsa verde (green salsa) or salsa Roja ("red salsa"), or both. Green salsa tends to be the spicier one, but don't be so sure when ordering; always ask which is spicer! Restaurants serve them each in their way; some add avocado, bread, etc.
Traditional Mexican chilaquiles are served with chips and your choice of salsa. You can then add eggs or any meat you like. Though most restaurants usually add one or two eggs on top.
This is my go-to breakfast in Mexico, but be prepared not to eat for the rest of the afternoon. Chilaquiles will make you complete! Photo from our article 12 Best Tulum Restaurants.
Foods in Mexico to Try #5-8
Sopa De Lima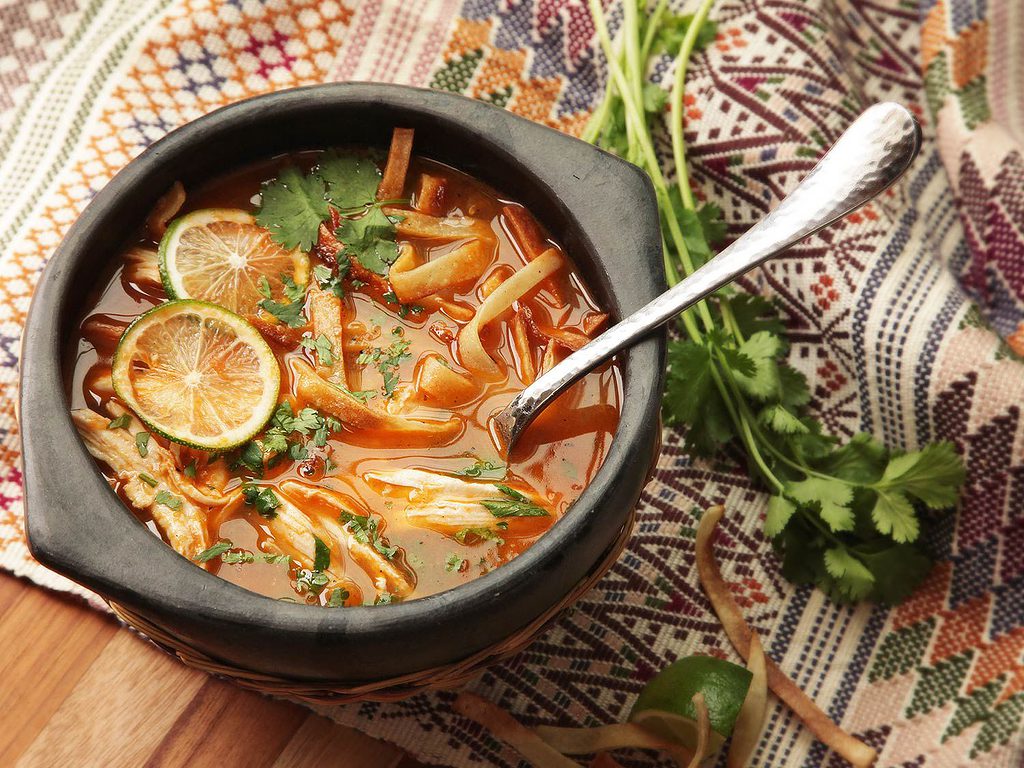 Sopa de Lima is a light, flavorful soup popular in Mexico's Yucatan Peninsula.
This traditional Yucatan soup uses chicken and lima Yucateca, a larger-sized native Yucatan lime.
The soup also features several local spices, such as onions, tomatoes, and sometimes red or yellow peppers. Finally, it's topped off with crispy tortilla strips.
Sopa De Lima is an all-season type of dish. It makes for a great lunch or dinner option. The flavors in this soup are great; the spices contrast with the lime great, and the crunchy tortilla chips are my favorite part.
You'll find traditional Sopa de Lima in any restaurant near Yucatan State's ancient Mayan city, Valladolid, or the pink lakes at Las Coloradas. Regarding food in Mexico, this is my favorite soup dish.
Cabrito Tacos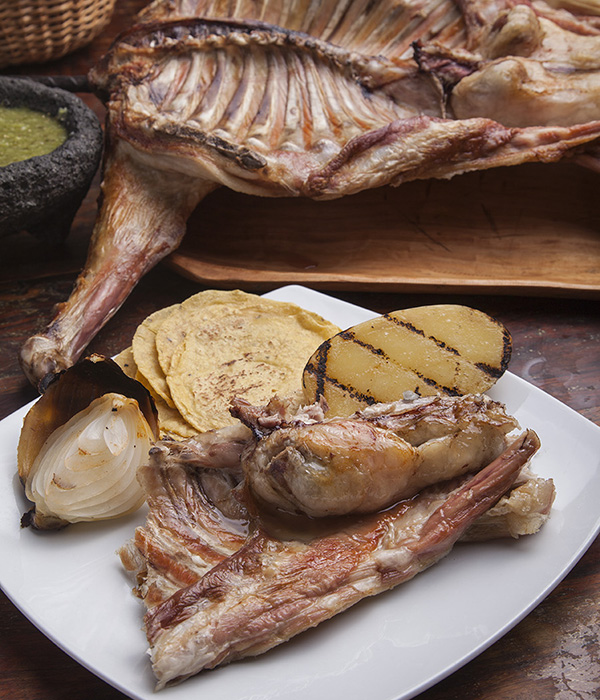 Tacos de cabrito are roasted goat tacos. Unfortunately, these tacos are rare to come by unless you're in North Mexico. The best city to try these mouthwatering tacos is Monterrey, Mexico.
Cabrito al Pastor is the most popular. This involves slow-cooking meat with indirect heat and charcoal. This method produces juicy and flavorful meat, as it has been for centuries.
Different than how most places cook taco meat today, which consists of a shawarma-style spit of meat turning around.
You'll receive a large platter of cabrito meat, along with tortillas and condiments to help you make your own cabritos—one of the best foods in Mexico but unknown to most.
Al Pastor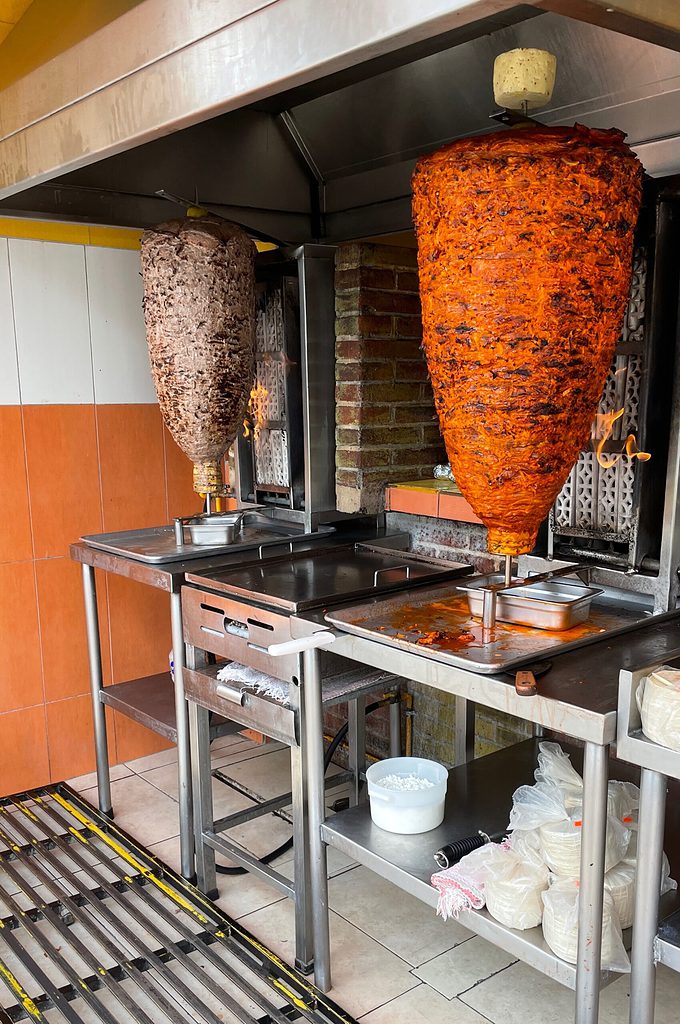 Tacos al Pastor is a must-have on any Authentic Mexican Foods List. They are the most popular food in Mexico and the most popular taco type in Mexico. But I have to say, Al Pastor doesn't come close to Barbacoa (personal opinion). But they're both some of the best tacos of Mexico.
Street tacos and Tacos al Pastor are different, street tacos are cooked or reheated on a flat top, and Tacos al Pastor, on the other hand, is cut off of large meat spits rotating and cooked similarly to lamb shawarma.
This is because Lebanese immigrants introduced this style of meat cooking to Mexico years ago and influenced this dish. The technique of making lamb shawarma was combined with a Mexican marinade, and that's how Al Pastor was created. However, Al Pastor is made with pork, not lamb. – Photo above is from El Fogon in Playa Del Carmen.
Tlayuda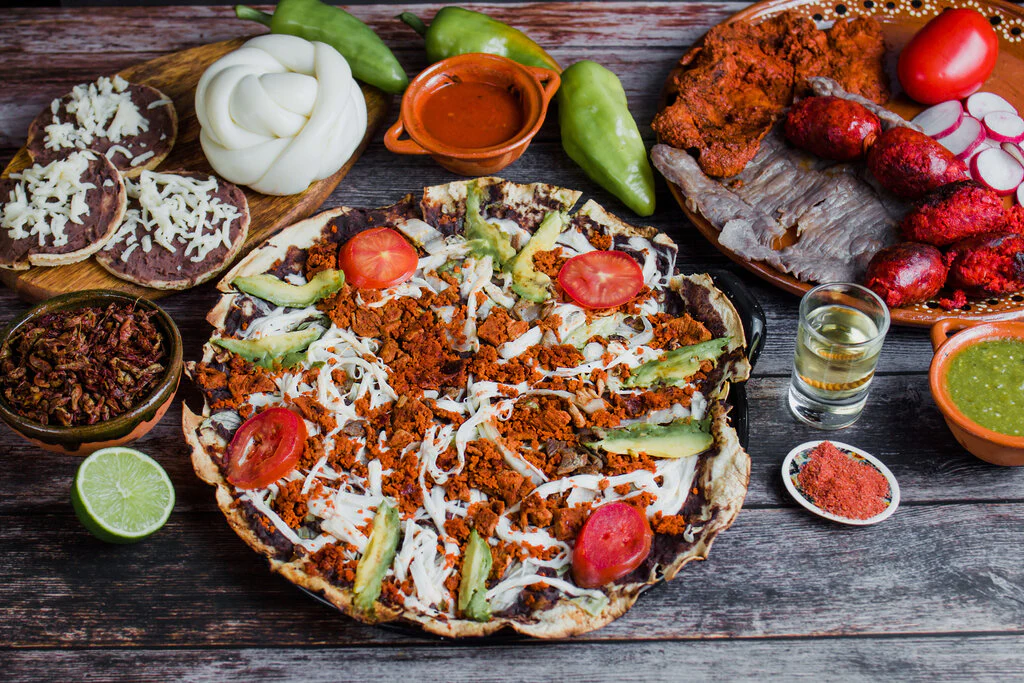 Tlayudas, or pronounced tuhh-lie-you'dahs can be found in many places in the Southern area of Mexico. This popular street food is traditional to Oaxaca.
Although it's street food, you can find it in many restaurants today.
Tlayudas, like many Mexican dishes, start with a tortilla. In this instance, it is a large, dinner-sized tortilla.
When the tortilla is heated on the heating comal, a thin layer of pureed bean paste and stringy Oaxaca cheese are added. It's then topped with vegetables and folded up.
By the way, I love Oaxaca Cheese; it's my favorite Mexican cheese. For any meal I ate in Mexico, I added some if they had the option to add Oaxaca cheese.
It can be left with beans, cheese, and vegetables, or you can add meat. There are three main options: chorizo (red sausage), cecina (salted and cured pork or beef), and tasajo.
You should not leave Mexico without tasting one of these if you're visiting the Southern area of Mexico.
Foods in Mexico to Try #9-12
Gringas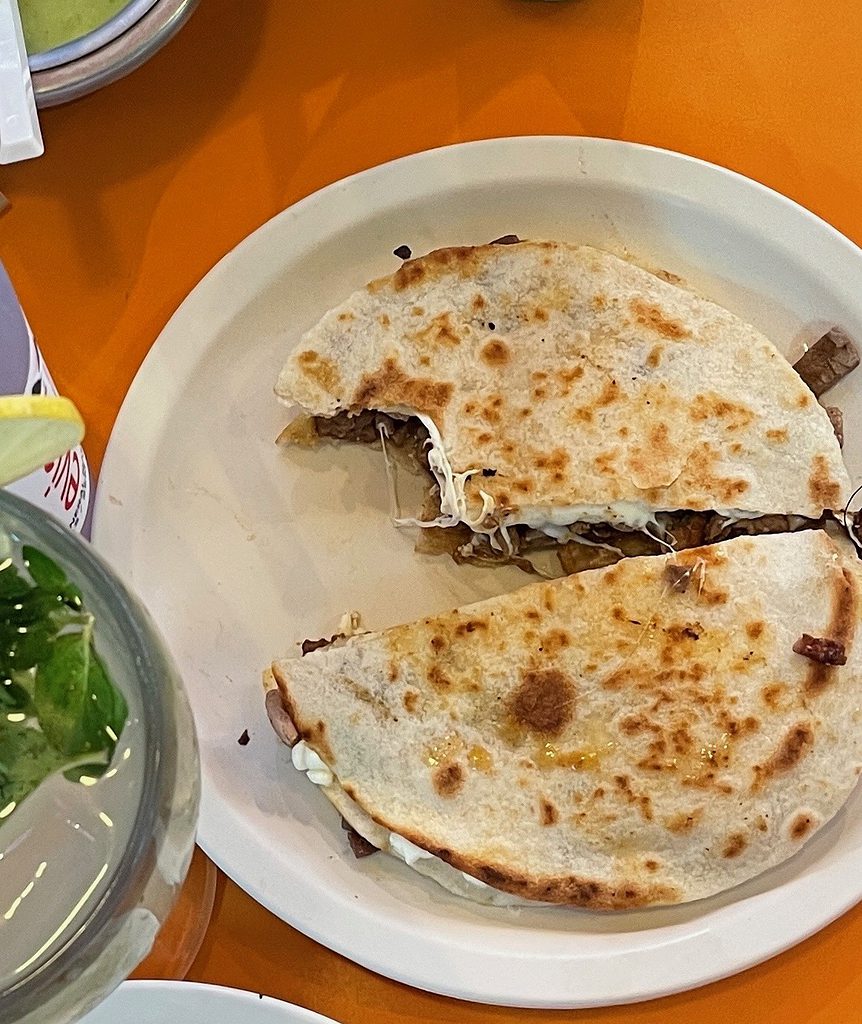 This is a famous sandwich using tortilla bead, full of a meat of your choice, Oaxaca cheese, avocado, onions, and cilantro. The sandwich is grilled on the flat top, making the tortilla crispy.
Gringas is slang for: Female native speakers of English
Gringas are basically Quesadillas, and many in North America are very familiar with Quesadillas. The only difference between the two is Gringas are filled with authentic Mexican items. Quesadillas is the Americanized version of a Gringas.
I've had both several times, and I can confirm, Gringas are much better. Another one of my favorite foods in Mexico, if you enjoy quesadillas, you will love gringas. The photo above is from El Fogan, featured in our Playa del Carmen guide.
Mexican Ceviche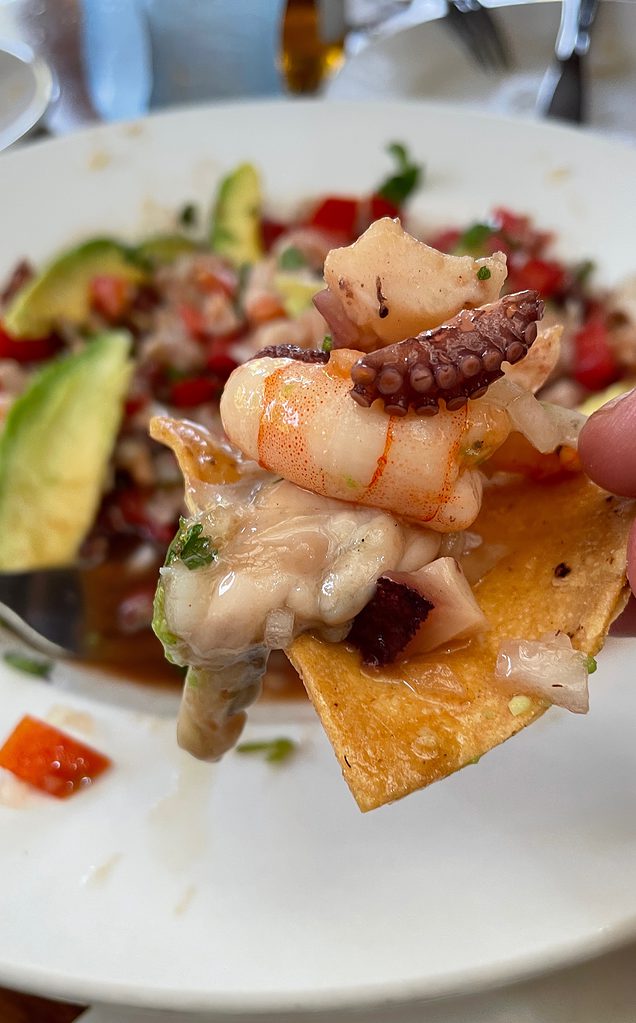 This is traditionally Peruvian cuisine, but Ceviche is very popular in Mexico, and you can find it in many restaurants throughout Mexico; it's a must-try.
It's especially popular in the Yucatan region because of its abundance of seafood there.
Mexican ceviche (pronounced sehvee-chay) is made with shrimp, different types of fish, mussels, and octopus.
All the seafood is cut into bite-sized pieces and then put into a bowl. Next, add fresh lime juice to coat everything—finally, cilantro, diced tomatoes, onion, and sometimes avocado slices on top.
Despite the seafood looking raw, it's not. The juice from the lime denatures the seafood. Denaturing removes the seafood's raw qualities, of the seafood; this makes the seafood more firm. Similar to a cooking process, without the use of any heat.
Ceviche is served cold and is one of those foods in Mexico that make an ideal afternoon lunch at the beach or restaurant.
You will receive a basket of tortilla chips; use the tortilla chips to eat your ceviche, just like me in the photograph above. Hot sauce is served on the side. The photo above is from El Oasis Seafood in Playa Del Carmen.
Camarones al Coco (Coconut Shrimp)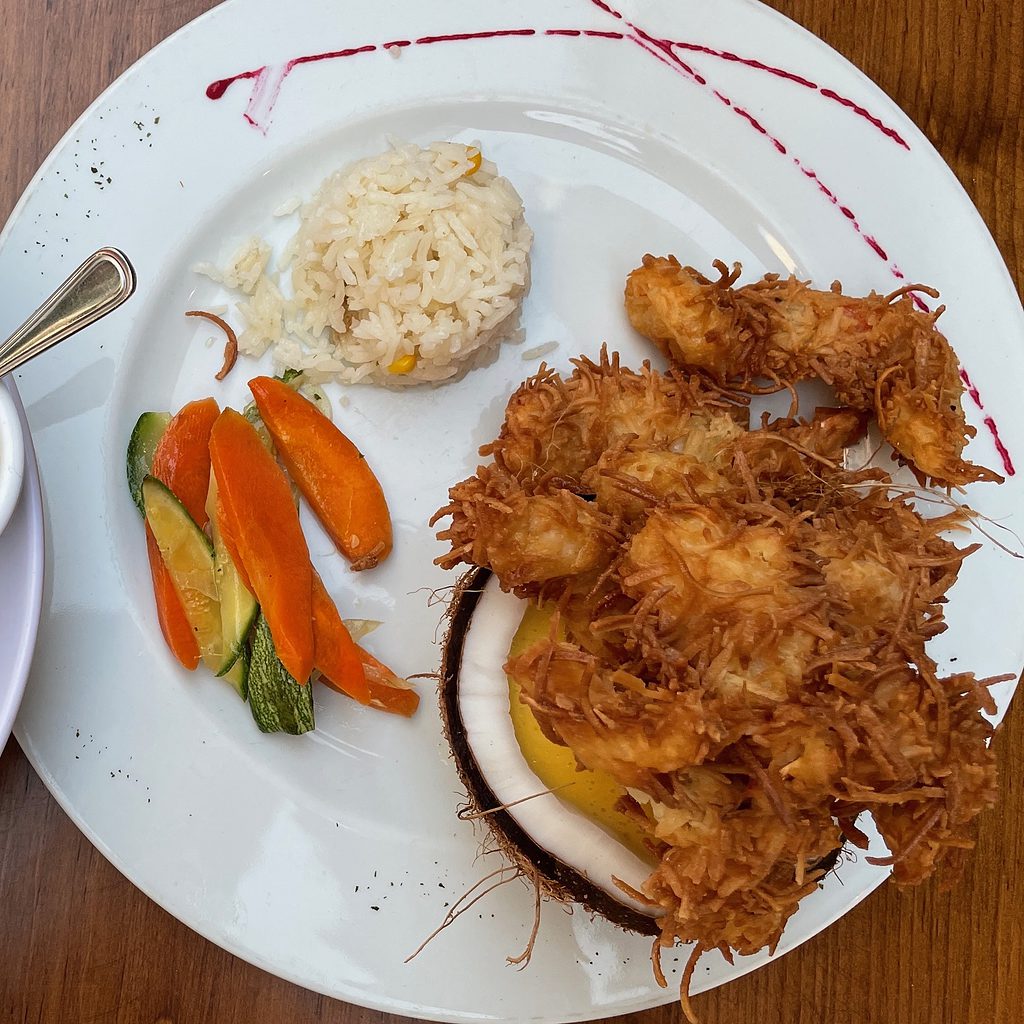 Camarones al Coco, also known as Coconut shrimp, is quite famous in Mexico, especially in restaurants in the Yucatan region of Mexico.
The only difference I noticed between the coconut shrimp in Mexico versus other countries is the batter they use to coat the shrimp.
Depending on your restaurant, it may be served with an actual coconut. The Camarones al Coco photographed above was served inside a coconut, with potato mash below the coconut.
Coconut shrimp was invented in Asia. It's one of those foods in Mexico that's not Mexican. However, it's become popular amongst locals.
You can find this dish in Mexican beach towns, from Puerto Vallarta, Playa Del Carmen, Tulum, Cabo, and more. I highly recommend this dish, one of my favorite foods in Mexico, especially when visiting a beach town.
For those who prefer spicy food, you can always try Camarones a La Diabla; it's the spicy version coated with a thick red chili sauce or dried chillis. The photo above is from El Oasis, featured in my best Playa Del Carmen Restaurants guide
Pozole
Pozole (a maiz (hominy), soup) is one of Mexico's most beloved foods.
Pozole, pronounced po-zoe-lay in Spanish, is a traditional dish made with meat and hominy. It's then cooked in broth. You can add many spices, including garlic, cumin, and chili powder.
Pozole is a rich, spicy dish that can be made vegetarian by using beans as an alternative to meat.
Your pozole can be garnished with various things: avocado, lime juice, lime zest, avocado, shredded lettuce, and radishes. Sometimes it's served with tostadas (tortilla chips).
There are three types of pozole: white, green, and red.
White Pozole doesn't contain any chillis. Therefore it's not spicy whatsoever. Green Pozole is cooked by adding green tomatoes and green chilis to the broth. On the other hand, Red Pozole has red chillis and chili ancho in the broth.
Many argue that Pozole is the most traditional stew regarding foods in Mexico.
Foods in Mexico to Try #13-16
Huevos Rancheros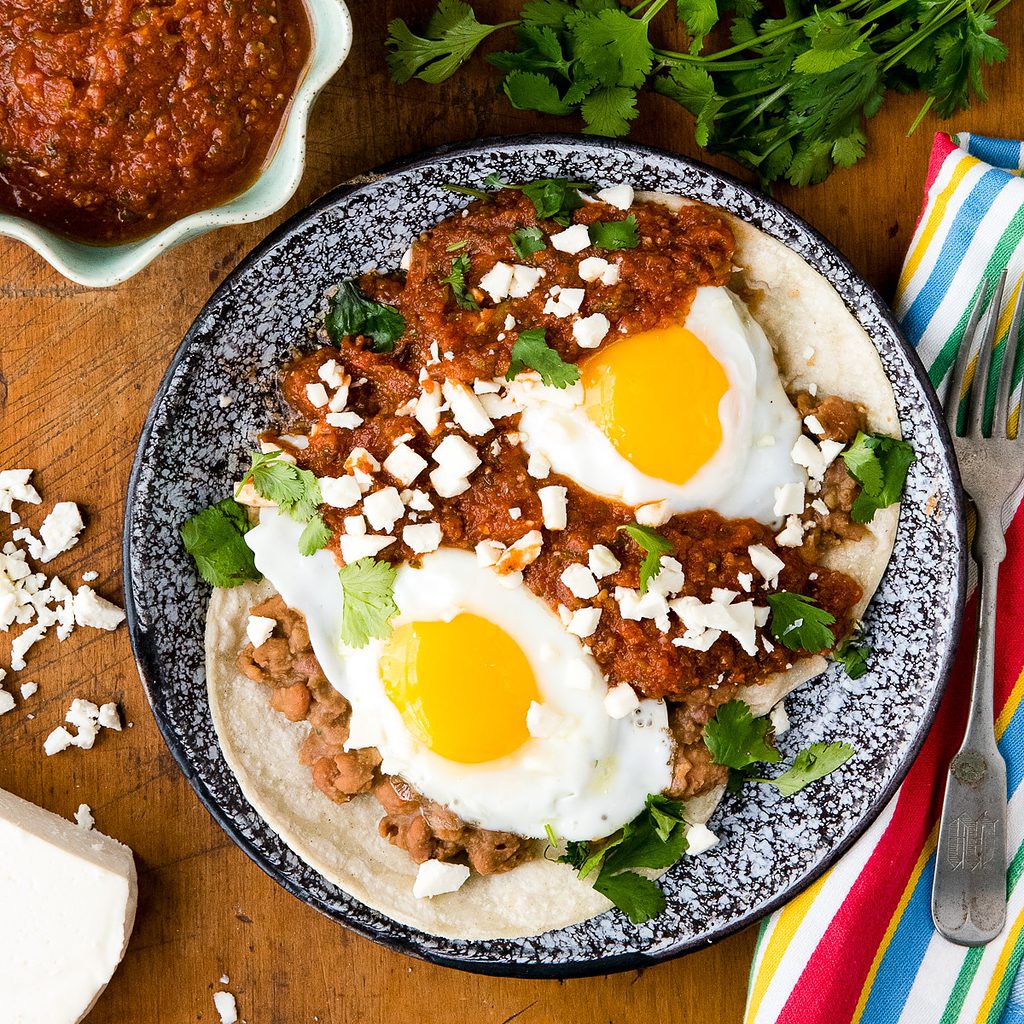 Huevos rancheros is a traditional Mexican breakfast dish that has made its way to the U.S. and Canadian menus. The translation of this dish in English is "ranch eggs."
This is a rustic dish that's often eaten on farms in Mexico. It's hearty and is meant to fill farm workers up until lunchtime. Although this dish is filling, huevos rancheros is a simple and delicious.
It is a Mexican breakfast lasagna with a tortilla, two tortillas, beans, and fried eggs. The salsa, sometimes salsa roja (red salsa), is added to the dish and served with additional tortillas.
Regarding breakfast foods in Mexico, this may be the most well-known dish.
Gorditas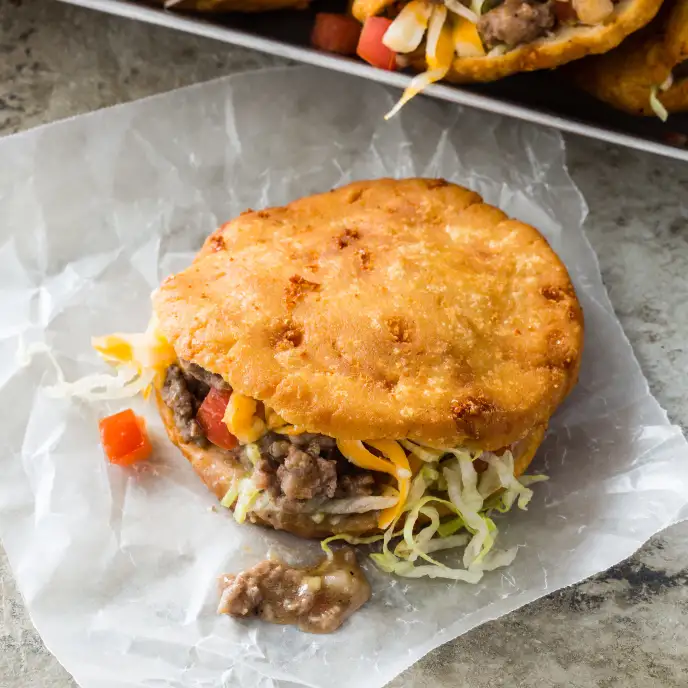 One of the undiscovered heroes of authentic Mexican street food is the gordita, which translates to "chubby girls" in English.
This dish originated in the northern part of the country but has become famous throughout Mexico.
Like many Mexican dishes, the gordita is a variant of a tortilla filled with different ingredients. You'll receive a thick tortilla; you can stuff the small round bread with whatever filling you like.
Gorditas are traditionally filled with chicharron (fried pork skin). However, you can also find carnitas (pork confit), tinga de pollo (chicken stew), and many other options today.
These delicious sandwiches are packed with your favorite filling and can be deep-fried, grilled, or baked depending on what region you eat them in Mexico.
Marquesitas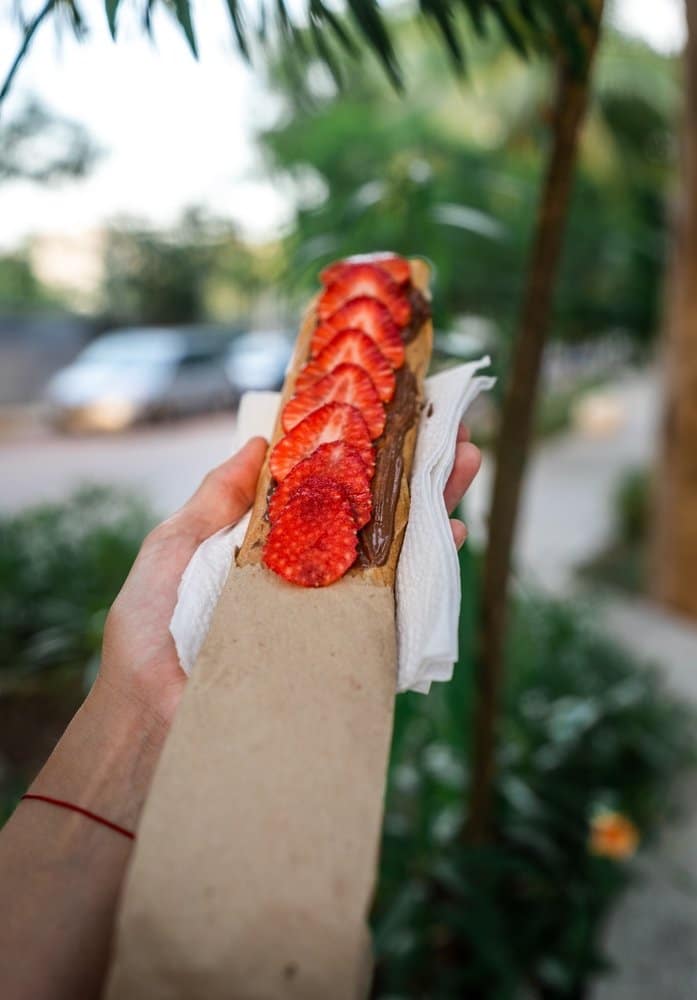 Despite this list being about foods in Mexico, I had to include one dessert in this list for you to try. Churros are tremendous but so familiar; you must try marquesitas if you haven't already!
Marquesitas (pronounced markay-see-tahs) is a popular dessert most famous in the Yucatan Peninsula region of Mexico.
It's essentially a crepe. Then, it is pressed and slathered in various fillings. Finally, it is rolled up. They are easier to hold and eat because they have hardened after being cooked in the press.
Traditional marquesitas are traditionally made using Nutella and shredded queso bola, a Yucatan cheese similar to Edam. The combination of sweet and savory tastes delicious.
Nowadays, street vendors sell marquesitas filled with all kinds of toppings, fruits, caramel, chocolate syrup, and all your favorite chocolates, such as Oreos, Rolo, Twix, etc.
If you're visiting a beach town in the Yucatan or Quintana regions, you will find these everywhere in the streets. Locals push around a cart and make them right then and there in front of you. You'll usually find street vendors selling these after sunsets.
When I was in Playa Del Carmen, after 6:00 PM, you could find these everywhere!
Chapulines (Seasoned Grasshoppers)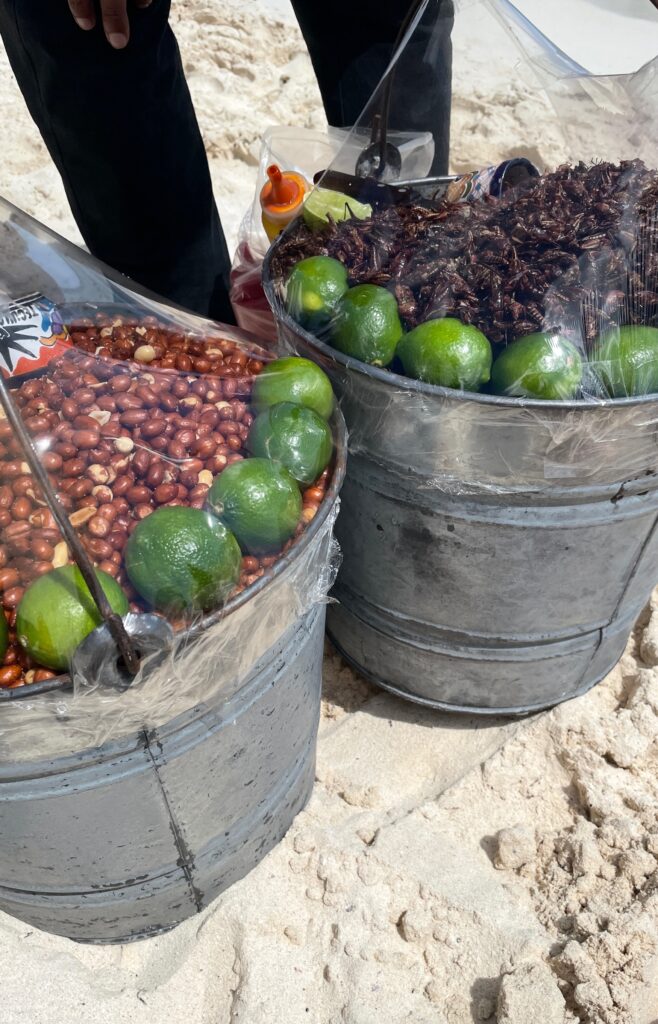 You might encounter strange-looking street food while walking through Playa Del Carmen or Mexico City streets.
These small snacks can be toasted on a flat griddle and then seasoned with salt, lime juice, and chilies.
I know this won't be one of those foods in Mexico you gravitate towards. But give them a chance; they're pretty good!
If you're unfamiliar with eating bugs, try it; trust me. It tastes like a crunchy chili lime chip. Chapulines are a healthier alternative to chips, and they're packed with protein!
I had no plans to eat grasshoppers or any insects in Mexico. But I was sunbathing on the beach and noticed a man walking around with two large buckets, one full of peanuts and the other with grasshoppers in it.
After seeing the man walk by me a few times, I asked myself why not. He scooped some, put them in a bag, squeezed some fresh lime juice in the bag, added some chili powder, and gave it a shake. I enjoyed them; I'd eat them again!
3 Mexican Alcoholic Drinks to Try
Mezcalita
A mezcalita is the margaritas cousin; it's made with Mezcal, a liquor similar to tequila but smokey.
Mezcalitas are made with fresh orange juice, lime juice, and a spicy rim of tajin clasico seasoning. It's both tasty and refreshing. TIP: If you want to sip on the BEST mezcal in Mexico by the beach, you go to Puerto Escondido.
Palomas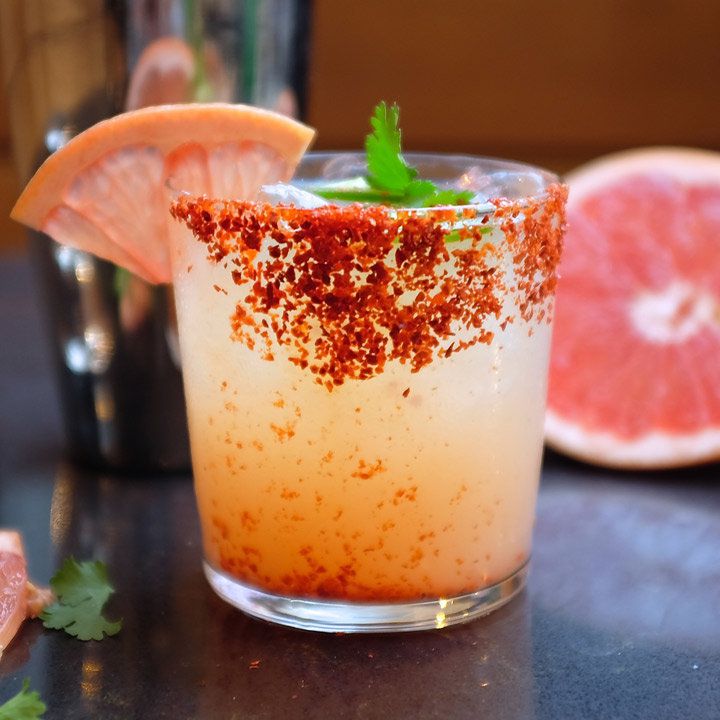 Palomas, a traditional Mexican drink you might not have tried, is made with tequila, like many Mexican cocktails.
Palomas is fizzier than margaritas and is made with grapefruit soda, lime juice, and a splash of lime. They're refreshing and cool on hot summer afternoons.
Michelada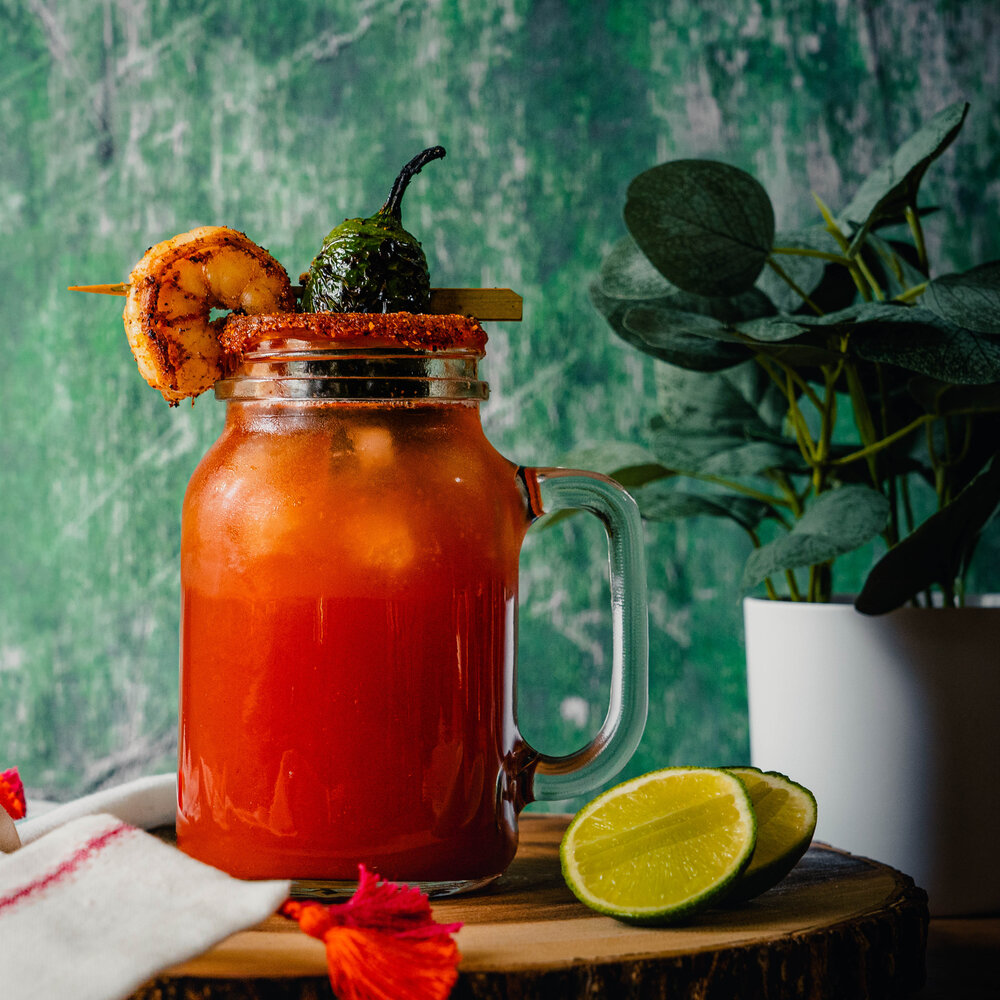 A michelada is a traditional Mexican drink that offers a unique experience in beer. The michelada, made with clamato juice and spices, tastes like a Bloody Mary.
However, it's made with beer. You'll often see Micheladas served with brunch because they are a popular hangover remedy.
Read More: Mexico Archives
Final Thoughts – Foods in Mexico
Some of you reading this article may only be staying in Mexico for a short period and won't be able to try all 16 foods.
To make things easier for you, I will share 3 foods; you can't LEAVE Mexico without trying.
Mexico, for me, has to rank in the top three best countries I've visited regarding the cuisine there. Foods in Mexico are just that good; there are times when I debate about flying to Mexico for a week one-week trip to eat.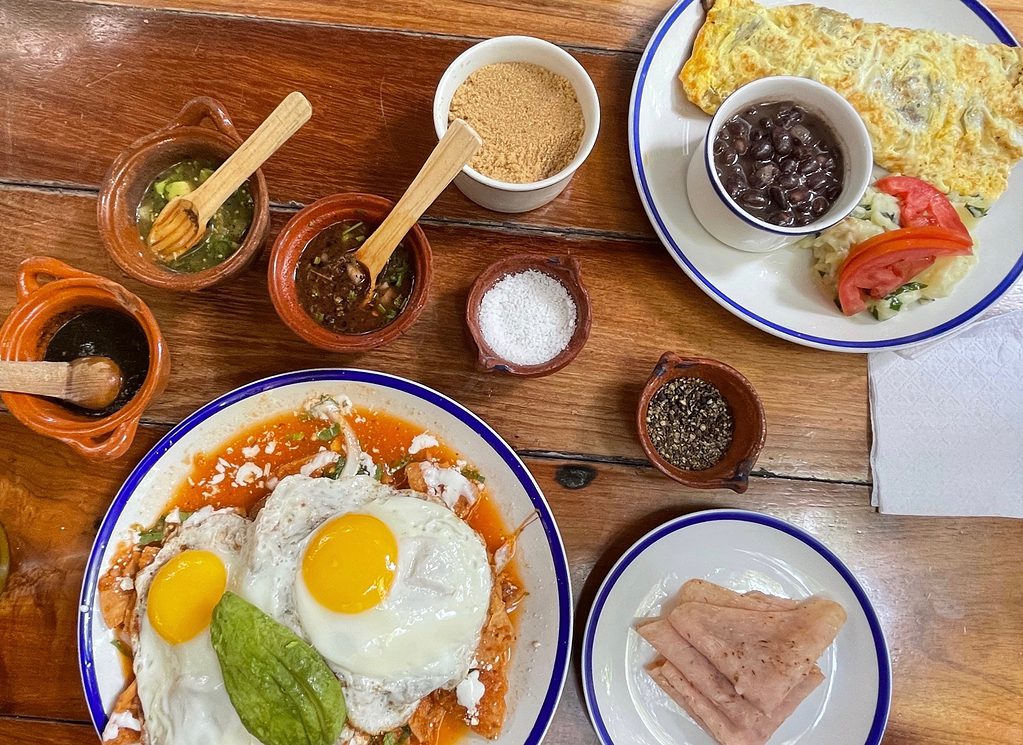 1 – Barbacoa: Slow-cooked lamb under a charcoal fire; need I say more? With a flavourful Mexican spiced consume, with a fresh squeeze of lime on the top and a side of warm tortillas.
2 – Tortas: Al Pastor style meat cooked on a spit, shaved off thinly, inside a hoagie roll with warm stringy Oaxaca cheese, tomato, avocado, and hot sauce on top. This isn't a sandwich; it's a torta, something much better. Try it, trust me.
3 – Chilaquiles: Spicy salsa with warm tortilla chips, a fried egg or two, avocado, and meat on the side; you don't need anything else that day after eating Chilaquiles.
If you live in California, you MUST visit Ensenada in Mexico. It's only a 2-hour drive from San Diego and has some of the best Mexican food in the country!
Subscribe to Travel Hiatus!
Receive updates on my latest posts, insider travel tips & the best destination guides to your inbox!
Happy & Safe Travels
---
Planning Checklist
---
Disclaimer: Please note that some of the links shared in this article might be affiliate links; this means that at absolutely no extra cost to you, we will earn a small commission for any sales generated through this article and/or this website. We recommend products/services we've either used or researched thoroughly – Thank you for supporting us so we can continue to share helpful travel content!