11 Best Things To Do in Cancun, Mexico
Planning a trip to Cancun and looking for the best things to do in Cancun? You've come to the right place; this guide covers the top 11 things you must do in Cancun!
Cancun is one of the most visited cities in all of Mexico. And it's easy to see why it's the Las Vegas of Mexico; the city is full of vacation goers partying into the early hours, lots of shops, and quite a few American franchise restaurants.
There is a wide variety of amazing things to do in Cancun, from day trips to diving, island hopping, and much more. We will be covering it all!
Besides the many things to do in Cancun, the city is famous because of the large selection of all-inclusive resorts catering to Americans and Canadians looking to holiday down South.
Lastly, Cancun International Airport is the leading international airport in the Quintana Roo region of Mexico. It's got the most flights going in and out of it daily. This makes getting to Cancun easier to visit for travelers.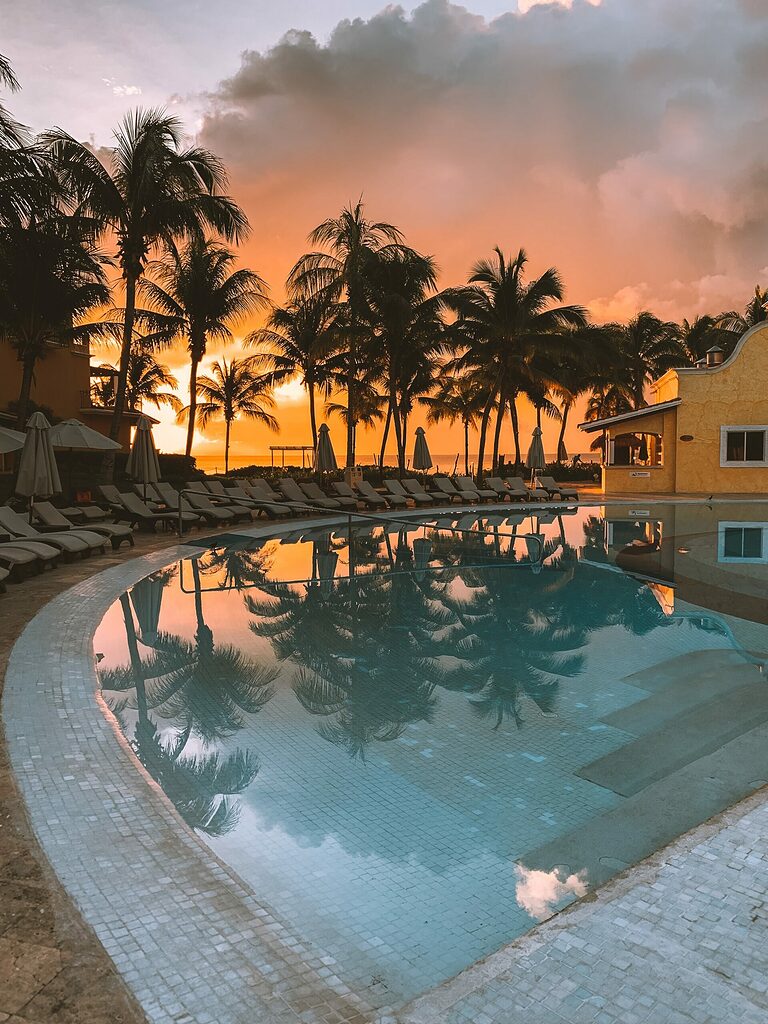 How to get from Cancun Airport to Cancun Centro?
There are a few ways to get to Cancun Centro or the Hotel Zone from Cancun Airport.
The cheapest way to get to Cancun Centro from Cancun Airport is by ADO Bus; there are four different ADO station terminals at the airport; go to the one on your ticket. It costs around $6 US and takes 25 minutes to get to Cancun Centro.
The best way to leave Cancun Airport and get into the city or Hotel zone is to arrange Private Airport Transportation ahead of time!
Some hotels do offer a complimentary shuttle service from the airport. Check if they do!
Looking to get around Cancun and feel the wind in your hair? Rent a bike, scooter, or motorcycle to explore!
Best Things To Do in Cancun
There are things to do in Cancun for everyone, whether you're coming with a loved one on a couples trip, a bachelorette with several ladies, or a family vacation.
One of many reasons why Cancun has been a top vacation destination for those from the US/Canada over many years is the city's vast audience attraction makes it an ideal destination!
While most resorts do have plenty of activities and things to do in the hotels, especially the all-inclusive ones.
I'd advise you to leave the resort and experience several other things to do in Cancun!
Dive & See the Cancun Underwater Museum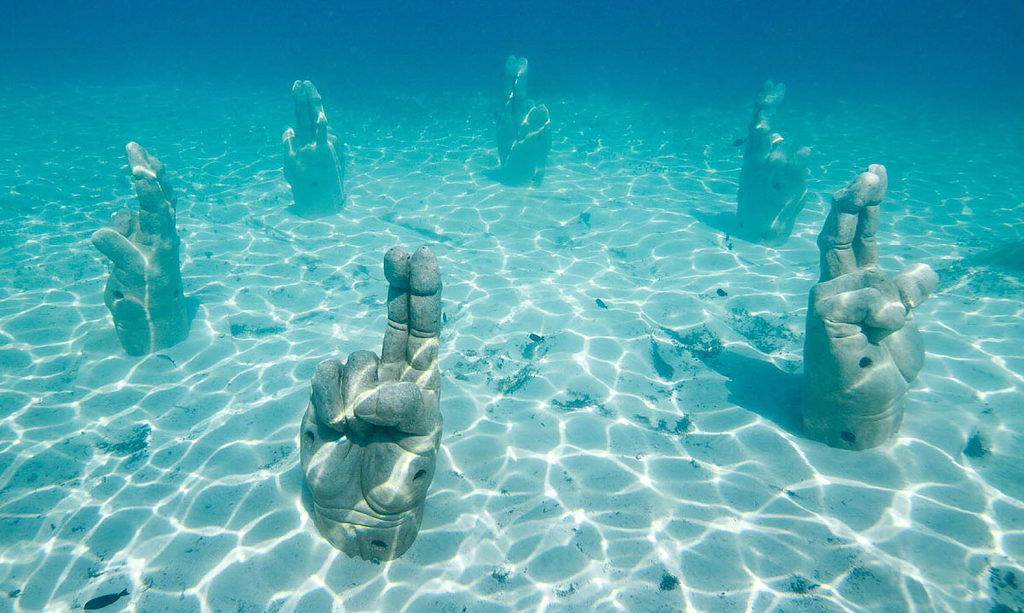 The famous underwater museum is one of Cancun's best things to do. Cancun's turquoise-blue Caribbean waters are a great place to snorkel. Not only is it a sight to see, but it's a perfect activity to spend the day on the water.
2009 the museum was created to save some of Cancun's reef life. Over 500 sculptures have been submerged in the water since the beginning of the project to develop this unique reef. The city is adding more sculptures as animals eat away at these sculptures.
You can take many tours of the underwater museum, but I recommend taking this tour. Most museum tours of the underwater museum are accessible by three-hour trips from the central Cancun Hotel Zone.
MUSA is an unforgettable experience. If you want something to make lasting memories, you should take advantage of this fantastic underwater art museum.
Swim with Whale Sharks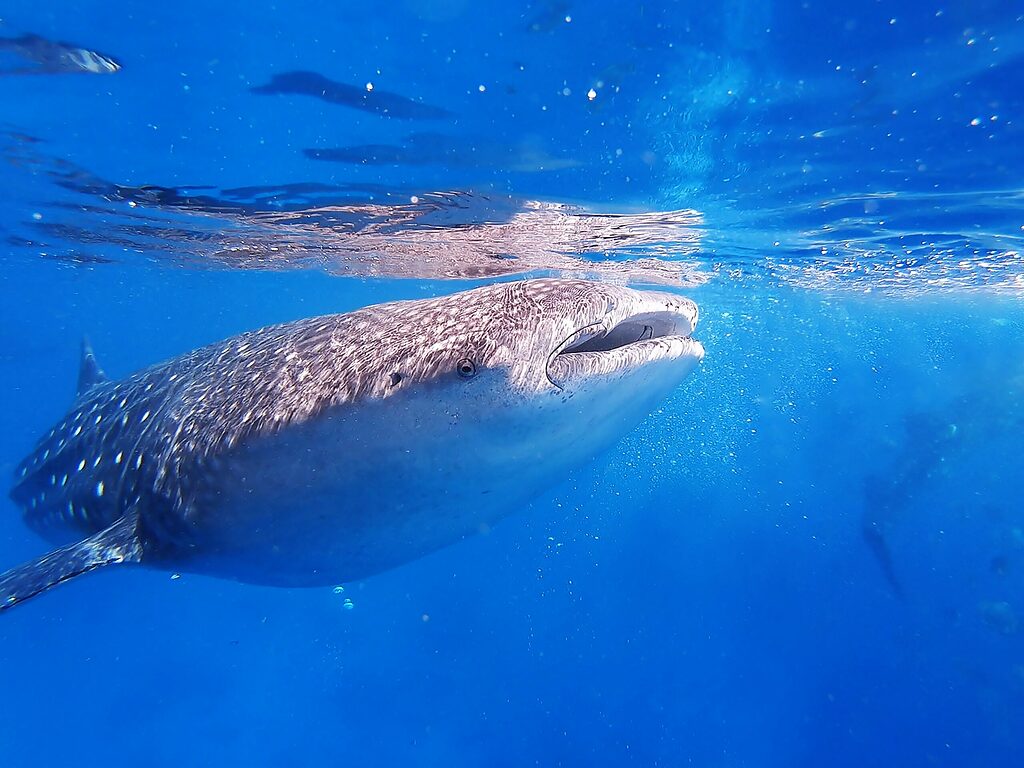 It's easy to see why whale shark swimming became so popular as a recreational activity. This endangered species of whale shark are some of the friendliest creatures in the ocean. The adult size of these creatures can grow to 14 meters in length and weigh up to 20 tons.
The ideal time to swim with whale sharks is between June and September, and luckily the Yucatan peninsula is one of the best places in the world to swim with whale sharks. This all-inclusive whale shark tour includes everything you need to experience this popular Cancun attraction.
These magnificent creatures are omnivorous and will eat plankton, so you don't have to worry about being eaten or bitten by them. Respecting and appropriate interaction is essential to keep yourself and wild animals safe. Don't touch the whale sharks; avoid using sunscreen when diving with these friendly sharks!
I've done this activity in Cancun and Isla Holbox, and I can reassure you it never gets old! I highly recommend experiencing this.
Stroll the Cancun Hotel Zone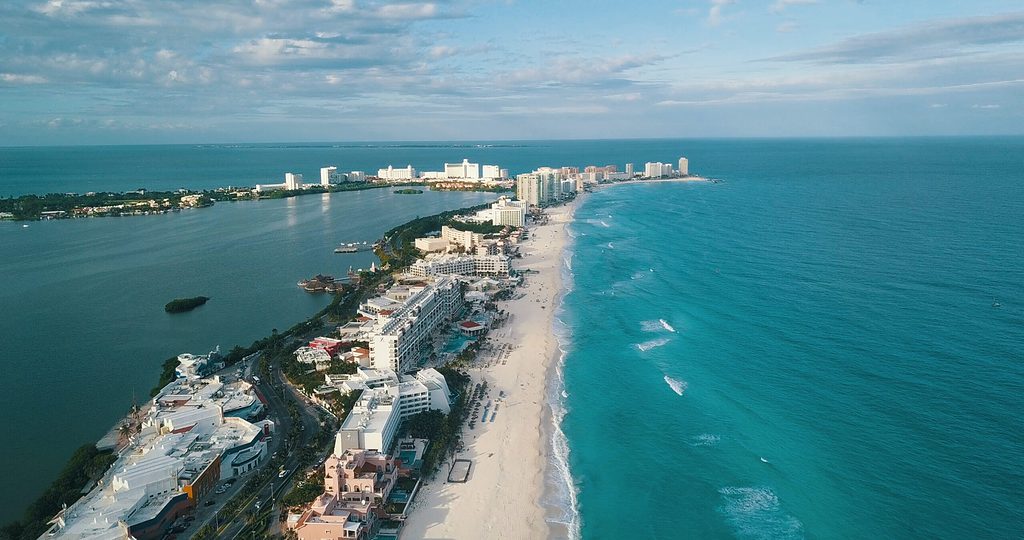 Walking along the Cancun hotel zone is a fantastic adventure. The 22km (12 miles) long zone has bars, restaurants, shopping centers, and all-inclusive mega-resorts.
La Isla shopping center is an open-air shopping center that's a great place to grab something to eat, shop for clothes, and watch people go by.
For those looking for small Mexican souvenirs to take home with them, such as tequila, magnets, and colorful home decor, the hotel zone is full of local souvenir shops to visit.
Here's a Tip: take a taxi to Downtown Cancun if you want to pay less; souvenirs are cheaper there!
The area is lit at night, with most of the long streets filled with partygoers, families dining, and couples walking in the evening. Sometimes the best activities in Cancun are entirely free, such as this.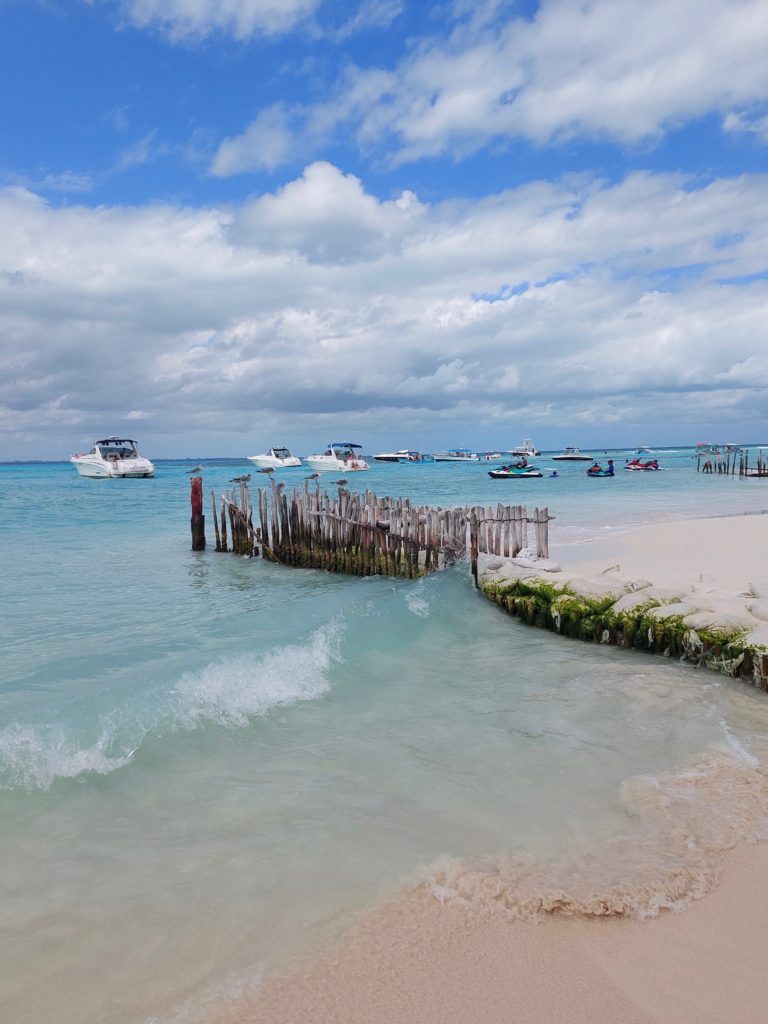 One of the best activities in Cancun is visiting Isla Mujeres. Isla Mujeres, or "The Island of Women," is a translation of Ixchel, the Maya goddess of fertility. The ferry to this tiny island takes you only 20 minutes from Cancun.
The stunning views of Isla Mujeres are possible because of its beautiful bays and rocky coastline. This is the best spot to see the sunrise in Cancun. This quiet fishing village is a great place to take a break from Cancun's crazy nightlife. Visiting Isla Mujeres ranks #1 for things to do near Cancun.
Isla Mujeres is well-known for its wildlife, the stunning beach named Playa Norte, Garrafon Natural Reef Park, and simply being a beautiful island. Isla Mujeres is the most accessible/fastest day trip from Cancun for those looking to make a day trip but not go far.
Lastly, Isla Mujeres is known for its stunning resorts, rather than making a quick day trip with limited time. I suggest you book a hotel for a night or two to get a feel for this island!
Ferries are going to and from the island throughout the day from 9:00 AM to 5:00 PM, departing every hour from Puerto Juarez.
I recommend the Xcaret ferry, which runs during the day and after 5:00 PM, allowing you more time to explore Isla Mujeres.
Visit & Swim in Cenotes
One of the best things to do in Cancun and the whole of Mexico is to visit one of the many cenotes. Mexico has some of the best cenotes in the world scattered throughout the country. Some even have yet to be discovered.
Unfourtanely, Cancun cenotes aren't a thing, so if you're looking to experience this must-do spectacle in Mexico, you'll have to venture out of Cancun. The closest cenotes to Cancun are Cenote Azul and Cenote Las Piedras. They are not technically in Cancun, but they are close.
Later this year, you can take the Mayan Train to see cenotes in Tulum, Valladolid, and other places in the Yucatan/Quintana Roo!
As okay as these two close cenotes may be, I recommend you go further to see one of the seven best cenotes in Mexico. Rio Secreto is the closest/best cenote to visit from Cancun; this cenote has even been featured in National Geographic. This cenote is just past another of Cancun's neighboring cities, Playa Del Carmen.
If you're willing to go a little further, I recommend you visit and take a Casa Tortuga tour, and there are four different cenotes to experience here. Including a cenote that has a beach club inside of it!
Despite no cenotes being in Cancun, visiting/experiencing a cenote is one of the best things to do in Cancun.
Experience Cirque du Soleil JOYA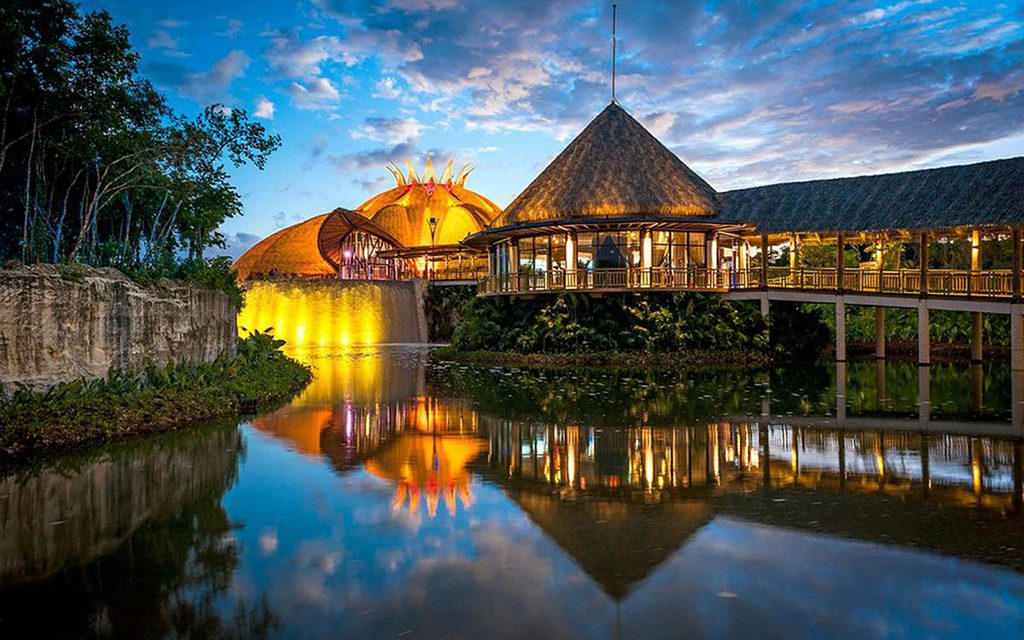 Look no further for those looking to do something fancy in Cancun; Cirque du Solei JOYA is an excellent choice.
Famous worldwide, everybody has heard of this well-known entertainment company putting on incredible shows. The show offers several amenities to appeal to visitors. I highly recommend seeing the show if you're with a loved one or a group of friends and want to do something different.
This is perfect for those looking for things to do in Cancun at night but would like to avoid the bars or nightclubs!
The best way to experience this spectacle is by booking a package in advance here. This package includes dinner, champagne, appetizers, and more (if options are selected).
The show is in the Vidanta theatre, between Cancun and Playa del Carmen. It takes only 40 minutes to get there. Your options to get there are either renting a car or using the round transportation offered by this package costing $20 USD/per person roundtrip.
Only bother showing up there with a purchased package. It will cost you much more at the door!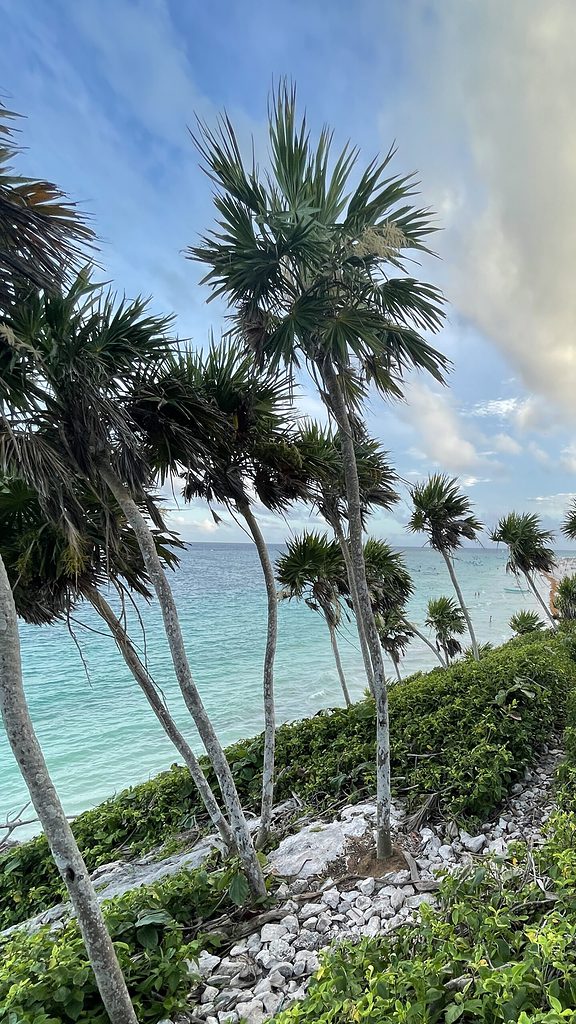 Everyone has heard of Tulum; the city is world-famous for its parties, beach clubs, cenotes, Mayan Ruins, and beaches. If you choose one city to visit from Cancun, I recommend you make it Tulum.
There are many things to do in Tulum, and the small city has more of an authentic atmosphere verse Cancun. For those looking to experience a less Americanized city like Cancun, Tulum is a great option. Tulum has some of the best restaurants in the Quintana Roo!
Later this year, you can take the Mayan Train to get to Tulum from Cancun Airport.
Ensure you bring some extra cash; Tulum is quite expensive compared to most of Mexico. The small beach town is known internationally, and celebrities, bloggers, and well-off individuals frequently visit the beach town throughout the year, especially during the high season between November and March.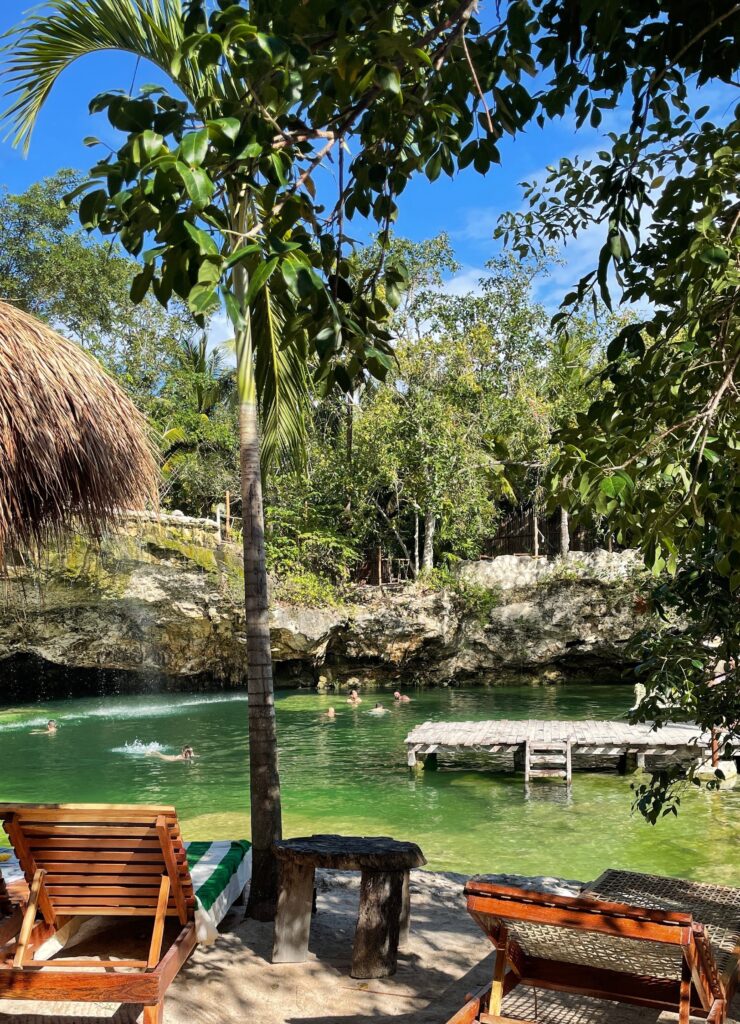 I recommend you visit North Tulum Beach, the Mayan Ruins, and the cenotes. Downtown Tulum is also fun, filled with several local restaurants and bars. The food here is fantastic. Some of the best Mexican food is in Tulum.
For those looking to party, Tulum is the best place to party in all of Mexico, and the downtown core is full of bars/nightclubs. The beach clubs are something out of a movie; they're impressive. But if you want to experience an authentic party in Tulum, go to an all-night jungle party.
To get to Tulum, you've got a few options: take a private car, drive if you've rented a car, take the local ADO bus from the downtown station, or take a full-day tour from Cancun. This tour is convenient because you don't need to worry about anything. Everything is taken care of for you.
For those looking to experience Tulum to the fullest, I'd recommend you book a hotel in Tulum for a night or two. To get the lowest price, could you make sure you book a hotel during the week? Tulum accommodations are more expensive during the weekend.
Spend the Day at Xcaret
Xcaret is the best choice for those who want to experience an adventure but still feel like they are in a resort. Xcaret is an archeological eco-water amusement park.
A few things to do in Xcaret are the following:
Xcaret Waterpark
Visit the Mayan Ruins
Swim with dolphins, manta rays, and sharks
Visit Xenses Park
The best part about Xcaret is there's so much to do here, and it's all close to one another. Xcaret is just over an hour away by car from Cancun.
There are several ways to reach Xcaret from Cancun. The quickest way to get to Xcaret is by taking the full-day tour, which includes transportation from your hotel and several amenities. Otherwise, you can always drive there if you've rented a car.
Visit Chichen Itza Ruins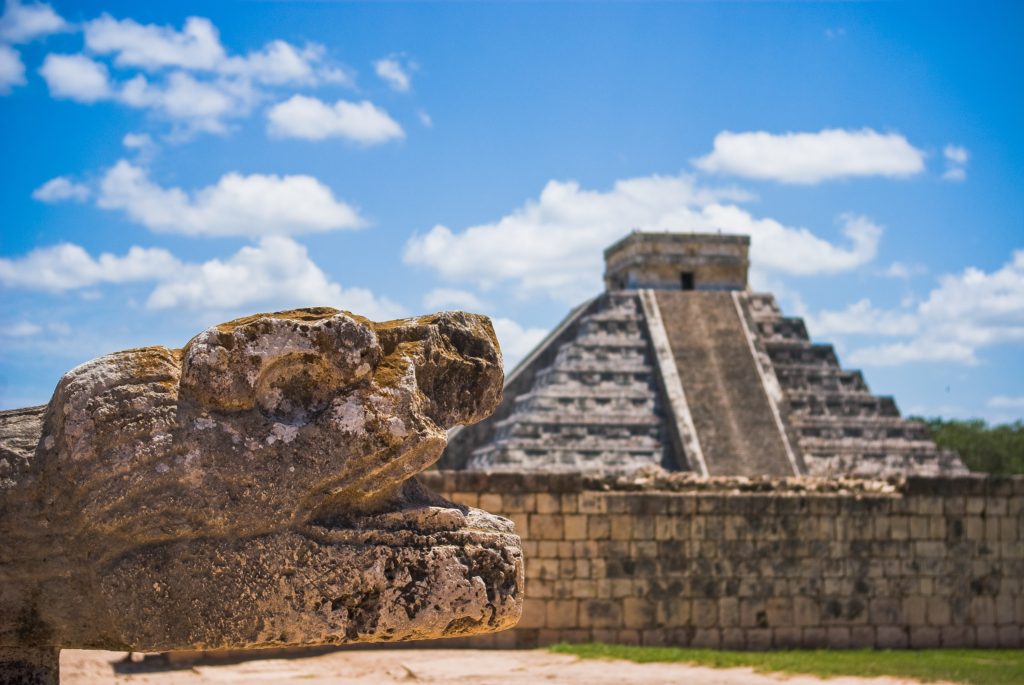 Regarding attractions in all of Mexico, the Chichen Itza ruins may be the most famous. Regarding things to do in Cancun, taking a day trip to visit the ancient Mayan Ruins in Chichen Itza should be at the top of your list.
The Chichen Itza site is one of Mexico's most significant historical sites. Without even knowing the name, I'm sure you've seen a photo of it before. The pyramid is a designated UNESCO World Heritage Site. At the ruins, you'll run into tourists visiting from all over the world.
Over a thousand years old, Chichen Itza was once a significant center of Mayan civilization. When visiting the pyramid and ruins, you can walk around or take one of the many tours.
Here is an in-depth guide on how to get from Cancun to Chichen Itza
Chichen Itza is surrounded by nearby cenotes, not just cenotes but some of the best cenotes in the world.
These are the top cenotes close to Chichen Itza:
Cenote Ik-Kil
Cenote Suytun
Cenote Zaci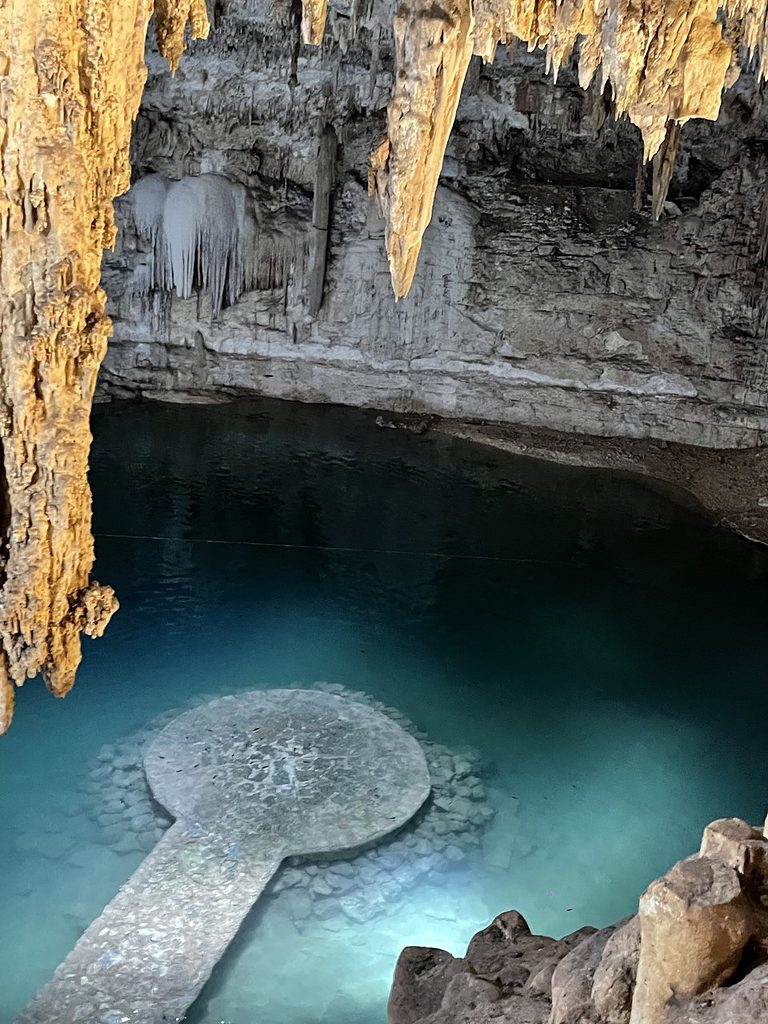 To get to Chichen Itza, you can drive there in a rental car or go on an organized tour. The Chichen Itza ruins are open from 8 AM till 5 PM and are about 2.5 hours from Cancun. Here is a complete guide on cenotes.
To skip the hassle of transportation, organizing tickets, and figuring out where to eat, this Chichen Itza tour from Cancun takes care of everything. It's a full-day tour lasting 12 hours. Not only will you visit the pyramid, but you will also see a cenote. The tour also includes a Mexican buffet with a tequila tasting!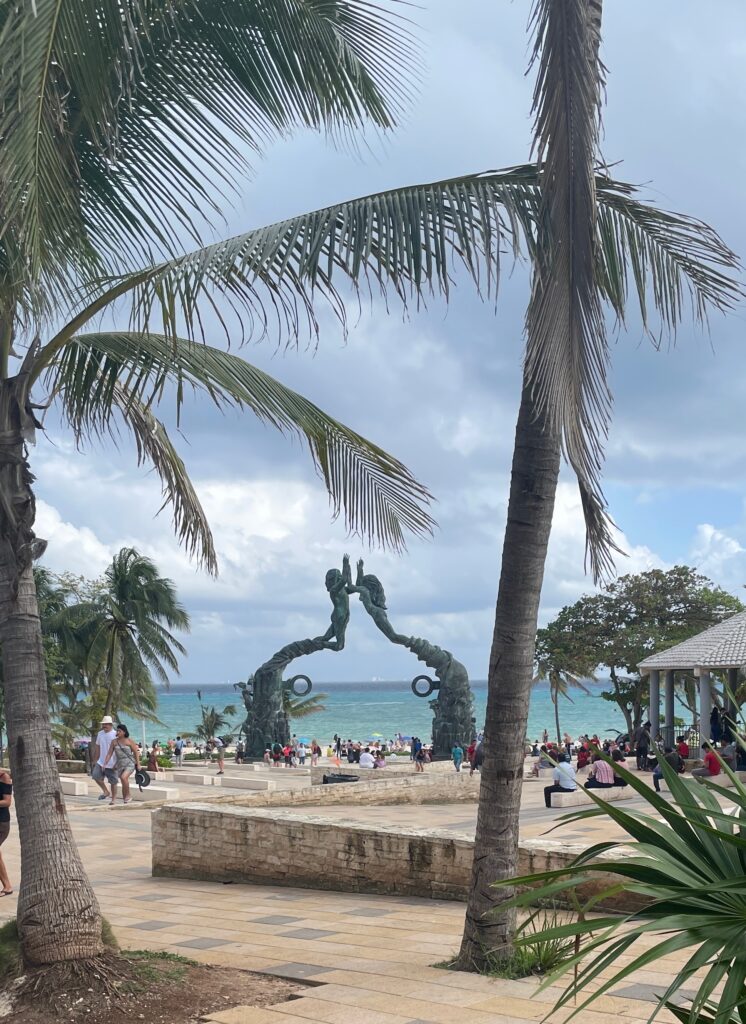 Located precisely an hour from Cancun is Playa Del Carmen, a beach town well known for its resorts, famous 5th Avenue street, and nomad living.
The city connects through 5th Avenue street, with great restaurants, shopping, bars, nightclubs, and many people trying to sell you just about everything. The food here is delicious. I spent eight weeks here and couldn't get enough of the food.
If you're reading this and debating between Cancun or Playa Del Carmen, read our Cancun vs Playa Del Carmen guide!
The best part about Playa Del Carmen is that there is so much to do here, and everything is very close to each other. Playa Del Carmen has a few cenotes around it, rooftop bars, and stunning beach clubs.
To get to Playa Del Carmen from Cancun, use my guide, which includes multiple transportation options.
For those looking for an extra adventure, you can take the ferry from Playa Del Carmen to Cozumel, which takes 40 minutes, and visit the island directly across from it, Cozumel. The island is considered one of the best places to dive because it's home to the second-largest barrier reef system.
Visit the Mayan Museum of Cancun (Museo Maya de Cancun)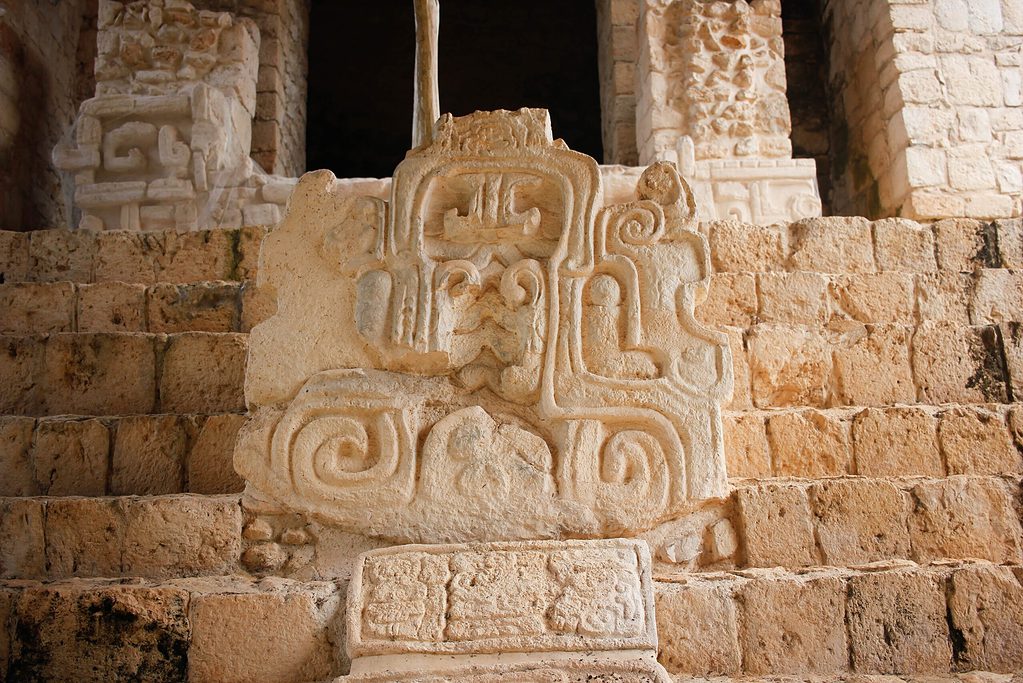 The Museo Museum of Cancun is an excellent place to learn more about Mayan history. This will allow you to understand the Mayan culture and history better if you plan to visit Tulum and Chichen Itza.
The museum was opened in 2012 and has all sorts of near Mayan archaeological relics. There are a total of three different galleries for you to explore multiple aspects of both Mayan culture and history. You will find temples, pyramids, and family homes built by Mayans.
Whether you enjoy museums or not, the Mayans played a significant role in the history of Mexico, and it's worth visiting Museo Maya de Cancun.
When is the best time of year to visit Cancun?
The best time to visit Cancun, or anywhere in the Yucatan Region, is between November to April.
Remember that this is the high season, when most tourists from all over the world, especially the US and Canada, come. But even when it is high season, don't worry. You'll be able to manage to visit.
Are you reading this article but debating between going to Cancun or Tulum, this Tulum vs Cancun guide will help you decide!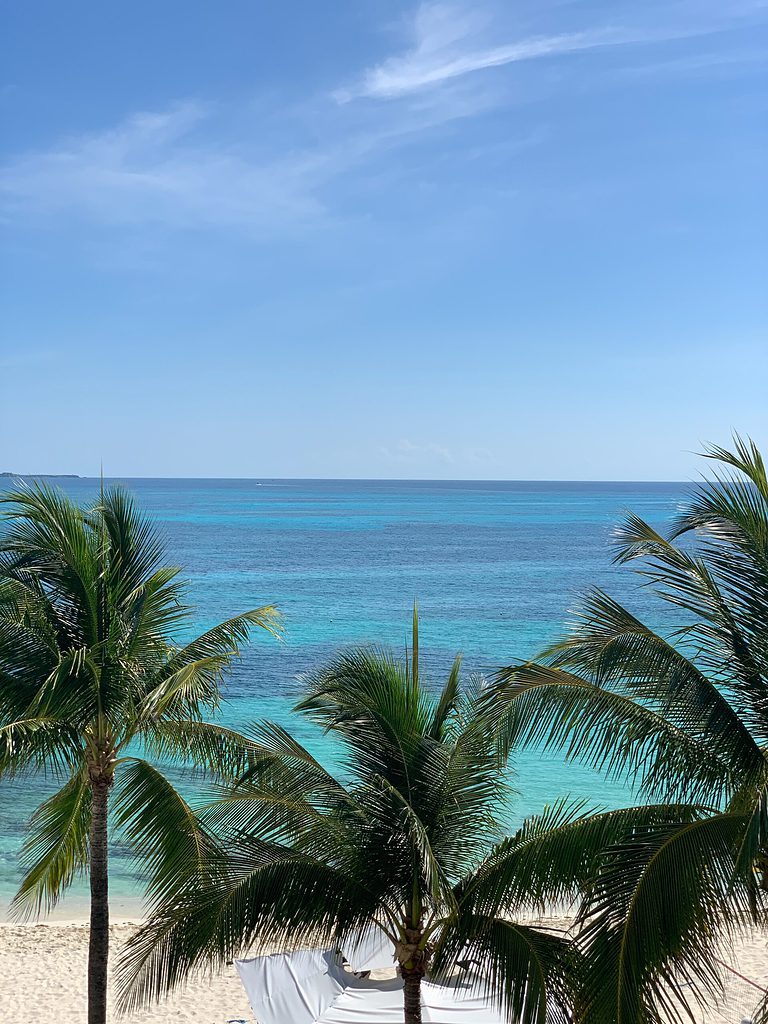 Here is a breakdown of Visiting Seasons in Cancun, Mexico.
High Season: As stated, this is between November to April. The weather during this time is the most stable and optimal. Especially between January to March, this is the driest time of year but still very pleasant because the humidity is low.
Rainy Season: These are the rainy months in Cancun, which means occasional showers. Though the rainfall usually passes quickly, it could be better for those vacationing. Also known as the offseason, this time is between June to September. This is the cheapest time to come to Cancun for those looking to save.
Shoulder Season: The second best time to come to Cancun is during Shoulder Season. In fact, during this time, you will get a good deal on accommodations and flights, and the weather is also quite pleasant. It may not be as good as during the high season, but it's much better than the rainy season. You need to know some tours and excursions you may want to do may not operate during this time.
Are you looking for a resort-like vacation, but would you like a quieter city to visit instead of returning to Cancun? I highly recommend Puerto Morelos; it's only 30 minutes away.
Is Cancun Safe to Travel to?
For years, Cancun has been considered one of the safest cities in Mexico. The government of Mexico has purposely deployed more police in this city because the city is a literal cash-making machine. With so many resorts here and things to do in Cancun, Cancun is quite famous for those looking to go on vacation.
It doesn't mean you should drop your guard when visiting. Cancun can be visited with minimal risk if you follow the basic safety precautions. As in every big city, scammers and pickpockets are the two most serious crimes tourists should be aware of in Cancun.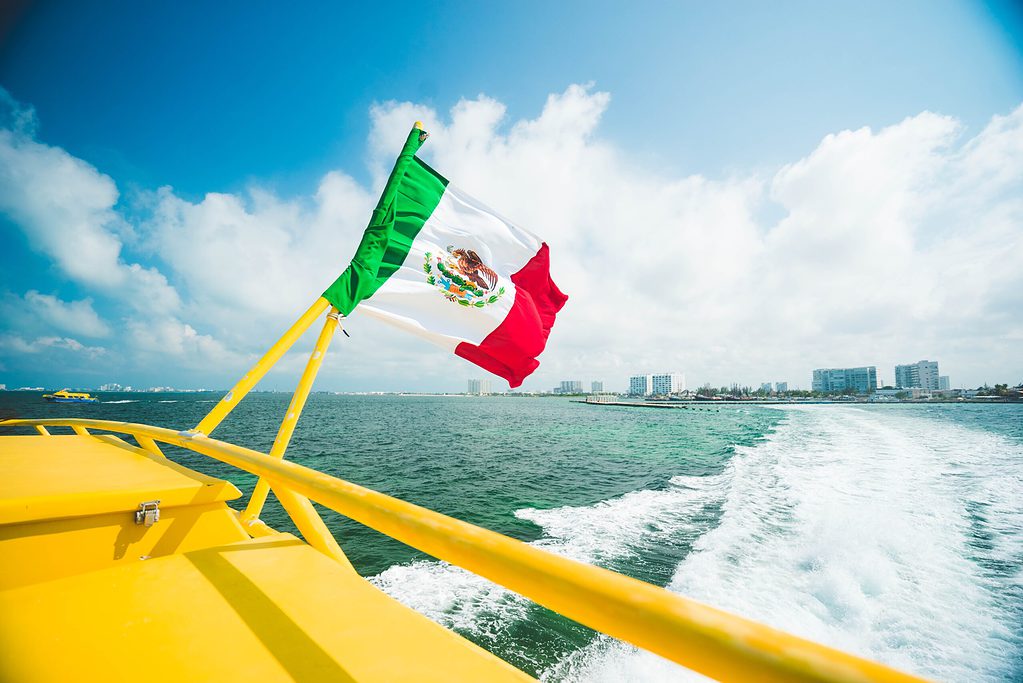 Cancun does have some drug cartel problems, and various Mexican cartels are present in Mexico; that's just the truth. But tourists aren't targeted, and if you follow the basic big-city protocols I suggested earlier, you won't have a problem.
If you plan on venturing out of the hotel zone and into different areas, could you get some info on the area you're visiting? Places like the hotel zone and downtown Cancun are perfectly safe to visit during all-day hours!
Debating whether to go to Cancun or not because it's a big city, but you know you're looking to stay at a large, all-inclusive resort? Visit Puerto Aventuras, a much smaller city than Cancun, with several large resorts!
I Have Limited Time – What Must I Experience?
First things first, please make sure you try the local Mexican cuisine in Cancun. Here's a list of Mexican foods you must try when visiting Mexico! And do yourself a favor, get out of your all-inclusive resort, and avoid tourist trap areas such as the Hotel Zone when it comes to food.
Go to the downtown area of Cancun or into safe small community areas and dine with locals (that's where the best Mexican food is, not at your all-inclusive resorts)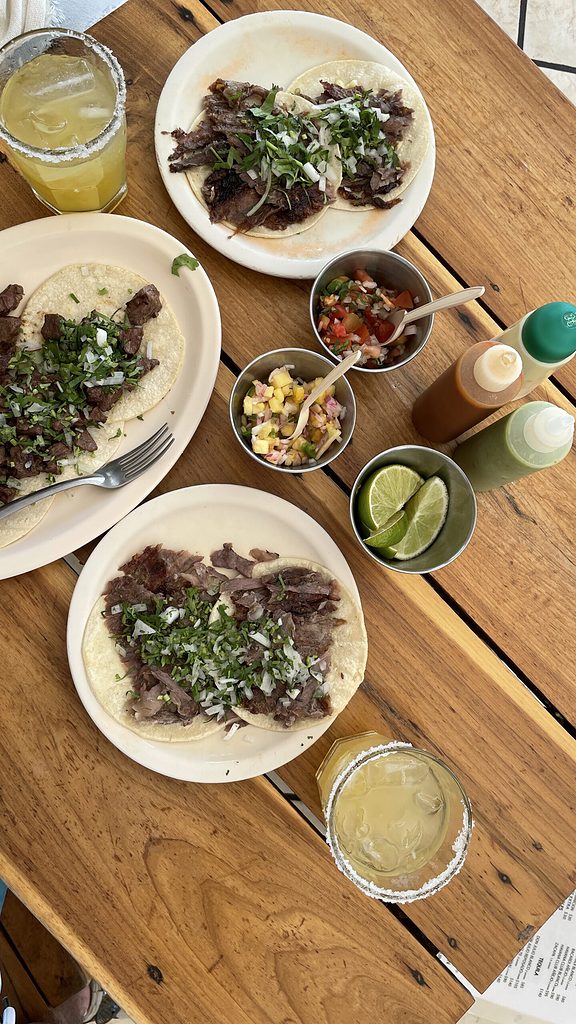 For those visiting Cancun for a typical vacation of seven days, here's what I would recommend you must do from this list of things to do in Cancun in your seven days:
Explore downtown Cancun/Hotel zone walk in the evening.
Day Trip to Isla Mujeres
Visit Chichen Itza
For those visiting Cancun for longer than seven days, here's what I would recommend you must do from this list of things to do in Cancun during your stay:
If you're debating coming to Cancun but would prefer a smaller version of the city, there is still lots to do, good food, nightlife, and beautiful beaches. I highly recommend Puerto Escondido!
For those debating between staying in Cancun or Playa Del Carmen, this guide will give you an idea of what you'd prefer!
Subscribe to Travel Hiatus!
Receive updates on my latest posts, insider travel tips & the best destination guides to your inbox!
Happy & Safe Travels
Image Credits: UnSplash / Featured Image: Meg Jerrard
---
Planning Checklist
---
Disclaimer: Please note that some of the links shared in this article might be affiliate links; this means that at absolutely no extra cost to you, we will earn a small commission for any sales generated through this article and/or this website. We recommend products/services we've either used or researched thoroughly – Thank you for supporting us so we can continue to share helpful travel content!