8 Best Cities in Thailand You Should Visit
I remember the first day I arrived in Bangkok, Thailand. I was shocked by how busy and vibrant the city was.
Before coming to Thailand, friends of mine gave me several recommendations for beaches and islands I must visit. And that's typically why many tourists travel to Thailand every year.
In this article, I will highlight the cities in Thailand you must visit, why you should visit them, and what makes each city stand out. My favorite part about cities in Thailand is there's a city for everyone, whether you prefer a big city, a beach town, or a large city without much noise.
But before visiting anywhere else, I recommend you to explore Bangkok first, the big city, the NYC of Thailand.
There are countless cities in Thailand many will recommend you to visit. But if you've spoken to any travelers who've frequented Thailand, they will advise you to start in Bangkok first, and that's precisely what I did.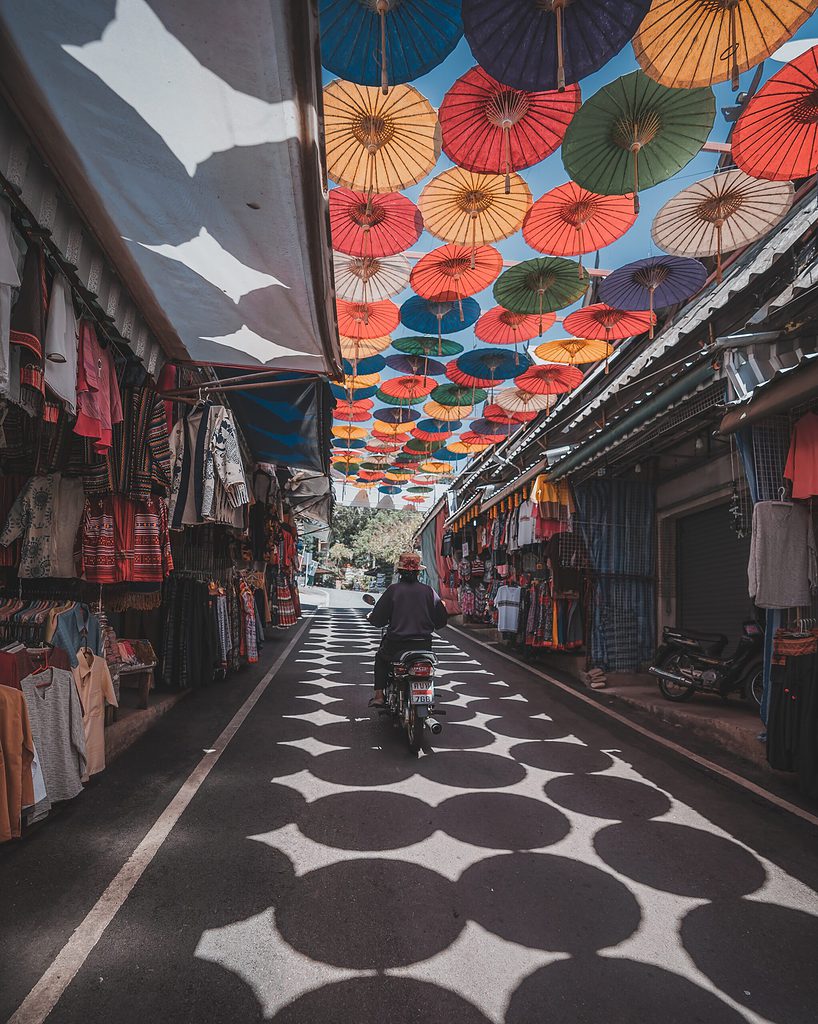 Over the past few recent years, the ex-pat/digital nomad communities have been rapidly growing in several cities in Thailand. Bangkok, Phuket, Chiang Mai, and Ko Pha Ngan are the most notable cities. Thailand ranks as one of the cheapest countries to live in.
This list consists of cities and islands; some islands are growing to the point they've become cities, Phuket being a prime example, a city but still an island home to some of the most beautiful beaches in Thailand.
Regarding self-transportation in Thailand, the best/cheapest way to get around is by scooter; you can rent a scooter here. But I don't recommend you drive one in busy cities like Bangkok and Chiang Mai unless you're a very experienced scooter driver!
I'll share this last point with you before I share with you the best cities in Thailand to visit; depending on how much time you have on your trip, could you take your time when visiting Bangkok? I'd recommend at least 5 days, It's a big city, and there's so much to do and see there. But if you're not a city person, at least visit and see it.
Cities in Thailand to Visit #1-2
Bangkok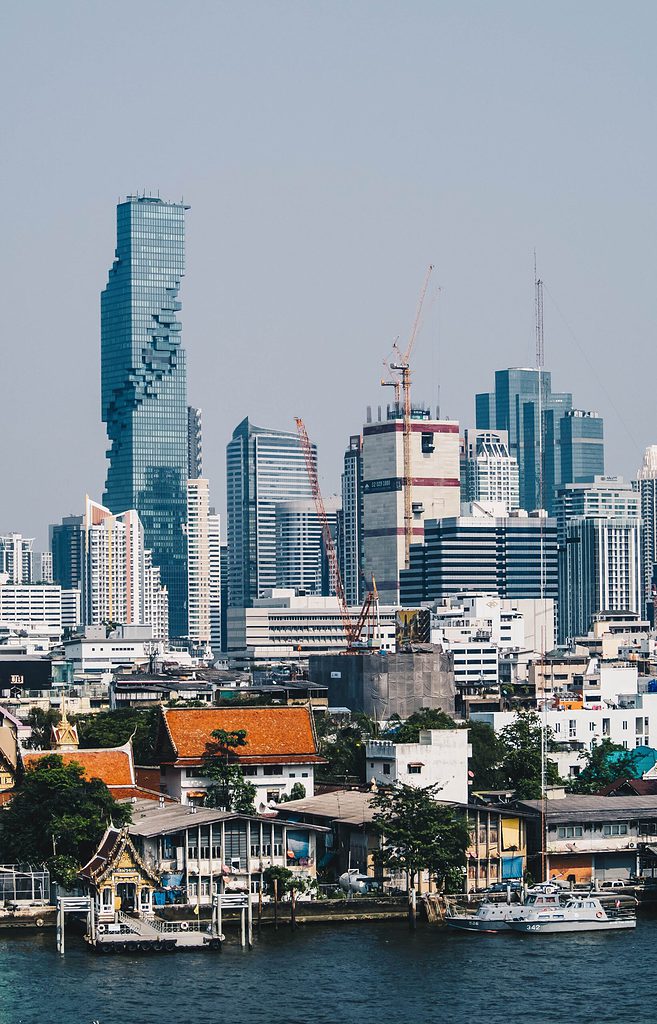 The most visited city in Thailand is Bangkok, the capital. It is home to over 8.4 million people, and the vibrant streets, shopping centers, and wide array of cuisine make Bangkok one of the most well-known metropolis cities in the world.
Because international flights come into Bangkok's international airport, most tourists begin their vacation in Thailand exploring Bangkok first.
Home to the largest night markets in the country, bustling streets, impressive architecture, and numerous shrines and temples. Bangkok is a fantastic city in Thailand to explore.
Being the capital, Bangkok ranks #1 among the biggest cities in Thailand. With the overwhelming list of things to do in Bangkok, here are a few strong recommendations I'd advise you to consider.
Consider visiting the following:
Wat Arun Ratchawararam temple
Bangkok China Town
Chatuchak Weekend Market
Khlong Lat Mayom Floating Market
Khao San Road (famous road for backpackers and partygoers)
King Power Mahanakhon (tallest building in Bangkok)
Besides all those suggestions, if you're looking to shop, the MBK center is the most known, but there are several other malls in the city. However, the best thing to do in Bangkok is to visit the Night Markets!
Planning Your Trip to Bangkok, Thailand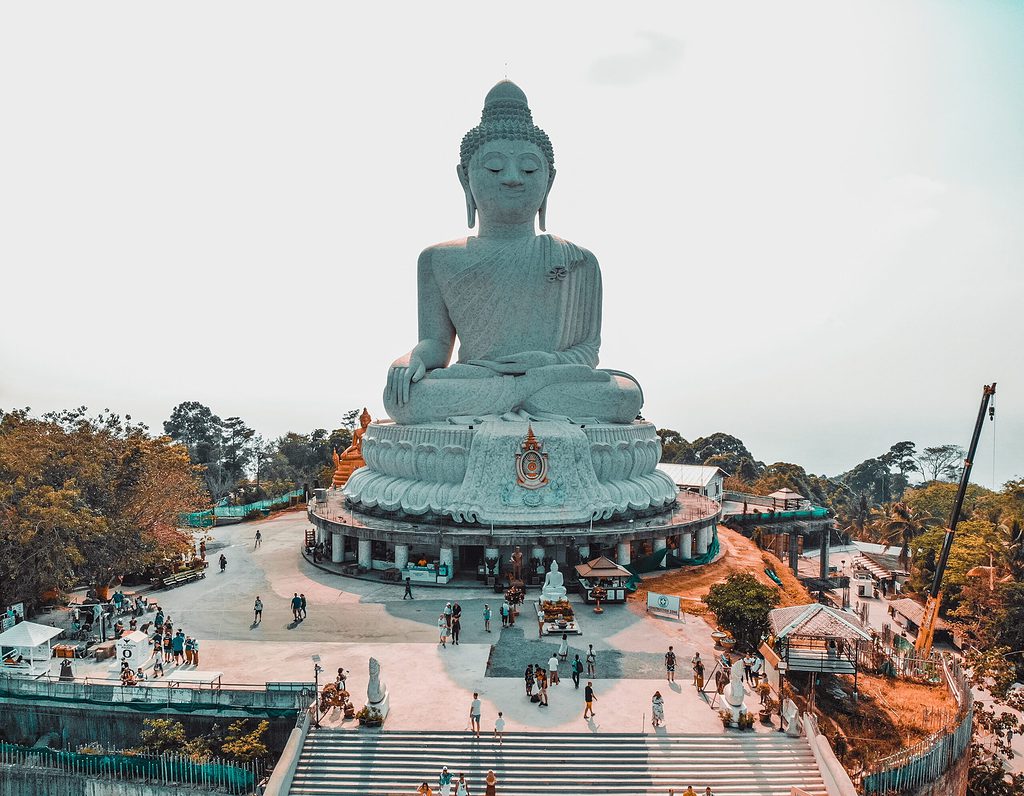 Known for being the largest island in Thailand, Phuket has almost everything you need. Far from being dense like Bangkok, Phuket has different areas ideal for everyone's needs.
Would you be interested in a party? You can head over to Patong Beach. Are you craving a long day at the beach? Go to one of Phuket's many beaches, Kata Beach, Karon Beach, and Freedom Beach, to name a few.
Phuket gets a bad rep for being a "party place," but that can't be further from the truth unless one only stays around Patong Beach (which I don't recommend).
It's hard to argue this, but other than Bangkok, Phuket may be one of Thailand's best cities for food.
Things you should consider doing in Phuket other than visiting its many beaches and Patong's Nightlife is the famous Big Buddha, going to the Phuket old town Sunday Market, Elephant Jungle Sanctuary, and the Cape Phrom Thep (viewpoint) on the island's most southern spot.
Phuket has its own airport, so getting here is just that more convenient compared to other Thailand cities. Phuket is a beautiful place and one of Thailand's must-see places.
Planning Your Trip to Phuket, Thailand
Cities in Thailand to Visit #3-4
Chiang Mai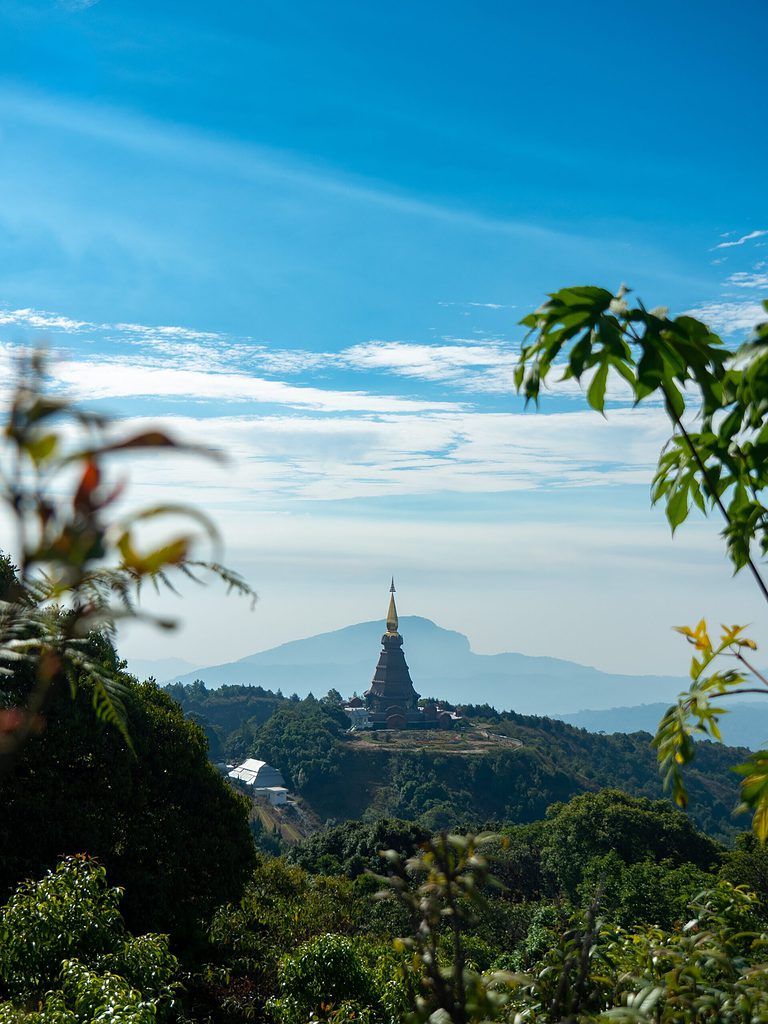 Over the last ten years, Chiang Mai has become one of Thailand's most popular tourist destinations; the city is known for its historic buildings, lush tropical forests, temples, and overall laidback lifestyle. Chaing Mai is the most famous Northern city in Thailand.
Chiang Mai is home to the most active Buddhist temples in the country; there are well over 300 ancient temples within the city. Those who prefer a laid-back city will appreciate Chiang Mai. National parks and beautiful mountains surround it.
Its charming old town, located in the middle of the city, offers many cafes and restaurants for you to try. As you wander the old town, you may notice many foreigners. That's because many digital nomads have made Chiang Mai their home; the city not only has excellent WIFI but a calm atmosphere and low living costs have made it a digital nomad hotspot.
Remember, like Bangkok, Chiang Mai is very much a city, so there aren't any beaches nearby; you'll have to hop on a plane and fly across the country to go to the beach! Regardless Chiang Mai is one of the best places to visit in Thailand.
Planning Your Trip to Chiang Mai, Thailand
Krabi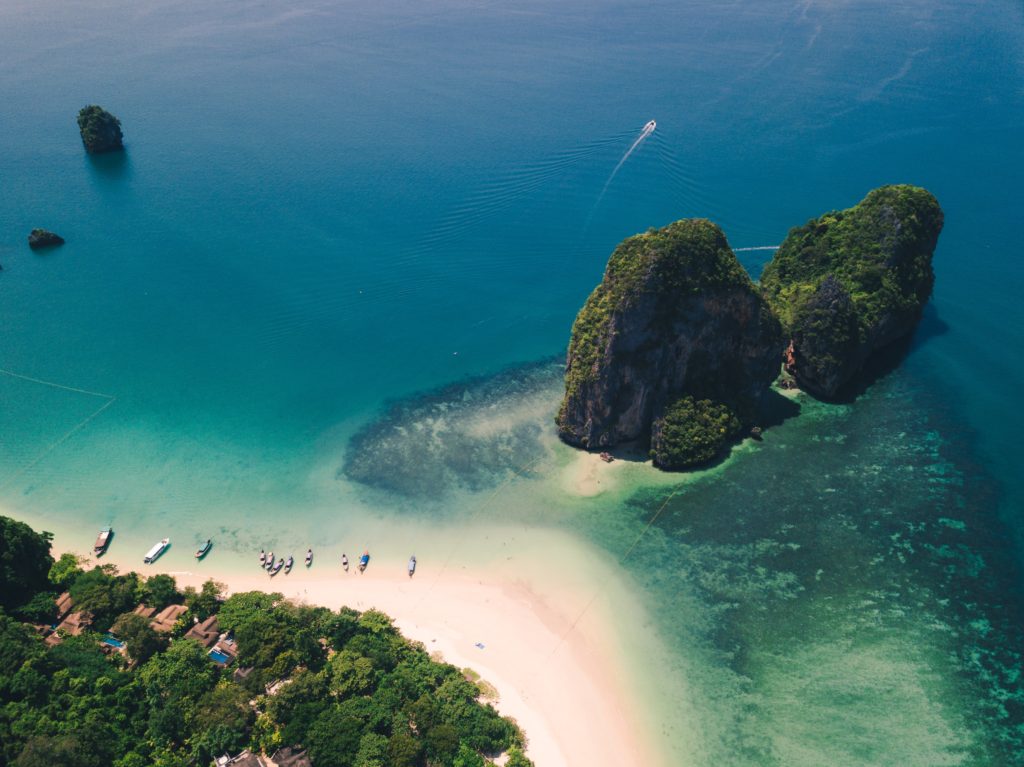 The Krabi Province is located in Southern Thailand, along the Andaman Sea. Overall, the province is known for being home to over 200 islands and remote, movie-like beaches. I say that because whenever you speak to someone who's visited, including myself, I can reassure you that the most stunning beaches in Thailand are in the Krabi province.
The Phi Phi islands, including the famous Maya Bay beach, are the most well-known. Many refer to Maya Bay as perhaps the most beautiful beach in the world. The Phi Phi islands are rich in nature, and the coral-fringed waters here make for a perfect place to go snorkeling.
Railay Beach and the 4 Island Krabi tour in Ao Nang are a close second!
Heading into the small capital city of Krabi is Krabi Town, a great place to wander the streets at night; Krabi Town is full of small markets, street-food vendors, and other tourist attractions.
Other than what was already listed, here are a few more things to consider when visiting Krabi.
Visit the Tiger Temple
The Lagoon (southern part of the island)
Ao Nang Beach
Emerald Pool / Krabi Hot Springs
Planning Your Trip to Krabi, Thailand
Cities in Thailand to Visit #5-6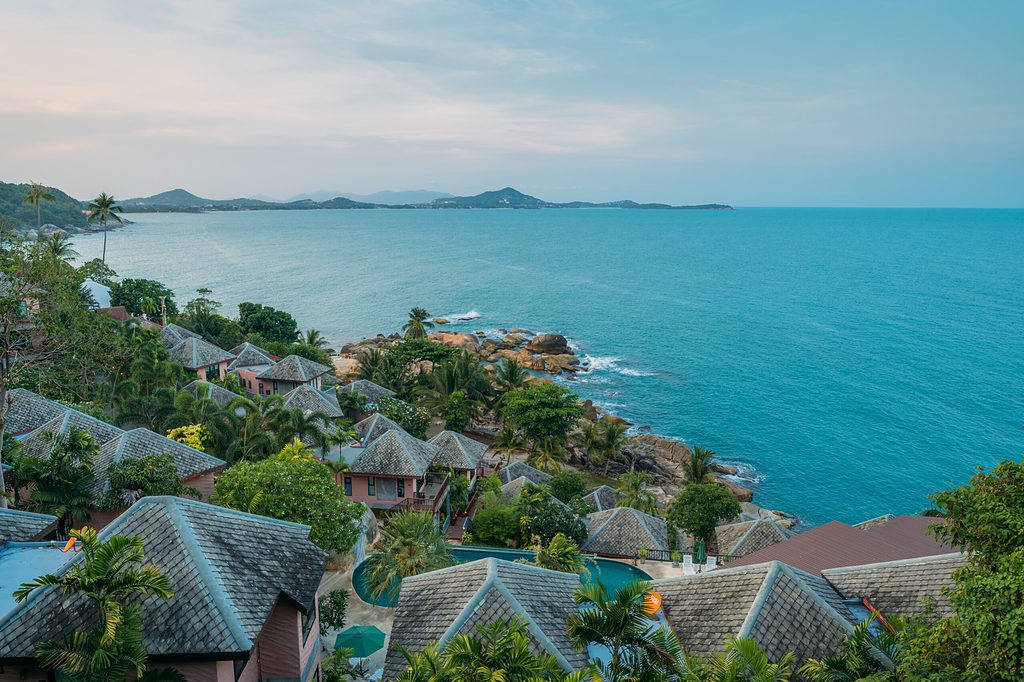 Koh Samui, Thailand's second-largest Island, over the years the island has become popular amongst tourists. Especially for those on a honeymoon, today Koh Samui is home to several 5 star luxury hotels.
The island of Koh Samui is famous for its many beaches: Lamai Beach, Lipa Noi Beach, and Chaweng Beach. Besides its beaches, Tranim Magic Garden and Big Buddha Temple here are a must-visit, the two most famous buddle temples on the island.
Those looking to do a fun day trip head to an island named Ko Mat Sum. This island is famous for its wild pigs.
In the evening, take a stroll at the famous Fishermans's Village, full of small shops, street food vendors, and restaurants. If you continue to walk either west or east, you'll be met with beautiful beach shorelines both ways!
Unlike other islands in Thailand, Koh Samui is well-equipped; anything you need, you can find on the island. There's an airport on the island, so coming here and leaving is convenient. Koh Samui is one of my favorite islands in Thailand.
Planning Your Trip to Koh Sami, Thailand
Ko Pha Ngan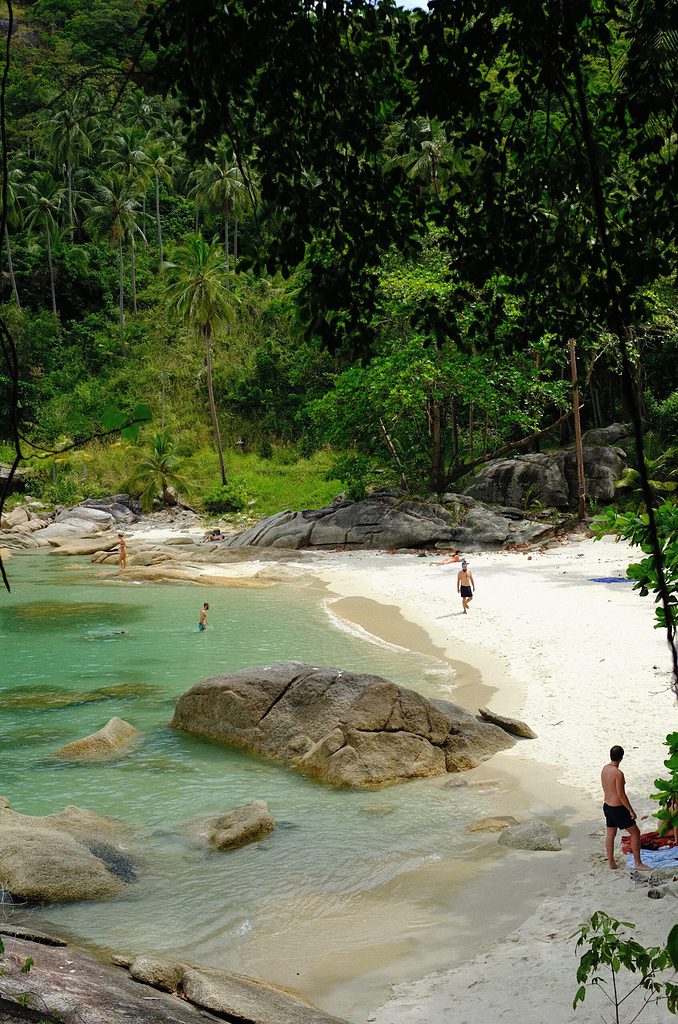 Ko Pha Ngan is known for its dense green jungles, high hills, variety of white-sandy beaches, and of course, full moon parties. Ko Pha Ngan is the fifth largest island in Thailand and neighbor to Koh Samui.
The island as a whole has very much a relaxing, Bali-like laidback atmosphere to it. Backpackers and yogis love Ko Pha Ngan making hostels abundant here; the island is known for its jungle retreats.
Divers also frequent Ko Pha Ngan because it's home to one of the best dive destinations in Thailand.
When visiting, my favorite thing about Ko Pha Ngan was driving around on a scooter; the roads are empty for the most part, traffic is far from a problem here, and just overall, the atmosphere on the island is very laid back.
Despite being a laidback island, Ko Pha Ngan is most famous for its Full Moon Parties, making it a popular party destination. Tourists come from all over to experience this event throughout the year. But if you're not looking to engage, avoiding any commotion on the island is relatively easy.
Planning Your Trip to Ko Pha Ngan
Cities in Thailand to Visit #7-8
Pattaya City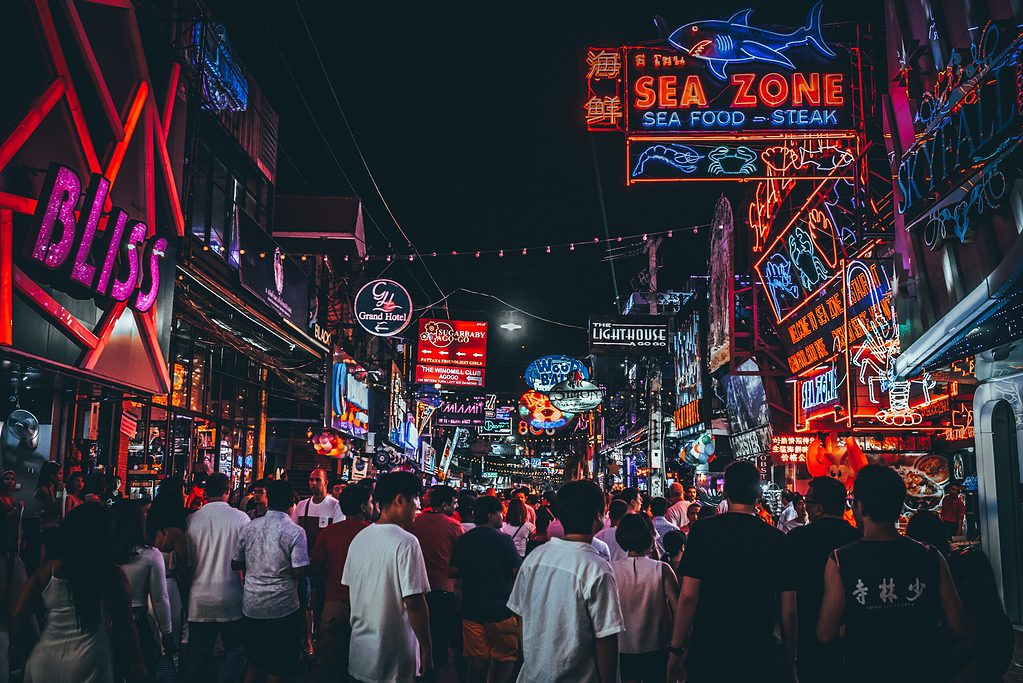 Pattaya, located just two hours from Bangkok, is a popular weekend getaway. If you're visiting Bangkok for just a few days or a week, visiting Pattaya City is your best option for visiting somewhere other than Bangkok.
Pattaya is perhaps best known for its wild nightlife, go-go bars, and its sex industry; let's be honest about it. The city has a bad reputation overall because of that, and it seems things will stay the same for a while.
Now that we've got that out of the way, it's worth noting that Pattaya City has so much more to offer. Unlike Bangkok, the city is full of beach shorelines, so you've got the best of both worlds, city and beach life.
While the beach in central Pattaya can be noisy and crowded at times, Jomtien and Naklua beaches provide a great atmosphere to enjoy the beach with a bit of peace. I also recommend hiking Pratumnak Hill for some beautiful views!
For those looking to shop, the Pattaya Night Bazaar is one of the best Bazaars in Thailand. The city is full of several night markets close to one another.
Regarding cities in Thailand, perhaps other than Bangkok, Pattaya City is possibly the second most famous of all cities in Thailand.
Planning Your Trip to Pattaya City, Thailand
Chiang Rai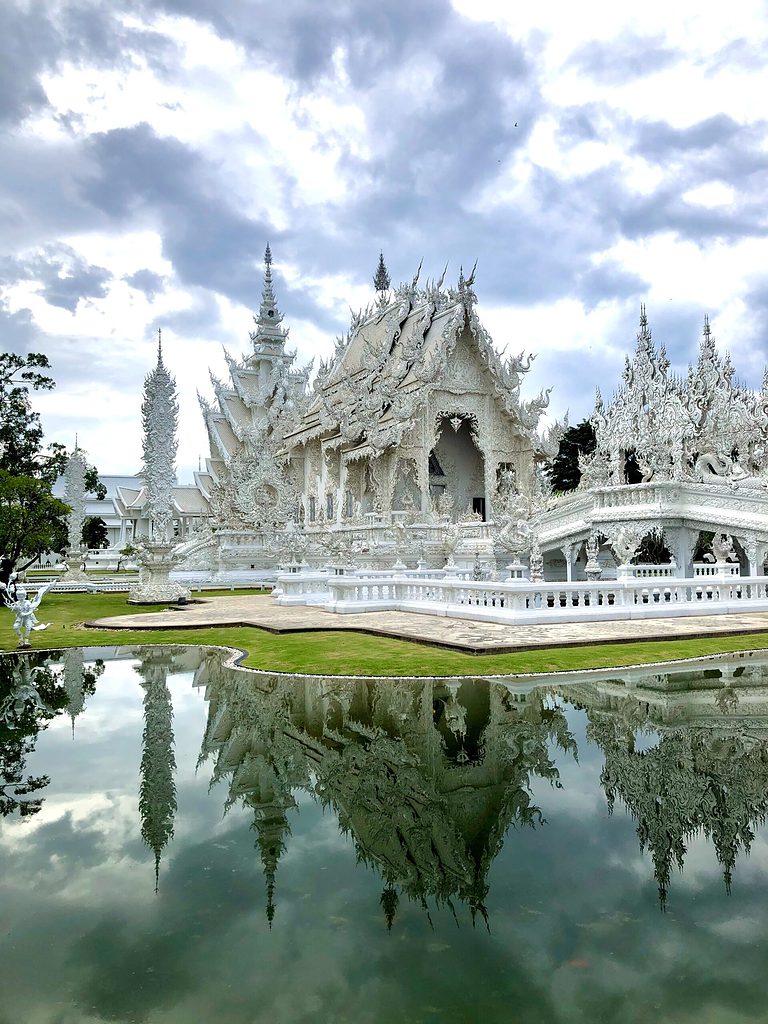 Chiang Rai, in the north of Thailand, is known for its stunning White Temple (Wat Rong Khun), which shines in the midday sunlight.
Backpackers and tourist visit Chiang Rai as a starting point for continuing their travels exploring The Golden Triangle that lies ahead, consisting of Laos, Myanmar, and Thailand.
The Nothern City of Chiang Rai is home to several Buddhist temples scattered throughout the city. Other notable temples in the town are Wat Huai Pla Kang and Kuan Yin.
Despite being recognized as a city, Chiang Rai is famous for its forests and remote mountainous areas. The town is an ideal place to relax because of the atmosphere, which embodies a laid-back lifestyle.
Planning Your Trip to Chaing Rai, Thailand
Best Time to Visit Thailand – Season Breakdown
The best time to visit Thailand is from November through March; you can expect temperatures around 29°C to 34°C (84° – 93° Fahrenheit).
Keep in mind this is also the busiest time in Thailand and is considered Thailand's high season months regarding international tourists.
Unlike some countries with four seasons in one year, winter, spring, summer, and fall. The seasons in Thailand are described as cool, hot, and rainy season.
Cool Season: November through February
Hot season: March through May
Rainy season: June to October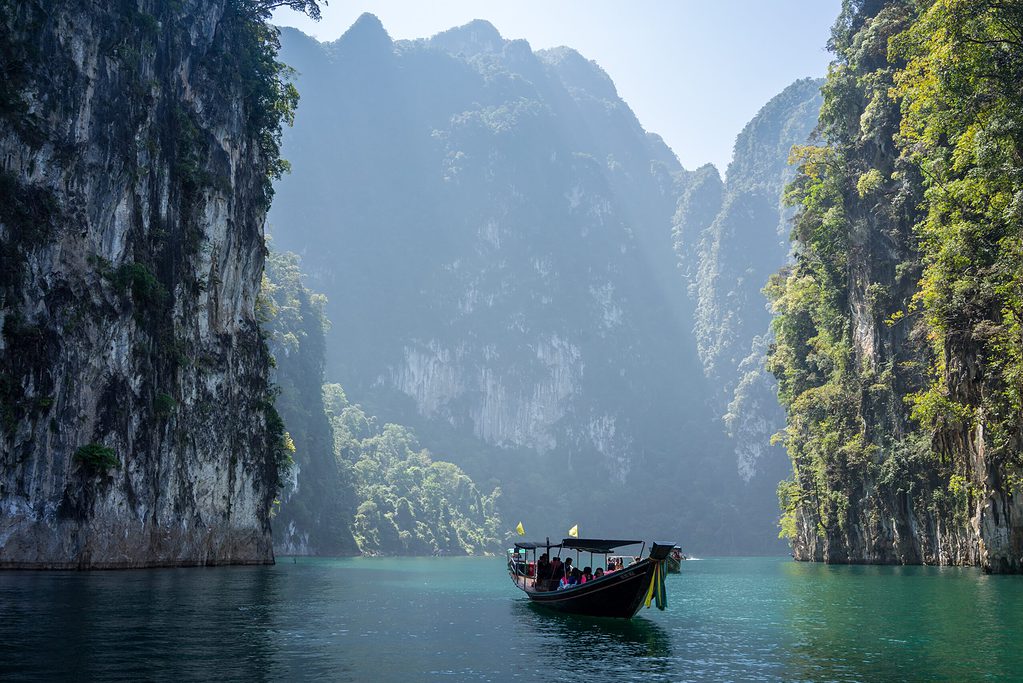 During the cool season in Thailand, it's felt mostly in the Northern part of the country; the South part of Thailand doesn't have a Cool Season.
During the hot season in Thailand, you can expect the Central and Nothern parts of the country to have their highest temperatures, causing dust clouds to accumulate in the air.
The Southwest Monsoon causes the rainy season in Thailand. At times there are full-fledged floods in the streets in some cities, a time you want to avoid visiting.
My Top Cities in Thailand to Visit
There are several beautiful cities in Thailand to visit; some I did not include on this list to avoid making this article too long. Those are Surin, Chanthaburi, Hua Hin, Kanchanaburi, Ayutthaya and Sukhothai. Thailand is a large country with an abundance of great cities to visit.
Before I mention my favorite cities to visit in Thailand and I'd like to say how affordable visiting Thailand is. Every year, Thailand ranks in the world's Top 12 Cheapest places to visit. This makes it an even more attractive destination to come to see!
Phuket
I had a great time in Phuket; even before visiting it for the first time, I strongly felt it would be my favorite place in Thailand, and it was. There is just so much to do there, and it has the most conveniences as an island in Thailand.
That's because not only is it an island but a city as well, and the island is large enough to the point where it's pretty hard to get bored.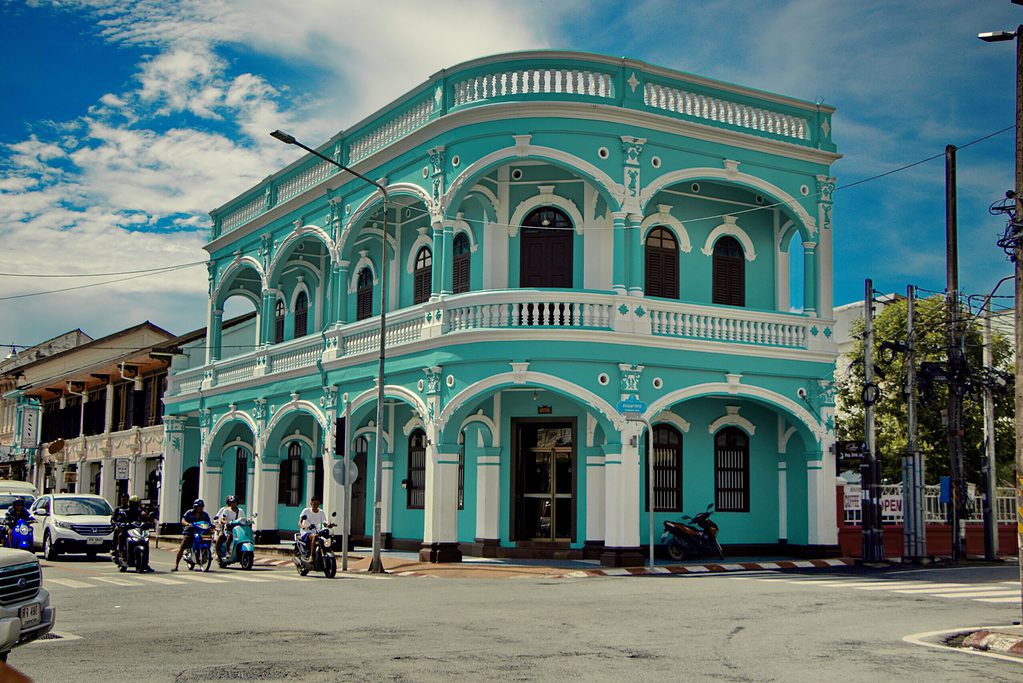 Are there islands with more beautiful beaches in Thailand? Yes, very much so, but with Phuket being the largest, it has its advantages.
Suppose you're looking for conveniences such as a large selection of beach clubs to visit, restaurants, and hotels but still want to be by the beach. Phuket is the obvious choice for you to visit.
Bangkok
As mentioned earlier in this article, for the most part, Bangkok gets passed on quite quickly by international tourists. Because it's the capital, most arrive by air in Bangkok and promptly want to go to a city or island full of beaches.
The city is vibrant with a lot to do; excellent food is around in every direction you look, rooftops here are mesmerizing in the evening, and night markets here just cannot be compared to other night markets around the country (they're far superior here in Bangkok). Lastly, the shopping options are very impressive in Bangkok.
Bangkok isn't the most visited city in the world for no reason; yes, you read that right. Bangkok sees almost double the amount of international visitors yearly compared to New York City.
Chiang Mai
Over the past few years, Chiang Mai has become a tourist hotspot. Regarding Nothern cities in Thailand, Chiang Mai has got to be the most popular Nothern city in the country.
It may not have any beaches close by and may not be the capital, but Chiang Mai is unique in its own right. The city is known for its mountainous landscape, abundant ancient Buddhist temples, great food, and overall atmosphere.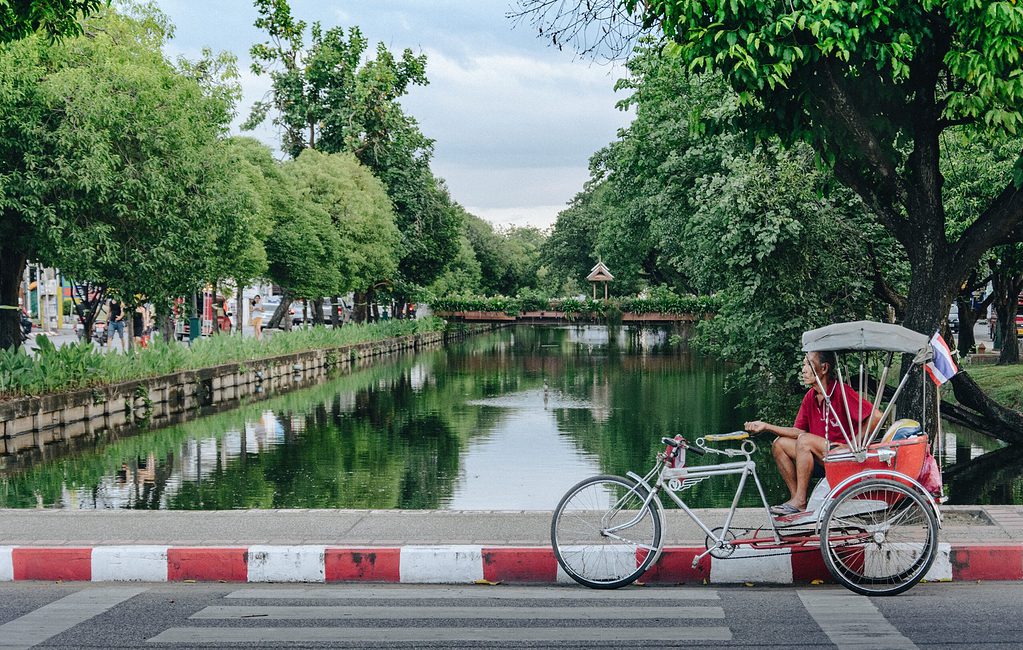 Many say you'll have to visit Chiang Mai to feel the atmosphere here, and I'd have to agree. Despite being large and busy, the city has quite a relaxing/zen atmosphere.
Chiang Mai is one of the largest cities in Thailand and ranks 4th largest in the country. I must also mention Chiang Mai is the most affordable city to visit amongst all cities mentioned in this list of Thailand cities to visit.
Subscribe to Travel Hiatus!
Receive updates on my latest posts, insider travel tips & the best destination guides to your inbox!
Featured Image Credit: TJP Mag / via UnSplash
Happy & Safe Travels
---
Planning Checklist
---
Disclaimer: Please note that some of the links shared in this article might be affiliate links; this means that at absolutely no extra cost to you, we will earn a small commission for any sales generated through this article and/or this website. We recommend products/services we've either used or researched thoroughly – Thank you for supporting us so we can continue to share helpful travel content!