Is Koh Samui Expensive? Cost Breakdown Guide
Are you planning a trip to Koh Samui? Is Koh Samui expensive to visit? This complete cost guide will tell you everything you need to know about the cost of visiting Koh Samui!
Yes, Koh Samui is slightly expensive, and here's why. Compared to all of Thailand, the costs in Koh Samui are somewhat higher but not drastic. Koh Samui is known for its luxurious hotels, restaurants, and beach clubs. On average, Koh Samui is 17% more expensive than the rest of Thailand.
At the same time, Koh Samui isn't expensive to visit. Thailand is one of the cheapest countries to visit. Overall, accommodations, food, and transportation are relatively low on a world scale, especially for those visiting with a strong currency, such as USD, CAD, Euro, Pound, etc. A strong foreign currency goes far against the local Thai Baht currency.
The average cost of a seven-day vacation for one person to Koh Samui is $938 US per traveler. That includes accommodation, food, budget for activities, and transportation in Koh Samui. This doesn't include flight costs; you'll have to factor that in.
Koh Samui isn't one of the cheapest places in Thailand to visit. But whether Koh Samui is expensive depends on your budget and how you'd like to experience the island.
In this guide, I'll cover budget, mid-range, and luxurious ways to enjoy Koh Samui. Average day costs include hotel, eating out in Koh Samui, transportation, and day tours!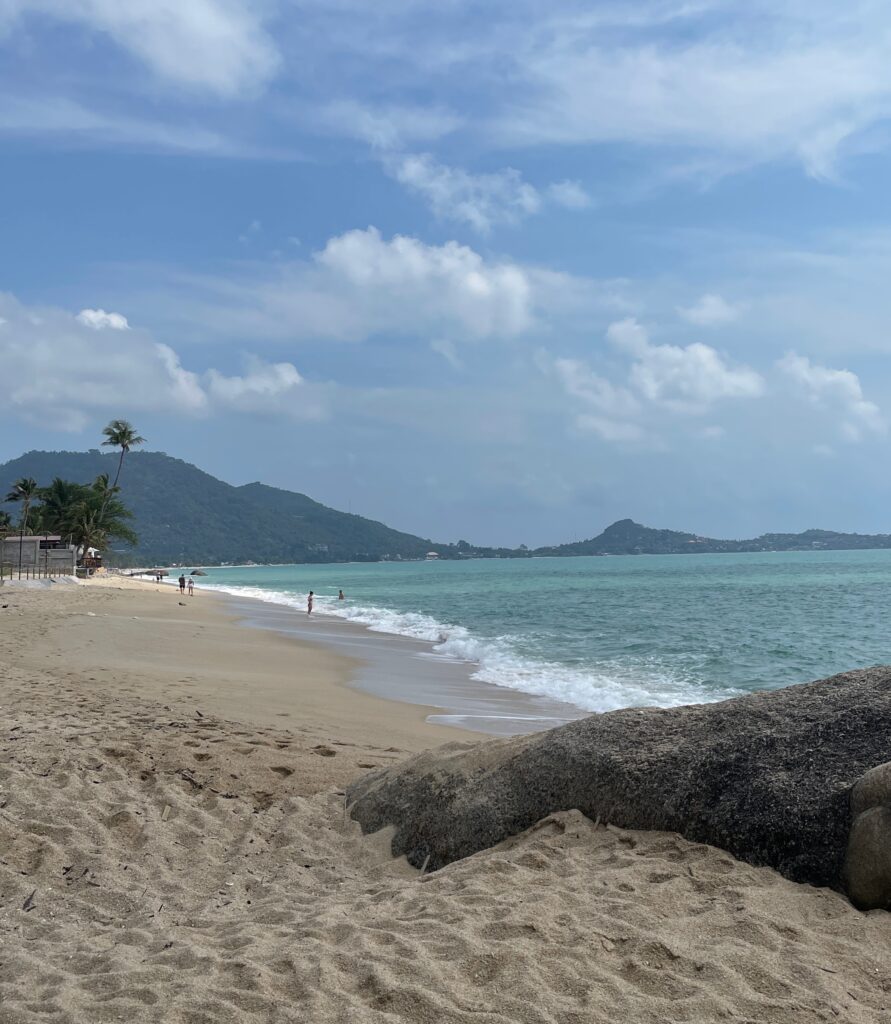 Where to Stay in Koh Samui
Being the large developed island it is, Koh Samui is full of many hotels and accommodation types throughout the island. Below, I've shared the best hotels for each price range!
Despite Koh Samui being most famous for its luxurious hotels/resorts, which there are plenty of, there are still many mid-range and several budget-friendly hostels as well.
Budget Hotel Prices: $20 – $35 US
Mid-Range Hotel Average Prices: $40 – $80 US
Luxury Hotel Average Prices: $350 – $450 US
Before choosing which hotel you'd like to stay at, consider which beach area you'd prefer to stay around on Koh Samui; this is important due to how large Koh Samui is.
These are the main beach areas in Koh Samui, each unique and preferable to different tourists:
Chaweng Beach
Lamai Beach
Bo Phut Beach
Choeng Mon
Budget Hostels in Koh Samui
There are several hostels and guesthouses on Koh Samui, and most are located in the popular beach areas, which is convenient because that means you won't have to spend much on transportation!
Lub D Koh Samui – Shared hostel dorms with a convenient location minutes away from everything, right on the beach, has a pool and great communal space
P&T Hostel – Those visiting on a budget, look no further. This is the cheapest and highest-ranked hostel on the island. They've got everything you need and even a restaurant!
Mid-Range Hotels in Koh Samui
No matter the area on the island, mid-range hotels are abundant all over Koh Samui!
Samui Resotel Resort – Cozy resort with spacious rooms and a stunning rooftop located along Chaweng Beach, near many restaurants and shops
Ibis Samui – Ideally located along Bo Phut Beach, spacious rooms with a beautiful pool, nearby several restaurants, shops, and night markets
Luxury Hotels in Koh Samui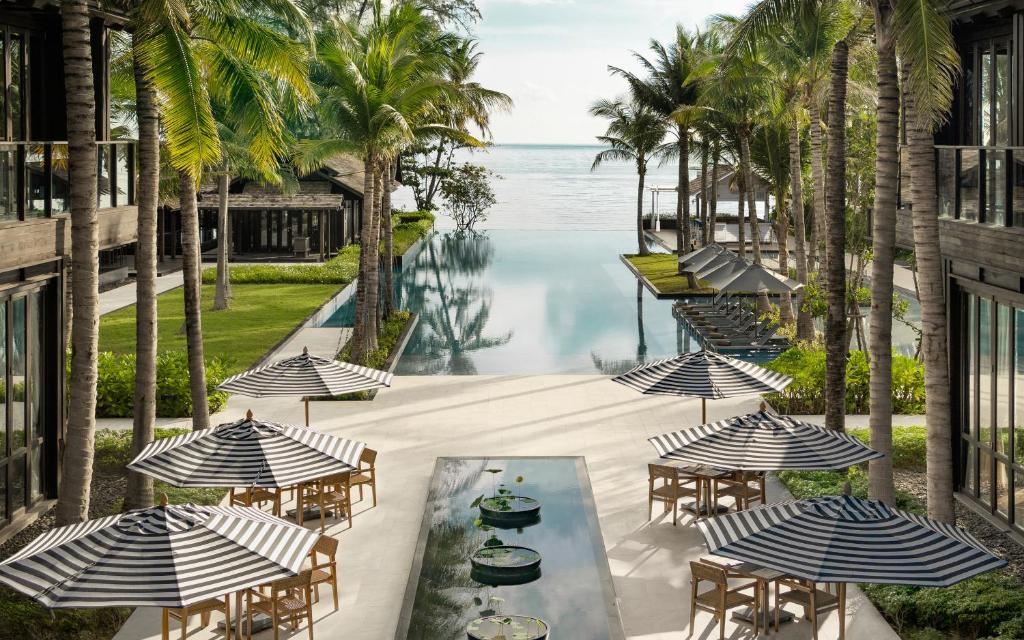 There are plenty of luxurious hotels to consider on Koh Samui; below are the two highest-rated luxury hotels on the island.
Kimpton Kitalay – Famous for its spacious rooms, many restaurants, a luxurious spa, and many more amenities. The Kimpton Samui is an excellent resort choice on the island
InterContinental Samui – The #1 hotel in Koh Samui, InterContinental is an award-winning hotel. The resort has a private beach and plenty of amenities for guests
Is Koh Samui Expensive to Eat Out?
Eating out in Koh Samui can be as cheap or as expensive as you'd like. That's because the island has countless types of restaurants catering to everyone. Below, I've shared some of my favorite restaurants in Koh Samui!
From humble local eateries to fast food and fine dining, of course. Not to mention several night markets to check out with plenty of affordable street eats!
Budget Eating Costs: Thai food and a mix of street food are the cheapest ways to eat on Koh Samui; many dishes will cost anywhere from 60-100 Baht, around $2-3 US per dish.
Mid-Range Restaurants Costs: At many mid-range restaurants, you should expect to pay around $12-20 US for a main dish, and appetizers are around $6-10 US.
Fine Dining Costs: Many fine-dining restaurants vary in price, and the average is hard to determine; expect to pay $70-$200 US for a complete meal for two people.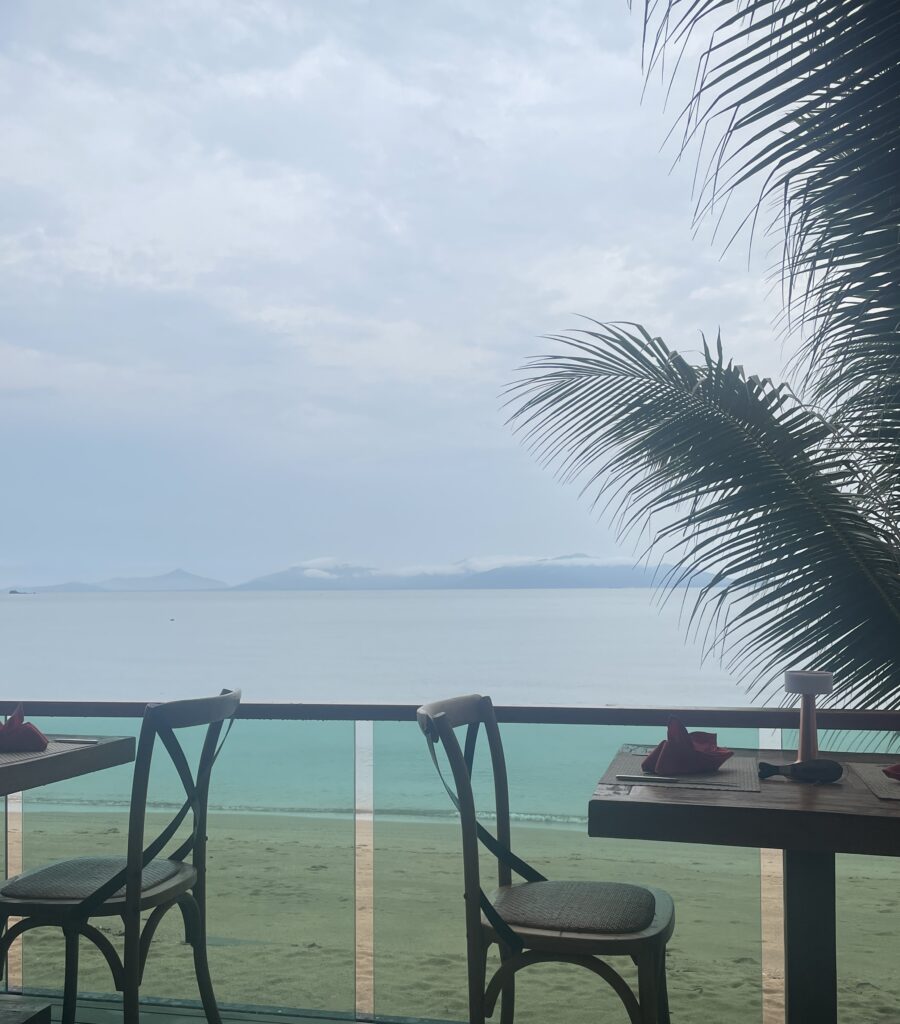 Cheap Restaurants in Koh Samui
My Thai Food Restaurant: Popular, affordable local restaurant serving all the Thai food classics
Food Lab Italian: This is a small Italian restaurant that serves many classics, most well-known for its porchetta
TIP: The most affordable food is at local Thai restaurants or the many small plaza street markets open daily, like Si Khao Market, Lamai Market, and many others
Mid-Range Restaurants in Koh Samui
Kawin's Kitchen: Excellent local Thai restaurant serving delicious local food with exceptional presentation
Cabezas Muertas: Mexican restaurant serving all the favourites, tacos, quesadillas, toastdas and more!
Fine Dining Restaurants in Koh Samui
The Oyster Bar x: Classic Oyster Bar, serving exceptional Lobster, & more
Raw & Spirtz: Chic appetizer bar serving oysters and many other small apps & drinks
TIP: Most of the fine-dining restaurants are located in the Fishermen's Village along Bo Phut Beach
Tipping in Koh Samui
Regarding tipping in Koh Samui and all of Thailand, it's not customary for the most part. But with the top service given at most restaurants in Thailand, it makes sense to leave something.
At fine-dining restaurants, a 10-15% tip would be appropriate in Koh Samui. As for anywhere else, any tip should make sense or simply rounding up the amount!
Getting Around Koh Samui – Transportation Costs
Despite Koh Samui not being one of the cheapest places in Thailand to visit, transportation costs on the island are similar to the rest of the country, and it's reasonable to get around Koh Samui.
Koh Samui has many beach areas that are like mini-towns with everything you need:
Chaweng Beach, Lamai Beach, and Bo Phut Beach. So if you stay in one of them, you can walk to most places you need to go to without using any transportation.
For airport transfers from Samui Airport to your hotel, I recommend using GetTrasnfer, and they're much cheaper than taking a taxi from the airport!
Koh Samui Songthaew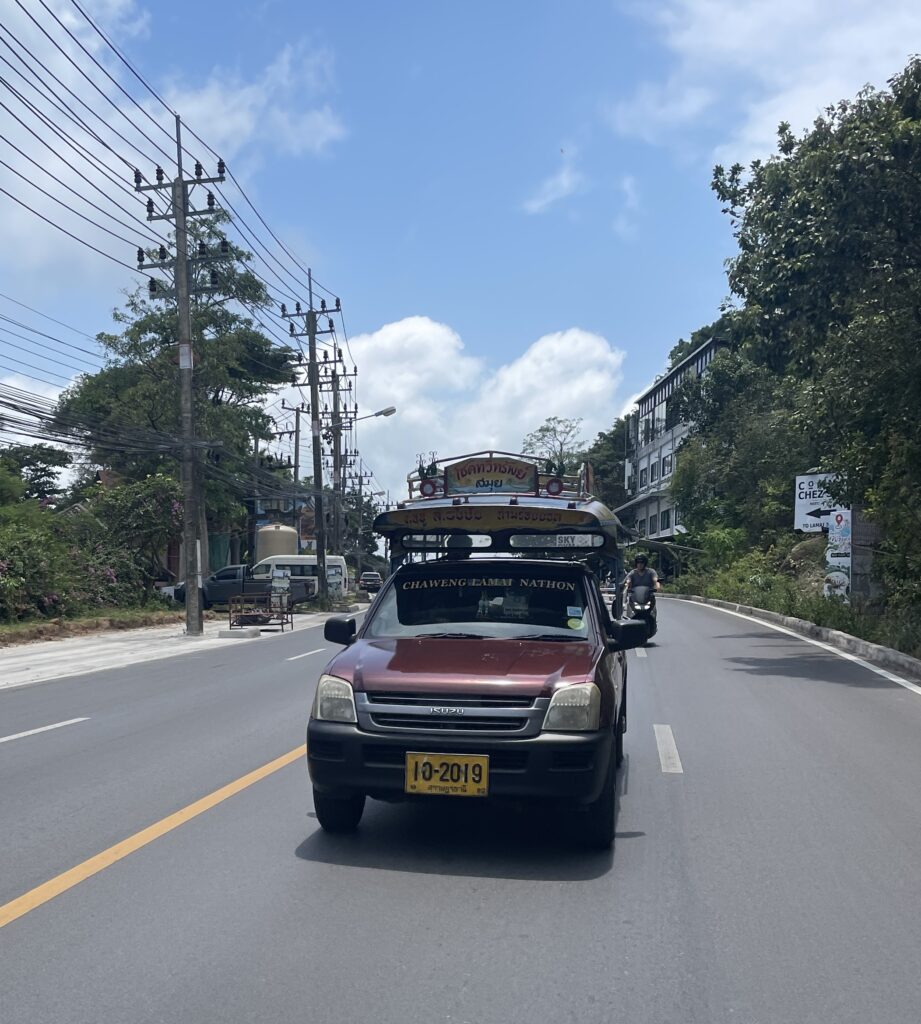 A Songthaew is a shared taxi pickup truck that drives along the main Koh Samui island road, and no matter the time of day, you will spot many going by.
One main road in Koh Samui goes around the island and connects to everywhere you want.
The Songthaew taxis operate as public transportation in Koh Samui, picking up many locals/tourists along the way, making it cheaper to get around as you split your ride cost.
Flag one down, state your destination, figure out the price with the driver, and when you are ready to get off, click the button on the bus to ring the driver. With others on board, negotiate to pay 20 – 40 Baht.
TIP: The Songthaew Taxis sometimes operate as private taxis; if you choose to use them that way, the driver will charge you more.
Grab/Bolt or Taxi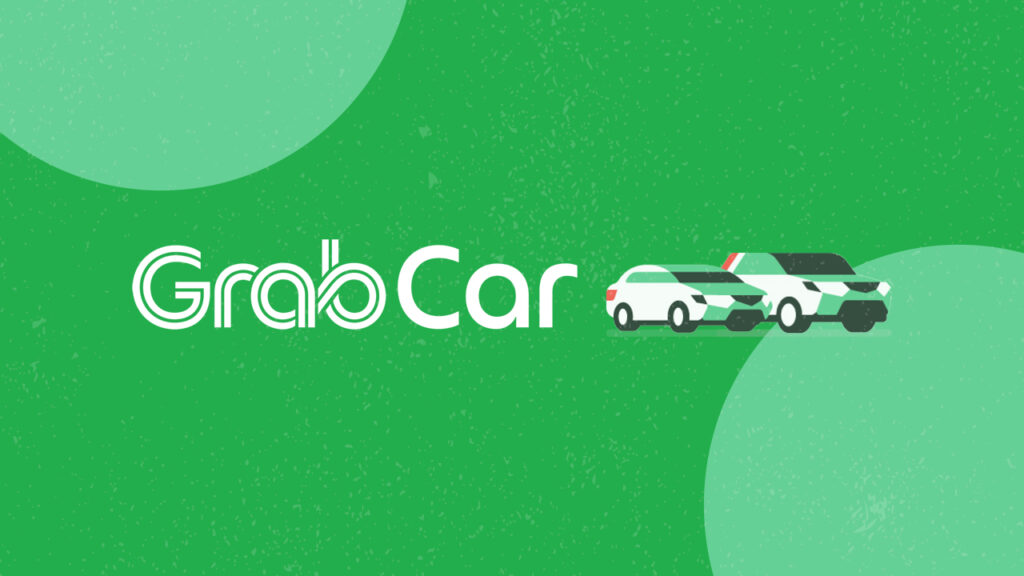 Grab and Bolt are the two best ride-sharing apps in Asia and are great apps to have on your phone when visiting Koh Samui. Both apps are the same as Uber!
Use either app to order a ride pickup during all times of the day; the price for your ride will depend on the time of day, vehicle preference, and distance for your ride.
If you're on a budget, use the scooter option if you're alone; it's the cheapest ride on the apps!
Rent a Scooter or Car
Another convenient way to get around is by renting a scooter or car, allowing you to explore the island on your own time.
The price for your vehicle will depend on the size and make. Make sure you get insurance with your rental!
Remember, most beach areas are walkable for the most part, and most Koh Samui day tours include roundtrip hotel transfers, so renting isn't very necessary.
But renting a scooter or car would make sense if you're looking to explore on your own time or visit for two weeks or more.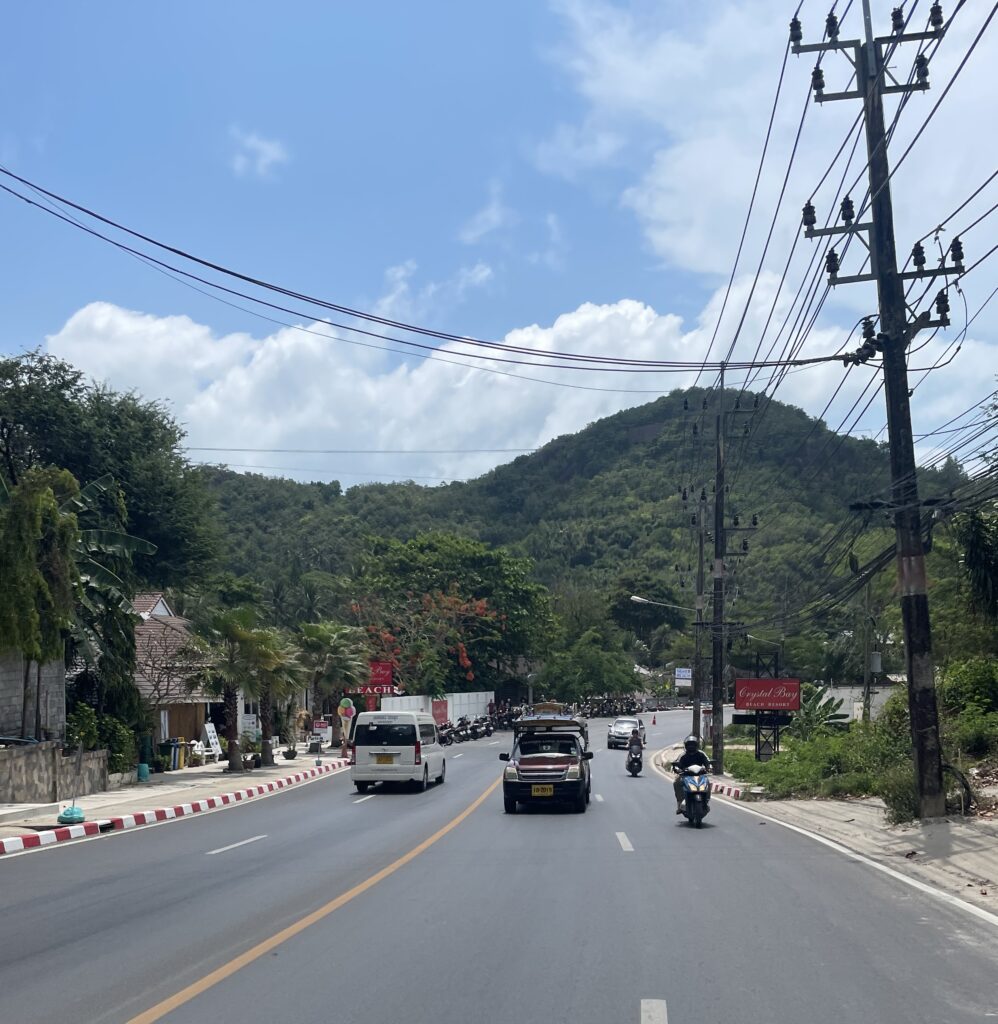 Koh Samui Day Trips Costs
There are plenty of fun day tours to experience in Koh Samui, so it would make sense to budget a part of your trip cost to excursions!
The average cost for tours in Koh Samui ranges from 1400-3500 Baht per person, which is $40 to 100 US.
Activities like cooking classes, jungle safaris, and sightseeing tours on the island will always be cheaper.
Island hopping tours to Pig Island, Koh Phangan, or Ang Thong National Park will cost more!
If you're on a budget, there are free things in to do in Koh Samui: visit the Big Buddha and hike to the top, stroll the Fishermen's Village, or visit one of the many night markets!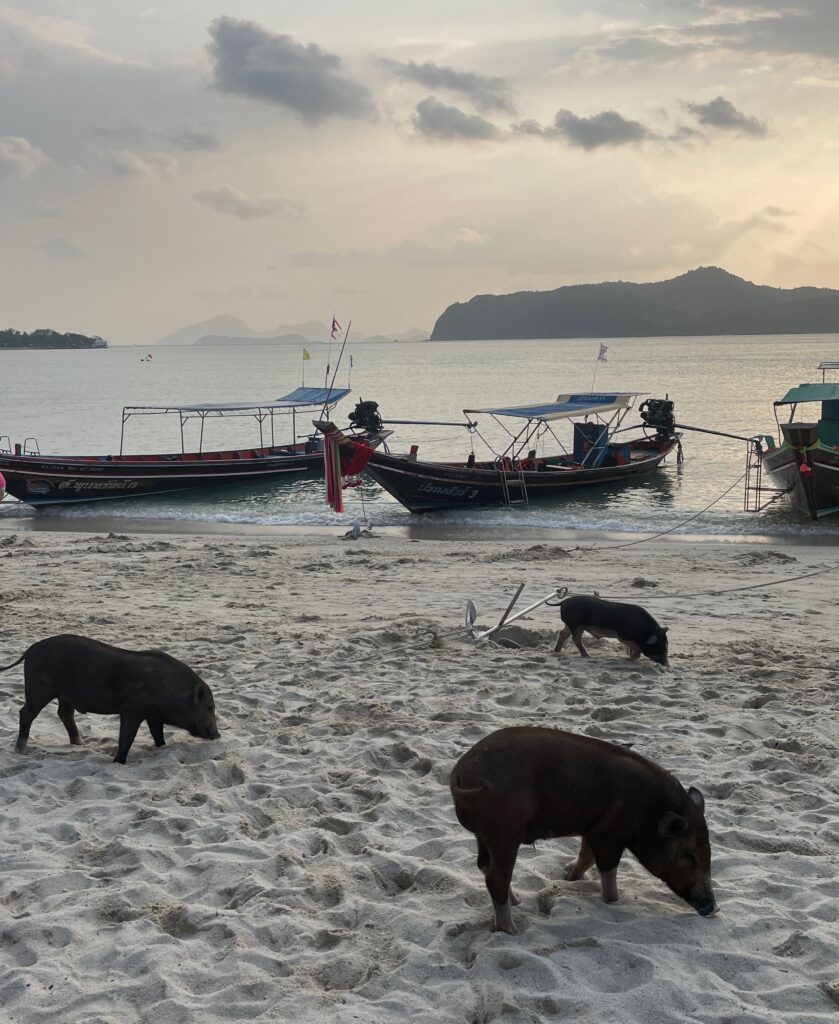 Is Koh Samui Expensive to Live?
Some visit Koh Samui to consider relocating for a few months or permanently. It's one of the main reasons I chose to visit Koh Samui. When visiting, I was curious about accommodation, food prices, etc.
The average monthly spend for one person in Koh Samui ranges between $700 – $1,300 USD a month; this includes housing, food, utilities, and transportation. This ultimately depends on the lifestyle you choose to have.
Average Housing Costs: Expect to spend $600+ US for an apartment. Short-term rentals will cost more, and if you're looking to be near the beach, you'll also pay a premium for housing!
The best and cheapest way to find housing in Koh Samui is to check Facebook groups or walk around locally and ask!
Living in one of the many walkable areas, you rarely use transportation, and regarding food spend, you can always find cheap food to consume daily, around 100 baht/2.82 US per plate, or visit local markets for groceries and cook yourself.
If you are looking for one of the cheaper places to live in Thailand, consider something other than Koh Samui or Phuket. Consider cities like Hua Hin, Chiang Mai, Bangkok, and others.
Costs were calculated with the help of Numbeo and GlobalPrice.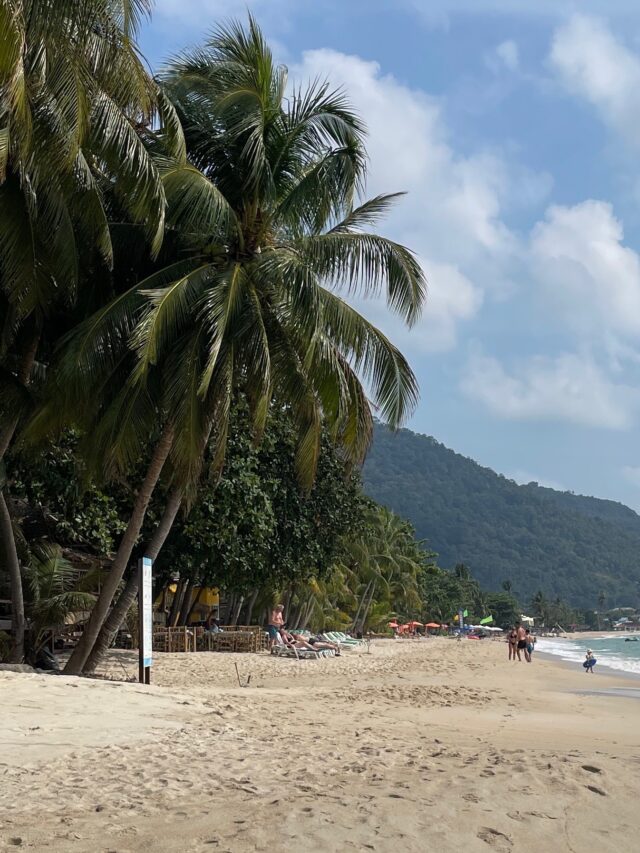 Best Time to Visit Koh Samui
Koh Samui is one of three main islands located in the Gulf of Thailand, and its seasonal weather trends are different from other popular destinations in Southern Thailand.
The rainy season, often referred to as the Monsoon Season, is shorter in Koh Samui than in the southern islands of Thailand. These are the two main seasonal weather periods in Koh Samui:
Monsoon Season in Koh Samui: October to December
Dry Season in Koh Samui: January to September
Tips for Koh Samui
Use the SongTaew trucks for cheap transportation around Koh Samui. To know how to use them, refer to this article
Drink/Dine at Happy Hour promo times at some restaurants that offer it
Attend day tours in the morning; they're always less crowded than afternoon/evening trips
Koh Samui is a large island, so choose the beach area you're staying in wisely for convenience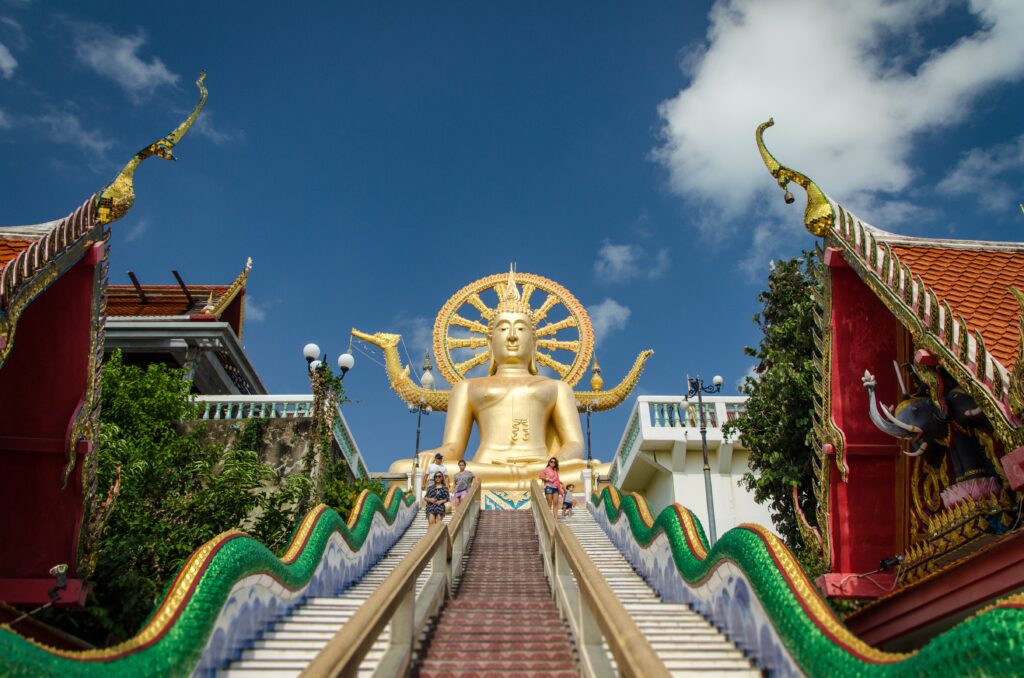 Is Koh Samui Expensive to Visit? – Final Thoughts
So, what do you think? Is Koh Samui expensive to visit? Compared to most destinations in Thailand, Koh Samui is costly to visit.
But compared to destinations worldwide, Koh Samui is considered cheap to visit!
It all comes down to what you think is expensive, how you travel, and what currency you're converting into Thai Baht to spend in Koh Samui.
I'm from Canada, converted Canadian and American currency, and found Koh Samui affordable. But after traveling around to many places in Thailand, I noticed quickly how much more expensive Koh Samui is than many other destinations in Thailand.
Below, I've shared a cost breakdown for three types of travelers. Understand that these are only averages; no matter the category you fall under, you may spend less or slightly more depending on your travel style!
| | | | | | |
| --- | --- | --- | --- | --- | --- |
| Visitor Type | Hotel | Food | Transportation | Activities | Average Day Cost |
| Budget | $20 | $17 | $5 | $20 | $62 US |
| Mid-Range | $60 | $27 | $17 | $30 | $134 US |
| Luxury | $400 | $100+ | $40 | $40 | $580 US |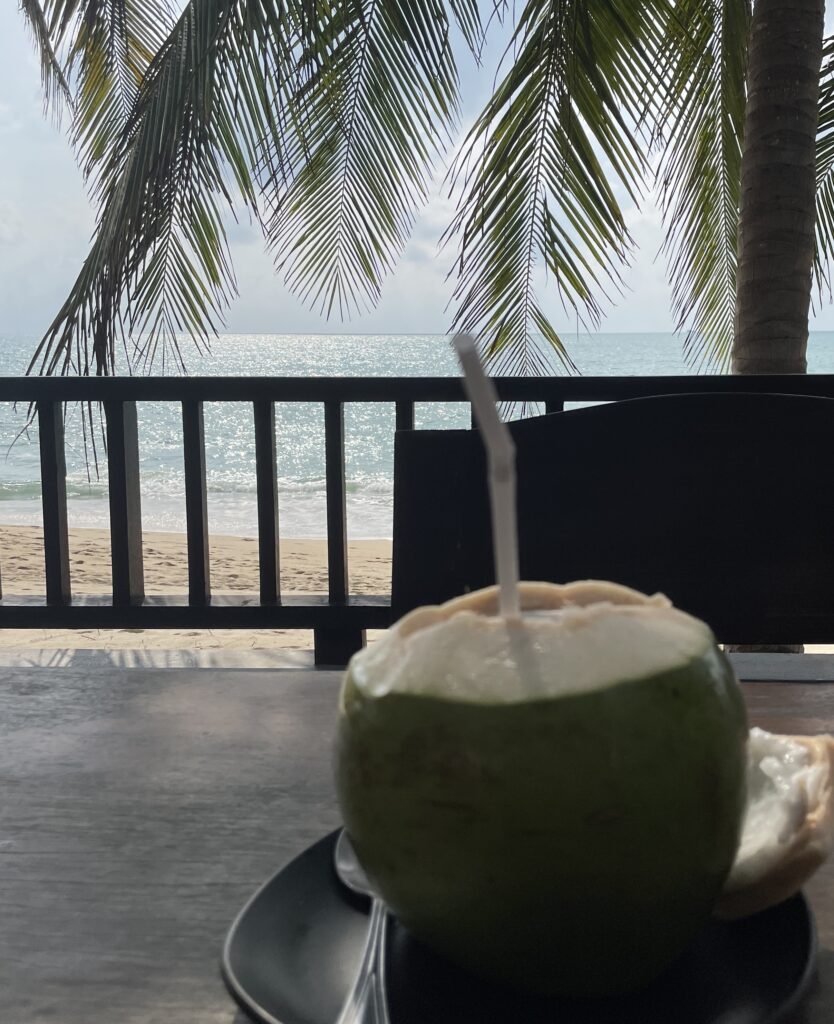 Is it cheaper to go to Koh Samui or Phuket?
Is Koh Samui more expensive than Bangkok?
Koh Samui is more expensive to visit in Bangkok in all ways. Compared to Bangkok, accommodation, food, transportation, and everything cost more in Koh Samui.
Is Koh Samui still cheap?
Koh Samui is one of the least cheapest places to visit in Thailand. But compared to destinations worldwide, Koh Samui is inexpensive to visit and can easily be visited on a budget.
How many days are enough for Koh Samui?
Spend at least 4 days in Koh Samui. It's a large island, and there are plenty of things to do in Koh Samui. With at least 4 days, you'll have enough time to visit the beaches, do a day tour, and get a feel for the popular island!
Subscribe to Travel Hiatus!
Receive updates on my latest posts, insider travel tips & the best destination guides to your inbox!
Happy & Safe Travels
---
Planning Checklist
---
Disclaimer: Please note that some of the links shared in this article might be affiliate links; this means that at absolutely no extra cost to you, we will earn a small commission for any sales generated through this article and/or this website. We recommend products/services we've either used or researched thoroughly – Thank you for supporting us so we can continue to share helpful travel content!