Is Phuket Expensive? – Cost Breakdown Guide
Are you thinking of visiting Phuket? But you're concerned about the costs and wondering, is Phuket expensive? This cost breakdown guide will tell you everything you need to know about Phuket!
Yes, Phuket is expensive, and here's why. Compared to all of Thailand, the costs in Phuket are slightly higher but not drastic. Phuket has luxurious hotels, restaurants, and beach clubs catering to those visiting with money. On average, Phuket is 30% more expensive than all of Thailand.
No, Phuket isn't expensive to visit, and here's why. Thailand is one of the cheapest countries in the world to visit. Overall, costs in the country are low for accommodations, food, and transportation, especially for those visiting with a strong currency, such as USD, CAD, Euro, Pound, etc. A strong currency goes far against the local Thai Baht currency.
Whether Phuket is expensive depends on your budget and what's considered expensive to you. The only thing that is for sure is that Phuket is the most expensive place to visit in Thailand, but you can still visit on a budget.
In this guide, I'll cover a budget and luxurious ways to enjoy Phuket. This includes how to get around Phuket, average hotel and eating out costs, transportation costs, day trip costs from Phuket, and more!
Read further into this guide and see if Phuket is in your budget to visit!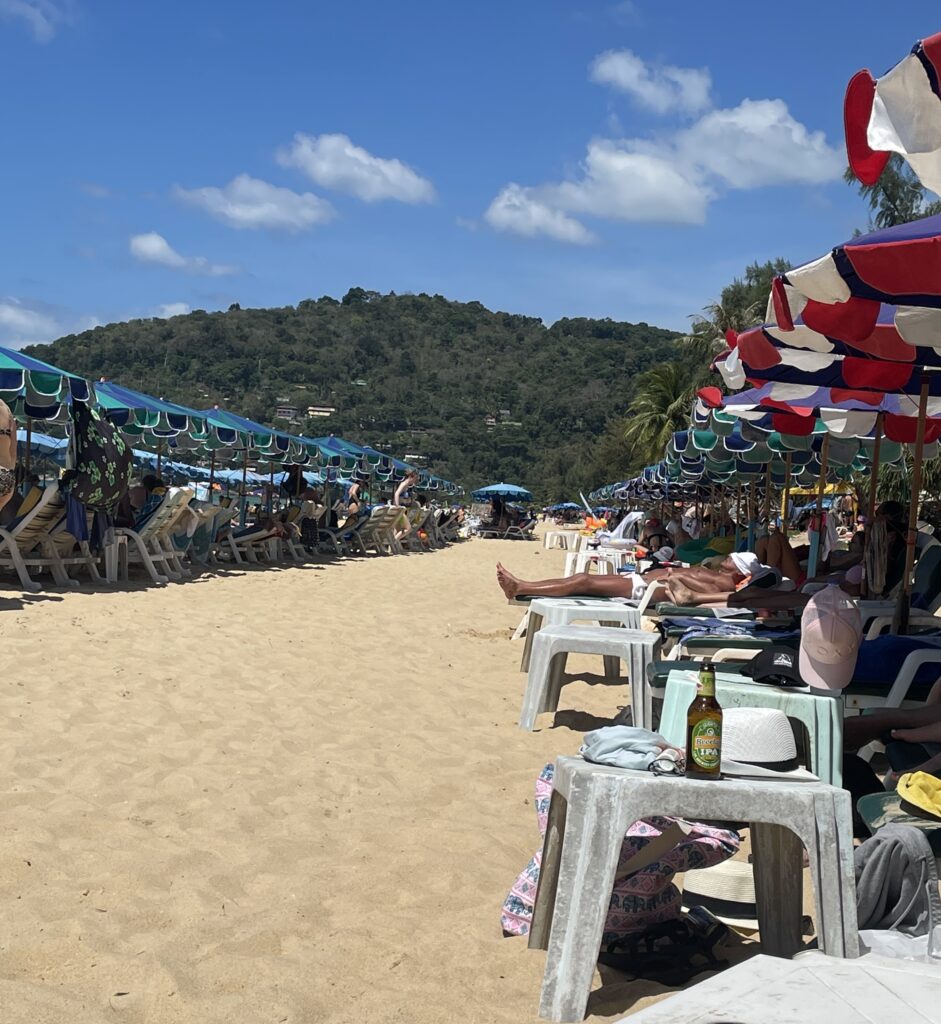 Why is Phuket So Popular?
Phuket is the largest island by far, and because of this, it's full of many things to do, has several beautiful beaches along its coastline, and has amenities for everyone.
There are many beach areas in Phuket, each acting as its own little town, and they are all unique in their ways. Because of Phuket's several beach areas, different beach areas cater to all sorts of visitors.
Are you looking for a lively beach town with a lot of nightlife? Patong Beach is your answer.
Prefer a quiet and calm beach town? Karon Beach is perfect for you.
Are you visiting for a honeymoon and would like to stay at a fancy resort and experience fine dining? Bang Tao is ideal for you!
See what I mean? This is one of many reasons Phuket is a top destination! Despite being an island, Phuket has everything, resorts, large malls, and an airport. Phuket offers the best of both worlds, an island atmosphere with big-city conveniences!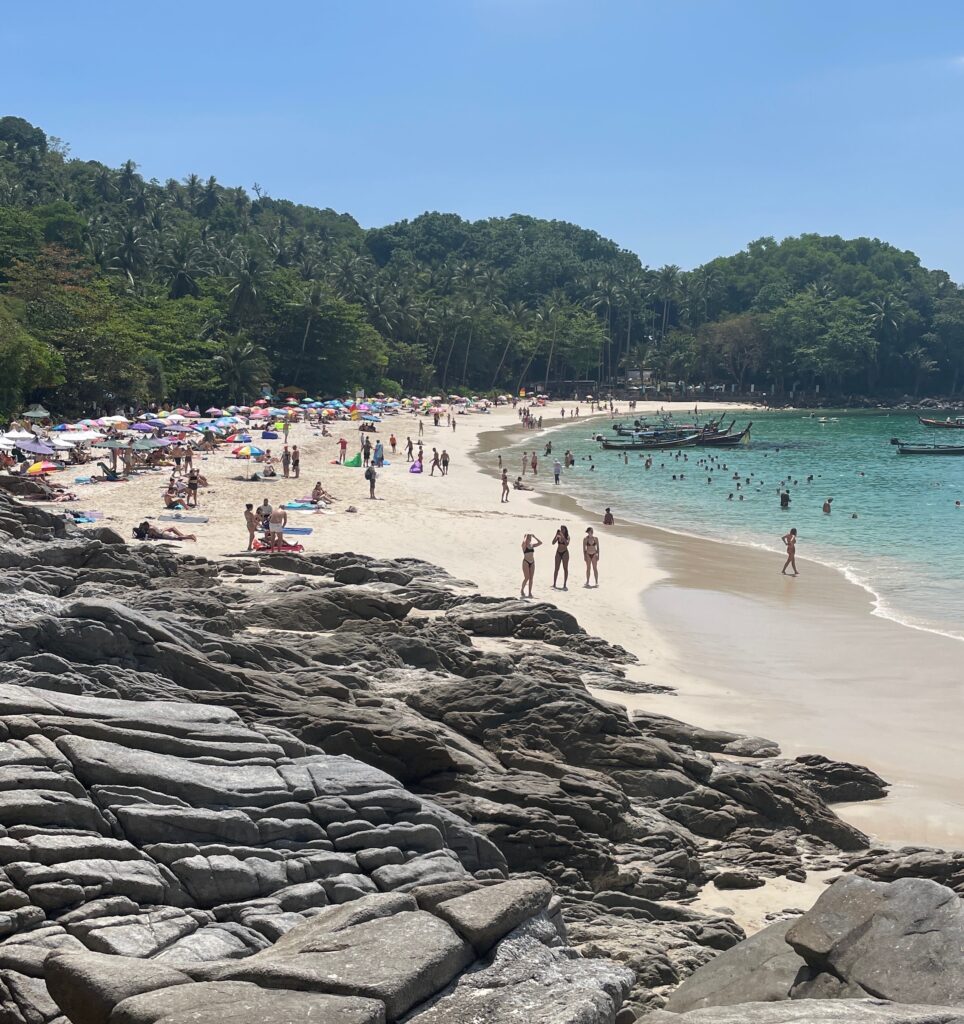 Hotels In Phuket
Phuket has several accommodation types, from low-cost hostels to luxurious 5 Star hotels, midrange-priced hotels, and many apartment/house rentals available.
Before choosing which hotel you'd like to stay at, consider which beach area you'd prefer to stay in Phuket.
The most popular is Patong Beach; it's crowded, has a lively nightlife, and several malls for shopping.
For those who prefer a quieter, more laid-back area with a few activities, I recommend Kata Beach, Karon Beach, or Kamala Beach.
If you're visiting for your honeymoon, you must stay in Bang-Tao Beach, which caters to those looking for a romantic getaway.
Hostel Average Prices: $15 – $35 US
Mid-Range Average Prices: $60 – $120 US
Luxury Hotel Average Prices: $130 – $400+ US
All hotels/accommodations cost slightly higher during the high season: November to April.
Budget Hostels in Phuket
Phuket has plenty of hostels located all over the island, but the most popular area for hostels is Patong Beach. The best and most amounts of hostels are there.
Lud d Phuket Patong: The best-rated hostel in Phuket, great common areas
Sabina Guesthouse: Located in the Kamala Beach area, a more chill area than Patong
Nonnee Hostel Kata: 15 Min walk from Kata Beach and quick access to Old Phuket Town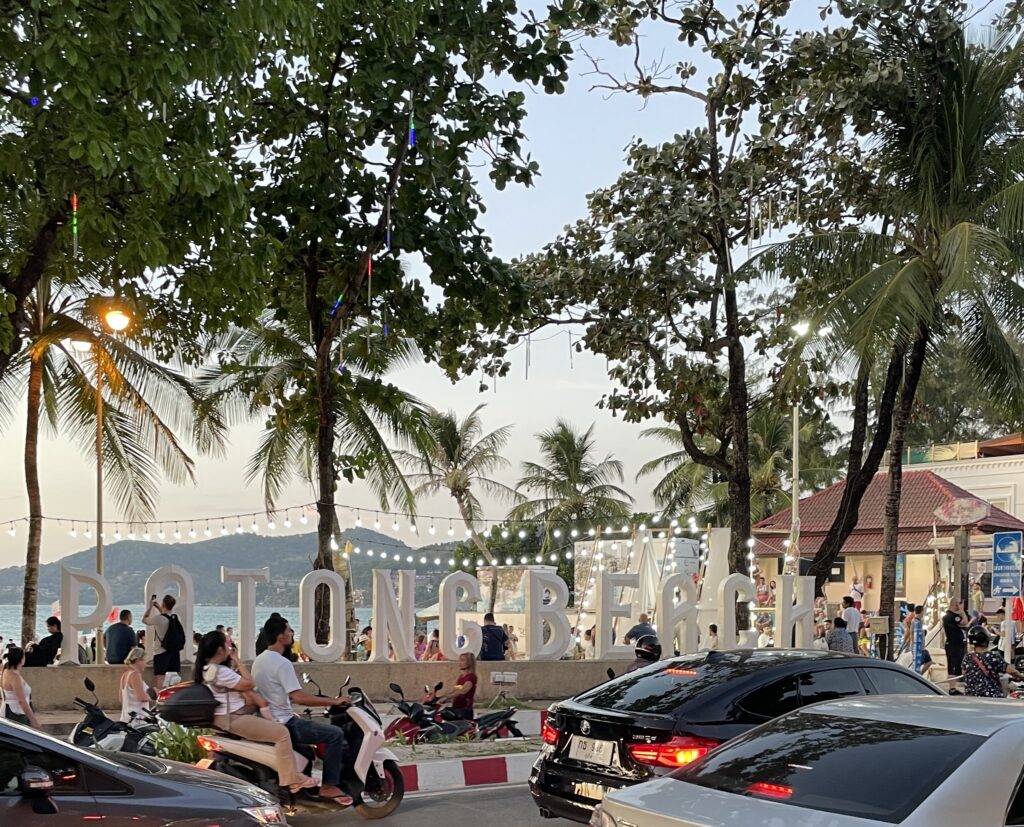 Mid-range Hotels in Phuket
Mid-range priced hotels are located all over Phuket; by mid-range, I mean 3/4 Star hotels. Prices can vary depending on the area of your choice. Below, I've shared three exceptional mid-range hotels in different areas.
Blu Pine Villa & Pool: Apartment-style hotel located close to Kata Beach, great pool
Amari Phuket: Beautiful views of the ocean and Patong Beach area, a very well-located hotel
Outrigger Surin Resort: Located in the quieter Surin Beach area, beautiful modern hotel
Luxury Hotels in Phuket
Most of the luxurious hotels are in the Bang Tao Beach area because the area is known for its many fine-dining restaurants and couple's amenities. I've shared three different hotels in three distinct beach areas!
Rosewood Phuket: Rated the best hotel in Phuket, this tropical oasis is located in the hills of Patong and has luxury-style suites.
Saii Laguna Phuket: Luxurious hotel with lake views and only a minute's walk from Bang Tao Beach, full of many great amenities.
Katathani Phuket Resort: Modern beachfront hotel with direct access to Kata Noi Beach.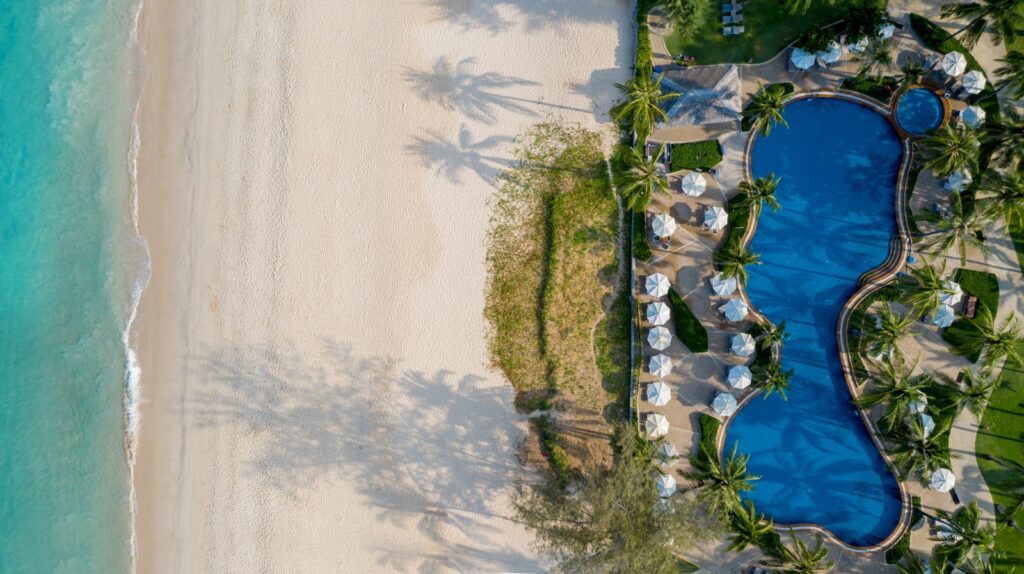 Is Phuket Expensive to Eat Out?
Eating out in Phuket can be as cheap or as expensive as you'd like. That's because Phuket is home to countless restaurants, cheap ones, fine dining restaurants, and plenty of night markets to explore and eat at!
NOTE: Another factor of food pricing is where you choose to eat; restaurants on crowded tourist streets tend to charge a higher price just because of the restaurant's location. You can walk one road over and find lower average pricing for restaurants in the same area.
Affordable traditional Thai dishes like Pad Thai, Pad Krapow, and Pad See Ew can cost anywhere from 60-100 Baht, that's $2-3 US. The same dish can cost more at a busy tourist street restaurant.
Mid-range restaurants, you should expect to pay $15-20 for a main dish, and appetizers are around $5-8 US.
Fine dining restaurants, there are many fine dining options in Phuket, and they aren't cheap. You should expect to pay $80-$200 US, depending on if you're ordering drinks and where you go.
Alcohol is cheap in Phuket, especially compared to most places worldwide. At 711 Convenience, you can buy a beer for $1.20 US or a soju wine liquor for $2.50 US. Also, plenty of vendors at street markets sell cocktails for 100 baht, which is $2.90 US.
Night markets are a MUST-VISIT in Phuket; whether staying at an affordable or luxurious hotel serving great food, you must visit the Phuket Sunday Market and others. There, you will find plenty of cheap and delicious street food to try!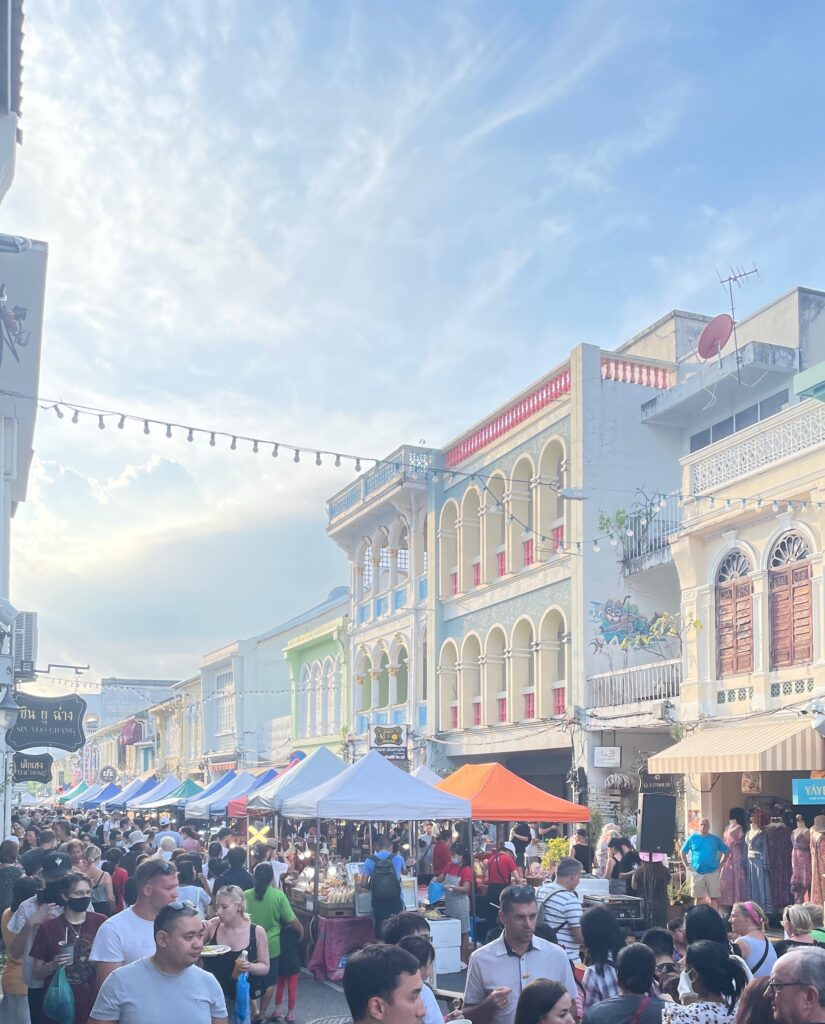 Cheap Restaurants in Phuket
There are countless cheap restaurants in Phuket. My suggestions are the best cheap restaurants in Phuket, but if you're staying further, go somewhere close to you.
Just walk around and search for Thai restaurants that don't look fancy, and these places tend to have a sign outside promoting many plates for around 80 Baht or less.
ZomPaul Eatery in Patong: If you'd like to try a lot of different Thai dishes, this is the place to visit; they have cheap small plates of many Thai dishes to try
The Pad Thai Shop in Kata: A small local restaurant that serves a small menu of delicious Thai dishes / my favorite restaurant in Phuket.
Nikoy Boat Noodles in Kamala: Serving many Thai classics, they are most famous for their delicious boat noodles in a dark flavoural broth.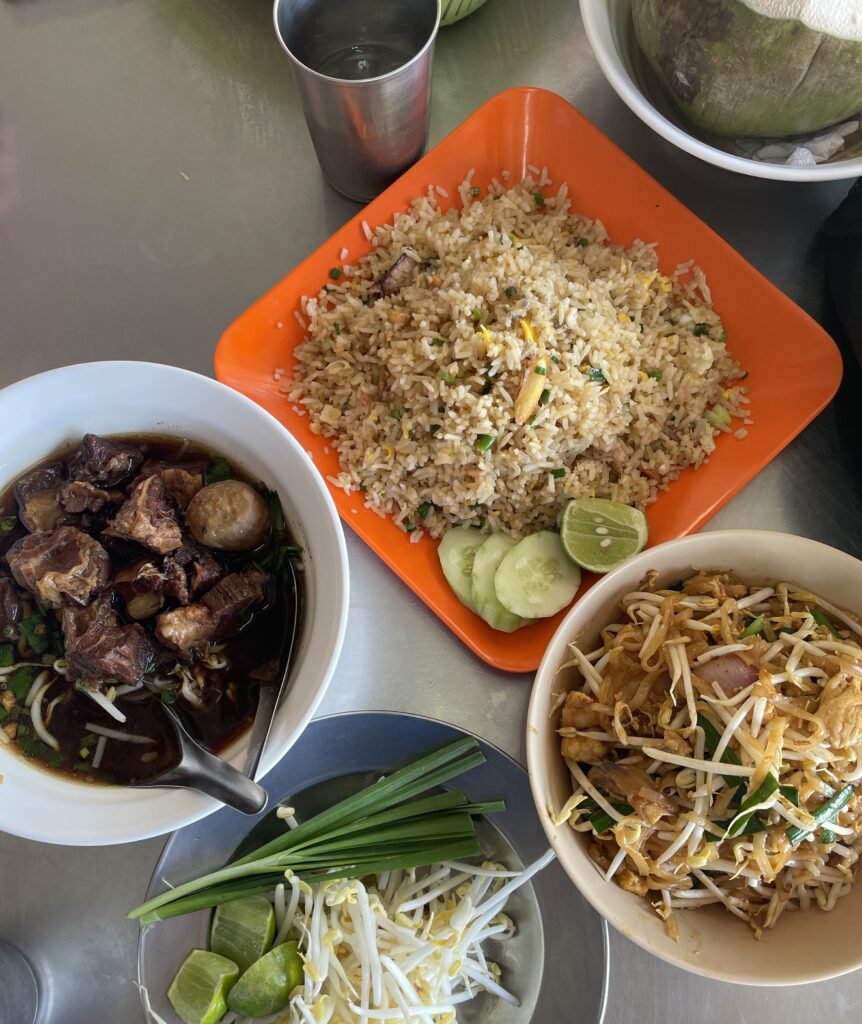 Mid-Range Restaurants in Phuket
Here's a short list of some of my favorite mid-range priced restaurants in Phuket that I'd recommend you check out!
Cappadocia Turkish Restaurant: Delicious Turkish cuisine, with locations all over Phuket.
Napoli in Vespa Phuket: Italian restaurant serving the best pizza on the island in Karon Beach.
Oh San Ramen/Izakya: Japanese restaurant with two locations on the island, serving delicious izakaya-style dishes.
Fine Dining Restaurants in Phuket
Despite Phuket being the most expensive place to visit in Thailand, there are fewer fine-dining restaurants compared to mid-range/cheap restaurants in Phuket.
Nonetheless, here's a list of exceptional fine-dining restaurants in Phuket to consider!
Ta Khai: Fancy Thai restaurant amongst the hills of Patong, serving traditional and modern Thai cuisine.
CUT Grill & Lounge: Steakhouse with several Western Dishes at a beautiful Lake view location.
Bocconicino: Located against the Lake in Bang Tao, a traditional Italian restaurant serving all the classics with an extensive wine selection.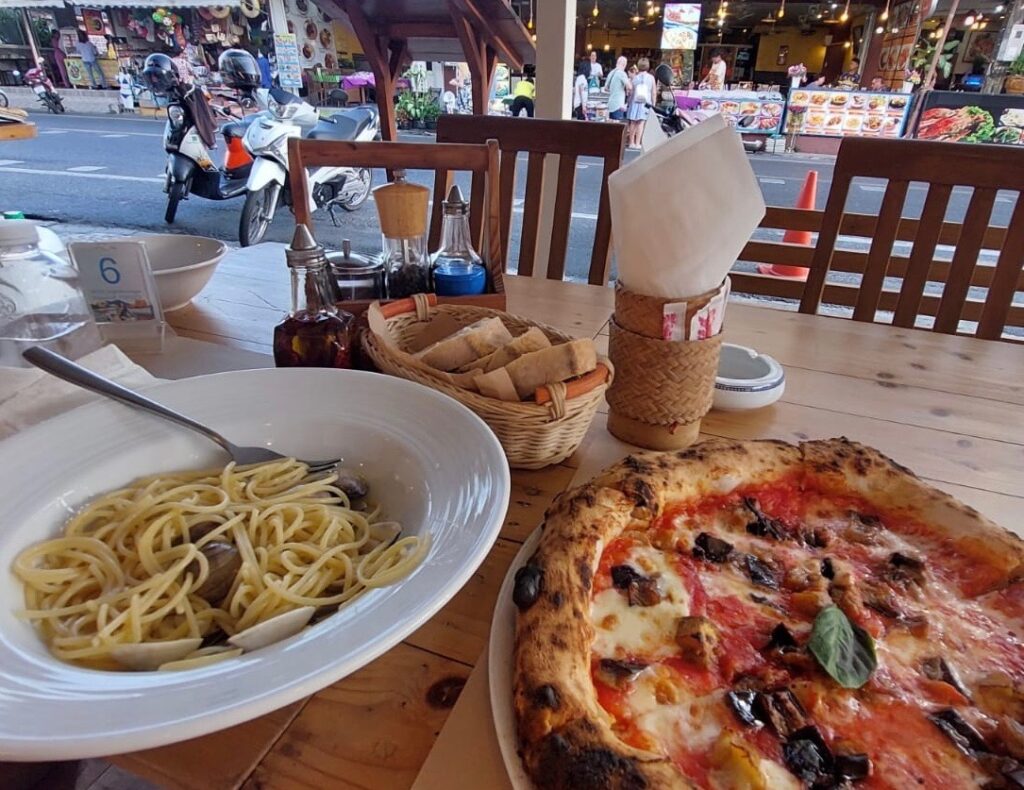 How to Get Around Phuket?
One of the most costly expenses when traveling is transportation. Luckily, though, the cost of transportation in Phuket is cheap and is only slightly higher than in the rest of Thailand if you're taking a taxi/tuk-tuk.
For airport transfers to your hotel, I recommend using GetTrasnfer, and they're much cheaper than taking a taxi from the airport!
Grab, Taxi or TukTuk
For private transportation in Phuket, you've got three different options:
Grab or Bolt, apps similar to Uber. And I highly recommend them when visiting.
Taxi: You can take a taxi; they're everywhere, but watch out for high tourist pricing. I'd recommend using Grab or checking the price on Grab first.
TukTuks: My favorite way to get around Phuket; it's fun, and you can feel the wind, but similar to my suggestion above, be prepared to negotiate if you're given a high price.
Scooter or Vehicle Rental
One of the most popular ways to get around Phuket is by renting a scooter and driving the coastlines and winding roads of Phuket.
It's the cheapest way to get around Phuket, besides public transportation. The daily cost is 300-400 Baht, $10-13 US.
If you're with more people and need more room, you can rent a car in Phuket and drive yourself around. Depending on your vehicle of choice, most cars start at $25+ US per day.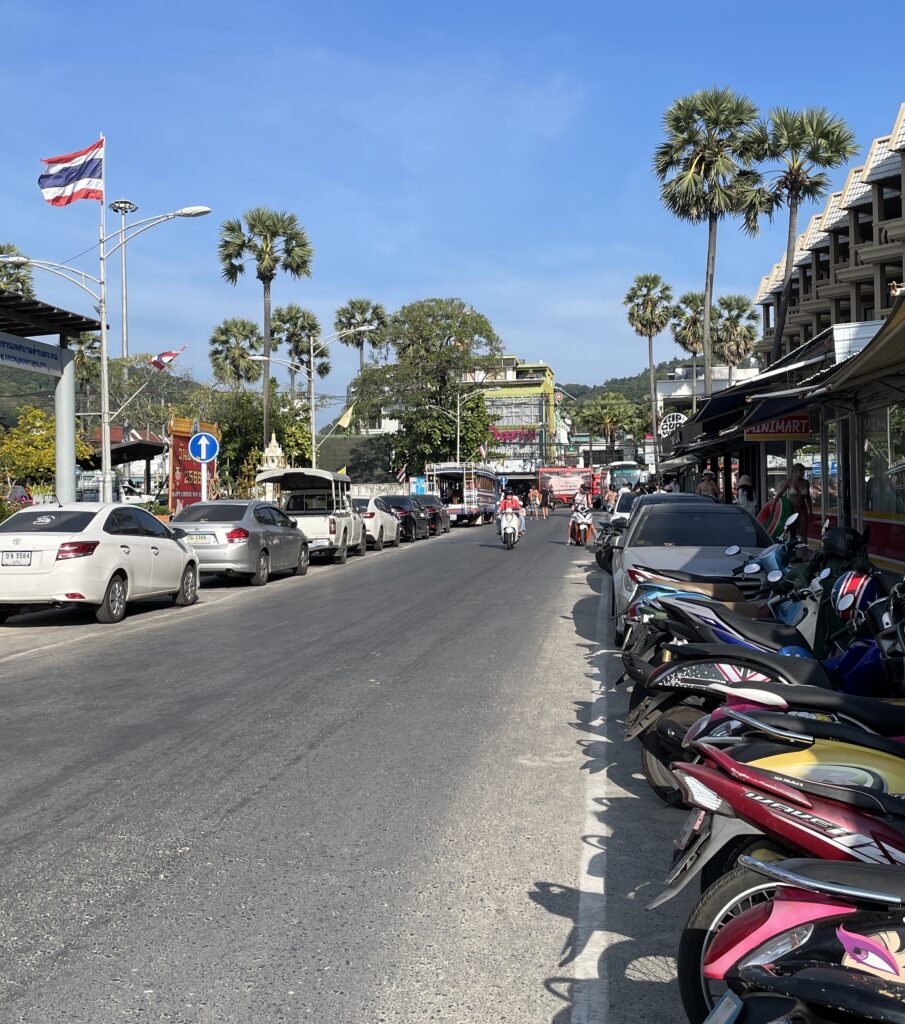 Phuket Smart Bus or Songtaew (local bus)
There are two different public transportation buses you can use in Phuket.
Phuket Smart Bus: This local bus with air conditioning travels along the west coastline of Phuket, making stops at popular beach areas like Patong, Kata, and more. The bus travels both ways, the first and last stops being Phuket Airport and Rawai Beach.
It stops at each location on this timetable each hour, and there is a Smart Bus Sign at the stop you should be at. PRICE: 100 Baht/ $2.88 US.
Songtaew (local blue bus): Another local bus is the local blue bus; unlike the smart bus, this bus does NOT operate along the coastline, passing by beach areas.
Instead, the blue bus works from Phuket Town station and goes back and forth between different beach areas, operating both ways.
The local blue bus frequents around every 20/30 minutes; simply stand by the road and put your hand up for the driver to stop and pick you up. PRICE: 40 Baht / $1.20 US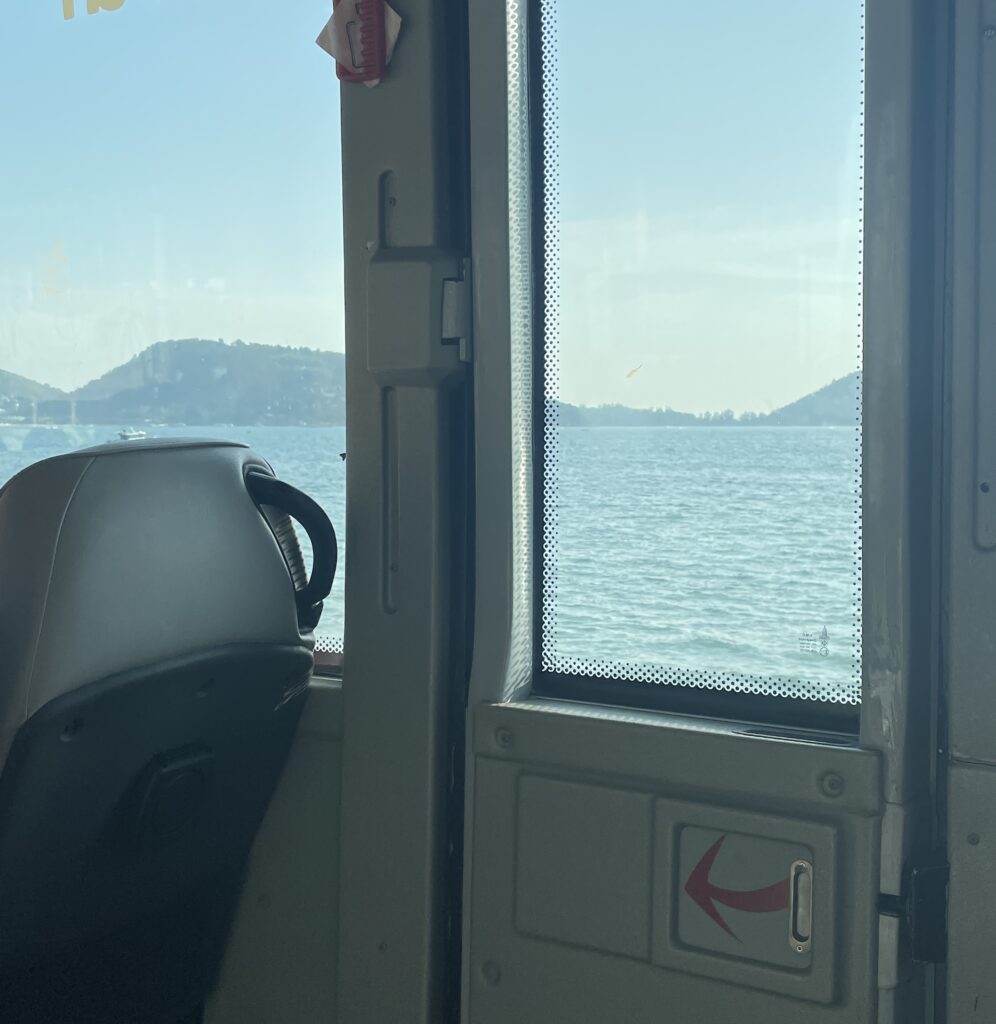 Phuket Day Tours & Activities Cost
One of the main reasons tourists visit Phuket is because of the large selection of day tours in Phuket, both on and off the island!
The average cost for tours ranges from 1000-2000 Baht per person, which is $29 to 58 US.
Tours on the island are cheaper than tours off of the island. Most day tours last between 4 and 7 hours. Below, I've listed the most popular day trips in/from Phuket you must experience!
Racha and Coral Island Day Trip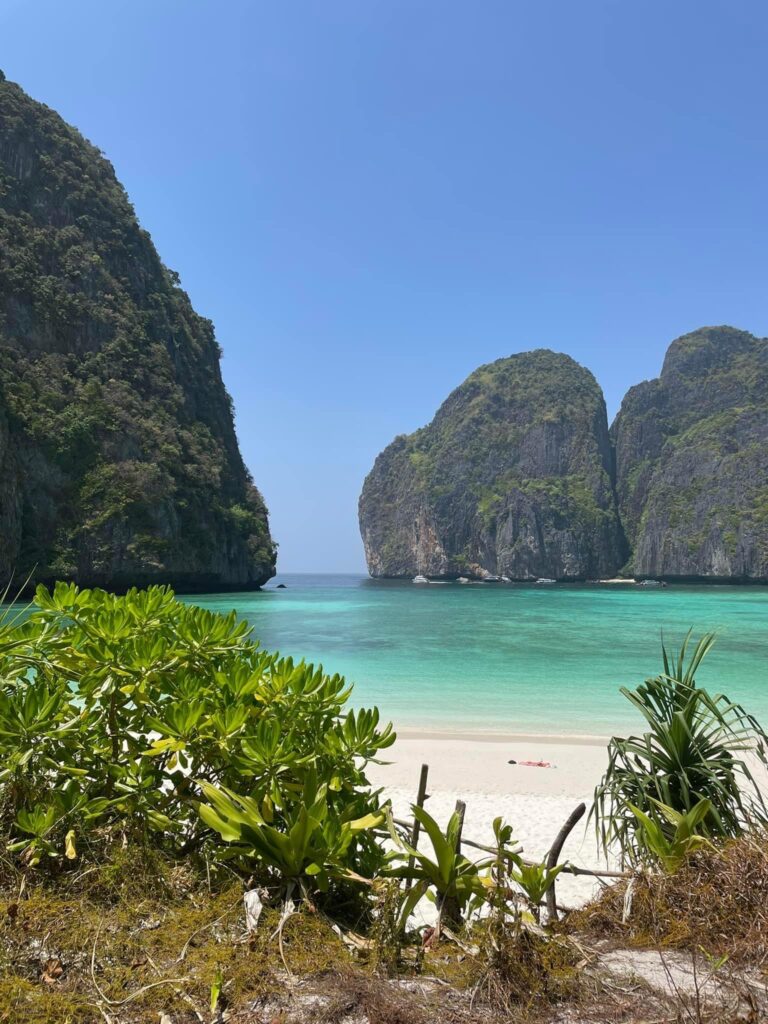 Activities in Phuket
If you're on a budget and day tours are out of your price range, I'd recommend you experience any or most of these activities in Phuket.
The first activity is a must; you can't come to Thailand and not experience at least one traditional Thai massage!
Phuket Massage: The perfect activity after the beach, a 1 Hour cost from 200-600 Baht, $6 to 17 US
Big Buddha Phuket: Located in the Karon district and the highest point in Phuket is the white Big Buddha temple – FREE to visit
Phuket Nightlife Costs: If you go to parties with international DJs, expect to pay $50+ US; otherwise, in most places, there's no cover; for drinks at bars/nightclubs, expect to pay 150-400 Baht
Muay Thai Fights: Depending on the stadium you visit, some are free, and others charge 100-200 Baht for entry.
Visiting Other Beaches in Phuket: Use the SmartBus and visit other beaches in Phuket for only $2.88 US.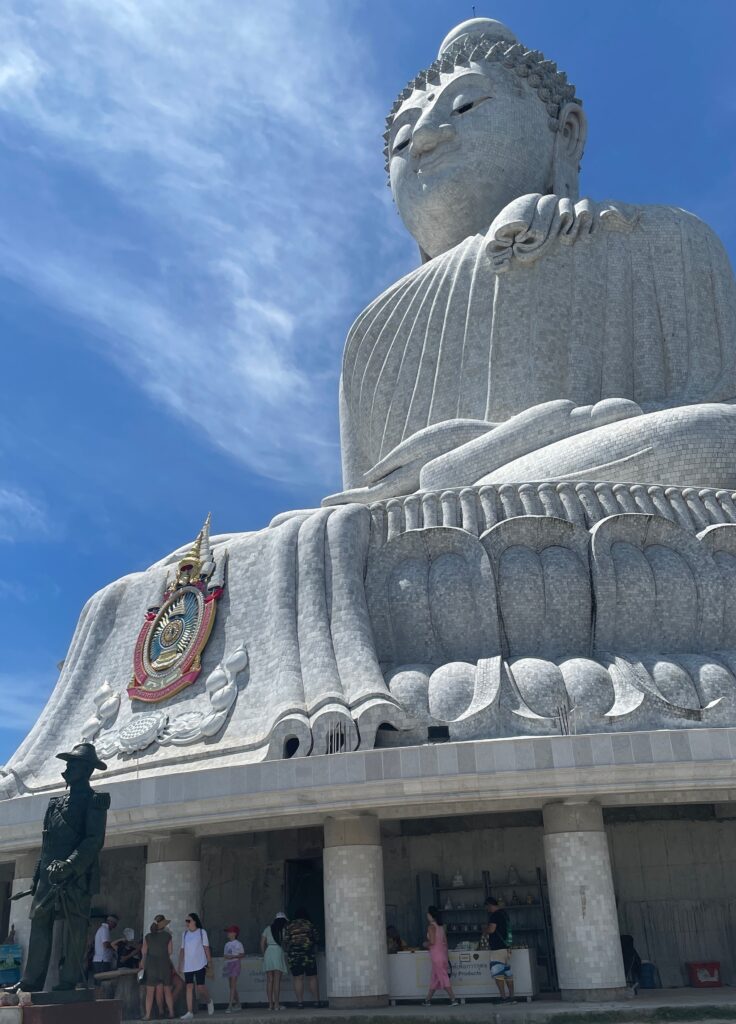 Is Phuket Expensive to Live?
Compared to the costs of visiting Phuket, Phuket's living costs are similar to those of other popular places to live in Thailand, like Bangkok or Koh Samui.
But compared to the rest of Thailand, living here is more expensive. There are much cheaper places to live in Thailand.
The average monthly spend for one person in Phuket is $1300 USD, including housing, food, and transportation. This ultimately depends on the lifestyle you're looking to have in Phuket and your spending habits.
Average Housing Costs: For an apartment, expect to spend $500+ US monthly; different areas will vary in price; Patong, for example, will be slightly higher due to its popularity.
The best and cheapest way to find housing in Phuket is to check Facebook groups or walk around locally and ask!
Expect to pay $300 to $500 US a month on food; eating at local markets and cooking will help you keep these costs down.
Eating out in Phuket will cost you the following: prices vary, portions can be small in Thailand, and eating out costs will depend on your appetite!
Breakfast is $3-5 US
Lunch is $4-15 US
Dinner is $5-20 US
Renting a scooter costs around $100-150 US per month; your patrol consumption will depend on your lifestyle. Public transportation costs $1-3 US per way.
Costs were calculated with the help of Numbeo and GlobalPrice.
I've visited Phuket many times for months at a time per visit, and I've always preferred to station myself in Old Town Phuket for a few reasons. It's quieter here, less touristy, and many places you need to get to are within walking distance. You can stay here without having to rent a vehicle!
Sunday is the only time it's hectic and touristy because of the Sunday Old Town market. There are also many excellent cafes and great restaurants to work from.
As I work remotely throughout the week, I don't need to be by the beach. Also, it's only 20 minutes to many beaches from here.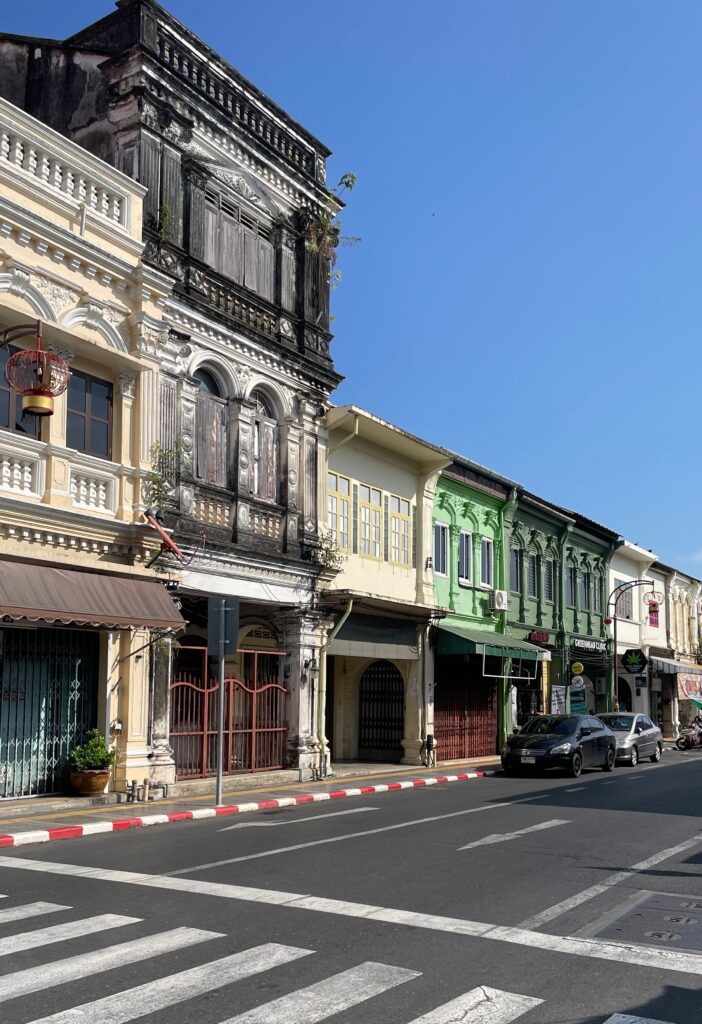 Phuket Travel Tips
Here are a few tips I've learned in Phuket from my many visits that I'd recommend you take note of!
Cash is KING in Thailand. Make sure you always have cash on you at all times.
Download Grab & Bolt for easy, fast, and affordable private transportation.
Once you arrive at the airport, I recommend an AIS sim card; they have the best service. Ask if they have a promotion going on!
Understand that transportation will cost slightly more during nighttime. And if you're in a touristy area like Patong, want to go elsewhere, and are looking to take a taxi or tuk-tuk, drivers will propose a higher price because you're leaving a touristy area.
Some restaurants in Patong and Old Phuket Town offer happy hour promotions; take advantage of that!
Visit beaches that don't belong to an area, like Freedom Beach and Banana Beach; they're less crowded and even more beautiful!
You may know this already, but it's good to repeat. Don't drink tap water in Thailand.
The cheapest and best way to leave Phuket Airport is by taking the Phuket Smart Bus – Also, watch out for taxis at Phuket Airport; they're known for overcharging tourists!
There is a tourist police in Phuket you can contact who's there to serve visiting tourists/foreigners. The number so contact the tourist police is 1155.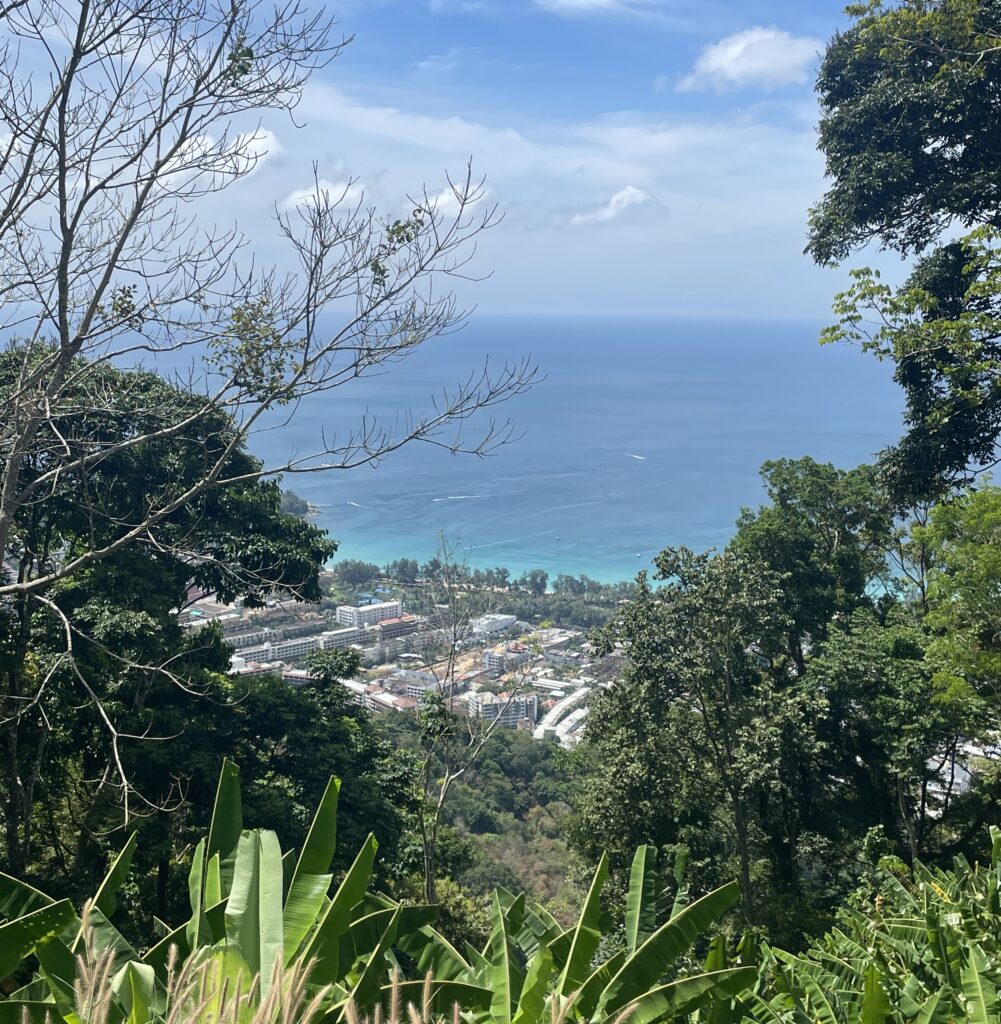 Is Phuket Expensive to Visit? – Final Thoughts
Compared to other Southeast Asia destinations, Phuket is more expensive. But compared to other famous European or Western destinations, Phuket is considered very cheap!
As I stated earlier, depending on the currency you're converting, you will likely decide if Phuket is considered cheap or expensive to you.
Visiting from Canada with Canadian and American currency, I found Phuket very affordable. After traveling around many places in Thailand, I noticed how much more expensive Phuket is than the rest of Thailand!
But no matter your budget and where you're visiting from, it's easy to visit Phuket on a budget.
So, is Phuket budget friendly?
Yes, it can be; despite being the most expensive place to visit in Thailand, Phuket is full of hostels all over the island.
There are many markets in most areas to visit for affordable food, and public transportation in Phuket offers cheap ways to get around.
Are you looking for cheaper places to visit in Thailand? Here's a list of the most affordable places to visit in Thailand!
Is Bangkok or Phuket cheaper?
Bangkok is cheaper than Phuket for everything: accommodations, food, and transportation. Because Bangkok is such a mega city, there's a large selection of hotels and restaurants, resulting in cheaper prices on average. Also, Bangkok has more cheap public transportation methods to use.
How many days in Phuket is enough?
To experience Phuket, you should visit the island for at least 7 days. There are many things to do in Phuket and many day tours to experience.
I suggest spending at least 14 days in Phuket if you have the time.
How much is a meal in Phuket?
The average meal cost in Phuket is $3-6 US. These prices would be at a local restaurant for any meal of the day. If you visit foreign cuisine restaurants, the average meal will be $8-15+ US.
Is Phuket more expensive than Pattaya?
Phuket is more expensive than Pattaya regarding accommodations, food, and transportation. It's important to note that the quality of accommodations and food is far better in Phuket than in Pattaya City.
Subscribe to Travel Hiatus!
Receive updates on my latest posts, insider travel tips & the best destination guides to your inbox!
Happy & Safe Travels
---
Planning Checklist
---
Disclaimer: Please note that some of the links shared in this article might be affiliate links; this means that at absolutely no extra cost to you, we will earn a small commission for any sales generated through this article and/or this website. We recommend products/services we've either used or researched thoroughly – Thank you for supporting us so we can continue to share helpful travel content!