Railay Beach: The Best Visitor Guide
Railay Beach is located in the state of Krabi, Thailand. You might say this place is truly paradise, something out of a movie.
The stunning beach coast is covered in substantial limestone cliffs alongside stunning turquoise waters, palm trees, and soft white sand. To say that Railay Krabi is picturesque is an understatement. You'll need to see it in person.
Not only is nature special here, but the overall atmosphere is also.
Let me explain: First off, there are no cars or any forms of transportation. The small beach town is small enough to walk everywhere, and the roads are primarily dirt/sand. You won't find large or franchised stores/restaurants, but only locally owned businesses.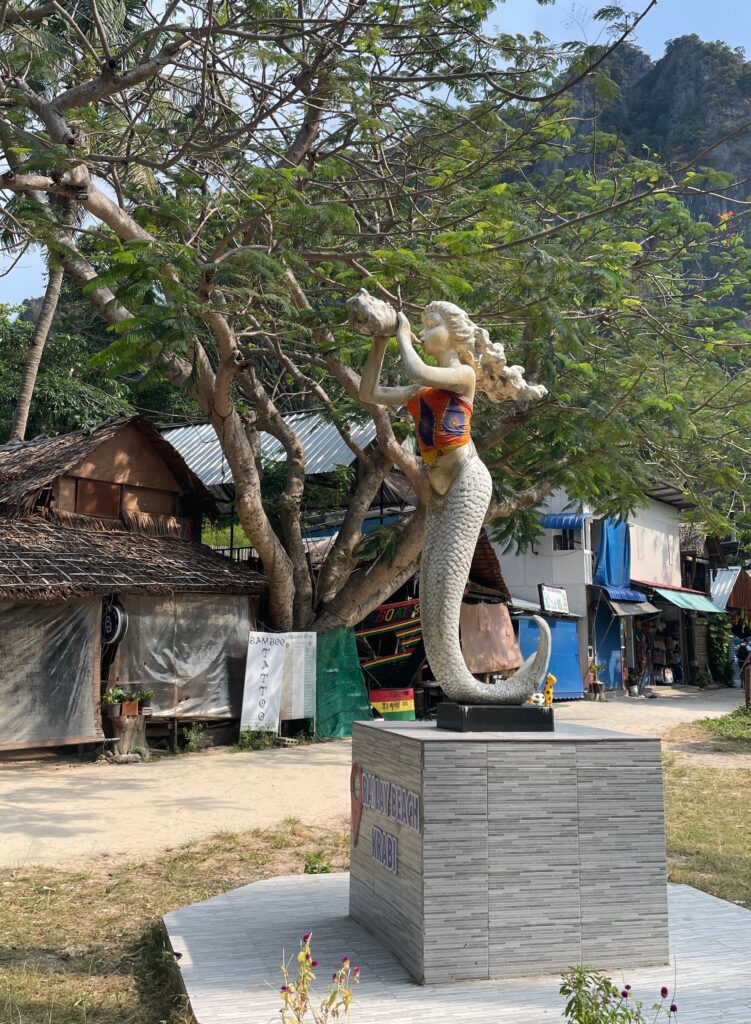 Now despite a small beach town, there are several activities here to keep you busy. Rock climbing, kayaking, snorkeling, hiking, and beach lounging at any of Railay's beautiful beaches.
This Railay Beach travel guide will give you essential tips and information you must know. We will also share things you must do when visiting Railay, restaurant suggestions, and ideal hotel recommendations for all budgets!
By the way, once you've visited Railay, head North to Surat Thani and go to Koh Samui Island
General Information about Railay Beach
Railay, as a whole, is relatively small. You can walk anywhere you need to go in under 20 minutes.
You should know of two essential beach points: Railay West Beach and Railay East Beach. Depending on where you've come from, you will be dropped off at one of these points.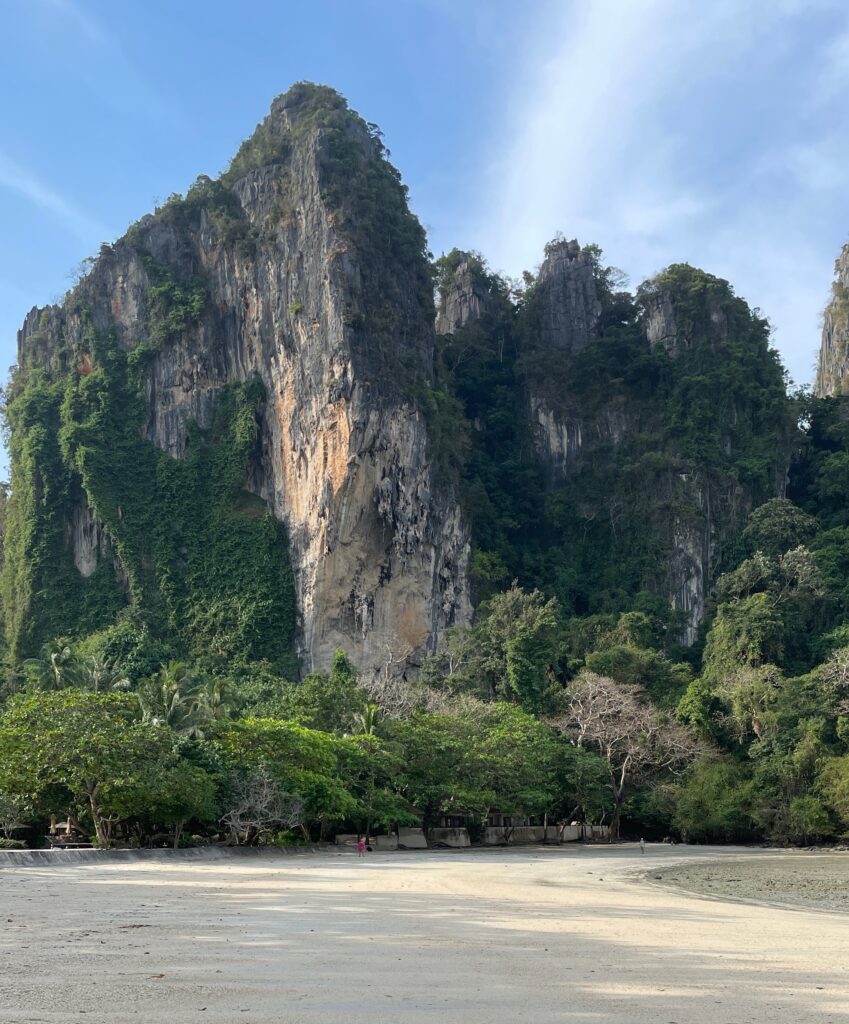 Railay West Beach is the most famous beach in the area, where long-tail boat taxis come to drop off visitors from Ao Nang back and forth.
Railay East Beach is where the main floating pier is; if you're on tour visiting Railay, you will be dropped off here. Additionally, if you're leaving Railay and heading to Ao Nam Mao pier by boat, you will leave from Railay East.
On the South of Railay is the famous Phra Nang Cave Beach.
Why is Railay Beach famous?
It's located on one of the most Southern points in the Krabi region and is surrounded by beautiful nature everywhere.
But the best part is, it's less popular than Phi Phi islands yet amongst tourists, so there is still a remote island vibe here; it's much quieter than Phi Phi and arguably just as or more beautiful!
How to Get to Railay Beach
The way to get to Railay will be different depending on where you're leaving from. Here are your options for you.
Ao Nang to Railay: At Ao Nang beach, Long tail boats are docked at each end of Ao Nang beach; these are boat taxis, and you will see a vendor on each side selling a one-way or roundtrip ticket.
These taxis only operate from 9:00 AM – 6:00 PM between Ao Nang and Railay, so if you plan to visit Ao Nang from Railay, plan accordingly.
Price & Travel Time: 100/120 baht and a 15-minute boat ride – Book your Tickets Here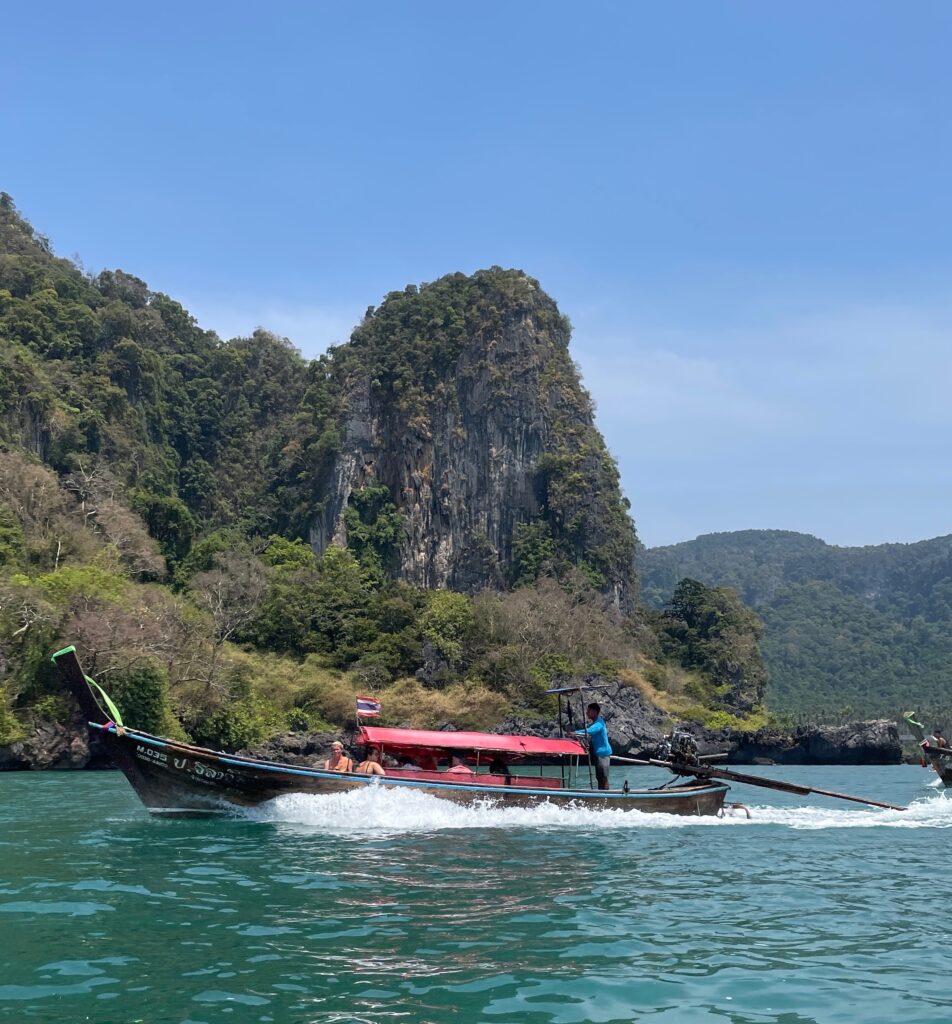 Phuket to Railay Beach Ferry or Speedboat: Ferries/Speed boats depart from Bang Rony or Rassada Pier and arrive at Railay East Floating Pier.
Price & Travel Time: 700 baht and 2-2.5 hours – Book your Tickets Here
Phuket to Railay by Van to Ao Nang + LongTail boat to Railay: By van/bus, you will be going to Ao Nang beach and then taking a LongTail taxi to Railay
Price & Travel Time: 400 baht and 3-4 hours – Book your Tickets Here
Phi Phi to Railay Beach Ferry or Speedboat: By ferry, you will leave from the central Phi Phi Pier; the ferry will then take you to Ao Nang, and then from there, you will take a Longtail boat taxi to Railay – By Speedboat you will leave from PhiPhi Pier and go straight to Railay East floating pier.
Price & Travel Time: 480 baht Ferry/900 baht Speedboat and 90 mins for Ferry/ 40 minutes for Speedboat – Book your Tickets Here
Things To Do in Railay Beach
There are several great things to do in Railay and many attractions to experience.
From relaxing at the beach to island hopping, half or full-day excursions, several physical activities, day drinking, and much more.
Here are the things you must do when visiting Railay. Ensure to do everything on the list; all activities here are strongly recommended!
Relax at the Beach
Have a relaxing beach day at one of the four beaches in Railay. Each beach here is very much unique in its way; Railay beaches are beautiful.
Here is a breakdown of all three beaches, their locations, and what you should expect.
Railay West Beach
This is the main beach in town. More than likely, when you "google" Railay, this beach pops up first. As mentioned, the longtail boat taxis dock, leave and come here.
While this beach is stunning, it does get busy with foot traffic from the water taxis. And you can only swim on the end of the beach as the other area is reserved for water taxis.
Tonsai Beach
Next to Railay West Beach is Tonsai Beach. If you're on a longtail water taxi to Railay West beach, you might spot this beach first.
This beach is stunning and much quieter than Railay West. Out of the two beaches, Tonsai Beach is preferable for a relaxing beach day.
The only downside about this beach is there are only two ways to reach it. You can hike over the rocks separating Tonsai Beach and Railay West Beach or swim to it. To get the rocks, you must walk to the end of Railay West Beach.
Phra Nang Cave Beach
South of the coast, you will find Phra Nang Cave beach. To get here from Railay East, head South of the area on the dirt trail (there is only one road, so you can't miss it).
If you're coming from Railay walking street, head towards the end of the road until there is an option to go left or right, then step right towards Railay East. From there, you walk straight.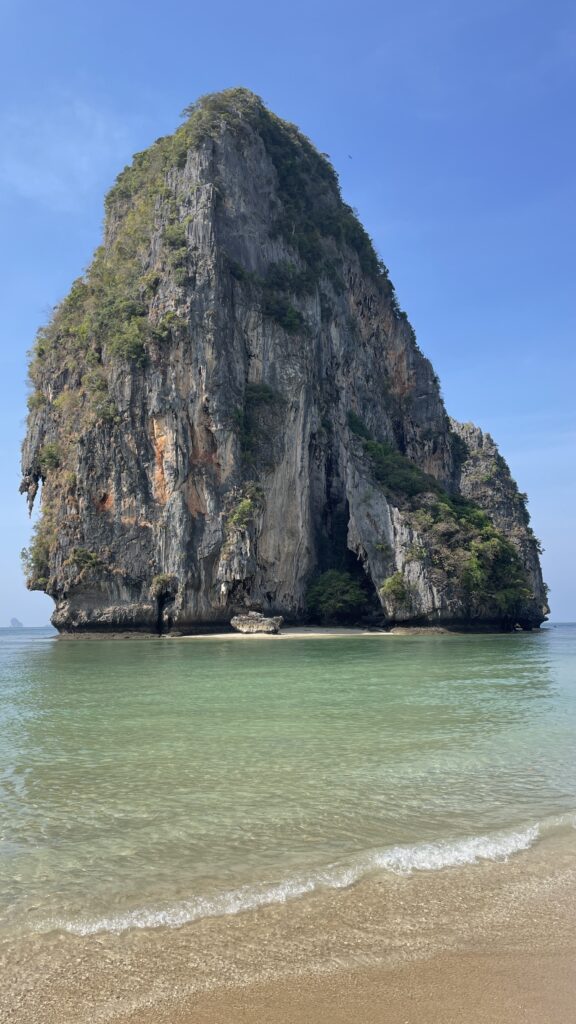 This place is not only a beach like the others on this list, but it's also surrounded by a cave and many incredible sights to see.
As you walk on the path to the beach, you will notice some tourists hiking on a rope; this rope leads to the Railay Lagoon.
On one side, you'll find the famous Princess Cave. This is a spiritual place for Buddhists, so please be respectful when visiting.
You will find some locals there praying as you're looking at/taking pictures. I spoke with a local Thai lady who shared with me that this is another temple to pray at, but it's unique to single women who come here to pray to find a man.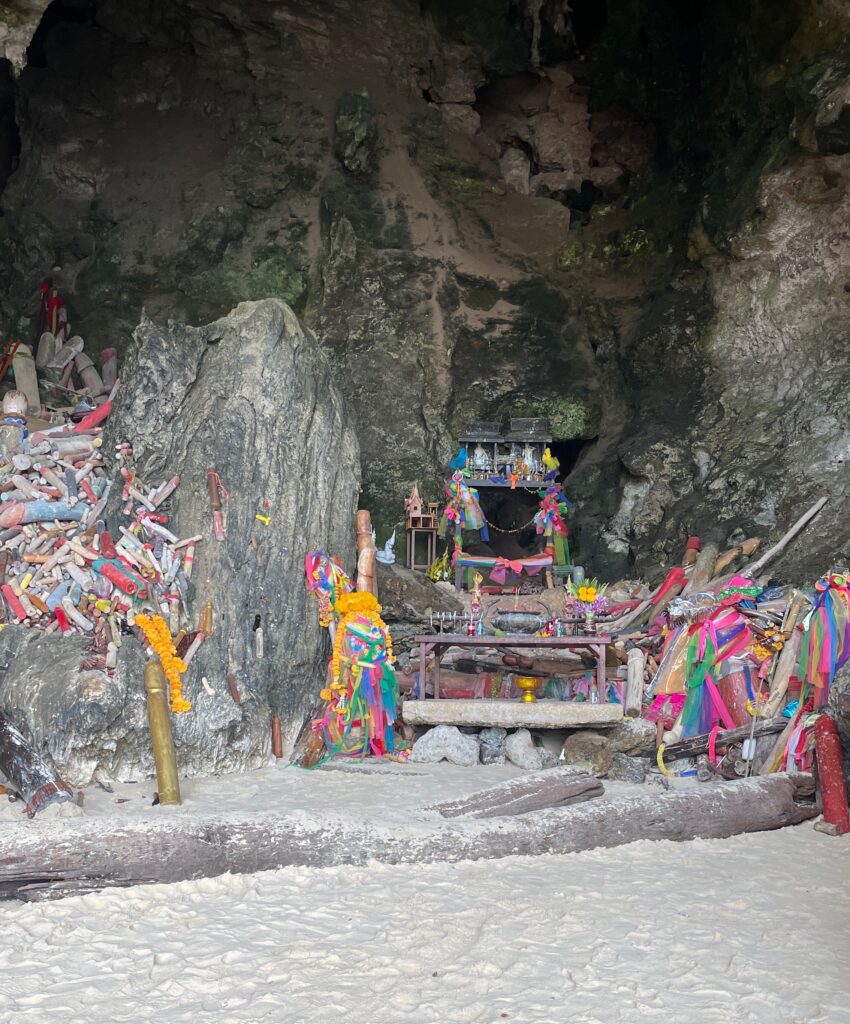 It's the largest beach in the area and preferable if you want a relaxing beach day. I highly recommend coming to this beach early (before 9:00 AM) if you're going to take some great photos and explore a bit more.
There are stunning walkways to explore on both ends of the beach, and these are only accessible in the morning by foot because later through the day, the tide is higher.
Regardless of where you go in the South of Thailand, there will likely be a few islands around where you're visiting to go and check out. And the Krabi four-island tour in Railay is at the top of the list of things to do here.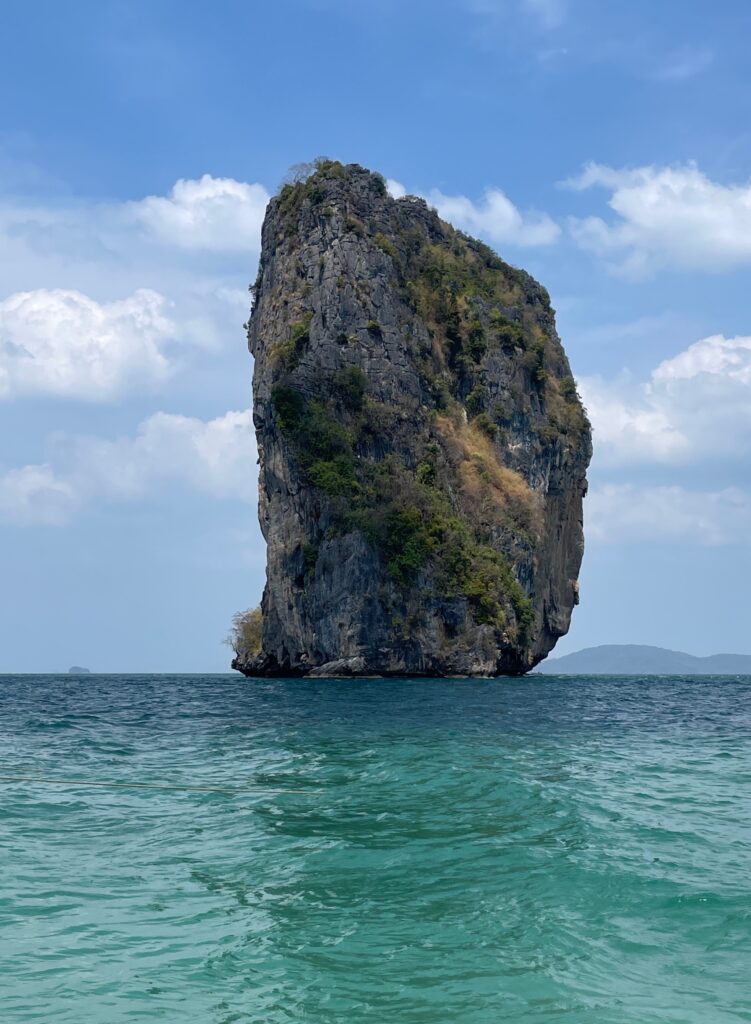 You can attend this excursion by a speedboat or a traditional longtail boat. Most tours include lunch with your ticket, which you will have at Koh Poda Island.
Here in Railay, the Krabi 4 Islands tour is very popular. It's a half-day (6-hour tour), and you will get to see four different islands:
Ko Thap & Ko Mor (twin islands)
Chicken Island
Koh Poda
Phra Nang Cave Beach (this beach I mentioned earlier, so if you're staying in Railay, you can go anytime)
Pricing
Speedboat: 1,000 to 1,700 – Baht per person
Longtail boat: 500 to 1,200 – Baht per person
Longtail boat charter: – 2,500 to 3,000 – Baht per person
Another famous Island Tour in Krabi is Maya Bay Beach, Phi Phi Islands.
Visit Diamond Cave, aka (Phra Nang Nai Cave)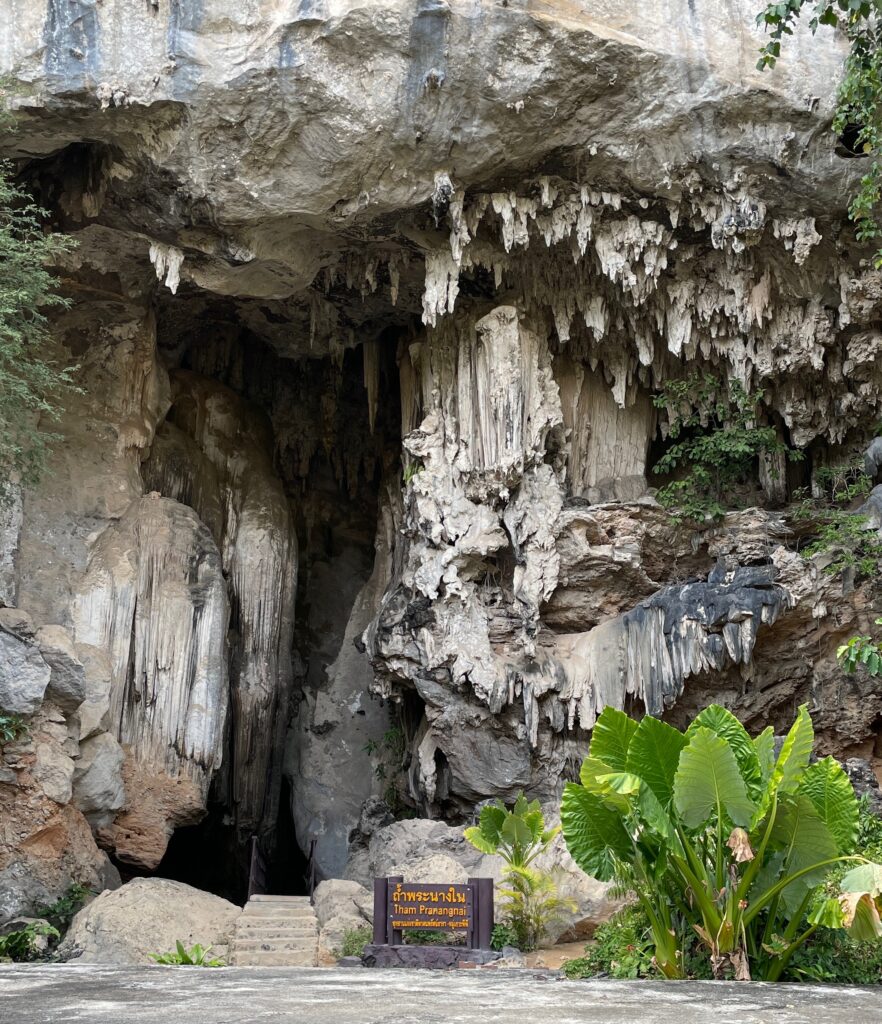 This is the largest cave in Railay, accessible through the only trail that heads North of the Railay. Walking on the course, you will notice the cave's exterior alongside several monkeys jumping around.
The inside is beautiful, and you will hear several bats screeching. I highly recommend visiting. Walking through the entire cave is only a 15-minute activity or so. The cost to enter is 200 Baht per adult.
Kayaking at Railay
One of the best ways to appreciate the views of these massive cliffs along the waters in Railay is to go kayaking or paddle boarding.
You can rent a kayak or paddleboard and do just that. Both of these cost only 200 baht to rent per hour, or if you're looking to use them for the entire day, it will cost you 800 baht.
Go On a Hike
Hiking in Railay is one of the most popular outdoor activities to do. You've got two options here: hike the Lagoon/East Railay viewpoint, where you'll be able to see aerial views of Railay
Or venture off alone and discover somewhere new.
Rock Climbing
One of the best and most popular activities in Railay is rock climbing, and with so many high stunning cliffs, you would assume so.
There are several spots to go rock climbing, including Bat Cave, Diamond Cave, and Phra Nang Cave beach, amongst many more in Railay.
To participate in this activity, you've got to go through one of these many local rock climbing companies.
Railay Beach Hotels
Regarding accommodations in Railay, there is no shortage of them. Here is a list of the best hotels for all accommodation needs.
No matter your hotel budget, we've included the best hotel for each budget in this list to help you decide where to stay in Railay Beach.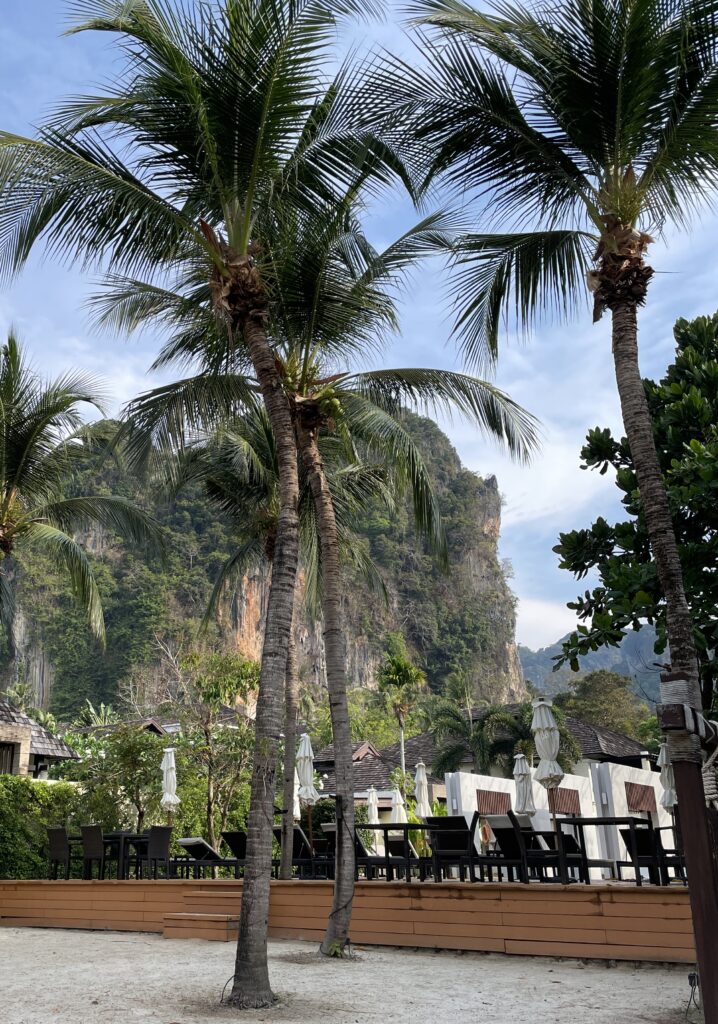 Bhu Nga Resort is the highest-rated 4-star hotel/resort in Railay, and it's located on the Railay East, so you're conveniently a short walk away from both sides of Railay.
They have an exceptional pool with great views and candle-lit dinners on the sand in the evening!
Located at the south end of Railay's West Beach is Rayavadee, a stunning 5-star oasis. This resort has done an exceptional job delivering a luxury experience in the middle of the jungle.
The backdrops surrounding the hotel are spectacular, to say the least.
Located basically beside the Rayavadee resort is the Railay Bay Resort & Spa, which offers luxury but at a discount. It's a 4-star hotel.
The resort has an excellent restaurant that faces central East Beach, an ideal place for morning breakfasts and sunset dinners.
Avatar Railay Resort is located along the Railay's east side, an exceptional 3-star hotel. Just read the reviews and take a look at the rooms.
Consider the price; this is a bargain if it checks off all your boxes.
Some rooms face each other because the pool is in the center, so privacy could be better, but again, considering the price and reviews, this is a strong choice.
Blanco Hideout Railay (hostel)
Last but not least, those traveling solo and looking to meet others. Or perhaps you're on a strict budget, well Blanco Hideout Railay is for you.
This is the highest-rated hostel in Railay, located on east Railay Beach. They've got a beautiful pool with stunning views.
Railay Beach Restaurants
Most of the restaurants in Railay are located on the "main walking street" (that's the street's name). You'll find many local family-owned restaurants, several bars with happy hour promotions, and cafes here.
Having spent ten days here, I'm going to be very honest with you regarding the food in Railay from a foodie's point of view.
The quality of restaurants here could be better, don't take my opinion. Go on Google and read the reviews.
Nonetheless, after trying several places over my 10-day stay there, here is a list of places I went to that I found pretty good. But nothing stood out if I'm being honest.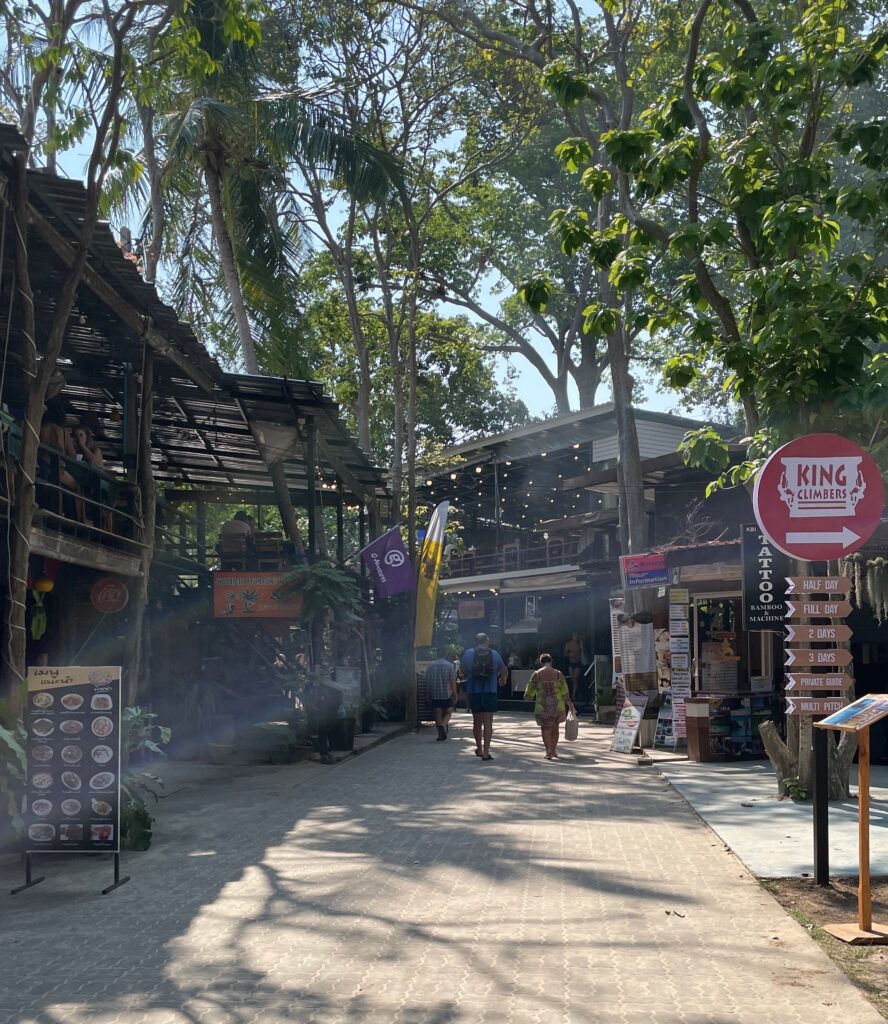 Railay Family Restaurant
Possibly the highest-rated restaurant in Railay, Railay Family is owned by a local family offering all types of Thai dishes for breakfast, lunch, and dinner.
Like many restaurants in Railay, they have an array of fresh seafood to try here. Also, the cocktails are great here. I'd recommend ordering one!
The Heart Restaurant
If you're after only seafood for lunch or dinner, head over to The Heart on the east side. Of course, they've got fresh oysters, squid, snapper, massive prawns, and lobster!
All the seafood is cooked in a traditional Thai way. For dessert, make sure to get the mango sticky rice.
Railay Cafe Thai Noodles
This is a smaller restaurant, so you may miss it when walking around the main street. But the food here is excellent, and they only serve some Thai classics. So expect a limited menu here.
I recommend the chicken with rice combo that comes with a soup broth. The beef noodle soup is their best seller, and the pad kra pao is excellent too!
Railay Story
We're adding this restaurant for one strict reason; they've got barbequed chicken skewers for 30 baht and sticky rice for 10 baht—the perfect lunch for those looking for some delicious food at a low price.
They serve pizza as well, and it was okay. If I were you, I'd stick with the cheap chicken and sticky rice.
Summer Fresh
This place is an excellent cafe serving just about everything one would like for breakfast, all sorts of Western-style breakfasts like eggs with ham, British-style breakfast, avocado toast, and much more.
They've got good coffee as well.
Crepe & Waffle Homemade
For those looking for dessert, this is the place to come. It's a small, locally owned dessert shop serving crepes, Thai-style ice cream, and Thai roti pancakes.
Everything is great there, but I highly recommend the Thai Roti pancake with Nutella/banana. It was the best Thai pancake I had in all of Thailand.
Cafe LE Inguz
Those who take their coffee seriously look no further; Cafe Le Inguz has the best coffee in the area, from cold to warm brews.
They've also got Italian sodas and various juices as well!
Read Also: 8 Best Cities in Thailand
Is Railay Beach Worth Visiting?
There is a reason Railay is getting more popular over the years and why there is currently development happening there.
Railay is unbelievably beautiful, and more tourists worldwide are learning about it. Personally speaking, it is the most beautiful place I visited in Thailand.
RELATED: Ao Nang or Railay Beach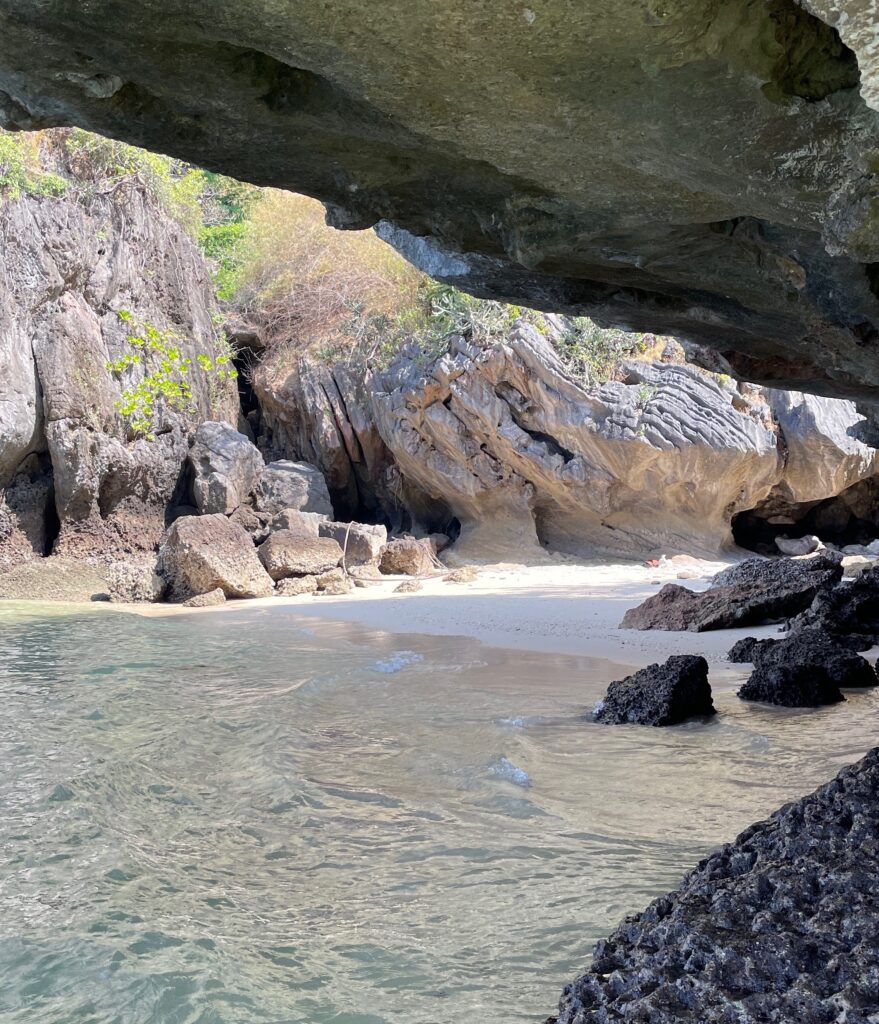 Besides the beautiful nature, my favorite thing about Railay is that it's the perfect place to unwind. If you're on vacation in Thailand, coming here is like taking a break from your vacation.
Railay very much reminded me of Isla Holbox, an island in Mexico. Holbox Island in Mexico only has gulf carts as transportation. Similar to Railay, where motor transportation is limited here.
Another place I'd highly recommend visiting in Thailand is the island of Koh Samui. It's perfect for couples, families, and solo travelers.
Things are simple here. Everything is close, no cars are around, not too much commotion. It's a perfect place to relax and unwind. Once you come to Railay, check out these Thailand Islands!
What to Pack for Railay Beach
Lastly, could we discuss what you need to pack to Railay?
Firstly you should know there are few shops here. There are 10/20 shops in the Railay area, primarily small convenience stores or clothing shops.
So don't expect to come here and find absolutely everything you may need. Here are some things you may want to consider having when visiting!
A Dry Bag – When you arrive by boat, you may sometimes have to go into the water and walk to the shore. You run the risk of getting any electronics or other things wet. This Dry Bag is perfect for protecting your items!
Waterproof Mobile Phone Case – When you're on excursions, you will more than likely want to take pictures when you're on the boat, but that also means your phone will get wet. This waterproof phone case will prevent that from happening!
Rain Jacket (if you're visiting during the rainy season) – Depending on the time you're visiting Thailand, most of Thailand is hit by rainy weather from May to October. Here is an ideal lightweight Columbia rain jacket for women and men.
Travel Insurance – You never know what may happen when visiting a foreign country; hospital visits in Thailand can add up—boat accidents, food poisoning, flight cancelations, etc. Don't take the risk!
Subscribe to Travel Hiatus!
Receive updates on my latest posts, insider travel tips & the best destination guides to your inbox!
Happy & Safe Travels
---
Planning Checklist
---
Disclaimer: Please note that some of the links shared in this article might be affiliate links; this means that at absolutely no extra cost to you, we will earn a small commission for any sales generated through this article and/or this website. We recommend products/services we've either used or researched thoroughly – Thank you for supporting us so we can continue to share helpful travel content!