Cenotes Casa Tortuga Tulum: Must Visit Tour
There are many cenotes in and around Tulum – but Cenotes Casa Tortuga is home to the best cenotes in Tulum.
If it's your first trip to Tulum, a must-do experience is to swim in one of the many cenotes here.
Cenotes are underground sinkholes formed by mother nature, full of fresh crystal spring water. The best way to cool off on a hot sunny afternoon in Mexico!
Casa Tortuga Tulum has four different cenotes for you to explore; there's a restaurant and beach club. You can spend the entire day there, which makes this cenote park the best cenote spot in Tulum!
Casa Tortuga Tulum Tour is perfect for those staying in Cancun, Playa Del Carmen, or anywhere along the Riviera Maya and would like to do an excursion to see some cenotes in Tulum!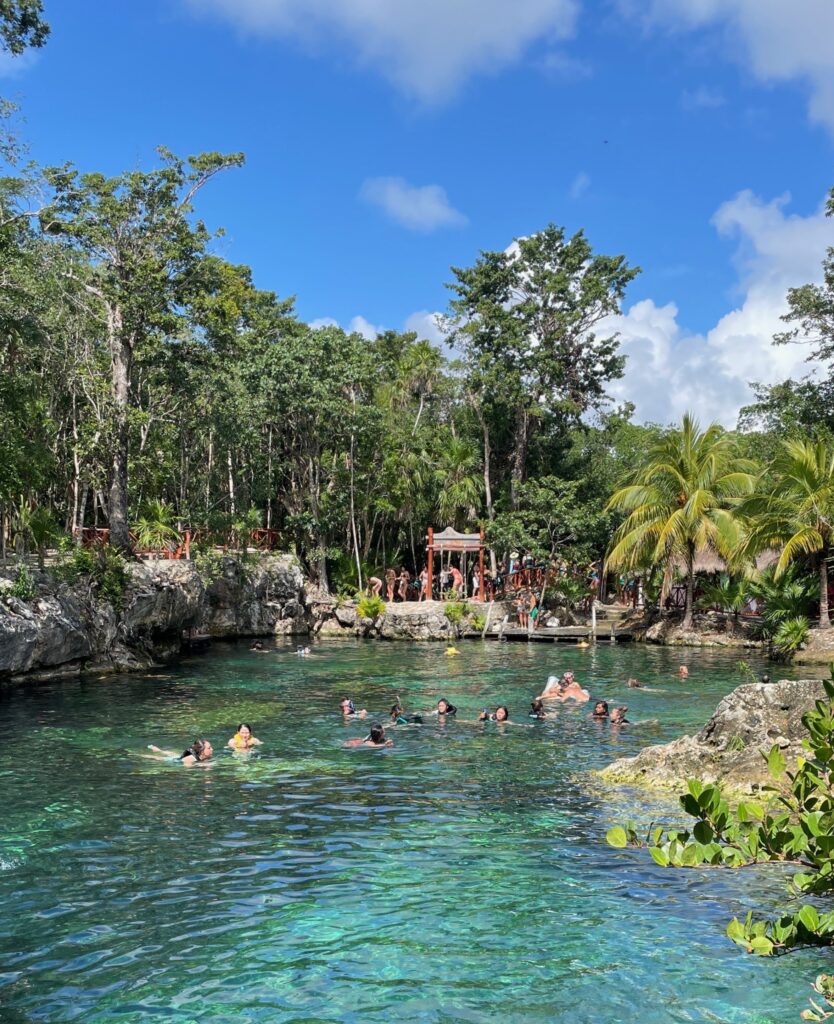 How to Get to Cenotes Casa Tortuga
If you're in Tulum, Akumal, Playa Del Carmen, or anywhere along the Riviera Maya coastline, here are three ways to get to Cenotes Casa Tortuga Tulum. – Google Map Location
From Tulum: Casa Tortuga is located 15 minutes North of Tulum on the main highway. Getting here is relatively easy if you're in Tulum. You can use any of the transportation methods mentioned below to get here!
From Playa Del Carmen, it's 45 minutes. For those staying in Playa Del Carmen and looking to visit, joining a tour is the quickest and best way to visit. Another way is taking a Collectivo heading south to Tulum and paying entrance at the door. I wouldn't recommend taking a taxi, they aren't cheap, and a tour would be more affordable.
From Cancun: it's 1 hour and 15 minutes. For those staying in Cancun looking to visit, joining a tour is the quickest and best way to visit. You could use a collectivo heading Tulum bound and tell the driver you're going to Casa Tortuga Cenotes. A taxi will be very costly from Cancun and not worth taking to get here.
Casa Tortuga Tulum entry fee is $35 US entry per person.
Casa Tortuga Tour: This is the easiest and most practical way to visit Casa Tortuga Cenotes. Transportation and tickets are included in the tour price. The tour picks up guests from all their hotels, no matter where they stay.
Drive: If you've rented a car, you can drive here; the cenote park is located right along the main highway
Collectivo (white van): This is a cheap way to get here; you can catch a collective van along the highway. For more info on how to do so, refer to this guide.
Taxi: The price will vary depending on where you're coming from. Not worth it, though; take a tour instead.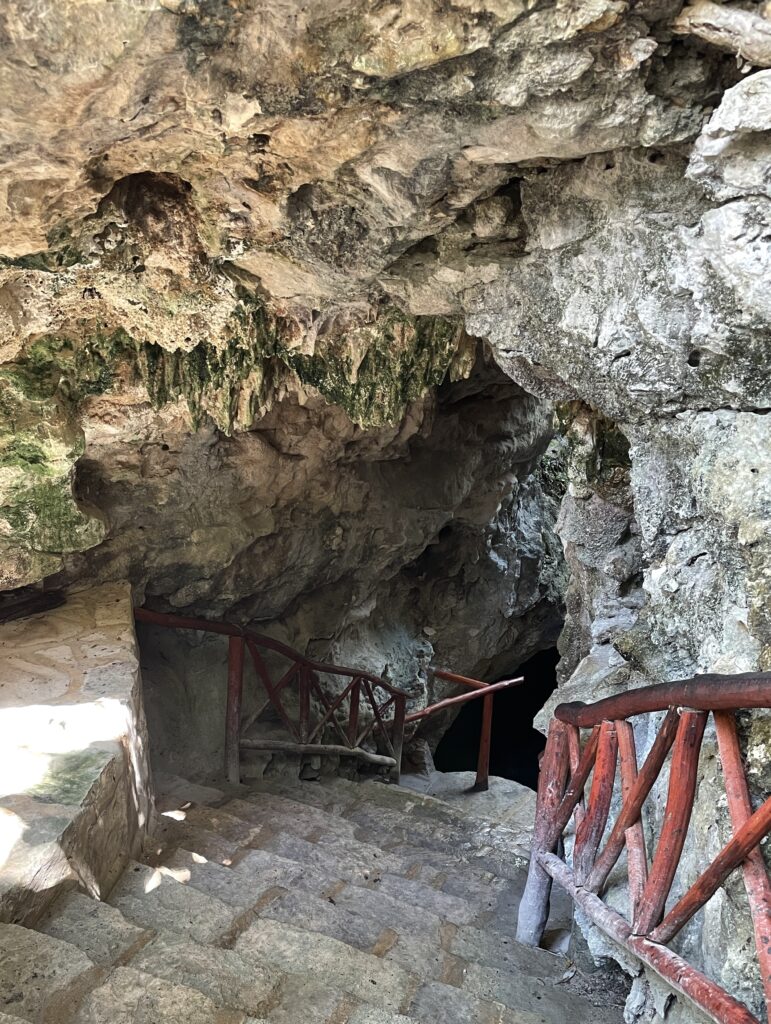 What to Expect at Cenotes Casa Tortuga Tulum
As you enter the cenote park, you will be greeted by staff who speak both Spanish and English.
There is a foyer lounge area with washrooms, WIFI, and a few foosball tables for guests to enjoy.
Lockers are located here also for you to rent and store your items since you will be in and out of the water.
The best part about Casa Tortuga is that it's the perfect combo of action-packed or relaxation.
Casa Tortuga Tulum Hours: Everyday 9:00 AM – 5:00 PM
Is it safe for children to swim in Casa Tortuga Cenote?
Cenote Tres Zapotes is the most suitable cenote for kids to swim in. Still, adults are recommended to keep a watchful eye on children.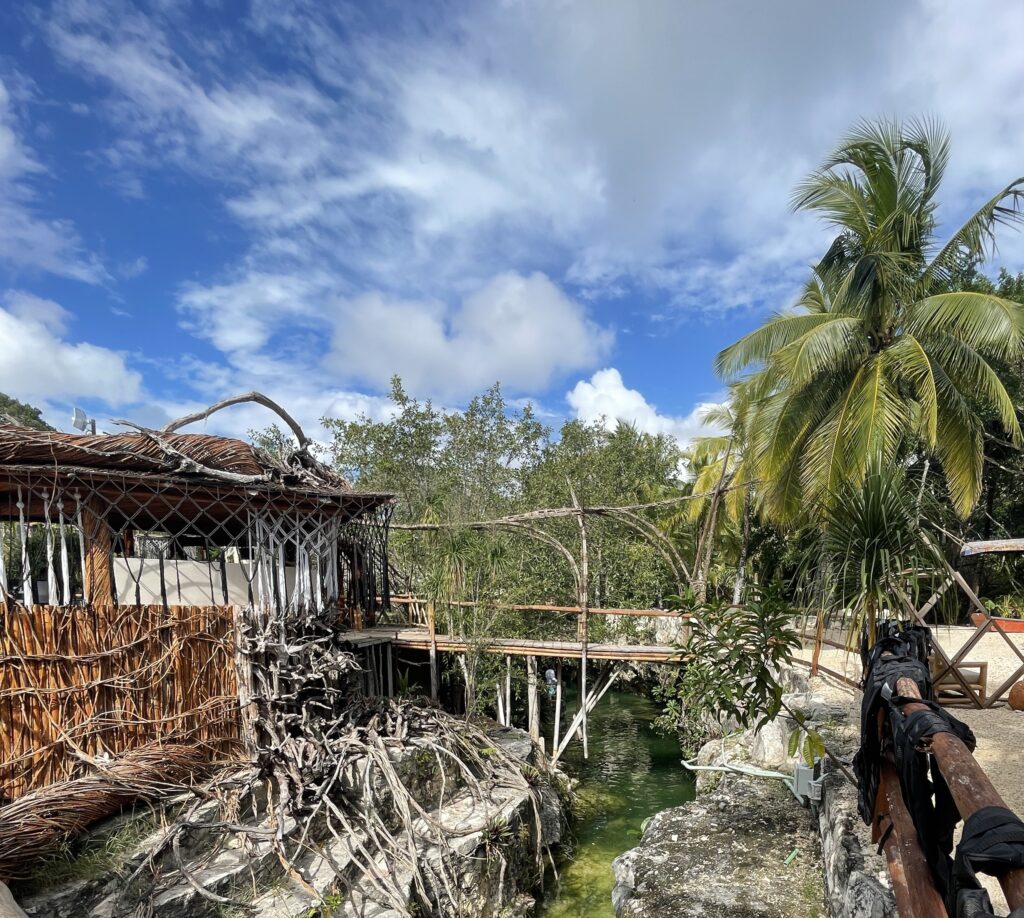 4 Casa Tortuga Cenotes
There are four different cenotes at Casa Tortuga Tulum. With Cenote Tres Zapotes being the main attraction here!
Cenote Wisho
This underground smaller cenote is located on the left as you enter the park; it has two different entrances. It's a bit cramped going in, so avoid slipping on the stairs!
Cenote Campana
Cenote Campana has crystal shades of blue water and looks a bit scary when you're about to enter it; as you swim below, you can see the cave formations underground.
Cenote Dorca
This cenote is large and has a few different cenotes connected to one another; walk around and explore the various formations!
Cenote Tres Zapotes
The main attraction at Casa Tortuga Tulum is Cenote Tres Zapotes, and for a good reason!
Cenote Tres Zapotes is a huge Open Cenote, meaning it looks like a big swimming pool; the only portion underground is the spring water.
You can jump into this cenote, swing from ropes into the water, swim with sea turtles, and more! – There's a swing there perfect for taking photos with the cenote in the background.
A bar here serves beverages, alcoholic drinks, and other snacks to enjoy as you swim.
Beach Club Cenote
While this isn't an official cenote at the park, it seems like one to me, and it was my favorite part of the ecological park. It's the perfect part of the park to have a few drinks, catch some sun rays and relax!
As you walk over the bridge into the middle of this beach club cenote, a two-floor restaurant serves food and drinks. This area of the park is unique, and there is nothing like it around Tulum!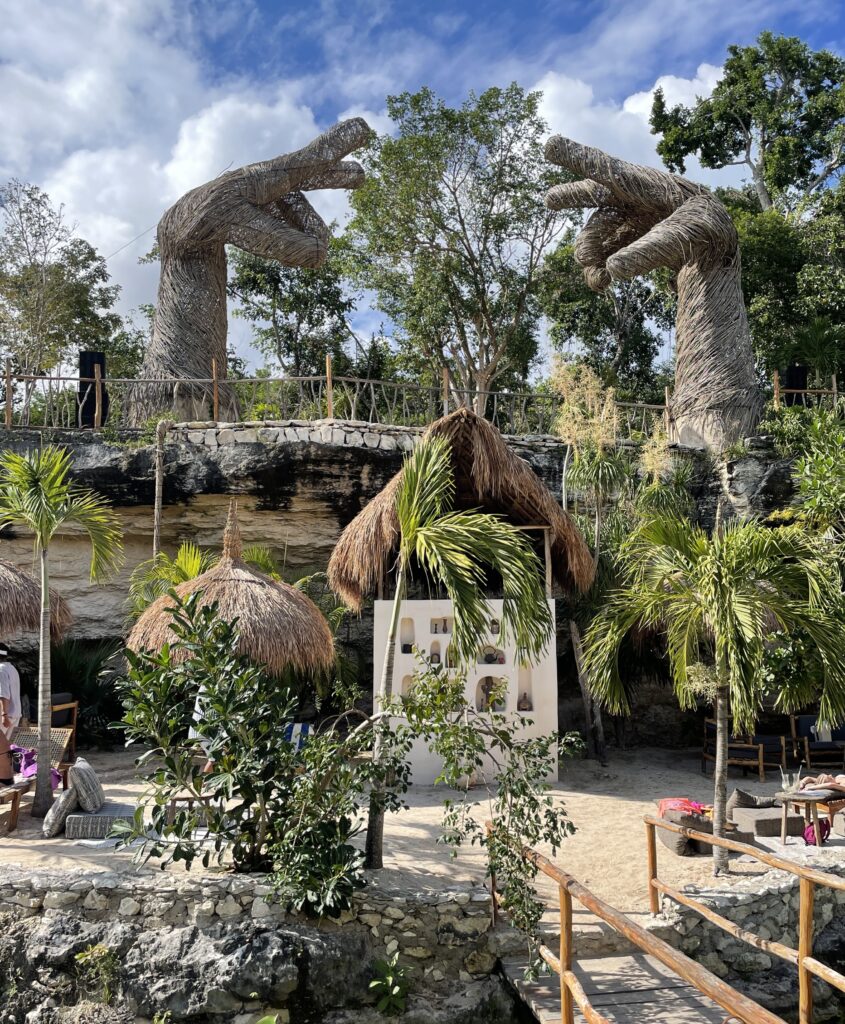 On one side, you will notice a resident DJ playing tunes and a small sand area with access to the water. The restaurant has various types of seating to kick back and relax, lounge chairs, sofas, and swing seats.
After speaking to the waitress, she stated they host events at night with lights; I could imagine what that looks like with the cenote looks at night with the lights and music playing!
I'm not sure why it's not part of the park or a next-door area, but we walked there, and I highly recommend visiting. If you need clarification, show the staff photo I've posted above!
Is Casa Tortuga Tulum Worth it?
It's worth visiting Casa Tortuga Tulum. I've been to most of the cenotes in Tulum, and while there are many beautiful cenotes, Casa Tortuga includes 4 unique cenotes to visit/swim in.
Most of the beautiful cenotes in Tulum will charge an entrance fee, and being that you get to see four amazing cenotes here, it's a great value!
For those staying in Cancun, Playa Del Carmen, or anywhere along the Riviera Maya and would like to see cenotes in Tulum. Casa Tortuga Tulum is a convenient way to see many cenotes in Tulum in one day.
Rather than coming to Tulum and visiting different cenotes by car and having to pay multiple entrance fees. You can take a Casa Tortuga Tour, come to the park, and enjoy the day walking around exploring different cenotes!
After visiting most of the cenotes in Tulum, I can guarantee that Casa Tortuga Cenotes Park is the best cenote experience!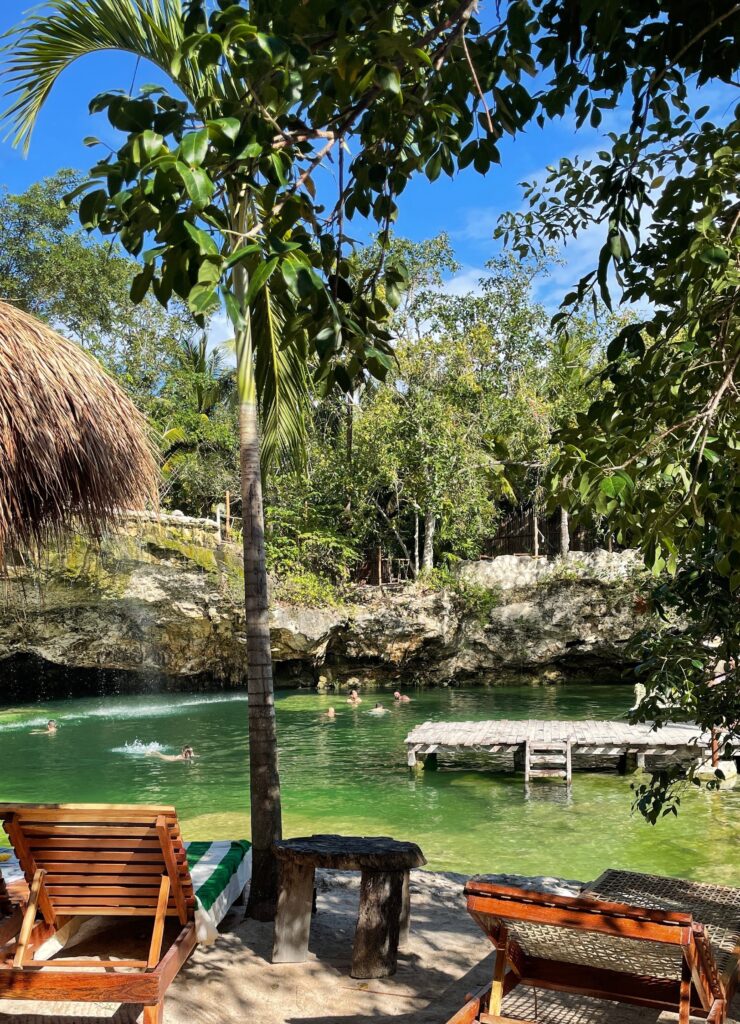 Other Cenotes in Tulum
While the cenotes are excellent at Casa Tortuga, for those who can't get enough and would like to visit some more cenotes.
Here are a few other popular Tulum cenotes you should consider visiting!
Big Cenote aka Gran Cenote
Two Eyes Cenote (Doj Ojos)
Cenote Calavera
View my Cenote guide for an in-depth guide about the best Cenotes in Tulum and other famous cenotes in the Yucatan!
What to Take with You – Visiting Casa Tortuga Cenotes
CASH: First and foremost, bring some cash! Mexico operates on cash; many places don't accept credit cards. Bring some cash to cover your ticket and drinks and lunch. Many Tulum cenotes are in remote areas, some have ATMs, but not all do. Better to be prepared
Well-Fitted Swimsuit: You will likely be jumping platforms, swinging on a rope like Tarzan, or ziplining into a cenote. When visiting Tulum cenotes, you want to ensure you're wearing a well-fitted swimsuit that will stay in place.
Fast Drying Towel: A towel is necessary, of course. But the best towel to bring is something made from microfibre, which drys quickly. You'll be in and out of cenotes frequently, so always having a dry towel is nice.
Sliders/Flip-Flops: Do not come with shoes. Or, if you do, bring sliders/flip-flops in your bag. You don't want to be barefoot walking everywhere.
Small Backpack/Bag: Bringing a small, lightweight backpack to put all your things in is recommended; there are lockers at some cenotes, but this isn't always the case
Thermal Water Bottle: You want to keep hydrated when visiting cenotes; bringing a thermal water bottle will allow you to keep your water cold. You can always purchase water there as well.
Action Camera: For those diving and looking to capture some footage, of course, you'll want to bring your GoPro with you to capture the picturesque underground caves of the cenotes
Hat: Not a bad idea to bring a hat since the Mexican sun can be aggressive at times, considering there's no sunscreen allowed at cenotes.
Casa Tortuga Tulum FAQs
How much is Casa Tortuga?
The entrance fee for Casa Tortuga Cenotes is $35 US.
How do I get to the cenotes in Casa Tortuga?
If you haven't decided to join a Casa Tortuga Tour, you can either take a taxi, drive there or take a collectivo to get to Casa Tortuga.
Where is Cenote Casa Tortuga Tulum?
Cenote Casa Tortuga is located along the main highway in the Riviera Maya. It's 15 minutes North of Tulum.
From Playa Del Carmen, it's a 45-minute drive South, and from Cancun, it's a 1 hour and 45-minute drive South.
Does Casa Tortuga have turtles?
Cenote Tres Zapotes is Casa Tortuga Park's cenote, with several sea turtles and tropical fish swimming in its water!
Can I go to Casa Tortuga Tulum on my own?
You can go to Casa Tortuga without taking a tour. Make your way there and pay the $35 US entry fee at the entrance.
Subscribe to Travel Hiatus!
Receive updates on my latest posts, insider travel tips & the best destination guides to your inbox!
Happy & Safe Travels
---
Planning Checklist
---
Disclaimer: Please note that some of the links shared in this article might be affiliate links; this means that at absolutely no extra cost to you, we will earn a small commission for any sales generated through this article and/or this website. We recommend products/services we've either used or researched thoroughly – Thank you for supporting us so we can continue to share helpful travel content!