7 Best Tulum Cenotes You Should Visit
Are you visiting Tulum soon and looking for the best Tulum cenotes? This cenote guide covers the best cenotes in and around Tulum, how to get to all the different cenotes and other essential information you should know before visiting!
There are cenotes worldwide, but Mexico is famous for its cenotes. You can find cenotes in many cities throughout Mexico. There are over 6000 cenotes in the Yucatan Peninsula alone, and I'm sure there are more, but they haven't been discovered yet. But Tulum cenotes are known to be some of the best in the country.
These hidden treasures are perfect for swimming, cliff jumping, snorkeling, and scuba diving.
TULUM CENOTES PRICE $: You must pay a fee to get into most cenotes, especially the most popular cenotes in Tulum. This is standard for cenotes all across Mexico. Entry Fees vary between $10-40 USD
But there are many cenotes you can go to for FREE, yes for FREE. These are smaller cenotes and aren't as popular. But they're still wonderful and refreshing to swim in.
About Tulum Cenotes & Types of Cenotes in Mexico
Nothing is more relaxing on a sunny day than taking a dip in a cenote's emerald waters; the water is calm, and some cenotes tend to provide shade.
As I said, Tulum has many incredible cenotes to choose from, but some MUST-see cenotes aren't in Tulum. Such as Cenote Suytun and Cenote lk-Kil. Which I would highly recommend visiting as well. Could you make sure you add those to your Yucatan itinerary as well?
Don't wear or bring Sunscreen; this is a strict rule for ALL cenotes. Sunscreen contains damaging chemicals for Tulum cenotes.
Cenotes are sinkholes full of fresh water from rainfall formed within many years. The deep water cenotes cap salt water coming from the ocean. Cenotes form when cave ceilings fall to reveal amazing turquoise pools.
The word "cenote" is derived from the Mayan term d'zonot, which means "sacred well."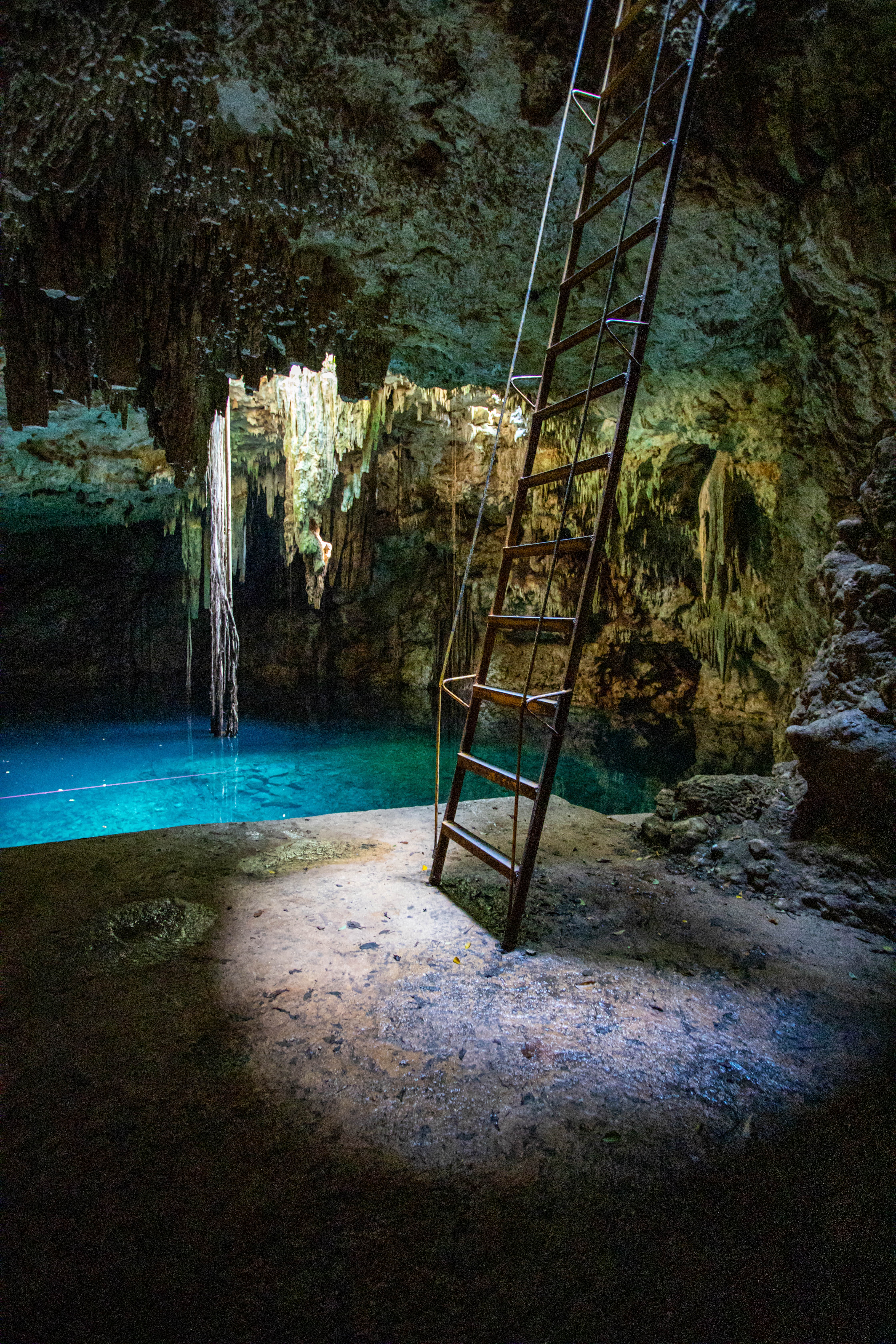 Mayans believed these sacred wells to be their entrance to the "underworld" and to connect them with the gods. Cenotes were the only water source for Mayans in the dense Yucatan jungle.
The water from cenotes played a critical role in the growth of the Mayan civilization. I recommend the Tulum Archaelogical site tour!
Another thing you MUST do in Tulum is visit the many Mayan Ruins. A beautiful part of history you shouldn't skip.
Cave Cenotes: these conveniently dark underground freshwater cenotes are located underground, offering very little light. These types of cenotes are ideal for cave diving, exploring with a light torch, or staying out of the hot Mexican sun for a bit as you cool down
Open Cenotes: The most common types of cenotes you'll find in Tulum are open cenotes. These cenotes are the remains of a cave, which has been flooded by rainwater to create a freshwater pool. Open cenotes are great for exploring
Semi-Open Cenotes: semi-open cenotes, as their name implies, are underground cave systems that have large exposed holes in their roofs. However, they can also be found in open areas. These types of cenotes are a great place to explore and take photos. The contrast between the sunlight and the roof can make for some stunning shots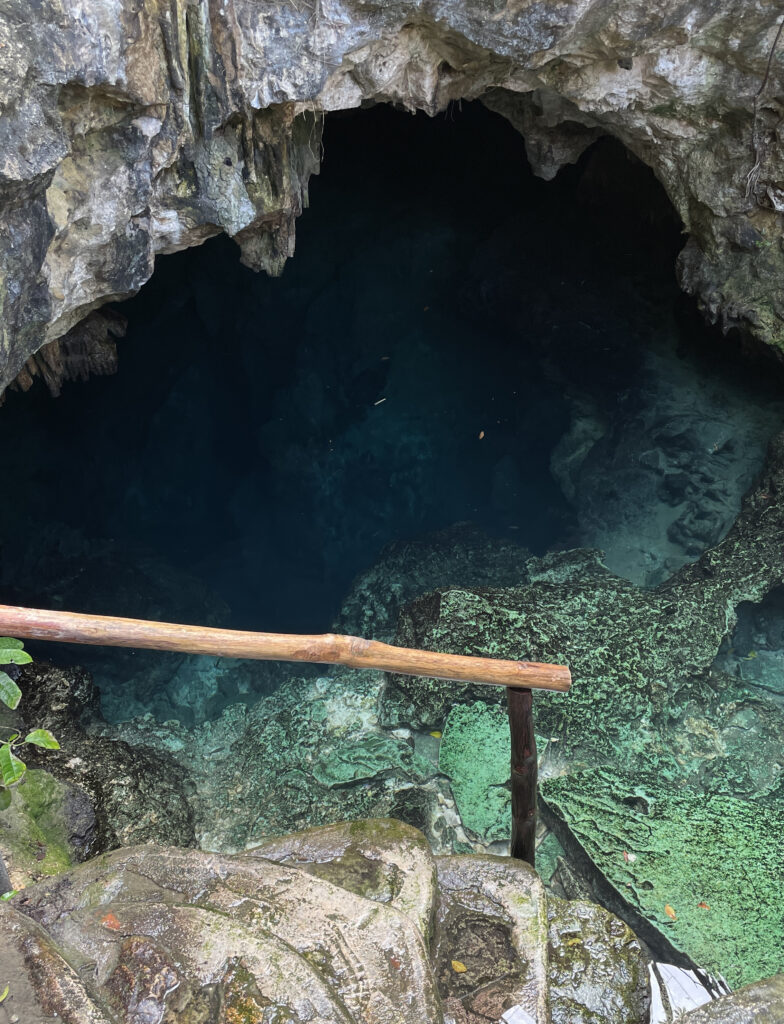 How to Get to Tulum Cenotes
Renting a car is the easiest way to get to cenotes in Tulum. The best part about renting a car is exploring cenotes at your own pace and possibly making stops at other Tulum cenotes along the way. Very ideal if you're going with a group of 2-4 people.
But of course, not everyone will want to rent a car; if you're on vacation, you may not want to drive. Besides, you and your friends may want to day drink together as you explore cenotes!
Taxi is your second best option to get to a cenote, but make sure you ask for the price in Pesos first. Also, try asking for more than one taxi; taxis love to add a "tourist price," especially if you don't speak Spanish!
TAXI ADVICE: If you find a taxi and ask him to take you to a specific cenote, but then he insists he'll take you to another much better one. Please don't listen to them. Taxi drivers recommend places to make a commission. Once they drop you off at this "recommend Tulum cenotes," they will get paid a commission for bringing you there.
Another option for those looking for a more organized experience is going on a cenote tour. These tours will take you to a cenote/s and sometimes will include transportation, cenote entry fees, and sometimes even lunch!
For those with a large group of people, I highly recommend a Tulum Cenotes tour.
Many tours will take you to cenotes in the popular Yucatan cities of Tulum, Cancun, and Playa del Carmen. Below I will outline the best cenote tours to look into; I will include cenote tours in Tulum mainly but also elsewhere.
READ ALSO: 9 Best Tulum Beach Clubs
Casa Tortuga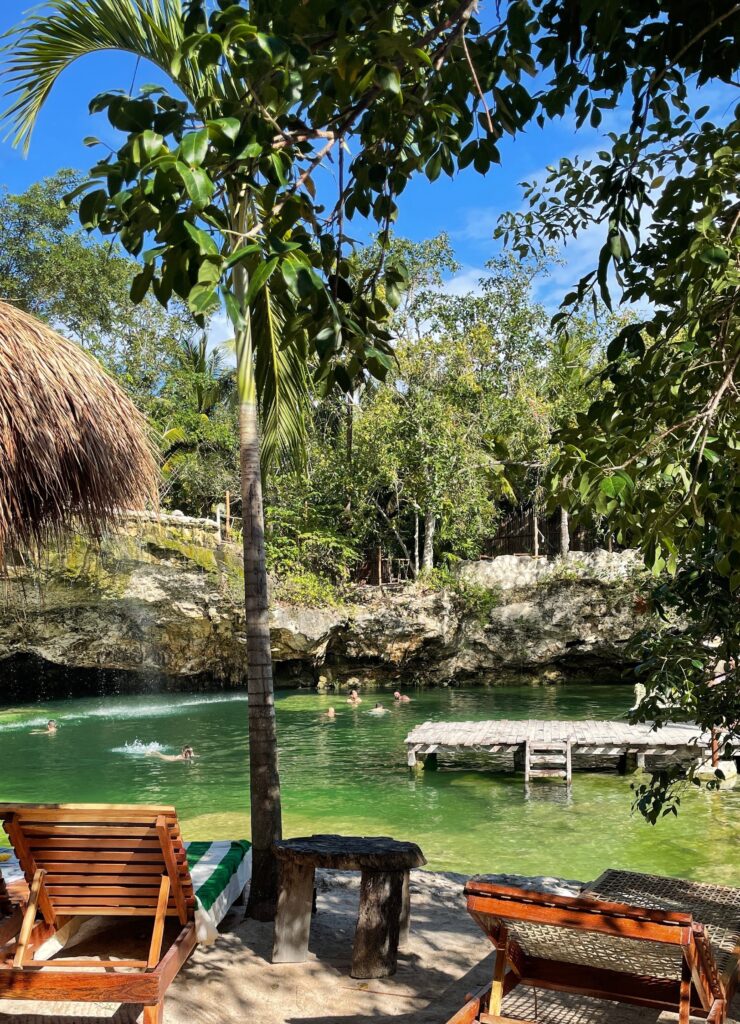 I've yet to see Casa Tortuga as first place on any Tulum Cenotes guide online, and I don't understand why. I've been to several cenotes all over Mexico, but cenotes Casa Tortugas was my favorite.
It's ideal for those going to a cenote for the first time. The reason is there are 5 Tulum cenotes here for you to discover.
The entry fee is $30 USD and includes five unique cenotes! My favorite is the cenote with a beach club inside of it. Perfect for having a drink and relaxing after visiting all the cenotes!
As you enter the cenote park, there's an outside lobby-like area with foosball tables and seating. The first cenote on the left is a small cave cenote entirely underground with little to no light. The second cenote located on the left is a semi-open cenote.
The third cenote in the park is a vast open cenote, a magical earth-made pool. As you enter, there's a mini bar for you to enjoy drinks as you take a dip for a swim. This is the most popular cenote here for swimming because of how big and circular it is (I'm referring to the first photo in this article).
Book Casa Tortuga 4 Cenote Tour
Last but not least is the cenote with a daytime club/restaurant inside it. Yes, you read that right .. this two-floor cenote has a beach club inside it! It's incredible and a sight to see, I went during the daytime, but the waitress let us know they also have events at night.
Big Cenote aka Gran Cenote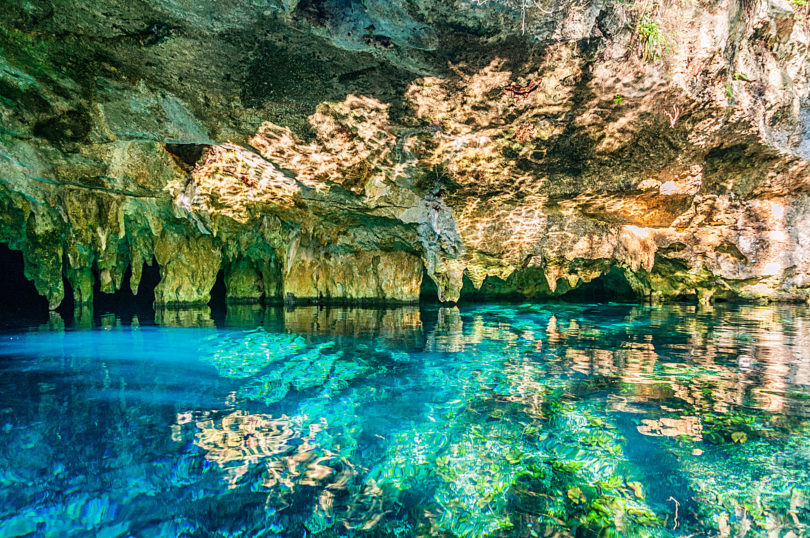 Gran Cenote is possibly the most well-known out of all the Tulum cenotes; it's part of the Sac-Aktun system, the most extensive underwater cave system in the world. Arguably Gran Cenote is one of the most beautiful cenotes in Tulum; this semi-open cenote features cave swim-through and partially collapsed areas.
The water at this cenote is beautiful; it's a brilliant fluorescent blue, crystal-clear color. Gran cenote is ideal for swimming, snorkeling, and stunning vacation photos!
The downside to this cenote is that it is very well known and tends to be very crowded—another reason why Casa Tortuga is my personal favorite cenote spot. Life jackets at Gran Cenote are mandatory; you must wear one. This can be unpleasant if you prefer to explore deeper into the caves.
To get to this cenote, you can either make your way there by taxi or book the Triple Tulum Cenotes Tour, which includes transportation to Gran Cenote and two others.
Two Eyes Cenote (Dos Ojos)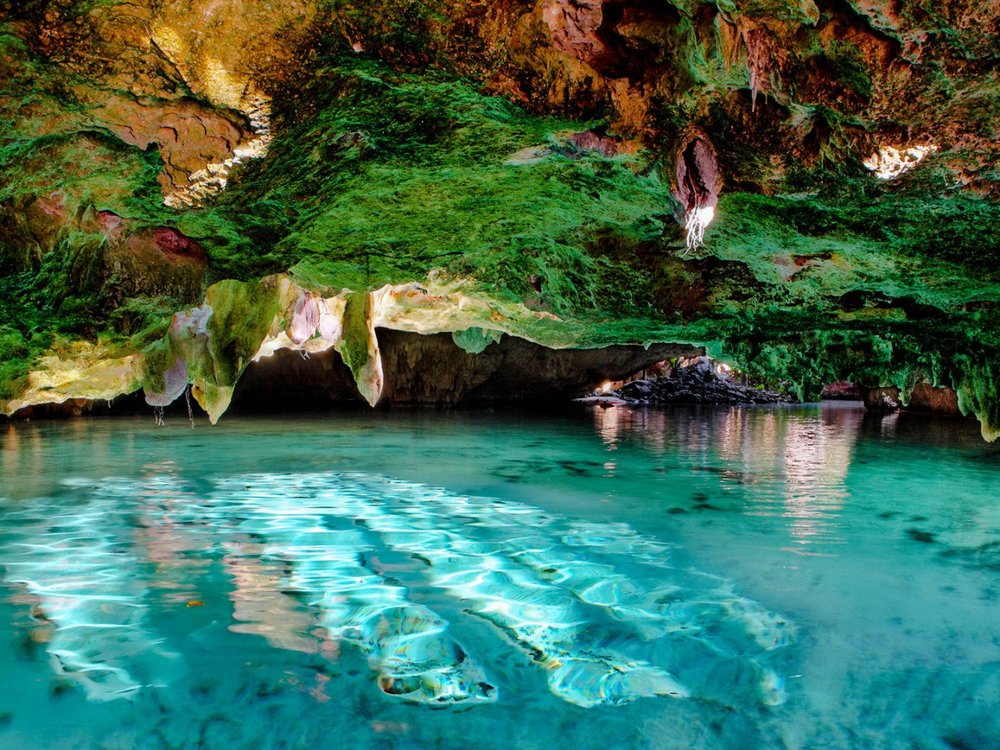 Two Eyes cenote, aka Dos Ojos cenote, is one of Tulum's best diving cenotes. This cenote isn't exactly located in the central area of Tulum; it's a bit of a drive. But it's worth it if you're looking to dive and go for a swim. It has two sections referred to as "two eyes," great for snorkeling and diving.
For those who enjoy diving, this is a cenote you'll want to visit. I highly recommend this cenote. The underwater cave area is quite picturesque, and the water is crystal clear.
You can look straight down and see the bottom of the cenote; that's how clear it is! One of the many reasons Two Eyes cenotes is one of my favorite Tulum cenotes.
Book Dos Ojos Cenote Private Tour
Cenote Dos Ojos is a beautiful cenote with a renowned reputation. Diving at this cenote is popular, so it can get busy sometimes, so get there early if you'd like to have a less crowded swim.
You do have to wear a life jacket here; it is mandatory. This isn't the case for all cenotes, though.
Cenote Zacil-Ha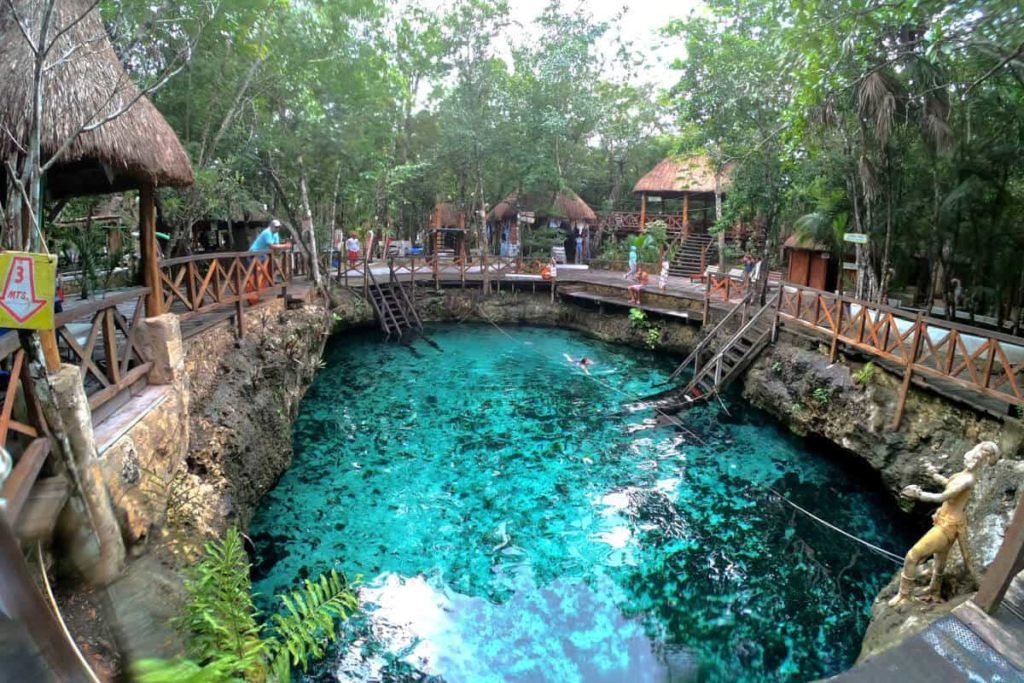 As much as you'd like to go to the popular cenotes, nothing beats an empty cenote at the end of the day. It's nice to be there along with only a few other tourists. But being able to swim at a cenote with not too many people there means you'll have more room to swim and take pictures without a tourist in the background!
This cenote is popular amongst locals; you can find it on the North side of Tulum, just off of Coba. It's also next to Car Wash Cenote, an excellent cenote for diving.
It is about the same size as a 20-meter swimming lane. It is, however, quite deep and has a zip line. You'll also find a small restaurant/snack bar beside it, where you can get food and even a cold drink!
Cenote Calavera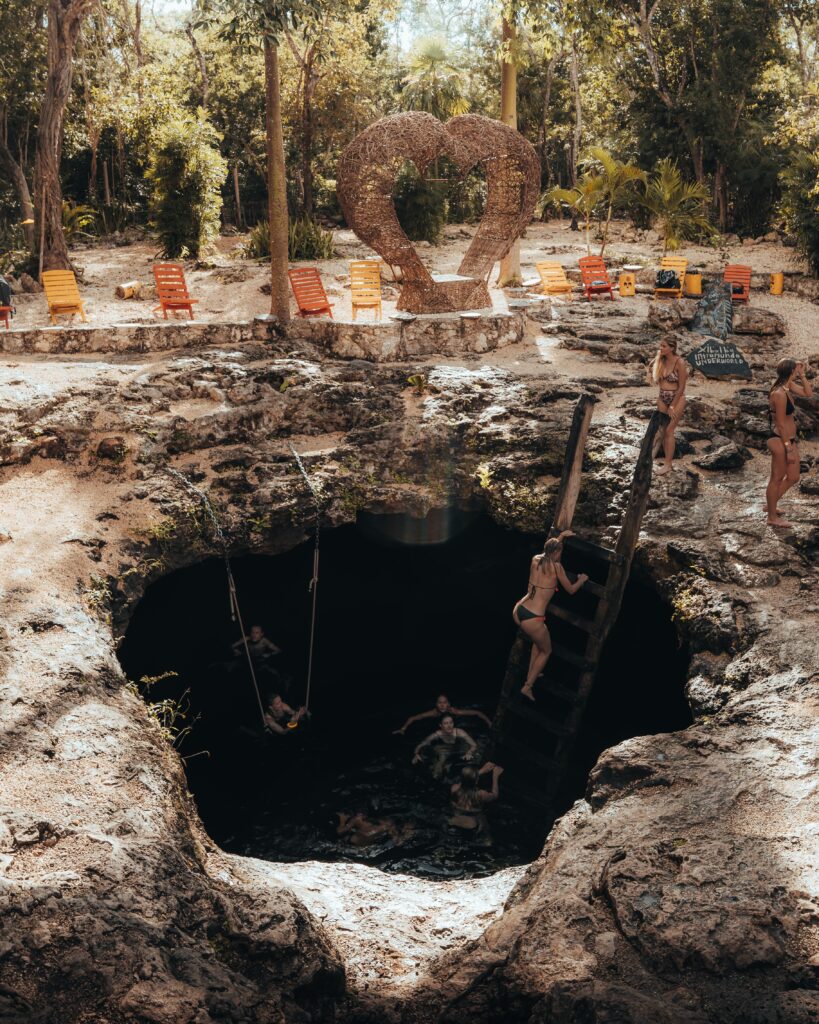 The entry of this cenote is unique; it looks like a dark black hole when you're there looking into it. Cenote Calavera is close to Tulum Pueblo, the main road in Tulum that runs horizontally through the city.
This cenote can be found just before Gran Cenote, so you can conveniently visit both as you're on the way to Gran Cenote.
Cenote Calavera translates to "skull Cenote" in Spanish. However, the nickname of this cenote is the Temple of Doom Cenote. The reason for this horror-like name is from an ancient skull of a human found at the bottom of the cenote!
Who doesn't love a grim little story? Not to worry, nothing is intimidating about this cenote anymore. This cenote is semi-open and offers cliff jumping, a wooden swing for you to ride on, and steps that lead into the deep, clear waters.
Highly recommend this cenote if you're going to Gran Cenote; as I said .. it's on the way. So might as give it a visit!
Cenote Azul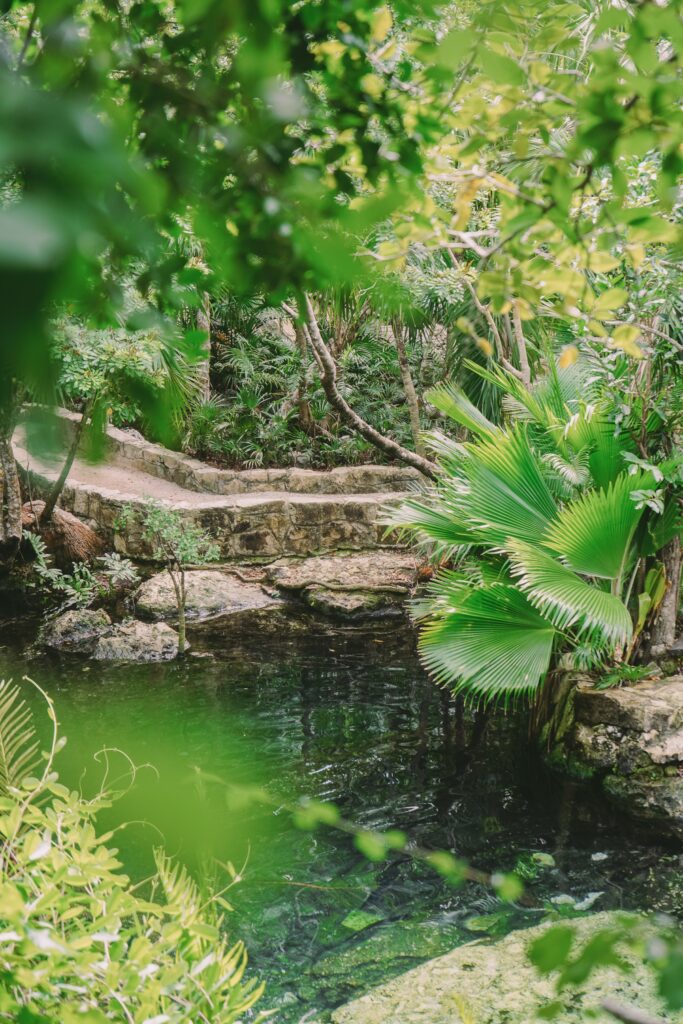 One of the most popular cenotes in the Yucatan Peninsula is Cenote Azul. The cenote is "L-Shaped," and the water is crystal clear here. Locals have told a friend of mine who's lived in Mexico for years that Cenote Azul has the most transparent water in the country.
Unfortunately, this cenote isn't precisely in Tulum, but it's worth the trip. Remember, Tulum isn't that big, so making a day trip out of Tulum is never a bad idea.
It's approximately a 30-minute drive away, but conveniently it's located on the main highway halfway between Tulum and Playa Del Carmen.
Two Large pools are available here that are perfect for swimming. You can also spot freshwater turtles and fish if you bring your snorkel.
If you plan on going to the cenote, I advise you to make a day trip out of it. Or, instead, book accommodations in Playa del Carmen for a night or two. And then, on the way back to Tulum from Playa Del Carmen, you can visit Cenote Azul!
Casa Cenote (CENOTE MANATI)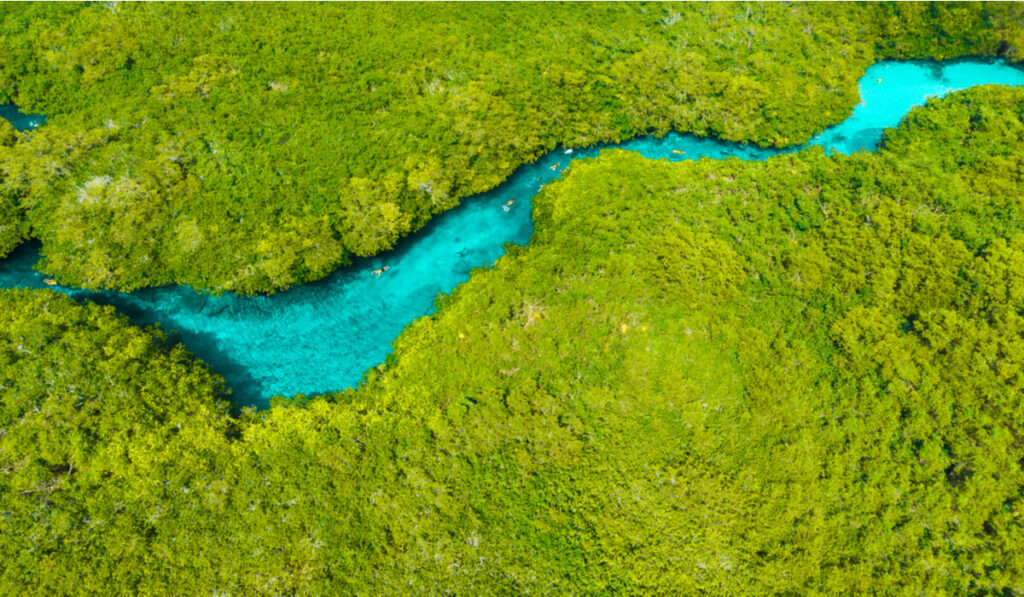 Casa Cenote Tulum, an open cenote nestled between the jungle and white-sand beaches, boasts stunning turquoise water!
This cenote is located in Tusayan, a luxury development just outside the town. It's on the main highway to Playa Del Carmen.
You can either jump into the deep end of the canyon or climb up to do cliff jumping. Casa Cenote is a popular spot for scuba diving. It's not too deep and wide, so it's great for beginner divers. The water is vivid blue with lush greens around the cenote.
Book Cenote Triple Adventure in Tulum (This tour includes Casa Cenote & Gran Cenote, which I mentioned earlier)
Make this cenote a stop along with Cenote Azul as you spend a weekend in Playa Del Carmen.
Tulum Cenotes for Diving
We each have reasons for visiting cenotes in Tulum; some want to see what Mexico is known for. Others are fascinated by diving and seeing underwater caves and creatures.
Those who take diving seriously and would like to go to Tulum cenotes strictly for diving. Here's your list of recommendations!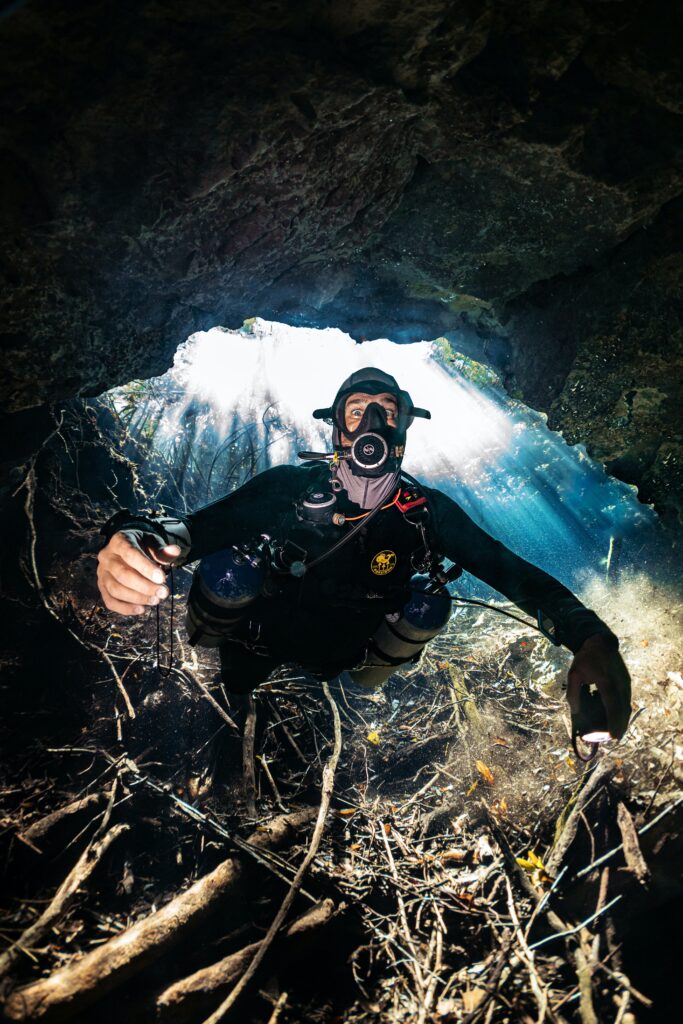 Casa Cenote (CENOTE MANATI TULUM)
TajMe Ha
Car Wash Cenote (next to Cenote Zacil-Ha)
Two Tigers Cenote (Cenote Dos Ojos)
Book a 2 Cenote Diving Tour at Two Tigers Cenote (Dos Ojos Cenote)
For those who love to scuba dive and snorkel, I recommend visiting Isla Cozumel; it's home to the second-largest barrier reef in the world!
Other Must-See Cenotes in Mexico
Unfortunately, these aren't cenotes located in Tulum, but these cenotes are a must-see, and you most certainly should make an effort to see them!
All three cenotes listed below are close to places you'd like to see, so making a day trip to any of these cenotes is worth it. And these cenotes aren't too far from Tulum, so you can plan on visiting them. Tulum cenotes are beautiful, but venture out and see others!
Cenote Suytun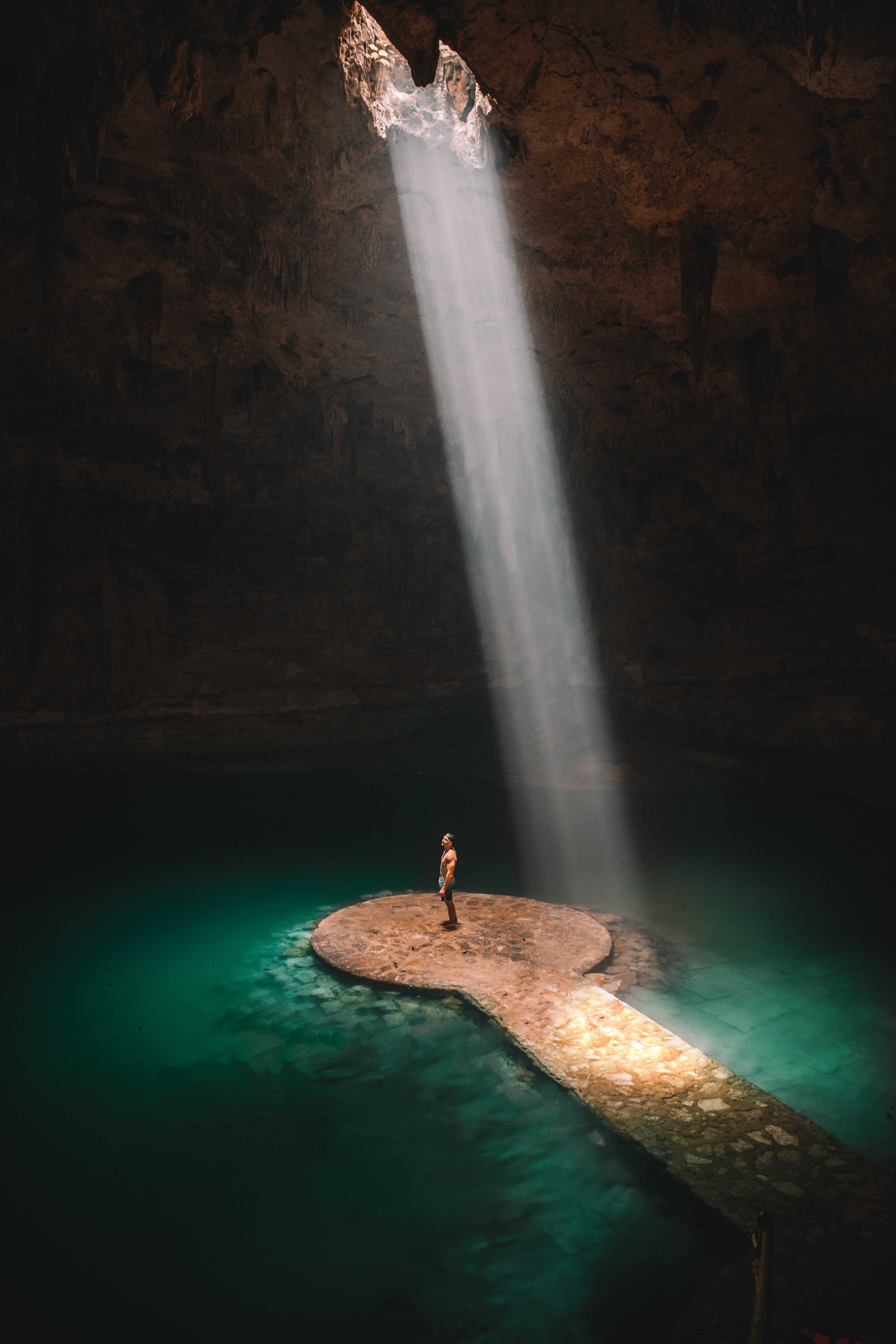 You've likely seen this cenote on Instagram or Pinterest and thought to yourself, "Where in the world is that? I must go".
Cenote Suytun has got to be one of the most beautiful cenotes in Mexico.
The downside is that so many people are taking Instagram photos, but you can't blame them! Once you go, you'll do just that, be prepared to wait in line to get the "famous Cenote Suytun shot."
The cenote is deep underground and requires you to climb a set of concrete steps to get there.
You'll find a large cavern and a concrete path that leads out to the shallow water once you have arrived. This cenote is not the best for exploring and swimming.
Cenote Suytun is approximately 90 minutes from central Tulum, located in Valladolid. It's a few minutes from the world-famous Chichen-Itza, so make a day trip to both!
Cenote Ik-Kil (Near Chichen-Itza)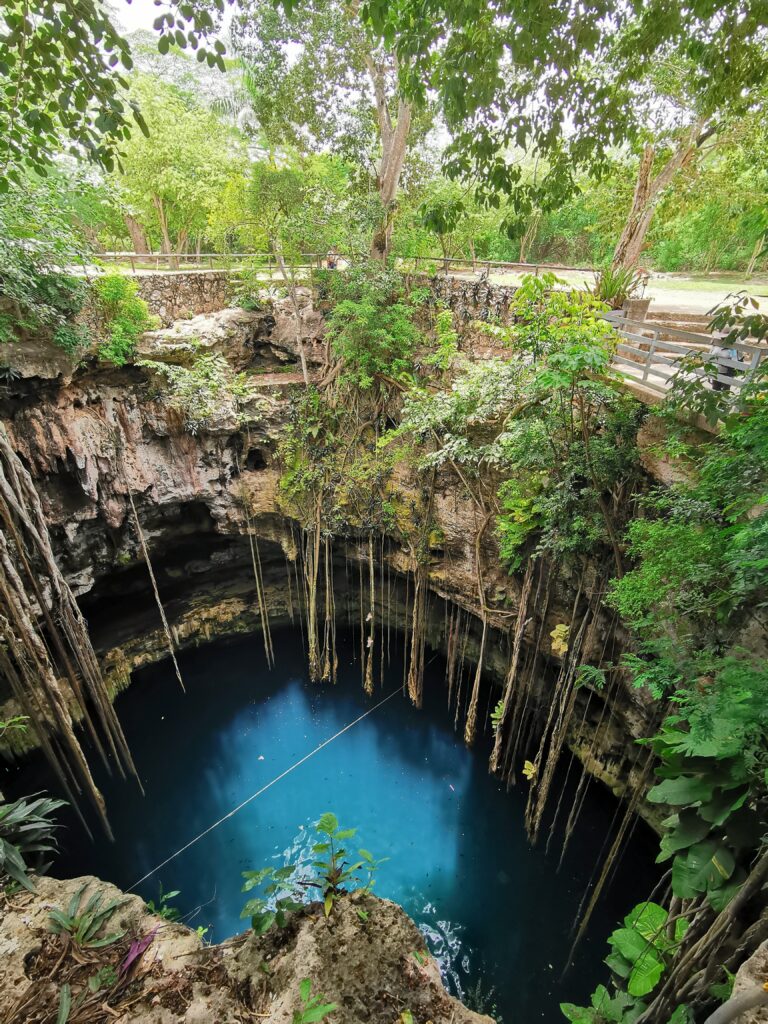 This cenote is extremely busy and makes sense while it's close to Chichen Itza. It's a beautiful cenote that I recommend you check out, and the fact it's close to Chichen Itza gives you an excuse to visit it!
Imagine a massive crater falling into a deep sinkhole. The water's edge is covered in vines and green jungle flora hanging from the lip. This cenote looks like a backdrop for a Tarzan movie!
BOOK a Cenote Ik-Kil and Chichen-Itza Tour! (from Tulum)
Rio Secreto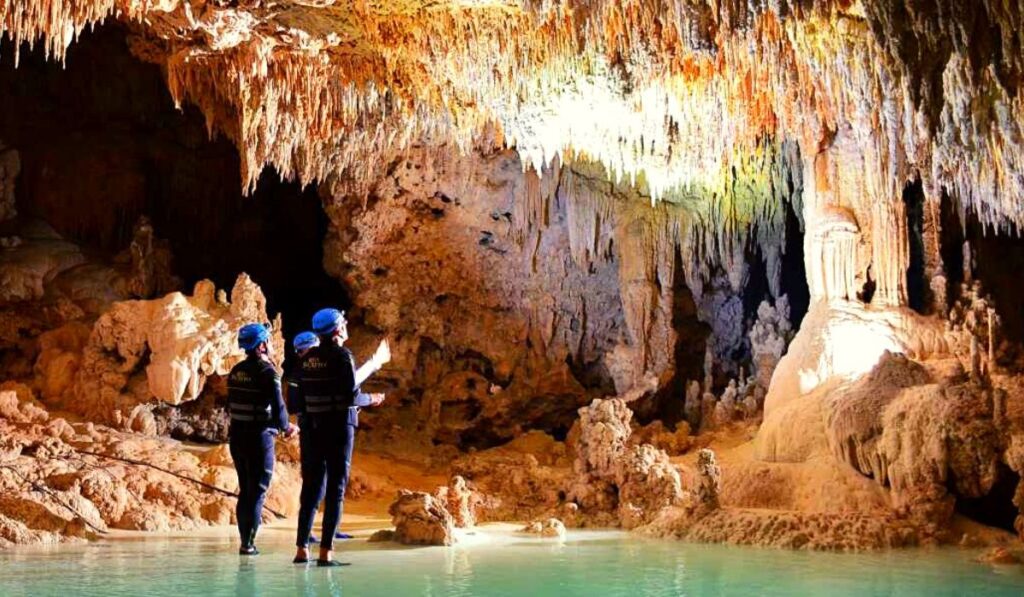 One of the most picturesque cenotes in Mexico is Rio Secreto; the underground cave with minimal light coming in is a sight to see.
This cenote is famous because it's been featured in National Geographic for its beauty. I strongly recommend visiting this cenote, especially if you're visiting Playa Del Carmen. Some consider it the best cenote in Playa del Carmen.
This cenote is approximately 50 mins away from Tulum on the highway toward Playa Del Carmen. If you plan a day trip there, you'll be roughly 10 minutes away from downtown Playa Del Carmen.
Tulum Cenotes or Cancun Cenotes
I want to address this because many go to Cancun and expect to see cenotes but are quickly disappointed when they find out there are none.
Cancun is, after all, the most popular vacation destination in Mexico; many visit it, and some don't bother leaving the city when visiting it.
Another place to consider visiting is the Bacalar Lagoon, a hidden gem only 2.5 hours from Tulum!
Tulum cenotes are the best in the country; there's nothing to see in Cancun cenote-wise. Despite what your travel agent or hotel may say, the cenotes they will guide you to are close to Playa Del Carmen, Tulum, or North of Tulum.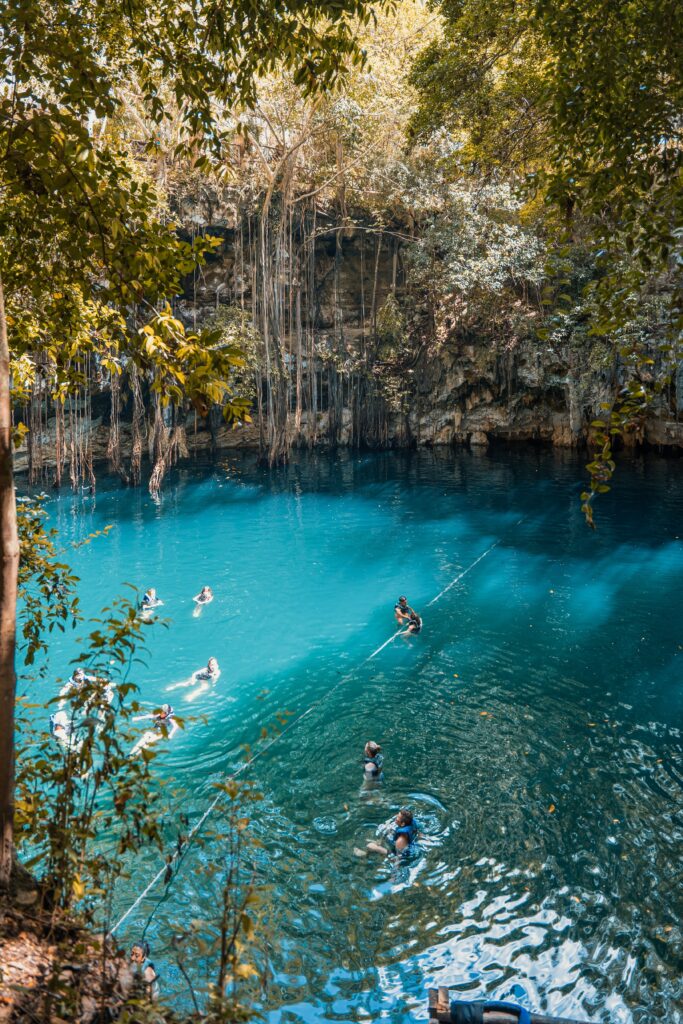 So if you're planning a holiday in Cancun or Isla Mujeres and want to check out some of the most beautiful cenotes, Mexico has to offer.
Make plans to take a day trip to Playa Del Carmen to check out some cenotes, roughly an hour away from Cancun. Or head to see incredible cenotes. Cancun to Tulum is a 2-hour drive, and Cancun to Chichen Itza is a 3-hour drive.
Now that you have your list of the best Tulum cenotes, you'll need a place to stay. These are the 5 Best Tulum Resorts we recommend you check out. For those looking for a hostel recommendation, Mayan Monkey is the best!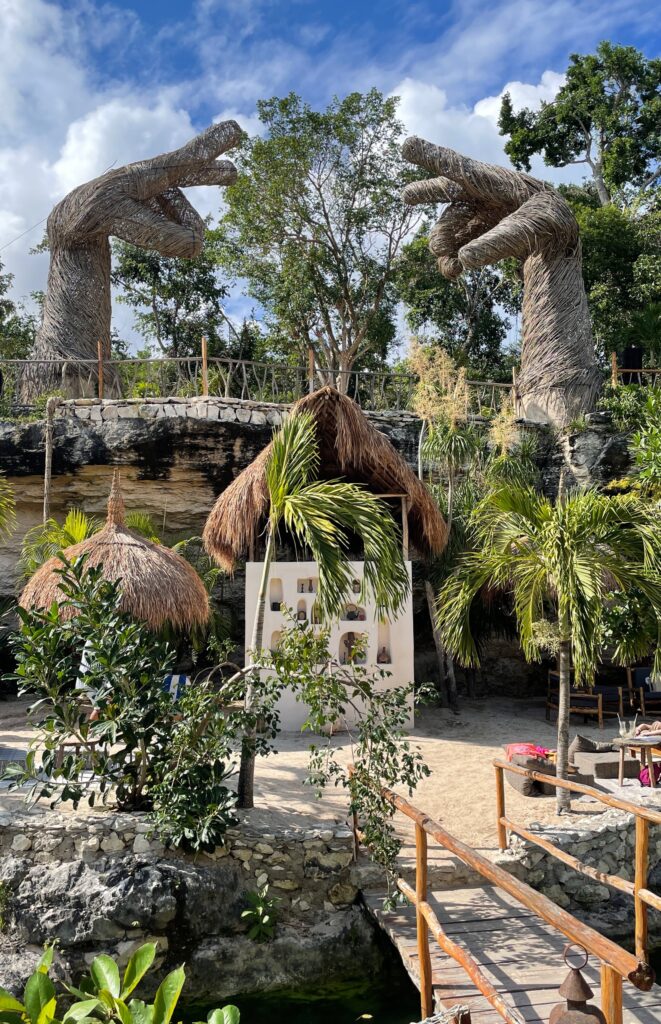 What to Take with You – When Visiting Tulum Cenotes
Before I share a quick checklist of things, I'd recommend you bring with you when visiting Tulum cenotes and any cenote. Let me know if I've missed a must-visit cenote in Tulum, and comment below!
CASH: First and foremost, bring some cash! Mexico operates on cash; many places don't accept credit cards. Bring some cash to cover your ticket and drinks and lunch. Many Tulum cenotes are in remote areas, some have ATMs, but not all do. Better to be prepared
Well-Fitted Swimsuit: You will likely be jumping platforms, swinging on a rope like Tarzan, or ziplining into a cenote. When visiting Tulum cenotes, you want to ensure you're wearing a well-fitted swimsuit that will stay in place.
Fast Drying Towel: A towel is necessary, of course. But the best towel to bring is something made from microfibre, which drys quickly. You'll be in and out of cenotes frequently, so always having a dry towel is nice.
Sliders/Flip-Flops: Do not come with shoes. Or, if you do, bring sliders/flip-flops in your bag. You don't want to be barefoot walking everywhere.
Small Backpack/Bag: Bringing a small, lightweight backpack to put all your things in is recommended; there are lockers at some cenotes, but this isn't always the case
Thermal Water Bottle: You want to keep hydrated when visiting cenotes; bringing a thermal water bottle will allow you to keep your water cold. You can always purchase water there as well.
Action Camera: For those diving and looking to capture some footage, of course, you'll want to bring your GoPro with you to capture the picturesque underground caves of the cenotes
Hat: Not a bad idea to bring a hat since the Mexican sun can be aggressive at times, considering there's no sunscreen allowed at cenotes.
Subscribe to Travel Hiatus!
Receive updates on my latest posts, insider travel tips & the best destination guides to your inbox!
Happy & Safe Travels
---
Planning Checklist
---
Disclaimer: Please note that some of the links shared in this article might be affiliate links; this means that at absolutely no extra cost to you, we will earn a small commission for any sales generated through this article and/or this website. We recommend products/services we've either used or researched thoroughly – Thank you for supporting us so we can continue to share helpful travel content!