How To Get Around Tulum: 5 Best Ways
Curious how to get around Tulum Mexico? You've found the perfect guide!
Having been to Tulum many times over the years and with a few friends who're locals in Tulum, I know my way around Tulum well.
In this complete Tulum transportation guide, I will share with you the best ways to get around Tulum, a few safety tips, things to look out for, and how to get to excursions within Tulum.
Buses, taxis, biking around, and more, I will cover all forms of transportation in Tulum!
Getting around Tulum is not easy; I'll be honest with you, the roads need to be developed, and decent infrastructure isn't there, despite Tulum being such a famous place to visit.
Before we get into how to get around Tulum, you should familiarize yourself with the different areas in Tulum. Consider which area you'd like to stay in Tulum.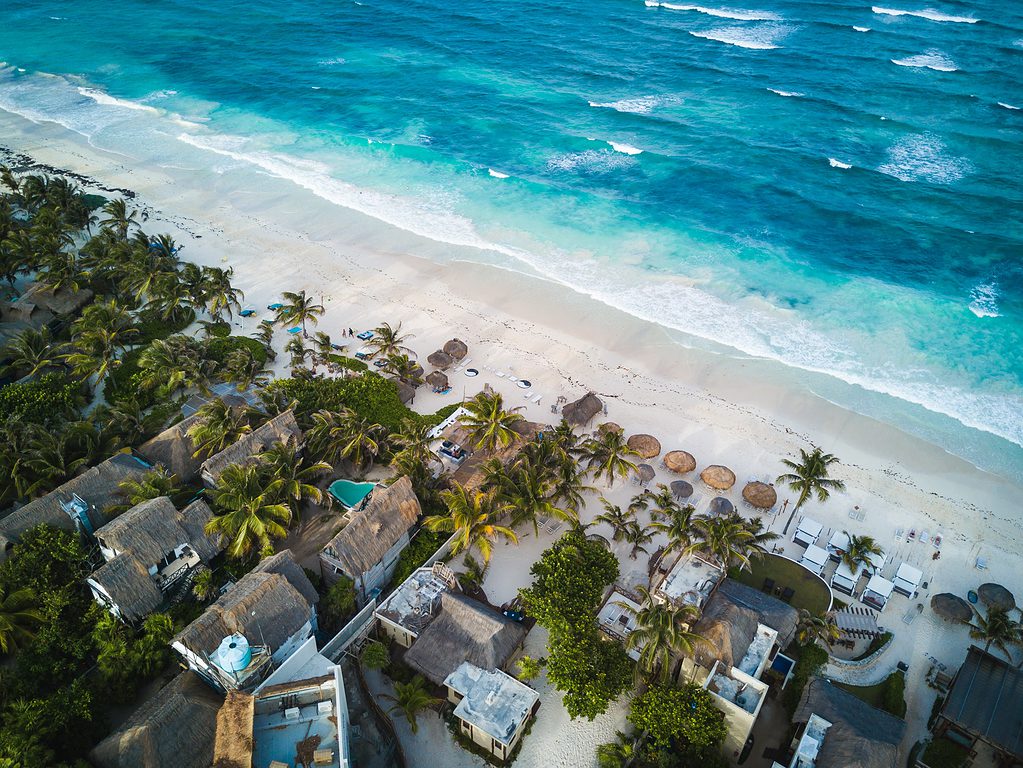 Tulum Areas
Tulum Beach: For those who want to be close to the beach, the downside is other than fancy restaurants, staying here means you're further from most things in Tulum. The South part is the Hotel Zone, and the North is considered Tulum North Beach.
Aldea Zama: This is the most popular area in Tulum; it's in the middle between Centro Tulum and the beach; staying here means you're conveniently between Tulum Beach and Tulum Town.
Centro Tulum: Staying here means you're close to all the restaurants, bars, shops, and more. It's very convenient, but you will be furthest from the beach among these three areas. – Centro Tulum is also referred to as Tulum Town and Tulum Pueblo.
How to Get Around Tulum: All Transporation Options
Here are the best ways to get around Tulum and a few answers to the most frequently asked questions regarding transportation in Tulum.
Walking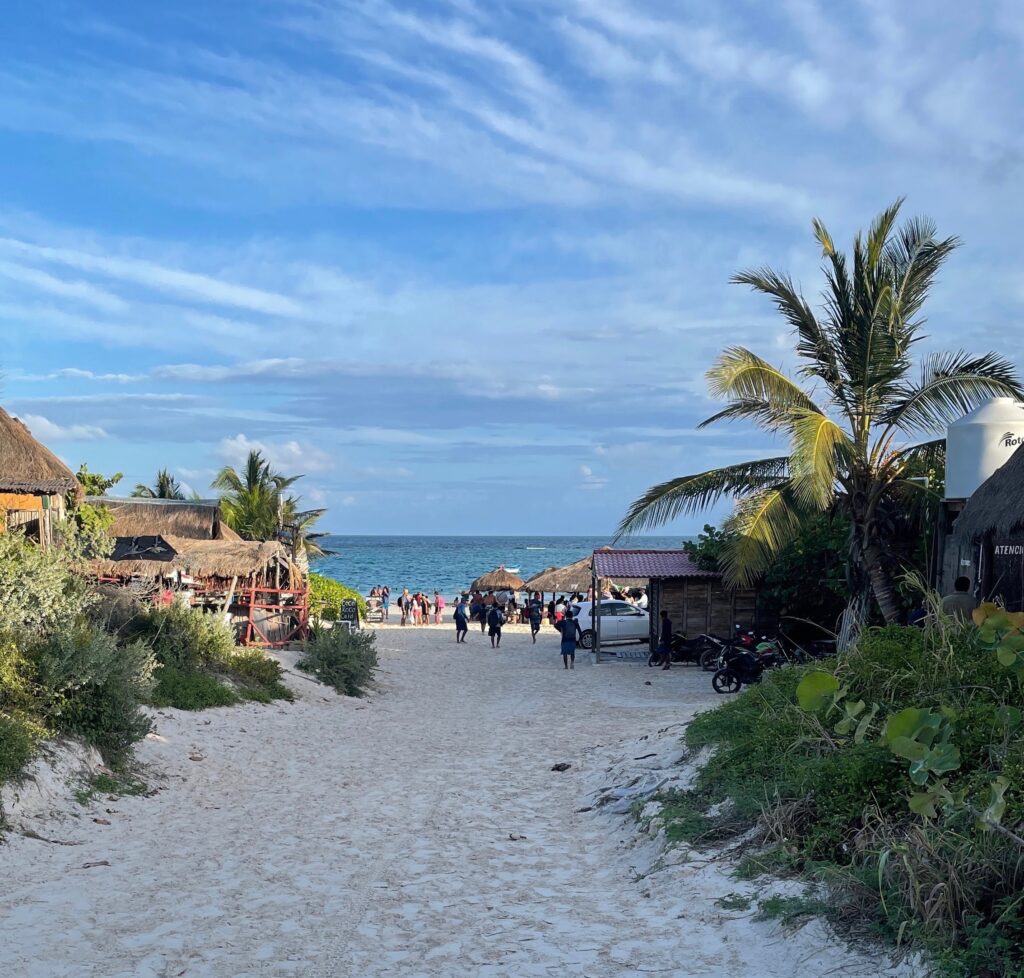 Walking around Tulum makes sense, depending on where you're walking to and from. While Tulum is a small town, areas are spread out.
Be careful when walking around Tulum; there aren't sidewalks along most main roads. At most times, you're sharing the streets with cars.
If you're staying in Tulum Centro it's easy to walk around from restaurant to restaurant, grocery stores, etc.
Just know that Tulum's three main areas are a decent distance from one another, Tulum Centro, Aldea Zama, and Tulum Beach Zone. Walking from one to another takes a fair bit.
Can you walk from Tulum town to the beach?
You can walk from Tulum Centro to the beach, but it will take you around 1 hour to get there, which is not a short walk.
It's best to bike there and lock up your bike at one of the bike stalls or take a taxi to the beach.
Biking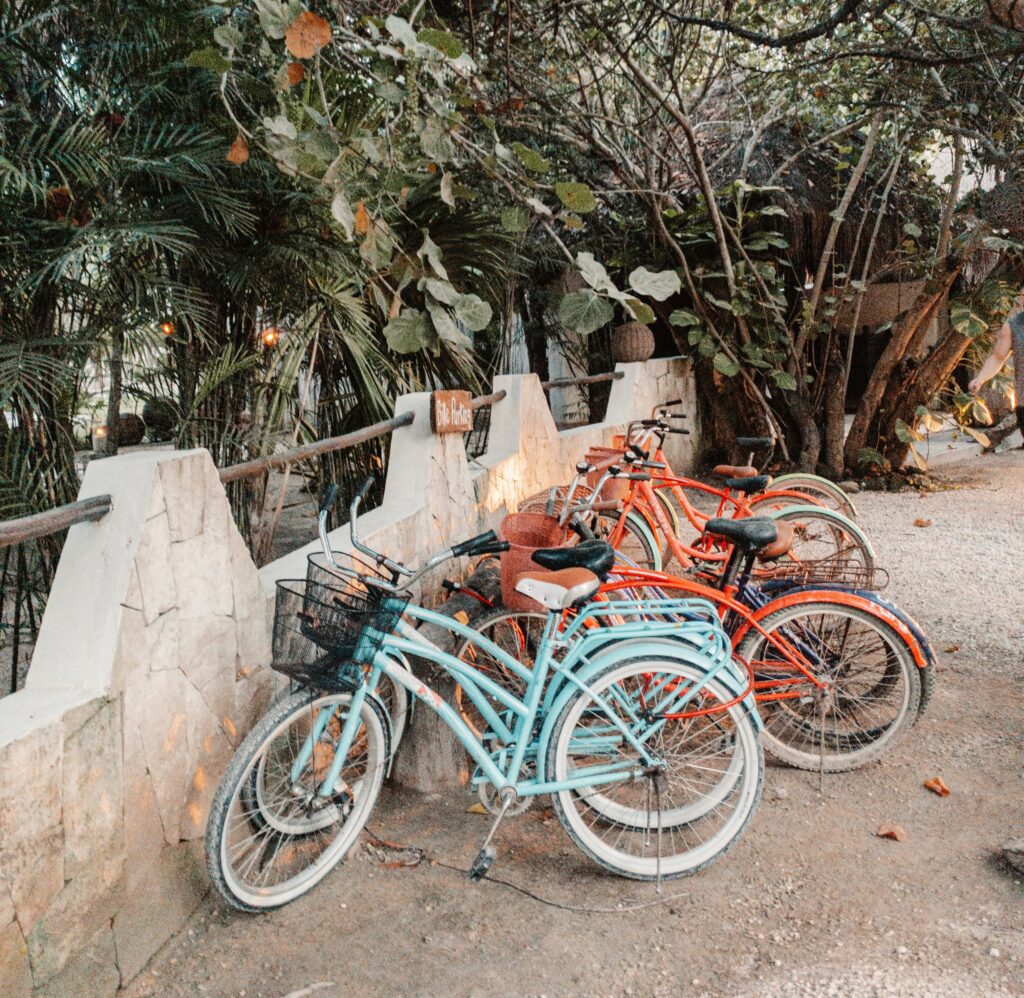 Biking around Tulum is the preferred mode of transportation, second only to walking.
With numerous bike rental shops scattered throughout the town, renting a bike in Tulum is easy and affordable.
Be careful biking around in the late evening and night; the roads in Tulum roads aren't well-lit.
Whether exploring the town, visiting the cenotes, or heading to the beach, cycling is a great way to get to Tulum's many attractions.
Tulum bike rental shops offer flexible rental options, with daily and weekly rentals.
TULUM TIP: Sometimes hotels or house rentals in Tulum include free bike rentals for guests.
How to Rent a Bike in Tulum
Getting a bike rental in Tulum is easy. Most Tulum bike rental shops are off Highway 307 or along the main beach road.
Here's a list of the most well-known bike rental shops in Tulum. Some rental shops deliver bikes to your hotel.
You should expect to pay around $150 pesos / $7-8 US per day for a bike rental.
Taxi
This is the most popular transportation method for getting around Tulum. Taxis are everywhere in Tulum, so it's easy to find one.
If you're with a large group of friends, there are van taxis driving around, so try to find one of those!
Unfortunately, Tulum taxis don't use a meter and usually have to negotiate a rate because Tulum taxis are notorious for overcharging.
When negotiating, don't enter the vehicle until a price is agreed upon, and always confirm the price with the driver a second time before getting in.
Taxis from the beach at night tend to charge more; if you want to avoid this, leave slightly earlier.
You should expect to pay around $200 pesos/$10 US from the main highway to Tulum Beach.
Another taxi tip to know: Sometimes you will get in a taxi and ask them to take you to a specific attraction, and they might suggest another place (only because they receive a commission for taking you there) – Do your own research for attractions in Tulum you'd like to visit!
Is Uber avaliable in Tulum?
Don't use Uber in Tulum; it's unsafe to use it here.
Uber was recently legalized within the region, and the app works. Still, taxi drivers and cartels have made Uber unsafe to use because of targeted attacks against Uber or any-ride sharing service.
There have been many reports, some unreported, of attacks against Uber drivers and sometimes passengers using the service. Why take the risk? Use taxis.
Rental Car or Scooter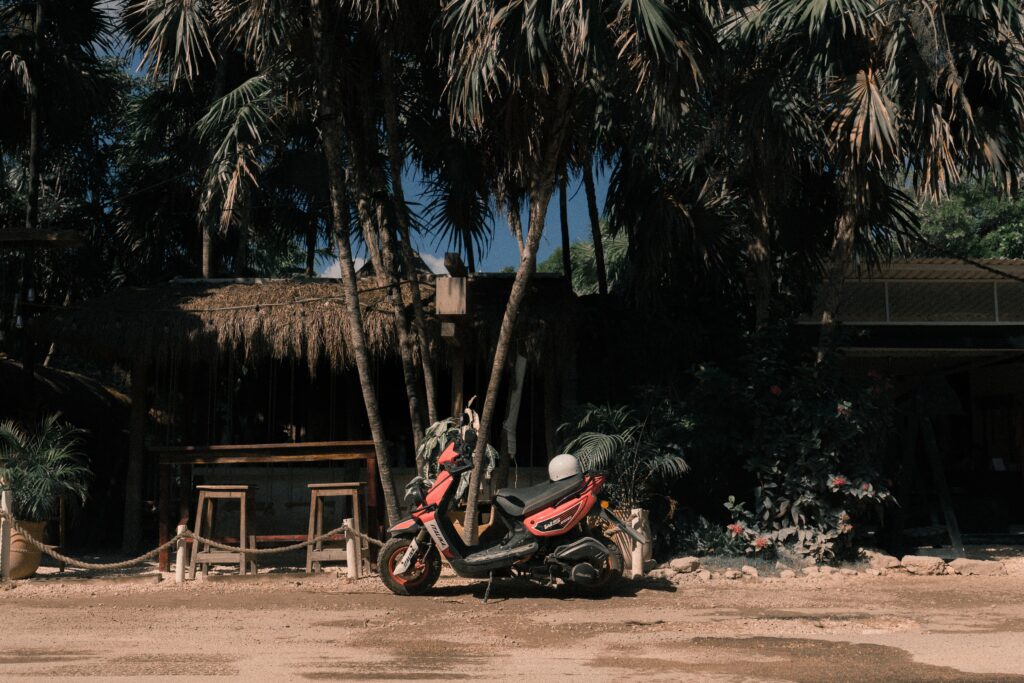 There are many places to explore in Tulum and outside of Tulum; if you plan on doing a lot of exploring, renting a car in Tulum is a great idea, especially if you're with a group of friends.
You can drive to Chichen Itza, Playa Del Carmen for the day, or various Tulum cenotes!
How to Rent a Car in Tulum
You can always rent a car in Tulum in person through one of the many rental companies in Tulum.
But using an online rental car service like Discover Cars is best. That way, you can book your vehicle in advance, read insightful ratings/reviews, and ask any questions you may have in advance.
Your average economy-sized vehicle in Tulum should cost around $40 US per day.
Should you purchase car insurance? Yes, you should; you never know what may happen, and Mexico's laws are difficult to navigate. Despite having credit card insurance or travel insurance already, it's best to have direct car insurance.
Most restaurants and establishments in Tulum do offer free parking, but not all do.
When renting a car, it's straightforward to get around Tulum, there are only a few main roads you will use, and they're easy to navigate.
If you choose to make day trips outside of Tulum, do not speed, drive carefully, and abide by traffic laws. On the main highways, there are police checkpoints sometimes, no big deal, stop and follow instructions.
Speaking of police, unfortunately, Tulum has some corrupt law enforcement, so it's not uncommon for police to stop tourists for a bribe.
Renting a Scooter
Another option is renting a scooter/moped instead of a car. This will allow you to visit Tulum attractions on your own time, and scooters are easier to find parking for.
You can rent a scooter with iBike Tulum, which costs around $35 US per day to rent.
While renting a scooter is an option in Tulum, I recommend only renting one if you are experienced at driving a scooter.
The roads aren't developed, so riding a scooter is very bumpy. Tourists are biking everywhere in all directions, especially during the high season, and many haven't ridden a bike in years, so you can imagine what the roads will be like at times.
Colectivo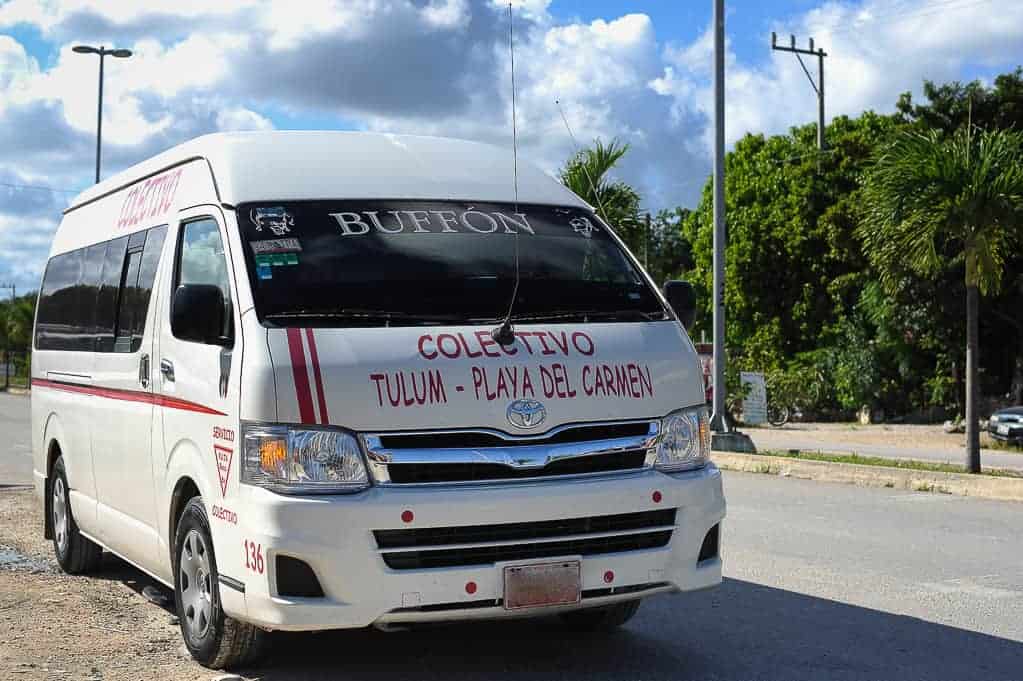 Regarding the cheapest way how to get around Tulum, using a Colectivo is the way.
Colectivos is a shared taxi-style white van popular in Mexico and many countries. The idea may sound complex if you've never taken one, but it's not complicated!
It's also the most convenient/cheapest way to travel between towns along the coast.
How do you catch a Colectivo in Tulum?
These are the two main collective routes in Tulum:
The main 307 Highway between Tulum and Playa Del Carmen (Going North)
Tulum and Felipe Carillo (Going South)
Colectivos don't operate on set schedules or stops, you stand along the road, and if you hail one, they will stop if there's room in the van.
As soon as you get into the van, tell the driver where you're going so it's clear to them where to stop.
Colectivos typically cost around $50-$100 pesos / $2-$5 US, depending on how far you travel.
Vans get full, and sometimes you can be seated in tight spacing; this is common.
You should be aware of that before taking a colectivo. If you think you may not want to. It would be best to avoid taking a collective.
I've used Colectivo's in Tulum, but when traveling between Playa Del Carmen and Tulum, I always use the ADO Bus instead.
ADO Bus is the best way to travel from city to city in Mexico. It's cheap, comfortable and very convenient. ADO Bus is the largest travel bus company in the country.
You can get to Tulum from Playa Del Carmen, Cancun, and other places using the ADO Bus.
From Playa Del Carmen to Tulum or vice versa, it only costs around $8-$20 US, which is not bad at all!
The main ADO Bus Tulum terminal is in the Centro area; this is where most buses depart from and come to. The ADO Tulum Ruins Terminal is another ADO Terminal a bit North.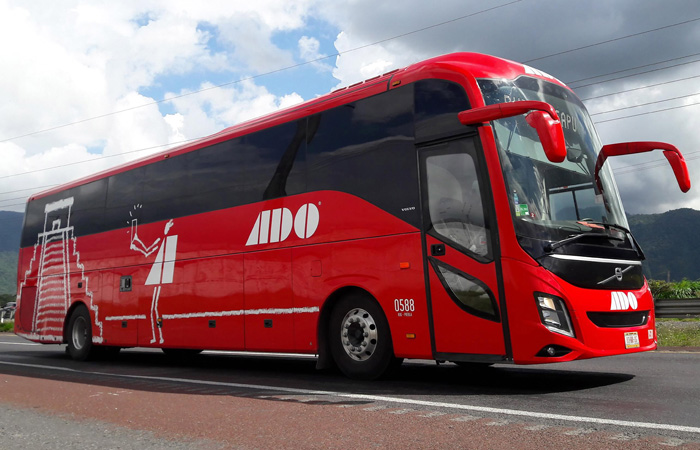 How To Get Around Tulum at Night
If you didn't rent a car, the best way to get around Tulum at night is by taxi.
When getting around Tulum at night, you must take a few precautions.
Always go out with friends, never alone, and if you do decide to go alone, make sure it's in the Centro area and your hotel/hostel is nearby!
Is it safe to walk in Tulum at Night?
Yes, depending on where you're walking. If you're walking around Tulum Centro, you'll be fine; the street is well-lit and lively in the evening, with many locals/tourists all around.
Walking in deserted areas at night or places with minimal people around is unsafe.
Generally, it's best to take a taxi at night when going and coming from places.
While in general terms, Tulum is safe. At night precautions should be taken.
Tips for Getting Around Tulum
If you want to do excursions in Tulum, like guided tours, cenote visits, and more. It's best to book a tour with transportation included; it's convenient and worth it!
Bring Cash: Always have cash on you in Tulum, Mexico operates on a cash society. Taxis don't accept credit cards, and you must pay cash. Taxis and many businesses, including rental shops, will only accept cash.
Taxi Scams: Taxi scams happen in Tulum; the best way to avoid them is to confirm the price and destination twice with the driver. A clear understanding will most likely avoid being scammed.
Take Photos of Rentals: It doesn't matter if you're renting a car, scooter, or bike; take a few clear photos of the original condition of your rental. Rental companies sometimes will try to accuse you of minor damage and ask for extra payment – this is common in most countries.
Travel Insurance: Make sure you buy travel insurance before coming to Mexico. You never know what can happen, and hospital bills in Mexico can add up.
Don't walk Alone at Night: Tulum is not safe to walk alone at night, especially not anywhere other than Tulum Town/Tulum Centro – theft/crime happens here.
Corrupt Cops: Unfortunately, there are corrupt cops in Tulum, another reason you shouldn't be alone at night. Cops sometimes randomly stop tourists walking on roads empty roads that are not well-lit and attempt to collect a bribe from you.
Is it your first time visiting Tulum? Here's a guide on How to Get to Tulum from Cancun Airport.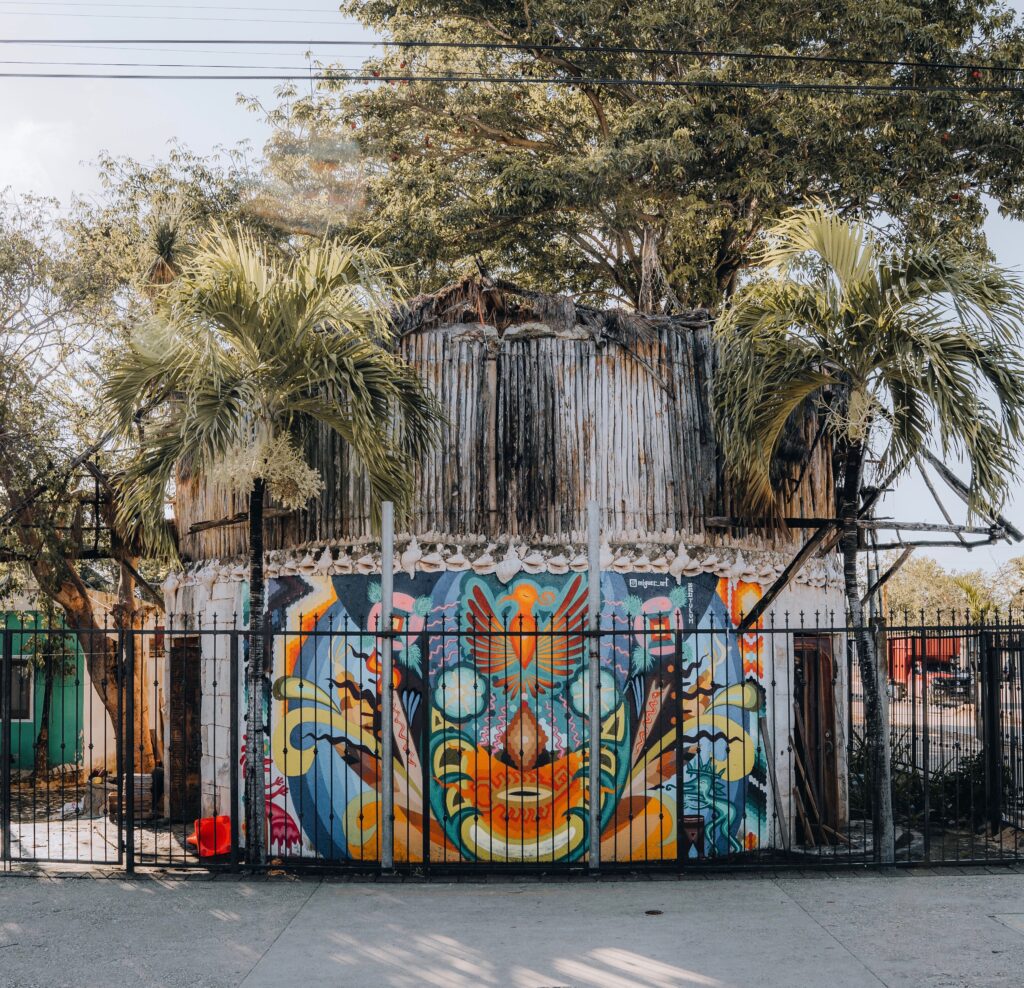 FAQs on How to Get Around Tulum
Is it Hard to Get Around Tulum?
Getting around Tulum from area to area is challenging because the town is spread out between areas.
There are areas like Tulum Town that are walkable, but for the most part, most places aren't within walking distance, and you will need to use either need to bike, take a taxi, or car rental.
How Walkable is Tulum?
Tulum isn't walkable; you will always take taxis or bike around when going places around town.
Otherwise, you must rent a bike, car, or scooter to get around Tulum.
Is it better to stay in Tulum Town or Beach?
It depends on the experience you're looking to have. Both areas have their benefits.
Tulum Town is close to all the restaurants, bars, shops, and grocery stores but is far from the beach.
While Tulum Beach/Tulum Hotel Zone is close to the beach and beach clubs, which has benefits, you will be far from most other things to do in Tulum.
Cities Nearby Tulum
Now that you know how to get around Tulum, here are a few places you should visit nearby Tulum.
Whether you drive there or take the ADO bus, I recommend all these destinations!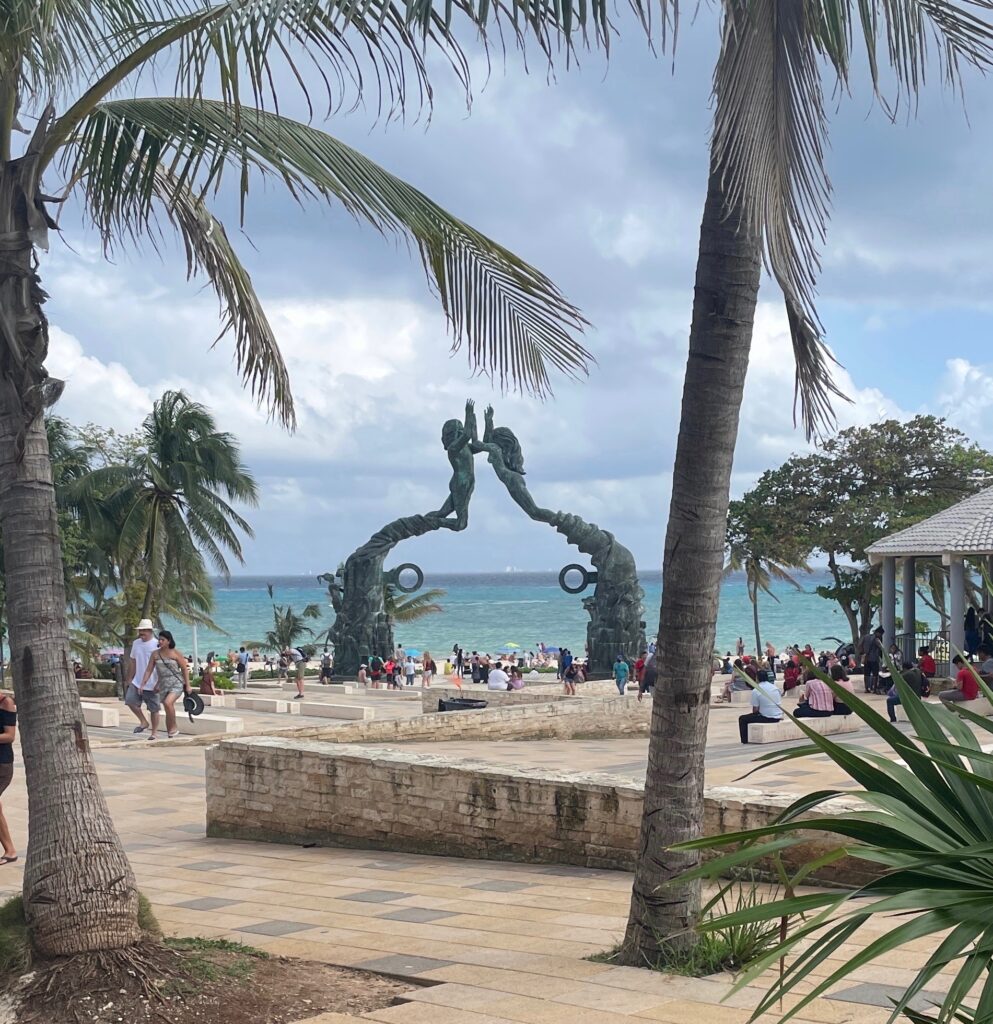 Subscribe to Travel Hiatus!
Receive updates on my latest posts, insider travel tips & the best destination guides to your inbox!
Featured Image Credit: Alex Azabache
Happy & Safe Travels
---
Planning Checklist
---
Disclaimer: Please note that some of the links shared in this article might be affiliate links; this means that at absolutely no extra cost to you, we will earn a small commission for any sales generated through this article and/or this website. We recommend products/services we've either used or researched thoroughly – Thank you for supporting us so we can continue to share helpful travel content!