Koh Samui Pig Island Tour: Ultimate Guide
Koh Madsum, also known as Koh Samui Pig Island, is a stunning tropical island near Koh Samui's coast.
This island is renowned for its adorable rescued pigs, which have become a popular attraction for tourists when visiting Koh Samui.
While pigs aren't found roaming free on islands in Thailand, the pigs of Koh Madsum have made this island their home.
The pigs in Koh Madsum weren't originally on this island. It all began with a family of four pigs being rescued, and they multiplied!
How did Pigs arrive on the island?
The story goes like this Mr.Kitt, a local of Koh Madsum, was visiting a vegetable market in Surat Thani.
He noticed a family of four pigs huddled up, one male, a female, and two piglets. The pigs were being prepared to be sold to butchers. Mr. Kitt couldn't resist leaving them there and brought them back to the island!
As the island became full of pigs, the Koh Samui Pig Island tour has become a famous tourist attraction for a while now!
Where is Pig Island Koh Samui?
Pig Island is located approximately 30 minutes by speed boat from Koh Samui and 45 minutes by long-tail boat. Koh Madsum, also known as Pig Island, sits South of Koh Samui.
How do you get to Pig Island in Koh Samui?
You must take a speedboat or longtail boat to Pig Island from Koh Samui. Both boat transportation options are offered through Koh Samui Pig Island tours, and boats depart from Thong Krut Pier to Pig Island.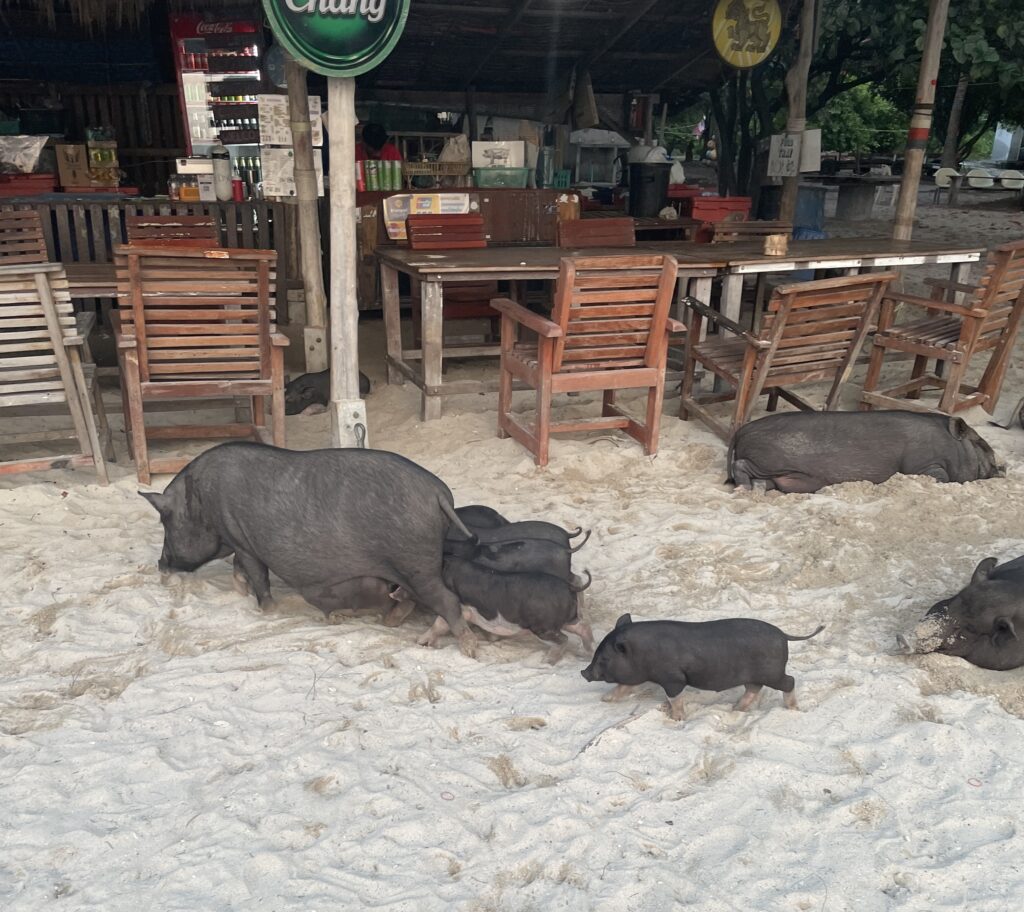 Koh Samui Pig Island Tours
The Pig Island Koh Samui tours operate by either speedboat or longtail boat. The speedboat takes 30 minutes to get to Pig Island, and the longtail boat takes 45 minutes to get there.
If you've never taken a long-tail boat, it's nice to experience these traditional Thai boats. But if you get seasick, I'd advise against it, take the speedboat instead of the longtail boat.
Besides your preference for boat transportation, all the Koh Samui Pig Island tours are relatively the same!
What to Expect Koh Samui Pig Island Tour
During all Pig Island tours, you will be visiting Pig Island and Koh Tan Island. Koh Tan (Tean Island) is the neighboring island to Pig Island, and it's well-known for snorkeling.
At Koh Tan, you can snorkel and experience the healthy, beautiful coral reefs here on the island. Koh Tan is also a lovely island to walk around and explore if you're not looking to snorkel.
Then the tour will continue to Koh Mad Sum/Pig Island. It's time to see the pigs! On the island, you can relax on a beach lounge chair, feed the pigs, swim in the shallow water, and walk around the island. You can snorkel here or take a kayak in the water as well!
A small bar on the island Mat Sum Bar offers all sorts of alcoholic drinks, cold beverages, fresh coconuts, and light snacks for you to purchase. So those looking for an alcoholic drink while on tour, don't worry! – If you've never tried it, order a Thai Pancake for dessert at the bar after enjoying your complimentary lunch!
Not all tours provide included access to Kayaks/Paddleboards; if your tour doesn't, you can always rent either.
Some tours include lunch; if you attend one that does, you will have lunch at Pig Island.
The water at Koh Mad Sum is clear and shallow for quite a bit, perfect conditions for those visiting with kids. Paddleboarding here is favorable; water conditions are ideal.
RELATED: 9 Best Koh Samui Day Trips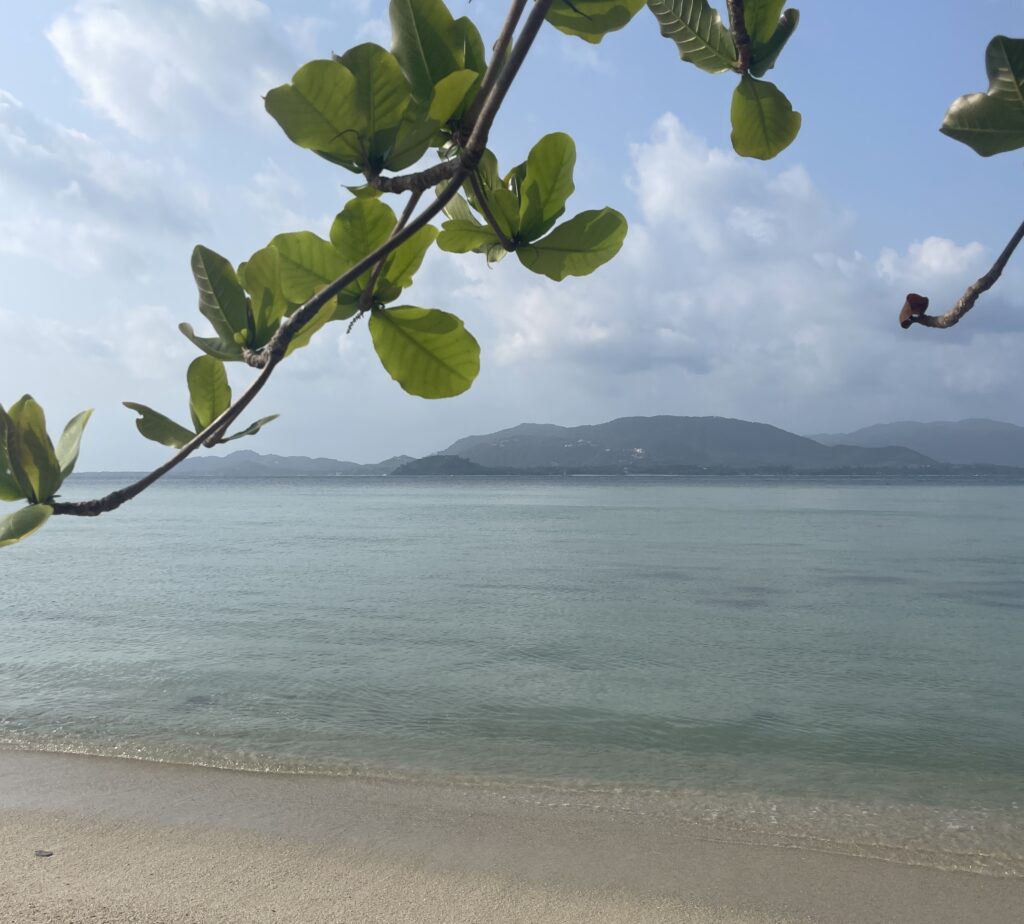 The order in which island you will visit first and for how long depends on the tour timetable for the day trip. Tours tend to be 4-7 hours long for both islands.
All tours include Hotel Roundtrip Transporation, so you don't have to worry about going anywhere; you will be picked up from your hotel!
TIP: If you prefer to experience a beautiful sunset in the evening, attend an afternoon tour instead of a morning one. Most tours offer either an Afternoon or Morning option.
While the pigs tend to be friendly here, please understand they're still technically semi-wild pigs. So it would be best if you gave them their space. Also, tiny piglets should not be rushed; if you do so, the pig's mom might come at you. – These are a few tips we were told when I was visiting on tour!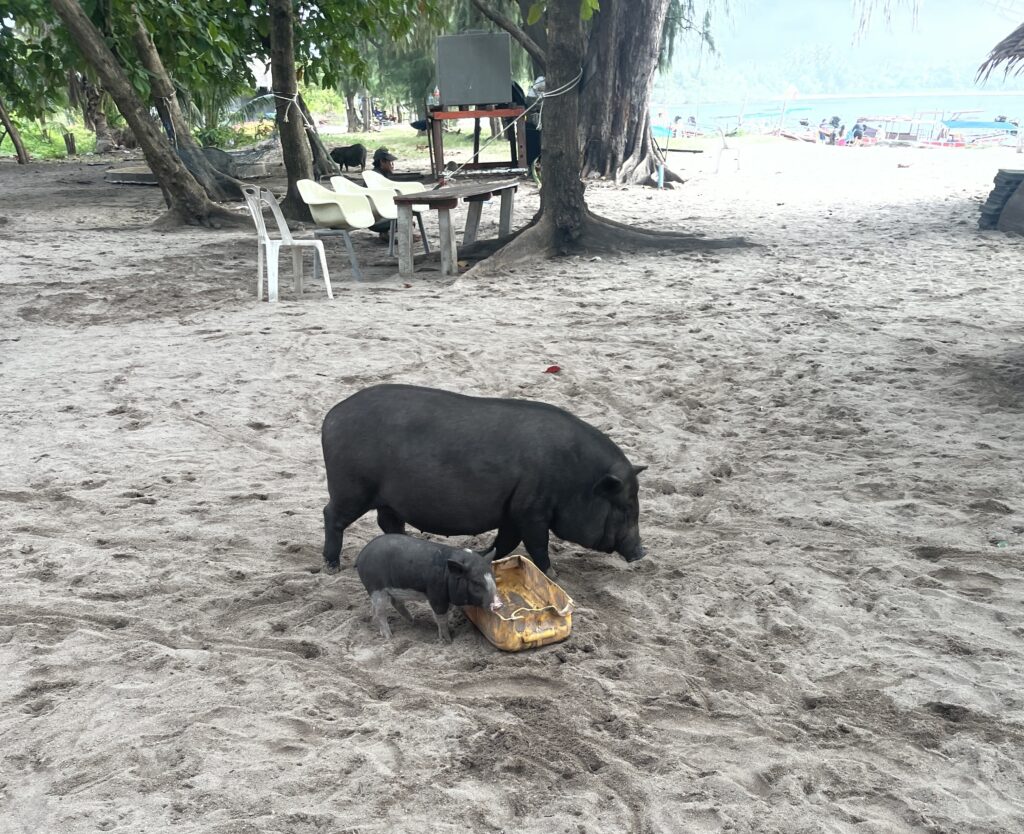 Pig Island Koh Samui Tour by Speed Boat
For those looking to go to Pig Island by SpeedBoat, here are the two top-rated Pig Island Day Trips.
There's a minimal difference between the two; one may include kayaks, and others might not; look at the details and make your choice! – Please take a look and decide which tour would best suit you!
Pig Island Day Trip from Koh Samui
Pig Island Koh Samui Tour by Longtail Boat
For those looking to go to Pig Island by Longtail boat, here are the two top-rated Pig Island Day Trips.
While a speedboat is faster than a longtail boat, a longtail boat tour provides a more intimate experience!
If you choose to attend the tour on a longtail boat, you can rent the whole boat at a specific price; message your guide if interested. Otherwise, you will be with others on the longtail boat.
Coral and Pig Island Day Trip Koh Samui
Koh Samui Pig Island Longtail Tour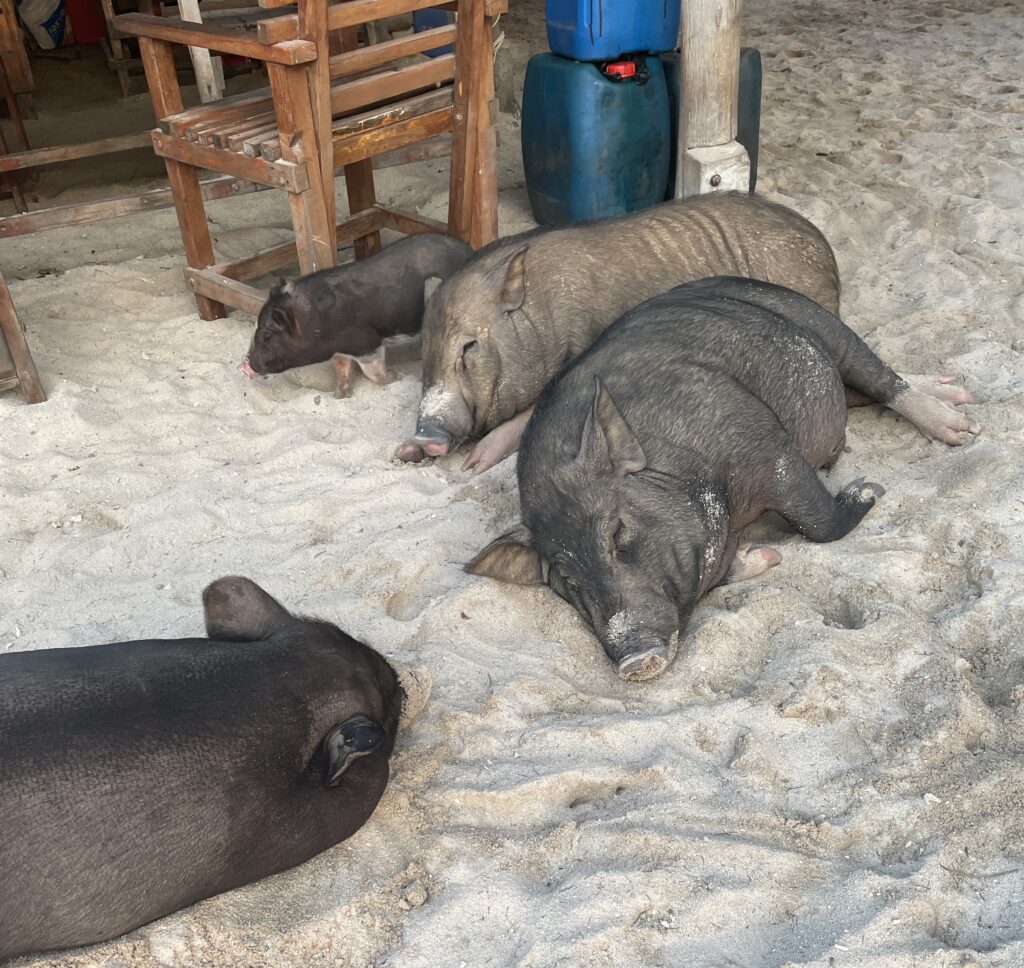 Is Pig Island Worth Visiting Koh Samui?
So is Pig Island in Koh Samui worth visiting? If you want to go island hopping in Koh Samui, this is one of the best tours.
You get to see two different islands in one day. And seeing pigs roaming freely on an island far from the mainland is pretty neat too!
Regarding day tours in Koh Samui, Pig Island is a must-visit destination. The island's shallow waters are perfect for paddleboarding and kayaking. Also, it was beautiful to see the landscape of Koh Samui from a distance.
The day trip duration is ideal; if you're in Koh Samui for a short time, you can attend the Pig Island tour and have plenty of time to do other things the same day.
It's a perfect day trip from Koh Samui for those looking for something different besides spending another afternoon at the beach in Koh Samui. If you're with your family, it's an exciting tour to experience for the kids!
Are you still looking for a hotel in Koh Samui? These are the 6 Best Koh Samui Hotels; I've included luxury hotels, mid-tier, and hostels in the list!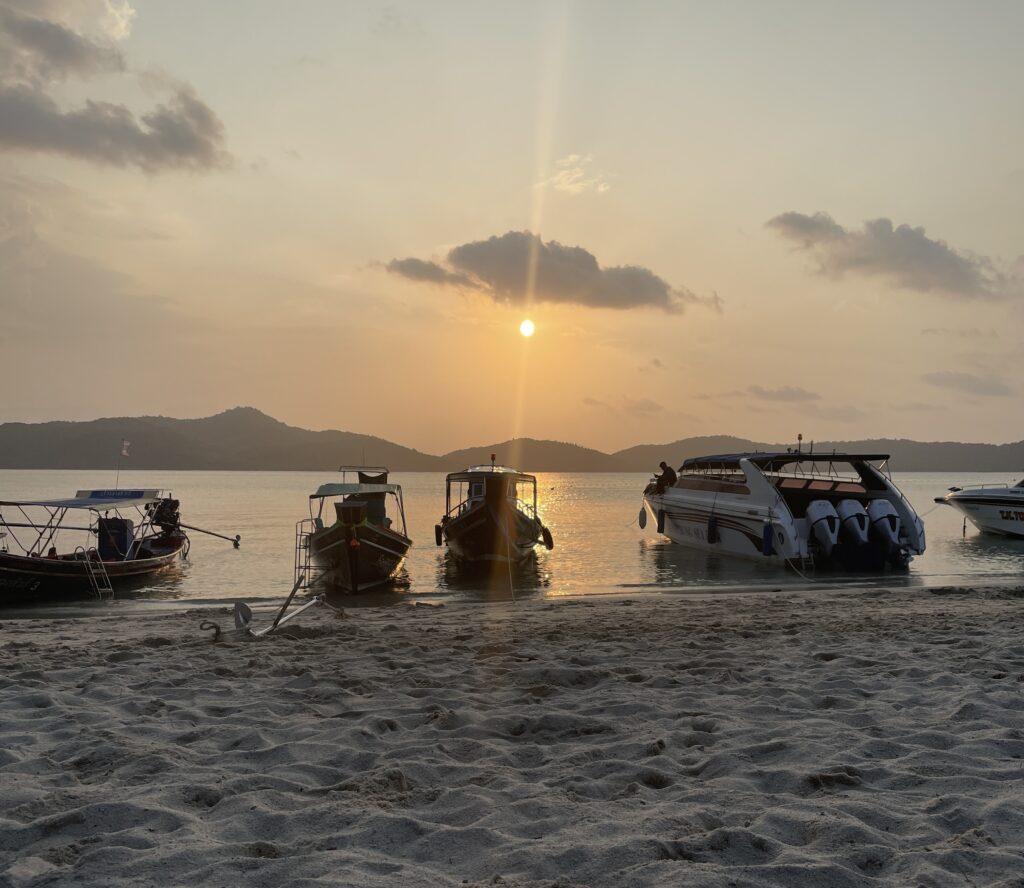 I initially wanted to visit Pig Island because, after a quick search, I noticed wild pigs roaming around a beach; who doesn't want to see that in person, right?
I enjoyed it, and it was a relaxing fun day trip, unlike other island-hopping tours in Thailand that can be exhausting because you're constantly moving around from one island to another.
The Pig Island Tour is a perfect mix of island hopping and relaxing, there are only two islands you'll visit, and you'll have enough time to relax at each one!
Pig Island Koh Samui FAQs
Are there pigs on Koh Samui?
There aren't pigs in Koh Samui, but there are pigs at Koh Mad Sum, also known as Koh Samui Pig Island.
This island is part of the Samui District and is located only 30 minutes south of Koh Samui.
What is the name of the pig island in Koh Samui?
The official name of Pig Island in Koh Samui is Koh Mad Sum. As the island has become such a popular tourist attraction, many now refer to the island as Pig Island.
If you look at Google Maps, it says Ko Mat Sum, but the island's official name is Koh Mad Sum.
What is there to do in Koh Samui Pig Island?
See the pigs, feed them, and admire the views of the island. Besides that, you can relax on the beach, walk around the island, or rent a kayak or paddleboard.
Is Koh Samui Pig Island Tour Ethical?
Yes, it is ethical; Mr. Kitt, the owner of Koh Samui Pig Island, brought these pigs from the mainland to avoid having them killed.
Mr. Kitt and other locals on the island practice and promote sustainability on Pig Island by encouraging tourists not to bring any food for the pigs. There is plenty of food to eat for the pigs; proceeds from Pig Island Tours go to Mr. Kitt to sustain the island and feed the pigs here!
Subscribe to Travel Hiatus!
Receive updates on my latest posts, insider travel tips & the best destination guides to your inbox!
Happy & Safe Travels
---
Planning Checklist
---
Disclaimer: Please note that some of the links shared in this article might be affiliate links; this means that at absolutely no extra cost to you, we will earn a small commission for any sales generated through this article and/or this website. We recommend products/services we've either used or researched thoroughly – Thank you for supporting us so we can continue to share helpful travel content!