9 Best Koh Samui Day Tours You Must Do
Visiting Koh Samui and looking for the best Koh Samui day tours? Look no further, this complete guide covers the best Koh Samui day trips you must experience!
Famous for being the second largest island in Thailand after Phuket, Koh Samui is a developed island home to several different activities for all travelers.
With stunning tropical beaches, prominent beautiful temples, and waterfalls in the jungle, Koh Samui is home to a diverse list of things to see and do.
The best part about Koh Samui is that while the island is relatively developed, it still has a tropical feel.
So you've got the best of both worlds when visiting Koh Samui, a tropical paradise, but you've still got shopping malls, an airport, and several accommodations you'd have in a developed place.
This is why Koh Samui is one of my favorite islands in Thailand. Now let's discuss the best Koh Samui day tours, what you should expect on each tour, a few tips, and more!
Have you booked your private airport transfer from Koh Samui Airport to your hotel yet?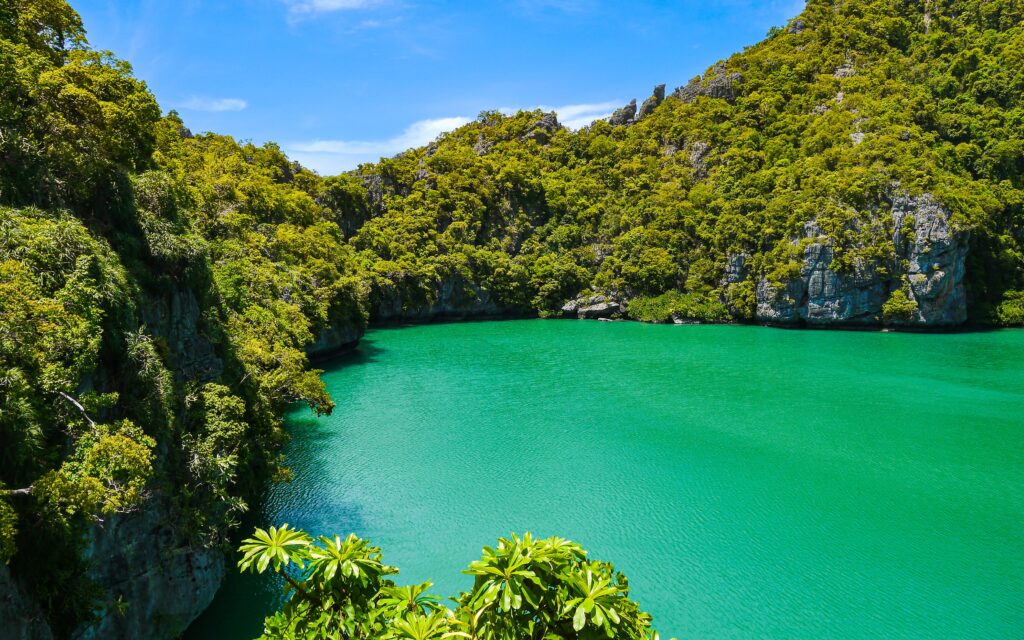 Ang Thong Marine Park is a breathtaking collection of 42 islands located in the Gulf of Thailand.
The National park boasts a diverse landscape, including towering limestone peaks, pristine white sand beaches, lush rainforest jungle, secluded coves, tranquil lakes, and stunning waterfalls.
It's no wonder Ang Thong National Park is considered the top place to visit when staying in Koh Samui.
Several tours are operating from Koh Samui, offering visits to Ang Thong Marine Park, but this Semi-private Sunset cruise of Ang Thong Park is the most popular one. On tour, you will sail the waters on a luxurious Thai yacht, visit the Blue Lagoon, and Emerald Lake, snorkel in coral-full waters, kayak, and much more!
Towels, snorkel gear, drinks, lunch, and a hotel roundtrip pickup/drop-off are all included in the tour price.
Is Angthong Marine Park worth it?
Yes, it's worth it! Hiking the luscious green mountains, snorkeling waters with vibrant marine life, and gazing at the many islands surrounding the area, Ang Thong Park is an absolute spectacle!
There's a reason Ang Thong Marine National Park is ranked #1 when considering Koh Samui day trips; it's definitely worth visiting.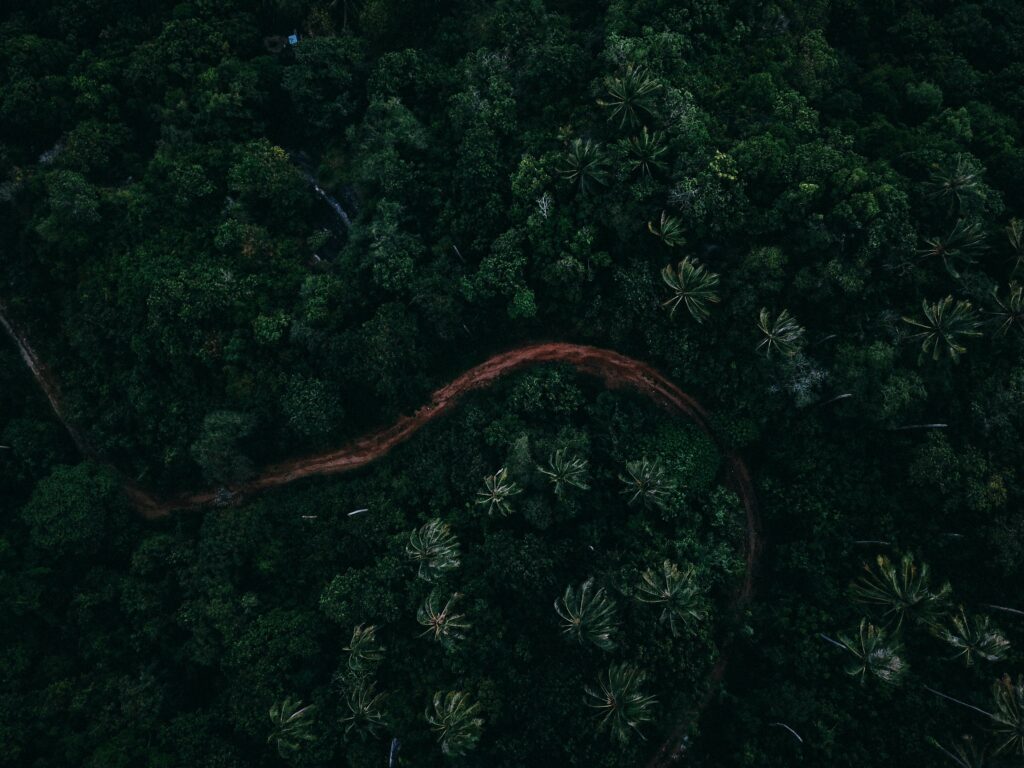 Koh Samui is famous for its jungle full of forests, making it an ideal place to go on a jungle safari tour. And that's precisely why the 4WD Jungle Safari is one of the top-ranked Koh Samui day tours to attend.
On this 4WD Jungle Safari Tour, you will experience the thrill of adventure as you explore the lush jungles and mountains of Koh Samui in a rugged ex-army jeep wrangler.
Places you'll visit on tour include the iconic Grandmother and Grandfather rocks, take a refreshing dip in the natural pool at Koh Samui's largest waterfall, and swing from treetops on two exhilarating zip lines.
Other stops include scenic viewpoints, the Big Buddha, and Buddha's Magic Garden.
You will get to see many of the top attractions in Koh Samui on this tour. Lunch and hotel pickup/drop-off are included in the tour price.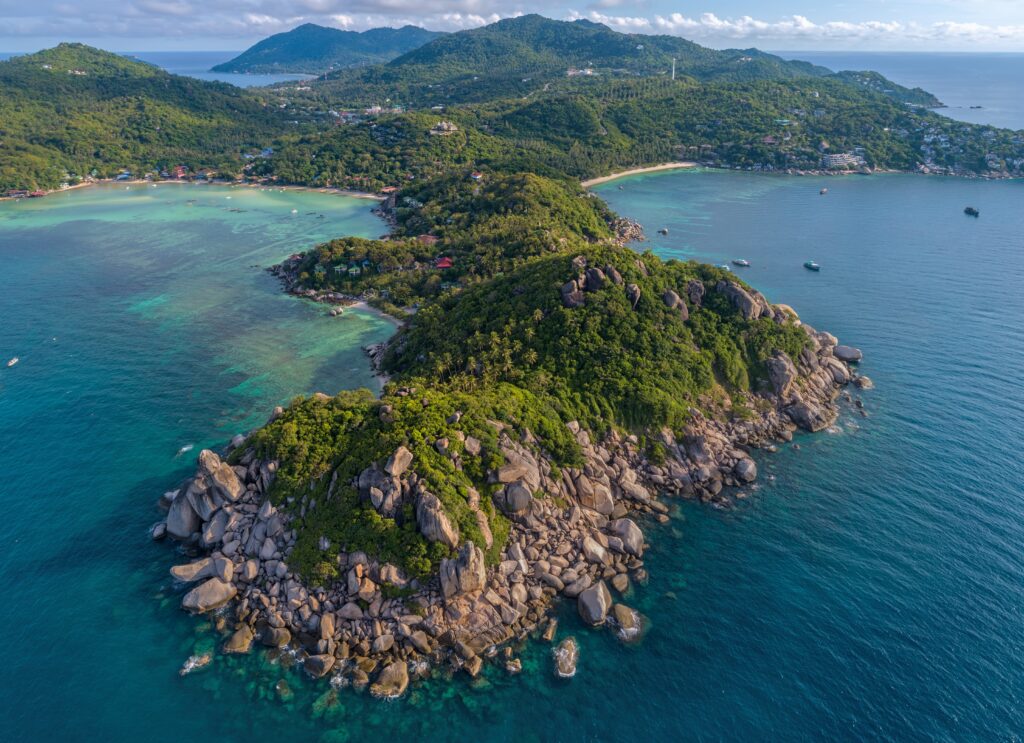 Koh Tao, a small island off the coast of Surat Thani, it's famous for those who love snorkeling and diving. When you visit the island, you will quickly notice diving schools everywhere in Koh Tao.
Koh Tao is also known for being one of the most affordable places in the world to get a scuba diving license, making it a top destination for diving enthusiasts.
For those who enjoy snorkeling or diving, visiting Koh Tao is one of the best day trips from Koh Samui.
On this Snorkeling Tour to Koh Tao, you will hop on a speedboat and visit two different coasts in Koh Tao, full of beautiful coral reefs and abundant marine life. A Thai buffet lunch and hotel pickup/drop-off are included as well.
Besides snorkeling/diving, Koh Tao is famous for being a small remote, relaxing island boasting beautiful nature and a tranquil/relaxing atmosphere.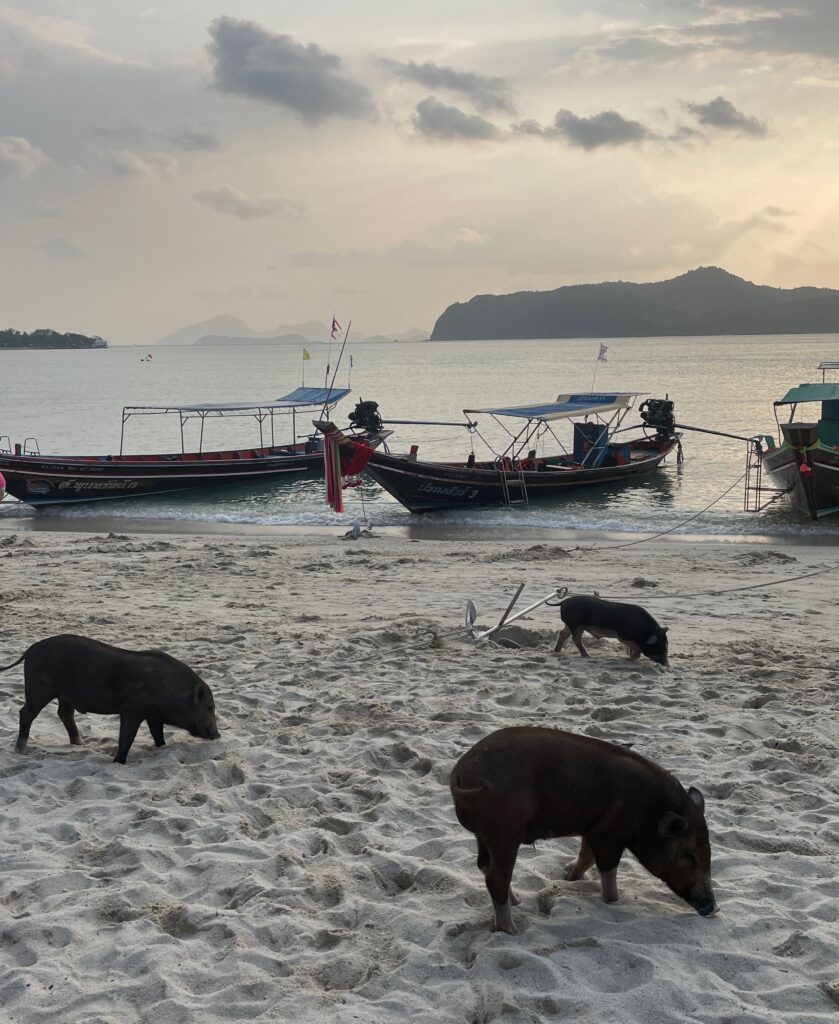 Ko Mat Sum is a short boat ride South of Koh Samui, also known as Pig Island. There are plenty of pigs there, roaming around the island, water, and everywhere.
If you're curious why there are pigs here, a sign on the island explains why pigs are there.
A local to the island saved one pig, and they multiplied from what I remember reading, and the island has become a famous tourist attraction for visitors in Koh Samui.
On this Pig Island Tour, you will not only get to visit Pig Island, as well as its neighboring island Ko Tean.
During the tour, you can snorkel, kayak and spend some time on both islands, lunch is included, and you will return to Koh Samui during sunset!
Is Pig Island worth visiting Koh Samui?
It's a fun time; seeing pigs roam on an island and going into the water is a sight. Also, visiting Pig Island is an excellent way for those looking to do island-hopping in Koh Samui!
Seeing that Koh Samui is home to a beautiful dense jungle, riding an ATV through the scenic jungle roads here is one of the best things to do in Koh Samui.
On this ATV Quad Tour, you can choose either a morning or afternoon drive on the off-roads in the jungles of Koh Samui. During the guided tour, you will visit a stunning waterfall as well.
Snacks and beverages are included in the price of the tour, as well as roundtrip hotel transportation.
Visit Elephant Nature Care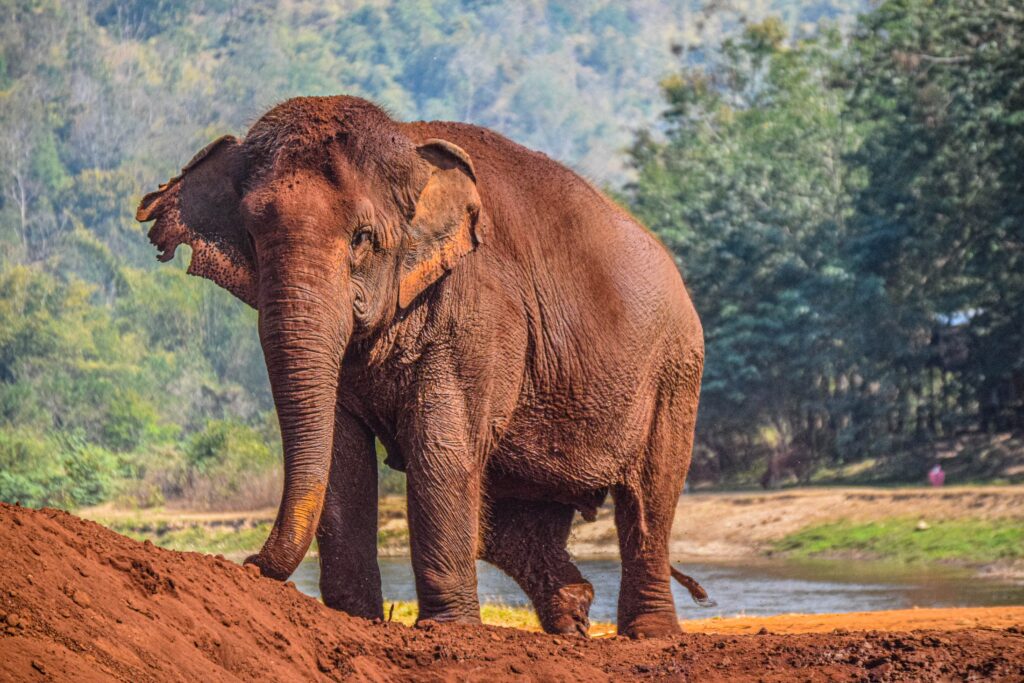 Going to an elephant sanctuary is a must-do no matter where you visit Thailand. You've seen the photos/videos online; it's a fun experience, and seeing these giant beautiful, friendly creatures in person is even more special.
It's important to know that several elephant sanctuaries in Thailand sadly don't treat elephants the best, with big money to be made with the tourism industry. Some sanctuaries/parks offer elephant rides, constant flash photography, and more. This is not ethical or okay. Elephants should never be ridden or chained by their legs.
Please do your research before visiting any elephant sanctuary, do your research and look for ethical ones.
Samui Elephant Sanctuary is not only the first sanctuary island; it takes excellent care of the elephants and is ethical. – Samui Elephant Sanctuary – Location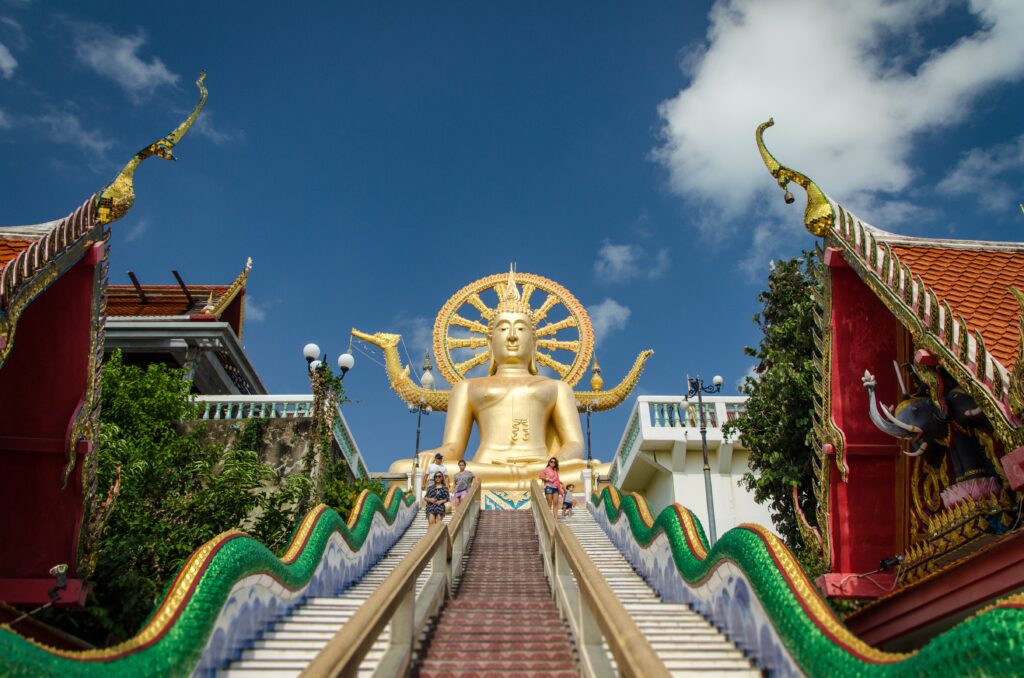 Ranked as one of the top Koh Samui day tours, this sightseeing tour covers all the must-visit tourist attractions on the island.
On this Koh Samui Sightseeing tour, you will visit the famous Big Buddha Temple, Wat Plai Laem, Lad Koh View Point, Na Muang Waterfall, and more.
For those ready for an action-packed day and looking to cross all the must-visit attractions in Koh Samui, this tour is for you!
Below is a list of all the top attractions in Koh Samui; some you will visit on the tour, and others you won't.
Top Attractions in Koh Samui
Big Buddha Temple
Wat Plai Laem
Lad Koh View Point
Grandfather/Grandmother Rocks
Guan Koh Samui Shrine
Na Muang waterfall
Tarnim Magic Garden
Fisherman's Village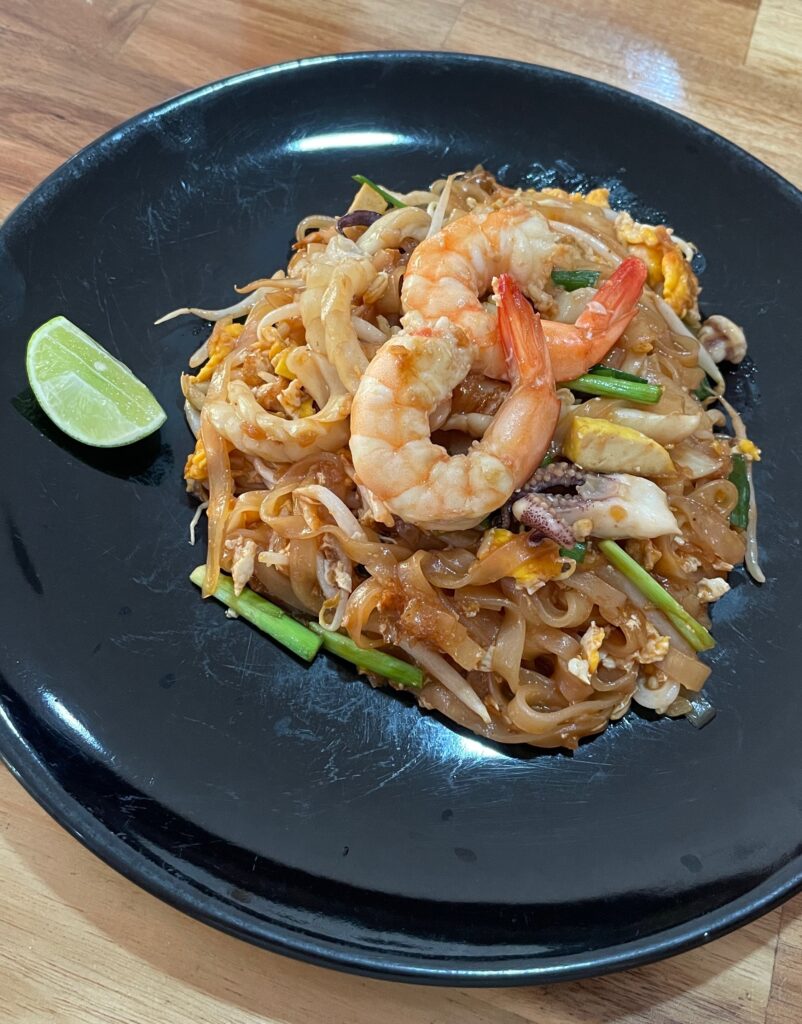 Spend the day learning to cook several Thai dishes with Chef Lat; you will make Pad Thai, Spicy Thai basil with either chicken or tofu, Tom Yum with prawns, and Papaya Salad (som tum), all Thai food favorites!
This Thai cooking class is unique because you will be cooking at a farm and picking fresh herbs yourself. It's genuinely a farm-to-table cooking experience!
No matter where you travel in the world, you must experience a cooking class. Some of the best memories I've had traveling is attending a cooking class.
Not only do you get to first hand learn how to cook foods from different countries, but as you cook and learn the recipe from the local chef, you gain a cultural experience.
I highly recommend trying it if you've never done a cooking class. Plus, you will leave knowing a few Thai recipes!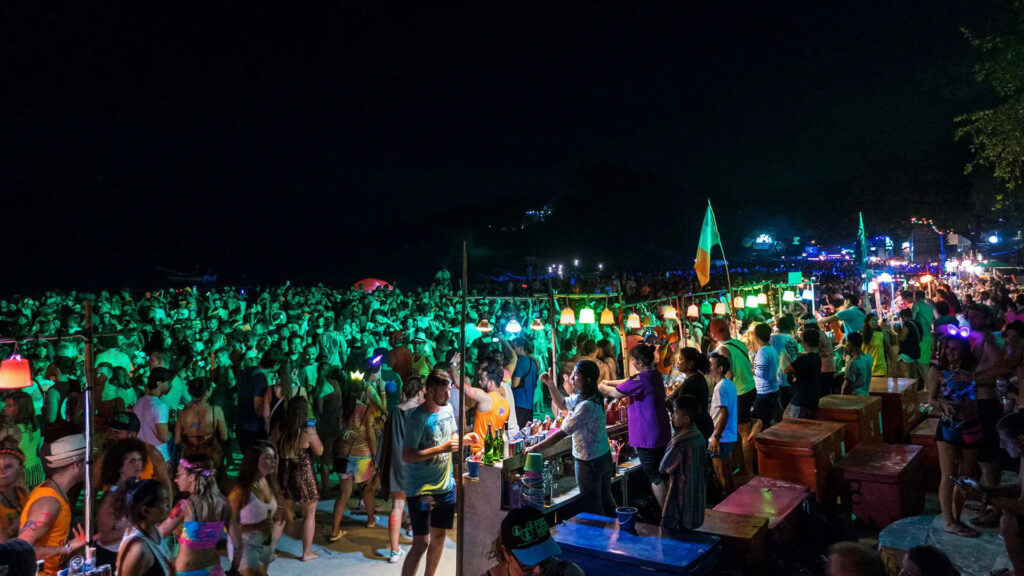 If there's one thing Koh Phangan Island is famous for, it's the infamous full moon parties that happen once a month on the island. Tourists from all over the world come to Koh Phangan for this famous monthly party.
The story goes like this, in the mid-1980s, a group of backpackers had a party on the beach with locals all night; after that, the party began to be a monthly celebration.
What should you expect? Expect a long beach shoreline of parties next to one another, different music genres played by DJs, many tourists worldwide, lights everywhere, and unique outfits.
The full moon parties in Koh Phangan are a spectacle, that's for sure!
Koh Phangan is next door to Koh Samui, so if you want to experience this interesting long night of partying, you can go there via this roundtrip Full Moon Party tour from Koh Samui to Koh Phangan.
Is there a Full Moon Party on Koh Samui?
No, there isn't a Full Moon Party in Koh Samui. Unlike Koh Pha Ngan, Koh Samui isn't known for its nightlife.
If you're visiting Koh Samui and looking to go to a Full Moon Party, you must go to Koh Pha Ngan to experience one!
Koh Samui nightlife mainly involves going to a beach bar in the evening on the beach, a bar, or a restaurant with a nice view.
Best Beaches in Koh Samui
Now that you know the best Koh Samui day trips to experience when visiting, let's discuss the many beaches in Koh Samui.
Lamai Beach and Cheweng Beach are the two main beaches in Koh Samui. Lamai offers a more tranquil quiet beach experience verse Cheweng which tends to be busy and full of restaurants and beach clubs.
Here are a few other Koh Samui beaches!
Bo Phuet Beach
Maenam Beach
Lipa Noi Beach
RELATED: Best Koh Samui Hotels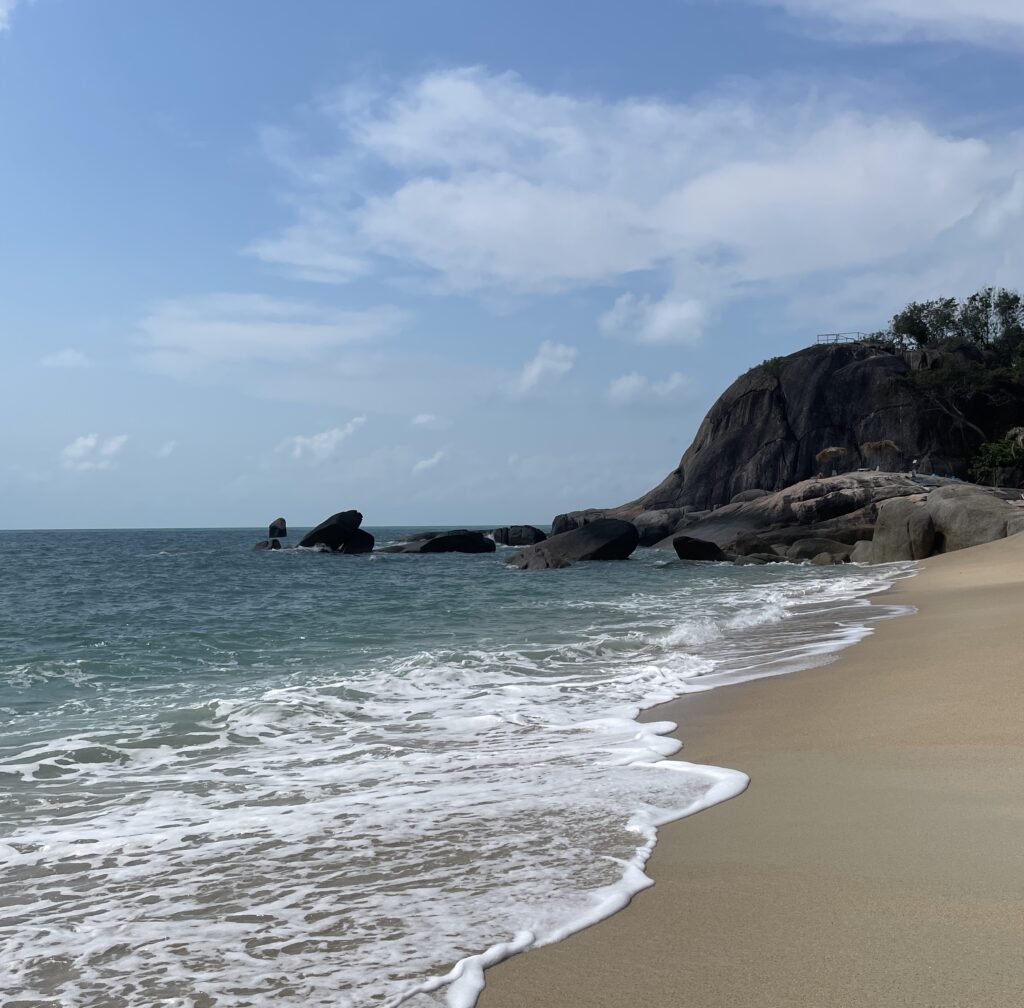 Koh Samui Nearby Islands
The following are two islands nearby Koh Samui but are their separate islands.
These islands are near Koh Samui and are part of the Koh Samui District.
Ang Thong / Mu Ko National Park (many small islands)
Tean Island
Ko Mat Sum (Pig Island)
Are you looking for places to visit after Koh Samui? I highly recommend either Railay or Phuket!
Koh Samui Day Tours Tips
As you prepare to go on one or a few of these Koh Samui day trips, here are a few tips for your day!
Coral Friendly Sunscreen – Make sure you bring a biodegradable coral reef-friendly sunscreen.
Dry Bag – Consider bringing a dry bag throughout your boat adventures, a dry bag will ensure your things stay dry!
Fast Drying Towel – A towel is necessary, of course. But the best towel to bring is something made from microfibre, which drys quickly. You'll be in and out of the ocean frequently, so always having a dry towel is convenient!
Travel Insurance – You never know what may happen when visiting a foreign country; hospital visits in Thailand can add up—boat accidents, food poisoning, flight cancelations, etc. Don't take the risk!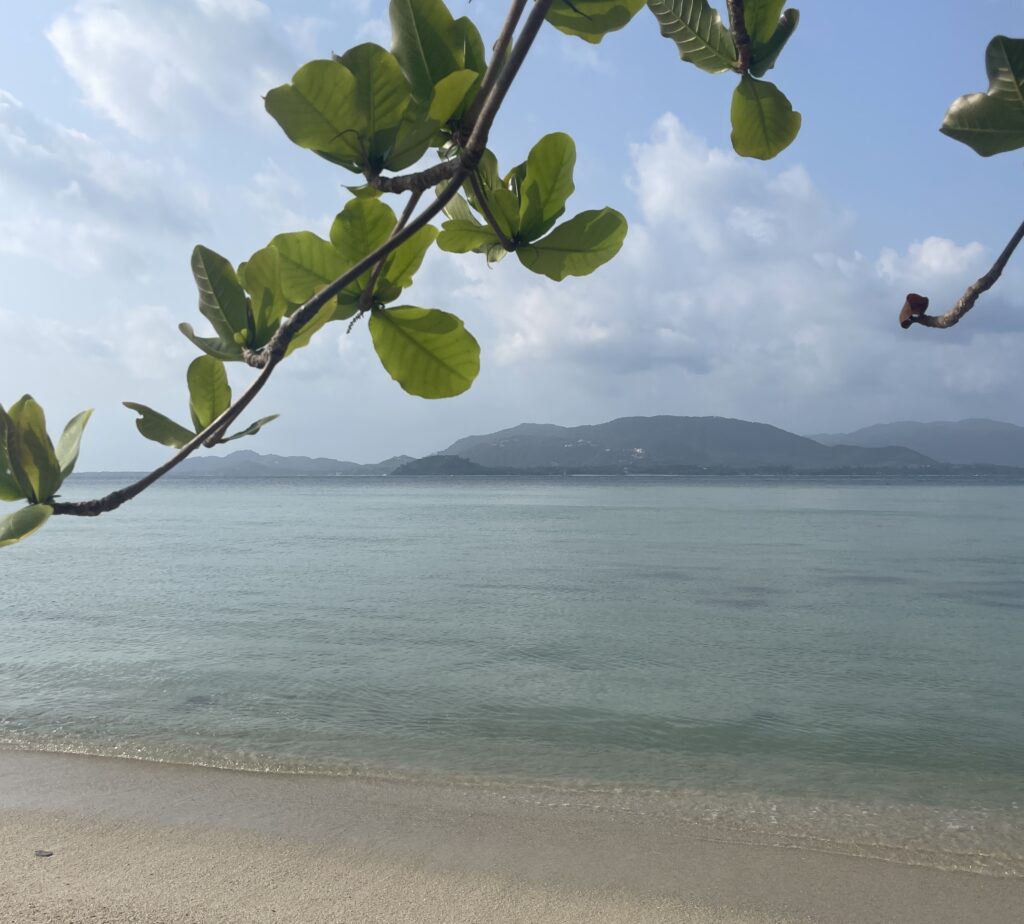 Koh Samui Day Tours FAQs
How do you spend a day in Koh Samui?
You can tour and see the many waterfalls in Koh Samui, spend the day at Lamai Beach, or go island hopping!
Go to the famous Fisherman's Village area for dinner, then walk around Bo Phut Beach afterward!
Can you do island hopping from Koh Samui?
Yes, you can. Koh Samui is a perfect place to do island hopping; many Koh Samui Tours offer island hopping tours.
You've got a selection of islands to visit, Ko Phangan, Ko Tao, and Ang Thong Park, to name just a few!
Can you do a day trip to Koh Phangan from Koh Samui?
Yes, you can. You can either attend one of the many Koh Samui Day tours to Ko Phangan or take a ferry to Koh Phangan for the day, spend a night there, or return the same day.
Is Koh Samui more beautiful than Phuket?
Each island is beautiful in its way. Koh Samui feels more tropical than Phuket, but Phuket alternatively has more beaches and much more to explore.
Please take a look at this Koh Samui vs Phuket guide and find out which island you'd prefer.
Subscribe to Travel Hiatus!
Receive updates on my latest posts, insider travel tips & the best destination guides to your inbox!
Happy & Safe Travels
---
Planning Checklist
---
Disclaimer: Please note that some of the links shared in this article might be affiliate links; this means that at absolutely no extra cost to you, we will earn a small commission for any sales generated through this article and/or this website. We recommend products/services we've either used or researched thoroughly – Thank you for supporting us so we can continue to share helpful travel content!