The 6 Best Koh Samui Hotels – Thailand
Famous for being the second largest island in Thailand, Koh Samui is an absolute paradise full of great hotels and many things to do.
Koh Samui Hotels comprise some of the best luxury accommodations in Thailand. The island is known for being home to many 5 Star hotels/resorts and luxurious villas for rent in the island's hills.
For those coming with a loved one either for vacation or honeymoon, Koh Samui ranks #1 for just that. With many 5-star ranked hotels here to make your stay with your loved one extra special.
This list of the six best hotels on Koh Samui will include only 5-Star hotels, as stated in the title. I'm sharing with you the best of the best regarding hotels in Koh Samui.
Those looking for cheaper hotels, scroll down. I've included a few cheap top-ranked hotels that will suit anyone's budget!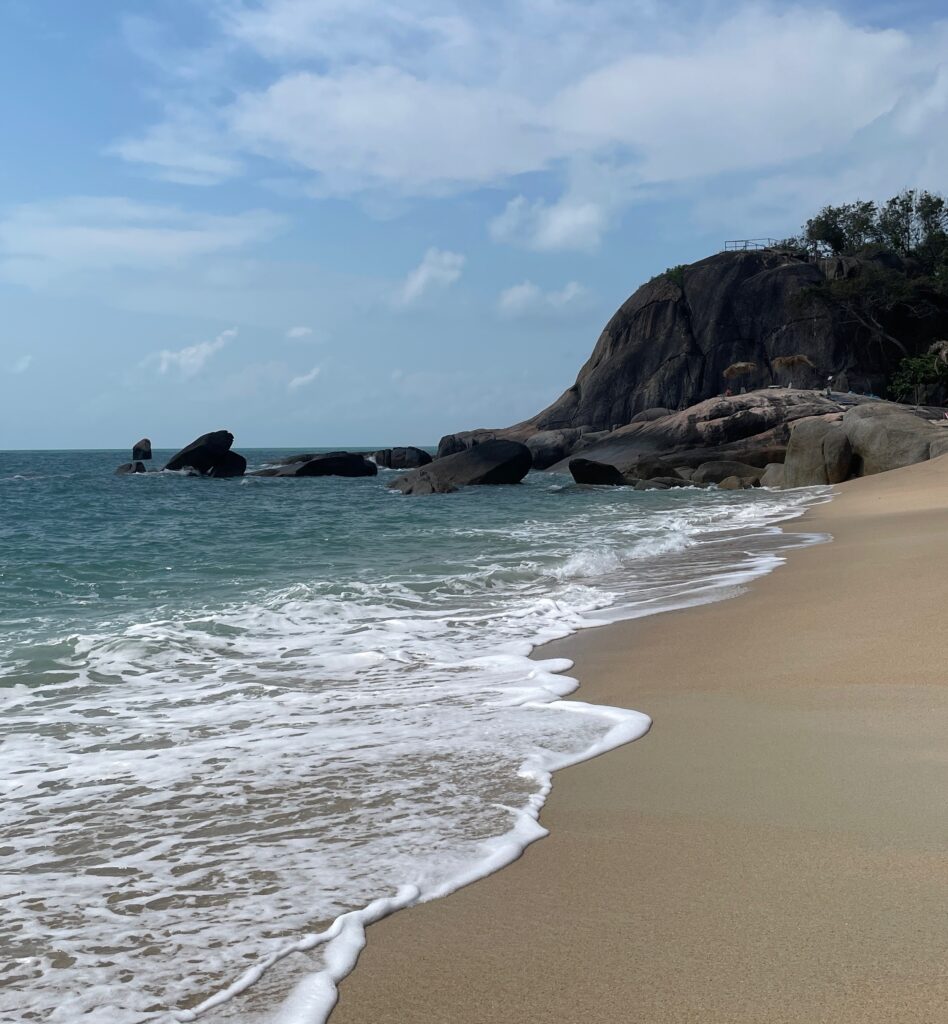 How to Get to Koh Samui
There are two different ways to get to Koh Samui Island:
By ferry through one of these ports, Raja Ferry Port Donsak or Donsak Pier Surat Thani, or by airplane. By airplane is, of course, easier, but it costs more.
To get to Koh Samui by ferry, you must first get to Surat Thani by bus or train. And then take the ferry to Koh Samui from the dock.
By plane, because Koh Samui is a small airport, you can fly into Koh Samui Airport through only a few destinations, such as Bangkok, Phuket, Krabi, Kuala Lumpur, and Singapore.
Note: Costs, of course, fluctuate due to economic factors, so some costs may be slightly higher/lower at the time of purchase. – All prices are ONE-WAY price listings.
Curious about transportation once you're in Koh Samui? The best way to get around in Koh Samui is by renting a scooter. The roads here are significant, making driving more manageable, and the scenic views while riding around the island can't be missed!
Travel Times/Cost for Bus/Vehicle + Ferry
Phuket to Koh Samui: 8 Hours – $24 US
Krabi to Koh Samui: 5-6 Hours – $20 US
Bangkok to Koh Samui: 14 Hours – $40 US
For Bus & Vehicle transportation + Ferry Tickets (included together) – Book Tickets Here.
Travel Times/Cost for Airplane
Phuket to Koh Samui: 1 Hour – $100 US
Krabi to Koh Samui: 1 Hour – $100 US
Bangkok to Koh Samui: 1 Hour – $125 US
For flights from within Thailand at the cheapest prices – Book Tickets Here.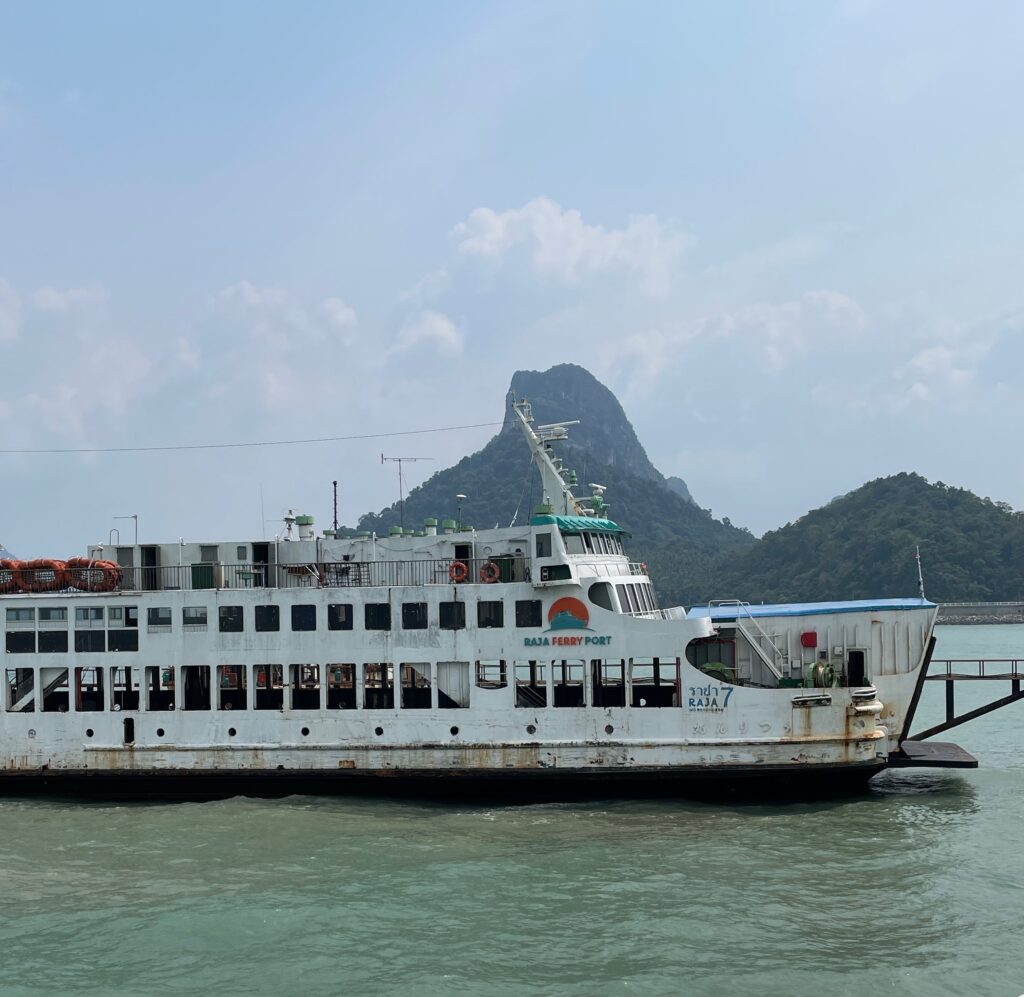 Best Koh Samui Hotels – #1-3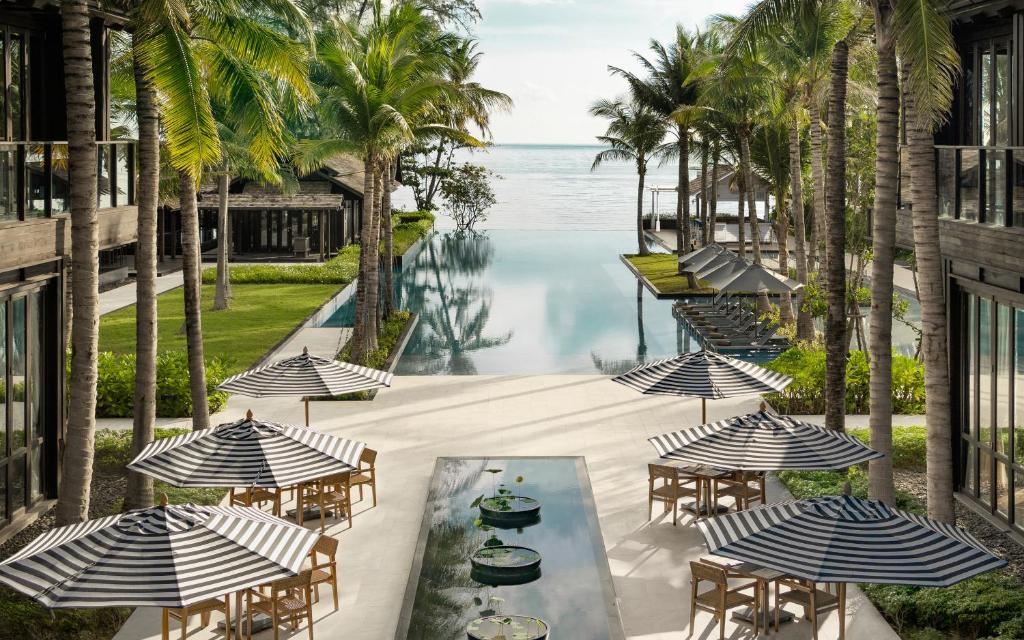 Kimpton Kitalay Samui, by the IHG hotel group, has done a fantastic job with this property. The hotel is modern but still embodies an island tropical design, located on the Nothern part of the island.
Rooms are spacious, and the amenities range from 5 different restaurants, a big children's playroom, pet service, a fitness center, a luxurious spa, kayaks, and so much more. I must mention the pool; It's absolutely stunning and features beautiful ocean views.
Not only is this property a hotel, but they also offer beachside villas available, offering an even more intimate stay for guests. Kimpton has done an excellent job catering to all needs, and there's a reason it's the #1 hotel in Koh Samui.
Explorar Koh Samui (Adults Only)
Located on the Northern end of the island and close to the popular Fisherman's Village. Explorar Koh Samui is an absolute oasis perfect for those visiting Koh Samui with their loved ones. – It is an Adult Only hotel.
The hotel offers several types of accommodations. You can choose to stay in a room with elevated ocean views or rent a private pool villa on the hotel grounds.
The pool room villas are cozy and private, each with its own pool, and some even come with ocean views as well.
Overall the hotel has a modern look to it, everything is executed perfectly, and their breakfast buffet seems to be a hotel favorite!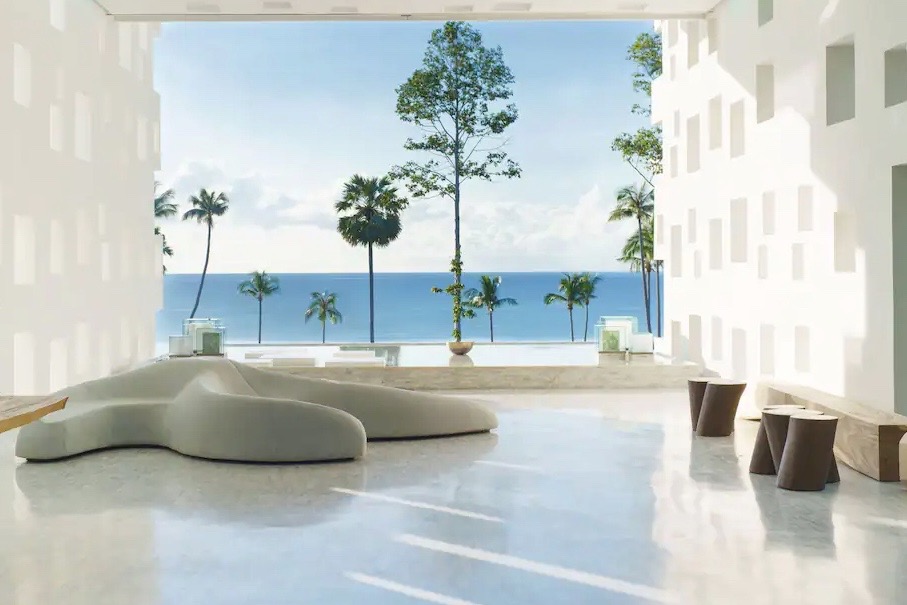 The Hyatt Regency in Koh Samui is located just minutes up the street from the popular Chaweng Beach and only five minutes from Samui Airport.
Hyatt Koh Samui is equipped with everything you may need at a resort, several pools, a dining area by the beach, a top-notch restaurant with elevated ocean views, attractions for kids, a fitness center, and so much more.
They're very pet-friendly here, so if you're traveling with your furry friend, this is the place to come.
Along with their ocean view rooms, the property also has a few limited beach villas on the ground.
What makes the Hyatt extra special here is not only is the property perfect, but the location is a big bonus; staying here, you're close to everything.
Best Koh Samui Hotels – #3-6
No matter where you go in the world, The Ritz-Carlton properties are at the top of the list for 5-star hotel accommodations. The Ritz Carlton in Koh Samui is exceptional, to say the least.
The property is full of amenities everywhere you look. They've got a mini-put golf course, a greenery rooftop to watch the sunset, an exceptional 5-star spa, 10 on-site restaurants, and any excursions or trips can be booked with hotel staff.
Rooms vary here from suites to villas, offering a spacious space with everything you need and stunning ocean views. The most famous room is the ultimate pool villa, offering panoramic ocean views and a small private infinity pool.
Whether you're coming with a loved one, your family, or alone, The Ritz in Koh Samui is an excellent choice!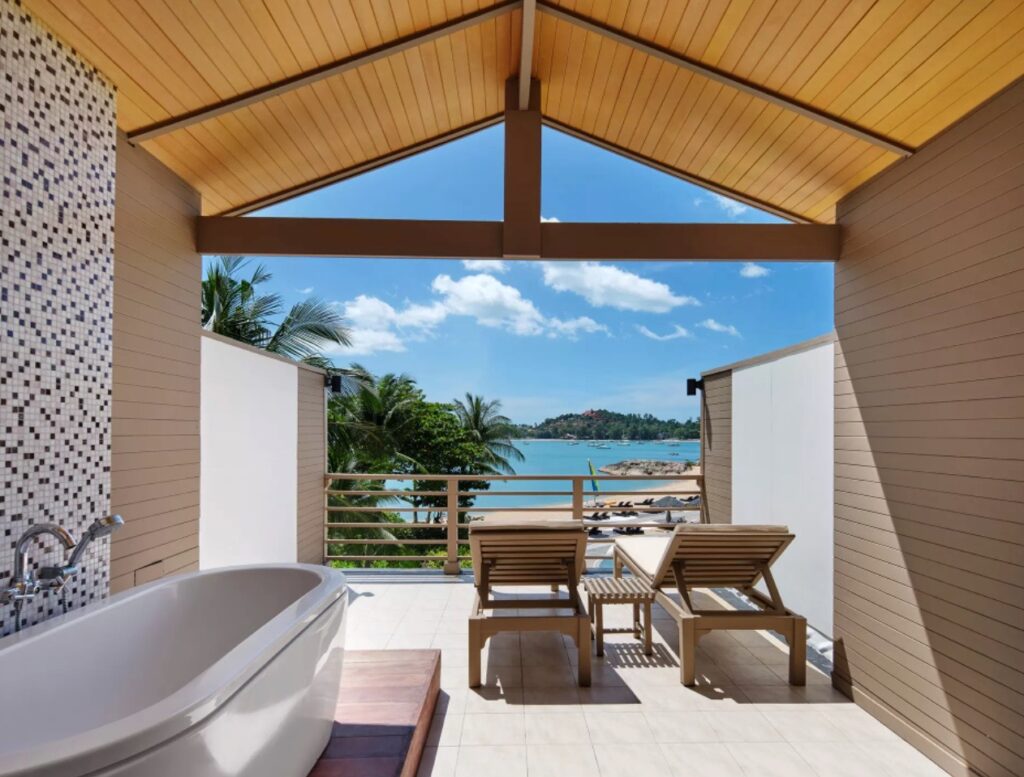 The Garrya Tongsai Resort has a long history of being one of the best Koh Samui hotels. It's most well-known for having a private beach only accessible to guests, named Thongson Bay Beach.
Overlooking the private beach is a large pool accessible to all guests. Amenities at the resort include a tennis court, a large pool, a children's playroom, a spa, and much more.
But as mentioned, the real winner here is the private beach; for those coming with families, having a private beach shoreline is convenient.
Room offerings are going as follows; some suites come with ocean views, others with hillside views.
What's popular is the beach view suite with a balcony and soaking tub featuring ocean views. For those looking for lots of space, the grand seafront villa rooms with a private deck and rooftop pool will be perfect for you!
Overall the Garrya Tongsai Bay Samui resort is quite isolated because of its own beach, which makes it quite private, but it's still close to many outings, restaurants, and more.
InterContinental Hotels Koh Samui Resort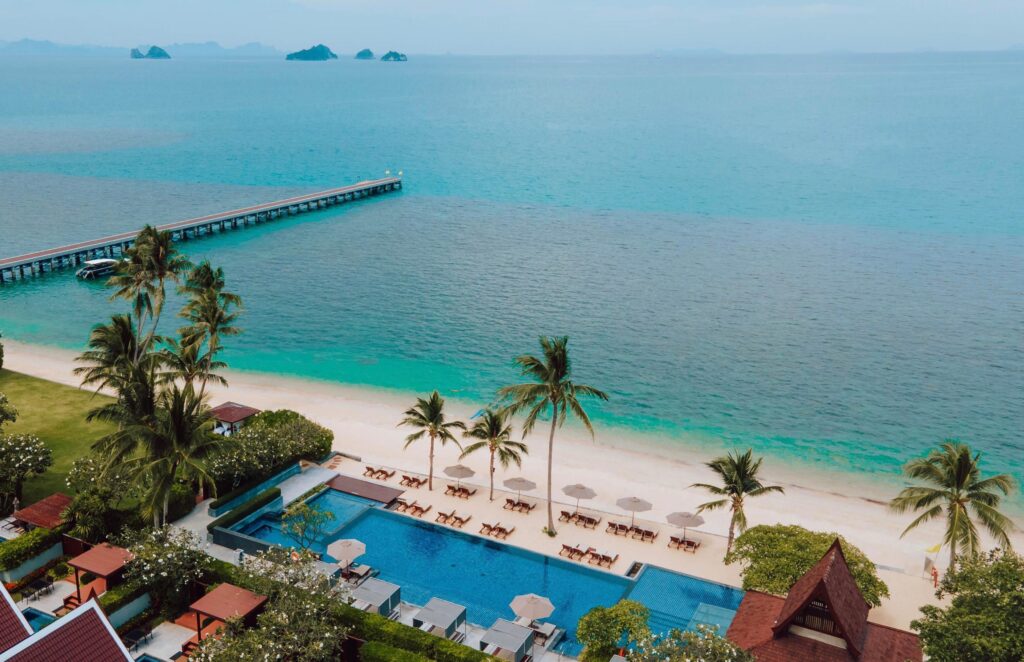 Located on the Southern-Western side of the island, close to the main ferry pier of the island, is the InterContinental Koh Samui. This award-winning property is special and is a top-ranked hotel in all of Thailand.
The hotel offers a very modern interior design, and the entire property sits on the hills of Koh Samui, so no matter where you're walking on the property, you're met with amazing ocean views.
They have a stunning private beach here that is only accessible to guests and a long beach dock that goes deep into the ocean.
Amenities at the InterContinental Koh Samui include a traditional Thai spa, yoga classes, a fitness center with spectacular views, an infinity pool, nanny services, babysitting, and absolutely anything you need here is met. The resort also has two on-site restaurants.
Rooms vary here, from spacious-looking suites offering exceptional oceanviews to private villas with a jacuzzi and pool.
Note: Regarding the best Koh Samui Hotels, InterContinental Koh Samui is #1 on the island
For those coming with a loved one, this hotel is perfect for an anniversary.
I didn't mention this hotel earlier because of its location. The resort is on the other side of the island, around 40-50 minutes away from the main areas of Koh Samui.
Location means a lot to me, but if you're looking for a more private hotel to enjoy your island oasis, you must come here.
Cheap Hotels in Koh Samui
Those looking for the best hotels in Koh Samui that aren't ranked 5 stars, here is a short list of hotels you should consider on the island!
The last option is a Hostel for those looking for a backpack-type experience.
Ibis Samui – 3 Stars
Known around the world, Ibis is a famous affordable hotel choice. The Ibis Samui is an excellent option for those looking for a resort on the affordable side.
The best part is its minutes away from Bo Phut Beach and the popular Fisherman's Village.
Punnpreeda Beach Resort – 3 Stars
Another excellent choice is the Punnpreeda Beach resort. This 3-star resort has a stunning pool with great ocean views.
The resort is minutes away from the airport, Fisherman's Village, shopping area, and several restaurants/bars.
P&T Hostel and Guesthouse (Hostel)
Those looking for a hostel, look no further. P&T Hostel is the highest-ranked hostel on the island. They have excellent clean dorms.
A restaurant downstairs full of several Thai and Western dishes and a happy hour for drinks. They have a great communal space, lockers, bike rentals, and more.
Things To Do in Koh Samui
Visit Koh Samui Beaches
You're visiting an island, so going to one of the many beaches here is a must-do when visiting Koh Samui.
Several beaches are located throughout the island, and all beaches are accessible by road.
Some beaches may be to your preference versus others. Here's a list of the most popular beaches on the island and why you may prefer one over the other.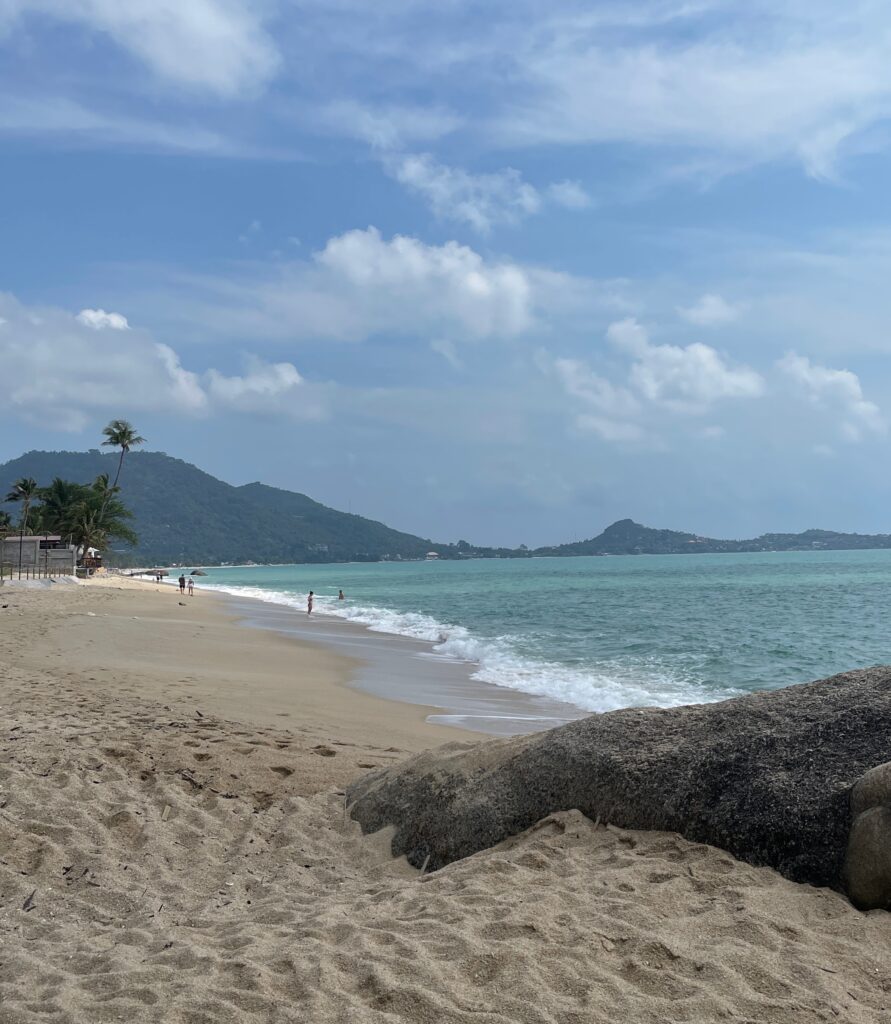 Both Lamai and Cheweng are the most popular beaches on the island, as well as the largest.
Lamai tends to be less busy compared to Cheweng and is quiet for the most part. Cheweng Beach is much busier and has several beach clubs and restaurants along the shore.
Lamai Beach
Cheweng Beach
All three beaches listed below are less known than the two above. Bo Phuet is known for being the shoreline of many restaurants.
Maenam and Lipa Noi Beaches are secluded, quiet beaches with small shorelines.
Bo Phut Beach
Maenam Beach
Lipa Noi Beach
The most popular excursion in Koh Samui is visiting Ko Mat Sum, also known as Pig Island. Yes, there are actually pigs there, several of them.
The story goes back to when one individual brought a pig to this island to resume him. And before you knew it, there were several of them on the island, and that's when they thought, why not sustain them by making the island a tourist attraction? And it's stuck ever since!
This excursion includes a round-trip from your hotel and back. You will be taken to Koh Tan first, a popular place to snorkel for an hour.
After that, the tour will continue to Ko Mat Sum (pig island), where you will enjoy lunch on the island and spend three hours there.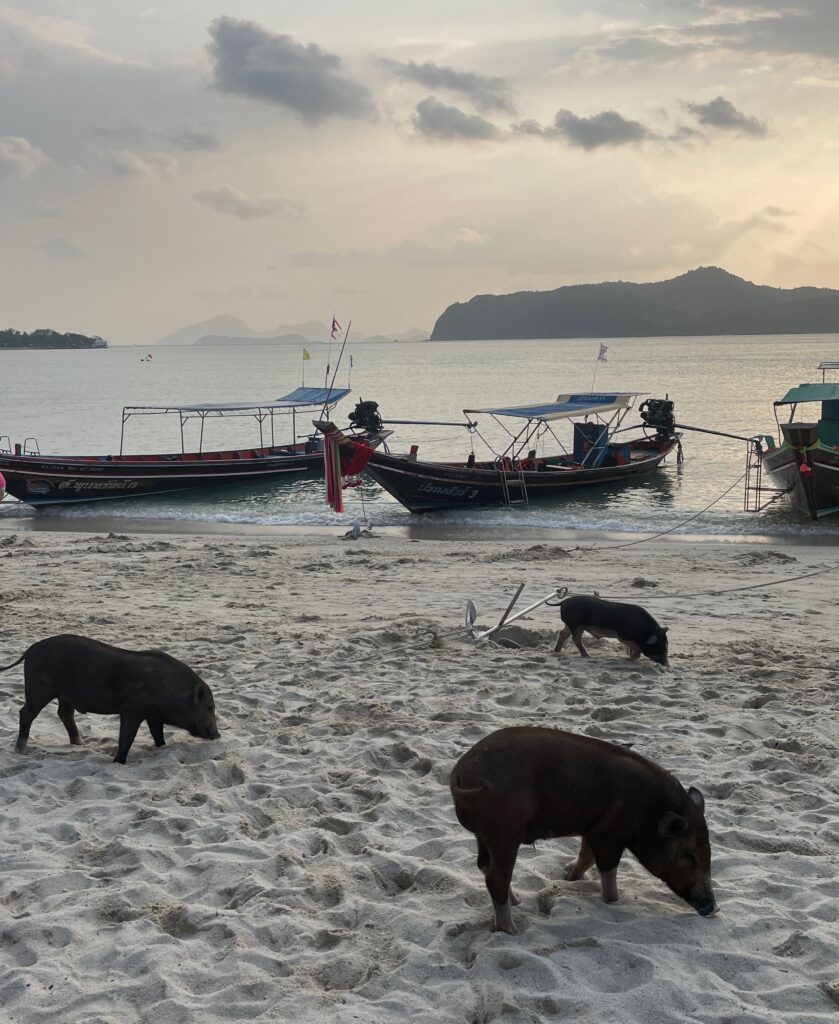 Koh Samui is home to dense forests full of trees, off-roads, and more. On this ATV quad tour, you will ride the off-roads in the forests of Koh Samui with a guide.
The 2-hour adventure features seeing a waterfall with a small group. You can attend this tour either in the morning or afternoon. All equipment is provided. – Transportation from your hotel and back is included.
Night Market at Fisherman's Village
What is better than going to a night market in Thailand? Nothing, nothing at all. The thing I miss most about Thailand is the night markets.
Delicious, affordable foods are being sold everywhere, cheap cocktails for 100 baht, games to play, souvenirs, other small things to buy, and much more.
The most well-known night market in Koh Samui is the Fisherman's Village Night Market, and it's a must-visit when you're in Koh Samui.
Unfortunately, this night market isn't open every night. Open Hours are as follows:
Monday: 5 PM – 10:30 PM
Wednesday: 5 PM – 12 AM
Friday: 5 PM – 11 PM
Is Koh Samui Worth Visiting?
Most definitely, visiting Koh Samui is worth it. The best part about Koh Samui is how built it is.
Sometimes it doesn't feel like an island because of all its conveniences until you ride your scooter on the main island lane and see the green hills and beachside views.
I really enjoyed the food in Koh Samui because of the wide variety of international cuisine that is offered here, more than in most places in Thailand. I'm a foodie, having eaten at great restaurants worldwide, and was not disappointed with most restaurants I visited in Koh Samui.
Koh Samui is especially perfect for couples and families but also suitable for backpackers and solo travelers. Make sure you visit Koh Samui when in Thailand!
Koh Samui or Phuket
Both are beautiful islands, and I'd honestly recommend you visit both. Because Phuket is larger, it offers more activity-wise, accommodation-wise, and more.
Although a large island, Koh Samui feels more intimate; you can drive around the island in 60 minutes. Phuket, on the other hand, is much larger.
Koh Samui, on average, has more 5 Star accommodations than Phuket. Besides that, Phuket does beat Koh Samui regarding its beaches and things to do.
That said, both islands are beautiful in their ways. I've been to both and plan on returning to both!
Subscribe to Travel Hiatus!
Receive updates on my latest posts, insider travel tips & the best destination guides to your inbox!
Happy & Safe Travels
---
Planning Checklist
---
Disclaimer: Please note that some of the links shared in this article might be affiliate links; this means that at absolutely no extra cost to you, we will earn a small commission for any sales generated through this article and/or this website. We recommend products/services we've either used or researched thoroughly – Thank you for supporting us so we can continue to share helpful travel content!