Phi Phi Islands – First Time Traveler Guide
The Phi Phi islands are one of the most visited places in Thailand. It's a series of small exotic isolated islands in the middle of the Andaman Sea. The main Phi Phi island is a small city, unlike the other islands that aren't inhabited whatsoever.
If you're familiar with Ko Phi Phi, I'd suggest you scroll down and begin looking at my suggestions! As for those researching what islands to visit in Thailand, I'd like to clarify: you'll need to add Phi Phi to your Thailand itinerary!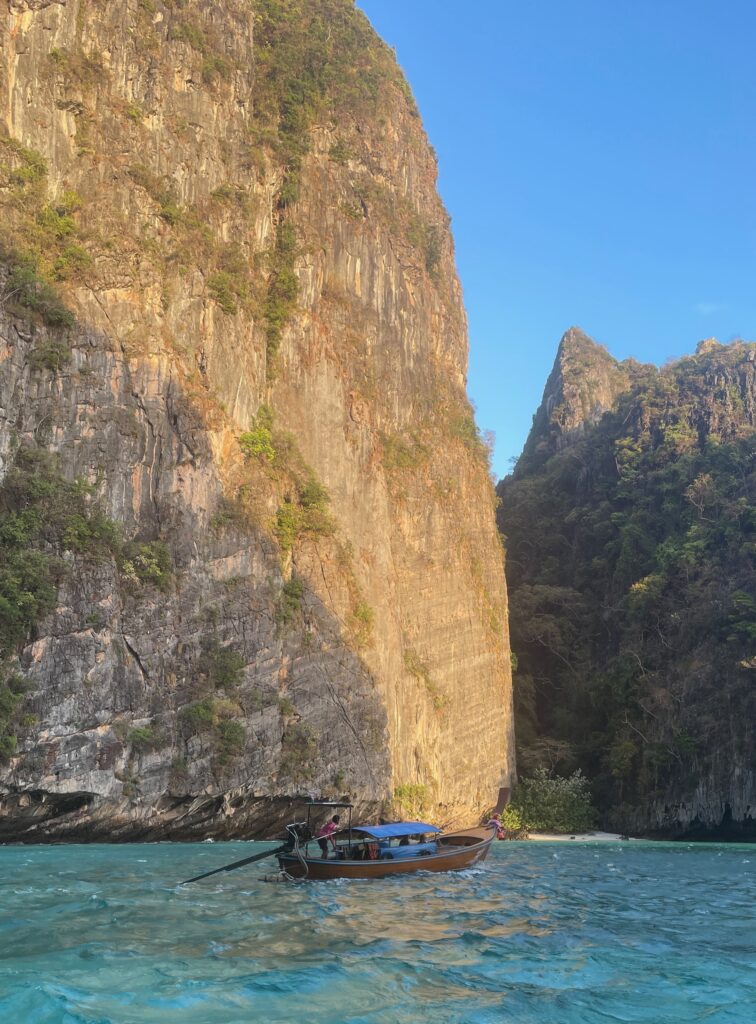 General Information about Phi Phi Islands
The central Island in Phi Phi is home to approximately 5,000 residents, mostly locals. The island is constantly developing, and tourists like me all want to see it!
Other than maybe Phuket, Ko Phi Phi is one of the most popular islands in Thailand. And it seems Phi Phi keeps growing in popularity. Walking through the island, you'll notice hotels being built, properties being constructed, and more.
In December of 2004, Ko Phi Phi was unfortunately hit by the Indian Ocean tsunami, whipping everything away. When you visit and look around, imagine all this was built since then.
What is the worst part about central Phi Phi Island? The first thing you see when you get to the main pier is Burger King and Mcdonald's. I was shocked, anywho, eat local, my friends!
How to Get to Phi Phi Islands
There are many ways to get to Phi Phi, but the two main ways are from Phuket and Krabi. You have two transportation options from there: a Speed boat or Ferry.
While the Speed boat is faster than the Ferry and does cut your transportation time in half, I opted to take the Ferry instead. The Ferry has air conditioning and is more comfortable. Note, the speed boat is slightly more expensive too.
The speedboat ride there is quite bumpy and less comfortable than the ferry. The ferry is more relaxing because it has reclining chairs, and you also have more space for your luggage/bags.
Make sure you purchase tickets in advance. You will pay more on the day off; sometimes, they sell out!
Get your Phuket Tickets Here – Fill out the departure and the Date, and choose Ferry or Speedboat.
Phuket to Phi Phi – Departure from Rassada Pier in Phuket
Time: 2 hours by Ferry – 1 hour by Speedboat
Cost: 500 Baht ($15 to 20 US) / Prices vary between companies and seasonal time of year
---
Get your Krabi Tickets Here – Fill out the departure and the Date, and choose Ferry or Speedboat.
Krabi to Phi Phi – Departure from Klong Jilad Pier in Krabi
Time: 2 hours by Ferry – 1 hour by Speedboat
Cost: 500 Baht ($15 to 20 US) / Prices vary between companies and seasonal time of year
*** When entering Phi Phi, it's 20Baht to enter (have cash on you) ***
Things To Do in Phi Phi Islands
Full Day Islands Tour (including Maya Bay, Bamboo Island & more)
The most popular thing to do when visiting Phi Phi is to go on a half or full-day excursion and see all the amazing places surrounding this small island. This is one thing you must do when visiting, with no exceptions.
During these tours, you will get to visit the famous Maya Bay Beach, the stunning Pileh Lagoon, Bamboo Island, Viking Cave, and more (each tour is different with spots they will be taking you to, but all tours include Maya Bay Beach, because of how famous it is). Check the excursion details when booking in the links below!
You will have an amazing time on these tours. The sights you will see are breathtaking, and just overall, it will be a memory you will have for a lifetime visiting some of the most beautiful nature in the world.
If you're in Phuket or Krabi and would like to visit, refer to my Maya Bay Beach Guide.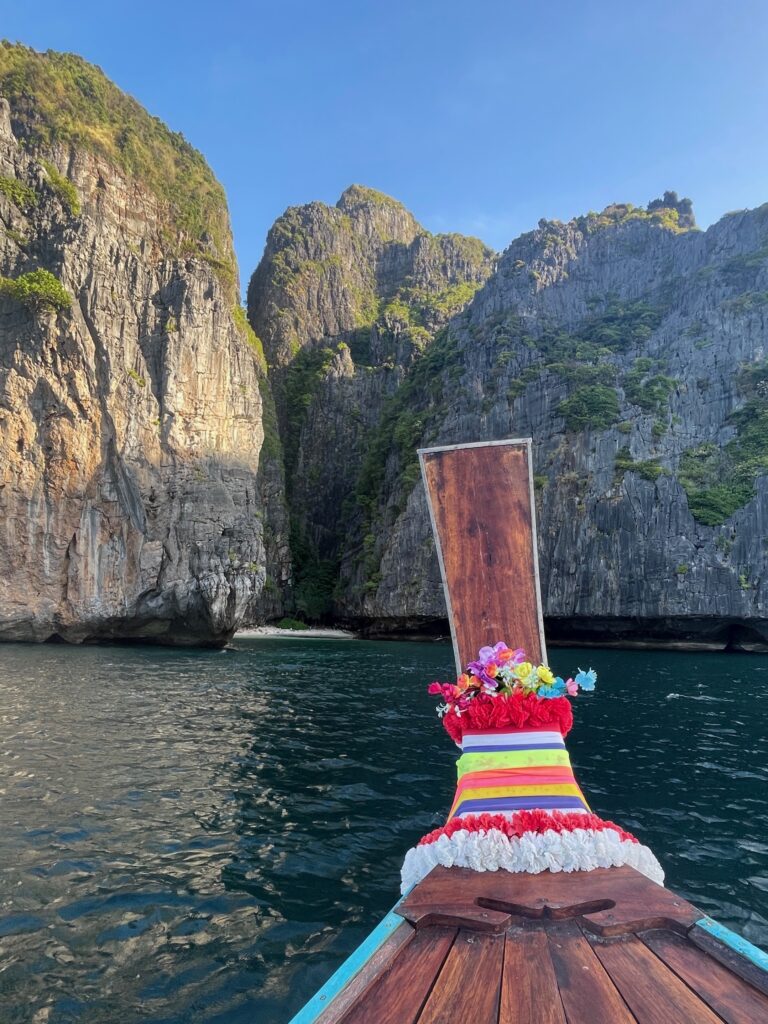 Each tour varies on time: So make sure you check the details. Some go in the afternoon, and others go early morning!
Important to Know: There is a Phi Phi Islands National Park fee of 400 Baht when going to Maya Bay to preserve the park, but if you take the Speed Boat, the fee is included in your booking!
You have Three Options for boat transportation for this tour:
I've personally charted a private Longtail boat, and it's nice because you're by yourself or with your friends, and you can always split the cost for it. The only downside was the day we went, the waters were very aggressive, and the boat went from side to side.
I would avoid going on a longtail boat for this tour if you get seasick often. Take the speed boat instead!
Hike Viewpoints 1 and 2
One of the best things to do in Phi Phi Don is to visit both Viewpoints on the island. A 15/20 minute hike in the sun will shortly lead you to the island's best views. Hiking there is quite easy; if you google it, only one path needs you there.
At the top of the viewpoints, you can see the entire island, the way it connects, both sides of the sea on the island, and the luscious green mountainous backdrop!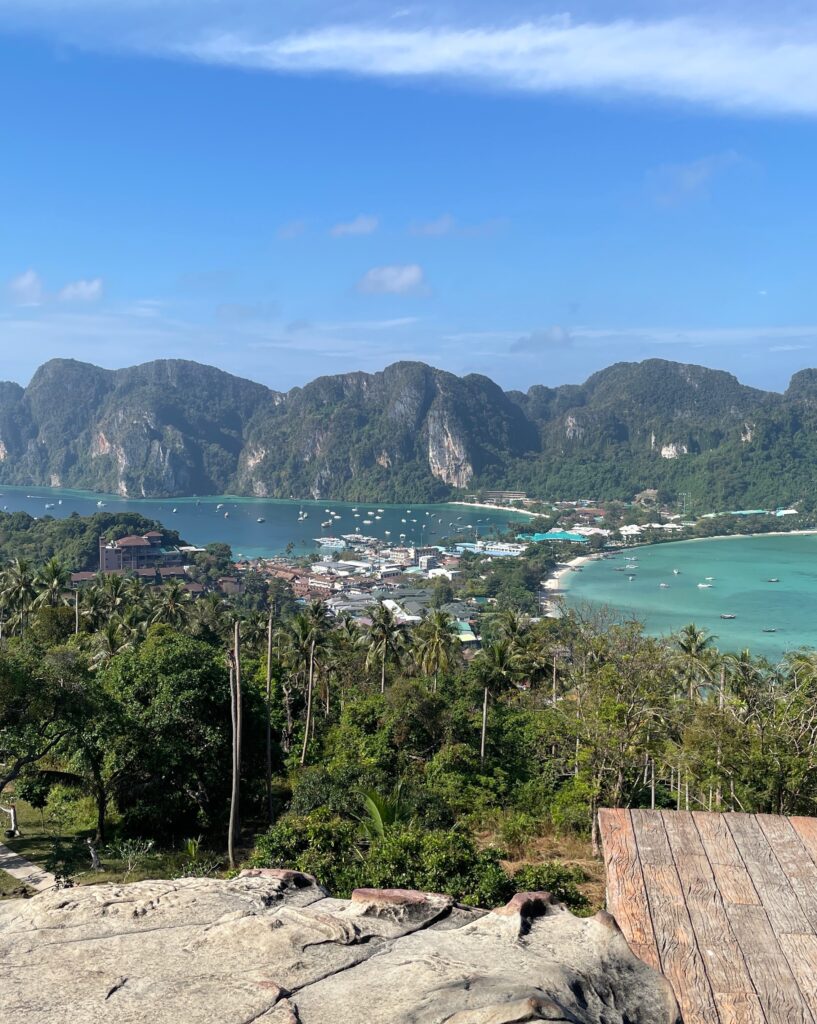 Both Viewpoints are conveniently on the same path as you go to the first ViewPoint.
Shortly after, you will get to a point where a worker will ask you for 40baht to keep going to the viewpoints (it's worth going to both viewpoints, trust me). The observation deck up there offers sights you must see in person.
If you plan on going to Phuket, make sure to see the famous Big Buddha; it also offers an amazing view!
For those thinking, no, I don't want to hike, well I'm telling you, you will regret it, the views here are breathtaking. I suggest going earlier in the day as the sun isn't as strong, beaming down.
Go Snorkeling
Wherever you go in the South of Thailand, snorkeling is always recommended as a top activity to do. And rightfully so, the sea life in the islands of Thailand is some of the most nature rich in the world.
With the various sea creatures and stunning and healthy coral reefs, snorkeling in the Andaman Sea is a must-do.
During this excursion, you will get the opportunity to snorkel, they provide you with everything you need, so you don't have to worry about purchasing goggles or anything from the shops!
Have a Beach Day on the Island
You're visiting one of the most famous islands in the world; of course, you need to spend a day or two lounging around the beach for the day!
The main beach in Phi Phi Don is Loh Dalum Beach, full of beach bars, kayak rentals, and longtail boat taxis. While this beach is absolutely stunning, offering amazing views of luscious green mountains, I wouldn't say it's the best beach on the island, only because of the amount of foot traffic here!
But if you're looking for quick access to a beach and want to follow up your beach day with lunch on the island, go to Loh Dalum Beach.
Otherwise, I'd recommend going to the following beaches. You should know these beaches aren't accessible on foot; you can't walk to these beaches. You will have to take a longtail boat taxi there!
Viking Beach
Monkey Beach
Long Beach
Loh Moo Dee Beach
Sunset at Loh Dalum Beach
One of the best and free things to do in Phi Phi is to experience the sunset at Loh Dalum Beach. In the evening, you will see several tourists gathered in groups and couples sitting and waiting for the sun to set.
Looking ahead, you've got the stunning sea, and these high forest-dense mountains go deep into the sea on each side. Adding a sunset into the view, you've got one beautiful experience.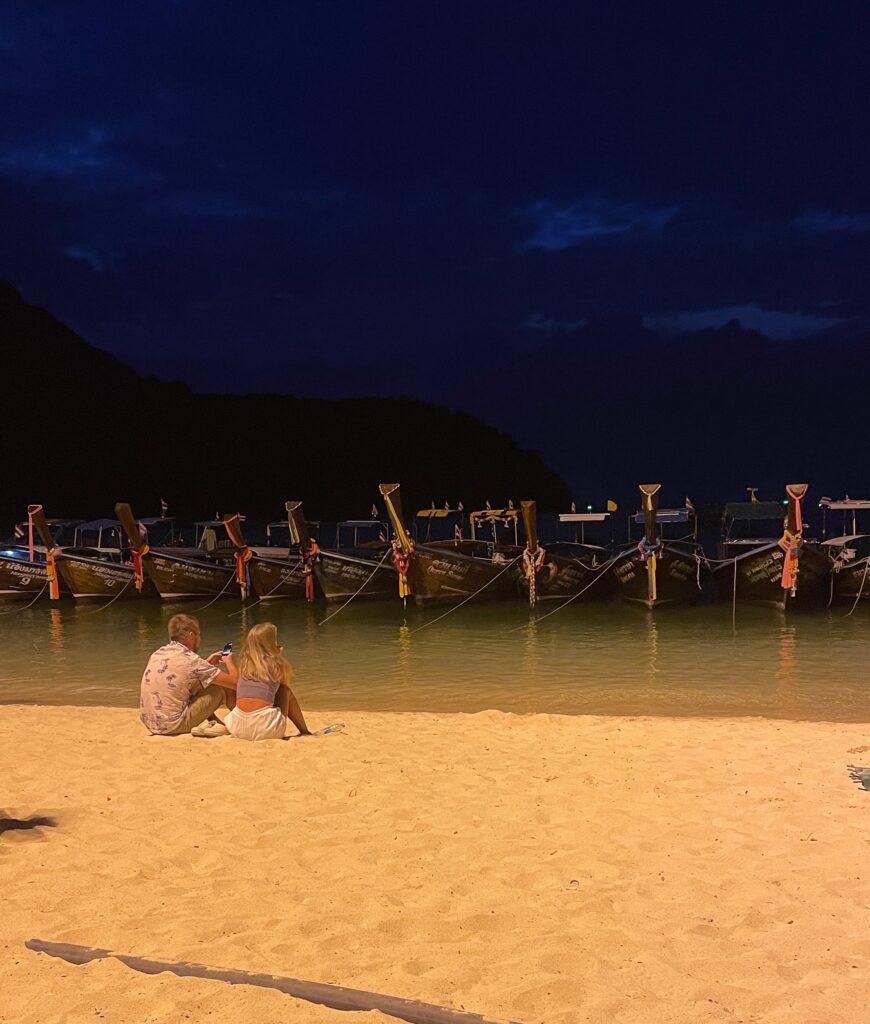 There are several beach bars here, one after another. Feel free to grab a drink, sit on a beach lounge chair and take in a beautiful sunset in Phi Phi.
Here's an alcohol tip for you: In Thailand, "buckets" are popular; basically, it's a small bucket full of alcohol, and they're bargain price-wise, get one!
If you want to follow your quiet evening with a party, many of those exist down the beach shoreline.
Go Partying
For those in a group visiting Phi Phi, other than the large selection of bars you can always go to, there is a fair share of parties going on on the island every night. When visiting, I went bar hopping and snacked away on street food along the way.
Here is a list of parties you may want to consider:
Ibiza Pool Party
Slinky Bar
Stones Bar (they've got a fire show on the beach in the evening)
Stockholm Syndrome
Phi Phi Islands Hotels
With the high amount of international tourists coming and going from Phi Phi every day, there is no shortage of accommodations on the island. The island has plenty of resorts, hotels, and several hostels. Apartment rentals are slowly getting popular here, also.
Curious about where to stay in Phi Phi Islands? Here is a list of the best hotel options for your price point, regardless of your budget.
Zeavola Resort – 5 Star
Starting with the best resort on the island, Zeavola Resort is an oasis of its own. The 5-star resort is between dense greenery and views of the beautiful Andaman Sea.
The resort offers several beach lounge chairs to relax on during the day. The resort has its own beach area here, so it's pretty peaceful. You can have dinner on the beach in the evening as the staff sets up a nice picnic to enjoy the sunset.
The overall atmosphere at the Zeavola Resort is very much a bohemian-chic vibe—a perfect place to relax on a famous island.
To get here, you have to take a longtail taxi. That's because once you get to Phi Phi, there isn't a way to get there by foot, despite the resort being on the same island. The resort figures all that for you, so you don't have to worry!
Phi Phi CoCo Beach Resort – 4 Star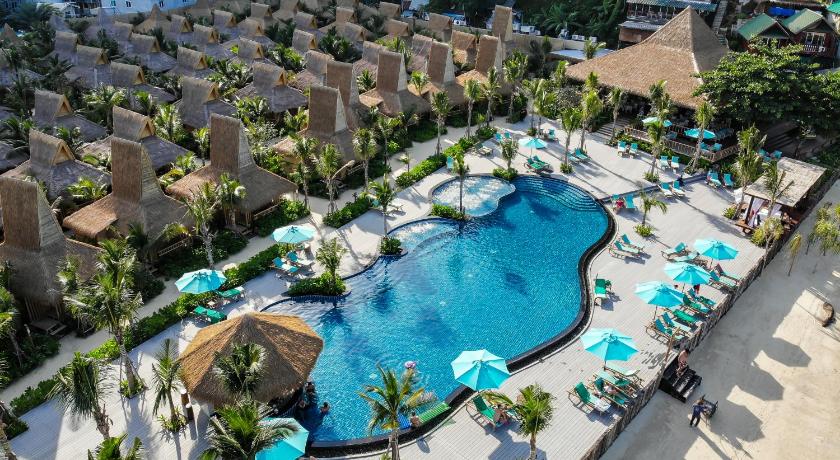 CoCo beach resort is conveniently located minutes from the island's central Ao Ton Sai Pier. The resort has separate rooms, and every room comes with palapa-style roofs. They look like small island homes.
At the front of all the rooms is a beautiful large pool with stunning views of the Sea and another side of the island.
Those looking to relax for the day after doing excursions the day before can get book a massage overlooking the sea! Tourists love the breakfast bar here; they've got a wide variety of food to choose from.
Phi Phi Anita Resort – 3 Star
Located in the heart of the island is Phi Phi Anita, a smaller type of resort with a large pool in the main area. You've got everything you need here, and it's relatively affordable for the price!
This is a great hotel option for those wanting to stay in the heart of the island, very close to everything. Not that anything is far, remember you can walk anywhere on the island in around 10-15 minutes.
Down the street from you is the famous Slinky Bar, which hosts a party every night and a fantastic fire show.
Browse More Phi Phi Hotels Here
For those looking for Hostels, there are so many in Phi Phi that it will be hard to choose.
Hostels here are fun because most of them host parties in the evening, and the mix of different international travelers here is impressive. One of many reasons Phi Phi is a great place to visit, even if you're traveling solo!
Here are the top two hostels on the island. If you're looking to browse more, click the link below!
Browse More Hostels in Phi Phi Here
Best Restaurants in Phi Phi Islands
There is some good food in Phi Phi. Is it some of the best food in all of Thailand? No, that would be exaggerating if I'm being honest with you. I don't know how to explain it, but in the smaller islands in Thailand, most restaurants are a hit or miss, food-wise.
Nonetheless, after eating at many places, I stayed in Phi Phi for many days. Here is a roundup of the best restaurants in Phi Phi.
Before I share those restaurants, if you'd like to get a drink with an impeccable view, check out Phi Phi Chukit Cafe!
Garlic 1992
Opened in 1992, this humble local Thai restaurant is a staple on the island, has great-tasting food, is well-priced, and is centrally located. They sure do have it all here.
Usually, at any time of the day, they've got a small lineup of people waiting to be seated. But don't worry, the line usually passes quickly. I ate twice here when I was in Phi Phi. I highly recommend visiting, and also make sure to get one of their cocktails; they're huge!
Atom Resto Phi Phi
Atom Resto is an Italian restaurant located centrally on the island by a local family. When visiting, we had a few pasta dishes; they were great, and the cocktails were good.
They've also got a mix of other international cuisines to cater to all tourists, just in case you don't feel like Italian!
The staff, I must mention, is very nice; we had a great time here.
Only Noodles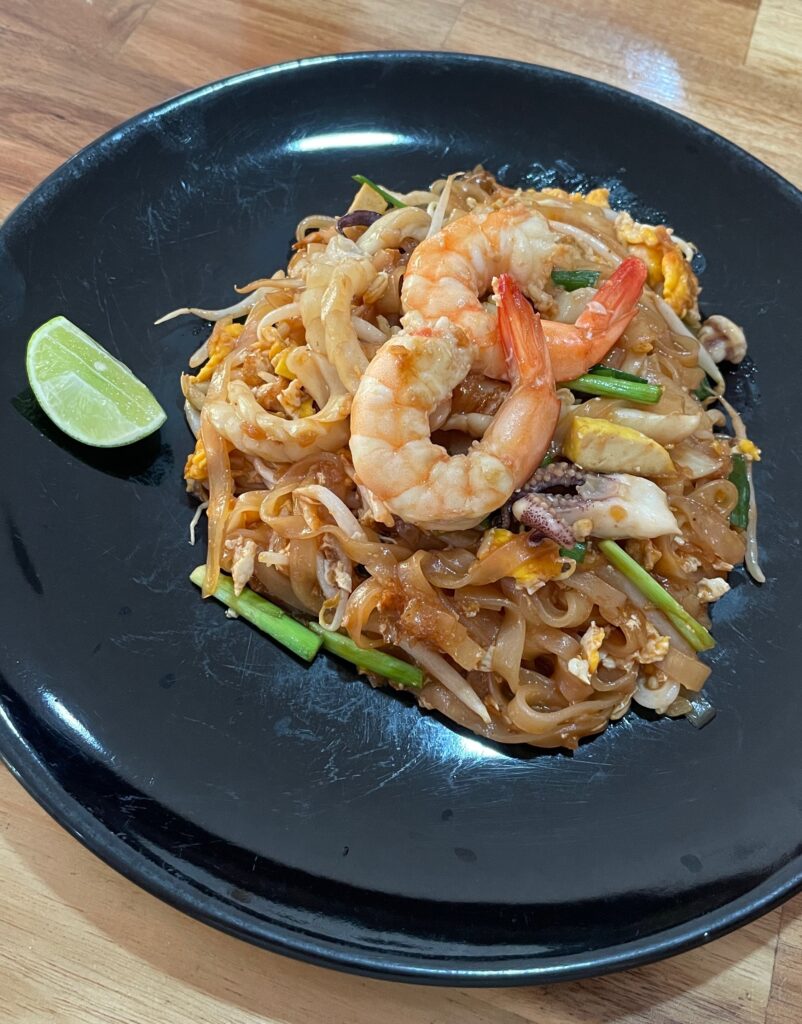 This place does exactly what the name says it does; they only do noodles, and they serve Pad Thai a few different ways. Operated by a small local family, the father cooks, and the wife serves.
The Pad Thai here is outstanding, some of the best I've had in Thailand, and it's made fresh in front of you. You can watch the man cook them. The restaurant is in a corner, so looking around, it might take you a second to find it!
One of my favorite restaurants on the island. It's simple, it's fast, and it's delicious! – Perfect lunch spot or late evening!
Thai Duck Noodle Soup
Last but not least, this Thai duck noodle shop is another of my favorite restaurants in Phi Phi. It's not much of a restaurant because they only have a few bar seats for you to eat, but you must come here for the Thai-style duck dishes!
The man who owns the place is very friendly and serves the moistest delicious duck Thai dishes; you've got the classic duck soup, duck pad Thai, stir-fried, spicy basil, roast duck, and more. I would have come here many more times if I had known about this place earlier in my trip.
Restaurants next door to Thai Duck Noodle Soup:
Also, located steps away from the Thai Duck Noodle Shop restaurant are several other small restaurants. This food area is a spot I highly recommend visiting when in Phi Phi. You can snack around from each restaurant!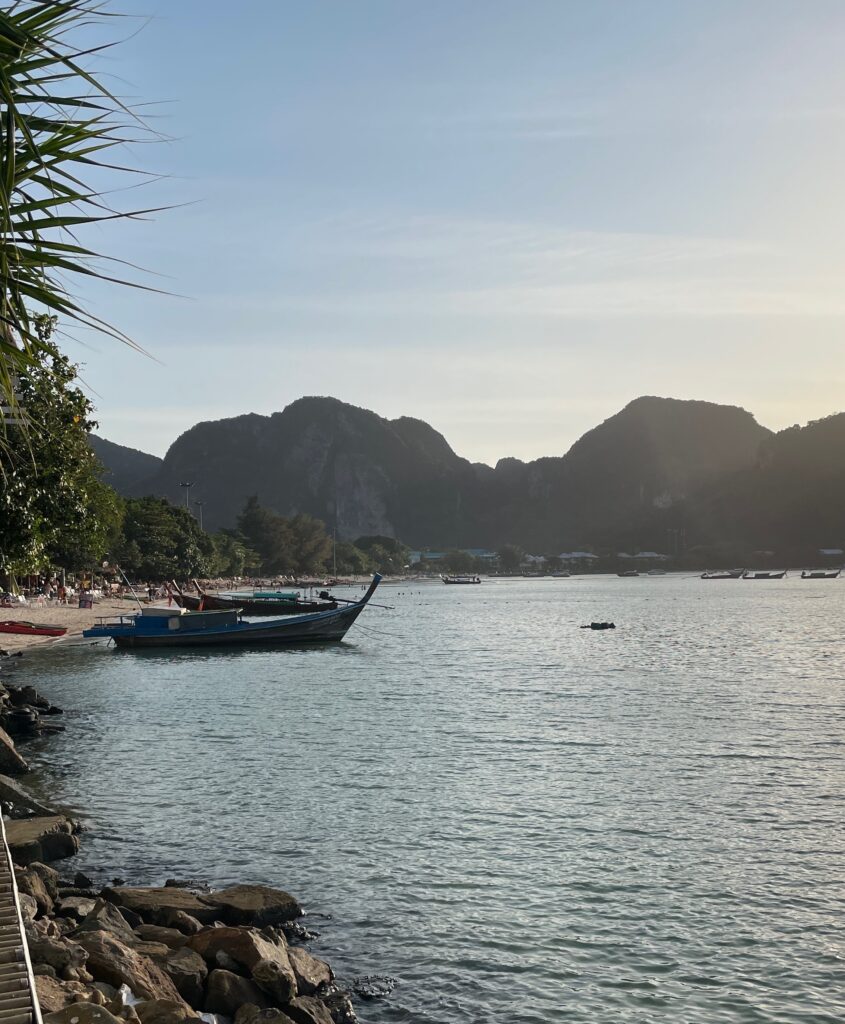 How Long Should I Visit Phi Phi Islands?
It depends on your preference, but most tourists visit Phi Phi for around 1-7 days. Many tourists walking around are only on a day trip from Krabi or Phuket.
But if you want my opinion, that's not a good idea. You're rushing yourself to see these islands for only one day. A good amount of time here is 2/3 days, longer if you enjoy yourself.
Phi Phi Islands Itinerary – 2/3 Days – Outline
Here is an outline of a 2/3 Itinerary in Phi Phi, fitting everything you must experience in Ko Phi Phi!
First Day: Arriving in the afternoon, get settled, walk around the island, explore the shops and restaurants, and end the evening at Loh Dalum Beach with drinks.
Second Day: Maya Bay, Lagon – Excursion day, follow up with Dinner and a massage.
Third Day: After Breakfast, make your way up to the ViewPoints. After that, take a boat taxi to one of the island's beaches for a relaxing day.
Fun Fact: The words "Ko" and "Koh" both mean "Island" in Thai. And you will see this word often when visiting Thailand.
What are Phi Phi Islands Famous For?
Phi Phi is famous for being home to the famous Maya Bay; it's only a 10-15 minute boat ride from the main Phi Phi Don island. Maya Bay caught worldwide attention when it was featured in "The Beach," a movie with Leonardo Dicaprio.
Since that movie, tourists have wanted to see the world-famous Maya Bay beach, known as "one of the most beautiful beaches in the world."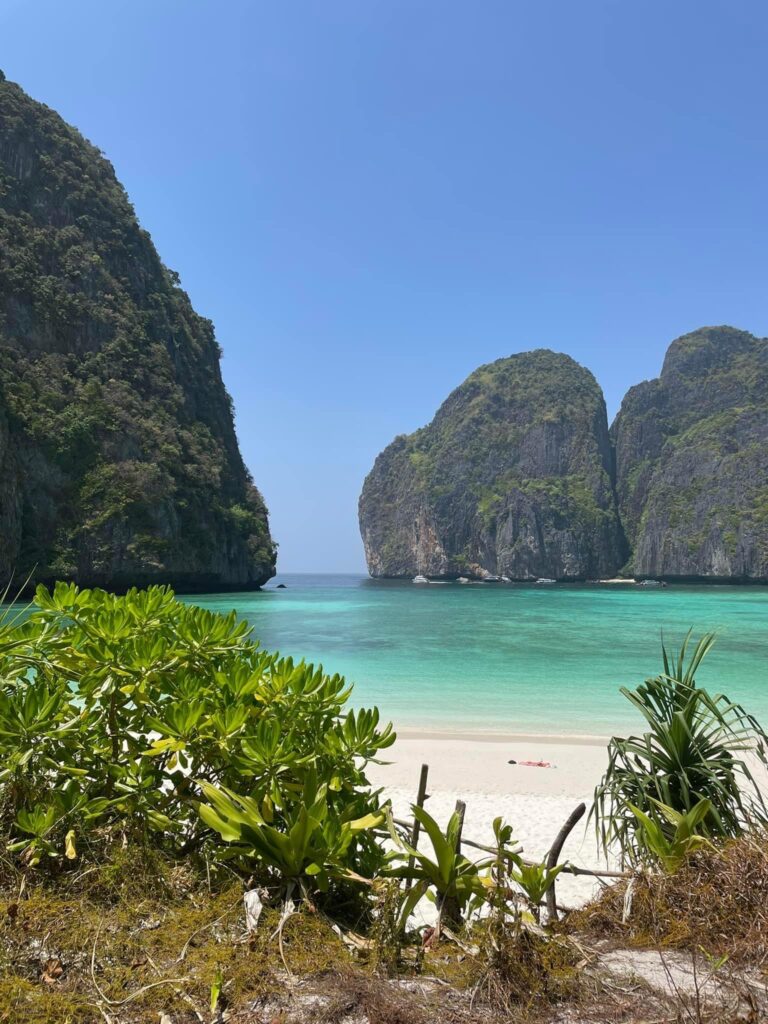 Besides Maya Bay, as I mentioned, the main Phi Phi island is unique because it's an isolated island in the middle of the Andaman Sea. Island living in Phi Phi is very much a thing; there are no cars here, no people biking around, and everyone walks on foot.
Locals move products around the island in these big two-wheel carts. As you visit and walk around the island, a local will probably say "beep beep" to you so you can move so he can get by with his cart of supplies.
Overall, Phi Phi is a fun place to relax, party, and see an iconic place in the middle of the ocean. But if you're really looking to relax, I suggest you also visit Railay Beach in Krabi!
When is the Best Time to Visit Phi Phi Islands?
Koh Phi Phi islands share the same climate as most of Thailand. The optimal time to visit Phi Phi is between November through April. The weather is quite hot like the rest of the year, but it's less common for rainfall to happen. This is according to the official Thai Tourism.
From around June till October is considered the "rainy season" or "monsoon season" as some call it. You can expect more frequent rainfall verse Nov-April, so it's best to avoid coming then.
The last thing you want is to visit somewhere tropical and put up with some rain some days!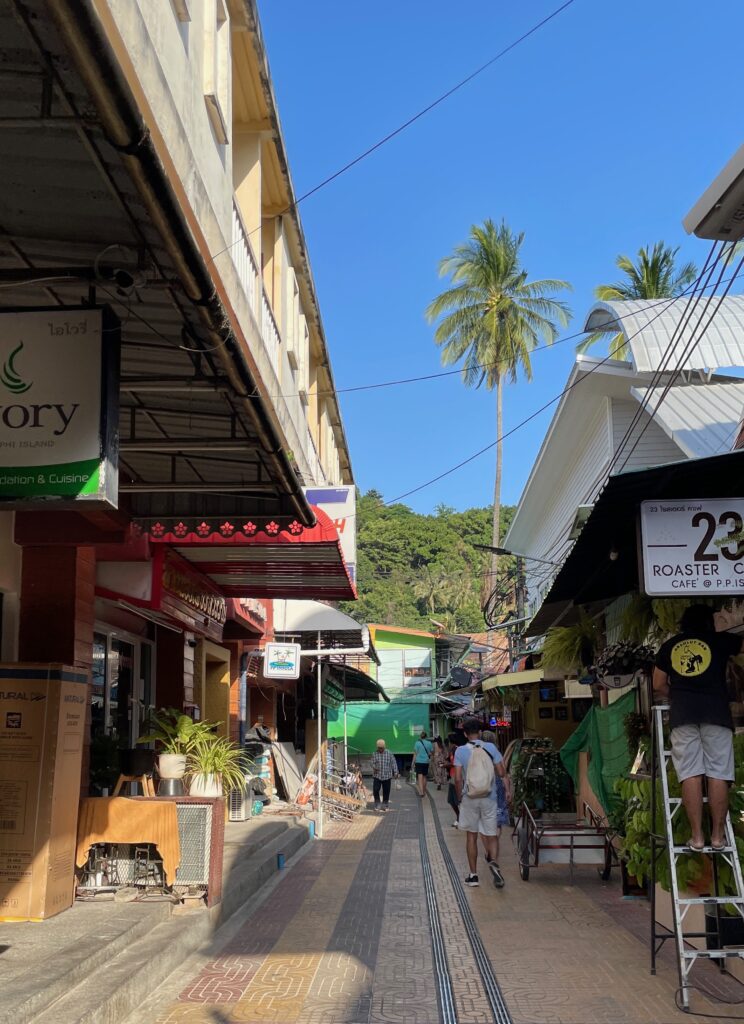 Are Phi Phi Islands Worth Visiting?
100% yes, Ko Phi Phi is worth visiting; it's one of the most beautiful places in the world.
My favorite part about visiting Phi Phi was looking at google maps and seeing how isolated this place is and being able to say, I've been there.
The main island and the islands surrounding it are stunning, the beaches are tranquil, and it's a must-visit place. You have to include Phi Phi in your Thailand itinerary.
What to Pack for Phi Phi Islands
If you have yet to go island hopping anywhere in the world, here are a few things you should consider bringing/buying for your island adventures in Thailand!
A Dry Bag – When taking longtail taxi boats, you may sometimes have to go into the water and walk to the shore. You run the risk of getting any electronics or other things wet. This Dry Bag is perfect for protecting your items!
Waterproof Mobile Phone Case – When you're on excursions, you will more than likely want to take pictures when you're on the boat, but that also means your phone will get wet. This waterproof phone case will prevent that from happening!
Travel Insurance – You never know what may happen when visiting a foreign country; hospital visits in Thailand can add up—boat accidents, food poisoning, flight cancelations, etc. Don't take the risk!
Where to Next after Phi Phi?
If you plan a trip to Thailand, you're probably going to more than just one place. There's just so much to see in Thailand. Check my article on the best cities to visit in Thailand to add to your itinerary.
Curious about where you should go next in Thailand after Phi Phi? The answer is Railay Beach in Krabi. It's only a 90-minute boat ride from Phi Phi. After staying in Phi Phi, you can go there by ferry or speed boat (book your ticket here) – Railay Beach is a must-see!
A fun island-hopping excursion tour to do if you're in Ao Nang or Railay is the Krabi 4 Island Tour!
Another place to consider is Koh Samui Island, the second largest island in Thailand after Phuket.
Subscribe to Travel Hiatus!
Receive updates on my latest posts, insider travel tips & the best destination guides to your inbox!
Happy & Safe Travels
---
Planning Checklist
---
Disclaimer: Please note that some of the links shared in this article might be affiliate links; this means that at absolutely no extra cost to you, we will earn a small commission for any sales generated through this article and/or this website. We recommend products/services we've either used or researched thoroughly – Thank you for supporting us so we can continue to share helpful travel content!