Cancun vs Playa Del Carmen: Which is Better?
The discussion about Cancun vs Playa Del Carmen is a popular one, and that's because they're both famous tourist destinations in Mexico, and they're only one hour away from each other.
And later this year, you can take the Mayan Train back and forth between Cancun and Playa Del Carmen, making travel between the two cities easy!
While both cities are excellent in their ways, each caters to a different audience. Don't get me wrong; you can do most of the broad activities you'd like to do in a Mexican destination in both cities, such as going to the beach, eating local food, and going on day excursions.
The big difference between the two cities is the overall atmosphere of each city, and if you've spent time at each city for more than 2 or 3 weeks, you will notice the difference.
Whether you're debating on which city to visit or perhaps live in for a few months, I will highlight the main differences and why you may prefer one city more than the other.
Are you looking to go from Cancun Airport to Playa Del Carmen? Use my guide, including multiple transportation options!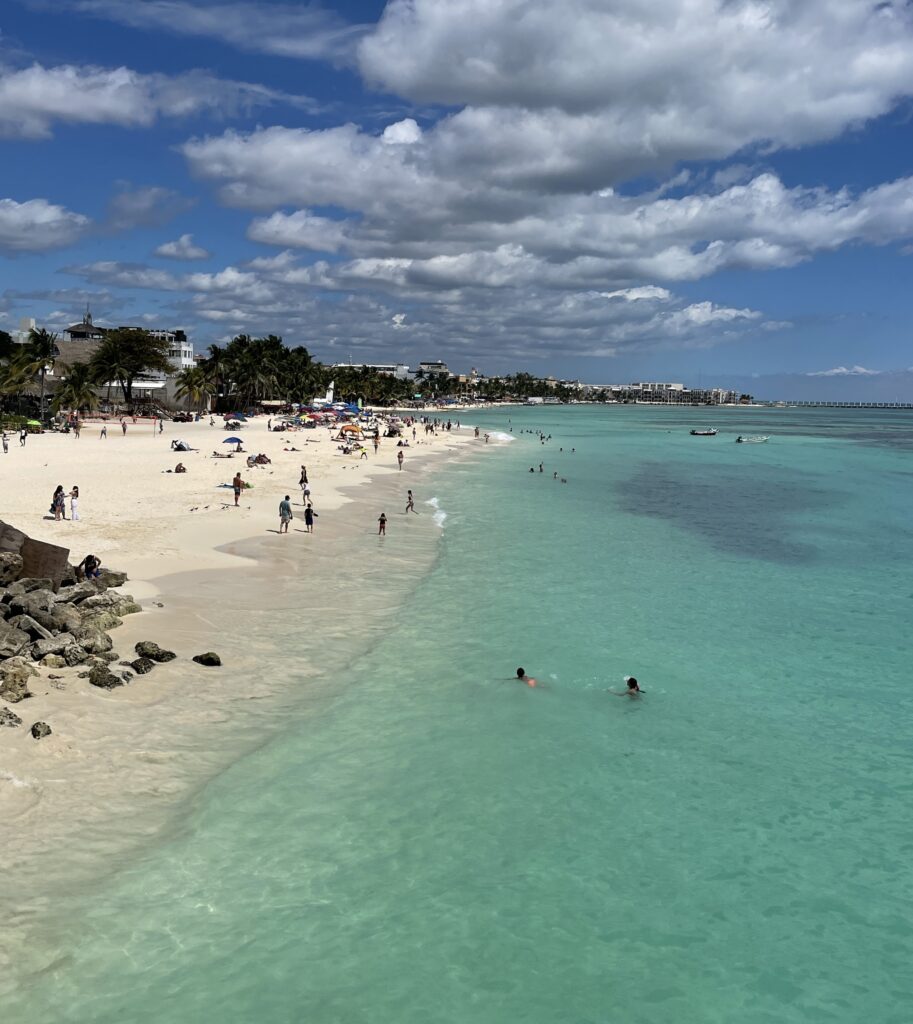 Cancun vs Playa Del Carmen – Main Differences
The main differences between Cancun and Playa Del Carmen are the following:
First: The number of tourists visiting Cancun verse Playa Del Carmen yearly differs. Cancun has the main international airport for the Quintana Roo region, and tourists often opt to stay and visit Cancun instead of going an hour over to Playa Del Carmen.
Second: The number of hotels and resorts; Cancun is known for its large resorts in the Hotel Zone and throughout the city. The city can cater to many more tourists than Playa Del Carmen can.
Third: The Mexican heritage's culture and the local feel is hard to experience in Cancun; the city is very Americanized because of the number of American/Canadian tourists visiting frequently, and the city caters to them. Playa Del Carmen is much better if you want to experience a more authentic version of Mexico!
City Walkability – Cancun and Playa Del Carmen
Playa Del Carmen is one of the most walkable cities I've ever visited. The city is a perfect beach town because of this.
You can walk just about anywhere in 20/30 minutes or less. Very convenient for those looking to vacation somewhere and not have to worry about the hassle of transportation.
And those looking to live in Cancun or Playa Del Carmen, this factor is the main reason why more ex-pats and digital nomads live here versus in Cancun. You never have to use any form of transportation around the city.
Transportation Tip: You can take the ADO Bus between both cities for around $5 US; book your ticket here.
Don't want to take the bus? Book Private Airport Transporation from Cancun Airport to anywhere in Cancun or Playa Del Carmen.
Conversely, Cancun is much larger than Playa Del Carmen, and things are spread out, so you will need some form of transportation to get around.
If you want to vacation in Cancun, this is fine because most hotels/resorts have shuttles. But if you're considering living here for a bit, transportation will be something you must consider.
Cancun vs Playa Del Carmen – Nearby Cities
One of the best things to do in Mexico when visiting a city is exploring nearby places. The country is full of so many great cities to see.
Considering both city locations, some cities are closer to Cancun, and some are closer to Playa Del Carmen.
Whether you're coming with a family and looking to stay at the resort, or perhaps you're a solo traveler looking to see multiple cities, location verse these two cities is something you should strongly consider.
Cancun – Nearby Cities
Playa Del Carmen – Nerby Cities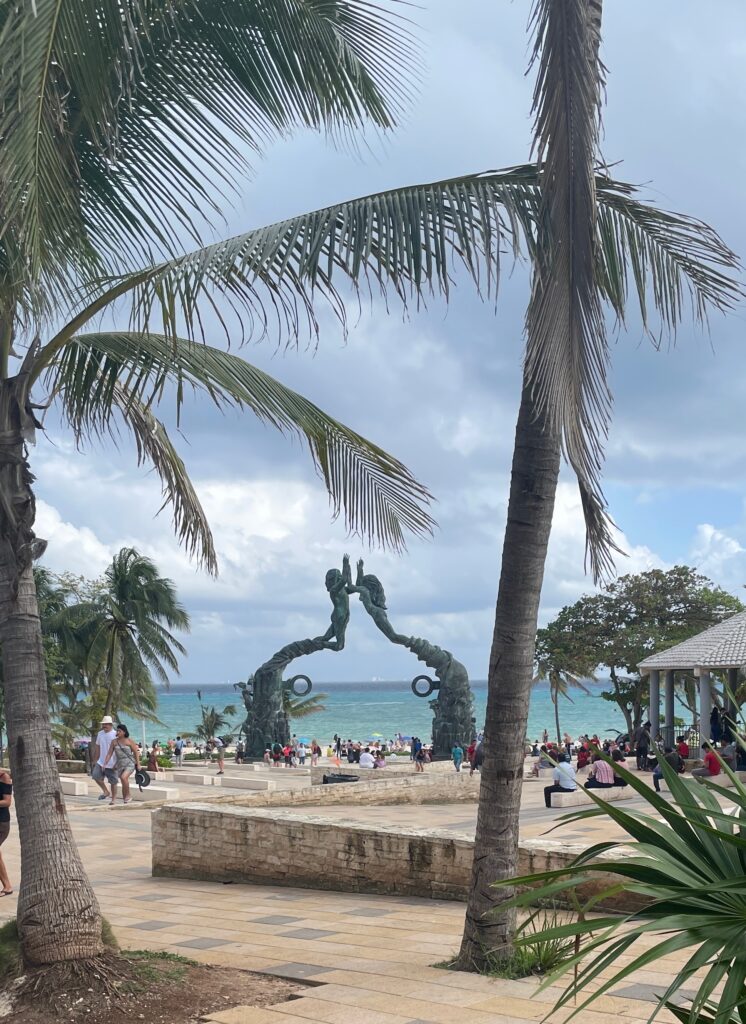 For those wanting to visit the famous Chichen Itza, it's located just 40 minutes away from Valladolid. You can either take a day trip there from Cancun or take one from Playa Del Carmen.
Or I recommend you get a hotel for a night or two in Valladolid. Discover this beautiful city so you can visit Chichen Itza while also checking out Valladolid (Chichen Itza is only 40 minutes away from Valladolid).
Another Factor to Consider: Something you MUST do when visiting Mexico is explore/swim in a cenote.
Unfourtanely, Cancun doesn't have cenotes, but Playa Del Carmen does, and the most famous cenotes in Mexico are in Tulum, only an hour away if you're staying in Playa Del Carmen!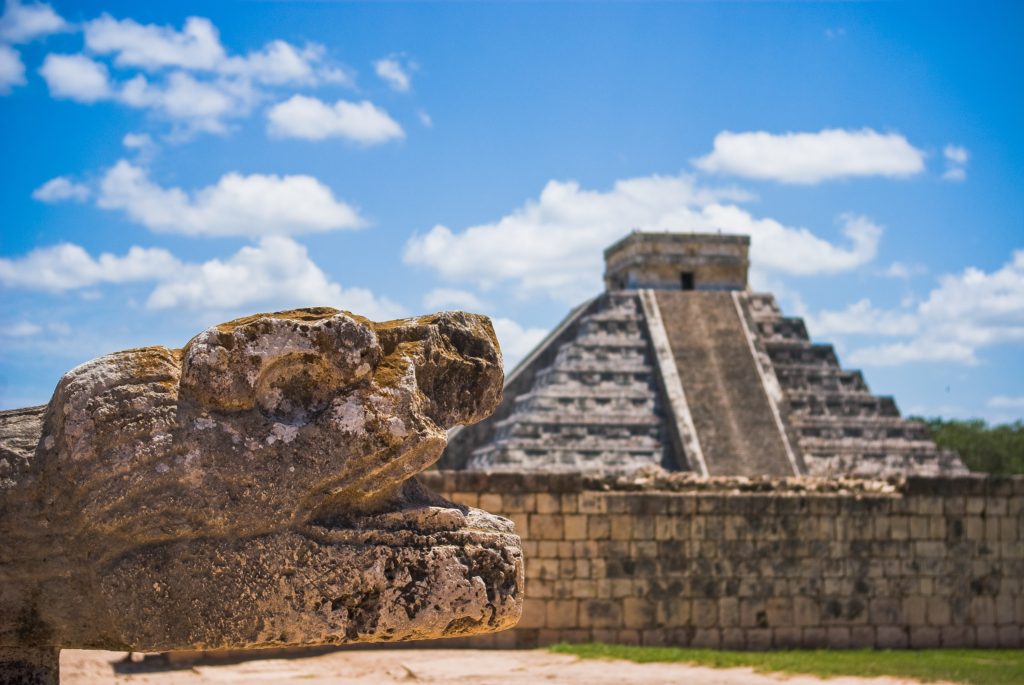 Cancun vs Playa Del Carmen – Beaches
Both cities have beautiful beaches; Playa Del Carmen has one main beach for the city, but different shore names and Cancun has several because of its famous Hotel Zone.
Both cities have an island directly across from them with beaches to explore.
For Cancun, you can visit Isla Mujeres and explore the beautiful beaches. And for Playa Del Carmen, you've got Cozumel Island directly across from you, where you can explore more beaches!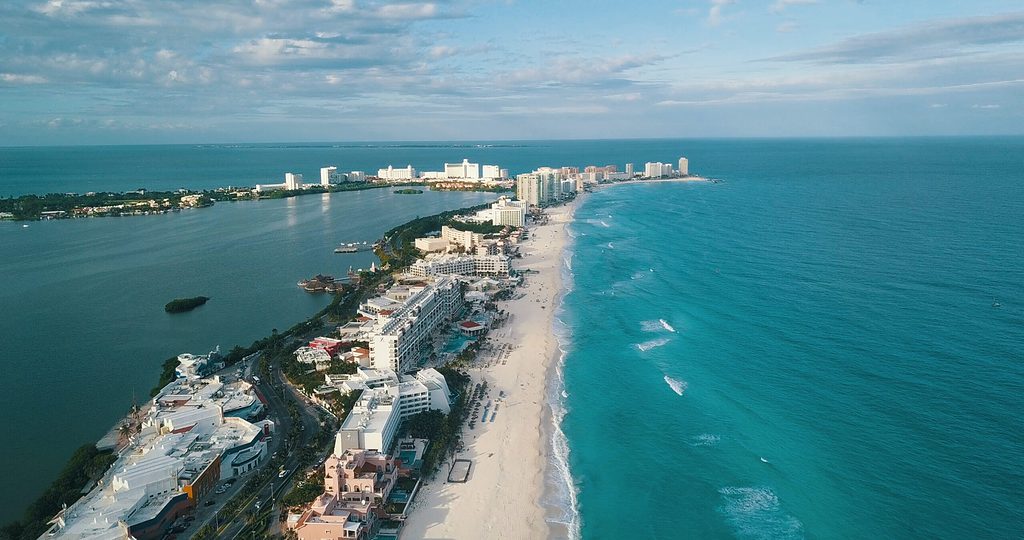 Which City Has Better Beaches?
While both cities have exceptional beaches, the clear winner is Cancun. Cancun, by far, has more beautiful beaches than Playa Del Carmen. The hotel zone in Cancun attracts tourists from all over the world, strictly for its beaches!
The entire Hotel Zone shoreline is a spectacle, a white sandy beach with beautiful turquoise waters. Make sure to check out the underwater Museum in Cancun.
Playa Del Carmen beach shoreline is nice, but it can get quite busy sometimes, especially the parts connected to the main 5th Avenue street of the city. If you're looking for a less crowded beach area in Playa Del Carmen, head over to Playa Punta Esmeralda or Playa Xcalacoco.
Beach Clubs are everywhere in Cancun and Playa Del Carmen. Here are a few beach club recommendations in each city for you!
Cancun Beach Clubs:
Mandala Beach Club
Coco Bongo Beach Club
Playa Del Carmen Beach Clubs:
Mamita's Beach Club
Martina Beach Club
Lido Beach Club
Encanto Beach Club
But if you want my opinion on beach clubs, everyone knows the best beach clubs in the area are Tulum's Beach Clubs!
Cancun vs Playa Del Carmen – Resorts/Hotels/Rentals
As mentioned earlier, Cancun is famous for its hotels and resorts, so the number of options here is extensive. You can find just about any accommodation type here, 2-5 star hotels and hostels.
The Hotel Zone is a long strip of land isolated from the main Cancun land, full of breathtaking resorts.
While the hotel options are more significant in Cancun vs Playa Del Carmen, Playa Del Carmen has a fair share of resorts and hotels.
If you're looking for apartment rentals in Playa Del Carmen, they're much easier to find there than in Cancun, and the quantity in Playa is more significant.
Also, Playa Del Carmen has more hostel options verse Cancun.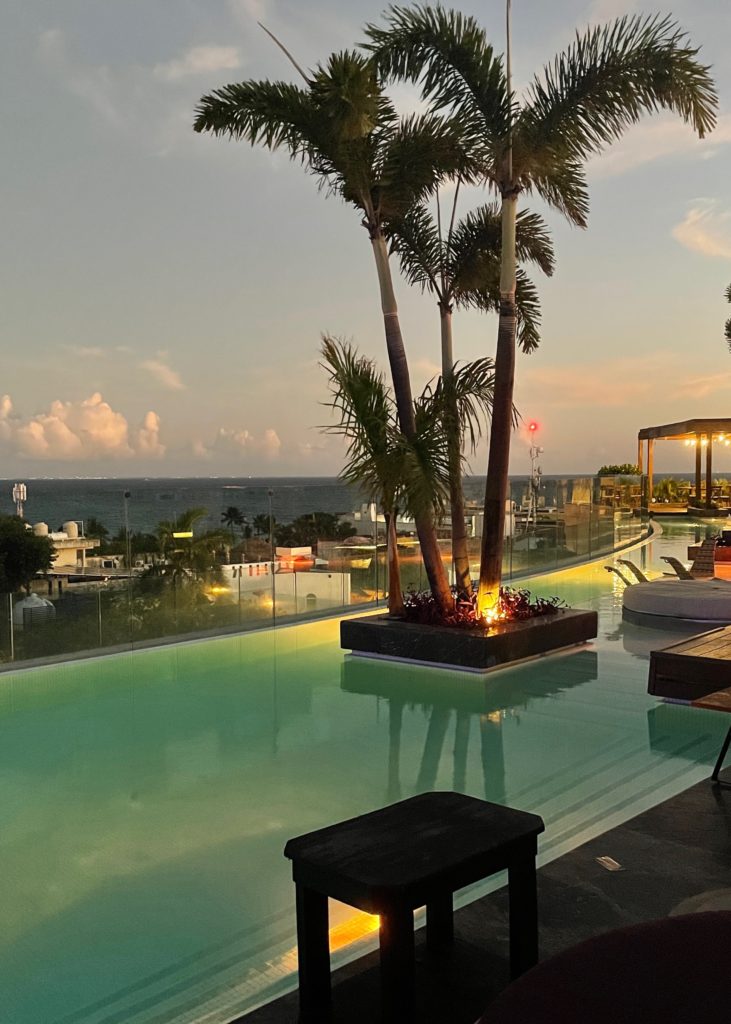 If, for some reason, you want a large variety of resort/hotel options to choose from, Cancun is better for that. But again, Playa Del Carmen also has several excellent hotels to choose from.
But for those looking to get a rental for a month or longer, Playa Del Carmen is much better than Cancun for that!
Cancun vs Playa Del Carmen – Nightlife
If there's a third thing Cancun is known for after its resorts and beaches, it's the nightlife here. Every year you've got young adults coming for Spring break from the US and Canada.
The nightclubs here are plenty. Most of the nightclubs in Cancun are located on the Hotel Zone strip, so they're pretty accessible if you're staying in the Hotel Zone. And the entire area is one street, so it's easy to get around, even at night. But you will need to use a taxi. For more info on nightlife between the two cities, click here.
Playa Del Carmen also has nightclubs, fewer than in Cancun, but they're here. Santinos is a popular one, and by the beach, there is a street full of 4 nightclubs that takes up a corner, but that's about it.
The better nightlife in Playa Del Carmen is actually an hour South drive over in Tulum!
Regarding nightclubs strictly, Cancun is a clear winner compared to Playa Del Carmen. Cancun has many more options. Both cities offer Coco Bongo, a popular type of "Mexican Party" to experience!
Things To Do at Night
For those not looking to party into the night, Playa Del Carmen and Cancun have several restaurants that offer a fun dinner/party setting, quiet but not dull!
A highly recommended activity to do at night is to attend Cirque Du Soleil JOYA. There you will experience fine dining, champagne, and a spectacular show! – This is a must-visit with a large group of friends or a loved one!
If you're staying in Cancun, this Cirque Du Solei Experience offers everything, including transportation to and from the venue (around a 40 min drive).
If you're staying in Playa Del Carmen, it's pretty close, and you can make your way there by taxi to the Cirque Du Solei venue.
Cancun vs Playa Del Carmen For Living
Both cities are liveable, with decent internet, accommodations are plenty, grocery stores are everywhere, and restaurants a plenty.
As mentioned earlier, the one biggest reason Playa Del Carmen is better for living verse Cancun is because of how much more walkable it is.
Also, there is a more prominent ex-pat/digital nomad community there. Living there, you will be more likely to meet others living abroad, just like yourself.
And next to Playa Del Carmen is Tulum, a great place to make weekend trips. Tulum also has a large ex-pat community as well. Playa Del Carmen vs Cancun: Playa Del Carmen is the clear winner for living.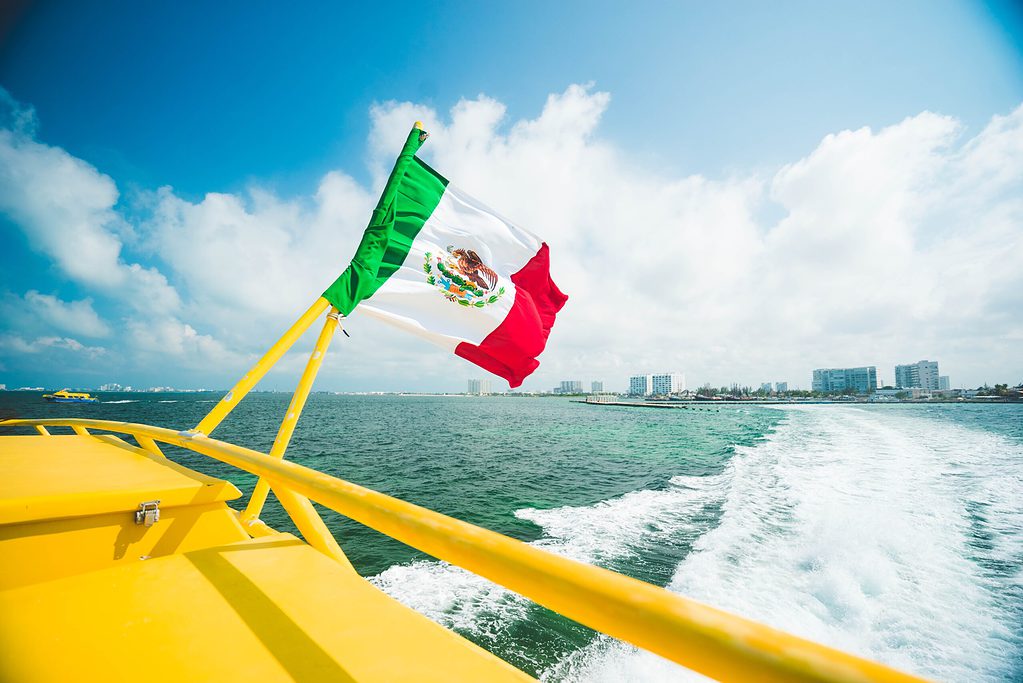 If you're looking for various cities to consider living in Mexico, here is a list of 8 cities in Mexico you should consider!
Cancun is still liveable, and if you like your American franchises, you might choose to live there vs. Playa Del Carmen. Many young individuals live in Cancun because they work in its nightlife industry.
Cancun vs Playa Del Carmen – Which is Safer?
Regarding safety in Cancun and Playa Del Carmen, it's the same. These are two of the most visited cities in all of Mexico for tourists, and the Mexican government has put in quite a bit of effort to keep them relatively safe.
The government has implemented extra police patroling streets during all times of the day; the national guard is also out on the roads (they're dressed in army uniform). All this effort is for the many visiting tourists every day.
Both cities are relatively safe. Having visited both cities several times, I've felt safe walking even at night. But that doesn't mean both these cities are perfectly safe, because they aren't.
These are big cities in Mexico, so cartel members frequent these cities because of the drug business in big cities, but they don't target tourists.
And if you do a quick Google search, you will find several past or current tragic events that have taken place, but this is like ANY big city in the world, so don't be alarmed!
What you should do when visiting both these cities in Mexico is you should look for and watch your belongings at all times, including your pockets.
Be aware of the area you're in and where you're going, especially at night.
During the nighttime, it's better to take a taxi than walk, unless you're in Playa Del Carmen, where it's very walkable, but even then, walk on the main tourist-full streets and be aware of your surroundings at all times.
Is Cancun or Playa Del Carmen more Expensive?
Both cities are relatively the exact cost-wise, whether you plan on visiting for a one or 2-week vacation or if you plan on staying there for a month or longer.
Cancun has cost advantages because they have cheap big box stores like Costco. But then again, Playa Del Carmen does have a Walmart.
Regarding local Mexican cuisine, you can find cheaper, more authentic food in Playa Del Carmen more compared to Cancun.
Cancun is quite Americanized. Don't get me wrong, there is a fair share of great local food spots to try, but it's harder to find than Playa Del Carmen.
If you stay for a month or so, food-wise, you will save by choosing to live in Playa Del Carmen!
For vacation, both cities will cost you the same!
If you stay in Playa Del Carmen for a month or longer, it will be cheaper than Cancun because of transportation costs and easier access to authentic local food!
TRAVEL TIP: Make sure you bring Mexican pesos or change money there. Cash is king in Mexico, and it's the preferable form of payment.
Many places accept credit cards, but you will pay more for your bill through fees and a possible restaurant processing fee! – If you still want to use a card and avoid fees, use WISE Visa!
Is Cancun or Playa Del Carmen less touristy than Cancun?
This is an easy one. Playa Del Carmen is much less touristy and commercialized compared to Cancun.
The most significant factor is that Cancun International Airport is in Cancun, and when most tourists land from the US, they usually stay there.
Playa Del Carmen is still very touristy; the entire city is one main street called 5th Avenue, consisting of bars, restaurants, clubs, shops, and more. Walking down the street, you will see a never-ending amount of tourists. But besides 5th Avenue, Playa is not touristy. When you walk around, you'll notice that yourself.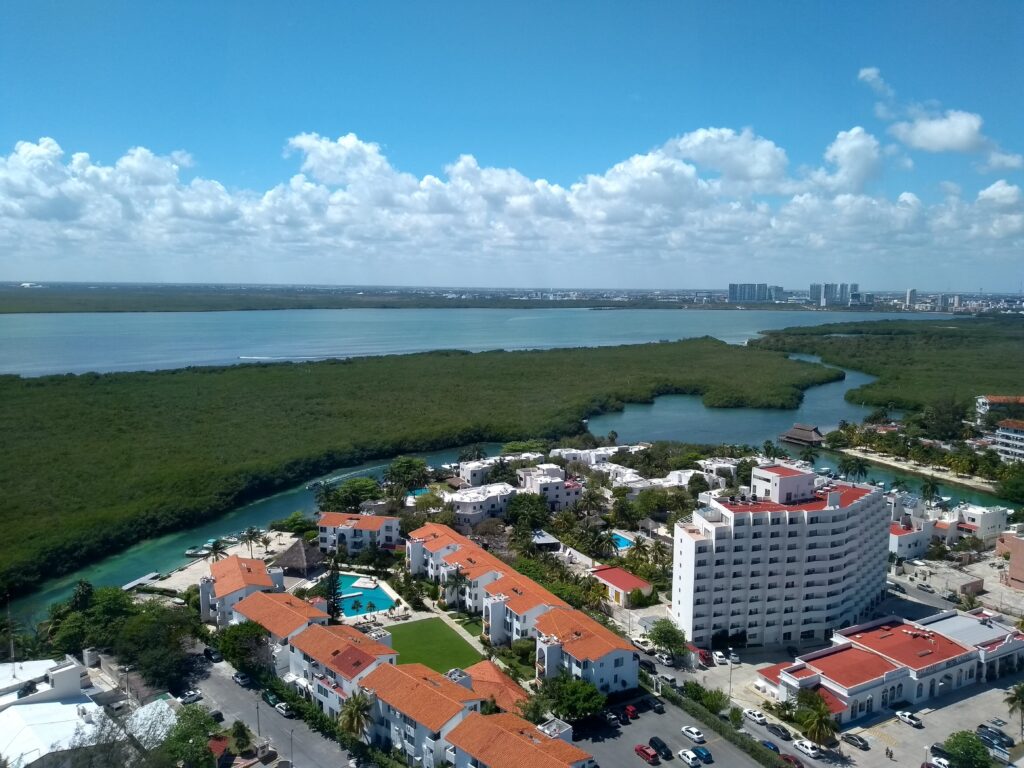 On the other hand, Cancun is very touristy everywhere, especially the famous Hotel Zone. So if you're visiting Cancun and looking to have a less touristy experience, my biggest advice for you is to get out of the Hotel Zone!
Are you browsing different cities in the Quintana Roo and also considering Cancun vs Tulum? This guide will help you decide on that debate!
Cancun and Playa Del Carmen – Weather
Because the cities are neighbors, the weather in both cities is the same. The only difference noticed is sometimes it may be raining in one city when it's not in the other, typical for anywhere in the world.
The best time to visit Cancun and Playa Del Carmen is from November to May. These months are ideal because while it is sunny, the humidity is nowhere as high as in the Summer/Fall months (May-October).
In the Summer/Fall months (May-October), the humidity is higher, and it's the "rainy season," so you will get showers at times, but when it does rain, it tends to pass by quickly because both cities have tropical climate weather.
For a day-to-day weather comparison of both cities, check here.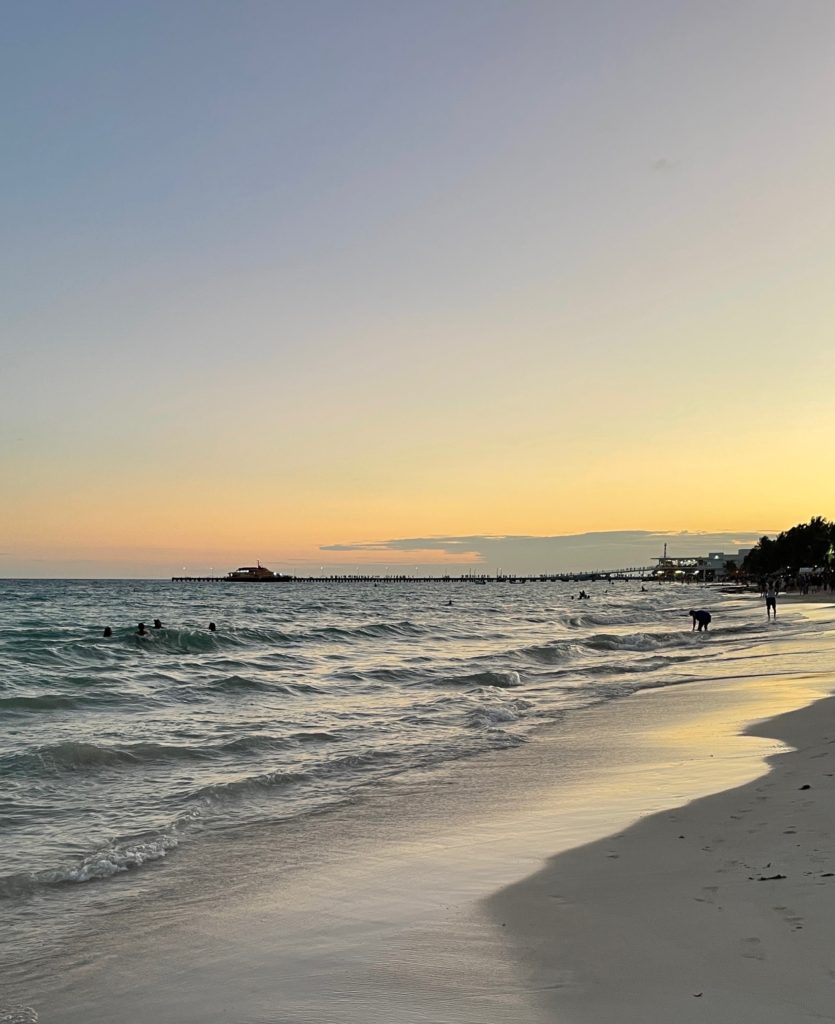 Which is Better Cancun or Playa Del Carmen? – Conclusion
This all depends on the time you're looking to have. They are both great cities with many things to do, beautiful beaches, and great food.
If you've never been to Mexico before, and you're going there with a loved one or solo. I suggest you go to Playa Del Carmen because of all the nearby cities you can explore, only one or two hours away.
But if you're attracted to Cancun because of its large, all-inclusive resorts. But you would prefer a smaller city than Puerto Aventuras, and it's close to Playa Del Carmen!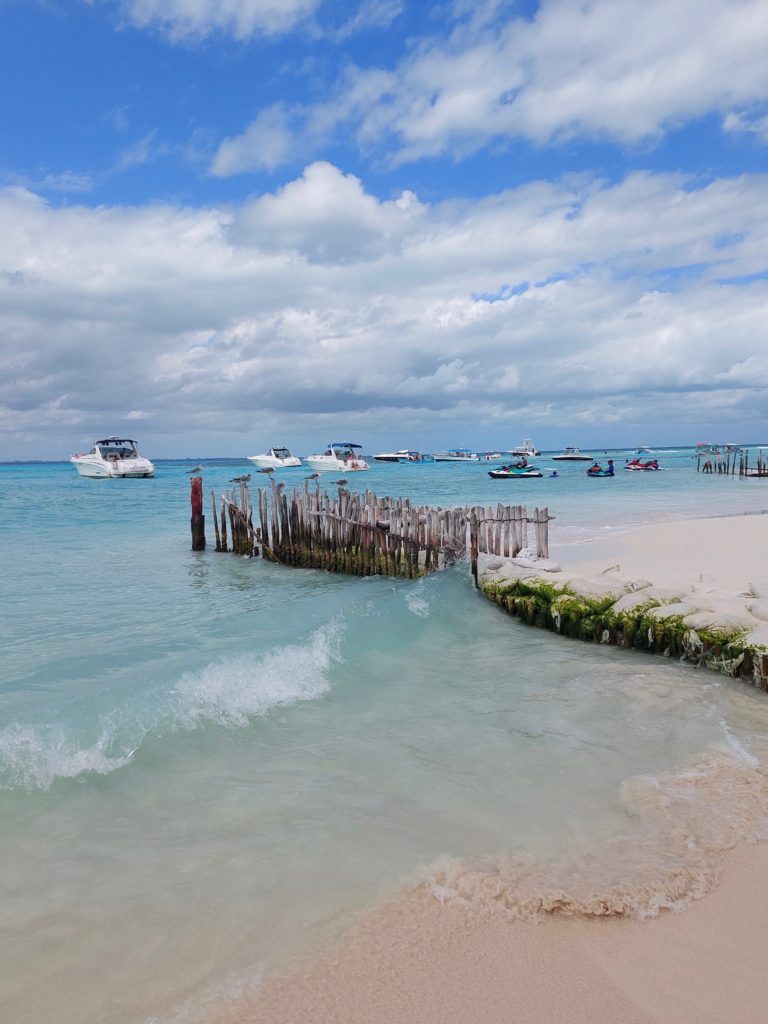 If you've never been to Mexico before, and you're coming with your family, Cancun would be your better option. The accommodations here are vast, and you've still got Isla Mujeres very close to exploring you can take your family to.
Cancun and Playa Del Carmen are great options party-wise for those coming with a few friends and looking to have a good time.
On a personal note, I prefer Playa Del Carmen when going out only because it's close to Tulum. And the parties in Tulum are special! – Tulum vs Playa Del Carmen comparison guide.
Remember, if you're undecided and visiting Mexico for two weeks or more, you could always split your time between both cities. They are only one hour away from one another!
If you'd like a comparison of Cancun vs Playa Del Carmen vs Cozumel, refer to my in-depth Cozumel guide, and you be the judge!
---
Before coming to Mexico, make sure you buy Travel Insurance!
Subscribe to Travel Hiatus!
Receive updates on my latest posts, insider travel tips & the best destination guides to your inbox!
Featured Image Credit: David Vives / Unsplash
Happy & Safe Travels
---
Planning Checklist
---
Disclaimer: Please note that some of the links shared in this article might be affiliate links; this means that at absolutely no extra cost to you, we will earn a small commission for any sales generated through this article and/or this website. We recommend products/services we've either used or researched thoroughly – Thank you for supporting us so we can continue to share helpful travel content!