How To Visit Koh Phi Phi Viewpoint 1 & 2
If you've researched the Phi Phi Islands for more than 30 minutes, you've most likely seen photos of this view! That stunning view of the island is from Koh Phi Phi Viewpoint!
From the top of the Koh Phi Phi Viewpoint, you can see two beautiful bays separated by Phi Phi Don's land along with several mountains. In the distance, you can spot Pileh Lagoon, the famous lagoon next to Maya Bay Beach.
When you're visiting the main island, Phi Phi Don, you must add visiting these Koh Phi Phi Viewpoints to your itinerary.
In this guide, I'll share everything you need to know about how to get to the Koh Phi Phi Viewpoint, a few tips about the hike, and what to expect!
For reference: "Phi Phi Don" is the main island you see in the photo above, where you can stay when visiting the Phi Phi Islands. The Phi Phi Islands is a large collection of many islands, but Phi Phi Don is the only one you can stay on.
Is this your first time visiting Koh Phi Phi? Use my Phi Phi Islands first-time visitors guide!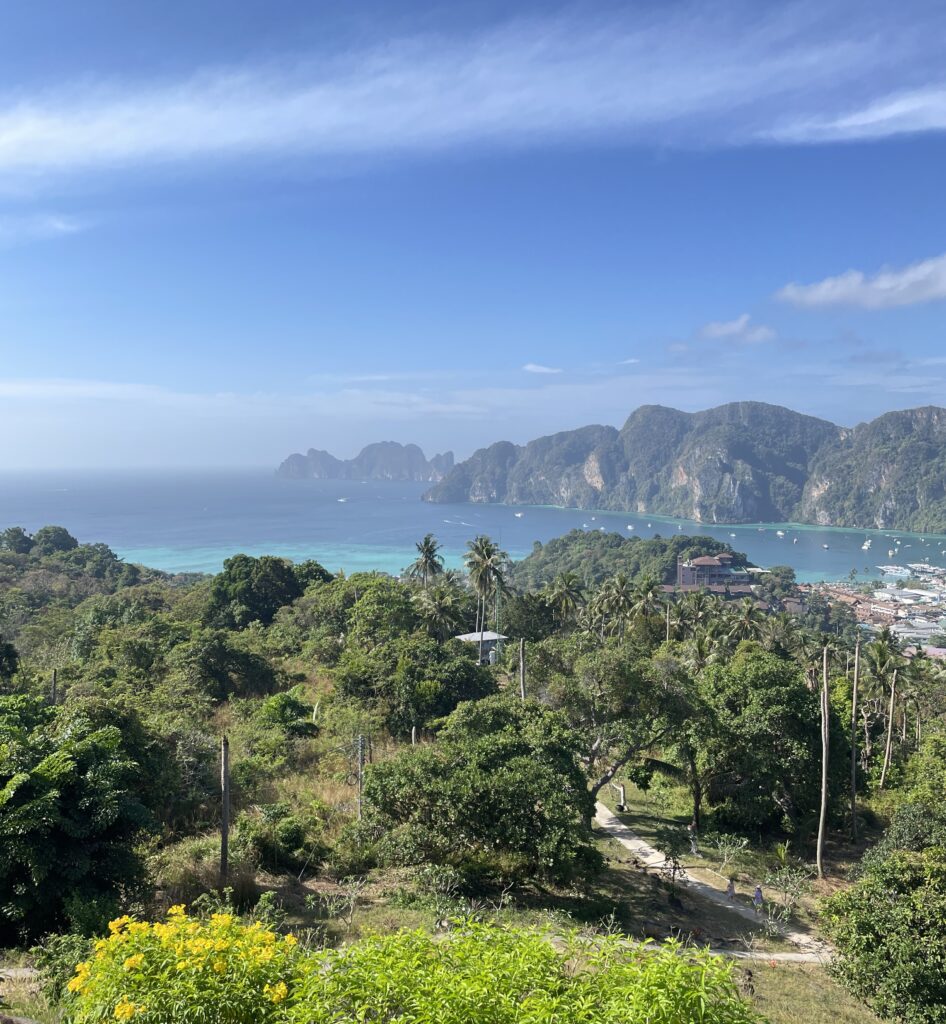 Everything to Know: Koh Phi Phi Viewpoints 1 & 2
The viewpoints are located on the central part of the island and aren't too far from all the hostels, hotels, and restaurants on Phi Phi Island.
As you start the hike towards the Koh Phi Phi viewpoint and get close to Viewpoint 1, there will be a kiosk with an employee taking payment before you continue towards the viewpoints.
COST: It costs 40 Baht/$1 US / Make sure you bring cash and the right amount
HIKE TIME: The entire hike takes around 30 minutes from start to finish, without stopping. But you will be stopping to admire the views as you make your way up!
BEST TIME TO HIKE: Try to do the hike early in the morning or late in the afternoon, midday, the sun is beaming down, and it can make for a challenging hike.
VIEWPOINT HOURS: 5:00 AM – 7:30 PM Daily
PACK WATER: Make sure you bring some water before you start your hike. At the top, there's a small store selling water, ice cream, and snacks.
FOOTWEAR: The hike can get steep at times. Bring your shoes, flip-flops, or slippers will make for a challenging hike.
Why Visit The Koh Phi Phi Viewpoints
There is no better way to see the island than visiting the Koh Phi Phi Viewpoints and seeing the entire island from above.
It's a small workout with a big reward; once you get to the top and experience these views in person, you'll be mesmerized, to say the least.
When you get to Phi Phi Don, leave the main dock and start to walk around the small island in the middle of the Andaman Sea, it's sometimes hard to comprehend where you are. Visiting the Phi Phi Viewpoints gives you the actual visual of where you're visiting; you're on a small island in the middle of the Andaman Sea!
Many don't know, but this trail and viewpoints serve as a tsunami evacuation route for the island because it's the highest point. With the tragic Tsunami in 2004 that took place here, it's essential to be aware of evacuation.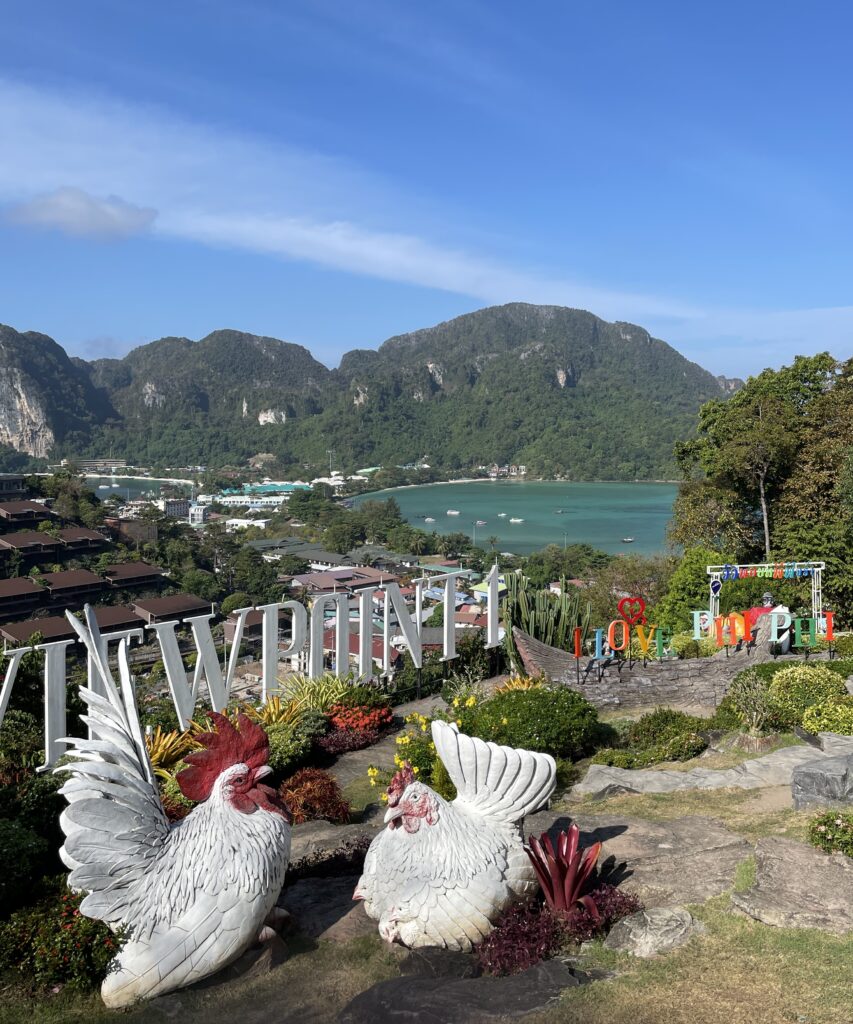 How to Get to Koh Phi Phi Viewpoints 1 & 2
Koh Phi Phi is a relatively small island, so everything is easy to get to. To get to the Koh Phi Phi Viewpoints, you first must go to the Stairways to the Viewpoint and then start climbing the steep stairways.
As you make your way up the stairways, you will eventually get to a small ticket kiosk, and someone there will ask you for payment to enter the first Phi Phi Island Viewpoints.
Once you've paid at the kiosk, Koh Phi Phi Viewpoint 1 is steps away!
As I mentioned, the hike can be steep sometimes, especially once you've completed the stairs; there is a pathway up, and you may need to take a break or two as you hike uphill.
Do not do this hike if it's raining; it's a safety hazard. No matter the shoes you wear, the stairs are slippery in the rain, and the path up is too steep to attempt if it's pouring rain.
Koh Phi Phi Viewpoint 1
As soon as you've paid and made your way to the Koh Phi Phi Viewpoint 1, you will quickly notice several unique large decorative sculptures of coconuts, other fruits, and chickens.
The viewpoint area is full of colorful flowers and seems well cared for! There are also a few lounge chairs here to take a break and admire the views of the first viewpoint on your journey to the next.
Koh Phi Phi Viewpoint 2 has much more spectacular views than Viewpoint 1, but there's no reason to rush. Take your time, and admire the views from the first viewpoint.
Koh Phi Phi Viewpoint 2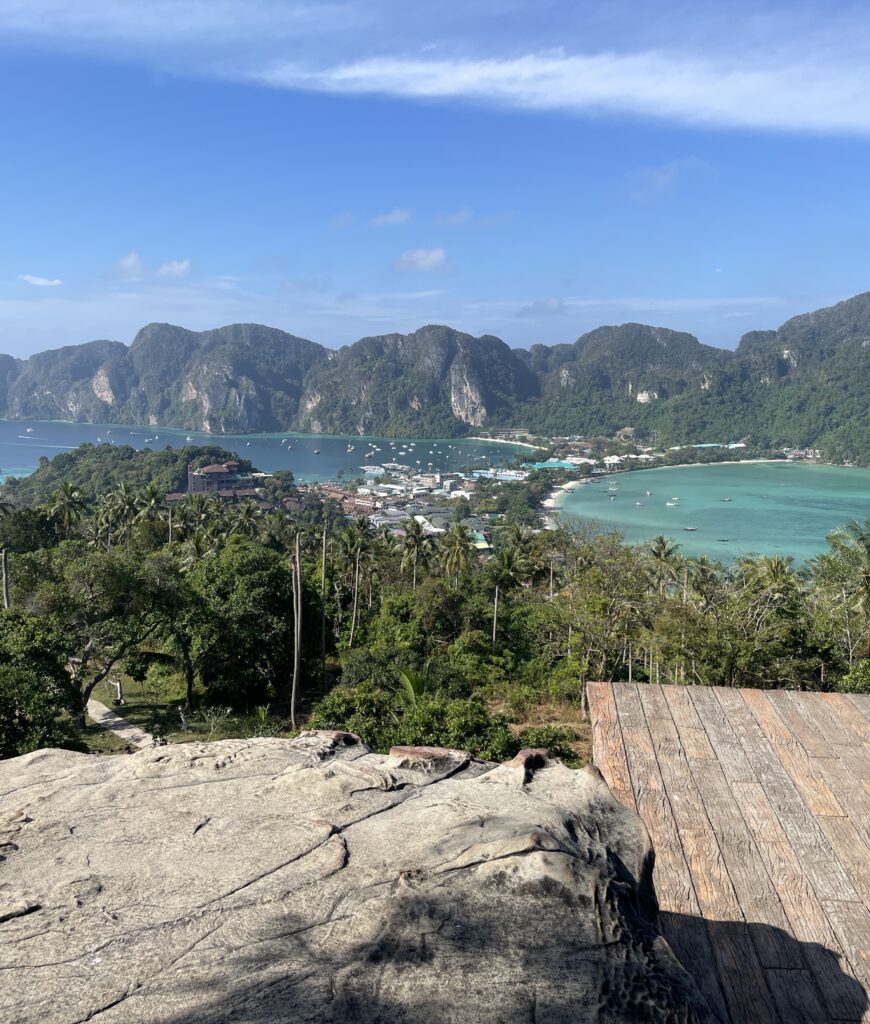 As you hike uphill for seven more minutes, you will get to Phi Phi Island 2. The trail toward the second viewpoint is clear, and you won't have to worry about finding it.
Finally, you're at the top, more than likely heavy breathing from the hike, but it's worth it! The views you will experience are some of the most spectacular views.
Here you will run into several others hanging out by the viewpoint ledge, many large boulder rocks, and a cafe selling ice cream, fresh fruit, water, and other beverages. For those solo traveling, this is your opportunity to ask someone to take your picture!
You'll notice a large wooden observation deck perfect for photos. There are several large boulder rocks here, some conveniently under a tree, making for the ideal spot to rest and admire the spectacular views of the Phi Phi Don.
The views of the two bays that connect to Phi Phi Don, along with the luscious forest-filled mountains in the background, are simply breathtaking!
On the left side is Tonsai Bay, where you will spot several boats coming into the Phi Phi Pier. On the right is Loh Dalum Beach, and there you will see several tourist swimming, kayaking, or relaxing at one of the many beach bars on the beach.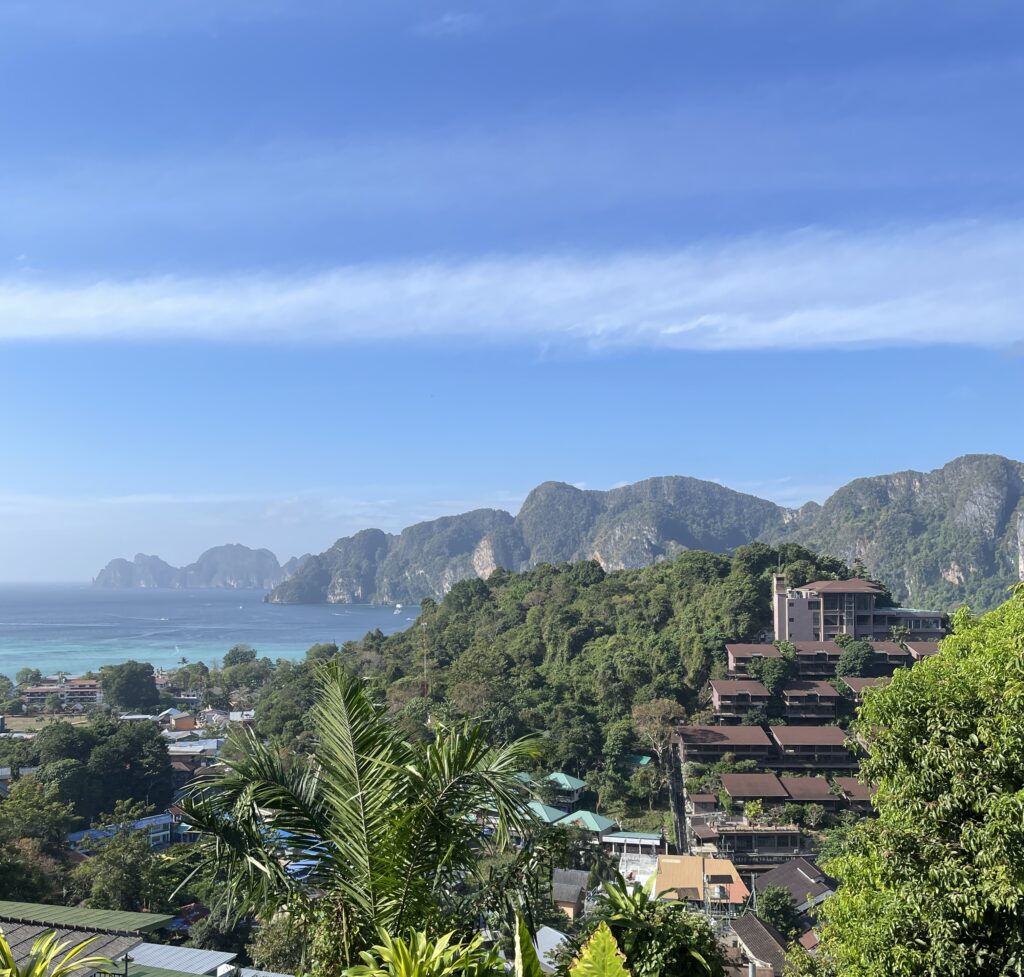 Best Things To Do On Phi Phi Island
When you visit Phi Phi Island, you must put visiting Koh Phi Phi Viewpoints on the top of your itinerary.
But along with these fantastic viewpoints, here are more of the best things to do on Phi Phi Island!
Maya Baya Beach Tour / These tours include other popular places on Phi Phi Island; Pileh Lagoon, Viking Cake, Bamboo Island, and Monkey Beach.
Watch the Sunset at Loh Dalum Beach / gather amongst many, grab a drink from one of the beach bars here, and gaze at the island sunset!
Go on a Snorkeling Tour / You're in the middle of the Aegean Sea; the coral reefs and marine life don't get better than here!
Party the Night Away / Koh Phi Phi is infamous for its parties at hostels, beach bars, and nightclubs. Make sure you try a "bucket"; this is a small bucket of alcohol you can buy.
Spectacular views, many things to do, and one of the most unique places on earth. Phi Phi Island is one of the best islands in Thailand to visit!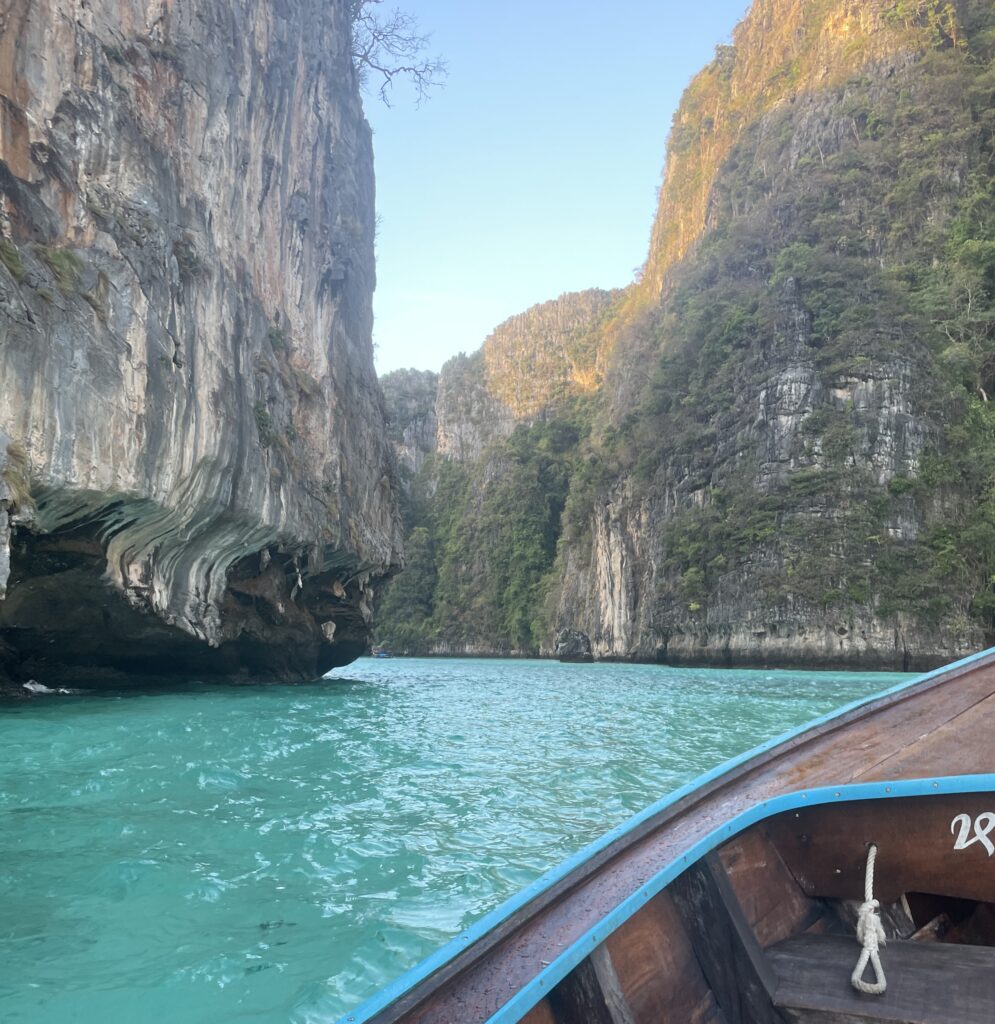 Where To Stay On Phi Phi Don
When browsing where to stay in Phi Phi Island, you don't need to worry about areas or anything being too far because the island is small and walkable.
That said, some resorts on the island require a longtail boat taxi to access the resort. These resorts offer transportation, but the location isn't convenient for those looking to be in the heart of the action at all times!
Zeavola Resort / A luxurious 5 Star resort offering a secluded, quiet atmosphere on the island.
Phi Phi Coco Resort / 4 Star Beach Resort is located by the main port, beautiful hotel, and a convenient location.
Ibiza House / 3 Star hotel famous for its infamous pool parties by the beach
Phi Phi Island is famous for its many hostels; here are the three best hostels in Phi Phi Island: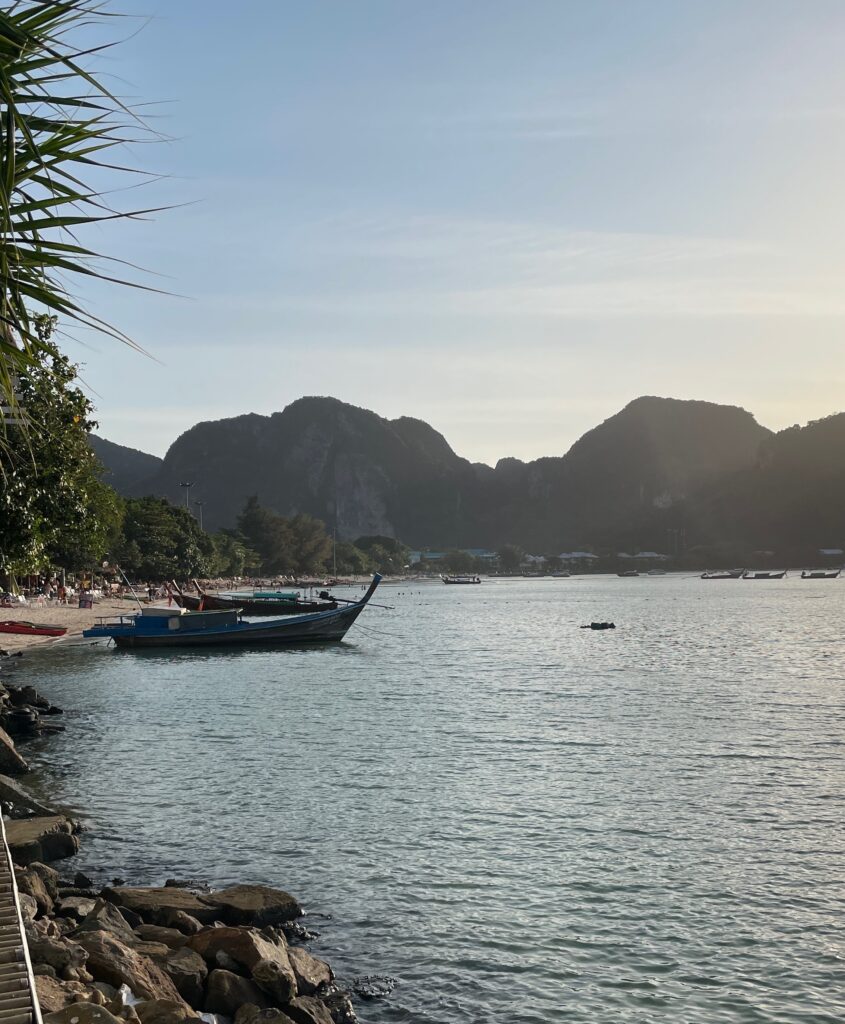 After Phi Phi Island: Where to Next?
Once you've visited and experienced the Phi Phi Islands, you should visit several nearby places.
Here are a few suggestions of places to visit and how far they are from Phi Phi Island!
Railay Beach / Another popular backpacking paradise, full of many things to do and beautiful beaches. From Phi Phi Island to Railay Beach — 40 Minutes
Koh Lanta / An island East of Phi Phi Island, famous for its relaxed vibe, rich nature, and small island charm. From Phi Phi Island to Koh Lanta — 45 Minutes
Phuket / Largest island in Thailand, known for its many beaches, nightlife, shopping, and many things to do. From Phi Phi Island to Phuket — 1 Hour & 20 Mins
Subscribe to Travel Hiatus!
Receive updates on my latest posts, insider travel tips & the best destination guides to your inbox!
Happy & Safe Travels
---
Planning Checklist
---
Disclaimer: Please note that some of the links shared in this article might be affiliate links; this means that at absolutely no extra cost to you, we will earn a small commission for any sales generated through this article and/or this website. We recommend products/services we've either used or researched thoroughly – Thank you for supporting us so we can continue to share helpful travel content!