5 Best Things To Do in Positano Italy
Are you planning a trip to Positano and looking for the best things to do in Positano? You've come to the right spot!
In this guide, I'll cover the best things to do in Positano, the best restaurants to try, hotel recommendations, and more!
The small town of Positano, Italy, is located within the famous and trendy Amalfi Coast. This beautiful picturesque town may be small, but it's well-known for a good reason.
It's hard to think about anything else when dining in the hills of Positano and looking out at the view.
Walking to the small town streets, shopping at boutiques, and eating at local family Italian restaurants are some of the few reasons Poistano is a top European Summer destination.
Positano is breathtaking and is a total MUST visit. Don't get me wrong; there are many beautiful places in Italy. But Positano is a little extra special.
Put it this way, there's a reason it's so popular among travelers worldwide, and its hype is justified.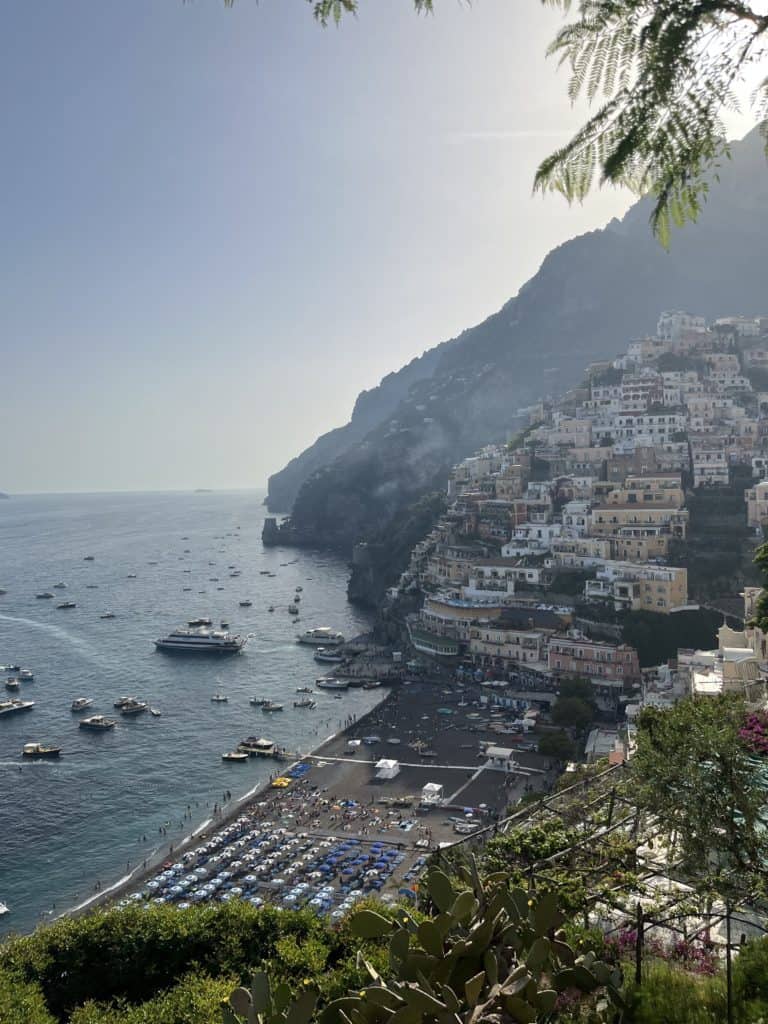 The romantic and picturesque town is a beautiful place to visit for a few days. It is a site that has captured the attention of many people worldwide.
I've seen clips of Positano in countless shows and movies, but clips couldn't do it justice; you've got to see it in person.
The beige, pink, and yellow terra-cotta homes cascading to the sea to the crystal blue Mediterranean waters are stunning. The hills feature several walkways, with sudden views at every angle you look. Just breathtaking.
I have longed to visit the pastel-hued village of Positano on Italy's sun-drenched Amalfi Coast for years. After visiting and seeing it in person, I'm already dreaming about my next Positano trip.
How to Get to Positano, Italy
Getting to Positano can seem quite confusing if it's your first visit. But not to worry; here are your various options for getting there!
Airports near Positano: Naples International Airport (NAP) is the closest airport to Positano.
Ferry: The ferry in this region of Italy is the primary form of transportation; during the day, you can take the ferry from either Naples, Sorrento, Salerno, or Amalfi. You most likely will be charged extra to bring your luggage abroad. – Ferry is only available from June through September.
Bus: Those looking for the cheapest transportation option, this is it. First, you must take the Curreri bus to Sorrento from Naples Airport. Then you must take one of the Sita buses from Sorrento to Positano.
Private Car Transfer: The most expensive form of transportation to Positano and the most convenient way. You can book your private airport transfer. You will have a personal driver at the airport waiting to take you to your hotel in Positano.
Rent a Car: For those looking to adventure the coastline of Italy, you can rent a car from the airport and make your way there.
Now that you know how to get to Positano, in the rest of this complete Positano travel guide, I will share with you some travel tips.
The best things to do in Positano and hotel recommendations for all budgets, including historical hotels, villas, and hostels.
And lastly, restaurant recommendations in Positano, because no guide is complete with great restaurant recommendations!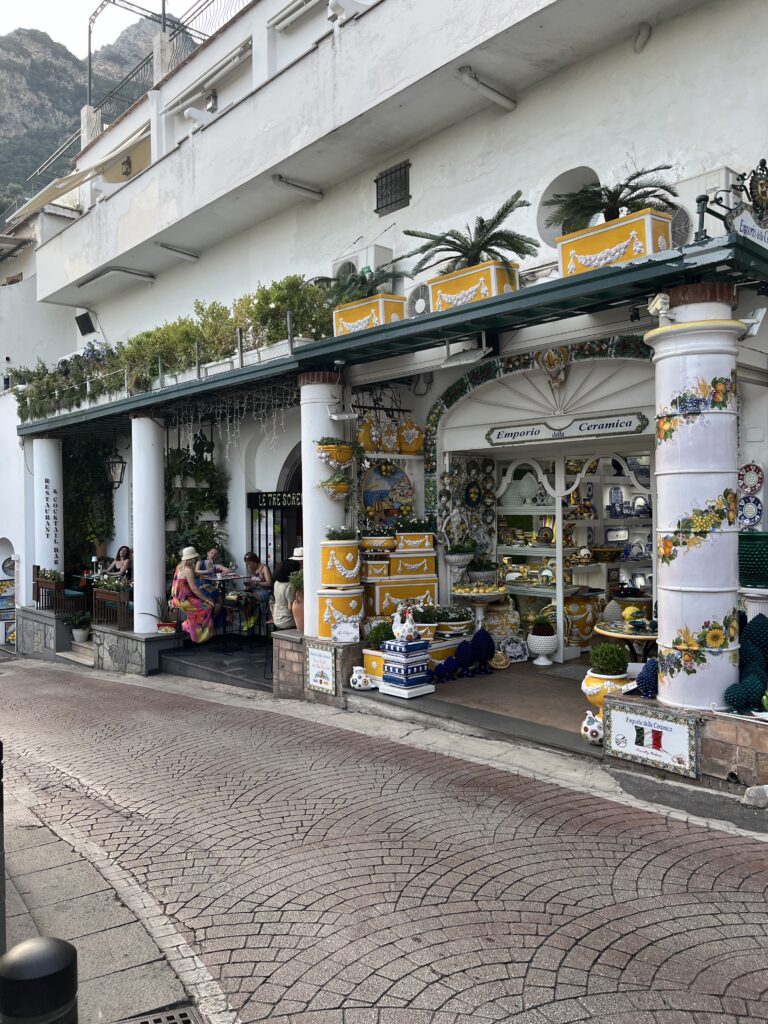 5 Best Things To Do in Positano Italy
So you're taking a trip to Positano, Italy, on the Amalfi Coast and searching for what to do in Positano. Well, I'm going to help you out with just that!
Here's a list of things you must do when visiting the Southern Italian town; try and do everything on your list during your stay here!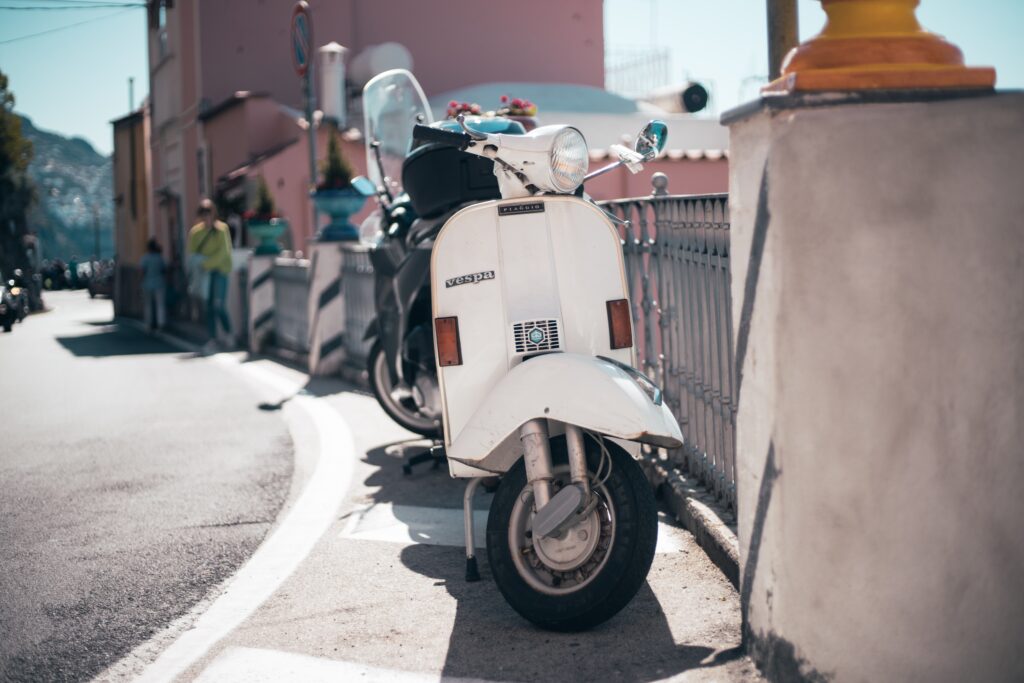 While Positano is famous, I highly recommend visiting the other towns on the Amalfi Coast while staying here.
The best thing to do while visiting the Amalfi Coast is to see the Amalfi Coast. What better way to see the coastline than to take a Vespa tour?
Please ensure you're taking the tour with a well-established agency, not anyone else.
There's nothing like riding around the coastline with the wind in your hair after a glass of wine; the views, the sunset, the Mediterranean breeze, and those picturesque views.
Attending a similar tour was my favorite part of this trip. The Vespa tour in Positano should be at the top of your list of things to do when visiting!
As great as a Vespa tour may be, there's nothing like just walking around amongst the locals to get an authentic natural feel for where you're visiting.
There are scheduled daytime and evening walk tours throughout the town; choose whatever suits you.
Each walking tour varies, but most are 4-9 hours long. Some include food/wine tasting and organized stops along the way. Others are a tad more basic, showing you what you need to see and moving along.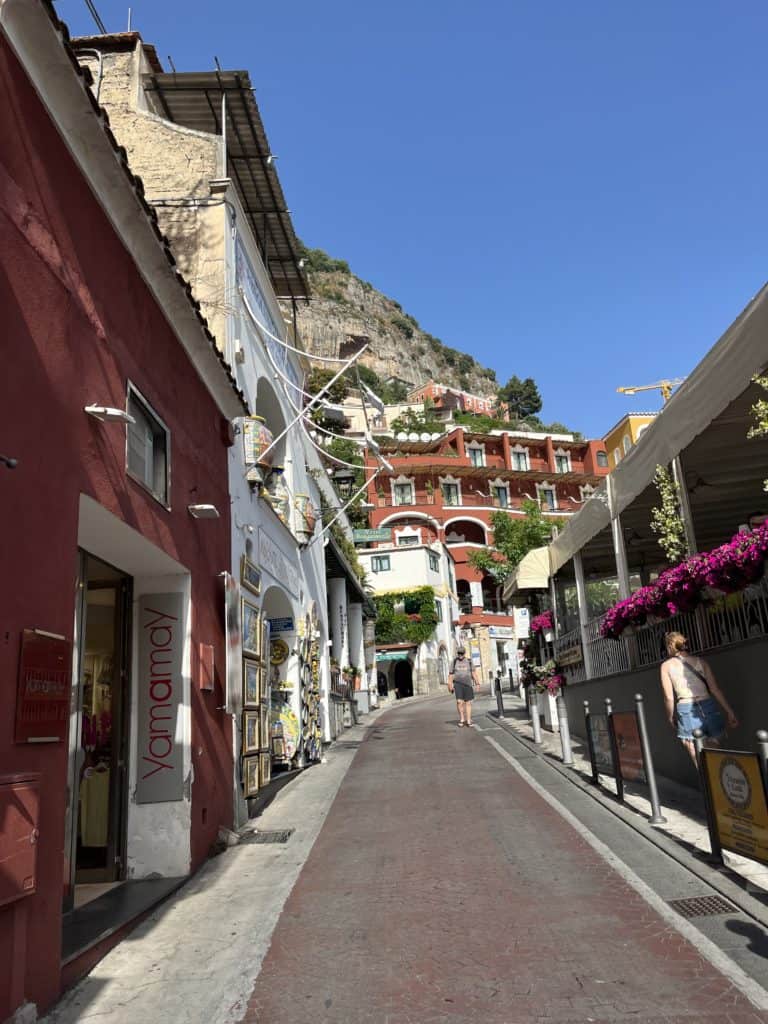 Once you're finished admiring the stunning architecture of impressive buildings, continue exploring; there's much more to see.
Luckily Positano, Italy, is a small town, and it's pretty easy to find your way back to the harbor area. This is a high-rated tour here.
I like to think sometimes the best plan is no plan. So once you finish the tour, do just that; have no plan.
A glass of wine with a stunning view, pizza from a local family-owned restaurant, or perhaps some shopping at the local boutiques.
Have a Beach Day
When you're in Positano, you'll notice that most living there or perhaps vacationing for extended periods are at the beach. Yeah, go figure .. a stunning seaside of Positano, and people are at the beach. Why wouldn't they be right?
What I mean by this is many who visit Positano constantly think about what they need to see and where to go.
Many must remember to experience this beautiful town as a local or an authentic Italian would. And that means simply relaxing at the beach and having a great dinner in the evening with a stunning view.
So remember to have a beach day and live it out like a local on the weekend. Then follow up your long beach day by dining at a restaurant with a fantastic sea view.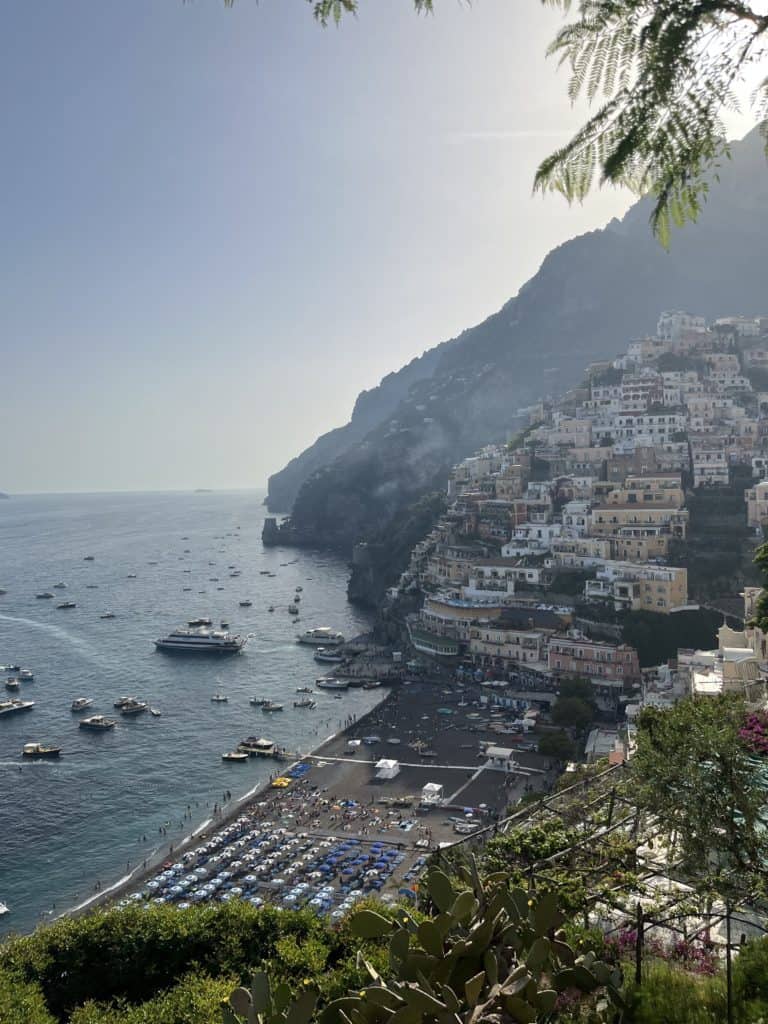 For those looking to spend the day at a beach club, there are several Amalfi Coast beach clubs where you can lounge all day under an umbrella with full service.
Beach clubs here can be pretty pricey, keep this in mind when visiting; of course, it's cheaper to go to the beach and then dine elsewhere.
Here's a list of some of the best beach clubs in Positano to spend an afternoon at and how to get to them.
Beach Clubs in Positano
Also, I'd highly recommend visiting other places close to Positano by ferry. Most ferries run every 30 or 60 mins; tickets are all conveniently sold online. – Capri is the most popular among several places to visit from Positano.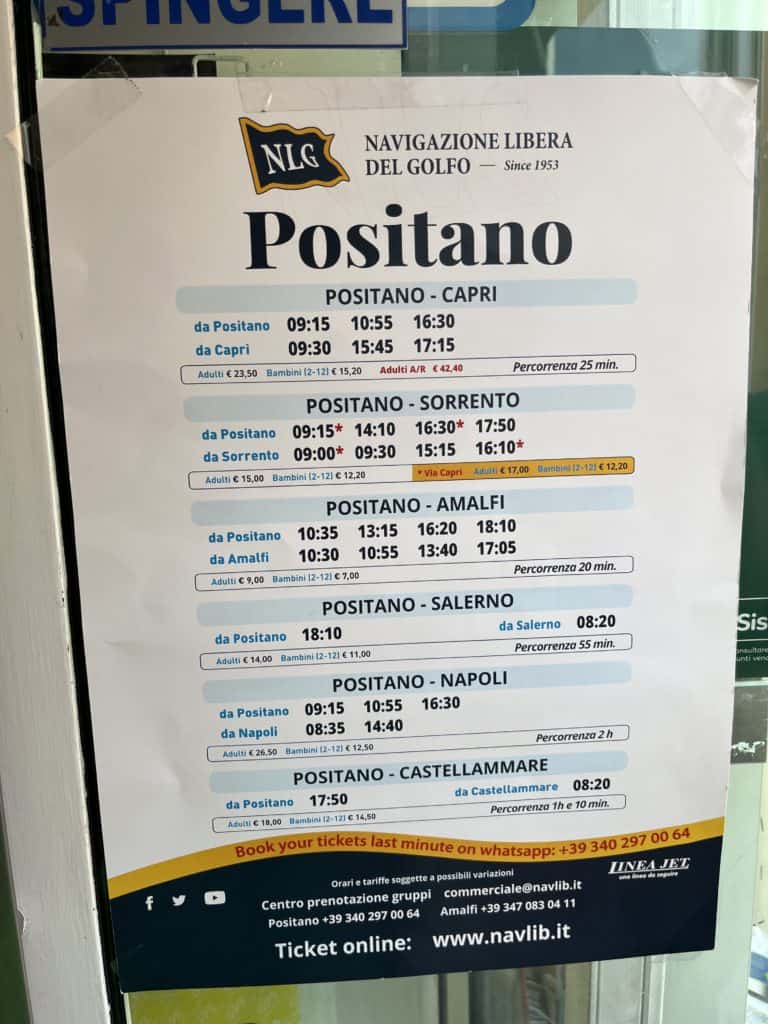 Visit Fornillo
Touching up on my earlier point about experiencing Positano as a local would. Visiting Fornillo is doing just that. If you look at the map, the main beach is on the right side and is named Positano Spiaggia.
On the left side of the map, you'll notice Fornillo Spiaggia, also known as Positano Fornillo Beach.
TIP: Anything by the main beach and North of the main beach is quite touristy.
But if you're looking to have a more quiet afternoon, go to Fornillo. Fornillo offers a more laid-back atmosphere with much fewer tourists.
The secluded beach here is less busy than the other main beach. You'll do yourself a favor by avoiding the large tourist crowds for a day or two.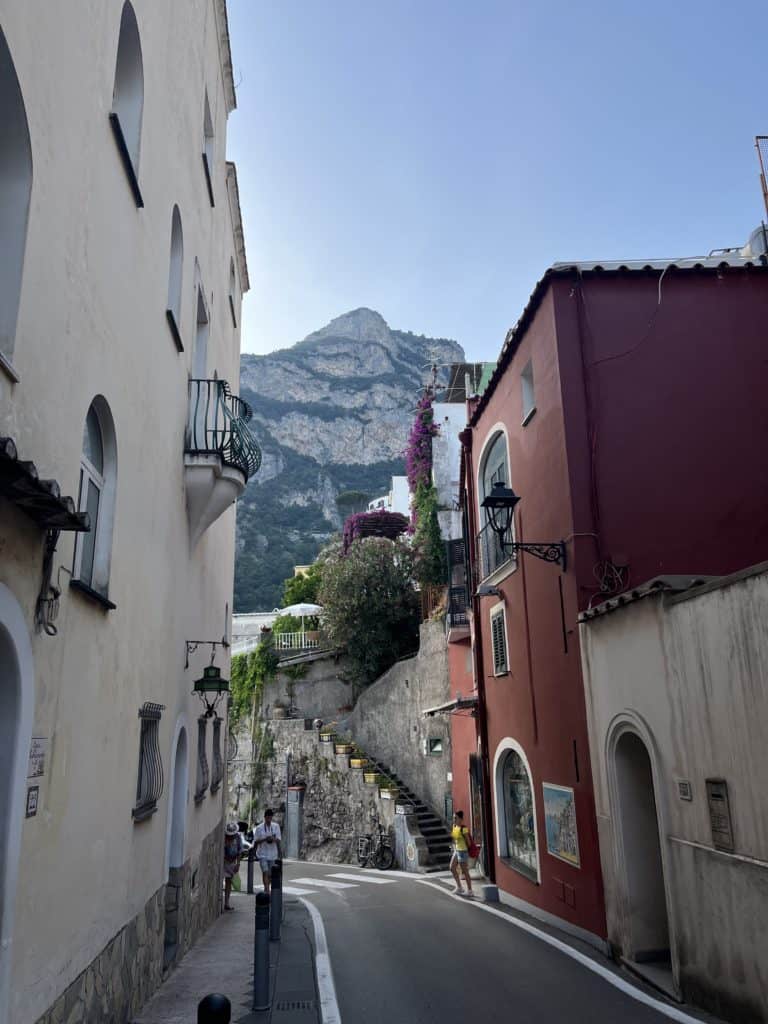 In the evening, I recommend visiting Lo Guarracino, a famous regional pasta restaurant featuring many fish dishes and local wines. The restaurant is on a wooden deck overlooking the Tyrrhenian Sea.
The views at this place are breathtaking, the food is exquisite, and the restaurant is less crowded than other restaurants closer to the main beach (since it's by Fornillo Beach).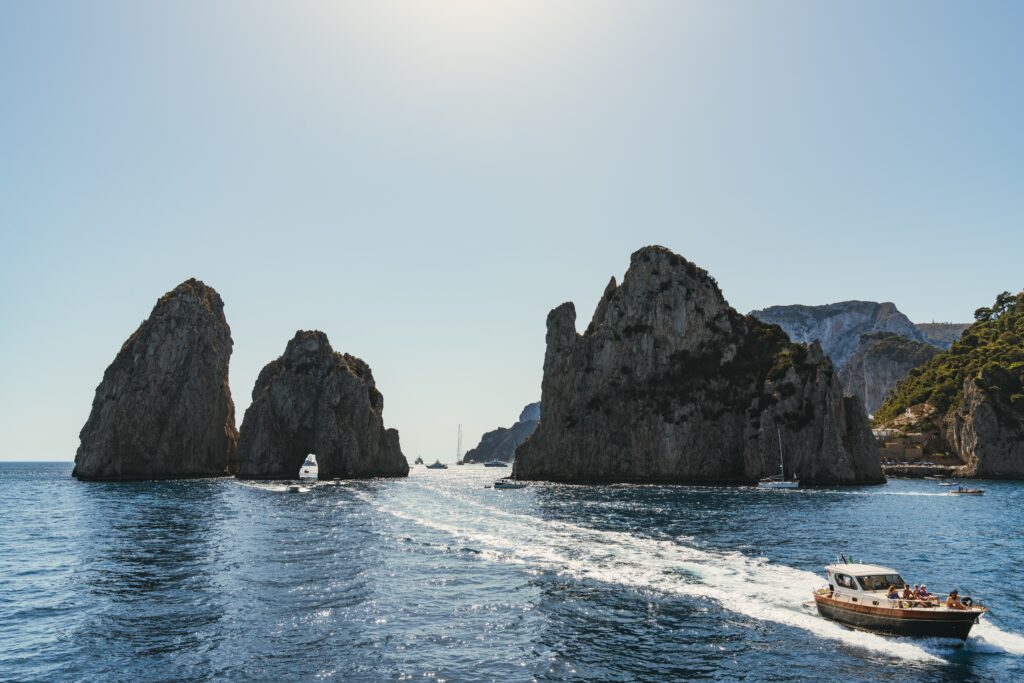 One of the most popular things to do in Positano is the stunning Amalfi Coastline on tour. While you can go to Capri by ferry, this private Capri island experience is highly rated for convenience.
On this excursion, you will see the coastline of the Sorrentine Peninsula before circling Capri as you experience the stunning Natural Arch and Faragiloni.
During the tour, the boat will stop for passengers to swim to sea grottoes and dock in Capri for you to enjoy some time there.
Food and beverages are included in the price of the tour, as well as round-trip transportation from Positano to the Massa Lubrense departure port.
Best Restaurants in Positano
Italian cuisine is some of the most famous in the world; through my travels in many cities worldwide, I always tend to find a local Italian restaurant.
Some of the best Italian food is here in Positano, being the famous seaside destination it is, restaurants here are top-notch.
Here is a short list of some of the restaurants I enjoyed trying, which I recommend you visit when you're in town!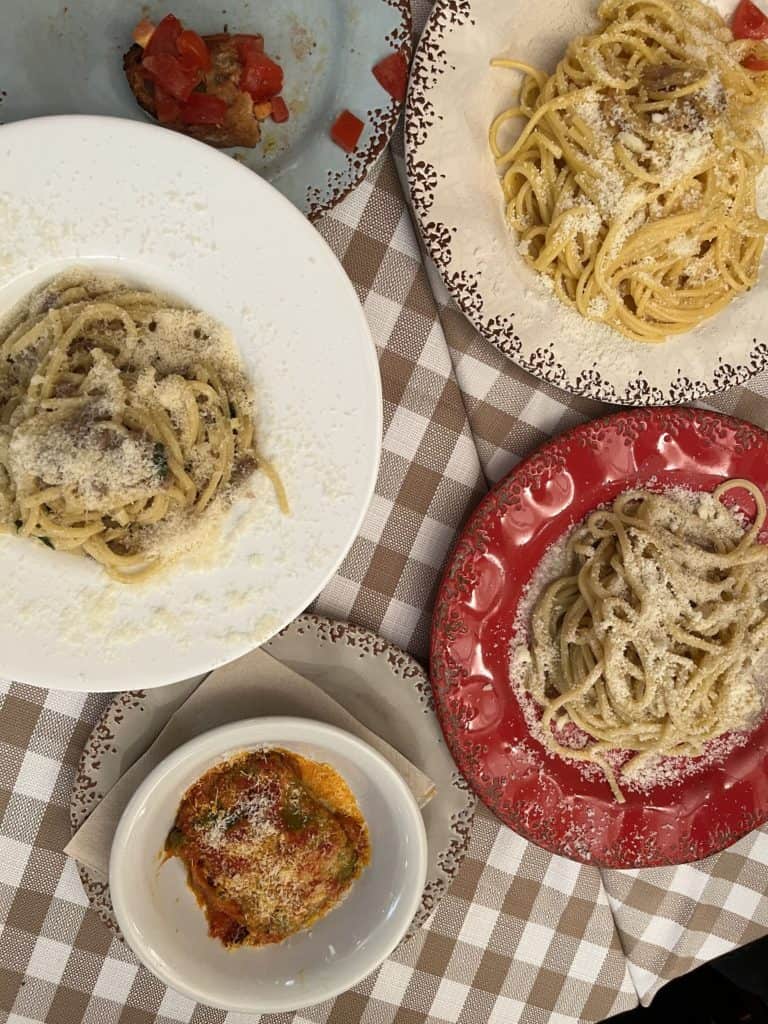 A nice view at a restaurant isn't so lovely unless accompanied by great food. Go for both and Get both.
Here are my top three restaurants to try when visiting. Also, remember Lo Guarracino, which I mentioned earlier in this post.
Tourists and tourists alike know Da Vincenzo as a small restaurant. It is well known for its fish dishes, with anchovies being the most popular. Vincenzo is a family-run restaurant that has been operating along the Via Pasitea since 1958.
It boasts a beautiful kitchen that enhances its surroundings.
Chef Maresca brings all his expertise to preparing and serving fresh fish and creating delicious combinations using garden products. The decor in this place is beautiful. You can feel the history here when visiting!
Raffaele Mandara was the original owner of this small restaurant. He aimed to make you feel at home in a warm and welcoming environment. The restaurant is located in a unique location and offers special dishes.
Casa Mele allows you to enjoy delicious and regional seasonal cuisine. It's a fine dining experience; the food is excellent and picturesque.
Last but certainly not least is La Sponda. This romantic restaurant is best known in the area for celebrating a special occasion. It is a charming restaurant that captures attention with its elegance and the deliciousness of its food.
The restaurant's menu is based solely on seasonal, fresh, and local ingredients.
Chef Gennaro Russo can modernize traditional Campania dishes. You can try the lamb with Mediterranean herbs or the squid with local cheese.
Sea bass, candied citron, veal loin, potato millefeuille, and stuffed onions; Campania and Italian cheeses; fresh clams; extra virgin olive oil; and selection of Campania and Italian marmalades.
There are also desserts like a millefeuille with chocolate and coffee with amaretto parfait, red fruits, yogurt-sorbet, and basil, and the Neapolitan classic baba with Chantilly and zabaglione.
Where to Stay in Positano Italy
Nowadays, Airbnb seems to be the first option many think of. Now as convenient as Airbnb is, hotels in Positano offer many things Airbnb cannot.
The views, the history, and the decor at hotels in Positano are not included when renting out a property here.
But visiting a special place like Positano, Italy, getting a hotel has many advantages. Positano hotels are part of the city's history, so staying at one adds to the experience of visiting the seaside town.
The hotels tend to have lovely terraces to visit with stunning views. Another great option is one of the many traditional villas in Positano. For those looking for an apartment or house rentals in Positano.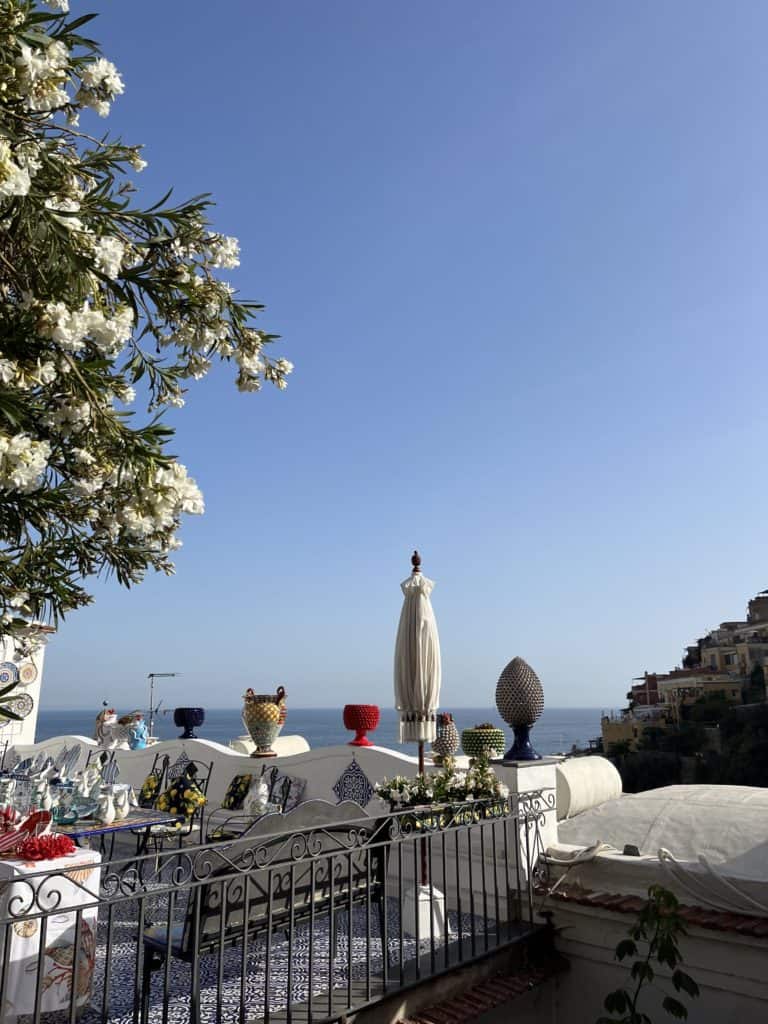 How much does it cost to stay in Positano? This varies on a factor of two things, when are you going, and what accommodations do you prefer?
At the end of May, prices start to rise, and into mid/late Summer slowly, they're the most expensive.
The average place can cost anywhere from $500 to $1000 USD/Night.
If you're looking for a more inexpensive place to stay, consider Dimora del Podesta. It will cost you around $150 – $250 USD/Night.
Remember: Prices for all places listed below depend on the time of year. Tourists start going to Positano in May and much more in the Summer months. That's when it's most crowded because of the optimal weather.
Also, remember that hotels, villas, and Airbnb's get booked up FAST in Positano during the Summer months. It's one of the most popular places to visit in the world during the Summer. So make sure you plan in advance!
The 48-room Hotel Poseidon is centrally located in Positano. It offers stunning views of the coast, bay, and surrounding area in a stylish, boutique atmosphere.
Although the rooms are basic in style and size, they all offer views from terraces and patios.
The on-site spa offers massages as well as a Turkish bath that has been built into the rock. Being centrally located is a significant advantage of this hotel.
This luxury boutique is one of the priciest hotels in Positano. It is also the most beautiful.
The hotel lives up to its reputation for being a luxurious and elegant establishment with impeccable grounds and thoughtful extras such as snacks and boat trips.
Although the rooms feature antique furniture, some rooms are noisy and others quiet. When I said experience history, this is the place for just that.
If you're looking for a villa to experience stunning views in Positano, this is the place to stay. La Casa Di Peppe is one of the few Positano villas accessible from the main street (120m – only walkable from the driving road).
These villas were renovated from a family home into luxury guesthouses with seven bedrooms.
Your stay will be exclusive and quiet, with a maximum of 14 guests. The location is right before the sea, and the views here are breathtaking.
Positano Hostels
As mentioned before, Positano is far from the cheapest place to visit globally. So hotels aren't cheap here, especially during the Summer months.
Of course, you could go during shoulder season, when it's far less crowded, but the weather won't be optimal then, as it will be off-season and it's not warm enough to go to the beach.
But the best time to go to Positano is during the high season, the summer months. Not only is the weather best then, but the authentic Italian Summer atmosphere many go to experience in Positano is prevalent then.
Those looking to visit during summer but don't want to spend so much on hotel accommodations. I recommend staying at one of these hostels in town. Here are a few recommendations for you to consider!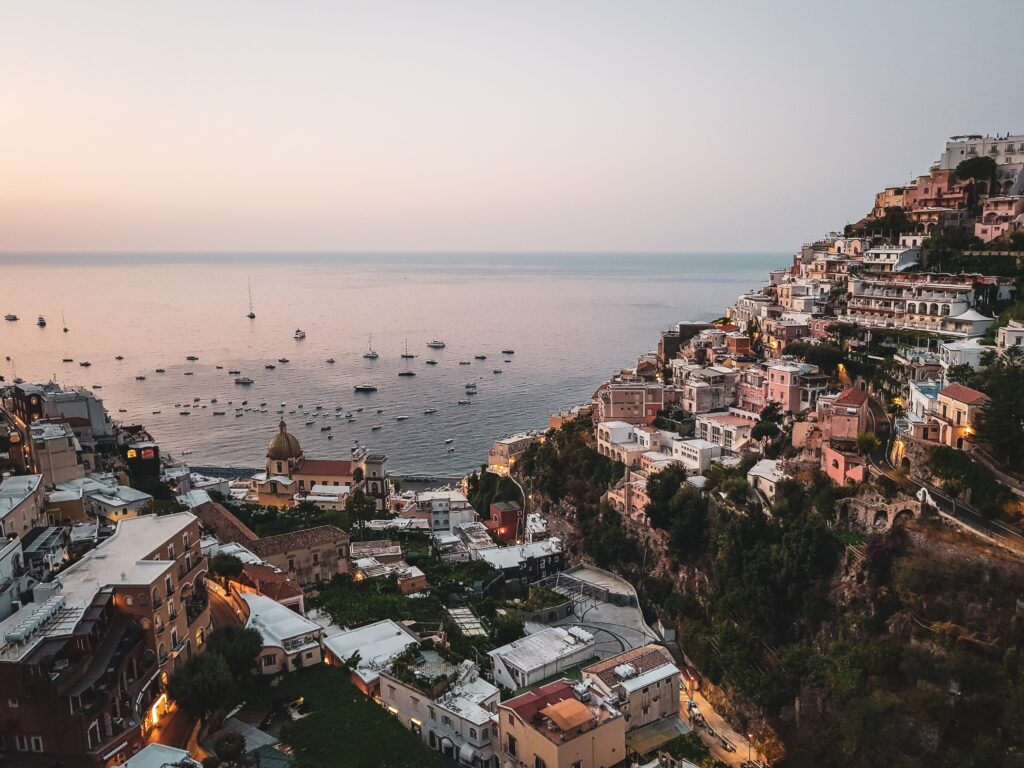 Why is Positano so Expensive?
Positano is one of the most popular destinations in Europe for the wealthy to visit in the Summer.
The small seaside town is also very popular with its locals because of its prime location on the Amalfi Coastline.
On top of that, the inventory of hotels here is limited compared to many famous places in the world; high demand with a low inventory of hotels makes visiting Positano expensive.
When is the Best Time to Visit Positano?
The best time to visit Positano is during the Summer, June through August, also known as the high season. This is when the weather is perfect for the beach. The temperature hovers around 24 to 34 Celsius daily in the Summer.
Positano Weather in Off Season
During the off-season, temperatures sit around 16-18 Celcius. Nice but not warm enough for the beach by any means, the main reason many tourists come during the Summer months.
Why is Positano Famous?
The entire Amalfi Coast is very famous worldwide. Positano is quite famous because it's the most popular town on the Amalfi Coast.
The city is well-known all over the globe for being a charming little town with famous colorful houses, great restaurants, and a beautiful coastline.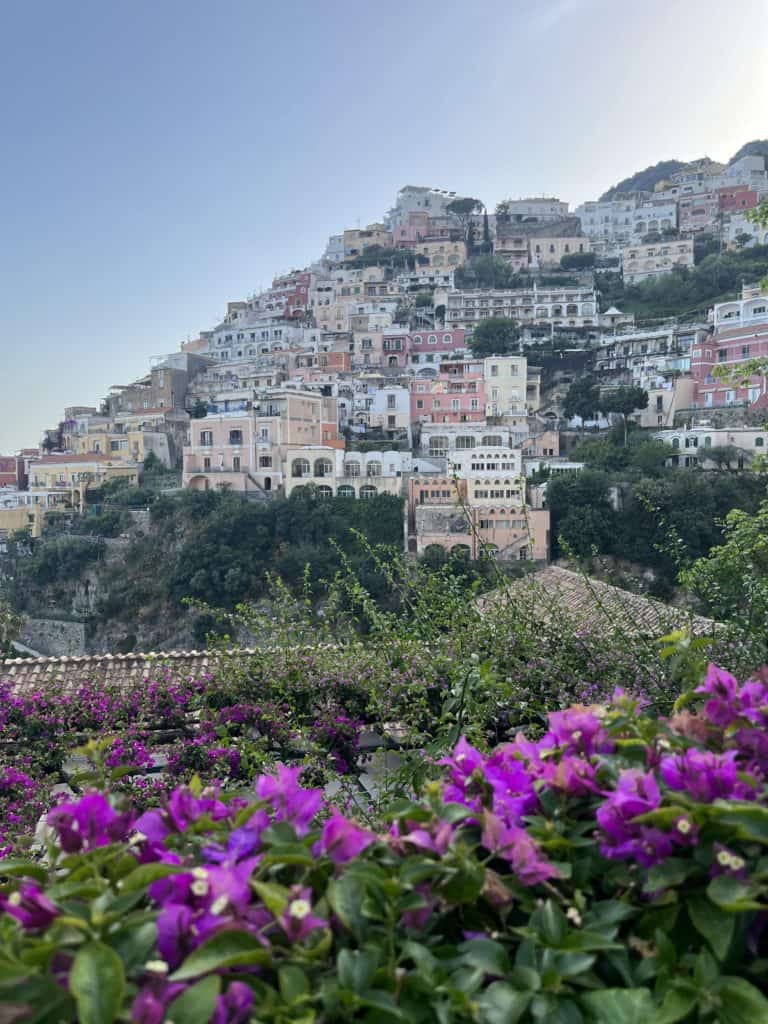 Is Positano Italy, Worth Visiting?
Yes, of course, it's worth visiting, regardless if you're visiting during the off-season or during the high season in the Summer.
While the town is meant to be visited during the Summer, of course, not everyone can afford to visit because of the high prices of accommodations.
If you can't afford to visit in the Summer, go in the off-season, and enjoy the town for what it is, you will have the advantage of fewer tourists around.
Like Tulum, Mexico is more expensive during winter because it's high season there. Popular places to visit will cost you when visiting in season.
Another famous European Summer destination that will cost you a fraction of the cost I'd highly recommend is Lagos, Portugal, in the Algarve region!
So if you're looking for somewhere more within your budget, I'd recommend Cefalu or Sorrento.
Is Positano, Italy, worth visiting? I'd highly recommend you visit Positano at least once.
Subscribe to Travel Hiatus!
Receive updates on my latest posts, insider travel tips & the best destination guides to your inbox!
Happy & Safe Travels
---
Planning Checklist
---
Disclaimer: Please note that some of the links shared in this article might be affiliate links; this means that at absolutely no extra cost to you, we will earn a small commission for any sales generated through this article and/or this website. We recommend products/services we've either used or researched thoroughly – Thank you for supporting us so we can continue to share helpful travel content!