7 Best Things To Do in Valladolid, Mexico
Are you looking for the best things to do in Valladolid? I've got you covered!
Valladolid is a small city in the Yucatan state of Mexico and just outside the Quintana Roo region. The town is a less popular destination because it's overshadowed by several other popular cities nearby.
But with that being said, Valladolid is a hidden treasure of a city in the region full of history.
Not only is the city walkable and decorated with vibrant colors throughout the city center, but it's close to possibly the most famous attraction in Mexico, Chichen Itza.
Now I'll be honest, there is a downside to Valladolid; the city isn't located right on the beach, but if you're looking to cool off, don't worry; Valladolid has several famous cenotes close by it. And not just any cenotes, but some of the nicest cenotes in all of Mexico.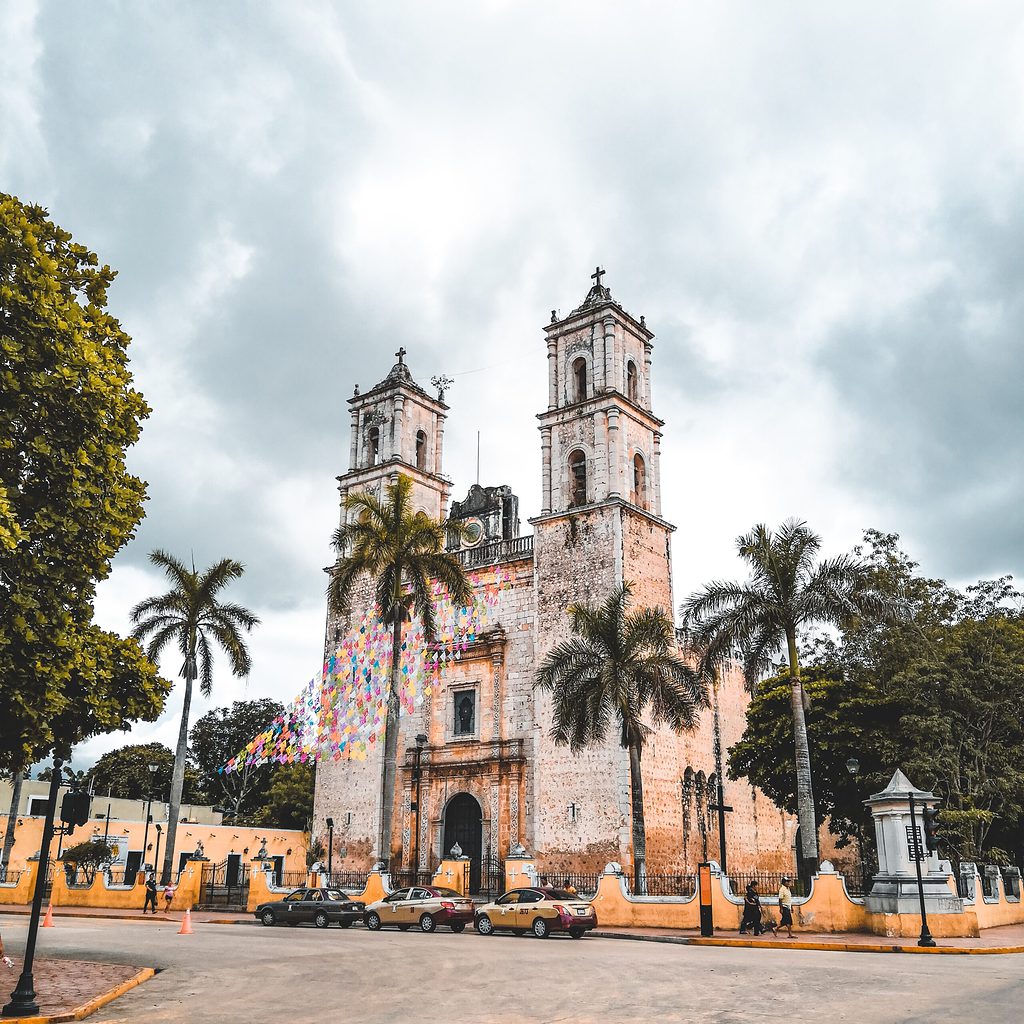 Honestly, I only visited Valladolid because it's so close to Chichen Itza, not on purpose. We drove two hours from Playa Del Carmen and stayed overnight in Valladolid to start the day fresh at our destination rather than traveling first thing in the morning. And Valladolid is the closest city to the famous Chichen Itza and surrounding cenotes.
Later this year, you can take the Mayan Train to get here from many different cities!
Despite only wanting to go to Valladolid for convenience, I was surprised by how much I enjoyed the town. Yes, it's small, but it's charmingly tiny. The food was terrific and affordable, and the locals were friendly.
Lastly, accommodation costs here are cheaper, because it's less popular a destination than the cities close to it like Tulum and Playa Del Carmen.
What is Valladolid, Mexico, Known For?
The small Mexican city of Valladolid is known for being the closest city to Chichen Itza and some of the most famous cenotes in Mexico, Cenote Suytun, Cenote Ik Kil, and more.
Despite being overshadowed by these attractions, the town is lovely, full of colorful architecture and great restaurants, and it is one of Mexico's safest cities.
It's also known for being decently close to many popular destinations in Mexico.
So for those looking to stay in Mexico on a budget, it's a great place to stay and then make day trips to all these popular Mexican cities!
Tulum to Valladolid is 1 hour & 40 Mins
Playa Del Carmen to Valladolid is 2 Hours
Cancun to Valladolid is 2 Hours
Merida to Valladolid is 2 Hours & 20 Mins
Campeche to Valladolid is 4 Hours & 20 Mins
Things To Do in Valladolid, Mexico #1-2
Visit Chichen Itza Ruins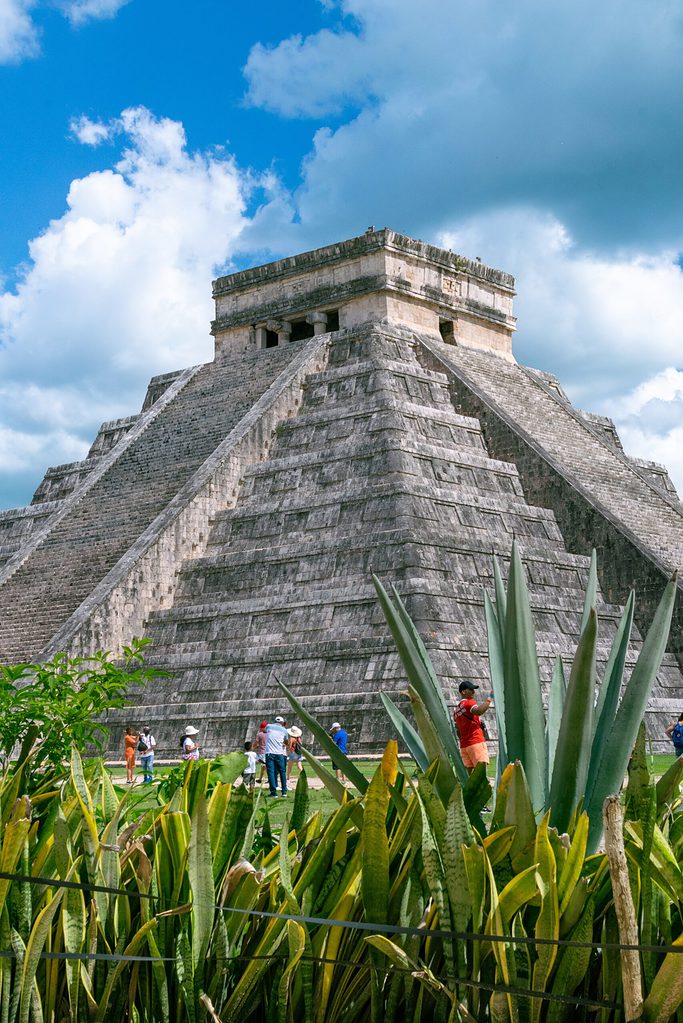 Regarding the most famous attractions in all of Mexico, Chichen Itza ranks #1 on the list. These ancient Mayan Ruins are part of the rich history that makes Mexico what it is today. The Chichen Itza ruins are a historic site designated by UNESCO World Heritage.
As stated earlier, many pass by Valladolid only to visit Chichen Itza, and that's precisely how I found out about this town.
Here's a guide on how to get to Chichen Itza from Valladolid.
So there's no way you can come here without visiting this historical Mayan treasure. You can take this Chichen Itza tour, including hotel pick-up from Valladolid, a Mayan lunch, and more.
Swim in Cenotes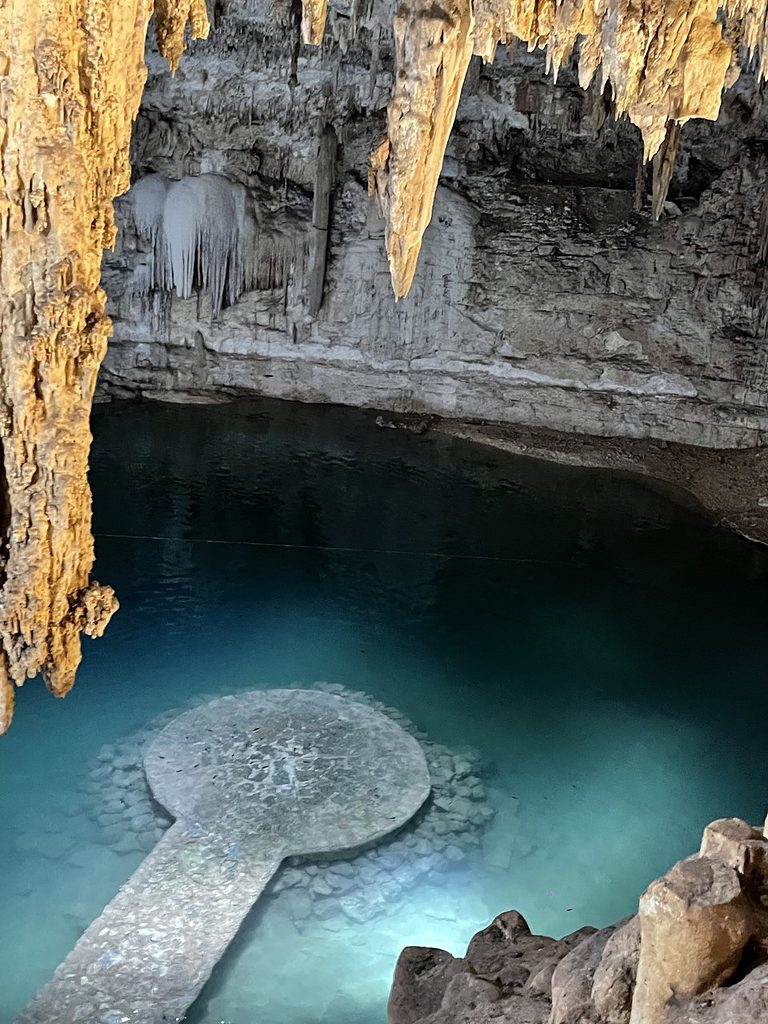 There are thousands of cenotes all over Mexico, and some have yet to be discovered. Luckily the cenotes near Valladolid are some of the most beautiful and famous cenotes in all of Mexico.
We've discussed this here if you're looking for a complete guide on cenotes.
The closest cenotes are the following:
Cenote Suytun
Cenote Zaci
Cenote Hubiku
Cenote Ik Kil
Believe it or not, there are many more cenotes around to discover here, but these four are rated high, and I recommend them! You can either drive there if you're renting a car, take a taxi, or go on a hassle-free tour!
Things To Do in Valladolid, Mexico #3-4
Day Trip to Las Coloradas Yucatan & Rio Lagartos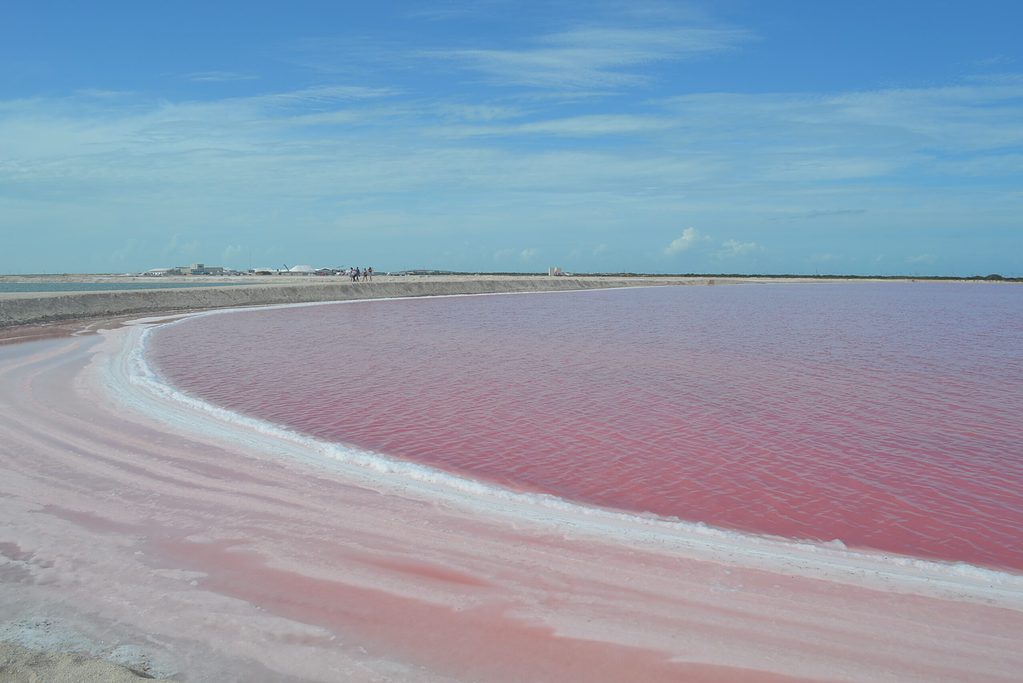 Precisely two hours away are Las Coloradas and Rio Lagartos, both a must-visit. Famous for being referred to as the "pink lake," Los Coloradas is a lake that has pink hue water going from light blue into bright pink.
I recommend you go to see it. Remember that you cannot swim here; the Mexican government has declared it a reservation area.
I highly recommend you go on this tour; we enjoyed it, the tour guides were friendly, and it made visiting Las Coloradas hassle-free. The tour includes transportation to and from there, lunch, and water.
Also, there is Parque Natural Ria Lagartos and Falmengos reservation area. Parque Natural Ria Lagartos is a stunning National park full of perfect white sand and a beautiful beach area.
But what it's most famous for is the Flemango reservation area; it is full of relaxing flamingos. It's a sight to see.
Stroll the City Center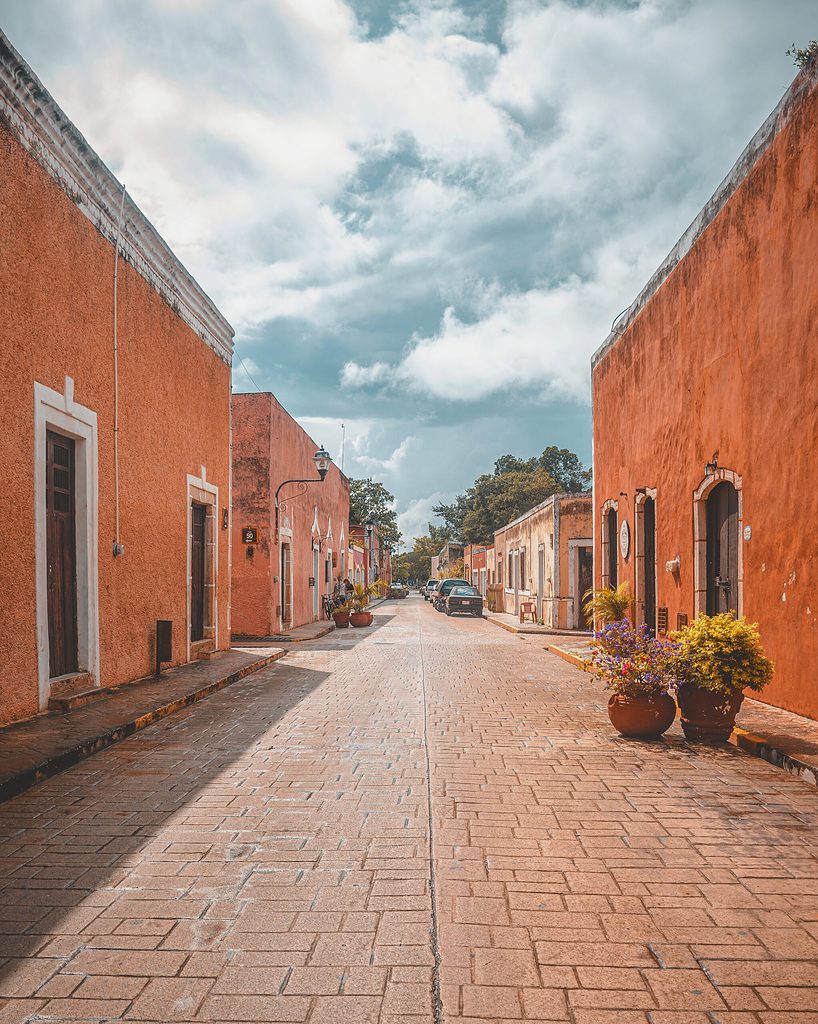 No matter where I travel, the first thing I consider when visiting a new city is how walkable the town is. Walking around a city, interacting with locals, and seeing art murals or stunning architecture is the best way to discover a new place.
Luckily, Valladolid is a walkable city; the town's center revolves around this stunning prink cobblestone park with an old church. The buildings all over the town are full of beautiful colors, giving the city a unique look.
Things To Do in Valladolid, Mexico #5-7
Indulge in Local Cuisine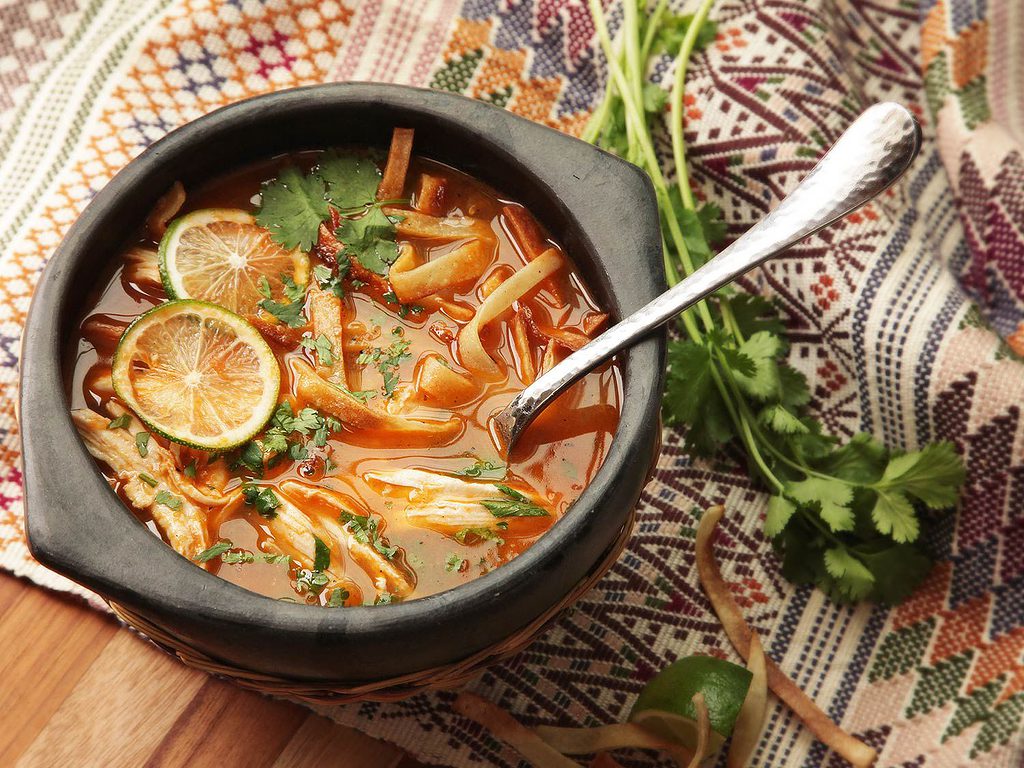 The food is fantastic here in Valladolid, Yucatan; the best part about it is just how authentic the cuisine here is. You'll notice this fast when visiting because you're not in a big tourist beach town like Playa Del Carmen or Cancun.
The city is full of local Yucatan cuisine. And if you're a foodie like myself, it's hard not to appreciate that.
Several famous dishes are native to the Yucatan region, such as Papadzules, Cochinita Pibil, and my favorite, Sopa de Lima, a chicken broth soup with lime juice and various seasonings.
Restaurants I recommend you Try:
Restaurante El Atrio del Mayab
Loncheria Olich
La Selva
Restaurante Zaci
Yerbauena del Sisal
Visit Izamal, aka The Yellow City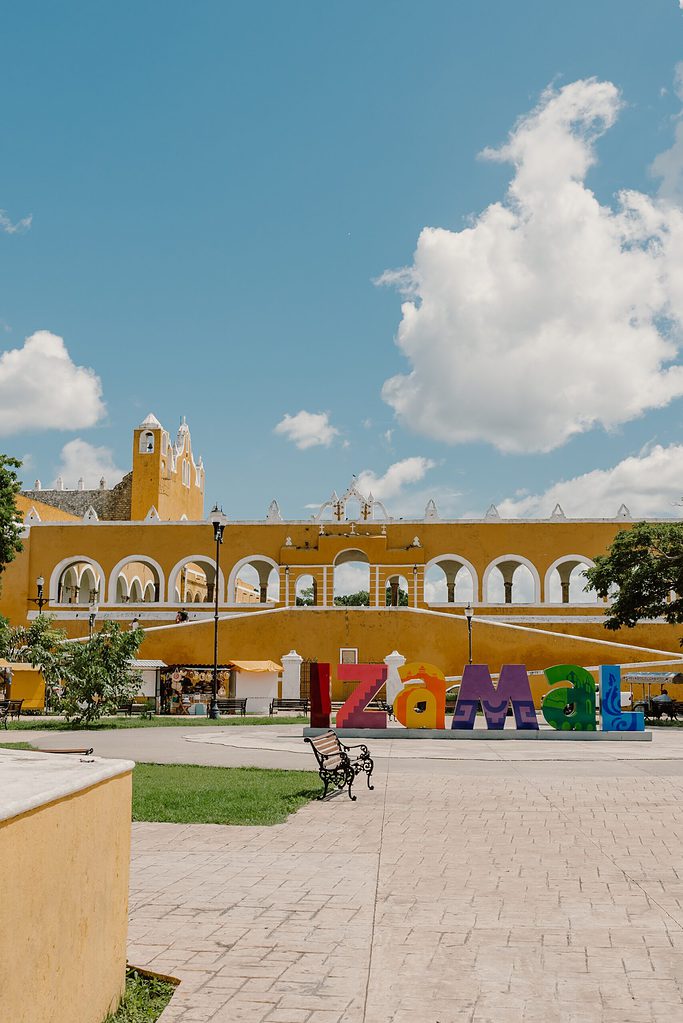 Izamal, known as The Yellow City, is a peaceful yet beautiful town. But in the past, it was a place for worship. Though some still consider it a sacred place. It is located about a two-hour drive from Valladolid.
The Mayans built twelve temples and pyramids to honor their gods, Kinich-Kakmo and Itzamna. The Spanish added a huge Franciscan Monastery to the center of the town centuries later. It has a magical atmosphere that is hard to describe.
Perfect place to walk around and explore. It's extra beautiful in the evening as the sunsets and sky colors contrast the yellow walls.
Being a two-hour drive away, I recommend you take this tour which provides transportation there; Chichen Itza is also a spot on this tour.
Day Trip to Tulum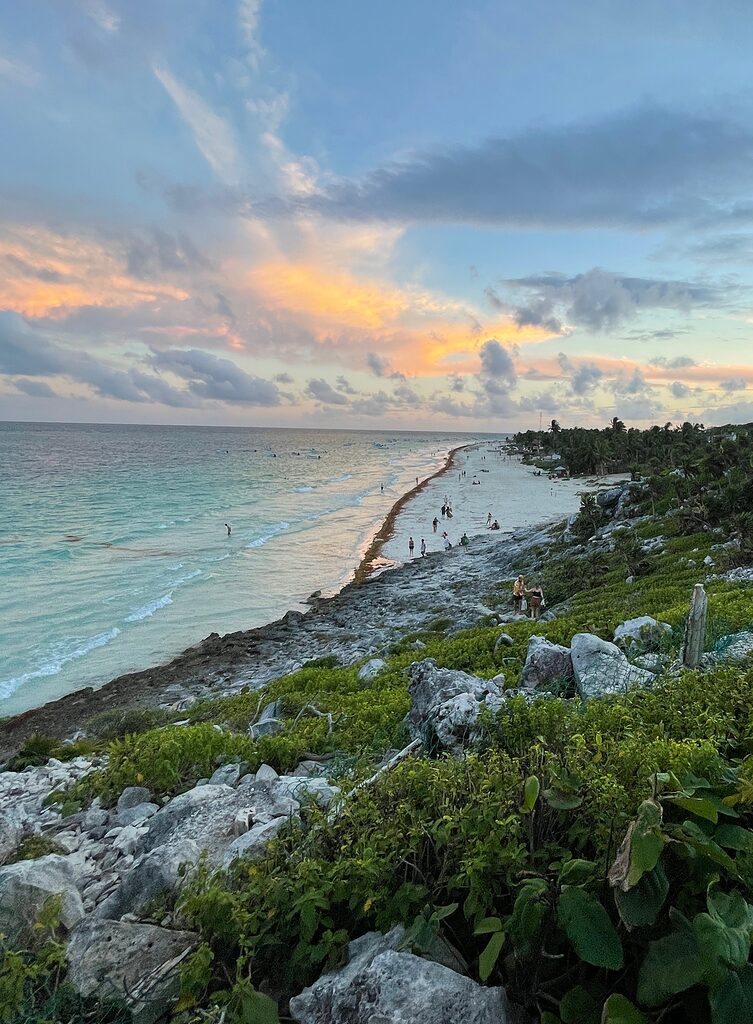 One of the most visited places in all of Mexico is the city of Tulum. It's known for its large ex-pat community, cenotes, Mayan Ruins, and its famous long beach shoreline full of luxury resorts, beach clubs, and a free access area.
Tulum has plenty to keep you busy and a uniquely relaxing atmosphere here. During the day, you'll see many people at the beach, biking around, meeting with other locals, and more.
At night, Tulum is a different story; Tulum Centro, the downtown area of Tulum, is full of bars/clubs/restaurants. An ideal downtown area for club/bar-hopping!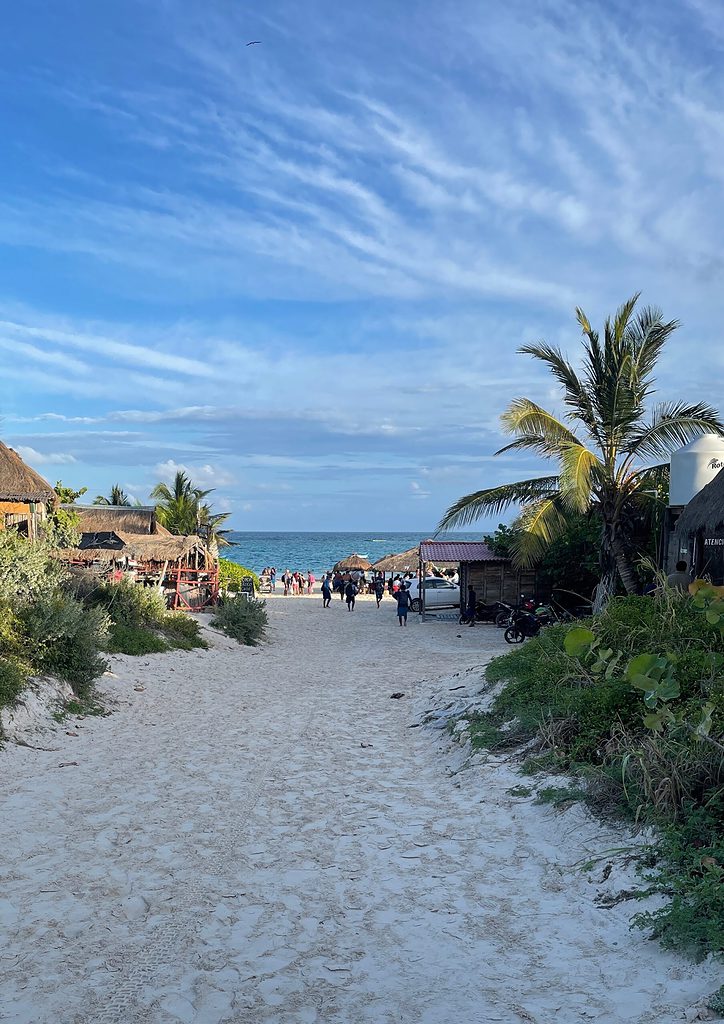 The downtown area is great for partying, and the beach clubs and techno music events are unique. Tulum is known for being the #1 spot for DJs to be in the winter season months, so the parties here are exciting. If it's your first visit, I recommend you go to a jungle party!
That said, Tulum has more to offer than partying; as stated, the beach here is stunning, and the restaurant options here are overwhelming!
Last but not least, Tulum is expensive, so unless you only plan on going to the beach, and eating at some cheap local spots, make sure you bring extra cash when visiting!
Is Valladolid, Mexico, Worth Visiting?
Yes, Valladolid, Mexico, is very much worth visiting. After reading this article, I hope I've given you enough reasons why you should see the city.
Whether you're going to stay there for a night or two to visit Chichen Itza conveniently, or you plan on making the town a stop on your way to Merida, you should visit.
Other than all the great qualities I've already mentioned about Valladolid, Mexico. One of the best parts about staying in this small town is how many famous cities are around you within a 2-hour drive.
So if you want to visit Mexico but are on a budget and want to see some popular cities such as Tulum, Playa Del Carmen, and Cancun, I recommend you stay in Valladolid; it's much cheaper than staying in these other popular cities. And conveniently, you're only a two-hour drive away! – Another great option is Chetumal, also close to Tulum as well!
Subscribe to Travel Hiatus!
Receive updates on my latest posts, insider travel tips & the best destination guides to your inbox!
Featured Image Credit: Filip Gielda / Unsplash
Happy & Safe Travels
---
Planning Checklist
---
Disclaimer: Please note that some of the links shared in this article might be affiliate links; this means that at absolutely no extra cost to you, we will earn a small commission for any sales generated through this article and/or this website. We recommend products/services we've either used or researched thoroughly – Thank you for supporting us so we can continue to share helpful travel content!