Positano vs Capri: Which is Better to Visit?
Are you trying to decide which Italian paradise to stay in, between Positano vs Capri? You've come to the right place!
This complete guide compares all the important factors for Positano and Capri and will help you decide which destination is best suited for you to stay in.
There are many different destinations to consider staying on when considering a visit to the Amalfi Coast, Sorrento, Ravello, and many more. But Positano and Capri are among the two most popular in the region!
Despite Positano and Capri being only a 40-minute ferry ride between one another, Positano and Capri are quite different towns.
The main difference is Positano is a coastal town, while Capri is an island only accessible by ferry.
I had the pleasure to visit Capri and Positano both for a few nights and while visiting, I noticed a contrast of differences between the two places.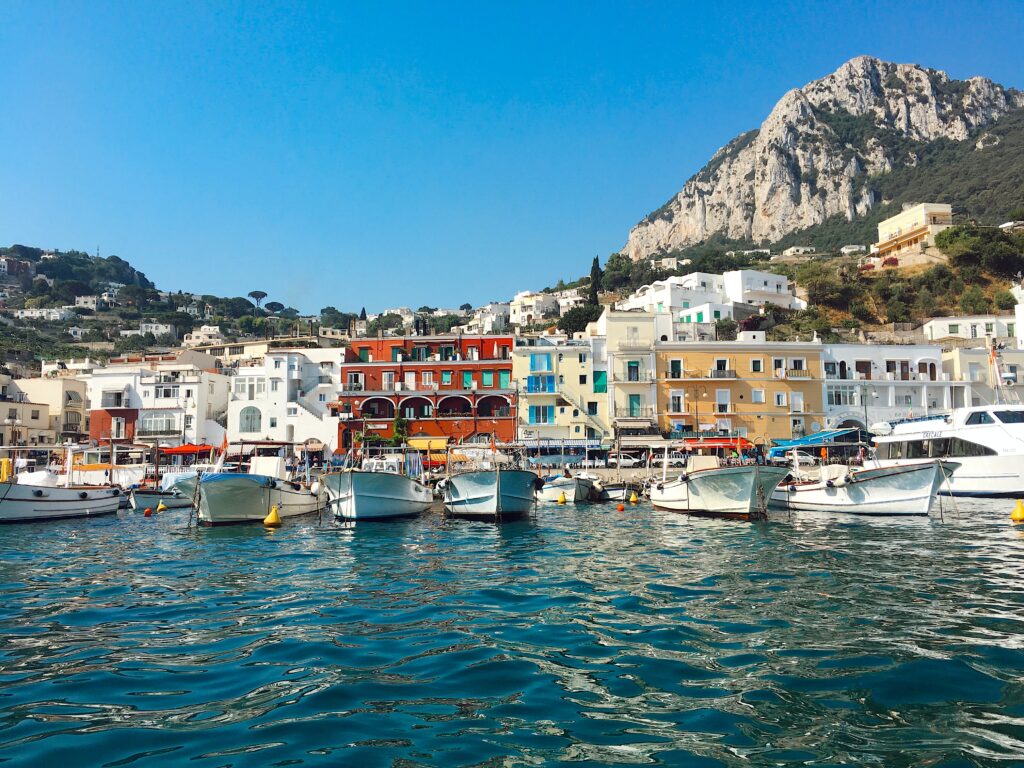 How to Get to Positano
Here's everything you need to know about getting to Positano; there are a few ways to do so.
Naples International Airport (NAP) is the closest airport to Positano, a 1 hour and 30 minutes drive or ferry ride from Naples Airport to Positano.
Ferry: The ferry from the Naples Molo Port to Positano is the most convenient way. First, you must get to the port from the airport using a private airport transfer. Then take the Positano ferry from there, it takes 1 hour and 45 mins. Seasonally available from April to the end of October. You can also use a ferry to get to Positano if you're in nearby towns.
Private Car Transfer: Another convenient way to get to Positano is to book your private airport transfer. You will have a personal driver at the airport waiting to take you to your hotel in Positano!
Rent a Car: For those looking to adventure the Amalfi coastline, you can rent a car from Naples Airport and drive to Positano yourself.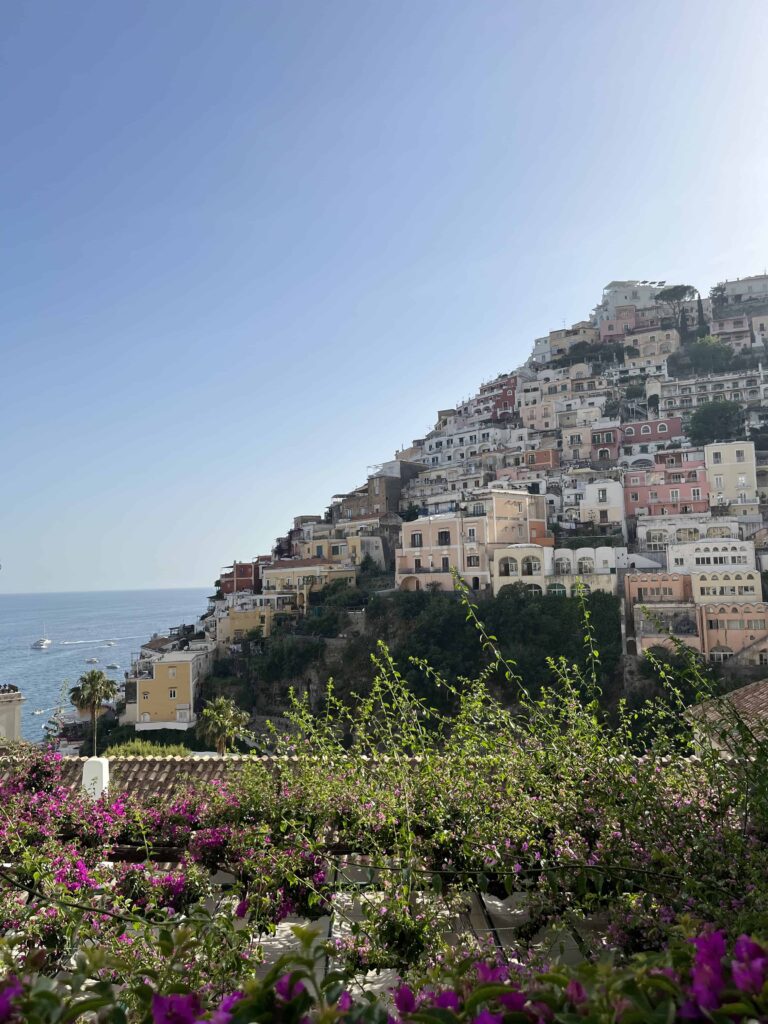 How to Get to Capri
Naples International Airport (NAP) is the closest airport to Capri, a 1 hour and 20 minutes ferry ride from Naples Airport to Capri. The only way to get there is by ferry.
Ferry: The ferry is located at Naples Port. First, you must get to the port from the airport using a private airport transfer or taxi. Then take the Capri Ferry from there for 1 hour and 20 minutes. Seasonally available from May to October.
Positano vs Capri – Main Differences
If you're in a hurry, here's a quick comparison of Positano vs Capri, highlighting the main differences between the two most popular destinations on the Italian Amalfi Coast.
While this table comparison is helpful, I'd recommend you read further to help you decide which place would be best for you to stay in!
No matter which place you choose to stay in, I recommend renting a Vespa and driving along the coastline of either Positano or Capri; this was the most memorable experience!
| | | |
| --- | --- | --- |
| Things To Consider | Positano | Capri |
| Main Attractions | Great | Great |
| Beaches | Good | Better |
| Walkability | Good | Okay |
| Views | Great | Great |
| Restaurants | Great | Great |
| Hotels | Better | Good |
| Nightlife | Good | Good |
| Ferry Access | Good | Good |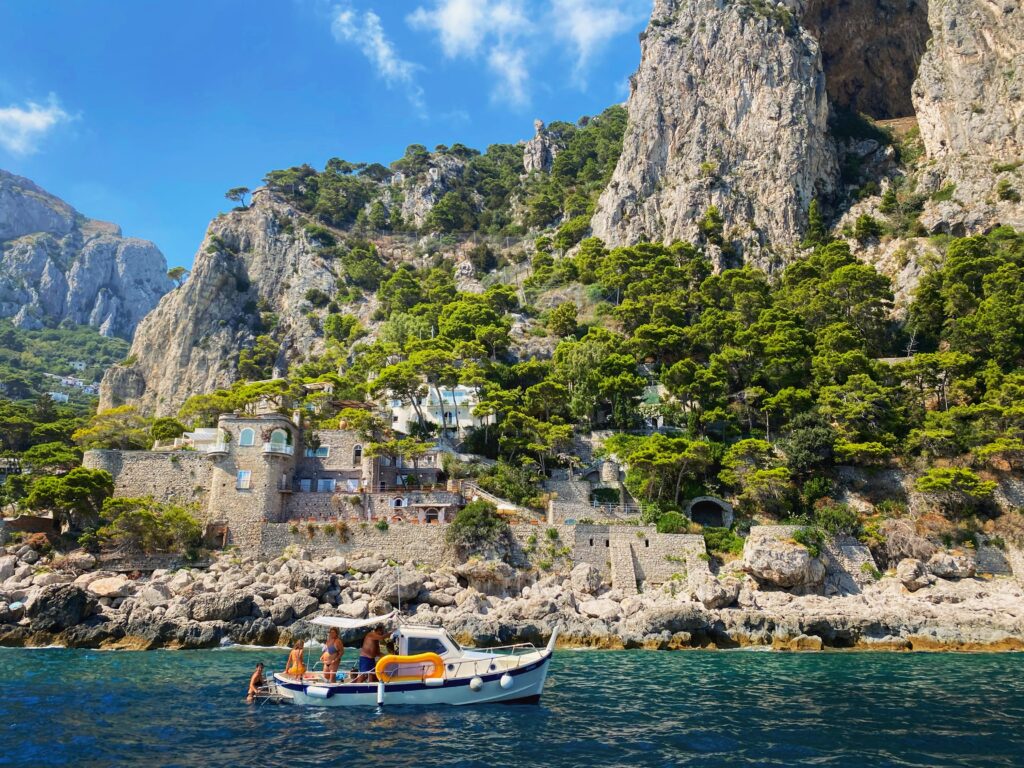 Positano vs Capri: Things To Do
Let's first go over the many things to do in both Positano and Capri; no matter where you choose to stay, both destinations have plenty of exciting things to do.
From day trips, walking tours, rooftop evenings, days at the beach, or sailing the sea for the afternoon, there are many things to do in Capri or Positano. Let's review the best of the best!
Regarding things to do, Positano and Capri are tied; they both have equally great things to do!
Things To Do in Positano
Spend the Day at a Beach Club
These are the best beach clubs in Positano to spend the afternoon relaxing under an umbrella with an Aperol spritz in one hand and some pasta on the side!
Treville Beach Club – Only accessible by free shuttle boat every hour
Arienzo Beach Club – Shuttle boat from the main pier every 30 minutes, 10AM – 1PM
La Fontelina – Iconic beach club located on the island of Capri
One Fire Beach is located in Praiano, a town next door. There are free shuttle boats from the main pier
Stay At (or Visit) Hotel Poseidon
Hotel Poseidon is a historical hotel property located in the heart of Positano, with exceptional views of the town and its coastline.
The boutique hotel is a unique piece of Positano's history and a must-visit during the evening at least once; the terrace at Hotel Poseidon has some of the best views in town!
Boat Excursion to Capri
Capri is located West of Positano. Visiting Capri and passing by the iconic Faraglioni rocks in the sea is one of the top-rated things to do in Positano.
Because Capri is so close, a day trip to Capri from Positano is very possible throughout the day. You can take the ferry there or attend this top-rated private boat excursion!
Visit Fornillo
The city center of Positano is always full of tourists during the busy, high-season Summer months, and that's exactly why you should spend an afternoon on the more local side of Positano, Fornillo.
The beach is slightly less busy here, and Fornillo has some of the best restaurants in Positano. I highly recommend Saraceno d'Oro, this local Italian family makes the best pizza in town!
Walking the streets in Fornillo, you'll quickly notice how picturesque and charming it is there.
Because there are fewer tourists here throughout the day, it's easier to appreciate the charm of the streets of Positano in Fornillo.
Day Trip to Ravello
Located just 1 hour east of Positano is Ravello, a small historic town with some of the best sea views in the whole Amalfi Coast.
The hilly landscape, old villas with beautiful architecture and lawns, and small boutique shops/restaurants in the town square make Ravello very much worth a visit.
Ravello is also known for having a more authentic feel for what the Amalfi Coast towns used to be like back then, and the tiny town is far less touristy than Positano, Capri, or Sorrento.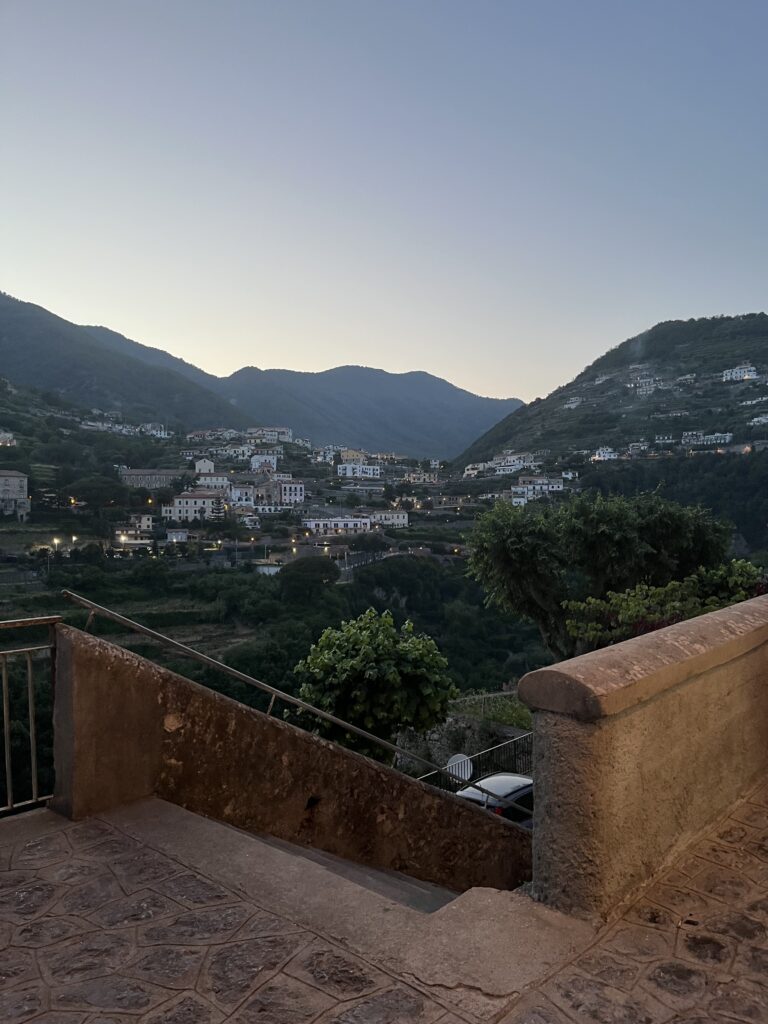 Things To Do in Capri
Boat Tour
The best way to see Capri is by taking a boat cruise through the sea on a sunny afternoon as you gaze at the coastline of Capri and admire its beauty from the sea.
On this Capri Boat Tour, you will sail the sea as you stop at a few grottos and learn about the history of the region from an Italian-English-speaking guide.
When it comes to must-do things in Capri, a boat cruise tops the list. You must sail the seas and admire Capri's beauty!
Visit the Blue Grotto
One of the most fascinating tourist attractions in Capri is the world-famous Blue Grotto, a sea cave famous for its distinct crystal-clear, deep blue-shaded water.
There's a very large hole in the rock formations beneath the water, and that's what causes the sea cave's unique bright blue water.
Many tours offer direct visits to the Blue Grotta from the main Marina Grande (the main marina in Capri), or you can take an extended tour and visit many grottos in the area. If you prefer a Private Tour, you can do that too!
If you stay in Positano, you can visit the Blue Grotto as well via this tour from Positano!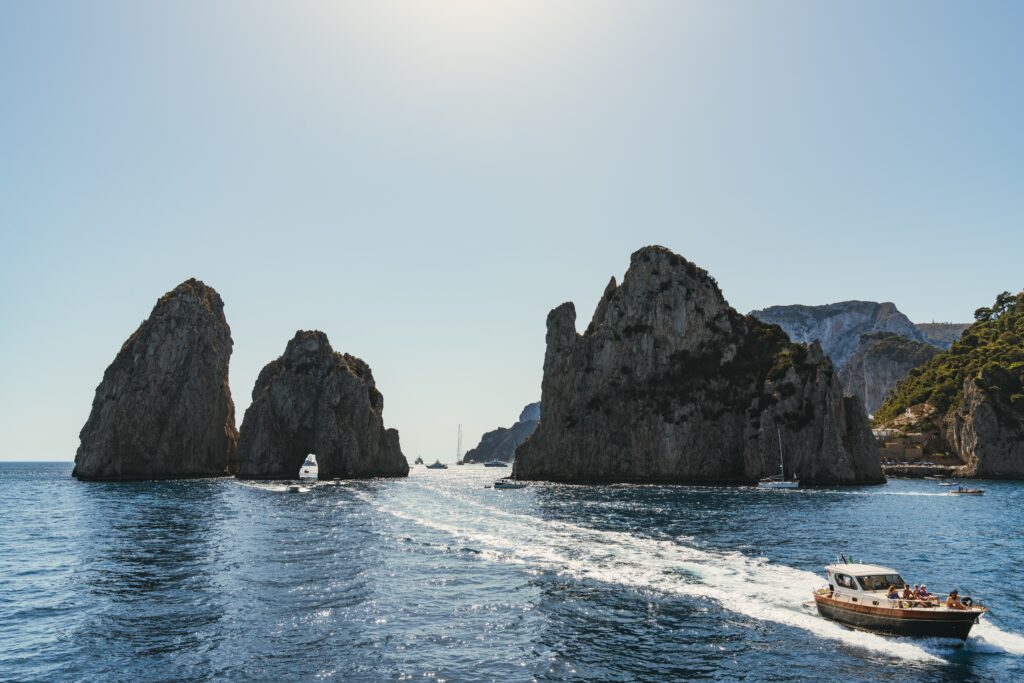 Explore Capri Town
Located in the eastern center part of the island is Capri Town, a walkable town center with many boutique shops, several excellent restaurants, and more!
Those looking to shop the many luxury designer brands such as Gucci, Celine, Dior, and more, head over to Via Camerelle; on both sides of the street, you'll find many stores.
Make sure to stop by Piazzetta di Capri, the main town square, where you'll find many cafes, pizzerias, and locals/tourists dining, walking, and people-watching.
Dinner with a View
What beats a stunning view of the sea in the evening, accompanied by excellent food and great company? In my opinion, nothing!
Here are a few restaurants with breathtaking views in Capri to consider for a romantic sunset dinner!
Restaurant Il Riccio – Best known for its exceptional Mediterranean seafood dishes and its blue/white painted decor, Riccio is fancy, lively and has great views. Some nights, there's a DJ, so depending on the atmosphere you're looking for, you should consider this
Ristorante Panorama Capri – Convenitenlly located close to Capri Town, Panorama is a chic Italian restaurant located on a terrace surrounded by greenery, fresh lemons on the trees, and mesmerizing mountain/sea views
Da Emilia Alla Curtiglia – On the western side of the island in the hills is Da Emilia, a delicious Italian restaurant most known for its seafood pasta and grilled octopus. They offer both indoor and outdoor seating with exceptional sea views
Pulalli – Located in Capri Town, Pualli serves all the Italian classics and a few Spanish dishes; the views here are stunning, with both mountain/sea views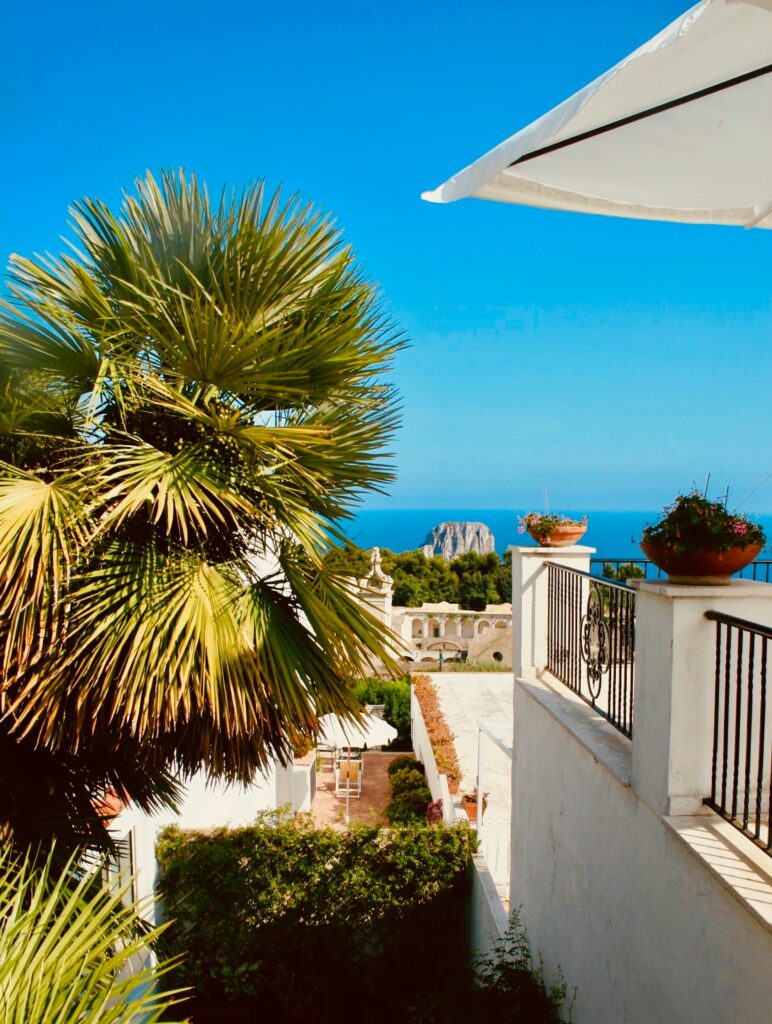 Hike Monte Solaro
Monte Solaro is the highest point in Capri and is still home to the Napoleonic War fort remains.
The best views of the island are from here; as you get to the top, you'll notice nothing but continuous beautiful panoramic views.
There are two ways to get here: you can hike, which I highly recommend it only takes 1 hour, and it's not a hard hike. Also, it's a great way to shed off some of that pasta weight!
Or you can take a chair lift for those who have a strict no working out on vacation rule; it takes 12 minutes on the chair lift and costs a few euros.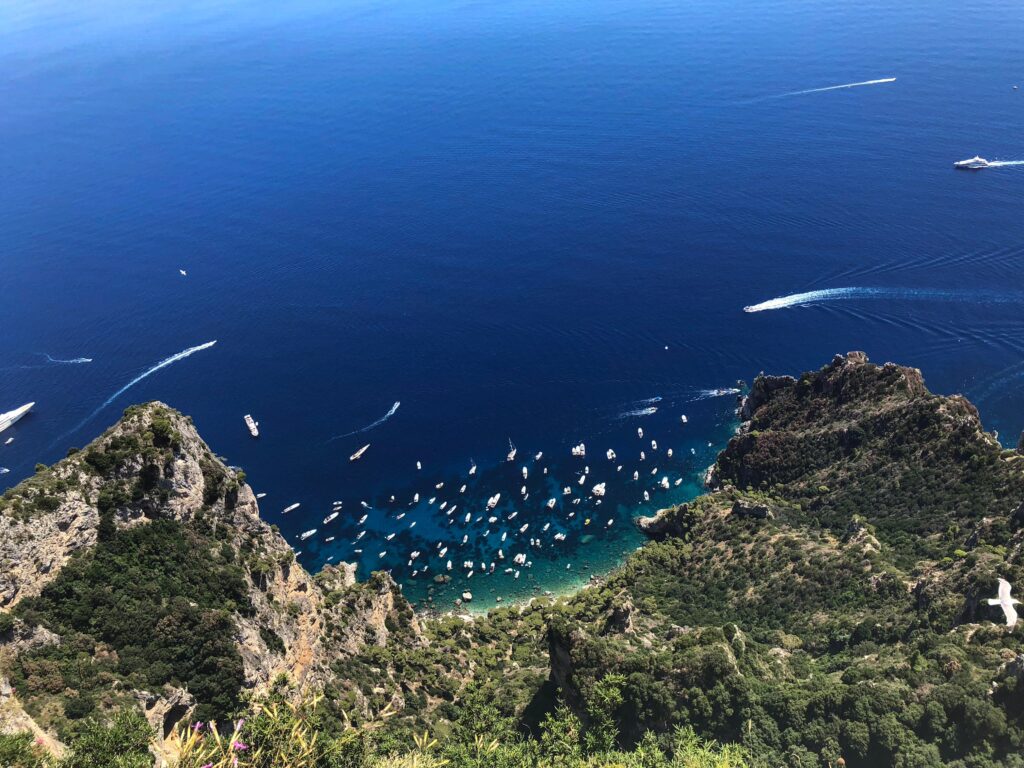 Positano vs Capri: Beaches
Let's talk beaches; I mean, it's not an Italian vacation unless you have a beach day or two!
Both Positano and Capri have many beautiful beaches to spend the day soaking up the sun, but Capri has the better beaches between the two destinations.
Not only does Capri have more beaches than Positano, but the beaches in Capri are superior in all ways: the hues of the water, a selection of rock or sand beaches, and just the overall surroundings of the beaches in Capri are more naturally stunning!
Positano vs Capri: Hotels & Rentals
Both Positano and Capri have several accommodations to choose from: boutique 5-star hotels, villa stays, and more.
But each place has its advantages regarding accommodation types. Positano has more accommodations than Capri, but Capri has more beachfront accommodations than Positano.
So it depends on your preference, but make sure to consider the fact that staying in Capri means you're on an island; other places are only accessible by ferry!
Where to Stay in Positano
Le Sirenuse: Luxurious 5 Star boutique famous for its fine-dining restaurant, classic decor, and fantastic sea views.
Hotel Poseidon: Iconic 4 Star boutique hotel located in the town center with an exceptional terrace restaurant/bar.
La Casa Di Peppe: Luxurious, spacious, and private all-white villas with exceptional sea views. Only 14 villas are perfect for those looking for more privacy at a hotel.
Hotel La Bougainville Positano: Located in the Nothern part of town, Hotel Bougainvilla is a beautifully decorated 3 Star Hotel offering spacious rooms with sea views.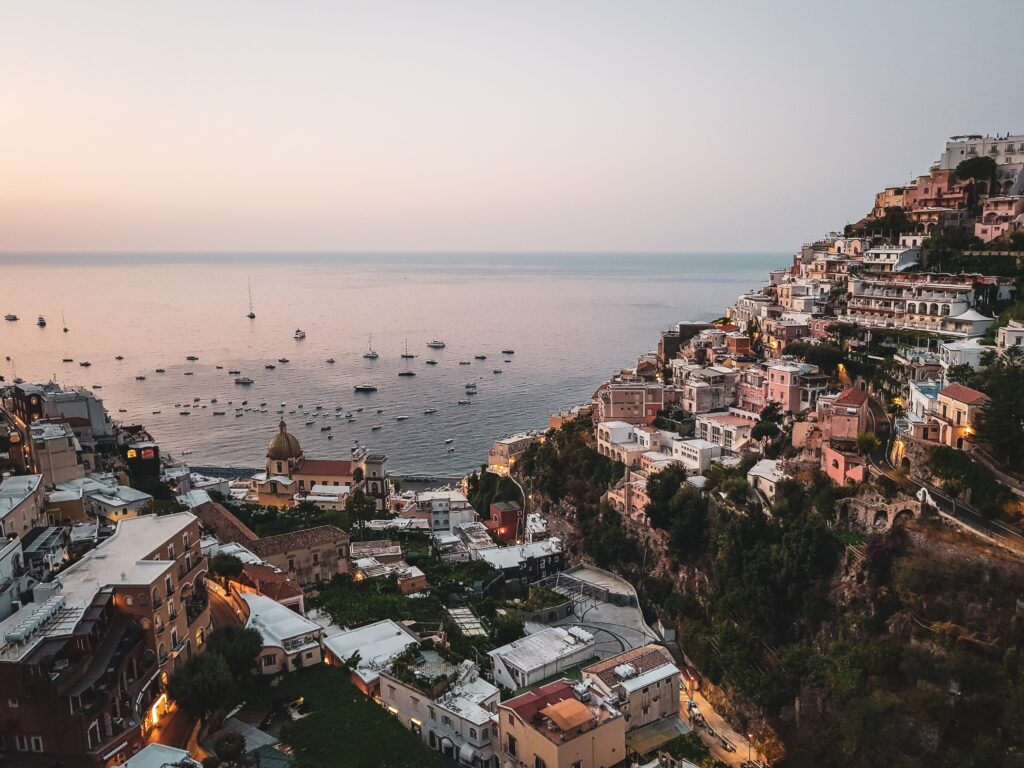 Where to Stay in Capri
Capri Palace Jumeirah: Located in the Western part of the island, Palace Jumeriah is a stunning 5 Star boutique hotel with exceptional views, very spacious rooms, and an overall calm environment
Hotel Mamela: Conveniently located steps away from Capri Town, Hotel Mamela is a beautiful 4 Stars boutique hotel with charming decor, spacious rooms and a great pool
Palatium Mari: Located minutes from Marina Grande beach and the main pier, Palatium Mari is a charming 3 Stars hotel with stunning views and many amenities
Hotel Bellavista Anacapri: Famous for being one of the oldest hotels in Capri, Hotel Bellavista is a beautiful hotel with lots of old-school Italian charm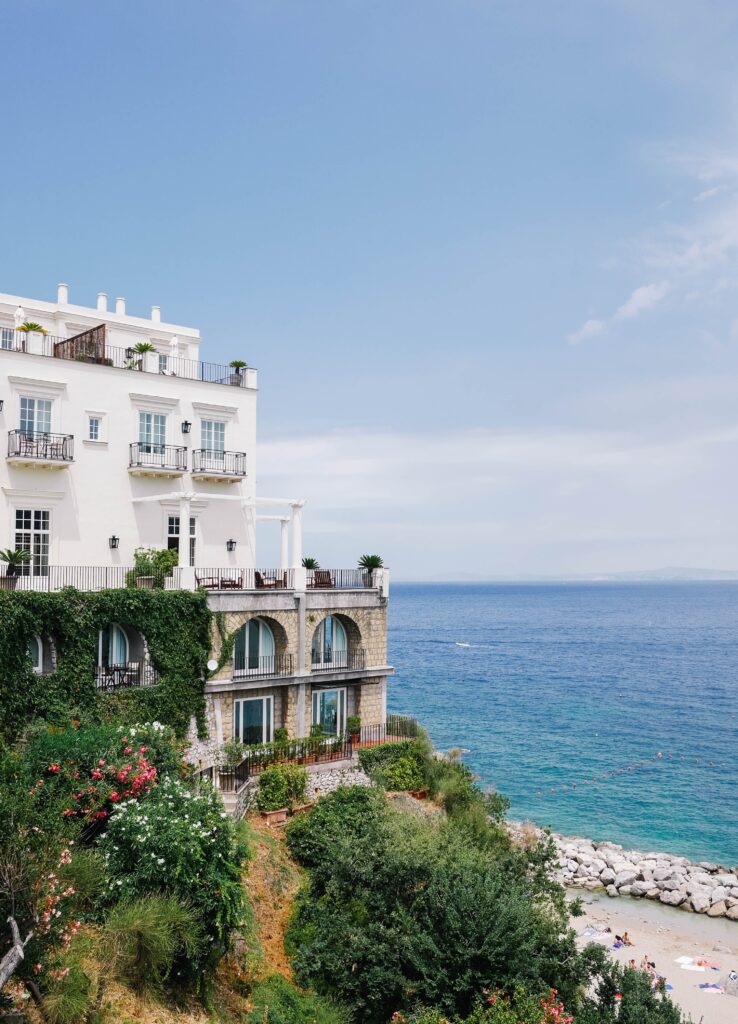 Positano vs Capri: Restaurants
When it comes to eating out in both places, Positano and Capri both have exceptional restaurants; I mean, you're visiting the popular Amalfi Coast, after all.
There is no clear winner between the two restaurant-wise, but Positano does offer more restaurants than Capri.
Capri has many restaurants in Capri Town, but some of the best restaurants are scattered throughout the island.
Where to Eat in Positano
II Ritrovo: Local restaurant with a diverse menu and beautiful hillside/sea views
La Sponda: Fine dining restaurant famous for its exceptional views and unique menu
Saraceno d'Oro: Family-owned restaurant famous for its pizzas and pasta dishes
Mediterraneo: Italian restaurant showcasing many Mediterranean flavors
Casa e Bottega: Small cafe known for its many breakfast/lunch dishes and cocktails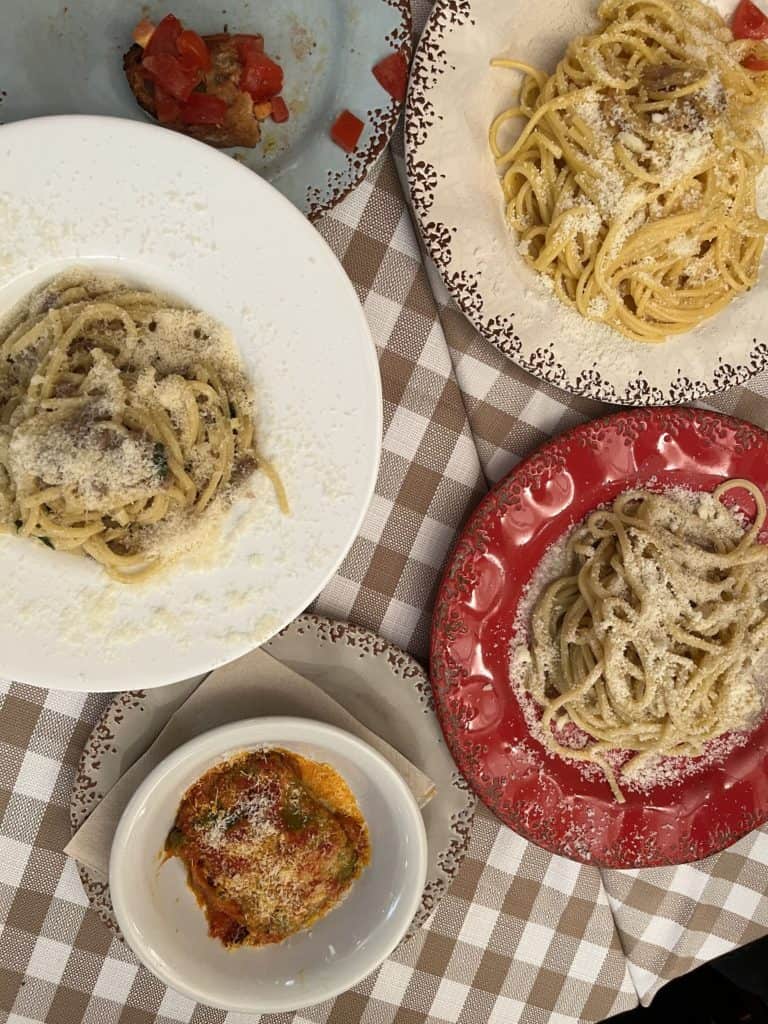 Where to Eat in Capri
Lo Sfizio: Tiny classic Italian restaurant located on the side of the street most known for its gnocchi, burrata, and Risotto
Ristorante Pizzeria Verginiello: Classic Italian restaurant located close to the main square of Capri with great views of the bay
Restaurant Il Riccio: Best known for its exceptional Mediterranean seafood dishes and its blue/white painted decor, Riccio is fancy, lively and has great views. Some nights, there's a DJ, so depending on the atmosphere you're looking for, you should consider this
Le Grottelle: A stunning, decorated, intimate restaurant located in the hills of Capri serving all the classics with beautiful views
Ristorante Buca di Bacco: Homey Italian vibe restaurant serving some of the best pizza in all of Capri
Positano vs Capri: Nightlife
The nightlife in Positano and Capri is equally as good, and there are a few nightclubs but more bars/lounges and lively restaurants than anything else.
Positano's nightlife consists of one main nightclub, Music On The Rocks, a stunning nightclub along the shoreline. Besides this nightclub, there are countless lounges/bars/sunset viewpoints to check out, like Ocean Bar and Positano Paradise.
Capri's nightlife consists of two main nightclubs, VV Club Capri and Taverna Anema e Core. Besides those two nightclubs, there are several cocktail bars and lounges such as Bar Plaza, Capri Rooftop, Jacky Bar, and others.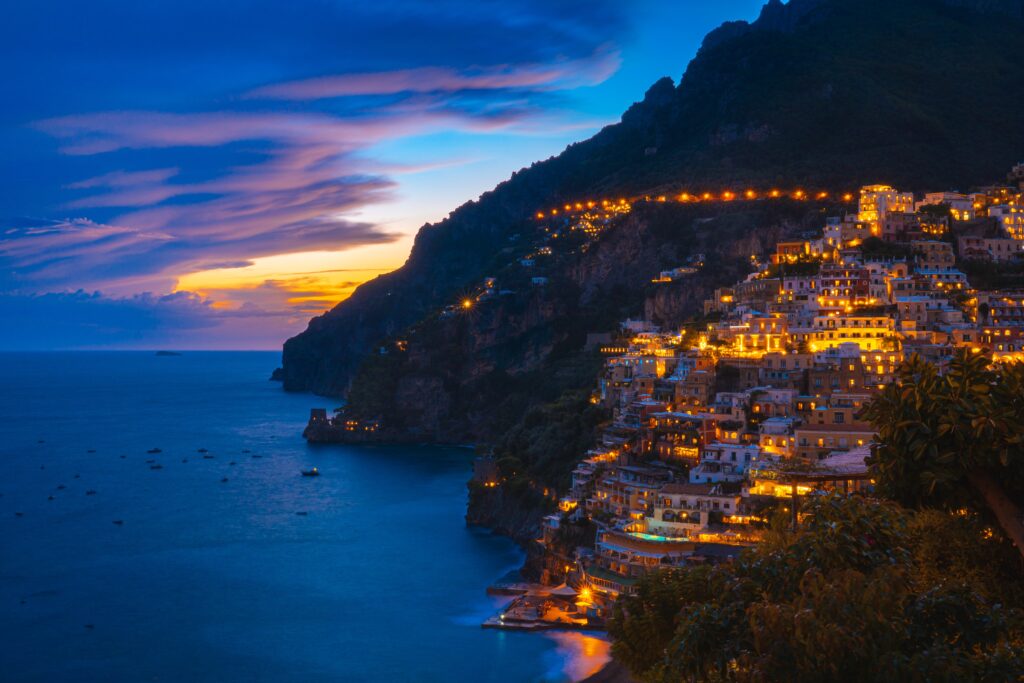 Best Time to Visit Capri or Positano
June through August is the best time to visit the Capri or Positano and the rest of the Amalfi Coast, that is. The Summer months are when the weather is ideal for the beach, with mild to warm evenings. Temperatures stay around 24 to 34 Celsius daily during Summer.
April through May and September through October are shoulder season periods on the Amalfi Coast. Both months still offer warm weather, and accommodation prices are significantly lower than in the Summer because it's not high season, which is June through August.
November through April are the offseason months on the Amalfi Coast, and some businesses have different hours or are closed entirely, and most ferries don't operate during this time of year. Lastly, temperatures make having a beach day impossible in the off-season.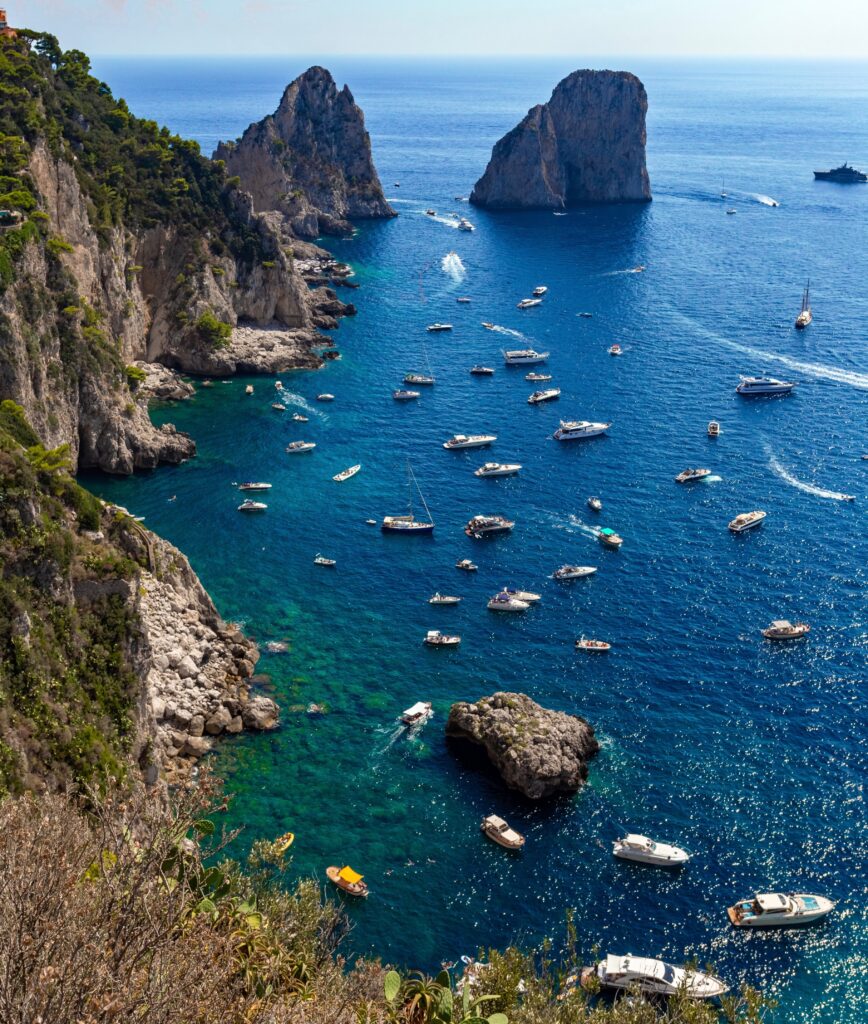 Positano vs Capri – Final Thoughts
Both are exceptional romantic Italian destinations, and while many of each place's attributes are quite similar, at the end of the day, there are a few stand-out differences between the two places.
Positano is busier and more touristy than Capri. I mean, Capri is also touristy, but most tourists visit Capri for a day trip or sail the waters of Capri. However, fewer tourists decide to stay on the actual island of Capri compared to Positano, and overall, Capri is calmer than Positano.
Capri is an island, and Positano is on the mainland, so naturally, there's more foot traffic in Positano. But Positano has its advantages; being on the mainland, there are many nearby towns like Sorrento, Amalfi, Ravello, and more to visit!
If it's your first visit, stay in Positano; it's a better base, and visit Capri for a day trip.
If you're on a honeymoon or prefer a romantic atmosphere, stay in Capri or Ravello instead of Positano.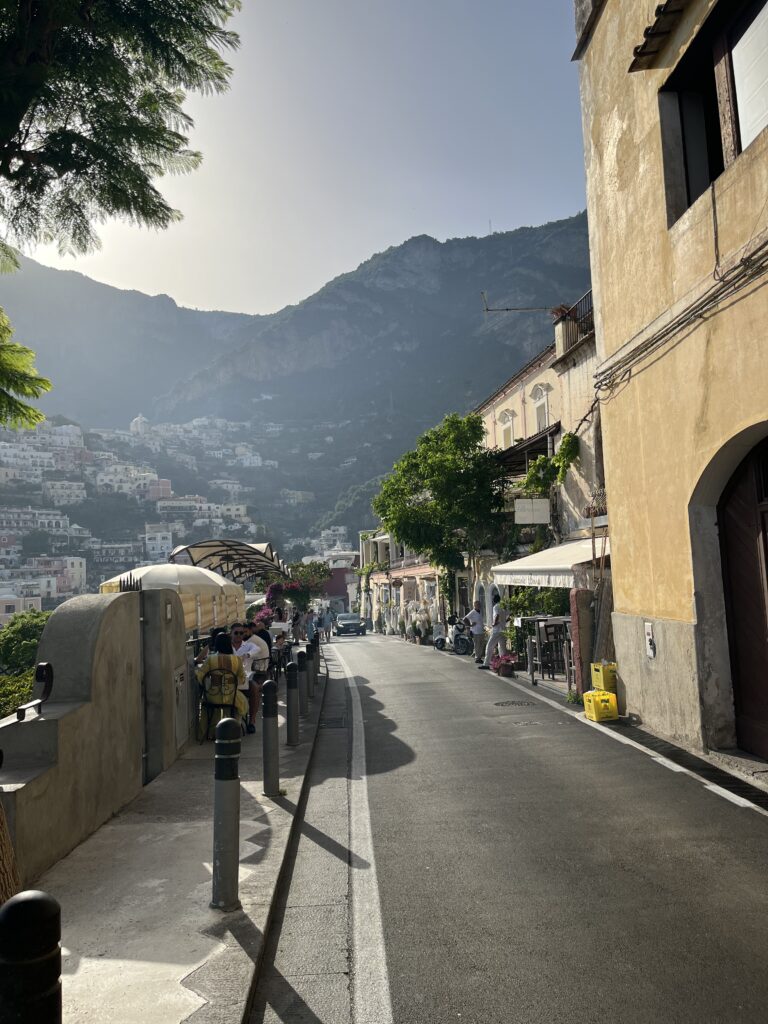 Which is nicer Capri or Positano?
Both are equally beautiful, but many do say Capri is more beautiful than Positano because of its island appeal and better beaches.
Why does everyone go to Positano?
Positano is the most famous and well-recognized town in Italy's Amalfi Coast; because of years of popularity and social media, it's kept a status as the town to visit/stay in when visiting the Amalfi Coast.
Is Capri too touristy?
Capri is just as touristy as the rest of the Amalfi Coast towns, but in the evening, it's far less touristy than in the day; that's because most visit Capri for a day trip from other Amalfi Coast towns.
How many days do you need in Capri?
Plan to spend at least 3 to 4 days in Capri. That way, you'll get to experience the many things to do in Capri, and you have a beach day or two on one of Capri's many stunning beaches.
Subscribe to Travel Hiatus!
Receive updates on my latest posts, insider travel tips & the best destination guides to your inbox!
Happy & Safe Travels
---
Planning Checklist
---
Disclaimer: Please note that some of the links shared in this article might be affiliate links; this means that at absolutely no extra cost to you, we will earn a small commission for any sales generated through this article and/or this website. We recommend products/services we've either used or researched thoroughly – Thank you for supporting us so we can continue to share helpful travel content!