Where To Stay in Phuket for Couples: 7 Best Areas
Are you planning a trip to Phuket with your partner and looking for where to stay in Phuket for couples? This Phuket beach area guide covers the seven best beach areas for couples!
Phuket is the largest island in Thailand, and because of this, there are several different areas to consider staying in, and it can get overwhelming when deciding where to stay.
I know this well because I remember doing plenty of research before visiting Phuket for the first time years ago.
I'll cover the seven best areas in Phuket, things to do there, what each area is known for, and the best hotel recommendations for each budget!
When deciding which beach area to choose, consider the atmosphere you are looking for, the location on the island, and the best highlights of the beach area you're favoring!
Through the many years I've spent months in Phuket, in different beach areas for many weeks, and sometimes more than a month in some areas. Because of this, I'm very familiar with the various beach areas in Phuket.
Karon Beach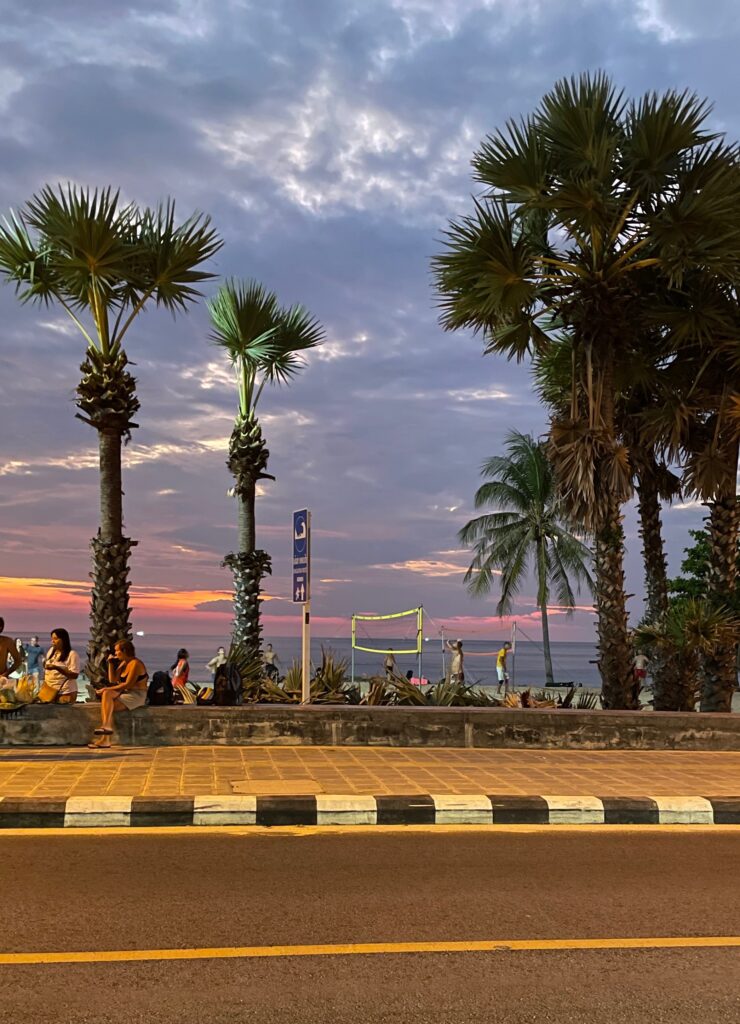 Karon Beach is one of the best areas for not only couples and families as well. The beach area is most well-known for its stunning extensive beach shoreline and clear turquoise waters.
Karon has two main streets, one along the beach shoreline full of restaurants, shops, and bars. The other street goes into the main town area, full of many seafood restaurants, Italian restaurants, local Thai spots, and more!
Karon Park is a beautiful park in town with a large pond, a perfect place for a stroll. The Karon Temple Night Market is popular amongst all, and it's open Tuesdays and Fridays.
In the evening time, you'll find some bars offering live music and bars serving drinks, but that's about it when it comes to the nightlife here. Karon Beach is best described as a calming, lazy beach town.
Karon Beach is the obvious choice if you're looking for a mix of the best beach and the quietest, relaxing area in Phuket.
Another advantage to staying in Karon Beach is its proximity to Kata Beach, and it's only a 5/10 minute drive between the two areas. Staying in Karon means you have quick access to a second beach!
Best Hotels in Karon Beach
Le Meridien Phuket — Luxury
JonoX Karon — Mid Range
Karon Sino Hostel — Budget
Kata Beach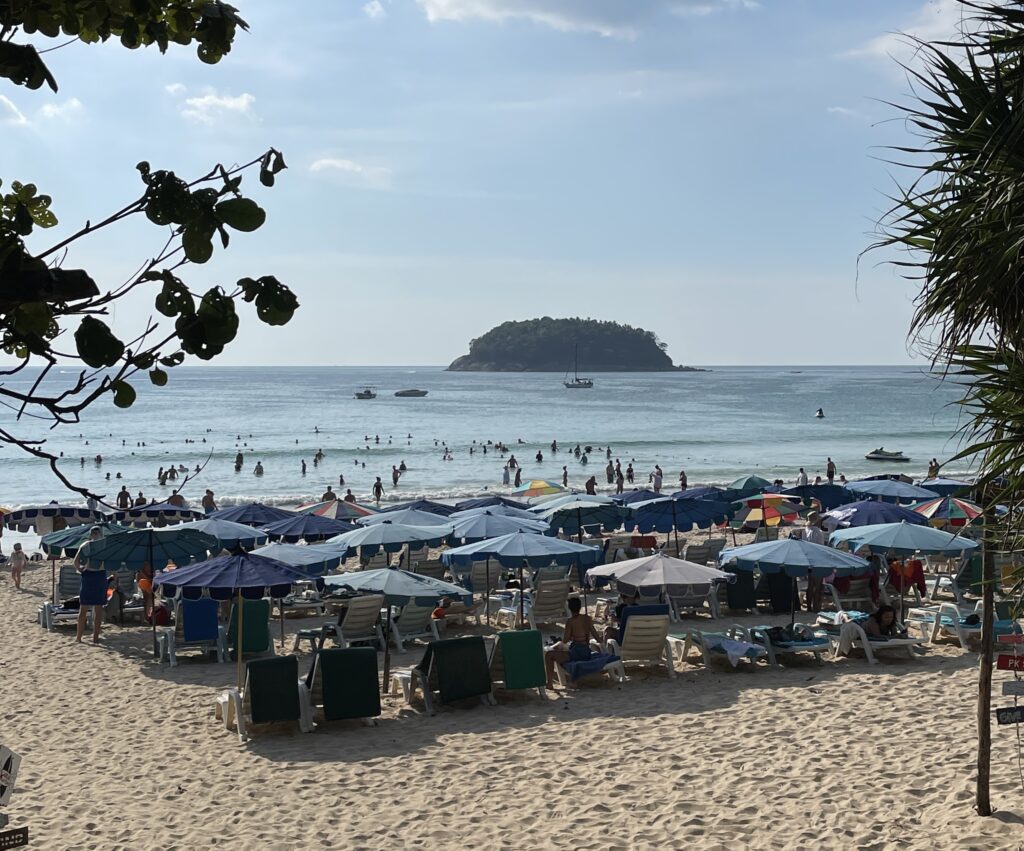 Kata Beach is popular amongst all tourists, despite mainly consisting of couples and families; some solo travelers stay in Kata Beach as well. It is the second most popular beach area in Phuket after Patong.
There are many things to do in Kata Beach, and it's most known for its surfing because of its friendly beginner waves on its shores. The beach in Kata is breathtaking, surrounded by palm trees and mountains; it's very tropical.
The Kata Beach area is very walkable, unlike most beach areas in Phuket, which primarily consist of one or two main beach roads congested with locals/tourists. Kata Beach has several streets, so it's easier to get around, but all roads are close in proximity.
Kata's restaurants are diverse, from Turkish to Japanese, Italian, and local cuisine. Kata also has two different night markets here, one operating as a food court in the day and one at night!
If you're looking for a quiet area with more things to do during the day/night, Kata Beach is an excellent choice.
A significant advantage to staying in Kata Beach is that you have a beautiful beach, and Karon Beach is minutes away.
Also, you're in a great location because there's a main crossing road by Kata that leads into the other side of the island where Old Phuket Town is.
Best Hotels in Kata Beach
Katathani Phuket Resort — Luxury
Blu Pine Villas — Mid-Range
Nonnee Hostel — Budget
Kamala Beach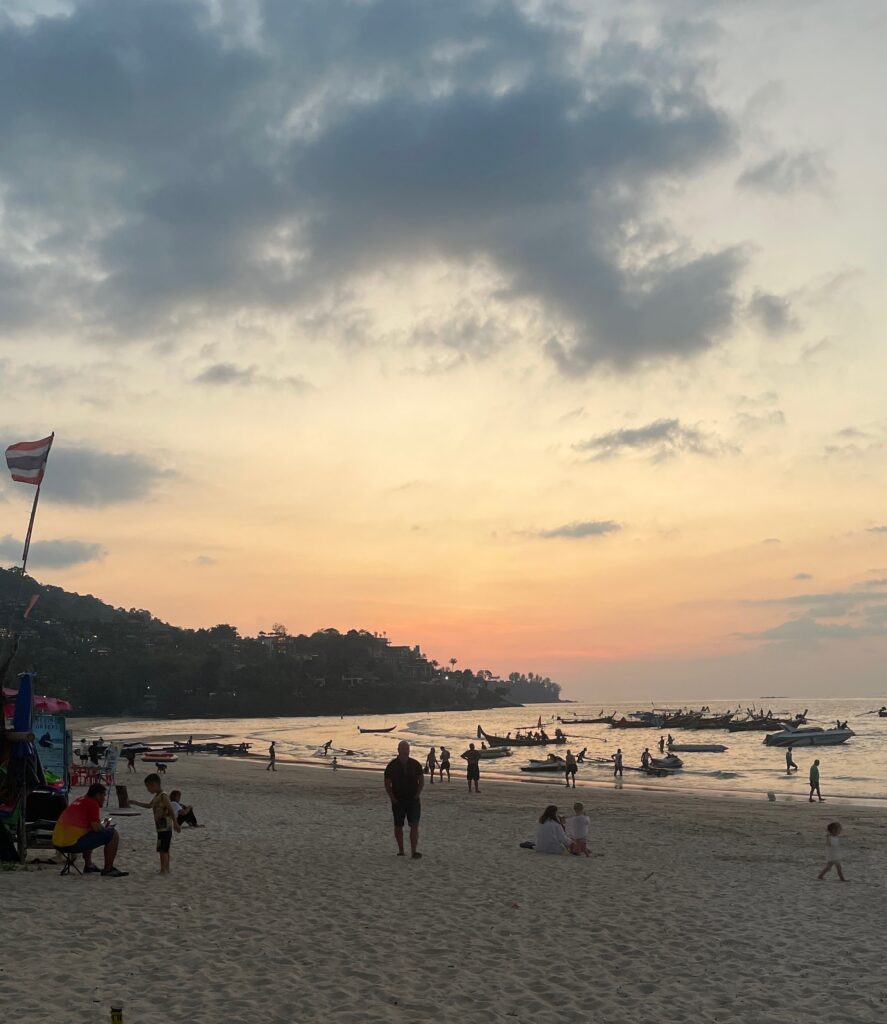 The popular Kamala Beach area is located along the middle of Phuket on the west. With a beautiful, extensive shoreline full of lots of space, several shops, and restaurants right on the beach, Kamala Beach has plenty of perks.
Kamala Beach has plenty of things to do, night markets, and beach activities, and is home to the famous Phuket FantaSea theme park.
The hotels in Kamala consist mostly of large hotels and resorts, but there are a few boutique-style hotels too!
Local Thai cuisine and seafood are well represented in Kamala Beach, but besides that, the cuisine here could be more diverse. My favorite restaurants in Kamala are Marush Kamal and Duck Spicy.
Overall, the area is calming and laid back, with most restaurants/shops being nearby, so it's easy to get around in Kamala. If you're looking for an even more secluded beach to visit while staying in Kamala, check out Haad Laem Sing and Hua Beach!
A significant advantage to staying in Kamala Beach is its great location. It's 10 minutes away from Patong Beach, so you could always party there and come back. Also, Surin Beach is 5 minutes away, and you can have a beach day there some days!
Best Hotels in Kamala Beach
InterContinental Phuket Resort — Luxury
Novotel Kamala Beach — Mid-Range
Bodega Phuket — Budget
Surin Beach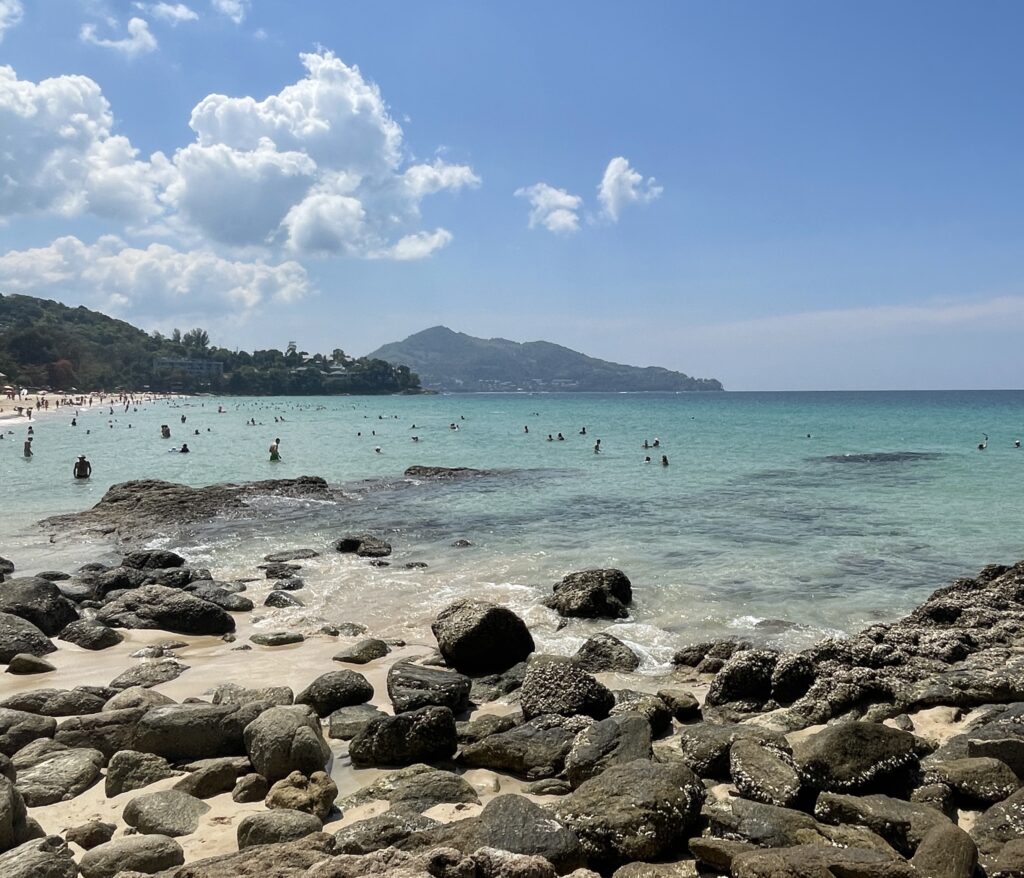 The main attraction for Surin is its beach. It's simply breathtaking: the shades of turquoise, the palm trees that surround it, and the soft sand. Surin Beach is easily one of the best beaches in Phuket.
Besides the surreal beach, there is no other beach in Phuket with a wide variety of street food near its shores. Surin Beach has countless stalls serving various types of foods all day, and this made Surin Beach my favorite beach in Phuket to visit for the day.
Surin Beach is a quieter area with limited restaurants/shops and things to do besides the beach.
If you stay here, you will spend time in neighboring beach areas, Kamala Beach and Bang Tao Beach, both more developed than Surin.
Overall, the beach area consists mainly of accommodations, making it extra laidback. Staying here means you're far away from most of the tourist crowds, though when you're at the beach, it's typical as Surin Beach is popular.
Staying in Surin Beach comes with many advantages. The beach is one of the best in Phuket, and you're neighboring two significant beach areas, Kamala and Bang Tao, and the Phuket Airport is nearby.
Best Hotels in Surin Beach
The Surin Phuket — Luxury
Outrigger Surin Beach Resort — Mid-Range
ChillHub Hostel Phuket — Budget
Bang Tao Beach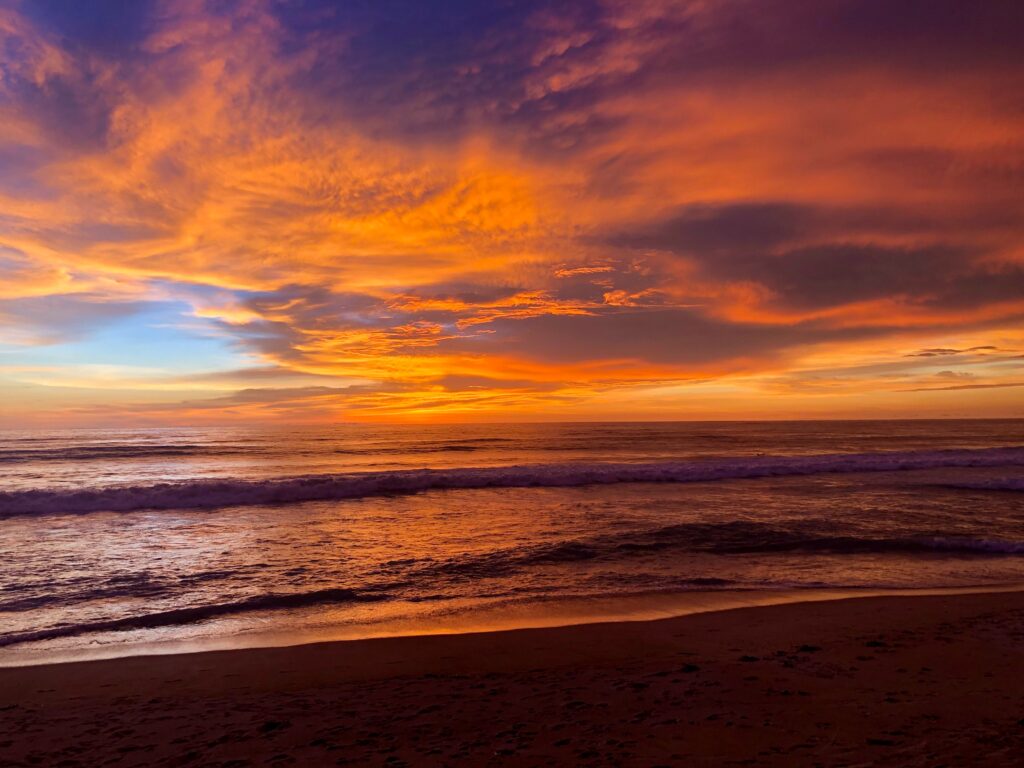 Looking for a romantic beach area with a calming atmosphere and several fine-dining restaurants to choose from? Bang Tao Beach may be your best option of all beach areas.
This popular beach area has the most 5-star hotels/resorts on the island, with many options for restaurants/bars and opportunities for shopping.
When it comes to Phuket honeymoon hotels, Bang Tao has the most ideal honeymoon-style hotels/resorts.
Bang Tao Beach itself is one of the best beaches in Phuket. The extensive narrow beach shoreline seems like it goes forever sometimes when walking along it, perfect for romantic evening beach walks with your partner.
Consider visiting the Catch Beach Club here; they've got pools, spa treatments, and plenty of room to have everything you need to enjoy a luxurious beach day. Some nights, they host a show with several fire performers, which is fun!
The crowd here consists mainly of mature adults, young couples, and a few families, though some hotels are adult-only.
If you're looking for romantic things to do in Phuket for couples, a luxurious beach area with a laidback atmosphere, Bang Tao is ideal!
Best Hotels in Bang Tao Beach
SAii Laguna Phuket — Luxury
Hilton Garden Inn — Mid-Range
ChillHub Hostel Phuket — Budget
Nai Han Beach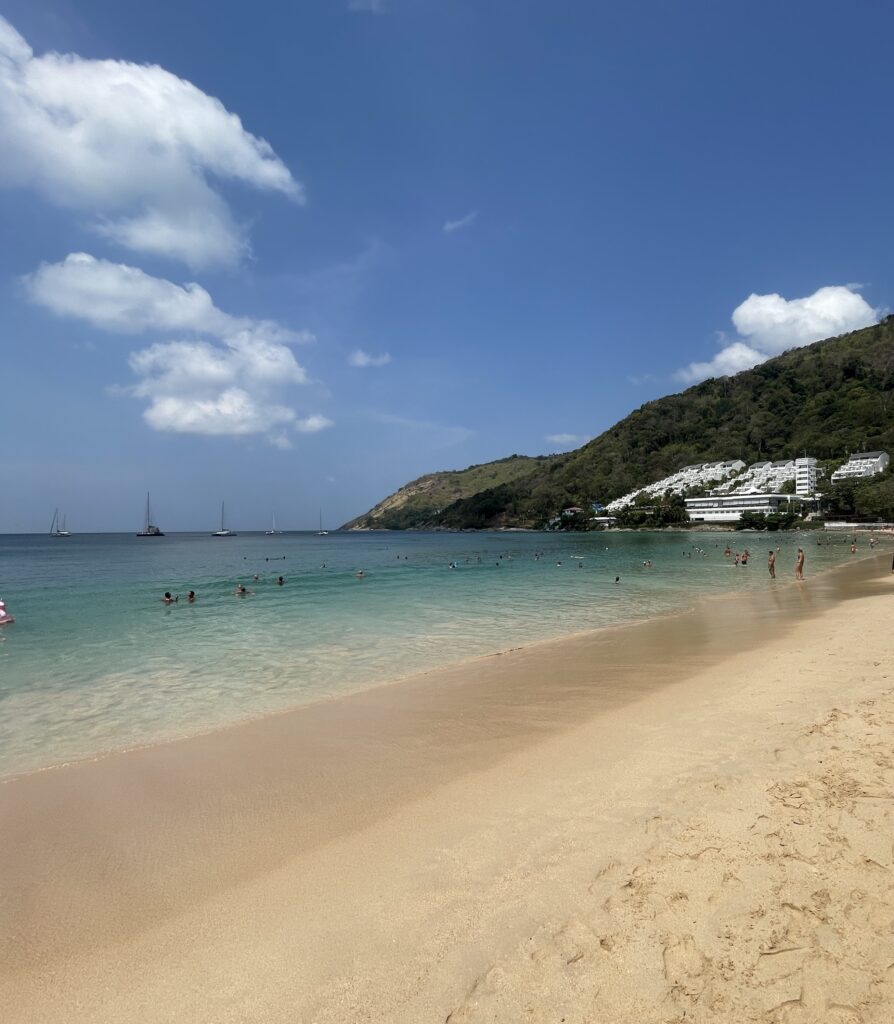 Nai Han Beach is the last main beach area along the West side of Phuket. The best part about it is that it's less popular than most beach areas in Phuket and has more of a local feel.
The shoreline here isn't the largest, but it's not tiny. There are several beach chair rentals for the day, but if you plan on renting one, come early!
Nai Han Beach area is known for its countless viewpoints that surround it, perfect for those who love trekking/hiking on a hot afternoon for a workout. Ban Han Park has a large pond and is lovely for a walk in the evening.
Near this beach area is the Rawai Beach Area, and it's only a few minutes' walk away. If you stay in Nai Han Beach, you will often find yourself in the Rawai area because most shops/restaurants are there.
Make sure to eat some seafood on Rawai Beach. The many seafood restaurants there are the best in Phuket!
Overall, the area is tranquil, has limited nightlife, and mainly attracts families, couples, and a few expats who live in Rawai Beach. Also, Nai Han Beach is one of the cheapest beach areas in Phuket!
Best Hotels in Nai Han Beach
The Nai Harn — Luxury
Wyndham Grand Nai Harn — Mid-Range
Naiharn On The Rock — Budget
Old Phuket Town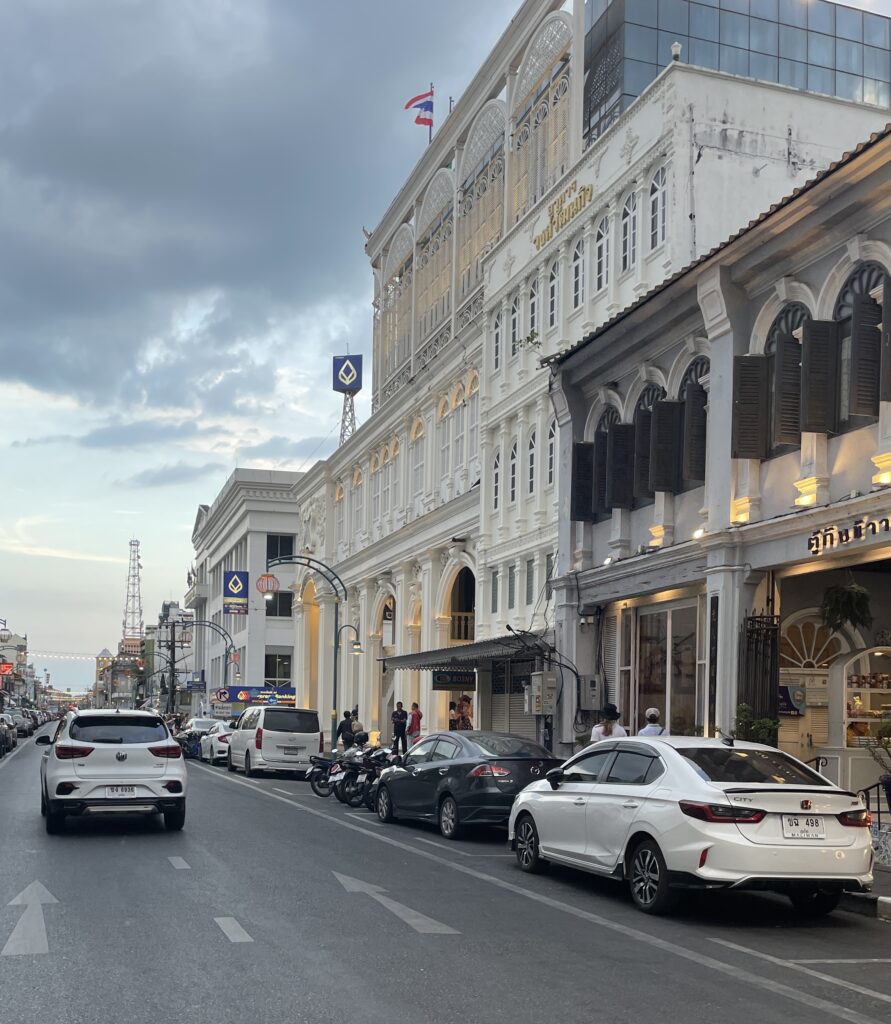 Old Phuket Town is a fantastic area with many Portuguese Sino-style buildings, excellent restaurants, gyms, and shops.
It's the ideal area to stay for those not looking always to be surrounded by the beach and tourists.
Despite not being close to any beaches, there are plenty of things to do in Old Phuket Town.
Staying here, you're close to many excursions in Phuket, such as the waterparks, elephant sanctuaries, and the two best night markets in Phuket: the Naka Weekend Market and the Old Phuket Sunday Market.
Minutes away from Old Phuket town is the Rassada Pier; this pier is the best way to get to the famous Phi Phi Islands and other islands, an absolute must-do while in Phuket!
Overall, staying here has more of a local atmosphere; locals and expats are going by their day-to-day commitments; it's not beach life every day.
One of the most significant advantages of staying in Old Phuket Town is the local Songtaew Blue Bus. All the buses depart from here to other areas on the island, and it's the cheapest way to get around!
Suppose you're looking to stay in Phuket long term or perhaps for a short period but want to work during the weekdays. I would highly recommend staying in Old Phuket Town. It's my favorite area to stay in if I'm not visiting on holiday.
Best Hotels in Old Phuket Town
Blu Monkey Hub Hotel – Luxury
The Memory at On On Hotel – Mid-Range
The Dorm Hostel – Budget
RELATED: Is Phuket Expensive?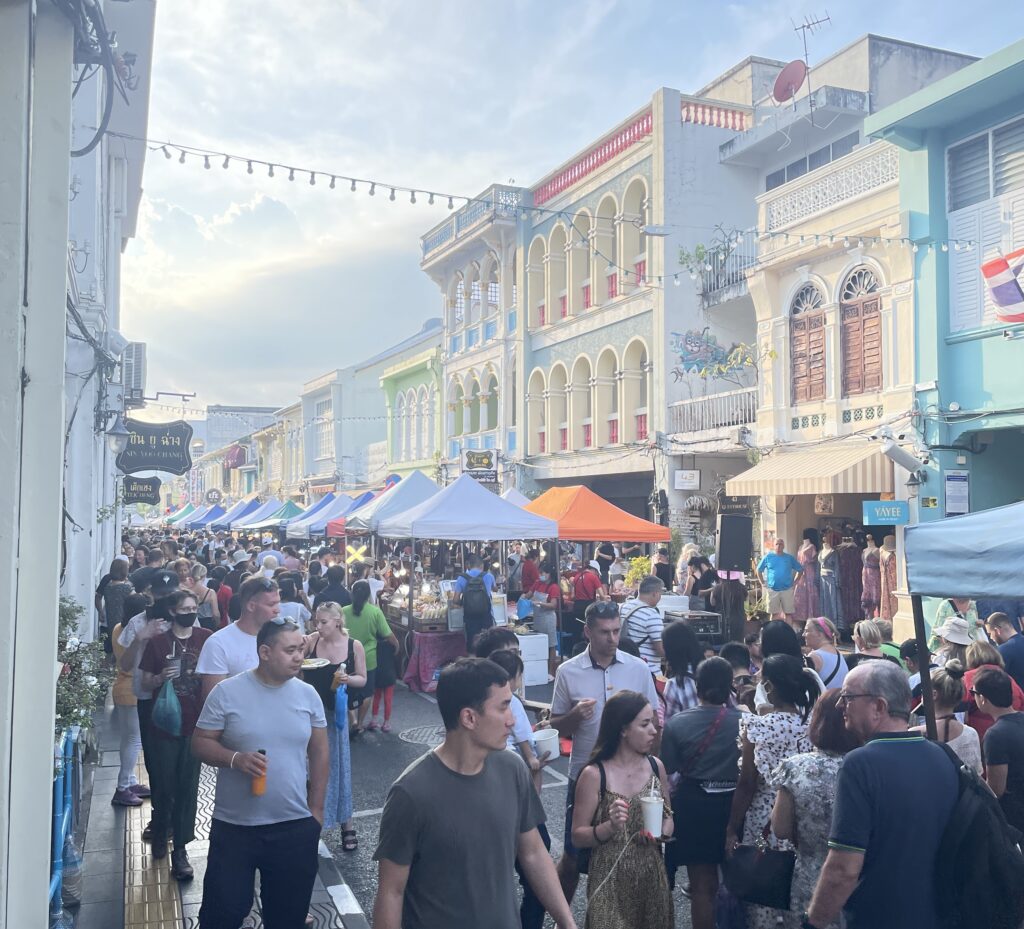 How to Get Around in Phuket
Besides renting a scooter, here are the most efficient and cheapest ways to get around Phuket.
Phuket Smart Bus: This local white bus operates on the West side of the island, driving and stopping at all the popular beach areas, including Surin, Kamala, Patong, Karon, and Kata.
Each beach area has designated stops, so make sure to wait there. The bus stops around every hour and costs 100 Baht/$2.88 US – Check the Schedule
GRAB: This is UBER in Asia/Thailand; you can download the app and find a ride quickly. It is safe, efficient, and one of the best ways to get around in most places in Thailand, including Phuket.
Song Taew (local Blue Bus): The local blue bus picks you up/drops you off anywhere you'd like to go on its route. Stand on the side of the road and wave for the driver to stop; once you're at your destination, press the button and pay the driver 30-50 Baht (they'll tell you).
This bus has several different routes on the island, operating from Old Phuket Town and outwards from 6:00 AM till 6:00 PM, and frequents each route approximately every 30 minutes (sometimes slightly longer).
Tuk-Tuk/Taxi: The fastest way to get around Phuket is by taking one of the many red tuk-tuks you can spot all over the island. While they're convenient, the only downside is if you need to prepare to negotiate with them, you will be told all sorts of prices sometimes.
TIP: If you need to know what to pay for a taxi/tuk-tuk, use the Grab/Bolt apps to look up your trip and negotiate based on the price you see in the app!
Get as close as you can to that price, and if you pay slightly more, it's worth the convenience of not waiting for a Grab or Bolt.
Lastly, watch out for these scams in Phuket, some involving tuk-tuks!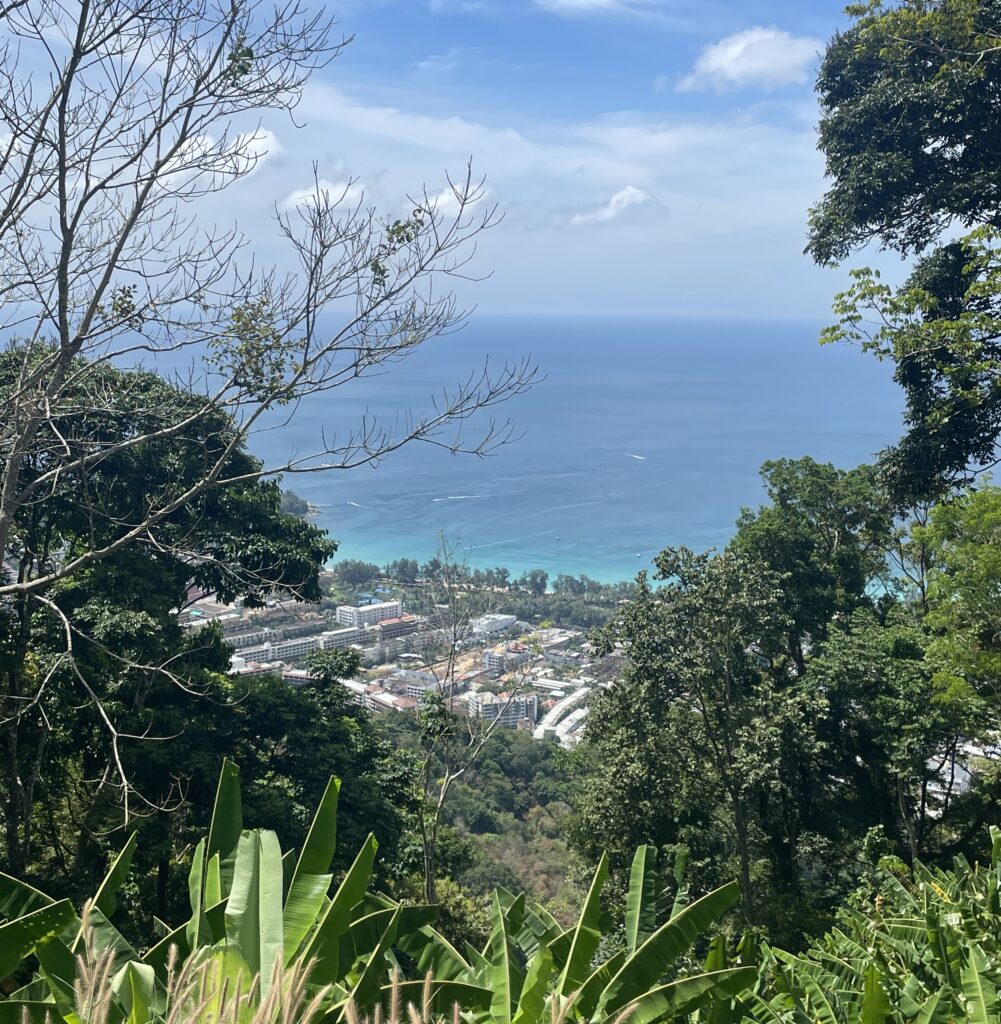 Where to Stay in Phuket for Couples — Final Thoughts
There you have it; those areas are where to stay in Phuket for couples. Phuket is the largest island in Thailand. At times, it feels like a city on the mainland because of its size.
So it would be best to consider the area where you'd like to be when visiting. Consider aspects that are important to you and your partner.
Are you guys big beach people? How lively would you prefer the area to be? Are you not a beach person but would like to visit the beach some days?
The best places to stay in Phuket depend on what your preferences are. Kata Beach is my favorite area because of its laidback atmosphere, and Karon is my famous beach, conveniently only 5/10 minutes from Kata.
For a romantic getaway, Bang Tao takes the #1 place. Location-wise, Kamala Beach is the most centrally located beach among all considerations on this list!
RELATED: 8 Best Beaches in Phuket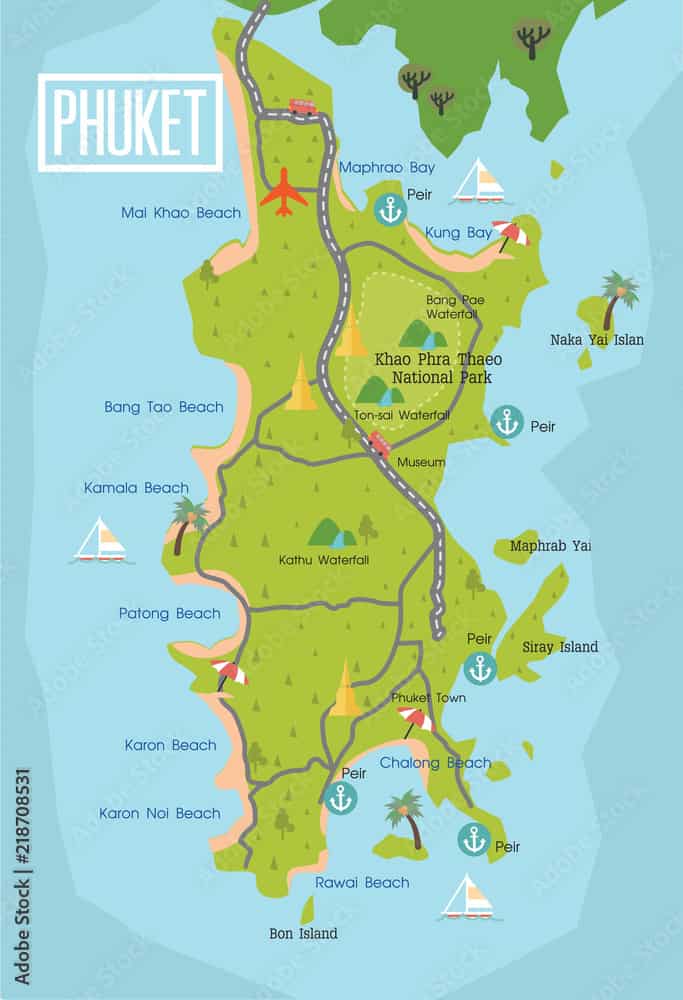 Subscribe to Travel Hiatus!
Receive updates on my latest posts, insider travel tips & the best destination guides to your inbox!
Happy & Safe Travels
---
Planning Checklist
---
Disclaimer: Please note that some of the links shared in this article might be affiliate links; this means that at absolutely no extra cost to you, we will earn a small commission for any sales generated through this article and/or this website. We recommend products/services we've either used or researched thoroughly – Thank you for supporting us so we can continue to share helpful travel content!