10 Cheapest Cities In Turkey To Visit
Are you looking for the cheapest cities in Turkey to visit? You've come to the right place!
I'll cover the cheapest cities in Turkey to visit/live in and the best things to do in each city.
Turkey is one of the cheapest countries to visit; tourists, backpackers, and all flock to Turkey for its affordable costs, rich nature, and historic cities.
No matter where you stay in Turkey, you can find affordable hotels/food, significantly cheaper on average than most places in the world. But for now, let's discuss the cheapest places in Turkey!
NOTE: In 2022, the Turkish government passed a country name change from Turkey to Turkiye — Today, many refer to the country as both
Included under each city are the average daily visiting cost and average monthly living costs. There are averages, and this figure can be higher or lower depending on your budget and travel style—figures assisted by BudgetYourTrip and Numbeo.
If you're really looking to visit Turkey on a low budget, you'll need to visit during shoulder season; I'll discuss this further below.
Konya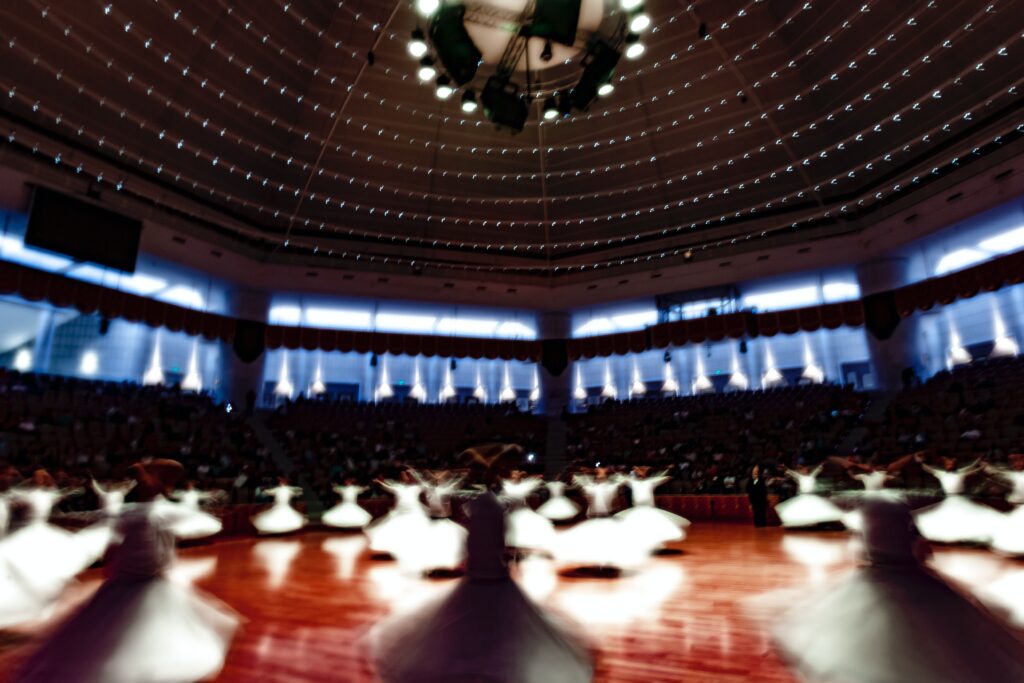 The historical city of Konya is famous for its many historical sites, including ancient mosques, city squares, museums, parks, and affordable food.
Located South of Ankara, one of Turkey's largest cities, and very close to Cappadocia.
Konya is an excellent city addition to your Turkey itinerary for those looking to relax in a walkable city for a few days as they explore Konya's historical charm.
The city's center is where Alaaddin Hill Park is located, a must-visit in Konya.
While Konya is quite conservative religious-wise, it's a safe, culturally fascinating city that ranks #1 for the cheapest places in Turkey. After visiting Konya, head over to Cappadocia; it's 3 hours away.
Average Daily Visitor Cost: $20 US
Average Monthly Living Cost: $526 US
Ankara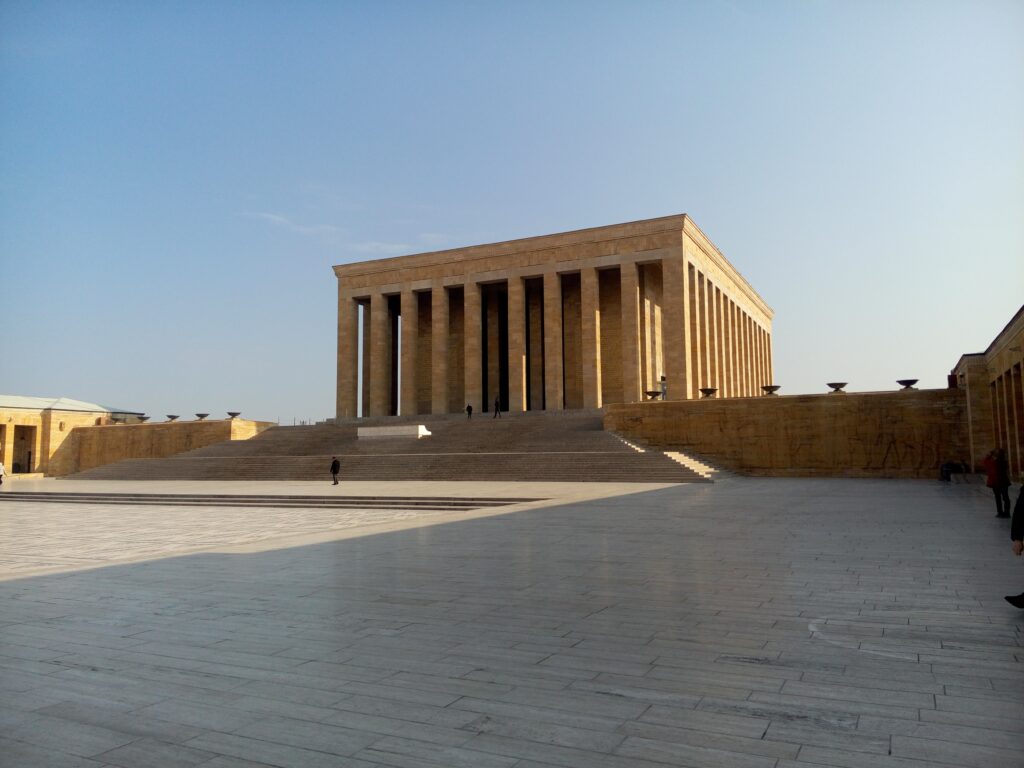 Famous for being the second largest city in Turkiye, only after Istanbul. Ankara is a fully developed cosmopolitan city famous for its ancient castles, museums, beautiful mosques, and national theaters.
The best things to do in Ankara are to visit the Anitkabir Monument, a large monument square, the Museum of Anatolian Civilizations, the Haci Bayram Mosque, and the famous Ankara Castle.
Ankara is very picturesque; as you walk the historic city streets, you will consistently run into scenery you'll want to photograph.
Over the last few years, Ankara has had a modern touch, with highrises built to fulfill housing, but the city still very much holds its historic charm!
Average Daily Visitor Cost: $26 US
Average Monthly Living Cost: $700 US
Izmir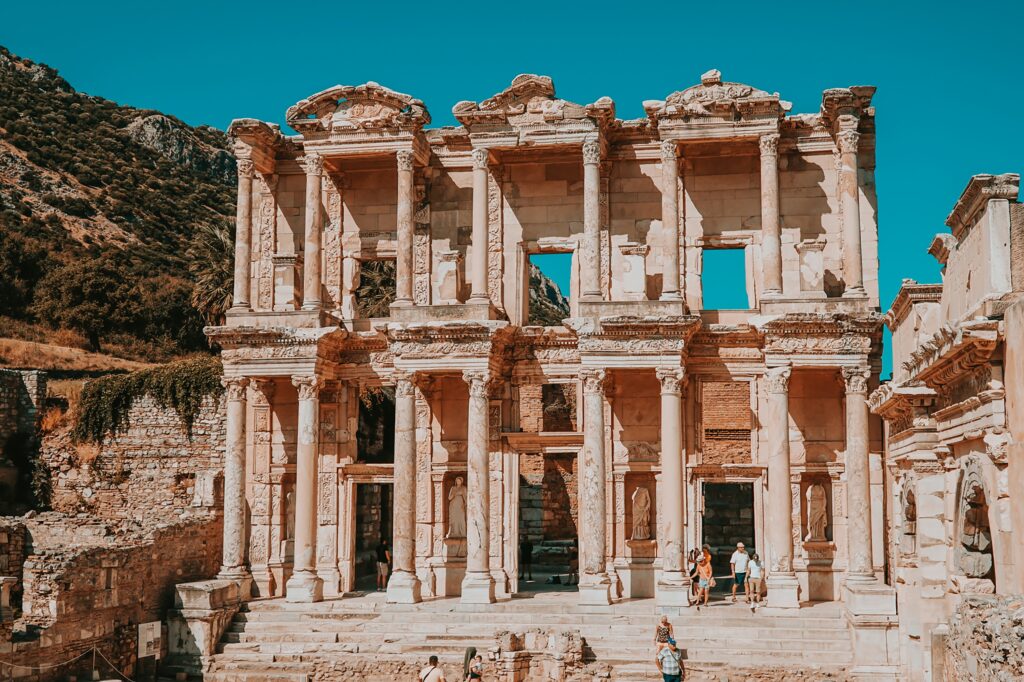 The coastal city of Izmir is located along the Aegean Coast, a fully developed city with just under 2 million in population.
Izmir is most famous for its several bustling bazaars selling just about anything you can think of, many fascinating museums, and fantastic food scene. Izmir is breathtaking with its historical architecture, roads along the sea, and mountains surrounding the city.
Istanbul is 5 hours from Izmir, so getting to it is easy. And it is 3 hours away from Bodrum, the most famous place to vacation in Turkey in the Summer!
A ferry operates between Izmir and Athens, Greece; you can be in Athens within an hour from Izmir.
For those looking to relocate to Turkey, Izimir is one of the cheapest cities in Turkey to live in and is very liveable because of its many things to do and location.
Average Daily Visitor Cost: $30 US
Average Monthly Living Cost: $730 US
Mardin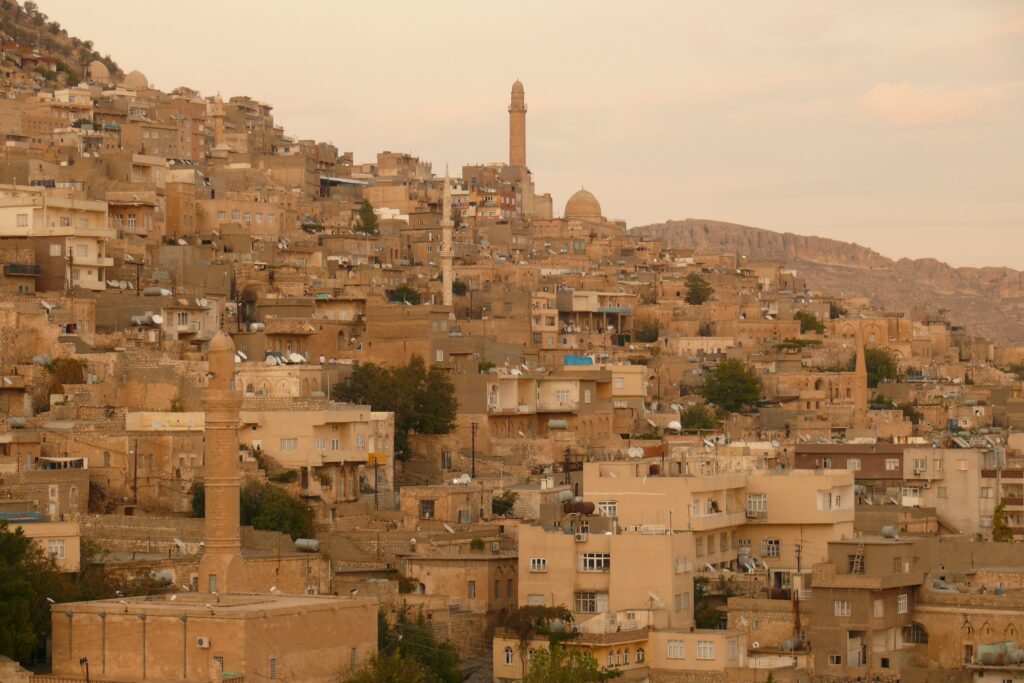 Mardin is a small city located in the Eastern part of Turkiye, just a few km from Syria's border. Famous for its artuqid architecture, the entire city's architecture and buildings share a pastel beige color.
The ancient city is most famous for its many mosques, museums, historical sites, and mountainous location. The top attractions are Kasimiye Madrasah, Zincirye Medresesi, and the famous Mardin Castle.
As you walk around Mardin and make your up the city's many hills, you will continuously be met with stunning views ahead of mountains and miles of open landscape.
For those looking to visit somewhere unique, less touristy, and a place with rich history, Mardin should be on the top of your Turkiye itinerary!
Average Daily Visitor Cost: $37 US
Average Monthly Living Cost: $660 US
Side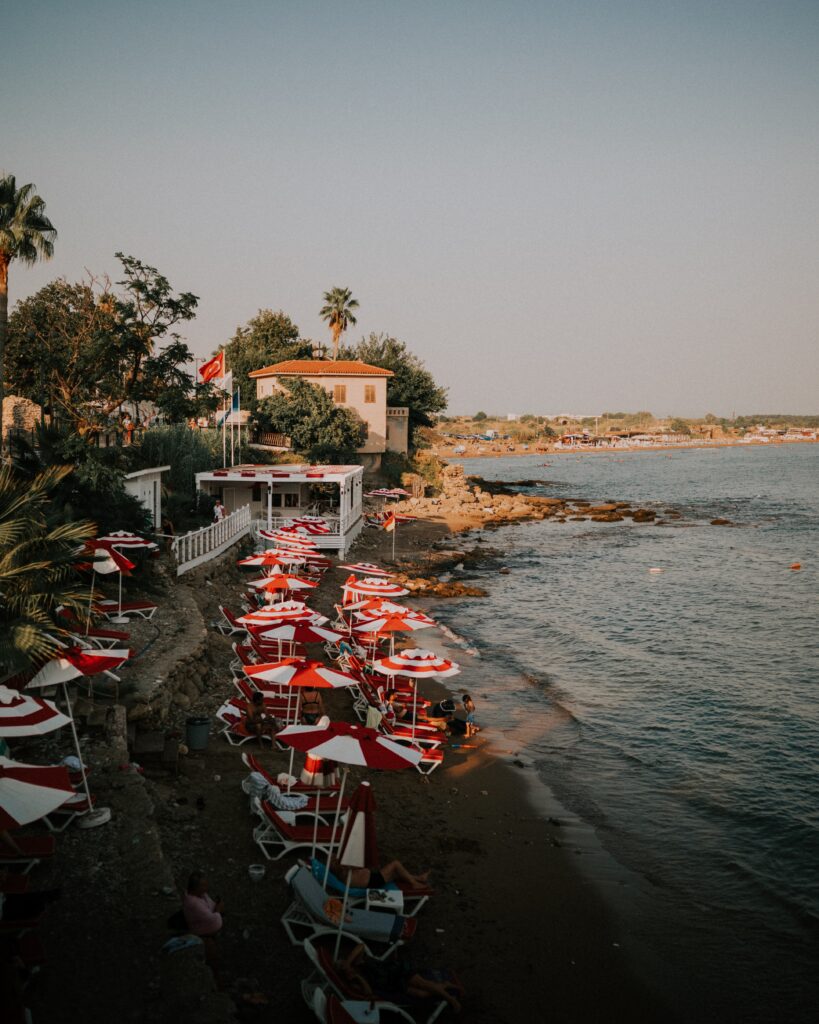 Side is a small resort town located along the Mediterranean Sea coastline in Southern Turkey: the resort town neighbors Antayla, a more popular resort town amongst tourists.
There are many things to do in Side, strolling its extensive beach shoreline, visiting the Old Town, and white water rafting. Top attractions in Side include the Side Ancient City, Anitsal Cesme, and the Apollon Temple.
In the evening, the city center by the Side Harbour is lit at night, with several cocktail bars, lounges, and restaurants turning into a dining/party-like atmosphere.
To get here, you most likely will have to come from Antalya. While Antalya is beautiful, Side is a more affordable resort town than Antalya. Side is the cheapest place in Turkey to go on holiday.
Average Daily Visitor Cost: $39 US
Average Monthly Living Cost: $753 US
Marmaris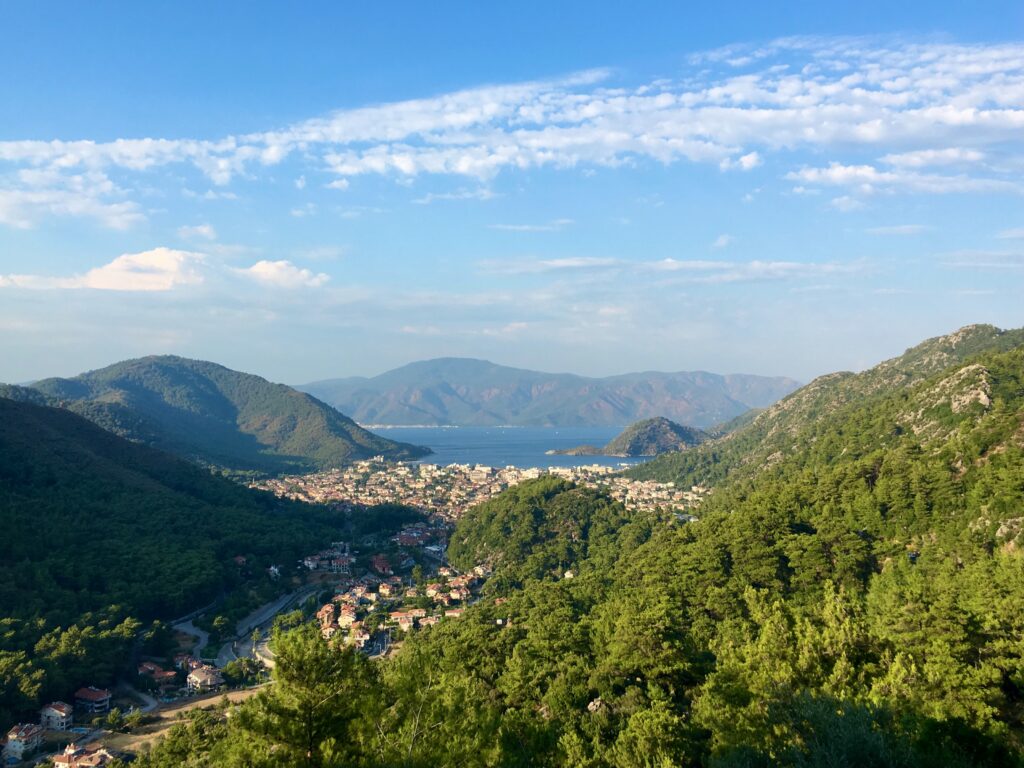 Marmaris is a bit of a hidden treasure in Turkey; the small resort town has all the attributes of an expensive beach resort town but is very affordable to visit!
The beach town is most famous for its beach shoreline, with several resorts and hotels, besides its beautiful beach shoreline surrounded by luscious green mountains.
The top things to do in Marmaris are sailing the coastline in a boat, walking and enjoying the nightlife by the marina in the evening, and exploring the Marmaris Old Town.
Another must-experience when visiting Marmaris is visiting Rhodes, Greece, for the day. From April to October, a ferry operates between the two cities, and travel time is only 1 hour.
For those looking for the cheapest places in Turkey to visit and would like to be by the beach in a town with plenty of things to do, Marmaris is perfect for you to visit!
Average Daily Visitor Cost: $45 US
Average Monthly Living Cost: $773 US
Cappadocia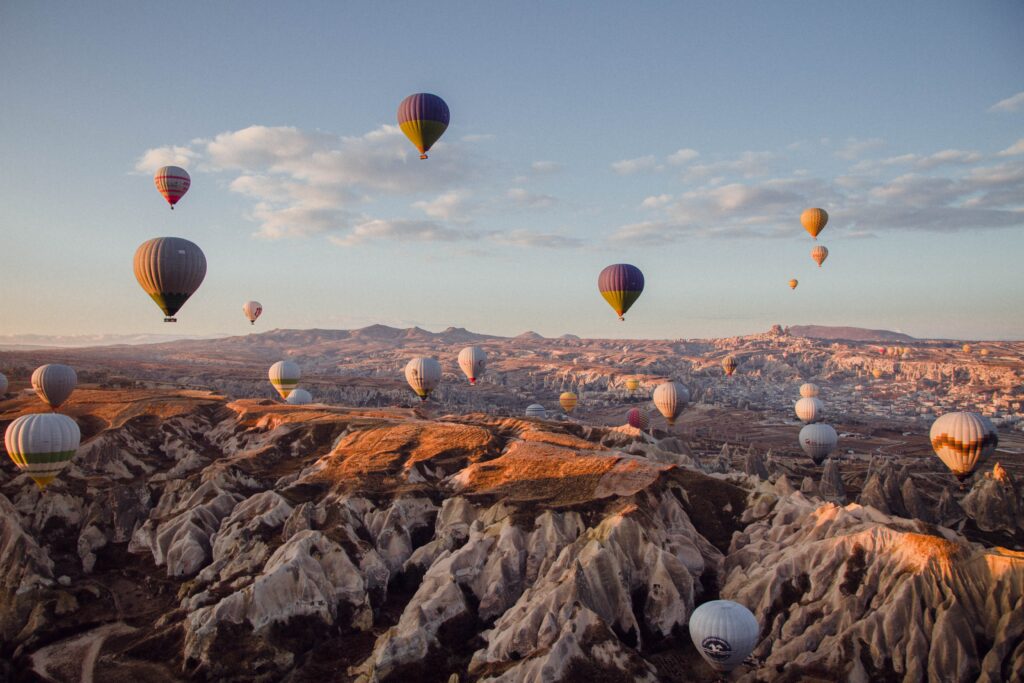 You've most likely seen the picturesque open landscape filled with hot air balloons online, well, that's Cappadocia!
Cappadocia is a unique and beautiful region in central Turkey, the landscape, parks, rock formations, sunrises, and sunsets in the area make Cappadocia the more picturesque place in all of Turkey!
Besides its skies of hot air balloons, Cappadocia is famous for its historical attractions, such as Derinkuyu Underground City, the Uchisar Castle, and Goreme Historical National Park, a park famous for its many unique rock formations.
Hiking trails, valleys, and off-road ATVing, those who love to be active will love visiting Cappadocia.
While it may not be one of the cheapest places in Turkey, I highly recommend putting Cappadocia on your Turkey itinerary!
Average Daily Visitor Cost: $46 US
Average Monthly Living Cost: $787 US
Istanbul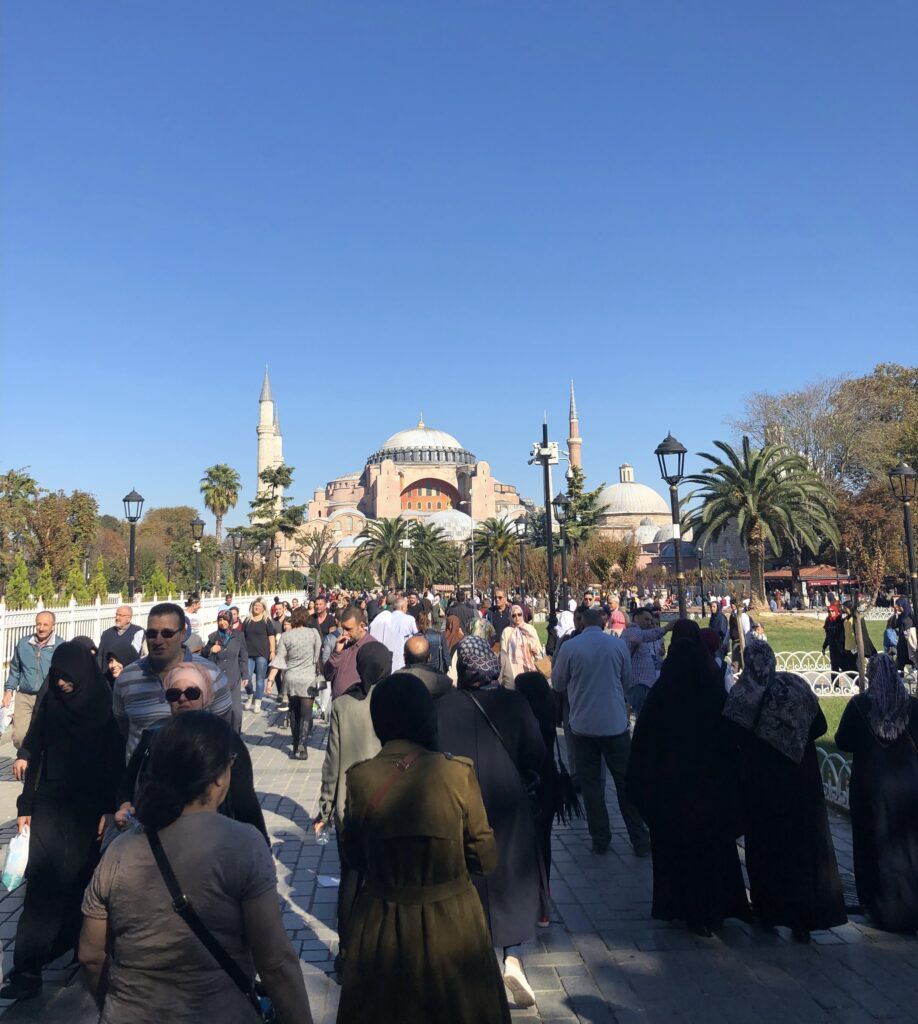 Famous for being the largest city in Turkiye and a global central travel hub. Istanbul is the only city in the world located on two continents, Europe and Asia.
With its many attractions, exceptional nightlife, beautiful historic streets, and being conveniently easy to get to, Istanbul has been one of the world's top 10 most visited cities for many years.
The top things to do in Istanbul are visiting the Hagia Sophia mosque, The Blue Mosque, Galata Tower, and taking a boat between both sides of the city.
Well-versed foodies know that Istanbul is one of the best cities in the world for food. With a mix of Turkish and Arabic cuisines, the city is full of must-try restaurants.
Istanbul ranks #1 as the most convenient city to visit in this list of the cheapest cities in Turkey. Flights fly from all major airports in the world to Istanbul International Airport.
Average Daily Visitor Cost: $50 US
Average Monthly Living Cost: $1,150 US
Antalya
Antalya is Turkey's most famous beach resort city and the fifth-largest city in Turkey by population.
Located along the Turkish Riviera, Antalya has lovely beaches, many historical sights, countryside, and magical waterfalls.
The best things to do in Antalya are explore its Old Town, visit its many museums, and see the city's multiple ancient ruins. The most famous attraction in Antalya is the Duden Waterfalls; whether you visit day or night, the waterfalls are beautiful!
Because Antalya is one of the largest cities in Turkey, the city has all the conveniences of a developed city, many shopping centers, attractions for kids, and an airport. This makes Antalya one of the most liveable cities in Turkey.
For those looking for cheap holiday packages in Antalya, keep an eye out for all-inclusive resort deals; they reoccur during the year.
Average Daily Visitor Cost: $56 US
Average Monthly Living Cost: $1,170 US
Bodrum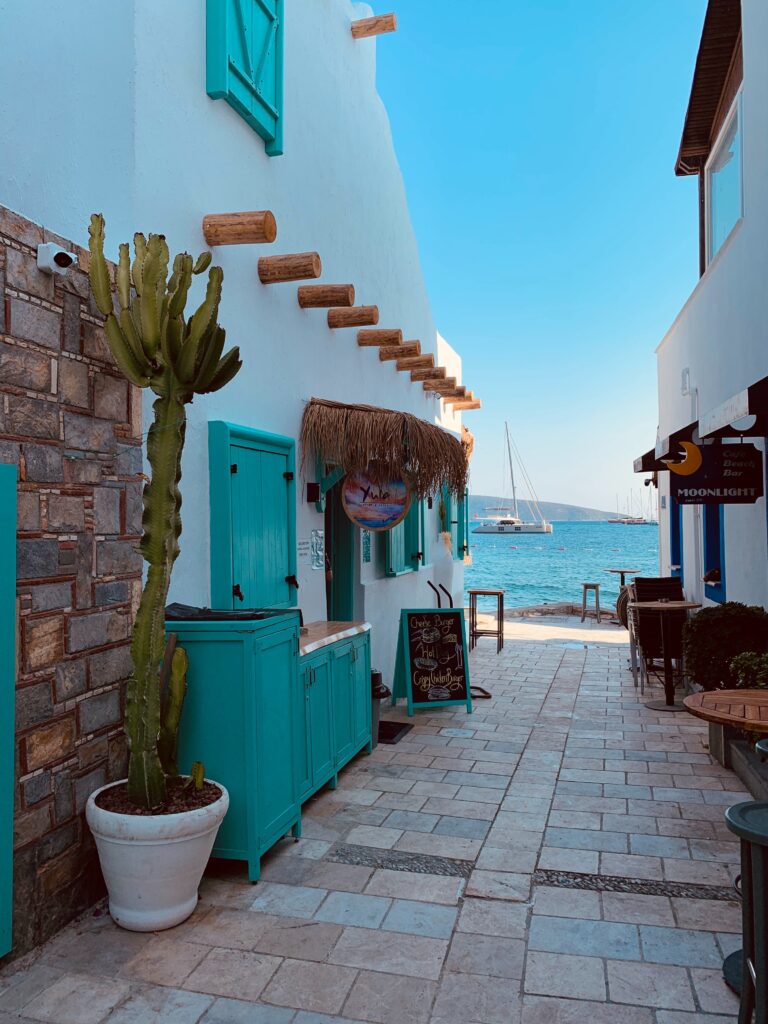 Bodrum's is often referred to as the St Tropez of Turkey. The beach town is famous for its lovely beaches, yacht and boat rentals sailing along the Bodrum Peninsula, and lively nightlife in the Gumbet area.
The most famous attractions in Bodrum are the Bodrum Castle, the Zeki Arts Museum, the Bodrum Bazaar, Marina, and the Museum of Underwater Archaeology.
One of the best things to do in Bodrum is a day trip to Kos, Greece. The stunning Greek island is only 1 hour away from Bodrum by ferry and is famous for its beaches, markets, and restaurants.
Overall, Bodrum's atmosphere is a laidback fancy beach vibe in the day and a lively, fun party atmosphere at night. For those luxuriously looking to vacation but at an affordable place, visit Bodrum!
Bodrum is the least cheap place in Turkey to visit because, in the Summer, Bodrum is a famous top destination for Summer vacations. Visiting Bodrum is much cheaper if you choose to visit out of season, but you won't be able to go to the beach.
Average Daily Visitor Cost: $65 US
Average Monthly Living Cost: $1,260 US
Shoulder Season Turkey
Turkey has two shoulder seasons: April to May and September to October.
If you aren't familiar with the term, shoulder season is the period between a region's peak and off-season.
Shoulder season is an excellent time to visit a destination because hotels/flights tend to be discounted for destinations during their shoulder season.
Sometimes, you can experience good weather during a destination's shoulder season — low flight/hotel prices and good weather, a win/win.
What is the best season to visit Turkey?
This depends on the type of visit you're looking to experience in Turkey. Spring and Fall seasons, which are April, May, September, and November, are popular times to visit Turkey.
But for those looking to visit coastal beach towns such as Antalya, Bodrum, and Side and would like to go to the beach, you must visit Turkey during its Summer months of June, July, or August.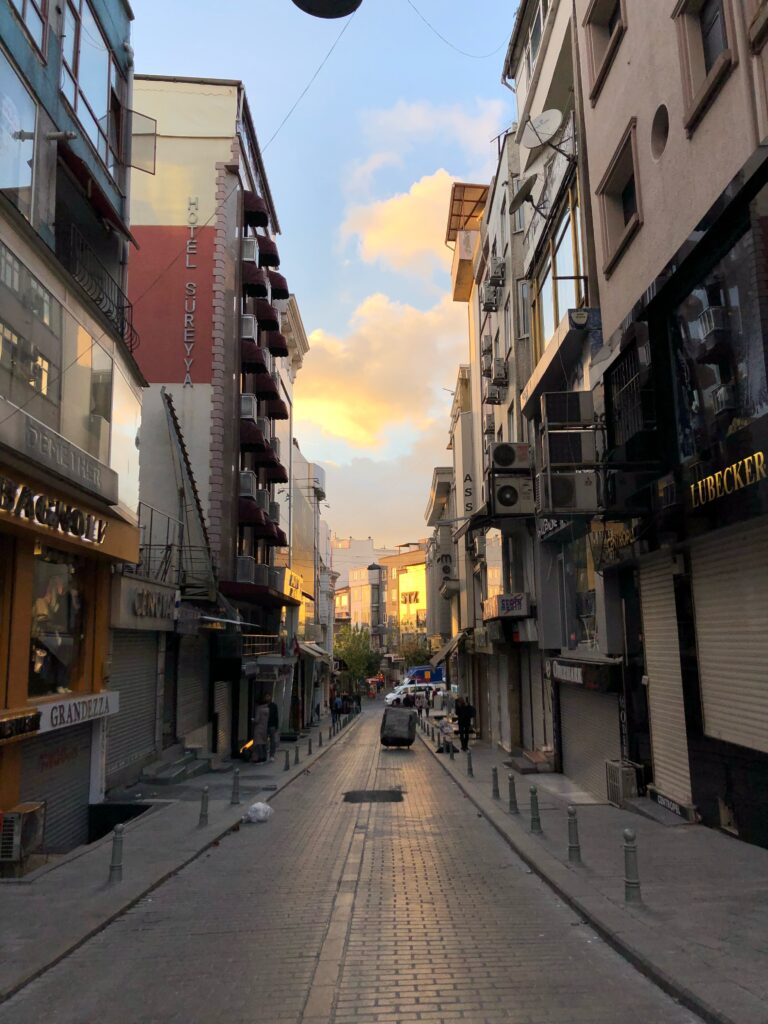 Is Turkey Cheap to Visit?
For a solo traveler, the average spend for a 7-day trip to Turkey is only $900 US. So yes, Turkey is cheap to visit, especially compared to nearby destinations!
Turkey has been a cheap destination for many years. But in recent years, it has become even more affordable due to economic troubles in the country, affecting the devaluation of its local currency, the Turkish Lira.
Cheapest Cities in Turkey to Live
All the places in this list of the cheapest cities in Turkey are excellent destinations to travel and explore, but not all are suitable for living.
For a city to be liveable, it must be decently developed, have many shops/grocery stores/markets, access to healthcare, and be near an airport. These are the top three cheapest cities in Turkey to live in.
Ankara — Turkey's capital has everything you need, many things to do, stunning scenery, and is home to the second largest airport in the country.
Izmir — The picturesque coastal town along the Aegean Sea is entirely developed, and it's famous for its bazaar, has an airport, and is only 5 hours away from Istanbul.
Istanbul — A central hub for travel and one of the largest cities in the world, Istanbul is an ideal place to relocate.
Which city in Turkey is best for living?
The best city to live in Turkey is Izmir. Not only is it affordable, but it's beautiful and offers all types of landscape; it's an ideal mix of city life and countryside.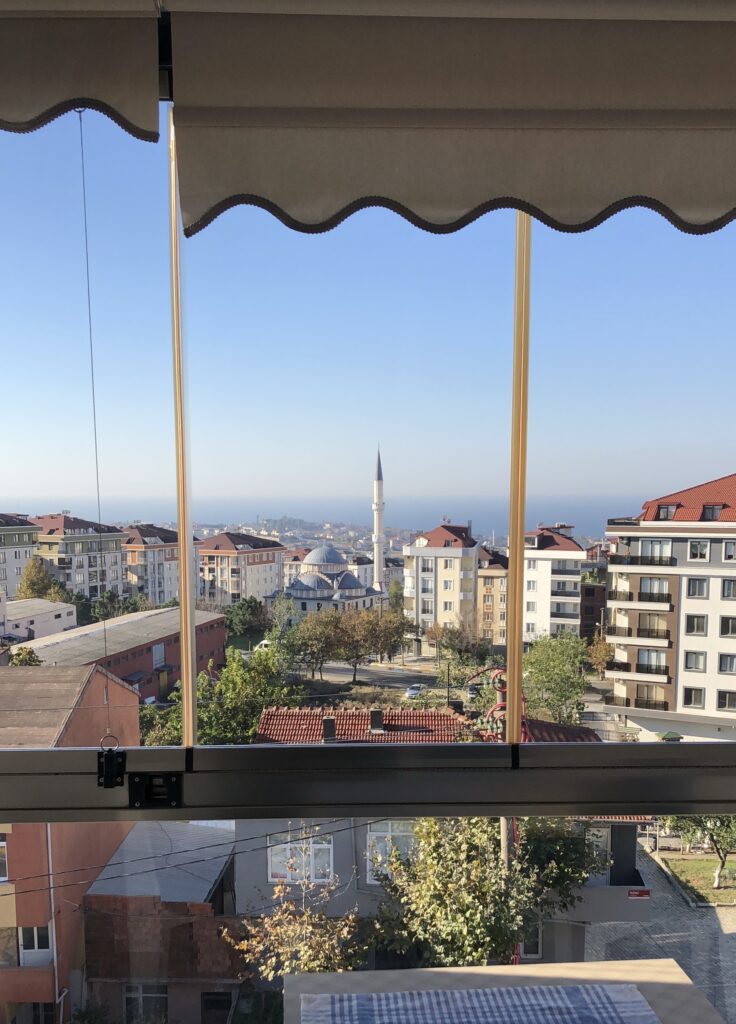 Is Turkey Cheap to Live?
Turkey is one of the cheapest countries to live in Europe and the world. Turkey has many cities and towns where a single person can live off $1000 US a month, including rent, transportation, and food.
Which city is the cheapest in Turkey?
Konya is the cheapest city in Turkey to live in. The average monthly spend to live here is $526 US.
Is Turkey cheap for foreigners?
The Turkish Lira has seen devaluation in recent years; Turkey has become very cheap for foreigners visiting with stronger currencies. You can visit some of the cheapest cities in Turkey with a 30-40 US daily spend.
What is the cheapest part of Turkey to visit?
The cheapest places in Turkey to visit are Konya, Ankara, Izmir, and Mardin.
Why is it so cheap to go to Turkey?
Turkey has been a cheap country to visit for many years now. But in recent years, the local currency, the Turkish Lira, has experienced devaluation against other major currencies in the world. This has made Turkey even more affordable to visit.
Featured Img Credit: Mahmoud Fawzy
Subscribe to Travel Hiatus!
Receive updates on my latest posts, insider travel tips & the best destination guides to your inbox!
Happy & Safe Travels
---
Planning Checklist
---
Disclaimer: Please note that some of the links shared in this article might be affiliate links; this means that at absolutely no extra cost to you, we will earn a small commission for any sales generated through this article and/or this website. We recommend products/services we've either used or researched thoroughly – Thank you for supporting us so we can continue to share helpful travel content!