Bodrum, Turkey – Best & Complete Travel Guide
Bodrum, Turkey, is a gem of a town located along the Bodrum Peninsula. The town is often referred to as the French Riviera of Turkey.
The popular beach town is known for its many things to do, stunning resorts, vibrant nightlife, and exceptional food.
Bodrum is also known for its stunning beaches and relaxing seaside town atmosphere. You will notice several sailboats and yachts along the water throughout the day.
Bodrum is very suitable for families and couples looking for a romantic getaway because of its calm beachside atmosphere and the city's safe at all hours of the day.
But it's also great for a group of friends to visit because of its beach clubs in the day and lively nightlife in the Gumbet area.
In this complete Bodrum travel guide, I will cover how to get to Bodrum, the best things to do here, and hotel/restaurant recommendations. As well as a few travel tips for Bodrum before visiting, this is the ultimate Bodrum itinerary.
Suppose you're visiting Turkey but haven't considered visiting Bodrum. I strongly recommend Bodrum as part of any Turkey itinerary, especially if you visit from April to September.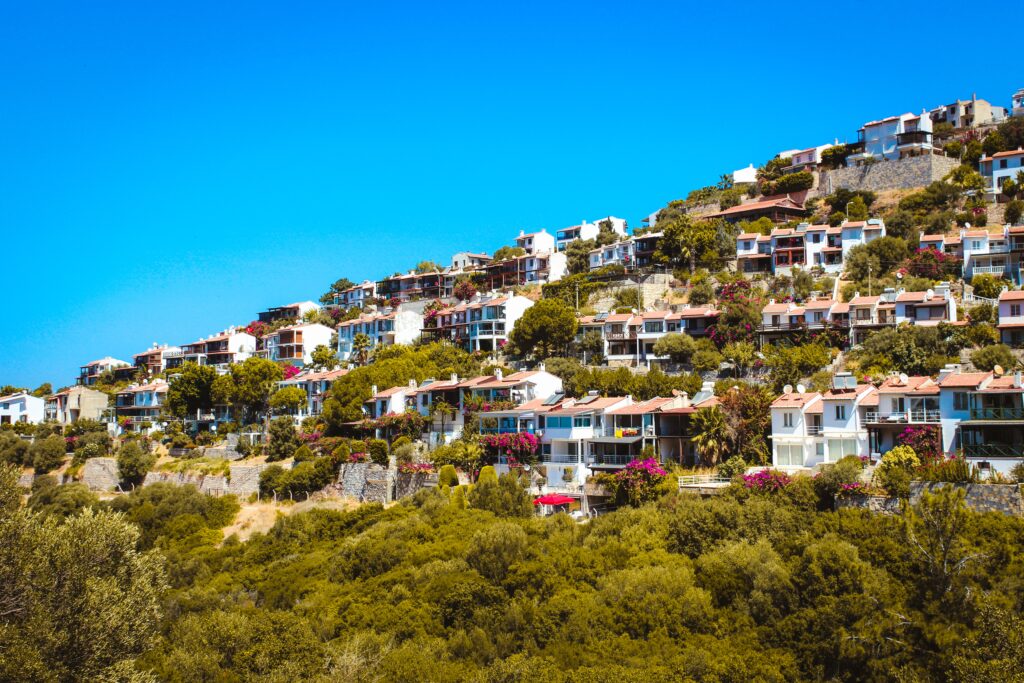 What is Bodrum Most Famous for?
Bodrum is known for its European seaside atmosphere, featuring crystal clear waters on the Aegean Sea.
Historic architecture, beautiful beaches, and a busy and lively nightlife along the coast are just a few of Bodrum's significant attractions.
Something very unique about Bodrum is how the town perfectly caters to anyone looking for a luxurious European vacation. But it's also affordable at the same time.
Bodrum is one of those places where if you're looking for luxury, you'll find it, and if you're looking for affordable, you'll find it.
When visiting Bodrum, it reminded me of Positano, Italy; but at a fraction of the cost, that's for sure.
The Gumbet area in Bodrum caters to 18-35-year-old partygoers; it's just a 10-minute taxi from the city center of Bodrum. This area has been featured in the New York Times as "Turkey's own Saint-Tropez."
There are beautiful places to visit from Bodrum while you're there; only 20 minutes away by boat is the nearest Greek island of Kos—a great day trip idea while visiting. Another famous Turkish seaside town, Marmaris, is two hours away, just as beautiful as Bodrum.
Bodrum combines history, culture, excellent food, and breathtaking natural scenery.
In 2022, the president of Turkey changed the country's name to "Türkiye" as part of a rebranding campaign.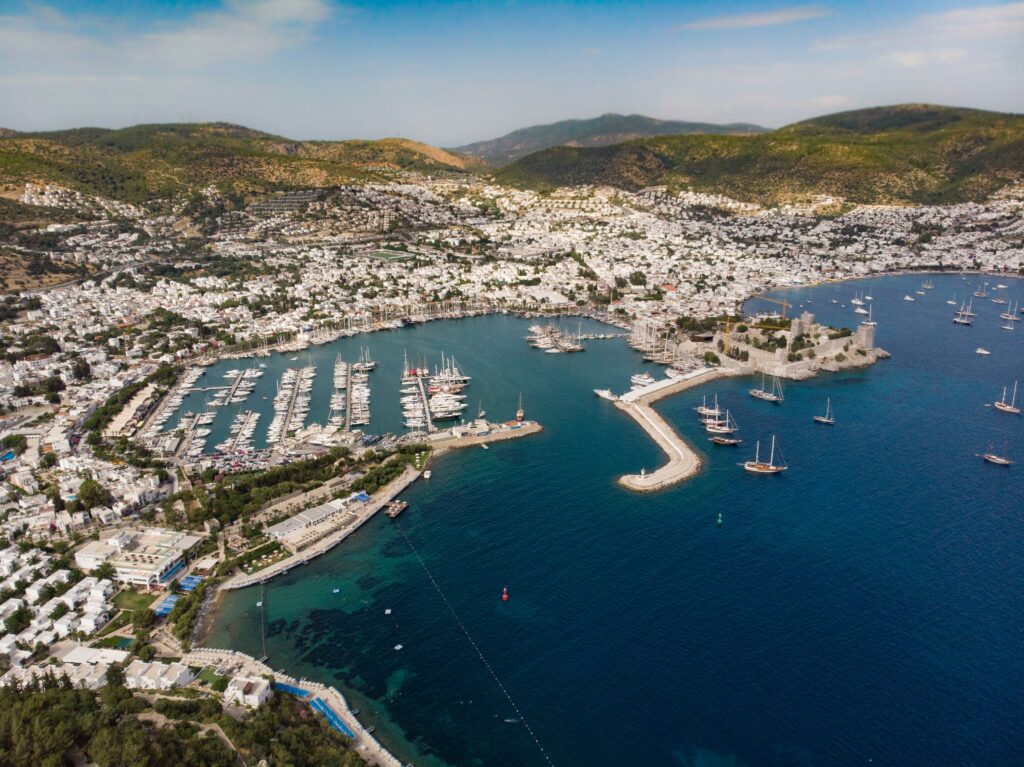 How to Get to Bodrum Turkey?
There are a few different ways you can get to Bodrum. You can fly there, take a train/bus, only bus, or rent a car and drive there if you'd like.
But the best and easiest way to get to Bodrum is by flying there or taking the bus from Istanbul.
Bodrum Airport is Milas-Bodrum Airport (BJV), so you can fly in. If you're flying in from an international destination, you'll make a layover stop at Istanbul International Airport. If you're in Istanbul already, it's a direct 1-hour flight from Istanbul to Bodrum.
For the cheapest flights to Bodrum, Turkey, I recommend using SkyScanner.
From the Airport to Bodrum city center, it's a 35-minute drive. The best way to get there is by Private Airport Transfer.
How to Get to Bodrum from Istanbul by Bus
You can either fly into Bodrum, which I've covered already, or the other way is by taking the bus from Istanbul to Bodrum.
The bus from Istanbul to Bodrum takes just over 12 hours; it's not a short trip. It costs around $20 US, which is cheaper than taking a flight but less convenient.
Getting around in Bodrum
There are local minibusses named "dolmus," you can use or take a taxi, be prepared to negotiate if you choose to take a taxi.
The most practical way to get around Bodrum is by renting a car.
Things To Do in Bodrum Turkey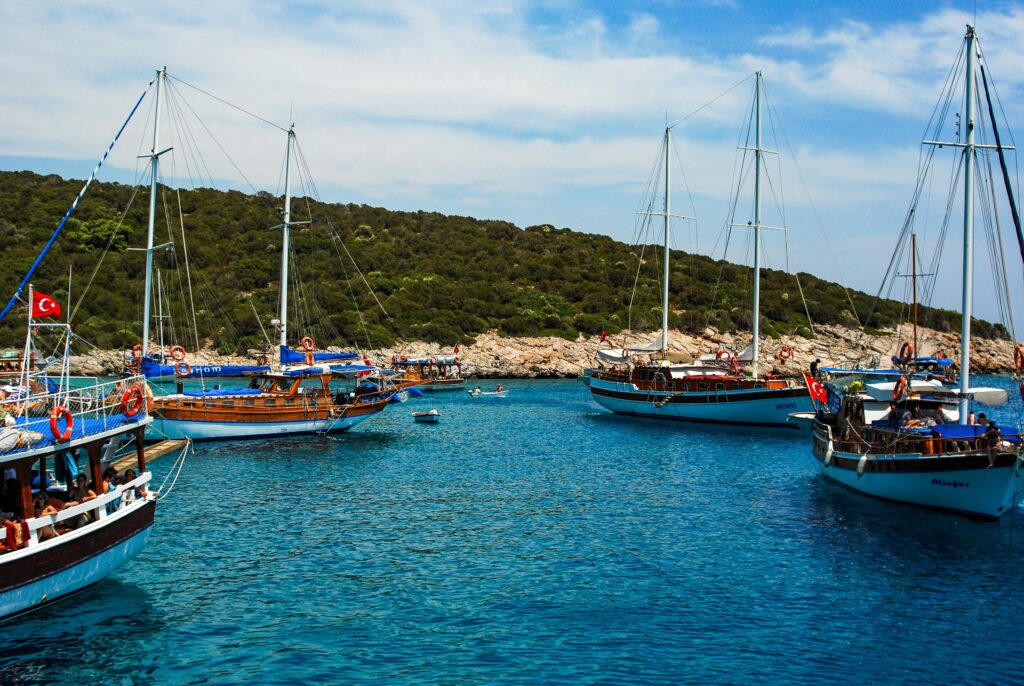 Regarding the best things to do here, sailing in the afternoon on a boat along the Peninsula ranks #1.
Relax, catch some sun, and take in the exceptional views of the Bodrum Peninsula.
This tour sets sail for a full-day cruise, stopping at four different bays for you to dive or snorkel in. Lunch, fruit, and water are included in the tour package.
It's a great way to spend the afternoon with your loved one or family. If you're with a large group of friends, the best idea is to charter a boat alone with your friends.
Charter a yacht for the day and enjoy an intimate experience with friends!
Stroll the Bodrum City Center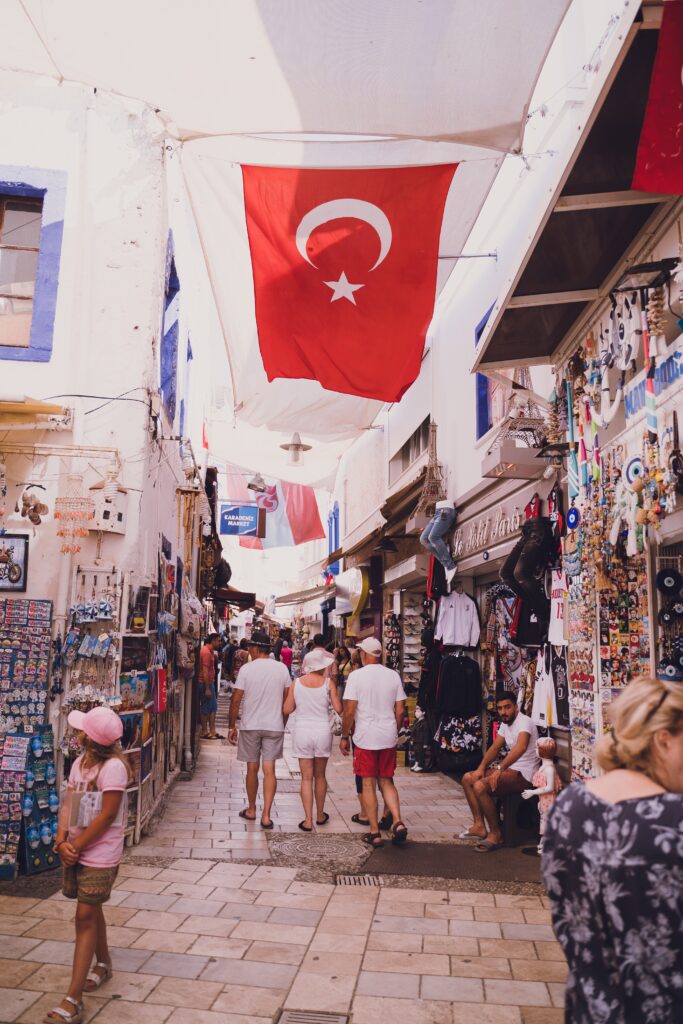 Bodrum's historic town center comprises many laneways that offer charming experiences and unique street art.
Strolling Bodrum's charming town center is an excellent idea at any time of the day. Walking around, you'll notice several restaurants, artisan shops, and nightclubs.
My favorite time to walk around here was during the evening. Spotting many couples, families, and solo travelers walking around exploring and enjoying an evening meal.
The temperature is lovely and cool in the evening, so it's a great time to explore all the small shops.
A great way to spend the afternoon for those who prefer a guide rather than wandering around is to attend this Bodrum walking tour.
After walking around Old Town Bodrum, spend the rest of your evening with a drink or dessert by the Bodrum waterfront marina!
Bodrum's waterfront and marina are lined with excellent restaurants, bars, and cafes, just like many European seaside cities. Some restaurants are charming, others are romantic, and some are lively!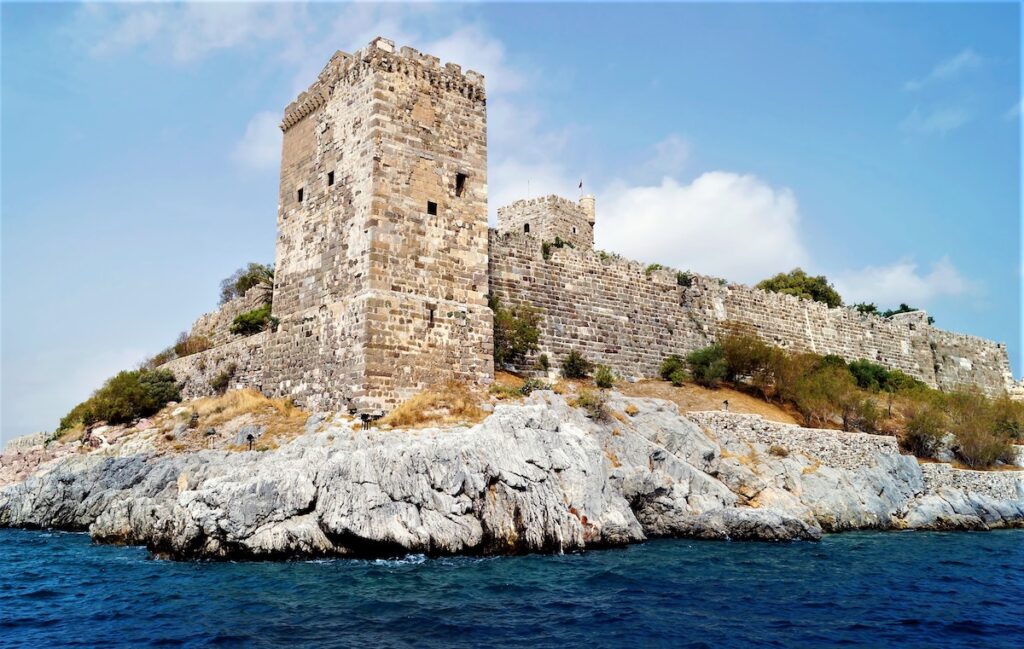 The famous Bodrum Castle is located on the east of Bodrum's harbor. The Knights Hospitaller built it in the first half of the 15th Century. This is also where the Bodrum Underwater Museum is.
The castle has been home to a fascinating museum since the 1960s, focusing on the underwater discoveries made at Ancient Medieval and Early Modern shipwreck locations around the Turkish Aegean.
This museum is the largest in Turkey dedicated to this field. Attend this guided tour and get the whole experience!
It houses a fascinating hoard of Mycenaean and Ancient Egyptian copper ingots, vases, Royal Carian jewelry, Roman amphorae, and Medieval Islamic glassware.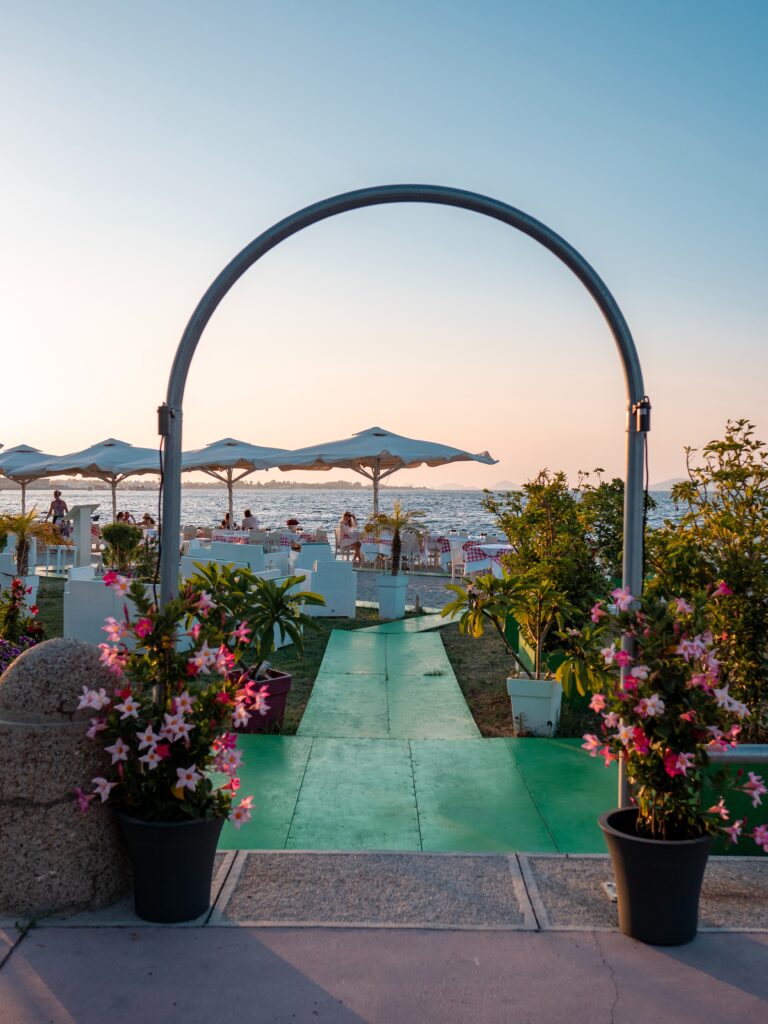 Kos is famous for its beautiful sandy beaches and Ancient Greek/Roman landmarks. The harbor town is where you will find the Neratzia Castle, which dates back to the 15th century.
Conveniently the Greek island is only a 20-minute boat ride away from Bodrum. This high-speed catamaran boat transfer will take you to Kos and back to Bodrum 11 hours later. Spend the day exploring the island!
Things you can do on the island are; visiting all the classic Greek-style white-blue buildings, going on a high-quality wine tour, taking a Kos island Jeep Safari trip, or scuba diving for the day. There are plenty of activities to do in Kos.
The Ancient Agora ruins can be viewed, as well as a Casa Romana villa from the third century that is famous for its stunning mosaics.
One of my favorite things when traveling anywhere is day trips to islands. Visiting the Greek island of Kos is the perfect day trip from Bodrum. Though if you can, why not spend a night in Kos?
Visit a Traditional Turkish Hammam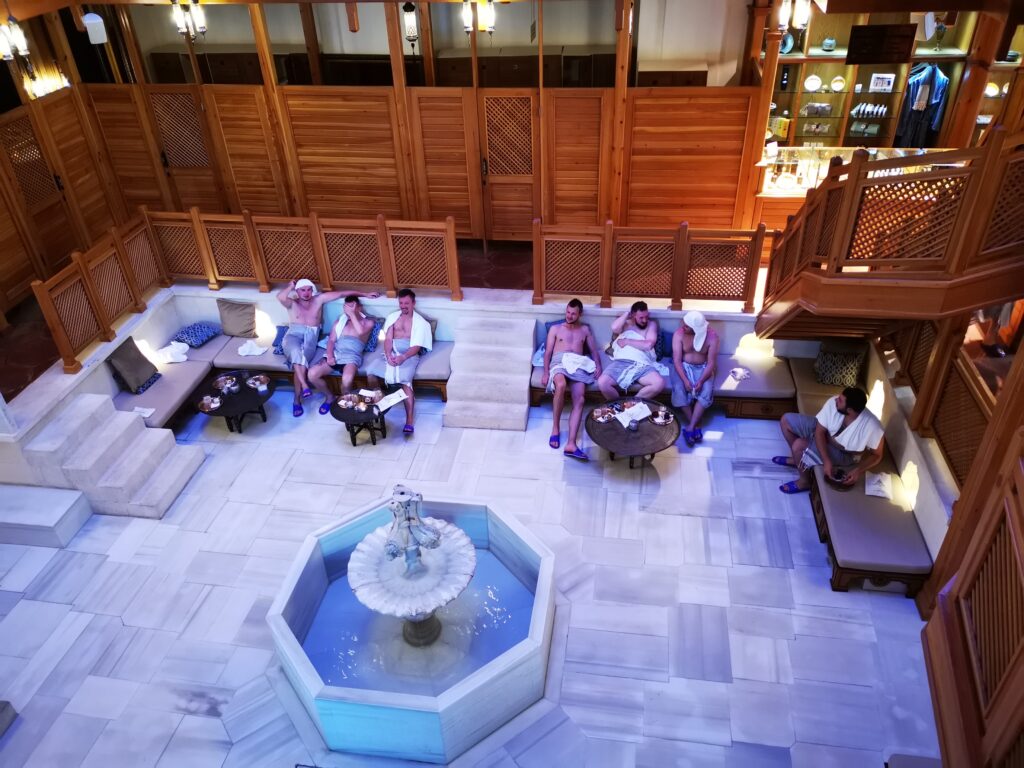 One does not visit Turkey and leave without visiting a traditional Turkish Hammam at least once. A traditional Turkish hammam is something you must do when you visit anywhere in Turkey.
There are several hammams in Bodrum. It's a good idea to research what a Turkish Hammam is; watch a video or two on youtube so you know exactly what to expect when visiting.
Many larger hotels offer Turkish Baths as part of their spa services. But don't bother visiting them; you want to visit the traditional ones where the locals go!
I recommend you visit the famous Bardakci Hammam. This hammam dates back to the mid-17th century, making it the oldest hammam in the area.
Let's get to the point; this is no Spa experience; the interior is basic and intimate. Don't expect anything you'd experience at a Spa. The massage can feel a little abrupt and rough at times.
But overall, the massage is thorough, skilled, and very appropriate. One thing is sure; you'll feel fresh and rejuvenated after the massage.
Have a Beach Day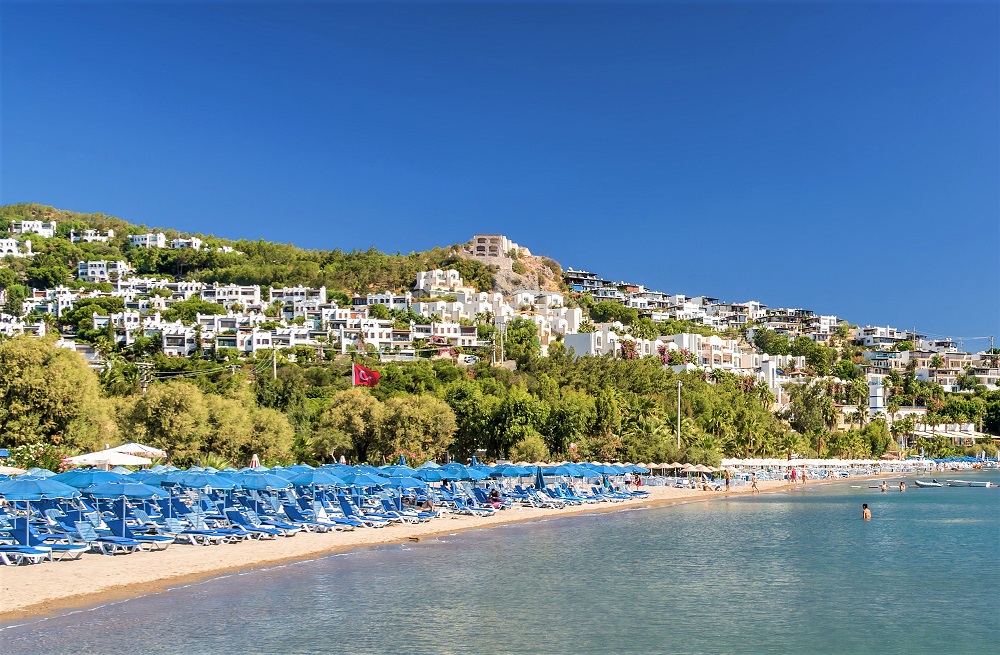 Being a seaside town, Bodrum has several beautiful beaches perfect for spending the day.
One of the most popular beaches is Yahsi Plaj, oriented toward tourists, which has shops, restaurants, and a jetty for boat excursions.
The other side of Yahsi is Ortakent Beach; it's quieter and has a calming atmosphere.
The area also has several holiday rentals and hotels along its shore. Here are a few other of the best beaches in Bodrum.
Other Bodrum Beaches:
Camel Beach
Gumbet Beach
Bodrum Beach
Many of these beaches listed offer umbrella rentals for the day. During the high season, from June through August, you can expect every inch of the pebble beaches to be filled with people tanning, parasols, and umbrellas.
So if you're heading to the beach during high season, go early!
Party in The Day/Night
The Gumbet is the hotspot in Bodrum for all the beach clubs and nightlife, and if you're visiting and looking to have a fun time, this is where you come!
Here is a short list of the best beach clubs I'd recommend you visit and a few nightclubs to go to at night!
Bodrum Beachclubs
Kuum Hotel
Blue Point
Sarnic Beach Club
Arena Beach Club
Bodrum Night Clubs
Unique Bodrum
B1-Be One Club
Pasha Club
Bodrum Hotels
Bodrum has several hotel options for you to choose from. On average, Bodrum is a cheaper place to vacation. But you can find luxurious accommodations here if that's what you want.
However, the average 4 Star accommodations are very well-priced here!
I've included four accommodation options, each perfect for different price points.
These are the best places to stay in Bodrum. Whether you're looking to go all out on a luxury stay or budget your trip, there's an excellent option for you on this list!
It also depends on the time you decide to visit; prices are higher for accommodations during the high season.
The high season is during the Summer months, June through the end of August. If you want the best prices on accommodations, go during shoulder season. But remember, you won't be able to enjoy the beach then!
The Bodrum Edition – 5 Stars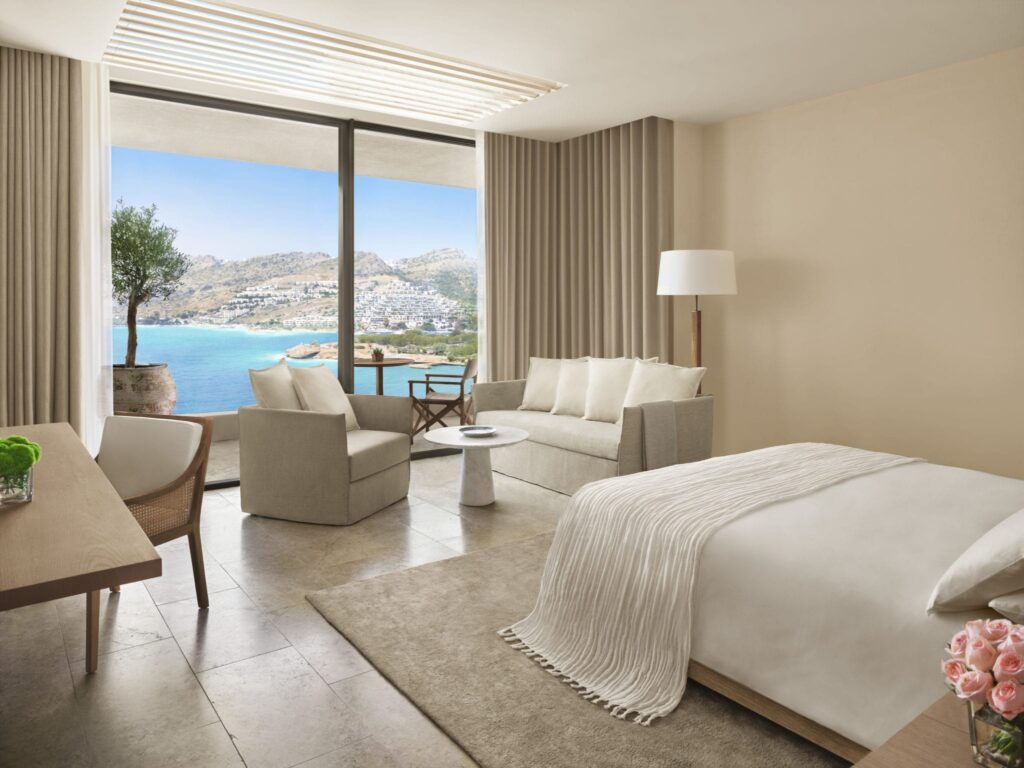 The Bodrum EDITION is located on a hill just 3km from Yalikavak Marina. It offers breathtaking views of the turquoise coast, terraces and promenades, and a spa and pool.
The hotel has a private beach measuring 100m (328ft) available only to guests.
The 5-star hotel offers delicious, casually, and elegantly prepared food and two bars. In the evening, you can enjoy a romantic, Mediterranean-inspired evening.
Rooms are pretty spacious, as well as suites and bungalows; everything is modern and sleek. The hotel has stunning views of the Aegean Sea.
The Marmara Bodrum – Adult Only / 4 Stars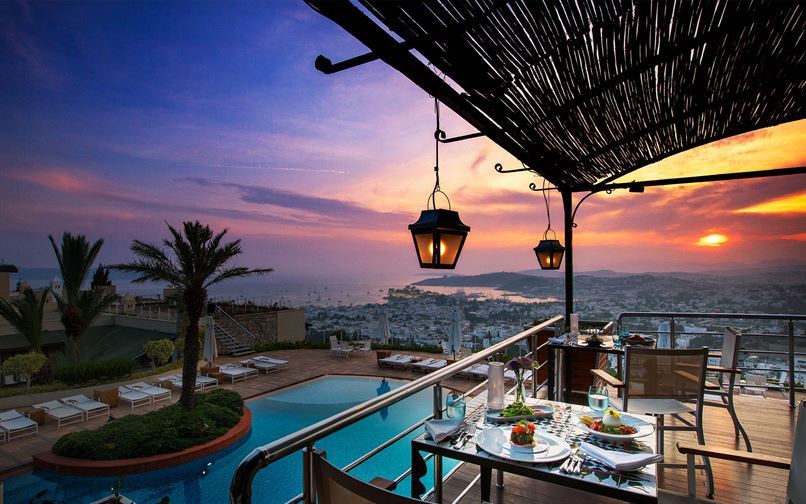 The Marmara Bodrum is a boutique retreat perched high on a hill overlooking the bustling city center of Bodrum.
What makes Marmara a unique resort is the location; not only ideal for watching sunsets, but you can see the sun make its way across the horizon from the resort.
The harbor is also quite visible, so you get the perfect view to watch yachts depart and return to the port.
The boutique hotel offers modern interiors; each room boasts a balcony or terrace with breathtaking sea views.
Filled with several amenities to make your stay perfect, Marmara even had a tennis court with a view! The terrace overlooks the sea and other parts of the city.
Mivara Luxury Resort & Spa – 5 Stars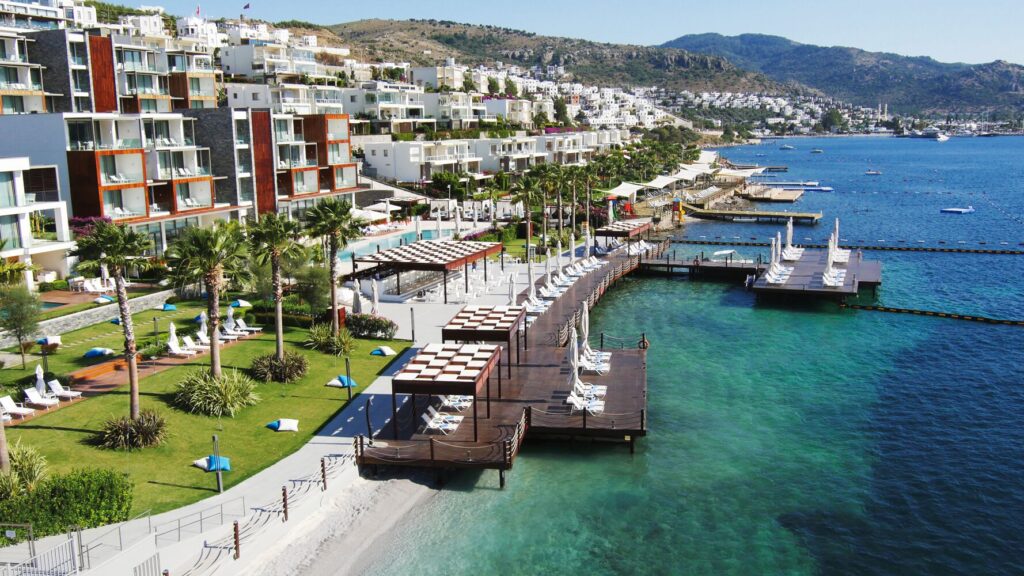 Mivara Luxury Bodrum is located in the northern part of Bodrum. It offers a stunning slice of Mediterranean architecture emphasizing elegant luxuries.
The amenities at this resort are second to none; they have everything you need: currency exchange services, babysitting services, special housekeeping services, convenience store, and much more.
It's an excellent resort for everyone and incredibly convenient if you're coming with family. The luxury resort features 72 rooms, offering family, couple, and deluxe rooms.
Khai Hotel Bodrum – 4 Stars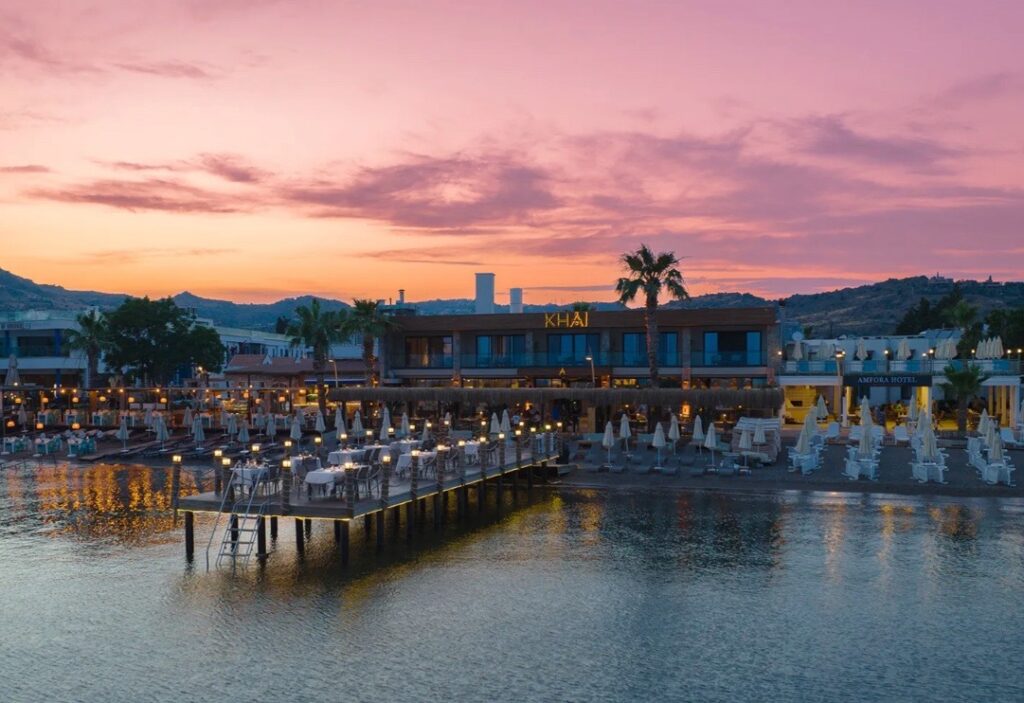 The Khai Hotel is a stunning hotel located right along the beach, offering a modern stay along the sea. The decor here is exceptional, and it's easy to tell everything was well thought out.
Several beach lounge chairs are available for guests on the private beach. The rooms feel more like an apartment because they are spacious, and all rooms have a balcony.
Overall, the hotel is beautiful, and the price is great too.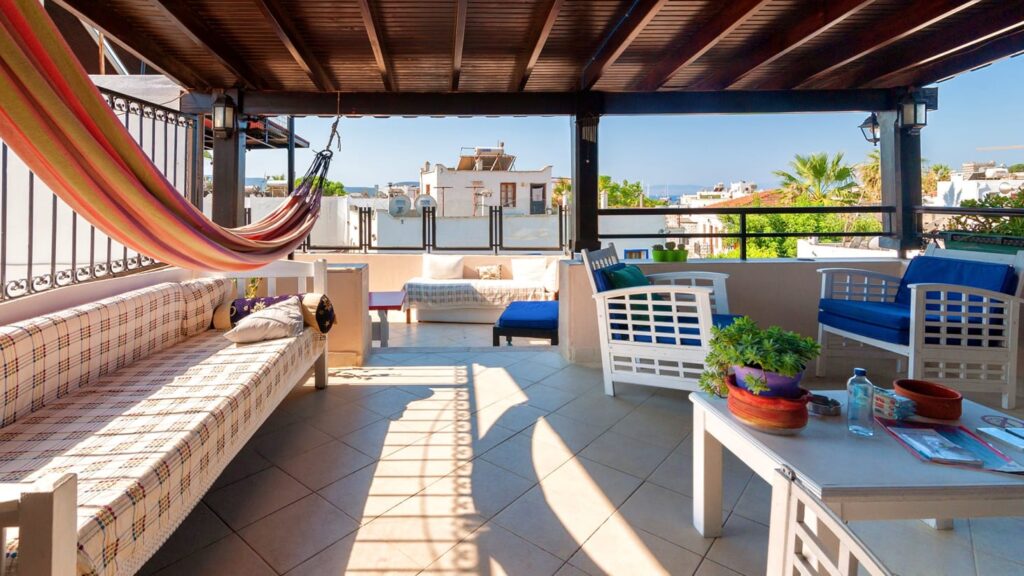 La Luna Hostel is operated by a lovely local Turkish family, conveniently located in the city center. The beach is approximately 100m away and around 5 minutes from Otogar Bus Stop.
Many cafes, bars, and local shops are close by. The family running this hostel is to operate it as Eco-Friendly as possible. For those who enjoy yoga, there's even a yoga studio here.
The hostel offers both dorm-style stays and private rooms, so you have both options.
Spaces are conveniently furnished, and all rooms have free complimentary high-speed Internet. This is my hostel recommendation in Bodrum. If you'd like, feel free to browse other hostels!
Bodrum Turkey Restaurants
Turkey has got to be one of the best countries for foodies. This is not even debatable. Besides the excellent food, the prices here are affordable! Kebabs, shawarma, Turkish breakfast, lahmacun, and remember the seafood.
The reason I first went to visit Turkey was for the food. My family visited and wouldn't stop telling me how delicious and affordable the food was. I went later that year to see for myself!
A trip without excellent food is wrong. That's why I'm sharing three Bodrum Restaurants with you I'd recommend; all three options serve Turkish cuisine.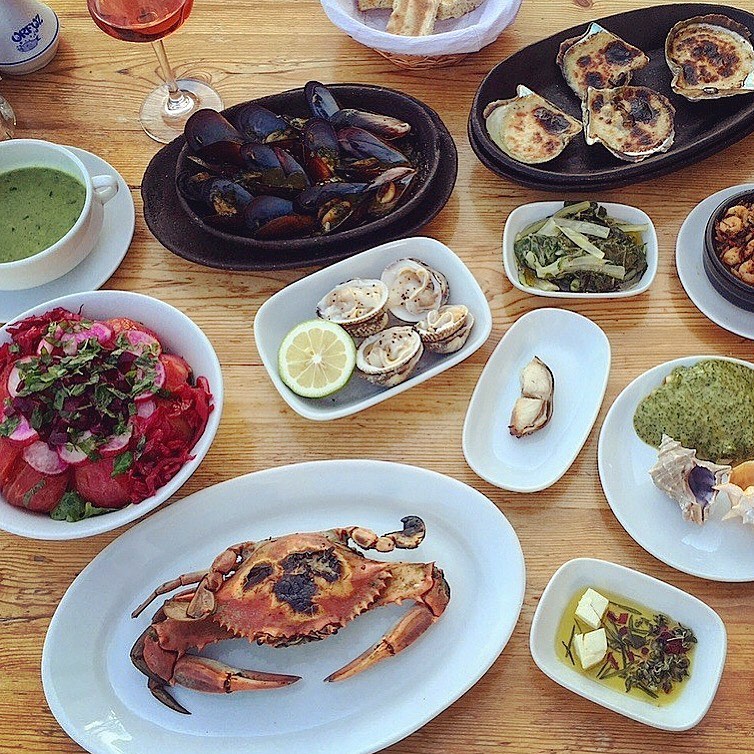 Enjoy seafood and shellfish as you stare at the sparkling Mediterranean Sea. Orfoz is the place to go for just that.
Their gourmet menu includes a variety of seafood dishes, including crab, langoustine tartar, mussels, and lemon shells. This restaurant is a must-visit for seafood lovers.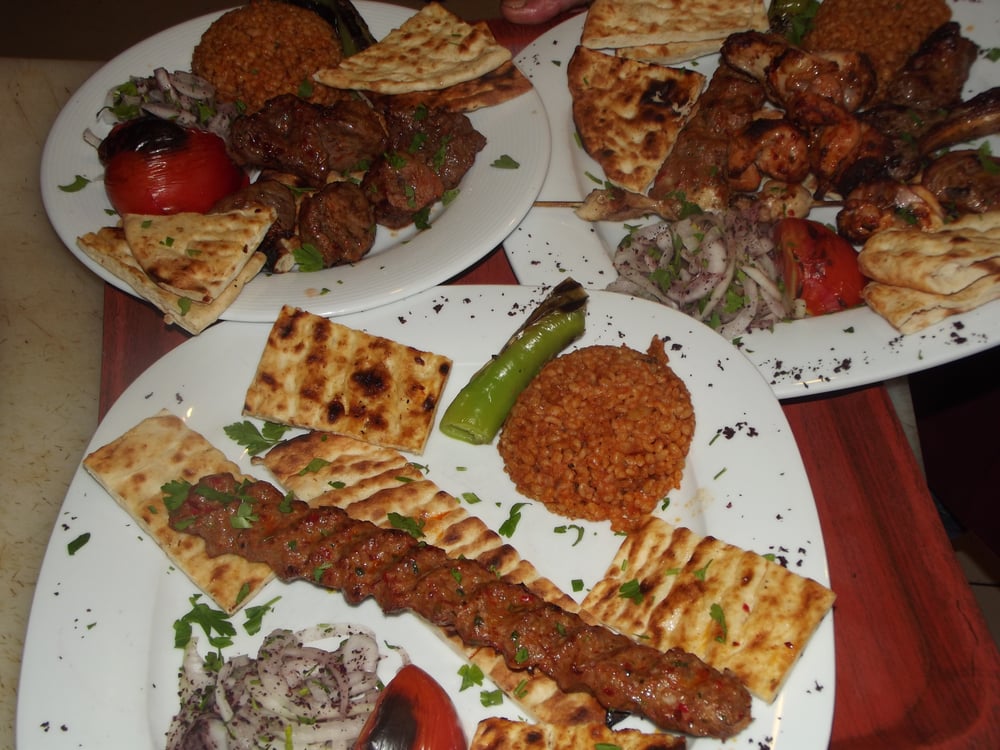 This restaurant is a foodie's paradise, serving various Turkish dishes. They're famous for their selection of grilled meats served with grilled veggies.
But a quick look at their Instagram shows they've got stuffed peppers with cheese, lahmacun, and several other Turkish cuisines!
A restaurant list is never complete without a breakfast option. For an authentic Turkish breakfast, visit Cafe Mandarine.
Turkish breakfast includes tea, raw vegetables (tomatoes, diced cucumbers), local olives, Kars Grueye cheese, Feta cheese, tangerine jam, and egg omelets.
The best part about this place is you have a view of the sea right before you—an ideal way to start your morning!
Bodrum Cheap Eats
For those looking for a few cheaper dining options, here's a short list of restaurants to visit!
Konya Ugurlu Restaurant
Antik Akdeniz
Tinto Wine & Coffee Bar
MyMoon
Hane Ocakbasl Kebab Salonu
Sakalli Restaurant
Is Bodrum Turkey Expensive?
Not only is Bodrum affordable to visit, but Turkey as a whole country is very affordable, unlike other popular Summer destinations worldwide where hotels can be quite costly.
You could always visit Bodrum during the off-season months when it's significantly cheaper, but you won't be able to go to the beach then; it won't be warm enough.
Is Bodrum Cheap or Expensive?
If you're going to compare Bodrum to other places in Turkey, especially during the Summer months when it's the best time to go, then it's not cheap.
But compared to other popular Summer vacation destinations worldwide, such as Marbella in Spain or Santorini in Greece, Bodrum Turkey is a cheap and excellent European summer vacation destination.
Turkey as a whole country ranks #3 in the 12 Cheapest Places to Travel list.
Is Bodrum Safe?
Turkey, in general, is very safe, Bodrum included. Being a popular tourist town, especially during the Summer months, the town is full of tourists all around at all times of the day.
You have nothing to worry about here, whether early or late at night. Also, Bodrum is known for being a family-friendly destination.
When visiting Bodrum, you only have to worry about senseless crimes like pickpocketing or theft of personal items. Keep an eye out when walking in busy crowds, and keep your personal belongings close.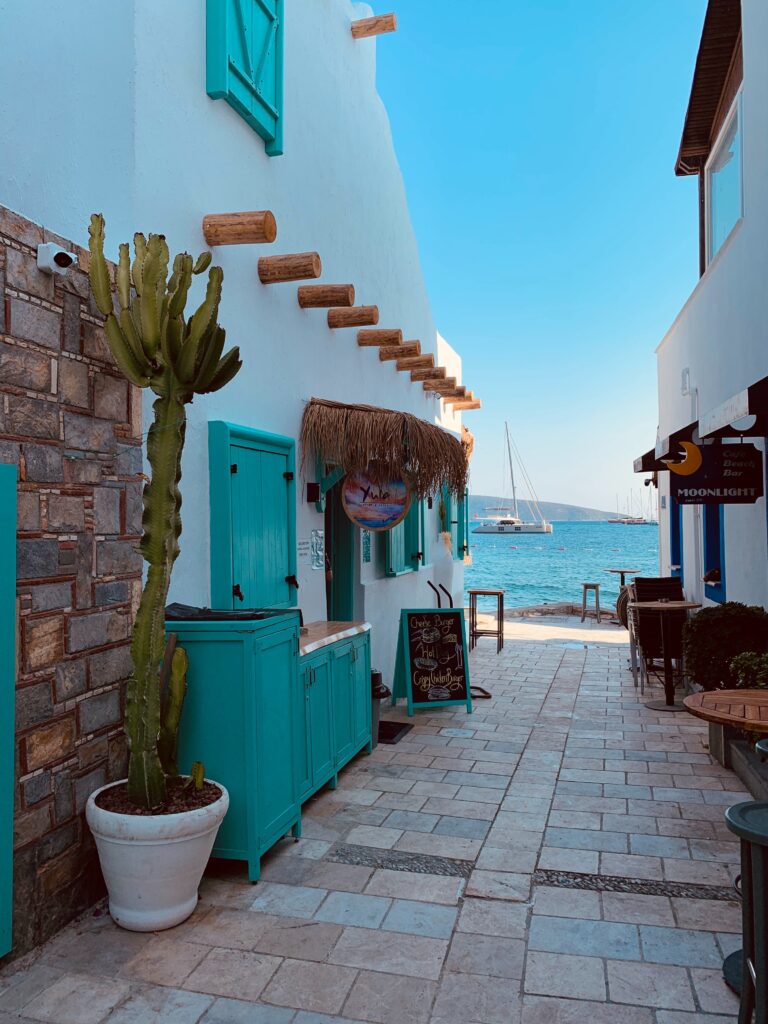 Bodrum Weather – Best Time to Visit
The high season in Bodrum is between June and August, sometimes till the middle of September, depending on the weather. This is when temperatures are favorable for the beach, reaching between 24 °C and 30 °C.
During November and March, temperatures can be around 12 °C and 18 °C. The coldest month in Bodrum Turkey is February, when temperatures reach an average between 9 °C and a high of 14 °C.
Despite the highest prices, the best time to visit Bodrum is during the high season. Bodrum is a seaside city; you want to go when you can take advantage of what it offers!
After booking your accommodations and flight, make sure you purchase travel insurance to protect yourself on your trip!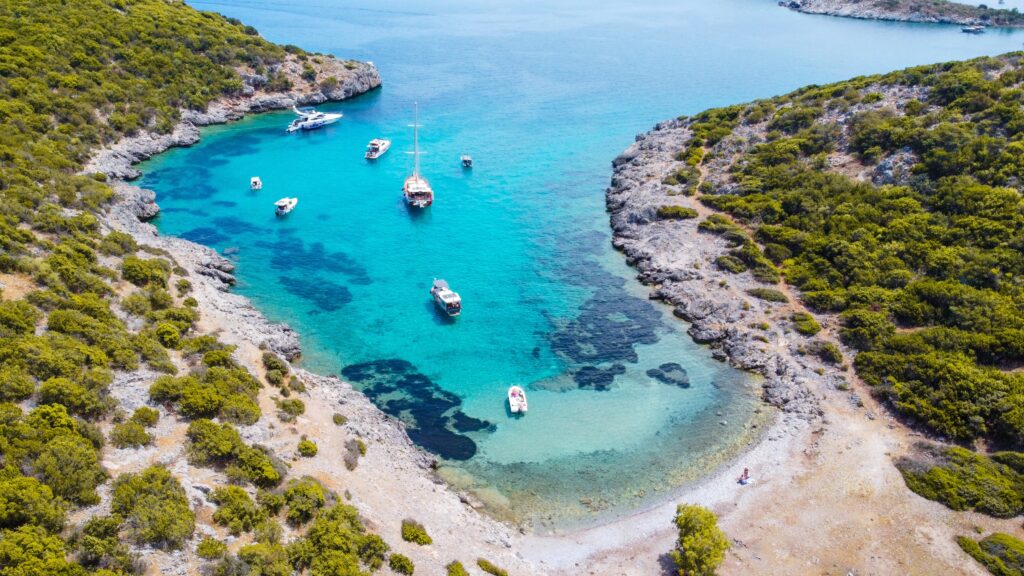 How Many Days Do I Need in Bodrum?
It all depends on what type of stay you're looking to have. I recommend 3-4 days in Bodrum, that way you will have enough time to do most things in town and also have some time to relax.
At the same time, Bodrum is an exceptional place to spend a week or more for those looking to relax by the beach.
Not only is it beautiful here, but there are also many things to do, several neighboring places to explore, and the food is excellent!
Is It Worth Visiting Bodrum Turkey?
Yes, no matter what time you're looking to visit, Bodrum is an excellent place. It's stunning, full of things to do, the history here is rich and best of all the town caters to all budgets!
Though, as mentioned earlier, I'd recommend you come during the Summer months, despite the higher costs. Book hotels/flights earlier; the closer to Summer, the prices start to increase for Bodrum.
Why Visit Bodrum Turkey?
It's an excellent choice for a European summer holiday and has everything many other expensive European summer destinations have at one-fourth of the cost!
Also, if you're looking for a romantic honeymoon destination, Bodrum is perfect for a honeymoon and will check off all your boxes.
Another two European holiday destinations I recommend are Lagos, Portugal, and Benidorm, Spain.
Bodrum is ideal for couples, families, and solo travelers, just about everyone. Traveling like you're in Saint Tropez or Positano, Italy, at a fraction of the price is a no-brainer. Bodrum Turkey is a must-visit.
Subscribe to Travel Hiatus!
Receive updates on my latest posts, insider travel tips & the best destination guides to your inbox!
Featured Image Credit: Rokas Skeivys
Happy & Safe Travels
---
Planning Checklist
---
Disclaimer: Please note that some of the links shared in this article might be affiliate links; this means that at absolutely no extra cost to you, we will earn a small commission for any sales generated through this article and/or this website. We recommend products/services we've either used or researched thoroughly – Thank you for supporting us so we can continue to share helpful travel content!