11 Things To Do in Playa Del Carmen at Night
Are you planning a trip to Playa del Carmen or currently in Playa del Carmen and looking for the best things to do in Playa del Carmen at night?
I've got you covered with this versatile list of things to do at night in Playa Del Carmen!
Playa is famous for its beautiful beaches, plentiful restaurants, and famous 5th Avenue street full of bars, shopping, and tourist attractions. And with lively nightlife in Playa Del Carmen, the town is a perfect beach town.
Locals refer to the beach town as "Playa" for short, which translates to "beach" in Spanish.
This Playa del Carmen nightlife guide will cover lively things to do, like nightclubs and bars, and calmer activities for those looking to have an early night out!
Are you visiting Playa del Carmen for the first time? Here's how to get to Playa from Cancun Airport.
Hit the Nightclubs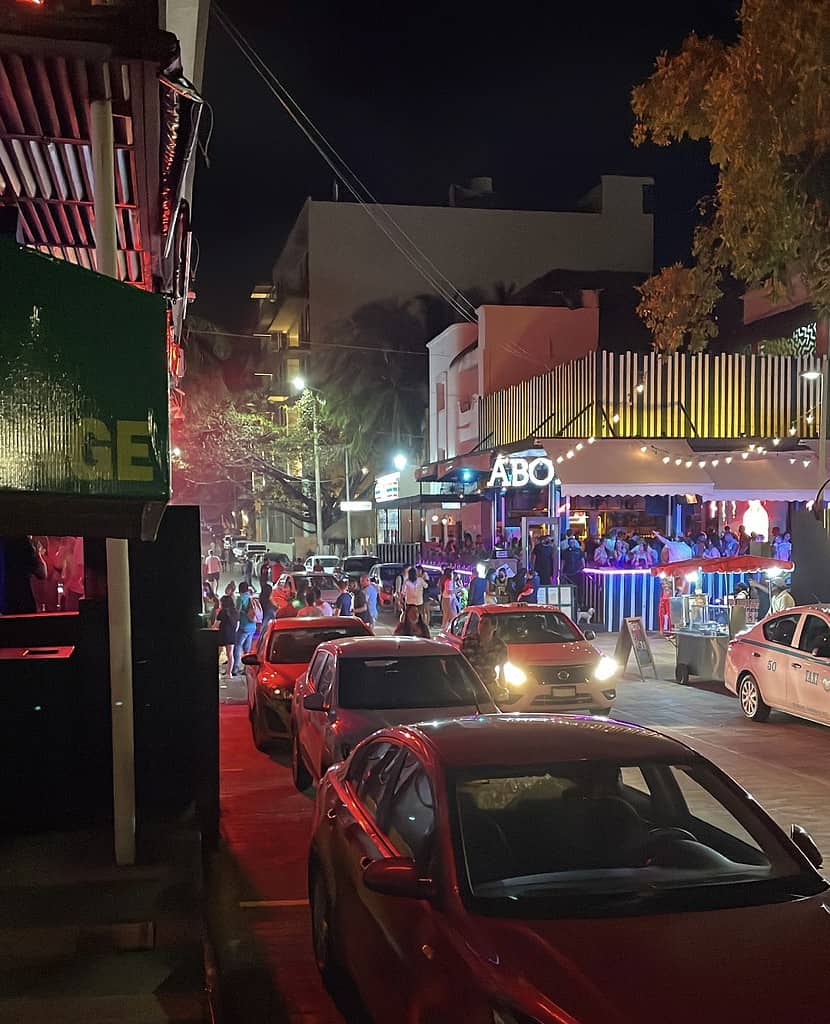 There are countless nightclubs in Playa del Carmen to consider visiting on any night of the week. Below, I'll share some of the best nightclubs to consider!
And the best part is all the nightclubs are within walking distance from one another, so you could always visit a few different venues a night!
While the nightclubs are open daily, the most lively nights are Thursday through Saturday.
Tequila Barrel: A lively nightclub/sports bar on the main 5th Avenue street serving a wide variety of tequilas
Santinos: Fun nightclub located on the second floor with an open-air rooftop
La Vaquita: Large nightclub with a live DJ every night, booths available, hookah and more
L'Ambassade: A more local bar/nightclub with two floors, the perfect place to get tipsy and order plenty of delicious food
If you've been out a few nights in Playa and would like to switch things up, I recommend you attend a jungle party in Tulum!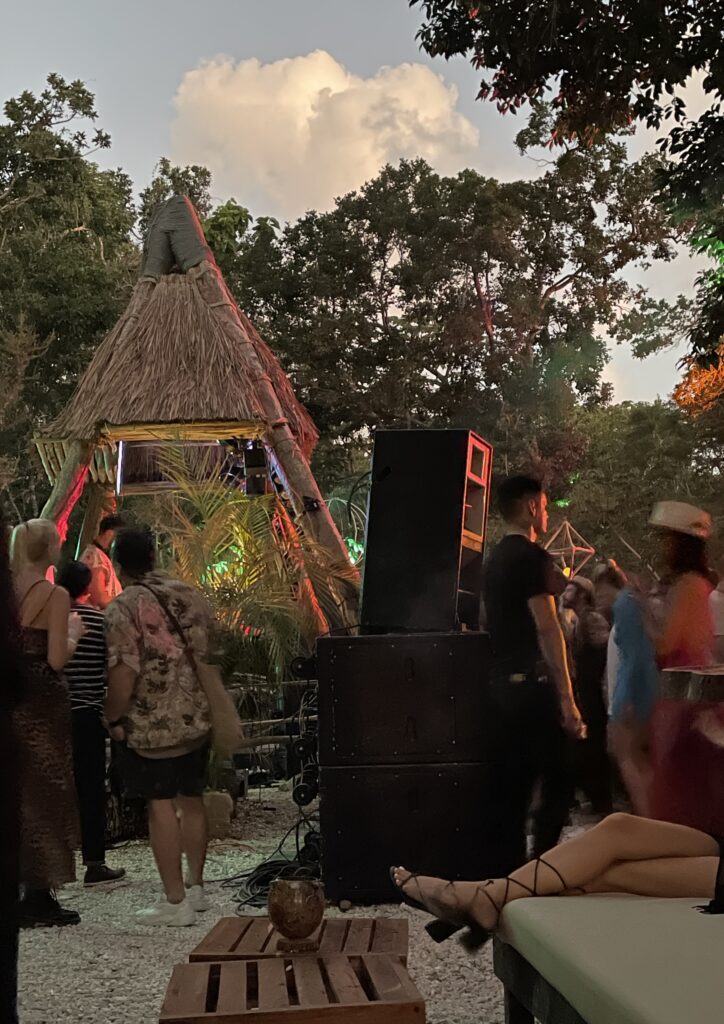 Salsa Lessons at Patio 8
At Patio 8, a restaurant and bar, they host bachata dance lessons in small groups on most weekday nights.
Two instructors host the class, teaching you many beginner bachata dance moves. As the class moves on, groups are split into beginner and intermediate.
Then, you can practice with various partners as you make your way through the other attendees. You can continue practicing your skills with others you've met or mingle with at the class's end.
It's a small fee to attend the class and with the cost comes one free drink.
Every time I visit Playa del Carmen, I find myself returning for a salsa lesson here. It's something different and fun to do in the evening and an excellent way to mingle and meet others!
Check the venue's Facebook page to find out about the salsa nights.
It's also my favorite spot in town to go watch a football match on TV; they view all the big games here.
Experience Coco Bongo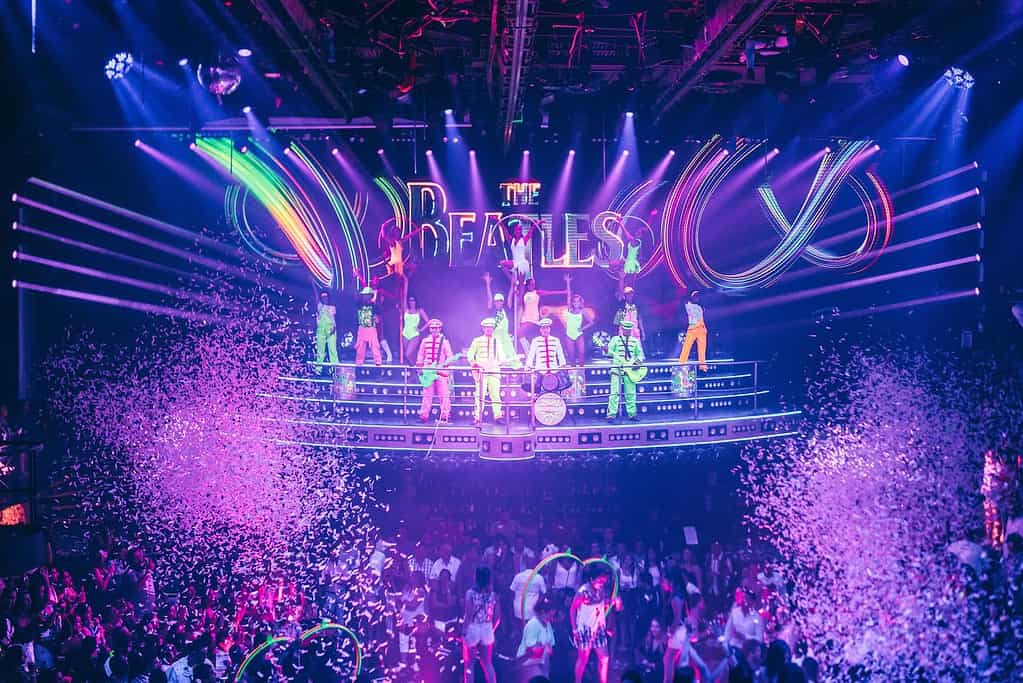 When it comes to one of the most popular things to do in Playa del Carmen at night, CoCo Bongo is up there on any list.
That's because CoCo Bongo is a unique nightlife experience you can't experience in other countries!
Bar, nightclub, crazy acrobatics, impersonators performing as Elvis, Michael Jackson, and Christina Aguilera. CoCo Bongo is hard to put into words; it's a bunch of everything going on at once pressed all into one.
CoCo Bongo is something you should experience at least once! Skip the line with these advanced tickets.
Needless to say, it is a unique and fun experience; visiting prepare yourself to be amazed.
Dinner at Lido Beach Club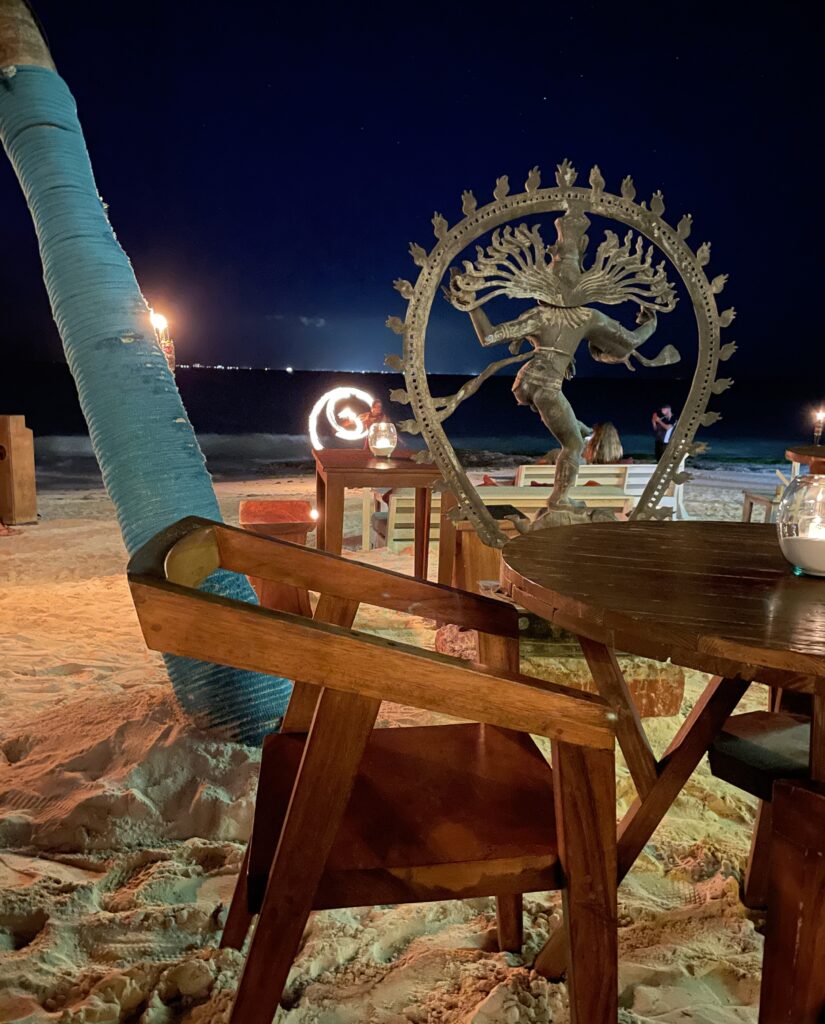 What's better than dinner on the beach in the evening with excellent entertainment? That's precisely what Lido Beach Club is about in the evening.
In the evening, Lido Restaurant is an excellent place to go for dinner alongside some entertainment. Along the beach, you'll spot a few performers with fire and a live DJ playing tunes in the background.
Grilled octopus, steaks, ceviche, the menu is vast and delicious here. The cocktails are too, and there's champagne available to order, as well as hookah to smoke!
After visiting one night, we came back here. It's a relaxing place to enjoy a delicious meal, and it's much quieter here than the commotion on 5th Avenue street!
Watch a Mayan Performance at Parque Square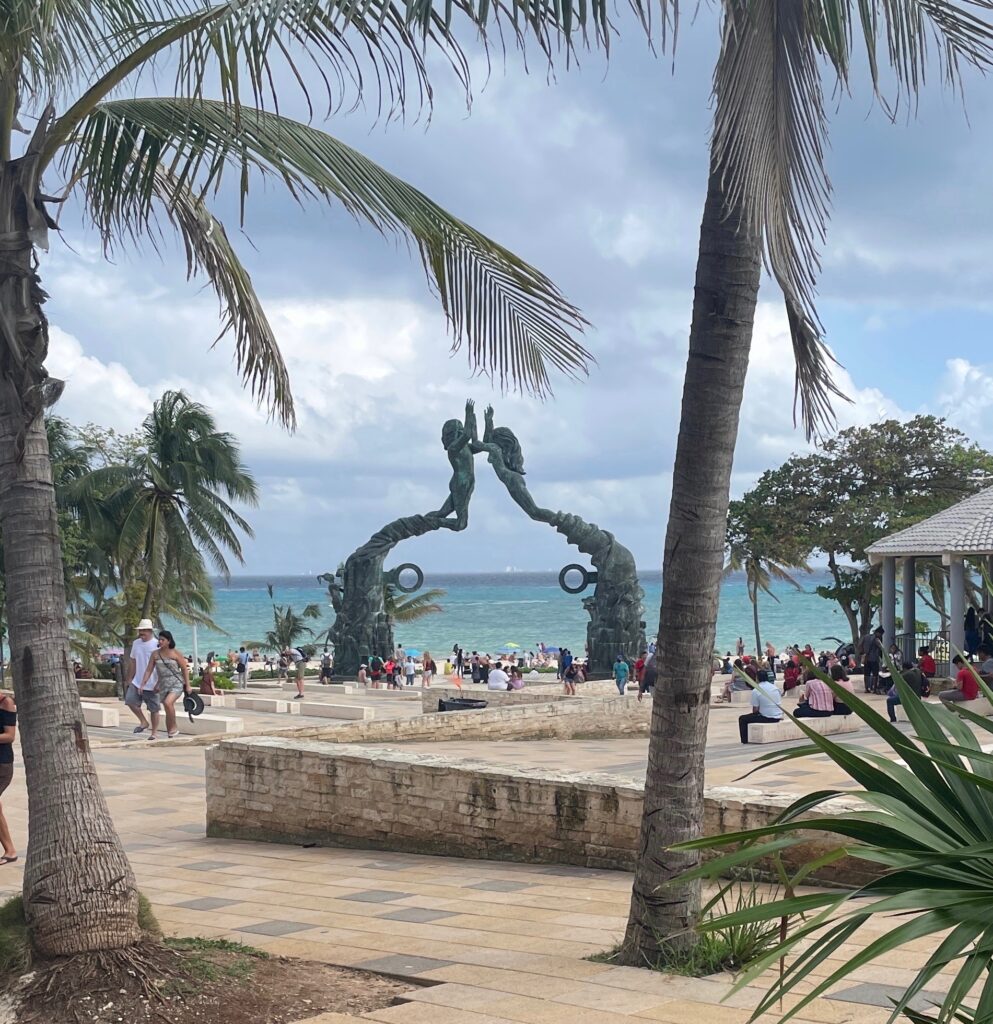 One of the best things to do in Playa Del Carmen at night, and free things to do too, is visit the main Parque Los Fundaores square by the ferries.
Here, you'll spot the famous mermaids holding hands, the famous Playa statue.
Surrounding the main square are several seating and steps. Some nights, free traditional Mayan performances are happening here, including fire, men flying high in the sky, and coordinated dancers.
These performances happen around 8:00 PM and go into the evening, and there isn't a set schedule. It's fun, exciting, and neat to see part of the culture that once inhabited this land.
Go to a Lively Dinner Restaurant
Some nights, you'll want to have some entertainment during dinner rather than an intimate dinner. One of the top restaurants to do just that is Illios Greek Restaurant.
Serving many various Mediterranean-style dishes, this lively Greek restaurant throws quite a bit of entertainment in the evening.
Belly dancers, acrobatics, and at some point in the evening, you can throw plates on the floor, fitting with the old Greek tradition. It's not the cheapest restaurant in Playa, so you may want to keep that in mind!
It is the perfect place to come for those looking to dine with some unique entertainment.
Stroll 5th Avenue Street
After staying a few nights in Playa del Carmen, there will be evenings when you won't know what you'll want to do that evening.
That makes walking down 5th Avenue Street the best idea. Take a walk in the evening on 5th Avenue, and it's impossible to be bored here; you'll find something to do.
Nightclubs, bars, restaurants, souvenir shops, mariachi bands performing, and plenty more.
There's always so much going on 5th, and sometimes the best thing to do is grab some ice cream and go for a walk/people watch.
Alternatively, you can always walk down many streets connected to 5th Avenue and take a walk along the beach.
There's a neat pathway with water views you can walk to. It's slightly hidden; walk here, and then on the right, you'll notice a lit-up wooden path towards the ocean!
Walking along 5th Avenue, despite being utterly touristy, is one of my favorite things to do in town. No matter how often you walk down the street, you'll find something new every time!
Dinner at Alux Restaurant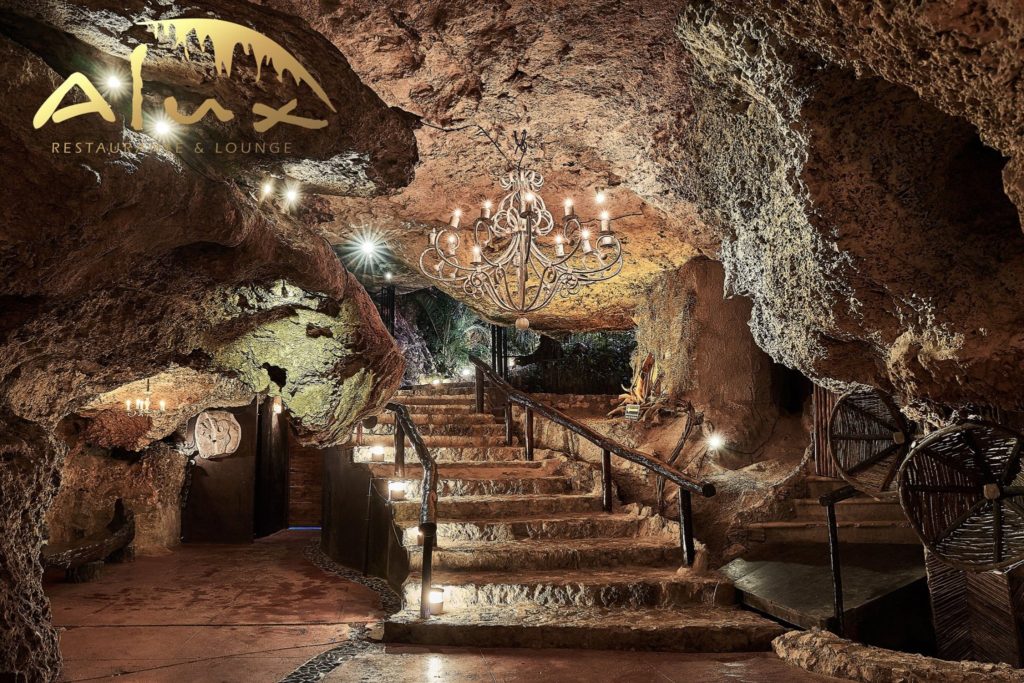 Not only is Alux one of the most unique restaurants in Playa Del Carmen, but it's one of the most unique in all of the Riviera Maya. This place stands out, to say the least; the restaurant is in a cave!
Alux Restaurant and Lounge is in a cenote cave slightly north of town. It's most known for its unique setting and romantic atmosphere; for those looking for a particular dinner spot, look no further. It's a fantastic experience, and everything is executed well at the restaurant.
They are known for their lobster risotto, beef fillet, and salmon, amongst many other modern Mexican cuisines. The food presentation here is exceptional, and the food is delicious.
It's a fine dining restaurant, so this isn't a place you would come to for a casual dinner night! They've got a minimum of 1,600 pesos Spend Per Person last I was there; that's about $90 US.
Cirque du Soleli JOYA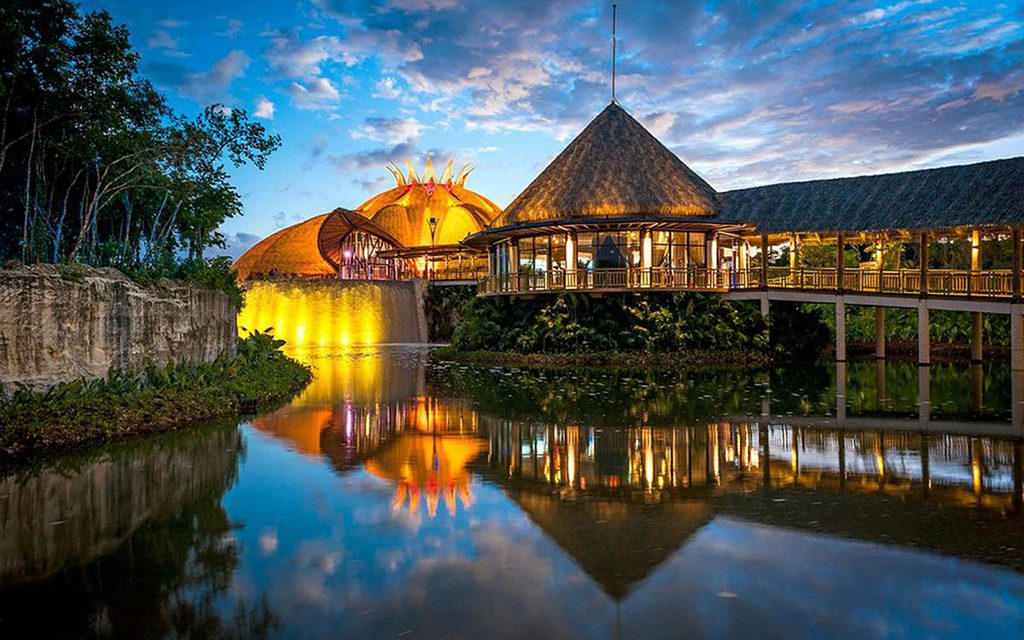 Famous worldwide, a name well-known in the acrobatics entertainment industry, Cirque du Soleil is an excellent and unique experience anywhere in the world.
The main venue for Cirque du Soleil in the Riviera Maya is conveniently located in Playa!
Cirque du Soleil JOYA hosts an exceptional, entertaining show with many highly skilled acrobatics and other performances.
The best way to experience this spectacle is by booking a package in advance here. This package includes dinner, champagne, appetizers, and more (if options are selected).
I'd recommend that you show up with a purchased package. Tickets will cost you much more at the door!
Eat $1 US Tacos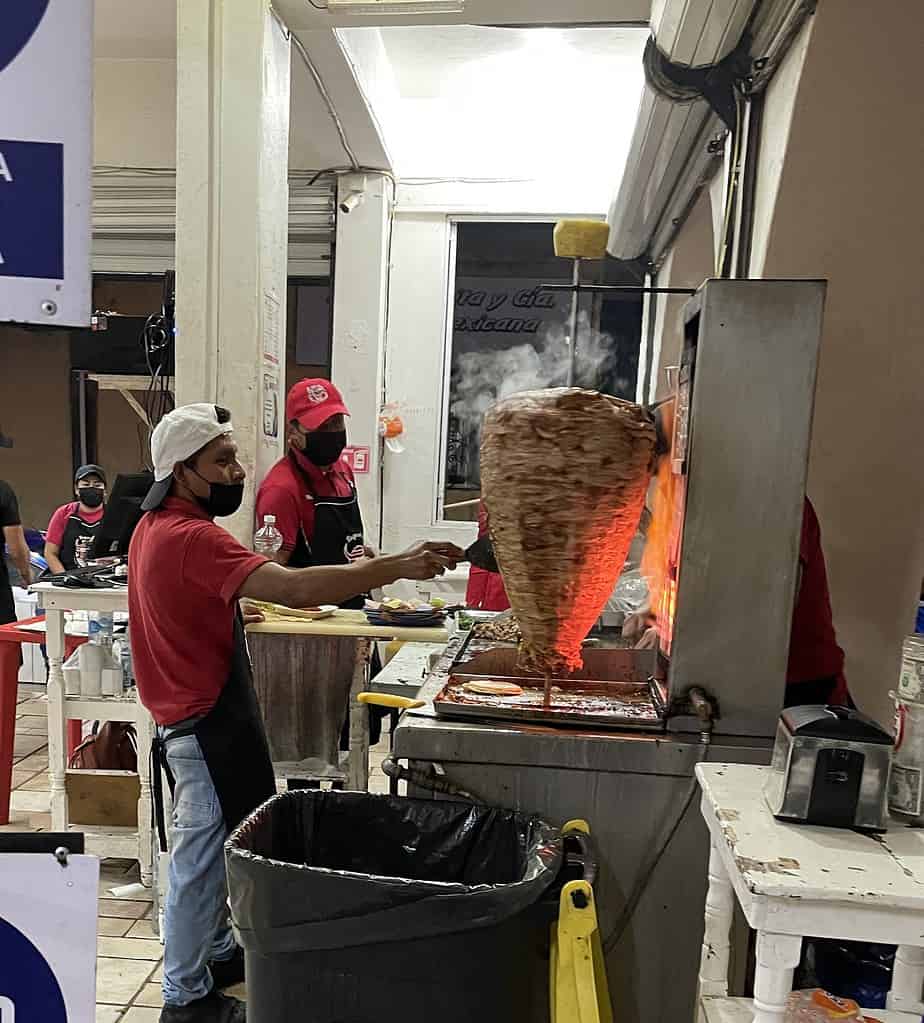 You had a long day at the beach, or perhaps you just returned from a long day in Tulum or Chichen Itza, and you feel like doing little this evening.
Here's what you do: go to Bar Loco for a cheap drink or two and then walk over to Taquerias el Nero.
This delicious local taqueria is very popular amongst locals, and they serve $1 US tacos; yes, you read that right! They have your typical meat cuts like chorizo and steak, but they're most well-known for their unique cuts, including brains, intestines, cheek, and more!
Make your way here and eat tacos till you can't breathe. I did just that many nights in Playa, and this local spot is the perfect version of delicious Mexican fast food.
Sunset at Rooftop Bar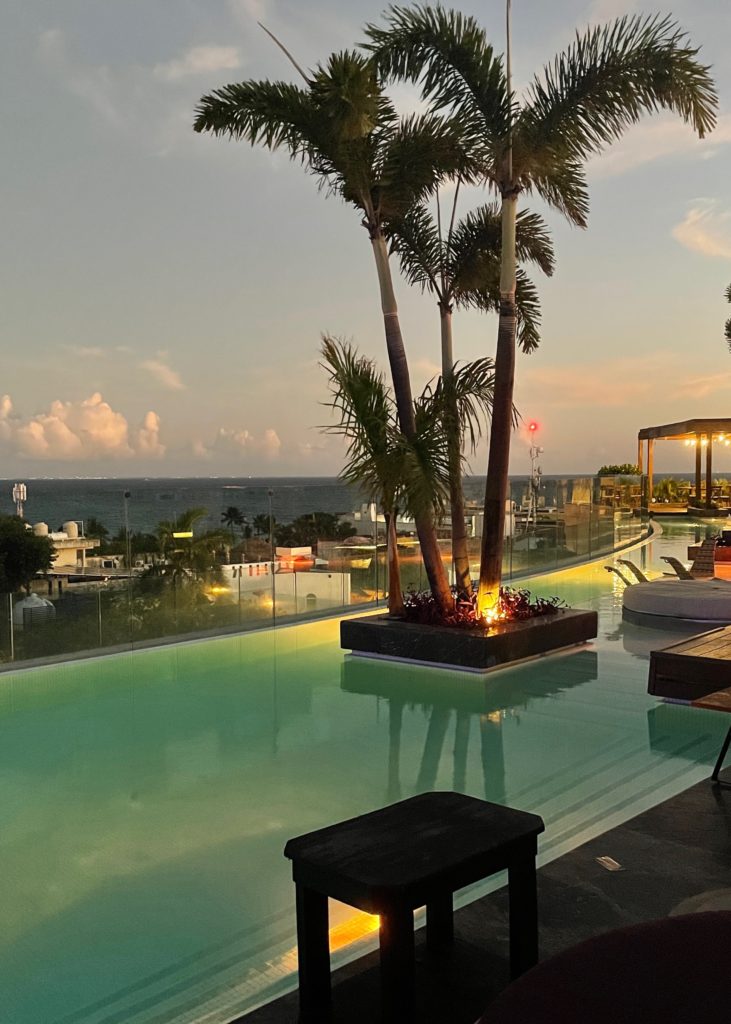 Catching a beautiful sunset in the evening alongside appetizers and a few drinks is always a great idea.
There are several rooftop bars in Playa del Carmen to consider. Some offer a more lively atmosphere with a live DJ playing music, while others provide a laidback, calmer vibe. Here are a few spots to consider!
The Roof Bar — Lively rooftop with DJ playing music, more of a party-vibe rooftop than a relaxing one
Deck 5 Pool and Skybar — This fun rooftop has delicious food, a pool, and sea views; you can't miss it. Located onto the Carmen Hotel, the entire hotel lights up at night
Catch Rooftop/Thompson — Located on top of the Thompson Hotel, Catch has some of the best Caribean sea views in the city, and you can spot Cozumel, the island across the water from here
Fivers Rooftop — Nice restaurant rooftop with various types of seating, indoor seating, sun loungers, and cabana-style beds
Is Playa Del Carmen safe at Night?
Playa Del Carmen is one of the safest places to visit in Mexico. Walking around town, you'll quickly notice police and Mexican national guards patrolling the streets at all hours of the day.
What you should watch out for in Playa del Carmen is petty crimes like pickpocketing, watching your belongings on the beach, and avoiding those asking you if you'd like to purchase illicit goods; this commonly happens with young adults.
If you walk late at night, stick to well-lit streets, know where you're going, and don't just wander.
From time to time, serious crimes have happened in Playa; it's known and well documented. But these crimes are between cartel members, and they rarely occur.
For reference to safety, Playa del Carmen is just as safe as any large city in North America like NYC, Toronto, or others in Europe like Paris and London.
RELATED: Playa del Carmen Itinerary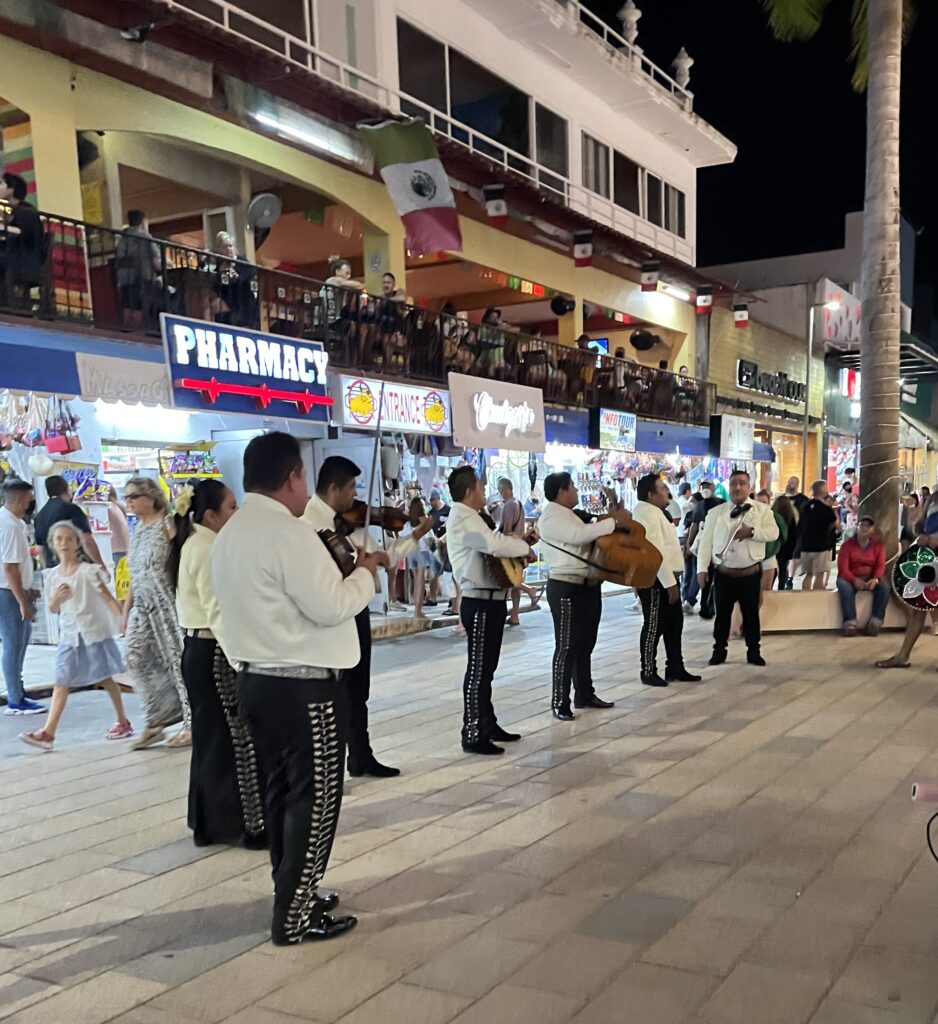 Things To Do in Playa Del Carmen at Night — Final Thoughts
As you can see, the variety of things to do in Playa del Carmen at night is plentiful.
This is one of the many reasons the beach town is such a hit among tourists despite its nearby neighbors, Cancun and Tulum.
And if you're debating between Tulum and Playa Del Carmen, use my guide to help you decide!
There's always something to do in Playa del Carmen at night, and if you plan to visit for an extended period, you'll quickly learn of more things to do at night from expats living there.
RELATED: 11 Cheapest Beach Towns in Mexico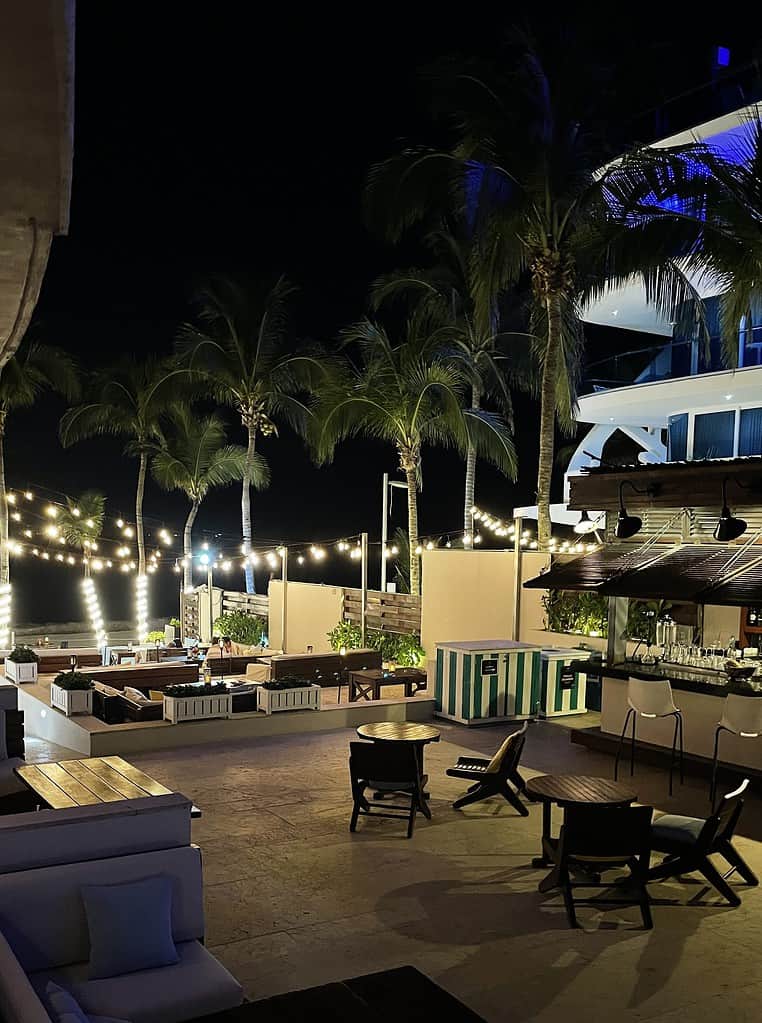 Can you walk around Playa del Carmen at night?
Yes, you can. Walking around Playa del Carmen at night is safe, but it's best to stick to well-lit streets and not wander.
Does Playa Del Carmen have a nightlife?
Playa del Carmen is known for its nightlife, among other things, from nightclubs to bars, lively dinners, and rooftop parties. Playa's nightlife has something for everyone!
Does Playa Del Carmen get cold at night?
It doesn't get cold in Playa del Carmen at night, but it can get chilly, and some evenings, if you're spending the evening by the beach, you can wear a light long sleeve. But it doesn't get cold persay.
Is Tulum or Playa del Carmen better for partying?
Despite both places having many party options, Tulum beats Playa Del Carmen for partying. But Playa Del Carmen has advantages: you can walk everywhere you'd like to party at night in Playa del Carmen, and it's cheaper to go out in Playa than Tulum!
Subscribe to Travel Hiatus!
Receive updates on my latest posts, insider travel tips & the best destination guides to your inbox!
Happy & Safe Travels
---
Planning Checklist
---
Disclaimer: Please note that some of the links shared in this article might be affiliate links; this means that at absolutely no extra cost to you, we will earn a small commission for any sales generated through this article and/or this website. We recommend products/services we've either used or researched thoroughly – Thank you for supporting us so we can continue to share helpful travel content!