Is Cancun Worth Visiting? 5 Pros & Cons
Is Cancun worth visiting? Are you thinking of planning a trip to Cancun and debating whether you should visit Cancun?
This breakdown guide will highlight 5 main Pros and Cons of Cancun that will help you determine whether Cancun would suit you to visit!
Cancun is one of the most visited places in Mexico every year, and it's easy to see why.
The beach city is home to some of the most beautiful beaches in the Caribbean, and there are many things to do in Cancun.
With Cancun's many city conveniences and day trips available nearby, Cancun is a top vacation place worldwide, especially for those living in North America.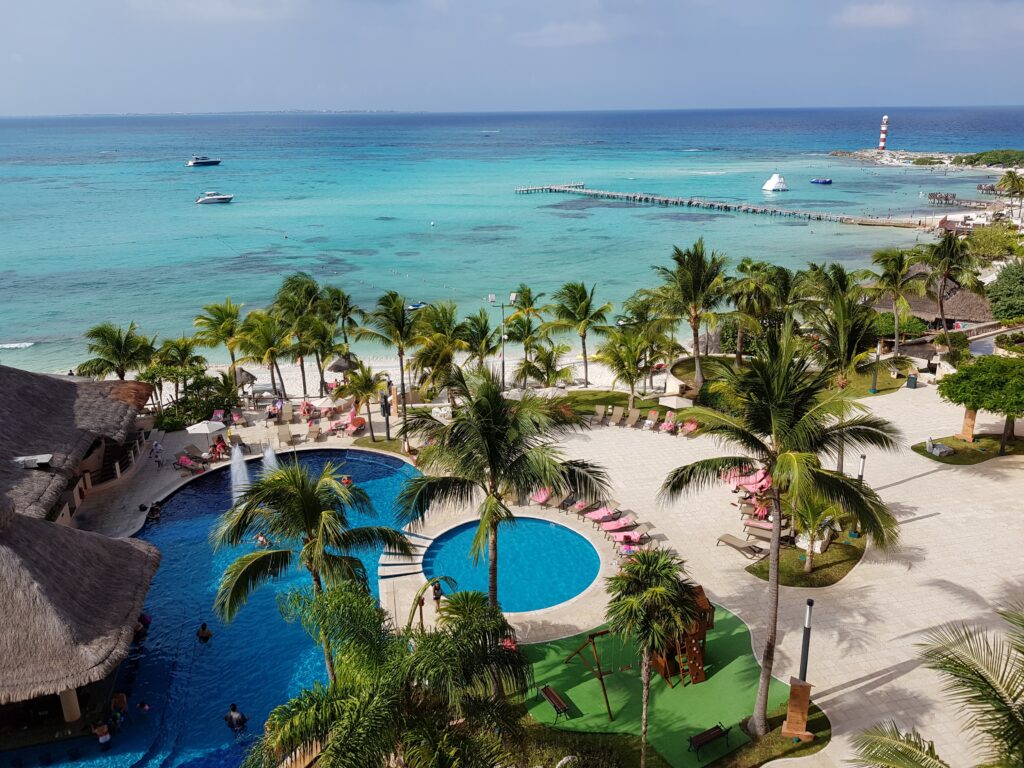 Getting to Cancun Town or Hotel Zone
You've just landed at Cancun Airport, and now it's time to get to Cancun Town or the Hotel Zone, depending on where you're staying in the city!
Here are all the ways to get to either Cancun Town or Hotel Zone from Cancun Airport:
The best and new way to get to other towns from Cancun is by using the Mayan Train!
For area clarification, here's a breakdown in case you aren't familiar.
Cancun Town = The city center, many bars, shopping malls, restaurants, and overall a more authentic experience of Cancun as a city
Hotel Zone = Large resorts and hotels along the beach, with many restaurants and nightclubs for tourists, a very touristy area catering strictly to Cancun's popular beach tourism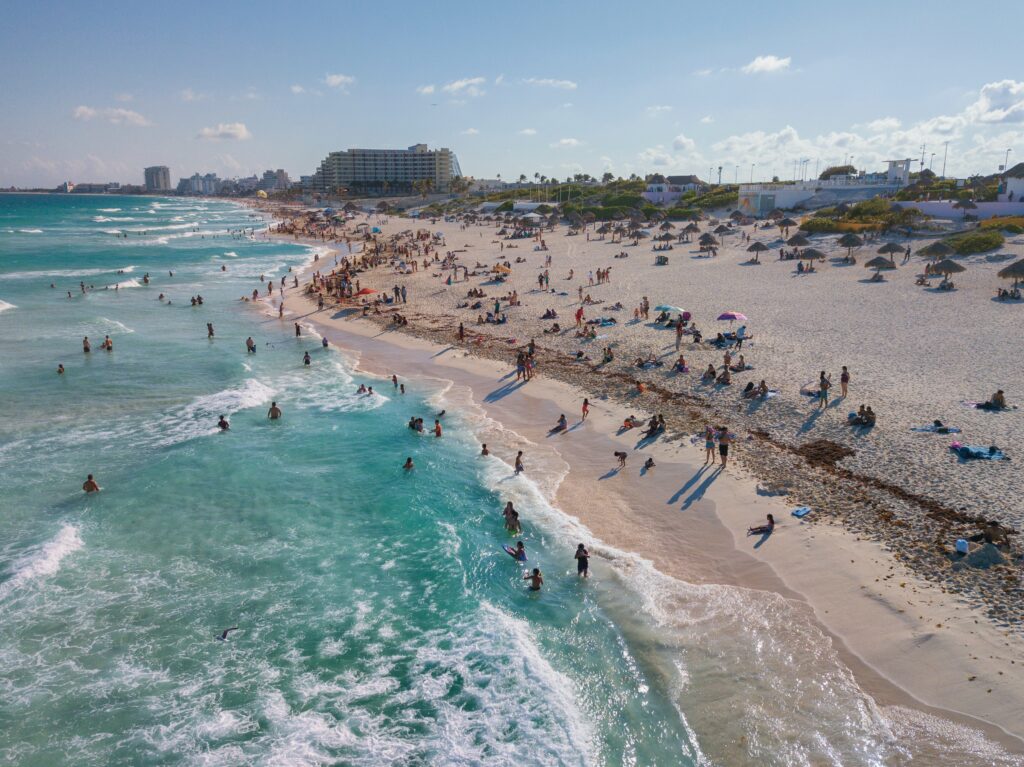 5 PROS for Cancun
Beaches: The beaches in Cancun are some of the most excellent beaches in the Caribbean Sea, with their crystal clear shades of turquoise water, soft sand, and hues going into the deep sea.
The Hotel Zone to Punta Nizuc is a long strip of land connected to the mainland but is located outwards in the Caribbean Sea, and this land feature is what makes Cancun's beaches extra unique.
While Cancun isn't the cheapest beach town in Mexico, if you're looking for breathtaking beaches, Cancun is known for that. As you fly into the airport, look out the airplane window, and you'll be amazed by the beach views!
Many Things To Do: Another primary reason for Cancun's popularity is the city's wide variety of things to do. During the day, there are countless excursions, the beach, many places to shop, restaurants/bars, museums, parks, and other attractions.
Isla Mujeres also sits across the water, a fun island only 20 minutes away!
At night, you've got a large selection of bars/nightclubs, a casino, and different night activities to experience!
Excellent Day Trip Base: The Riviera Maya, which sits minutes from Cancun, is full of many day trips to experience from Cancun, and Cancun's location is ideal for experiencing many of them!
Isla Mujeres, Puerto Morelos, Playa Del Carmen, Chichen Itza, and many more are nearby!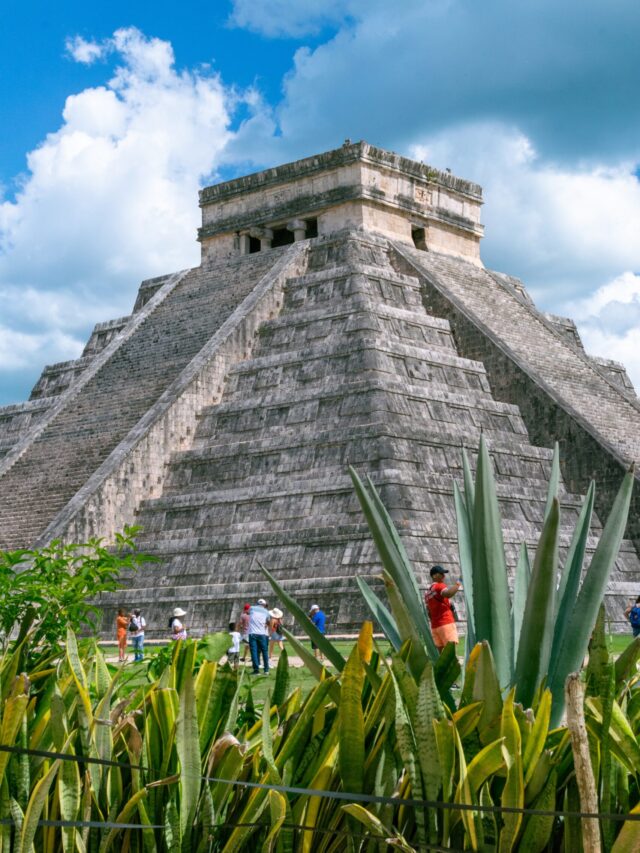 All-Inclusive Hotel Heaven: Large hotels that feel like small towns sometimes, with several restaurants, a beautiful beach shoreline, and many activities and amenities, all included at a straightforward price. Americans/Canadian's most favorite way to vacation.
Cancun has some of the best all-inclusive hotels south of the US/Canada, and Cancun's variety of all-inclusive hotels is impressive.
This is excellent for those who prefer to pay a straightforward price to help them budget the exact cost of their vacation.
Easy to Get To: Visiting Cancun has one big convenience: Cancun International Airport. It's the primary international airport for Cancun, Riviera Maya, and the Yucatan region.
Several major airlines fly into Cancun International directly daily from major cities worldwide.
So, finding cheap flights directly into Cancun is relatively easy. Staying in Cancun means you'll only be 20/30 minutes away from the airport, so no long drives when leaving/returning to the airport.
Those staying in many other neighboring towns, such as Playa Del Carmen, Tulum, or others, will have to arrange transportation to/from Cancun International Airport.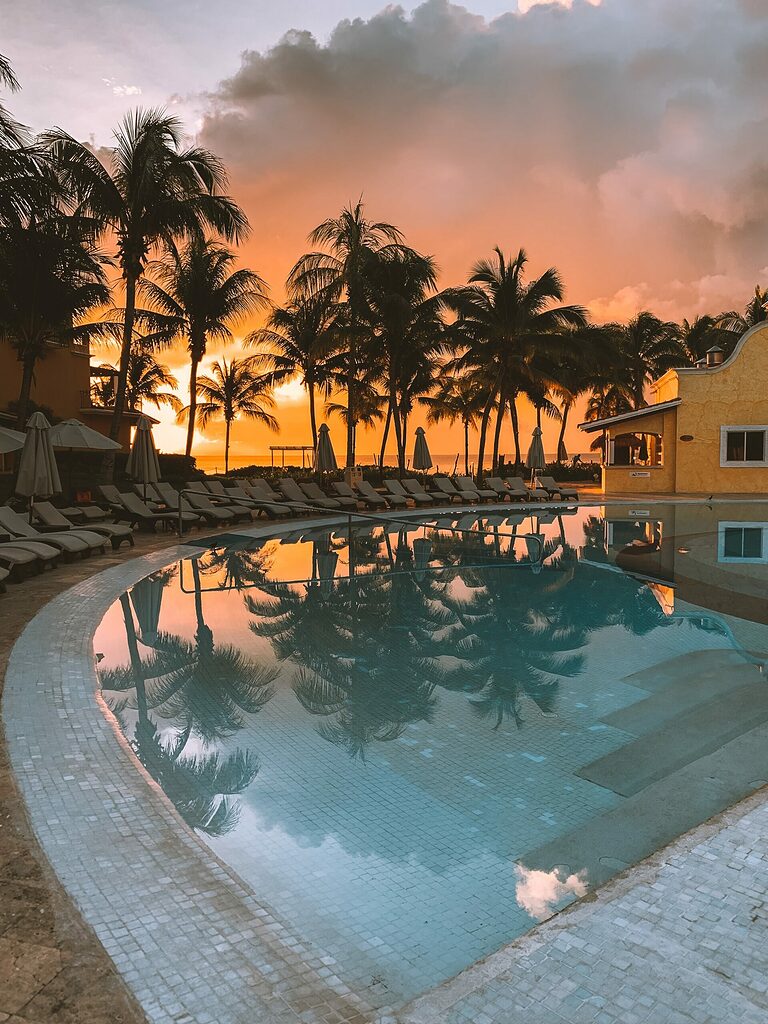 5 CONS for Cancun
Very Touristy: Cancun has the most all-inclusive hotels in Mexico, if not the world, and because of this, the city has become quite "touristy," to say the least.
Many tourists from the US/Canada visit Cancun and stick to the Hotel Zone, and sometimes only their resort.
Making the whole experience of Cancun come off as some beach cash cow. Don't get me wrong, some prefer this, and there's nothing wrong with that!
But because Cancun is a crown jewel for All-Inclusive tourism, the city has become entirely commercialized.
Lack of Culture: Cancun is Americanized, especially compared to its neighboring towns down the coast. There's a McDonald's, Burger King, and many large-chain American hotel brands, shops/restaurants even accept USD for service/food.
All of these attributes have stolen from the cultural side of things. If you venture around Downtown Cancun, you will experience pockets of culture, but the Hotel Zone is one large commercialized tourist trap.
No Cenotes: One of the most famous attractions in Mexico are the many beautiful and unique cenotes that inhabit this land, once used by the Mayan Civilization for drinking water.
Unfortunately, Cancun doesn't have any cenotes for you to experience, which may come as a surprise, seeing that there are cenotes almost everywhere throughout this region of Mexico.
Cenotes are fresh-water cave holes perfect for swimming on a hot day; you must experience at least one when visiting Mexico.
Despite Cancun not having any, you can always take a day tour to one, and Casa Tortuga Cenotes is the best cenote park in the region!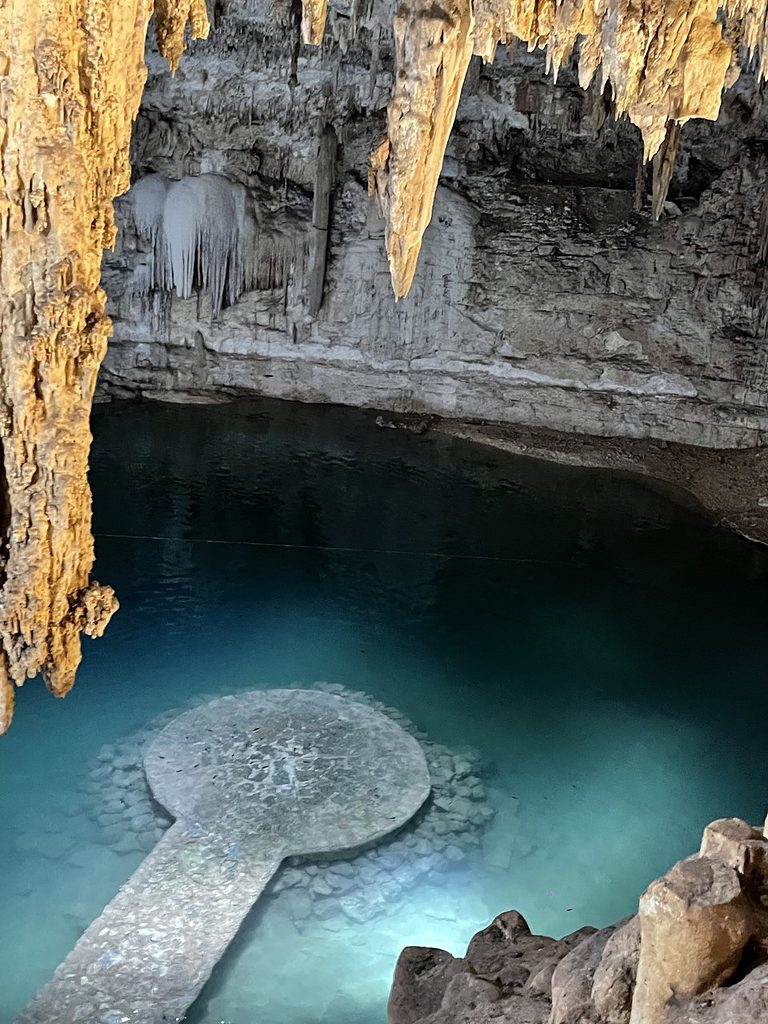 Busy City: Cancun is one busy beach city; according to TourismAnalytics, in 2023, Cancun International Airport saw almost 100,000 daily arrivals. That's a lot of tourists; then again, some arrive at Cancun Airport and head over to neighboring places.
Regardless, Cancun is a big city, and you'll notice that once you arrive, especially in the Downtown or Hotel Zone area. And it's by far the busiest city in the region.
Cancun Lacks Romance: If you're considering a honeymoon destination or visiting with your partner and looking for romance, Cancun could be better.
It's busy; at times, it can be pretty loud with several young adults visiting all-inclusive, especially during Spring Break, and overall, the city is more tailored for families or groups visiting!
But here's your solution if you're looking for a romantic getaway and would like to visit this region of Mexico (which is stunning, and I recommend it).
Go to Puerto Morelos instead of Cancun; it's a small, calm, laid-back beach town only 20 minutes from Cancun Airport!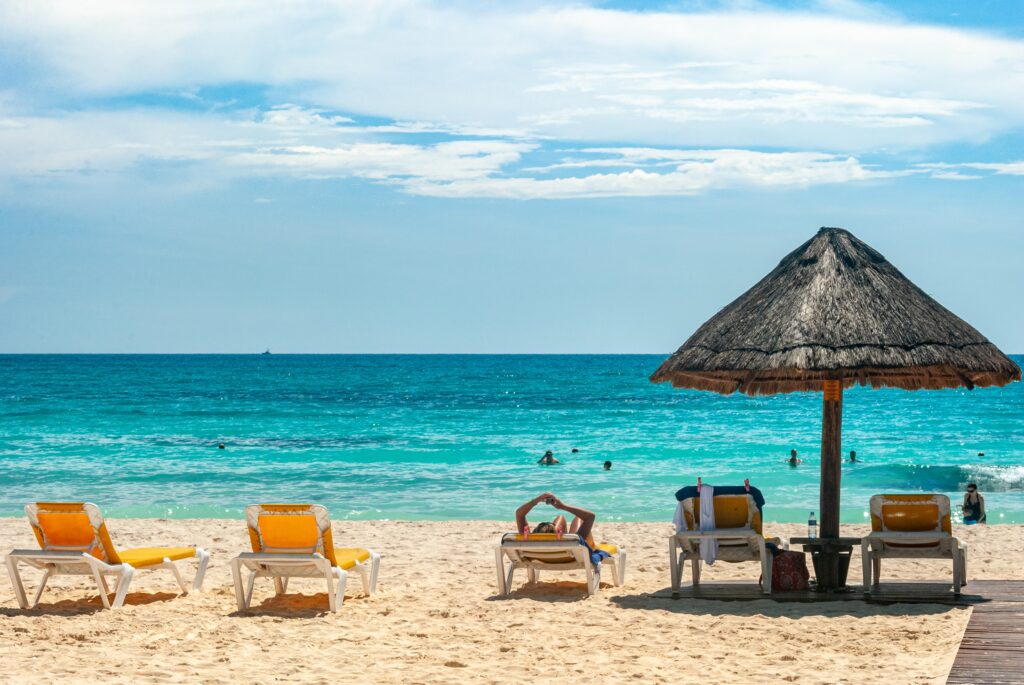 Things To Do in Cancun
Besides Cancun's many exceptional large resorts full of amenities, as mentioned before, Cancun has many things to do both in and outside the city!
No matter what you're looking for, whether it's a beach day, visiting an adventure park, island hopping, snorkeling with sea turtles in Akumal, seeing the famous world wonder Chichen Itza, and much more!
Below, I've shared some top things to do in Cancun; click my other guide for a more extensive list.
Beach Day: Cancun has some of the best beaches in the world; take advantage of it. You must have a beach day or two when visiting
Sail on Catamaran: One of the best ways to see Cancun and experience it as a whole is by sailing along the coastline on a Catamaran boat for the afternoon. As you spend the day swimming, snorkeling, having lunch, and drinking from an open bar!
Cancun Food Tour: Downtown Cancun has several excellent restaurants serving delicious local cuisine. But figuring out where you should/shouldn't go can take time and effort. That's precisely why attending a Cancun Food Tour is an absolute must to experience the local cuisine!
Day Trip to Isla Mujeres: Isla Mujeres is only 20 minutes away by ferry, a beautiful island in the Caribbean Sea. The beaches there are just as beautiful as Cancun, but with whiter sand, and similar to Cancun, there are many things to do in Isla Mujeres as well!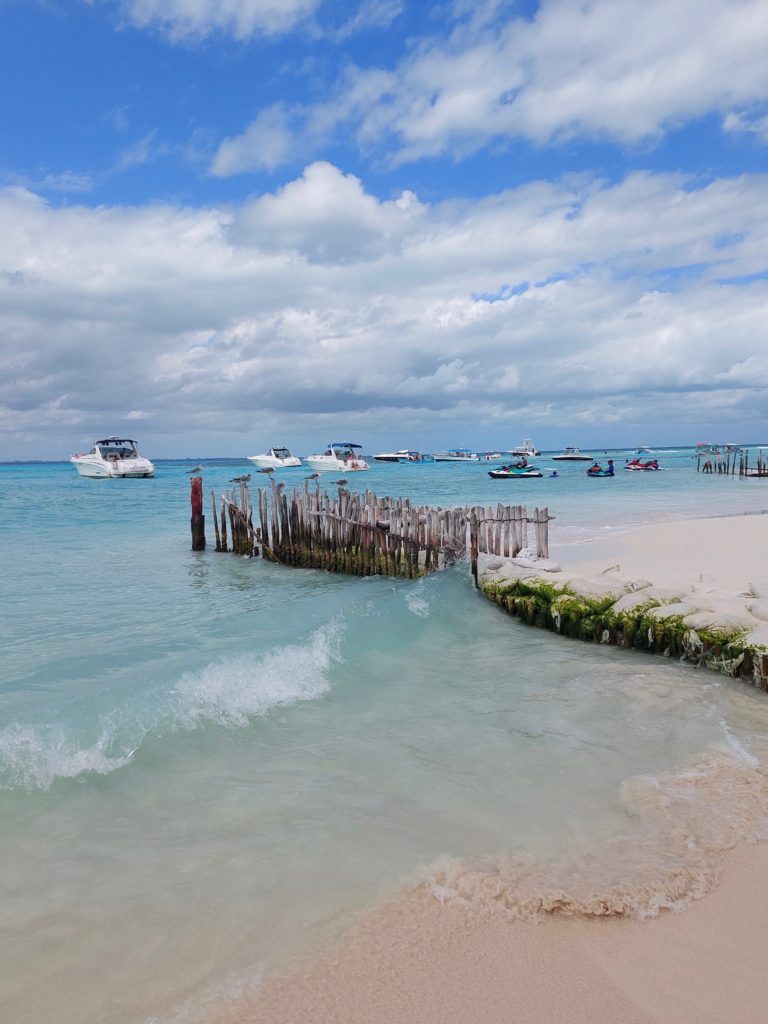 Hit the Nightclubs: Cancun has countless fancy bars and sports bars, some offering live music as you dine, and several nightclubs located along the Hotel Zone and Downtown Cancun.
Day Trip to Chichen Itza: Many say a trip to this region without a visit to Chichen Itza means your trip was incomplete. After all, it is one of the eight world wonders and is quite impressive to experience in person!
Visit the Mayan Museum: Are you fascinated by the Mayan Civilization that once occupied this region of Mexico? You must visit the Mayan Museum in Cancun; several old artifacts, temples, paintings, and unique facts about the Mayans are there to see!
Nightlife in Cancun
There are many things to do in Cancun at night, including many bars, nightclubs, and several things to do for those looking to enjoy an early night out!
To get around Cancun at night, the best way is by taxi. Some large resorts offer shuttle buses to Downtown Cancun and the Hotel Zone Circle, where all the bars/nightclubs are.
Here's a list of known scams that sometimes occur in Cancun to keep an eye out for!
Best Nightclubs in Cancun:
The City Nightclub — One of the largest nightclubs in town, offering various types of shows throughout the week
Coco Bongo — A unique nightlife experience hard to experience anywhere else, CoCo Bongo is a nightclub with acrobatics, performers, and live music all into one; advanced tickets are cheaper
Amma Club Cancun — Luxurious nightclub known for its booth and champagne with a more mature crowd
H Roof — Vibrant disco club hosting authentic tech-house/techno other subgenres besides EDM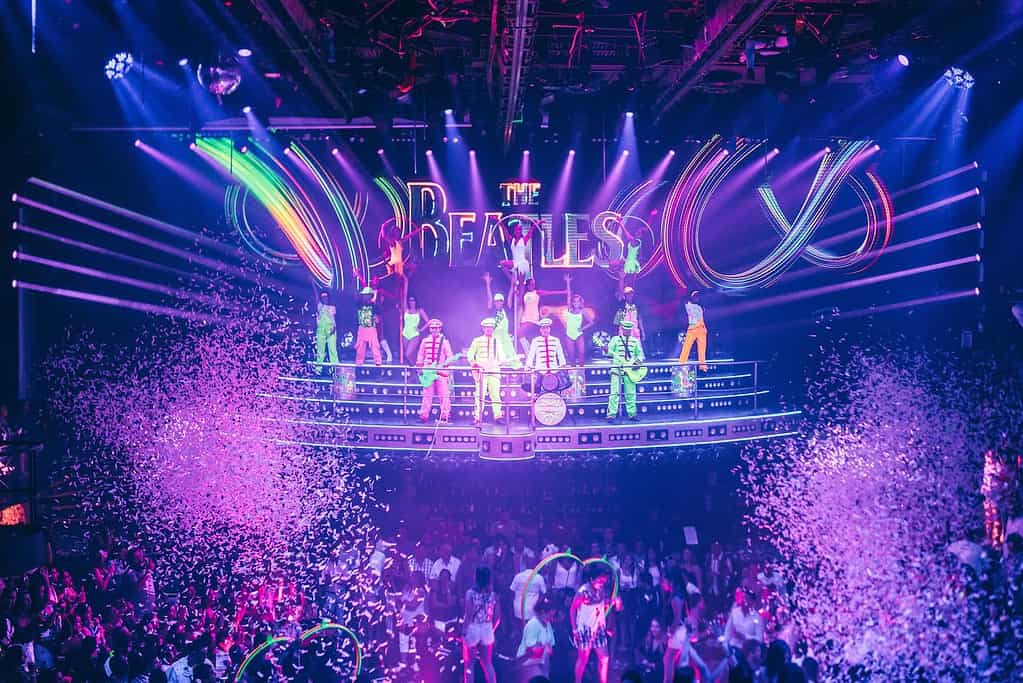 Unique Things To Do in Cancun at Night
Gamble at Dubai Palace Casino
Where to Stay in Cancun
Despite Cancun being considered the largest city in this region of Mexico, there are only two areas all tourists consider staying in.
Both areas are very different from one another, and to travel from either to the other it takes around 20 -25 minutes.
Cancun Town: Also known as Downtown Cancun, here you will find plenty of authentic restaurants, shopping, and bars. It's far cheaper to stay here compared to the Hotel Zone.
Staying here will feel like you're more or less visiting Cancun for what it is as a city, spotting locals/expats going about their daily lives here.
Hotel Zone: You'd like to be right by the beach during your entire visit to Cancun and near all the "action"; this is where most of the nightclubs, restaurants, and lively atmosphere are in Cancun.
The area lacks authentic cuisine; most restaurants are touristy compared to Cancun Town. That also goes for the crowds here, and it's pretty touristy in general.
But it is very convenient for those looking for a stationary beach vacation!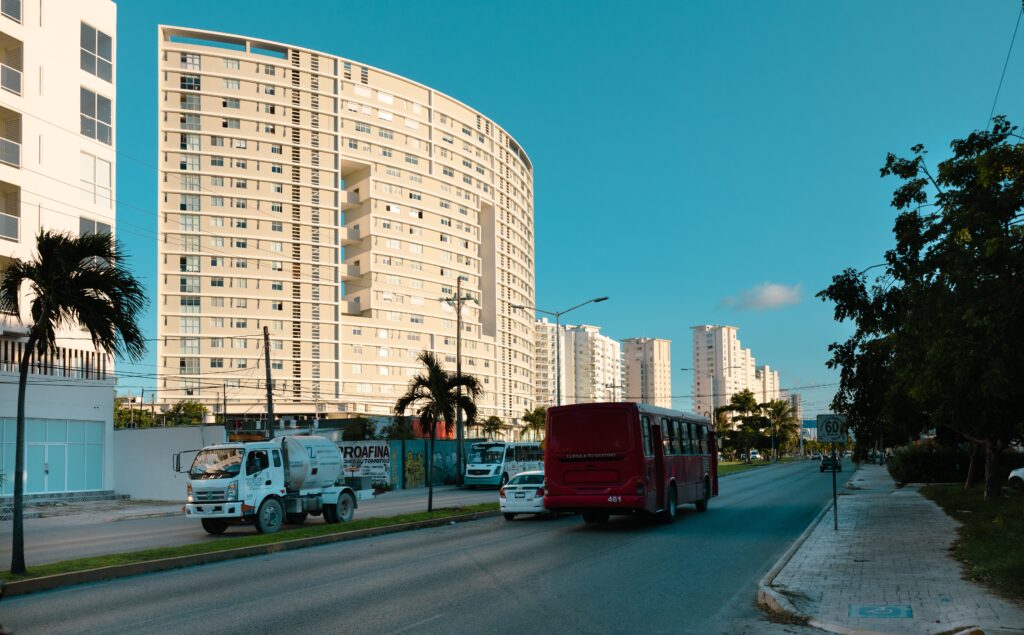 Grand Fiesta Americana – 5 Stars / A large, extensive, luxurious resort conveniently located in the heart of the Hotel Zone, steps away from nightclubs, restaurants, and shopping
JW Marriott Cancun – 5 Stars / Stunning resort with plenty of private beach access located along the middle part of the Hotel Zone in a calmer/quieter area
The Westin Resort – 4 Stars / Located near the end of the Hotel Zone, sitting on a beautiful soft sand strip of land, the Westin is full of amenities
Casa Tortugas Hotel – 3 Stars / Boutique Condo style hotel, offering an intimate vibe rather than a resort one and conveniently located only minutes away from the main part of the Hotel Zone
Selina Downtown Cancun – Hostel / Stunning hostel offering both private and dorm-style rooms in the Downtown Cancun area, nearby parks, bars, and many delicious local restaurants
Selina Hotel Zone – Hostel / Conveniently located in the heart of the Hotel Zone, offering both private/dorm-style rooms, a large pool and great communal space
Is Cancun Worth Visiting? — Final Thoughts
So, is Cancun worth visiting? At least once, yes, it's worth visiting because of its alluring beaches and lively nightlife. But overall, it depends on what type of traveler you are.
Cancun is very touristy and Americanized, with several big-chain companies scattered throughout the city stealing from an authentic Mexican city/town atmosphere you may like to experience.
Cancun is For: If you're looking for a beach vacation with lively nightlife, then Cancun is worth it and a must-visit.
If you're a family/group of friends eyeing a sizeable all-inclusive resort for a one-week holiday, again, Cancun is perfect for visiting.
Cancun isn't For: If you're a traveler who prefers local experiences with a more authentic atmosphere and craves being surrounded by culture. Cancun is not for you, or what you can do is stay one night or two after landing and then make your way elsewhere!
Is Cancun worth going to if your least favorite thing is very touristy places? Definitely not.
Alternatively, Playa Del Carmen is Cancun's less touristy neighboring town, only 1 hour away, offering both a touristy and more authentic cultural experience. However, the resorts and beaches are less beautiful and extravagant than in Cancun!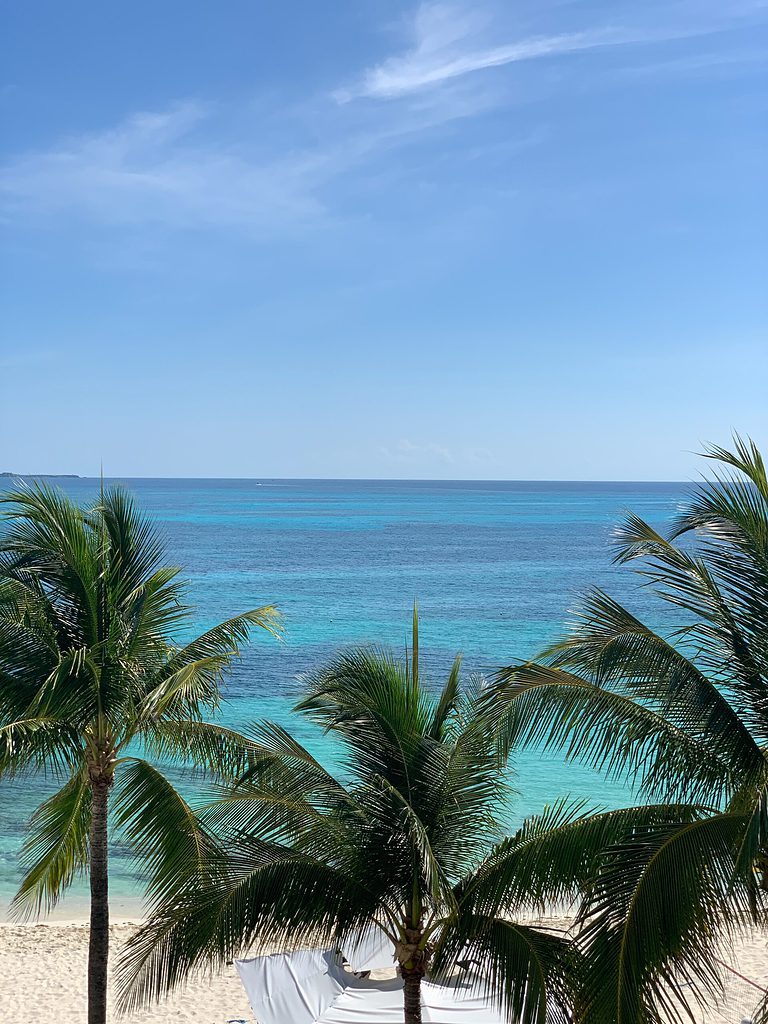 What is the best month to go to Cancun?
Between December and February is when the weather is most ideal in Cancun; these three months are the best time to visit Cancun.
How many days do you need in Cancun?
If you only visit Cancun on your trip, consider at least 5 days. But three days would be enough if you're traveling throughout the region.
What is so great about Cancun, Mexico?
Cancun has many large resorts with exceptional vacation deals throughout the year, and because of this, Cancun has become a very popular vacation hotspot for Americans and Canadians.
What month is the cheapest to go to Cancun?
During the start of the off-season, May and June are both the cheapest months of the year to visit Cancun.
Subscribe to Travel Hiatus!
Receive updates on my latest posts, insider travel tips & the best destination guides to your inbox!
Happy & Safe Travels
---
Planning Checklist
---
Disclaimer: Please note that some of the links shared in this article might be affiliate links; this means that at absolutely no extra cost to you, we will earn a small commission for any sales generated through this article and/or this website. We recommend products/services we've either used or researched thoroughly – Thank you for supporting us so we can continue to share helpful travel content!