11 Best Things To Do in Tulum at Night
Famous for its ancient ruins, turquoise seas, chic establishments, and world-renowned parties going into the early hours of the morning, Tulum is a popular nightlife destination!
Are you planning a trip to Tulum or currently in Tulum and looking for the best things to do in Tulum at night? I've got you covered with this versatile list of things to do at night in Tulum!
Tulum is a top destination, especially through the high season months. Many who travel back and forth between Europe and Tulum say Tulum is the Ibiza of North America. Tulum hosts festivals like Day Zero in January, jungle parties with top DJ talent, and the beach clubs in Tulum are well known.
This guide will cover activities like pub crawls, lively dinners, jungle parties, salsa lessons, and more! — Visiting Tulum for the first time? Here's how to get to Tulum from Cancun.
Bar Hopping in Tulum Centro aka Tulum Town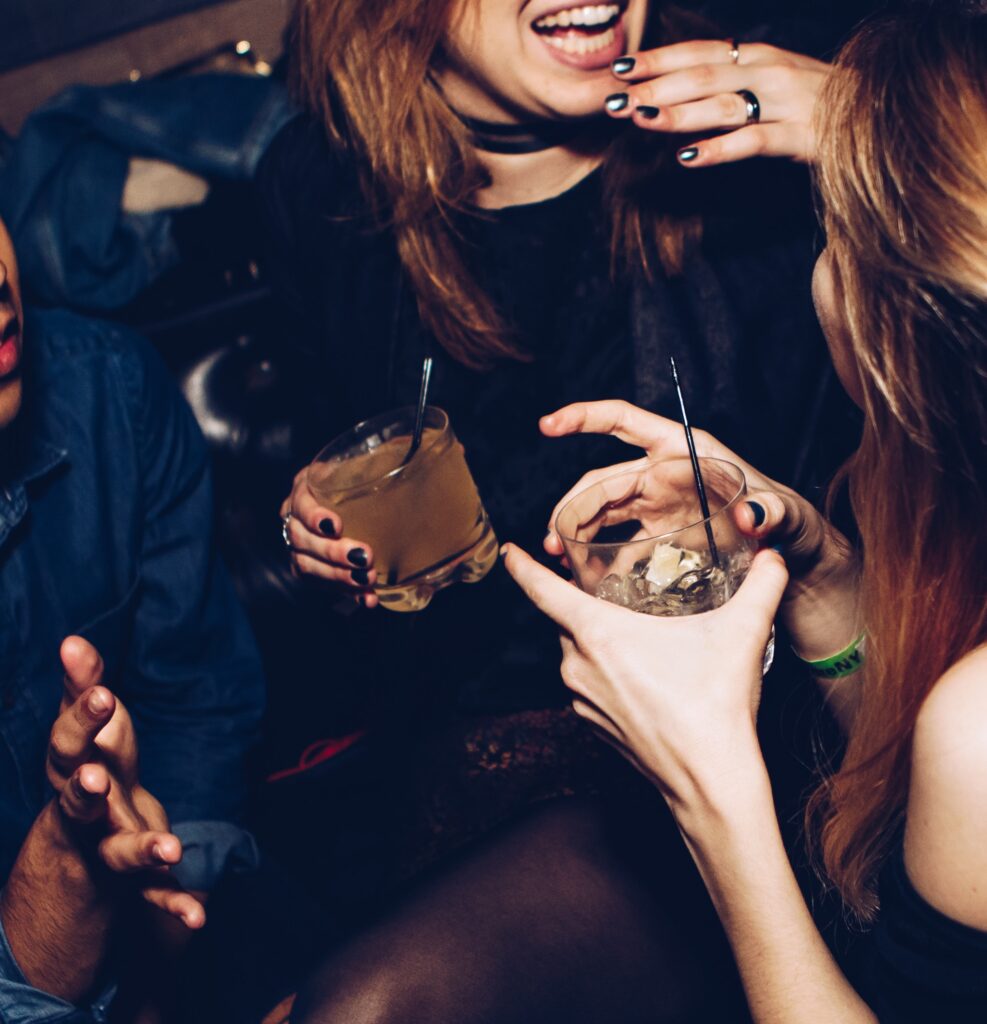 The city center of Tulum, often referred to as Centro or Tulum Town is a street full of several bars, restaurants, nightclubs, and shops selling local goods and souvenirs.
Go to a bar for some drinks, stop by a restaurant for appetizers, and then follow up the evening by visiting a nightclub; the possibilities are endless in Centro. Just make you try the street taco trucks at the end of the night!
Although Centro is a small area, the street has countless establishments to check out.
Best of all, this area is safe to walk at night in Tulum; plenty of locals and tourists walk, dine, and party all night throughout the week in Centro.
The best bars in Tulum Town are Batey Mojito & Guarapo Bar, Tu Mexican Cuisine, and Horus Hookah Bar.
If you're looking to go to a nightclub instead, head over to Santino's or Animal Tulum.
For those traveling solo in Tulum, make sure to visit the hostels in Tulum. They usually have lively gatherings by the bar. The Che Hostel and Straw Hat are two hostels that host some lively events. Another great hostel is the Mayan Monkey, but it's a 20-minute walk from Centro.
Party at Papaya Playa Project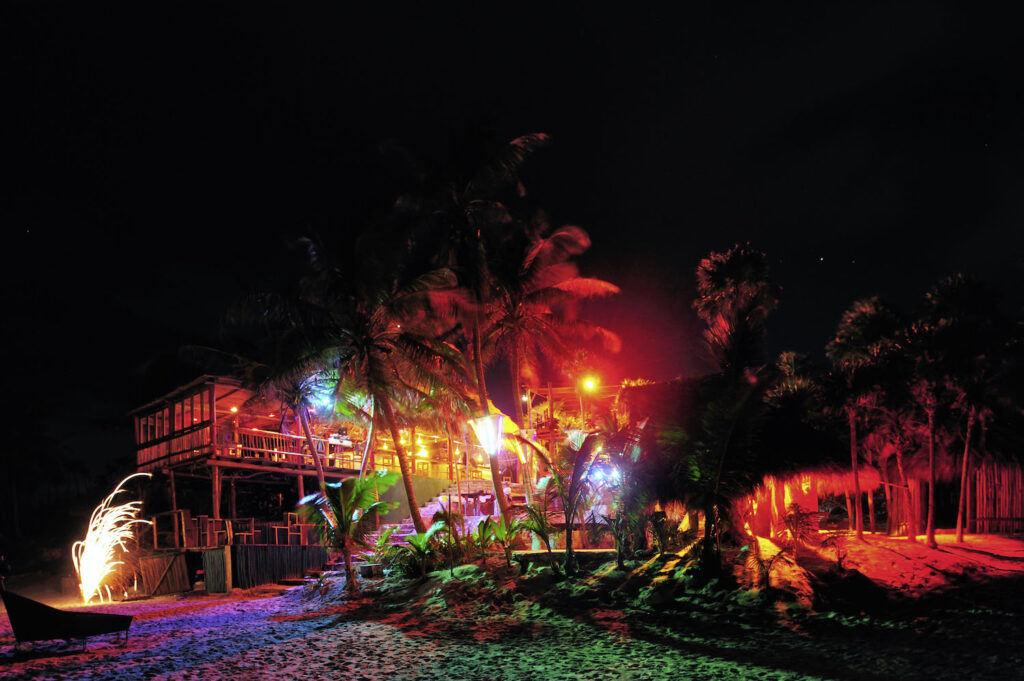 One of the best places to party in Tulum is Papaya Playa Project. This venue hosts the largest and best party in town every Saturday night.
Papaya Playa Project often hosts famous international DJs performing on the beach till the early morning hours of 4:00 AM.
Beach bars located along the beach, music blasting, and the sounds of waves crashing in the background, it's a vibe!
At the end of every last Saturday in every month, Papaya Project hosts a popular Full Moon Party!
Papaya Playa Project is also a hotel and one of the best beach clubs in Tulum during the day.
Evening Drinks & Apps at GITANO
Gitano is one of the best restaurants for drinks and appetizers. Their mezcal cocktails at Gitano's are top-rated in Tulum, and the restaurant operates as a beach club during the day.
If you're looking for an authentic Tulum nightlife experience, Gitano is the place to be on Friday nights. Situated on the jungle side of the beach road, this popular spot offers a late-night party atmosphere with DJs performing from 11:00 pm till the early morning hours.
Gitano is the perfect place to enjoy some Mexican cuisine for dinner and then follow the evening up partying/mingling along the beach. Friday is the most lively night, but they also host smaller parties on Wednesdays, Thursdays, and Sundays.
Walking Food Tour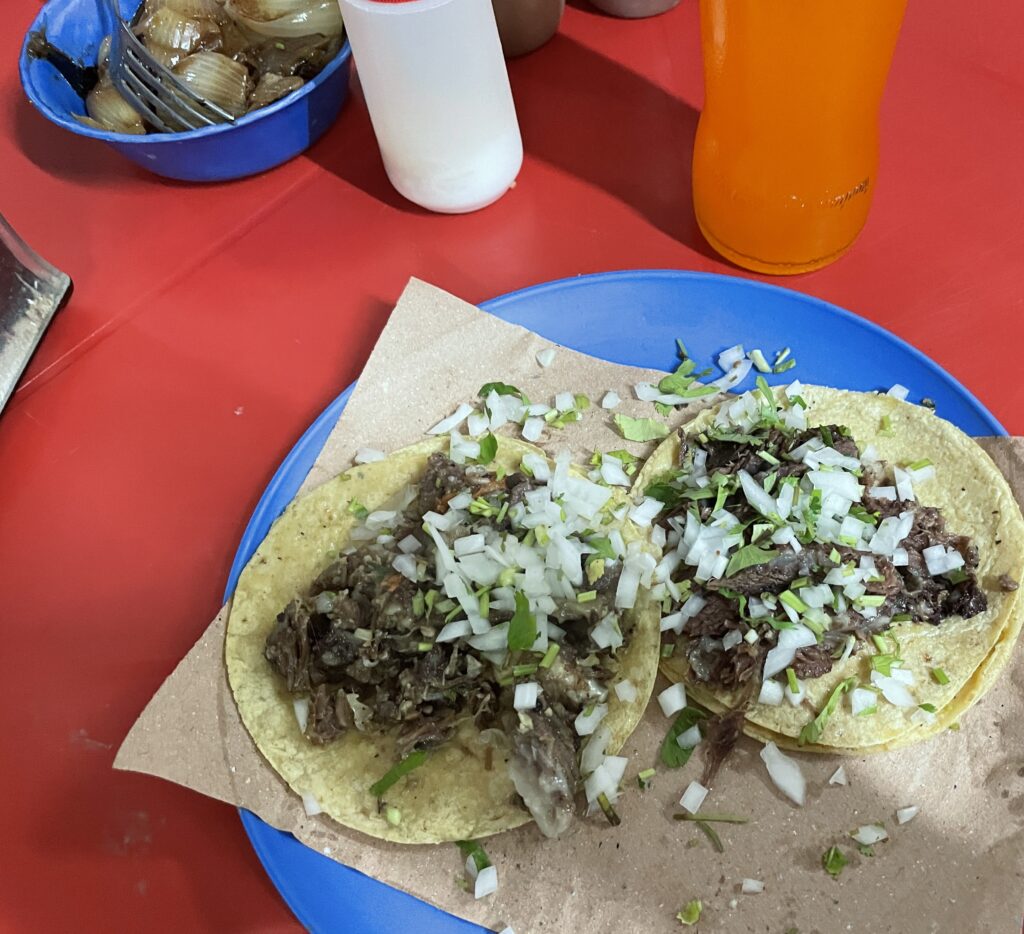 Looking for a more chill activity to do at night instead of partying? Book this walking food tour and experience the delicious cuisine of Tulum.
On this walking food tour, in a small group, you'll eat your way at six different locations and try local favorites.
From tacos de guisado, fresh fruit, tamales, and much more. This tour is perfect for any foodies out there looking to experience the local cuisine and do something different for a change at night!
Go to a Jungle Party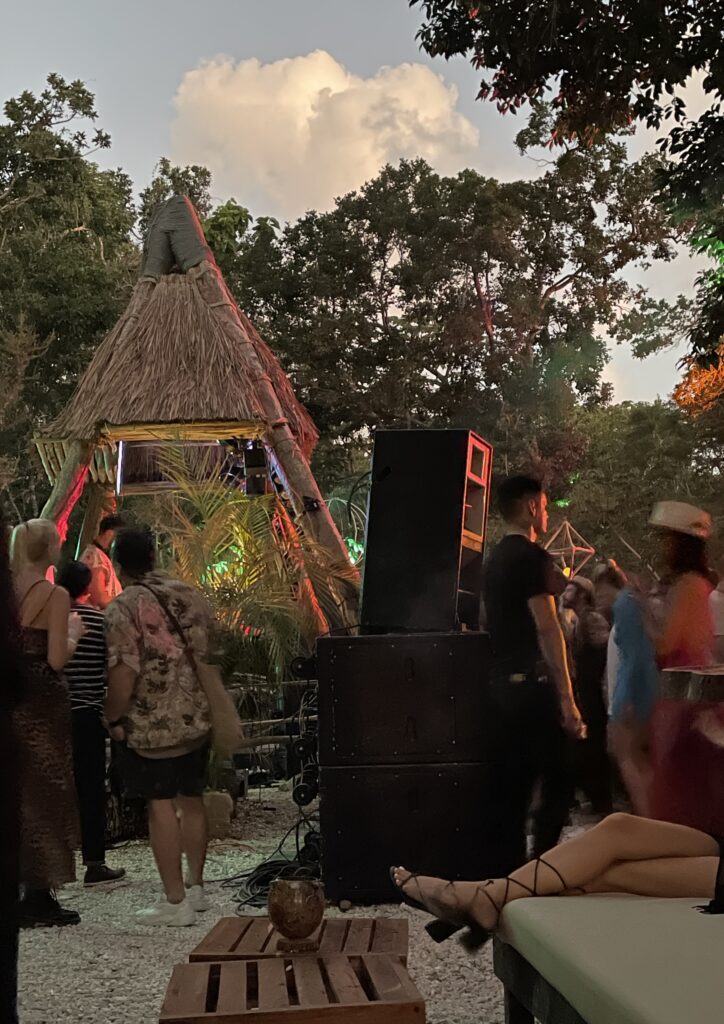 The mystical jungle parties of Tulum that go into the early morning hours, more like the next day in the afternoon, are a must-attend if you're a techno music fan!
For these events, you'll get picked up by white vans from Centro Tulum and taken deep into the jungles of Tulum.
As you arrive, you will hear music from a distance, and once you enter will see a stage, food vendors, and hundreds of party-goers!
With the beats pounding through the night, the lights, and the jungle scenery, it truly is a memorable and fun experience!
The jungle parties in Tulum tend to happen during the high season months, from November to April — Check this Event Page for details and tickets.
Salsa Lessons at La Zebra Hotel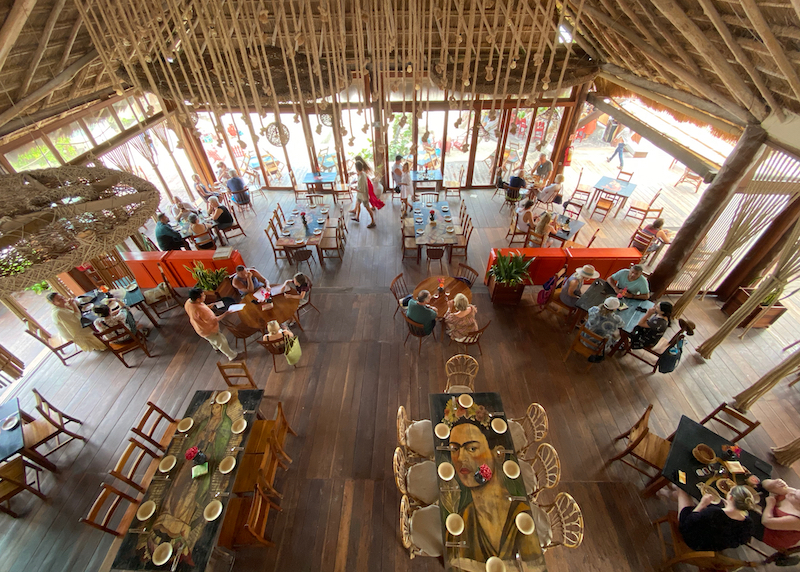 At La Zebra Hotel, they host salsa lessons on the beach every Sunday from 6:30 to 7:30 PM.
After salsa lessons, the party picks up with a live band performance and many guests and locals dancing the night away on the beach.
Singles, couples, families, everyone is here; it's a great environment for anyone looking to have a fun evening on the beach!
Once you've worked up an appetite, head over to Pizza Pazz Tulumunchies, a restaurant nearby serving oven pizzas, classic tacos, and sushi poke bowls.
Le Zebra Tulum is also a hotel you can choose to stay at as well!
Dinner at ARCA / #1 Restaurant in Tulum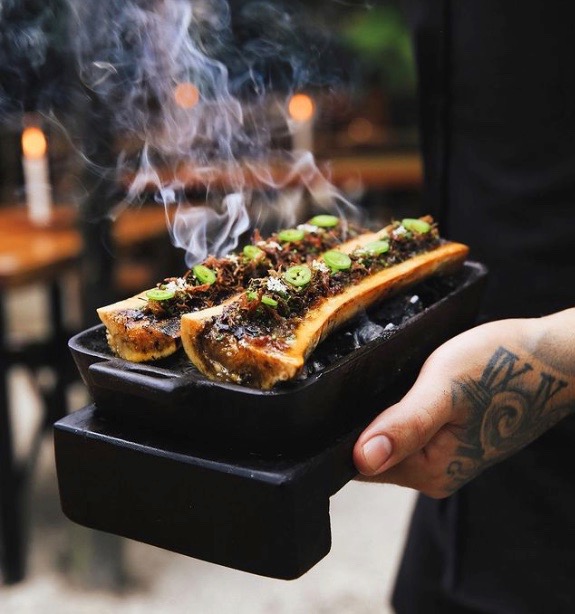 Regarding the best restaurant in Tulum, there's no debate. ARCA is #1; the restaurant was awarded 29th best Latin restaurant in the world in 2022.
ARCA is a restaurant that focuses on serving classic Yucatan food with a modern twist.
Their menu includes unique dishes such as roasted bone marrow with sourdough bread, soft shell crab tacos, sweet potato empanadas, suckling pig, and many other delicious options. The cuisine at ARCA is diverse and offers a contemporary take on Mexican cuisine.
Make sure you try a cocktail or two here; I recommend the Har Mar Superstar and the CheChen, both featuring Mezcal liquor.
Situated along the Hotel Zone of Tulum, ARCA is the restaurant to check out if you're looking to try some delicious food and experience a unique culinary experience in the jungles of Tulum. ARCA Menu, make sure you Book a Reservation!
Looking for more excellent restaurants? Here is a list of the 12 Best Restaurants in Tulum!
Go to a Lively Dinner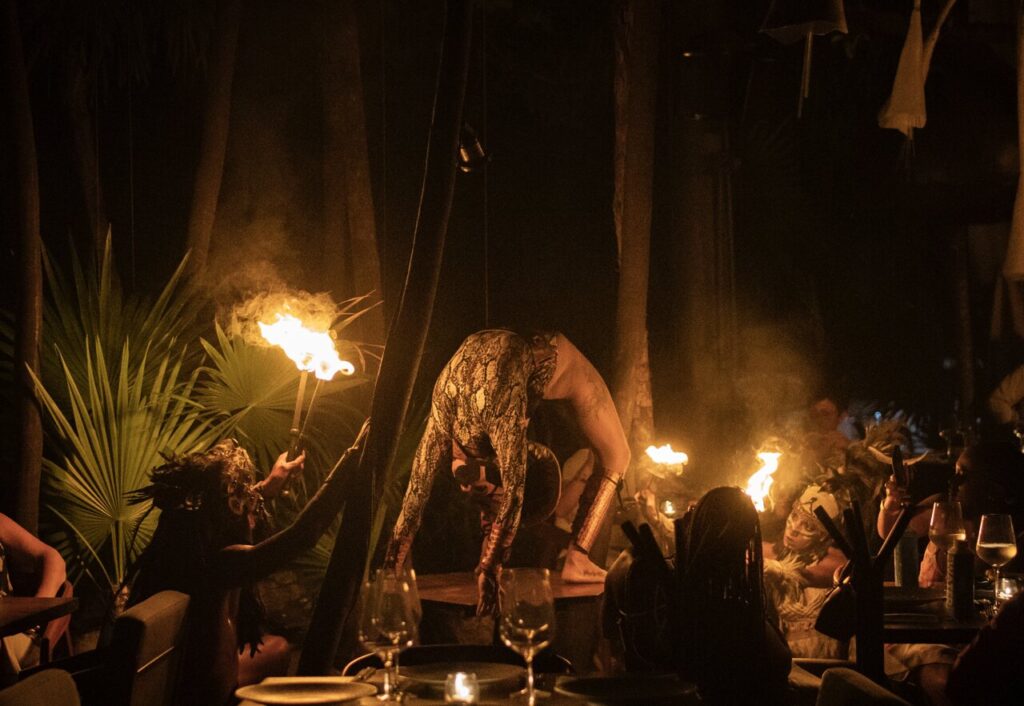 Another way to get your party on in Tulum is to dine at a restaurant offering a lively atmosphere as the evening gets later!
There are plenty of restaurants like this, and most will include various types of performances.
From a DJ, belly dancers, singers, and performers with fire. These restaurants are an excellent place for those looking to go out for dinner and follow their dinner with a party but only till around midnight.
Bak Prime Steakhouse & Raw Bar is an excellent steakhouse located in the Hotel Zone, and after 10 PM, they host live music with a traditional Mayan fire dance.
Casa Jugar is a delicious Caribbean restaurant serving a fusion of flavors with exceptional cocktails; after 11 PM, the restaurant turns into one big dance party.
Ilios is a Greek restaurant serving a mix of Mediterranean flavors, similar to others; after 10 PM, you can partake in the Greek rituals of smashing plates, there's a fire performance, and sometimes a belly dancer or two!
Watch Sports at Draft Sport & Food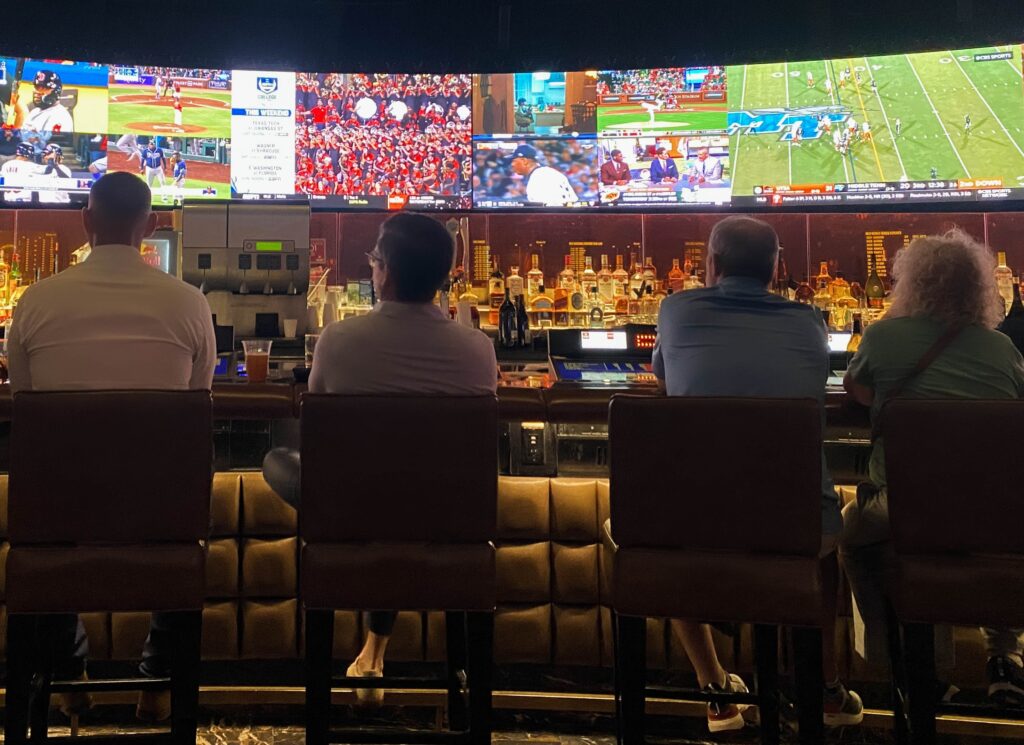 Visiting Tulum but don't want to miss out on a UFC fight night, boxing match, NBA game, or any other spots? Draft Spot & Food is your answer!
This sports bar is located in the Centro, so it's easy to get to. Like a classic sports bar, they have plenty of TVs for you to watch the sport you choose.
They serve everything one craves when visiting a sports bar, wings, burgers, fries, chili cheese fries, and lots of beer; they've also got all the Mexican classics like pico de Gallo, guacamole, and more. Best of all, you can even smoke hookah here!
Check Out a Cenote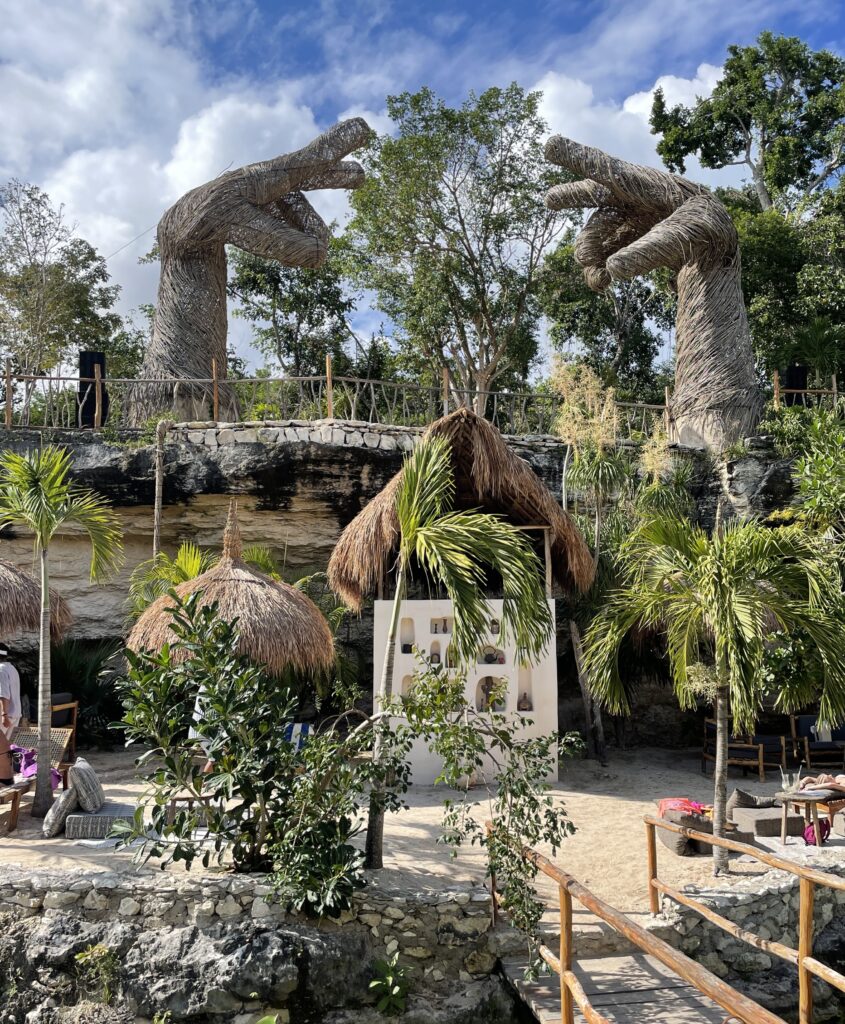 Visiting Cenotes in the daytime and going for a swim in the cool natural spring water is the best way to beat the heat in Tulum.
But at nighttime, some cenotes transform into a late-night adventure. Some host tours and others host parties!
If you aren't familiar with Cenotes, they are sinkholes resulting from natural collapse and are filled with natural spring water. Cenotes hold significance to the heritage of the Mayan people, who once occupied this land. These very cenotes once played a critical role with the indigenous Mayan people. Cenotes were the main source of their drinking water.
Casa Tortuga has a restaurant inside of one of their cenotes, and at night, they've got a DJ performing, with the lights hitting the limestone within the cenote and the water; it's quite spectacular!
When you book a Cenote tour at night, you can expect to participate in a group swim, listen to knowledgeable information from your local guide regarding cenotes in Tulum, and enjoy a candlelit Mexican dinner. Tours can range from $65 to $160 USD per person, depending on the specific experience and tour company you select.
Chill Night with Street Tacos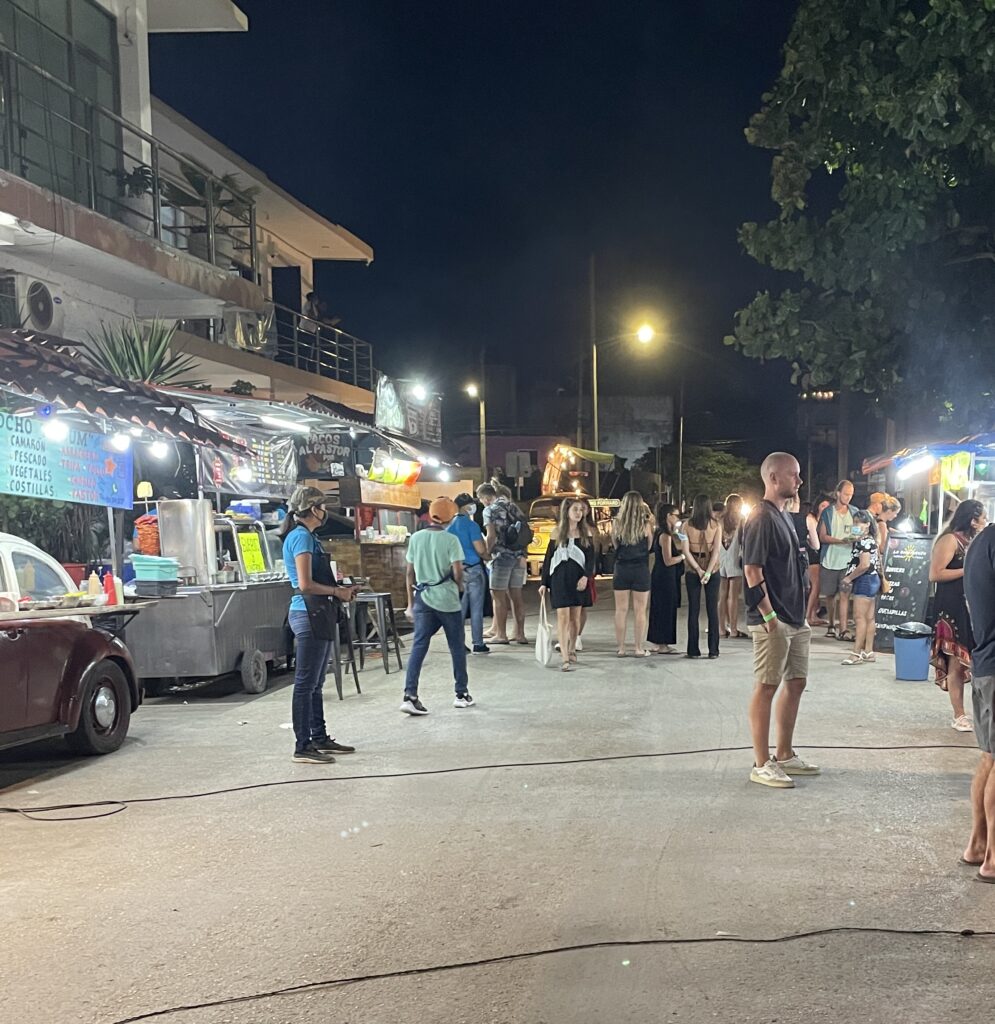 If there's one meal you must have in Tulum when visiting, it's the street tacos from this street in the Centro area. The best part? They're not only delicious, the tacos are very cheap here!
Located right by the OXXO convenience store, there are about six taco carts here, possibly serving the best tacos in Tulum. It's a fun environment with all the taco stalls and a mix of tourists/locals dining, chatting with some late-night tacos. Taco stalls are open till 2:00 AM.
They're also selling gringas, tortas, and all the Mexican classics! Taco/Gringa/Tortas types you'll find here are the classic Al Pastor, chicken, chorizo, steak, lamb, and much more. Some stalls have stools for you to sit quickly and eat.
By the way, if you've never tried a Tortas Sandwich before, I highly recommend you do so. A Tortas is a soft sandwich bun stuffed with your choice of meat, avocado spread, tomato, and Oaxaca cheese, and you can add hot sauce to it. I know it sounds basic, but once you try it, you'll want more!
Every time I return to Tulum, I first come to this small street full of taco stalls and get some tacos or tortas from a few different stalls.
Looking for more cheap eats in Tulum? Check out my guide on the best restaurant in Tulum; scroll down; I've added a few cheap eats in Tulum there.
How to Get Around Tulum at Night
The best way to get around at night in Tulum is by taxi; there's no other way.
Unless you've rented, a car and someone in your group will be driving. In the daytime, there are more ways to get around Tulum.
TAXI TIP: Taxi drivers in Tulum can be difficult at times. By difficult, I mean their looking to take advantage of tourists. When you agree on a price with the taxi driver, make sure to reconfirm the agreed-upon price before entering the taxi.
If you're curious if UBER is available here, it was recently legalized within the region, and the app works. Still, taxi drivers and cartels have made Uber unsafe to use because of targeted attacks against Uber or any-ride sharing service. Don't use UBER in Tulum.
Besides Tulum Centro area, which is full of tourists visiting many bars and restaurants at night, it's best not to walk around in Tulum at night. Always take a taxi back to your hotel or house rental.
Tulum Areas
Tulum has three different areas, and all three areas are next to one another, with Centro first, Aldea Zama being in the middle, and the Hotel Zone being by the beach.
Choosing which area you'd prefer to stay in is important so you're closer to what you want to do at night!
Tulum Hotel Zone: For those who want to be close to the beach, the downside is other than beach clubs, fancy chic restaurants, and the beach, staying here means you're the furthest from Centro.
Aldea Zama: This is the most popular area in Tulum; it's in the middle between Centro Tulum and Hotel Zone; staying here means you're conveniently between Hotel Zone and Centro Tulum.
Centro Tulum: Staying in Centro means you're close to all the restaurants, bars, shops, hostels, and more. It's very convenient, but you will be furthest from the beach among the three areas. – Centro Tulum is also referred to as Tulum Town and Tulum Pueblo.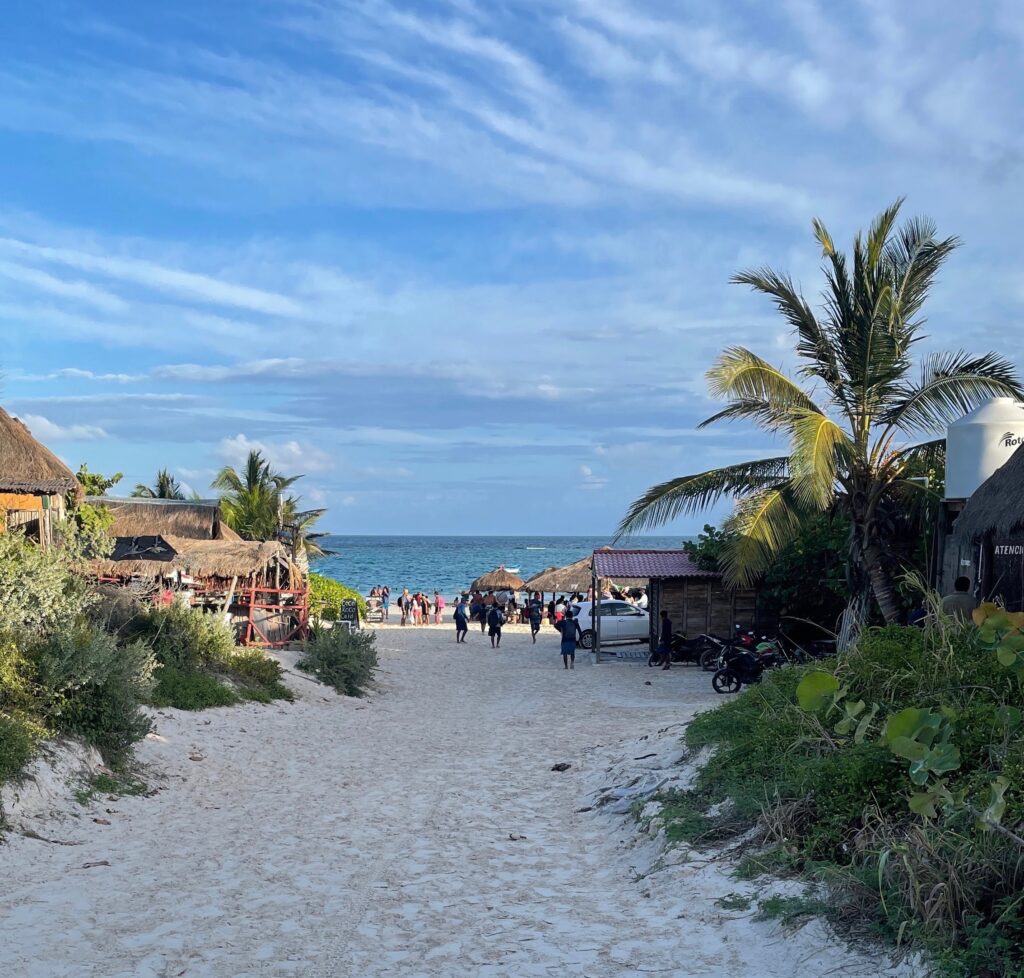 Tulum Nightlife Tips
Take a Taxi – Always take a taxi at night, no matter what, unless you're walking in Centro from one place to another and your hostel/hotel is in Centro. And stick to well-lit streets
Make a Reservation – Tulum is a popular place, especially in high season, and restaurants get crowded; avoid the hassle and make a reservation
Take advantage of Happy Hour – Many restaurants and bars in Tulum promote happy hour specials, take advantage of this and enjoy an afternoon of cheaper cocktails/food
Dining Tip Scam – Keep an eye out for this scam; Some restaurants or clubs will add a very high tip amount if you're drunk and you're choosing to pay by card
Corrupt Cops – Nothing to fear, but they exist in Tulum. You're likelier to run into them while walking on random streets at night. Also, make sure to never be too intoxicated in Tulum; this will make you a target for a bribe
Is Tulum good for Nightlife?
Tulum has an excellent nightlife. It's one of the best places in the world nightlife-wise, especially in the high season months from November to April.
Excellent beach clubs, many bars, fancy restaurants, unique parties happening in the Tulum jungle into the early morning hours, and festivals. There's a reason many international DJs frequent Tulum throughout the year.
Is Cancun or Tulum better for Nightlife?
While Cancun and Tulum are similar, each city has a nightlife that is more suitable for some.
The nightlife in Cancun is quite versatile, and there are more nightclubs than in Tulum playing all types of mainstream music, more bars to choose from, and even a casino in town.
Tulum alternatively has its own nightlife more suitable than Cancun for those traveling solo and staying at hostels; hostel parties in Tulum are much better than in Cancun.
For those who enjoy Techno music, Tulum has a strong techno/house music scene. Lastly, Tulum has its jungle, beach and cenote parties, a unique experience that Cancun doesn't offer!
How much are clubs in Tulum?
It depends on whether you're going to a nightclub or a unique party in the jungle. Entry and tickets can cost anywhere from $20 to $200 US depending on the nightclub or event.
Is Tulum a party place?
Tulum is known for its party, and many visit Tulum for its famous nightlife. But if you're looking not to party, there are several things to do in Tulum at night that won't have you out till the early morning hours.
Subscribe to Travel Hiatus!
Receive updates on my latest posts, insider travel tips & the best destination guides to your inbox!
Happy & Safe Travels
---
Planning Checklist
---
Disclaimer: Please note that some of the links shared in this article might be affiliate links; this means that at absolutely no extra cost to you, we will earn a small commission for any sales generated through this article and/or this website. We recommend products/services we've either used or researched thoroughly – Thank you for supporting us so we can continue to share helpful travel content!