8 Best Playa Del Carmen Restaurants
There are so many great flavors to discover in Playa Del Carmen. Playa Del Carmen restaurants sure do deliver not only excellent Mexican food but also international cuisine.
The beach town has gained quite a bit of popularity over the years, attracting tourists worldwide. That's why it's become a city full of international flavors.
While there is international cuisine in Playa Del Carmen everywhere, such as Lebanese, Brazilian, Thai, Italian, and many more, it's important to note that at the end of the day, the best food in the city is Mexican food. You're in Mexico, after all, and the other cuisine cannot compete with the local cuisine.
But I understand if you're visiting for over a week or so, it's nice to switch things up and eat other foods. That's precisely why I've included flavors from around the world in this list of the best Playa Del Carmen restaurants.
I've spent as long as much as one to two months every time I've visited Playa Del Carmen throughout the years, and I'm quite the foodie. So when visiting, I always research and try the best restaurants in Playa Del Carmen.
After many visits, I now know the food scene in Playa Del Carmen well. Also, several friends of mine are locals as well, which helps too!
The best part about visiting all the Playa Del Carmen restaurants is they're all within the main downtown core and walkable. Other than one restaurant on my list, ALUX restaurant and bar, to be specific.
Also, I must note none of the top 8 restaurants below are on the popular 5th Avenue Street, but they're close to it. That's a good thing. Any restaurants on 5th Avenue make for a loud dining experience.
This is an ordered list, from top to bottom, despite not being numbered.
At the bottom of the article, I will include some of the best Playa Del Carmen restaurants by popular food categories, such as Mexican and seafood.
Here are the restaurants in Playa Del Carmen you must absolutely consider when visiting!
El Fogon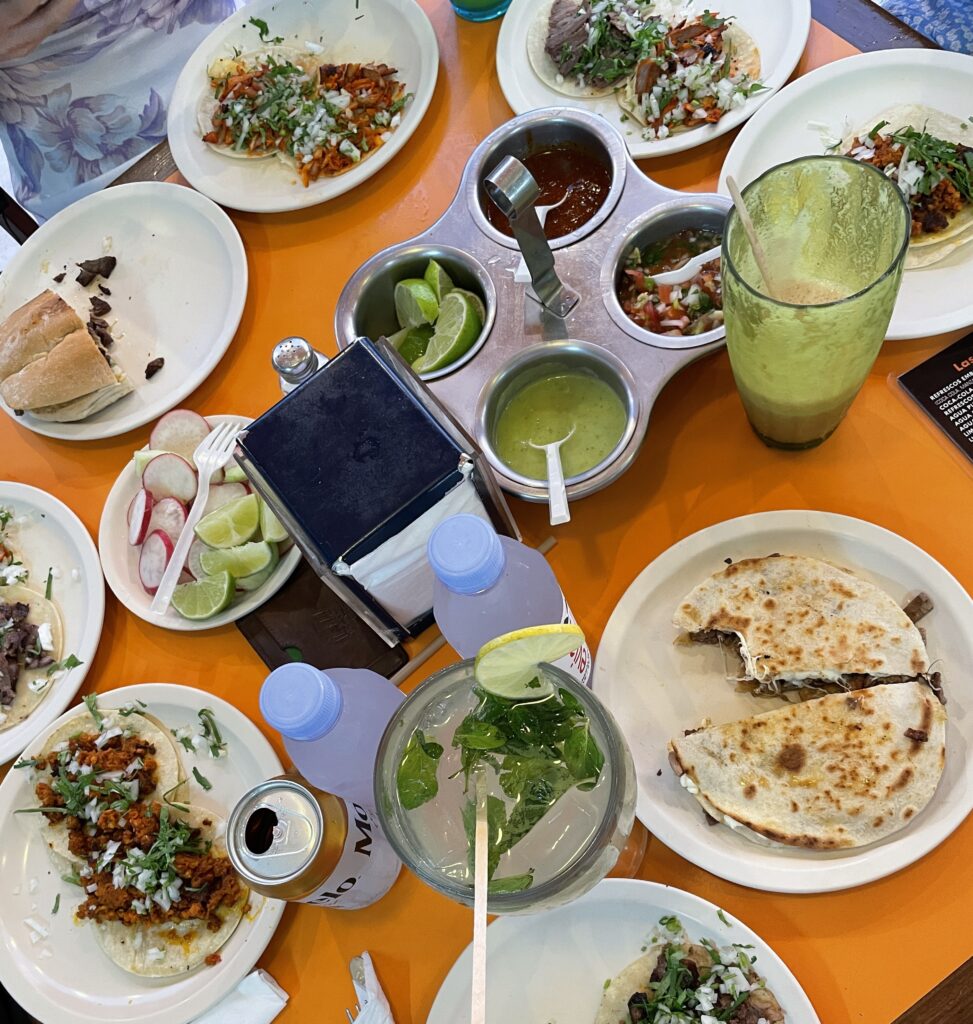 It doesn't get better than El Fogon in Playa Del Carmen. El Fogon is a popular authentic Mexican restaurant serving up the best tacos, fajitas, tortas, gringas, nachos, and much more.
The menu here is quite extensive, and it all tastes great. I've been here so many times over the years.
Through the years, El Fogon has become a staple in the city. Everyone knows it, and locals love it as well. It's highly rated, but for a good reason.
What you should absolutely order are the Al Pastor and Sirlion tacos. They've also got several different cuts of beef; I'd recommend you try them all. Also, the gringas are amazing; it's a tortilla grilled with meat and other toppings inside.
Also, ensure you get a tortas sandwich with Oaxaca cheese with steak; this sandwich makes me want to move to Playa Del Carmen. It's a sandwich with grilled meat, guacamole, tomato, and Oaxaca cheese; then, you can top it off with some pico de Gallo or hot sauce.
Make sure to order a Margherita here; they're huge!
I've eaten at over 20 different taco locations in Playa Del Carmen, and I keep coming back to El Fogon because none even come close to them. Don Sirloin is a popular competitor but doesn't even come close to El Fogon.
No reservation here; you need to show up, and don't be surprised if you have to wait in line for a few mins.
The city has two locations, the original and a second location. I prefer to always go to the original, with no specific reason, though it is bigger.
PRIMO
Primo is a modern Mexican restaurant serving up several delicious dishes, from grilled fire-flamed octopus, BBQ brisket, braised duck, suckling pig, and more. Also, make sure to order the smokey mezcal cocktail.
Primo sources everything closely and organically, so the menu is limited and is an in-season menu. But regardless of what is on the menu or isn't, the quality at PRIMO is great. After going once, I've gone back several times.
The restaurant is open-air, so you're dining outside when there. Many seats directly view the open-air kitchen, and you can sit and watch your food being cooked; the best view is at the bar.
The food, and the kitchen concept, PRIMO is definitely one of the Playa Del Carmen restaurants; you should pay a visit.
Some nights, a local singer is performing, which makes for a romantic touch for the restaurant!
You may want to make a reservation here; it gets busy most nights.
Trattoria del Centro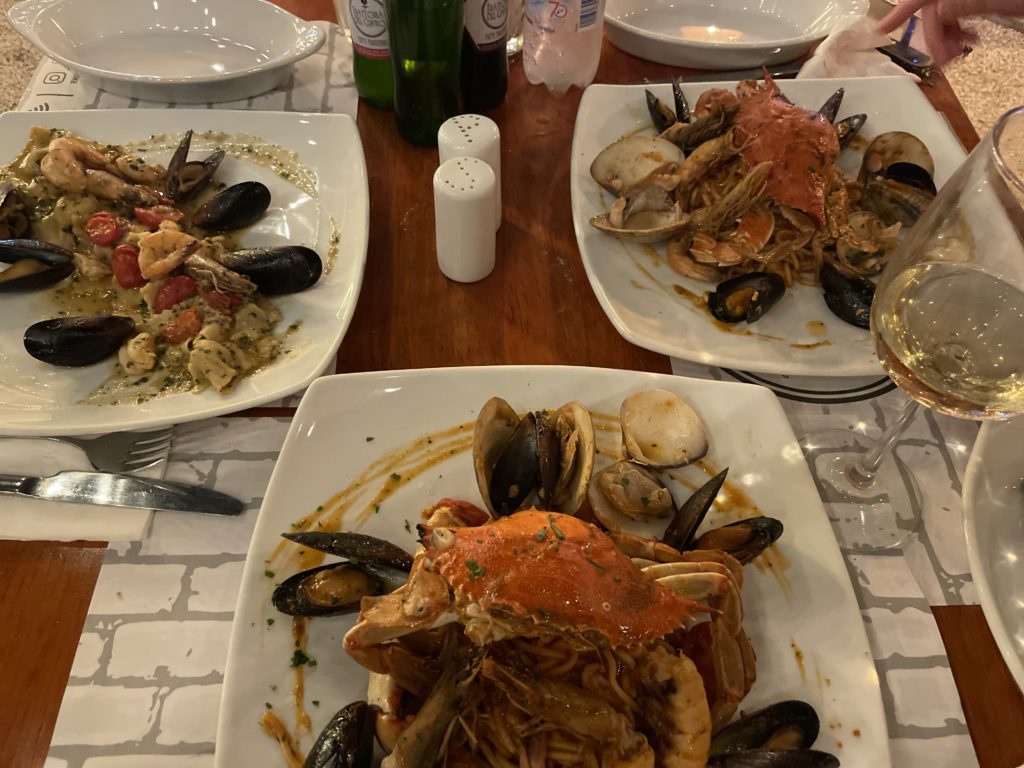 Trattoria del Centro is by far one of the best Italian restaurants in Playa Del Carmen. I've visited many Italian restaurants in the city, and there are quite a few. Italian food is popular everywhere in the world, after all.
Like any Italian restaurant, you've got a large selection of pasta, wood-fired oven pizza, risotto, and much more.
My personal favorite was their seafood pasta. What also had me returning was the pizza. I'm picky with my pizza. For reference, I've eaten at the top 10 pizza spots in NYC twice each.
Also, the decor had a fancy atmosphere to it; the floor was full of pebble stones, the white decor gave me a Positano, Italy vibe, and they've got a local singer every night.
To get a fix for your Italian cravings, come to Trattoria del Centro. It's right off 5th Avenue, so it's very close.
If you're looking for a quick slice of delicious pizza, I recommend La Famigilia, pizza is great, and they sell it by the slice also! – Perfect quick lunch after the beach
You can make a reservation here, but if you avoid coming on weekends, you can usually get a table immediately or wait a few minutes.
Rockas Jamaican Kitchen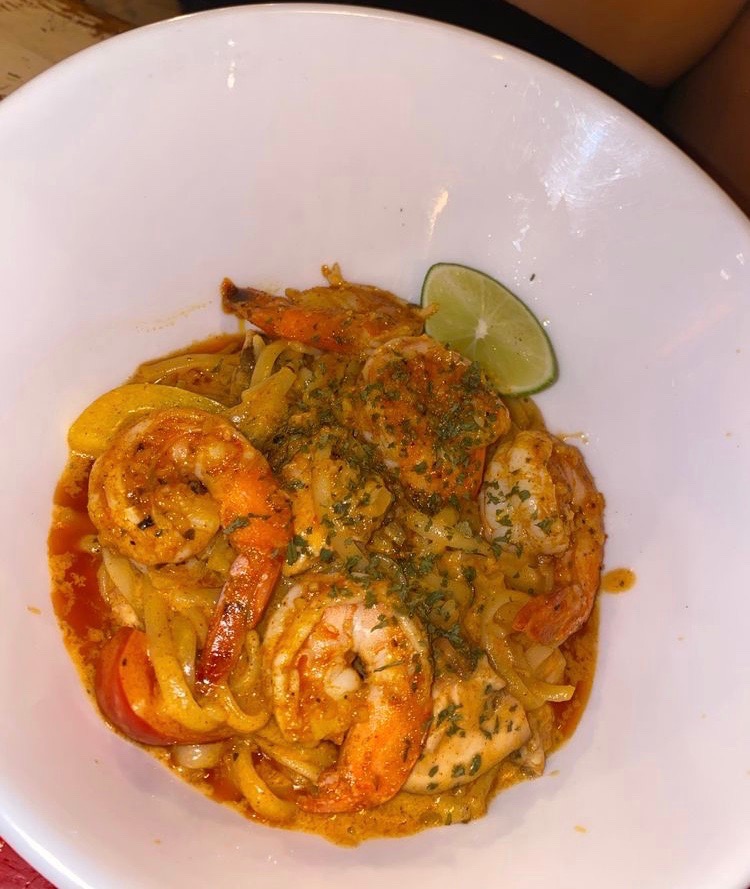 I bet you didn't think you'd find excellent Jamaican food in Playa Del Carmen; honestly, neither did I.
But Rockas Jamaican Kitchen is not only one of the best restaurants in Playa Del Carmen, but it has some of the most excellent Jamaican food I've had anywhere!
Rockas has all of the Jamaican classics, excellent jerk chicken, Jamaican patties, seafood pasta, coconut shrimp, and so much more.
My favorite is the Rasta Pasta Special; it has a rich chicken and cajun shrimp flavor. Also, make sure you get papaya juice here!
The couple who owns this restaurant comes from Toronto, Canada, which explains the Canadian flag on the front.
I came here because friends of mine are friends with the owners, and I continued to return because the food and hospitality are great here.
It's a dinner restaurant, so it only opens after 5:00 PM, and this is a place you MUST make a reservation restaurant, or else you most likely won't get to visit. And trust me, you should; it's worth the visit!
Call in to Make a Reservation
Alux Restaurant Bar and Lounge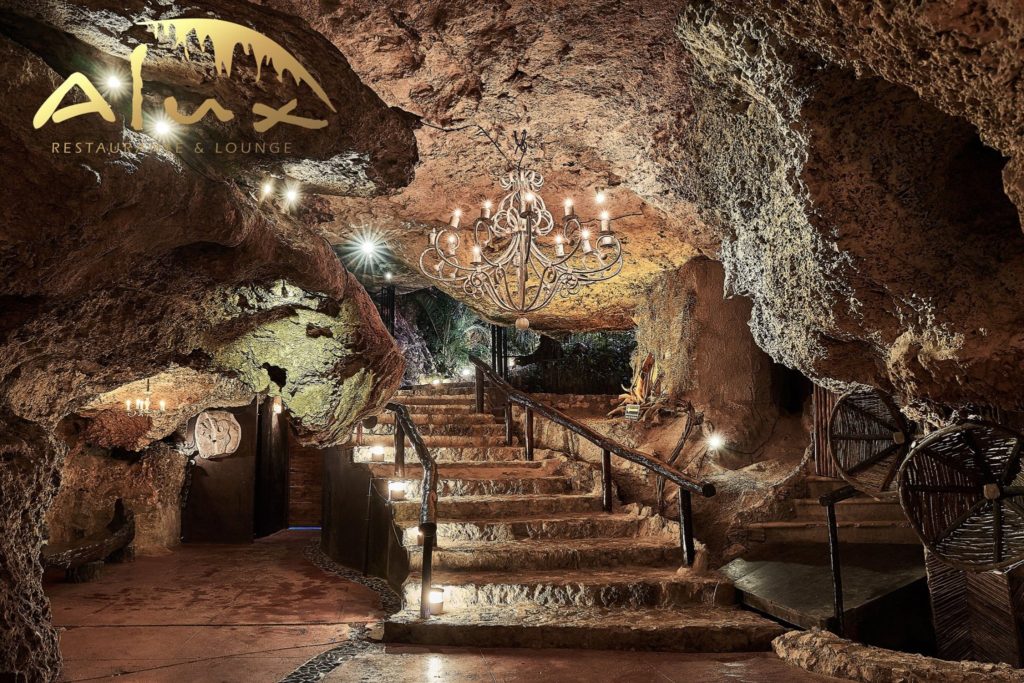 ALUX is a famous modern Mexican restaurant located inside a cave. If you google "Playa Del Carmen Restaurants cave," it's not like there are several restaurants in Playa inside caves; it's just ALUX. But nonetheless, because of how popular it is, there's become an assumption that this is true.
The restaurant is quite big and takes up the entire cave. There is a restaurant section, a bar/lounge area, and even a cenote in there! It's quite a site to see; I will say that. Overall it's quite a romantic restaurant, so if you've got a special occasion, this is the place to come!
ALUX is most well known for its lobster risotto, beef fillet, and salmon, amongst many other modern Mexican cuisines. The food presentation here is above and beyond, but it is also very tasty.
Before going, I was worried it was one of those only food presentation-type restaurants. And I'm glad it wasn't!
It's a fine dining restaurant, so this isn't a place you would come to for a casual dinner night! They've got a minimum of 1,600 Spend Per Person last I was there; that's about 90 US.
La Cueva del Chango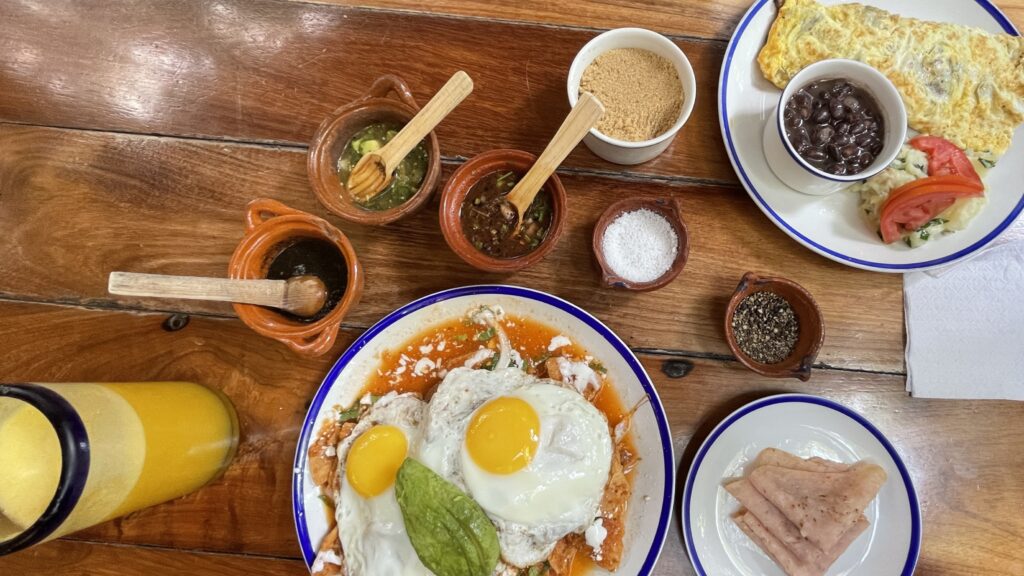 La Cueva del Chango has been around for years; it's a Mexican brunch spot serving up all classic Mexican breakfast/brunch dishes. Huevos motulenos, enchiladas, Huevos divorciados and my personal favourite Chilaquiles (made several different ways).
One of the times I visited, I was waiting in line, and I spoke with a local woman who explained to me how Playa Del Carmen was barely built 20 years ago, and La Cueva del Chango was there back then. She's been coming here that long.
I've always said restaurants have something special there when they pass the test of time. La Cueva del Chango is one of the highest-rated Playa Del Carmen restaurants, and the best brunch restaurant in Playa, no debate here.
Similar to El Fogon, La Cueva del Chango has many high rankings, and it's justified; the food is excellent here. The atmosphere is great here, too. The restaurant is surrounded by trees, giving a jungle-like vibe.
You must visit the restaurant for breakfast or brunch at least once.
I don't believe they take reservations; you must show up, put your name on a list, and wait! It's worth the wait.
No Reservation, Show up and Get on the List
El Oasis Seafood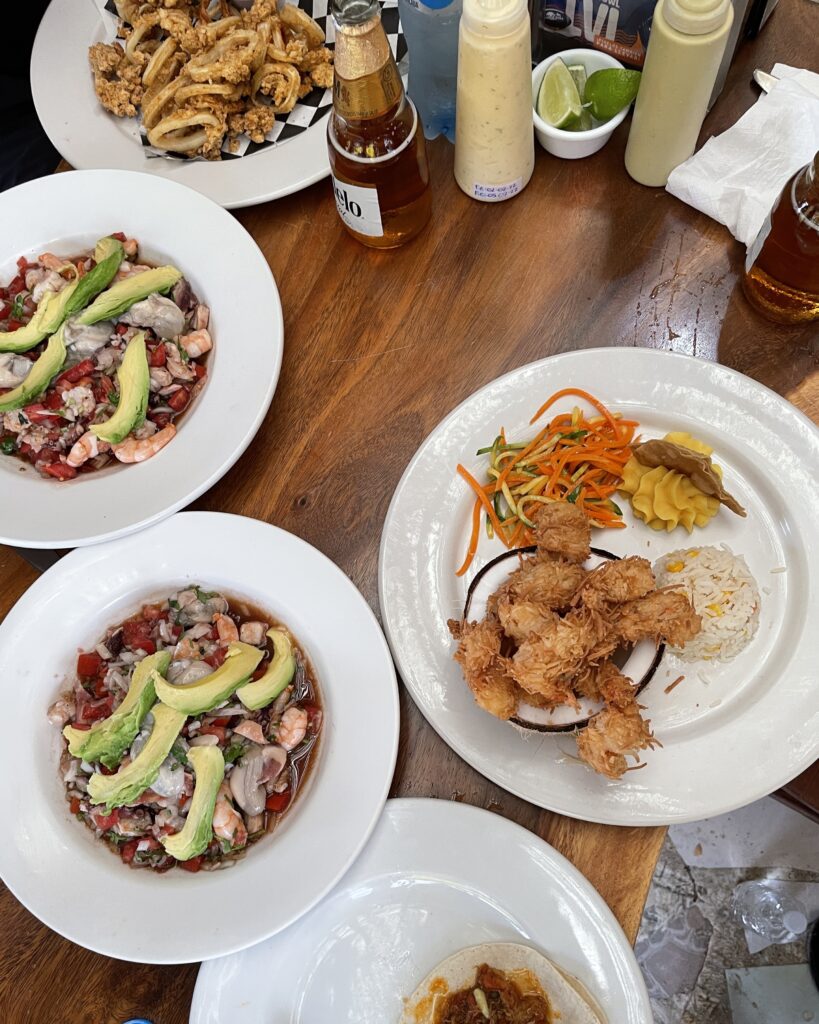 The best seafood restaurant in Playa Del Carmen is easily El Oasis Seafood. They've got two locations.
The original location is by the highway, I will share that below, and their other location is close to 5th Avenue in the city center. I've been to both, and the original is larger, so the menu was bigger.
They start you off with this orange drink in a shot glass, which seems to be a type of seafood broth that's standard in seafood restaurants in Mexico. It's delicious, and I ordered two more after.
Seafood is abundant here, it's what they do, from crab tacos to fresh fried fish, Mexican ceviche (you have to order the ceviche here), popcorn shrimp served in a coconut with mashed potatoes, calamari, and so much more.
There are many seafood restaurants in Playa Del Carmen; after Mexican food, such as meat-oriented dishes, Mexican seafood is the second most well-known cuisine type here.
I will share several other seafood restaurants I've enjoyed in Playa Del Carmen as well, but El Oasis Seafood was the best seafood restaurant in Playa Del Carmen.
You don't have to worry about reservations coming here. You may have to wait but not more than 5 mins usually!
El Oasis Seafood (Original Location)
El Oasis Seafood (Centro Location)
PO THAI Restaurante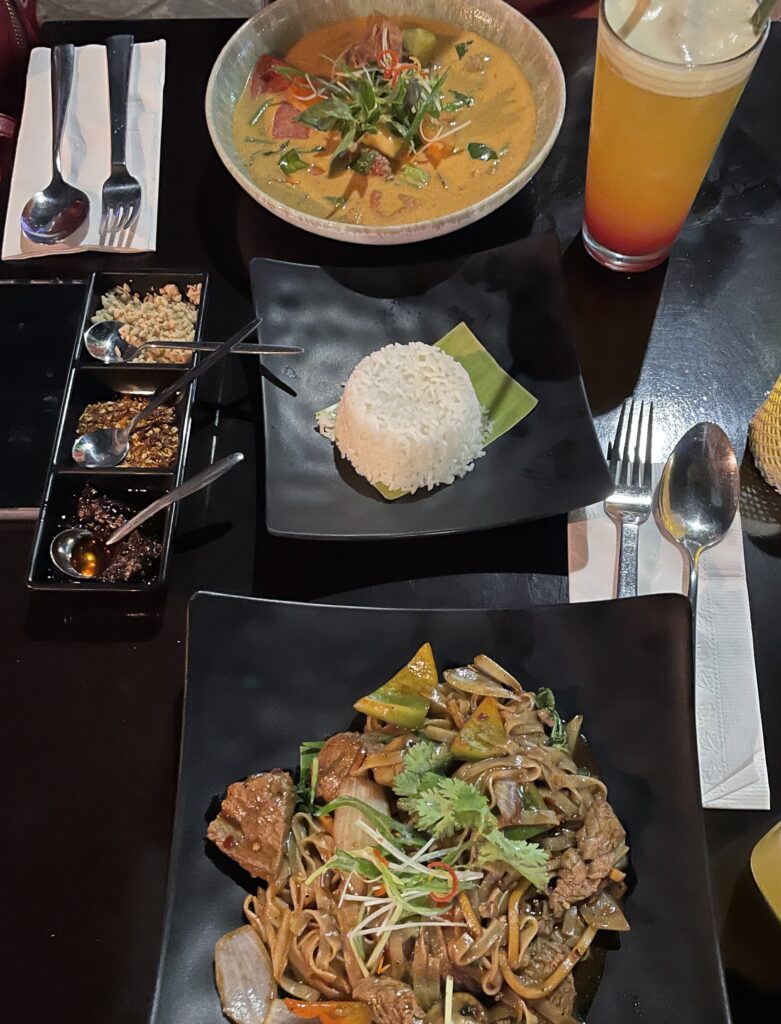 Remember when I said earlier in this article that there was a lot of tasty international cuisine? PO THAI is a perfect example of that.
I've been to Thailand and can honestly say PO THAI serves up some of the best Thai food I've had.
They've got all the classics here, Tom Yum soup, Pad Thai, soft-shelled crab, Masaman curry, and many more classic Thai dishes. I tried several dishes there a few times; everything tastes great, and the service is great here!
Sometimes when you're on vacation or even staying in a city for a few weeks, you want to switch it up; PO THAI is a great place to do that!
You can make a reservation here; most times, we've shown up and been able to find a table!
Before Visiting Playa Del Carmen – Browse My In-Depth Playa Del Carmen Guide!
Best Playa Del Carmen Restaurants – By Category
Taco Restaurants
When it comes to famous Mexican food, I'm sure you can agree it's hard to argue that tacos are the most well-known. Well, Playa Del Carmen is not short of amazing taco restaurants to visit.
Here are the best taco restaurants in Playa Del Carmen and why you should check each one of them.
El Fogon – (it was first on my list, it's a must-visit)
Birria de la 30 – (they got Birria consume, and birria tacos; google it, if you're not familiar)
Don Sirloin – (they specialize in several beef cuts but also have al pastor tacos too)
Taqueria Viva Mexico – (a local family-run, humble restaurant full of great food, get the fajita here)
Taquerias El Nero – (popular amongst locals, famous for dollar tacos & different meat cuts)
Los Tarascos – (famous for their al-pastor mini tacos)
RELATED: 9 Best Tacos in Playa Del Carmen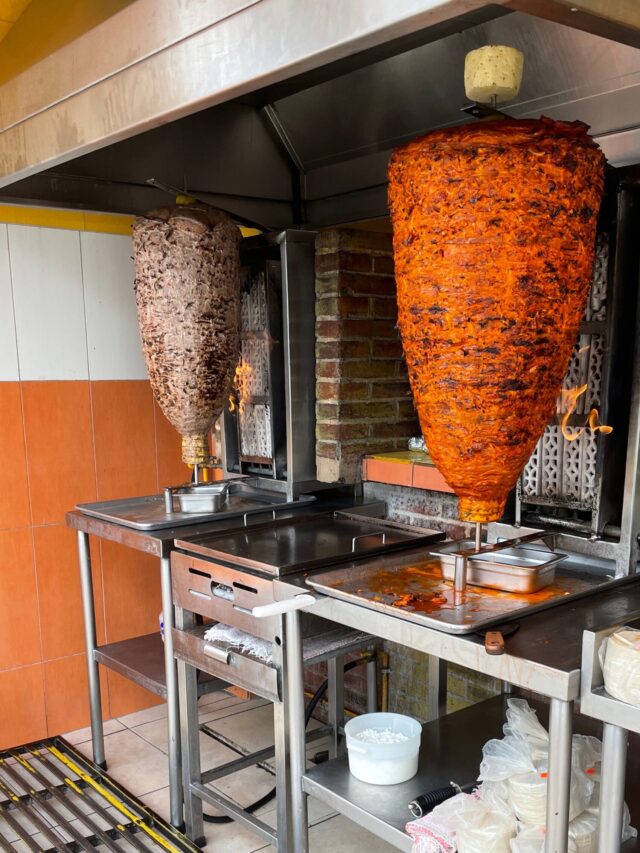 Seafood Restaurants
Seafood is famous in Playa Del Carmen. You're visiting the Quintana Roo region when in Playa, seafood is a prominent food type in this region; it's incorporated into several dishes in the Quintana Roo and Yucatan regions.
The seafood here is fresh as can be. Here are a few of the top rated restaurants in Playa Del Carmen for seafood!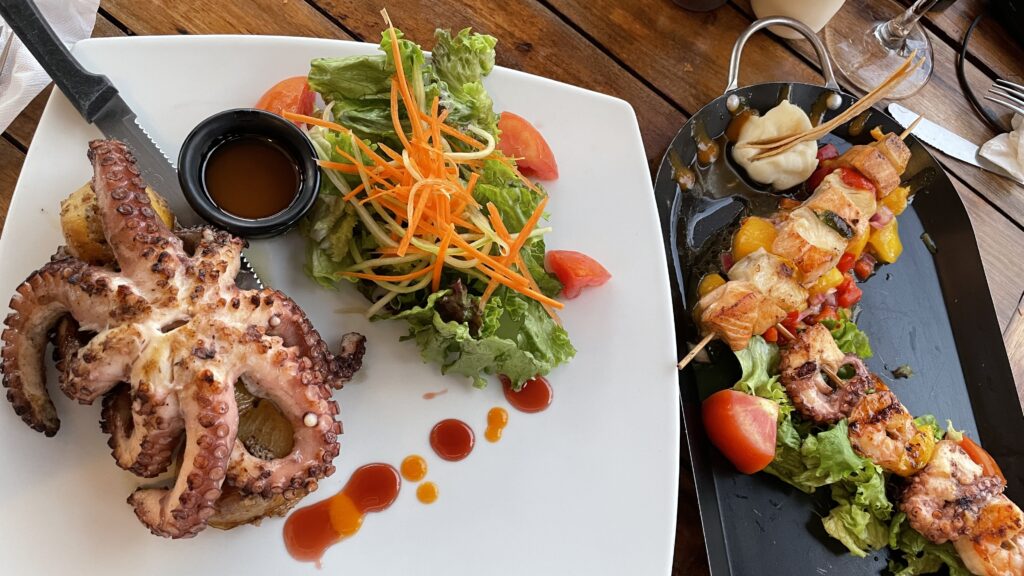 El Oasis Seafood – (included on the list)
Chiltepin Marisquillos (photo above)
La Floresta
La Fisheria de Aquiles Chavez
Los Aguachiles
Mariscos y Clamatos El Doctorcito
Breakfast Restaurants
A list of restaurants isn't complete without at least a few Breakfast recommendations!
Here are a few of the top restaurants in Playa Del Carmen for breakfast! – Make sure you eat Mexican Breakfasts when visiting!
La Cueva del Chango – (included on the list)
Los Bisquets Obregon (a popular local diner that's cheap)
Cafe Andrade Restaurante (bakery and Mexican breakfast place)
100% Natural Playa Del Carmen (breakfast/brunch spot, large vegan/vegetarian menu as well)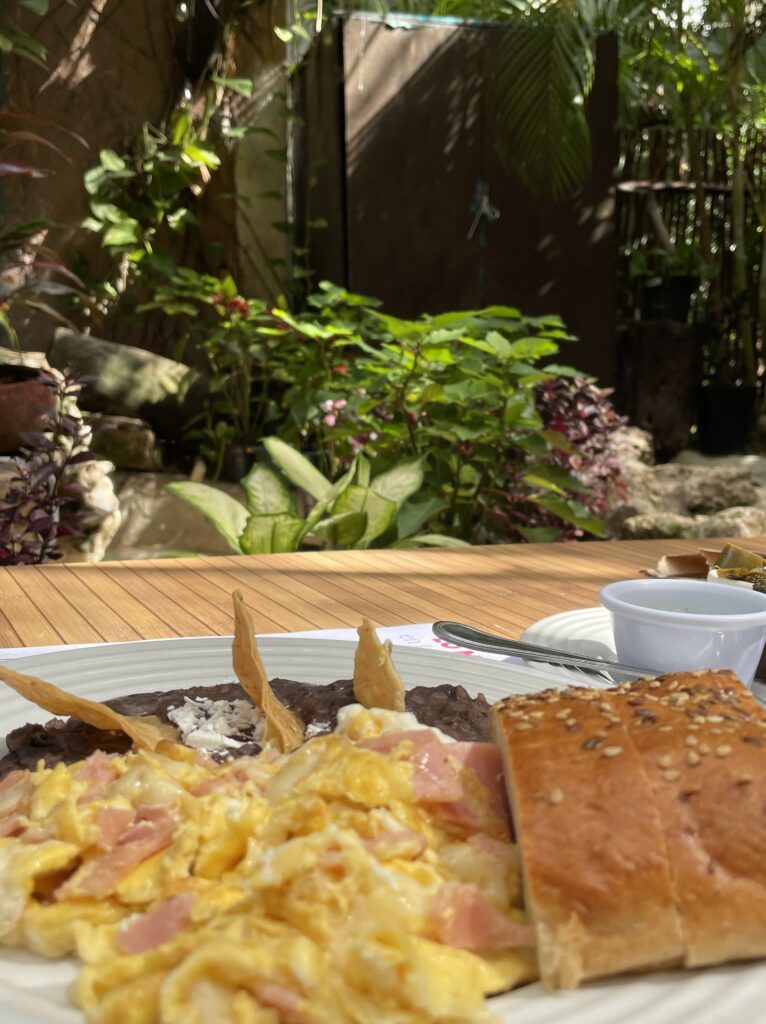 Cafes
Here is a list of cafes to come by and get a coffee or maybe get some work done on your laptop!
Cafe Antoinette Ferry
Marley Coffee
Magnolias Coffee
IceCream
Who doesn't love ice cream? Some of these ice cream shops have other desserts as well!
Amorino (franchise, they've got several locations here)
Haagen-Dazs (famous worldwide)
Aldo's Gelato (locally known, they have many locations)
Cost of Eating Out in Playa Del Carmen
This is a subjective question, but it depends on whose opinion you're asking for. If you compare Playa Del Carmen to several popular European cities to visit, no, it's not expensive. In fact, it's very cheap compared to popular European cities.
But then again, if you compare Playa Del Carmen to other places in Mexico regarding food prices, yes, it is expensive, but that's because it's a famous tourist beach town.
Overall, no, it's not expensive. Dinner at a fairly nice restaurant with good food for two people, the average price is 37 US or 670 Mexican Pesos. This, of course, depends on the restaurant you choose to go to and what you order! – (The local spots are much cheaper than this)
Lastly, you must factor in the currency you're coming with to exchange. That makes all the difference, of course. Those coming from the US, Canada, and most places in Europe will find Playa Del Carmen quite affordable.
Also, remember cheap food is here. You have to look for it, and I made a few suggestions in this article that you can check out. Street Tacos, by the way, are never a bad idea and are very affordable!
Look for where the locals are dining and stay away from restaurants on 5th Avenue if you want to eat more affordably.
If you look at Google Maps, you will notice the 50 Avenida Sur highway; anything South of this highway is considered the city center of Playa Del Carmen. Walk towards this highway, and you will slowly spot several great-tasting local restaurants that are much cheaper to eat at!
Another great food city is Tulum, right next door to Playa Del Carmen. I'd advise you to check out these Tulum restaurants when you make your visit!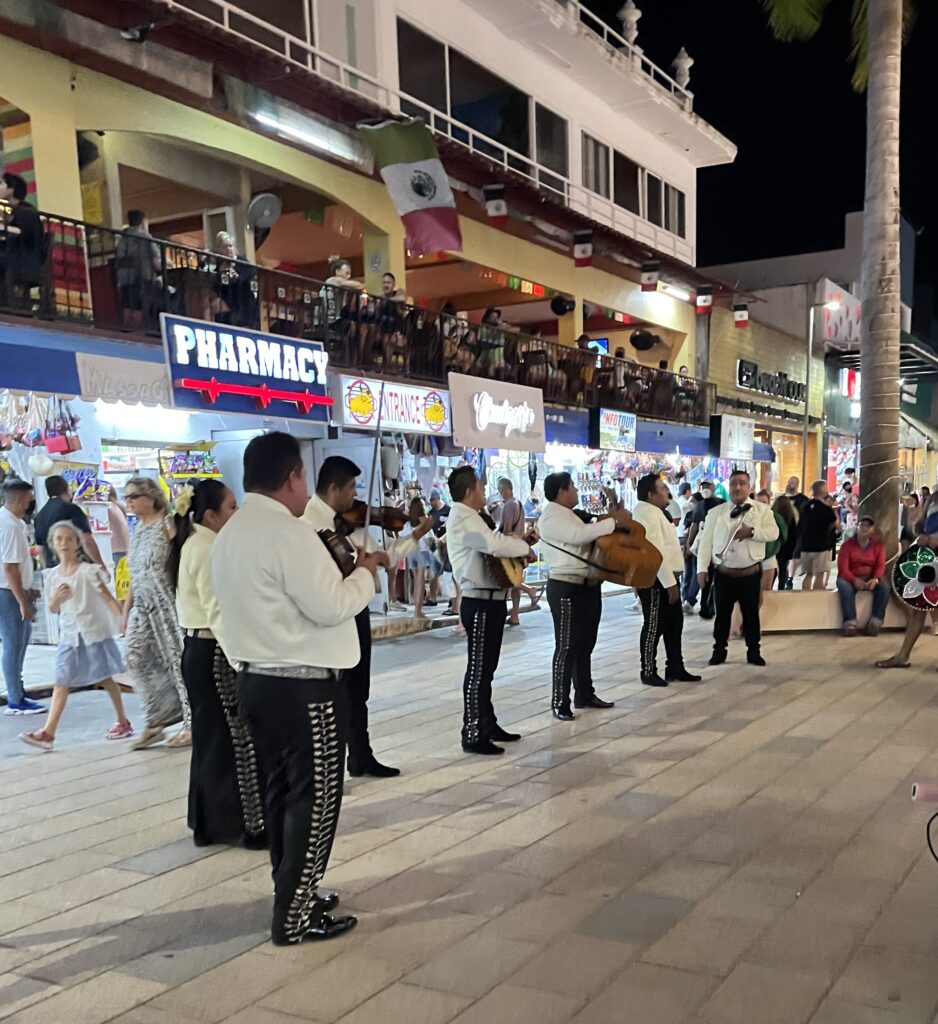 Dining Tips & Advice
Finally, I'd like to share some dining tips and advice with you all, especially for those who've never visited Mexico before!
Credit Cards: Most, if not all, Playa Del Carmen restaurants accept Visa/Mastercard, but not all!
Cash: Some Playa Del Carmen restaurants only accept cash, even some fine dining establishments. You should always have some Mexican Pesos on you, just in case.
You save when you use Mexican Pesos instead of credit cards, which charge high exchange rates.
Another option to pay is using a WISE card. These are international visa debit cards at any terminal accepting VISA. You can exchange your currency in the app for Mexican Pesos and use your card to pay in Mexican Pesos!
I've used my WISE card in several countries to avoid high exchange rate prices. Also, you can use your WISE card to take Mexican Pesos right out of an ATM after exchanging the currency on your phone app! – It's FREE to get this card, by the way.
TIPPING at Playa Del Carmen Restaurants
Tipping is a part of the culture in Mexico, similar to North America. The standard tip rate at Playa Del Carmen restaurants tends to be 10 to 20%. Of course, at the end of the day, tip as you feel how the service was!
Watch out for some restaurants that tend to add a tip of their choice without your knowledge. This has happened to several friends of mine and me at restaurants in Playa Del Carmen. The waiter will add an 18 to 25% tip without your knowledge, especially if you're paying by card, without giving you the option to manually put a tip amount in. – Not all waiters do this, but watch for it.
---
Make sure you use SkyScanner to get the cheapest flights, and also ensure you have Travel Insurance before visiting; a hospital visit here can get costly!
If I've missed some excellent restaurants that you think others must absolutely try in Playa Del Carmen
Please comment with your restaurant recommendation below!
Subscribe to Travel Hiatus!
Receive updates on my latest posts, insider travel tips & the best destination guides to your inbox!
Happy & Safe Travels
---
Planning Checklist
---
Disclaimer: Please note that some of the links shared in this article might be affiliate links; this means that at absolutely no extra cost to you, we will earn a small commission for any sales generated through this article and/or this website. We recommend products/services we've either used or researched thoroughly – Thank you for supporting us so we can continue to share helpful travel content!