Best 6 Day Playa Del Carmen Itinerary
There are plenty of places to visit in the Riviera Maya, but Playa Del Carmen is the best beach town in the Riviera Maya to visit.
Playa Del Carmen is very walkable, has excellent restaurants and beaches, and its famous 5th Avenue Street has something for everyone!
This ultimate Playa Del Carmen itinerary includes several things to do in Playa Del Carmen, including day trips from Playa Del Carmen, hotel recommendations, safety tips, and more!
I've visited Playa Del Carmen many times over the years, and I always find myself going back to it for a few reasons; you can walk anywhere in the city in around 20 minutes or less, the restaurants are excellent here, the beaches are beautiful, and its location is convenient, being in between Cancun and Tulum, and Cozumel is across the water!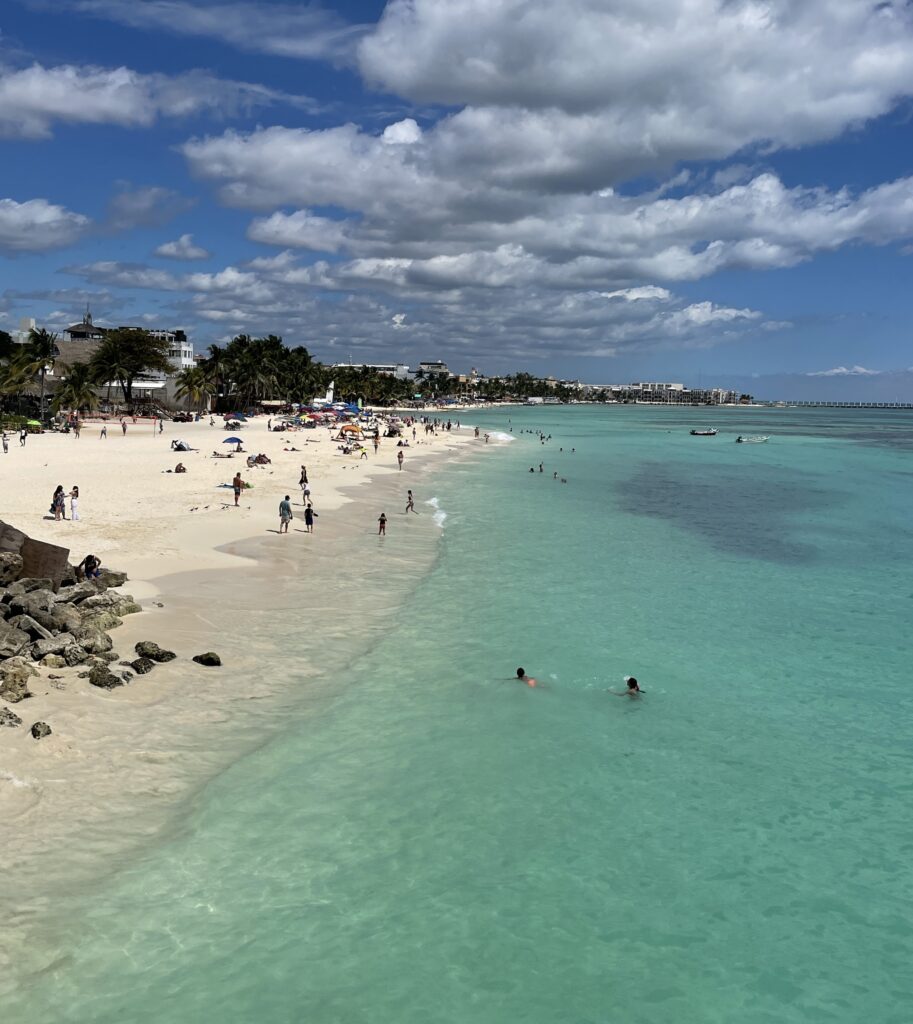 How to Get to Playa Del Carmen
Unfortunately, Playa Del Carmen has no airport, so you cannot fly into Playa Del Carmen.
You first must fly into Cancun International Airport and then make your way 1 hour to Playa Del Carmen.
If it's your first time visiting this region of Mexico, don't sweat, it's easy to get to Playa Del Carmen; these are the different methods for how to get from Cancun Airport to Playa Del Carmen. See which one best works for you and who you're coming with!
If you choose to take the ADO BUS, there are 4 Ado Station Terminals at Cancun Airport; make sure to go to the one on your purchased ticket.
So that you know, you'll be given more instructions once booked for any other transportation reservation used above.
Day 1: Arrival
Depending on what time your flight lands at Cancun Airport, you may have some time to explore the town, or if it's late, you may just want to go to bed in your hotel!
As you arrive in Playa Del Carmen, if you arrive in the early morning or midafternoon, walk over to 5th Avenue Street, have a drink and some lunch, then walk over to explore the main beach shoreline of Playa Del Carmen.
Those arriving slightly later, around dinner, must be hungry; I recommend you start your first day with some authentic Mexican food at one of Playa Del Carmen's best taquerias.
After you've had some delicious tacos, take a walk on 5th Avenue Street and explore the town's famous street full of restaurants, nightclubs, bars, shopping, and more.
Then walk over to the beach and drink at one of the many beach bars; I recommend Zenzi Beach or Lido Beach Club. Another popular chic spot is INTI Beach; they have fire performers some evenings!
Day 2: Beach Day / Rest Day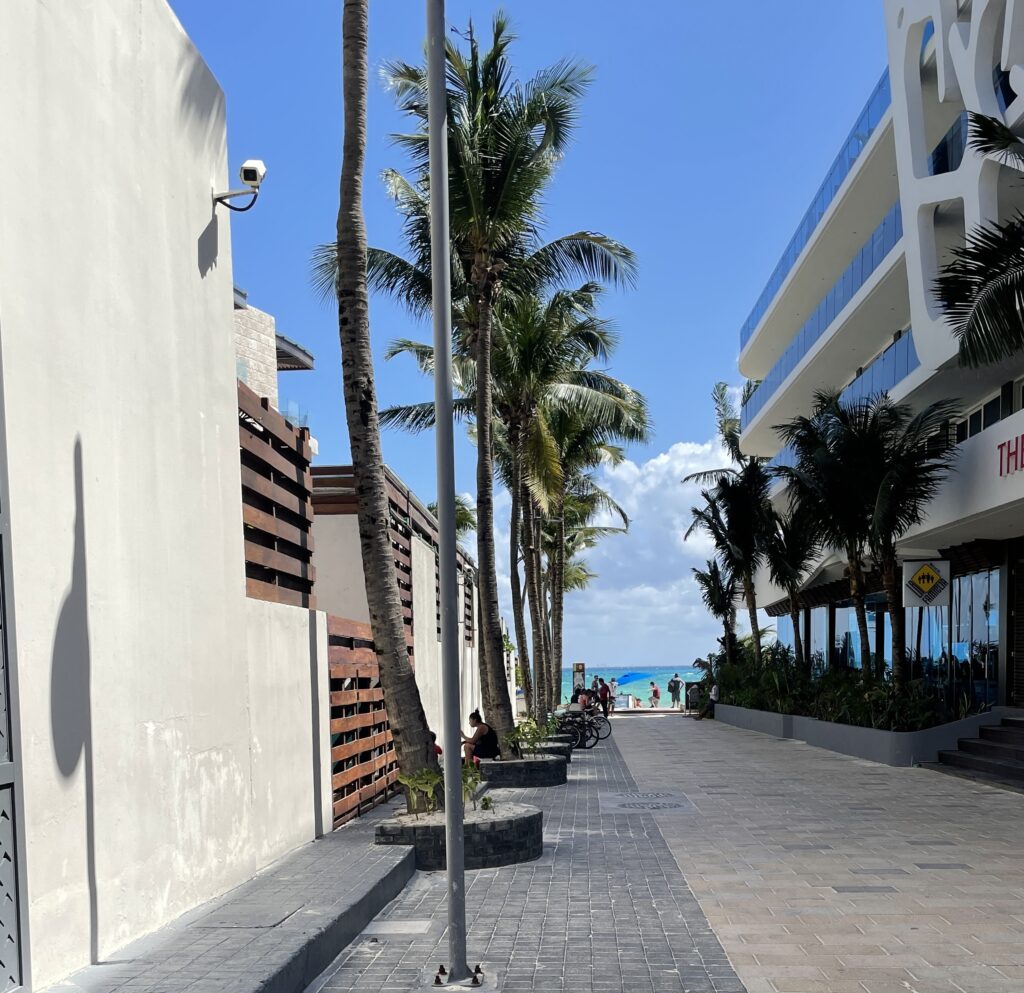 Whether you had some time to explore the first day or arrived late to your hotel and went right to bed, spend your first day relaxing at one of Playa Del Carmen's many beaches!
Start your morning off with breakfast before an active day at the beach; here are a few breakfast restaurant recommendations. After breakfast, walk over to your beach of choice in town.
The main Playa Del Carmen Beach is accessible from several streets off 5th Avenue Street.
It's an excellent beach, but the shoreline isn't too large, so it can get crowded at times. The best part, though, is you can walk over to a restaurant in minutes, eat lunch, and return to the beach in minutes.
Suppose you'd prefer a more extensive, nicer beach shoreline that is more friendly for families. In that case, Playa Punta Esmeralda and Playa Xcalacoco are the best beaches in Playa Del Carmen. The downside is you'll have to take a taxi to get to either beach, Playa Esmeralda is a 10 minutes taxi, and Playa Xcalacoco is 20 minutes.
Those visiting with friends and looking for a more lively atmosphere on the water or by the beach, either attend a catamaran cruise where you'll cruise the waters of Playa Del Carmen and drink/party through the afternoon.
Or head over to one of the many beach clubs in town. Here are a few recommendations!
Mamaita's Beach Club
MVNGATA Beach Club
Kool Beach Club
Martina Beach Club
Marena Beach Club
Day 3: Chichen Itza Tour & Cenotes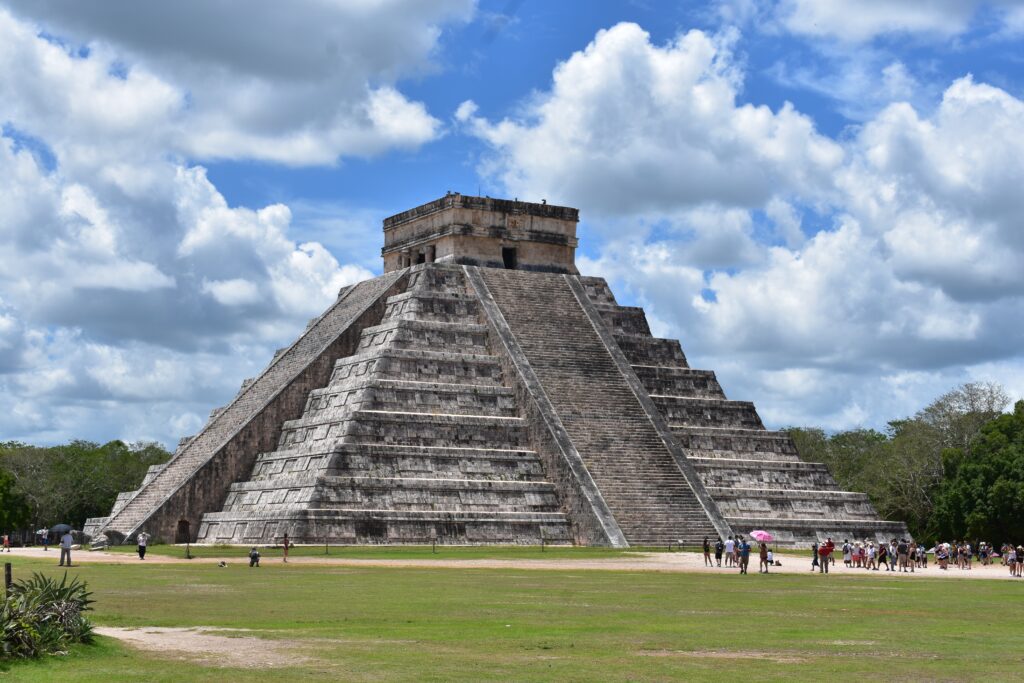 A trip to Playa Del Carmen or anywhere in the Riviera Maya, for that matter, without a visit to Chichen Itza is an incomplete trip!
Famous for being one of the seven world wonders, the ancient Chichen Itza site is Mexico's most recognized tourist attraction. Over 2.7 million tourists visit the archaeological site yearly.
The best way to visit Chichen Itza is by attending an all-inclusive tour from Playa Del Carmen. On this tour, you'll spend the day exploring Chichen Itza, swimming at Cenote Saamal, and visiting one of the most beautiful colonial cities of the Yucatan, Valladolid.
Also included in the tour package is hotel roundtrip transportation pickup and drop off, so you won't have to worry about any transportation. A lunch buffet will be served at the Chichen Itza site for attendees to enjoy.
From Playa Del Carmen to Chichen Itza, it's about a 2 hour and 30 minutes drive.
What To Bring on Tour:
Sunscreen / There is limited shade, especially at Chichen Itza.
Water / You can purchase more there, but it will be more expensive.
Hat / Make sure to wear a hat or bring one as you explore to wear it sometimes.
To give you some added context, this ancient area was once the city center of the Mayan Civilization, and this is where Mayans would come for religious gatherings, trade of goods, and everything really. The famous pyramid is named El Castillo.
Day 4: Adventure Park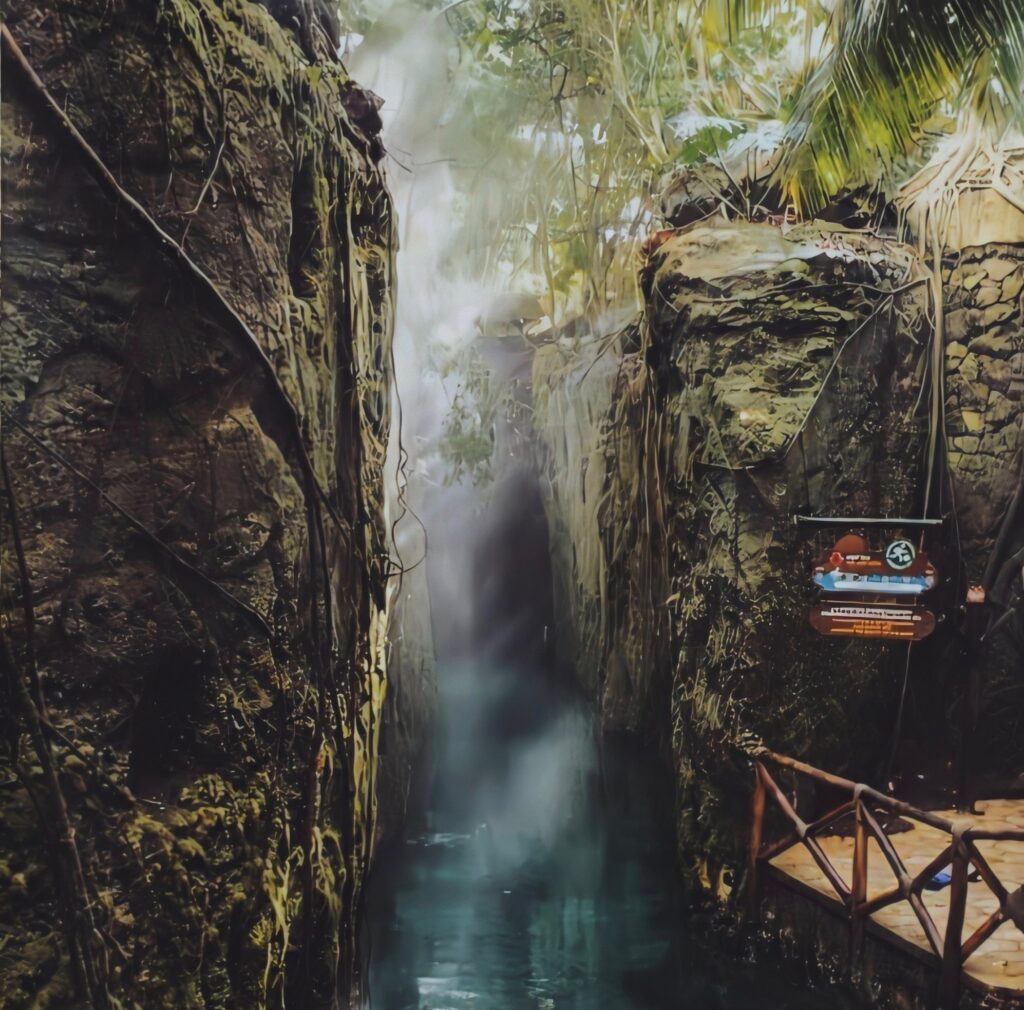 While Playa Del Carmen has no parks in the city center, it's close to the best adventure parks in the Riviera Maya.
For those looking for a day of adventure or if you're visiting with family, visiting an adventure park is an excellent way to spend the day!
XCARET
The most popular amusement park in the Riviera Maya is Xcaret. This large park is a haven for those looking for a day full of adventure; cave swimming, buggy rides, and zip-ling from treetops — Book Xcaret Tickets Here
Xcaret is more suitable for those visiting with kids; it's a more relaxed adventure day.
The main attraction here is the Xcaret Mexico Espectacular show, a captivating performance show that's taken place at Xcaret Park for over two decades now!
Xplor
Another fun amusement park is Xplor, with very similar options to Xcaret but with the addition of thrill. Xplor has ATVs, zipping, river rafting, and much more!
Those looking to have an active day visit Xplor; the park is more suitable for young adults and teens — Book Xplor Tickets Here
Xel-Ha Park
At Xel Ha Park, you will expensive an aquatic theme park, including swimming with dolphins, a massive water slide, and swimming with tropical fish coral reefs. With all its water activities, Xel Ha Park is a great idea on a hot day!
Also at the park are jungle trails, caves, and ziplines to ride — Book Xel Ha Tickets Here
Xenses
A unique type of adventure park, Xenses offers adventures into dark caves, gravity-defying chambers, zip lines, water activities, and more — Book Xenses Tickers Here
Cenote Adventure Parks
For those looking for an adventure but would prefer to visit somewhere unique instead of an amusement park, Rio Secreto and Casa Tortuga Cenotes are perfect for you to discover!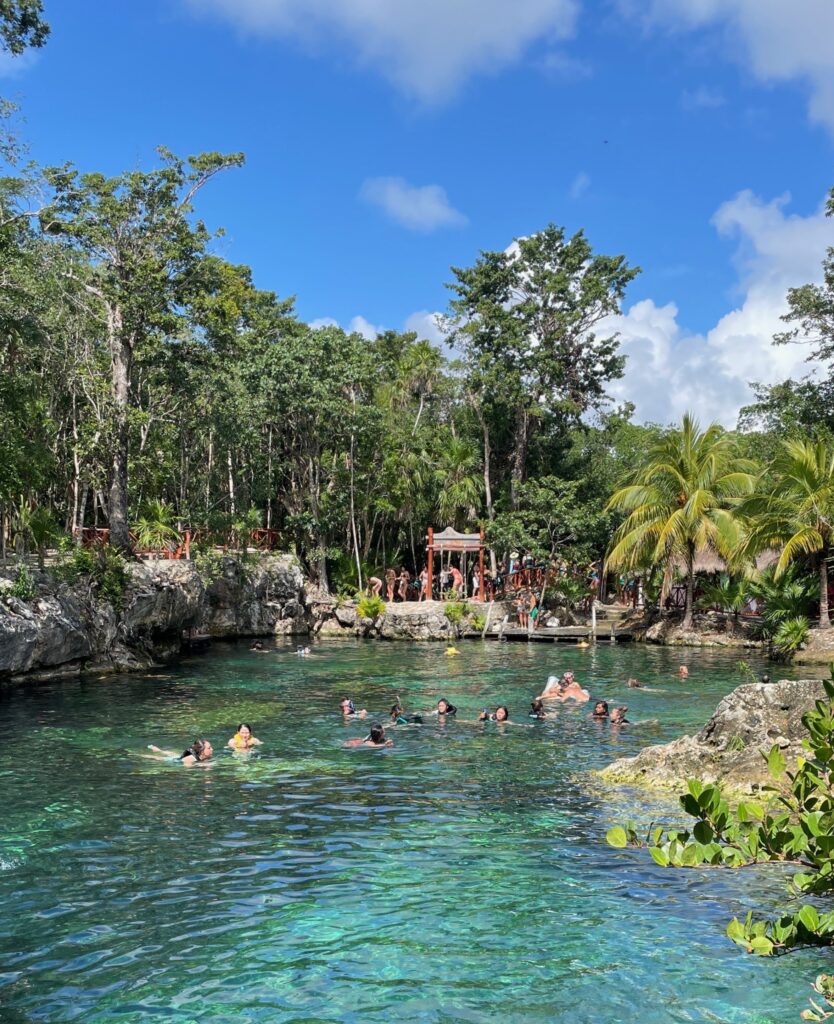 Casa Tortuga Cenote
When visiting the Riviera Maya, you must put swimming in a Cenote at the top of your Playa Del Carmen itinerary!
There are cenotes in Playa Del Carmen, but the best cenote park is Casa Tortuga Cenotes Tulum; it features 4 different cenotes, and one even has tropical fish and sea turtles swimming in it!
On this Casa Tortuga Tour from Playa Del Carmen, you get picked up from your hotel and taken to the park, where you'll spend the day exploring the 4 different cenotes with a guide. Transportation, life jackets, lunch there, and water are included in the tour package.
Cenotes are sinkholes formed by nature collapsing with fresh spring water. There is no better way to cool off on a hot day than swimming in a Cenote! These cenotes were once the prime water source for the Mayan Civilization long ago.
Rio Secreto
Rio Secreto is one of the most stunning cenote caves, famously featured in National Geographic for its unique rock formations. On this Rio Secreto tour, you will follow a local guide as they navigate you through the beautiful underground cave.
All equipment is provided, and after the tour, you will enjoy a delicious Mayan buffet lunch.
Day 5: Day Trip to Cozumel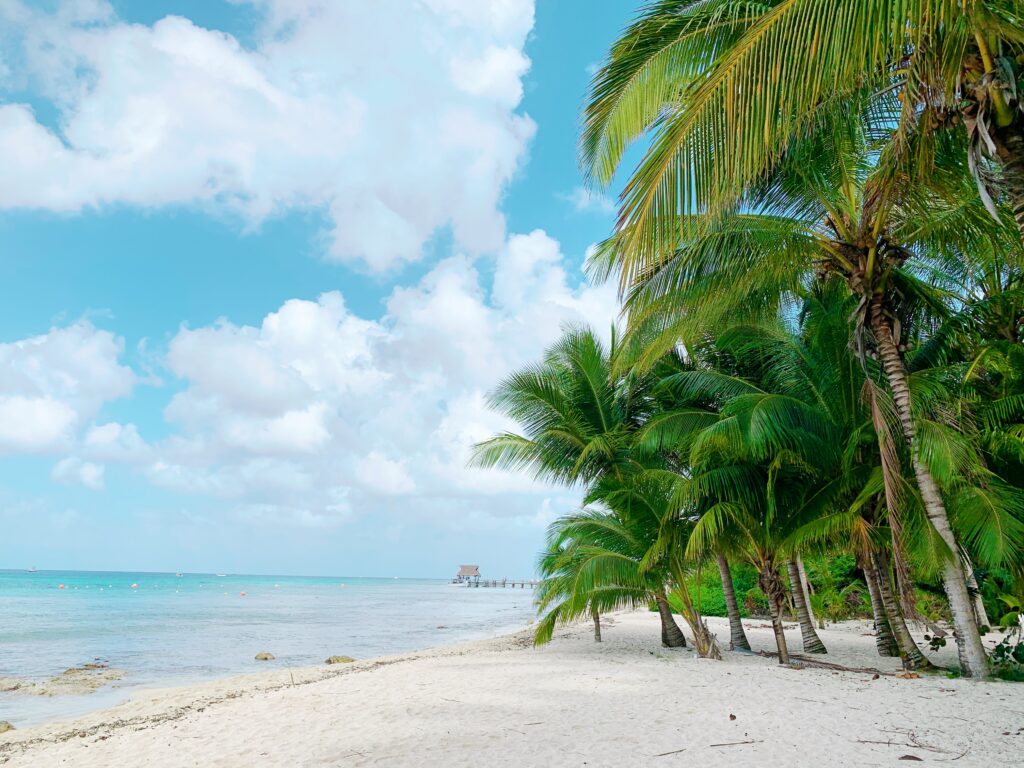 No Playa Del Carmen itinerary is complete without visiting Cozumel, the beautiful island across the water from Playa Del Carmen, only 40 minutes away by ferry — Book Ferry Tickets to Cozumel Here.
Cozumel is full of things to do, and you can do many excursions from the island as well —snorkeling/diving trips, sea turtle and starfish spotting, and more.
Several excellent beach clubs in Cozumel offer all-inclusive deals, all-you-can-eat/drink. The most popular are Sanchos and Paradise Beach Cozumel.
If you're visiting with kids, go to Playa Mia Beach Breaks, there they've got a floating park on the water, kayaks, and more activities for kids to enjoy!
Punta Sur Ecological Park is worth checking out, it's got some of the most beautiful beaches on the island, and the area has a mangrove. At the mangrove, you'll spot several bird species and crocodiles. This park is a nature lover's paradise.
My favorite thing to do is rent a scooter or jeep and drive around the island, see the beautiful coastline, and stop by the small beaches and restaurants.
Walk to the ferry dock just off 5th Avenue to get from Playa Del Carmen to Cozumel — Book Ferry Tickets Here
Day 6: Travel Day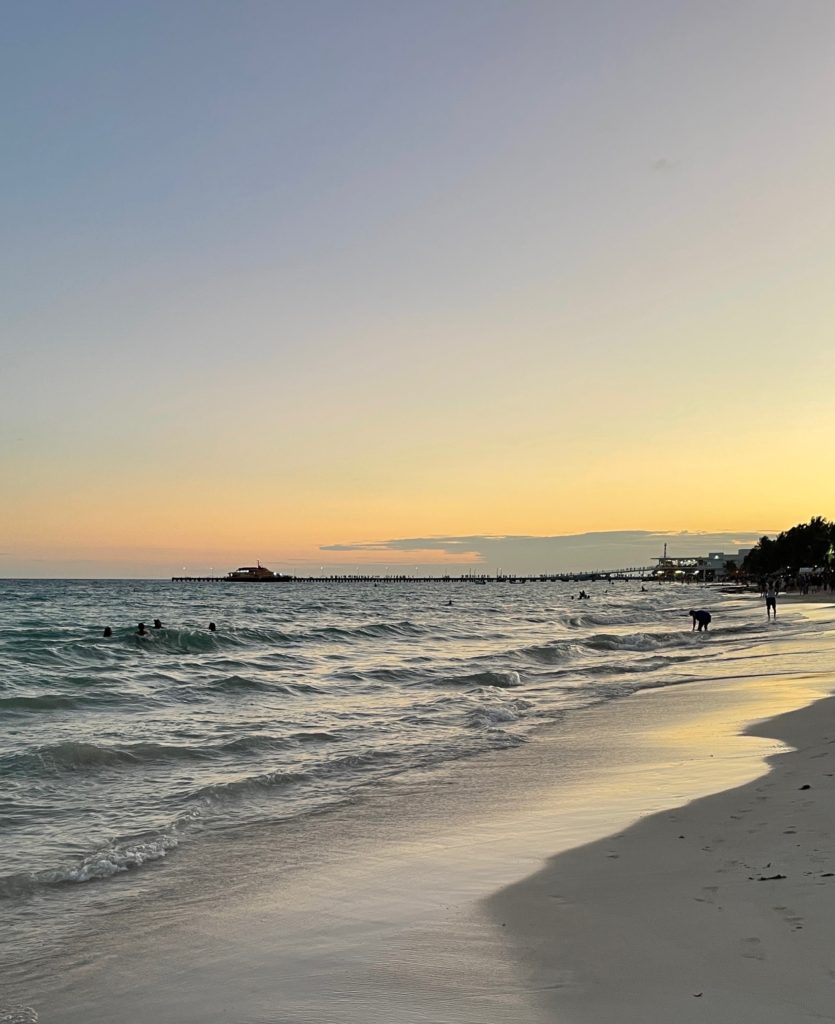 The day has come for you to fly home from your trip to Playa Del Carmen; no matter your flight time, spend your last morning enjoying a classic Mexican breakfast before you leave!
If your flight is in the evening, do some last-minute souvenir shopping on 5th Avenue Street or enjoy your last afternoon on the beach soaking up some sun before you go home!
Please ensure you have your reservations to return to Cancun Airport from Playa Del Carmen.
ADO Bus or Private Airport Transfer is the best way to get to Cancun Airport from Playa Del Carmen.
Playa Del Carmen Itinerary 6 Days+
Are you planning on visiting longer Playa Del Carmen for longer than six days? Here are some excellent suggestions to add to your longer Playa Del Carmen itinerary!
Visit Akumal and spend the day swimming with 7 species of sea turtles here. Akumal Beach is famous for being home to several sea turtles, and it's an enjoyable experience!
Head back towards Cancun and take a ferry to Isla Mujeres, a beautiful island across Cancun famous for its beaches, nature, and island atmosphere. I recommend two nights here if you have time!
TIP: Isla Mujeres is close to Cancun; you don't need to return to Playa Del Carmen. Spend a night on Isla Mujeres, and the next day take the ferry back to Cancun from Isla Mujeres and go to Cancun Airport.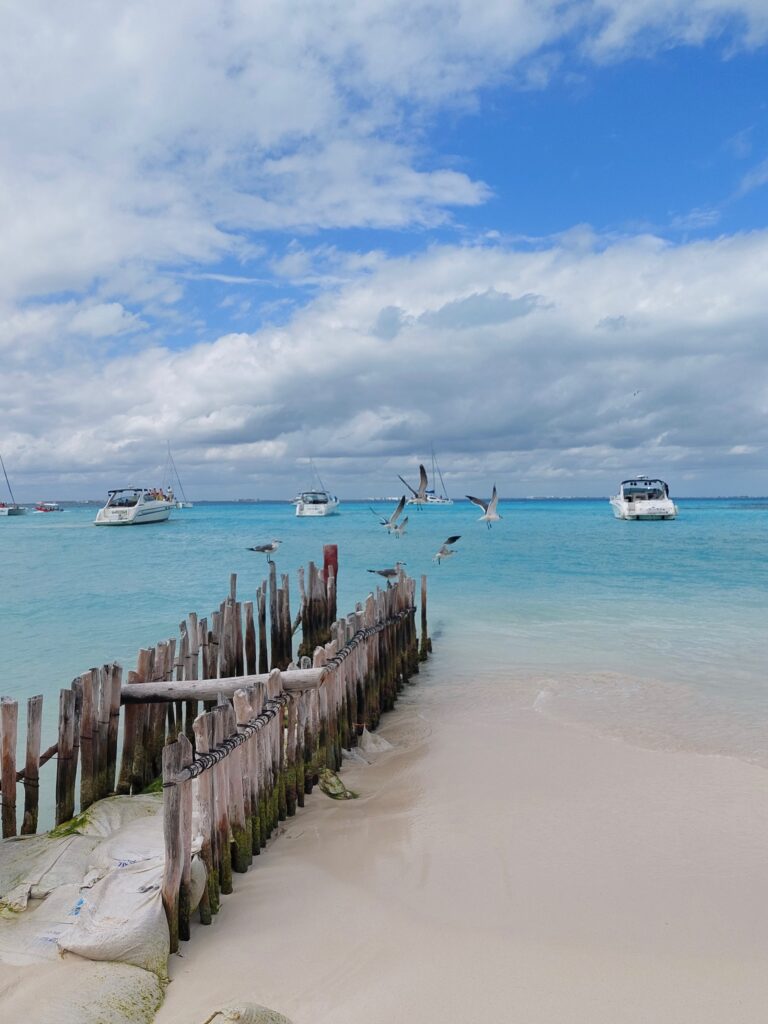 Where to Stay in Playa Del Carmen
Playa Del Carmen is a small beach town, so no matter where you choose to stay, you can walk to most restaurants, the beach, and shopping in under 30 minutes. Below I will share the best hotel accommodation, no matter your budget!
RESORTS – All Inclusive
Hilton Playa – 5 Stars / Located steps away from 5th Avenue Street, Hilton Playa is right on the beach and steps away from 5th Avenue Street.
The Reef 28 (Adults Only) – 4 Stars / Popular amongst singles and couples, The Reef has an excellent rooftop restaurant and bar with beautiful sea views.
BOUTIQUE HOTELS
Mvngata Beach Hotel – 4 Stars / A more boutique hotel with large spacious rooms, exceptional rooftop and one of the best beach clubs in town.
Thompson Playa Del Carmen – 4 Stars / Excellent location, minutes from the beach, and home to the best rooftop restaurant/bar in Playa!
Singular Dream Residences (Condo Residences) – Spacious condos, steps away from the beach and located in a quieter area.
HOSTELS
Che Playa Hostel & Bar – Best-rated hostel in town with spacious rooms, clean dorms, and a rooftop pool bar.
Maui Hostel – Popular hostel offering dorms and private rooms. It is located steps away from the beach and 5th Ave.
How Many Days is Enough in Playa Del Carmen?
Five to seven days is enough time for a vacation in Playa Del Carmen. Four days in Playa Del Carmen could be enough for those traveling around Mexico for an extended period of time at a fast pace.
I'd argue that you can spend much longer in Playa Del Carmen because of its excellent location in the region and the town's great walkability score.
Playa Del Carmen sits between Cancun and Tulum and has Cozumel across the water. East of Playa, a few hours away, are places like Chichen Itza, Merida, and more.
Making Playa Del Carmen a base and traveling to different places within the region is an excellent idea because of its terrific location!
Best Time To Visit Playa Del Carmen
The best time to visit Playa Del Carmen is between November and April; these months are considered the dry season.
This is when the weather is most optimal. It's hot enough to go to the beach, humidity isn't nearly as high as in the rainy season, and you're less likely to experience rain.
Playa Del Carmen is in the Riviera Maya, and the region has two main seasons here, dry season and rainy season, which is also part of hurricane season.
Dry Season: November to April
Rainy Season: May to October
Should you visit Playa Del Carmen during the rainy season? You can visit; expect humidity to be fairly higher. Rainfall that does occur should be brief. It's tropical rainfall, meaning it tends to rain fast and go by quickly.
TIP: For those looking to visit Playa Del Carmen during the dry season and looking for cheaper flights/hotels, visit during the shoulder season month of November!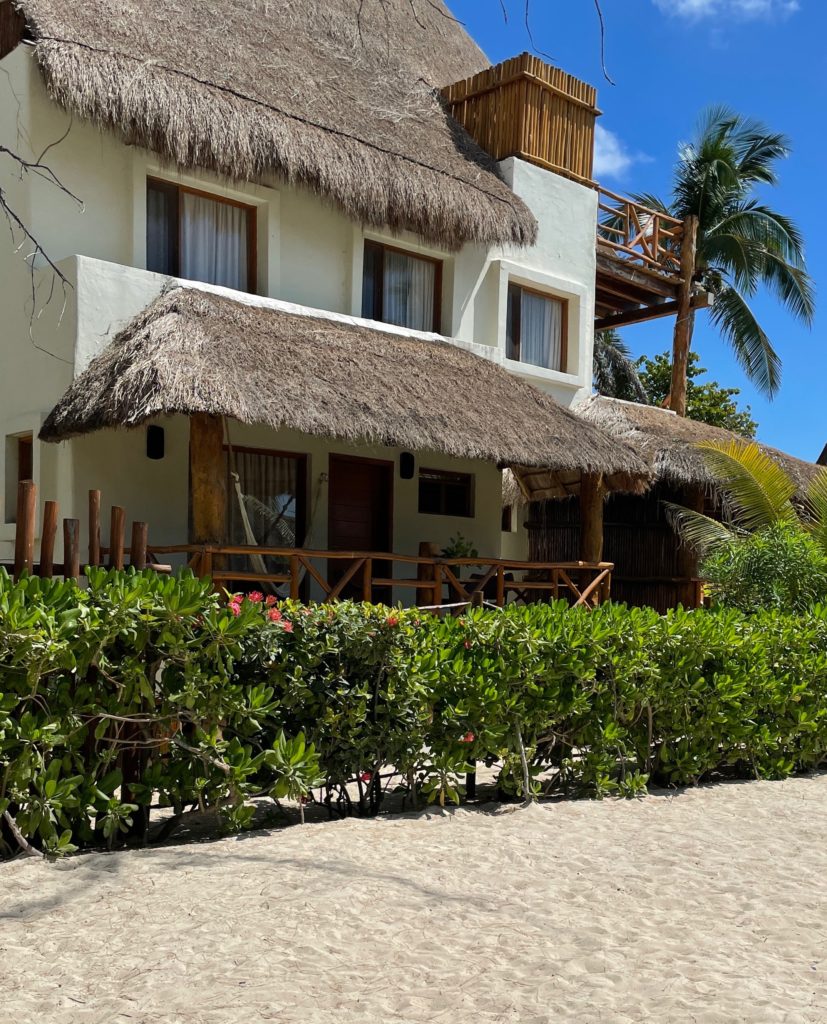 Is Playa Del Carmen Safe?
Yes, Playa Del Carmen is safe; there are several police and a national guard army patrolling the streets of Playa Del Carmen at all hours of the day.
This doesn't mean nothing bad happens there; like any city in North America, the town has its problem with crime here and there. If you do a few searches, you'll see articles discussing past crimes.
But does that mean you should worry? No, it doesn't, I've spent months in Playa Del Carmen many times, and the town is as safe as any big city in North America, like NYC, Toronto, etc.
Make sure to purchase travel insurance before traveling to Mexico!
That said, stick to lit streets always, and at night take a taxi if you're far from your hotel. Refuse any illegal substances offered to you. Watch your belongings at all times, especially on the beach.
Is Playa Del Carmen Worth Visiting?
Playa Del Carmen is definitely worth visiting. There are plenty of things to do there; the town is home to some of the best Mexican food in the region, and you can conveniently walk to most places in town.
Also, as mentioned earlier, Playa Del Carmen's location is excellent, only 1 hour from Cancun, and 1 hour from Tulum, Cozumel is 40 minutes away by ferry, and Chichen Itza is 2 hours away.
The beach town has the best location in the Riviera Maya for those looking to make many day trips from Playa Del Carmen!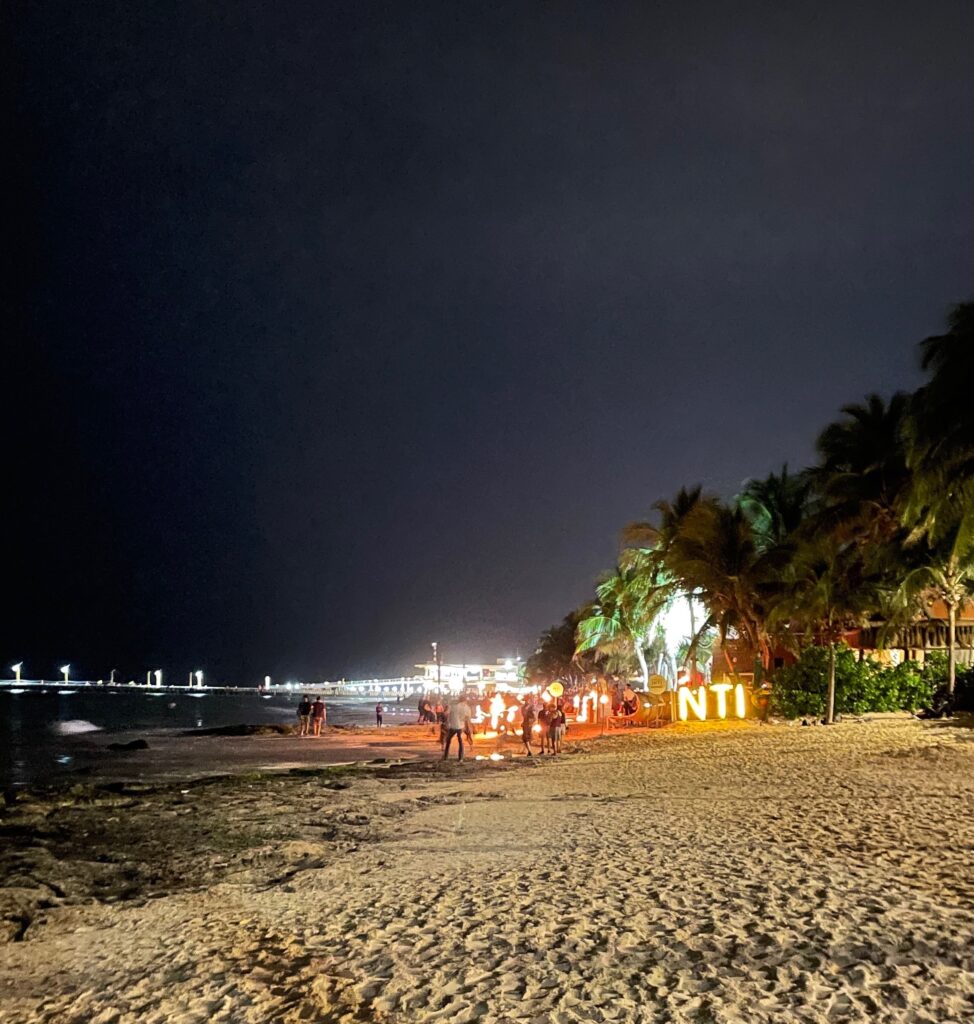 Final Thoughts — Playa Del Carmen Itinerary
There is plenty of things to do in Playa Del Carmen and around Playa Del Carmen. For first-time visitors, it can be tempting to be doing things when visiting constantly.
While it's great to experience a lot when on vacation, don't forget to relax!
If you speak to locals and ask them what Playa Del Carmen is most well-known for, they'll tell you it's a relaxing beach town perfect for staying by the beach, having delicious dinners, and enjoying laid-back evenings. Again, don't forget to relax for a day or two and enjoy the town's most profound quality.
I hope you enjoyed this action-packed Playa Del Carmen itinerary guide; if you have any questions, please feel free to comment below!
Playa Del Carmen is my favorite city in the Riviera Maya; I've been many times and plan to return again soon!
What is Playa Del Carmen Mexico known for?
Playa Del Carmen is known for its beaches, excellent food, many resorts, and great walkability score; you can walk anywhere in the city in under 30 minutes.
Can you drink tap water in Playa Del Carmen?
No, you cannot drink tap water in Mexico. You can get sick from doing so. Make sure always to have bottled water.
Can you walk along the beach in Playa Del Carmen?
Yes, you can; all the beaches in Playa Del Carmen have public access. There are small portions in the Northern area that are private, but even there, it's not the entire shoreline.
Subscribe to Travel Hiatus!
Receive updates on my latest posts, insider travel tips & the best destination guides to your inbox!
Happy & Safe Travels
---
Planning Checklist
---
Disclaimer: Please note that some of the links shared in this article might be affiliate links; this means that at absolutely no extra cost to you, we will earn a small commission for any sales generated through this article and/or this website. We recommend products/services we've either used or researched thoroughly – Thank you for supporting us so we can continue to share helpful travel content!