Phuket Town or Patong Beach: Which To Stay In?
Are you planning a trip to Phuket for the first time and need help deciding which area to stay in, between Phuket Town or Patong Beach?
This in-depth comparison guide will compare the two popular areas in Phuket and tell you everything you need to know regarding Phuket Town vs Patong Beach!
The atmosphere of each area, things to do, hotels, restaurants, nightlife, and pros/cons of each area will be compared in this comparison Phuket area showdown.
In short, Phuket Town and Patong Beach are very different areas; Phuket Town is the island's city center with several shops, restaurants, and things to do, close to the prominent Rassada Pier. Patong Beach is a Vegas-like partying hotspot along the beach and is the most touristy part of Phuket.
Those are the basic main differences between Phuket Town and Patong Beach. Now, let's look into the specifics of comparison for both areas!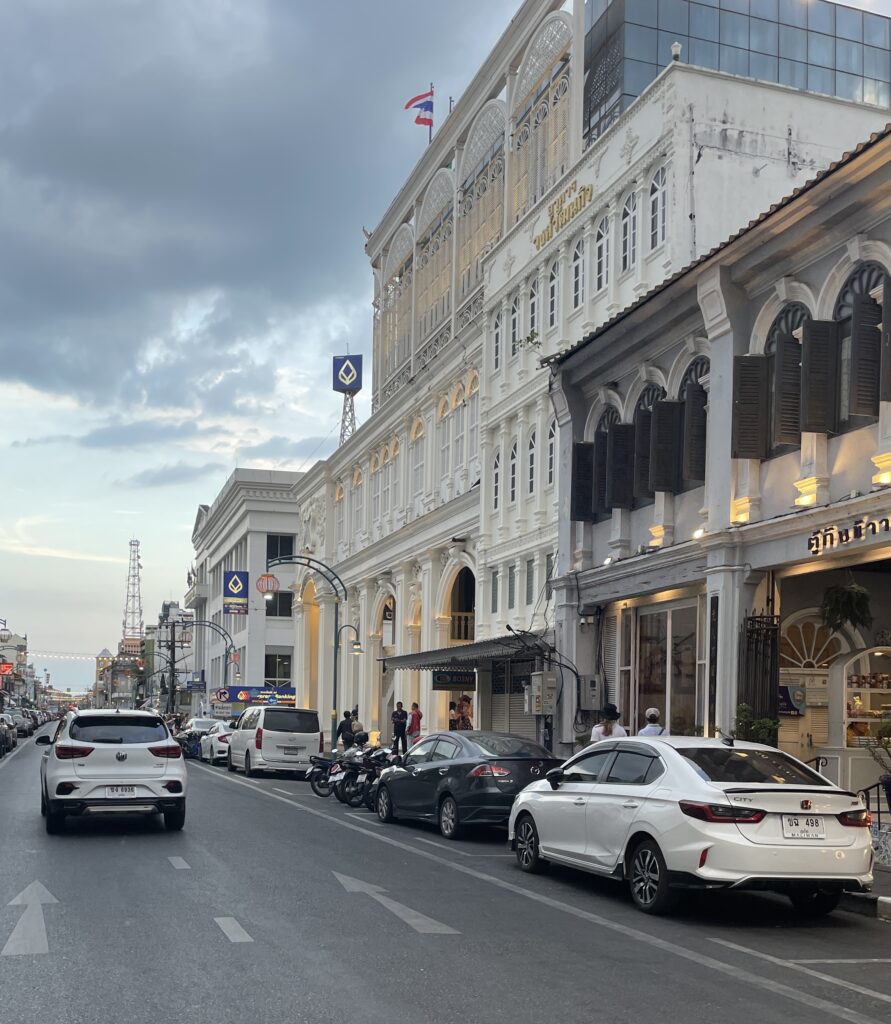 Phuket Town or Patong Beach: Main Differences
While both areas are popular stops to stay in Phuket, sharing a few aspects, they couldn't be more different than one another.
The main significant difference is Phuket Town is a city center with no beach nearby. Patong, on the other hand, has a beach shoreline.
Phuket Town Pros
Walkable area and less touristy
Best restaurants/cafes in Phuket
Best access to SongTaew Bus, the cheapest way to get around Phuket
Close to Rassada Pier to visit Phi Phi Islands
Best Shopping in Phuket, including luxury goods
Close to many parks, Bird Park, Tiger Park, Aquarium, Golf courses, etc
Patong Beach Pros
Best Nightlife in Phuket
Has a Beach shoreline & is close to other beaches in Phuket
Most accommodation/hotel options in Phuket
Fine-Dining restaurants
Best Shopping in Phuket for knockoff designer goods
Overall more conveniences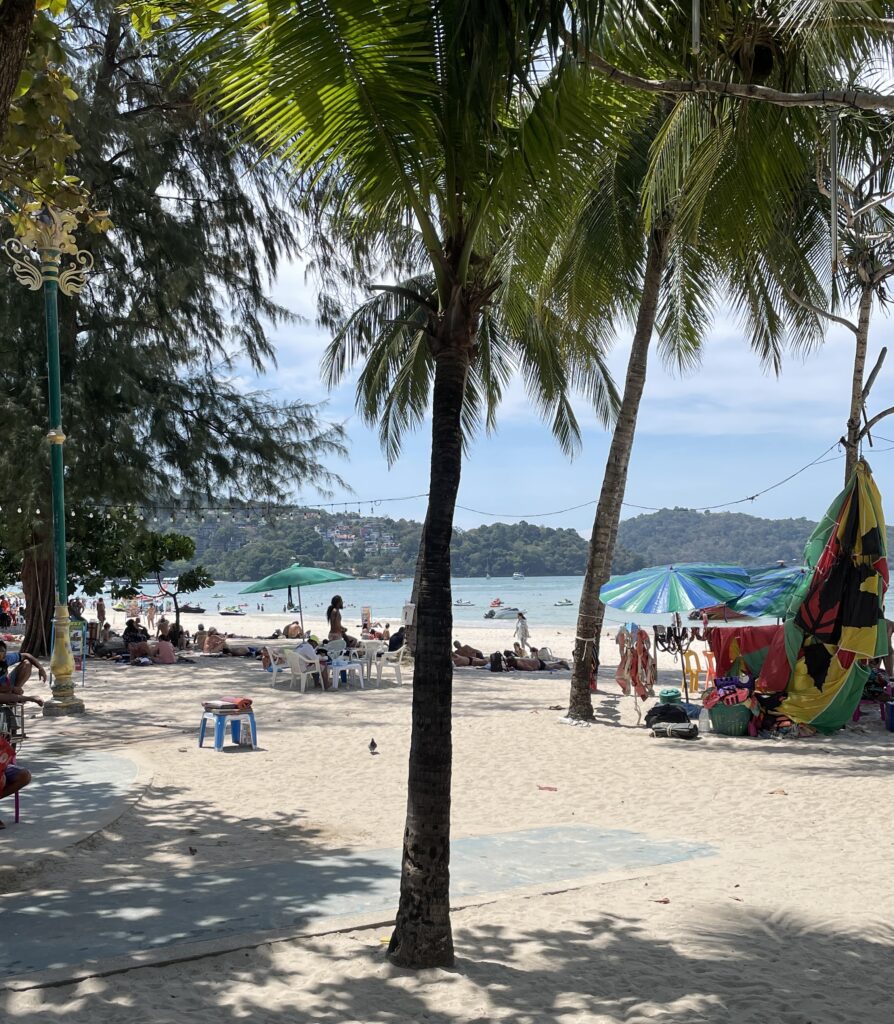 Phuket Town or Patong Beach: Things To Do
Here is a short list of the best things to do in both areas. Consider this section because depending on what you'd like to be closer to, this may answer whether you'd prefer to stay in Phuket Town or Patong Beach.
There isn't a winner in this category. It depends on the activities and things you'd prefer to be closer to.
Do you prefer to be in a less touristy area with the best food options, close to many parks to visit, and around 30 minutes away from a few beaches? Then choose Phuket Town!
Or do you prefer to be by the beach, other beaches, in a touristy area with lively nightlife every night? If so, then Patong Beach is your answer.
The distance and travel time between Phuket Town and Patong Beach is 13km and around 30 Minutes, depending on traffic.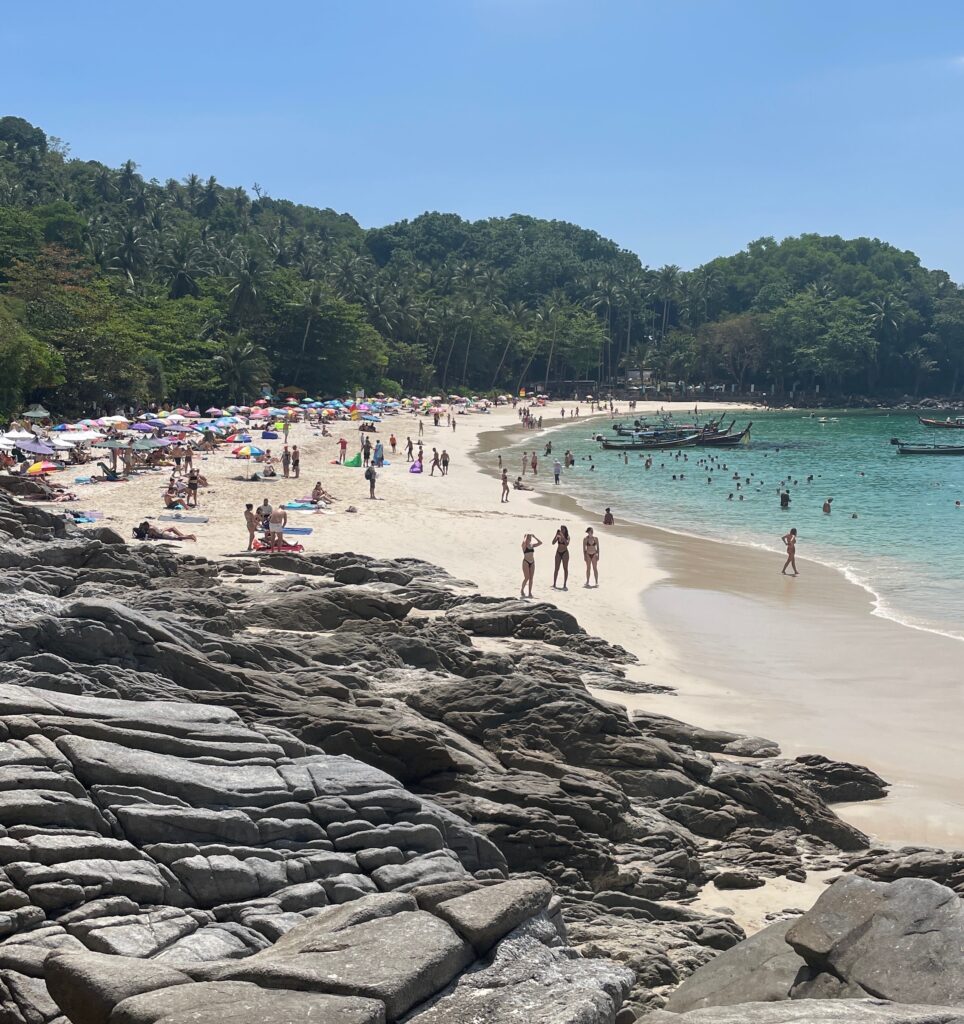 Phuket Town — Things To Do
Stroll the Old Town — Famous for its colonial Portuguese-Sino buildings, going for a walk around Old Phuket Town is one of the best things to do in Phuket. Many fabric/souvenir shops, local restaurants, and museums are here to explore.
Bar or Cafe Hopping — Phuket Town is known for its many bars and cafes scattered throughout the Old Town. So get out, work on your laptop, or relax at a cafe. At night, visit the many bars in town; Cue Bar is my favorite.
Phuket Town Sunday Market — Many end up visiting Phuket Town no matter where they stay in Phuket because of the Sunday Phuket Town Night Market. On Sundays, the main street in Town is closed off, and street food/goods vendors fill up the famous walking street.
Visit Wat Mongkhon Nimit Temple — Located right in the heart of Old Town is Wat Mongkhon, one of the most popular Buddhist shrine temples in Phuket.
Hike the Khao Rang Viewpoint — This 40 minute hike from Phuket Town is a fun/free activity to do in the day/night. At the top of the viewpoint, you'll see stunning aerial views of the island with several photo opportunities.
I highly recommend doing this in the early morning for sunrise – Don't hold food; there are monkeys on these hills.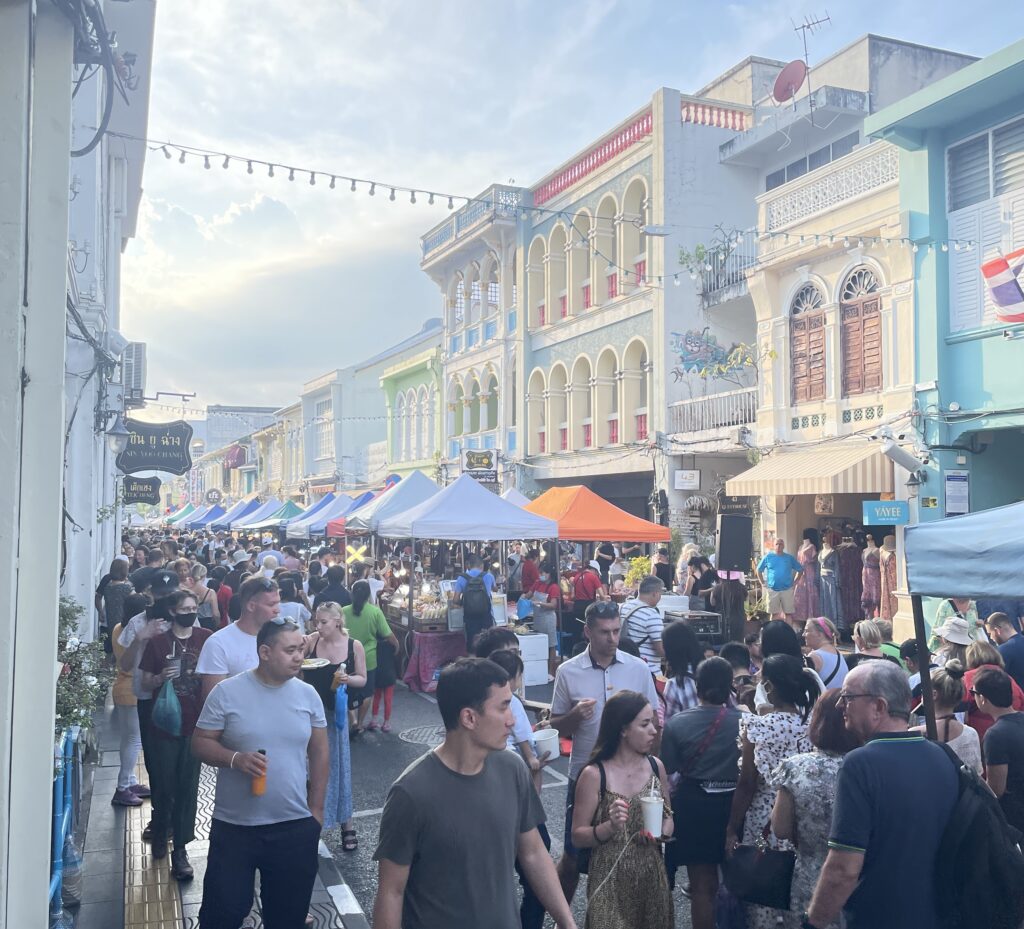 Patong Beach — Things To Do
Beach Day — The main attraction is, of course, the beach in Patong during the day. Come by and enjoy the stunning shoreline. Activities like jet skiing, parasail paddleboarding, and more are available.
Close to Patong is the popular Freedom Beach, arguably the nicest beach in all of Phuket; check it out as well!
Nightlife on Bangla rd — Bangla Road is the main street in Patong. At night, the whole street turns into one large walking street catering to those looking to party. Nightclubs, bars, go-go bars, and marijuana cafes, it's all here!
Eat at Tops Food Hall — Located in the basement of Central Patong Mall is Tops Food Hall, a large supermarket/food court with aircon serving delicious, affordable local cuisine as well as many other ethnic cuisines.
It's the perfect place to eat lunch indoors and try several foods in one sitting.
Attend Muay Thai Fights — Patong has the two best boxing/Muay Thai stadiums, so if you're visiting, experiencing a few fights at one of the two stadiums in the evening with a few drinks is a must.
Malin Plaza Night Market — Patong's best night market is at the Malin Plaza; similar to most night markets, you'll find many different street foods and various goods for purchase.
This night market isn't nearly as good as the Phuket Town Sunday Market, but that market only happens on Sundays; the Malin Plaza Night Market is open daily!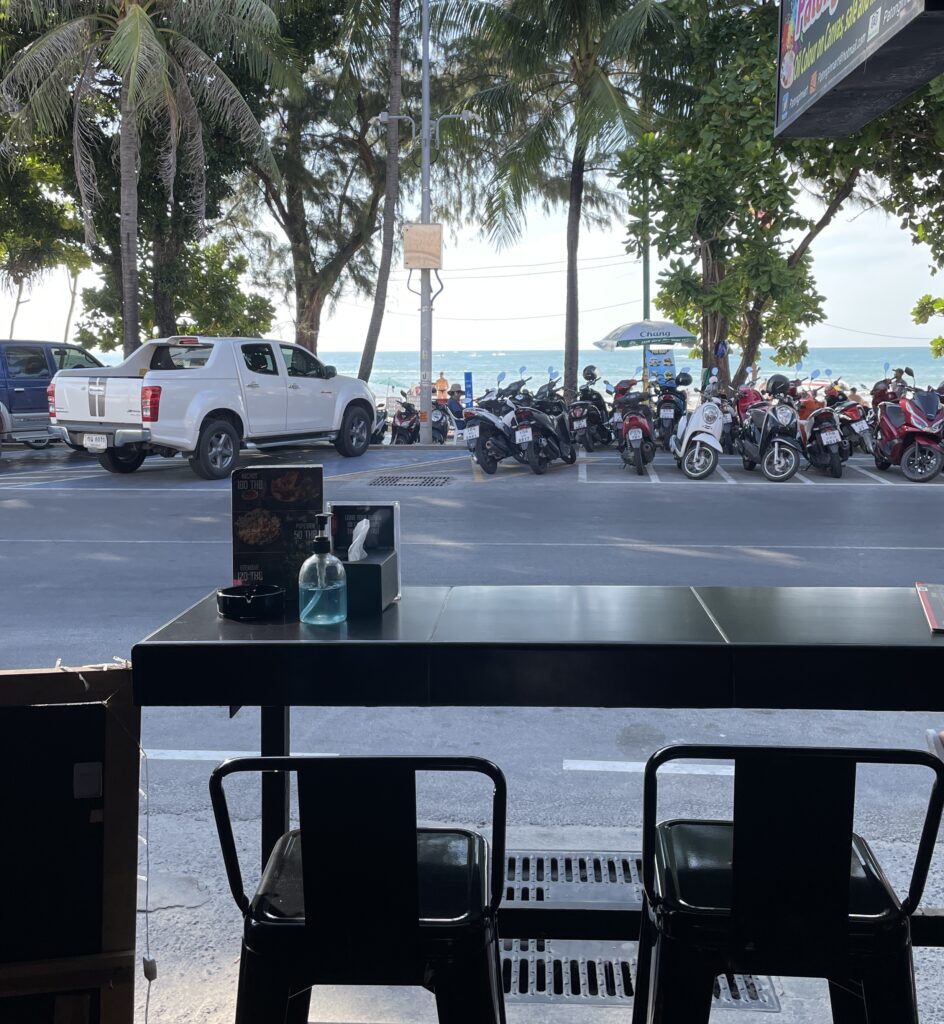 Phuket Town or Patong Beach: Hotels & Resorts
Below, I've shared the best 3 hotels for both Phuket Town and Patong, starting with a luxurious, then mid-range, and a budget-friendly option!
Regarding accommodations, Patong is superior to Phuket Town. There are many hotels, resorts, and hostels in Patong to choose from.
Phuket Town also has various accommodation types, but it lacks 5-star hotels. If you're looking for a luxurious hotel, you'll find those in Patong more than in Phuket Town.
Where to Stay in Phuket Town
Blu Monkey Hub Hotel – Stunning modern hotel in the heart of Old Phuket town, with a sleek black/white interior decor. Rooms are spacious, and the lobby has a swanky bar.
The Memory at On On Hotel – Boutique style hotel mixing old-school and new-school, with a colonial interior but several modern touches throughout the hotel.
The Dorm Hostel – A fun hostel with a great communal space serving breakfast/lunch.
Where to Stay in Patong Beach
Rosewood Phuket — A luxurious boutique hotel located in the hills of Patong in a private area, offering villas equipped with all you need and stunning panoramic ocean views
Amari Phuket – The Amari Phuket offers exceptional views of Patong Beach and the area; the hotel is well-rated and conveniently close to the main Patong area
Lub d Phuket Patong – Known as the best hostel in Patong, Lub D has a fun communal space with many activities and opportunities to meet other travelers
Phuket Town or Patong Beach: Restaurants
The cuisine types are plentiful in Phuket Town and Patong Beach, with excellent local cuisine restaurants and night markets.
But also many international cuisines types, such as Japanese, Turkish, Arabic, Korean, Mexican and more!
Which area has the better food, you may be thinking? Well, it's sort of tied, let me explain.
Phuket Town has a larger variation of different cuisines; more world cuisine is represented here, and the restaurant selection is greater. It beats Patong food-wise in that sense.
Patong Beach has more fine-dining restaurants for those looking to enjoy several nights of various fancy dining experiences.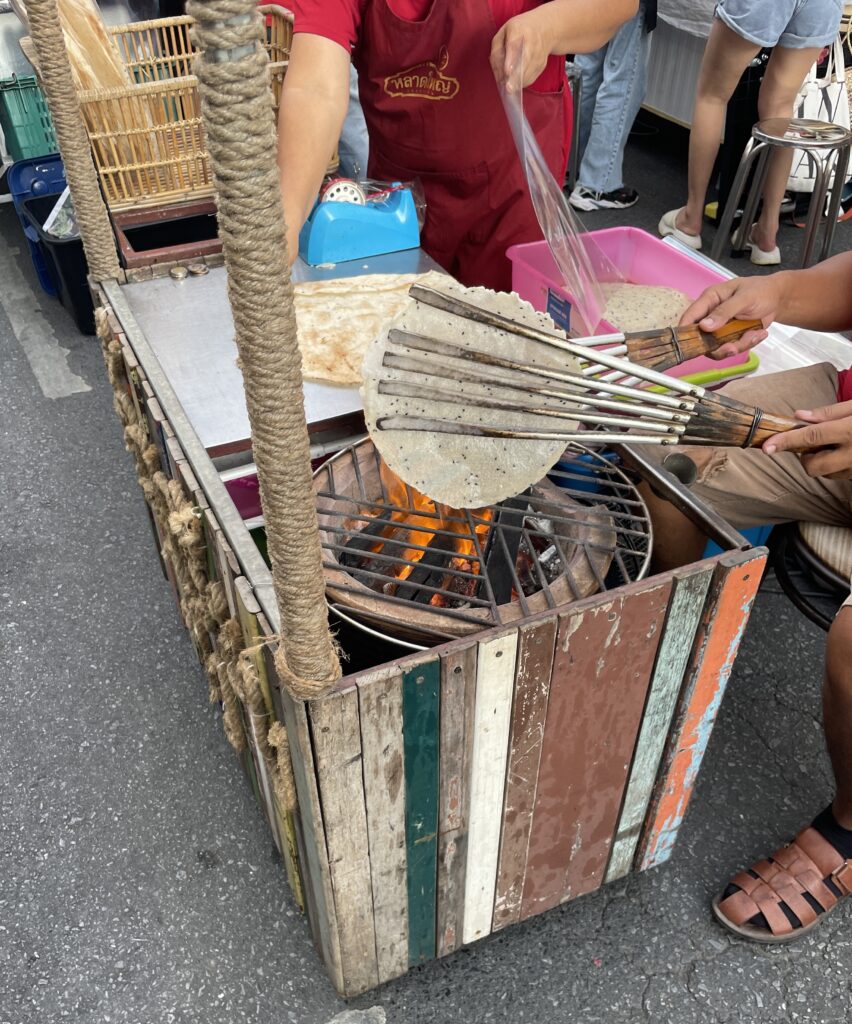 Where to Eat in Phuket Town
Raya Restaurant — Legendary Thai restaurant serving all the classics located in one of the colonial buildings in Phuket Town
Izakaya Samurai Phuket — Sushi, meat skewers, stir-fried dishes, a wide mix of Japanese Izkaya food
Ko Ang Seafood — Popular nonprestigious seafood restaurant serving all the Thai seafood must-try
Korean Town Phuket — Spicy seafood soups, lots of banchan, Korean fried chicken, and more, it's all here
Super Dim Sum & Noodle — Classic Dim Sum restaurant serving a wide variety of dishes
Consider the Lock Tien Food Court for the most local Thai dining experience: plastic plates, authentically cooked meals, and stools for seats.
These local nonprestigious restaurants were always my favorite types of restaurants throughout the many places in Thailand.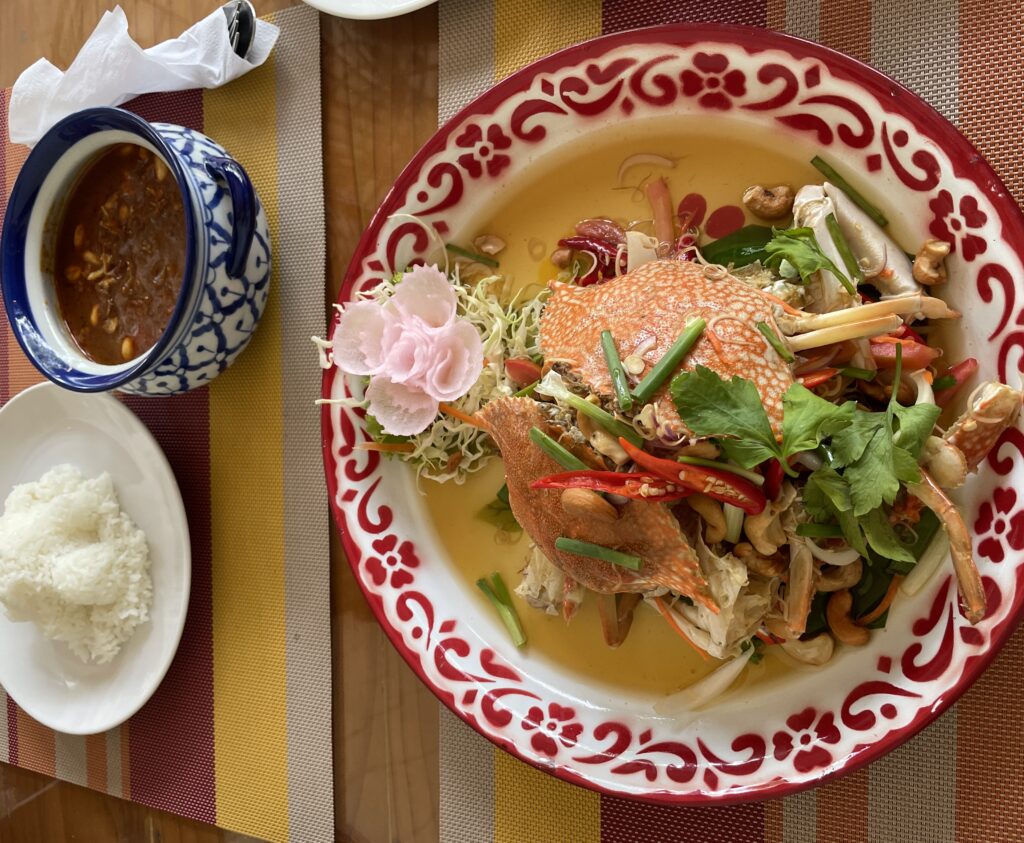 Where to Eat in Patong Beach
Ta Khai — Fine-dining Thai restaurant located in the hills of Patong with stunning ocean views
ZomPaul Eatery — Tapas-style Thai restaurant serving several affordable small-plate dishes
L'Arome — Fancy French restaurant serving top-notch food with impeccable ocean views
Cappadocia Turkish Restaurant — Traditional Turkish cuisine, BBQ meats, fresh bread, and classic breakfast
9th Floor Fine Dining Restaurant & Bar — Fine dining restaurant serving modern Mediterranean food with stunning views of Patong/ocean
Consider Tops Food Hall inside the mall, and there's a large food court and countless types of foods in an airconditioned area.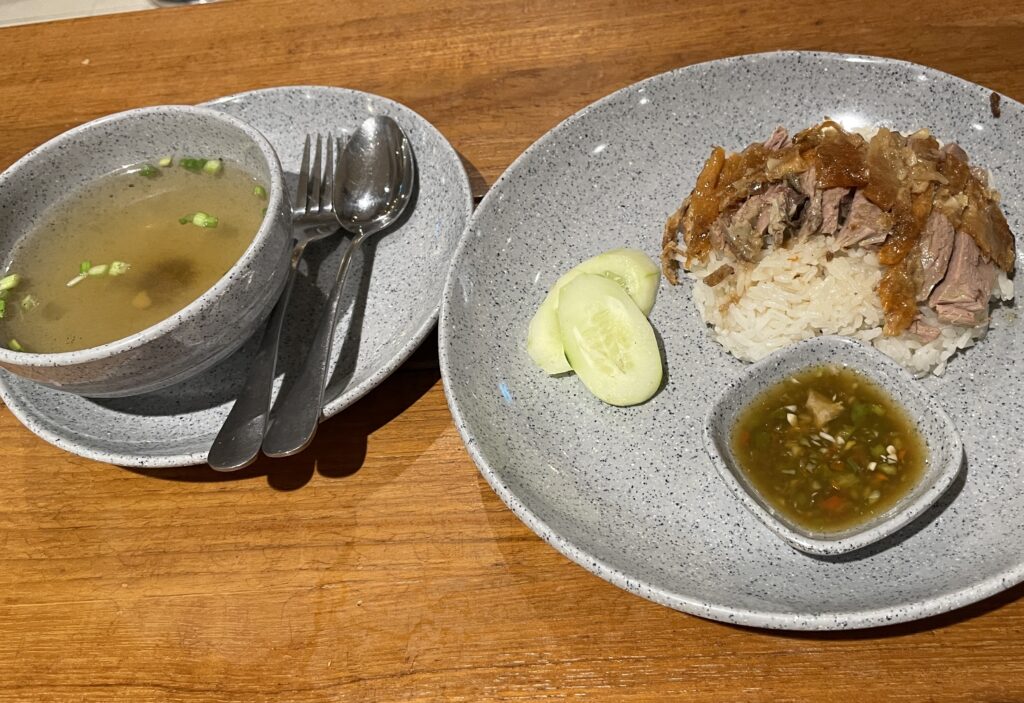 Phuket Town or Patong Beach: Nightlife
Last but not least, the nightlife is one of the most significant differences between Phuket Town and Patong.
Below, I've shared a few bars and nightclubs to consider on your night out in either area!
Phuket Town's nightlife consists of many fancy cocktail bars, laidback rooftop bars, and a few live music venues to hang out and dance.
Patong's nightlife consists of nightclubs, bars, go-go bars, strip clubs, and just about everything you can think of in a Vegas-like atmosphere, minus the casinos.
The distance and travel time between Phuket Town and Patong Beach is 30 Minutes, so you could always visit either area and return.
My personal favorite place to go out in Phuket is Cafe Del Mar, located in the Kamala Beach area. They host large events on some weekend nights!
While out in Phuket at night, watch for a few scams in Phuket that happen at night.
Nightlife in Phuket Town
Cue Bar — Spacious bar, a cafe in the day, pool tables for enjoyment, and a nice rooftop
Club No 43 — Fancy cocktail bar with comfortable seating
The Library Phuket — Unique speakeasy bar with dim lighting serving extravert cocktails
Rockin Angels Cafe — Popular spot for live band performances in Phuket Town
Nightlife in Patong Beach
Illuzion Phuket Nightclub — The most well-known nightclub on the island, hosting international talent some nights
New York Live Music Bar — This is a great place for fun live-music bar and watching street performers on the street
Oscar Sports Bar — Those looking to watch sports, this is the place to visit in Patong
Bangla Road — Walk along the main road in the evening and see where entices you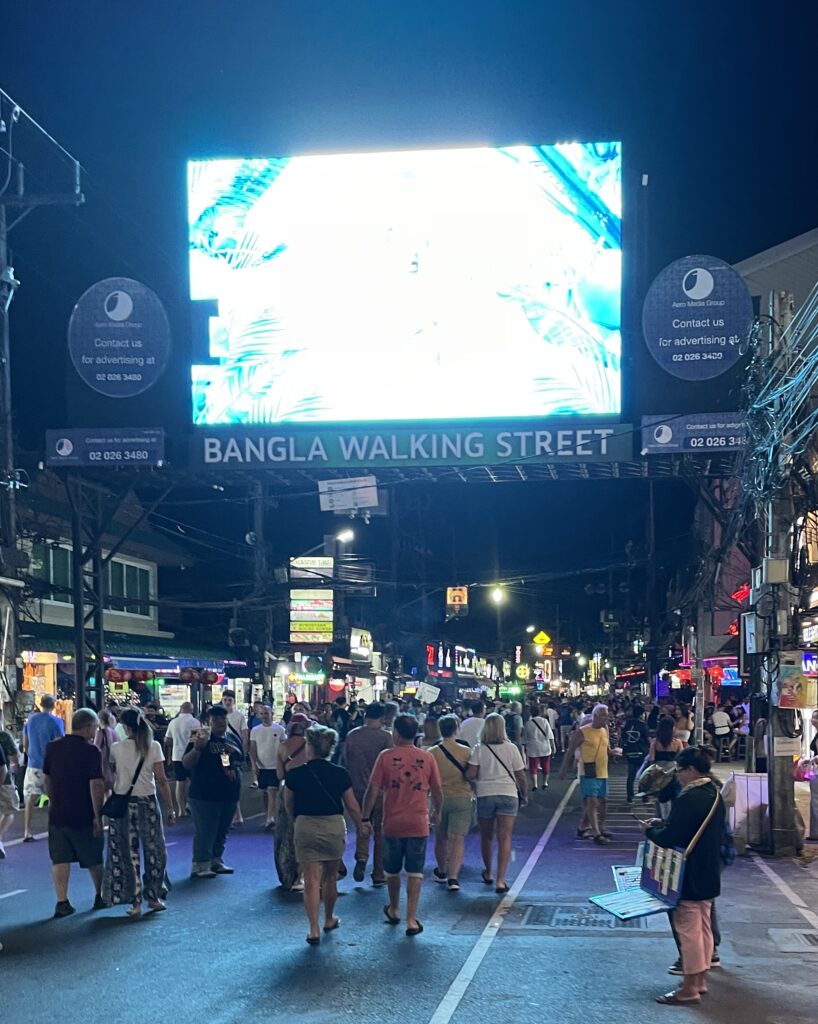 Phuket Town or Patong Beach — Final Thoughts
Have you decided which area of Phuket Town or Patong Beach you plan to stay in during your visit? I'd imagine you have because the two areas are very different!
For beach areas in Phuket, I prefer a more laid-back area, so Kata Beach is my favorite area on the island.
Phuket Town I've spent time in when I've stayed in Phuket for many weeks because it's less touristy and isn't only beach-oriented.
If you have yet to decide, I will leave you with a few parting words that will convince you to stay in one of the two popular areas in Phuket!
Solo Traveler: Both areas are excellent for solo travelers. It depends on the type of person you are. Do you prefer a calmer, laid-back town? Or a lively touristy area?
Couple: Again, Phuket or Patong are ideal for couples; it all depends on what atmosphere you'd prefer to surround yourself with! Or you'd like the romantic areas in Phuket.
Family: If you're visiting with a family, I recommend staying in Karon or Kata Beach instead of Patong or Phuket Town.
Group of Friends: Patong would be best for a group of friends; there are more things to do in Patong. Patong would cater to your overall friend group better than Phuket Town could.
RELATED: 9 Best Day Tours in Phuket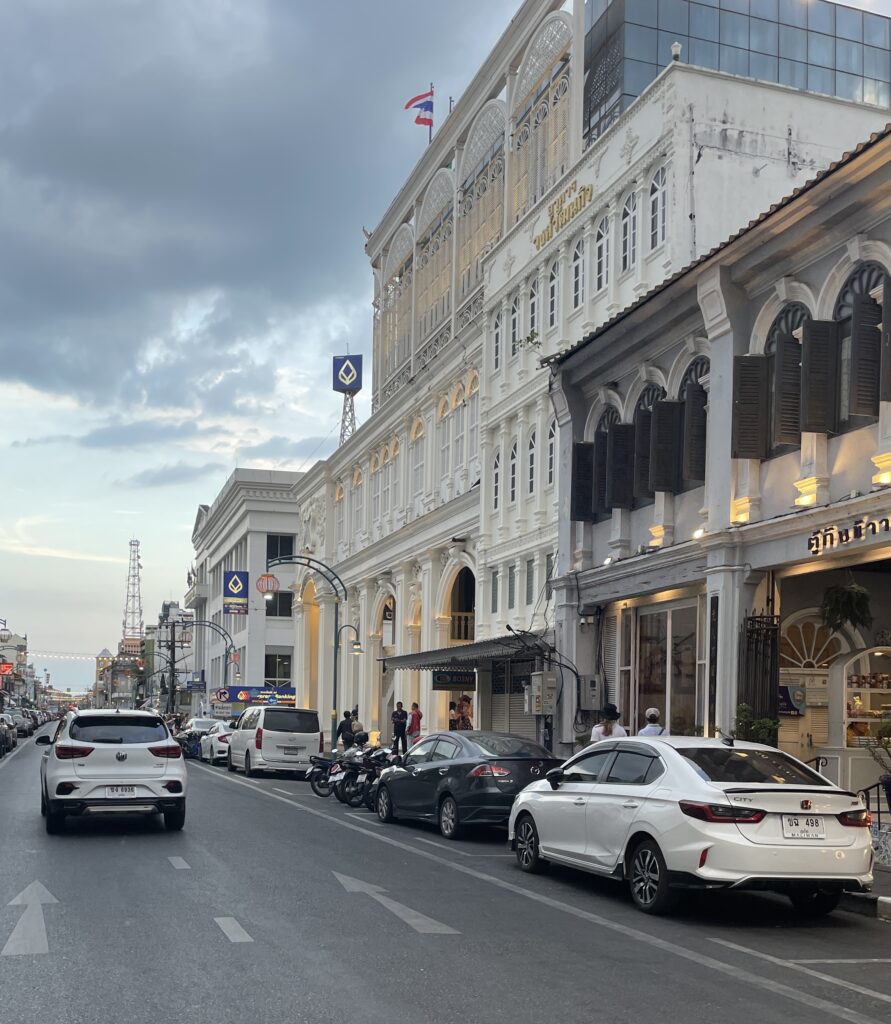 Is Patong better than Phuket Town?
It depends on the atmosphere you're looking for. Patong is a lively beach area with a Vegas-like vibe. In comparison, Phuket Town is a calming city center that's non-touristy.
How far is Patong Beach from Phuket Town?
The distance and travel time between Phuket Town and Patong Beach is 13km and around 30 Minutes, depending on traffic.
What is Phuket Town known for?
Old Phuket Town is known for its famous Sunday Market, architectural colorful buildings, fancy cocktail bars, excellent restaurants, and fabric shops.
Should I stay in Patong or Old Town?
Patong if you prefer to be by the beach and a lively nightlife. Old Town if you like to be surrounded by cafes, bars, shopping, and restaurants and be 20/30 minutes from many beaches.
What is the difference between Patong and Phuket Town?
Patong has a beach shoreline and a world-famous nightlife street named Bangla Road, full of nightclubs, go-go bars, and more. Phuket Town is calmer, more local/less touristy, but it has no beach shoreline.
Subscribe to Travel Hiatus!
Receive updates on my latest posts, insider travel tips & the best destination guides to your inbox!
Happy & Safe Travels
---
Planning Checklist
---
Disclaimer: Please note that some of the links shared in this article might be affiliate links; this means that at absolutely no extra cost to you, we will earn a small commission for any sales generated through this article and/or this website. We recommend products/services we've either used or researched thoroughly – Thank you for supporting us so we can continue to share helpful travel content!