7 Best Things To Do in Akumal, Mexico
Akumal, Mexico, a relatively small town with a small local population, is located along Mexico's Riviera Maya. But despite being small, there are many things to do in Akumal.
Not only is the main beach here breathtaking, Playa Akumal but there are many different activities for kids to enjoy, making Akumal a popular place to visit along the Riviera Maya coast!
Some needed clarification regarding Akumal's location, those thinking it's in Tulum. Akumal is its own town but belongs to the Tulum municipality.
In this article, I will tell you the top things to do in Akumal, details about each activity, what to expect, and much more.
I will also share various hotel recommendations with you for all budgets!
How to Get to Akumal
First, we can go over how to get to Akumal from wherever you may be.
Whether that's from Cancun Airport or perhaps you're in a neighboring city of Akumal, such as Playa Del Carmen, Tulum, or Cozumel, and you're looking to come to visit for the day!
How Far is Akumal from Cancun Airport?
From Cancun Airport to Akumal, it's 1 Hour and 20 Minutes, with a distance of 92km or 57 miles.
Options to Akumal from Cancun Airport
The fastest way is by Private Transfer. You will have a driver in a large vehicle waiting for you at the airport, ready to take you/others directly to your hotel in Akumal.
You can rent a car and drive yourself. It's safe to drive on the primary way, Highway 307/Riviera Highway, with only a few police checkpoints that go by quickly.
The Mayan train is being built but will be stopping in Akumal soon. If you would like more info, please refer to this article.
The last option is taking the ADO Bus to Playa Del Carmen, and then a $40 US taxi to Akumal is the cheapest way, but it adds a lot of time to your trip, around 3 Hours.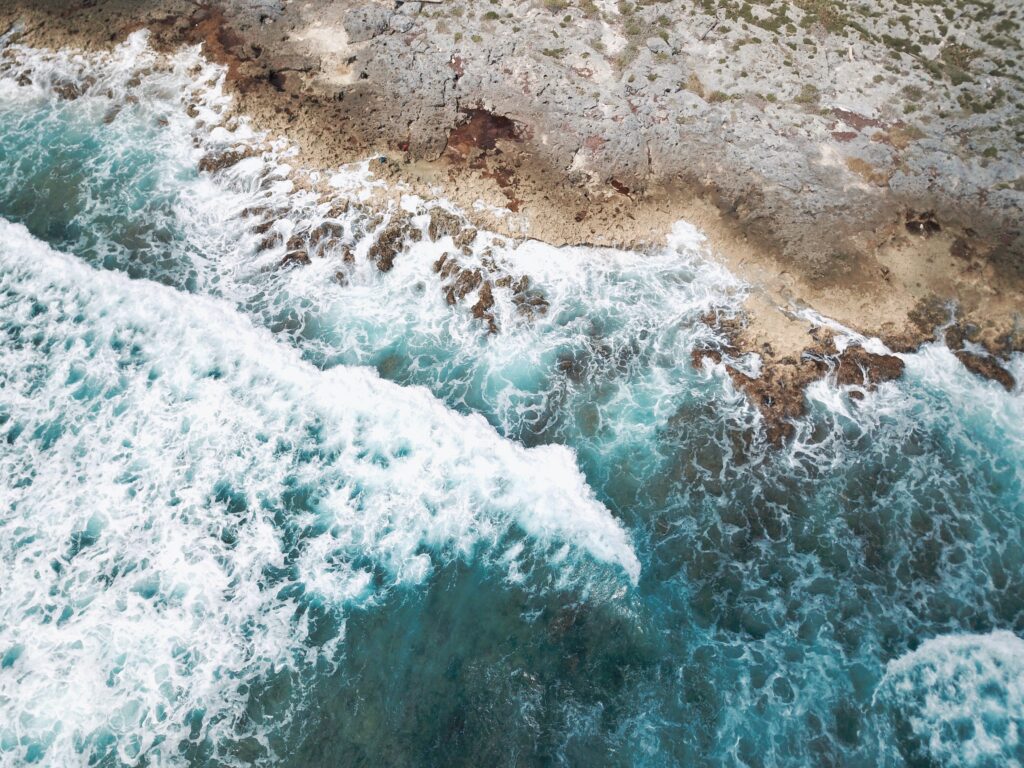 Nearby Cities – Time/Distances
Are you not staying in Akumal? But looking to make a day trip to Akumal from a nearby city because of all the fun things to do in Akumal?
Here's some information on the time/distance from the city you're in and day-trip recommendations to Akumal!
Things To Do in Akumal Mexico – #1-2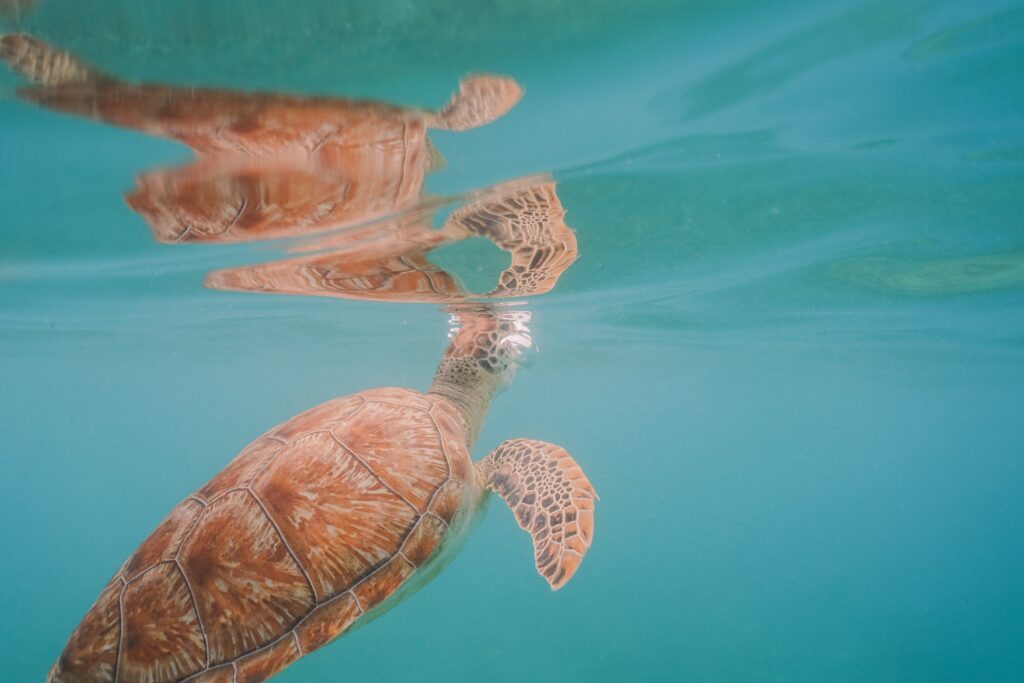 Akumal is most famous for its beaches full of different sea turtles swimming in its waters. This activity ranks #1 for things to do in Akumal.
Tourists come from Tulum, Playa Del Carmen, and many other cities to Akumal to swim with the sea turtles!
If you're visiting Akumal, this activity is conveniently close to you at Akumal Bay.
You will snorkel alongside the sea turtles on this Private Sea Turtle snorkeling experience. Please make sure not to touch them!
You will be able to spot seven different sea turtle species here. Akumal is rich in sea turtles. This is the spot for anyone who wants to see these beautiful creatures in the Quintana Roo region!
Yal Ku Eco Park is a reserve park in Akumal, and it's famous for its extensive cenote that is ideal for those who love to go snorkeling.
If you love to snorkel, this activity is one of the best things to do in Akumal.
As you snorkel here, you will see various species of tropical fish, manta rays, sting rays, and more.
Besides the lagoon and Cenote Yal Ku, you will be snorkeling in. The park has several hammocks you can relax on and enjoy the natural reserve park area is home to many reptiles, bird species, and other animals.
More information here: Book your Ticket here. The park has everything you need for the day, a great restaurant, washrooms, lockers, and WIFI even, and it's an excellent place for families to enjoy the day!
Things To Do in Akumal Mexico – #3-4
For those who love adventure, this is where you need to go.
Xplor Adventure Park isn't technically in Akumal, but it's only a 25 minutes drive away and is well worth the trip if you enjoy an adventure.
The adventurous park includes two stunning underground caves to discover, a cenote, ATV riding, ziplining through the jungle, and more. The Xplor Park is one of the best excursions in Akumal you could do!
On this tour to Xplor Adventure Park from Akumal, you will be taken to the park from your hotel and dropped off at your hotel at the end of the day. This tour includes transportation, entry to the park, and a lunch buffet.
Vista Akumal Beach / Playa Akumal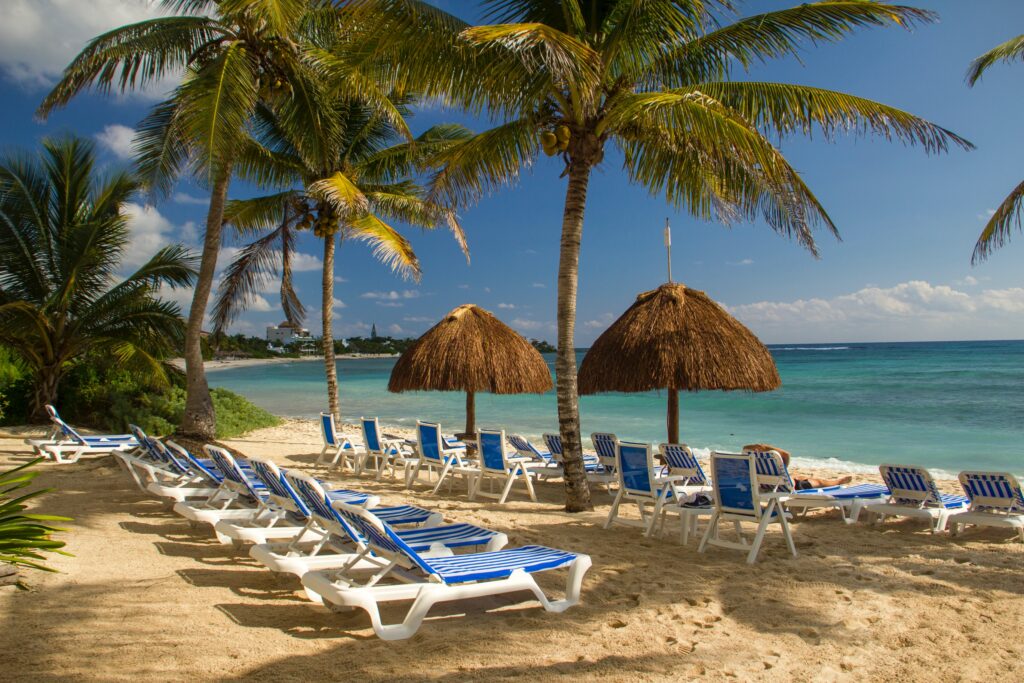 The main beach in Akumal is Playa Akumal, aka Akumal Beach, the shoreline here is exceptional and captures a very tropical atmosphere.
Being the most popular beach in the town, it can get busy here during the afternoon.
"Playa" means Beach in Spanish.
Along the Playa Akumal, you will find several beach loungers you can rent for the day. And beachside restaurants serve food and drink there as well.
If you want a quieter beach to enjoy the day, here are some other beaches in Akumal to go to Tortuga Marina Sanctuary or Strand Riviera Maja.
There are several palm trees here with coconuts. Please be careful where you're sitting, and don't sit under a coconut tree with coconuts. The last thing you want to happen is to have a coconut fall on your head!
Things To Do in Akumal Mexico – #5-7
Another fun activity for kids to enjoy for the day in Akumal is the Monkey Sanctuary here.
At the monkey sanctuary, you will receive some brief history about the place and program and get to bond with the monkeys.
While this is a monkey sanctuary, the place is home to several animals, including flamingos, zebras, and various colorful parrots. One of the best things to do in Akumal in the afternoon for kids who love animals.
On this tour, you will have a local guide to take you around, get to interact with the monkeys, and more. The tour doesn't include transportation, though you can pay extra to get it.
Overall a fun day for the kids to come out, enjoy, and interact with some of the animals being cared for at this sanctuary.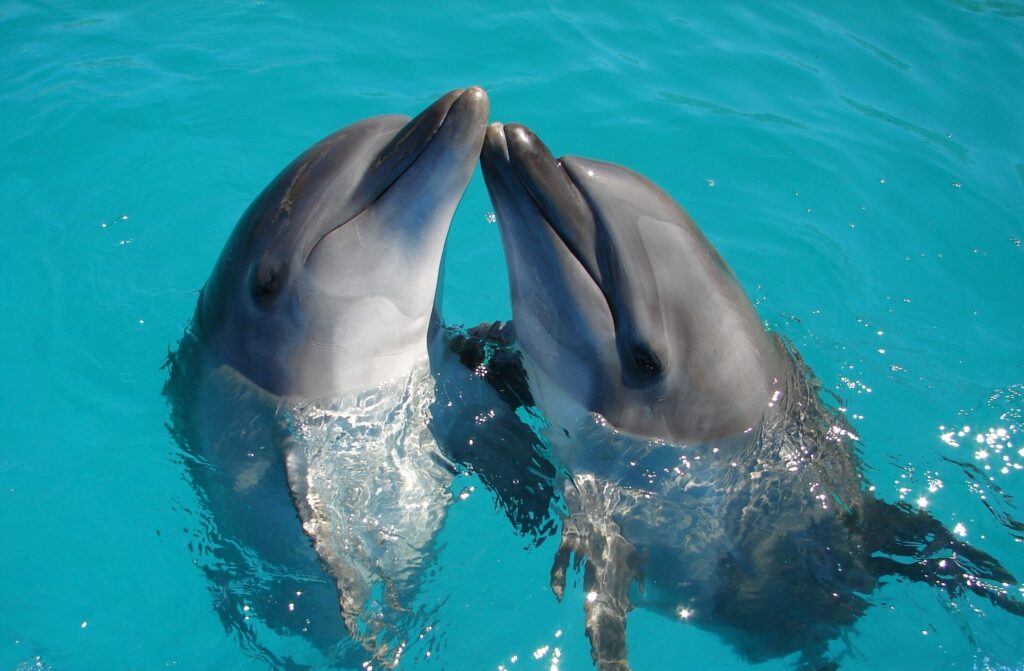 Dolphin Discovery is a large company with several locations offering dolphin encounters throughout the Quintana Roo region.
At the Akumal Dolphin Discovery, you first learn fascinating information about the friendliest mammals worldwide, including their diets, behaviors, and more.
On this Tour Booking, you will gain a 40-minute dolphin interaction, entry into the park, and lockers for storage.
Swim at Cenote Puerta Maya
If you've read any of my articles about Mexico, you know how much of a fan of cenotes I am. If you're unfamiliar, Cenotes are sinkholes full of natural spring water and are the best way to cool down on a hot day in Mexico.
Visiting a cenote in Akumal isn't just one of the best things to do in Akumal, but it's also one of the best activities to do in the entire Quintana Roo region.
The price to enter this cenote is 200 pesos per person, around $10 US dollars.
Lucky for you, there's a beautiful cenote in Akumal, Cenote Puerta Maya. From the insides of the cenote, you can quickly spot the cave-like edges and the various shades of turquoise/greens waters.
Other Cenotes Near Akumal
Cenote Media Luna
Aktun Chen
Cenote Xunaan Ha
Cenotes Sac Actun
Visiting this region of Mexico, you should put visiting a Cenote at the top of your list. Are you looking to see even more impressive cenotes? Go to Tulum and see the cenotes there!
Akumal Hotels
Below you will find several hotel options for all your needs and budgets. The best hotel in Akumal is listed below for your preference!
Whether you're coming with your loved one and looking for a luxurious adult-only hotel, or perhaps you're a solo traveler looking for a hostel. I've even added a glamping option below!
Secrets Akumal Riviera Maya – (5 Stars)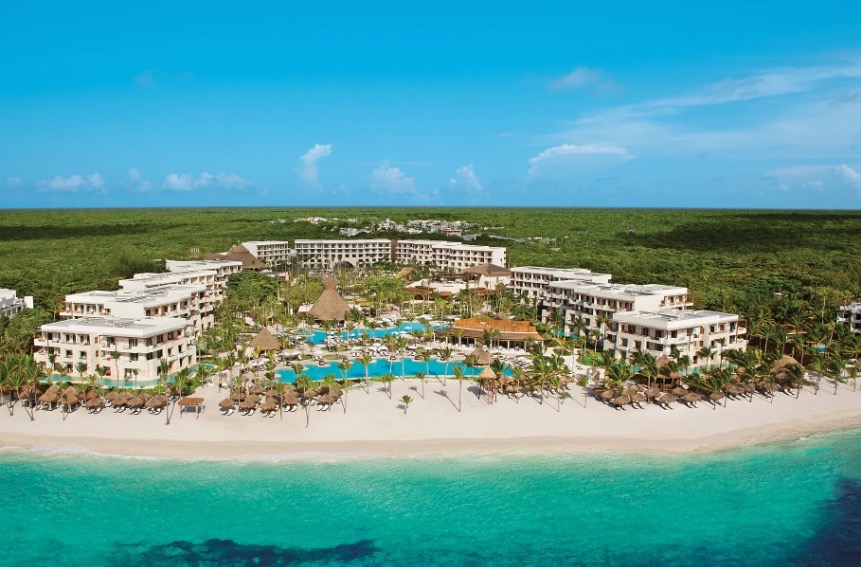 Starting with the best of the best, Secrets Akumal is very popular amongst guests visiting Akumal, and for a good reason.
The resort is impeccable and has everything you'd expect in an upper-class 5 Star hotel. A private beach area, phenomenal food, top-level concierge, a spa that will make you not want to leave, and more!
Best For: Highest-rated Hotel in Town and Adults-Only hotel
Bahia Principe Luxury Akumal – (5 Stars) All Inclusive
Another popular option in town is the Bahia. They offer an all-inclusive stay with an extensive list of impressive amenities for the whole family, such as a water park for the kids, Zumba classes, silent disco dancing, a fully equipped gym, and more.
Bahia Principe is a top choice for those coming with families to Akumal and looking for an all-inclusive hotel stay in Akumal.
Best For: Families and All-inclusive Hotel option
Akumal Bay Beach & Wellness Resort – (4 Stars)
Those looking for a luxurious stay in Akumal with convenient beach access but not looking to pay the prices of a 5 Star hotel exactly, this is the hotel to book!
Akumal Baya Wellness Resort is a beautiful beach area with several beach loungers, cabanas, and more.
Best For: Great beach access for 4 Stars hotel
Akumal Natura Glamping – (Glamping Experience)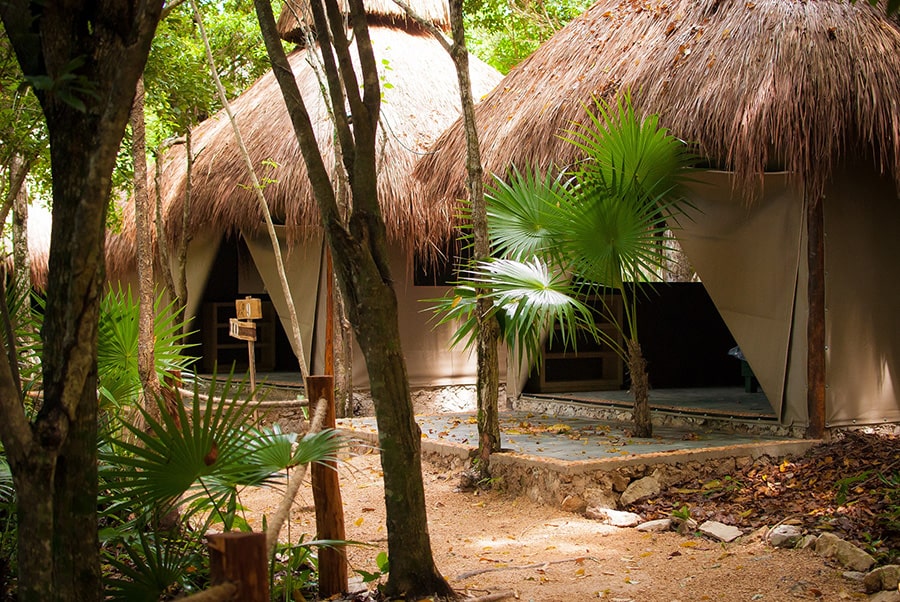 Moving on from hotels momentarily, this is for the adventurous type, glamping in Akumal's jungle!
This is an experience a few of my friends experienced and told me some great things. I, too, plan on spending a night at this place the next time I visit Akumal.
At Akumal Natura Glamping, you will be immersed in a small room in the jungle, making for a unique experience. Don't worry; they've got everything you need here. This is glamping, after all, not camping!
Best For: Unique experience
ITZA Hotel Akumal – (hostel)
Lastly, for those looking to visit Akumal and looking for a great hostel to stay at, this is where you need to come.
ITZA Hotel/Hostel is located in the center of the Akumal town area. It's clean, the decor is excellent, and they have a beautiful rooftop with a pool and a remarkable communal space!
The best part is because this hostel is in the city center, unlike all the other hotels on this list, you're close to so many local taquerias! – Drinks on the rooftop followed up by late-night tacos!
Best For: Excellent Hostel accommodation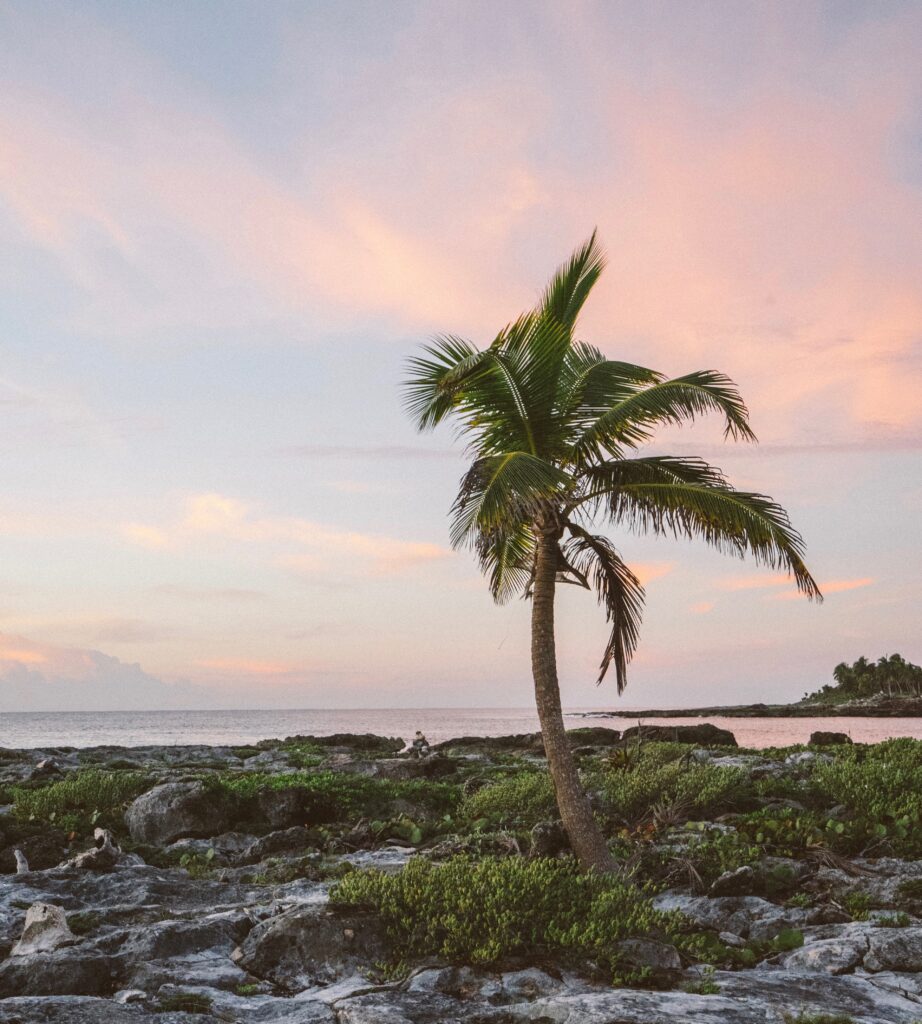 Is Akumal Safe?
Yes, Akumal is very safe because the beach town is relatively small.
Not many live here, and most of the foot traffic is tourists either staying/visiting for holidays or tourists from nearby cities.
The only safety measure is to watch your belongings like you would anywhere else you're visiting.
Another popular beach town nearby that is just as safe as Akumal is Puerto Aventuras, only a 15-minute drive away; I recommend visiting it!
Is Akumal Worth Visiting?
I'll be honest, Akumal is a very cool place, and when visiting, I had a great time with friends, but at the end of the day, because it's a small place, it's more of a day trip spot for me personally.
As mentioned, if you want to swim with Sea Turtles, you can look no further; you must visit Akumal.
For those coming with families, it's exceptional because there are so many things to do with the kids, and unlike crowded Cancun, it's quieter here.
Also, for those looking for a quiet romantic vacation with their partner, I'd recommend Akumal and make sure you stay at Secrets Akumal.
Suppose you're with friends looking to go to bars, nightclubs, etc. I wouldn't recommend coming to Akumal. You'd be better off going to Cancun, Playa Del Carmen, or Tulum.
If there are any things to do in Akumal Riviera Maya that I missed that you would consider a MUST-DO, please feel free to comment below! – Safe Travels
Subscribe to Travel Hiatus!
Receive updates on my latest posts, insider travel tips & the best destination guides to your inbox!
Featured Image Credit: Scott Webb / Other Photos via Unsplash
Happy & Safe Travels
---
Planning Checklist
---
Disclaimer: Please note that some of the links shared in this article might be affiliate links; this means that at absolutely no extra cost to you, we will earn a small commission for any sales generated through this article and/or this website. We recommend products/services we've either used or researched thoroughly – Thank you for supporting us so we can continue to share helpful travel content!