Bangkok to Phuket: 3 Best Ways to Travel
The majority of international travelers visiting Thailand first go to Bangkok. Bangkok is home to Suvarnabhumi Bangkok International Airport (BKK), a central airport hub for international travelers worldwide. And the easiest way to get to Thailand is by flying into BKK.
One of Thailand's most popular domestic routes is traveling from Bangkok to Phuket. Bangkok is a popular destination on its own. It is, after all, one of the top 10 most-visited cities in the world, year after year.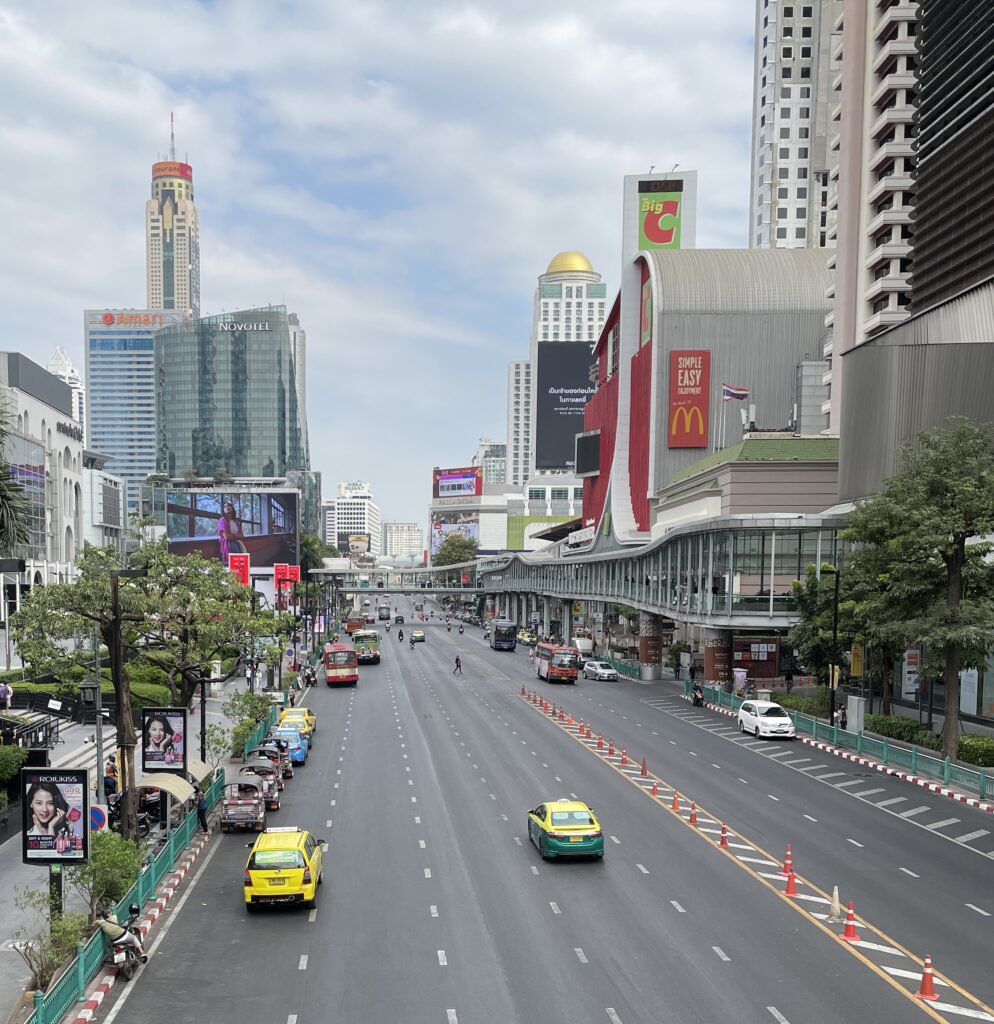 Phuket is famous for numerous reasons besides being the largest island in Thailand. Visiting Phuket offers the best of both worlds; the island has several beautiful beaches along its west coast.
But at the same time, Phuket is also very developed; you can find everything in Phuket, large malls, car dealerships, condos to rent/buy, many restaurants, and absolutely everything.
Because of Phuket's beauty and convenience, the island has become a hotspot for travelers from worldwide. It's also become a popular place for foreigners to live. There are few islands in the world as developed as Phuket.
In this guide, I will cover all the different transportation options for how to get from Bangkok to Phuket.
When choosing which transportation method to take, consider the following:
Are you looking for an adventure? Or are you looking to get to Phuket as fast as possible? Lastly, could you ask yourself if you prefer convenience?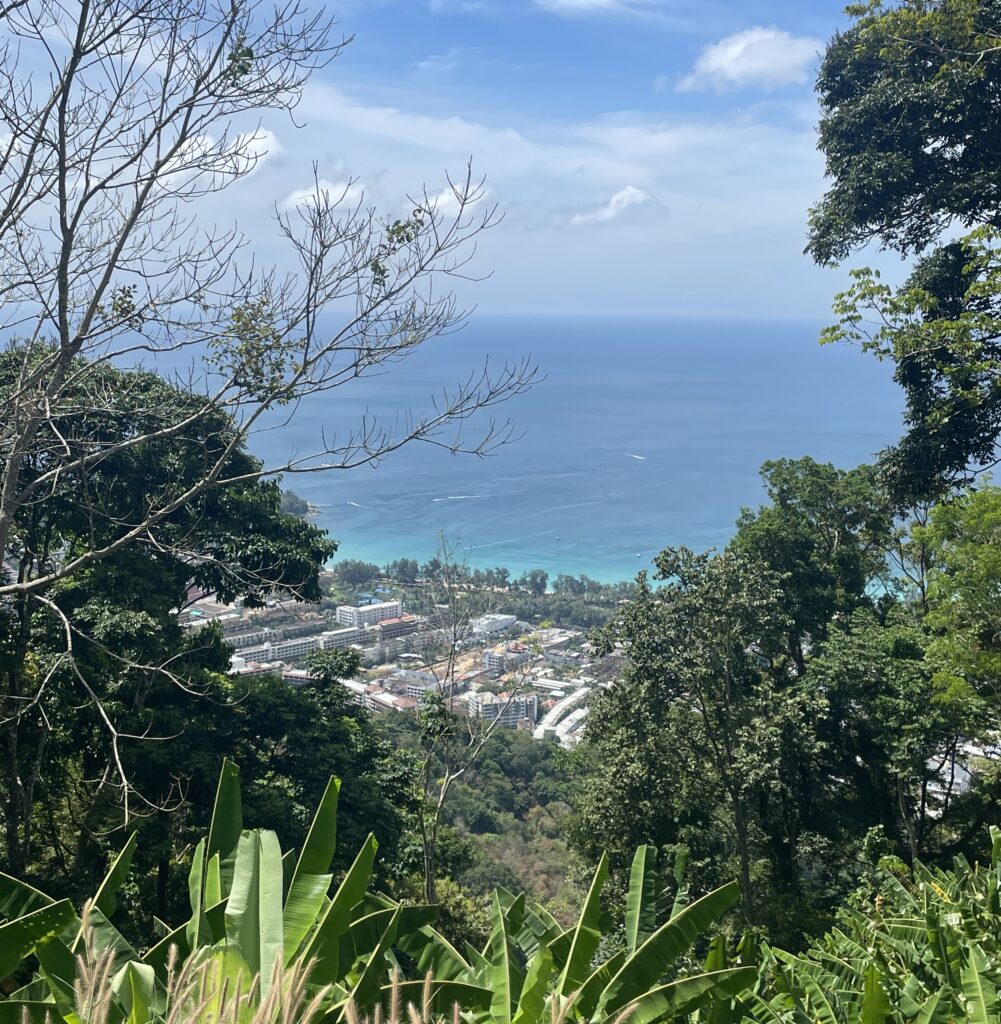 So as you know, transportation prices vary from season to season. During the high season, prices are slightly higher due to the higher demand for travel to Phuket.
The high season in Phuket is from November to April, when the island tends to be dry.
From May till October, its monsoon season in Phuket, also known as the rainy season.
Fastest & Easiest Way from Bangkok to Phuket
The fastest way from Bangkok to Phuket is by plane from Suvarnabhumi International Airport (BKK) or Don Mueang International Airport (DMK) to Phuket International Airport (HKT).
For the cheapest domestic flights in Thailand, use SkyScanner.
Cheapest Way from Bangkok to Phuket
The cheapest way from Bangkok to Phuket is by bus from Bangkok Bus Terminal (Mochi 2) to Phuket Bus Terminal 2.
Bangkok to Phuket by Plane
Out of all the transportation options, Bangkok to Phuket by air is the most convenient and fastest way to get to Phuket from Bangkok.
On average, there are about 54 flights departing from Bangkok going to Phuket every day.
The flight time for this trip is only 90 minutes, so before you know it, you'll be landing at Phuket International Airport.
There are two different airports in Bangkok you can fly from to Phuket. Bangkok Suvarnabhumi International Airport (BKK), Bangkok's main international airport, and Don Mueang International Airport (DMK), Bangkok's domestic airport.
Regarding the distances of both airports from the City Center of Bangkok by car, they're both the same. Neither airport is closer to Bangkok's City Center.
Most of the flights daily to Phuket from Bangkok tend to leave the Bangkok Suvarnabhumi International Airport (BKK), the largest airport in Bangkok; it makes sense. While BKK has more flights to Phuket, Don Mueang International Airport (DMK) is known for operating low-cost carrier airlines.
To make sure you get the cheapest flights to Phuket departing from Bangkok, use SkyScanner.
Some things to keep in mind regarding flight prices, do your best to avoid flying on weekends, as it costs slightly more to fly from Bangkok to Phuket. Also, early morning or evening flights tend to be the cheapest.
When considering what flight to take, time, and date, don't only focus on the price but also consider your convenience. I say that only because flights to Phuket from Bangkok don't vary that much in price.
COST: $20 – $40 US (one way)
Travel Time: 90 Minutes
How to Leave Phuket Airport
You've arrived at Phuket International Airport, and you're now looking to leave the airport and head to where you will be staying on the island; here's how to do just that!
Private Airport Transfer: The most convenient way is by private airport transfer; you will have a car waiting for you once you arrive and don't have to worry about figuring anything out once you're there! – PRICE: $30 – 45 US
GRAB: This is UBER in Asia; you can download the app and find a ride easily – But when you exit the airport, you must take a left and walk to the MAIN road because GRAB drivers are NOT allowed to come into the airport. – PRICE varies by time of day 600 – 800 Baht / $30 – $40 US
Phuket Smart Bus: This is the cheapest way to get to any area in Phuket from Phuket International Airport. This local bus travels from Phuket Airport along the coast of Phuket and stops at all the main beach areas in Phuket. It leaves around every hour. Check the Schedule – PRICE: 100 Baht / 2.88 US.
Taxi @ Airport: Once you arrive at Phuket Airport, many taxis are trying to gain your business; you can take one, but I'd be careful with this option only because they tend to overcharge tourists. – PRICE: 1000 Baht / $40 US
Rent a Car: Another option is renting a car from Phuket Airport, an excellent idea for those exploring Phuket! – PRICE: Varies on vehicle and day amount
PHUKET AIRPORT TIP: Phuket Airport has a Taxi mafia. They operate a firm hold on taxis at the airport and are notorious for overcharging tourists for TAXI rides into Phuket. – You must LEAVE the main airport area and go to the MAIN road for any ride pickup other than an airport taxi.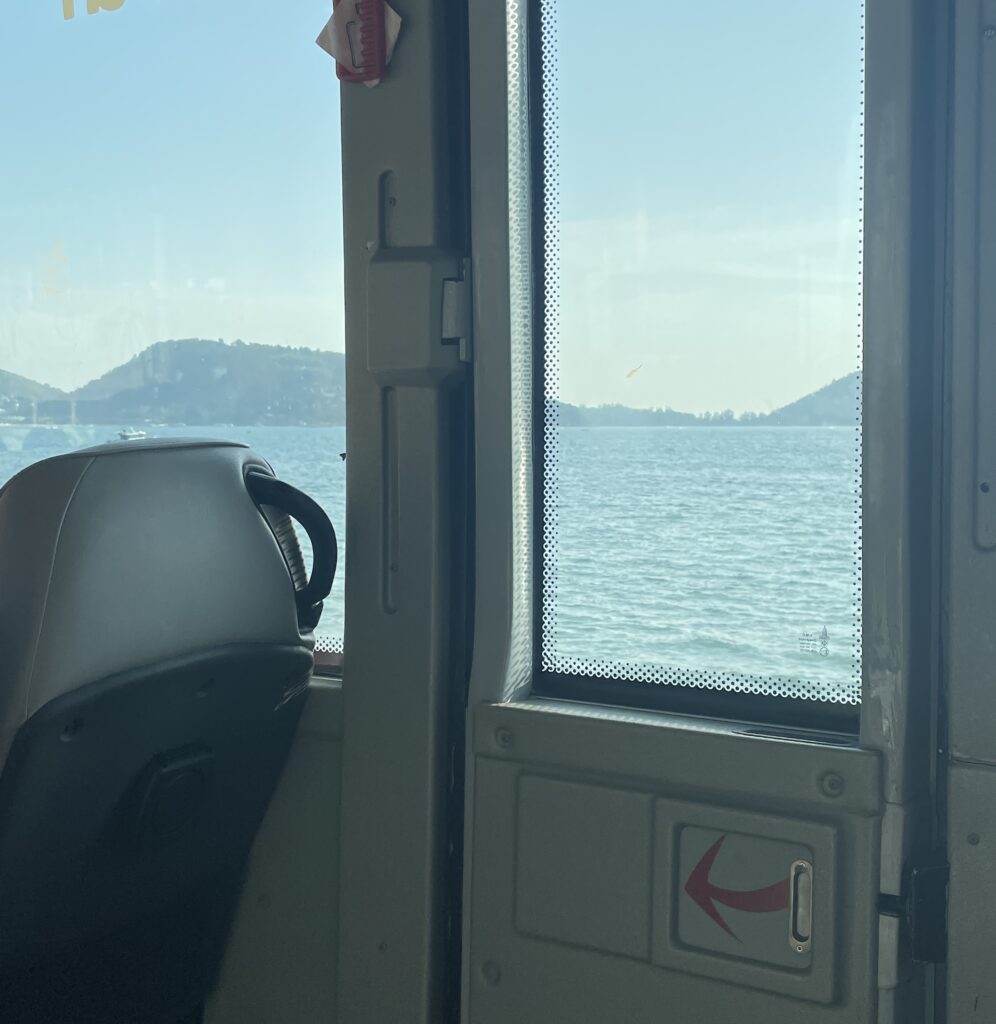 Bangkok to Phuket by Bus
Those looking for the absolute cheapest way to get to Phuket from Bangkok, it's by bus.
While this way may not be the most convenient because of the time, it does offer incredible scenery along the way.
On average, about 14 buses depart daily from Bangkok going heading towards Phuket. Buses leave Bangkok from Mochit 2 Terminal or Southern Bus Terminal; please check your ticket and know which bus terminal you're departing from before going to either.
Take the MRT or book a Grab Car to reach either bus terminal in Bangkok.
The travel time by bus is 12-14 Hours long, and you will arrive at either Thalang, Phuket Stop, or Phuket Bus Terminal 2 in Phuket.
At the halfway point of the trip, the bus will make a 30-minute pitstop for passengers to go to the washroom, buy snacks, water, etc. Before boarding, make sure you buy some snacks and bring some entertainment; it's a long journey.
Make sure to get to the Bus Station you're departing from at least 60 Minutes before departure to complete the check-in process with the bus staff.
Once you arrive, you can take a taxi or order a Grab car on your phone to reach your final destination in Phuket. No matter the time of day you arrive, you can find a ride.
COST: $18 – $30 US (one way)
Travel Time: 12-14 Hours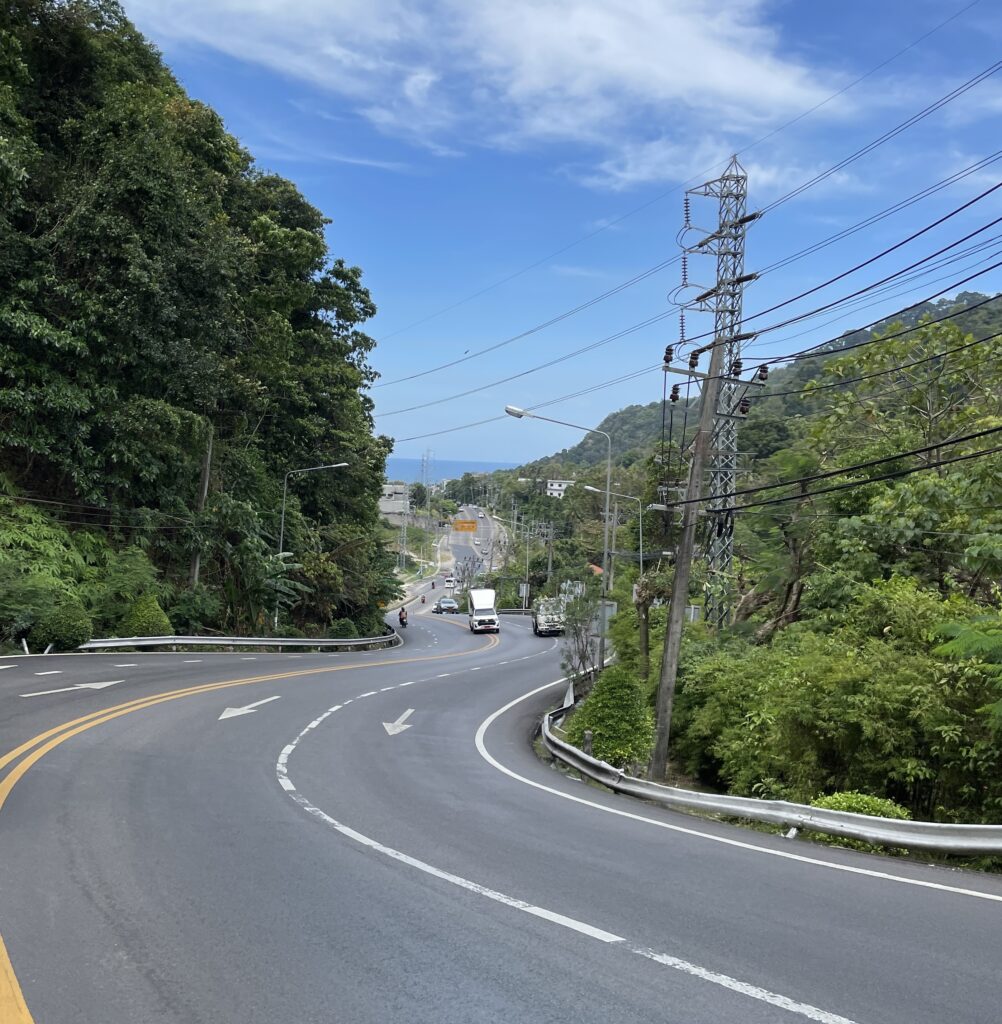 Bangkok to Phuket by Train & Bus
There's just something special about train travel anywhere in the world. The scenery one gets to experience during train travel is unbeatable. Trains tend to be a smoother ride than buses and are more spacious.
Unfortunately, there isn't a direct train from Bangkok to Phuket. You will need to combine your trip by train with taking a bus.
After taking the train from Bangkok Train Station Krung Thep Aphiwat Central Station to Surat Thani Station, you must take a bus to Phuket from Surat Thani Station.
Book Bangkok to Surat Thani Train Ticket
First-class train tickets offer a bed to sleep on, convenient for you to enjoy a relaxing ride for the first part of your journey to Phuket. The train takes 10 – 12 Hours to get to Surat Thani from Bangkok.
Once you've arrived at Surat Thani Station, you will board a mini-van/bus to continue your trip to Phuket. From Surat Thani station to Phuket Bus Terminal 1, it takes 4.5 Hours.
Book Surat Thani to Phuket Bus
This transportation option is less practical than the other two, but it's an excellent idea for adventure seekers. As I mentioned, the best scenery comes when taking the train.
This route may be fun if you're with a friend or partner. If you take this route, once you're at Surat Thani Station, you can always take a taxi to Raja Ferry and visit Koh Samui Island for a day or two, the second largest island in Thailand.
After that, you can continue your journey to Phuket. Doing this will make taking this route worth it to Phuket!
COST: $21+ US for Train Ticket, $10 US for Bus Ticket
Travel Time: 12 – 16 Hours
Where to Stay in Phuket
When considering where to stay in Phuket, the best way to consider where you should visit when in Phuket is by Beach Area.
You could always stay close to or in Old Town Phuket, but let's be honest, most people visiting Phuket come here for the island atmosphere and to be by the beach. So don't do that if you want to be by the beach!
Here is a list of the main beach areas in Phuket, a brief description of the difference between each beach area, and a few links to guides you can click to learn more about the beach area.
Bang Tao Beach: A calm, beautiful area, the area is known for its luxurious hotels and peaceful extensive beach shoreline
Surin Beach: Small area with one of the most excellent beaches in Phuket, the best beach for food vendors
Kamala Beach: Known for its hotels/resorts and beach, Kamala is popular among families
Patong Beach: Famous for being the most crowded area in Phuket, known for its Nightlife, Malls, and having the most hotel options in Phuket, suited for those looking to be close to a lot of action
Karon Beach: Calm and quiet area, famous for having one of the most beautiful extensive beach shorelines in Phuket, an ideal area for couples and families
Kata Beach: Lively area known for its beach, night market, and restaurants and ideal for everyone
Nai Han Beach: Reatavlity quiet area, the most South known beach area on the island, great for families
RELATED: 9 Best Things To Do in Phuket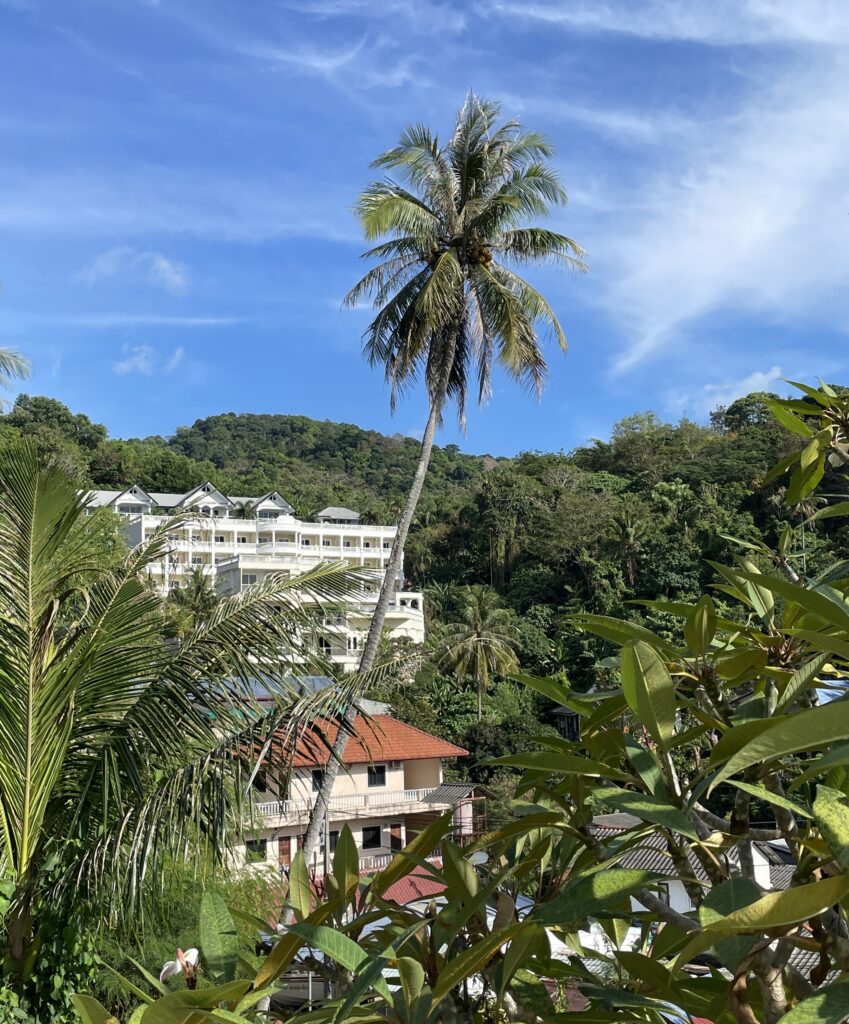 How to Get Around Phuket
Once you're in Phuket, you will need to know how to get around Phuket because of how large the island is. Phuket isn't like the majority of the islands in Thailand because of its size.
Many places you'll want to visit will require transportation, except for maybe the beach in the area you're staying in and nearby attractions.
Here are all the different transportation methods you can use in Phuket!
Rent a Scooter: This is the most popular method of transportation. You will quickly notice this when visiting Phuket.
GRAB: As mentioned before, you can take a Grab car anywhere around the Island – PRICE: Depends on your location in Phuket
Phuket Smart Bus: Using the Smart Bus, you can go to any beach area along the coast and the airport. The bus stops at each bus stop every Hour; check the schedule here. – PRICE: 100 Baht / 2.88 US (no matter where you're coming from)
Song Taew (local Blue Bus): This is the local Bus; it can take you to many places in Phuket. It operates from Phuket Town and branches out to different areas from there.
But it does NOT operate along the coast, passing through beach areas of Phuket, as the Smart Bus does. – Operates from 6:00 AM and 6:00 PM and frequents approx every 30 mins – PRICE: 40 Baht / $1.20 US (no matter where you're coming from, you may have to take more than one bus)
Subscribe to Travel Hiatus!
Receive updates on my latest posts, insider travel tips & the best destination guides to your inbox!
Happy & Safe Travels
---
Planning Checklist
---
Disclaimer: Please note that some of the links shared in this article might be affiliate links; this means that at absolutely no extra cost to you, we will earn a small commission for any sales generated through this article and/or this website. We recommend products/services we've either used or researched thoroughly – Thank you for supporting us so we can continue to share helpful travel content!