Playa Del Carmen Best Visitor Guide
Playa del Carmen is best known for its beach clubs, big resorts, many restaurants, and amazing walkability score.
This beach town caters to all, whether you're an independent solo traveler, family, couple, or group of friends. There's something to do here for everyone. Playa Del Carmen is an excellent destination for all!
I stayed in Playa del Carmen for eight weeks, so I had plenty of time to get a natural feel for it. I enjoyed visiting, let me tell you why.
First off, as I stated earlier, the city is very convenient. You can be at a restaurant one second, a friend's apartment another, and then at the beach the next second.
You can walk to just about anywhere in the city within 10-25 minutes; the walkability score in the city makes it an ideal place to visit/live.
In this Playa Del Carmen travel guide, I will cover how to get to Playa Del Carmen from Cancun, the best things to do in the city, hotel and restaurant recommendations, tips for your trip, and more!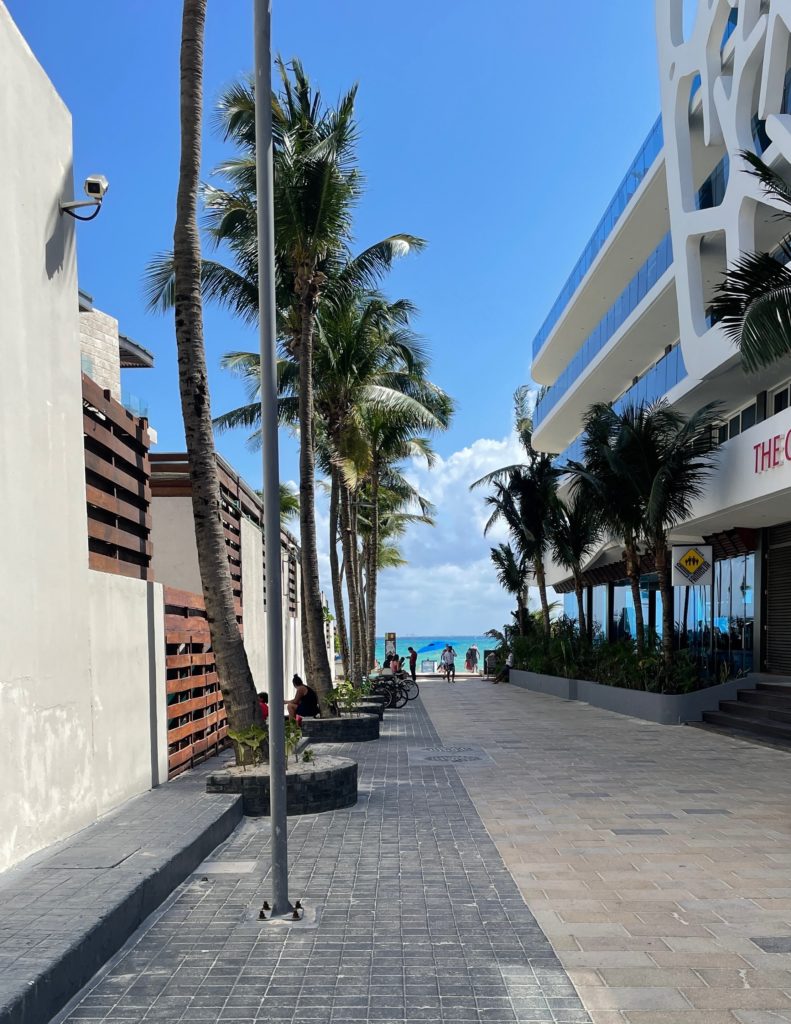 Restaurants, shopping, beaches, and resorts are very close to one another. Transportation is one of the most costly things when visiting abroad, so being able to cut out transportation during your trip saves you quite a bit!
The whole city connects through the famous 5th Avenue street, which is packed with restaurants, shopping, bars, nightclubs, and many people trying to sell you just about everything.
Walking through 5th Avenue Street, you will constantly see streets towards the beach (like the photo above).
You can rent a bike or take a taxi, but honestly, more than 80% of the time, you don't need to (unless you're tired or in a rush).
How to Get to Playa Del Carmen?
There's no airport in Playa del Carmen; the closest international airport is Cancun International (an hour's drive away).
You must fly to Cancun International Airport and then go to Playa Del Carmen. To see get the best flight prices to Cancun, use SkyScanner.
Here's how to get to Playa Del Carmen from Cancun Airport. See which method best suits your needs.
For more info, use my transportation guide for Cancan International Airport to Playa Del Carmen.
ADO Bus is convenient, departing directly from the Cancun Airport, and is the cheapest way to get to Playa Del Carmen. Once there, you must walk to your hotel from the ADO station.
The fastest way is by Private Airport Transfer. You will have a driver in a large vehicle waiting for you at the airport, ready to take you/others directly to your hotel in Playa Del Carmen. There are several vehicle sizes to choose from.
Taking a Shared Shuttle from Cancun Airport is very convenient because you're taken directly to your hotel from the Airport. Still, it's also cheaper than a private vehicle airport transfer.
Another option is renting a car from Cancun Airport and driving yourself. This is a good idea for those who'd like to see other nearby cities on their time.
The Mayan Train is being built and will stop in Playa Del Carmen soon from Cancun Airport. If you would like more info, please refer to this article.
I usually take the ADO Bus if I'm alone; it's around 10 USD (the cheapest option) and as comfortable as any taxi ride. I always arrange private transportation from Cancun Airport to Playa Del Carmen if I'm with someone else.
You can use any of these methods to go from Playa Del Carmen to Cancun.
Things To Do in Playa Del Carmen
There are many things to do in Playa del Carmen for everyone, solo travelers, families, and groups.
Here are some of the best things to do in the city. There are many other activities one can consider doing; I've listed the must-do activities here.
Beach Day or Beach Club
Head over to the few beautiful beaches in Playa del Carmen. Walking on the main 5th Avenue street, you'll constantly see walkways heading down to the main beach.
Unlike the beaches in nearby beach cities, Tulum and Cancun. All beaches in Playa del Carmen are very accessible and free.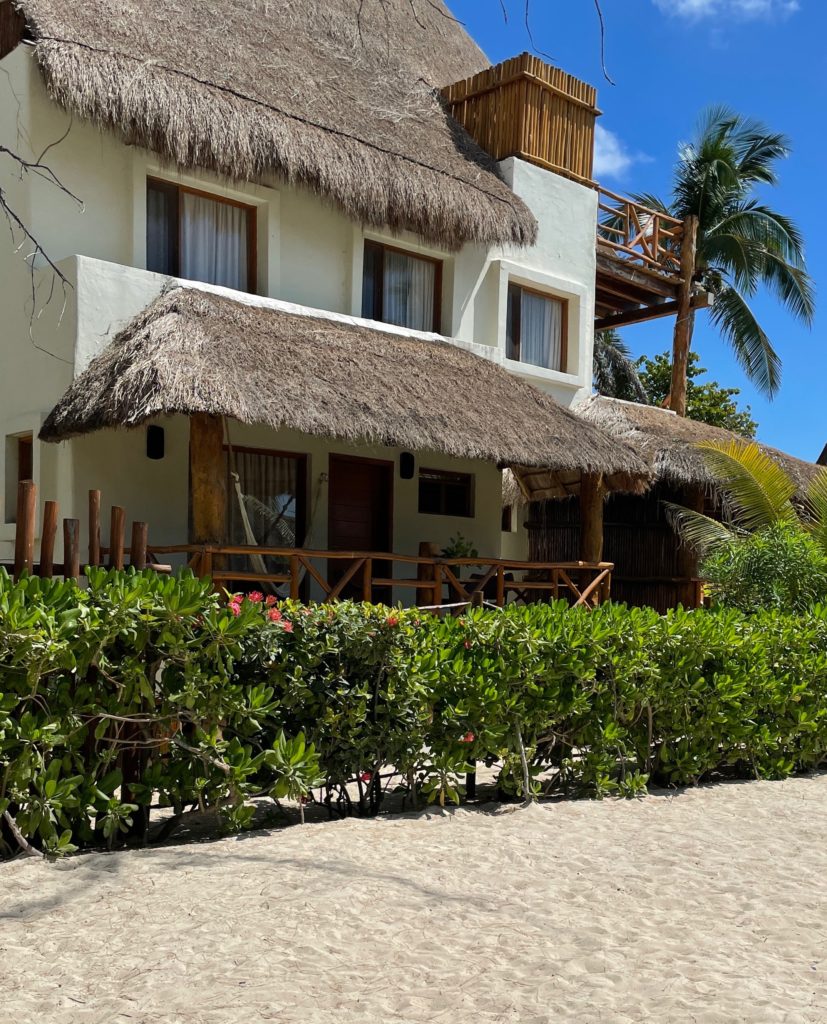 If you're looking for a less crowded and quiet area on the beach. Head over to Calle 38 Nte (this is a street), and head down South on the road towards the beach. It's nice and quiet there; the water is much cleaner.
The only downside is there's not much space because most of this beachfront is for private resorts. But you can still go there!
Playa del Carmen offers many activities on most of its beaches. Massages, jet skiing, parasailing, catamaran cruise and much more.
You can also find many beach clubs in Playa del Carmen; here's a list of some of the top beach clubs in Playa Del Carmen.
Mamaita's Beach Club
Kool Beach Club
Martina Beach Club
Marena Beach Club
Visit a Cenote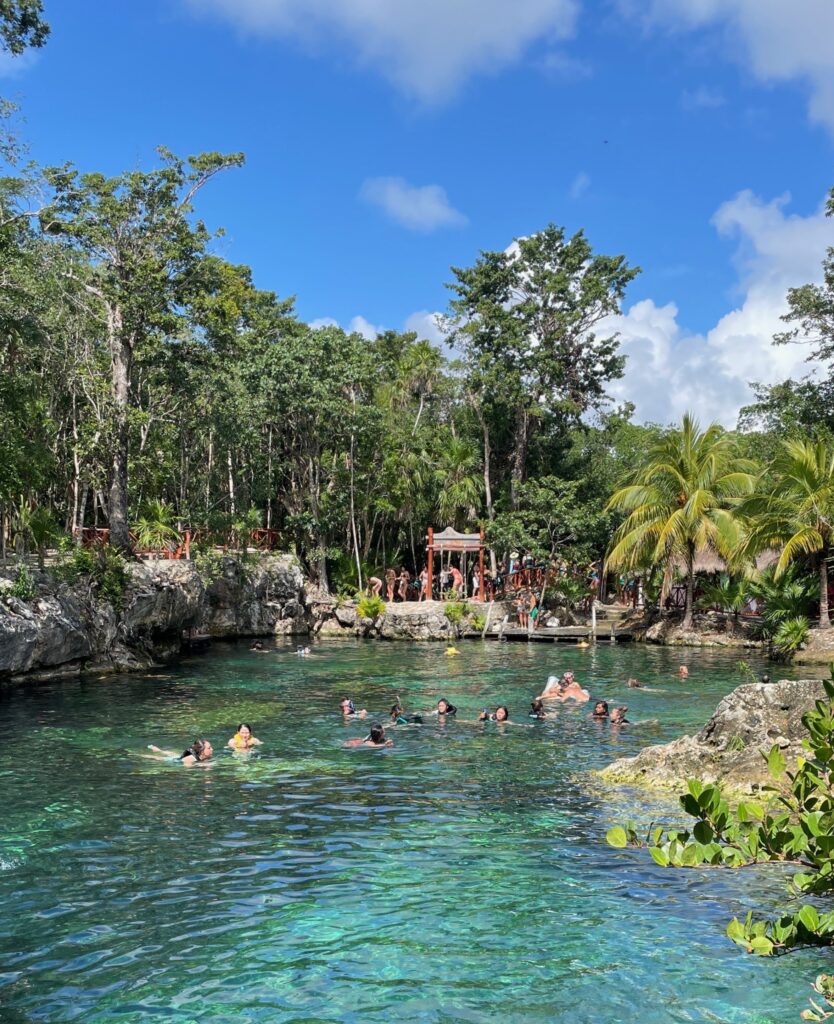 You can't come to Mexico and not eat tacos or visit at least one cenote while you're there. It's simply not right.
Below are a few cenotes in Playa Del Carmen you can visit, or if you prefer, take a cenote tour there with a guide.
What is a cenote, you ask? "A cenote is a natural pit, or sinkhole, resulting from the collapse of limestone bedrock that exposes groundwater," Credit: Google. – One important rule about cenotes is you're not allowed to wear sunscreen.
Entry fee costs for all of these vary from $10-40 USD
Playa del Carmen has some beautiful cenotes. But the best cenotes in the region are in Tulum and Valladolid.
The ones I'm speaking of are Casa Tortuga Tulum (which is four different cenotes next to one another). And the famous Cenote Suytun in Valladolid.
Go to Cozumel
This is something you must absolutely do when visiting Playa. If you were limited on time in Playa del Carmen, forget the rest of the stuff on this list and visit Cozumel.
It's only a 40-minute ferry ride from the main Ferry point in Playa.
Cozumel is beautiful, and the island is decently developed for being an island. It's also one of the largest islands in Mexico.
Catch a ferry ride over to Cozumel and spend the day. There are plenty of things to do in Cozumel; here's a short list of things to do!
Go Snorkeling (Cozumel is home to the 2nd most excellent reef in the world)
Take a 3-stop boat tour (I took this tour, they take you to three different unique spots in the ocean)
Rent a scooter or car (Drive around the island)
Here's how to get to Cozumel from Playa Del Carmen. First, go to the main ferry docking area.
Buy a ticket from the local ferry vendor; it will cost you around 25 USD. Or book your ferry ticket in advance here. The ferry ride is 40 mins to Cozumel.
Walk Playa Del Carmen's 5th Avenue
The crowded street of 5th Avenue in Playa del Carmen is home to several restaurants, bars, nightclubs, malls, shops, and more. It's considered the main street for the city center.
5th Avenue is great for going for a night out, bar hopping, or looking to get different appetizers at several restaurants.
The vibe of the entire street gives you serious beach city vibes, and It's a lot of fun at all times of the day.
If you need help with what to do in Playa Del Carmen in the evening, visit 5th Avenue, and you'll find something!
The beach is close to 5th Avenue, so you can always grab a drink or snack and head over to the beach.
Visit Tulum
Tulum is another top destination in the Riviera Maya region, and it's close enough that you shouldn't miss visiting when in Playa. Tulum is famous for its ruins, restaurants, nightlife, and beaches.
If you're considering staying in Tulum or Playa Del Carmen, I'd like to mention that Playa Del Carmen is much more convenient. But you can always go to Tulum for the day or spend a night/two there.
Tulum is well known for its beaches, cenotes, laidback vibe, nightclubs/bars, and jungle parties. So if you want to have some serious fun after 9:00 PM or into the early morning hours, Tulum is the place to be.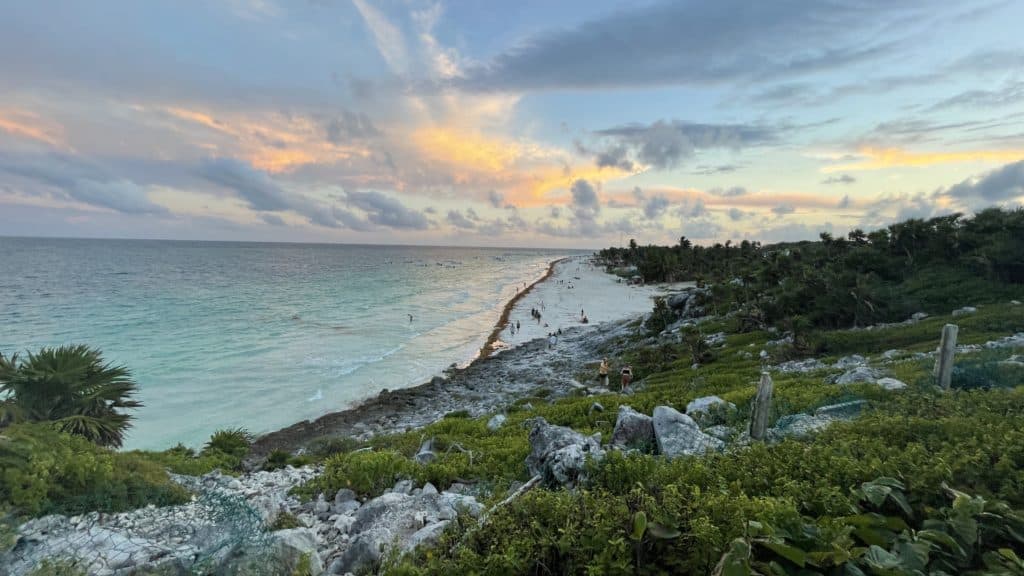 Most prefer Tulum Beach over the one in Playa because the beach is extensive, the hues of the water are vibrant, and the sunsets in Tulum are memorable.
Getting there is easy; take the ADO Bus back and forth. But if you're looking to go there quickly at any time, take a taxi but make sure you don't overpay (it shouldn't be more than $50-60 US).
Tulum overall is more expensive than Playa del Carmen in all aspects. Everything will cost you more there.
Hotels in Playa Del Carmen
Regarding accommodations in Playa Del Carmen, the city is full of all sorts of hotel types.
If you want to stay here for a quick vacation for around 3-7 days, I recommend getting a place close to 5th Avenue Street. So you're conveniently close to everything.
If you're staying for an extended period, I recommend the opposite. Don't stay close to 5th Avenue; you'll get tired of the noise and busy tourist crowds being so close to you.
I've compiled a list of places to stay for everyone. Whether you want to go all out or you're looking to budget your stay, you'll find a suited hotel for you below!
Apartment Style Hotels
Beach Front Hotels
Playa Del Carmen Hotels All Inclusive
The Fives Beach Hotel & Residences – All Inclusive
Hilton Playa (all inclusive) – Adult Only Resort
Hostels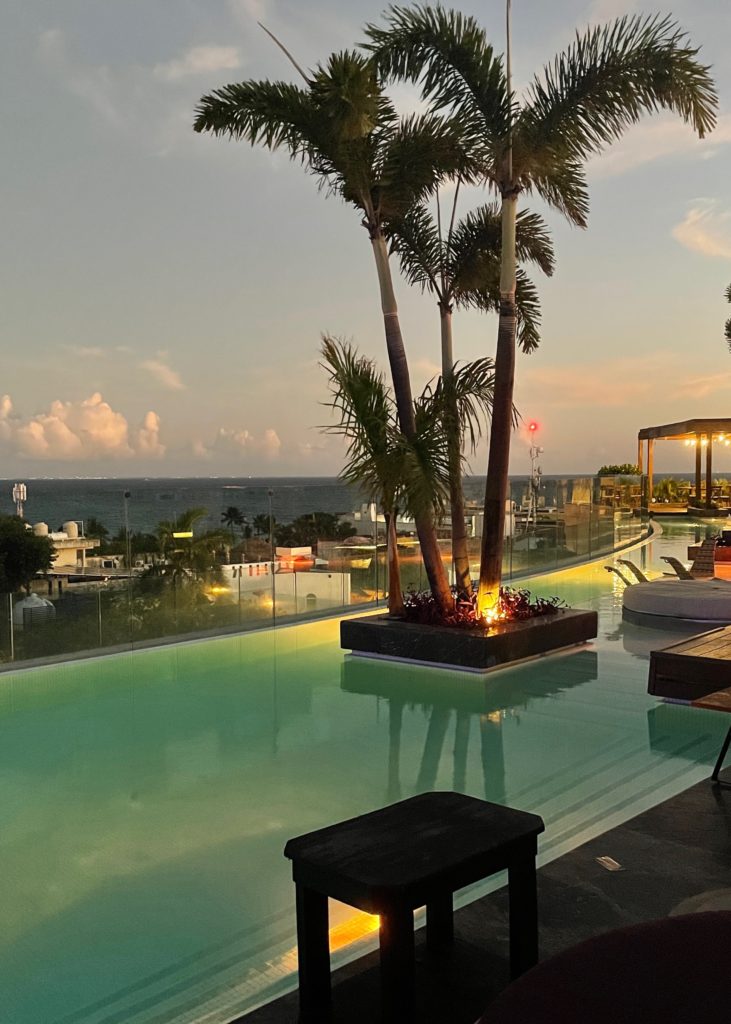 Best Restaurants in Playa Del Carmen
This city can be a bit of a tourist trap regarding food. So be a bit picky about where you choose to eat; if you're looking for the best food, at least!
People see big signs, tourists having fun, and many ratings on Google for a restaurant and think, "We need to go there." Don't fall for the tourist trap restaurants with mediocre food.
Good food is important to me; having spent weeks in Playa Del Carmen and eating out daily, I tried several restaurants throughout the city.
Here is my list of MUST-try restaurants in the city. This list is in no particular order because it depends on what food you're in the mood for that day.
Also, make sure to check out my guide on Mexican Cuisine you Must Try when visiting!
Take a look at the restaurants below, or check out my Playa Del Carmen Restaurant Guide.
El Fogon
If you're one to look at ratings, El Fogon is the most popular restaurant on this list. It's a Mexican eatery serving all your favorites, tacos, fajitas, tortas, nachos, and much more.
By the way, if you haven't tried tortas or gringas, try them!
El Fogon is almost always packed with locals and tourists. After going there on my first night in Playa, I could see why. I went to this restaurant more than any other in the city.
There's usually a line there, so make sure to go earlier if you're going in the evening. Weekends are busier.
RELATED: 9 Best Tacos in Playa Del Carmen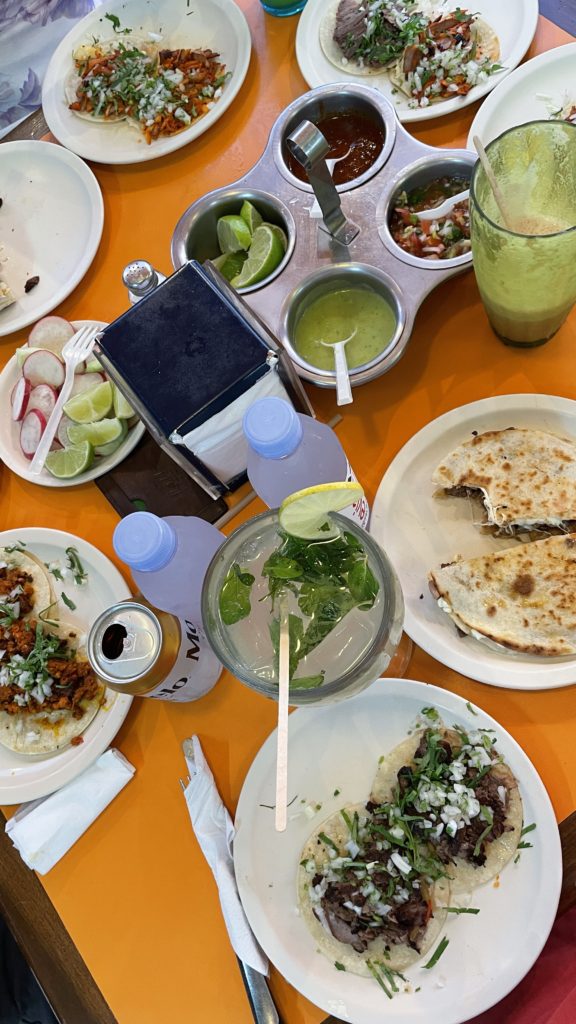 La Cueva del Chango
La Cueva del Chango has been around for almost 20 years now. When dining there, you feel like you're picnicking in a secluded jungle.
They have small waterfalls, a fishpond, and exotic birds flying in and out of the restaurant.
The best part about this place? Despite being so famous, it's not a tourist trap. I recommend you try the classic Chilaquiles (photographed below).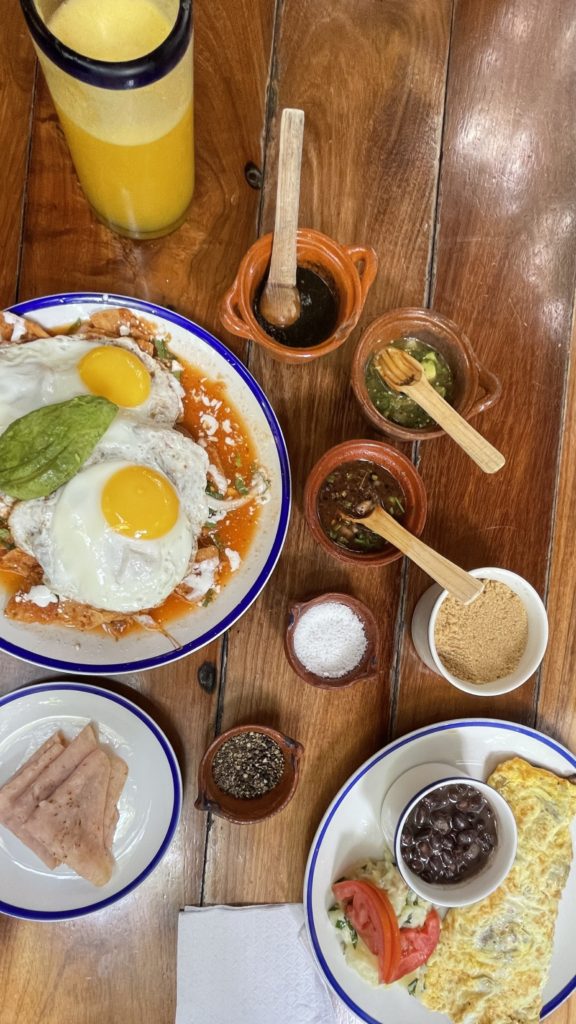 El Oasis Seafood
You cannot go to a city on the beach and not bother eating seafood; it's just not right. The seafood selection at El Oasis is extensive and very tasty.
From coconut shrimp, served in an actual coconut, crab meat tacos, oysters, calamari, and much more.
They start you off with this orange drink in a shot glass, which seems to be a type of seafood broth that's standard in seafood restaurants in Mexico. It's delicious. Since it's complimentary, you don't have to order it (unless you want more, of course). I strongly recommend you order the ceviche and coconut shrimp.
Primo
This was one of my favorite meals I had in Playa del Carmen. This place is a meat lovers paradise. Conveniently located on the street, you eat outside; they've got tables and a bar area.
The ambiance and decor are excellent, and a local singer performs most evenings.
The kitchen is outside, so it feels like you're sitting chef side at some tables. It gets pretty busy, so you must make a reservation for most nights.
We had a few dishes; the duck and lamb were just mouthwatering. Everything was cooked with care. You must visit Primo, especially if you're a foodie like me.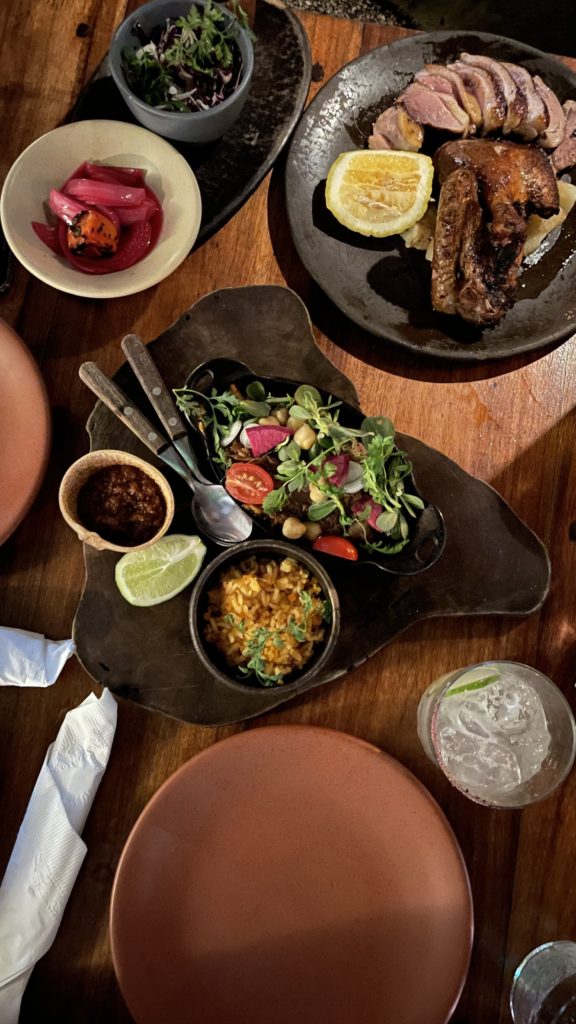 ALUX Restaurant Bar and Lounge
By far the most unique and expensive restaurant on this list. ALUX is a fine dining restaurant bar and lounge located inside a cave/cenote. This makes ALUX one of the coolest restaurants in Playa del Carmen.
You read that right; the entire restaurant is inside a cave, making for a unique experience. This is the restaurant to visit if you're on a honeymoon with a loved one and looking for somewhere fancy/different to go.
The experience, decor, and atmosphere make this place truly special. They also have options for private dining, where you'll be far away from guests.
This place is perfect for a romantic evening with your partner. The food was delicious, but I couldn't say it's top three on my list personally, only because it wasn't cheap!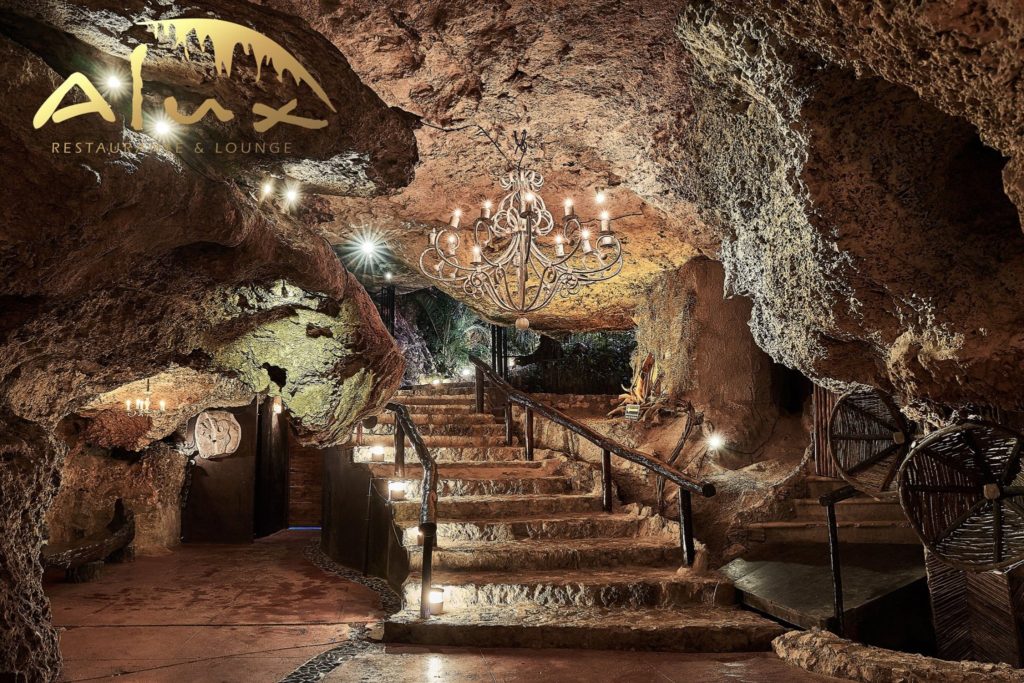 Trattoria del Centro
It seems that anywhere you go in the world, you can be sure you will find an Italian restaurant. In Playa del Carmen, you've got quite a selection of Italian restaurants to choose from.
But after trying a few different Italian places, Trattoria del Centro was the winner for me. Great seafood pasta, pizza perfectly cooked in a wood-burning oven, and a tasty selection of imported and local wines.
I came here three times during my stay; I strongly recommend the seafood pasta.
The ambiance here is lovely; the decor makes you feel like you're dining in Positano, Italy. The floor is full of pebble stones; lights are dimmed in the evening with an open-concept roof. Some nights they have a singer performing.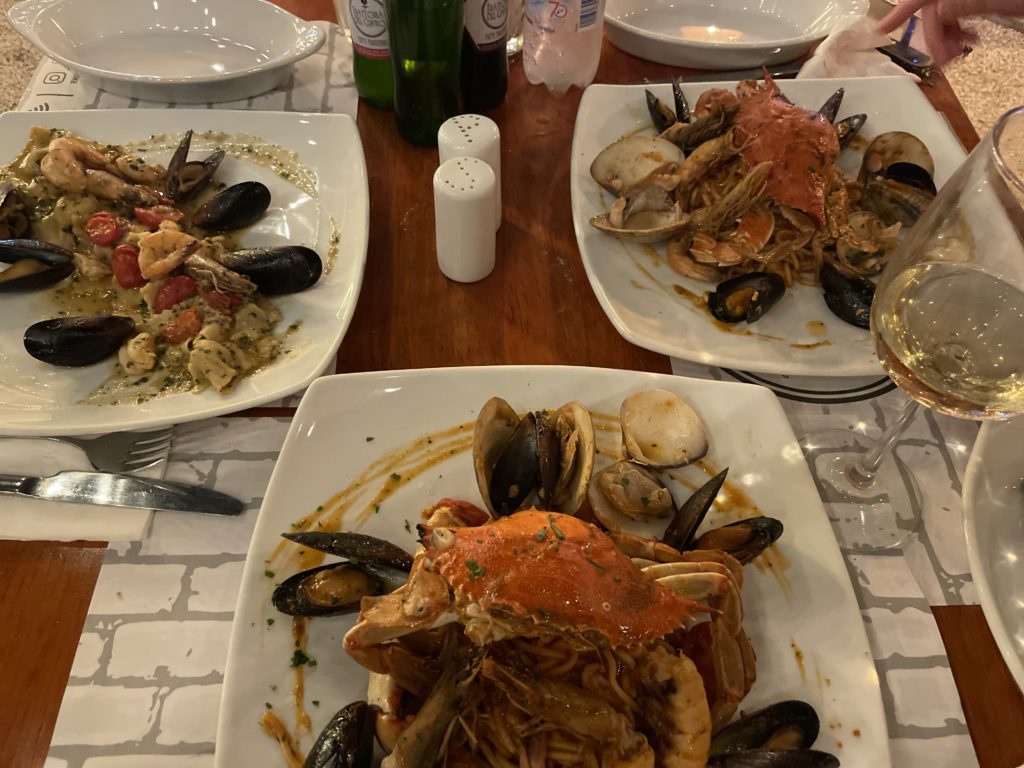 Po Thai Restuarante
You probably didn't think you'd see a Thai spot on this list. But this was, without a doubt, one of the best Thai restaurants I've been to. They serve a wide selection of various traditional Thai dishes.
The location is a few blocks from 5th Avenue, so the area around the restaurant is quieter.
No recommendations here; go with any traditional Thai dish that's your favorite. You can't go wrong.
Chiltepin Marisquillos
If you need a food theme for Mexico, it's simple .. Tacos and Seafood. I had to add another seafood spot to this list; the seafood in Playa del Carmen was fantastic!
Chiltepin Marisquillos was nothing fancy regarding the atmosphere, but that's precisely what you want in a local seafood restaurant, nothing fancy, just tasty seafood.
We ordered a few different dishes, and everything was delicious. The grilled whole octopus seems to be the most popular dish here, so I had to go for it. And I was not let down.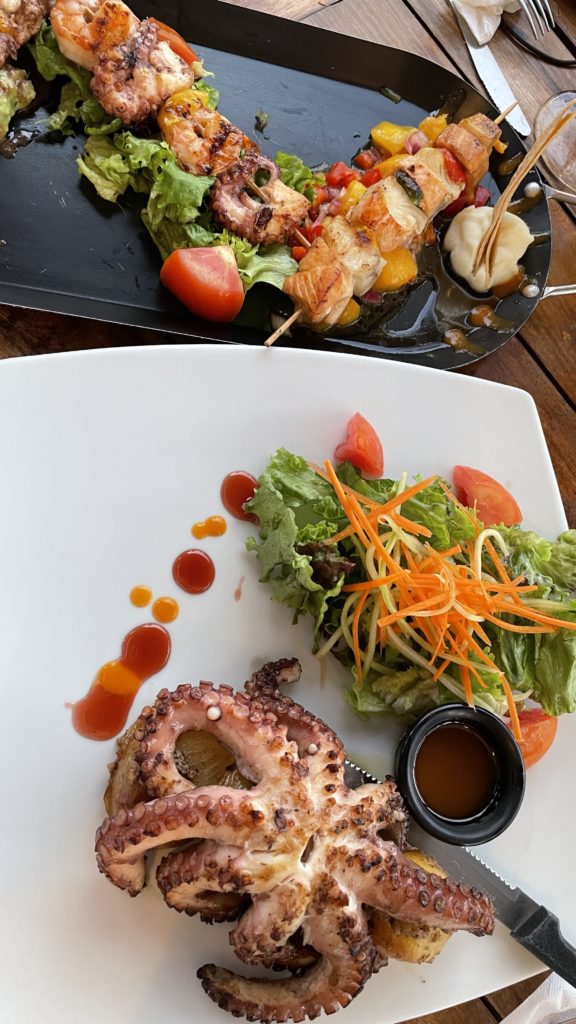 Other Notable Mentions:
TAQUERIAS EL NERO JUAREZ (where you can get tacos for a dollar, a very local eatery)
ROCKAS JAMAICAN KITCHEN (make sure you make a reservation here, I recommend the rasta pasta)
TAQUERIA VIVA MEXICO (also a local eatery, very cheap, and make sure you get the fajita)
For more Restaurants, check out my Playa Del Carmen Restaurant Guide!
Moving to Playa Del Carmen
Many remote workers have made Playa Del Carmen their home because of its vibrant digital nomad/ex-pat community.
There are remote workers from Canada, the US, Australia, Germany, South America, and more.
Playa Del Carmen is famous amongst nomads because of its community, and the city is easy to live in.
The beach town is easy to navigate, you don't need a car, there's plenty to do, and Cancun, only an hour away, offers an International airport that can get you out almost anywhere.
Lastly, even if you don't know Spanish, you can get by in Playa Del Carmen. Avg Condo Rental is $900 US monthly.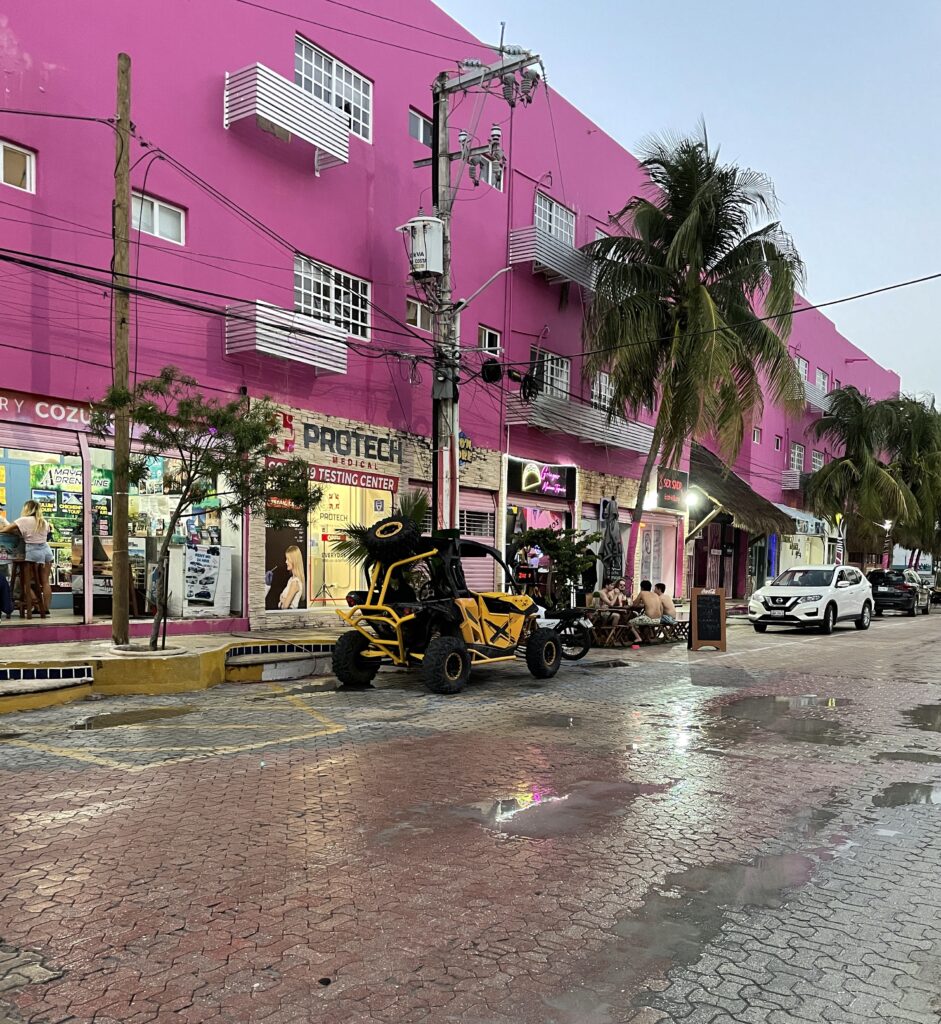 Things to Know Before Going to Playa Del Carmen
Here is a short list of things I'd recommend you know before visiting the famous beach town.
If you're taking a taxi anywhere, make sure to confirm the price twice with the driver.
Don't buy illicit goods when offered on the streets
Be careful getting too intoxicated in the public
Cash is king here; it's better to carry cash with your card, but don't carry too much on you.
The Tipping culture here is similar to the US; 15% or more tends to be a standard (given upon service standard)
Don't be alarmed by the National Guard and Police; they patrol the streets at all times of the day.
Nearby Cities from Playa Del Carmen
Located in the famous Riviera Maya, there are several other popular cities close to Playa Del Carmen you can visit when visiting Playa.
Here is a list of popular nearby cities to consider visiting when you're in Playa Del Carmen.
Weather in Playa Del Carmen
Driest month: March
Rainiest month: October
Warmest month: August / 91 Fahrenheit
Coolest month: January / 63 Fahrenheit
Most crowded months: December and January
Least crowded months: June, July, and August
When is the Best Time to Visit Playa del Carmen?
The best time to visit Playa is from November to April. These months are the ideal time to come because the weather tends to be constantly sunny.
The wet season and the beaches tend to be piled with seaweed in Summer. The last thing you want to see at a beach when visiting.
During December and January, accommodations are more expensive because of the holidays.
So if you're not looking to pay more than you have to, the best and cheapest time to visit Playa Del Carmen is February, March, and April.
RELATED: Cancun or Playa Del Carmen, Which is better?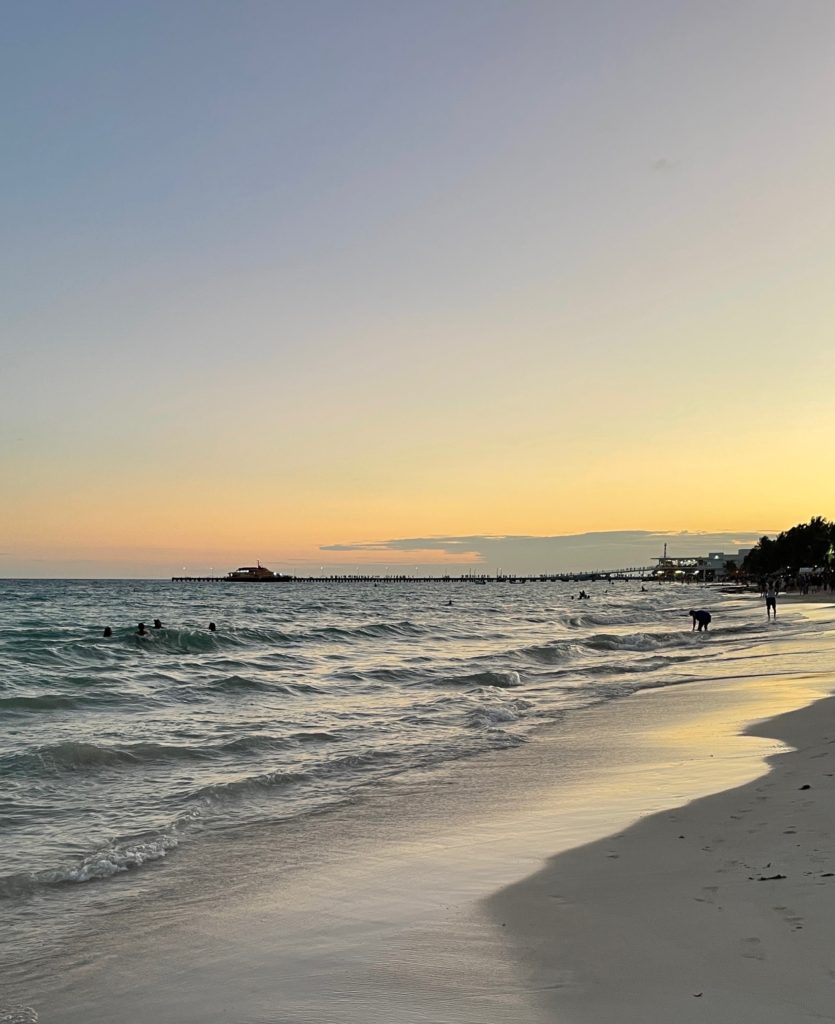 Is Playa Del Carmen Safe?
Like any city, you should always watch your surroundings. Playa del Carmen can be complicated safety-wise at times. Things happen occasionally, but these conflicts tend to be between crime groups.
For the most part, it's safe. This is because of the scattered police and national guard presence strolling the streets and beaches of Playa.
Always keep on your belongings when anywhere in the city.
Playa del Carmen depends heavily on tourism, so the government is motivated to keep it safe.
Walking alone at night is not dangerous; stick to main roads and lightened streets like you would go anywhere else in the world.
Despite some crime and petty theft, Playa Del Carmen is one of the safest cities in Mexico to live in and visit.
Is Playa Del Carmen Worth Visiting?
I highly recommend visiting Playa del Carmen; it's great for those who've never been to Mexico. It's an ideal place to visit first due to the city's walkability score.
I hope you enjoyed this Playa Del Carmen guide. I look forward to returning soon.
It was convenient, being close to many great restaurants and the beach.
Planning day or weekend trips in different cities relatively close by made me fall in love with Playa del Carmen. For more content on just Mexico, click here.
Make sure you purchase Travel Insurance before visiting Mexico.
Mexico is a beautiful country with friendly people, rich culture, and fantastic food. Here are a few other places you must visit in Mexico, Holbox, Mexico City, Isla Mujeres, Puerto Vallarta, and Chetumal. To name a few!
Subscribe to Travel Hiatus!
Receive updates on my latest posts, insider travel tips & the best destination guides to your inbox!
Happy & Safe Travels
---
Planning Checklist
---
Disclaimer: Please note that some of the links shared in this article might be affiliate links; this means that at absolutely no extra cost to you, we will earn a small commission for any sales generated through this article and/or this website. We recommend products/services we've either used or researched thoroughly – Thank you for supporting us so we can continue to share helpful travel content!